It is necessary to know how to defrost fish in the current modern lifestyle. If you are lucky enough to live near the fish market, fresh fish is readily available and is often eaten the day it is caught.
If you don't live near the waters, however, fish is often only available frozen. They sometimes need to stay in the truck for days before they can reach your local market.
With that in mind, you need to adapt to deal with the situation at hand. Keep reading, as I am going to give you various tips and knowledge on how to defrost fish safely and keep your fish as fresh as it can be before cooking.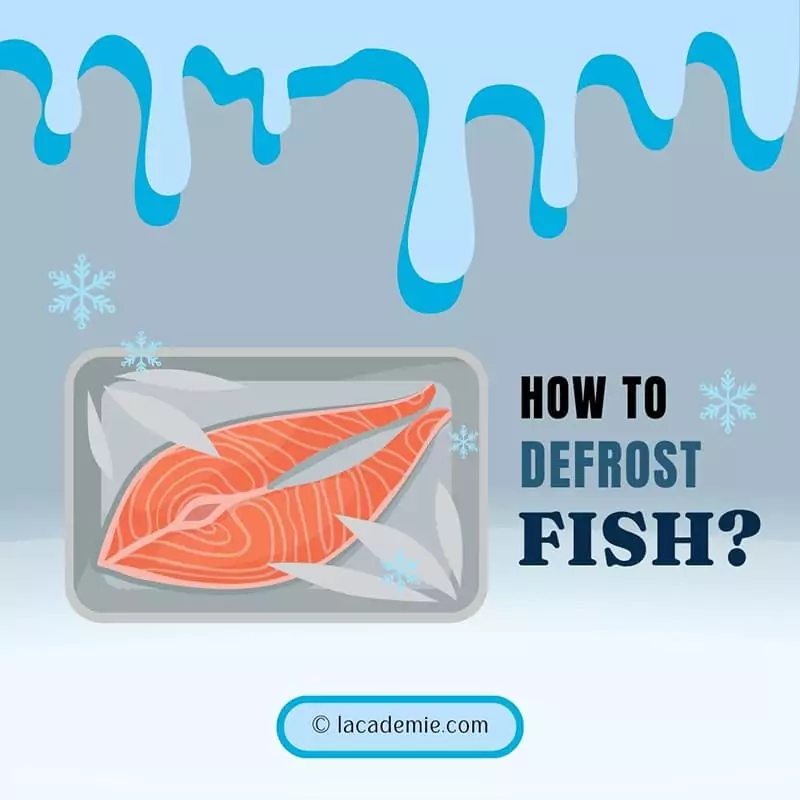 4 Methods To Properly Defrost Fish
Nowadays you don't need to stress about buying fish in the supermarket. You can buy them in bulk, frozen, and store them in the freezer for a whole week. During this time, you only need to defrost them every time you want to have fish.
There are various ways you can use to defrost fish. Some may require more time or equipment, but ultimately they are devised like that for safe handling of raw ingredients. After looking for indicators that fish has spoiled, you can try out the following methods to defrost fish correctly.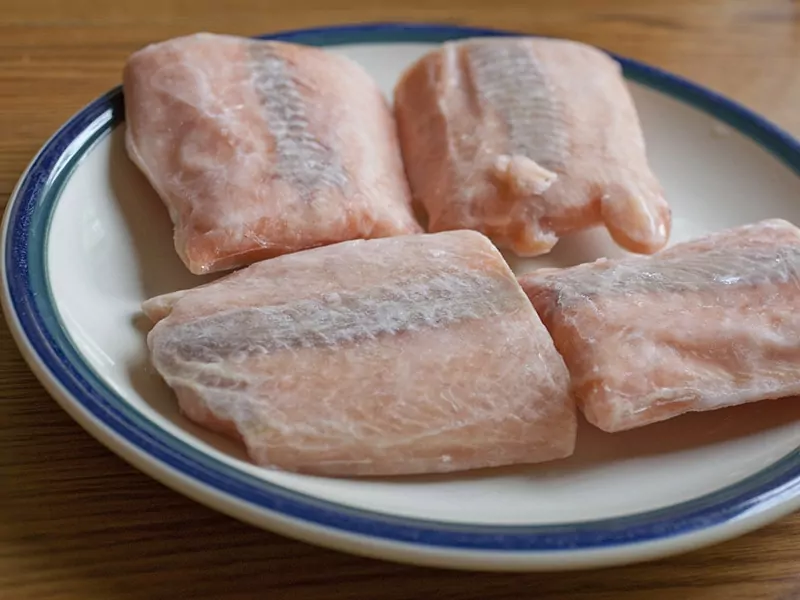 Defrost Fish In Cold Water
Using cold water is a quick and non-fuss method you can use to defrost your fish. All you need is a bowl big enough to place the fish inside.
The basic idea is that you use the difference in temperature between frozen fish and cold water to thaw the fish slowly and safely. It usually takes 30 minutes to 1 hour for the fish to fully defrost depending on the size of the cut.
If you're afraid that you might forget you're defrosting fish and, as a result, leave the fish on the kitchen counter for too long, investing in a well-designed kitchen timer is not a bad idea. Whatever you do, be sure to pay attention to the timespan fish stays at room temperature.
Here are the steps to defrost fish in cold water correctly:
Step 1: Seal The Fish
You need to ensure that the fish doesn't come into direct contact with water. Most fish is often vacuum-sealed before they are frozen, so you may not need to worry about this factor too much.
However, if the fish is not vacuum-sealed, you should remove the fish from the packaging and put it in a resealable plastic to prevent contact between water and the fish.
Note: If the fish is covered in ice, you need to put it over running water to remove that layer of ice. Use paper towels to remove water collected on the surface before placing it in a plastic bag.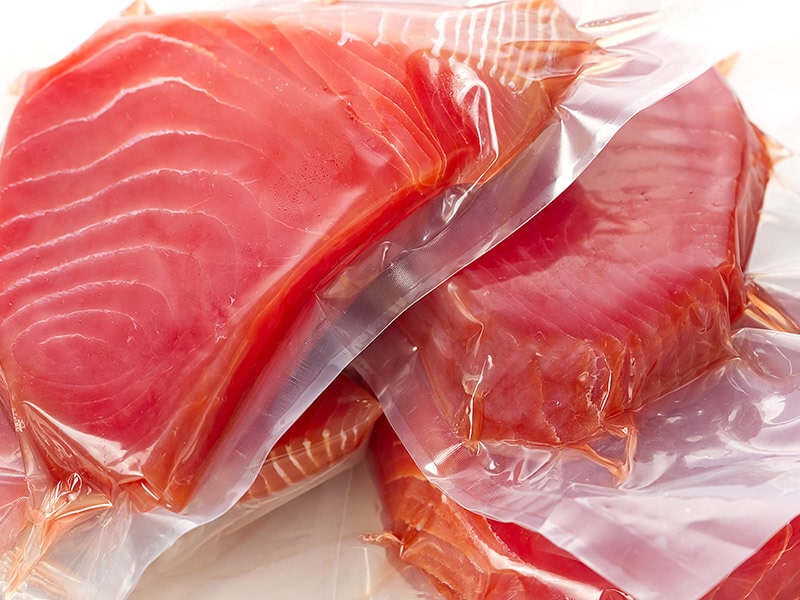 Step 2: Find A Big Bowl
Find a bowl that is big enough to submerge the fish inside. Place your fish inside the bowl. To prevent accidental spilling, it is better to put the bowl in the sink during the whole process.
Step 3: Fill The Bowl With Cold Water
The third step is to fill the bowl with cold water from the tap. The water needs to be at least colder than room temperature. High temperatures will cause frozen fish to produce toxins that cause botulism, which can be fatal. (1)
Step 4: Wait For The Fish To Thaw
After 20 minutes, check the fish to see if it has fully thawed or not. You can let it sit for another 10 minutes if you think the fish is not ready.
Note: You can also leave the faucet running with a little stream of water. This small tip can speed up the thawing process greatly.
Step 5: Rinse The Fish
Once the fish thaws, take it out of the packaging and give it a rinse under cold water. Afterward, pat it dry with paper towels. Your fish is now ready for cooking.
These are proper instructions to defrost fish in water that you should follow.
Defrost Fish In The Refrigerator
This is the safest method to defrost fish, as long as you know the best place to store raw fish in the fridge. However, it may take longer than defrosting it with cold water. You can place the fish into the fridge the night before if you intend to cook it the next morning. Follow these steps.
Step 1: Contain The Frozen Fish
Check if your frozen fish is protected from the outer environment. If your fish is not properly sealed, it may leak in the fridge when it begins to defrost.
Take your fish out of its original packaging then put it in a resealable plastic bag. Force the air inside out of the plastic container before resealing. If your frozen fish is vacuum-sealed, you don't need to worry about this problem.
Step 2: Transfer The Fish To The Refrigerator
You need to decide when you cook the fish ahead of time. The night before you cook the fish, transfer it from the freezer to the refrigerator.
You should place it on a guaranteed premium-quality defrosting tray at the bottom of the fridge to follow food safety protocols and prevent leakage. This placement is to discourage cross-contamination from happening, which can cause food poisoning. (2)
Step 3: Wait Overnight
The cool air inside the fridge will slowly defrost the fish while keeping it refrigerated to discourage the growth of bacteria. By the time you cook it, it should be fully thawed and ready for handling.
Step 4: Wipe It Dry
Make sure that the fish is clean by placing it over running water. After it's cleaned, you need to use paper towels to keep the fish dry. Leaving it wet is not recommended.
This guide will give you a demonstration to defrost fish in the fridge.
The inside environment of the fridge is where fish can thaw safely because the ambient temperature limits the growth of bacteria and other contaminants.
Fish defrosted like this can keep its original texture and flavors because the slow process allows every part of the fish to defrost at an even rate.
Note: You can combine this method with the cold water method by placing your fish, fully sealed, inside a water bowl. Then you can place the whole bowl into the fridge.
This can increase the speed at which the fish defrosts. Although this is still not as fast as the running water trick, it is still much faster than defrosting using only the ambient air of the fridge.
Defrost Fish In The Microwave
Microwaves can be used to defrost fish. This is a quick and effortless trick if you need your fish to thaw in 5 minutes without the need for running water or any other tools.
Be advised that there are drawbacks to defrosting fish in the microwave. You should only use this method as a last resort because defrosting fish too fast is not ideal.
The heat inside the microwave is not evenly distributed. Some parts of the fish may thaw faster than others. If you leave the fish for longer inside, the thawed part will heat up before the frozen part defrosts. The texture of the fish will be destroyed.
You should only microwave cuts that are evenly sliced. They defrost better than other cuts in the microwave so you don't get that much uneven distribution of heat.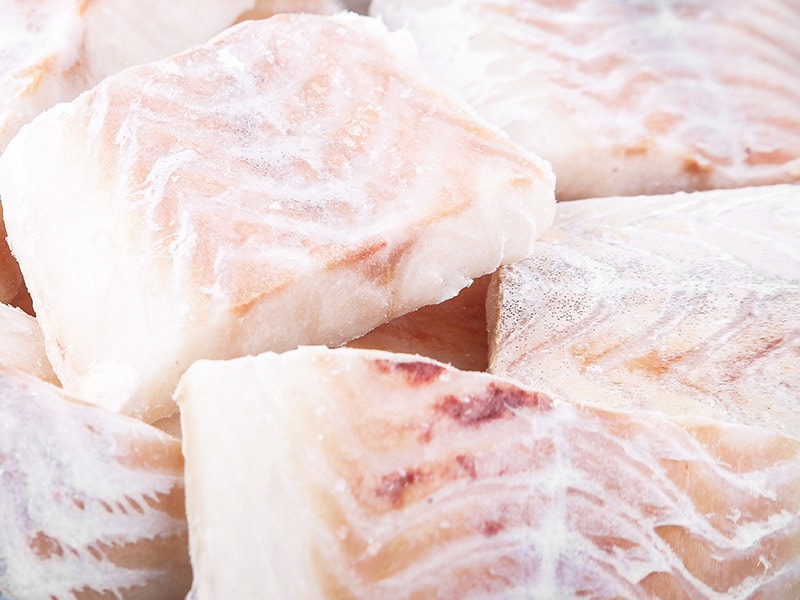 Here is a step-by-step guide to thawing your fish in the microwave:
Step 1: Prepare The Fish
To begin, you need to remove the fish from its packaging and put it in a microwave-safe container. After that, you can place the whole thing into the microwave.
Step 2: Select The Correct Settings
You should check which button to press. Microwaves often come with many different settings for many types of ingredients. Make sure to follow the manufacturers' guide to choosing the settings suitable to defrost your fish.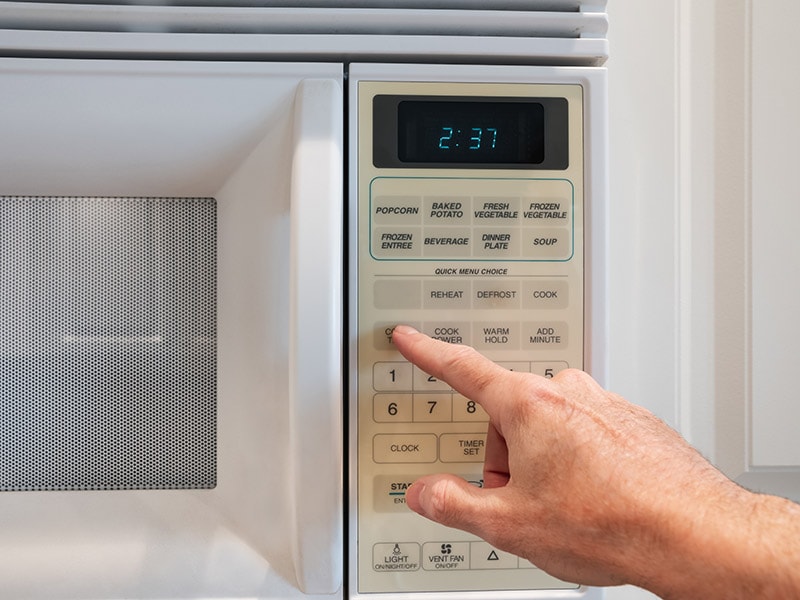 Step 3: Inspect The Fish Frequently
When the frozen fish is in the microwave, frequently check it every 1-2 minutes to make sure that no part is overcooked. If one part seems soft but there are thicker parts that are still frozen, take the fish out and defrost using other methods.
Step 4: Clean The Fish
Just like other methods, you need to clean the fish after defrosting by giving it a good rinse with water. After that, wipe it dry with paper towels.
You can check out this guide for more information on using the microwave.
Defrost Fish By Cooking It Directly
For this last method, you're essentially combining two phases: defrost and cook. This will be especially handy if your frozen fish has been cooked in the first place. There are many yummy recipes featuring leftover fish that allow you to make a quick meal from your frozen fish.
Step 1: Clean Your Fish
Unlike previous methods, you have to clean the fish first. After you remove it from the package, give it a quick rinse under cold water then wipe with paper towels to remove any ice crystals on the surface of the fish.
Step 2: Cook It
Skip waiting for the fish to defrost and cook it immediately. Estimate how much fish you need for one person, and use the right amount for your dish. Aside from some recipes compatible with frozen fish, you can also use the following techniques to cook your frozen fish directly.
Baking: Frozen fish can be baked in a pan inside the oven. Give it a brush of olive oil and add some seasonings before leaving it in the oven. You will know the fish is done when it is not transparent anymore and becomes flaky.
Steaming: Remember to season the fish to add flavors. You can place the fish into a steamer and cook it slowly with steam. The result will be a healthy and silky fish dish.
Add into soup or stew: If you're cooking a pot of soup or stew, you can just add frozen fish directly into the pot when it's still hot. The fish will cook along with other ingredients in the pot.
Grilling: Season the fish before you wrap it in foil. Place it over the fire until it's fully cooked inside the foil.
These are useful and quick methods to cook frozen fish that do not require you to defrost them. However, you should look out for signs indicating that fish is cooked, as frozen fish usually needs a longer time to be ready, which makes it quite easy to accidentally undercook it.
Learn how to cook salmon straight out of a freezer with this in-depth guide.
Tips To Defrost Fish Like An Expert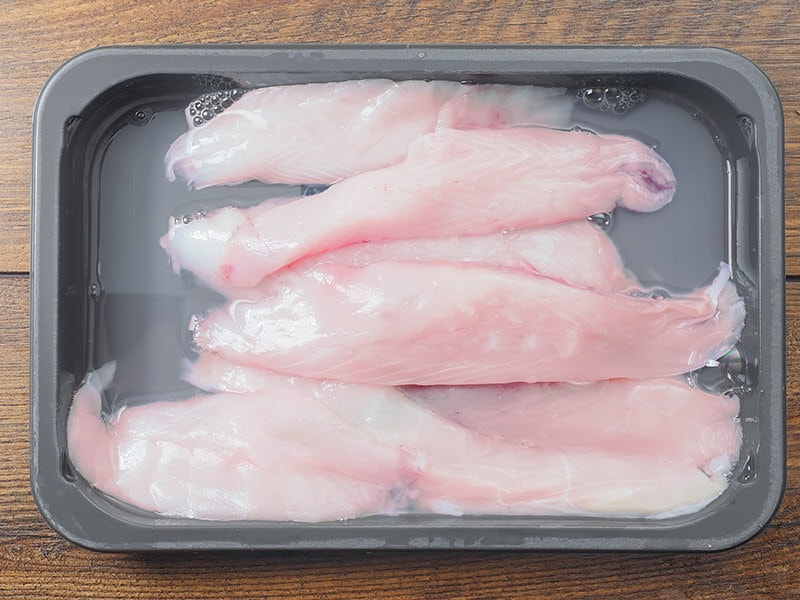 Frozen fish can be tricky to handle. Take advantage of these tips to defrost your fish just like how a chef would do it at their restaurants.
You can check whether the fish is still frozen by using your finger to press into the meat. If it feels hard in the middle, you should let the fish defrost for a while longer.
You should check whether the original packaging is properly sealed before defrosting. If there are signs of punctures, replace them with another plastic bag.
You should not use water hotter than room temperature to defrost fish. This will tremendously increase the growth rate of bacteria outside the fish. Remember to always use cold water.
Do not attempt to bend or deform the fish by force while it's frozen. This can affect its texture. You can cut it with a sharp knife instead.
To prevent cross-contamination, you should let the fish defrost in an airtight container at the bottom of the fridge. Do not keep them on the same level as ready-to-eat foods and other uncooked ingredients other than meat.
If you're using water to defrost, change the water every 20 minutes to thaw the fish faster.
Give the fish a final inspection before cooking. Make sure the fish doesn't have a bad smell or any weird-looking spots on it.
FAQs
I'm sure you can defrost fish properly if you follow the methods above. Here are some more common problems and their solutions that I think are useful for you to take a look at.
Fresh Fish From The Freezer
Commercially frozen fish is a step-up in long-term fish storage methods. Follow these defrosting methods step by step and your fish will come out as fresh as it can be. They retain the flavors and texture of freshly caught fish, so you don't have to worry about deterioration.
That's all there is to defrost frozen fish. If you find the information in this guide helpful, consider leaving a comment down below to demonstrate your results to me and everyone else.
Nutrition Facts
2 servings per container
---
Amount Per ServingCalories185
% Daily Value *
Total Fat 2.8g

4

%
Protein 39.2g

78

%
---
* The % Daily Value tells you how much a nutrient in a serving of food contributes to a daily diet. 2,000 calories a day is used for general nutrition advice.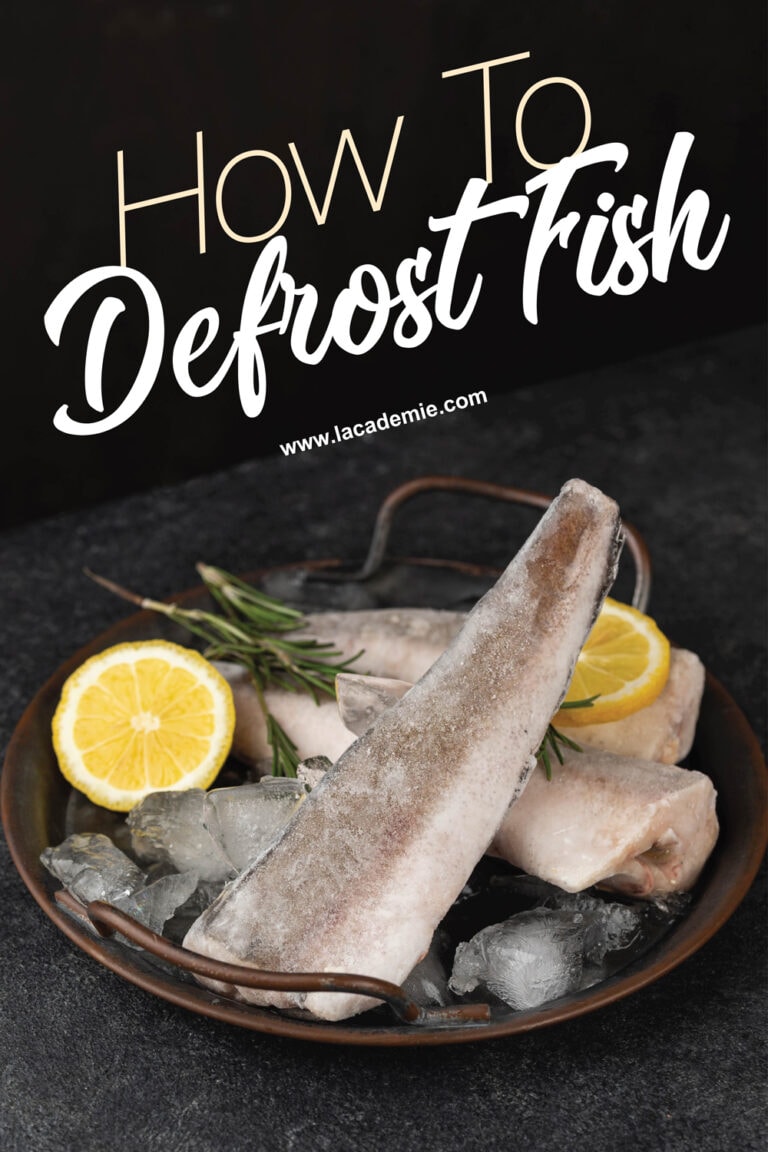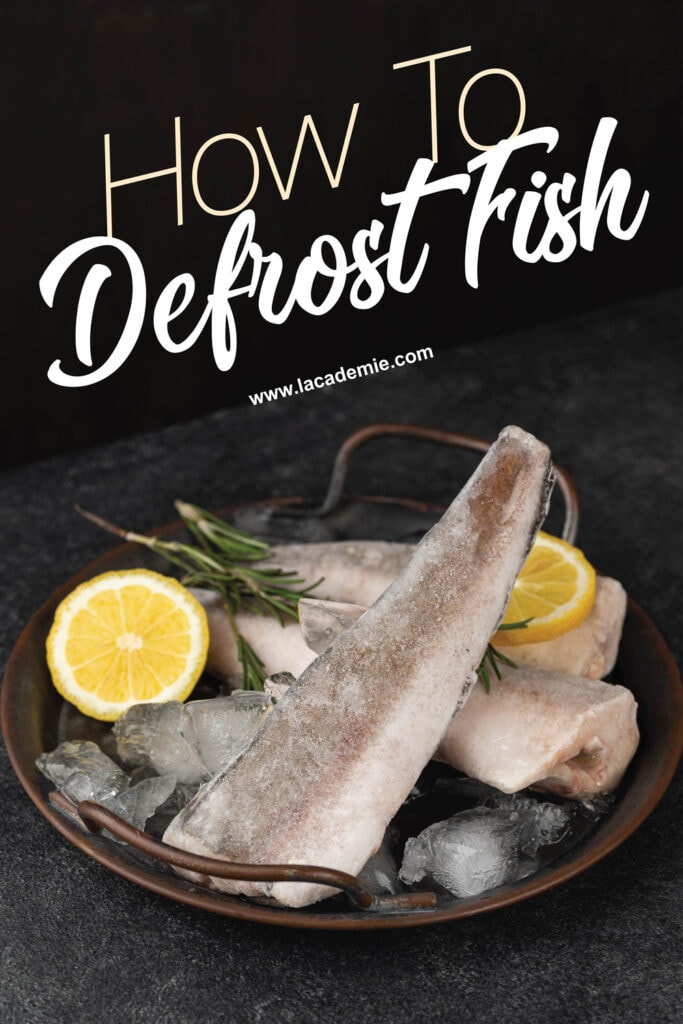 References
King, M. and Bland, R., 2021. Thawing Vacuum Packed Fish.
SEAFOOD HEALTH FACTS. 2021. Seafood Safety Overview.