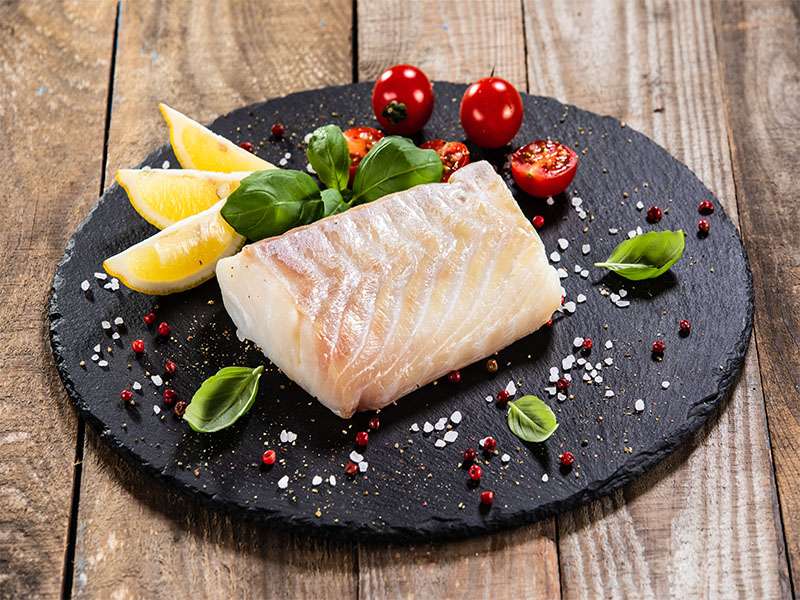 What to serve with cod has got you in trouble recently! Everybody gets intoxicated with this fish, so desperately wants it to appear in their meals.
Cod is known as a rich source of lean protein, essential vitamins, and minerals. It will be a waste to leave cod from your recipes if you're following a healthy diet. And if you love someone, let's use cod to make a hearty dinner for two. And I bet he/she will love you more.
But the main topic today is about what dishes to perfectly pair with your fish dish. So here they are, the 30 easiest yet incredible recipes to serve with cod on special occasions that you don't want to miss.
What To Serve With Cod For Your Plate?
I have just gathered up my savory recipes that accompany this nutritious cod. It does not matter if you decide to toss it on the grill or bake it in the oven; the moist and tasty side dishes finally show up on the plate!
Get ready for 30 fabulous pairings with cod? Now let's see what they are to impress your friends:
Asparagus and Arugula Salad
Avocado Rice
Buttery Potatoes With Parsley
Braised Artichokes With Pancetta and Shallots
Brussels Sprouts With Bacon
Creamy Kale
Creamy Succotash
Creamy Scalloped Corn Casserole
Cornbread
Cauliflower Rice
Cheesy Roasted Broccoli With Mashed Potatoes
Coconut Creamed Spinach
Couscous Salad
Celery Salad With Sesame
Easy Classic French Fries
French Ratatouille With Vegetables
Greek Lemon Pmandine
Green Beans and Cucumbers With Miso
Grilled Panzanella Salad
Indian Lemon Rice
Oven-baked Risotto
One-pot Garlic Mushroom Quinoa
Pasta With Caramelized Potatoes and Kale
Quinoa With Kale
Roasted Asparagus With Garlic
Roasted Cauliflower
Stuffed Bell Peppers With Couscous
Zucchini Fritters
Zucchini and Tomato Ragu
What Do You Know About Cod Fish?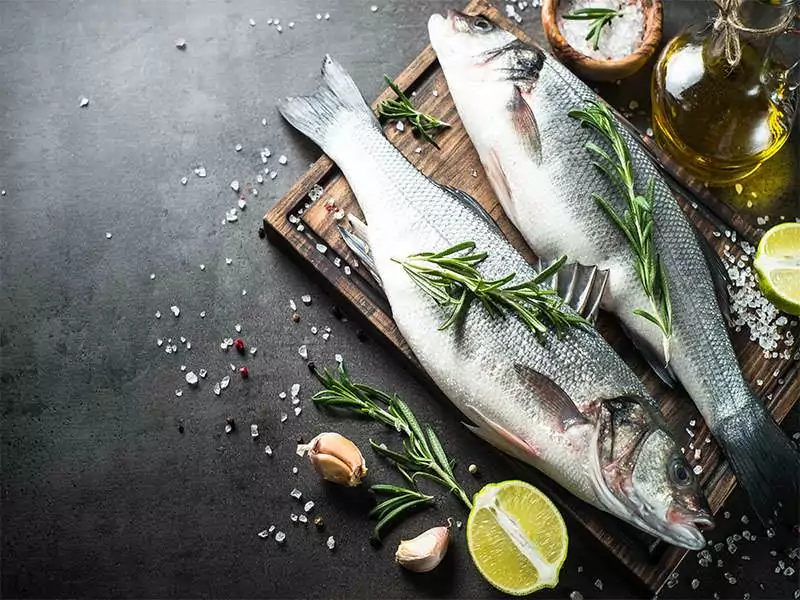 Cod is a common name referring to a marine fish of the family Gadidae. In this family, you'll encounter whiting and haddock that are also sold as cod (1).
For those wondering about cod, it's a demersal fish type that only swims in depths of 6 – 60m. Its average length at a mature age is 2m, while the weight can reach within 5-12kg. Not only has a big head but cod also has a muscular body.
Two popular cod species live in the more bottomless seas, such as the Atlantic and the Pacific cod.
Watch this video to know more:
The first one gets used the most in every fish and chips. Meanwhile, the second one is favored with its succulent taste, so pairing well with all side dishes.
Apart from these two, you might encounter some other types of cod in your daily life. They are Rock Cod, Buffalo Cod, Black Cod, and Alaskan Pollock.
Among them, Pollock is the star taking the culinary world by storm due to its versatile and easy-to-prepare properties. Thanks to its fresh, tender, and intense flavor, it's also considered the globe's best white fish.
And if your favorite recipes are fried fish, you can use a deep fryer to cook them. But it is also essential to know the right cooking time for frying fish in deep fryers to prevent the overcooked or soggy dishes.
How about the female cod? The fish can lay more than 5 million eggs, making itself one of the most fertile fish on the earth. You can boil the eggs or prepare them with other ingredients according to your favorite recipes.
Nutrition Facts Of Cod Fish
So is cod good for you or not? From a health perspective, cod is a true superfood containing many proteins, vitamins, and minerals.
The following table informs you how much a nutrient should be in one portion of cod (100 grams) for your daily diet.
| | |
| --- | --- |
| Nutrients | Value |
| Total fat | 0.67 g |
| Protein | 17.8 g |
| Calcium | 16 mg |
| Iron | 0.38 mg |
| Phosphorus | 203 mg |
| Potassium | 413 mg |
| Sodium | 54 mg |
| Zinc | 0.45 mg |
| Selenium | 33.1 µg |
| Folate | 7 µg |
| Vitamin B12 | 0.91 µg |
| Vitamin A | 12 µg |
| Vitamin E | 0.64 µg |
| Vitamin D | 0.9 µg |
| Fatty Acids | 0.131 g |
As you see, cod goes relatively low in calorie and fat content, contributing to your healthy weight and heart! Meanwhile, the omega-3 fatty acids which make the list above have been proven to protect humans from potential health issues.
Well, consuming fish has been associated with heart health. So it means adding cod fish to a diet can lower heart disease risk and boost brain function.
Moreover, the cod's marine fatty acids may guard you against arthritis and remarkably decrease the risk of growing Alzheimer's disease.
Health Benefits Of Cod Fish
What makes cod different from other varieties of the sea is the incredible health benefits it brings to humans.
It's not just delicious but also nutritious when packed with many nutrients. However, pregnant women should consume less than 12 ounces of cod every week due to the mercury content.
Let's see why cod is a superfood to consume! You should see the video below:
Out of several advantages of eating cod, asthma prevention is probably the best thing to discuss now.
Prevent Asthma
Selenium in cod is a nutrient serving a crucial role in different aspects of your health. It also contributes to the boost in cardiovascular health, immunity, and prevention of cancer.
For asthma, it has been linked to stress and inflammation within the body. So selenium of cod can alleviate the symptoms by releasing antioxidants (2).
Control Blood Pressure
Anyone whose diets contain significant amounts of omega-3 fats has a lower blood pressure than those consuming less. Luckily, cod is one of the most abundant sources of these good fats.
To further control your blood pressure, consume less salt and avoid alcoholic drinks to lose a few weights. Do not ignore adding more veggies and fruits to your daily meals for more essential vitamins and minerals.
Improve Mood
The Omega-3 fatty acids in cod make it one of the best mood-boosting foods. Whenever you want to boost your mood in less than a few minutes, do it through food.
Choose those rich in omega-3 fats and vitamin D like cod as it helps you balance all hormones and give you a boost in your temper.
Lower Type I & II Diabetes Risks
Cod is a low-fat food that is free of carbohydrates. It becomes an ideal treat for those having type I and types II diabetes.
Better than that, Omega-3 fatty acids in the fish is the number one savior of those in this condition. It has low fat yet great sources of high-quality proteins.
To keep fat, salt, and sugar to a minimum, besides consuming fish, add more fruits and vegetables to your diets.
Improve Skin And Hair Health
If selenium prevents hair fall, then vitamin E in cod is essential for keeping your complexion healthy. That's why many people add cod to their meals to trigger hair growth and maintain glowing skin.
The fatty acids in the fish also help boost your skin and relieve some skin conditions such as acne, irritation, dry skin, and even skin cancer.
Prevent Atherosclerosis
Your dietary intake of cod is one of the valuable ways to prevent atherosclerosis. This condition occurs as plaque gets formed in your arteries-the good fats in the fish play as antioxidants that can lower blood clotting.
Reduce Bad Cholesterol
Like other fish, cod provides you with reasonable amounts of fatty acids and essential nutrients. Your body craves these fats, but it cannot make them on its own. So you only achieve these high-quality fats through food.
Having adequate fatty acids in every meal will lower your bad cholesterol like triglycerides, for example.
Boost Brain Function
Consuming cod keeps your brain in excellent condition even when you're aging.
The good fats once again improve your brainpower and prevent possible heart diseases. These even help fight Alzheimer's disease, which often affects your memory and behavior.
30 Incredible Side Dishes To Serve With Cod Fish
It does not make a difference if you throw cod on the grill or in the pot; a side dish should always be around to complete your hearty dinner. Here, you'll get what you're craving: 30 quick and simple side dishes for cod!
Asparagus And Arugula Salad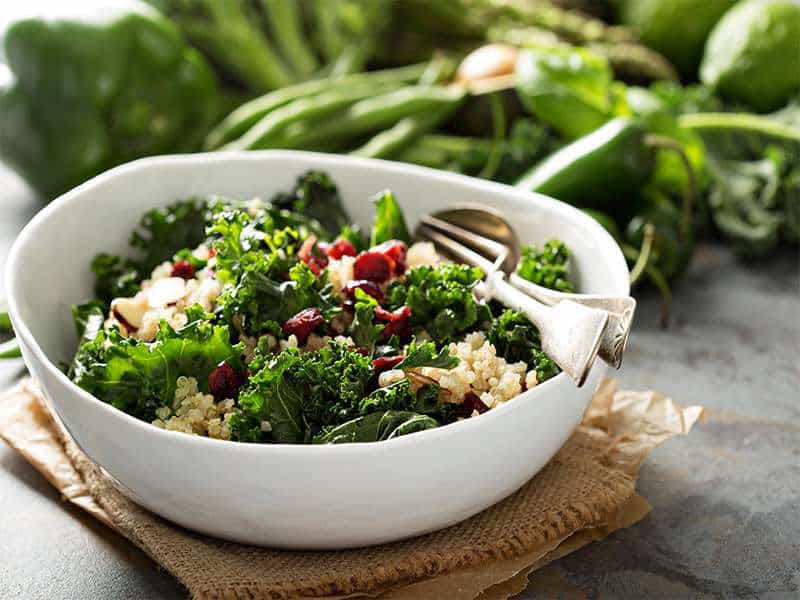 Here comes the graceful spring salad recipe that warms up any heart. If you cannot think of a single dish to serve with your cod, try this bright salad!
The dish combines many nutritious ingredients. It gets topped with roasted asparagus and delicious arugula, making such a harmonious blend! Add a bit of salt and pepper for a better taste.
To make sure this dish taste as delicious as possible, check for indications of spoilage in asparagus and arugula. I cannot stress this enough, only use fresh asparagus and arugula, or else your salad will end up tasting quite unappetizing.
Avocado Rice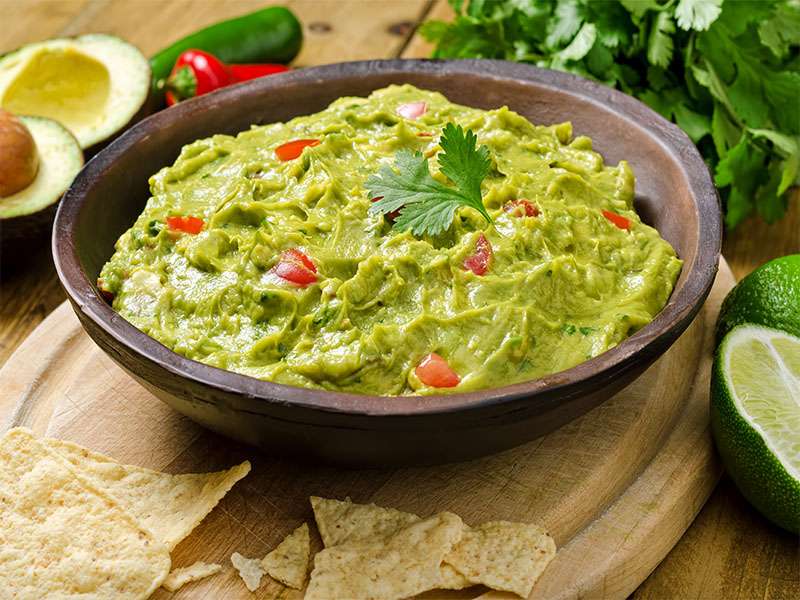 Rice is the staple of the dish. But you need to submerge the avocado till its sides get all covered. Ensure to toss every ingredient like rice, lime, avocados, and spices together evenly! It's so easy and beautiful to make!
Try making this healthy and creamy avocado rice now!
Hurry to serve this simple side dish along with your cod. Place the fish on the top of the rice if you want and enjoy. And if you are a taco's lover, you can also prepare this rice dish to serve along with your tacos. You will be stunned for sure.
Buttery Potatoes With Parsley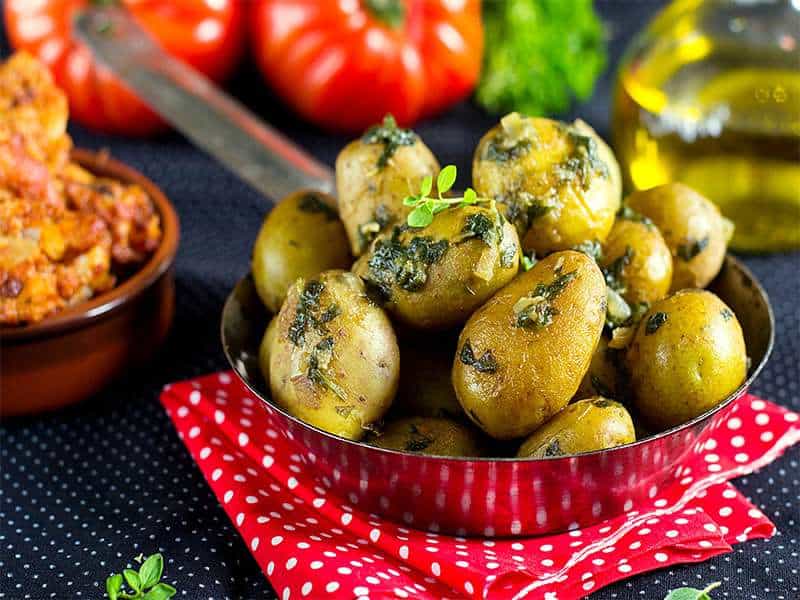 You'll fall in love with the freshness of parsley that pairs well with buttery potatoes! It's okay to use fresh dill, but this works great during hot summer days only.
This superb side dish is perfect for serving with your cod! Watch this video to know more:
For naturally vegan eaters, this rich and robust potato dish is just so good to try! It only requires five ingredients, including garlic, butter, parsley, salt, and potatoes. Throw them all to complete the most incredible side dish.
Braised Artichokes With Pancetta And Shallots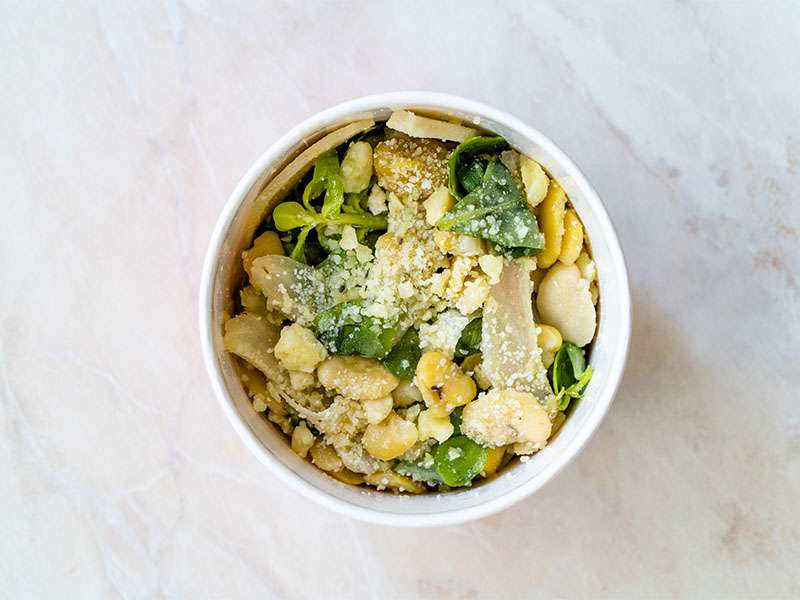 You'll be surprised at the crispy and tender flavor of the braised artichokes. Now give it a try! The braising technique is always the big key to this winning dish.
See quickly how to properly braise artichokes with this video:
There's no need to have high-end ingredients or complex seasoning. All you need is a subtle braise that ends up with an irresistible aroma that keeps invading your kitchen.
Brussels Sprouts With Bacon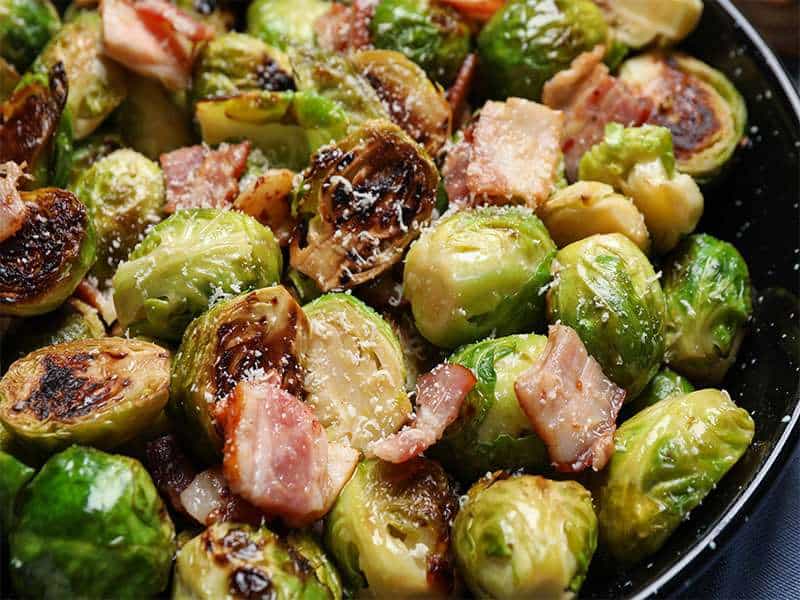 Are you ready to get a bite of this incredibly simply sauteed recipe yet? The salty flavor of bacon seems to work perfectly with sweet brussels sprouts this time.
Prepare this fall dish if you don't have time for complex recipes! The video below should be able to help you:
Just prepare the lovely little cabbages and let them be at their peak taste with your sauteing technique. Create a flavorful crunch with bacon and sweetened vinegar! Now count me as a big fan of Brussels!
Creamy Kale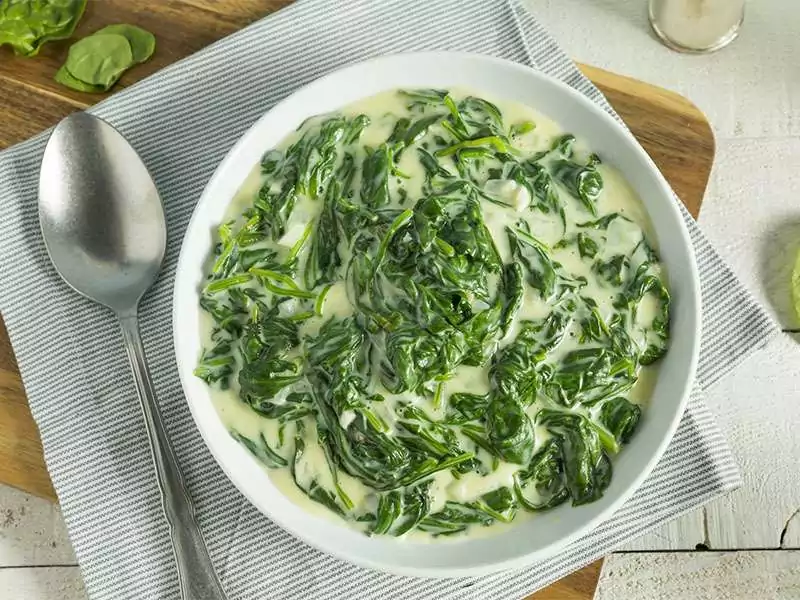 Did you have a hard time wondering what to serve with cod? Try this healthy kale recipe to surprise kids in the blink of an eye!
Personally, this is my favorite dishes among various keto accompaniments. Why? Because its buttery flavor mixes so well with the aromatic greens. Both shallots and nutmeg act as flavor boosters for kale this time.
Here's a peek of how to make this Keto-friendly kale recipe!
Make creamy kale for any time of the year as it's easy and amazingly tasty. The dish is perfect with a creamy and garlicky taste-to come alongside cod and roast chicken and beef!
Creamy Succotash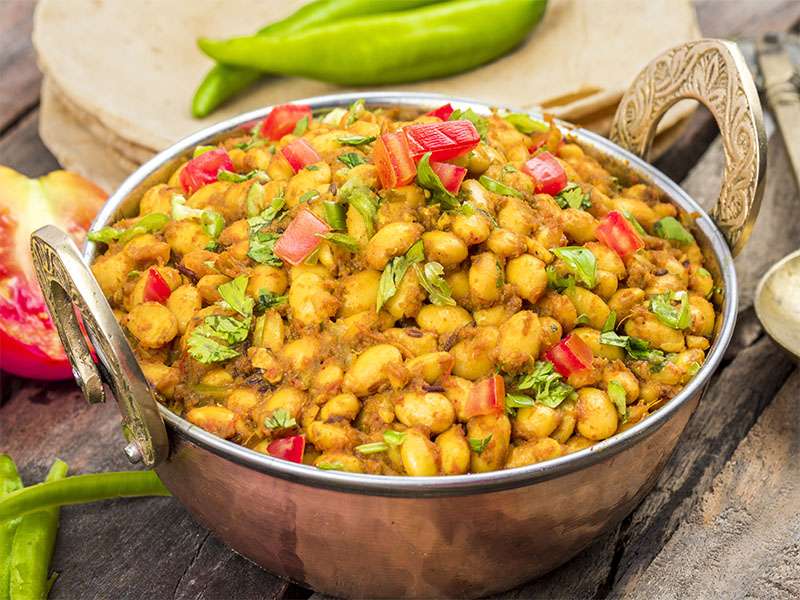 The taste of home is always beautiful to remember whenever you're away. The creamy succotash is an excellent example of that! It's a famous Southern veggie specialty made in a traditional way with butter.
Prepare this creamy dish for your hot summer meal! Watch this video to know more:
In the south of America, succotash means a harmonious blend of any vegetable as long as it has fresh corn, lima beans, and cherry tomatoes. The key to making it is to stir the mixture in heavy cream and add flour to thicken it.
Creamy Scalloped Corn Casserole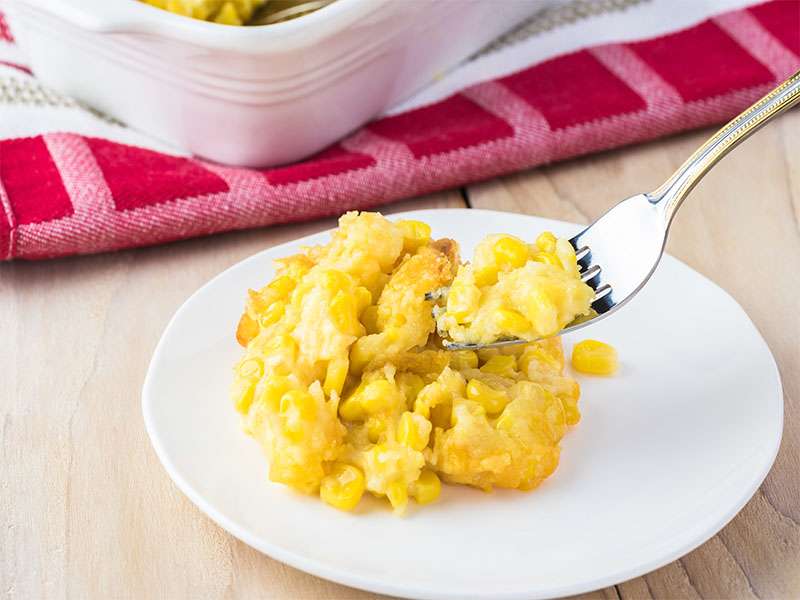 Have you got a favorite family recipe yet? Look nowhere else but here! The creamy scalloped corn casserole is easy and quick enough to prepare for your warm dinner!
Get the top-rated corn casserole ever! You should see the video below:
It's cheesy and delicate in flavor and texture, with plenty of crunchy crackers and corn on the top. In this recipe, the presence of these buttery crackers only makes the dish look fantastic. Do not miss a sprinkle of parsley to level up your casserole and enjoy!
Cornbread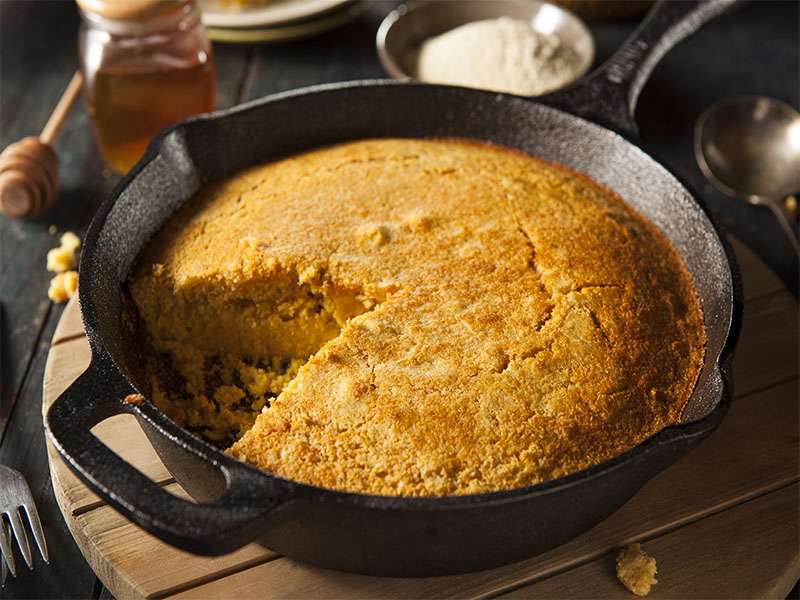 Though you're not a child anymore, this graceful and sweet cornbread can make you in love at once! It's not just moist, sweet but also fluffy and crunchy to taste.
Check out this classic cornbread to surprise your family!
Try this side dish with your cod, and it won't disappoint you after all. Its golden bread has a flawless balance of flavors you've rarely seen. Ensure to melt the butter in the skillet to add more richness to your bread.
Cauliflower Rice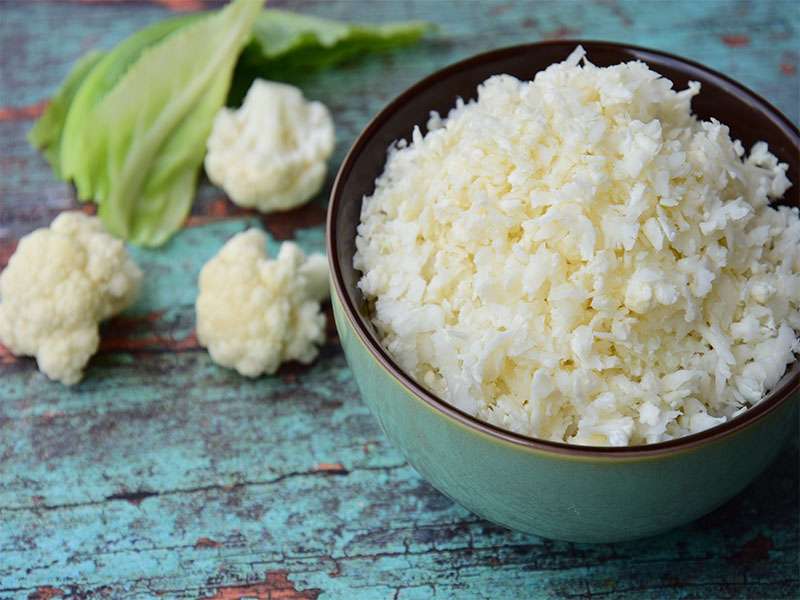 Cauliflower rice is one of several mind-blowing side dishes to wow your friends for sure. With a light and tender taste, you can pair it with anything in the kitchen.
Watch this video to know more:
Even if you're fed up with eating rice every day or for dinner, adding a crispy vegetable like cauliflower can change everything! Make sure you have garlic, almonds, lemon, and red pepper flakes available to enhance this fantastic dish.
Cheesy Roasted Broccoli With Mashed Potatoes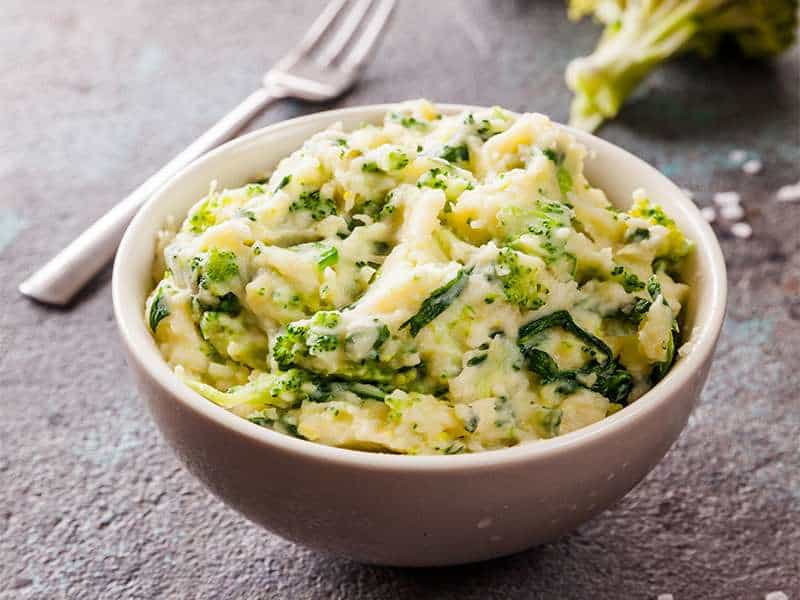 Having mashed root veggie is always a perfect match for your healthy cod dish. It might need some tips to thicken mashed potatoes to ensure the best result, but overall, this idea is not too difficult to prepare. And feel free to add any spice to reach your favorite taste at last!
Learn another interesting twist to mashed potatoes now!
The dish's star is broccoli, which adds freshness and cheesy taste for the whole food. Remember to roast it until these florets become softer. Then, top with shredded cheese to make this recipe insanely flavorful than ever!
Coconut Creamed Spinach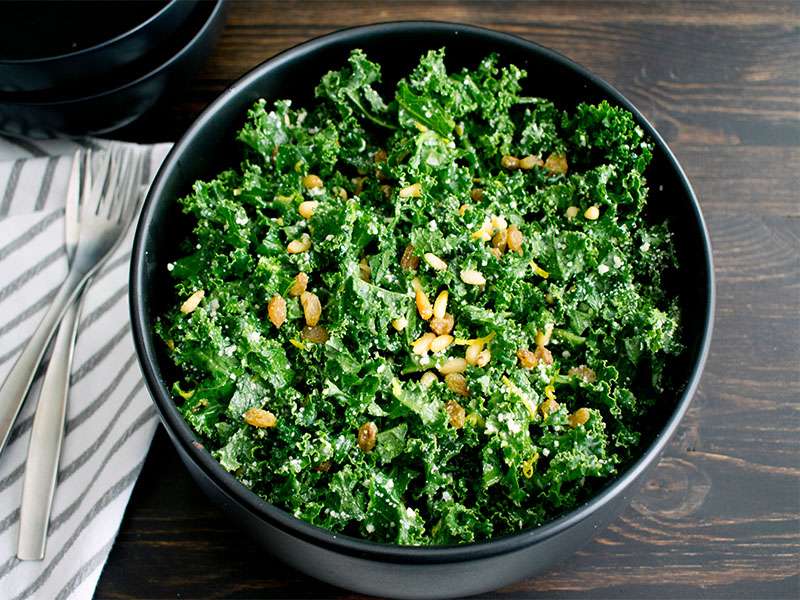 Let's make a rich spinach dish without cream! How come? Only use coconut milk and create the magic! After sauteing the spinach with herbs and seasonings, you'll gain a nice and thick mixture.
Watch this video to know more:
It's yummy and versatile for starters and vegetarians who want to reduce their fats in diets. Mix spinach and spices delicately with coconut milk, cumin, ginger, and a pinch of jalapeno to make it fragrant!
Couscous Salad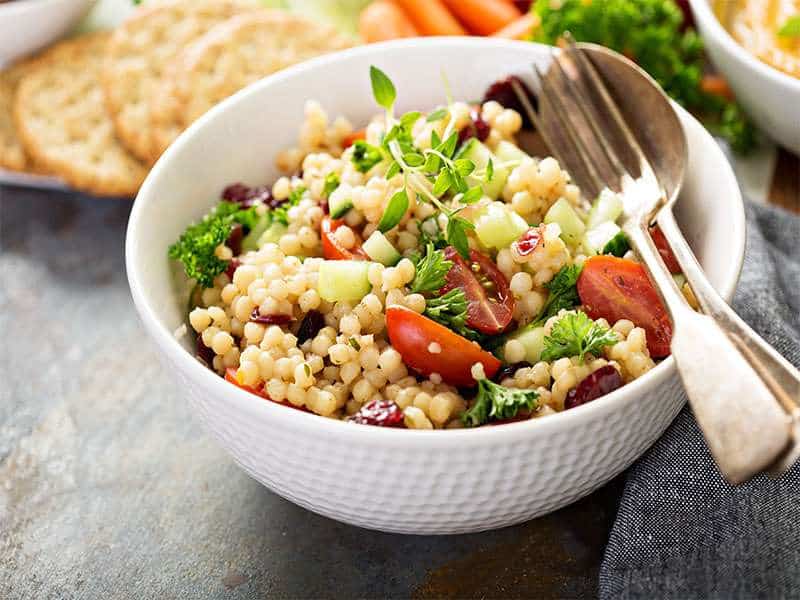 Season your mouth-watering Mediterranean couscous salad with colorful veggies, olives, cheese, and beans! This vegan side dish symbolizes the savoriness and freshness of ingredients.
Watch this video to know more:
If you want an outstanding balance of nutrients and fiber-rich content, then try this salad right away. Make sure to prepare chickpeas, herbs, artichokes, and zesty vinaigrette sauce to complete the dish. Trust me; this superfood salad knocks you down for the first bite!
Celery Salad With Sesame
This refreshing Asian recipe fits your summertime as a side dish. It can enhance the flavor of your cod or barbecues with the use of only a celery base.
Not every salad needs greens, but this dish will change your mind.
Let's see how to prepare a savory celery salad in summer! Let's have a look at the following video!
It holds a strong, bright, and tasty flavor. And you may feel comforted and satisfied eating it on hot days. From sesame to lime juice, everything blends in the right way to make the salad unforgettable!
Easy Classic French Fries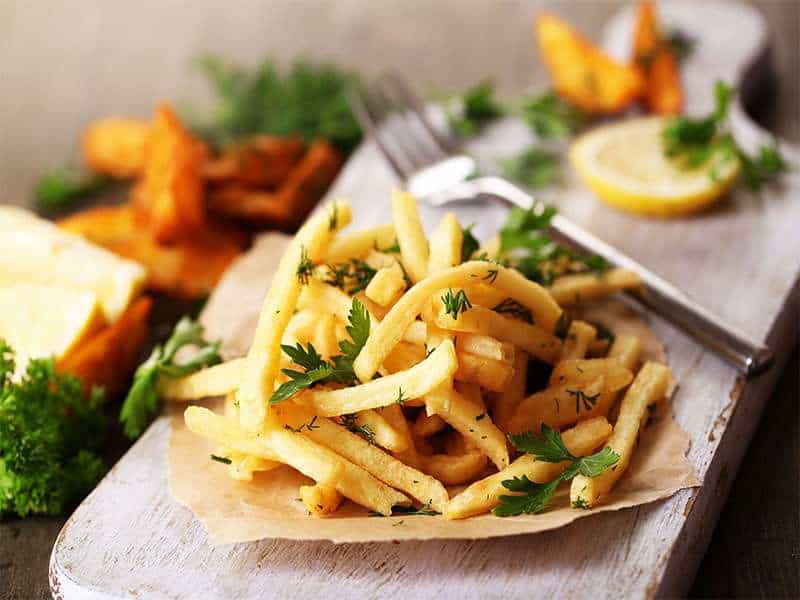 Though many people know this dish, you still need some secrets to reach the crunchy texture of this classic fry! Frying the raw potatoes twice is also the key to your success.
It's time to master making the crispiest French fries! Watch this video to know more:
You need to ensure they are light and filled with a delicate flavor. Go ahead with the idea of using an oil that features a neutral taste. Many options are available to use, such as canola oil, vegetable oil, and peanut oil.
Feel free to pair your fries with cod or steak, and share this hearty meal with your family now!
French Ratatouille With Vegetables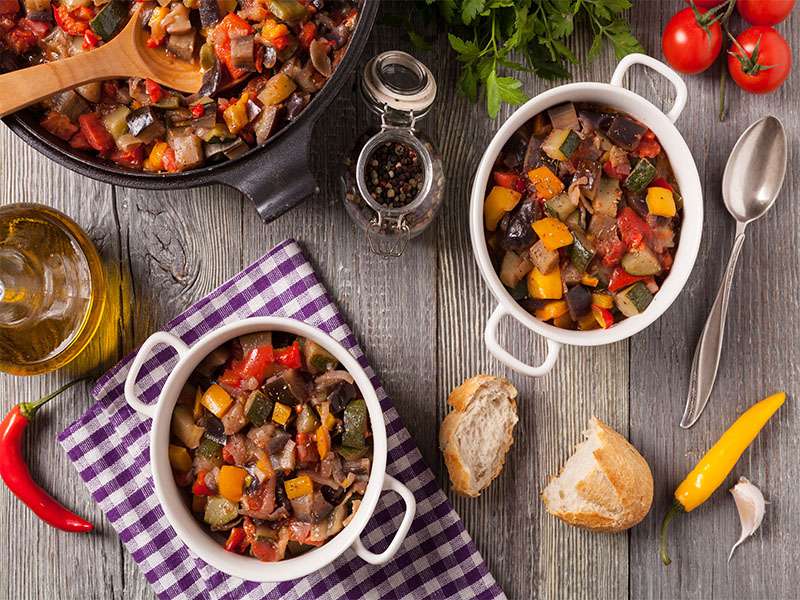 Bring all members of your family together with the traditional French ratatouille idea that includes various kinds of veggies in a second! This thick stew of eggplant, sweet bell peppers, zucchini, and tomatoes surely makes a fantastic crunch.
It's time to get a perfect French stew of vegetables! Watch this video to know more:
If you cannot think of what to serve with cod, then making ratatouille is a perfect choice for your weekend.
It's simple to do since you only have all veggies chopped and ready before cooking them in one pot. Do not miss simmering them in tomato sauce before serving.
Greek Lemon Potatoes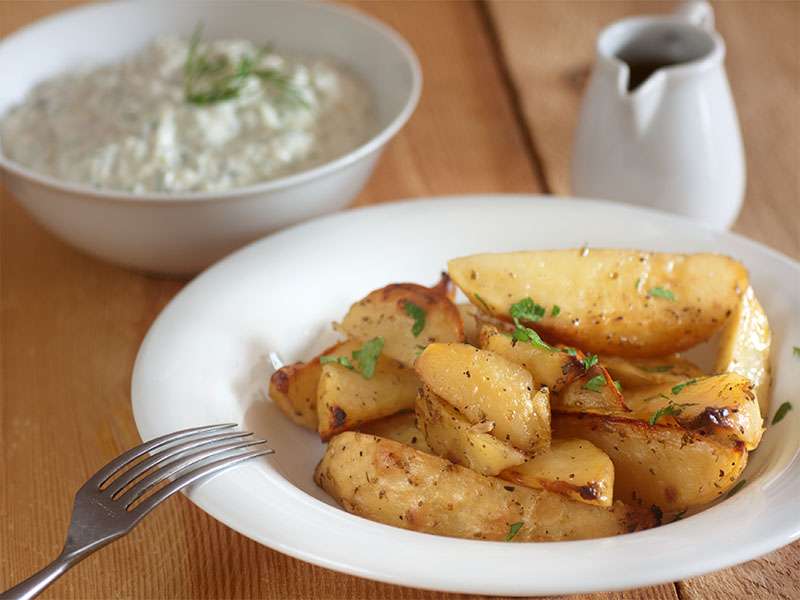 Not many people can resist potatoes, especially when they get cooked in mild and fresh juices. The way you make it allows them to have a unique taste.
Get the best tips on making Greek lemon potatoes! Watch this video to know more:
If you choose baby potatoes, then it's unnecessary to eradicate their skin altogether. Just cut them in half since doing so helps them suck up more sauce.
What makes this dish a classic is its crunchy edges but tender interior. Pile them all on your plate and top them with fresh oregano leaves.
Green Bean Amandine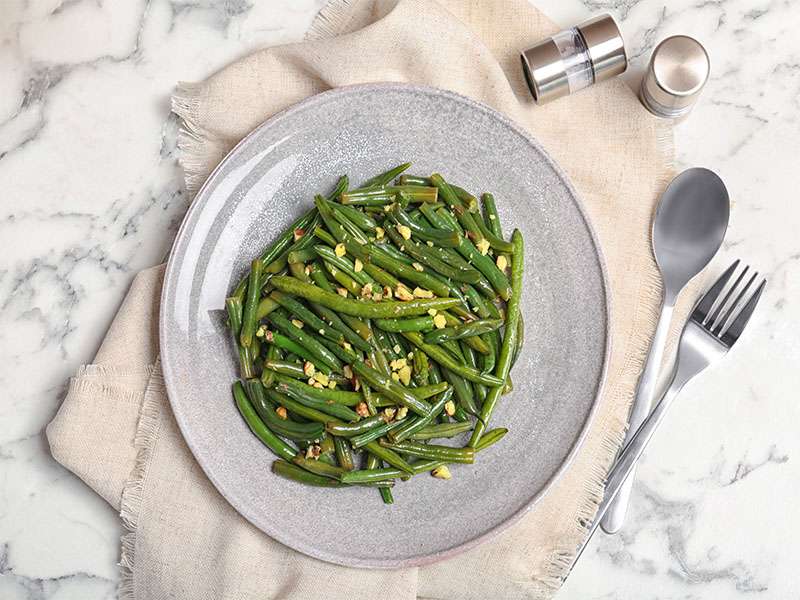 Serve it as your holiday side dish along with cod! Let's toast all the almonds to build a rich and flavorful taste to the whole dish. And do not miss a squeeze of fresh lemon at last!
Get a basic healthy green bean amandine for dinner! Watch this video to know more:
But the beans are what stand out the most on the plate. You need to cook them with a pinch of salt until they become tender. Every ingredient will come perfectly together in one single skillet. Try it now for dinner tonight!
Green Beans And Cucumbers With Miso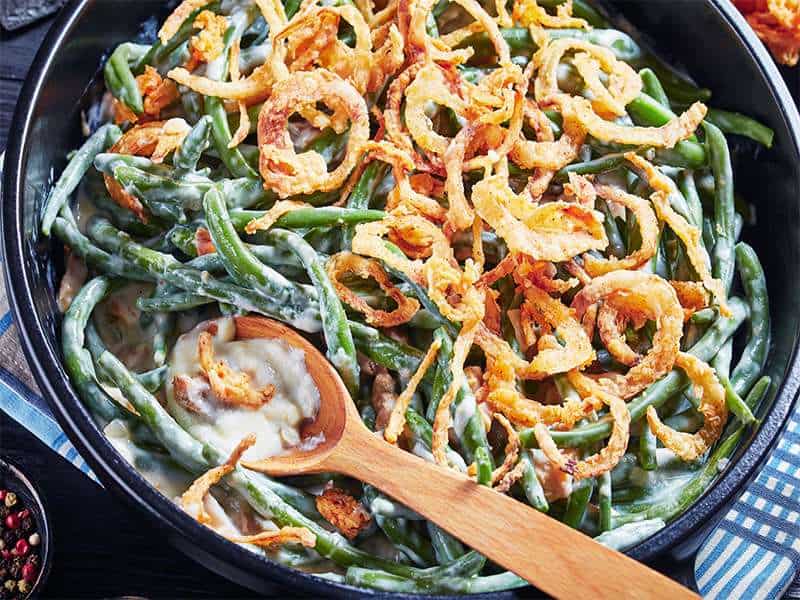 Let's fill the dish with love and tasty organic whole foods! Combining smashed beans with cucumbers sounds weird, but it creates a fabulous and rich flavor without expectation!
Master this seasonal salad with miso dressing. The video below should be able to help you:
The use of miso sesame here would make everything fantastic, so prepare a jar of it at hand. And serve it over a salad, a cod, or chicken, depending on your favorite.
Grilled Panzanella Salad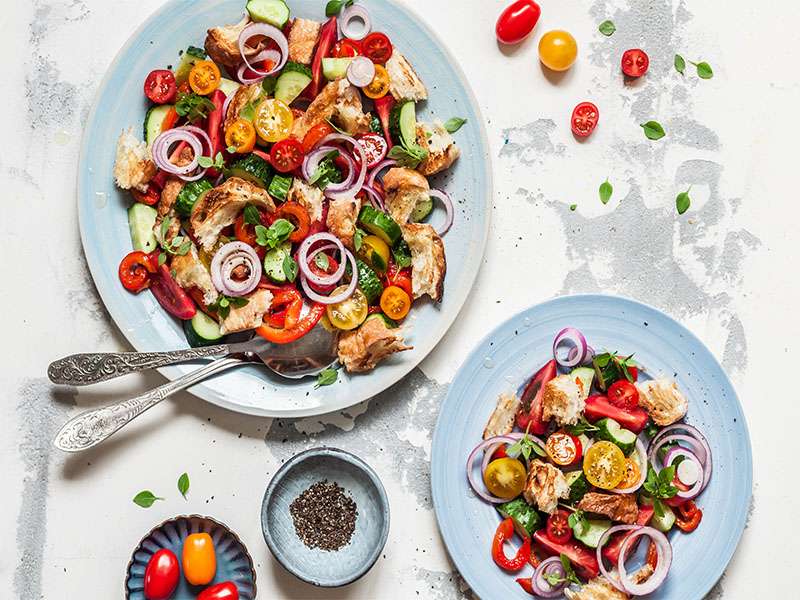 It's a favorite of my summer salads! What makes it special is that it sits longer than any salad!
Get a quick recipe for making grilled Panzanella salad! Watch this video to know more:
Get an Italian loaf of bread for the dish alongside cod, and you might need to brush it with olive oil before grilling it on a pan.
Have juicy tomatoes, red peppers, cucumbers, and bright red onions prepared on the table. These are enough to increase the full flavor. Add them all to the salad and enjoy!
Indian Lemon Rice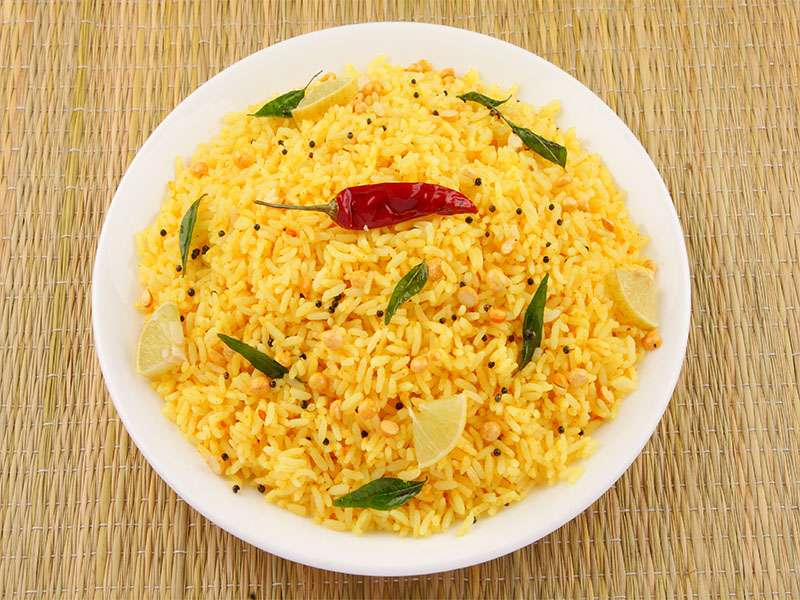 Come to feast at home with a classic Indian side dish that combines cooked rice, savory spices, and curry leaves for the best flavor!
Let's master how to make Indian lemon rice in a flash! Watch this video to know more:
Toasting them in a skillet will help create a tasty and tangy dish to enjoy with your family and friends. Add more nuts if you want them to be crispier in texture.
Oven-baked Risotto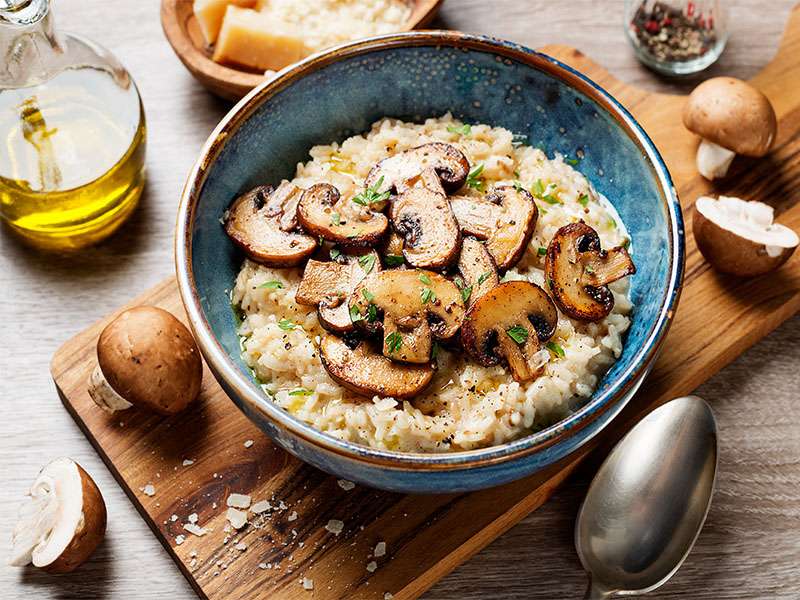 With this easy risotto recipe, there's no need to stir it at all! The tasty seafood side dish is creamy when rice feels starchy and soft for the first bite.
Let's see how to make risotto like a pro! Let's have a look at the following video!
It's more comforting to serve your tasty risotto with cheese as an excellent starter for weekend dinners. Add mushroom, asparagus, peas, and risottos after onions and rice to enjoy it!
One-pot Garlic Mushroom Quinoa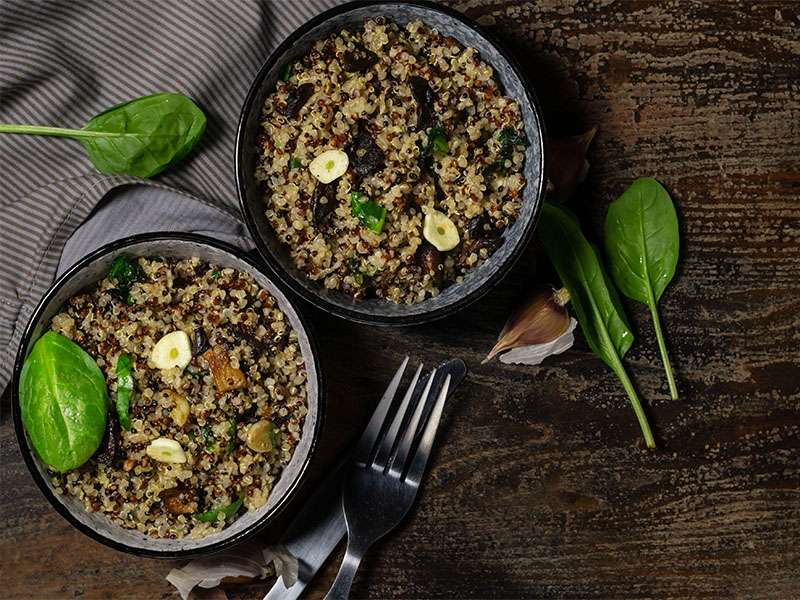 Get going with your healthy eating habits with this garlic mushroom quinoa recipe! It's simple to make, especially with a few essential ingredients at hand.
Take your cooking to the next level with mushroom quinoa! The video below should be able to help you:
If you want a dish that is not just warm, fresh, but also comforting, then here it is. The mushrooms in it indeed burst in flavor. Simply stir the whole ingredients in salt, pepper, and top it with fresh herbs for a pleasant flavor than ever!
Pasta With Caramelized Potatoes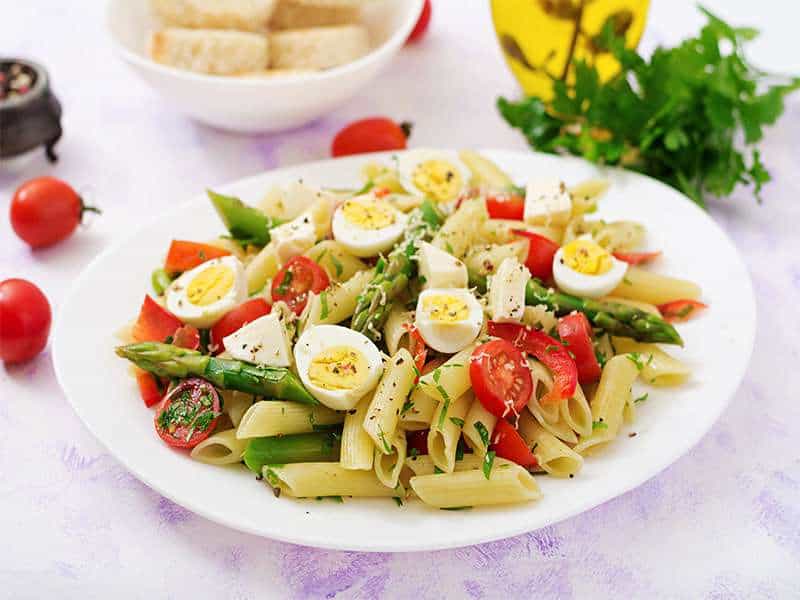 Another side dish that bursts with flavor you cannot miss for dinner is the classic pasta. All you need are rice and potatoes aside from Kosher salt and kale!
Video below is a peek at making healthy pasta with caramelized potatoes!
Onions would be the leading star of the dish after getting caramelized. These are cooked until they achieve a deep golden brown color. Serve pasta with sweet potatoes and garnish it with parsley if you like!
Quinoa With Kale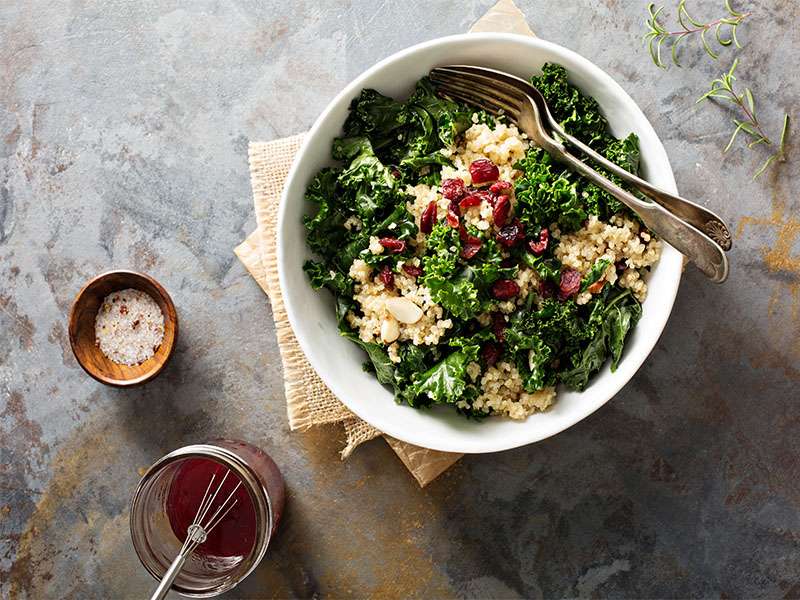 You need minimal ingredients to complete a quinoa recipe. And this salad wows you with only healthy stuff: kale, quinoa, carrots, and dressings.
Watch this video to know more:
Give it a try, and you'll be thrilled to have it for a vegan lunch! To make it taste unique, add apple cider vinegar, olive oil, mustard, and a bit of curry powder if you desire. It's the key to this light and delicious dish!
Roasted Asparagus With Garlic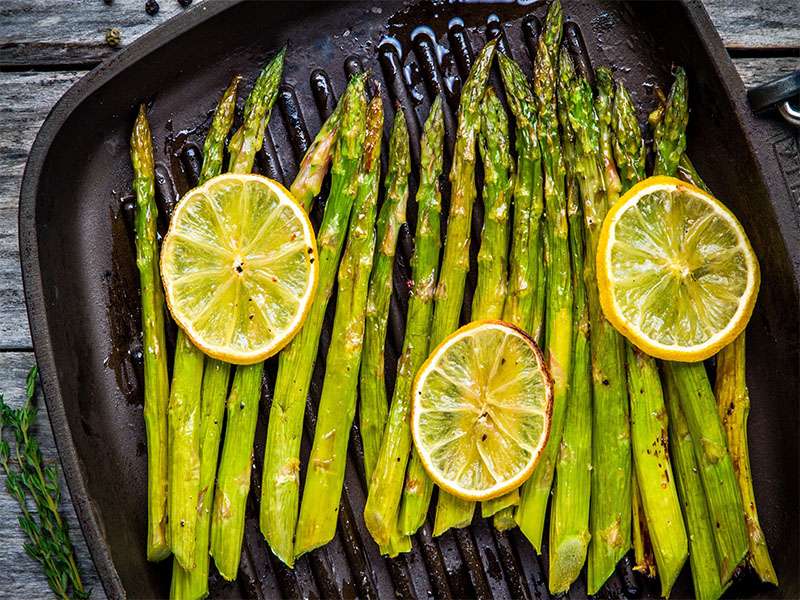 Among low-carb keto dishes, roasted asparagus is probably the most straightforward and tastiest dish you can try.
Watch this video to know more:
Roasting is the fundamental way to get more veggies. Throw your asparagus on the baking tray and leave the work in the oven! That's where this recipe comes from.
Let's serve this garlicky dish with fried cod or a baked salmon if you desire!
Roasted Cauliflower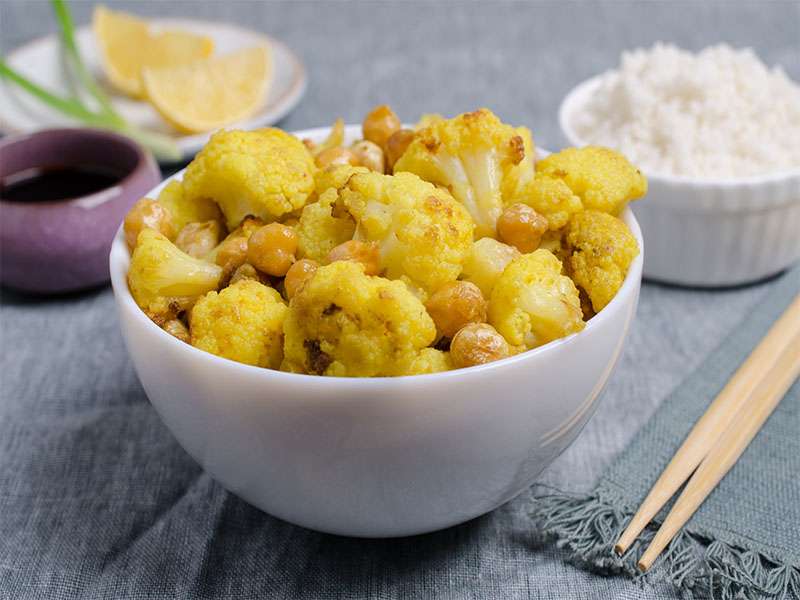 What to do with a head of cauliflower after you've bought it? Not many eaters get excited about eating raw vegetables!
Learn how to make roasted cauliflowers with crispy tops! video below should be able to help you:
So the ultimate way to turn it into savory food is by roasting it in the oven. Just wait till it becomes softer and caramelized. Add more oil, salt, and pepper for the desired taste.
And before eating straight from the pan, top it with roasted crunchy pepitas or a squeeze of lime juice, depending on your preference.
Stuffed Bell Peppers With Couscous And Mozzarella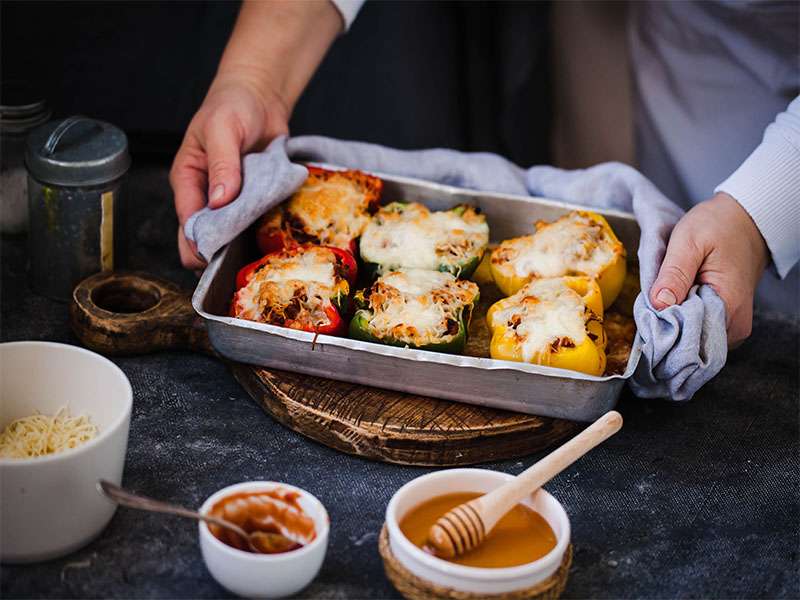 Surprise your dinner guests with these insanely tasty peppers! It's a flaunted salad dish garnished with onions and herbs that everyone would love to try.
Try easy but delicious stuffed bell peppers for your dinner! Watch this video:
Serve it for a vegan meal, and you can win people's hearts in the blink of an eye! Despite their complex look, these stuffed peppers are simple to do. Only bake them within a few minutes till the cheese starts melting. Add parsley and olive oil for a twist.
Zucchini Fritters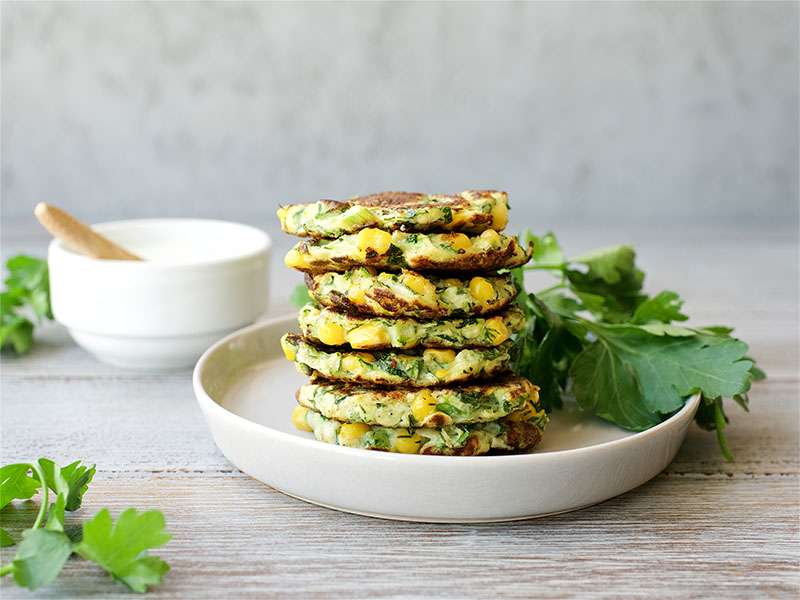 It's time to make some zucchini crisps for a snack! If not, then pair them with your nutritious cod for a light crunch. And trust me, you'll love the crunchy exterior yet the moist interior of these fritters.
These zucchini fritters are also a perfect side dish for any picnic occasion. So if you are unsure what to prepare for your upcoming trip, add this recipe to your menu.
Give this keto-friendly zucchini fritters recipe a try!
Make it more delicious with a touch of parmesan. It's also a great way to help your kids consume more veggies. Go to make the dish for them at the weekend. Feel free to add lime juice to sour cream for a topping.
Zucchini And Tomato Ragu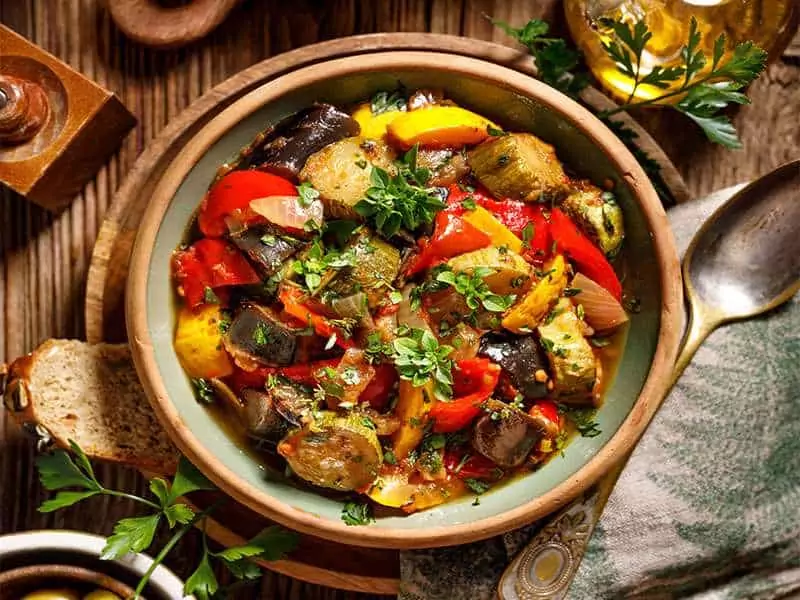 When you crave something juicier, then try zucchini and spicy tomato ragu instead! This vegan puree is not only tasty but also silky to taste.
From zucchini, carrots, to yellow squash, they all get simmered in a red sauce. Do not forget to season the mixture with grated cheese, salt, and black pepper. In the end, prepare a handful of basil and chopped green onions to top the dish.
FAQs
Your nutritious cod will not be complete if lacking a side dish. It enhances the flavors of the leading food while increasing the nutritional value of your real treat. Keep scrolling to learn further about this palatable food!
In Closing
Now you've known what to serve with cod after browsing through my suggested dishes above. All of them make a great pairing with cod!
Each dish feels delicate in taste and not overwhelming. And whatever you choose, I am sure that it's flavorful!
Come to click and share this article when you find it helpful!
Nutrition Facts
4 servings per container
---
Amount Per ServingCalories52
% Daily Value *
Total Fat 1.4g

2

%
Sodium 45mg

2

%
Potassium 479mg

14

%
Total Carbohydrate 9.4g

3

%

Dietary Fiber 4.2g

16

%
Sugars 3.9g

Protein 3.1g

6

%
---
* The % Daily Value tells you how much a nutrient in a serving of food contributes to a daily diet. 2,000 calories a day is used for general nutrition advice.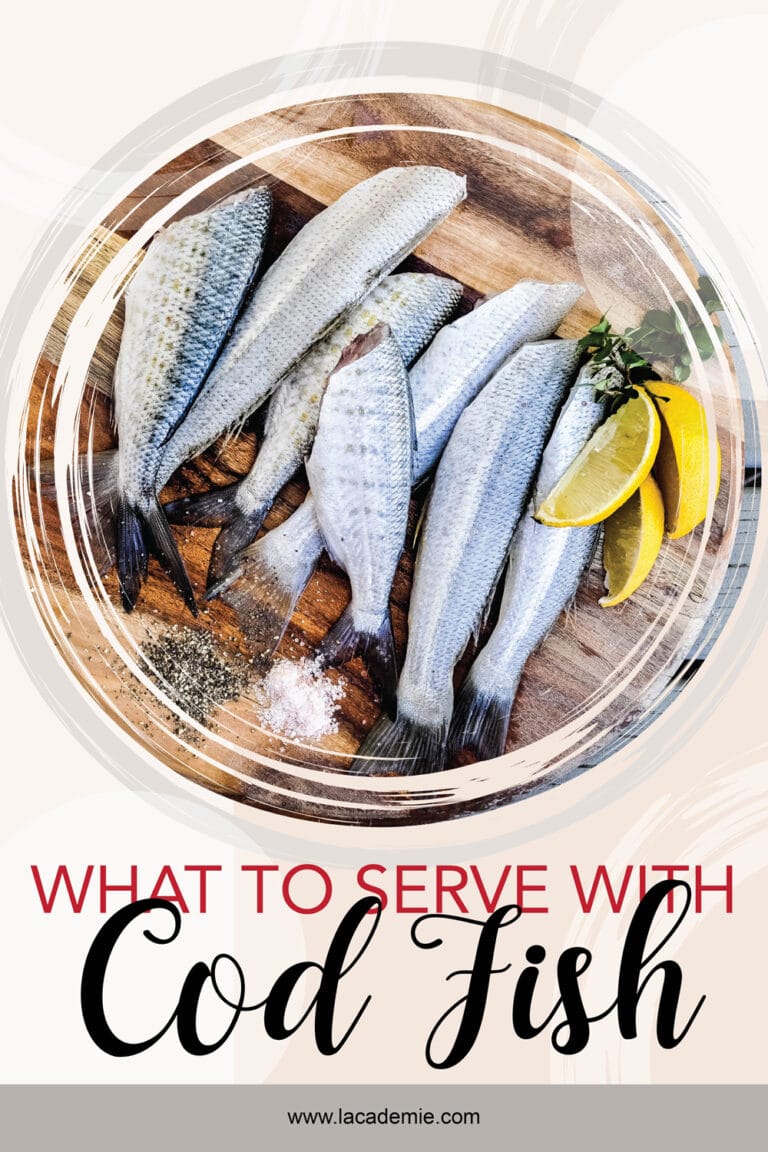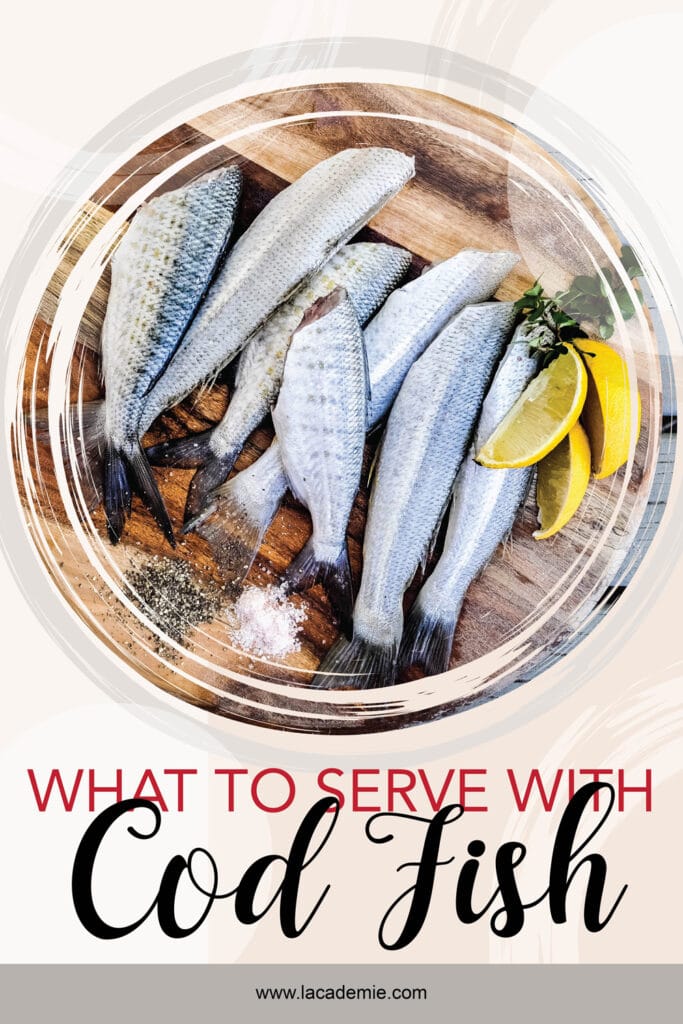 References
(1) En.wikipedia.org. 2021. Cod – Wikipedia. [online] Available at: <https://en.wikipedia.org/wiki/Cod>
(2) Norton, R. L., & Hoffmann, P. R. (2012). Selenium and asthma. Molecular aspects of medicine, 33(1), 98–106. https://doi.org/10.1016/j.mam.2011.10.003