Vietnamese thick noodle soup with fish (or Bánh canh cá lóc) is a traditional dish from Vietnamese cuisine that you can enjoy any time of the day. It is a delectable combination of pork, snakehead fish filets, and thick noodles served with lots of aromatic herbs.
When you travel to Vietnam, you'll come across many street vendors selling this treat, with many customers enjoying it for breakfast, lunch, or even dinner. But what if you want to make Banh canh at home? Don't worry! I'll provide you with the most authentic recipe in today's post!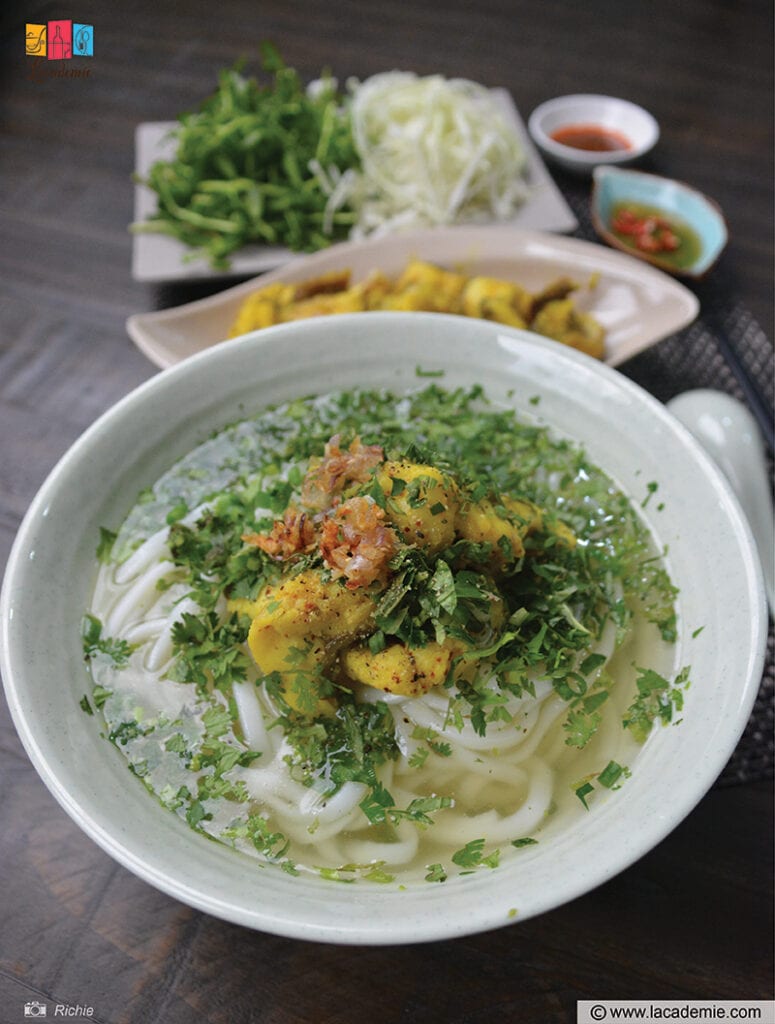 Essential Things About Vietnamese Thick Noodle Soup
"Bánh canh" are traditional Vietnamese noodles made from tapioca flour, or sometimes a combination of tapioca and rice flour. It has a thick texture and a signature starchiness. The Vietnamese usually serve these noodles with pork-based broth, a wide array of meat or seafood toppings, and fresh herbs.
Popular variations of this dish include:
Bánh canh Trảng Bàng: This version originates in Trảng Bàng, a town in Tây Ninh province, lying in the Southeastern part of Vietnam.
Bánh canh cua: An extremely popular treat among the locals, this version is well-known for its thick crab broth.
Bánh canh bột lọc: The noodles in this dish are chewier than the regular ones and have a translucent body.
Bánh canh cá lóc: The recipe I choose to include in today's post. It's a perfect blend of snakehead fish and savory pork broth.
Tools
The tools required for this recipe are quite simple. I'd recommend getting a high-quality set of mortar and pestle to help you crush the ingredients more easily.
Large/small pots: You'll need a large pot to cook the broth and a smaller one to blanch the noodles.
Pan: For stir-frying the fish.
Mortar and pestle: For crushing the chives.
Big/small knives: You'll use the knives to fillet the snakehead fish and cut the ingredients.
Chopping board: Keeps your kitchen top clean and provides a solid surface for slicing and chopping.
Ladle/slotted spoon: These spoons help you handle the noodles with ease.
Wooden spoon: For stirring and cooking.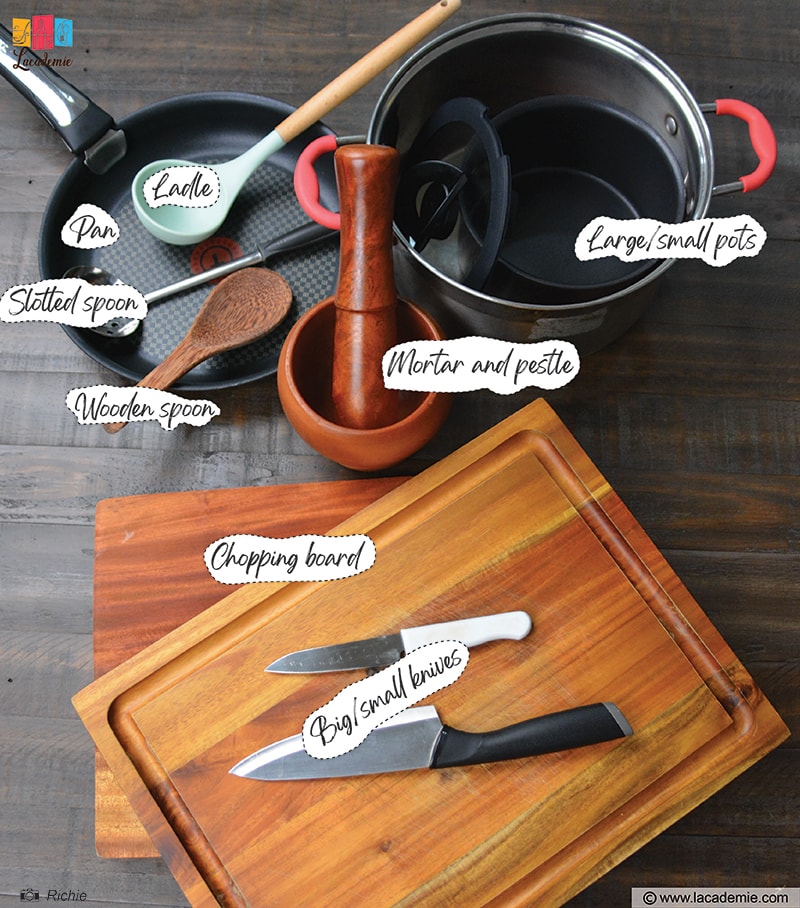 Ingredients
As for the ingredients, snakehead fish is the most authentic choice. You will also need pork bones to make the broth.
Snakehead fish: Opt for organic or wild-caught fish, as the texture will be better. You can also use your preferred types of fish.
Pork bones: Pork legs are also a great choice, but I prefer pork bones since cooking is shorter.
Condiments and spices: chive bulbs, garlic, onion, sugar, fish sauce, cashew oil, soup powder, salt, pepper, chili powder, turmeric powder, and ginger.
Vegetables: The Vietnamese love to enjoy their soup noodle dishes with vegetables and herbs. For Banh canh, common knotgrass is a must-have if you want the most authentic flavor. You'll also need white cabbage, onion, white radish, laksa leaves, scallions, and coriander for serving and the broth.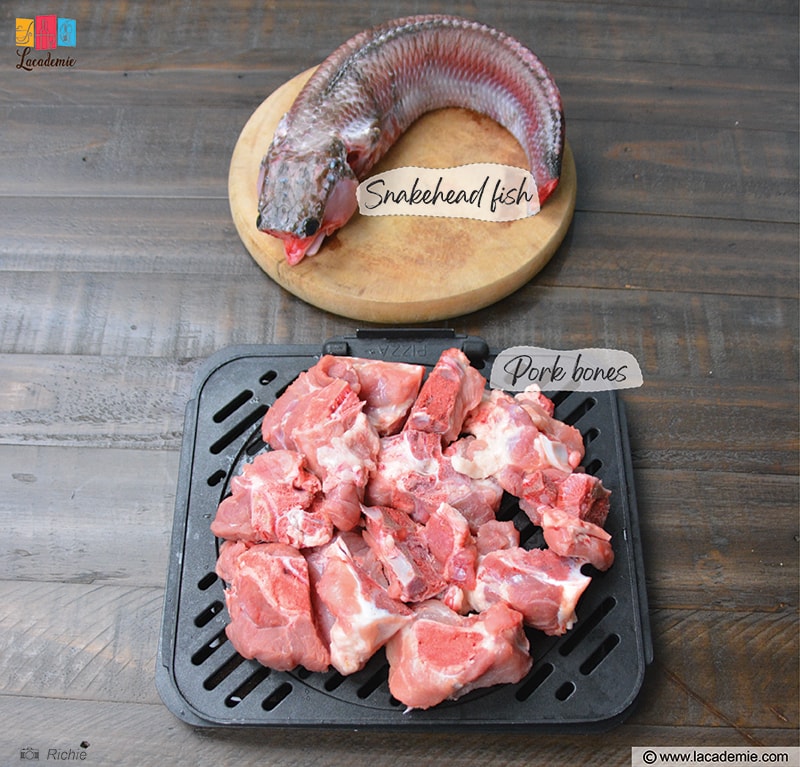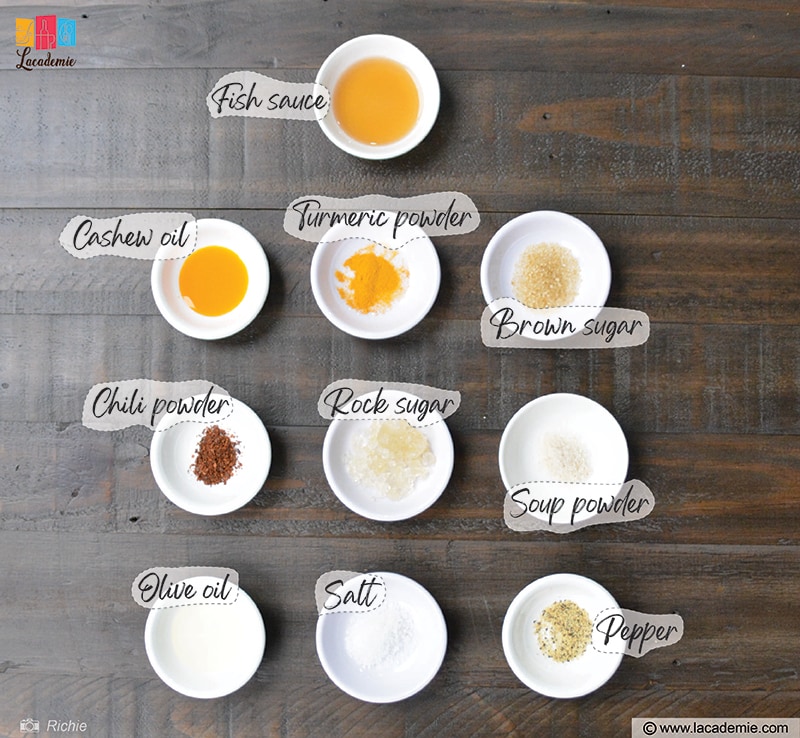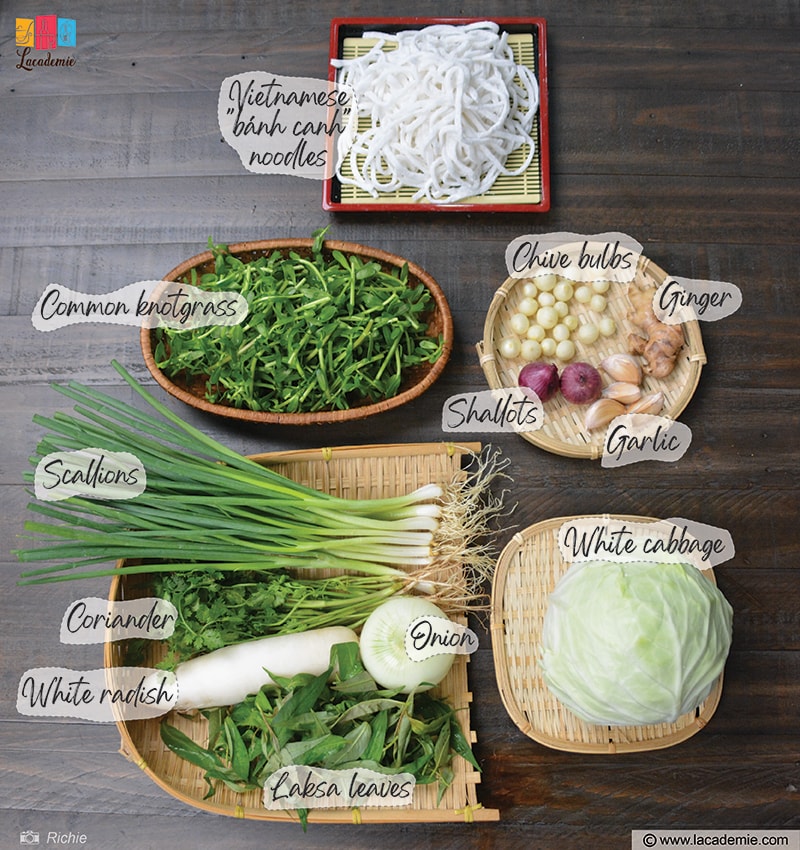 Step-By-Step Instructions
Now that you've prepared all the necessary ingredients, time to make some delicious Vietnamese thick noodle soup!
Step 1: Prepare The Spices And Vegetables
Mince the shallots and garlic and divide them into 2 parts. You'll use the first part for marinating the fish and the other for cooking.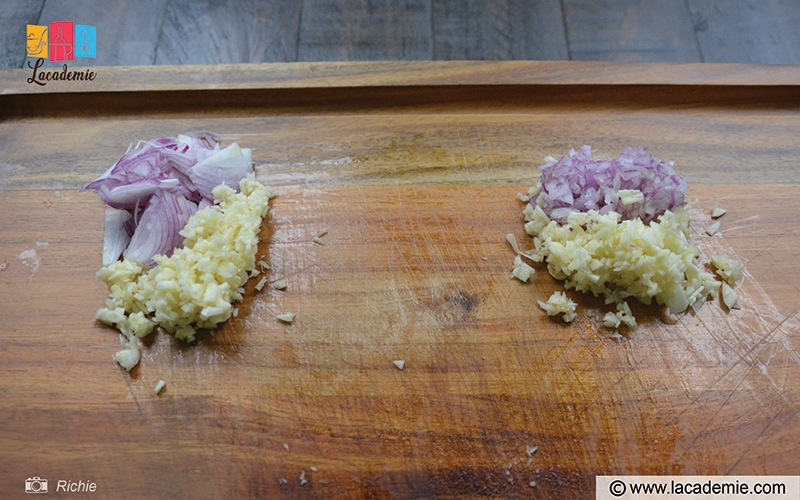 Mince the coriander, scallions, and laksa leaves. Keep the coriander and scallion roots, as they can make the broth more delicious.
Slice the white radish into pieces and thinly grate/chop the cabbage.
Crush the chive bulbs and separate them into 2 parts, similar to the shallots and garlic.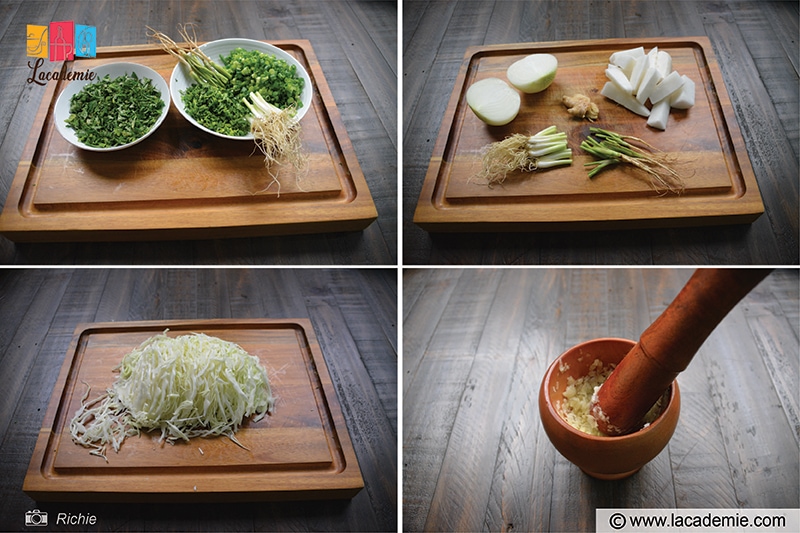 Step 2: Marinate The Fish
Fille the snakehead fish on both sides, then cut the fillets into 1.2 to 1.6-inch (3 to 4-cm) pieces. Keep the filleted fish and the bones separate.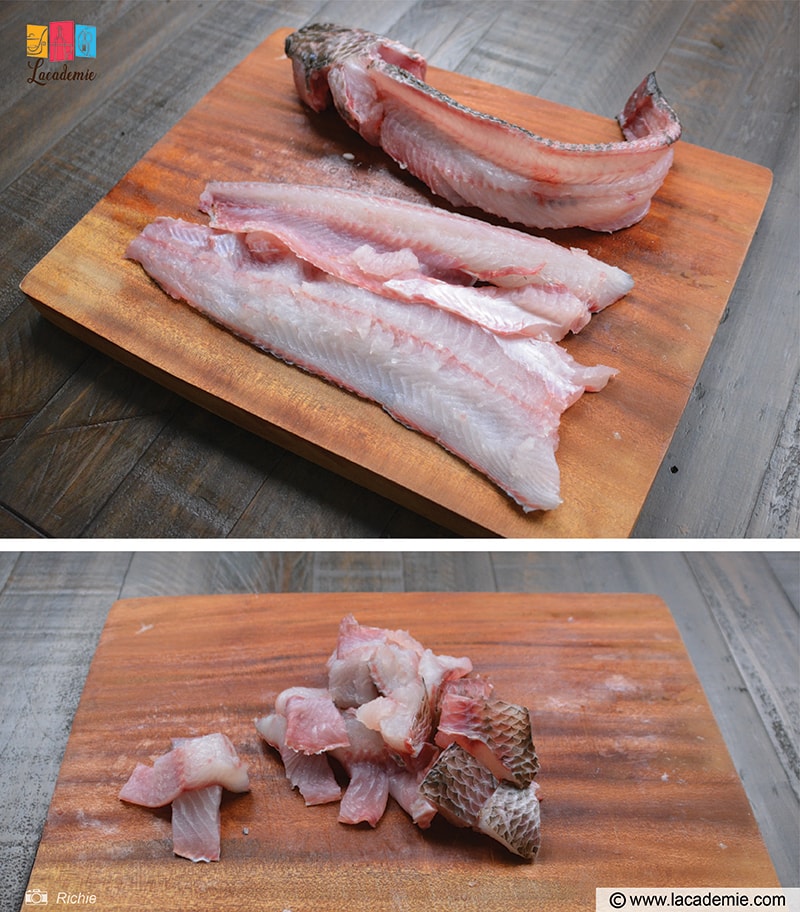 Marinate the fish with ½ teaspoon soup powder, ½ teaspoon turmeric powder, ½ teaspoon salt, 1 teaspoon brown sugar, 1 teaspoon chili powder, 2 teaspoons fish sauce, 3 teaspoons cashew oil, minced shallots, garlic, and crushed chive bulbs. Mix well and marinate for 15 minutes.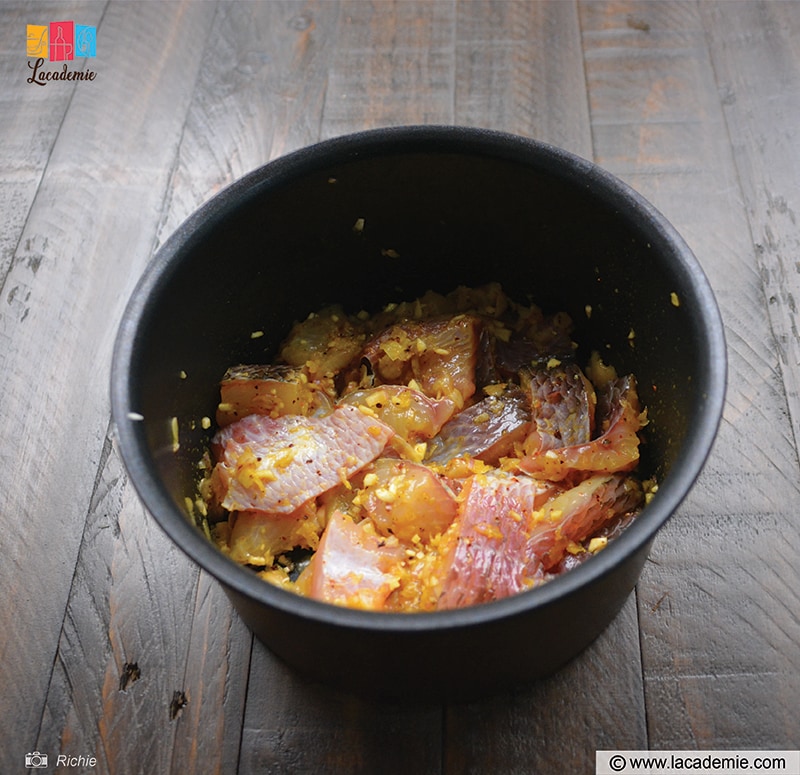 Step 3: Make The Broth
First, blanch the pork bones in boiling water with scallions for 2 to 3 minutes. Then, transfer them to cold water and wash off the residue.
Pour 3 liters of water together with the pork bones, onions, coriander and scallion roots, white radish, and ginger into a large pot. Add the fish bones and cook for 45 minutes to 1 hour over medium heat. Remember to skim the broth frequently to make it clearer.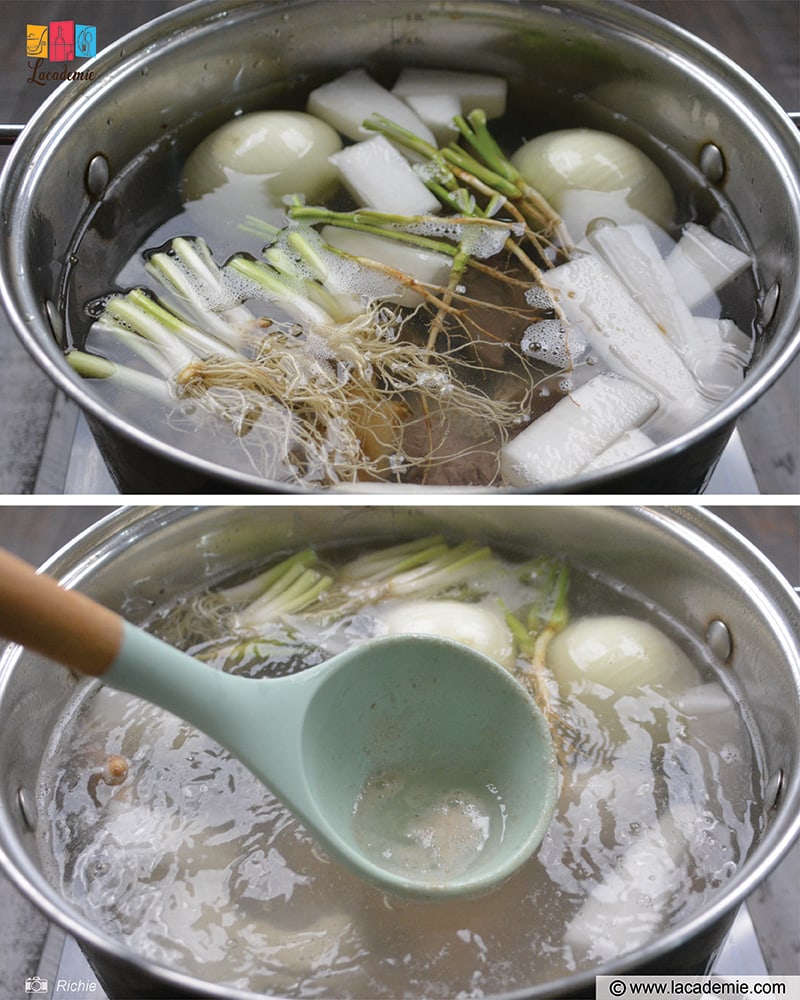 Step 4: Stir Fry The Fish
Heat a pan on the stovetop and add olive oil. Toss in the crushed chive bulbs, minced garlic, and shallot. Fry until fragrant, then remove them from the pan.
Add the fish filets to the pan and pour in a small bowl of water or pork bone broth to prevent the fish from drying. Stir fry the fish for 10 to 15 minutes or until fully cooked and fragrant. Stir gently in order not to crush the fish.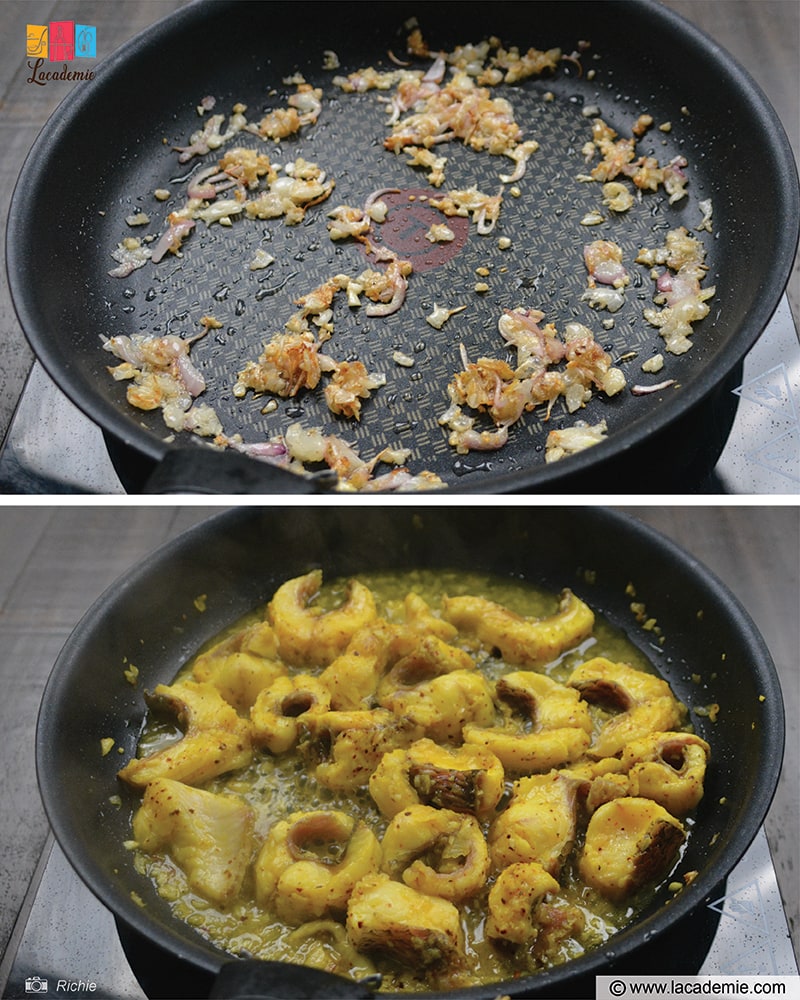 Step 5: Finishing Up The Dish
Boil a pot of water and add a little cooking oil. Blanch the Banh canh noodles for 30 to 40 seconds.
Remove all the vegetables, spices, and fish bones from the stock pot. Season the broth with 4 teaspoons of fish sauce, 2 teaspoon brown sugar, 2.5 teaspoons salt, 3.5 teaspoons soup powder, and 1.06 ounces (30 grams) of rock sugar. Feel free to adjust the seasonings to your liking.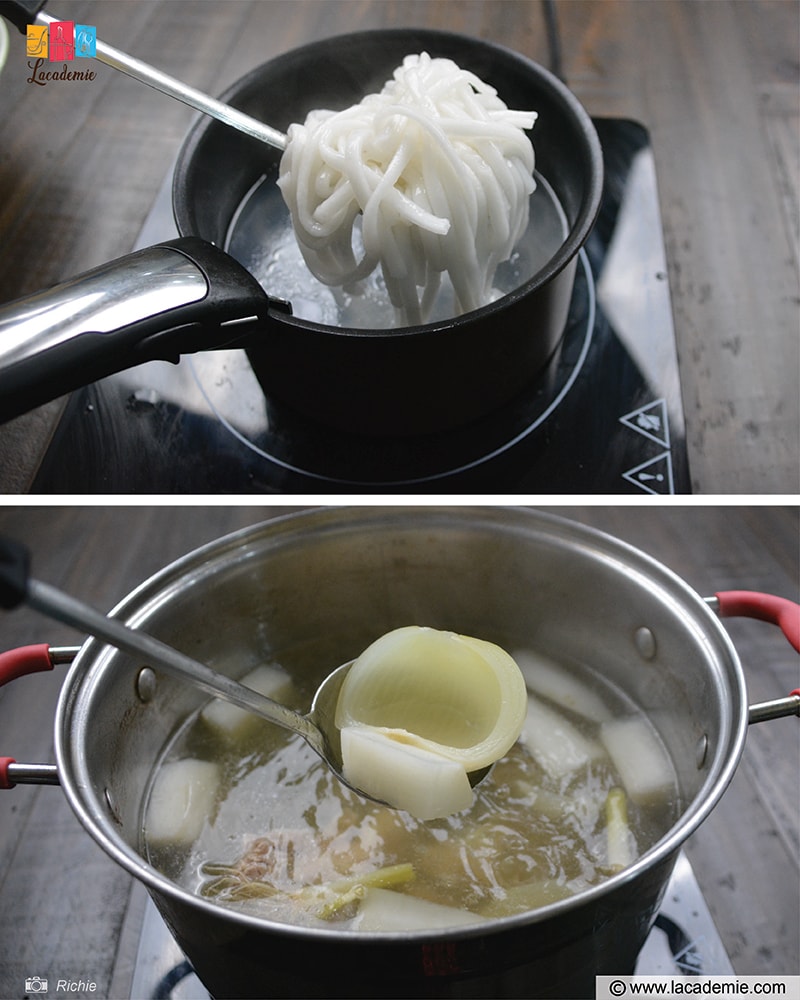 Step 6: Present And Serve
Place the fish over the Banh canh noodles, then pour in the broth. Sprinkle some scallions, coriander, laksa leaves, and fried onions on top.
Put the chopped cabbages and common knotgrass on a plate next to the soup noodle bowl. Don't forget to prepare some chili fish sauce and Shacha sauce for the fish. Enjoy everything together for the most authentic Vietnamese taste.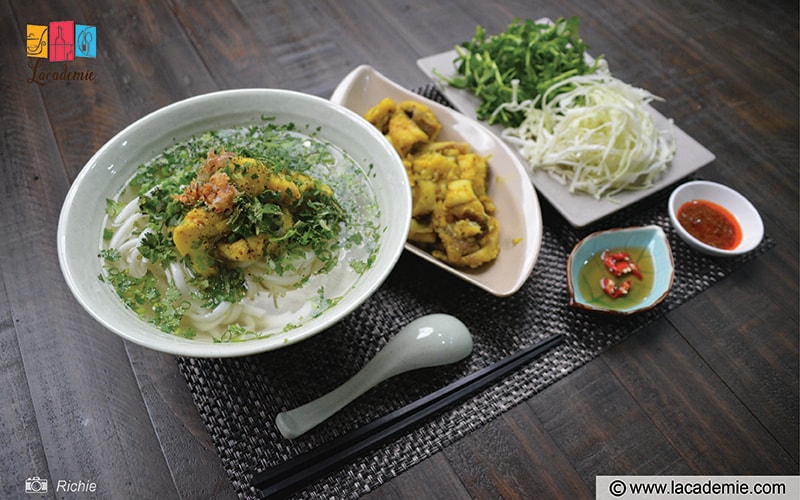 Storage Tips For The Leftovers
Most noodle soup-style dishes will taste best when served warm, and Banh canh is no exception. However, you can also store the leftovers in the refrigerator. Put the broth in an airtight container and refrigerate for up to 3 days.
You can also store the noodles in the fridge. Just remember to keep the stock and the noodles in separate containers. Otherwise, they'll absorb the stock and become soggy.
Extra Handy Notes And Tips
Here are additional handy tips to ensure that your noodle soup will turn out delicious every time.
Remember to wash off the pork bones' residue and congealed blood, as doing so will make your broth clearer and tastier.
If you find it hard to purchase Banh canh noodles, you can use udon noodles instead.
If you love a thicker broth, try cooking the noodles inside the stock pot.
Don't cook the broth at an overly high temperature because you'll cloud it.
Be aware of the amount of water you add to the broth. Too much water will result in a bland and flavorless broth.
A Heart-Warming Meal Is Waiting For You
Banh canh is the perfect dish to make whenever you crave a soothing, warm noodle soup dish with an Asian twist. The savoriness of the broth and fish combines exceptionally with the aromatic herbs and vegetables to create an unforgettable meal.
Give this dish a try, and you'll be pleasantly surprised by how much your family loves it! Drop a comment to let me know your thoughts on today's recipe, and don't forget to share it with other people around you!
Nutrition Facts
5 servings per container
---
Amount Per ServingCalories641
% Daily Value *
Total Fat 15.8g

25

%
Cholesterol 37mg

13

%
Sodium 2570mg

108

%
Potassium 422mg

13

%
Total Carbohydrate 95.2g

32

%

Dietary Fiber 4.3g

18

%
Sugars 8.5g

Protein 30.3g

61

%
---
* The % Daily Value tells you how much a nutrient in a serving of food contributes to a daily diet. 2,000 calories a day is used for general nutrition advice.