How many Vietnamese tea types do you know? I'm sure you're aware of common tea varieties like green tea and jasmine tea, but how about exotic delicacies like Snow Shan tea? You should also discover delightful herbal teas in Vietnam that come with a full package of health benefits.
Scroll down, and be prepared to be amazed by the diversity of Vietnamese tea. If you find tea products from other Asian nations to be too mainstream, it will be an excellent idea to refresh your palate with what the lush vegetation in Vietnam has to offer.
Vietnamese Tea Culture In A Nutshell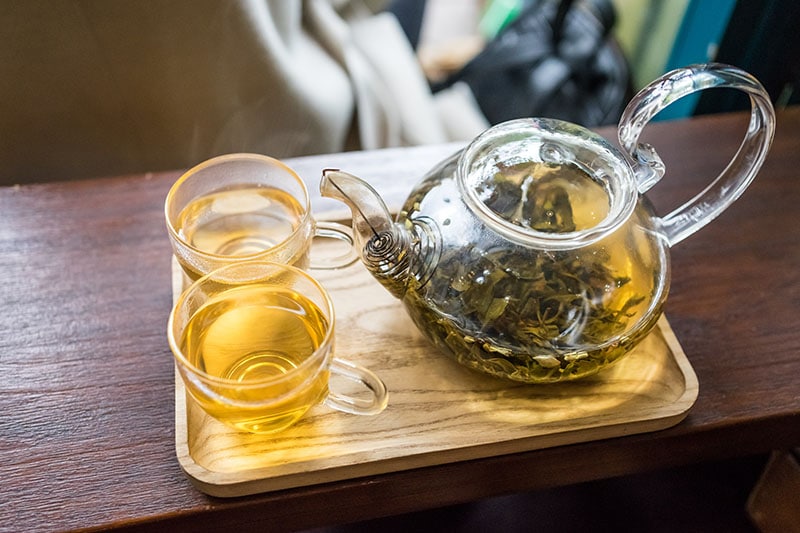 Tea is an important part of Vietnam's culture and history. It is currently the most popular drink in Vietnam, followed by other household names like beer and coffee. From sidewalk stalls to fancy restaurants or family meals to important parties, you will always feel its omnipresence.
In the past, tea drinking was a noble hobby for the Vietnamese royal court, aristocracy, and Confucian intellectuals. They followed complex sets of rules that turned tea enjoyment into an elaborate art.
The lords of the Revival Lê and Nguyễn dynasties had a very great impact on high Vietnamese tea culture. Meanwhile, tea was also the preferred beverage for most commoners, who consumed it with much less formality.
Today, this aromatic beverage is the default drink Vietnamese people give their guests. If you drop by a Vietnamese family, you can expect them to offer you a cup of mellow tea.
It is a popular custom in Vietnam for people to gather around a cup of piping hot morning tea, share the drink, and discuss all kinds of things, from personal affairs to international news. They keep the tea in ceramic cups and enjoy it in small sips.
Traditional Vietnamese tea has a bitter forward taste and a lingering sweet aftertaste. While that flavor appeals strongly to avid tea lovers and adults, teenagers and young Vietnamese people prefer fruity and milk tea.
Vietnamese people consume tea every time throughout the day: in the morning, afternoon, or even after dinner. Unless you want to stay awake, don't follow the last one!
Traditional Vietnamese Tea Varieties You Should Try
Vietnamese people enjoy a wide variety of beverages made from the leaves of Camellia sinensis. There are a few terms you should know: trà tươi (fresh tea), trà mạn (unscented tea), and trà hương (scented tea).
| Type of Tea | Flavor Profile | Main Ingredients | Special Features | Best Places To Find |
| --- | --- | --- | --- | --- |
| Trà Xanh - Green Tea | A bitter flavor, a sweet aftertaste, and floral aromas | Unoxidized tea leaves | Minimal processing, with many health benefits | Tân Cương (Thái Nguyên Province) |
| Trà Nụ - Bud Tea | Mellow, with a low caffeine level | Immature tea buds | Minimal processing, sometimes scented with flowers | The provinces of Nghệ An or Hoà Bình |
| Trà Đen - Black Tea | Intense and malty | Strongly oxidized tea leaves | Often used to make iced tea | Tân Cương or Bảo Lộc (Lâm Đồng Province) |
| Trà Ô Long - Oolong Tea | A rich mouth feel and a fruity scent between honey and flowers | Young tea buds and leaves | Expensive | Bảo Lộc, Tân Cương, and Mộc Châu (Sơn La Province) |
| Trà Sâm Dứa - Green Tea Scented with Pandan Leaves | Mellow and fragrant | Green tea, pandan leaves, and various aromatic plants and flowers | A local delicacy not easy to find outside of Vietnam | Central Vietnam |
| Trà Lài/ Trà Nhài - Jasmine Tea | Bittersweet, with the musky aroma of jasmine | Green tea and jasmine blossoms | The most popular scented tea in Vietnam | Hanoi, Tam Kỳ (Quảng Nam Province), Cầu Đất (Lâm Đồng Province) |
| Trà Sen - Lotus Tea | Very fragrant | Premier green tea and fresh lotus blossoms | Expensive; A very traditional Vietnamese drink | Hồ Tây (Hanoi), Đồng Tháp Mười (Mekong Delta), Bảo Lộc |
| Trà Shan Tuyết - Snow Shan Tea | An extremely tasty flavor, a wonderful aroma like mountain air, and a mellow aftertaste | Tea leaves from ancient tea trees | Very rare and expensive | Mountainous areas in Northern Vietnam |
| Trà Chanh - Lemon Tea | Fruity scent with reduced bitterness | Lime or lemon juice, tea, sugar syrup, ice cubes | An important part of cultural life | Hanoi and Ho Chi Minh City |
1. Trà Xanh – Green Tea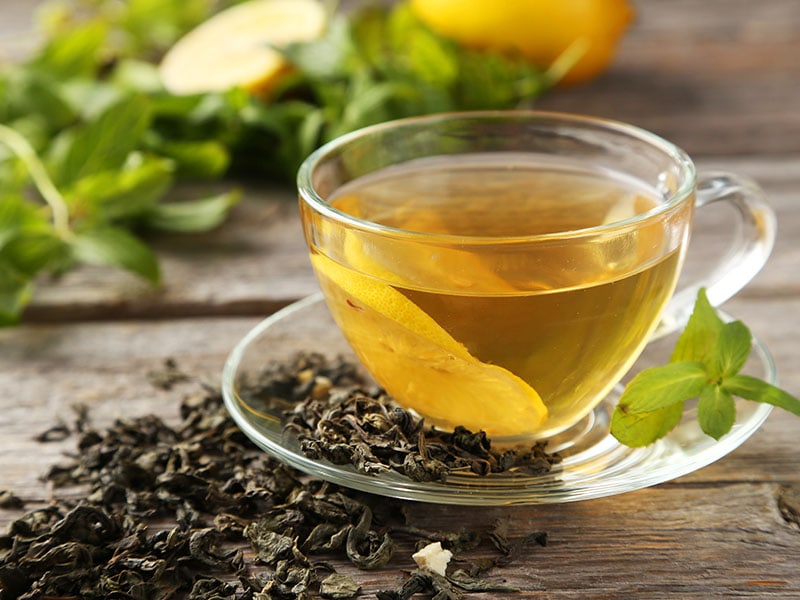 Green tea in Vietnam is the same as it is elsewhere: unoxidized tea leaves that haven't gone through much processing. The making of green tea only involves drying the leaves and roasting them lightly. The final product should have a dark green color and a subtle aroma.
When it comes to Vietnamese tea types, there is no clear distinction between green tea and white tea. For most people, any kind of tea with little manufacturing can be called green tea.
Thanks to the minimal level of processing, green tea retains most of its beneficial compounds. These include various vitamins, minerals, antioxidants, and bioactive substances. Therefore, this drink offers various health benefits: cancer prevention, weight loss, stress relief, etc.
Vietnamese green tea usually has a bitter taste accompanied by a sweet aftertaste and plenty of floral aromas. Do you know that many Vietnamese people like to steep fresh tea leaves directly in water without any prior processing? That results in a much bitter and stronger-tasting drink.
Tân Cương in Thái Nguyên Province, Northern Vietnam, is known for producing the best green tea in Vietnam. Its most sought-after product is trà móc câu (literally "hook tea", since the dried leaves have a hook-like shape), which boasts an unrivaled flavor of depth and richness.
Bottled green tea is among the most popular Vietnamese beverages, but they are usually diluted and flavored with different ingredients.
2. Trà Nụ – Bud Tea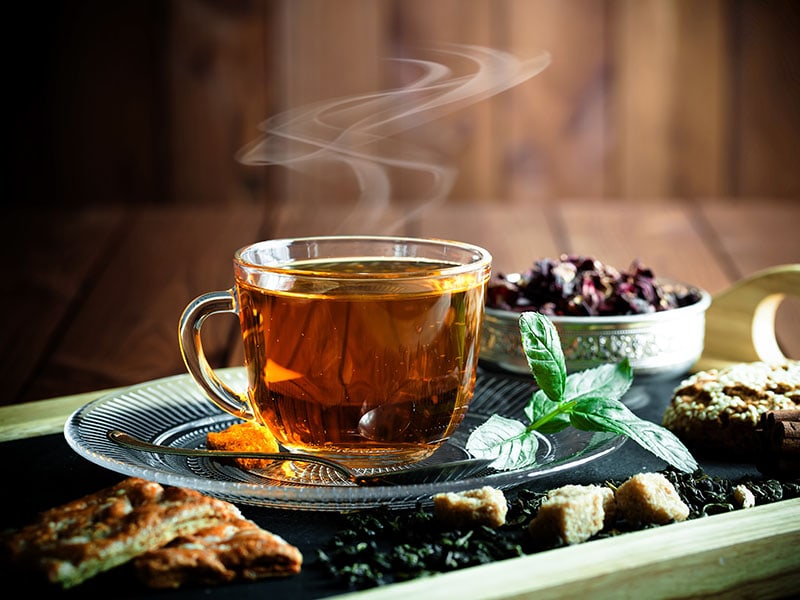 In Vietnam, bud tea consists of immature tea buds usually harvested in the last months of the year. People minimally process them, so this kind of tea shares many similarities with green tea in appearance. But bud tea is more expensive and has limited availability.
In addition, the caffeine level in bud tea is very low, and its flavor is wonderfully mellow. Vietnamese people occasionally scent it with aromatic flowers, like jasmine and chrysanthemum. You can buy Trà nụ in the provinces of Nghệ An or Hoà Bình.
3. Trà Đen – Black Tea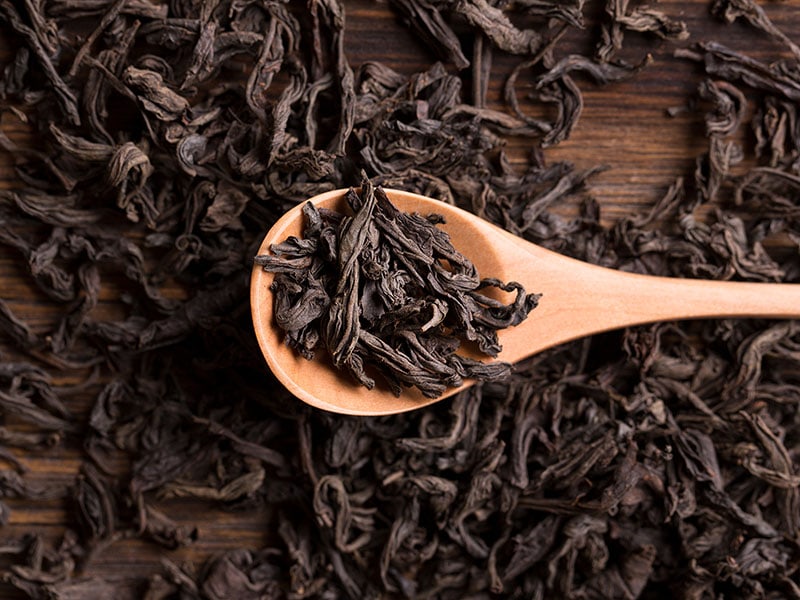 This type of tea is also known as hồng trà (red tea) in Vietnamese because of the reddish-brown liquid it produces. Since black tea is much more oxidized than other types of tea, the tea leaves are very dark and brittle in texture.
Many people describe the taste of black tea as intense and malty, tinged with a very strong scent. Due to that overwhelming flavor profile, most young Vietnamese people find it too much for their taste. Older folks, however, enjoy sipping it in the morning or after daily meals.
The famed Vietnamese drink – Trà đá (iced tea) is usually made from black tea and loved by people of all ages. However, the Northern variation tends to use strong black tea, while people in the South usually add ice to weak, scented black tea.
The best-loved black tea in Vietnam still comes from Tân Cương. Its full-flavored Trà nõn tôm (made with very young buds and leaves) is to die for. But the plantations in Bảo Lộc in Lâm Đồng Province, the Central Highlands, also give out products of the highest quality.
4. Trà Ô Long – Oolong Tea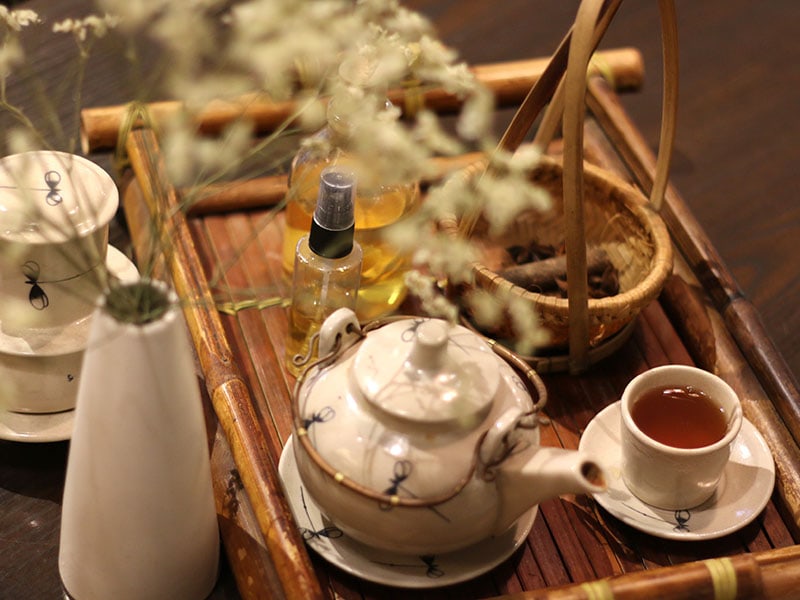 Vietnamese fans of oolong tea don't have to travel to China to find this drink. They head to the rolling tea hills of Bảo Lộc (Lâm Đồng Province) instead! This region produces very fine oolong tea made from young tea buds and leaves nourished by morning dews and nutritious substances.
There are also a few places in Vietnam that supply this type of tea, like Tân Cương and Mộc Châu (Sơn La Province, Northern Vietnam). Oolong tea from these Vietnam's major tea hubs all has a rich mouth feel and a fruity scent mixed between honey and flowers.
Vietnamese people often make milk tea or bubble tea from black tea and green tea, but they sometimes add oolong tea to it. But the latter ingredient is regularly of substandard quality because oolong tea is a highly-priced drink in Vietnam.
You will gain a lot of useful information from this review of oolong tea from Lâm Đồng Province.
5. Trà Sâm Dứa – Green Tea Scented With Pandan Leaves
If you're on a trip to Central Vietnam, like the famous coastal city of Danang, be sure to buy a few packages of Trà sâm dứa. While this drink is amazingly aromatic and very refreshing, it is woefully challenging to find outside Vietnam (for now, at least).
Generally, Trà sâm dứa is a mixture of dried green tea, pandan leaves, and lemon basil. To get the best aromas, locals often add aromatic flowers in dried forms, such as jasmine and mock lemon flowers. The result is a fragrant drink with a lingering aftertaste of subtle sweetness.
Many sources translate the "sâm" part in the name as "ginseng". But this is a grave error: Trà sâm dứa doesn't contain this fleshy root at all. In truth, "sâm dứa" is a local name for pandan, so Trà sâm dứa is more like "pandan tea".
6. Trà Lài/ Trà Nhài – Jasmine Tea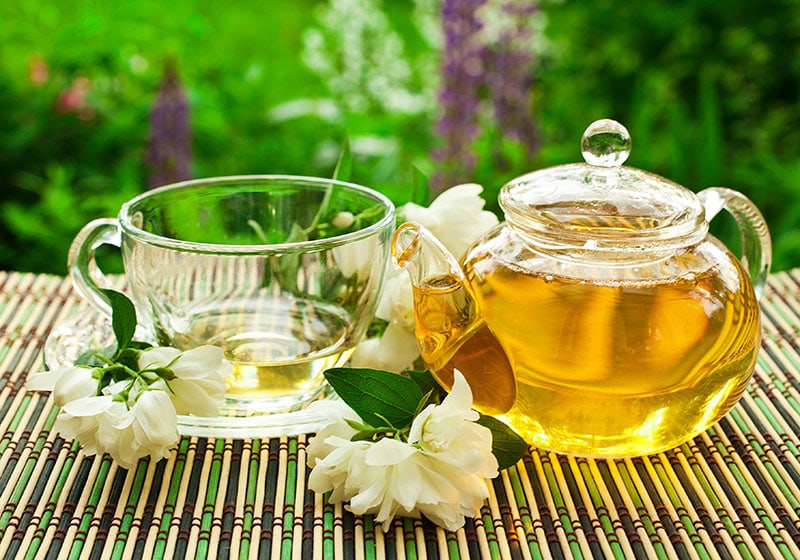 Hailing from China, jasmine tea has long been a well-liked drink in all corners of Vietnam. People in the North call it Trà nhài, while the Southern name for it is Trà lài. The tea is usually available in packaged forms, though jasmine tea bags are also popular.
The base for this scented tea is always green tea. The rich bittersweetness of that fresh tea will become more pleasant after being mixed with the musky aroma of jasmine blossoms.
Many famous Vietnamese jasmine tea brands come from Hanoi, which has a long history of tea culture. If you head south, you can also find desirable products from Tam Kỳ (Quảng Nam Province, Central Vietnam) and Cầu Đất (Lâm Đồng Province).
It's not complicated to brew jasmine tea the Vietnamese way!
7. Trà Sen – Lotus Tea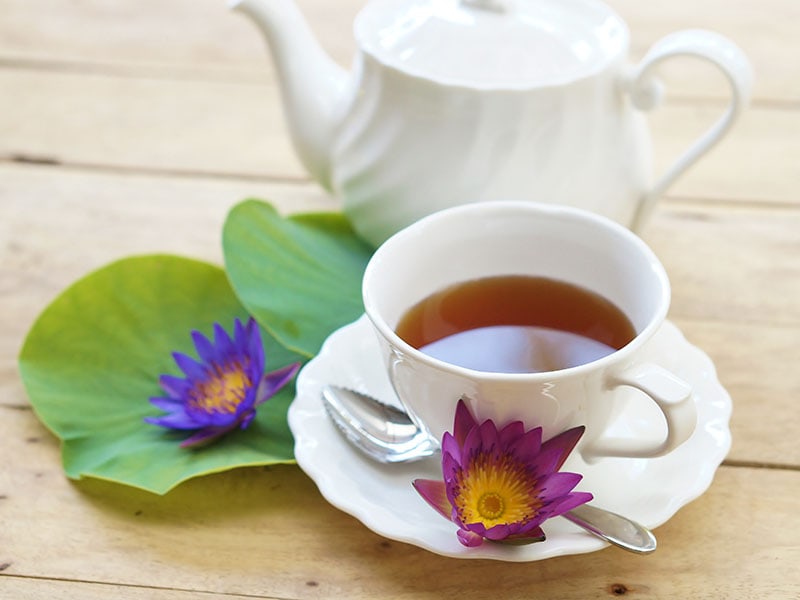 "Trà sen" can refer to two things: a category of various herbal tea varieties made from different parts of lotus plants or a famous Vietnamese scented tea. The latter is much more popular (and expensive) than the former.
Lotus tea was the preferred drink for Vietnamese kings and nobility in the past, especially during the Nguyễn dynasty. Nowadays, authentic lotus tea is an expensive beverage for people wishing to enjoy a luxury experience.
I say "authentic" because many so-called lotus tea products in Vietnam are prepared with artificial flavorings. By contrast, the real deal must be made from premier green tea that is repeatedly scented with fresh lotus blossoms.
By some estimates, you have to harvest 1000 – 1400 lotus flowers for each kilogram of lotus tea. The most fragrant lotus species in Vietnam is the Bách Diệp variety from Hồ Tây (the largest freshwater lake in Hanoi), making lotus tea from the capital city the best one to enjoy.
However, products from Đồng Tháp Mười (in the Mekong Delta) and Bảo Lộc are also worth a try if you want to experience Vietnamese tea at its most aromatic.
In case you also want to know about Vietnamese lotus-derived herbal tea, it comes in three major types: Trà tim sen/ tâm sen (made with dried lotus plumules), Trà lá sen (made with dried lotus leaves), and Trà liên tu (made with dried lotus stamens).
For those not well-versed in biology, a plumule refers to the young stem of an immature lotus flower, while a stamen is the male fertilizing organ of a lotus flower.
8. Trà Shan Tuyết – Snow Shan Tea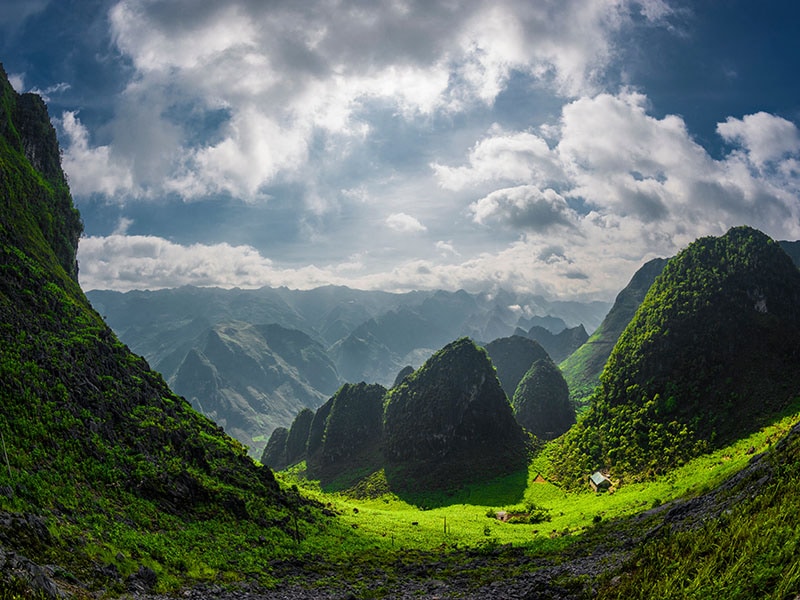 People with a deep pocket can journey to the mountainous region in Northwestern Vietnam to seek the fabled Snow Shan tea. Many parts of the region lie thousands of meters above the ground and are consistently covered in mists, a conditional ideal for tea plants.
Rather than mundane tea plants reaching only a few feet in height, you will find ancient tea trees as tall as a multi-story building. The best place to find them is Hà Giang Provinces, but nearby provinces, like Yên Bái, are also blessed with this type of tea.
"Shan" is a local word for "mountains", referring to the difficult geographical condition in which the trees grow. Meanwhile, since the unopened tea buds used for making this tea are always covered in smooth, snow-white hairs, "Tuyết" (or snow) became part of the name as well.
Currently, only about 1,000 Snow Shan trees are left in the region, and they are notoriously slow to grow new leaves and buds. As a result, the amount of commercially available Snow Shan tea is always modest, making the tea a highly coveted and expensive delicacy.
In return, this tea delivers an unrivaled experience. Its honey-colored liquid has a wonderful aroma that smells like mountain air. Meanwhile, its mellow aftertaste lingers in your mouth for a much longer time than other types of tea.
9. Trà Chanh – Lemon Tea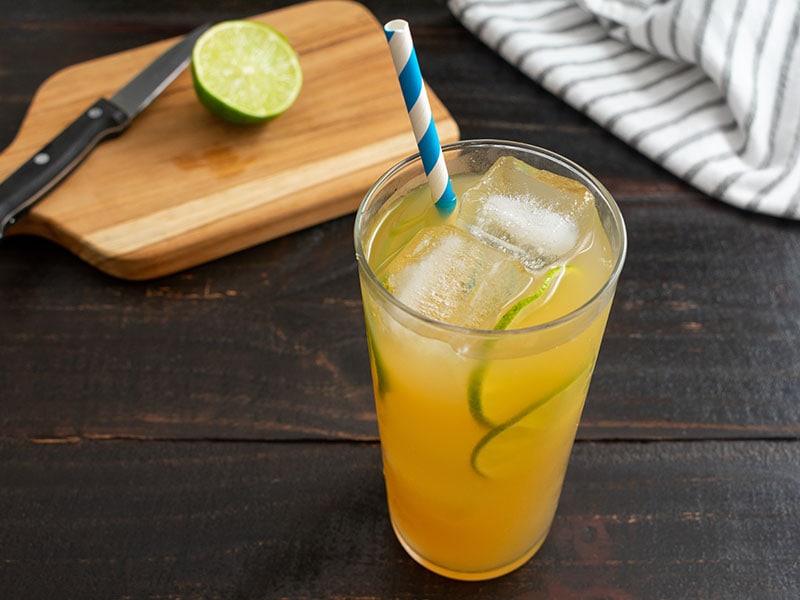 Drinking lemon tea with friends is a mainstay of cultural life in Hanoi and, to a lesser extent, Ho Chi Minh City. Though the popularity of this beverage has waxed and waned, it is still one of the must-try Vietnamese drinks to add to your to-do list.
In essence, it is a mix of lime or lemon juice and tea. Vietnamese people usually go for store-bought tea bags, though it is also a popular choice to choose scented teas, like jasmine tea. Finally, sugar syrup and ice cubes will complete a cup of tasty lemon tea.
The usual tea flavor isn't very strong in this drink; the fruity scent is there, but the iconic bitterness is significantly reduced. That watered-down taste, however, blends flawlessly with the acidic lemon juice and sweet syrup.
The Best Herbal Tea Types To Enjoy In Vietnam
Come to this Southeast Asian country, and you will find plenty of herbal tea varieties to detox your body or combat the summer heat. Let's check out the most well-known options!
| Type of Tea | Flavor Profile | Main Ingredients | Special Features | Where To Find |
| --- | --- | --- | --- | --- |
| Trà Atisô - Artichoke Tea | Sweet with a smooth mouth feel | Artichoke flower buds and leaves | Having many health benefits; Mainly available as tea bags | Đà Lạt (Lâm Đồng Province) |
| Trà Đắng - Kuding Tea | Bitter | Leaves from the bitter leaf plant (Ilex kaushue or Vernonia amygdalina) | Good for health; Medicinal tea | Northern Vietnam |
| Trà Khổ Qua rừng - Wild Bitter Melon Tea | Bitter | Dried leaves of wild bitter melon plants (Momordica charantia L. var. Abbreviata Ser.) | Good for health; Having cooling and detoxing properties | Central and Northern Vietnam |
| Trà Vối/ Nước Vối - Vối Tea | A green tea-like taste with extra fruitiness | Leaves and buds of the Vối tree (Syzygium nervosum) | Good for people with gout and diabetes; Easier to make than tea | Mostly Northern Vietnam |
| Trà Gừng - Ginger Tea | Refreshing warmth and spiciness | Fresh ginger | Recommended for people with motion sickness and colds | All over Vietnam |
| Trà Hoa Cúc - Chrysanthemum Tea | Bittersweet | Chrysanthemum flowers | Having Soothing effects on the nervous system | All over Vietnam |
10. Trà Atisô – Artichoke Tea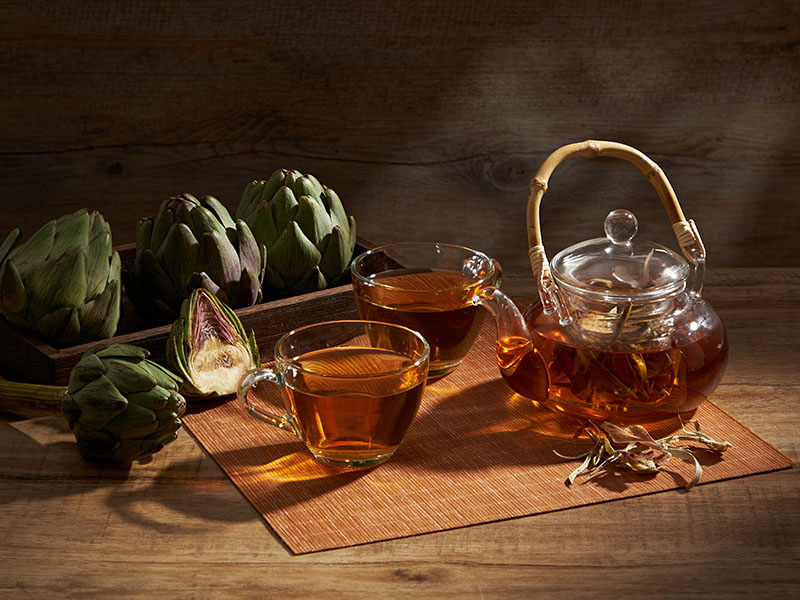 The French brought the artichoke plant to Vietnam in the early 20th century. While it is now cultivated in many places, most people consider Đà Lạt in Lâm Đồng Province as the leading source of artichoke-based products, like artichoke tea.
This type of herbal tea comes from the edible portion of the plant, usually the flower buds and leaves. But not many Vietnamese consumers bother with making the tea from fresh ingredients. Instead, steeping a commercial artichoke tea bag in hot water is the main way to enjoy it.
Artichoke tea has a pleasing sweet flavor accompanied by a smooth mouth feel. Many manufacturers often add natural sweeteners, like sweetleaf (Stevia rebaudiana), to make it even more delicious.
Daily consumption of artichoke tea can enhance your skin condition, lower the risks of chronic diseases, and keep your nervous system healthy, along with many other health benefits. But the tea can cause an upset stomach if drunk in large amounts.
11. Trà Đắng – Kuding Tea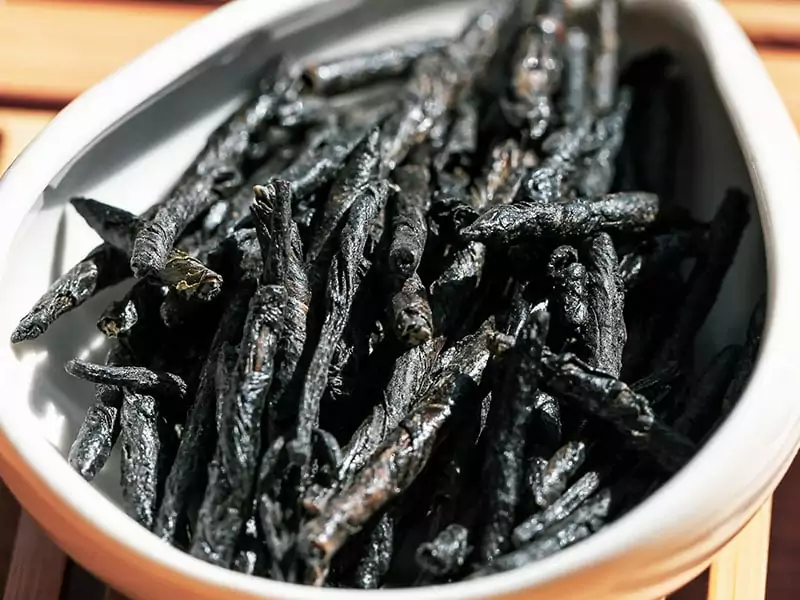 If you're interested in Chinese medicine, you have probably heard of kuding tea. In Vietnam, it is known as Trà đắng, which means "bitter tea". That name succinctly sums up the main flavor of this tea.
The main ingredient for this type of tea is the leaves from the bitter leaf plant Ilex kaushue, though the Vernonia amygdalina species is also used.
After being dried and roasted, the leaves will turn into long, black nail-like shapes. Therefore, some people also call the tea Trà đinh (literally "nail tea").
Though good for health, kuding tea is classified as a medicinal tea, meaning that you should consult with a doctor before drinking it in the long term. In Vietnam, this is a costly tea type that is mainly found in the Northern provinces, especially those sharing the borders with China.
12. Trà Khổ Qua rừng – Wild Bitter Melon Tea
The wild bitter melon plant (Momordica charantia L. var. Abbreviata Ser.) is different from the typical bitter melon. It only grows in the wild, hence the name, though you can cultivate it in your garden. Most importantly, its fruits are much smaller and more bitter than normal bitter melons.
The plant is plentiful in Central and Southern Vietnam, where people dry its leaves to make a bitter-tasting tea called Trà khổ qua rừng (literally "wild bitter melon tea"). It's like the southern counterpart of kuding tea.
Locals love it for its cooling and detoxing properties. This type of tea is especially beneficial for people with diabetes, high blood pressure, and diabetes. However, finding Vietnamese tea products outside of the country can be a challenge.
13. Trà Vối/ Nước Vối – Vối Tea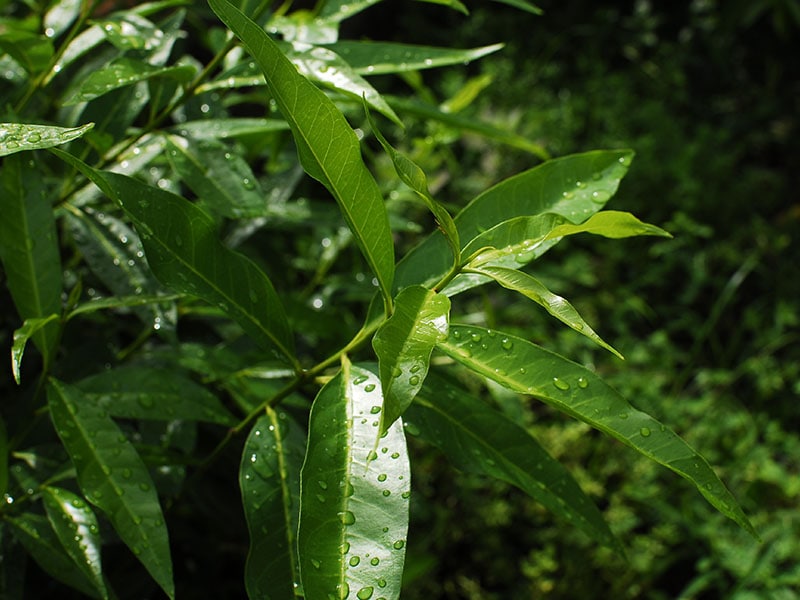 Vối trees (Syzygium nervosum) are a common sight in Northern Vietnam. Locals have long known that their fragrant leaves and buds can be boiled in water to create a tea-like drink with a beautiful amber hue.
Trà vối tastes just like excellent green tea with extra fruitiness. It can be drunk every day and is especially beneficial for people with gout and diabetes. Vối trees are also much easier to grow and care for than picky tea plants.
However, this type is more popular among the middle-aged population since not many young people are fond of it. The small number of tea bag products for Trà vối is further proof of its underrated status.
The good news is that Trà vối is becoming more popular in Southern Vietnam. Many families, especially in rural areas, have a few trees planted in their gardens to harvest the leaves.
14. Trà Gừng – Ginger Tea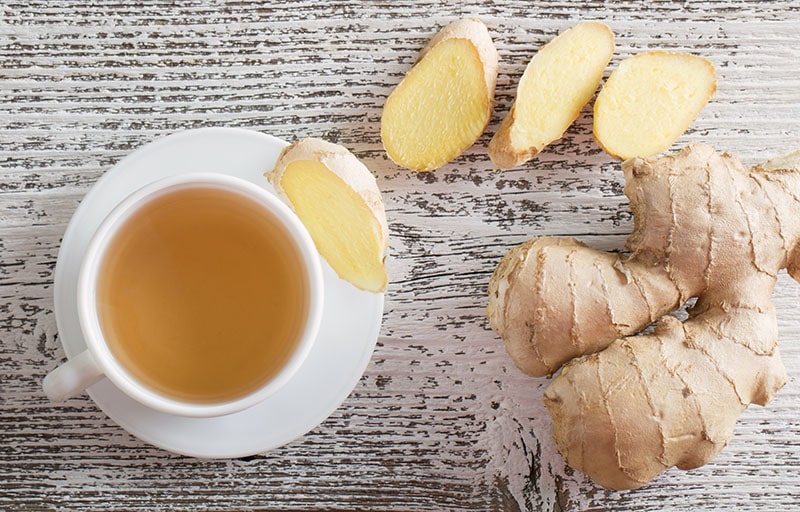 In Western countries, ginger ale is a popular motion sickness remedy. Meanwhile, Vietnamese people usually turn to ginger tea. This non-alcoholic beverage has a refreshing warmth and spicy taste that is also perfect for people with a cold, an upset stomach, or bad breath.
The making of this drink can't be easier: simply drop a few slices of fresh ginger in clean water, then boil everything for 10 minutes or so, and your ginger tea is ready! Some people often add lemon juice and honey to their tea to enrich the flavor.
Another simple way is to simply mix instant ginger tea with hot water or drop a ginger tea bag in it. This drink is often served warm, but chilling or icing it isn't a bad idea at all.
Many Vietnamese people brew ginger tea this way, so why don't you check it out?
15. Trà Hoa Cúc – Chrysanthemum Tea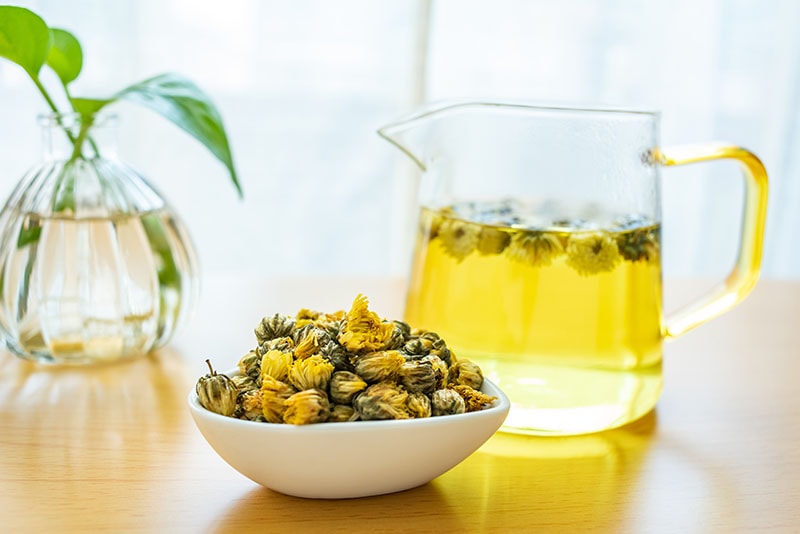 In Vietnam, chrysanthemum flowers that herald the arrival of autumn are not only a pretty decor: they can be turned into an aromatic fusion beverage, too. When a Vietnamese person suffers from insomnia, chrysanthemum tea is among the first cures they turn to.
Locals like to buy packaged tea and steep it in hot water, along with some sweet herbs or rock sugar. That will create a delicious bitter-and-sweet drink with a soothing effect on your nerves. Chrysanthemum tea is also wonderful for reducing body heat and improving eyesight.
There are many types of chrysanthemums in this Southeast Asian country, but only the white and yellow varieties go into tea, especially those from Đà Lạt and the province Hưng Yên (Northern Vietnam). Still, you can find highly-rated tea products from other parts of Vietnam.
Reliable Tea Brands From Vietnam To Try
Sadly, many locally famous Vietnamese tea brands are hard to find in other countries. But if you want to enjoy the fragrances of Vietnamese tea from the comfort of your home, you can choose products from the following brands for a great experience.
This Hanoi-based company is a well-known distributor of excellent Northern Vietnam tea types, especially green tea and oolong tea from Thái Nguyên Province. It also offers deliciously scented tea and aromatic herbal products.
You may know it as a massive cafe chain selling iced tea and coffee drinks. But this brand also sells various kinds of black, green, and scented tea from Thái Nguyên Province. Also available at Phúc Long are many varieties of tea boxes and tea can that can improve your tea time even more.
Bring the flavors of first-rated Đà Lạt tea to your table with this brand! Its flagship products are various kinds of oolong tea brewed with high-quality ingredients and great expertise. You can also find jasmine tea, artichoke tea, and ginger to refresh your taste buds.
This American company delivers tea products from many countries, including Vietnam. If you have trouble finding authentic Vietnamese tea, don't hesitate to try its green tea products hailing from Thái Nguyên Province or snow shan tea from Hà Giang Province.
Vixi began in 2021 and is still a new name in Vietnam's crowded tea scene. However, it is a go-to brand for buying snow shan tea from Northern Vietnam. If you want to have a taste of what ancient tea trees living in the mountains can offer, keep Vixi in mind.
In Vietnam, Vĩnh Tiến is synonymous with the best artichoke tea from Đà Lạt. Its tea bag products are a must-have thing in many Vietnamese families. This company also offers a great selection of herbal teas and fruit juices to make your meal healthier.
It's A Wonderful Life For Tea Lovers In Vietnam!
People in all corners of Vietnam have a passionate love for tea, from full-flavored black tea to aromatic herbal drinks. Though you can easily buy many popular Vietnamese tea varieties online, some exotic tea brands are best enjoyed in this lush and beautiful nation.
Have you picked out your favorite tea types yet? Feel free to share your ideas as well as interesting information about Vietnamese teas that I might have missed. If your friends love healthy drinks, please tell them about this post to help increase their options. Many thanks!