Vietnamese thick noodle soup with pork is the ultimate comfort food that many people in the country usually turn to when they crave something warm and savory. Making it is a little difficult, but just step out of your comfort zone, and you will create a mouth-watering delicacy.
You're about to learn a new way to cook this highly desirable noodle soup specialty. While Phở is known for its elegance and deep flavors, or Bún Bò Huế for its heat and exciting smell, this one will please both your taste buds and teeth! Find out how now!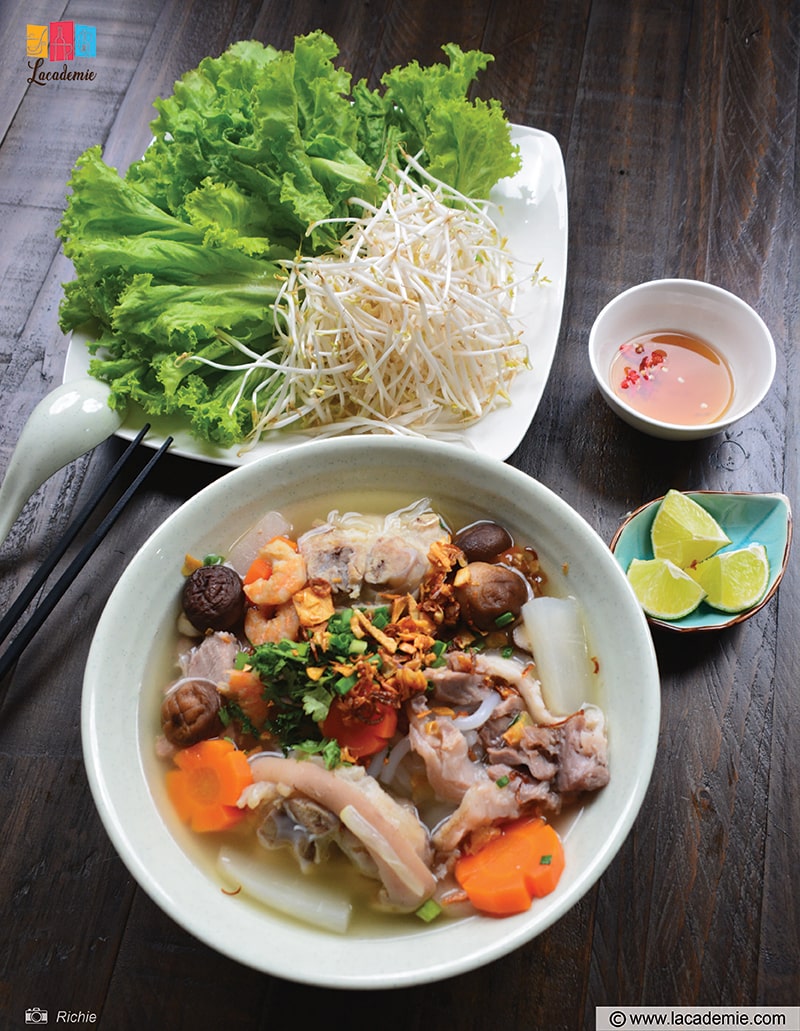 A Brief Overview Of Vietnamese Thick Noodle Soup With Pork
The generic name of this dish is "Bánh Canh", literally "soup cakes". But the "cakes", in fact, refer to the uncooked dough that people cut into thick, chewy noodles. The thickness of this starchy ingredient, as well as the rich broth, sets Bánh Canh from the rest of Vietnamese noodle soups.
At first glance, Vietnamese thick noodle soup may remind you of Udon, the famous noodle dish from Japan. However, there is no connection between the two. Most variations of the Vietnamese staple come from the Southeast region of the country and date back to the early 20th century at least.
The most popular version of the dish is Trảng Bàng thick noodle soup from the town of the same name in Tây Ninh province. It is the embodiment of classic Bánh Canh, which should have pork knuckles and shrimp. The former is quite pleasant to bite and the latter savory to taste.
Of course, this comes in many versions. Other than pork, the Vietnamese also make thick noodle soup with fish, crab meat, fish cakes, or coconut milk.
Taking a break from traditional versions, this recipe will show you a new take on how to make Vietnamese thick noodle soup. You can describe it as "a tie that binds" method. Does that pique your interest yet? Time to be creative!
Wash and pat dry the herbs and vegetables. Rinse the salted radish carefully with water to remove the excess salt. Cut an onion in half, transfer to the oven, and bake for 10 – 15 minutes.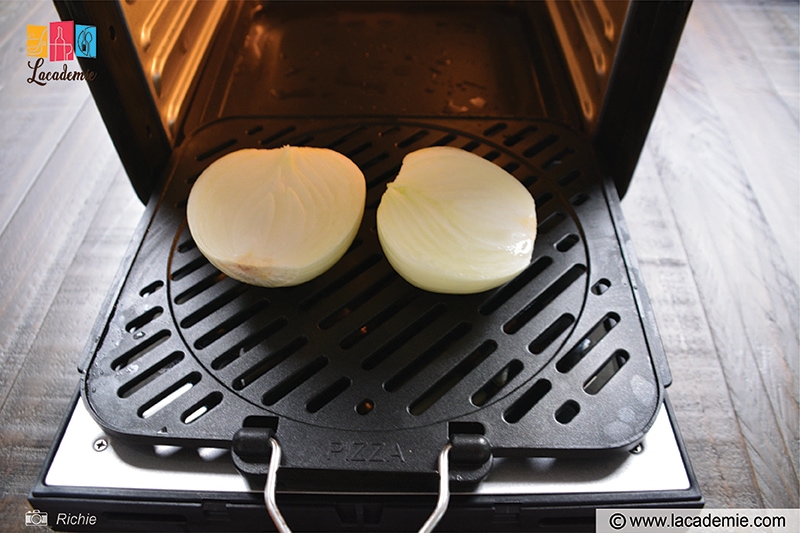 Next, remove the bulbs of scallions and the roots of coriander. Cut the salted radish into short slices. Finely chop scallion and coriander. Mince garlic and shallots. Dice the white radish and carrot into bite-sized pieces.
You can make a few shallow, evenly-spaced wedges down the length of the veggies, then turn them on their sides and slice them into flowers.
Score the husk of the sugarcane stalk and chop it into sticks. Peel the yam bean, wash it with water (to avoid making the broth cloudy later), and cut into thick slices.
Remove the stems of the shiitake mushrooms (you can save them for the broth), set aside some mushrooms, and cut the rest into small pieces. With a sharp knife, make two incisions in the shape of a cross on top of each uncut mushroom.
Having two types of mushrooms will improve the visual appeal of the dish.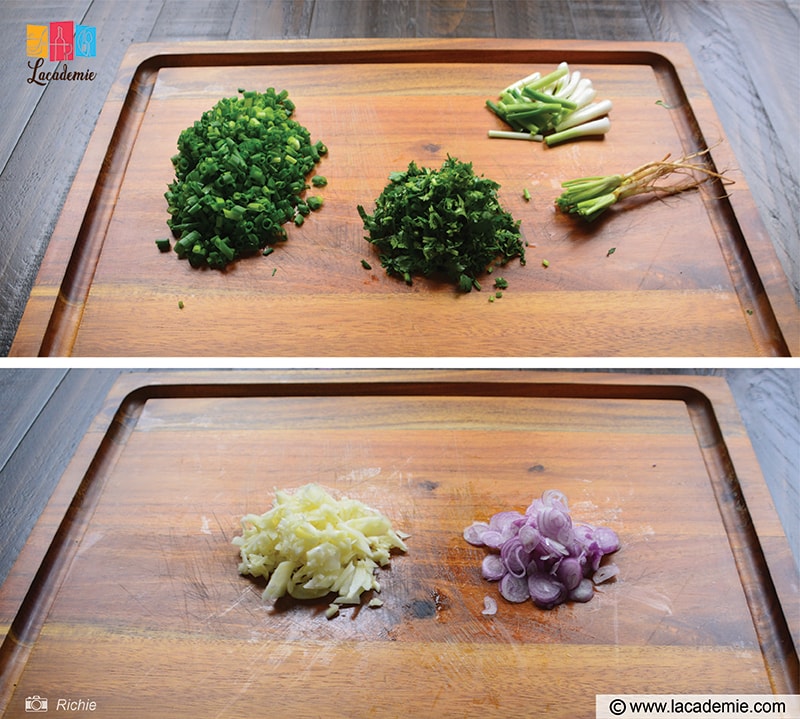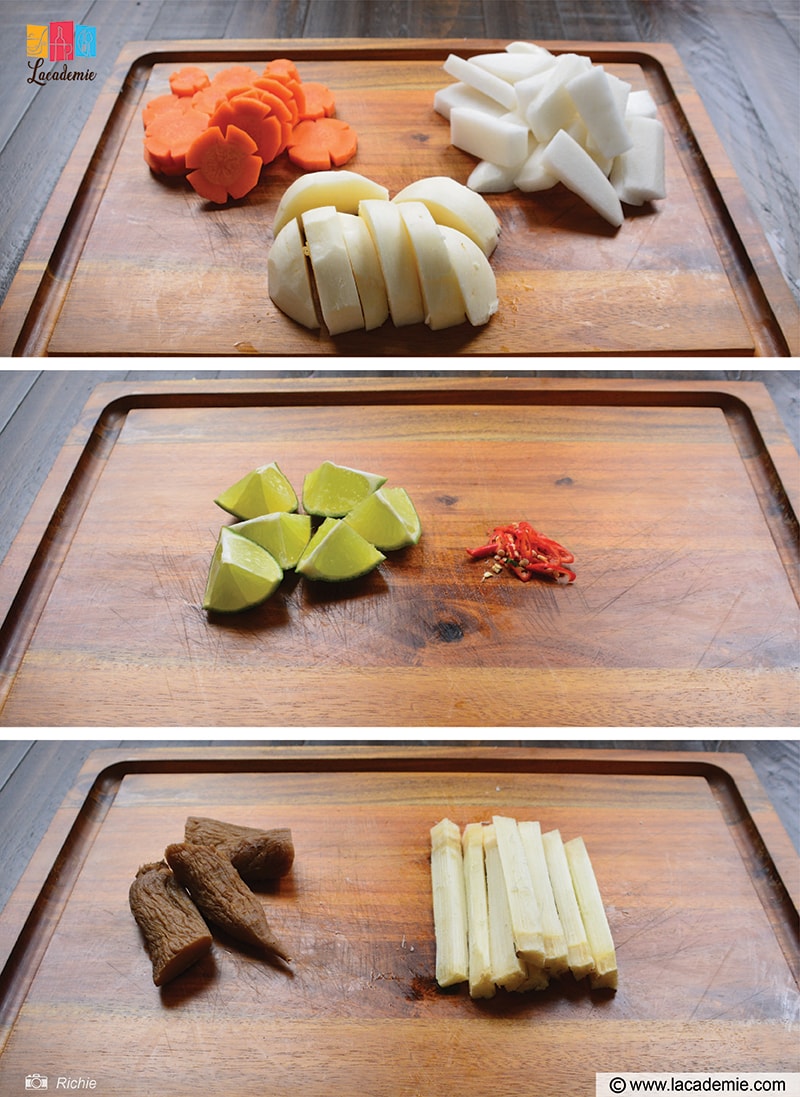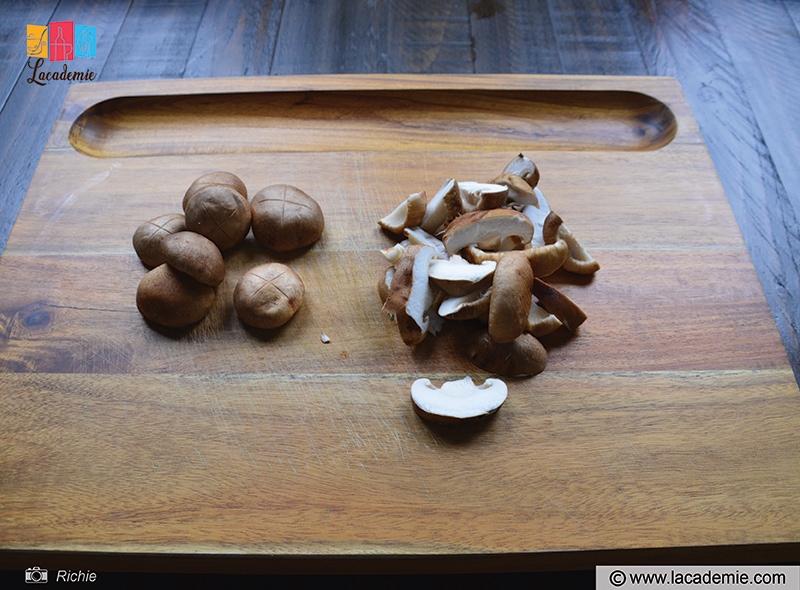 Chop the pork ham into medium-sized chunks. Debone the pork knuckles with a small sharp knife and fill them with pork ham. Since the pig trotters are very tough, there is no need to do the same thing with them.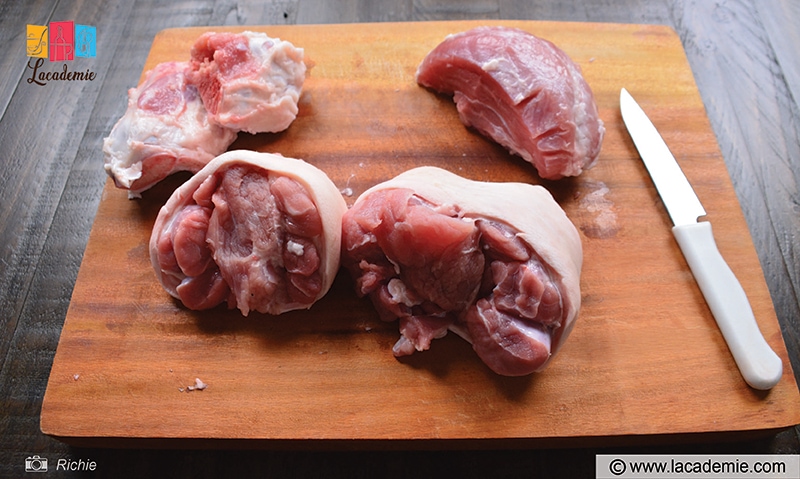 Set aside the excess pork ham. Mix the stuffed pig knuckles with 2 teaspoons of soup powder and 1 teaspoon of brown sugar. Leave them alone for 15 minutes. Note that you don't need to marinate other cuts of pork.
Next, tie each stuffed pig knuckle tightly with a kitchen twine to keep it in good shape during the cooking process.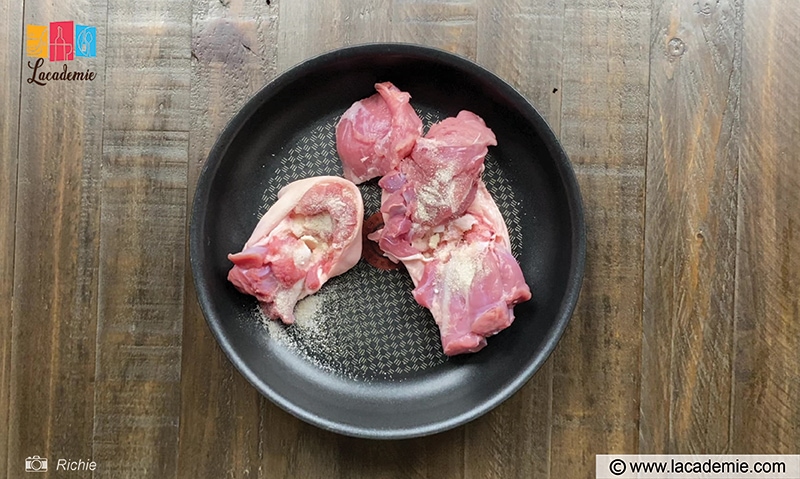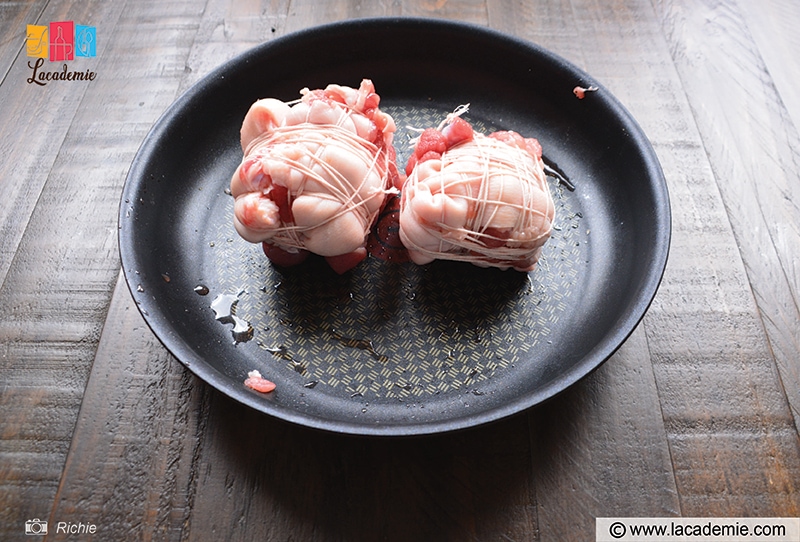 Purify the pork ham, pork knuckles, pig trotters, and bones (taken from the pork knuckles) by boiling them in hot water with some salt and scallion for 3 – 4 minutes. After that, put them in cold water immediately to prevent the meat from turning black.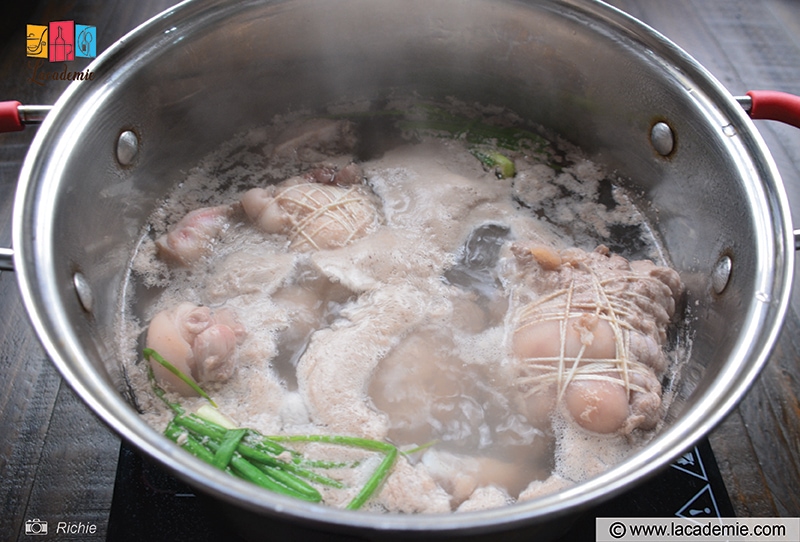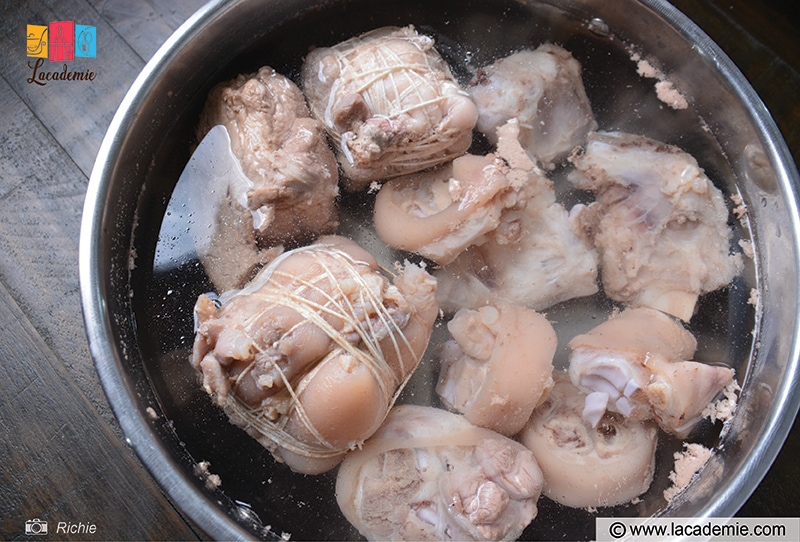 In a skillet, roast dried shrimp lightly until they emit a meaty aroma. While this step is optional, it can make your shrimp and, in turn, your broth much more flavorful.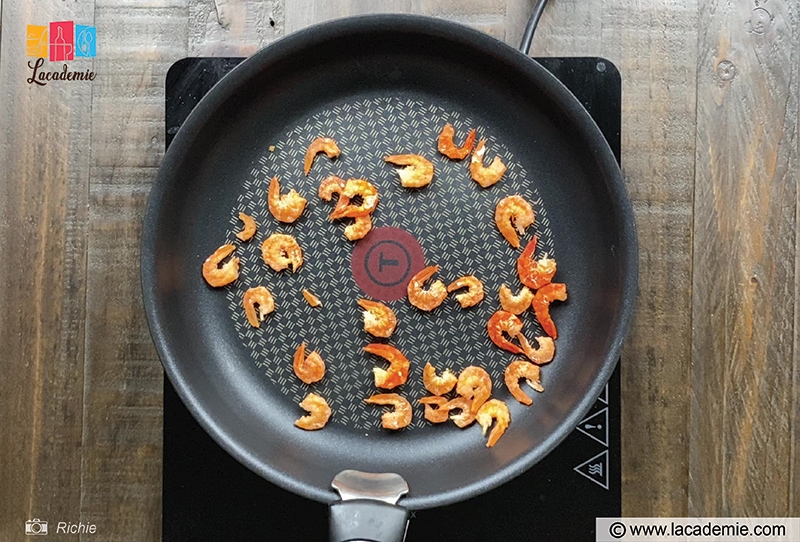 Fill a stock pot with 4 liters of water. Add the meat, bones, yam bean, coriander root, sugarcane, salted radish, baked onions, dried shrimp, and salt to the pot.
Stew on medium heat for 1 hour to 1 hour 30 minutes. Constantly skim off the foam on the surface to keep the broth clear.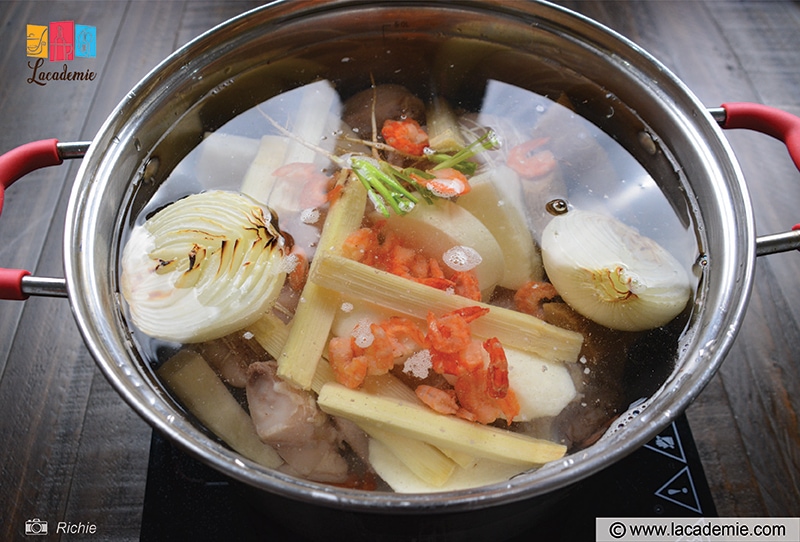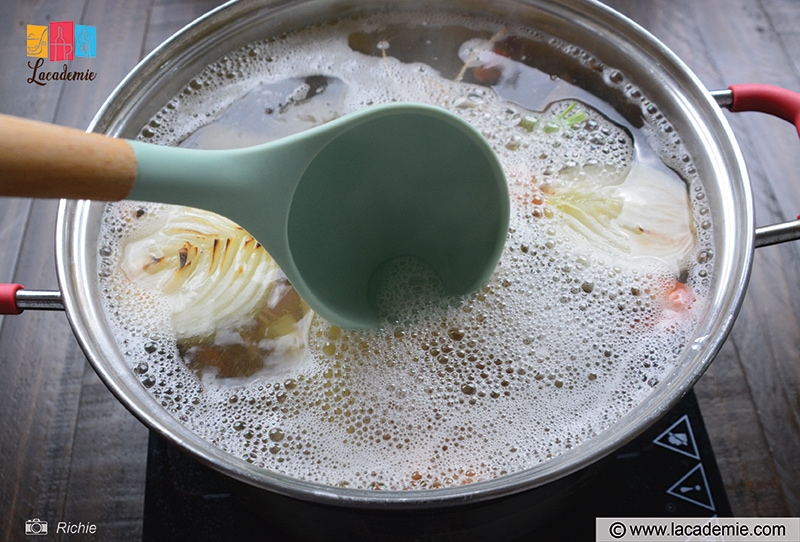 Remove all the ingredients from the pot, except for the stuffed pork knuckles. Add carrots and white radishes, then cook for 20 – 30 minutes on low heat. Season with 2 teaspoons of soup powder, 1 teaspoon of brown sugar, and 20 grams of rock sugar.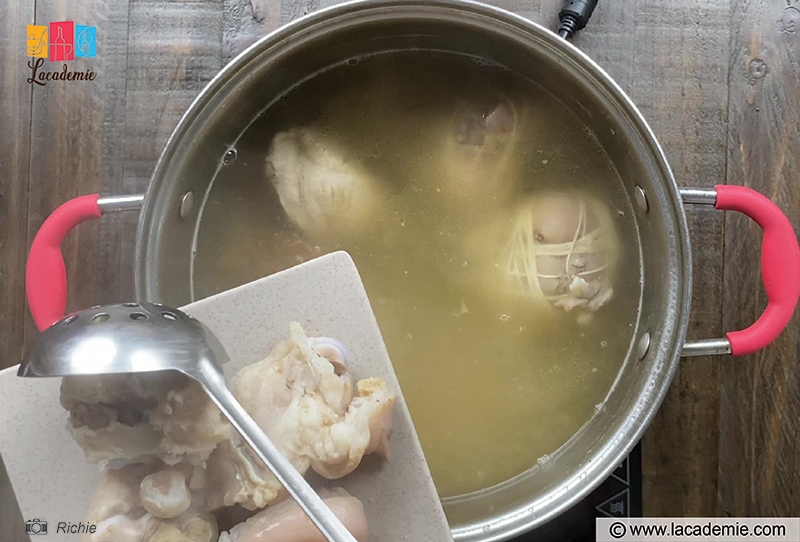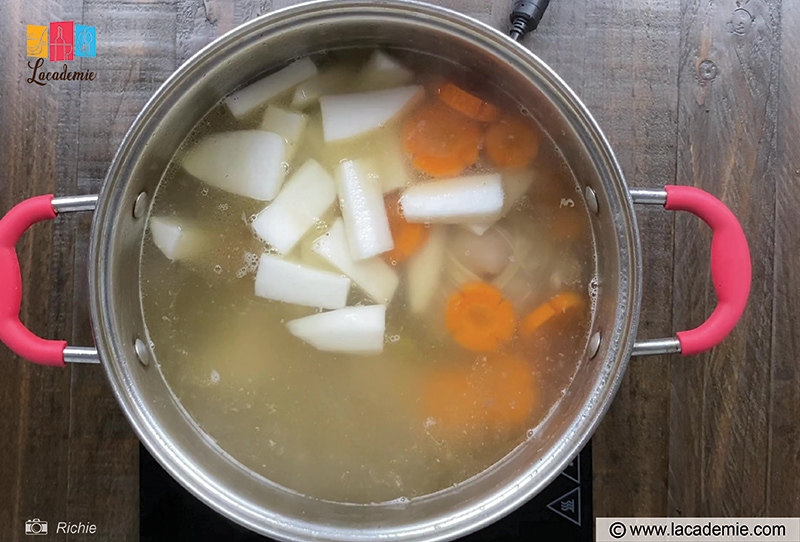 While you're waiting for the broth to cook, saute minced garlic and shallots in hot oil until they turn golden and fragrant. Set them aside.
Saute both cut and uncut shiitake mushrooms in hot oil and seasoning to taste. Stir constantly. You can add some water to keep the mushrooms from drying out. When they reach the right level of doneness, add them to the stock pot.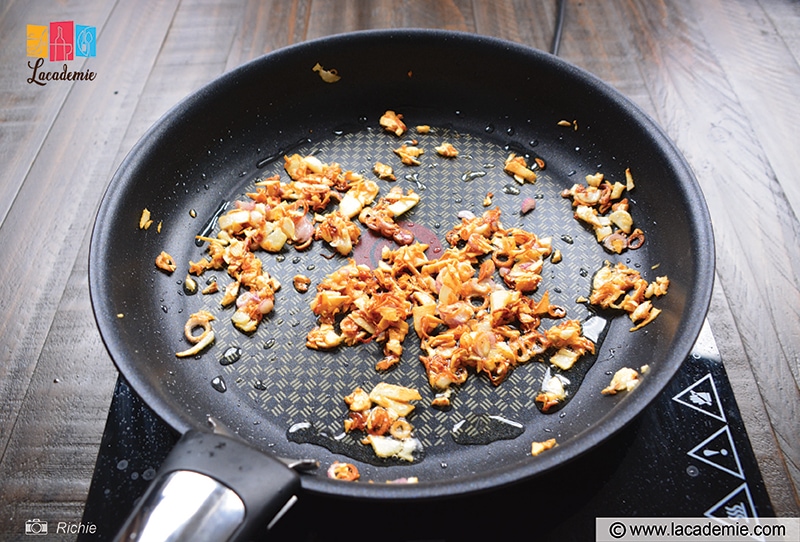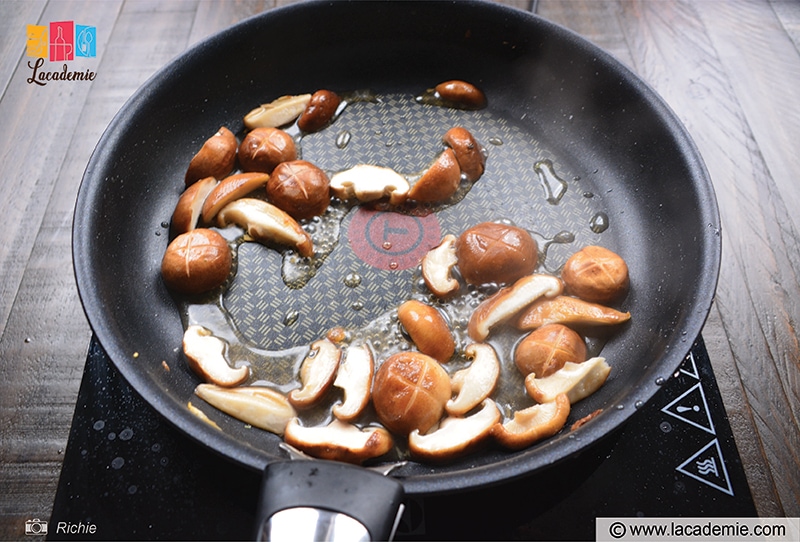 Add the bottoms of scallions and 5 teaspoons of Vietnamese fish sauce to the broth. Get the pork ham and stuffed pork knuckles out. When they cool down, get rid of the strings, then cut the pork into thin slices.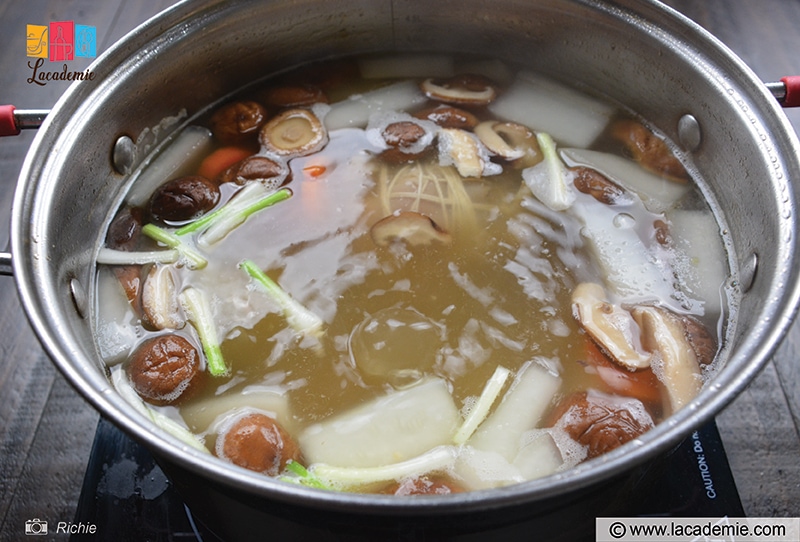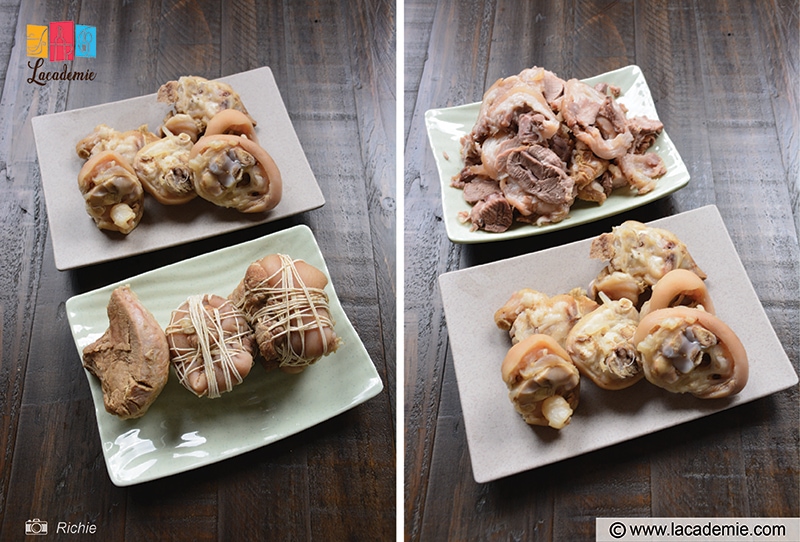 Parboiling the thick noodles in hot water for 1 minute to improve their taste and texture. Don't forget to add some oil to the water to keep the noodles from sticking to each other.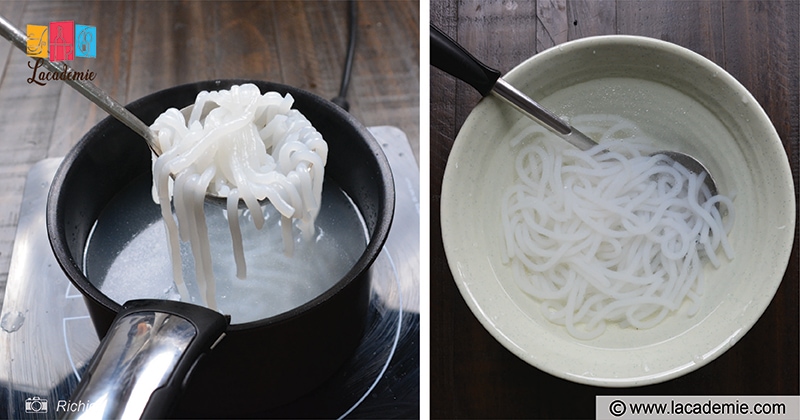 Transfer a suitable serving of noodles, pork slices, and cooked pig trotters to your bowl. Add some broth and the accompanying vegetables, shrimp, and mushrooms.
Garnish with fried shallots, scallions, chopped coriander, and black pepper on top. You can serve this dish with lettuce and bean sprouts or dip the pork in chili garlic sauce to improve your experience.
What Do You Think About This Take On Vietnamese Thick Noodle Soup With Pork?
Classic Vietnamese thick noodle soup is delicious enough, but a few changes can improve its deliciousness even more. You can cook this "bondage" version for your friends who have had experiences with the traditional dish and see how surprised they are at this new take.
Whatever you think about this recipe, feel free to leave a comment in the section below. If you have any questions, I will try to reply as soon as possible. One more favor: Share this post with everyone on your friend list. Thank you, and happy cooking!
Nutrition Facts
5 servings per container
---
Amount Per ServingCalories733
% Daily Value *
Total Fat 24.7g

37

%
Cholesterol 177mg

59

%
Sodium 2946mg

123

%
Potassium 1387mg

40

%
Total Carbohydrate 60.4g

20

%

Dietary Fiber 6.4g

24

%
Sugars 15.1g

Protein 68.8g

136

%
---
* The % Daily Value tells you how much a nutrient in a serving of food contributes to a daily diet. 2,000 calories a day is used for general nutrition advice.