These Peruvian recipes reflect a complex fusion of the culinary culture in this country. There are more than 300 varieties of chili peppers in Peru, which contributes a memorable spiciness to Peruvian cuisine.
Peruvian cooking is a sophisticated harmonization of various types of cuisine from different continents: Europe, Asia, and Africa. So, trying the food from this country is a unique yet familiar experience if you come from the listed regions.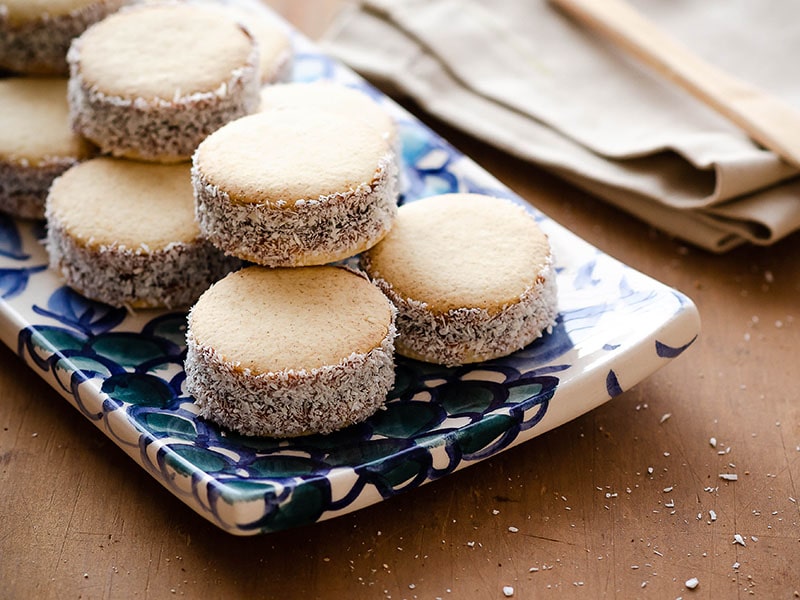 25 Delicious Peruvian Recipes To Create A Delicate Savory Experience
Time waits for no one! So, let's start the savory expedition to Peru right now! You will not regret spending time on the following tasty recipes.
Wow! Try this authentic Peruvian cuisine to spice up your ordinary meal. Aji Verde is a green sauce with a fiery flavor from different kinds of peppers. You can use jalapenos or black peppers to trigger your taste from the first touch.
Cilantro and lime juice (or vinegar) will create a beautiful aroma and a little sour taste for the sauce. The sauce is usually served with salad to balance the piquant flavor.
Awesome! You have to taste this breath-taking and creamy Aji Verde immediately.
Hey! This Peruvian grab-and-go dish will give you a beautiful smoky flavor with a soft sweetness from the corn on the cob. You might find a gentle aroma from cilantro that will make your mouth water.
Why not give this unique Peruvian sweet court a try? It has a lovely purple color from special corn in Peru. After thickening the dish with cornstarch, you have a delicious and jiggly dessert. You can use the dish cold or warm depending on your preference.
Peruvian burritos are an excellent option to add to your wrap recipe. The wrapper is soft with a bit of a chewy texture that highlights the juicy filling inside. The bell peppers are sweet, while black pepper creates a hint of peppery for the dish.
Wa! This is a perfect breakfast dish from Peru. Empanadas are crumbly with a well-cooked wrapper covering a savory interior. You should add some vegetable oil or olive oil to keep the filling moist and tasty.
Yum! Don't miss out on these crusty and pillowy Peruvian empanadas.
Pollo a la Brasa is a savory chicken recipe from Peru that will blow your next party. The chicken is so tender after being seasoned with olive oil, paprika, and black pepper. Don't forget to add some oregano to coat a wonderful aroma to the dish.
Arroz chaufa is a fascinating Peruvian dish for a midday meal that can be done in a snap of a finger. You just need to prepare all the ingredients from the night before and fry them in the morning. The dish is flavorful with a touch of soy sauce.
Salsa Criolla is a crispy and refreshing side dish that can be served in almost any meal in Peru. You can use this dish to garnish for other Peruvian cuisines too. Although the red onion might have a robust flavor, you might find a hint of sweetness while enjoying the dish.
Looking for a flavorful evening dish from Peru? The chicken is so tender with a dazzling flavor after being cooked. You can make this dish easily with the help of a skillet and an oven (if you try the recipe using a whole chicken).
After being fried, the dough has a crispy cover and an incredibly tender interior. The aromatic scent of the cinnamon and aniseed will stimulate your taste. You can use honey or sugar to bring soft sweetness to the sweet treats.
Why hesitate? Learn how to make these soft and tasty Picarones right here.
Let me greet you with an indigenous ingredient from Peru. The beans have a wonderful yellow shade and a signature nutty and a bit earth flavor. The tomato paste forms a smooth and flavorful sauce that complements the beans' taste.
This Peruvian dish has a beautiful bouncy flavor from the well-done shrimps. The sauce covering the shrimps is rich in flavor with a hint of lime juice. Onion and cilantro coat a lovely aroma that boosts the entire flavor of the dish.
You won't be disappointed with the flavorful taste of this refreshing salad recipe. Solterito arepequiño originates from Arequipa – the second largest city in Peru. There are tons of ways to make this salad because the recipe fits with various veggies.
You can expect a little sour and sweet taste with a crunchy texture from the added vegetables. Parsley will complete this wonderful salad with a pleasant aroma.
Imagine the rich dulce de leche paste is sandwiched with soft and crumbly shortbread cookies, fascinating, right? Just a bite from this cake will take you to heaven.
One fun fact about this dish is that the word 'alfajor' means 'filled', which perfectly describes the cookies' sweet and creamy paste filling.
Let's make these crumbly and tasty Peruvian alfajor cookies now!
Add this Anticuchos De Pollo to your BBQ recipe now! The grilled chicken is tender and spicy with the use of chili powder. You can boost the spiciness by applying some smoked paprika and red pepper flakes.
Everyone loves the mild and lightly creamy taste of avocado. In Peru, there are many ways to enjoy this delightful Peruvian fruit. You can use an all veggies ingredient to fit your vegan diet or add a bouncy texture of cooked shrimps to highlight the avocado's taste.
Here comes a delicious Peruvian soup that you can cook for your friends and family. The dish is so easy to make. A tip for a delicious soup is that you pick the freshest seafood from the market.
Ceviche is a traditional Peruvian food that the local people love so much. Its popularity has also spread to Belizean cuisine. The dish is a combination of uncooked salted fish versus vegetables. You can taste a signature flavor of salty, sour, and natural sweetness of the fish.
Want to make that authentic Peruvian Ceviche? It's time to try this recipe.
I would like to share a delightful Peruvian dish that you may love at first sight. This chicken rice bowl is straightforward to make with the ingredients available around you. I recommend that you marinate the chicken the night before to let it fully absorb the spices.
Who wants some homemade ice cream? Check out this beautiful Peruvian recipe that can easily beat off the summer heat. A small bite of the ice cream is so bold and rich, especially a lucuma's citrusy flavor.
If you are looking for a fancy salad idea, causa rellena is the best option for you! The dish is a layered salad made of mashed potatoes and chicken or tuna. The first impression of the dish is that the creamy taste of potatoes and savory filling merge perfectly in one bite.
How about making some gorgeous sweet treats for this dinner party? I believe that you can nail the cooking easily with the parfait. In addition, you will love to try the dish cold because the cream is a bit firm so that you can taste it like ice cream.
It is impossible to resist this beautiful and tasty Suspiro Limeño!
Are you looking for a main dish to enjoy with rice? Well, you got it! This Peruvian beef stir fry is a great deal for you with an overall savory taste that goes well with rice. Plus, the beef still retains its tenderness, so you can enjoy it completely.
Beef Tequenos is a delightful dish that you can eat as a snack or serve at parties. It goes well with any beverage from Peru, so feel free to try all the combinations.
When you've already marinated and rolled the filling, you bring the whole thing to fry until it gets a nice golden color. You can enjoy the food with salsa or guacamole to balance the taste.
Let's take note of this succulent Peruvian creamy chicken recipe for the next cooking time! This unique chicken dish will give you a flavorful taste in every single bite. You can serve the dish with some potatoes and eggs for extra flavor.
Don't Lose Your Sense Of Wonder!
Food is a beautiful wonder of a nation. You don't have to travel too far in order to enjoy the savory masterpiece if you know the proper way to make it. So, don't stop seeking new recipes because you will miss out on tons of delightful food.
What is your favorite Peruvian recipe? Share with me in the comment section. I bet it will spice up your day and give you an unforgettable experience.
Nutrition Facts
6 servings per container
---
Amount Per ServingCalories159
% Daily Value *
Total Fat 10.2g

16

%
Cholesterol 12mg

4

%
Sodium 200mg

9

%
Potassium 207mg

6

%
Total Carbohydrate 15.3g

6

%

Dietary Fiber 2g

8

%
Sugars 2.5g

Protein 4.5g

9

%
---
* The % Daily Value tells you how much a nutrient in a serving of food contributes to a daily diet. 2,000 calories a day is used for general nutrition advice.