Vietnamese duck noodle soup with bamboo shoots (Bún Măng Vịt) is one of the most well-loved delicacies in Vietnamese cuisine. This mouth-watering dish combines tender duck, aromatic bamboo shoots, and a deeply flavorful broth, creating an unforgettable culinary experience.
Today's easy-to-follow recipe ensures that even novice cooks can successfully recreate this sumptuous and inviting Vietnamese soup. So why wait? Dive into the vibrant flavors of Bun Mang Vit and watch as it becomes a new favorite among family and friends!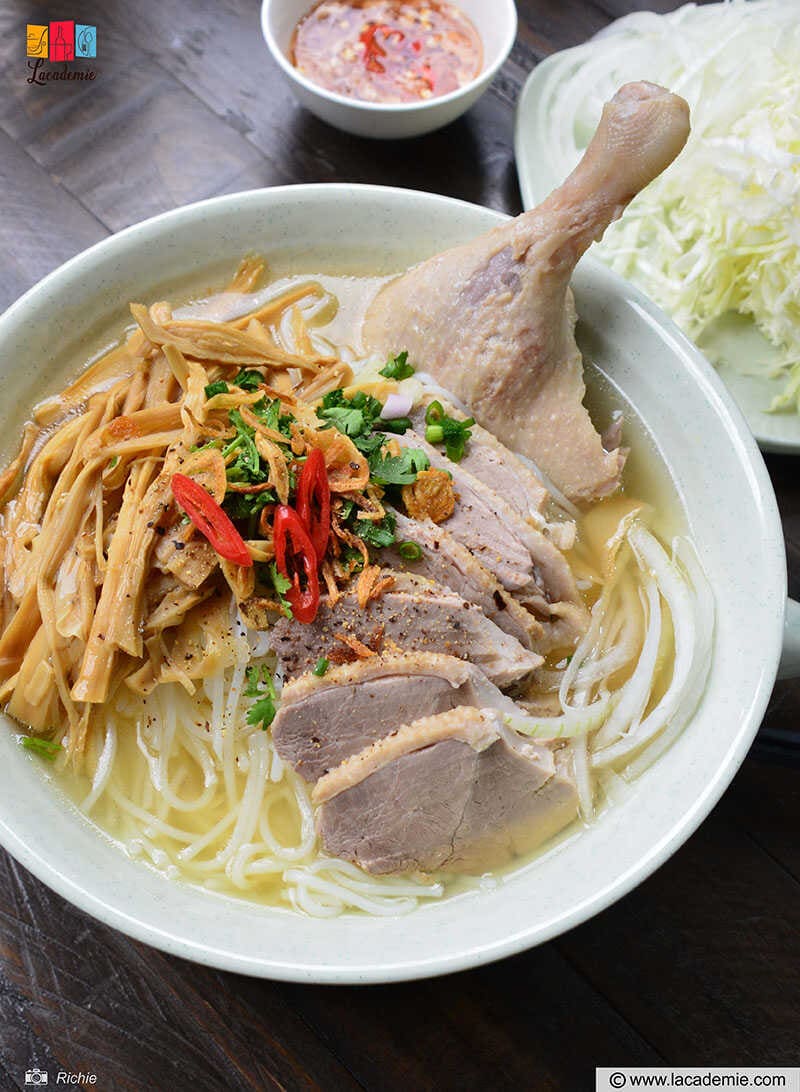 Why Bun Mang Vit Is A Must-Try
Bun Mang Vit is an addicting noodle soup that can be found in various regions across Vietnam, particularly in the Mekong River Delta and Northern areas. The captivating allure of this delicacy lies in the harmonious and balanced interplay of flavors.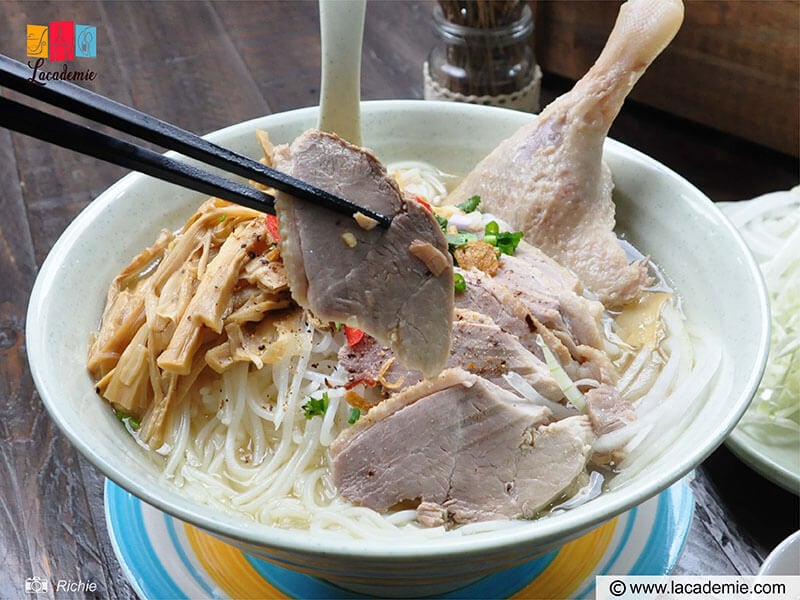 According to folk medicine, duck meat has cooling properties, making it a great choice for hot summer days. However, it's essential to incorporate warming herbs and spices such as ginger, garlic, and Vietnamese coriander (laksa leaves) to make the dish more balanced.
The combination of tender duck meat dipped in ginger-infused fish sauce, accompanied by a bite of dried bamboo shoots, creates a beautiful harmony of sweetness and enticing aroma.
Tools
First, let's take a look at the tools you need to pull off this recipe. Double-check your kitchen arsenal to ensure that you have all of them.
Large pot (stockpot): For cooking the broth.
Pan: For stir-frying the bamboo shoots.
Ladle, wooden spoon: For stirring and skimming the broth.
Tongs: A pair of tongs help you transfer the ingredients in and out of the stockpot easily.
Knife and cutting board: For cutting and slicing up the ingredients.
Additionally, you might need other supporting tools like a saucepan, a slotted spoon, etc.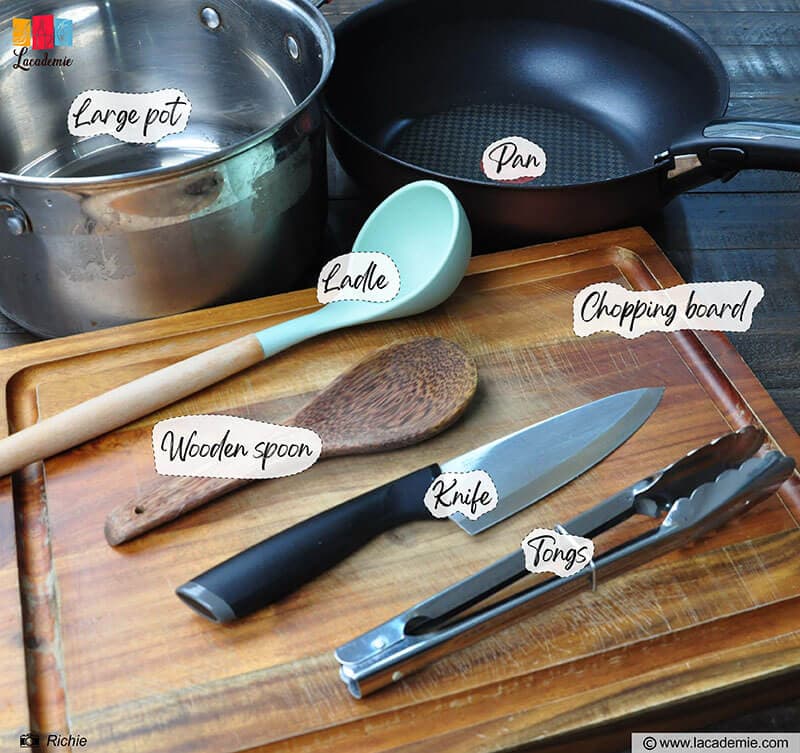 Ingredients
Create an authentic Vietnamese noodle soup by gathering these essential ingredients. Duck meat, bamboo shoots, and vermicelli noodles are the most important components.
Half a duck: When purchasing ducks, you should choose those with evenly yellow skin, and the meat should feel firm and responsive to the touch. Avoid ones with discolored skin, mushy meat, and bruises.
Dried bamboo shoots: You can also use fresh bamboo shoots to cut down on the cooking time, but these can be hard to come by. I usually opt for dried ones as they are much easier to find.
For removing the duck's odor: Roasted onion, roasted shallots, roasted ginger, scallion, white wine, and salt.
Pork bone broth: I recommend making your pork bone broth for the tastiest soup. Feel free to use packaged products if you want to save time.
Vermicelli noodles: Fresh noodles taste the best. However, dried noodles are also a great choice. If using the dried version, you should prepare the noodles following the instructions on the package.
Shallots and garlic: Add more aroma to the dish.
Fish sauce: Add more flavor to the bamboo shoots.
Cooking oil: For stir-frying the ingredients.
Accompanying vegetables: Scallions, cilantro, Vietnamese coriander, sliced onion, white cabbage
Fried shallots: For garnishing the noodle soup.
Seasonings for the broth: Chicken seasoning powder, salt, and rock sugar.
For the dipping sauce: Fish sauce, sugar, lime juice, ginger, chili slices.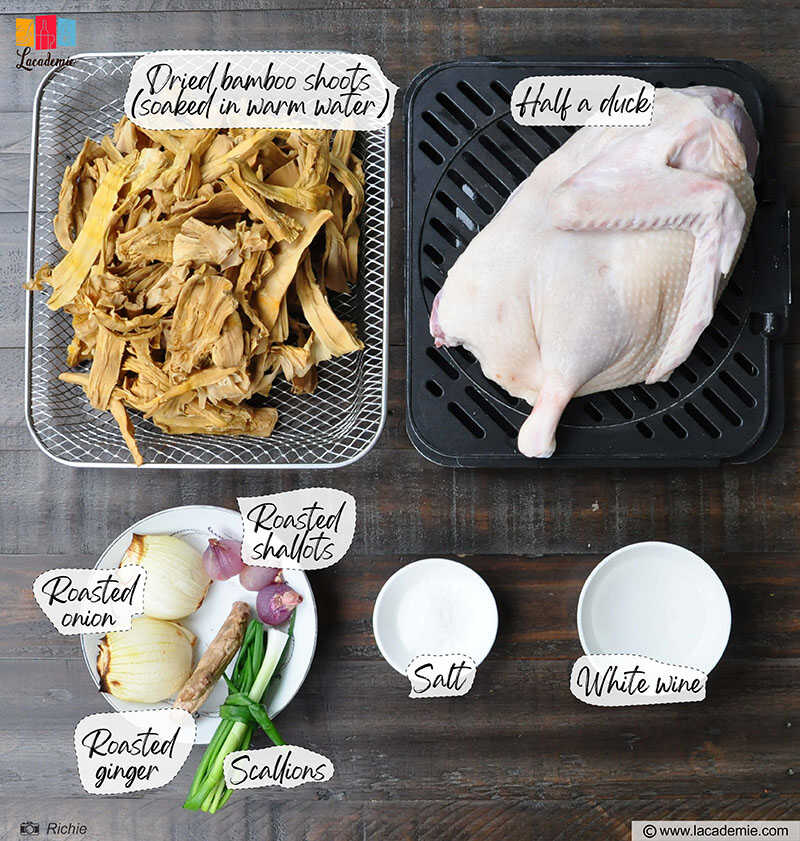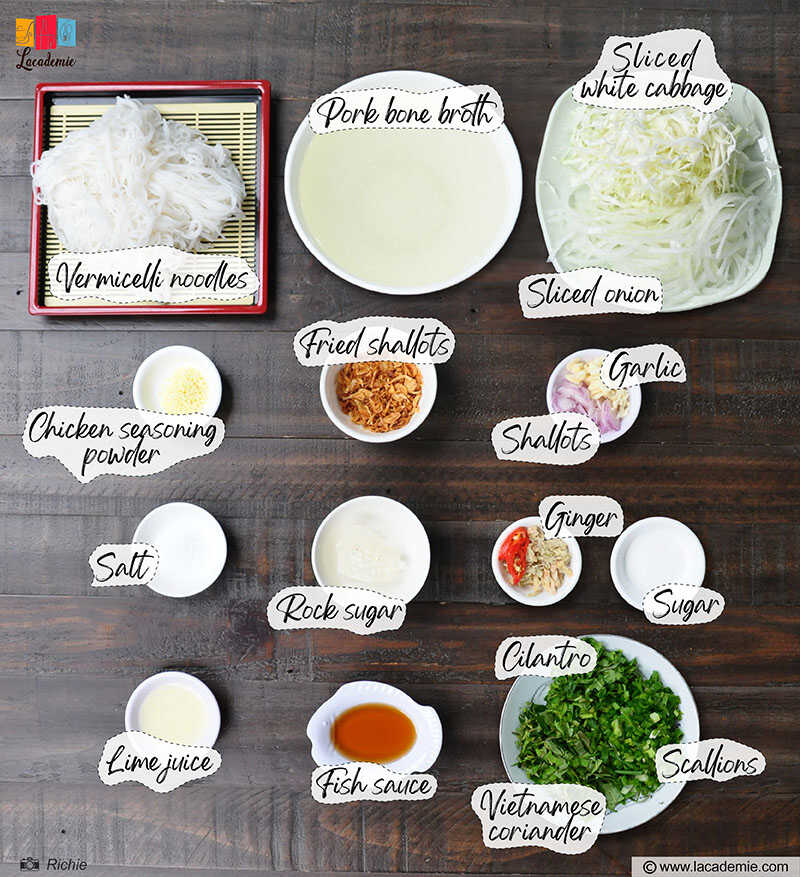 Directions
Follow these straightforward directions to create a Vietnamese duck noodle soup with bamboo shoots. Combine the ingredients methodically to achieve a satisfying treat.
Step 1: Prepare the ingredients
First, wash all the vegetables thoroughly and let them drain.
For the dried bamboo shoots, prepare them ahead of time as they need to be soaked in warm water for 2-3 hours to soften. While soaking, rinse and change the water 2-3 times to reduce the yellow color and clean the bamboo shoots further.
Clean the duck by rubbing it with salt, then rinse it with alcohol and vinegar to sanitize and reduce any strong odors from the duck.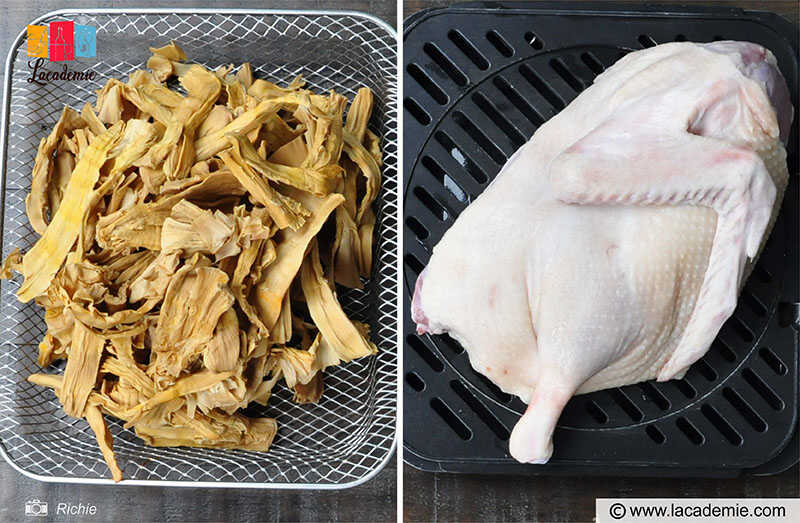 Step 2: Roast The Vegetables
Roast 1 onion (cut in half), 1 ginger root, and 2 shallots in an oven with a bowl of water for 15 minutes at 400 degrees F.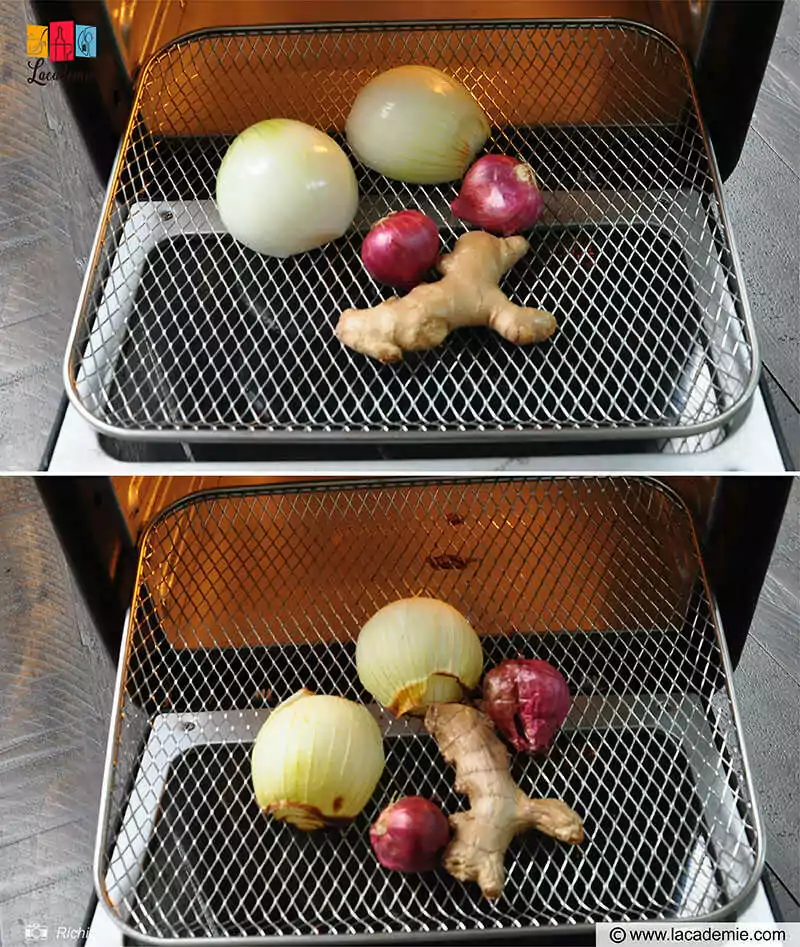 Thinly slice the cabbage and ½ onion. Soak the onion in cold water to reduce its pungent taste.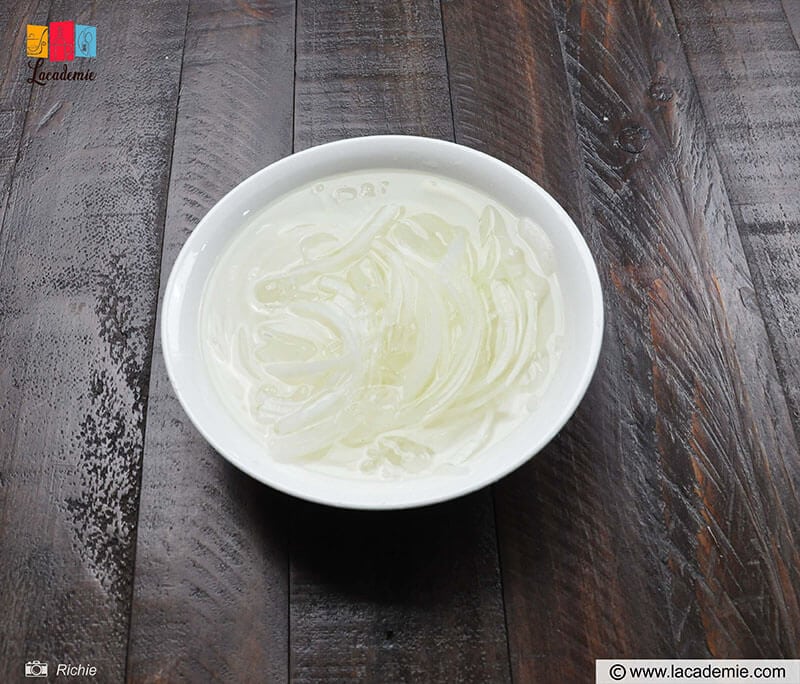 Step 3: Boil The Bamboo Shoots
After preparing the ingredients, add the bamboo shoots to a pot of water and boil them for 60 minutes at medium heat.
During this process, change the water 3 times to keep the bamboo shoots clear and reduce any strong odors.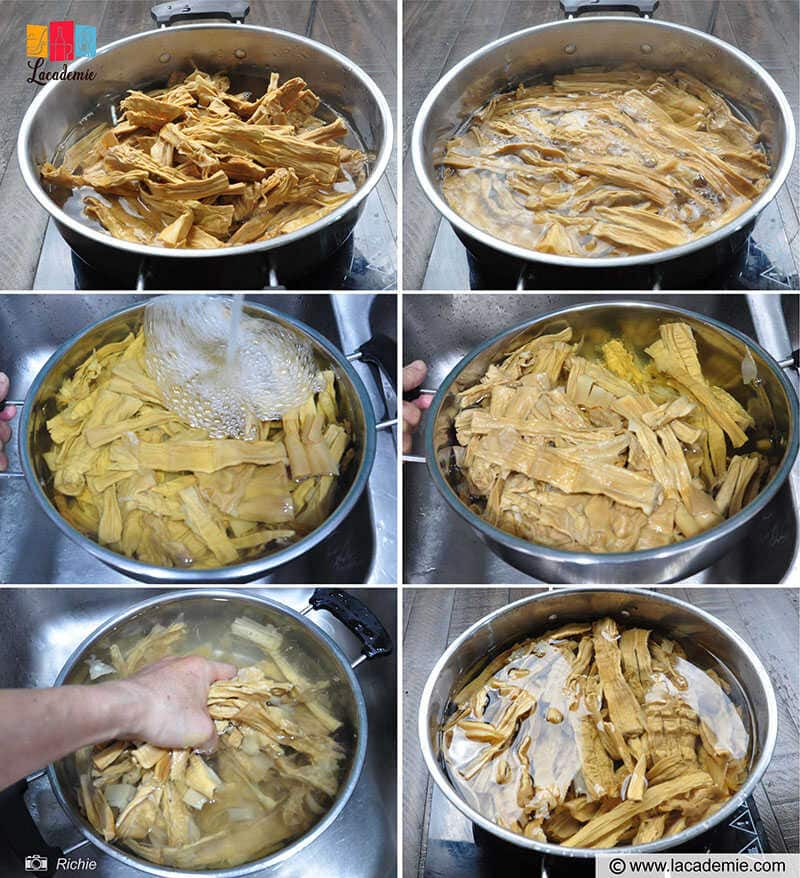 Step 4: Boil The Duck
Add 3 tablespoons of white wine and 2 teaspoons of salt to a pot of boiling water. Blanch the duck for 2 minutes. Then, take the duck out and rinse it clean.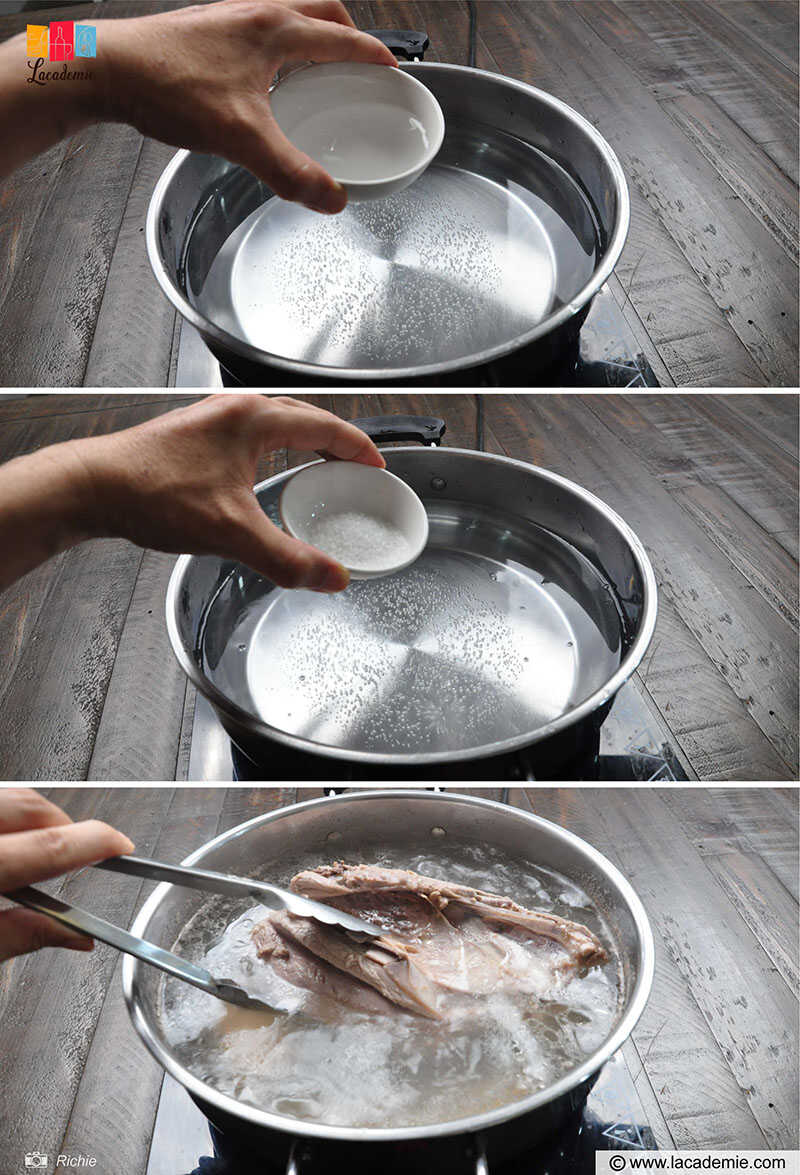 Add 3.5 quarts of bone broth to a pot along with the scallions, roasted onion, ginger, and shallots. Bring to a boil and cook the duck for 25 minutes.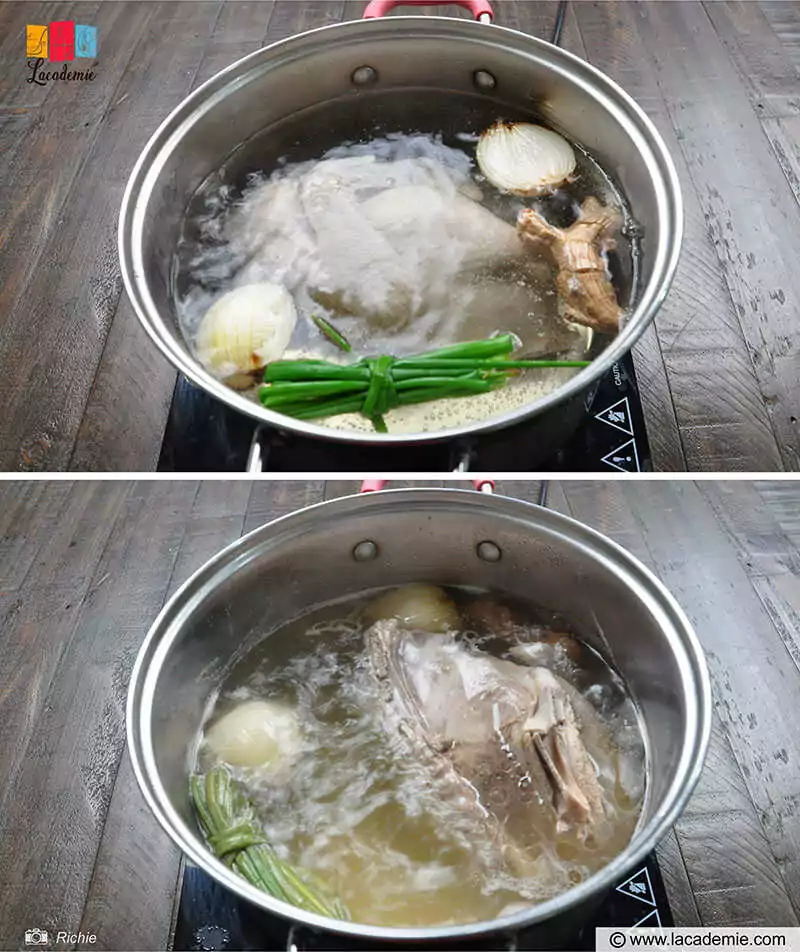 Step 5: Stir-fry The Bamboo Shoots
While boiling the duck, shred the bamboo shoots into small strands. After shredding, sauté garlic and shallots until fragrant, then add the bamboo shoots to the pan.
Next, add 1 tablespoon of broth to prevent burning, and season with 3 tablespoons of fish sauce. Stir-fry for 2-3 minutes to let the bamboo shoots absorb the flavors.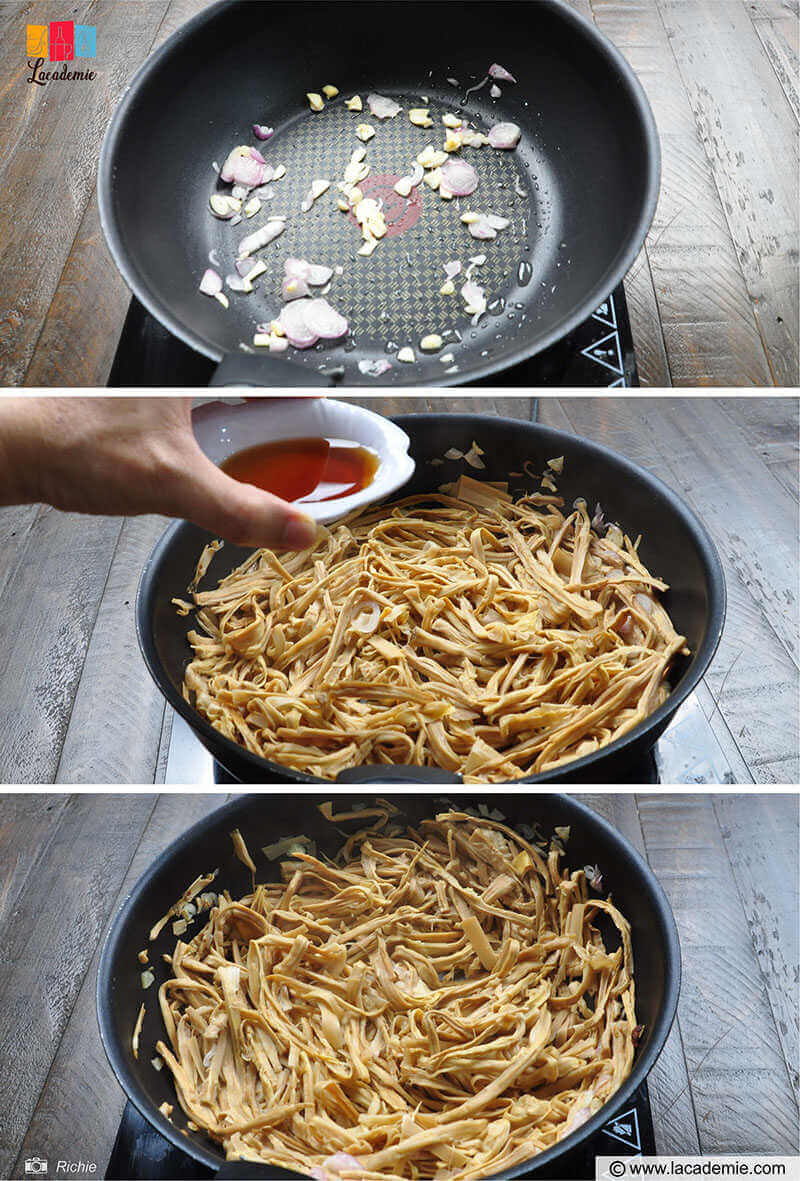 Step 6: Prepare The Broth
Once the duck is tender, remove it along with the other ingredients from the pot. Add the stir-fried bamboo shoots to the broth pot.
Boil for 5-10 minutes on low-medium heat. Then, season with rock sugar, salt, and chicken seasoning powder, adjusting to your preferred taste.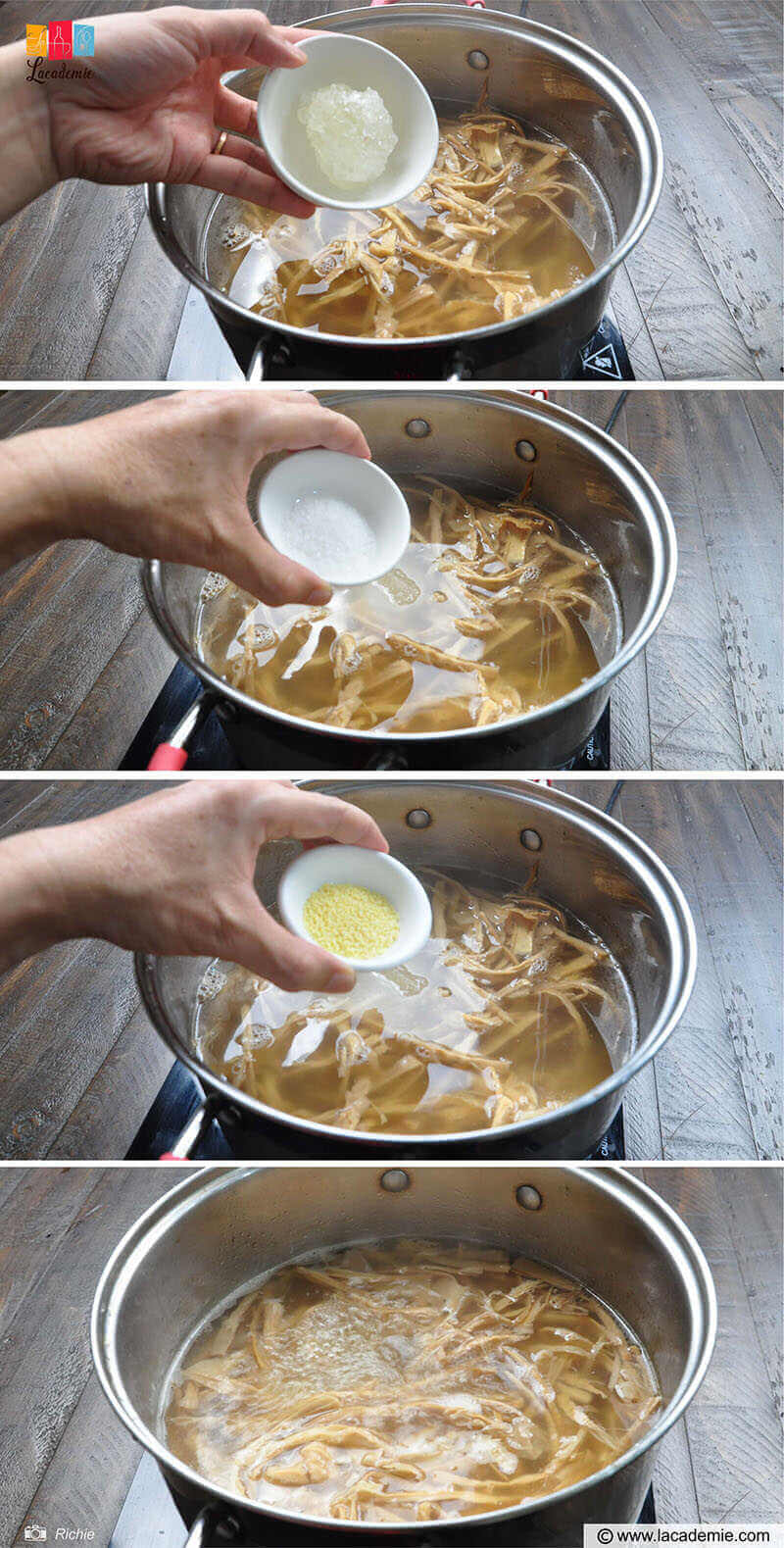 Step 7: Slice The Duck And Blanch The Noodles
Once the duck has cooled, slice it thinly. You can save the duck drumsticks to add more visual appeal to the dish.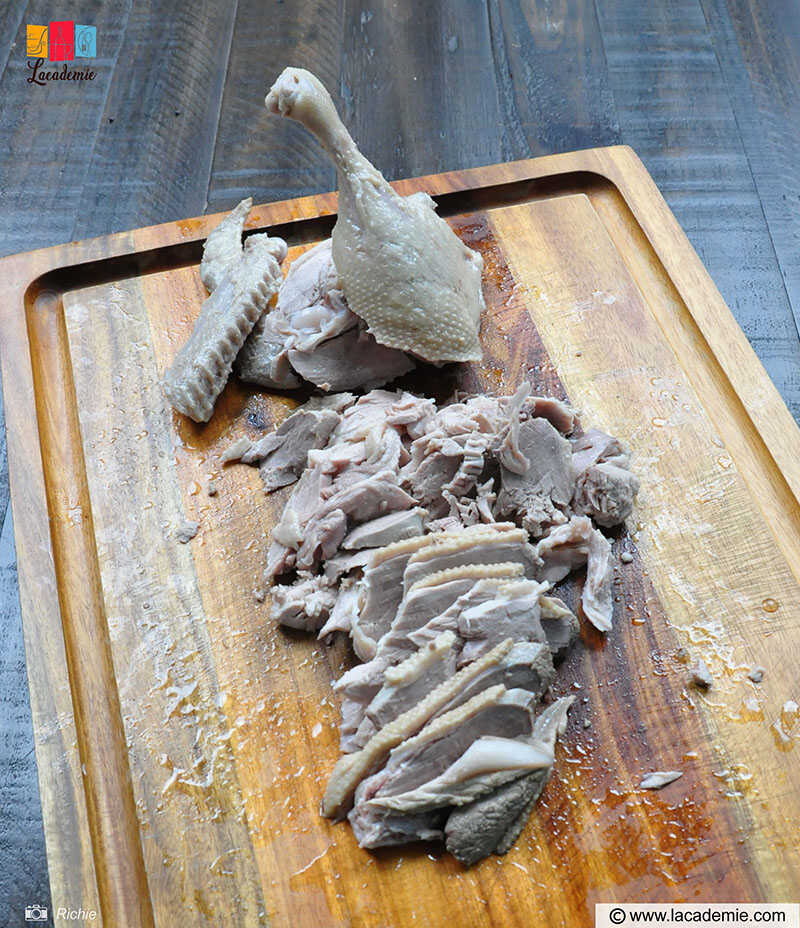 Blanch the vermicelli noodles in boiling water for 30-40 seconds and transfer them to a bowl.
Step 8: Prepare The Dipping Sauce
Mix fish sauce with sugar, lime juice, crushed ginger, and a few slices of chili in a small bowl and stir well.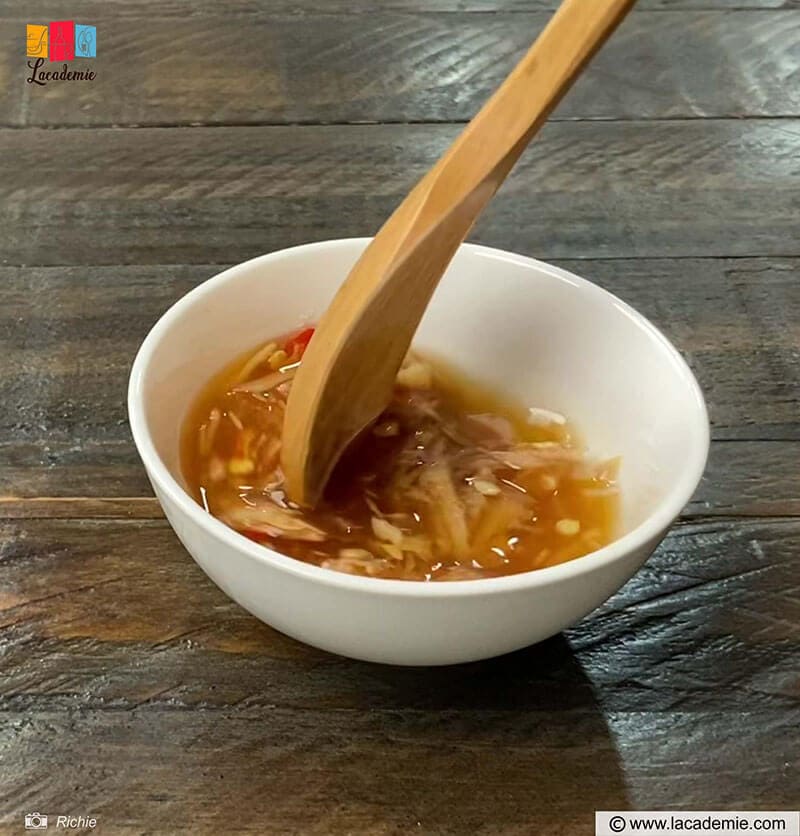 Step 9: Present The Dish
Arrange the duck meat and bamboo shoots on top of the noodles. Pour the broth over the noodles until they are submerged. Then, garnish with scallions, cilantro, laksa leaves, ground pepper, fried shallots, and some chili slices.
You can also serve the dish with chili sauce, satay, and chili-lime sauce for an exciting twist.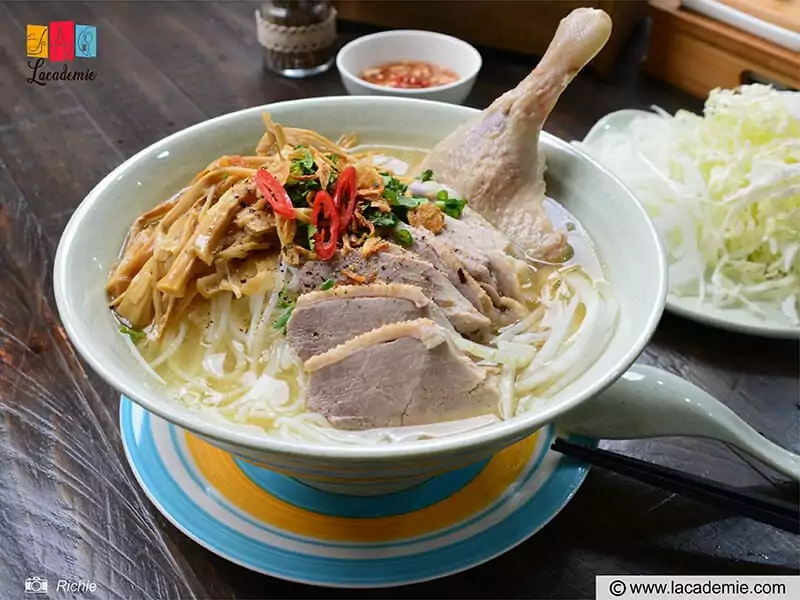 Notes
Here are some notes that you should keep in mind during the cooking process. If you're new to cooking duck and bamboo shoots, they will surely come in handy.
Duck has a strong, gamey smell, so clean it thoroughly. Additionally, you can soak the duck in 1 quart of water mixed with 3 tablespoons of vinegar for 30 minutes to reduce the odor and tenderize the meat faster.
Dried bamboo shoots have a strong and pungent smell. Make sure to prepare both the duck and bamboo shoots carefully to maximize the dish's flavor.
After 25 minutes of boiling, poke the duck using a chopstick or a fork to check its doneness. If there's no pink liquid coming out, the duck is cooked through. Otherwise, cook the duck for 5 more minutes.
How To Store Bun Mang Vit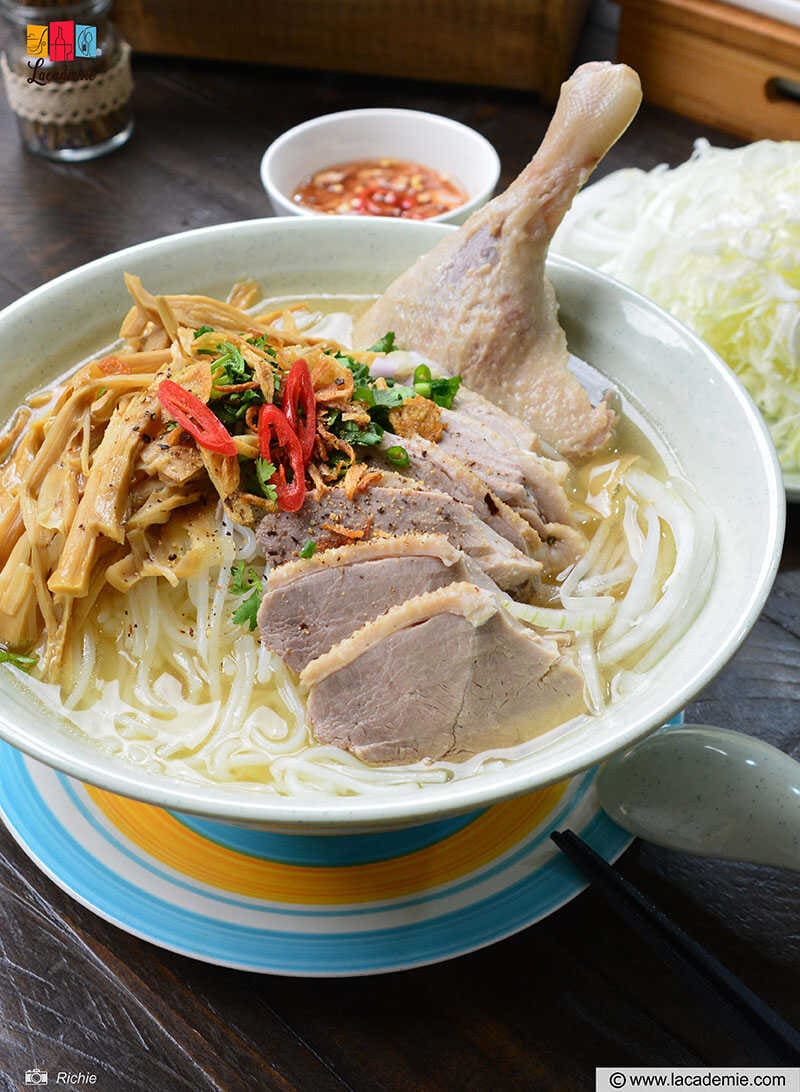 To store Vietnamese duck noodle soup with bamboo shoots, first let the soup cool to room temperature. Then, separate the soup, noodles, duck, and bamboo shoots, placing them into individual airtight containers. Refrigerate the containers if you plan to consume the soup within 2-3 days.
You can also freeze the soup, duck, and bamboo shoots for up to 3 months. Avoid freezing the noodles, as they will become mushy when thawed. Remember to label and date the containers for easy tracking.
When ready to serve, reheat the components separately, cook fresh noodles or reheat cooked ones, and combine everything in a serving bowl. Garnish with your choice of toppings, and enjoy!
Variations To Try Out
In addition to the original recipe, there are also some ways to customize this dish to suit individual preferences or dietary requirements. Check out the following variations.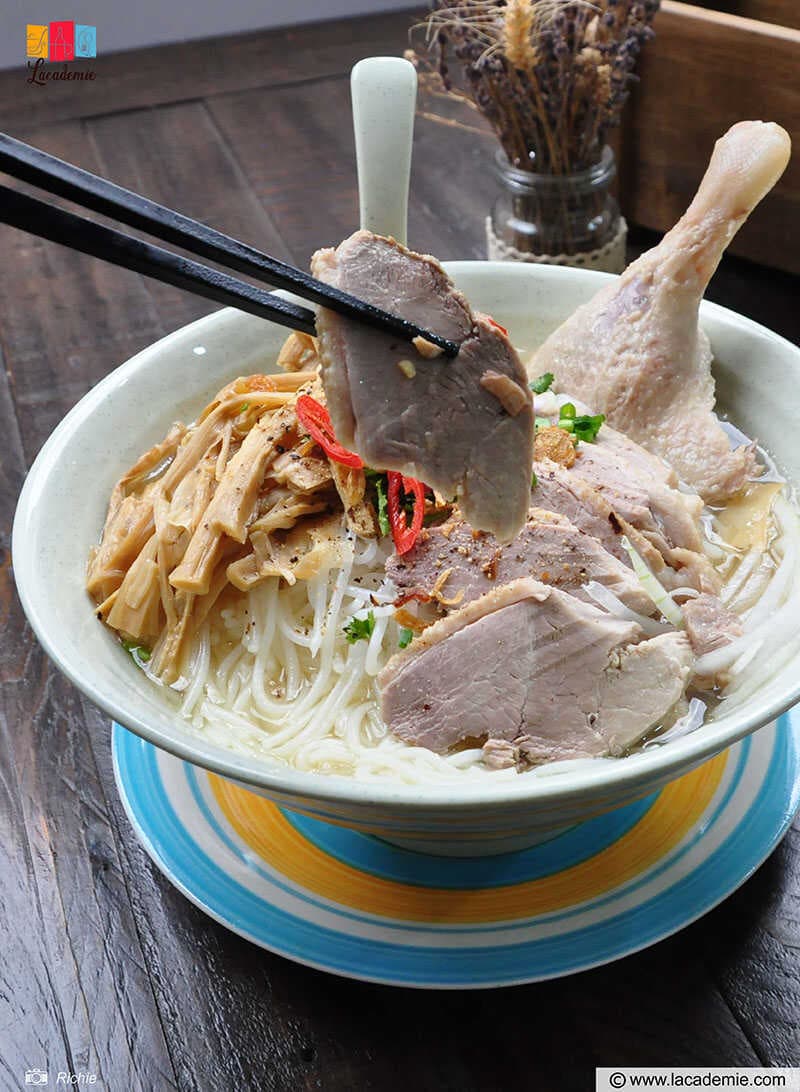 Chicken version (Bun Mang Ga): Replace the duck with chicken to create a lighter yet still flavorful soup. Use chicken breasts or thighs, and adjust the cooking time accordingly, as chickens tend to cook faster than ducks.
Omitting bamboo shoots: For those who don't enjoy bamboo shoots, simply leave them out of the recipe. You can substitute them with other vegetables or mushrooms to add texture and variety to the soup.
Vegetarian option: Replace the duck with tofu or seitan to create a vegetarian version of the soup. Use vegetable broth instead of the traditional duck or chicken broth, and add more vegetables like carrots and mushrooms for a hearty, plant-based meal.
More Vietnamese Noodle Soups You Should Not Miss
I hope that you enjoyed Bun Mang Vit as much as I did. And if that's the case, why not try other noodle soup recipes from Vietnamese cuisine?
Vietnamese Duck Noodle Soup (Mì Vịt Tiềm): A Chinese-influenced Vietnamese noodle soup with braised duck, shiitake mushrooms, and bok choy. These ingredients are slow-cooked in a warm, spiced broth filled with nutritious, medicinal spices.
Vietnamese Crab Noodle Soup (Bún Riêu): A tangy and complex noodle soup featuring rice vermicelli, fresh tomatoes, crab and shrimp paste, fried tofu, and unique ingredients for a symphony of taste and texture.
Vietnamese Beef Noodle Soup (Phở Bò): The quintessential Vietnamese delicacy. The dish includes tender beef, flat rice noodles, fragrant spices, customizable herbs, bean sprouts, lime, and chili for a personalized touch.
Vietnamese Chicken Glass Noodle Soup (Miến Gà): A comforting chicken noodle soup with glass noodles, well-flavored broth, and fresh herbs, perfect for a wholesome and satisfying meal.
FAQs
Last but not least, let's address some of these frequently asked questions to help you better understand and enjoy this delicious soup.
Enhance Your Meal With A Unique Duck Noodle Soup
As you've learned, this soup can be easily customized with different ingredients and garnishes, making it a versatile meal for many occasions. The health benefits of bamboo shoots, as well as the availability of various noodle types, also add to the dish's appeal.
If you enjoyed learning about Vietnamese duck noodle soup with bamboo shoots, please consider liking and sharing this article. Your thoughts, experiences, and feedback are always welcome, so feel free to leave a comment below. Thank you, and happy cooking.
Nutrition Facts
4 servings per container
---
Amount Per ServingCalories1296
% Daily Value *
Total Fat 37.8g

57

%
Cholesterol 302mg

101

%
Sodium 5705mg

238

%
Potassium 1773mg

51

%
Total Carbohydrate 143.1g

48

%

Dietary Fiber 9.8g

36

%
Sugars 19.8g

Protein 102g

204

%
---
* The % Daily Value tells you how much a nutrient in a serving of food contributes to a daily diet. 2,000 calories a day is used for general nutrition advice.