If you're in the mood for a warm and comforting meal, look no further than Vietnamese beef noodle soup, also known locally as Pho Bo. This iconic dish of Vietnam is a hearty soup packed with flavor and perfect for any chilly evening.
With its rich broth, melt-in-your-mouth tender beef, and delicate rice noodles, Pho Bo is a dish that's sure to impress your loved ones. In this article, I'll guide you through the ingredients and provide you with step-by-step instructions to recreate this delicacy at home.
So grab your chopsticks and get ready to enjoy this amazing Vietnamese recipe!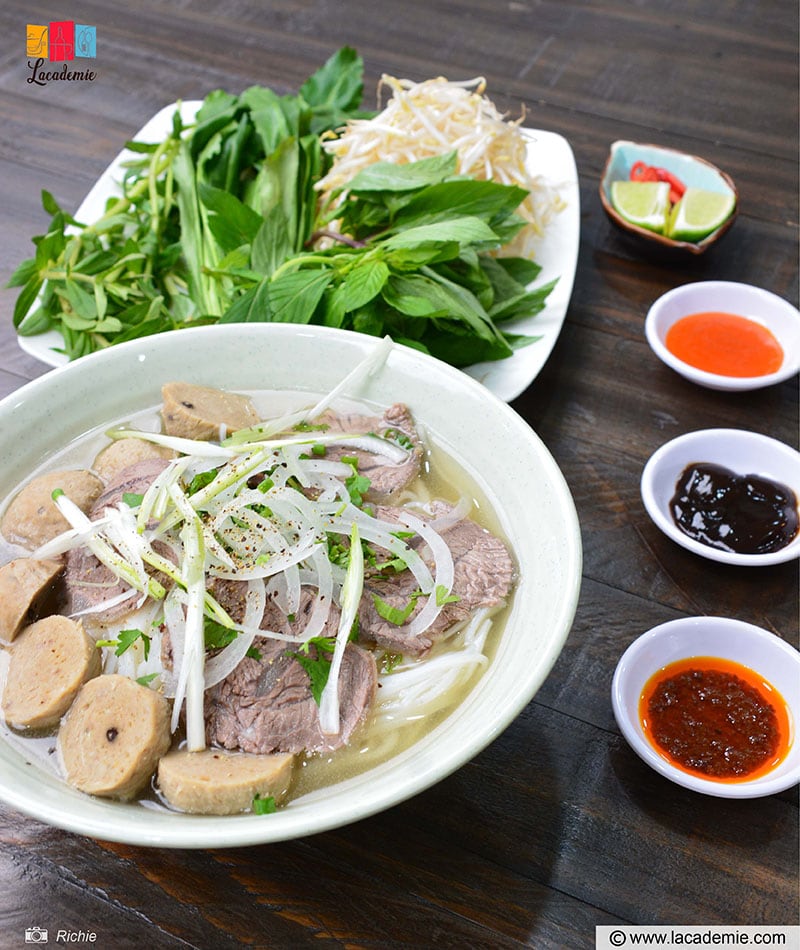 Pho Bo – A Icon Of Vietnamese Cuisine
Pho is an essential dish in Vietnamese cuisine and is often considered a national dish. This delicacy originated in the northern region of Vietnam during the early 20th century. It has since become an icon of Vietnamese culinary culture and is well-loved by people all over the world.
The main ingredients in a bowl of Pho Bo include a rich, flavorful beef broth which takes hours to cook, rice noodles, and tender slices of beef. In addition, Vietnamese people living in the southern regions also garnish it with an array of herbs, such as Thai basil and cilantro.
One of the reasons why you should give this dish a try is its unique blend of flavors and texture. The savory broth, fresh noodles, and tender beef come together to create a symphony of tastes that will mesmerize your taste buds.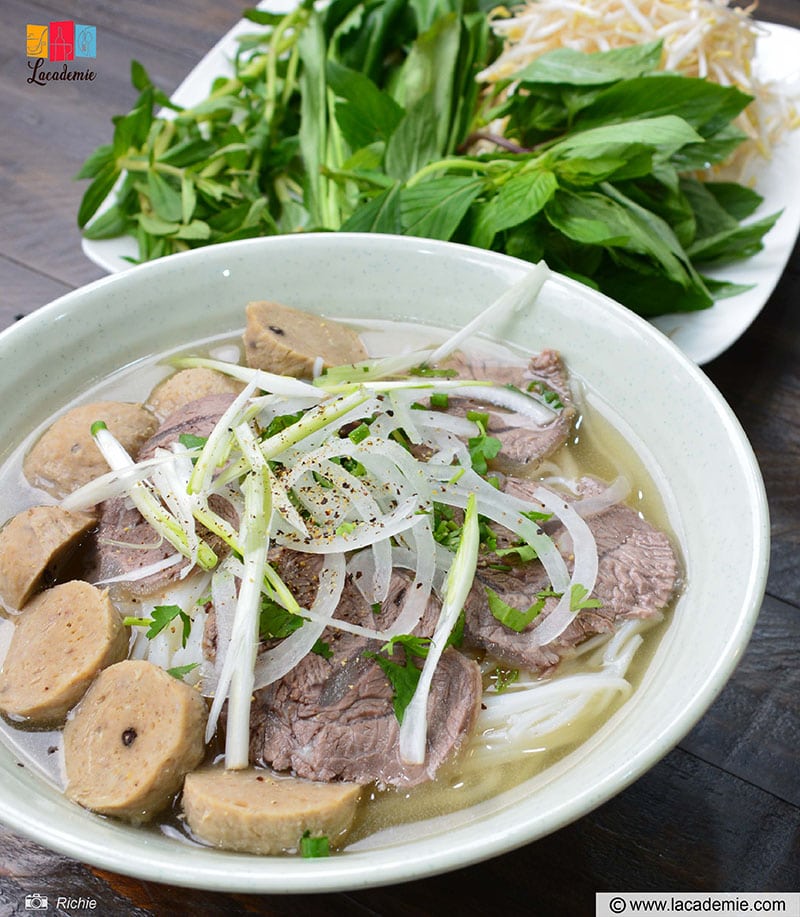 Tools
Making Pho Bo at home is easier than you might think! I've rounded up all the tools you need in this section. Check them out.
Oven: For baking the beef bones and vegetables.
Large pot: For cooking the broth. You'll be adding about 4 quarts of water to this pot, so make sure you choose the one that's large enough.
Pan: For roasting aromatics and spices.
Tongs: For transferring the meat and other ingredients.
Ladle: For spooning the broth.
Spice bag: After roasting the aromatics, you'll put all of them in this spice bag and submerge it in the broth.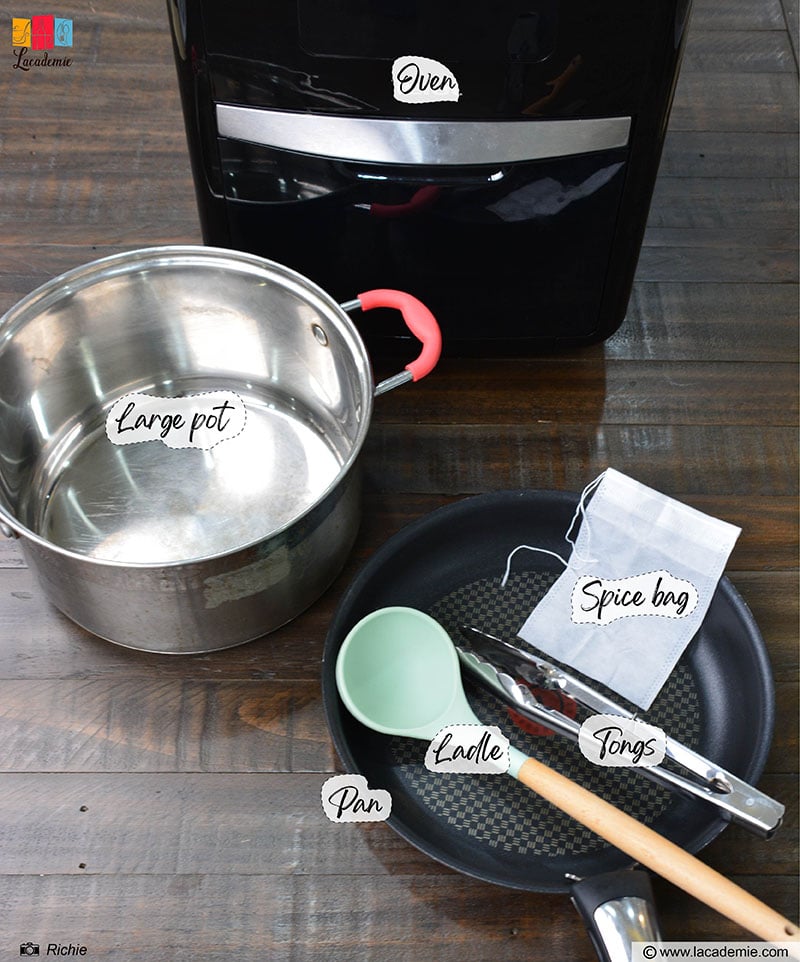 Ingredients
A key aspect of making authentic Vietnamese Pho Bo is the use of beef bones and aromatic spices that infuse the broth with a complex flavor. Take a closer look at the ingredients you need here.
Beef heel muscle: You can also add or use other cuts of beef, such as beef brisket, tendon, sirloin steak, etc.
Beef bones: Infuse the broth with a rich and umami taste.
Vietnamese beef balls: More meat, more joy!
Ginger, shallots, onions: Basic spices that work great at elevating the flavor of the broth.
Aromatics: Cinnamon, star anise, cardamom, fennel seeds, coriander seeds, cloves, dried onions, and dried ginger.
Other spices: Rock sugar, soup powder, salt.
Serving herbs: Bean sprouts, scallions, rice paddy herb, cilantro, culantro, onion, peppermint, Thai basil.
Pho noodles: You can opt for fresh or dried noodles. If using dried noodles, cook them as per the instructions on the package.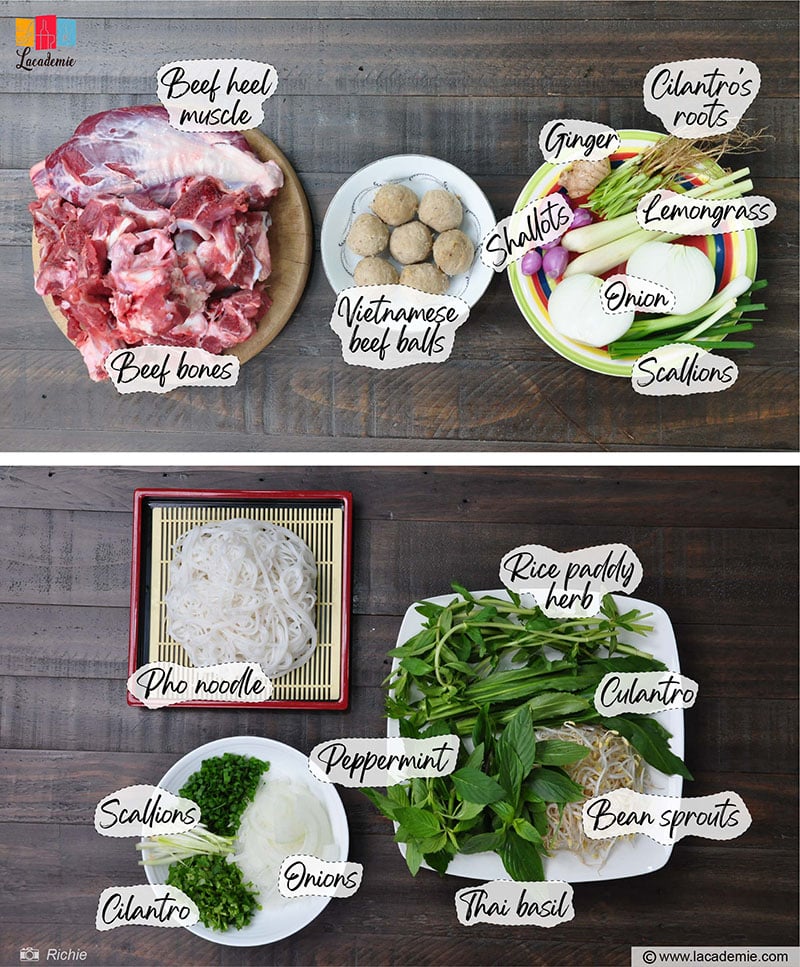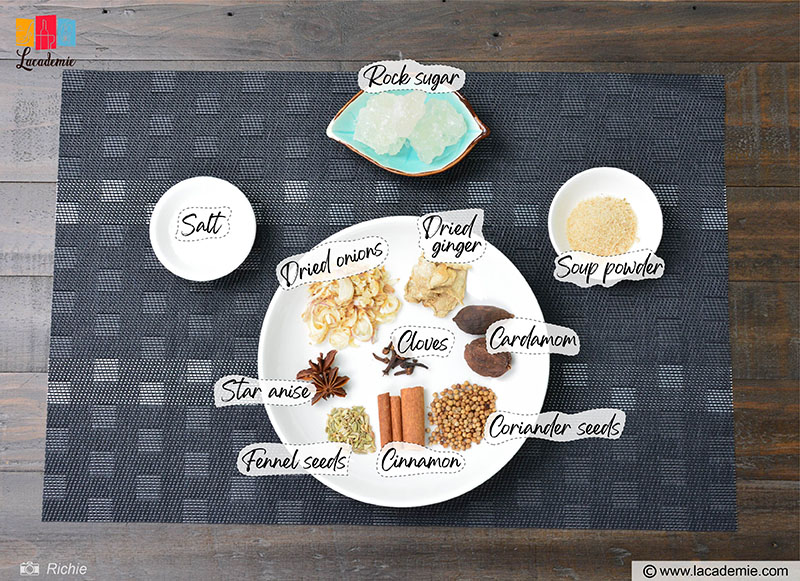 Directions
Here's the detailed guide you've been waiting for. Let's dive in and learn how to recreate this famous Vietnamese dish at home.
Step 1: Prepare The Ingredients
Wash the vegetables and herbs and let them dry.
Wash the beef heel muscle and beef bones. Let them dry, or pat them with paper towels.
Cut the lime and chili pepper. Chop the scallions and cilantro finely. Leave the cilantro roots uncut.
Cut 1 onion in half and thinly slice the other. Smash 2 lemongrass stalks.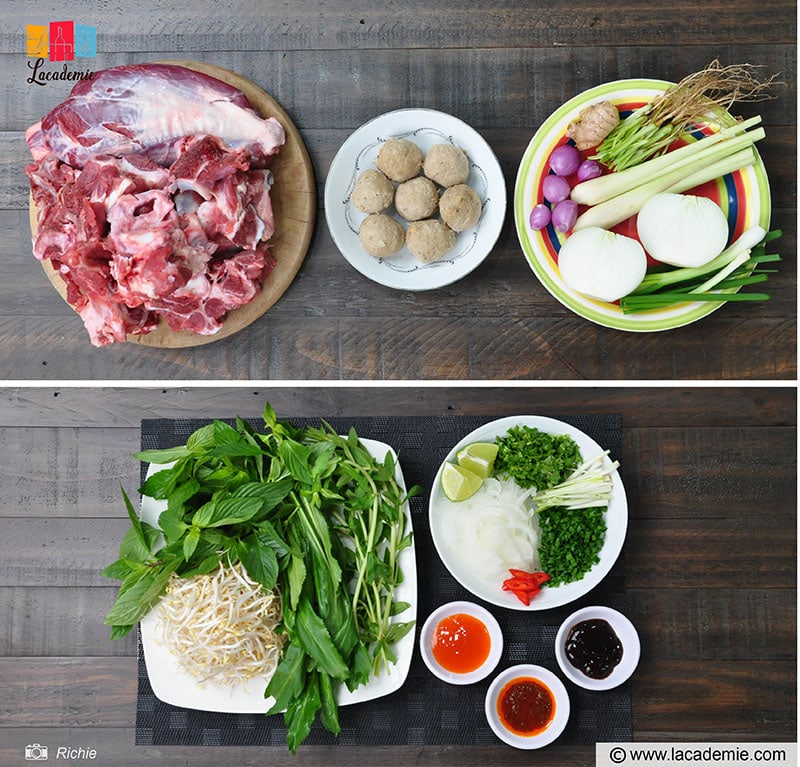 Step 2: Cook The Beef
Add the lemongrass and scallions to a pot of boiling water. Boil the water together with the aromatics for 3 minutes.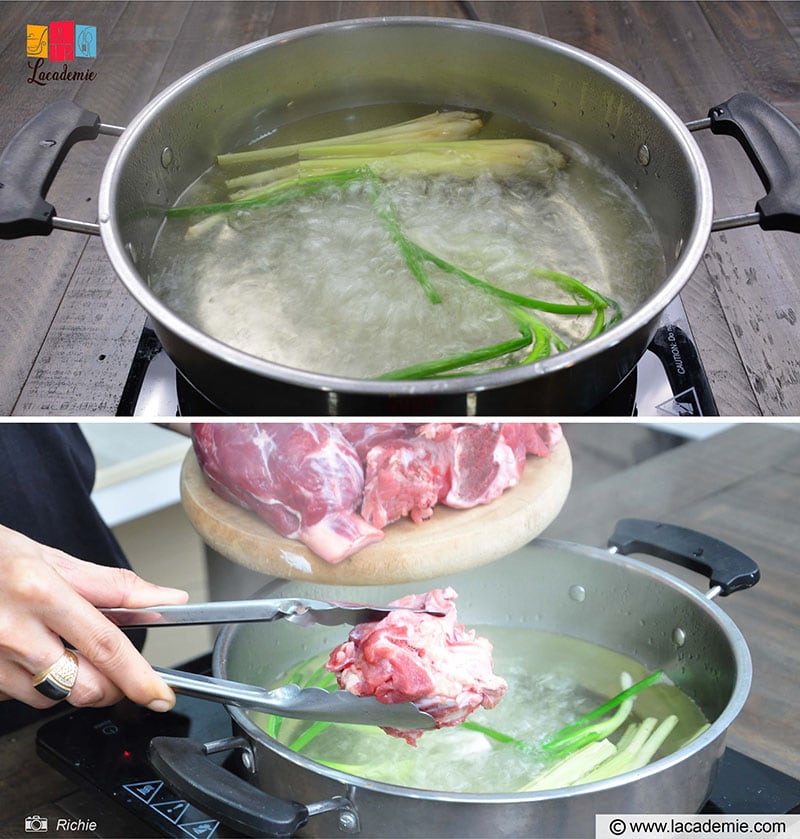 Add the beef bones and beef heel muscle to the pot. Cook the beef for 3 minutes.
Transfer the ingredients to a bowl of cold water and clean them well.
Next, bake the onion that you cut in half, shallots, and ginger with the beef bones at 400 degrees F for 15 minutes.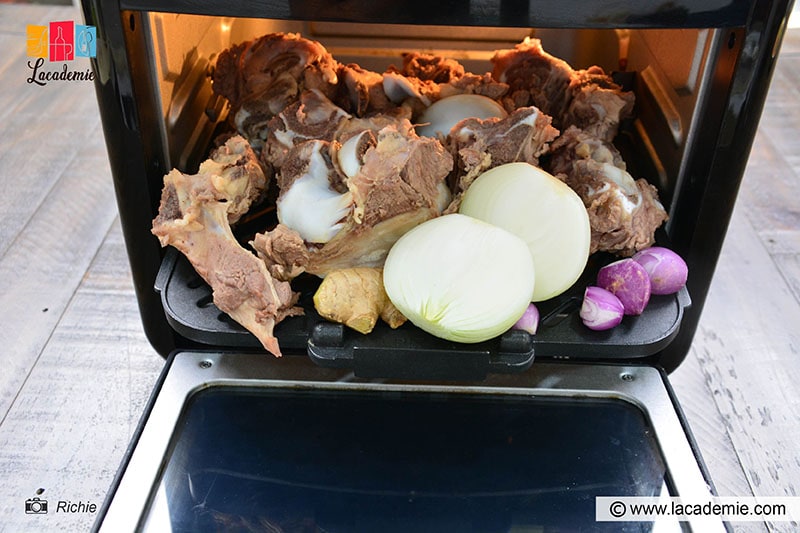 Step 3: Roast The Aromatics
Add the aromatics (cinnamon, star anise, cardamom, and so on) and cilantro roots to a heated pan. Roast them for 2 to 3 minutes or until fragrant. Doing this will bring out more flavors and fragrances.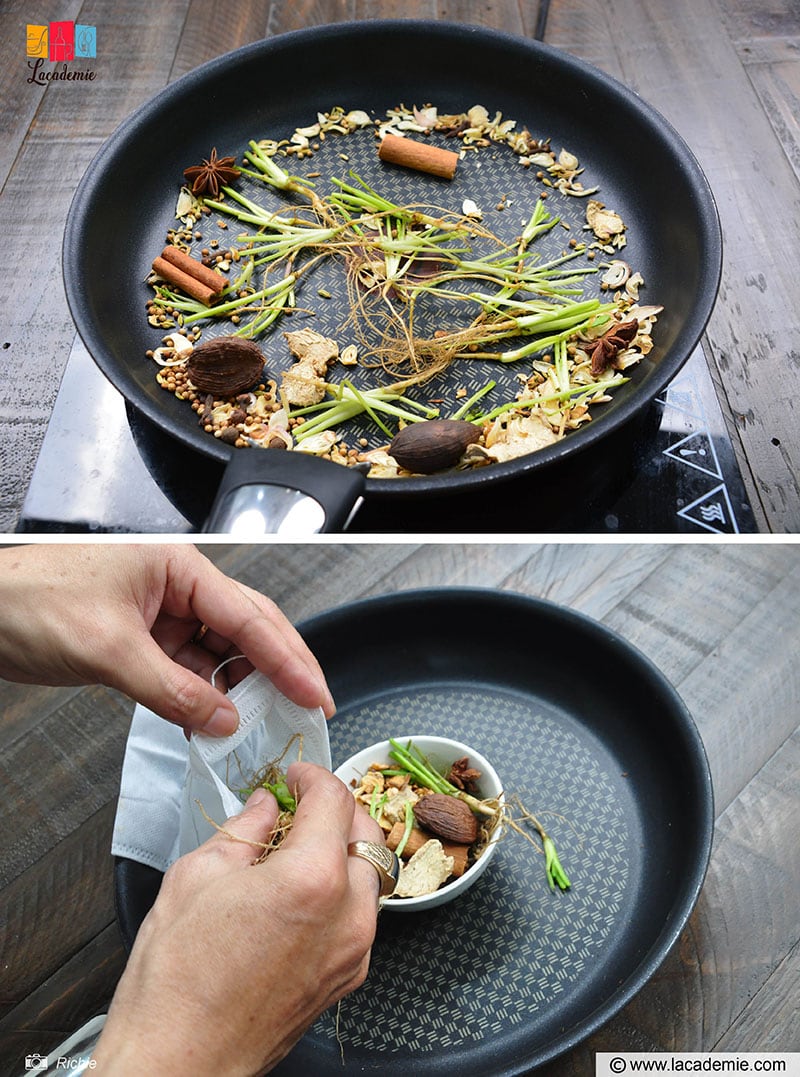 Wait for the spices to cool and add them to a spice bag. Soak the spice bag in warm water for 30 minutes.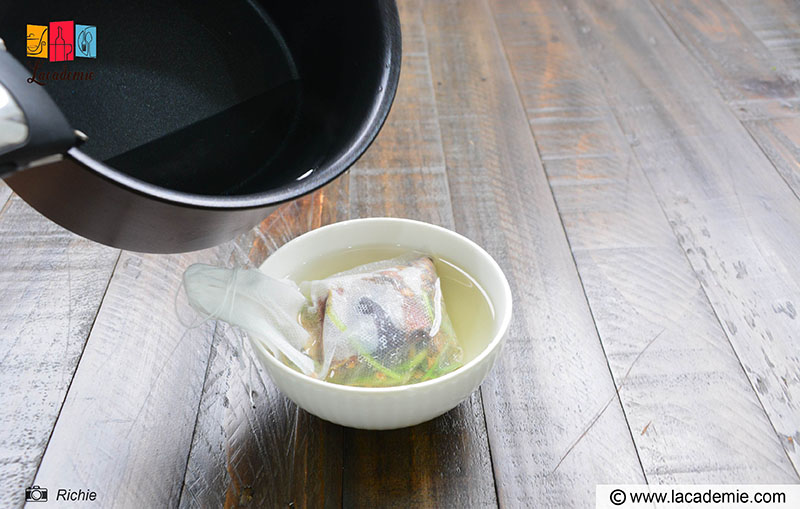 Step 4: Make The Broth
Pour 4 quarts (about 4 liters of water) into a pot and add the beef bones, beef heel muscle, onions, shallots, and ginger. Stew for 2 hours over medium heat.
Season the broth with a little salt and rock sugar.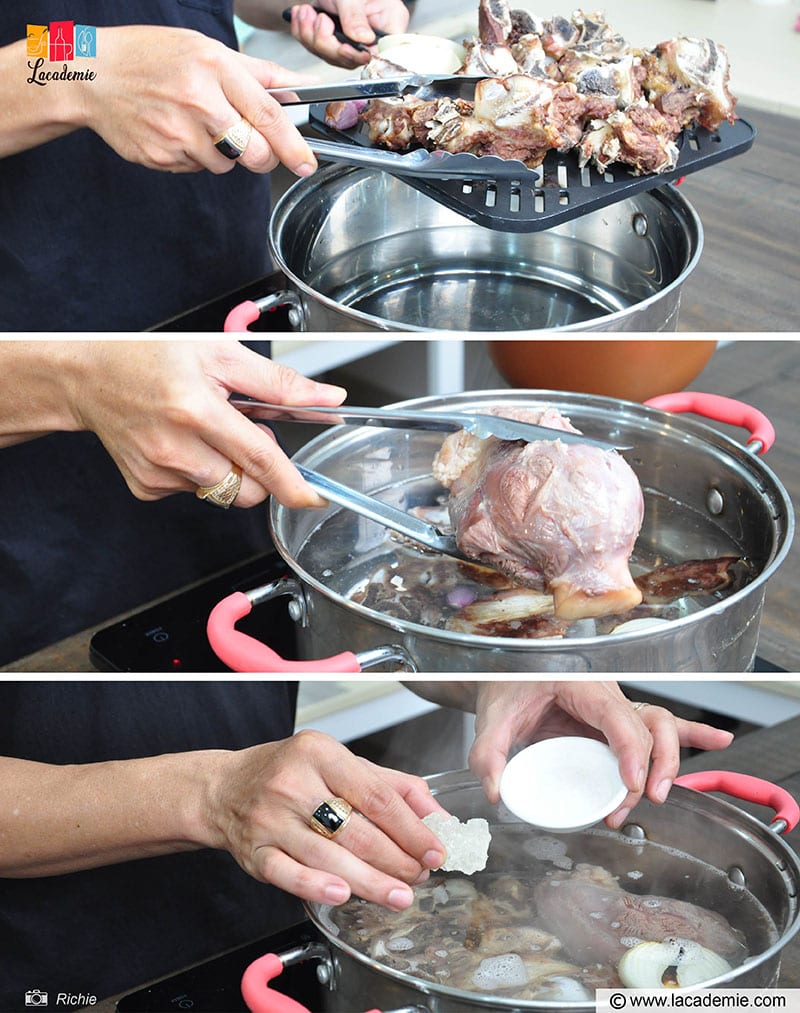 During the stewing process, remember to skim the broth frequently to make it clear.
At the 30-minute mark, add the spice bag to the pot.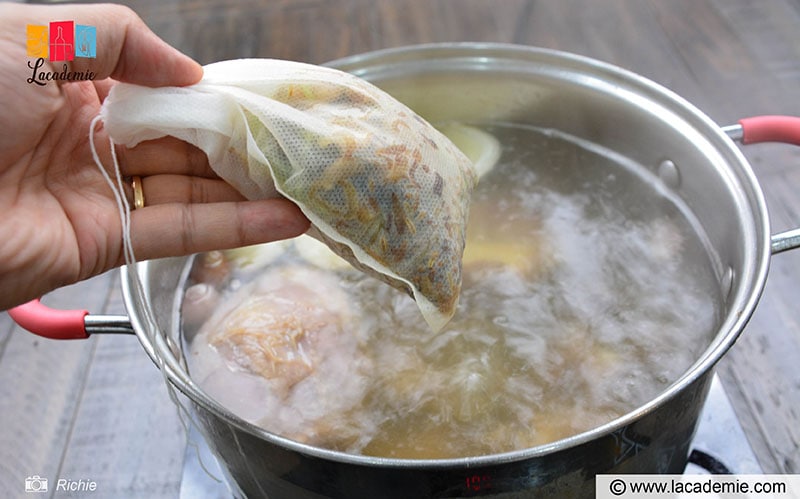 After 1 hour and 30 minutes, remove the beef heel muscle from the pot. Put the beef in cold water to prevent browning.
Add the beef balls and cook them for 15 minutes on low heat.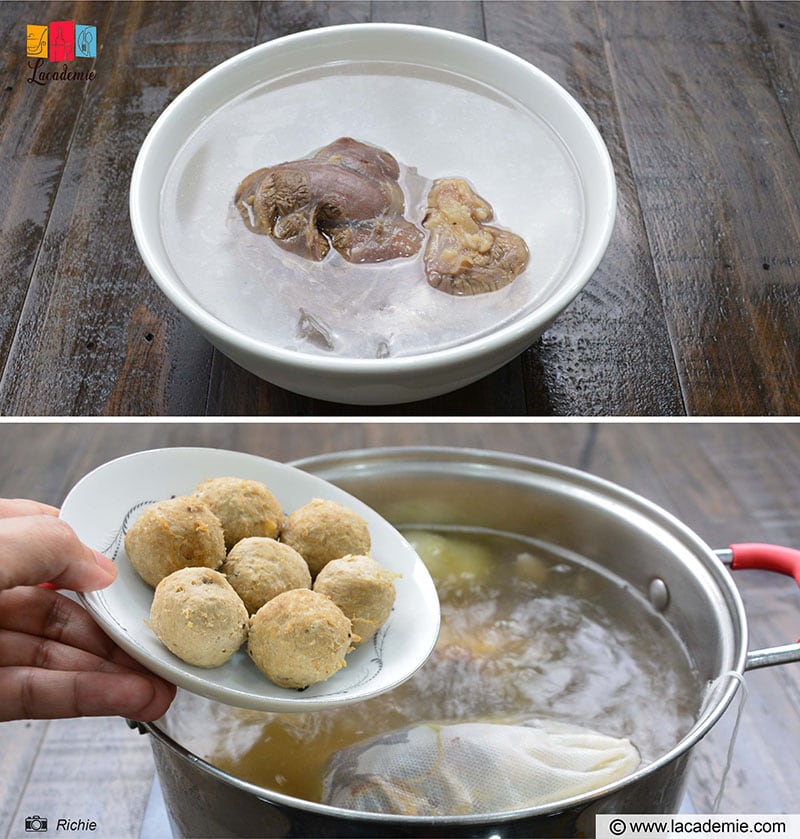 After that, remove all ingredients except for the beef bones from the pot.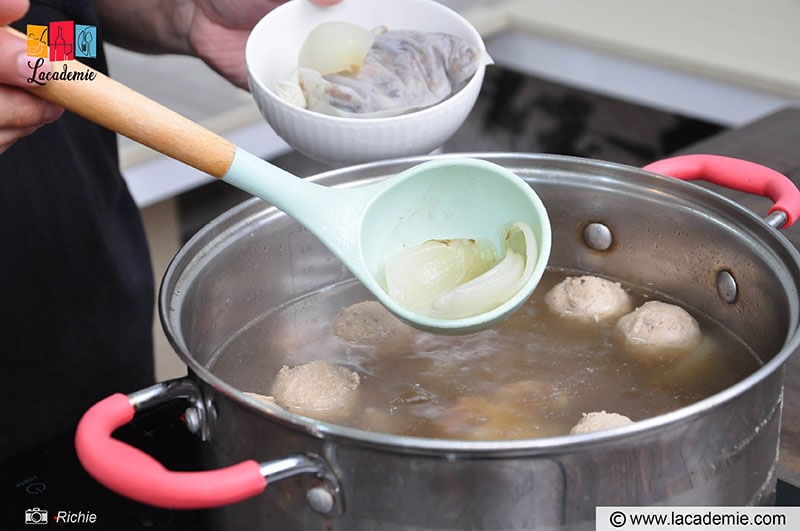 Season the broth with more rock sugar and soup powder. Feel free to customize the seasonings to your taste.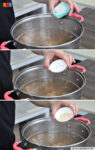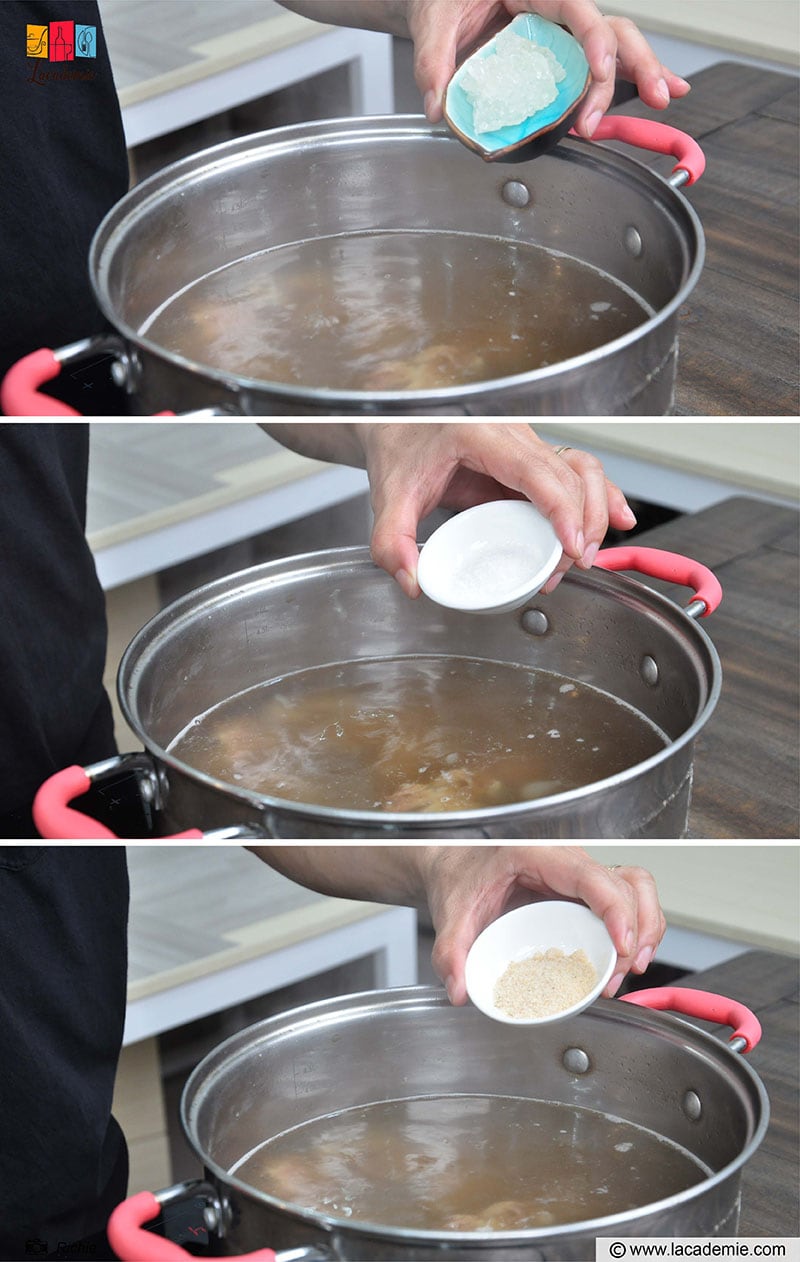 Slice the beef heel muscle and cut the beef balls in half.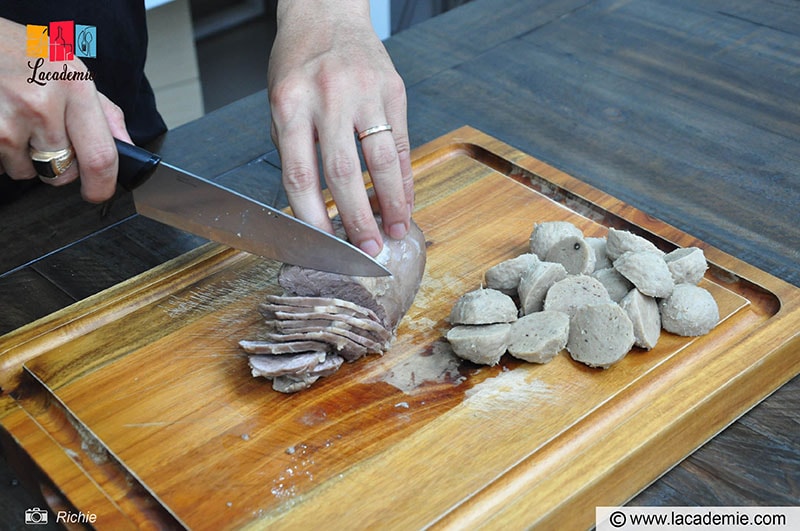 Step 5: Blanch The Noodles
Blanch the Pho noodles in boiled water. Add a little cooking oil to prevent the noodles from clumping.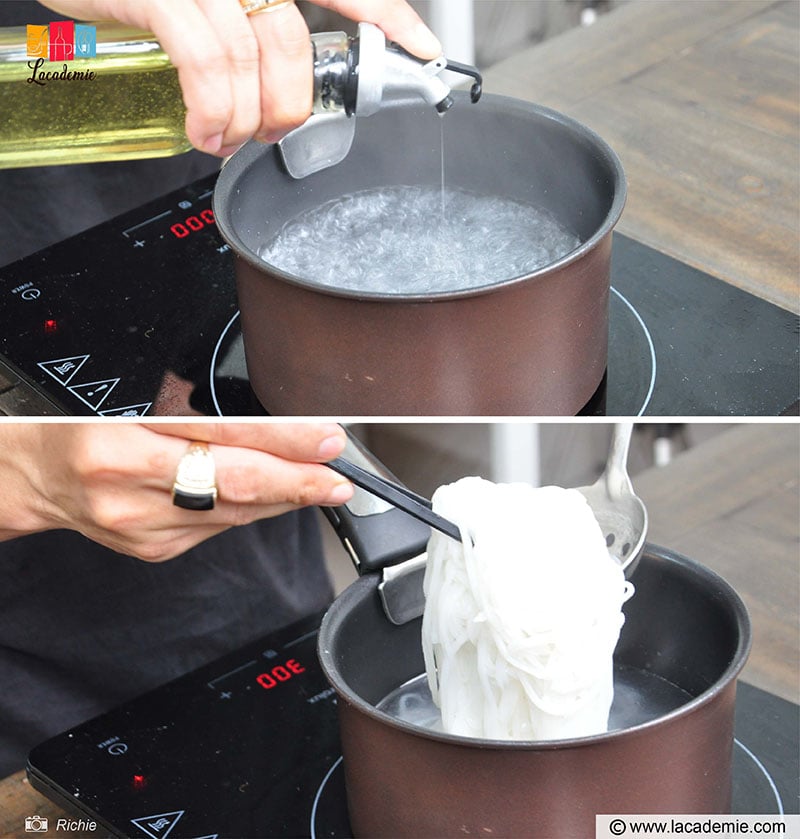 Step 6: Serve The Dish
Arrange the accompanying herbs and condiments on different plates.
Add the noodles to a bowl and top them with the beef slices and beef balls. Pour the broth on the noodles. Sprinkle the scallions, cilantro, and sliced onions over the beef. You can also add some ground pepper and fresh chili to enhance the flavor.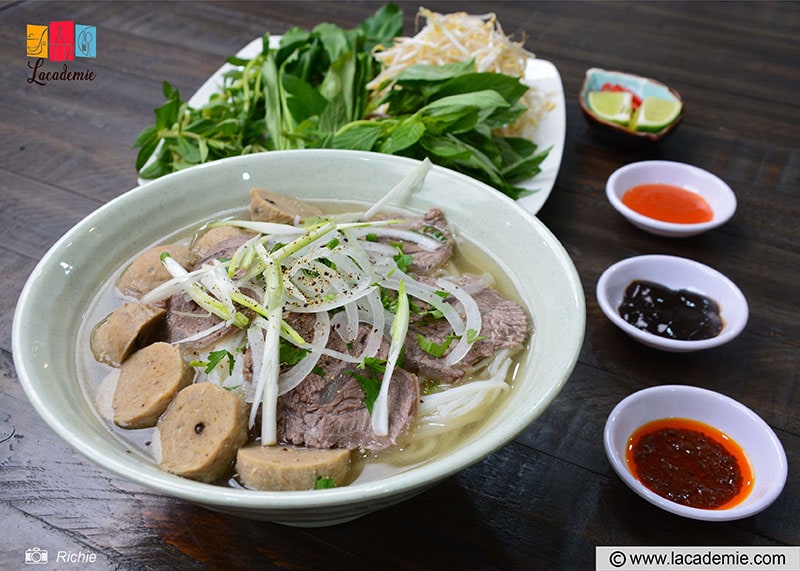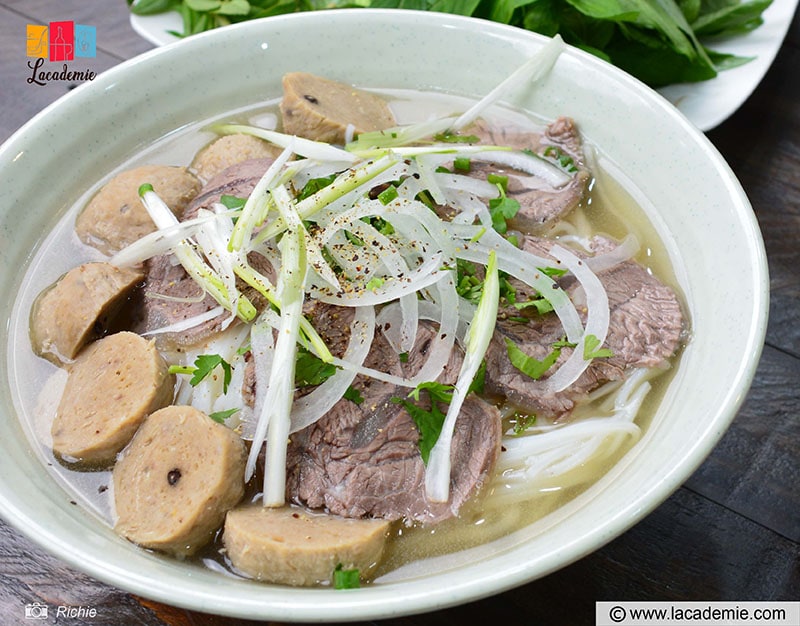 Notes And Tips
Making Vietnamese beef noodle soup can be a little daunting for first-timers. But don't worry. Here are a few tips to help you achieve the best result.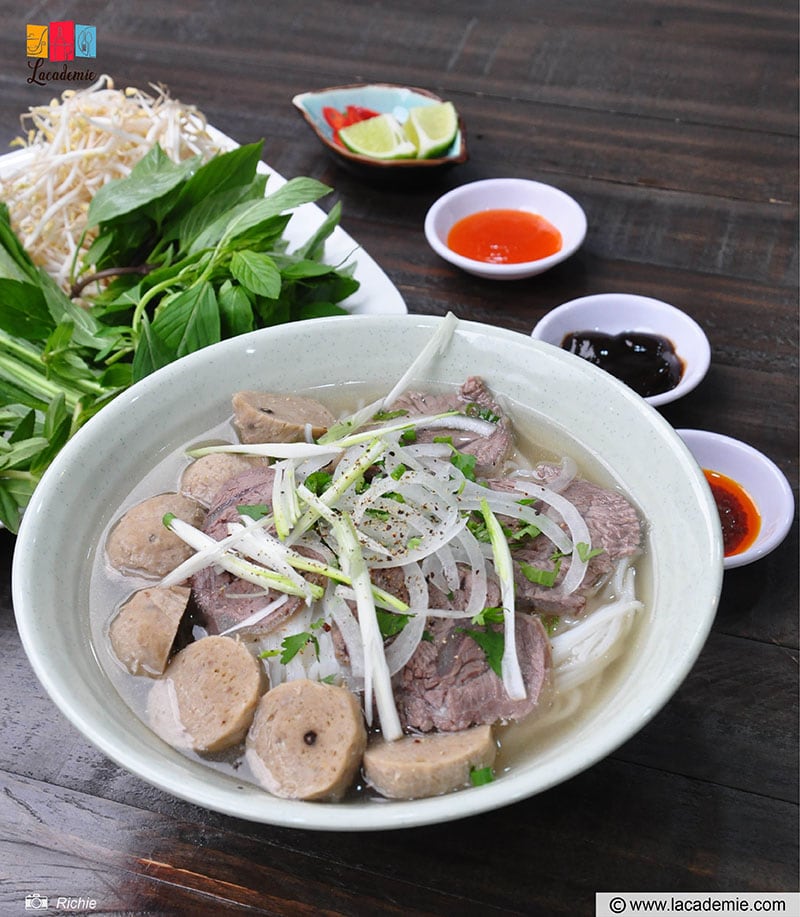 Keeping the broth clear is very important for making authentic Pho Bo. To achieve a clear broth, skim it frequently during cooking and keep the pot uncovered.
To prevent the broth from tasting too beef-like, follow all the steps carefully.
Don't let the spice bags sit in the pot for too long, as the aromatics can intensify the broth's taste a little too much.
Some people might also pork bones to the stock pot. Personally, I don't like doing so as I find the taste to be a bit off.
You can add more water to the pot during stewing and adjust the seasonings to your taste.
Savor The Rich Flavors Of Pho Bo
From its humble beginnings to its current status as a beloved national dish; Pho Bo has won the hearts of people all over the world with its rich and complex flavors. By following the steps in this post, you, too, can experience the joy of making this iconic noodle soup at home.
I hope that you've enjoyed today's post and mastered how to make tasty Pho Bo. If you think that the recipe is delicious, don't hesitate to give it a like and comment your thoughts below. Also, I would really appreciate it if you could share this post with other people as well.
Nutrition Facts
4 servings per container
---
Amount Per ServingCalories724
% Daily Value *
Total Fat 28.3g

44

%
Cholesterol 155mg

52

%
Sodium 570mg

24

%
Potassium 933mg

27

%
Total Carbohydrate 55g

19

%

Dietary Fiber 3.1g

12

%
Sugars 15g

Protein 59g

118

%
---
Calcium

72

%
Iron

11

%
Vitamin D

14

%
* The % Daily Value tells you how much a nutrient in a serving of food contributes to a daily diet. 2,000 calories a day is used for general nutrition advice.