Vietnamese duck noodle soup ("Mì Vịt Tiềm") is a one-of-a-kind dish that packs a ton of flavor. It features a rich and dark broth, which is infused with various herbs and veggies from traditional Chinese medicine, and fall-off-the-bone duck legs.
Although people usually think of the noodle soup dishes from Vietnam, such as Pho or Bun Moc, as light and refreshing, Mi Vit Tiem is a totally different story. This heath-giving dish is an explosion of flavors that'll wow you right after the first spoonful!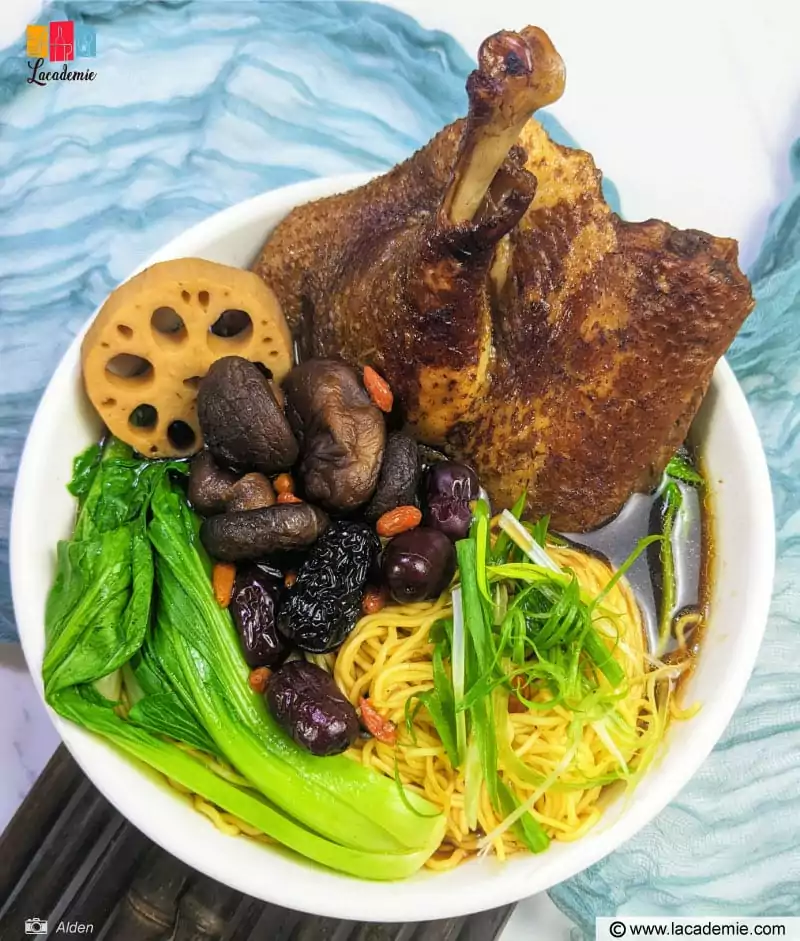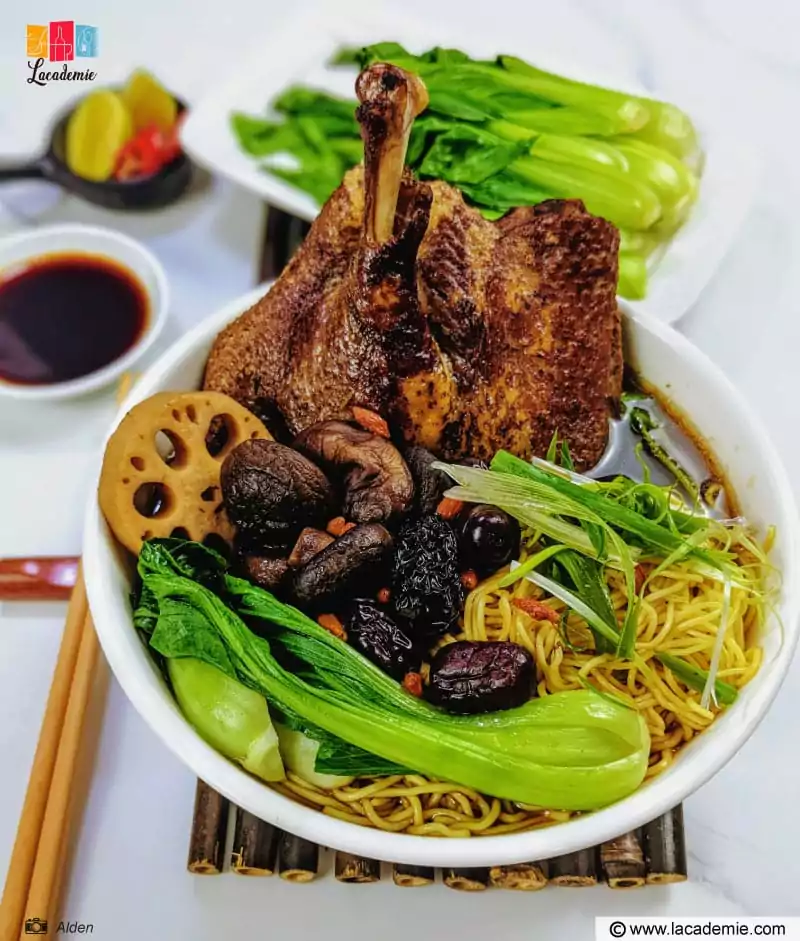 Mi Vit Tiem – When Folk Medicine Meets Cookery
Mi Vit Tiem is a creation of the Chinese people living in Saigon in the 90s. Although many believed the recipe was brought from China to Vietnam, some credible sources state that it wasn't a part of traditional Chinese cuisine.
Whatever the case is, Mi Vit Tiem has long been a popular dish among the Saigonese. The dish captivates foodies with its special broth made from a collection of traditional medicinal herbs. In addition, the cook would roast or deep-fried the duck legs before simmering them in said broth.
The final dish is a perfect combination of incredibly aromatic, uniquely-flavored dark broth with tender, spice-infused duck legs. Though simple, the egg noodles are the cherry on top that ties everything together, creating a culinary experience you'll never forget.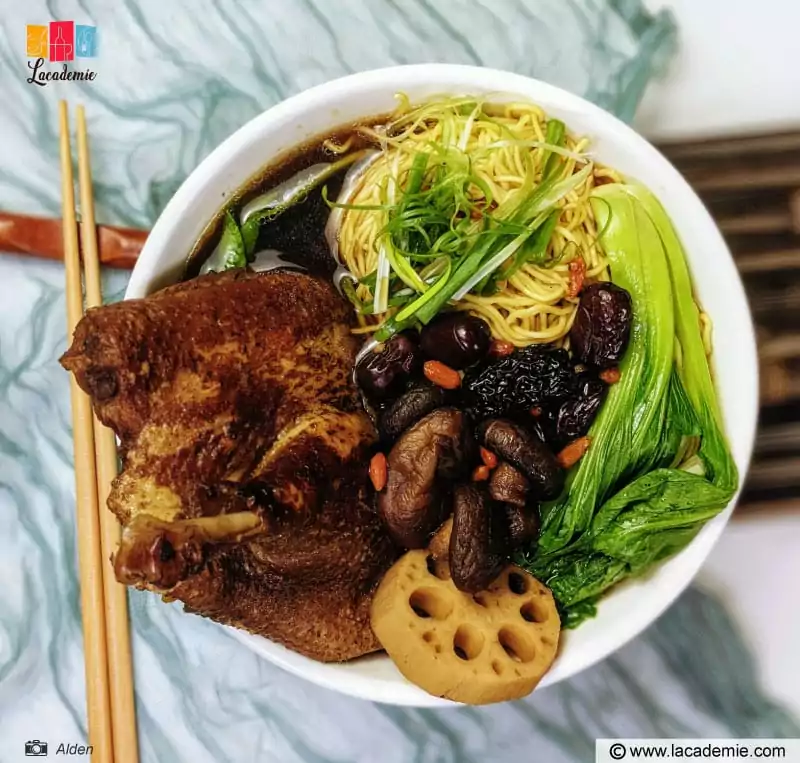 Tools
First, prepare the tools listed below. Since they're all basic kitchen products, there's a high chance that you've already owned them.
Stockpot: For cooking the broth.
Small pot: For blanching the noodles and bok choy.
Sieve: For draining the noodles.
Pan: For roasting the spices.
Spatula: For string the ingredients in general.
Kitchen chopsticks: These chopsticks are longer than regular ones and will help you cook things much better.
Oven: For roasting the duck legs.
Baking tray: For placing the duck legs on.
Aluminum foil: For lining the baking tray.
Knife and chopping board: Essential tools for cutting the ingredients.
Bowl: For mixing the ingredients.
Silicone basting brush: For brushing the duck.
Oven mitts: Prevent your hands from getting burned when taking the duck out of the oven.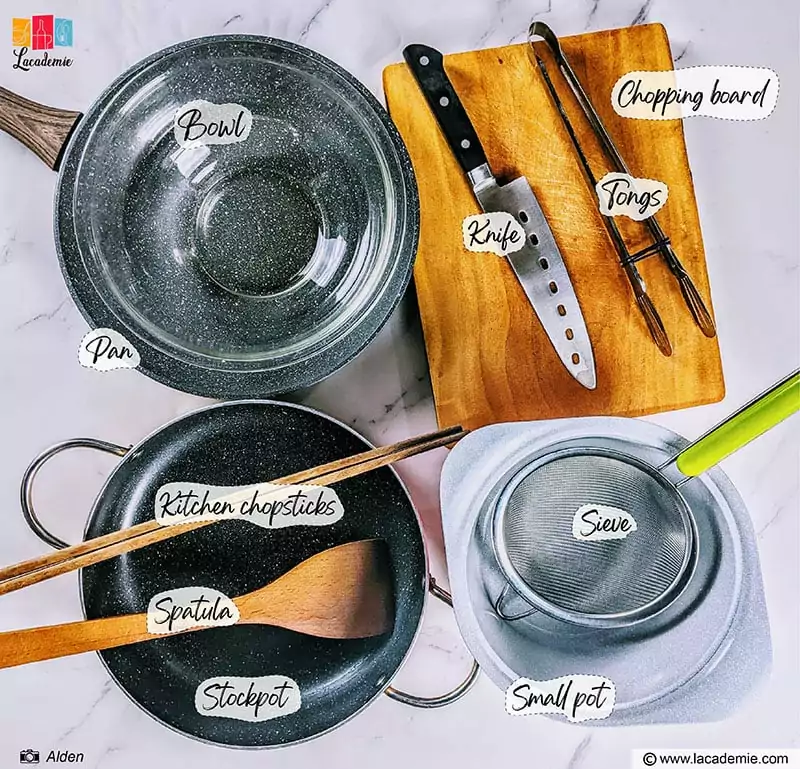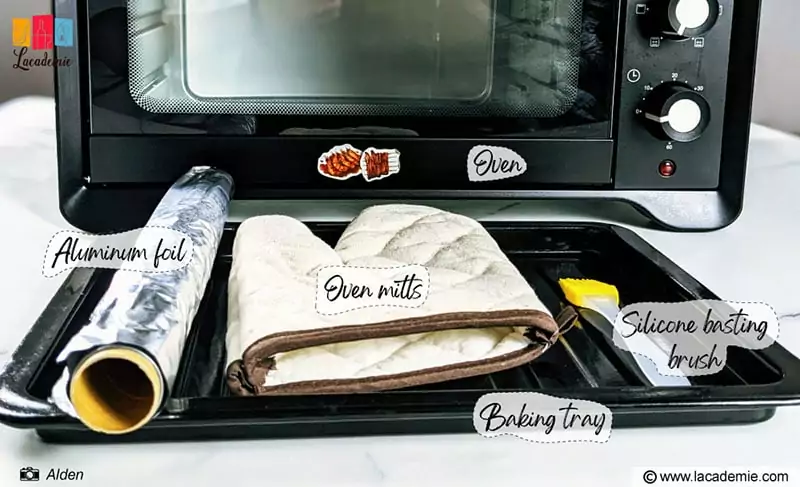 Ingredients
I have to admit that the ingredient list for Mi Vit Tiem is quite long, especially in the herbs department. You'll most likely need to visit an Asian store to find these herbs and vegetables. However, it's totally fine if you can't get all of them! Just try your best to gather as many as possible.
Noodles: Go for egg noodles, as they're the most common choice for Chinese noodle soup.
Chicken bone broth: The base for the broth.
Garlic and shallots: Simple yet effective aromatics.
Shiitake mushrooms: Adds an earthy and umami flavor to the noodle soup.
Lotus root: Lotus seeds are decent alternatives.
Bok choy: You can replace bok choy with leaf mustard.
Scallions: Also called green onions.
Quarter duck leg quarters: Opt for large ones.
Condiments: Soy sauce, oyster sauce, sesame oil, dark soy sauce.
Spices: salt, sugar, pepper, five-spice powder.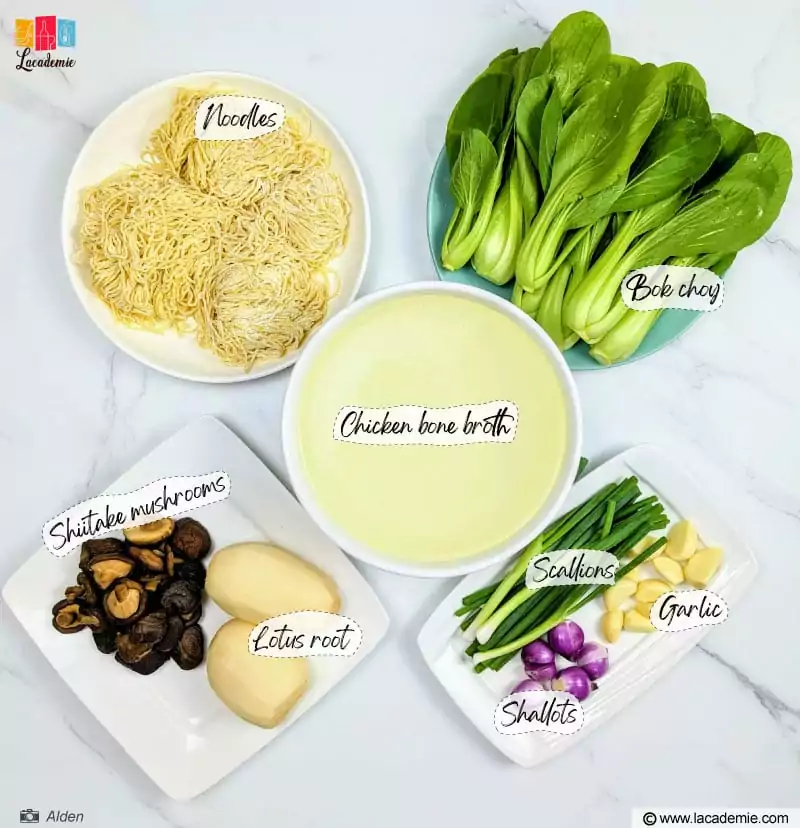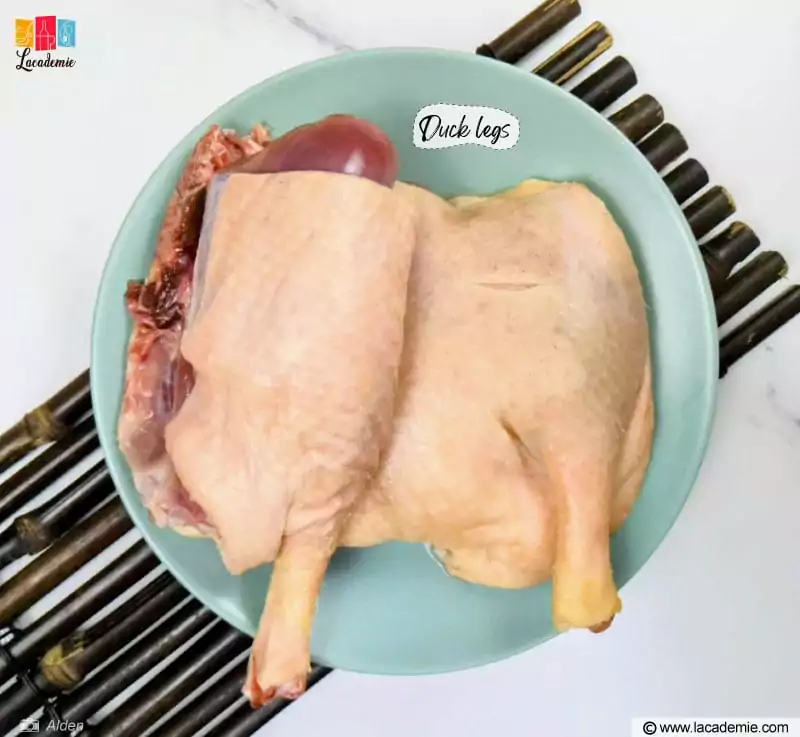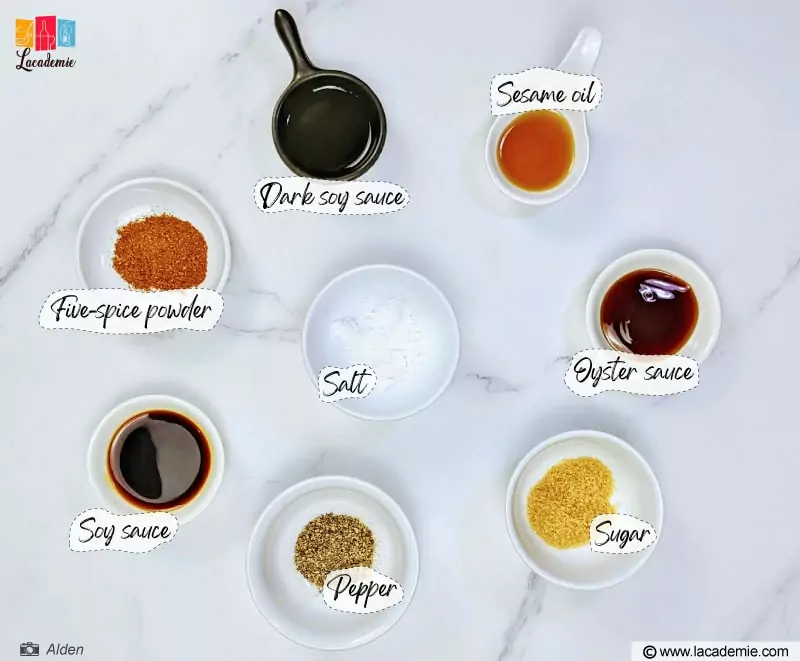 Medicinal herbs and vegetables
Huai Shan (Chinese yam): A mildly sweet, potato-like root vegetable that aids digestion, nourishes the lung and boosts the body's recovery speed after an injury or illness.
Dang Gui (angelica root): Well-known for its ability to improve blood circulation and support menstrual balance.
Dang Shen (codonopsis root): A mildly sweet root that's known for its great effects on blood circulation. Many consider it a cheaper alternative to ginseng.
Chuan Xiong (Szechuan lovage root): Bitter, spicy, with a slightly sweet aftertaste, this Chinese medicinal herb is great for treating headaches and alleviating pain.
Star anise: Not only does star anise add a sweet and licorice-like taste to the dish, but it also helps with digestive problems and possesses anti-inflammatory properties.
Cinnamon bark: A popular ingredient in both Asian and Western cooking with a uniquely warm, earthy, and sweet taste.
Black cardamom pods: These smoky, minty pods are known as a cure for stomach problems in traditional Chinese medical practice.
Cloves: Incredibly sweet and aromatic spices that are full of antioxidants.
Hong Zao (jujube or red dates): These are among the most common Chinese health foods. They have a sweet taste with a soft and moist texture.
Da Zao (black jujube): Like red jujube, Da Zao is also very health-giving and makes for an excellent flavoring component.
Gou Qi Zi (goji berries): A vitamin and antioxidant powerhouse with a bright and vibrant hue. As for the taste, Goji berries are tangy with a subtle hint of sweetness.
Dried tangerine peel: Tangerine is a wonderful fruit, as even its peel can become a healthful ingredient. The sharp and bitter peel is capable of improving the lung's well-being.
Licorice: People have been utilizing this sweet-tasting root since ancient times for making foods and beverages. The licorice is useful for soothing stomach pain and curing respiratory issues.
Dried ginger: Besides being an outstanding ingredient that lends a warm, peppery, and spicy taste to dishes, ginger is also good at aiding digestion and treating the flu.
Luohan Guo (monk fruit): A well-loved sweetener, monk fruit adds a smooth and sweet flavor to the noodle soup. If you can't find monk fruit, coconut water is a suitable replacement.
Du Zhong (Chinese rubber tree bark): The dried bark of the Chinese rubber tree can strengthen your liver and kidney.
Bai Zhi (Dahurian angelica root): In traditional Chinese medicine practice, Bai Zhi is used for dispersing pain and easing internal congestion.
Coriander seeds: Nutty, citrusy seeds that boost heart health and reduce inflammation.
Fennel seeds: A rich source of vitamin C with a crunchy texture and subtly sweet taste.
Sheng Di Huang: Adds a sweet taste and an appealing color to the dish.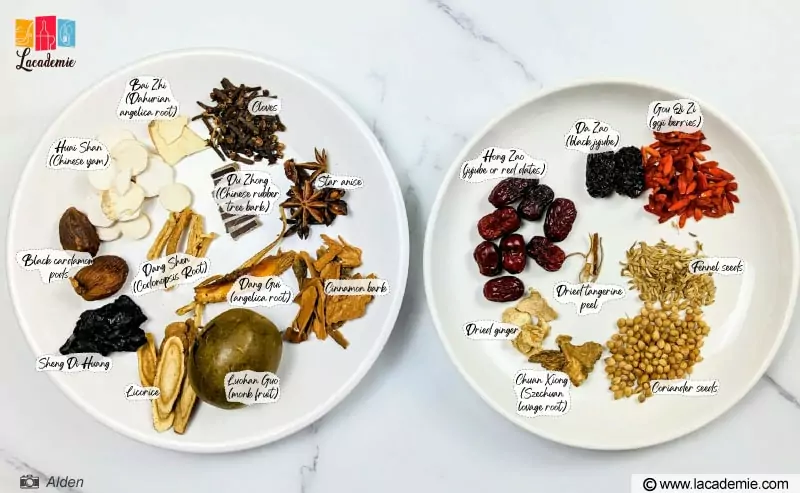 Directions
Here comes the main part. Let's make a healthy and tasty bowl of Vietnamese duck noodle soup!
Step 1: Prepare The Ingredients
Soak the dried shiitake mushrooms in water for about 30 minutes.
Mince the shallot and garlic.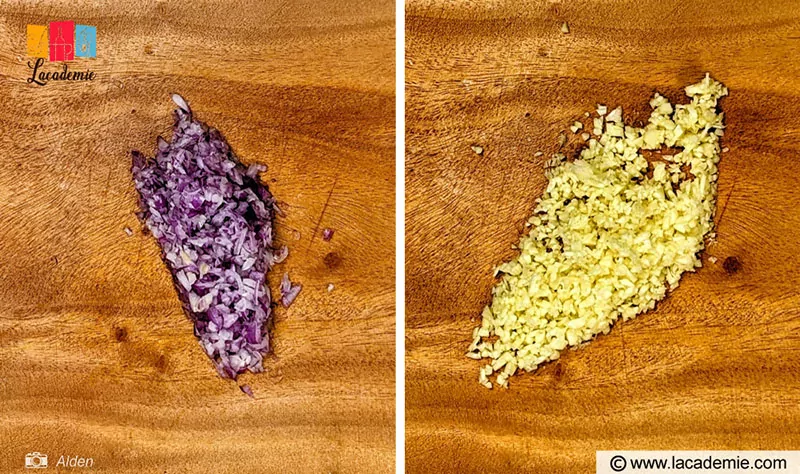 Rinse the bok choy and cut them in half.
Peel and rinse the lotus root. Then, cut it into slices.
Julienne the scallions and soak them in cold water. You can also chop the scallions into pieces.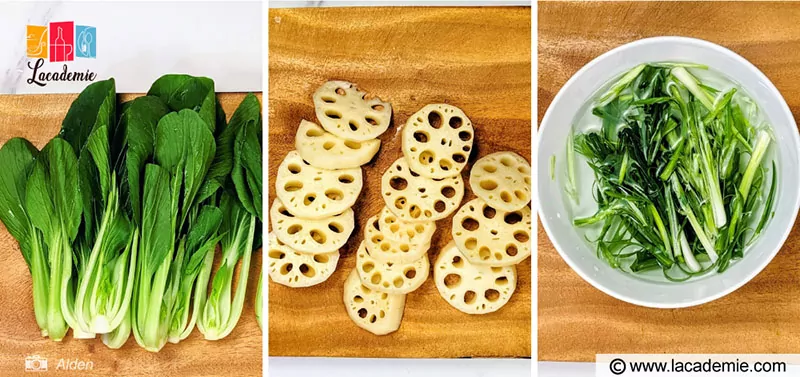 Wash the red dates, black jujubes, and goji berries thoroughly. Then, soak them in cold water.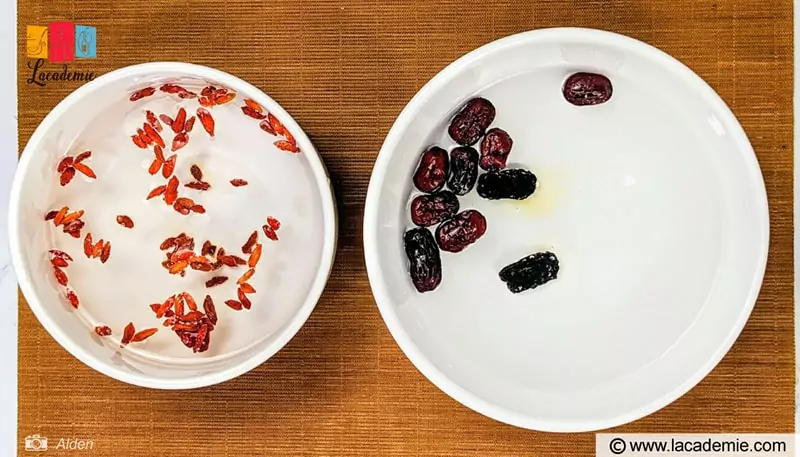 Step 2: Marinate The Duck Legs
Season the duck with 1 tablespoon of minced garlic, 1 tablespoon of minced shallots, 1 tablespoon of oyster sauce, 1.5 teaspoons of sugar, 1 teaspoon of salt, 1 tablespoon of pepper, 1 tablespoon of dark soy sauce, 1 tablespoon of sesame oil, 1 tablespoon of soy sauce, and 1 tablespoon of five-spice powder.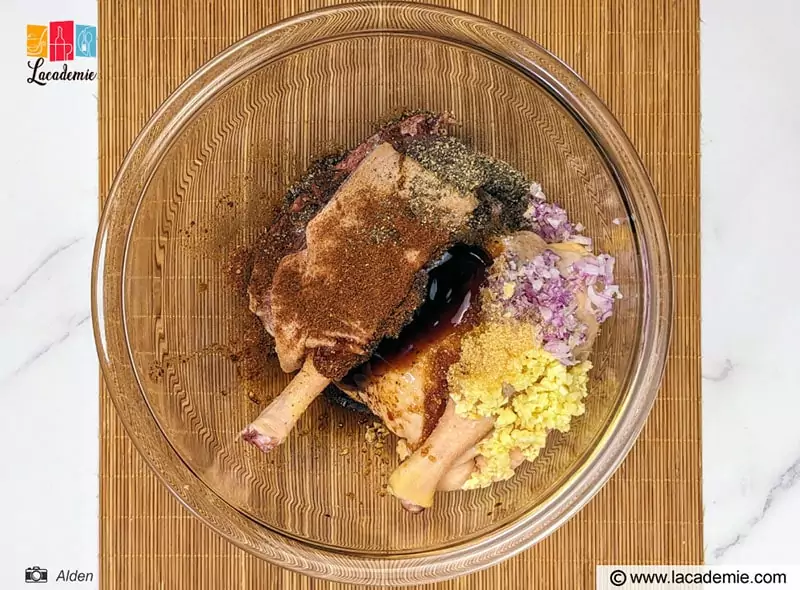 Massage the duck legs with your hands to help them absorb the spices better, and marinate for about 10 to 15 minutes. If you have time, put them in the fridge for 1 hour (ideally 3 to 4 hours). In the meantime, move on to the next steps.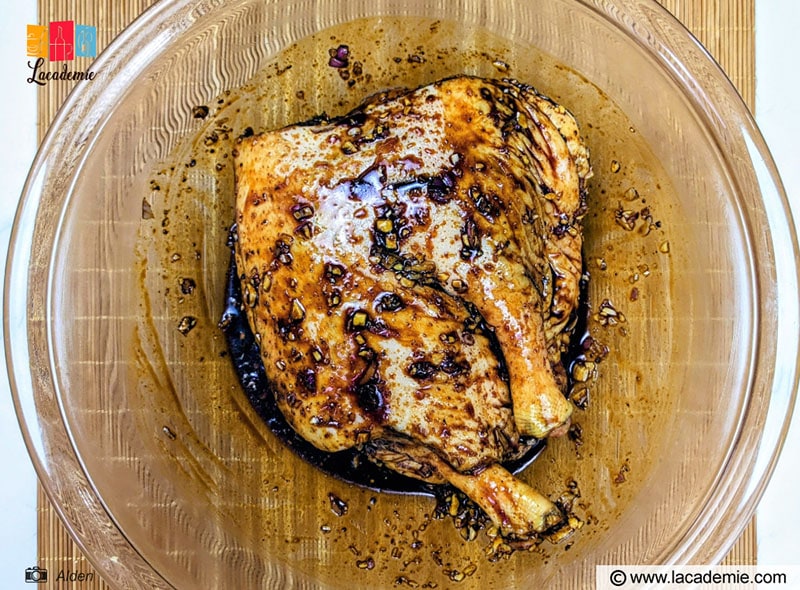 Step 3: Prepare The Medicinal Herbs
Add all the medicinal herbs, except the monk fruit and Sheng Di Huang, to a heated pan and roast them over medium heat. Once done, put them into a soup bag.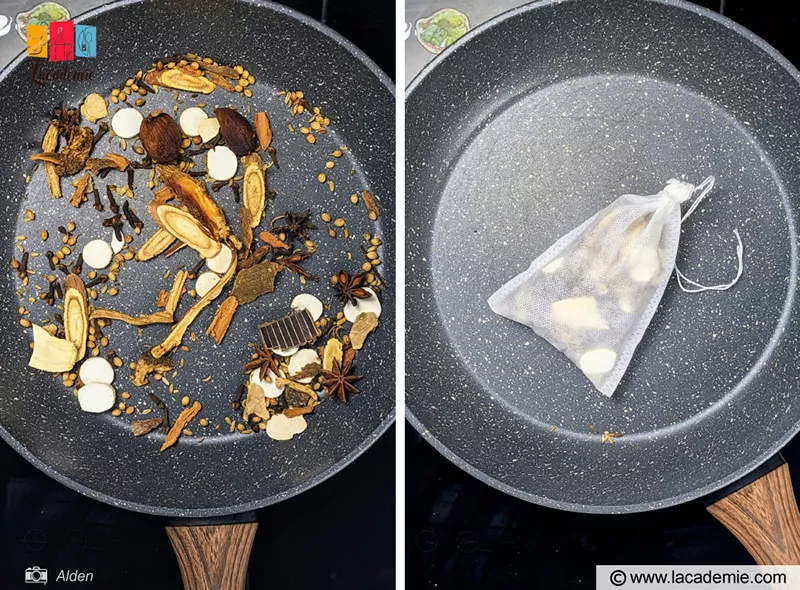 Crush the monk fruit with your hands and put it into another soup bag. Likewise, put the Sheng Di Huang in a separate soup bag.
Step 4: Roast The Duck
Preheat the oven to 392 degrees F (200 degrees C) for 10 minutes.
Line a baking tray with aluminum foil and place the marinated duck legs on it. Roast the duck for 15 minutes at 392 degrees F.
Next, turn the legs over so that the skin sides face up. Brush the skin with a little dark soy sauce to give them a more appetizing color.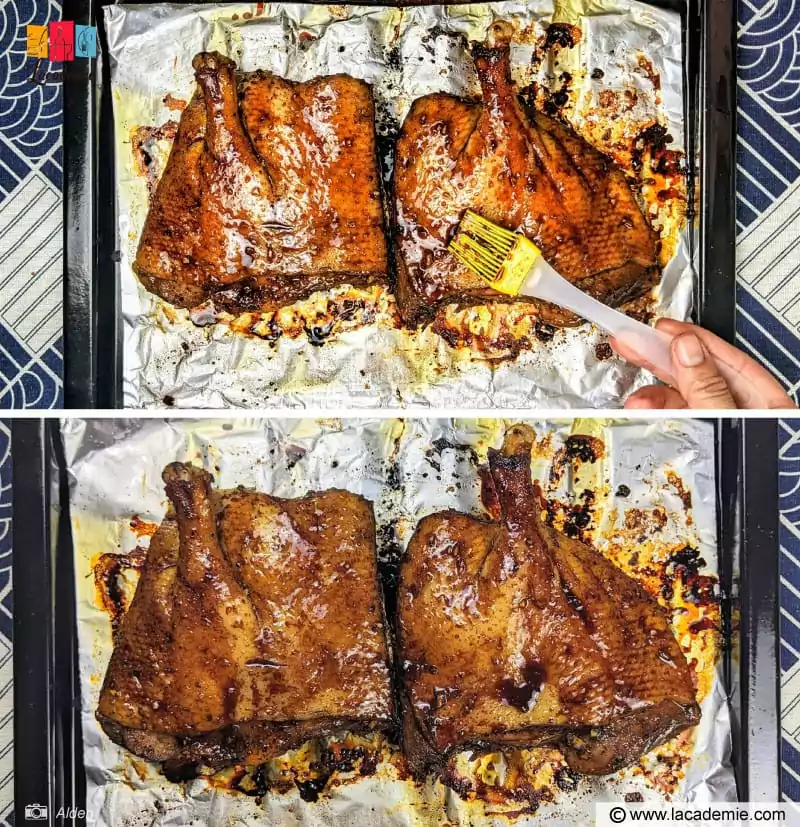 Then, roast the duck for another 15 minutes.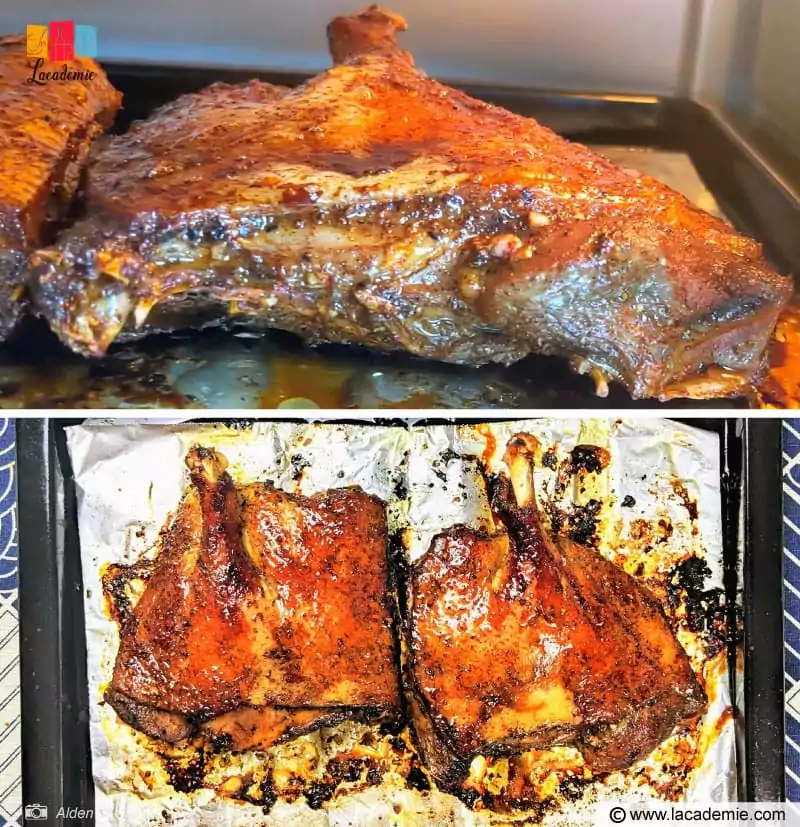 Step 5: Cook The Broth
Pour the chicken bone broth into the stock pot. Then, add the prepared spice bags and the roasted ducks. Stew the duck over medium heat for about 15 minutes.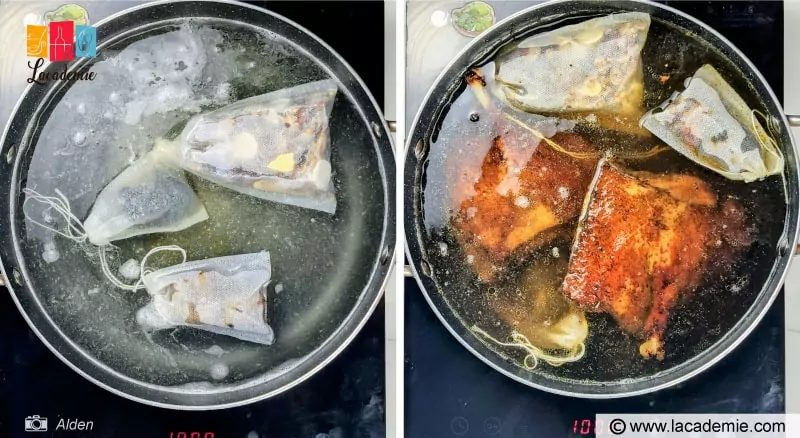 After the 15-minute mark, add the shiitake mushrooms, red dates, goji berries, black jujubes, and lotus roots to the pot.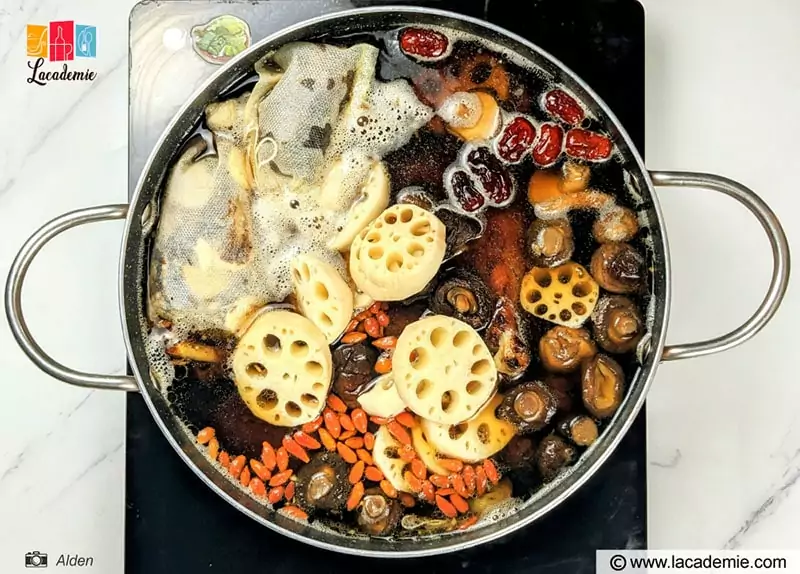 Continue to stew for another 45 minutes on medium heat. You might need to adjust the cooking time depending on the size of the duck legs.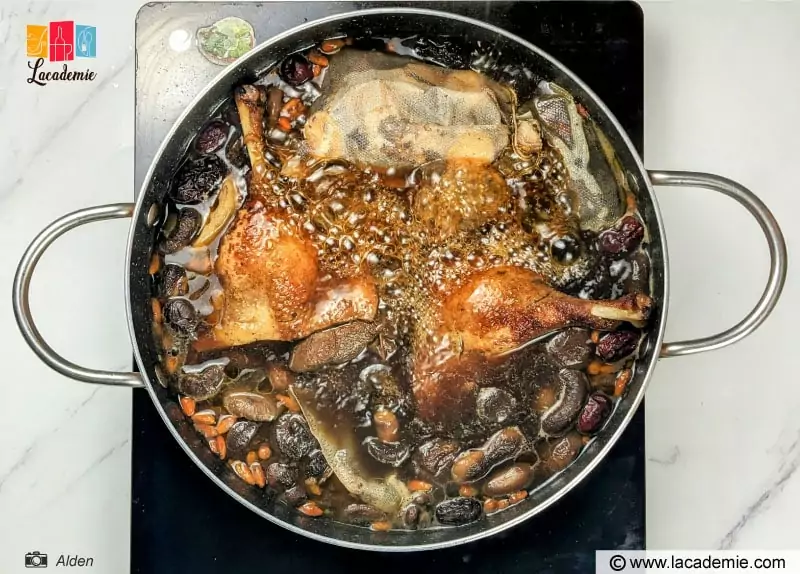 Then, remove all the herbs and spices from the pot.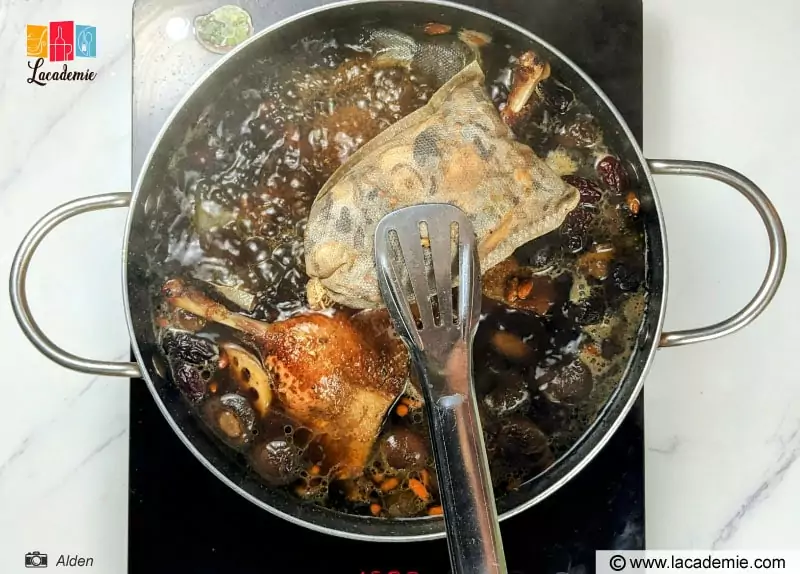 Add about 8.5 cups (2 liters) of boiled water.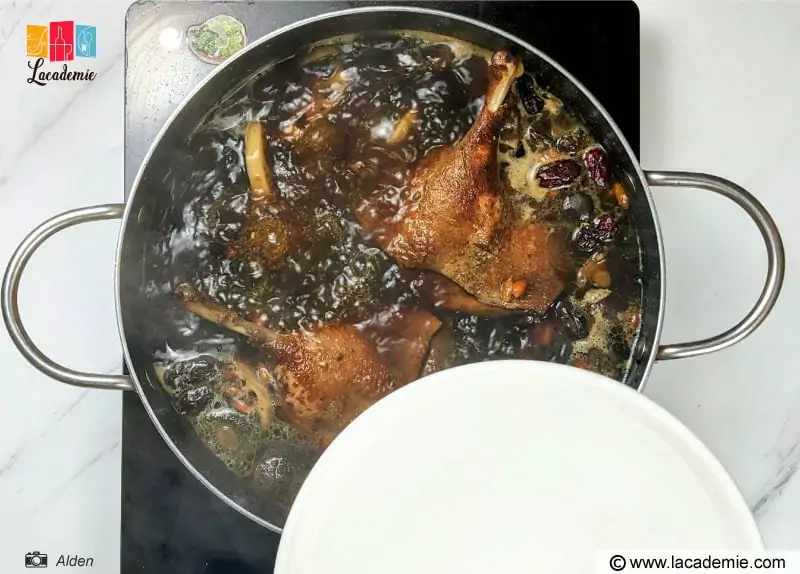 Simmer the broth for another 1 hour.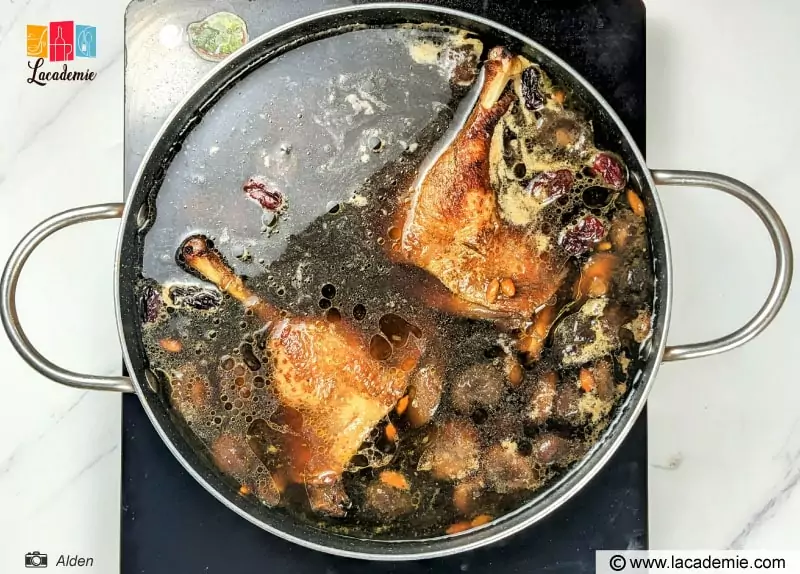 Afterward, season the broth with 1.5 teaspoons of sugar, 1 tablespoon of salt, and 1 tablespoon of soy sauce.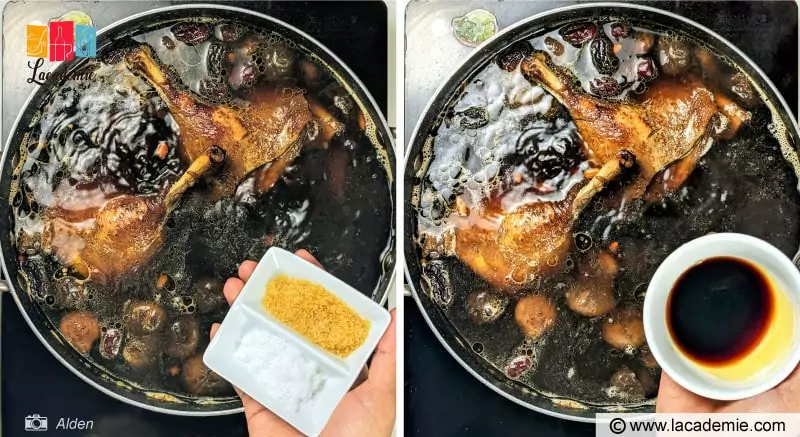 Give the broth a good stir.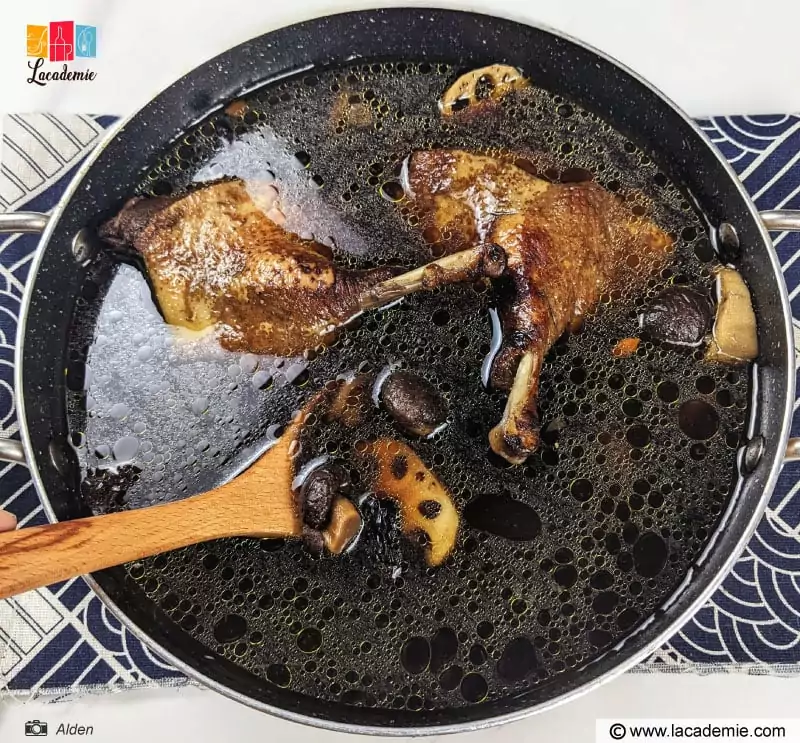 Step 6: Blanch The Noodles And Bok Choy
Bring a pot of water to a boil. Blanch the noodles, then transfer them to a bowl of cold water. Drain the noodles and put them on a plate.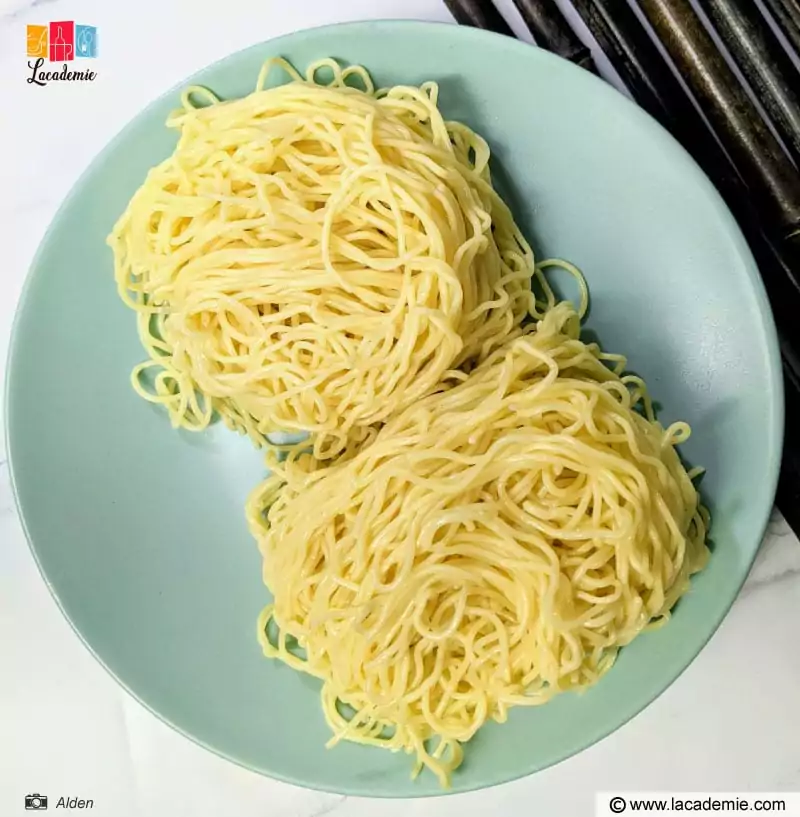 Likewise, blanch the bok choy in boiled water and place them in a cold water bath. Keep them in cold water to maintain their crispness and color. Only drain them when you're about to serve the dish.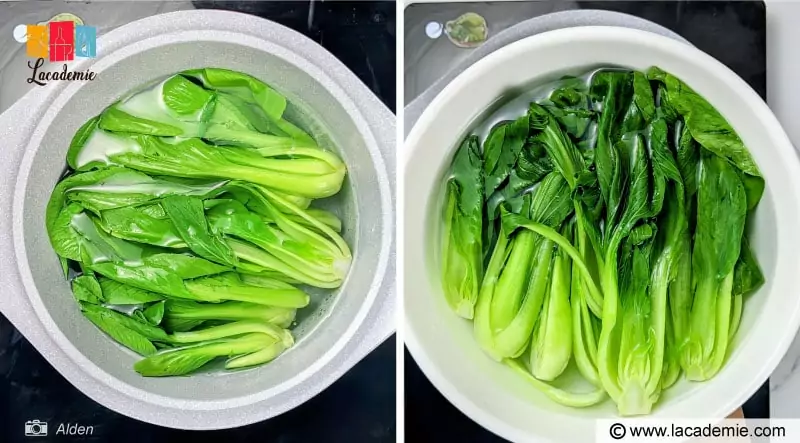 Step 7: Present The Dish
Roll the noodles and put them in a bowl. Arrange the roasted duck, shiitake mushrooms, lotus roots, red dates, black jujubes, goji berries, and bok choy over the noodles. Add the sliced scallions and pour in the broth. Sprinkle some ground pepper on top.
You can add soy sauce, chili peppers, lime juice, or chili salt to your Mi Vit Tiem to enhance its flavor.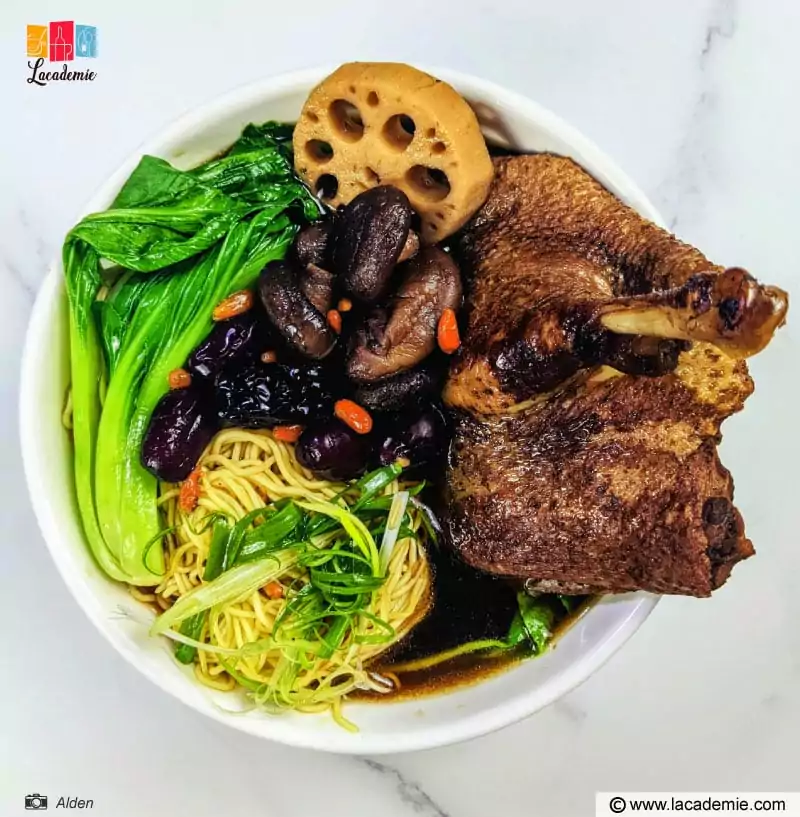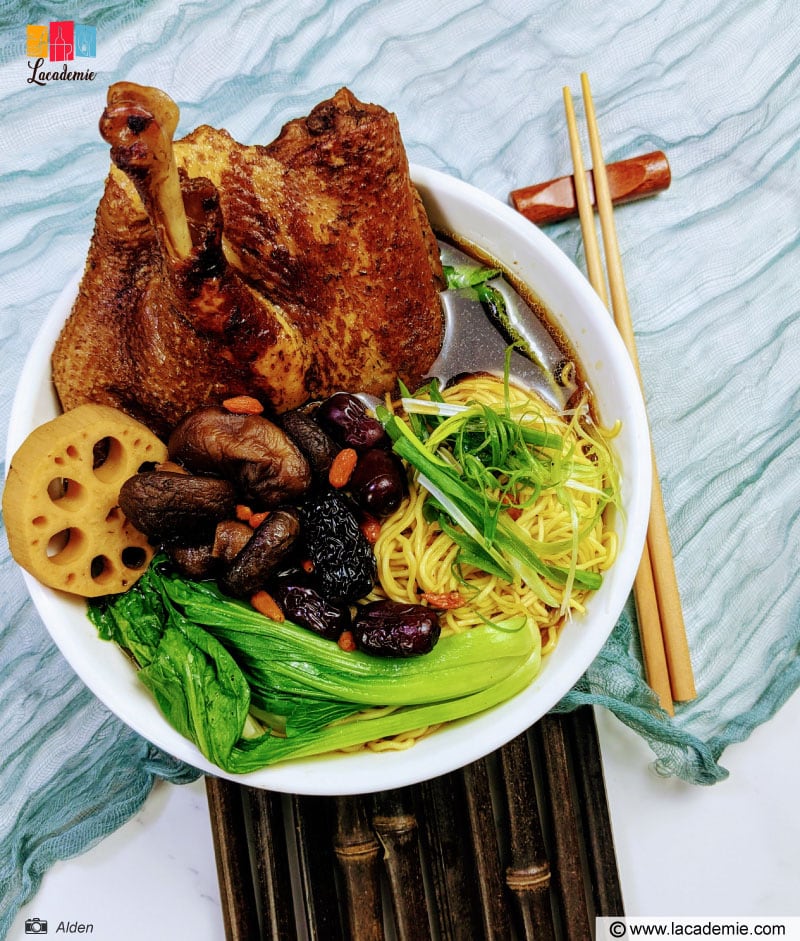 Tips
There are a few tips you can apply while cooking to make your Mi Vit Tiem taste the best. Check them out!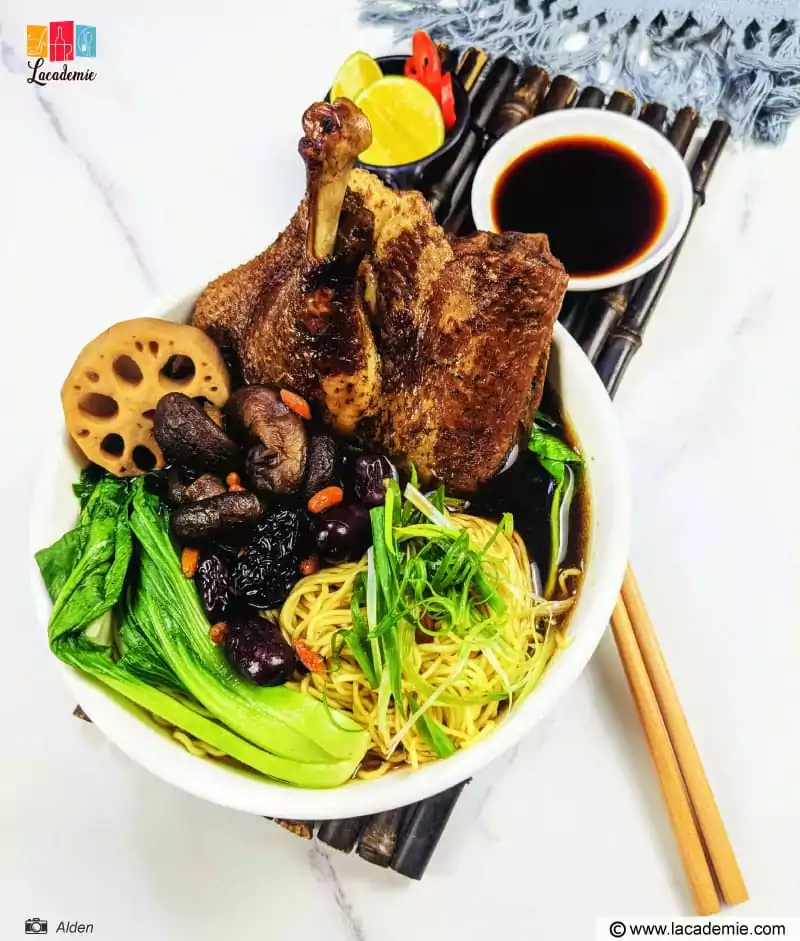 If you can't find all the listed medicinal herbs, try your best to get the following: clove, star anise, cinnamon, and licorice. Of course, the broth won't be as fragrant and savory, but these herbs should provide it with enough flavor to satisfy your taste buds.
You should skim the broth frequently during cooking to keep it clear.
If you don't own an oven, you can deep fry the duck instead.
The fat from the duck might cause your broth to be too oily. In that case, skim off most of the duck fat to prevent the dish from being greasy.
Always put the herbs and spices into soup bags so you can remove them from the pot easier. Plus, doing so will also result in a smoother broth.
You should do a quick taste test before seasoning the broth with sugar, as the monk fruit has already sweetened it. If you find the broth sweet enough already, you can reduce the amount of sugar or omit it completely.
Eating Healthy Has Never Been This Tasty
Vietnamese duck noodle soup brings various health benefits while being an incredibly fragrant and flavor-packed dish. The combination of traditional herbs and fatty duck meat creates a rich and hearty noodle soup that's unique to Vietnamese cuisine.
Give this special dish a try, and let me know what you think about it in the comment section. If you find today's recipe yummy, please drop a like and share it with your fellow home cooks. Don't forget to also check out other tasty recipes on the website!
Nutrition Facts
4 servings per container
---
Amount Per ServingCalories970
% Daily Value *
Total Fat 27.4g

42

%
Cholesterol 359mg

120

%
Sodium 4583mg

191

%
Potassium 1046mg

30

%
Total Carbohydrate 73.1g

25

%

Dietary Fiber 10.9g

40

%
Sugars 11.7g

Protein 105g

210

%
---
* The % Daily Value tells you how much a nutrient in a serving of food contributes to a daily diet. 2,000 calories a day is used for general nutrition advice.