Filipino recipes are the harmonization of different cuisines in a multi-ethnic-group country in Asia. This country has around 134 ethnic groups that make the local cuisines rich in characters and cooking methods.
It could take quite a long time to discover every dish in this country fully. However, with my help, you will have an exciting exploration of the tastiest meals in the Philippines.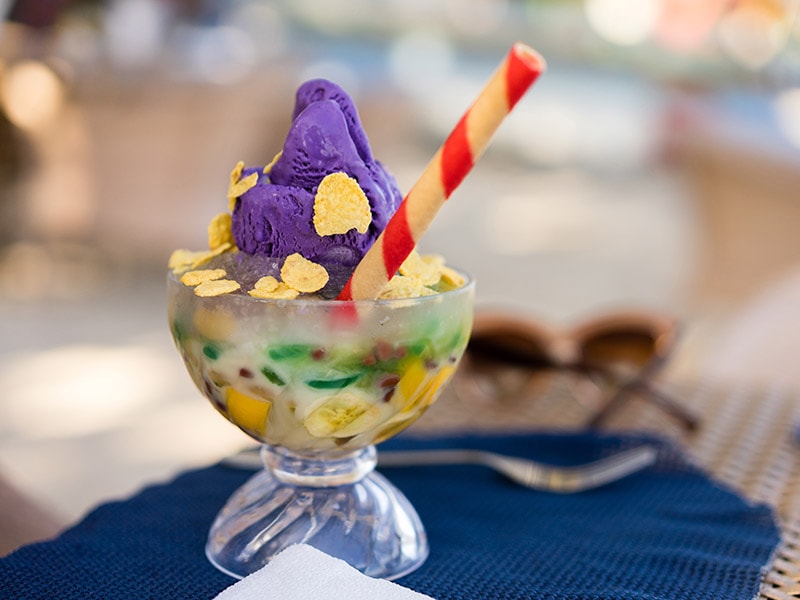 You Will Fall In Love With These 39 Filipino Recipes Right Away
There is no reason for hesitation; It's time to unveil the rich Filipino cuisine through the upcoming recipes. I'm so hyped right now!
Craving for some flavorful dishes from the Philippines? Check out this tender and hearty chicken adobo. The juicy chicken thighs are soaked in the sweet and light salty sauce. You can complete this lovely meal with some green onions and cilantro.
Can you hear the cracking sound of this crispy lumpia? These fried Filipino egg rolls will surprise your taste with the crispy cover and the soft ground pork inside. You can also use bananas for the filling to turn the dish into a sweet version for a delightful taste.
The crispy lumpia is waiting for you to try it. Yum!
This airy chiffon cake will enchant you with its cheesy toppings. The cake has a mild sweetness and a spongy texture that you will never forget. Have this sweet treat with a cup of hot coffee and enjoy your wonderful day.
Want to try a delightful Filipino morning dish? This tocino recipe with tender cured pork is perfect for serving with a hot bowl of garlic rice. You can apply some sliced tomatoes and a fried egg along with this yummy dish.
Let's twist your familiar breakfast menu with this purple ube bread. While the cover is filled with an ordinary brown color, the inside will amaze you with a lovely purple shade. This color is the result of using the famous Asian purple yam.
This colorful Filipino sweet course is a great way to surprise your family. The coconut paste is sweet and creamy that complements the light chewy from sago pearls and rice balls.
Could this bilo-bilo's instruction be easier? So tasty!
Among many varieties of sisig, I love the version with bouncy and spicy squids. The squid tubes and tentacles are bathed in a savory sauce with a touch of citrusy from calamansi juice – a Filipino version of lemonade.
Seeking an exciting Filipino fiesta dish? Lechon food festival can not miss this tasty dinuguan recipe. The black color of dinuguan might not be attractive, but the smell and the taste are irresistible.
The well-cooked pork belly and pork blood are tender and bouncy. You can add some green chili peppers to boost the exploding taste of the dish.
Here comes a delightful food to enjoy on Filipino streets. Chicharon is a crispy product made from the pork belly or pork skins. The crunchiness and melty features of this dish are why it is so famous in the region.
Doesn't the crunch sound make you crave this tasty Chicharon?
If you are seeking some refreshing dish, don't miss this lovely lumpiang sariwa recipe. Various vegetables are wrapped in a soft wrapper that will create a savory party in your mouth. Dip the roll in soy sauce and you will believe what I'm saying.
Why not try this delectable Filipino midday meal?. The broth has a gentle sweetness from mushrooms and ground pork. Cornstarch will make the soup thicker, highlighting the juicy meatball taste.
Want to try a fragrant and savory dipping sauce? This traditional Filipino vinegar sauce will mesmerize you with its sour and spicy flavor. You will also find some light sweetness and a bold flavor from cane vinegar that balance the spiciness.
Don't skip this smoky Filipino grilled dish. The local people have a unique way to marinate the pork; they add a bit of soy sauce and coca-cola or 7-Up to increase the sweet taste of the dish.
Kare-Kare is a thick and flavorful curry that will light up your day. The beef shank or beef hocks is cooked until it reaches the perfect tenderness. Fill the dish with aromas from red onions and cloves of garlic.
I'm sure this Kare-Kare will become one of your favorite main dishes.
Light up your day with this yummy Filipino evening dish. The beef meat is pounded to tenderize the muscle. This action will give the meat a melting texture. Give the meal a little sour with lemon juice and garnish with some onion rings.
Buki pie has a rich and creamy taste from fresh young coconuts and their tasty juice. You can add milk to boost the richness to another level. The buttery paste is covered with a crunchy crust, amazing, right?
Here comes an appetizing Filipino recipe for your party. The cake has three beautiful layers: purple, yellow, white, and it is made of rice flour. Plus, its texture is very soft and moist, but the most excellent thing is the creamy taste of coconut milk.
The light, chewy texture of Sapin-Sapin will satisfy your taste.
Cheese puto is a traditional soft and fluffy pastry from the Philippines. The dish has a sweet and buttery flavor from the cheese, butter, and milk. After being steamed, these fluffy cakes have a dazzling moist texture that is irresistible.
Made from pandan leaves, Buko pandan is a refreshing drink aggressively used in Filipino cuisines. The leaves give a lovely green color with an enchanting aroma that will blow away the summer heat.
Want some refreshing dessert to blow away the summer heat? Try this buko pandan.
Sinangag is a perfect savory dish to serve on a busy morning. If you have leftover rice from last night, just fry it with some robust garlic; the smell will immediately evoke your taste. Complete the dish by garnishing some chopped scallions.
Unwrap the banana leaf, and you will discover a white and tasty treasure inside. The rice flour forms a soft and tender dish with some exciting textures from the shiitake mushrooms and chicken meat.
If you are out of ideas for your BBQ party, try this delicious Filipino pork recipe now. The pork belly is soft with a hint of a rubbery texture. You will find a great smoky and citrusy scent while tasting this meal too.
Here comes a luscious food for those seafood lovers. You may fall in love with the sour taste combined with a delightfully sweet flavor from the freshest prawns or squids. Besides, adding chili will enhance the dish's flavor a thousand times.
Chicken and rice soup seems to be an excellent way to enjoy both ingredients perfectly. Moreover, the dish is so simple to make with a single pot or skillet. Its flavor is even more exciting when you add some calamansi or lemon juice to it.
Embutido is a well-known Filipino food made of ground chicken or pork shaped like a meatloaf. Because the dish is stuffed with flavorful filling so that you can feel how delightful it is in one bite. Plus, you can enjoy it plain or as a side dish with ramen and fried rice.
From the dish's sweet and sour taste, I believe that you would never get bored of it at all. The chicken and pineapple are very juicy, savory so that you will love how great it goes with white rice.
If you are craving some delicious dish that doesn't take much time, this one is your best choice. You can serve it as an excellent Filipino appetizer or dessert because it has a signature creamy taste. Plus, the dish goes so well with some cinnamon on the top.
In my opinion, this amazing shrimp recipe will be your favorite dish for any meal at any time. You can make it easy with just a few steps; however, you should pick the sweetest coconut to give the dish the most succulent taste.
This is a beautiful Filipino soup that combines different spices creating a unique dish that you will never forget. At the first sip, you can taste how delightful and a bit sour the soup is, so you should have it with some white rice.
The unique feature of this Filipino bao version is how flaky the crust is instead of the soft texture of Chinese bao. When you come to the chicken filling, you can taste a savory flavor that is exposed along with a comforting scent.
Here comes the best Siopao recipe ever! Why not give it a try?
Hopia is a traditional Filipino dessert made of the local most-liked mung beans. The dish comes in 2 different pastry textures: flaky outside or gooey inside. As the first bite, you can tell how gentle the sweetness from the bean filling is and a creamy taste from the crust.
How about making some homemade ice cream for everyone? I believe that they will love it so much and ask you for more. It is made of evaporated milk so that you can have a gluten-free meal on your special dining list.
Mung beans seem to be the spotlight of the dish because they create a unique succulent taste. Besides, this stewed recipe can be beneficial for leftover food as well. You just need to put everything into a pot then cook the whole mixture until the charming aroma exposes.
If you want to try something new and cool for dessert, halo-halo is the best treat that you can give to your beloved people. The dish has plenty of colorful layers and delightful tastes from sweet, creamy, and icy taste from ube ice cream.
Here is an excellent idea for a family grilling party. The unique feature of the dish is the way it is marinated in soy sauce instead of regular BBQ sauce. You can enjoy the chicken with some white rice, yummy!
Allow me to introduce you to a succulent Filipino chicken dish that is very nutritious for your body. You can cook it effortlessly by braising chicken in tomato sauce with some extra vegetables and spices. Your first bite is a gentle sour of tomato that makes the chicken more tasty tender.
This is a great vegetarian addition to a cherished healthy Filipino meal. This mushroom adobo is straightforward to make in just a couple of minutes. You will need some fresh mushrooms on a frying pan with some spices until the whole mixture smells delicious.
Here comes another option for a delightsome dessert to balance the whole meal or just for a lunch snack. Turon is a famous Filipino street food with a sweet taste of ripe banana, then rolled in crunchy brown sugar and fried until it gets a nice brown color.
This beautiful dish is a comfortable soup for any meal of the day. It is a combination of chicken, papaya, a bit of ginger, and garlic. You can quickly tell how delightful and succulent the soup is at the first taste.
Let's Unfold The Savory Cuisines Of The Philippines
What will you do when visiting a diverse cuisine? I bet the answer is to explore every species of the dish from that culture. I'm sure the suggested recipes will inspire you to create some lovely Asian dishes for your family.
Feel free to share this post and subscribe to our site to catch up with the following posts. Have a great cooking time!
Nutrition Facts
4 servings per container
---
Amount Per ServingCalories657
% Daily Value *
Total Fat 49.4g

76

%
Cholesterol 221mg

74

%
Sodium 2349mg

98

%
Potassium 533mg

16

%
Total Carbohydrate 10.9g

4

%

Dietary Fiber 0.4g

2

%
Sugars 6.8g

Protein 42.8g

86

%
---
* The % Daily Value tells you how much a nutrient in a serving of food contributes to a daily diet. 2,000 calories a day is used for general nutrition advice.