How many sweet courses in Asian cuisine have you tried, for example, Filipino dessert? Indeed, Filipinos get used to taking advantage of natural ingredients around them to make beautiful desserts that have distinctive flavors, textures, and appearances.
They can be sticky cakes made of glutinous rice or coconut-flavored cupcakes. The natural flavors allow the desserts to become an important part of traditional Filipino cuisine.
The Filipino-style desserts are also famous for their simplicity, from the ingredients to the decoration. You do not have to spend much time preparing complicated fillings and toppings for cakes.
Sometimes, sprinkles of aromatic and slightly sweet shredded coconut are excellent for a cake topping. Now, it's time to bring some sweet and pleasant Filipino taste to your home kitchen with the 29 authentic Filipino dishes I offer you in this post!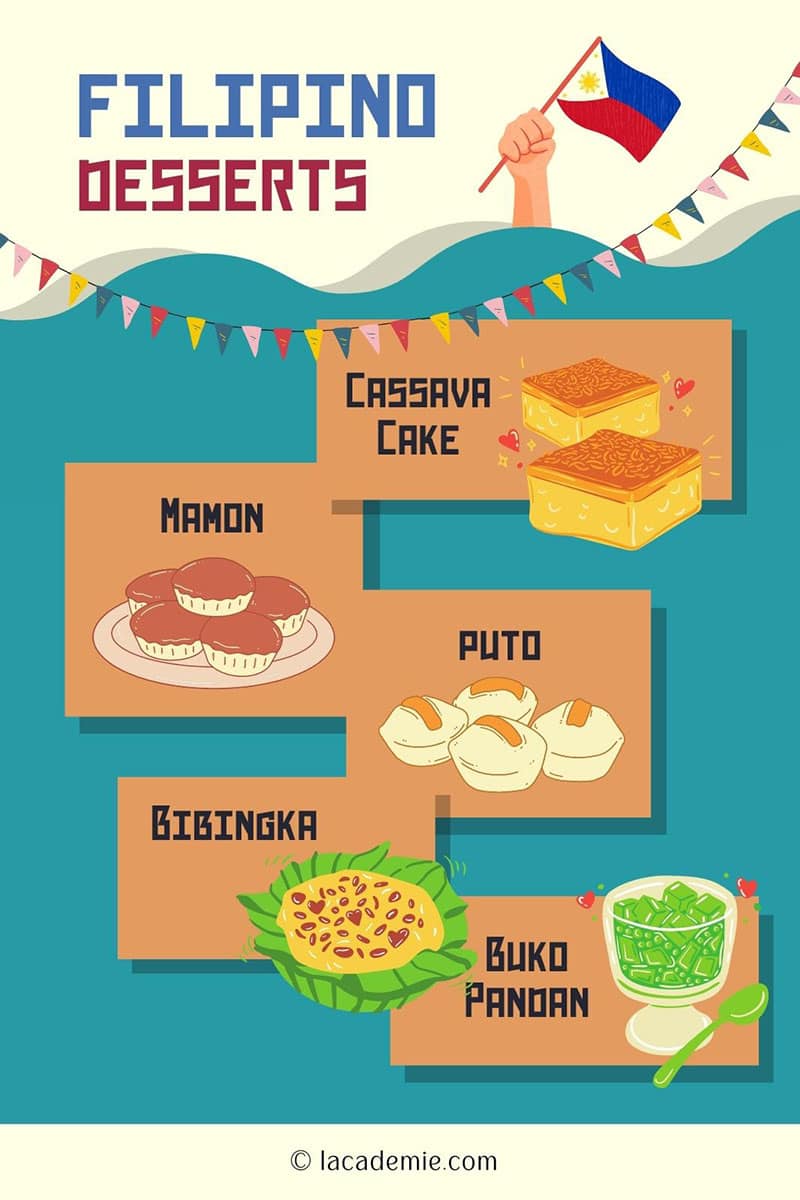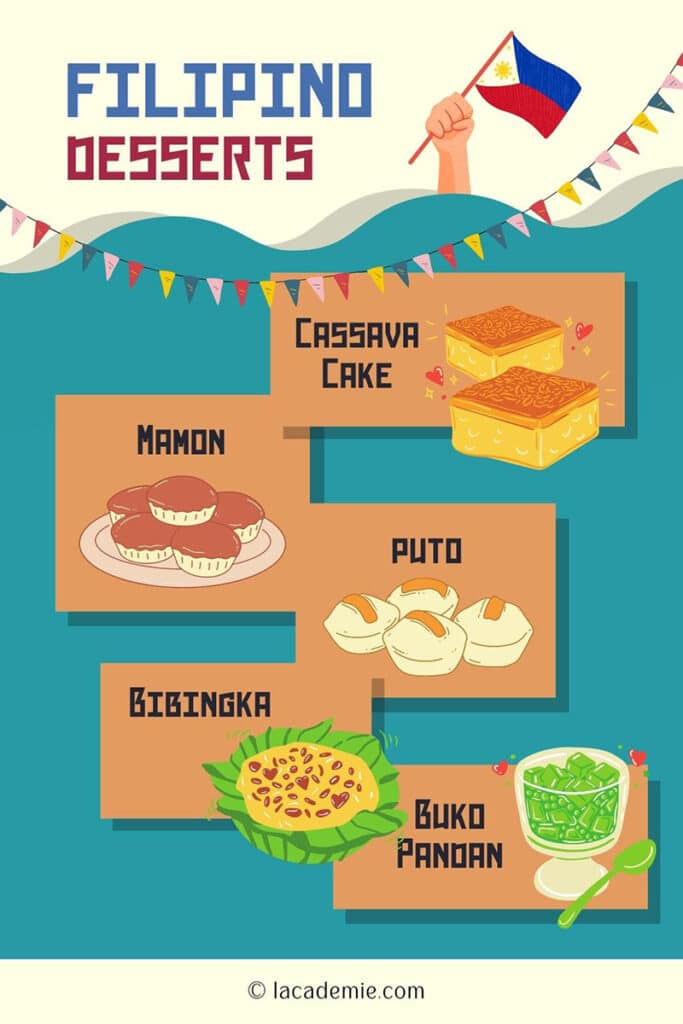 List Of 29 Mind-Blowing Filipino Desserts You Should Try At Least Once!
You have various choices of Filipino desserts. If you love the fluffy and chewy texture, traditional Filipino cakes are right for you. For those who are big fans of fruits, some sweet salads will fulfill your fruit craving.
Cakes
Cassava Cake
Lengua De Gato
Mamon (Filipino Sponge Cake)
Puto (Steamed Rice Cake)
Bibingka (Coconut Milk Cake)
Coconut Macaroons
Palitaw
Mango Royale
Polvoron
Fiesta Float
Sapin Sapin
Drinks And Ice Creams
No-churn Ube Ice Cream (Purple Yam Ice Cream)
No-churn Buko Pandan Ice Cream
Halo Halo
Mais Con Yelo
Sago Samalamig
Sweet Soups
Minatamis Na Saging
Buko Pandan
Taho
Binignit Recipe
Puddings And Jams
Minatamis Na Bao (Coconut Jam)
Ube Halaya (Purple Yam Jam)
Maja Blanca Espesyal
Leche Flan
Sweet Salads
Buko Salad
Macaroni Fruit Salad
Mango Jelly Salad
Jellies
Pineapple And Raisin Gelatin
Cathedral Jelly
29 Filipino-Inspired Desserts No Sweet Lovers Can Turn Down!
When talking about Filipino sweet recipes, you have so many options to choose from. Let's check them out together!
11 Mouth-Watering Filipino Dessert Cakes
Delicious cakes are always a perfect treat for desserts of all times. Just pick up some of the following stunning cake ideas to wow your whole family!
If you want to enjoy one of the best-ever traditional Filipino cakes, you should not miss the cassava cake recipe.
There are other styles of cassava cake in neighborhood's countries, like those desserts in Indonesia or Malaysia. They all share the same characteristic as they are made with grated cassava, the starchy tuberous root of cassava trees.
To make the cake, you need to prepare its base and topping. The cassava batter is a combination of cassava, milk, butter, cheese, eggs, sugar, and coconut milk.
Talking about the topping, the blending of flour, condensed milk, sugar, cheddar cheese, and coconut milk will be topped on the cake.
The combo of soft and buttery pastry with sweet and cheesy topping will satisfy you a lot!
Lengua de gato is a popular type of cookies in Philipine. The cookie dough is made with unsalted butter, flour, granulated sugar, eggs, vanilla extract, and salt.
This creates buttery and slightly sweet cookies that have a crispy texture, especially on the outside crust.
Like other butter cookies, you can enjoy Lengua de Gato with some coffee or tea that will enhance the cookies' flavor so much! This would also be a big hit for all children!
Sponge cakes are so versatile to be served on different occasions ranging from home desserts to party sweets. The self-serving portion and delicious taste make it so attractive.
With its buttery and airy texture, this lovely Filipino treat will surely satisfy you! Thesse light and slightly sweet cakes can be topped with some powdered sugar, mocha, or dulce de leche if you love a sweeter and more aromatic dessert.
If you need a step-by-step direction in making Mamon, this video is right for you!
Puto is a Filipino steamed cake made with ground rice. It is a simple recipe in terms of ingredients and flavor. You have to strictly follow steps from preparing the rice to steaming the cakes in order to create the most authentic Filipino dessert.
To make the batter, the ordinary rice will be soaked in water in advance to make its texture softer and then be ground into rice paste.
After that, the ground rice will be mixed with white sugar and baking soda before the batter mixture is poured into molds lined with banana leaves for steaming.
Coconut milk cake is a perfect combination of coconut milk and rice flour. This creates a delicious traditional Filipino dessert.
The cake comes with a fluffy texture with a touch of sweetness and aroma. The baking method allows the cakes to achieve their unique flavor.
To highlight the cake's deliciousness, you can top them with shredded cheddar cheese and some salty egg. Serve them warm for the most beautiful cakes' flavor and texture.
Coconut macaroons are Filipino-style fluffy and soft cupcakes. Every single bite of the cakes is loaded with a sharp coconut flavor, so this will be a favorite of all coconut lovers.
It is made of eggs, sugar, melted butter, condensed milk, all-purpose flour, baking powder, and especially desiccated coconut that creates the cakes' distinctive flavor.
The coconut macaroons are so simple in both flavor and appearance without filling or topping, but their pleasant taste and chewy texture will surely make you go crazy!
Palitaw is simply a poached cake of the Philippines. The dough is made with ground sticky rice. To make the cakes, scoops of Palitaw dough are dropped in boiling water.
Then, you just wait to collect the cakes floating on the water, which indicates that the cakes are done.
When you serve the Palitaw, just cover them with shredded coconut, top with toasted sesame seeds, and enjoy the warm cakes. If you want a more enjoyable treat, a dipping of brown sugar syrup will be great!
If you are a big fan of whipped cream cakes and desserts that are made with mango, you should not skip this mango royale recipe! No baking is required when you make the dessert. So easy to make but super yummy and creamy!
The refrigerated base is made with crushed Graham crackers that are filled with layers of sweetened whipped cream and topped off with grated fresh mango. This would be a perfect sweet on hot summer days!
Polvoron is a bite-sized Filipino cake made of powdered milk, toasted flour, sugar, and butter. Then, the dough is pressed in tin molds to create small cake portions that will be wrapped with Japanese paper to keep the Polvoron fresh.
In addition, to level up the cakes' flavor, you can also add ground Pinipig (crispy rice), cashew, or peanut to the Polvoron dough.
Fiesta float is a Filipino- styled icebox cake that mimics the layered form of a baked cake.
This dessert contains a base of crushed Graham crackers, which is filled with sweetened whipped cream and has a topping of drained fruit cocktail, candied cherries, and sprinkles of crushed crackers.
The cakes will be refrigerated for a cold serving. Just follow some simple steps, and you can make a quick dessert that would be a big hit for your whole family!
Sapin Sapin is a Pinoy-style rice cake made of sticky rice and coconut milk. It contains different layers and flavors that will be so appealing to every crowd! The bottom layer comes with a yellow color and a sharp flavor of jack fruit.
The middle one in white has a coconut taste, while the top layer made with purple yam is in violet color. Such a colorful cake!
Sapin Sapin is topped with sprinkles of latik, dark brown coconut crystals that are formed when you cook coconut milk for a while. Although it seems to be a simple topping, you will be surprised by its pleasant flavor.
5 Mouth-Watering Pinoy Drinks And Ice Creams
The following drink and ice cream recipes will help you overcome your hot summers, so just store some favorites in your mind!
Ube – a heaven-sent food beginning with the letter U, is an ideal ingredient to make ice cream. And this ube ice cream is so attractive with its violet color that will give you a cool sense at first glance!
The tropical ice cream made with Ube jam has a vanilla-like and nutty aroma. It would be a big hit of all time! To make the ice cream, you do not need an ice cream maker. Instead, a blender or food processor is good enough for utterly delicious ice cream.
The combination of fresh milk, whipped cream, sugar, condensed milk, powdered Ube, and butter will bring you a creamy, slightly sweet, and aromatic ice cream.
A pleasant smell derived from pandan leaves is commonly used in cooking to create an aromatic taste of foods.
The pandan-flavored ice cream is one of the best treats you should not skip when discovering Filipino cuisine. In this recipe, you should use pandan extract for the maximum flavor.
The ice cream is packed with creamy flavor and a sharp panda taste. Some chewy shredded coconut on the top of ice cream will be a big twist you will sure to love!
If you fall in love with cold desserts, you will surely go crazy with Halo-Halo! This is a wonderfully yummy combination of shaved ice, syrup or sugar, evaporated milk, and fruits or sweet toppings.
The topping choice depends on your own favorites, but some recommended ones would be jelly, sago, sweet jackfruit, or Leche flan.
The special note of this sweet is its toppings that will match well with the rich milk. Shaved ice will balance the sweetness of the dessert and bring you an enjoyable cold sense!
This video will show you how to make Filipino Halo Halo.
This is an easy and quick Filipino street treat that will definitely blow your mind! It assembles layered cakes with sweet corn, shaved ice, evaporated milk, and condensed milk.
The dessert is topped with scoops of corn ice cream and corn flakes. This creates a full and rich corn flavor for the dessert.
You can also add more toppings to the Mais con Yelo, such as sweet beans, Leche flan, or caramel sauce.
Sago Samalamig is a cool Filipino beverage consisting of shaved ice, brown sugar syrup, and sago pearl topping.
For those who have not heard about sago, it is a type of starch taken from tropical palms and used to create small ball-shaped pearls.
The sago pearls are an enjoyable topping of different desserts and sweet drinks, especially milk tea.
4 Family-Friendly Sweet Soups Of Filipinos
Serving sweet soups after meals would be a crowd-pleaser. You can reference the below Pinoy-style sweet recipes to create a big hit for your whole family!
For those who are sweet lovers, you should not skip this recipe. Minatamis Na Saging is a classic Pinoy dessert. To make it, you will boil the brown sugar in water, then add chopped bananas to it and simmer until the bananas turn soft.
Adding some vanilla extract and salt to the sugar syrup will bring you an aromatic, sweet, and slightly salty dessert. Just make some Minatamis Na Saging for your family members to try, and they will ask you to make it again and again!
Pandan is a flavorful component in many Asian treats, particularly in Vietnamese, Indonesia, or Malaysia sweet desserts. So Filipino delicacies are not exceptional.
Buko Pandan is a Filipino dessert that contains gelatin bars, young coconut, and sago pearls. The three ingredients are soaked up in the sweet and creamy mixture made with condensed milk and table cream.
To add the pandan flavor to the dessert, you can use either fresh leaves or powder.
Using the powdered panda allows you to shorten the preparation time, while the flavor extracted from pandan leaves gives you the most pleasant and natural aroma. Topping the dessert with a scoop of vanilla ice cream will bring you a new favorite!
Taho is a sweet combination of tofu, tapioca pearls, and brown sugar syrup. Smooth and soft tofu soaked up the syrup will bring you a distinctive sense of dessert.
To prepare the tofu, you steam soy milk until it becomes a thick texture, and then the tofu is done.
When serving the taho, you just put the tapioca pearls, steamed tofu, and syrup in a glass and then enjoy the warm dessert. If you love a cold treat, adding some ice to the glass would be fine!
Binignit is a popular Filipino dessert that is simply fruits cooked in coconut mixture. To make the recipe, you need to boil the sago first and then soak it up in cold water for the desired texture.
The other ingredients you need are sweet potato, purple yam, saba banana, Muscovado sugar, jackfruit, gabi, and tapioca pearls that will be cooked and folded with coconut mixture.
The dessert can be served warm or cold with some ice if you love an enjoyable dessert!
4 Addictive Filipino Pudding And Jam Recipes
Some sweet, rich puddings and jams will satisfy you a lot after meals. Let's learn the ways Filipinos prepare the sweet stuff!
Coconut jam is so versatile to be used in cooking and baking for enhancing the sweet and pleasant flavor of different foods.
Commonly, the sticky and rich coconut jam is used to spread on bread or crackers as a perfect snack or a quick and tasty Filipino breakfast.
To make the jam, the mixture of fresh coconut milk, sugar, and pandan leaves will be slow-cooked until it turns dark brown and has a thick consistency like honey.
The Ube Halaya is a creamy and sweet jam made of Ube. For those who need more information about this delightful fruit or vegetable beginning with "U", it is an edible yam tuber having a starchy texture and slightly sweet, nutty, and vanilla-like taste.
It is simple for you to make the jam, but it is quite a time-consuming process. To be more specific, you will cook the yam in a milk mixture and stir this Y-something food constantly until it becomes a thick texture in a dark purple color.
For serving, you can eat the jam on its own with some shredded cheese or latik. You can also add the jam to dessert recipes such as cakes or ice cream for a nice purple appearance and a nutty flavor.
If you do not have fresh Ube on hand, this video will direct you to make the jam with frozen Ube.
Do you love creamy coconut dessert as much as I do? If your answer is yes, don't miss this idea. Indeed, Maja Blanca Espesyal is a popular coconut pudding in the Philippines.
In this recipe, the mixture of coconut milk evaporated milk, condensed milk, and sugar will be boiled with sweet kernel corn and then stirred well with cornstarch mixture until it transforms into a thick paste.
Then, the paste will be refrigerated to be completely cooled and set. Top the dessert with sprinkles of latik and enjoy it!
Leche flan is a versatile dessert that will be a big hit for everyone, especially children who love sweets and rich food. The flan custard is made with evaporated milk, egg yolks, and condensed milk with a touch of vanilla extract and lime.
You can either bake or steam the custard for the same result, and then let it chill in your fridge for a perfect texture before serving. The combination of creamy Leche flan and sweet caramel topping will surely blow your mind!
3 Pocket Sweet Salad Recipes For Beginners
How about some sweet fruit salads for desserts? That would be great with simple ingredients but complicated taste waiting for you to discover!
Buko salad just takes you a couple of minutes to prepare without any cooking. All you need to do is mix shredded coconut, drained fruit cocktail, and nata de coco with the cream and condensed milk mixture.
The result will be a super creamy and sweet dessert with crunchy fruits. You can also put in the salad other ingredients like cubed apples, peanuts, or cheese that relies on your favorites.
Before serving Buko salad, you should place it in the fridge for about 30 minutes for a better taste.
Although this recipe contains macaroni, it is truly a dessert rather than a light meal! The sweet version of the macaroni dish just takes you about 15 minutes to prepare.
You start with boiling the macaroni and then mix well the drained mac with the mixture of cream, condensed milk, and mayonnaise.
Adding fruit cocktails, red and green Kong, cubed cheese to the salad make your dessert much more appealing in both appearance and taste. Finally, serving the salad cold will help cool you down during hot days!
Let's say "Hi" to real fans of sweet-sour ripe mango! I have a special Filipino homestyle dessert for you. In this recipe, the blending of mango-flavored jelly, cubed mango, and nata de coco will be tossed in the creamy milk mixture.
For those who hate the slightly sour mango, the sweetness from the whipped cream mixture will balance the mango flavor and surely make it much more lovely in your mouth. So easy to do but super refreshing!
2 Incredible Pinoy Jelly Recipes
Whether you love the chewy texture of jelly or its refreshing flavor, you will never go wrong with the below top-choice Pinoy jelly ideas!
In comparison with preparing baked desserts, making jelly sweets will save you a lot of cooking time and effort. You do not have to spend time making pastries, fillings, and toppings.
All you need to do is just stand in front of the stovetop and heat up the gelatin mixture. The addition of cubed pineapples and raisins into the jelly makes it much yummier, with a twist of crunchiness in every chewy jelly bite!
You can also put in the mixture your preferred fruits or what you have on hand, such as apples or berries. It would be nice! Just let the jelly chill in the fridge for the maximum deliciousness of your beautiful dessert.
I can describe this recipe as a "jelly in jelly" dessert. To be more specific, cubed gelatine in different colors is hidden inside a rich white jelly mixture.
The perfectly fruity flavor of the jelly squares will complement the creaminess of the white gelatine. This will bring you a light but super palatable and crowd-pleasing dessert!
Be Flexible And Creative In Making Filipino Desserts At Home!
Now, I guess you have quite enough Filipino dessert ideas for future use. However, in my opinion, you do not need to strictly follow the recommended recipes, especially in terms of ingredients.
Just feel free to substitute or adjust them with what you have on hand as well as your favorites. It is because you are making the dessert for you and your family to enjoy!
One more thing I would like you to take notice of is the sweetness level in your desserts.
While I admit the truth that a sweet taste is a keynote in most desserts, moderate amounts of sweetness are necessary to reduce the risks of diabetes that nobody wants to suffer from. So again, just manage your sweet craving!
Last but not least, if you have any ideas about Filipino desserts, you can share them with me by commenting below this post. When finding what I bring you is useful, you can give me a like or share. Thanks for your time!
Nutrition Facts
24 servings per container
---
Amount Per ServingCalories305
% Daily Value *
Total Fat 8.2g

13

%
Cholesterol 26mg

9

%
Sodium 60mg

3

%
Potassium 162mg

5

%
Total Carbohydrate 29.9g

10

%

Dietary Fiber 0.6g

0

%
Sugars 16.9g

Protein 3.4g

6

%
---
* The % Daily Value tells you how much a nutrient in a serving of food contributes to a daily diet. 2,000 calories a day is used for general nutrition advice.