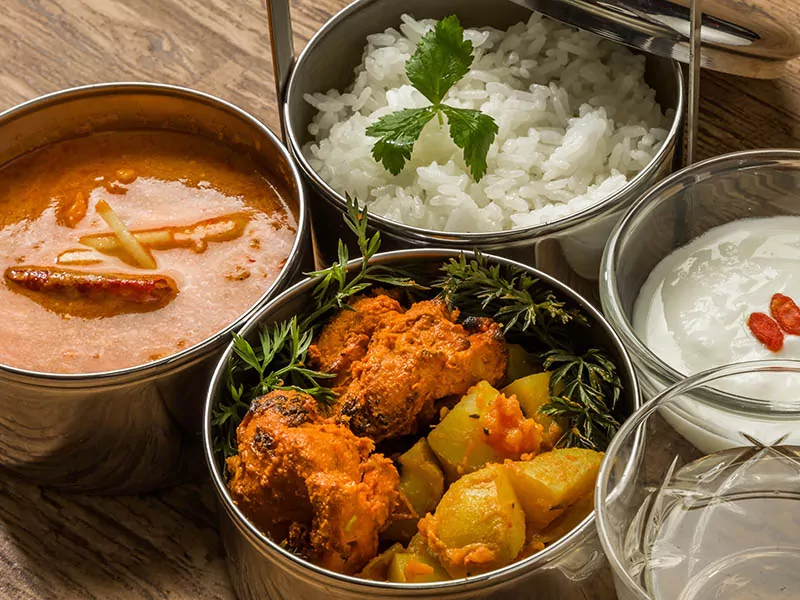 If you want to have some recommendations for Indian lunch recipes, you have a great helper here. Choosing a perfect dish for lunch is difficult since you often don't have much time to prepare. It is time to have more lunch inspirations through my article.
From curries rice to hearty dishes, you can have a wide range of Indian delights to choose from. I'm sure that you won't need to pack a boring lunch anymore. How about looking at my suggested Indian dishes for lunch in the upcoming category now?
How About Try Preparing These 26+ Lunch Recipes From India Once?
Indian culinary gastronomy is pretty famous in the world, and making them is actually not as fussy as someone might think. Since they are usually loaded with spices and condiments, you will frequently taste significant intense and rich flavors through them.
Are you curious about what I will suggest to you now? You should see them in the upcoming list.
It is a good idea to start today's list with an Indian-style vegetarian dish, and Burgers are an excellent option for a filling, portable lunch. In a portion of this food, there are basically herbs, spices, and a vegan meat patty (premade or chickpeas).
The sauce used for the Burger is also versatile, and you can opt for anything based on your preference. Yet, I suggest you follow the sauce in the recipes.
If the Spiced Veggie Burgers are pretty small and hard to fill up your stomach, you can use Fried Potatoes as a companion.
Well, I would also recommend some starchy recipe for your Indian lunch, and there is hardly anything better than flatbreads, especially Naan.
It'll never go wrong with Naan when it comes to a starchy base as this simple Indian bread can pair well with anything. In my recommended homemade recipes for you today, you just need to use a cast-iron skillet to make your bread.
The yeast inside the dough helps the flatbread puff and delivers an extra soft texture when enjoyed.
Let's see how Indian people prepare Naan!
Roti and Naan are different, although they all have the English translation called "Indian flatbread". The titles clearly show their difference, one with yeast and one without.
Whether it has yeast or not, the lovely starchy and mild taste of this delicacy makes it an irresistible partner for Indian savory foods.
The flour used for Roti is also varied, and you can freely choose the appropriate recipe with the one you have on hand. The recipes I offer you today take not much time, so you can try making them whenever you want.
I know tandoor means a kind of traditional oven used in Indian cooking. But don't worry, this Tandoori Chicken Burgers refers to the typical spices applied for the food. The idea to make the chicken patty is just the same as what you usually do with beef or pork.
The most significant difference is the Tandoori spices and the flavorsome yogurt sauce. My advice for you is to opt for those chicken meat parts with meatier textures to make your burger patties more filling.
Hot spices like cardamom, ginger, and pepper/cayenne might be a bit strong at first, but you can easily tempt them later.
Raita is not a hearty treat; it is more like a typical Indian side dish that go along with many other savory foods. It is quite hard to consider it a salad or dipping sauce since Raita can be both and still play a perfect role.
The most straightforward recipe for this light side dish includes only fresh cucumbers, cilantro, and plain yogurt. Therefore, it is effortless to accomplish a whole batch and use it later.
An easy peasy way to make Raita that can blow your mind is right here!
Since Indian people don't use too much beef or pork in their diets, chicken recipes are more prevalent in this cuisine. So, my next suggestion is also an exquisite Indian chicken dish, Butter Chicken Curry or Chicken Makhani. Trust me; it tastes phenomenal.
Besides the chicken or butter/Ghee, Chicken Makhani calls for various spices and condiments, helping the food be extra rich and favorable.
For the best companions for this recipe, you can go for rice, Naan, or bread. Everything can make sense with this toothsome treat.
Never heard of Mango Chicken Curry before? Now you know it! You will never tell that signature Indian curries are all about hot spices anymore after tasting this dish.
The natural mellow taste from mango harmonizes well with any zing in the dish and accentuates the flavor of this food's star, chicken. After cooking, the texture of softened mango adds an appealing consistency to your sưaucy savory food.
Imagine pouring some of the spicy Mango Chicken Curry onto a bowl of steaming hot basmati rice (or regular rice) makes my mouth water already.
You should follow this instruction and prepare some Mango Chicken Curry now!
Not as unique as the combination of an Indian's tropical fruit with chicken, using sweet potatoes in a curry dish provides a different allurement. Thanks to the mix of curry paste/powder and rich chicken broth, you can expect a flavor punch in every mouth of this dish.
Apart from chicken meat, sweet potato cubes absorb coconut milk and spices so well that they taste even better. Remember to add some chopped fresh parsley on top of your plate of Sweet Potato Chicken curry. Its freshness is simply incredible.
Madras is not a term to refer to an ingredient; it talks about the food's origin. Madras Curry is a tasty dish from South India, and local people usually make their curries red (with a lot of spicy notes). I go crazy with its tempting hot taste, which is even better on a cold day.
Although coriander is a must-have herb to pair with a portion of Chicken Madras Curry, you can change it into cilantro based on your preference. Besides, the previously-mentioned Raita is also tasty when eating as a side dish for Madras-style Curry since they complement well.
Now, I bet you may think there might be too many chicken dishes in this Indian delicacies category, but it will be a miss if you ignore this Chicken Tikka Masala. This flavor bomb will never disappoint you.
Before cooking, you should marinate this chicken dish with yogurt and many spices to create a characteristic aroma. One significant fact is that the food gets its appealing orange color from tomatoes, paprika, or turmeric.
Tikka Masala has a gorgeous, intense aroma and a thick sauce. It can taste mild or strong depending on the amount of chili powder used. This dish might not be the quickest dish to prepare, but it is worth every effort.
Chicken Tikka Masala is easy to make, and here is how Indian people cook it.
Talking about one of the traditional bread recipes in Indian gastronomy, you must mention Idli or Steamed Sourdough Bread. This bread consists typically of fermented rice and urad dal (a kind of lentils) and requires a long time to make from scratch.
Because of that, my recommendation today will show you how to make the instant variation of this Idli while still preserving a similar quality compared to the original one. Furthermore, Idli can become your Indian-style breakfast if you make it the night before.
It is a way to kill two birds at one stone, so there is no reason to ignore this convenient recipe.
To be honest, it is pretty hard to find a quick and yummy hot lunch recipe in Indian cuisine as almost all treats require some particular care. Even though this Sambar Rice isn't a food that you can prepare in a snap, you can make it beforehand and reheat it when you're ready to eat.
All the steps to make Sambar Rice are pretty simple. You just need to accomplish all the ingredients in the same pot and let the time do its work. The standard Sambar Rice contains softened rice grains and an average amount of paste-like gravy (not too thick or too watery).
Your rice dish will be a bit spicy because some pungent spices are included in its ingredient list. However, it can still pair beautifully with any savory dishes (or pickles) on this list, so you might need to try and choose your favorite combination.
Don't miss this easy Sambar Rice-making tutorial!
In case you are on a vegan or vegetarian diet, this Cauliflower Makhni is the way to go. You can expect nothing less than perfect in this veggie-loaded Curry with almost identical ingredients with Chicken Makhani (except for the chicken).
Besides, since the main ingredients are cauliflower, you can save time for the marinating step and quickly assemble the food within half an hour. A hearty Indian recipe that require less time to cook? Isn't it a perfect choice for a busy lunchtime?
As the food is filled with tongue-tickling spices and milky flavors from the special Panner (Indian-style cottage cheese), you can't deny this dish after tasting it. It's always a great choice to have a light vegetarian recipe for a mid-day meal.
The appearance of this dairy product looks like a piece of Asian tofu, so you can also see Matar Paneer as a tofu dish from India. The succulent Paneer cubes combined with the softness of the peas offer a stimulating effect when chewing.
Additionally, it is quick to accomplish this food at home (under 40 minutes), so you won't need to spend much time to have a perfect lunch dish on the table.
Though it sounds a bit bizarre at first, this combination of mint and rice tastes better than I thought. Pudina Rice is a creation of Tamil communities in India, and the right ways to make it are to mix the mint leaves paste well with the uncooked (or pre-cooked) rice grains.
The processed Pudina Rice will have a lovely greenish hue and a mild aroma from mint leaves. The scents from the tempering condiments also contribute effectively to the deliciousness of this rice dish. You can make this Indian dish with an instant pot if you have one at home.
Don't worry about the side dish for this rice recipe. Your options vary from pickles, Curries, or Raita. Pudina Rice is a true versatile delicacy.
Still don't know how exactly to cook Pudina Rice? This instruction will help!
In the Indian language, Tehri refers to the vegetarian Biryani that typically has potatoes and cooks together with rice in the same pot. The root veggies used in Tehri (including potatoes) go in chunky forms, and they will be much softer after cooking.
For more information, Allahabad Ki Tehri needs fewer spices than some other rice dishes. Some most essential ones are turmeric, cumin, bay leaves, cardamom, and peppers. The flavor from these components can quickly brighten the food's overall taste.
Here it is, the best recipes for Chickpeas Pilaf (or Chana Pulao). The combination of chickpeas and rice is no longer a strange thing in Indian cuisine, and people there have also developed many ways to create this rice dish.
However, the two recipes I suggest here are a little easier to make, and you won't have to worry about doing wrong things that ruin your dish the first time trying.
Chana Pulao's savory partners are chickpeas, and rice offers a light and neutral taste. But if you don't have time to prepare any fussy recipe, a lunch box of Chickpeas Rice Casserole and some Raita stills provide enough nutrition for you until the next meal.
As you can see from the name, Chana Masala's main ingredients are chickpeas (chana) and a tomato-onion sauce base (Masala). If you have never tried chickpeas before, this dish can be an ideal start.
An average level of tangy-spicy from the sauce and mild bean-y flavor make a killing combo for a lovely meal. Although the best ingredient is always the freshest ones, using canned chickpeas can help to reduce the cooking time. Yet, the choice depends on you.
If you have to make a lunch box for your children and avoid as many spices as possible, Kalan Milagu Varuval is a healthy lunch recipe suitable for adults/kids. Mushroom is the only unchangeable thing in this dish; any other condiments can be adjusted.
To preserve the best texture in every bite of your mushroom dish, you shouldn't cook the whole thing too long. You can also make your twists into this recipe by changing the recommended mushroom types to your preferred ones. As easy as pie!
The recipe I suggest will help you jazz up your regular stir-fried cabbage. This authentic Indian cabbage delicacy is a great side dish next to rice (Sambar Rice) or a simple flatbread (Roti).
Cabbage Poriyal might be a basic vegan recipe, but it is still nutritious enough since you must include some dals (lentils) while cooking it.
For the first time enjoying this delicacy, I was impressed by the robust aroma from mustard seeds, but that taste easily tempted me in the subsequent few bites. Just make it and try to verify my words!
Are you overwhelmed with the chicken recipes? Kofta Curry is your savior. As Kofta literally means "meatballs" in the Indian language, you might immediately understand what the star of this Curry is.
Everything you must do next is to make the meatballs and toss them all in the masala-coconut gravy. Put the lit of your pan on and wait for a couple of minutes; your irresistible delicacy will be ready in a snap.
The most advantageous feature of Kofta Curry is that it is not time-consuming. Even if it is a workday, you can spend less than 30 minutes making a whole batch of this food from scratch. Believe me; the result will be lip-smacking delicious!
Have you ever heard of a curry dish that isn't spicy? It is not a strange dish in any top-tier Indian cookbook, but if it is your first time hearing about Gujarati Kadhi, you should try it once asap!
Gram flour, yogurt, and some fragrant condiments (cinnamon, curry leaves, mustard seeds, cumin, etc.) are basically everything you need for a pot of this Gujarati delicacy. Although there is no meat or chewable things, the dish is still toothsome, thanks to its simplicity.
Dum Aloo is a common Indian dish and is a typical lunch there (you can still have it as an Indian-inspired dinner dish if you want to). The idea of making this delicacy is to braise the deep-fried mini potatoes (principal component) with various curry spices.
From the first spoonful, the intense spiciness from chili and peppercorn will rush into your mouth. Therefore, you should match it with Naan cake or white rice to create more balanced flavors.
Dum Aloo originated in the state of Kashmir, and today, it has appeared all over the territory of India. It's an especially famous dish in Bengal and North India. Today, you can straightforwardly enjoy this dish at home by following the recipes I have provided.
How to cook the best Dum Aloo? Let's find out now!
After chicken, meat, and potato curry, shall I move to a Curry with eggs? Not only a dish for lunchtime, but you can also have Shahi Egg Curry anytime you like. I honestly think this yummy egg recipe can please more eaters' appetites than some other dishes.
It is because Shahi Egg Curry is not too spicy or too mild. The richness of the cashew base help enhance the depth of the treat. Don't hesitate and pack it in a lunch box with some Naan/rice; your colleagues might be amazed about what you have prepared.
This dish might remind you of the mentioned Cauliflower Makhani, yet they are two totally distinguished things. Unlike the Makhani or Masala, Korma is a braised treat with a must-have milky base.
While the traditional variation calls for dairy yogurt, the vegan varieties such as this Cauliflower Korma require coconut milk (or soy yogurt) instead.
Both recipes I give you here require less than an hour to accomplish so that you can opt for them on the days you don't have time to cook your Curry at home.
I have recommended various meaty dishes, and now it is time for an idea of an Indian shrimp dish. Don't ignore marinating the fresh shrimp to avoid any unpleasant seafood smells. All the spices and condiments also assist in boosting the food's flavor beautifully.
After scooping the Coconut Shrimp Curry into the bowl, remember to add some herbs and enjoy right away. The rich curry fragrance with ginger, pepper, and coconut milk paired with the chewy shrimp meat is perfect for serving on the side of steamed rice or flatbreads.
The secret behind Indian Coconut Shrimp Curry is revealed here!
Litti is not too different from ordinary baked goods in terms of appearance. It also has a flour-made crust and a soft and spongy interior. But, the food is more special with the existence of Chokha and spices mixed with fillings (including Sattu, chili, ginger, etc.).
There are varieties of Chokha paste that can accompany your Litti, so you can easily choose the variation that best suits your taste buds. Roll up your sleeves and get to work now!
You Won't Regret Making These Dishes For Your Next Lunch
Everyone has their own preference for foods, but I believe my today's suggestions can meet the requirements of even the pickiest eater. From vegetarian to savory recipes, I have offered you many toothsome delicacies so far, and it is time to experience them.
Please feel free to share your opinions about the menu or share them with your friends/loved ones. It is a massive motivation for me in future articles.
Nutrition Facts
6 servings per container
---
Amount Per ServingCalories520
% Daily Value *
Total Fat 28.9g

45

%
Cholesterol 168mg

57

%
Sodium 990mg

42

%
Potassium 879mg

26

%
Total Carbohydrate 17.3g

6

%

Dietary Fiber 2.8g

12

%
Sugars 8.3g

Protein 44.5g

89

%
---
Calcium

155

%
Iron

4

%
Vitamin D

16

%
* The % Daily Value tells you how much a nutrient in a serving of food contributes to a daily diet. 2,000 calories a day is used for general nutrition advice.