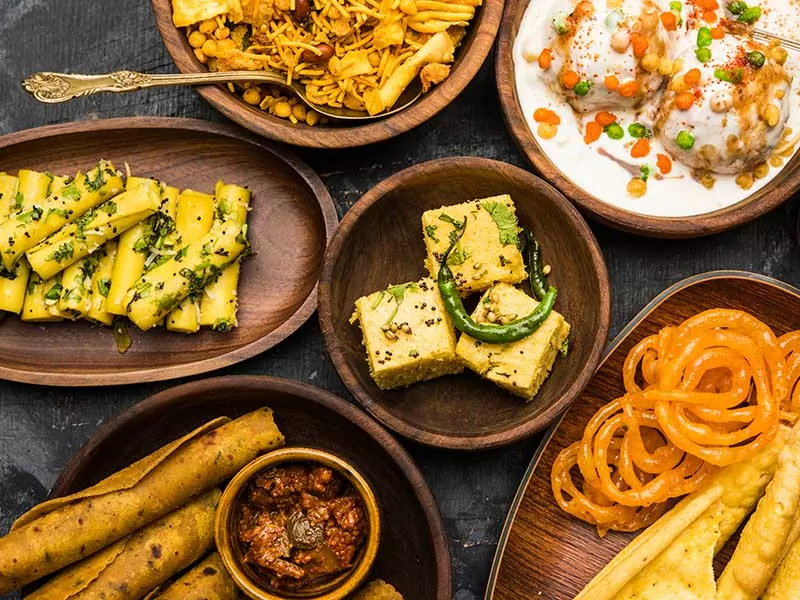 Gujarati foods are the main attraction drawing visitors to Gujarat. There is a traditional Gujarati adage that translates as "Dine in Surat, die in Varanasi is the road to paradise". It proves how much people adore Gujarati cuisine.
Irresistible Gujarati meals are a blast of tastes, a rainbow of colors, and a sweet undertone. Located on India's western coast, Gujarat is famous not just for its passion for the cuisine but also for valuing it as a way of life.
Without further ado, let's take a peek at these scrumptious dishes that make up a whole Gujarati Thali and broaden your knowledge about this regional Indian cuisine.
The Overview of Gujarati Cuisine
First, Gujarat is a western state in India, which is known for its predominantly vegetarian fare though it has a good source of seafood. On the other hand, there are some communities (e.g., Ghanchi, Muslim, or Koli Patel) that consume chicken, mutton, or seafood.
A traditional Gujarati Thali (lunch or dinner platter) comprises various components, namely flatbread, basmati rice, Shaak (spiced vegetables), dal (lentil dishes), and Farsan (snacks).
Similar to other regional Indian cuisines, Gujarati dishes comprise a lot of spices. The prominent flavors in their specialties are sweet, salty, and spicy.
Moreover, some recipes may also include yogurt or buttermilk (Chaas) to help balance the flavors and aid digestion. To create these culinary masterpieces, Gujarati people utilize various cooking techniques as well.
There are 5 main regions of Gujarat that make up this cuisine, including North Gujarat, South Gujarat,  Central Gujarat, Kathiawad, and Kachchh.
Best-Of-Both-World Gujarati Shaak (Spiced Vegetables)
Like Bengali foods, Gujarati foods are famous for their vegetarian dishes called Shaak or Sabzi. These meals not only feature brilliant flavors but also enhance your health condition! Follow me to uncover these brilliant treats in this category!
1. Undhiyu – Mixed Vegetables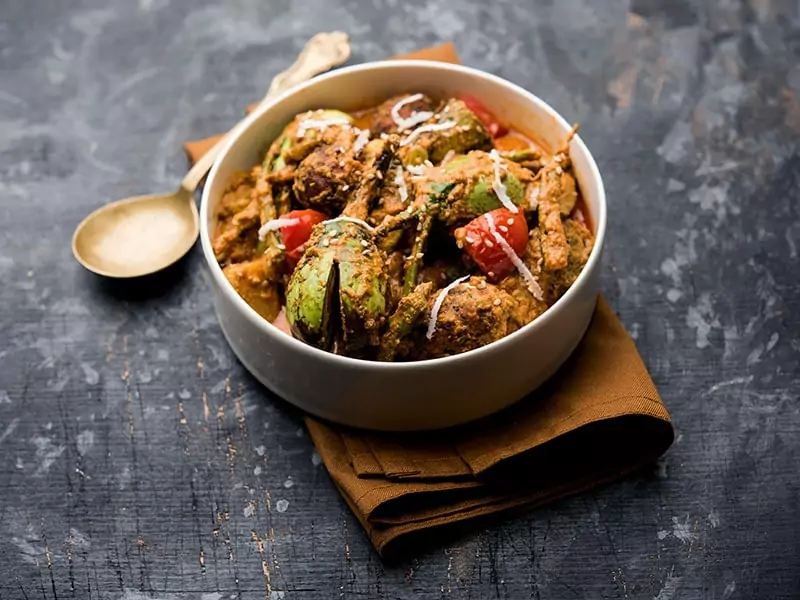 Undhiyu is the reason a Gujarati looks forward to winter. This hearty salad is a traditional Gujarati cuisine baked upside-down in a clay pot (Matla) and comprises various winter vegetables such as eggplants (Brinjals) and broad beans (Surti Papdi).
The dish gets its name from the Gujarati word "Undhu", which means upside-down or inverted. It refers to the distinct baking method mentioned above. In Surat, you will find this seasonal meal everywhere during Uttarayan, the Gujarati kite festival.
After having Dal or other main courses, no local Gujarati can leave this delicacy alone. People will gulp it down with the help of rice, Puri, Shrikhand, or similar sides. Every bite offers a flavorsome taste of homemade spices and richness of nourishing vegetables.
For a complete meal with Undhiyu, you should enjoy it with Pooris or Bajra Roti.
Undhiyu gets its name from the Gujarati word "Undhu", meaning upside down.
2. Alu Vadi or Patra – Colocasia Leaves Rolls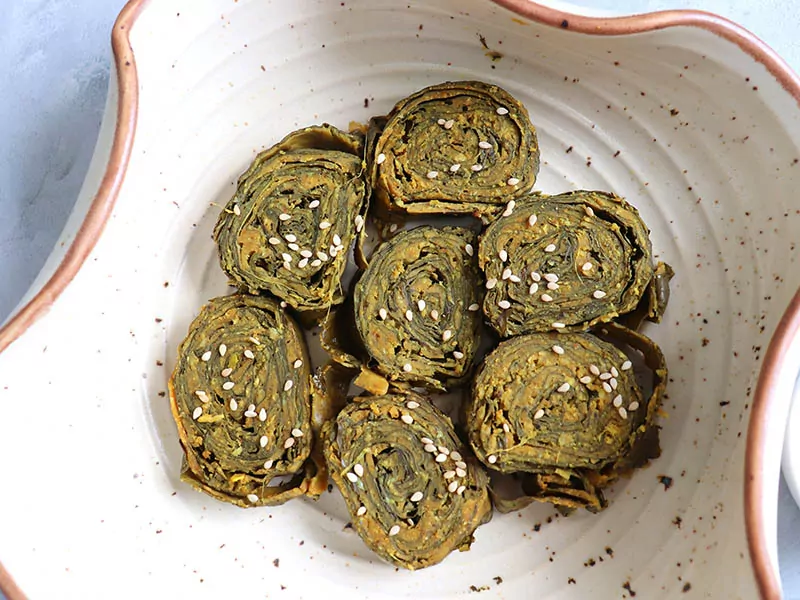 Did you know that the Union Ministry of AYUSH designated it as one of the most traditional food dishes from the AYUSH system of medicine?
Alu Vadi/ Patra (or Patrode, Patarveliya) is a classic Gujarati vegetable dish with an excellent balance of flavor and health!
Also known as Taro leaves, Colocasia leaves are huge, heart-shaped green leaves that are often seen in Indian supermarkets. If you encounter the name "Arbi Ke Patte" or "Alu", rest assured that it also refers to Colocasia leaves.
Colocasia leaves add numerous benefits to the body. Not only aid in hemoglobin levels, but they also contribute to the reduction of chronic inflammation thanks to their content of phenols, tannins, glycosides, and sterols.
When steamed, the iron-rich Colocasia leaves become even more delightful with a smooth besan paste. These leaves are then rolled into little roundels, heated, and sliced.
Patra is one of the most adored foods of the Tulu people, those inhabiting Southwestern India. It is a delectable Shaak that goes exceptionally well with chutneys and a cup of tea.
3. Sev Tamatar Nu Shaak – Sweet And Sour Tomato Curry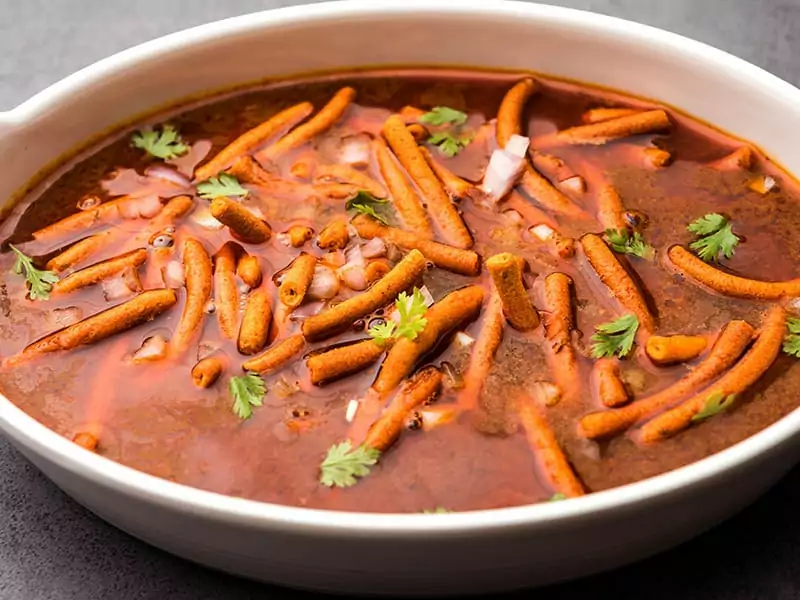 Also known as Sev Tamatar Ki Sabzi, this Shaak dish is a tradition served by the Jain community during Paryushan, an annual 8-day festival of self-introspection.
During this festival, consuming roots and other vegetables are forbidden. Since the Shaak meal contains no root vegetables, onion, or garlic, it easily becomes the best choice among the Jain Gujarati people.
Gujaratis have elevated it to a new level by serving it as a main course vegetable. Each taste of Sev Tamatar Nu Shaak reveals a strong confluence of flavors. It is one of the rare Gujarati meals that bring together sweet, salty, and acidic tastes in one bite.
Children in Gujarati homes hugely adore this tomato-and-spice-curry dish, partly thanks to the crisp Sev acting as a garnish at the time of serving. Act like a real local by enjoying this Shaak meal with flatbreads such as Theplas and Rotis.
4. Chole Masala – Spicy Chickpea Curry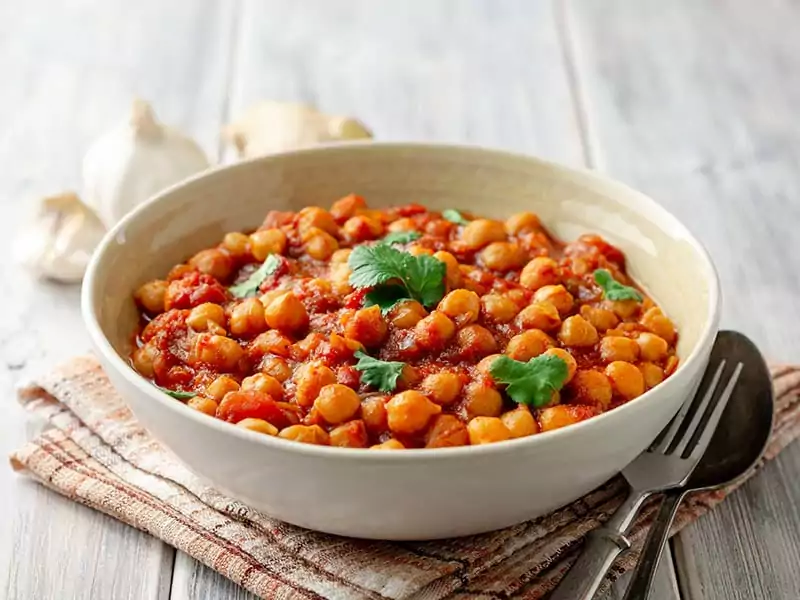 "Chole" is a Punjabi term referring to "chickpeas", while "Masala" means "spices". Thus, this amazing Indian street food is nothing more than perfectly cooked chickpeas with a plethora of spices, tomatoes, and herbs.
Often served on train station platforms, at work, in school canteens, restaurants, and at other festive events, Chole Masala is perhaps India's most popular vegetarian meal. This zesty stew pairs beautifully with rice or Indian flatbreads such as Roti and Naan.
The primary ingredient of this Northern Indian original is Chole (or Chana). It is larger than conventional chickpeas and has a more pungent flavor when cooked.
Due to the dish's growing popularity and its vegan status with high protein content, Chole Masala has achieved global fame in Desi cuisine. As a result, many regional variations exist, such as the delectable Pakistani dish known as Aloo Chole.
Chole (Chana) Masala pairs beautifully with rice and Indian flatbreads.
Fantastic Gujarati Delicacies With Dal
There are a plethora of Dal meals in Gujarat. Most of them have delicate flavors with a mild blend of spice, salt, and sweetness. If you ask a local chef or a Gujarati housewife, you will probably hear their enthusiastic sharing about these Dal dishes below.
5. Khichdi – Rice And Lentil Porridge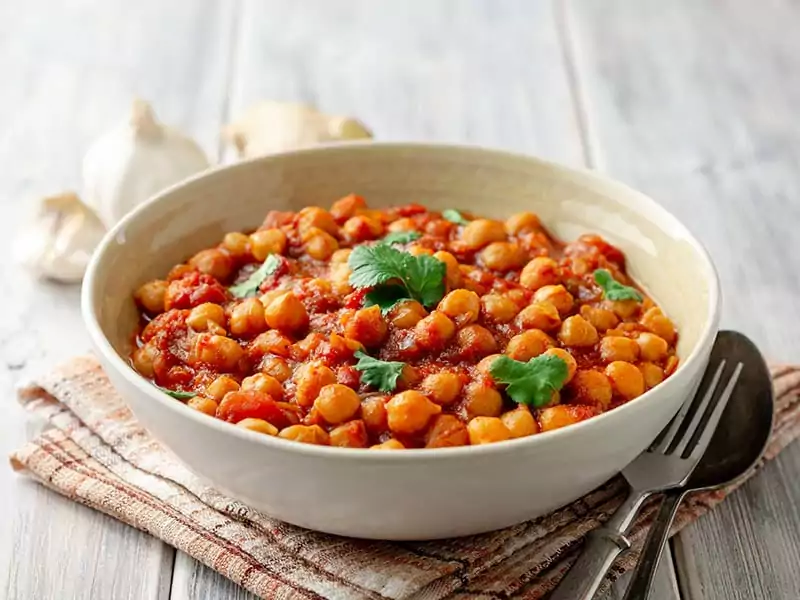 You are looking at a Gujarati dish regarded as the "queen of all meals". It is also the favorite meal of Mr. Narendra Modi, India's current Prime Minister. In 2017, Indian media unofficially labeled Khichdi as the "national dish".
All the above information proves how popular and vital Khichdi is in Gujarati and India in general.
The dish appears in many historical records dating back to 300 BC, when the Greek monarch Seleucus reported during his war in India that rice with pulses was prevalent among inhabitants in the region.
The term "Khichdi" derives from the Sanskrit word "Khiccha", which refers to a meal with rice and lentil (Dal). Khichdi is indeed an easy-to-digest comfort dish widely consumed across India, with each area having a unique variation.
Gujarat also developed its own Khichdi version to suit their palates. Gujarat Khichdi often features rice, grains, veggies, and Ghee. The combination is nutrient-dense and possesses a healthful flavor. Substitute oil for Ghee if you want to make the dish vegan.
Thanks to its simple preparation and ingredients, Khichdi is one of those dishes that most Indian students learn to make after leaving the country. The dish is also very gentle on your stomach, making it perfect for eating when you are sick or feeling unwell.
6. Dal Dhokli – Wheat Flour Noodles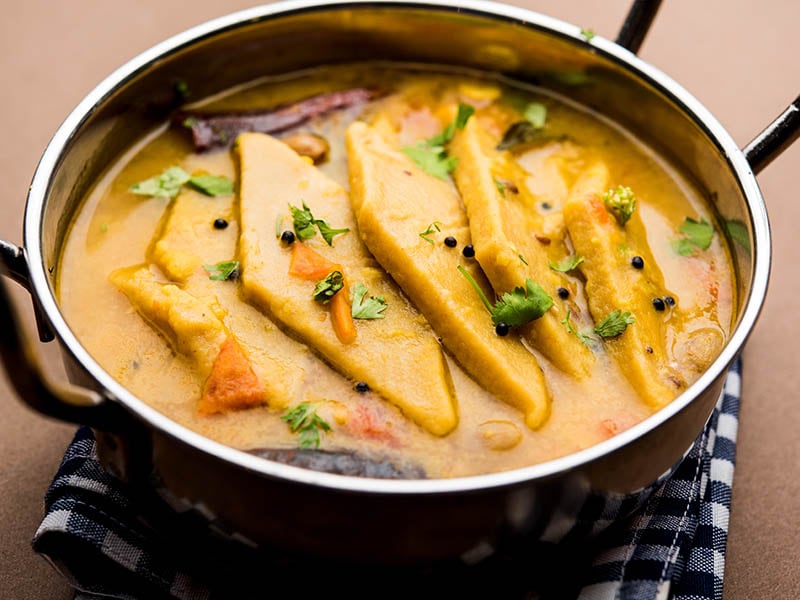 Dal Dhokli is a Gujarati vegetarian dish created by boiling wheat flour noodles in pigeon pea stew. Besides pigeon peas, local Gujaratis use other Dals as well, including Moong (Mung bean) and Masoor (red lentils).
You can find a similar preparation of Dal Dhokli in Marathi under the name of Varanfal or Chkolyaa.
While the dish is popular across Gujarat, the narrative of how it came to be is equally as fascinating as the meal itself. Some thought the Marwaris introduced Dal Dhokli to the region as they sought to establish commercial relations with the outside world.
However, others have a different narrative to tell about its origins. After being surrounded by the Mughals, numerous areas under the realm of the romantic Rajput hero – Prithviraj Chauhan, were seized, preventing the importation of fresh vegetables.
The royal chef, an elderly wise man, was anxious since the queen expected healthful cuisine regardless of the situation. After combining whatever was available, the chef created a fulfilling dinner, which was allegedly Dal Dhokli.
Ever since, this one-pot dish grew so popular that most merchants and travelers altered it to fit their preferences. Apart from being simple to make, nutritious, and full, this winter staple can carry a whole meal on its own.
Thus, serving it without any accompaniments is reasonable. Traditionally, people cook Dal Dhokli on Sundays from leftover Dals. Creating everything from scratch is also possible, although it requires more effort.
7. Sev Usal – Spiced Dried Peas Curry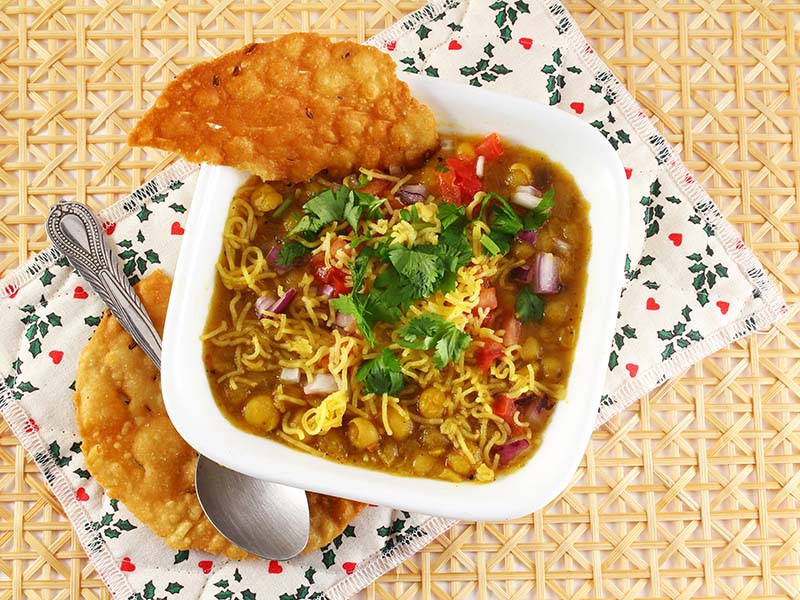 "Sev" refers to deep-fried noodle-like strands of chickpea flour, while "Usal" is an Indian gravy cooked with dried green peas, potatoes, and spices. Together, they form classic Gujarati food with a lip-smacking taste that leaves an indelible mark on your mouth.
The famous street snack consists of a variety of chutneys, spices, peas, and potatoes. Therefore, it has a spicy, tangy flavor with touches of sweetness. You will sense both the delicate feel from green peas, potatoes, and the great crunch from the Sev.
Sev Usal is a full vegan meal you can enjoy as a lunch, supper, or light evening snack. You can easily scale the dish up for a party. Sev Usal becomes your number one comfort cuisine when spiced and served heated, particularly on chilly winter evenings.
If you have no prior experience in tasting Sev Usal before, you should seek the restaurant named Mahakali Sev Usal while in Vadodara. Not only does it have a good reputation, but it also has a long history. Their Sev Usal will not disappoint you!
Sev Usal in Vadodara has both a good reputation and a long history!
Finger-Licking Gujarati Farsan (Snacks)
The world of Indian snacks, especially Gujarati ones, is huge and diversified. More specifically, Farsan is a collective term for a variety of Indian savory snacks, often originating from the states of Gujarat and Maharashtra.
Farsan is typically made using ingredients like gram flour (besan), rice flour, and a mix of spices. And it can be either deep-fried, shallow-fried, or steamed.
Among the vast collection, fluffy Dhokla and delicate Khandvi are the two most popular candidates. Let's further explore the following finger-licking Gujarati Farsan!
8. Khandvi – Soft Rolls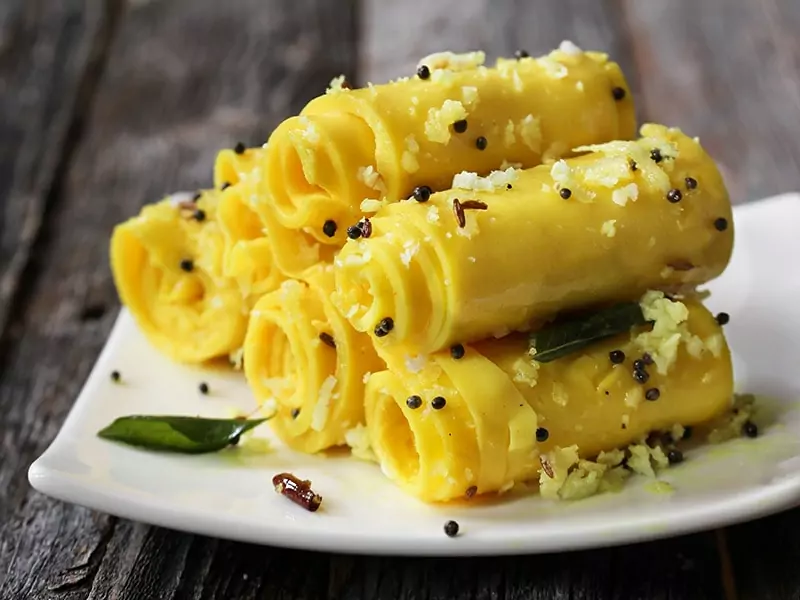 Sometimes referred to as Patuli or Dahivadi, Khandvi is a vibrant yellow dish made with Besan or Gram Flour, firmly wrapped, cut into bite-size pieces, and steamed. Garnish this lovely snack with mustard seeds, curry leaves, and pair it with a delightful cup of tea!
If I have to pick three adjectives to describe Khandvi, I will go for Soft, Mushy, and Light. Although universally adored, no one can dispute that preparing these melt-in-the-mouth rolls at home is a bit challenging.
That is why most people nowadays choose to purchase them pre-made. You will find some incredible Khandvi at Ahmedabad's confectionery stores and street food booths, such as Lijjat Khaman in the Mani Nagar neighborhood.
This Gujarati dish is light on the stomach and delicious on the tongue, making it an excellent option for both morning treats and evening snacks.
9. Gujarati Samosa – Triangular Pastries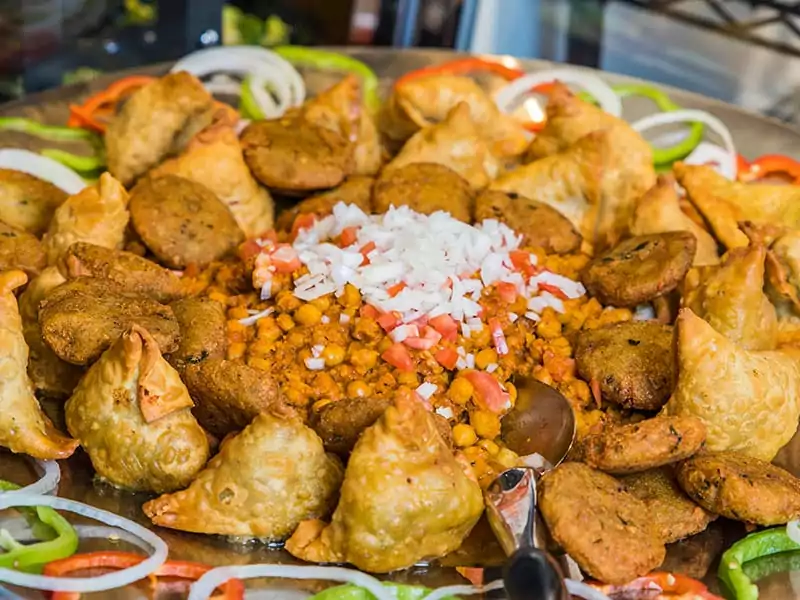 Samosa is undoubtedly the most brilliant star in the constellation of Indian street cuisine. When you bite into a beautiful golden samosa, you taste India – a melting pot of cultures, cuisines, and culinary traditions.
In India, there are tons of Samosa variations you can try. If Punjabi Samosa features mostly potatoes and raisins, the Gujarati version is famous for its cabbage filling.
However, all Indian Samosas share the crisp-crunch of the faintly browned shell combined with the filling's soft texture and spicy flavor. This characteristic is what makes everyone fall head over heels for the food.
While most Indians see Gujarati Samosa as an authentic street snack, this deep-fried, densely-packed spicy delight is indeed a well-traveled Central Asian immigrant.
Its history dates back to the 10th-century medieval Persian era, when it is mentioned in various manuscripts. Then, Middle Eastern cooks brought it to India during the Delhi Sultanate's reign.
Samosa quickly earned the blessings and adoration of Indian aristocracy and developed into a fancy treat for the king. Nowadays, Gujarati Samosa has extended its influence across a wide breadth of social classes, including the most ordinary citizen.
Its universality is the clear indication that this Gujarati pastry will continue and succeed for hundreds of years!
10. Khaman Dhokla – Spongy Squares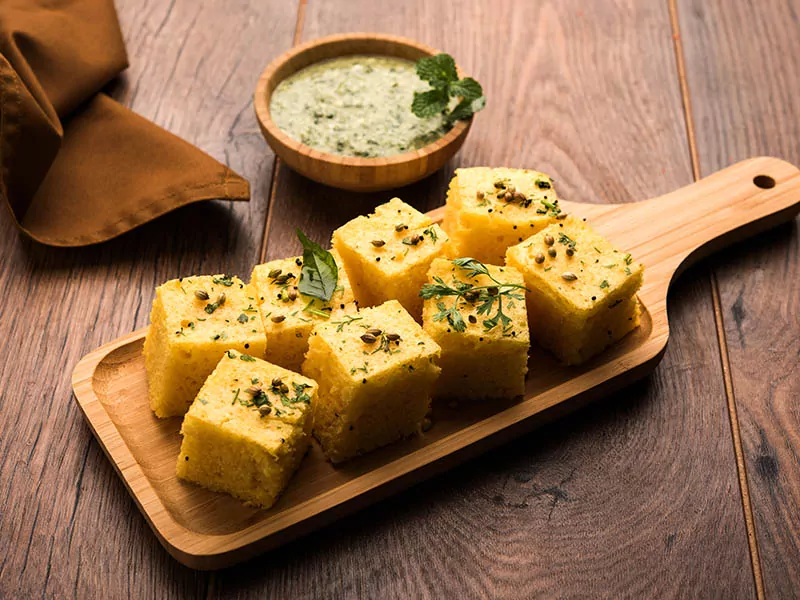 Dhokla is the one Gujarati food that has successfully avoided the stigma of nighttime munchies' unhealthiness. This feather-light and fluffy snack not only satisfies your hunger pangs but also treats your stomach tenderly.
Thanks to the fermented Besan base, this steaming meal is protein-dense and ideal for dieters. It also comprises various nutrients such as riboflavin, folic acid, vitamin K, and biotin. To me, there is no better dish than Dhokla for the "healthiest evening snack" title.
Besides its credited nutritions, Dhokla is extremely adaptable during preparation. If you are not a fan of Besan, you may substitute rice flour, Chana Dal, or Semolina instead. Sugar or sugar syrup also works like magic.
In a nutshell, you are looking at a fermented snack that improves your digestion, promotes regular bowel movements, enhances energy levels, and benefits weight reduction. What are you waiting for? Make it at home and try it for yourself right now!
Dhokla successfully avoids the stigma of nighttime munchies' unhealthiness.
11. Handvo – Gujarati Lentil Cakes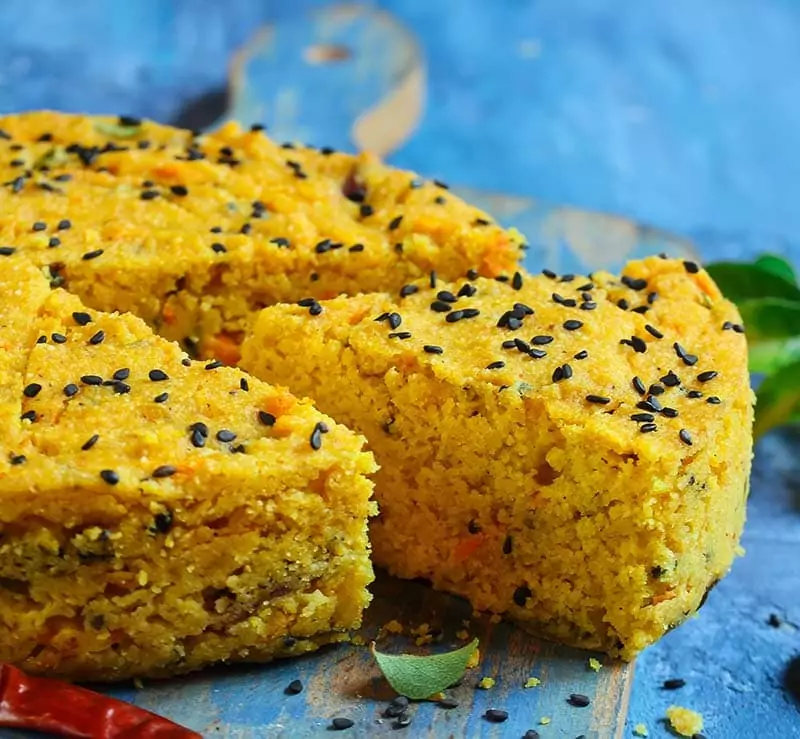 If you seek a simple, fast, healthful, and delicious snack to enjoy, Handvo is your ideal indulgence. This sweet and savory vegan cake is traditionally baked over charcoal or in a pressure cooker, making it soft inside and crisp outside.
While the texture is similar to Dhokla's, Handvo is distinct in its flavor. After applying a tadka of oil, mustard seeds, and curry leaves, Gujaratis prepare the cake in a special type of pressure cooker.
In Gujarati families, this healthy cake is a trendy one-dish dinner. Like most Gujarati snacks, Handvo is best served with a zesty green chutney and a hot cup of tea. True Gujaratis adore their Handvo and never pass up the chance to consume it!
12. Fafda Jalebi – Sweet And Salty Treats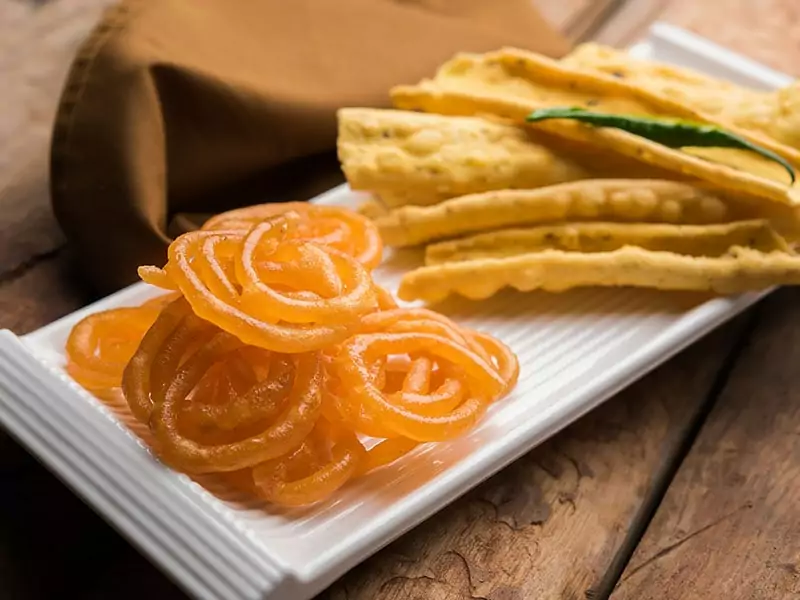 Fafda is a crunchy snack incorporating chickpea flour, whereas Jalebi is a sweet deep-fried wheat flour pretzel dusted with sugar. When combined, the crispy Fafda and sweet Jalebi guarantee to bring you unforgettable gastronomic bliss.
Thanks to the daily soap "Taarak Mehta Ka Ulta Chasma", Fafda Jalebi has become the number one choice for every Gujarati breakfast. You can serve this traditional tea-time snack with a chutney of your choice and fried green chilies on top.
The popularity of this Gujarati dish will surprise you. Almost every street corner in Gujarat, particularly in Ahmedabad, is brimming with shops selling Fafda Jalebi. Among them, Iscon Gathiya at Vastrapur, Ellis Bridge, is one of the finest shops.
Expect to see massive lineups outside these stores for this exquisite breakfast on the weekend!
Fafda Jalebi guarantees to bring you unforgettable gastronomic bliss.
13. Lilva Kachori – Naan Bread With Pigeon Peas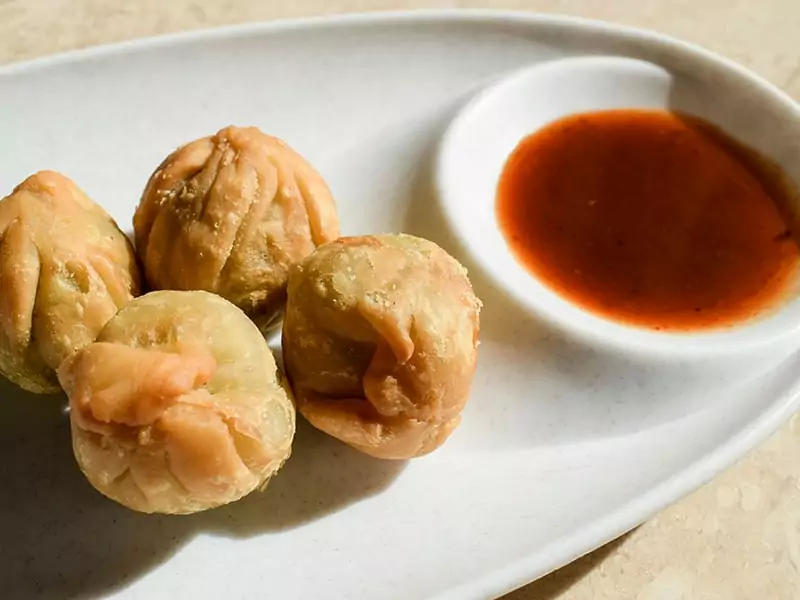 Winter is a wonderful time for Gujaratis since it is a period of celebrations. Kachori is a delicious winter dessert and monsoon teatime snack composed of wheat balls packed with any filling of your preference.
Lilva Kachori is one specific Kachori type featuring tender pigeon peas (Lilva) as its filling.
Though there is no clear proof, the Marwaris claimed to be the inventor of Kachori. Everything began in ancient times when the Marwaris governed many primary commercial routes flowing through the region and had access to the greatest products.
With their innate creativity, the Marwaris produced many great Kachori variations by experimenting with different fillings. The use of mild spices such as Dhaniya and Saunf further reinforces its link to Marwar.
Serve this crispy, delectable snack with a tangy chutney or sauce. The combination will infuse more pleasure into your chilly nights!
14. Khichu – Steamed Rice With Flour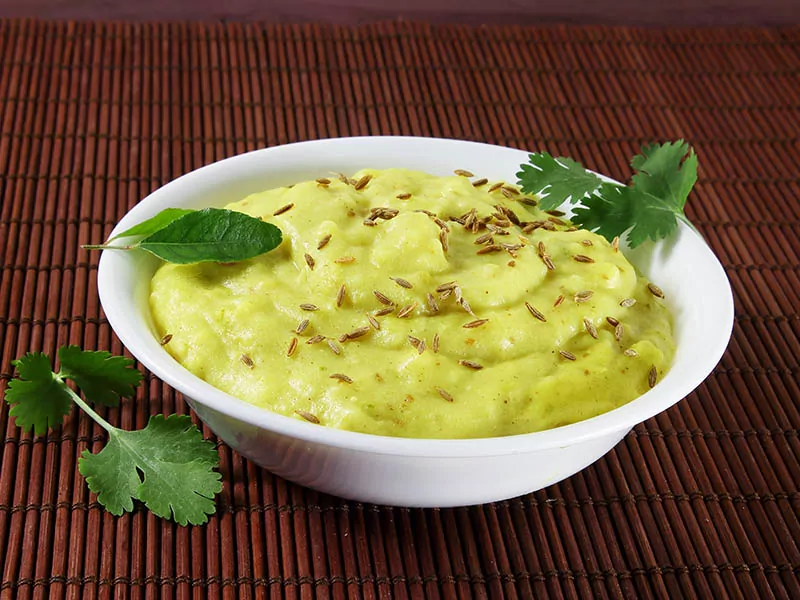 Often known as "Papdi No Lot", Khichu is a snack that both teens and middle-aged ladies in Gujarat go crazy about when enjoying it. What began as a dough for producing Khichiya Papads evolved into a delectable delicacy.
Decades ago, when a few women in Kheda gathered to boil Rice Ka Atta for Khichiya Papads, they sampled and fell in love with the raw material. Then, they decided not to continue with the whole process and called the raw material a dish.
The dish quickly won Gujaratis' hearts. In certain regions, it is popular with the name "Khichiyu". Nowadays, this highly traditional dish is widely available in Ahmedabad, Baroda, and Surat.
Unlike the majority of Gujarati foods that are deep-fried, Khichu balances things out with its pleasant flavor. Monsoon season is the ideal time to enjoy this treat. Bring a drizzle of oil and a pinch of red chili powder to the party for a better dining experience!
15. Methi Na Gota – Fenugreek Leaves Fritters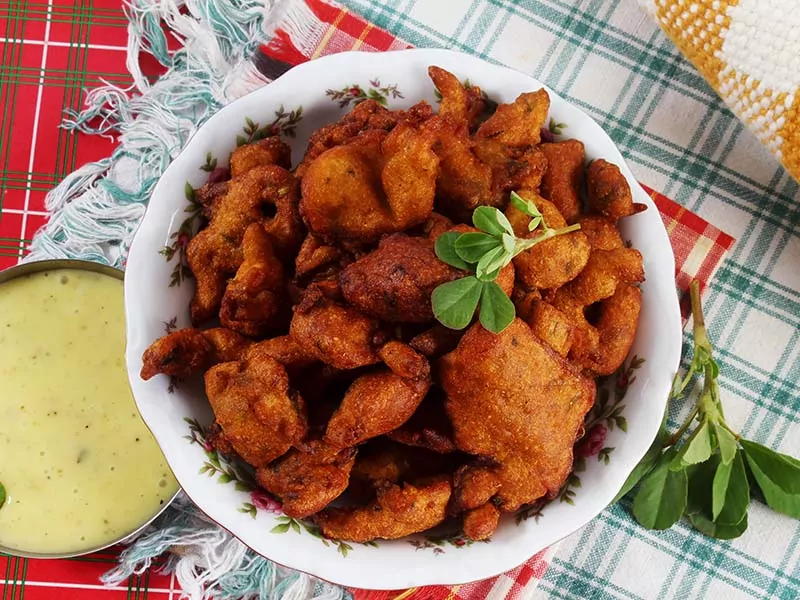 Do you believe you can generate a genuine and straightforward Gujarati snack dish with only two ingredients? No science fiction here! It is possible with Methi Na Gota, a deep-fried fritter featuring fresh Fenugreek leaves and Besan (chickpea flour).
Methi Na Gota is indeed a Gujarati variation of Pakora, an extremely popular dish across India, with each area and state having its unique twist. It originates in the region of Dakor and is a typical treat during Holi.
Accompany this festive dish with a cold dish of curd and a few chopped green chilies. A sweet and sour tamarind chutney or pickle is also a great addition!
16. Chorafali – Fluffy Diwali Snacks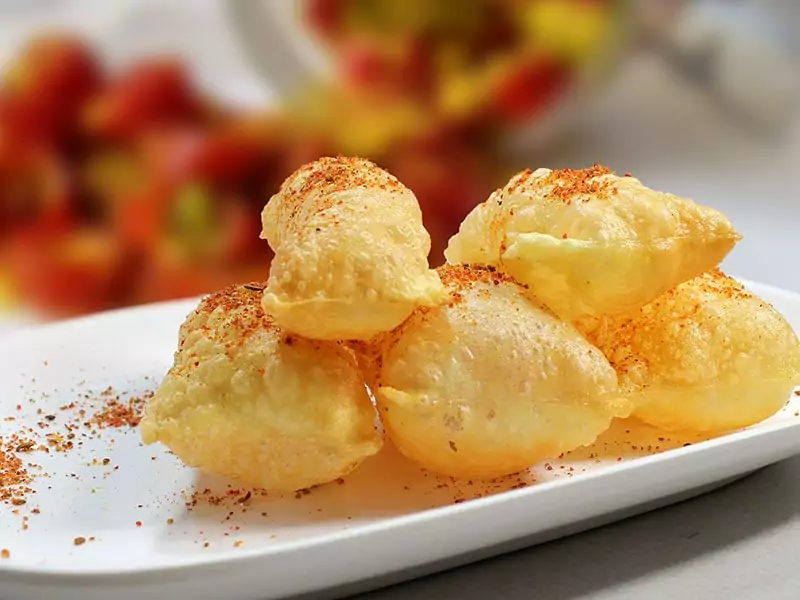 It is rare to find this Gujarati snack once Diwali or Makar Sankranti is over. This melt-in-your-mouth snack is a must-have food during the festival season in Gujarati families. Also known as Chola Dal Fritters, the meal features gram flour and Urad flour.
Often sprinkled with salt and red chili powder, Chorafali is deep-fried dough balls whose flavors are pretty addicting. You can fry this snack at home or get it in packaged form. Both options are fluffy and crunchy enough to satisfy your tastebuds.
Don't worry about leftovers! You can preserve the snack for approximately a week in an airtight container. This dish right here is a must-try for all street fans out there!
17. Dabeli – Pressed-Down Buns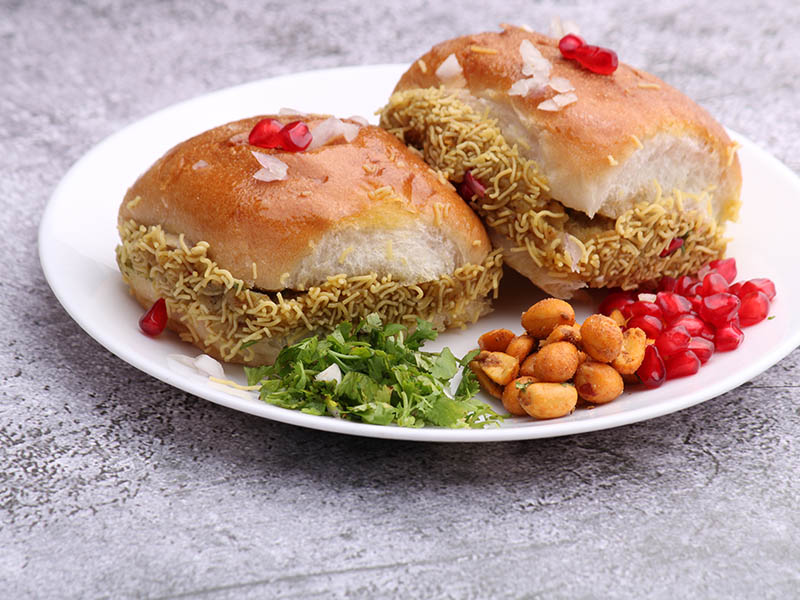 For those who don't know, the term "Dabeli" means "pressed". So, when you encounter a meal named Dalebi, or Kutchi Dabeli, expect to see a mashed potato meal prepared with spices, tamarind, chutney, coconut, pomegranate seeds, and cooked potatoes.
Then, people sandwich the mixture between two bread buns and grill with little oil on a Tawa. What makes Dabeli special is that you have to press and flatten the buns in the process. The final result is crispy, savory, and mouthwatering.
The Kutch area of Gujarat is where this wonderful Dabeli dish comes to life. Not only a breathtakingly beautiful place that attracts visitors worldwide, but the region also hypnotizes their taste buds with this addicting dish.
Due to the use of a similar bread kind, many people may mistakenly assume Dabeli is Vada Pav. This is far from the truth. So, make sure you order the right food when walking around the Kutch area!
To serve a long queue of customers, this stall owner has to serve Dabeli at lightning speed.
18. Gathiya – Fried Besan/Gram Flour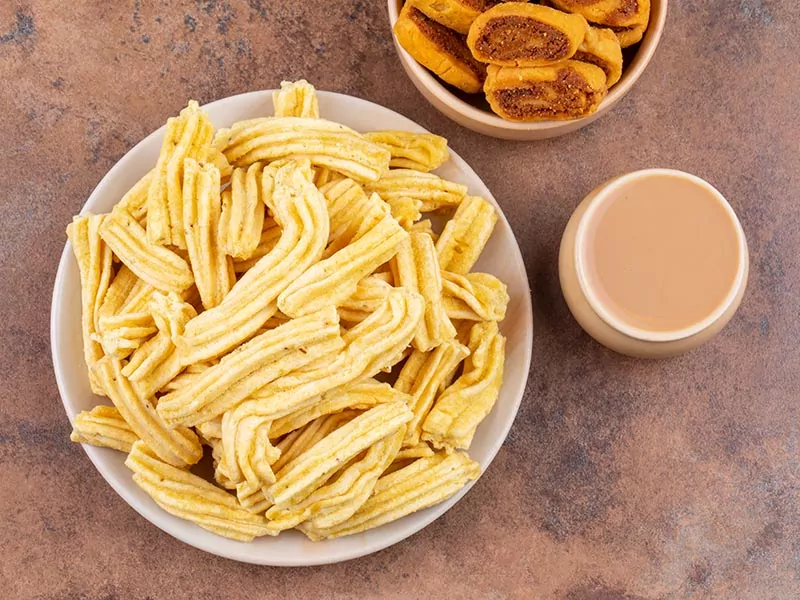 Along with Fafda, Dhokla, and Khandvi, Gathiya (or Ganthiya, Gathia) are among the most famous snacks from Gujarat, India. Your teatime would seem incomplete without a few tidbits, such as the crumbly Gathiya biscuits.
Gathiya has two popular variations: Tikha Gathiya (spicy) and ordinary Gathiya. The distinction lies in the spices added to the dough. After the astonishingly simple preparation, both versions become somewhat soft and not crunchy, as most assume.
Gujaratis take much pride in their Gathiya. You can easily spot thousands of sweet stores and street food carts in Ahmedabad.
Besides feeding your stomach, some Gujarati houses use it as food for migrating birds that visit Nal Sarovar, Gujarat's largest bird sanctuary. However, according to wildlife experts, Gathiya may have a negative impact on the birds' health.
19. Muthiya – Gripping Snacks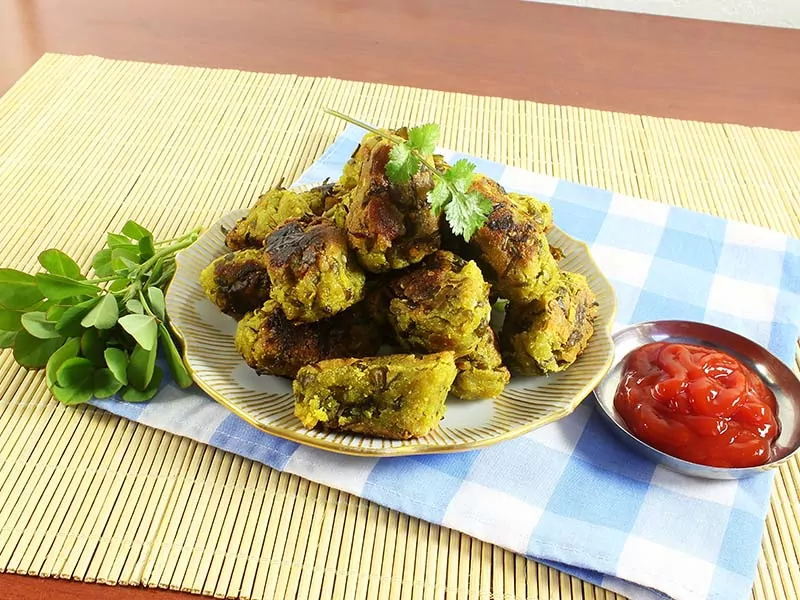 Whether you enjoy the dish for breakfast or as an evening snack with tea, Muthiya is always a perfect candidate. The plate is traditionally made with chickpea flour, chili powder, fenugreek, and salt.
After forming Muthiya into shape with your palms (which gives rise to the dish's name), you can fry or steam it to fit your personal preference. Top it with mustard seeds, sesame seeds, and chopped coriander to elevate its flavor even more.
No one can ever say no to a bowl of delectable Muthiya. Try it to feel the fluffy and juicy filling covered in the golden, crispy exterior!
20. Locho – Steamed Snack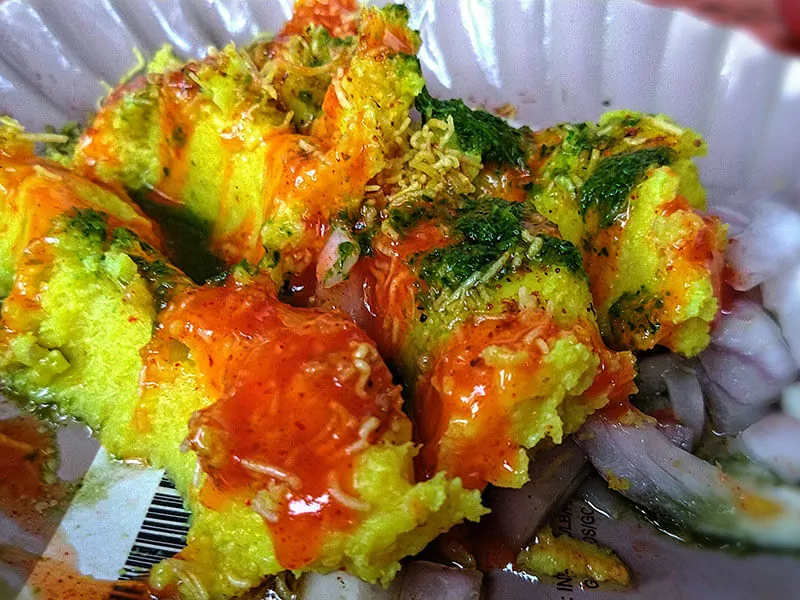 Locho (aka Surti Locho) is a scrumptious snack hailing from the vibrant Gujarati cuisine, particularly from the city of Surat. You can find it easily from local street food stalls, restaurants, and even in households in the region.
Gram flour (besan), split chickpeas (chana dal), poha, urad dal, and a blend of spices are the main stars to form this snack. This is a steamed dish so it has a soft and spongy texture. It is typically garnished with a generous amount of sev, chopped onions, locho masala, and served along with green chutney.
Locho is considered a relatively healthy snack due to its steaming process, which retains most of the nutrients in the ingredients. The gram flour is also a good source of protein, making it a nourishing option for your breakfast or light snack.
While Locho is closely related to Khaman, there are some notable differences between the two dishes. Locho has a softer, more crumbly texture compared to Khaman's sponginess. Additionally, Locho is usually spicier than Khaman, which has a slightly sweeter taste.
Must-Try Flatbread In Gujarat
Flatbread is a quintessential part of Gujarati Thali. Keep reading to discover these dough-based ideas right away!
21. Thepla – Thin Parathas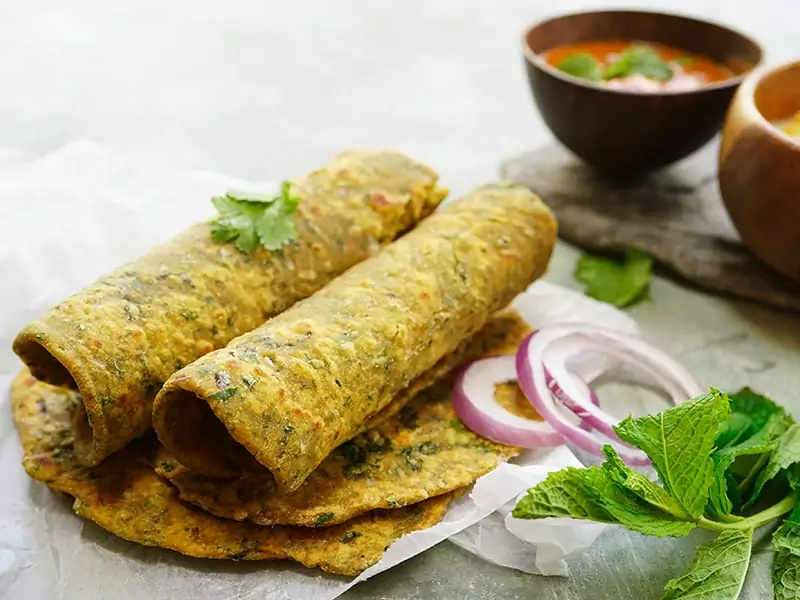 Since Gujarati men are mostly traders, they must travel from town to village to sell their wares. Many women in the region needed a dish for their traveling husbands. And Thepla was born out of such demands.
Nowadays, this nutritious staple is ideal for packing in lunch packs, hiking, vacationing, or simply eating at home. No Gujarati excursion, picnic, international vacation, or even work trip is complete without this omnipresent snack!
Why Thepla but not other dishes? The answer lies in its ability to remain fresh for up to almost a month. Made with gram flour, whole wheat flour, and fenugreek leaves, Thepla makes an excellent snack during the monsoon when paired with a cup of hot tea.
When you combine all components in the Thepla dough properly, the meal emerges with a bright taste that is almost impossible to ignore. Curds and Chunda (sweet mango) are two popular additions you can try.
While Methi (fenugreek) Theplas are the most popular, other variants include Palak (spinach), Amaranth, or Muli (radish) Theplas, all of which are delectable choices for picky eaters.
Thepla can remain fresh for up to almost a month.
22. Khakhra – Crispy Flatbreads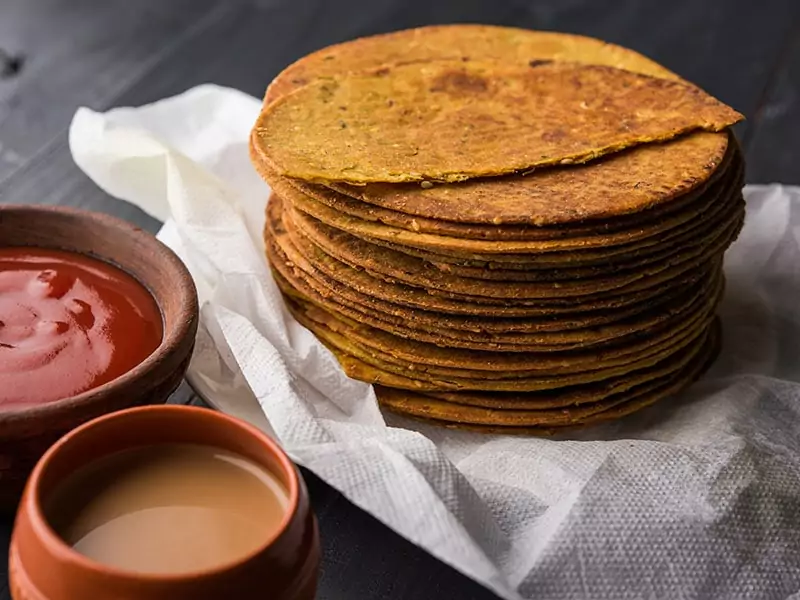 To put it simply, to Gujarati and Jain families, Khakhra is similar to what tea biscuits are to the British! The flattened wheat flour cracker is a traditional snack many people in the region enjoy during breakfast and afternoon tea.
Not only light and delectable, but Khakhra is also healthy as it is a non-fried snack. Each mouthful features mostly moth beans with a few carefully picked spices and a drizzle of oil, guaranteeing a flavor burst in every bite.
If you enjoy Gujarati bread, you will notice that Khakhra and Chapati are similar. In fact, they are so identical that people rumor a Gujarati chef accidentally invented Khakhra when roasting leftover Chapati on a griddle and serving it with tea for the morning.
So, Khakhra is an excellent and healthy choice for your stomach in the morning. You can craft your own Khakhra variation with spices and ingredients of your choice. The end result will always come with distinct flavors!
23. Bhakri – Gujarati Unleavened Bread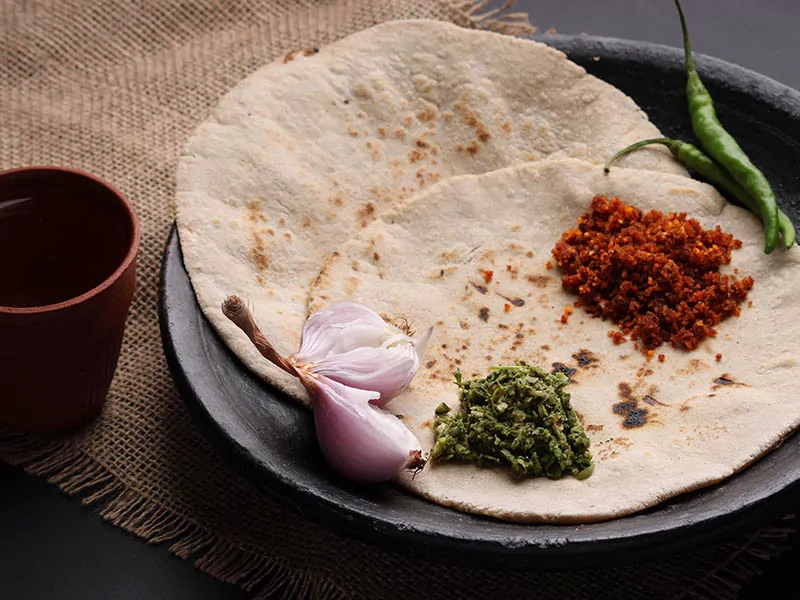 Another must-try flatbread while in Gujarat is Bhakri, a circular bread made of Jowar, Bajra, or Nachni flour. The most frequent Bhakri variety is Jowar Bhakri. Compared to Chapati and Khakhra, Bhakri is thicker and has a softer texture.
Historically, it was a rural staple bread delivered to the farm at the crack of dawn and enjoyed by farmers on the fields as breakfast or lunch. Thanks to its thick texture, Bhakri is an ideal platter for eating chutney, Kharda, or Thecha.
And for those who cannot distinguish Bhakri and Roti, here is a simple tip. Roti is somewhat thinner, while Bhakri is thicker. Another distinction is that Bhakri is wet inside due to the addition of Ghee or oil during the making process.
Decadent Gujarati Mithai (Sweet Treats)
Misthaai (or sweets) is indeed the most appealing section of Gujarati cuisine. The category features unique and enticing ideas on how to satisfy your sweet craving. Here are some options you must seek while in Gujarat!
24. Shrikhand – Yogurt-Based Dessert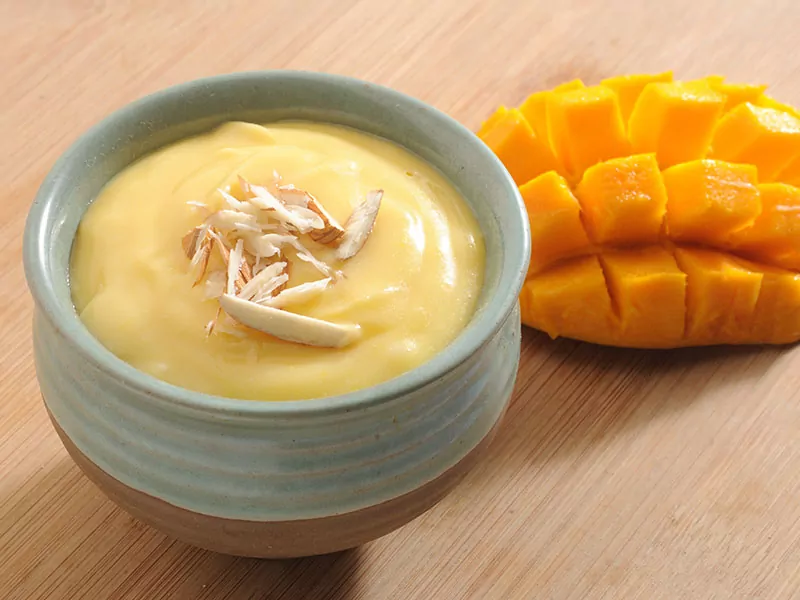 If you come by a rich and creamy yogurt topped with Elaichi powder at temples during the Pujas, you have found a Gujarati gem. Also known as "Matho", Shrikhand is the oldest curd-based sweet included in culinary historian KT Achaya's book.
This Gujarati sweet dish incorporates cardamom, almonds, and other nuts. It is completely fulfilling to enjoy it without any side or with thin Puris if you want. Its well-balanced texture and sweet flavor will soothe your taste buds after the main course.
And don't forget to enjoy it with fruits like mango, pomegranate, grape, or your favorite ones. Overall, it is an irresistible mix. Everything just gets better and better with how this combination elevates your dessert enjoyment.
25. Mohanthal – Nutty Gram Flour Fudges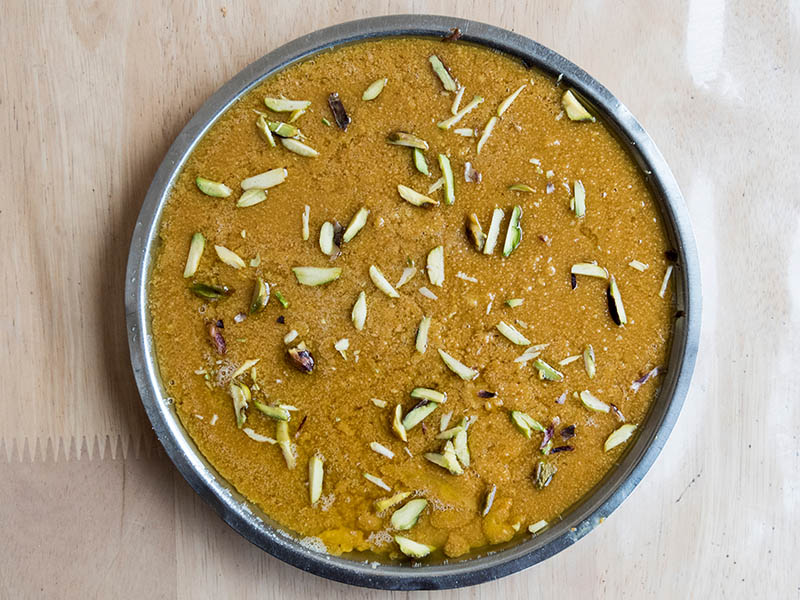 Mohanthal is a soft fudge-like confection prepared with sweetened Besan and flavored with saffron, cardamom, and a plethora of nuts. This sweet dish is a hallmark choice in many Gujarati houses.
Historians assert that Mohanthal was Lord Krishna's favorite dessert and is therefore prepared with great affection during the Janmashtami celebration. Besides festive occasions, you can serve this delightful treat as a teatime snack.
If you prefer a premade Mohanthal, feel free to stop by any mithai store in Gujarat. Almost all mithai stores there offer you this delectable confection. Be careful, as it is hard to leave Gujarat after trying Mohanthal!
26. Surti Ghari – Ghee And Dry Fruits Stuffings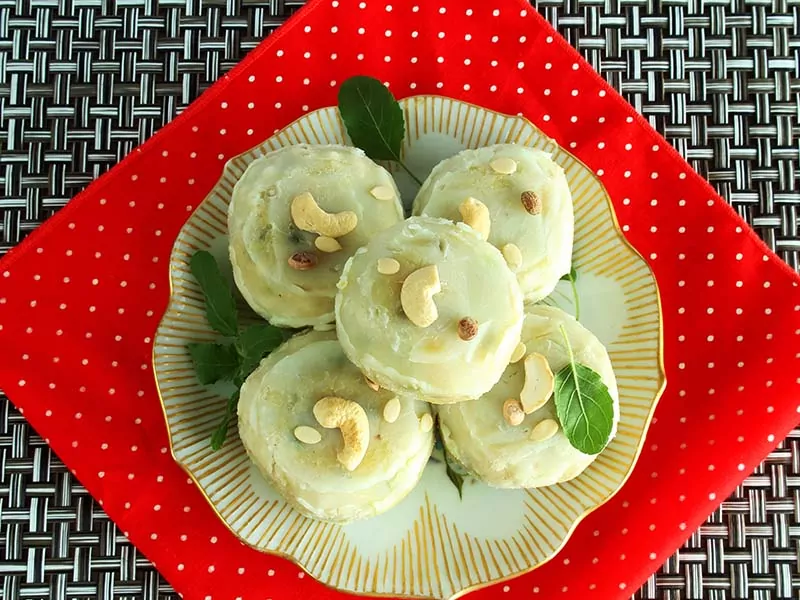 Surti Ghari, or Ghari in short, has an interesting history. The dish was made by Devshankar Shukla for Tata Tope in 1857 on a full moon day (known as Chandi Padwa today). Its purpose is to add vigor to the freedom fighters' army.
Nowadays, Gujaratis enjoy Surti Ghari during Chandi Padwa as well as other less auspicious occasions. Puri batter, Ghee, milk, and sugar are the main ingredients, mixed together and shaped into round balls with a delicious filling.
Local people love to consume copious amounts of Ghari with Bhusu, a spicy and salty appetizer.
Besides being a delectable treat, Ghari also enables many small and large vendors to earn a living during the festival period. Especially on Chandi Padwa, the demand for Surti Ghari is exceptionally high!
27. Gulab Jamun – Fried-ball Sweets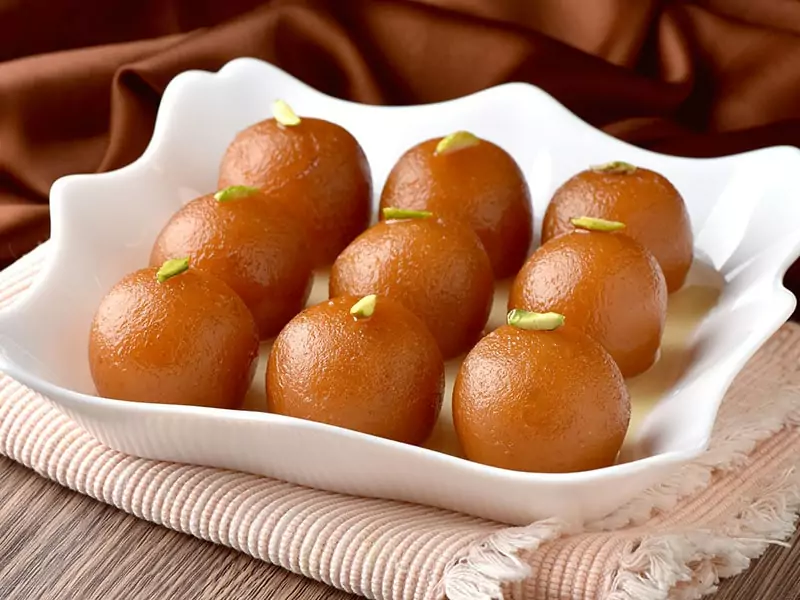 Gulab Jamun is known by several alternative names, such as Lal Mohan, Gulab Jaman, or Gulab Jam. It has been closely associated with the Indian subcontinent's cuisine, including Gujarat.
The primary ingredients in Gulab Jamun are milk solids (e.g., khoya or mawa), which are kneaded with a small amount of all-purpose flour to form a smooth dough. The dough is shaped into small balls, then people will deep-fry them until golden brown before being soaked in a sugar syrup infused with flavors like cardamom, saffron, and rose water.
Gulab Jamun is a favorite sweets among locals and travelers, thanks to its soft, melt-in-your-mouth texture, and irresistible taste. The sugar syrup enhances the sweetness, while the cardamom, saffron, and rose water add subtle and aromatic flavors.
Gulab Jamun is typically served as a dessert at the end of a meal or during special occasions and festivals. It can be enjoyed either warm, cold, or at room temperature. Hot Gulab Jamun is ideal to accompany a scoop of vanilla ice cream or kulfi (frozen dairy dessert).
There are numerous variations of Gulab Jamun across India. Some of these include Kala Jamun, which has a black color and slightly different flavor, Pantua, a Bengali version made with chhena cheese, semolina, ghee, and Bread Gulab Jamun, a contemporary adaptation using crumbled bread as the primary ingredient.
28. Basundi  – Milk-based Dessert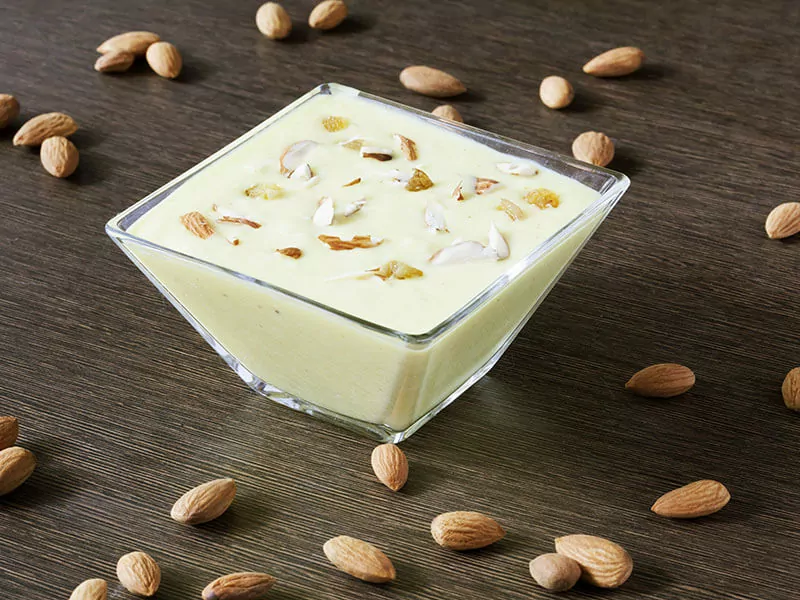 Basundi is a creamy dessert that has made a name for itself in Gujarati cuisine, as well as in the traditional food list of Maharashtra, Andhra Pradesh, Telangana, Tamil Nadu, and Karnataka. 
Basundi comprises full-fat milk, sugar, and several kinds of nuts, such as almonds, pistachios, and cashews. The dessert is flavored with cardamom, nutmeg, and saffron.
To prepare it, people will simmer milk until it reduces to about half its original volume, and then add sugar and flavorings to create a flavorful and rich dessert.
Basundi shares some similarities with Rabri, another popular Indian dessert. Both are milk-based sweets that involve reducing milk to create a thick, creamy consistency. The flavorings used in both dishes are also quite similar, with cardamom and saffron being common ingredients.
However, if you look closer, you will see some differences in texture, as Rabri has layers of cream or malai formed during the reduction process, giving it a slightly grainy texture compared to the smoother Basundi.
Other Beloved Delicacies In Gujarat
Don't skip this part! Below are other signatures to taste the flavor of Gujarat, India.
29. Gujarati Kadhi – Gujarati Curd Curry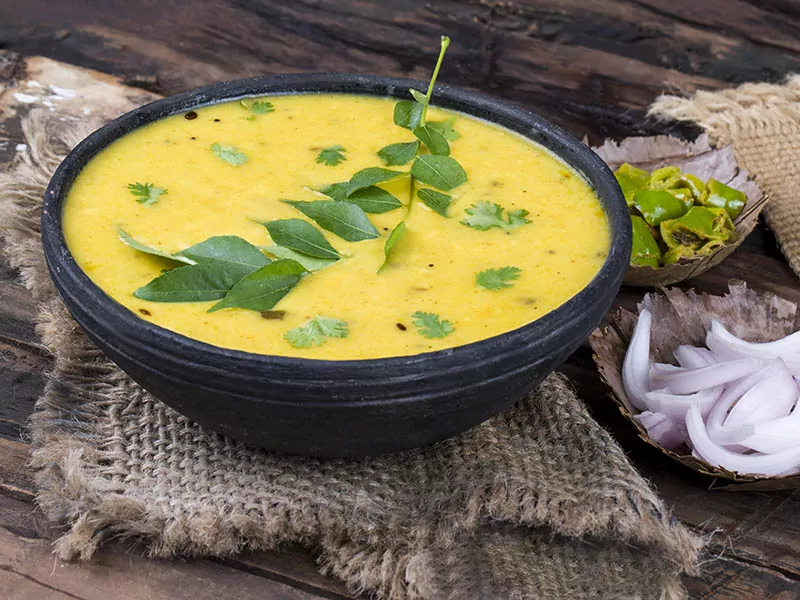 Did you know that Gujarati was the dish that Barack Obama enjoyed during his 2015 visit to India? This Indian staple was also the choice of Chinese president Xi Jinping on his Ahmedabad trip.
In India, Kadhi comes in various forms, depending on where you are. There are Sindhi Kadhi, Bohri Kadhi, and Rajasthani Kadhi. However, the Gujarati variation stands out from the rest.
Yogurt is the primary ingredient, providing the base for the dish, as well as its tanginess. Another important component is gram flour (besan, which is a thickening agent to give the dish its creamy consistency. Green chilies, jaggery/sugar, and spices are typical flavorings of this dish.
Gujarati Kadhi plays an essential part in Gujarat's diet. This refreshing curry with sweet undertones is a mainstay in practically every Indian home, an ideal option for escaping the summer heat.
The inclusion of Koftas or Pakoras greatly enhances the texture of this yellow curry. You can either make it for lunch or mix it with steamed rice and soft Rotis for a substantial weekend dinner.
30. Memoni Biryani
Originating from the Memon community in the Gujarat-Sindh region, Memoni Biryani (or Kutchi biryani) is a flavorsome dish that has made a mark in Gujarati cuisine.
This Biryani version is primarily made with basmati rice, lamb yogurt, potatoes, deep fried onion, and an assortment of aromatic spices.
Therefore, the dish exudes an appetizing aroma. The use of fresh herbs like mint and coriander adds a refreshing touch to the overall taste.
While there are numerous biryani variations across India, Memoni Biryani stands out for several reasons. It is generally much spicier compared to other biryani types. The dish also places a touch of tomatoes, which contribute a distinct tanginess and color.
Finally, don't mistake Pulao and Biryani if you are new to Indian foods. Though both are rice dishes, Pulao is much simpler than Biryani in terms of flavors and complexity.
31. Chikki – Sesame Candies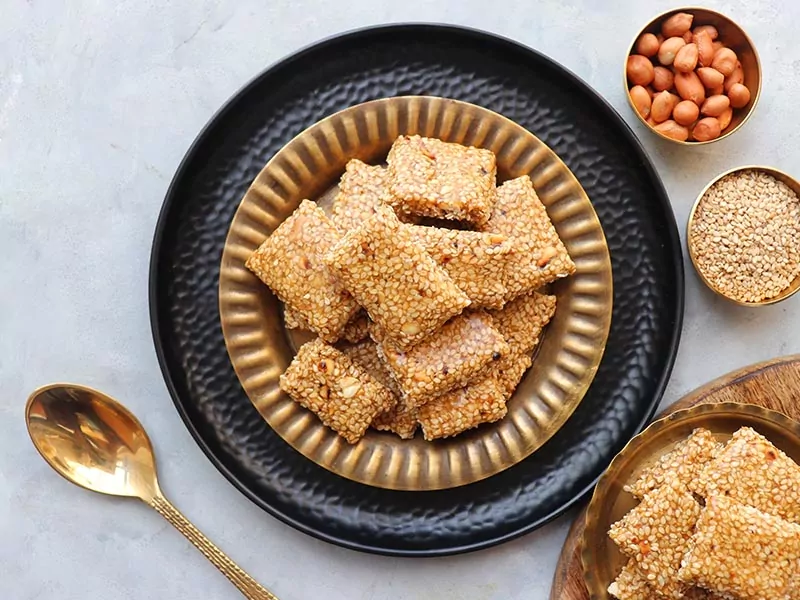 Gujarati sweets are renowned for their diversity, with many delicacies being regional in origin. Yet, nothing captures the breadth and richness of such a category like the Chikki. Although varying by region, practically everyone here nibbles on some kind of Chikki.
Often served throughout the winter months, these sweet candies are distinct for their special ingredient of peanuts, jaggery, cashews, or sesame. Each ingredient paves the way for a unique Chikki type.
It is believed that Chikki first appeared in Lonavla, a hill station near Mumbai, in 1888. At the time, an innovative candy store owner named Maganlal Agarwal created a sweet called "Gud Dani", a mix of jaggery, peanuts, and Ghee.
In the early 20th century, thanks to the establishment of railway service between Lonavala and Mumbai, Chikki became so popular with passengers that the Indian Railways commissioned Agarwal to make it in large quantities for sale on the trains.
Nowadays, "Gud Dani" transforms into Chikki, a staple in the Gujarati sweet world! Missing out on such a treat would mark your Gujarati trip incomplete!
Each ingredient you choose paves the way for a unique Chikki type.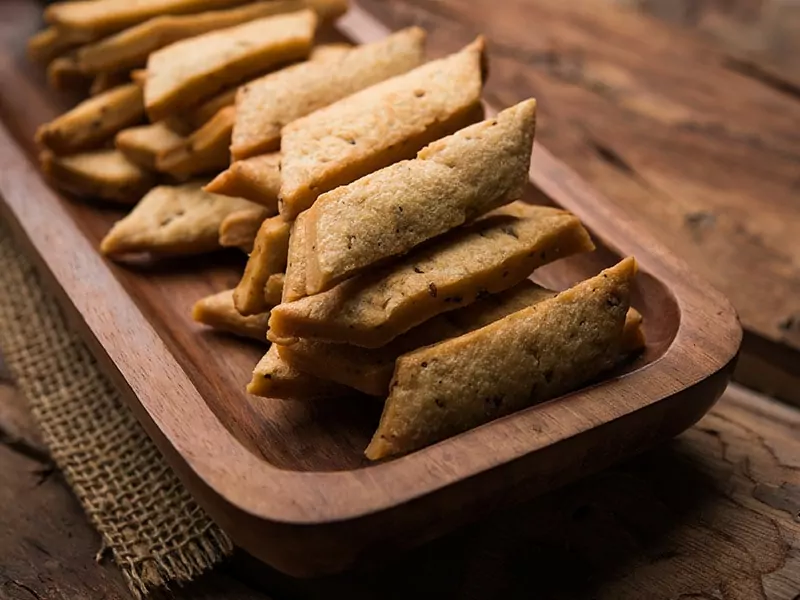 Derived from the Persian Shekarpareh, Shakkarpara is the Gujarati adaptation of the diamond-shaped sugar-dusted biscuit. Not only popular in India, but the treat is also prevalent among Indian diasporas in North America, Australia, and New Zealand.
Be aware that Shakkparpara is distinct from Shankarpali, a Maharashtrian delicacy. If the latter is made with sweet dough and not covered in sugar syrup, the former utilizes unsweetened dough covered in sugar syrup later on.
As a result, the flavor and texture of the two treats are radically different. Whatever method you use, a well-prepared Shakkapara is crispy and crunchy but not too hard or sugary.
Enjoy this Gujarati sweet during the Ganesh Chaturthi, Diwali, and Christmas holidays. Yet, whenever you crave something a bit sweet to crunch on, lay your love on Shakkarpara!
33. Gujiya – Sweet Fried Pastry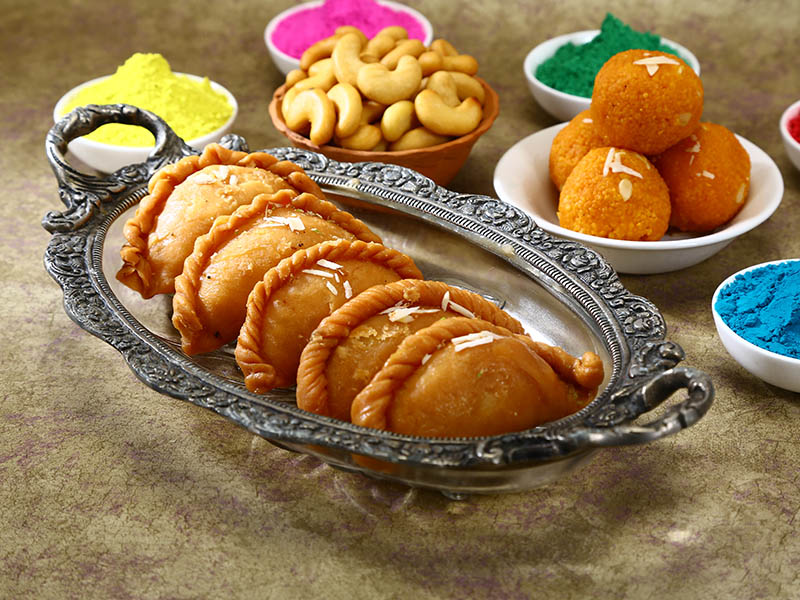 Gujiya (or Ghughara) is a sweet deep-fried crescent dough indigenous to the Indian subcontinent. Don't be surprised if you find each Gujarati house you visit has its own Gujiya variation. Although the shapes are different, their flavors remain consistent!
The first reference to Gujiya goes all the way back to the 13th century when the sweet was prepared by covering a jaggery-honey combination with wheat flour and sun-drying it.
This sticky and tasty sweet is a brilliant addition to Holi's food list. If I get to rank all the options there, Gujiya will definitely be in the top three. Besides the deep-fried version, you can choose the baked Gujiya for a healthier experience.
Local Gujaratis adore Gujiya because it is crispy outside while remaining soft inside. Each mouthful of this delectable snack will melt on your tongue. There is no need for a side dish. The meal is delicious on its own!
FAQs
Overall, Gujarat cuisine is a vibrant and important part of the state's culture and heritage, So don't overlook the answers to the questions below, as they provide more insight into the culinary traditions of this wonderful region.
Gujarati Foods Are Much More Diversified!
Gujarati foods may originate in Western India but have evolved into a worldwide cuisine. Therefore, my list above is just a brief look into the diversified cuisine of the Indian state.
I bet those presented Gujarati dishes have successfully set your taste buds on fire! Share your thoughts if you have experienced any of those flavor-packed meals before.
Last but not least, make sure to check out my food lists of other countries. I love to see you drooling while reading them!