Thai street food plays a major role in either the nation's gastronomy or culture. Interestingly, no matter how complicated the dish is, you can usually find it selling the vendors. Therefore, almost any kind of food is qualified as street food here.
Thai cuisine is also famous for spicy food! However, most dishes also include 3 other tastes: sweet, sour, and salty. Hence, you can tell that each Thai food is a magnificent flavorful fusion. Keep reading to know more and fall into Thai flavorful street food!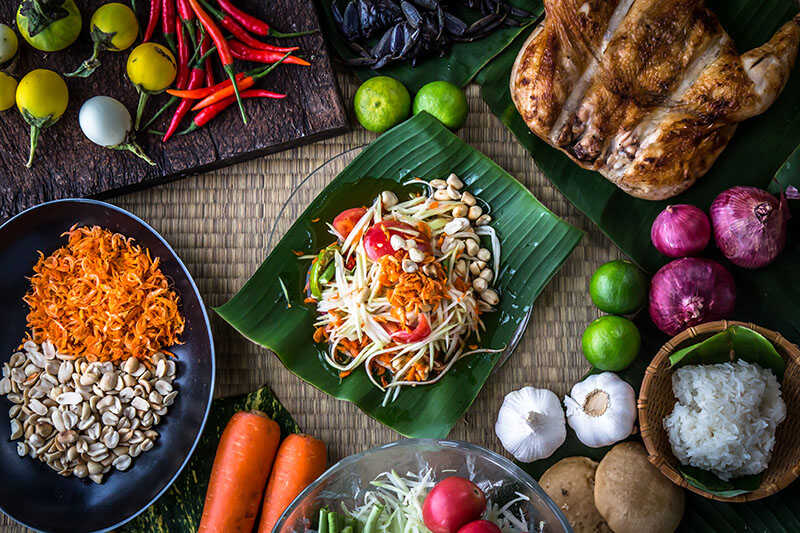 In Central Thailand
Famous as the most developed region of Thailand, the Central was a fertile area in the past. When talking about Thai night life, perhaps the first thing crossing your mind is the exciting sight of street carts filled with delicious foods in Bangkok. Let's learn all about them now!
1. Pad Thai
(Stir-Fried Noodles)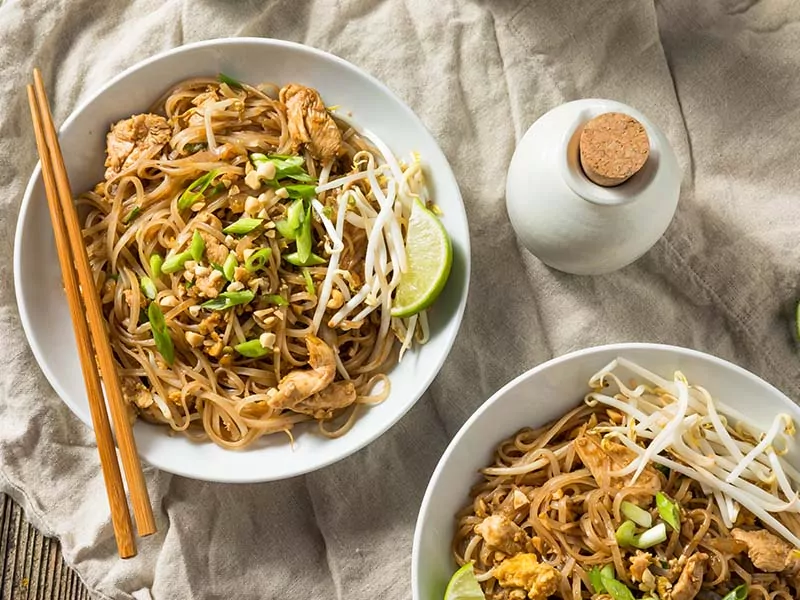 Pad Thai is perhaps the most famous and unskippable Thai dish. Interestingly, this culinary staple was actually created by a Prime Minister in the 1930s, Plaek Phibunsongkhram. World War II and the floods were causing rice shortages at that time.
Moreover, Thailand is also on its way to building national identity during this era. Therefore, the government has promoted noodles as a way to either reduce domestic rice consumption or establish a national dish. As a result, the first Pad Thai was made in Bangkok.
The traditional recipe call for tofu, egg, chicken, prawn, and of course, noodles – all stir-fried on a wok with hearty vegetables. Initially, the former government used Chinese noodles to create this dish but eventually invented their own noodles as a way to polish nationalism.
Then, the new kind of Thai-originated noodles was named Sen Chan, after the province name of Chanthaburi. It's a kind of thin dried noodles that will be rehydrated once cooked. The Thais not only use Sen Chan for Pad Thai but also many other noodle dishes nowadays.
Phibunsongkhram called his invention Pad. Today, though there are countless variations, many street food vendors still use his recipe. The sour taste of tamarind juice and the spiciness of red chili pepper won't allow you to forget the flavorful Pad Thai.
2. Pad See Ew
(Stir-Fried Noodles With Soy Sauce)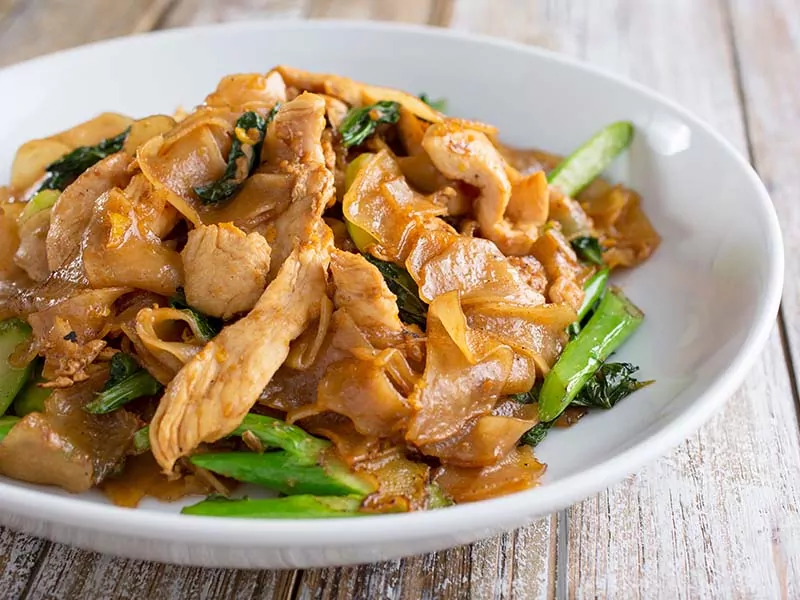 As the name has suggested, this is a variation of Pad Thai though it's more likely related to a well-known recipe from China – stir-fried noodles. These immigrants either inspire the noodles or the cooking method of Pad See Ew.
The Thais create this dish with Kuaitiao – a Chinese-style board rice noodle – with thick soy sauces, tofu, meat, and broccoli. The meat and vegetable bases for this dish are hearty, hence you'll be full of energy for hours after having it.
3. Tom Yum Goong
(Spicy Shrimp Soup)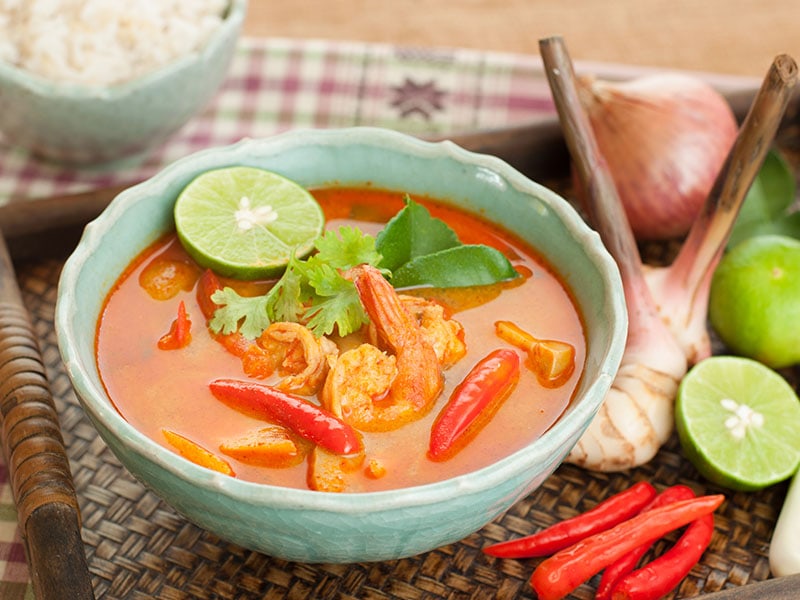 Tom Yum is a spicy, sour, creamy soup that originated in Thailand and is famous among other Asian foods. You can even find it as a flavor of Thai instant noodles or snacks.
Interestingly, while Tom Yum only indicates the soup base, many people have mistaken that shrimp as its vital ingredient for a long time. So that now "Tom Yum" and "Tom Yum Goong" – which includes shrimp – are interchangeable.
On the other hand, the irreplaceable elements of this culinary staple are coconut milk, chili pepper, lemongrass, and most importantly, Thai lime/Kaffir lime leaves.
Tom Yum Goong is a perfect dish to welcome you to a Thai party. However, it can also be a nice main dish with steamed rice.
4. Kuai Tiao Ruea
(Boat Noodle Soup)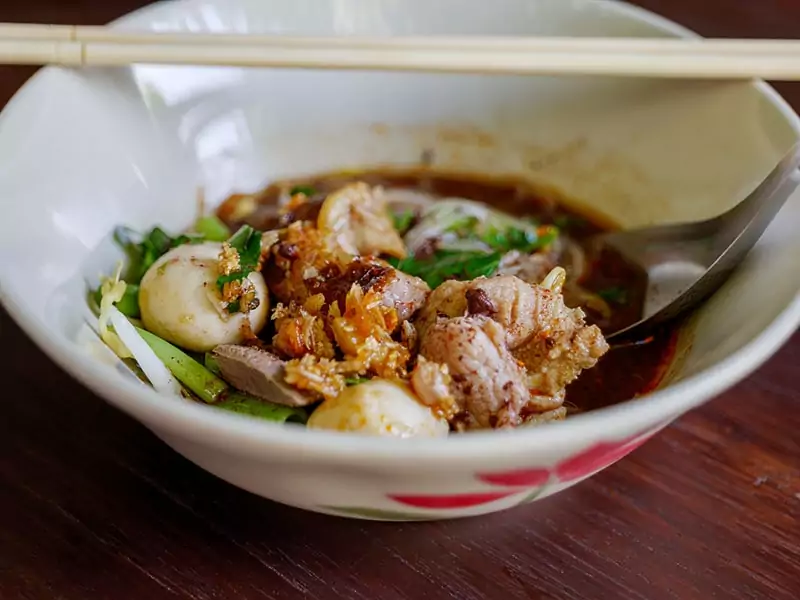 A lovely name for a delicious noodle dish. Initially, this dish is sold in the float markets or on boats navigated across the big cities' canals. You can also find Kuai Tiao Ruea on the streets or Thai restaurants these days as well.
Though the options for the broth and topping are numerous, the bowl consists of bean sprout, morning glory, pork liver, and meat bases. Some traditional Thai recipes also top the dish with animal blood in order to thicken and give a distinct flavor.
The bowl size to serve Kuai Tiao Ruea is usually small due to the way people sold it in the old days. There was only one person to work on everything on a small boat, so if the bowls are big, it'll less be convenient and rugged to handle it to the customer.
5. Gaeng Keow Wan Gai
(Green Curry)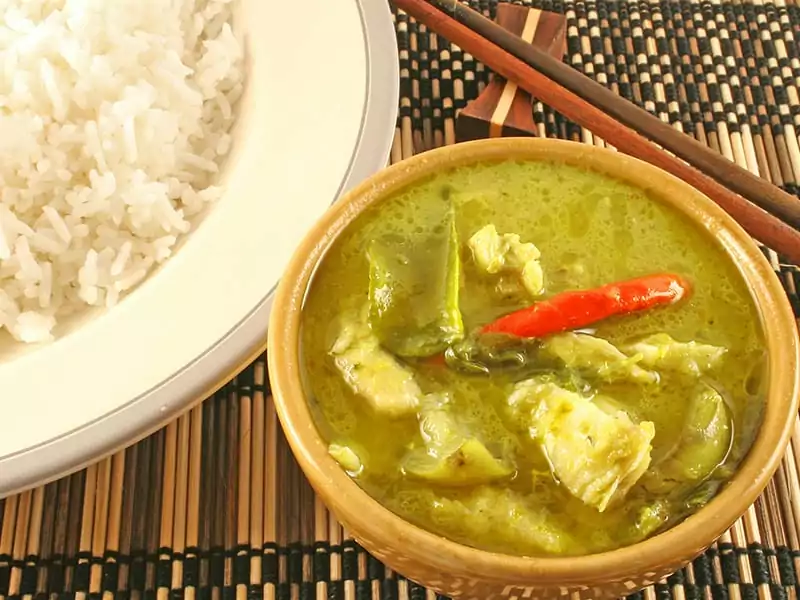 Gaeng Keow Wan Gai is originated in central Thailand. It's a combination of chicken, baby eggplant, lemongrass, coconut milk, and kaffir lime leaves. The green curry paste consists of many spices, but the aroma you can feel is mostly from cumin and coriander.
This paste was an invention of the Thais during the 1900s and the 1920s, under King Rama VI or King Rama VII era.
The word "Wan" in Thai means "sweet green", indicating the mild green color of the dish, not the taste. Compared with other curries in Thailand, you can consider that Gaeng Keow Wan Gai has a more pungent flavor.
6. Satay
(Grilled Meat With Peanut Sauce)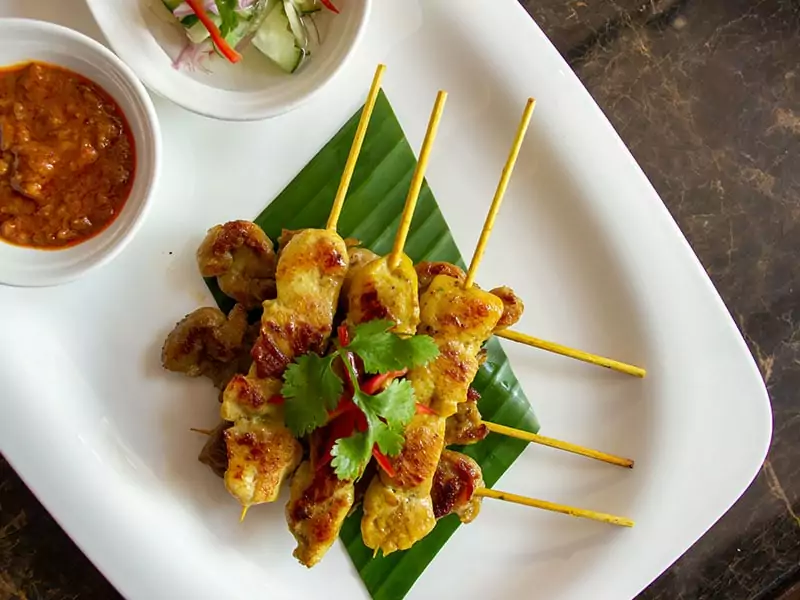 If you're from America and into Thai cuisine, you must have mistaken that Satay is a traditional dish of Thailand, but that's not true. Actually, Thais Satay stems from the familiar Indonesian gastronomy.
There are many theories about this mesmerizing food's origin and development story. Still, the first restaurant to serve it's in Yaowarat Road, Bangkok, which then moved to Rama IV Road more than 50 years ago.
The Thais Satay is not so distant from the original version, consisting of skews of grilled meat with a sauce combination of soy and peanut. Though you can use any type of meat for Satay, Thai street cooks mostly offer marinated chicken or pork.
7. Malang Tod
(Fried Insects)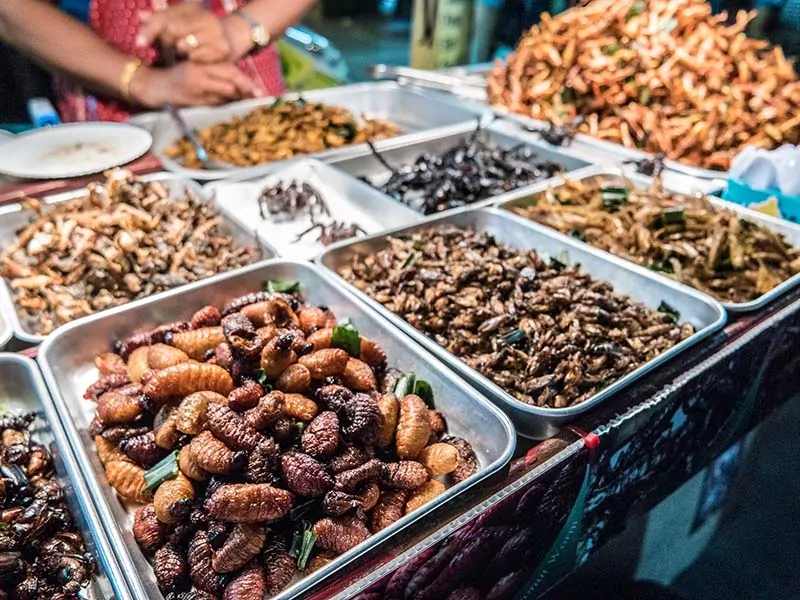 Go to lively Thais night market, and surely you'll see the eye-catching fried insects stalls. The locals call these Malang Tod, indicating a group of fried insects such as crickets, beetles, worms, and grasshoppers.
Most recommendations for tourists to enjoy Malang Tod leads to Khao San Road, Bangkok. You can effortlessly find fried insects along this street.
In addition, there are many popular variations of Malang Tod with specific names, such as Hon Mhai – silkworm, or Rod Duan – bamboo caterpillar. The Thais will have this extraordinary food with fish sauce or soy sauce and some peppers.
Though it seems weird to eat insects, you'll be surprised by the nutty and crunchy flavor of Malang Tod right on the first try. These also provide a good range of nutrients since the protein amount per serving of Malang Tod is comparative to a whole chicken breast.
Go to Thailand and find the true food experience with Malang Tod like this!
8. Khanom Buang
(Thai Crepe)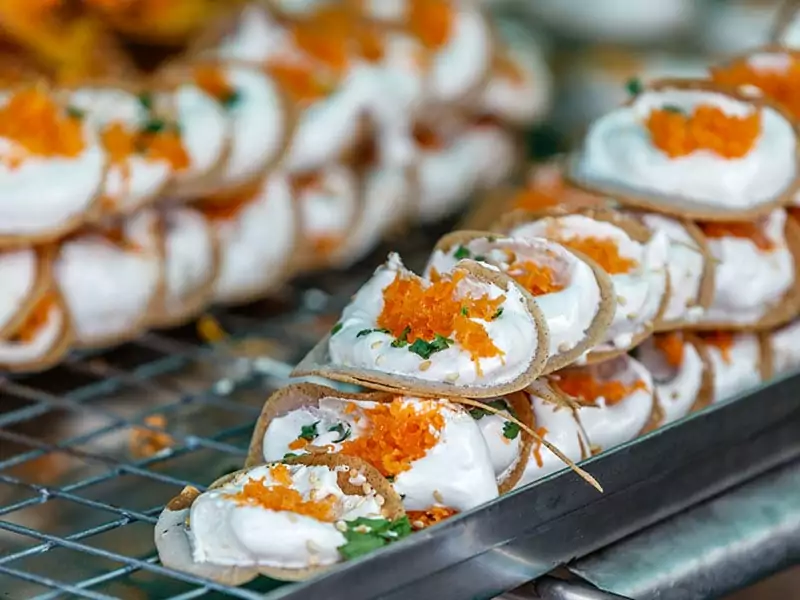 Khanom Buang is an ancient Thai sweet dish that has appeared as street food for innumerable eras. There are many theories about the origin of Khanom Buang, about it's an Indian invention or a French crepe influence.
Still, the most reliable pieces of information about its root are linked to the Ayutthaya period. Basically, you can see that Khanom is similar to Tacos. The Thais make Khanom Buang with a thin crispy pancake and top it with shredded coconuts and meringue.
Though you may find other variations of Khanom Buang, the most popular additions are Foi Thong – a cultural topping of fried egg or yolk strips. This sweet treat is also more famous in Bangkok, especially in Banglamphu and Talat Phlu regions.
9. Khao Kha Moo
(Stewed Pork Leg On Rice)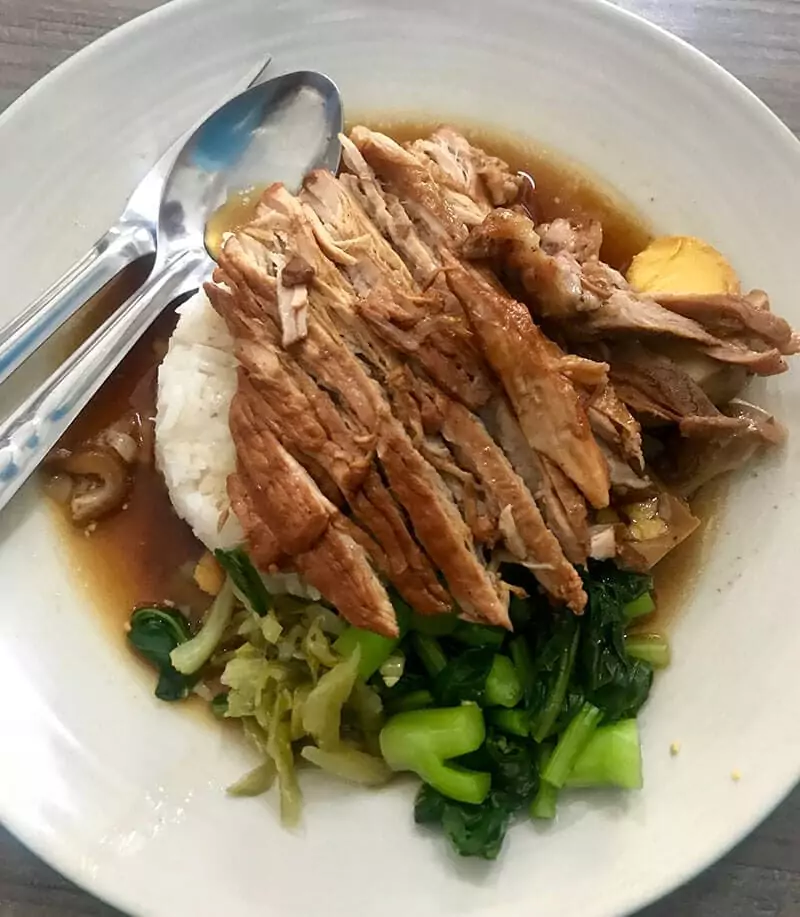 At this stage of the article, you can tell that the Chinese strongly inspire Thai gastronomy. However, there are still so many differences between Thai and Chinese cuisine. And Khao Kha Moo is a perfect example.
Khao Kha Moo is a stewed dish made of pork leg or trotter, boiled eggs, with a wide array of seasoning and spices, and you're meant to eat it with steamed rice alongside. If you prefer a less fatty part of the pork leg, order for a Mai Ow Nang, and this one comes without skin.
There are many street food stalls or eateries that solely sell this dish across the country nowadays. However, the best place to enjoy Khao Kha Moo is the Cowboy Hat Lady vendor in Chang Mai.
In Northern Thailand
The North of Thailand is famous for Lanna cuisine and owns many vibrant flavors. Though regional street food is not so well-known, you shouldn't skip Chiangmai since you can find specialty dishes here with massive deliciousness.
10. Khao Soi
(Curry Noodles)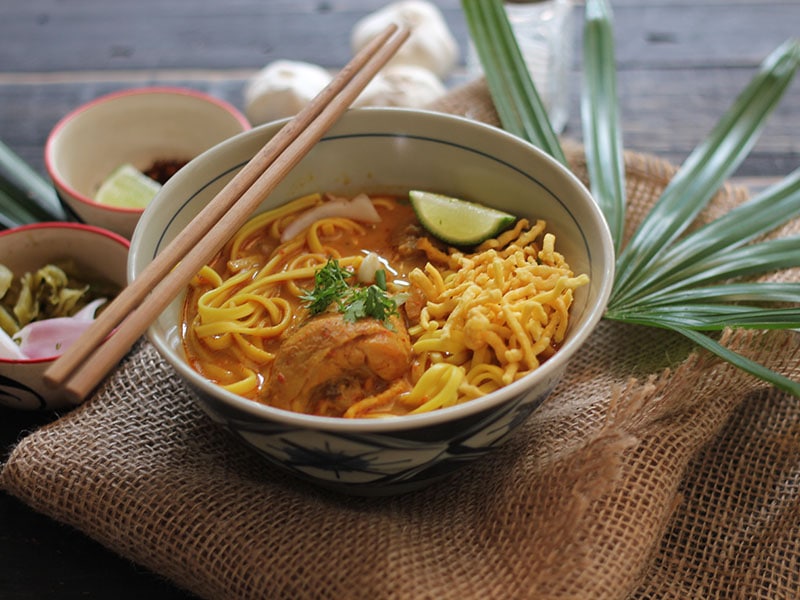 This is another influence from the Chinese immigrants. Traditionally, Khao Soi is the name of the noodles themself. The chefs will form a large dough sheet, steam it, then roll and cut it with scissors to make these noodles.
However, the Thais prefer to understand Khao Soi as a delicious soup dish that they have created. It consists of curry broth, meat bases, and noodles – both in the soup and the deep-fried topping. Before enjoying this delicacy, you ought to toss everything with your chopstick.
Though you may find Khao Soi in either restaurants or vendors across the country, it's more popular as a street food staple in the northern regions, such as Chiang Mai and Chiang Rai. In addition, you can also find counterparts of Khao Soi in Thailand's neighboring countries.
11. Tom Kha Gai
(Coconut Soup)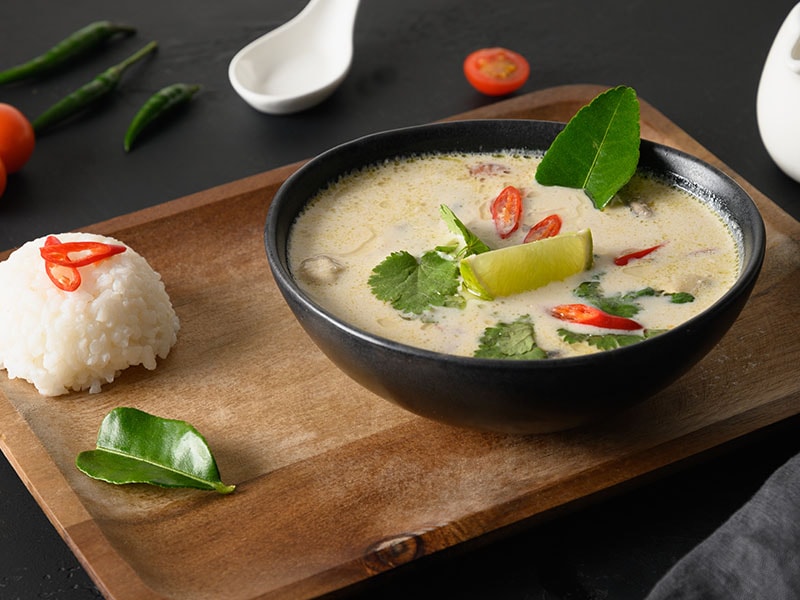 Coconut milk is a famous ingredient in Southeast Asian foods. In Thailand, Tom Kha Gai highlights the deliciousness of coconut milk, combining chicken, fish sauce, chili, and multiple spices.
As mentioned above, the Thais prefer to have 4 primary tastes in any of their dishes, and the sourness is an essential note of Tom Khai Gai. Street food vendors usually squeeze a good amount of lime juice into your bowl before serving.
In addition, it's also available in many variations, and you can also find the vegan version of Tom Khai Gai, with vegan fish sauce, and tofu with mushroom in place of meat elements.
In Northeast Thailand
Unlike other areas, the Northeast of Thailand was formed under the influence of other nations. Still, the locals here have created their own Isanese cuisine. Here's the list of street food that you can only get the best experience in the Isan region.
12. Som Tam
(Papaya Salad)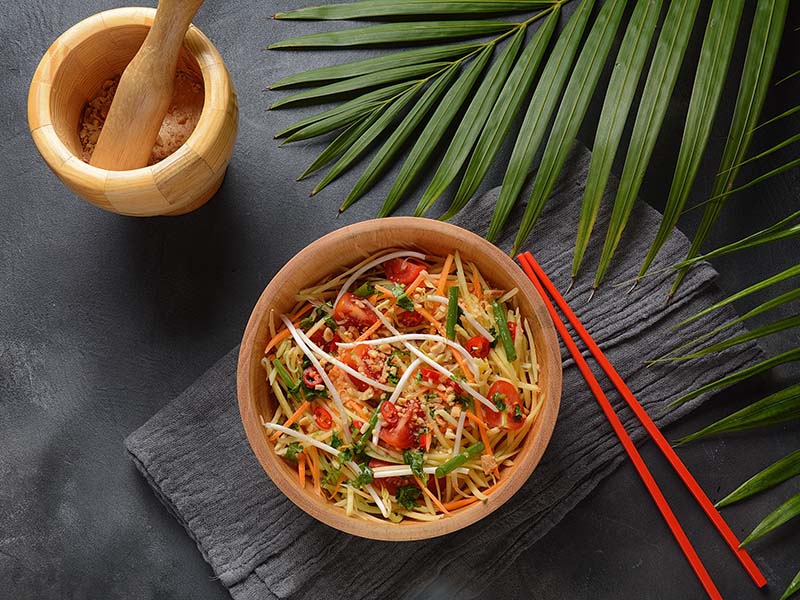 If you're in America, you have a high chance to enjoy this delicacy in any Thai restaurant nearby. Som Tam is basically a mixture of green papaya thin strips, peanuts, tomatoes, dried shrimps, and a wide array of condiments.
People are still debating on Som Tam's origin these days. Some believe that it was an invention of Laos in order to utilize the abundant papaya plants, while most Thais will insist that Som Tam is a creation of the Isanese – people of the Isan region.
Despite its origin, Som Tam is still a worldwide famous salad. The Thais serve it as an accompaniment for either rice or grilled dishes.
In addition, though Som Tam is notorious for spiciness, you don't have to be aware. It's customary for the hawkers to ask you about the desired taste.
In the old days, when Thailand wasn't famous as a tourist choice, the locals usually added a fistful of chopped chili into Som Tam.
13. Sai Krok Isan
(Isan Sour Sausage)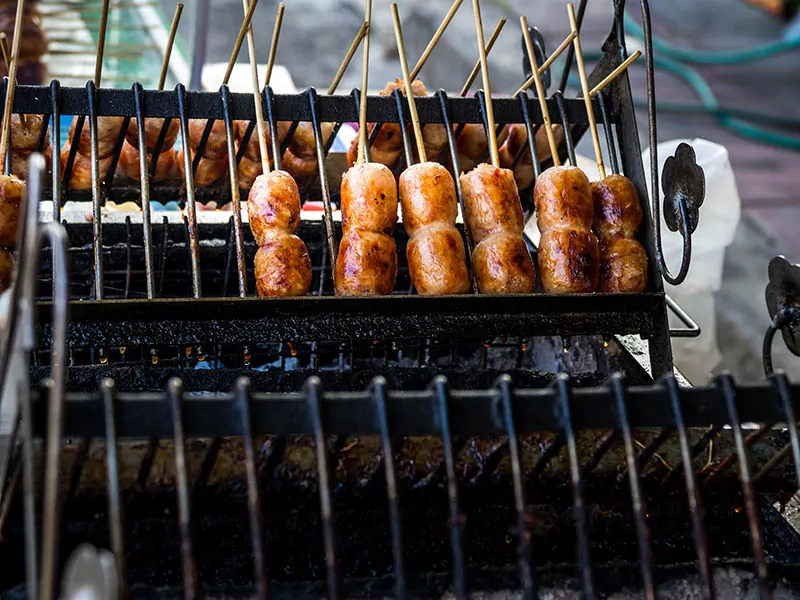 Isan is a Northeastern province of Thailand, which is home to this fascinating sausage. Initially, the locals make it with fermented pork, sticky rice, and garlic in an oblong shape. However, as street food, you will mostly find the skewed smaller balls, which are meant to eat on the go.
These sausages have a unique sour flavor, and you can enjoy them solely. As a way to elevate the deliciousness, street food stalls usually pair this masterpiece with leaves of cabbage, green chilies, and pickled ginger.
In addition, there is also another variation of Sai Krok Isan that substitutes pork with beef, called Mum. Either version is hard to find in indoor restaurants but significantly famous along the roadsides.
14. Laab
(Meat Salad)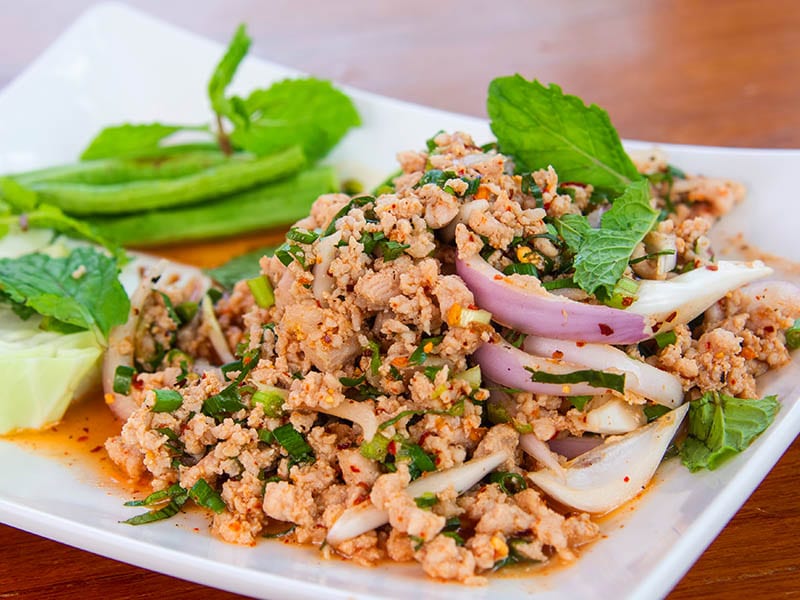 In fact, Laab or Larb is a food representative from Lao with a long history. But the Thais love this fascinating dish as well, especially in Isan province and people living near the border with Laos.
The traditional recipe calls for minced meat, lime juice, toasted ground rice, and some optional vegetables. The most common types of meat base for Laab are chicken and pork, but you can also find beef ones.
Some street food stalls may serve Laab with raw meat, which may cause foodborne illness in the worst scenario. Therefore, you should order a hot Laab to be cautious. Regardlessly, you will much likely enjoy this delicious dish with shallots, peppers, and steamed rice.
15. Nam Tok
(Spicy Beef Salad)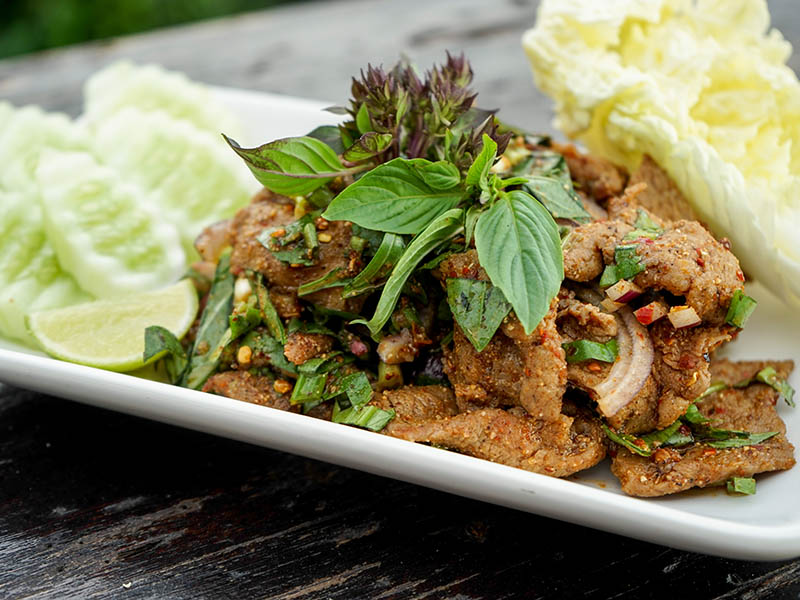 Nam Tok is another originating food from the Isan province. Legend has it that based on the fact of the cooking method, in which the locals will grill this beef on hot charcoal until it "sizzles", replicating the waterfall sound, the Isanese call this delicacy the Waterfall Salad.
You can consider Nam Tok as a counterpart of Laab following almost the same recipe except for the central meat ingredients. Traditionally, Nam Tok appears quite dry and is usually served alongside sticky rice.
16. Kai Yang
(Barbecued Chicken)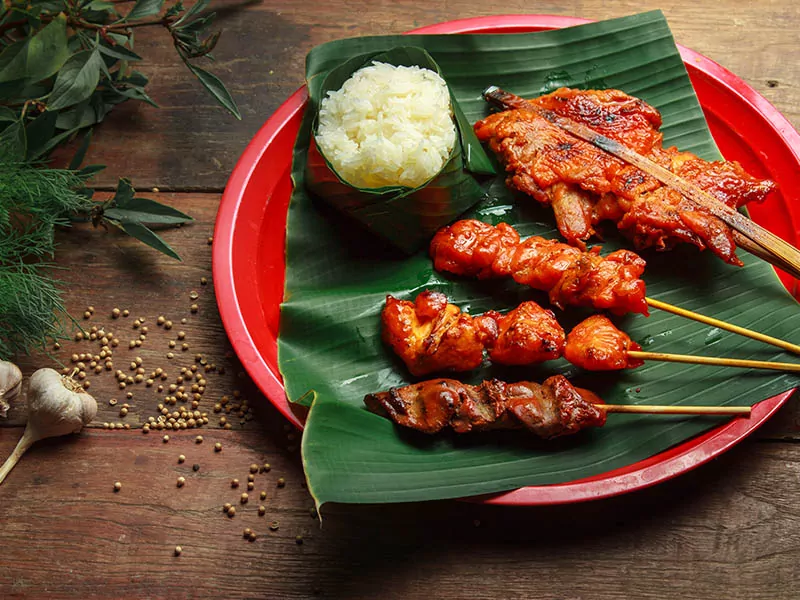 It's an inspiration from a Laos recipe and was first to appear in the Northeastern region. Despite that, Kai Yang perhaps is one of the most common foods that you can find across Thailand streets nowadays.
Basically, the Thais make Kai Yang out of a whole marinated chicken. The marinate liquid consists of fish sauce, soy sauce, vinegar, hoisin sauce, and multiple herbs.
The locals usually very slowly grill the chicken to allow it to absorb the seasonings without being burned. Street food cooks usually offer Kai Yang with some fresh or pickled vegetables. However, it can also solve your hunger along with the sticky rice.
In Southern Thailand
Though the traditional food of this region is known for its spices and sharpness, its famous street food actually is milder dishes and even some sweets. Suppose you want a balance scale for spicy and mild flavors, the Southern area is where you should visit.
17. Gai Tod
(Deep-Fried Chicken)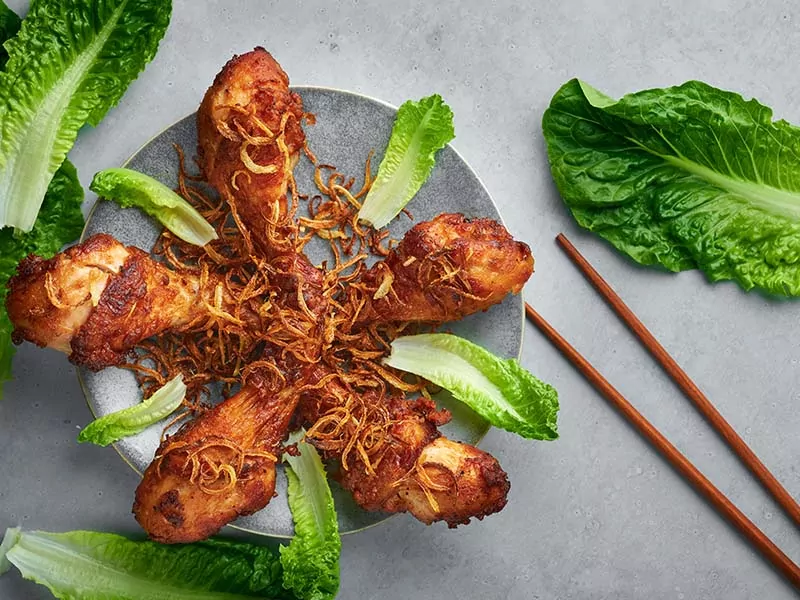 A Muslim street cook made the first Gai Tod in Hat Yai – a southern region of Thailand. Thus, many also call it Hat Yai chicken. The starch coating is the only similarity between Gai Tod and the deep-fried chicken you've tried in Western countries.
However, this coating is usually thinner in Thailand, and the locals will marinate the chicken in fish sauce, garlic, and coriander before deep-frying. To enjoy this Thai chicken treat correctly, you will have it with fried shallots or onions and chili sauce. Rice also makes a great pair with Gai Tod.
18. Kao Mun Gai
(Chicken Rice)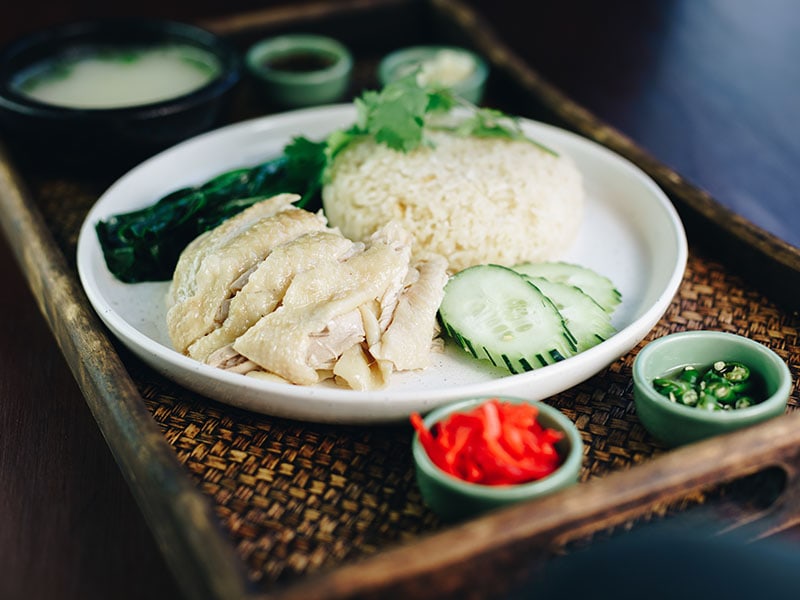 Kao Mun Gai, or Hainanese chicken rice, is another Chinese dish that has traveled to Thailand and gained people's love there (Hainan is an island province in south-end China). In Thai, "Kao Mun" means fatty rice, and "Gai" means chicken.
Initially, the cooks will cook the rice in a mixture of seasoned water and the chicken's fat. As a result, the rice becomes "fatty" with a glazing appearance. Alongside, chopped chicken is served with fish sauce and some cucumber slices. Some stalls may also offer fried chicken.
You can find its counterparts in many neighboring countries as well, but Kao Mun Gai is one of the most popular street foods in Southern Thailand. Especially in Phuket, you hardly pass a few streets without addressing some eateries solely selling this delicacy.
19. Kluay Tod
(Deep-Fried Banana)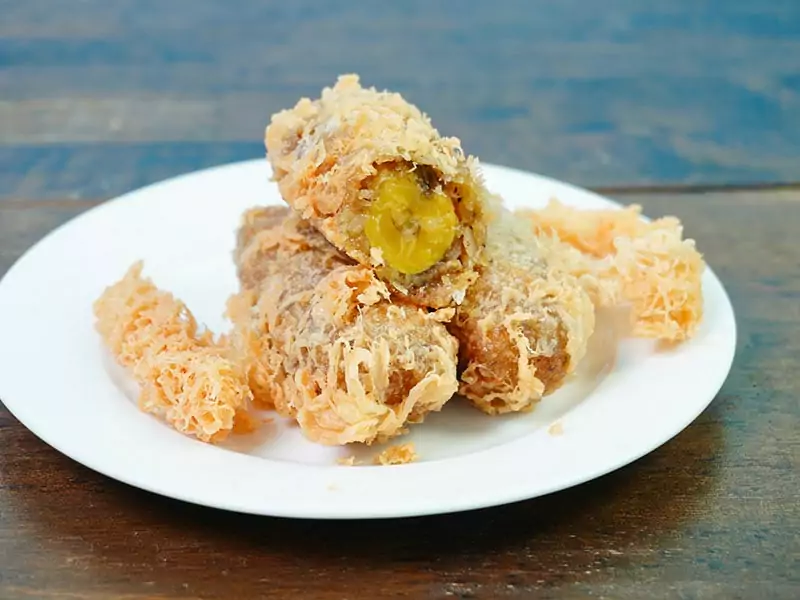 If you love to wanderlust across foreign lands to explore street food, then Kluay Tod is one of the unskippable things in Thailand, specifically Phuket. Traditionally, the Thais make Kluay Tod of Burro – a cultural type of banana that is smaller than what you regularly have in America.
This kind of banana is also stockier and has a relative lemony flavor. The street cooks will first batter it in a mixture of flour and coconut milk, then sprinkle some sesame seeds on it before frying. This sweet and crunchy street treat may be the best thing to remember about Thai streets.
Interestingly, some locals may call their deep-fried banana Kluay Khaek. The term "Khaek" indicates South Asian, Muslim, and Middle Eastern people. It links to the fact that Kluay Tod is similar to the Indian banana fritter and the Malaysian deep-fried jackfruit.
20. Roti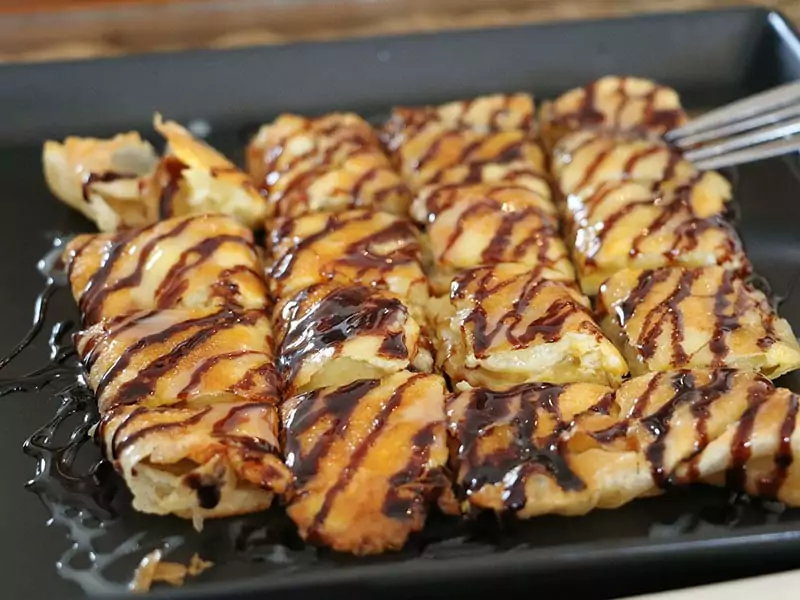 Roti is a globally famous Indian food, or unleavened flatbread to be specific. It does travel to Thailand and become a staple. 
Like the original Roti, Thai people love to enjoy it as a side dish of curry. However, some versions can become desserts instead.
The street vendors quickly pan-fry a sweetened batter into a flatbread, then roll it with banana, condensed milk, and optional toppings. The most common addition is chocolate sauce. Plus, you can find Roti Mabata, which is a savory stuffed variation.
Dishes You Can Find Anywhere In Thailand
Indeed each region of Thailand has its own culinary identity. Still, there are countless street foods shared from region to region so that you can enjoy them throughout the country. Keep scrolling for further enlightenment!
21. Yen Ta Fo
(Pink Noodle Soup)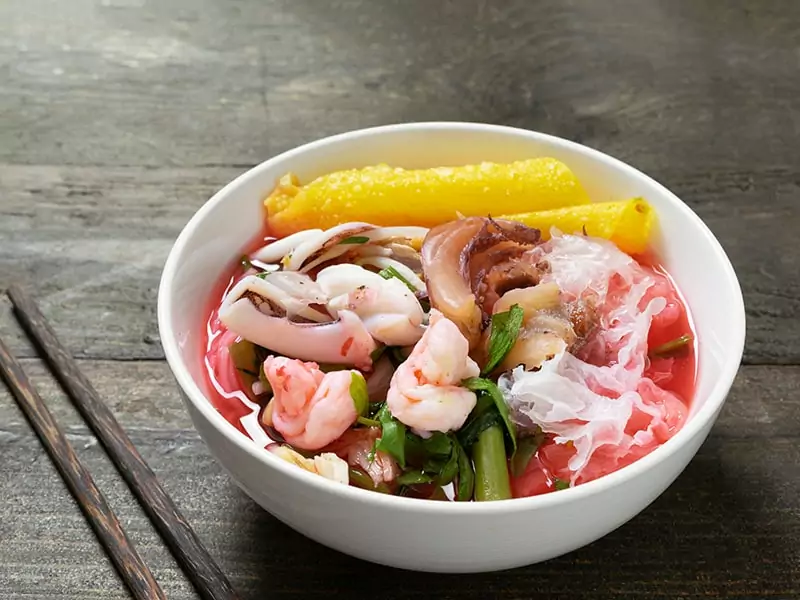 The pink of Yen Ta Fo doesn't come from blood if you're confused by the last soup. It is actually from a type of Chinese fermented red bean curd – the irreplaceable ingredient for an astonishing Yen Ta Fo.
Basically, it's also noodle soup that you have with multiple types of Thai noodles, along with other elements such as fishballs, fried tofu, morning glory, etc.
Though Yen Ta Fo comes with a pungent aroma that many couldn't stand, it's among the food that you need to try coming to Thailand.
22. Khao Phat
(Stir-Fried Rice)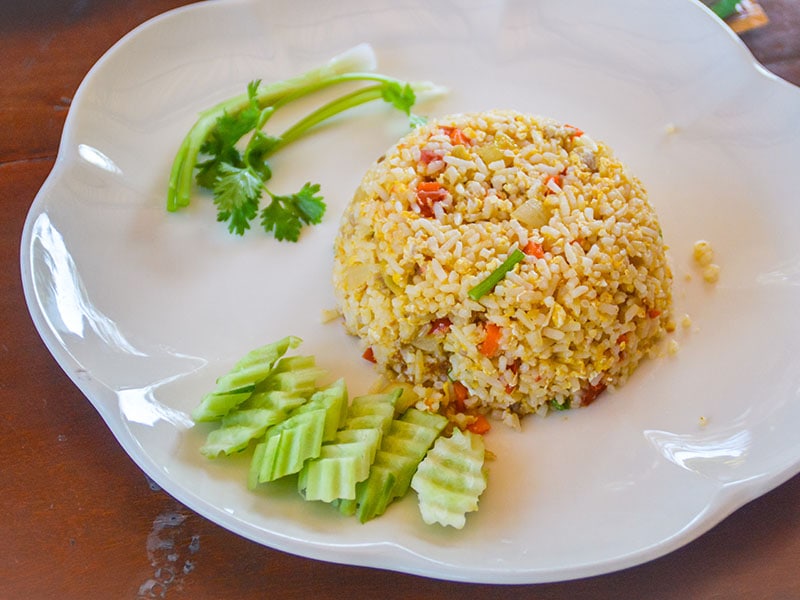 "Khao" means rice, and "Phat" means stir-fry – and this incredible Thai rice delicacy is as simple as its name. However, there is no such thing as the traditional or original recipe for Khao Phat, and you can find countless variations of this dish along the streets.
Despite that, all vendors always use garlic, salt, and fish sauce to elevate the rice taste, as well as some vegetable toppings such as cucumber or tomato slices.
You can also find Khao Phat in many other Asia cuisines with different names, yet the Thai versions are standout due to the magnificent Thai Jasmine rice – one of the proudest things of Thai agriculture.
If you're American, then you ought to try the Khao Phat Amerikan, which is accompanied by small hotdogs, fried egg, ketchup, and perhaps fried chicken. This dish was a Thais invention during the Vietnam war, where they sold it to the American soldiers.
23. Kai Jeow
(Thai Omelet)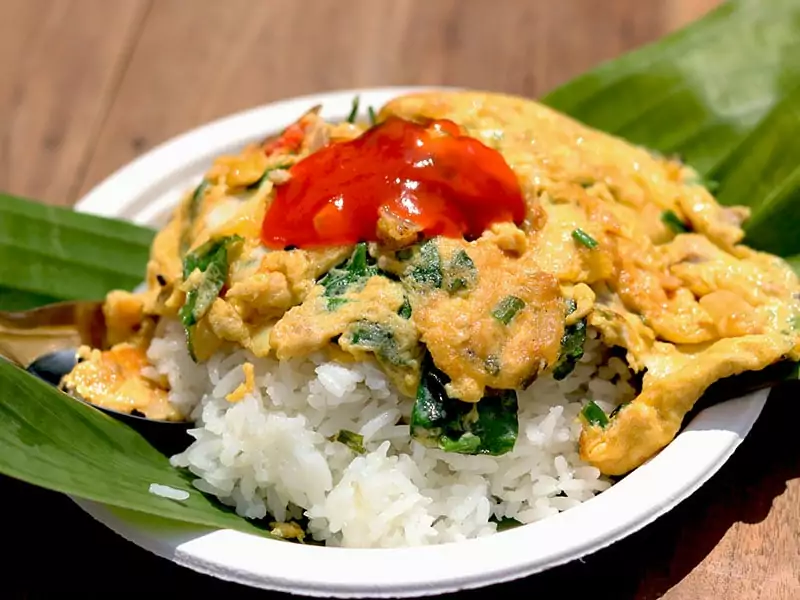 Compared to any other dishes on this list, Kai Jeow is the most straightforward Thai breakfast you can even create at home.
Essentially, Kai Jeow just consists of eggs and some optional vegetables. Thai street food cooks traditionally prepare this dish on a wok. However, the secret for the right note or Thai flavor is the fish sauce addition.
Some specific recipes also require oyster sauce. Across the streets in Thailand, you can easily find this delicacy either as a side dish for steamed rice or as a flavorful snack.
You can create your own version of Kai Jeow, following this easy guidance!
24. Pad Gaprao
(Holy Basil Chicken Stir-Fry)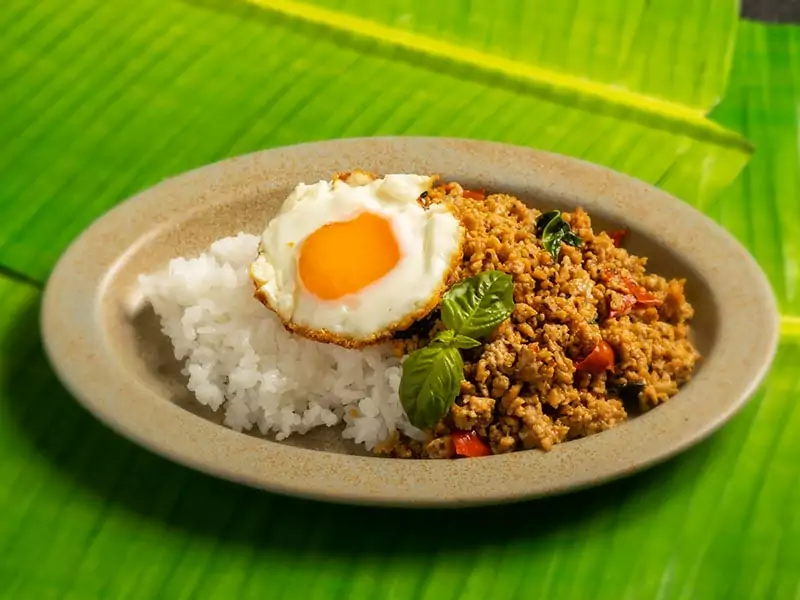 Basically, Gaprao or Ka Prao is a type of basil with a distinct flavor. It's usually stir-fried on a wok with minced pork or chicken, alongside multiple seasonings and spices to form a mouth-watering Pad Gaprao.
Though it's an old-fashioned recipe, Pad Gaprao also takes part in the cultural mandate of Plaek Phibunsongkhram during World War II. Perhaps it didn't make the cut into your knowledge as Pad Thai does, but Pad Gaprao is definitely worth the promotion.
This is an excellent accompaniment for rice. Luckily, Pad Gaprao is also an easy food to make, so whether you just aim to eliminate your hunger or are exploring the Thai taste, it is always available across the country.
25. Moo Ping
(Grilled Pork)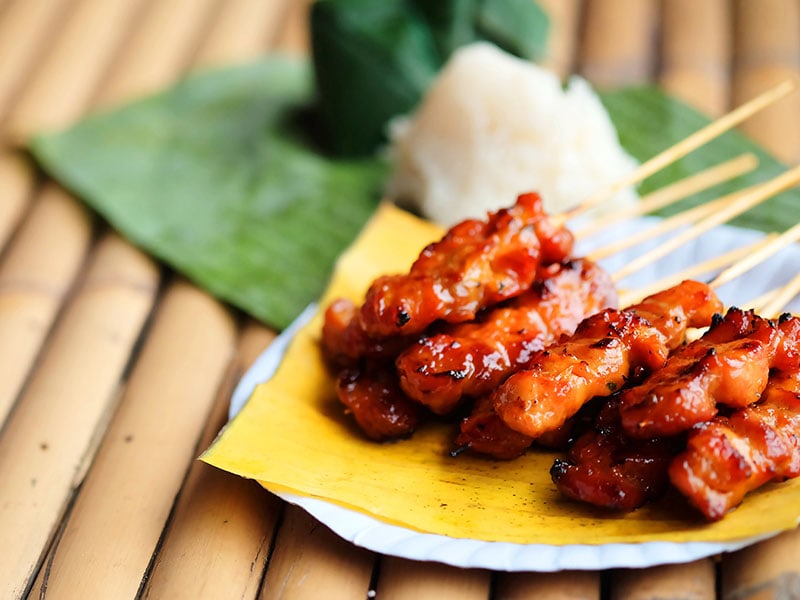 Pork is a favorite type of meat in Thailand, and you can definitely find grilled pork on almost any street there. The Thais' Moo Ping signature is the fascinating marinade, which comprises garlic, peppercorns, coriander, fish sauce, and soy sauce.
The street cooks then try to fit as much meat on the skewer as they can, then grill them on open flame until they're somewhat crispy. Some cooks use minced pork instead so that the flavor is even further rich.
Many creating recipes also call for coconut milk as a glazer during the grilling process. This step will aid in locking meat's flavor as well as enhance the deliciousness of this rustic food. To the Thais, Moo Ping is a famous breakfast on the go since it's convenient and easy to find.
26. Khao Niao Mamuang
(Mango With Sticky Rice)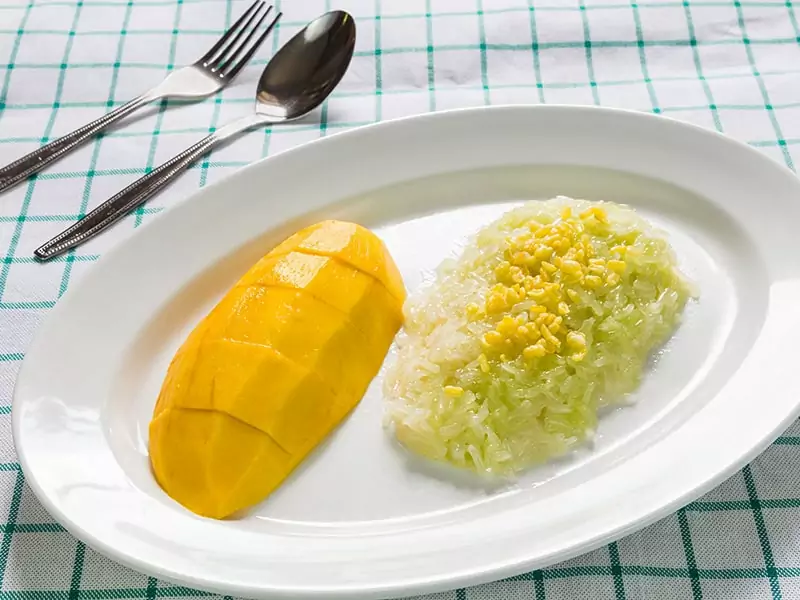 I list Khao Niao Mamuang at the end of this category because you can either understand it as a dessert or a light meal. The traditional way to make Khao Niao Mamuang is first steaming the glutinous rice, then nicely mixing it with sweetened coconut milk while still hot.
Fresh ripe mango gives a perfect sour-sweet flavor to the rich and chewy rice, making an excellent combination that you won't be able to forget once tried. Thanks to its immense popularity, the dish is also well-loved in Lao as street food.
Khao Niang Mamuang is available all year round, but it's most prevalent during the mango season, from April to May.
Some restaurants have their way of elevating the recipe. However, you can put your faith in the street food vendors. They won't fail you with hot Khao Niao Mamuang served in banana leaves.
27. Pla Pao
(Salt-Grilled Fish)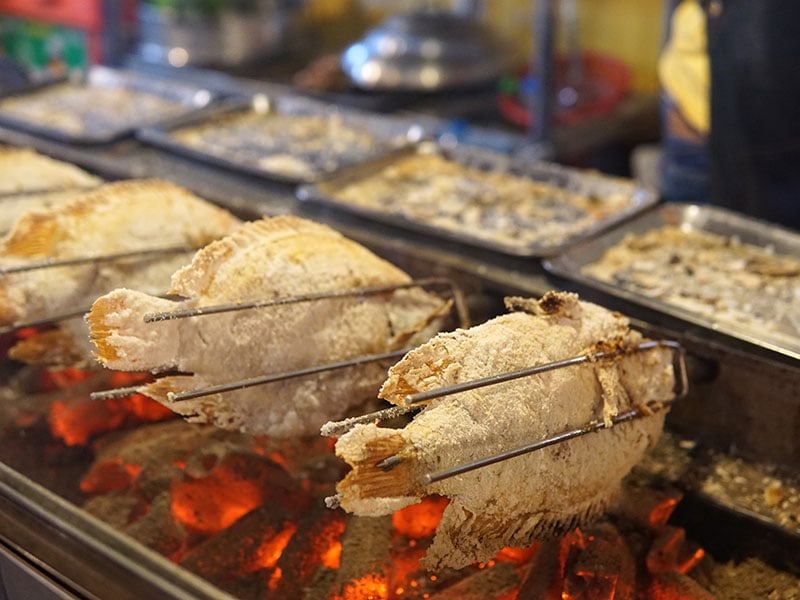 Thailand has a long coastline and generous inland waterways; hence it's reasonable that fish is a staple in this country's cuisine. You can effortlessly find grilled fish of all kinds, serving across the roadsides.
However, Pla Pao differs from any grilled fishes you've ever tried. The Thais make it with white-fleshed fishes such as snapper, sea bream, or seabass. First, they'll remove the fish's guts, then fill its stomach with lemongrass stalks and kaffir lime leaves without opening its belly.
After that, they'll cover the fish with a thick layer of salt, then grill it over hot charcoal. The street cooks usually serve Pla Pao with spicy-sour fish sauce, and you'll have to remove the fish's skin since it's extremely salty.
28. Poh Pia Tod
(Deep-Fried Spring Rolls)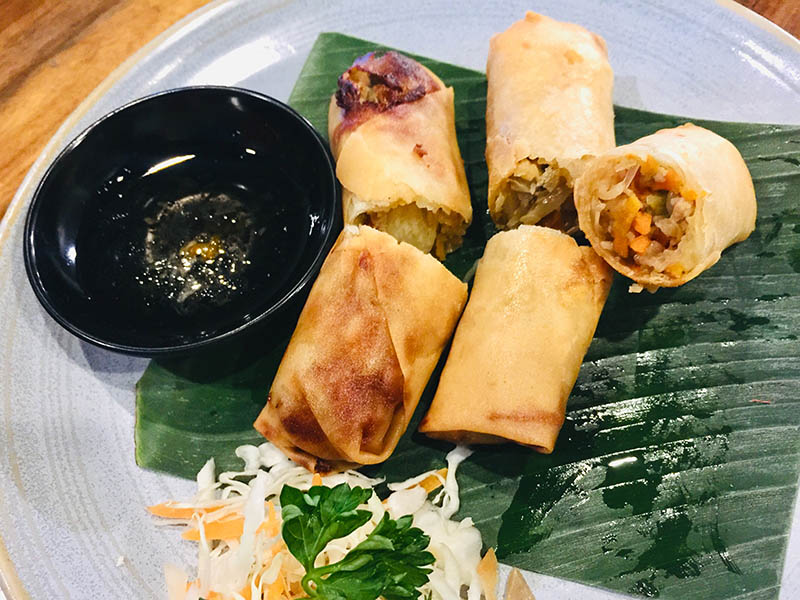 The origin of this dish is in Southern China, traceable to the 17th century. Though it belongs to the Chaoshan cuisine since the words "Pod Pia" means thin wafer in their dialect, Poh Pia Tod actually appears to the Vietnamese first, who then introduces it to Thailand.
The Thais will roll a mixture of minced meat, vegetables, and spices in a thin rice paper to create this beautiful food. They make it in a large cylinder form, then fry it. To enjoy it at its finest, bite-sized cuts of Poh Pia Tod should pair with lettuces and sweet chili sauce or spicy fish sauce.
The stalls also give you some toothpicks to eat Poh Pia Tod. Though pork and chicken are the most common stuffings of Poh Pia Tod, you can also find the vegan versions effortlessly. There are also non-fried ones, called Pa Pia Tod, if you wish to cut oil from your healthy diet.
29. Tod Mun Pla
(Thai Fish Cake)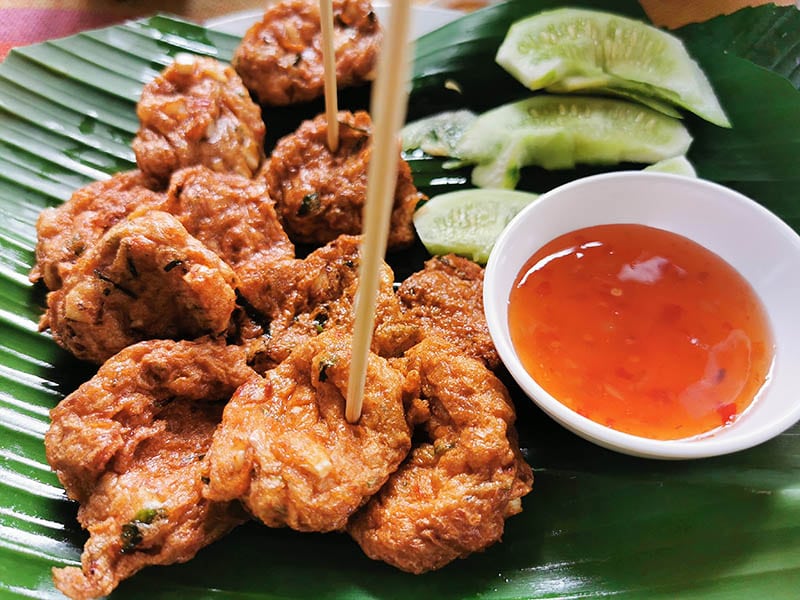 Tod Mun Pla is another gem not that hard to find on Thai street. The cooks here usually make these delicious cakes from local fishes such as clown featherback or Pla Grai. They will create a fish paste and spice it with red curry paste and the essential kafir lime leaves.
However, each vendor has their own way of creating uniqueness these days. These pastes will fluff up during the frying process, then eventually settle once again when serving to you. Thai street cooks always offer Tod Mun Pla with sweet-spicy chili sauce.
30. Moo Tod Kratiem
(Fried Pork With Garlic)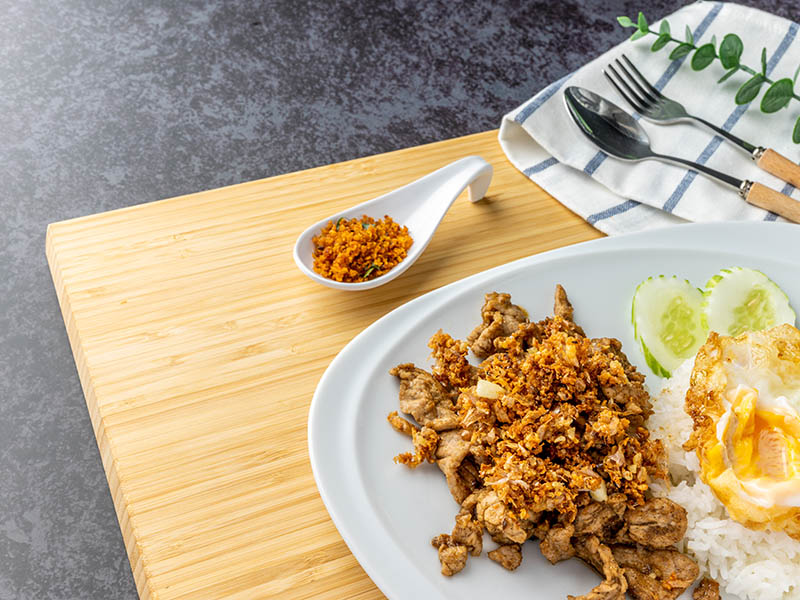 The origin of this traditional Thai side dish is quite a fuzzy question, and there's no insisted recipe as well. Despite that, the irreplaceable ingredients for Moo Tod Kratiem are pork, fish sauce, and oyster sauce.
The Thais will marinate the meat in the sauces before frying it with garlic on a wok. The essential technique is to create a crispy pork bark and garlic without burning any. You will find this dish extremely enjoyable with steamed rice, though it's suitable as a drinking bait.
In addition, the chicken version so-called Gai Tod Kratiem is nevertheless famous. You can find both of these crispy dishes in Thai night markets, where you can fully enjoy them in the lively atmosphere.
31. Khanom Krok
(Coconut Pancake)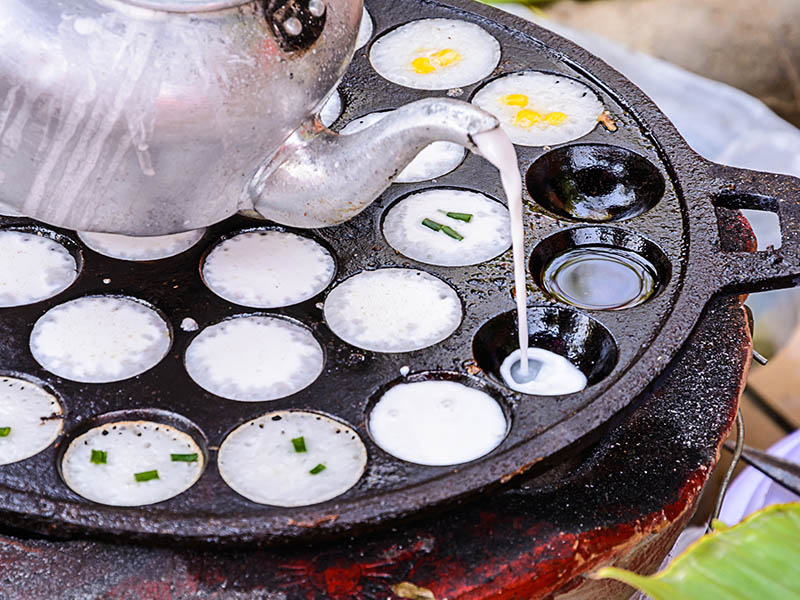 It's believed that any country has its own kind of pancakes, and Khanam Krok is perhaps the unofficial national pancake of Thailand. You can have it in almost any market across the country, and it's been around since the 14th-century retaining the same old recipe.
Initially, the base of Khanom Krok comprises rice flour and coconut milk. The Thais will pan fry the batter in a cast iron pan that is similar to the specific cookware of Japanese takoyaki but less sunken.
From here, they have created countless variations of desserts and savories. For the savory, they will add some minced pork and other seasonings. However, you might find the sweets version easier, which consists of sugar, sweetcorn, and green onions.
Come to Thailand to enjoy these mesmerizing Khanom Krok now!
32. Gai Pad Met Ma Muang
(Stir-Fried Chicken With Cashew Nuts)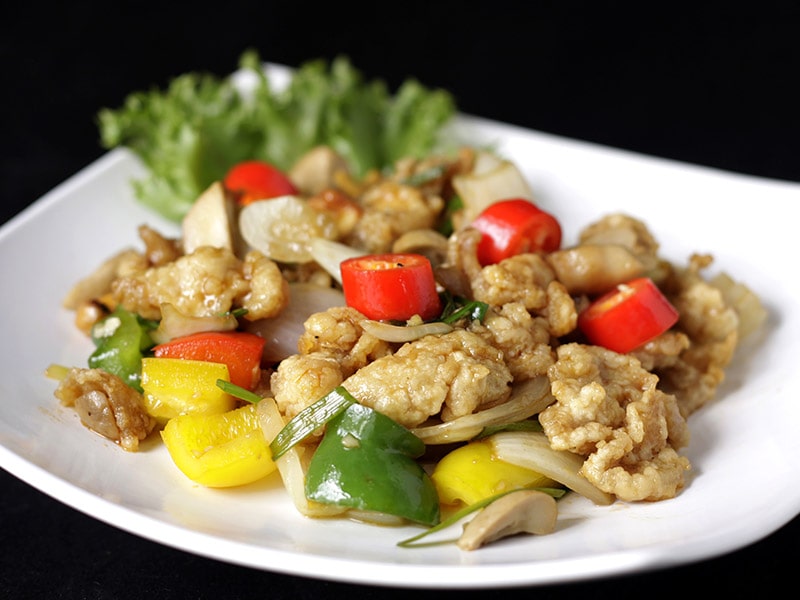 Gai Pad Met Ma Muang is a descendant of the Chinese cashew chicken. Traditionally, the Thais make it with tender chunks of chicken, toasted cashew nuts, soy sauce, hoisin sauce, and hearty vegetables.
They'll stir-fry the combination on an oiled wok over high heat. The mixture eventually becomes quite thick, so the cooks often add a small amount of water to avoid it.
In comparison to other street food, Gai Pad Met Ma Muang have a milder taste relative to comfort food. Therefore, it's what you're looking for so dearly after having tons of other flavorful dishes.
33. Yam Pla Duk Foo
(Crispy Fish With Green Mango Salad)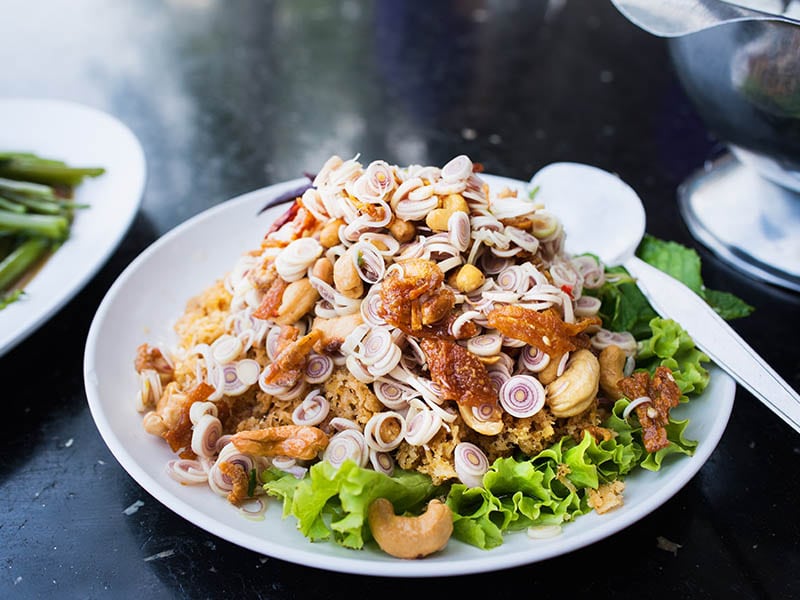 Interestingly, the former way to make Yam Pla Duk Foo is to utilize the grilled catfish that is also available as street food. The locals will pound these fish's flesh until it's fluffy, then deep fry it until crispy.
Nowadays, there are many recipes that use other kinds of white-fleshed fish. Asides from the crispy fish elements is a sour-spicy salad of peppers, lemon juice, raw mango, onions, and cilantro. You can have this salad as a light meal though it's a great pair with rice.
34. Khao Lam
(Sticky Rice In Bamboo Tube)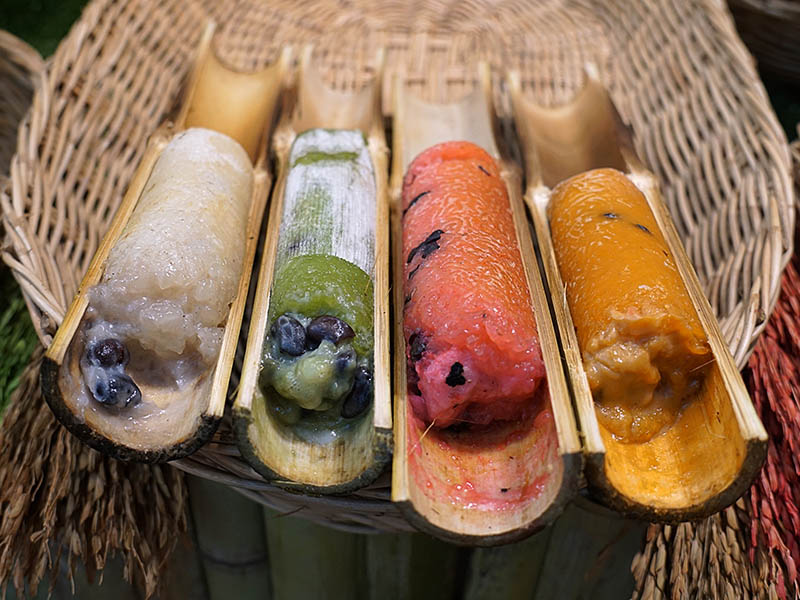 Khao Lam is a famous rustic dish with different names in Southeast Asia regions. You can find it as a side dish for grilled meat, but in Thailand, people mostly use it as a dessert. It consists of sweet sticky rice steamed in a bamboo section.
Every street cooks have their twist; still, the traditional way of making the deliciousness is to combine sticky rice with red bean, grated coconut, coconut milk, and sugar. Some Thai street cooks may use dark purple sticky rice instead of the regular white ones.
Many locals may add young coconut or taro along with a small pinch of salt into Kham Lao to elevate the flavor. It's also a vegan food that, popularly to the monks, combines with other plant-based dishes to form a mouth-watering and nutritious meal.
Follow an adventurer to taste delicious Khao Lam in Thailand!
35. Khao Tom
(Rice Soup)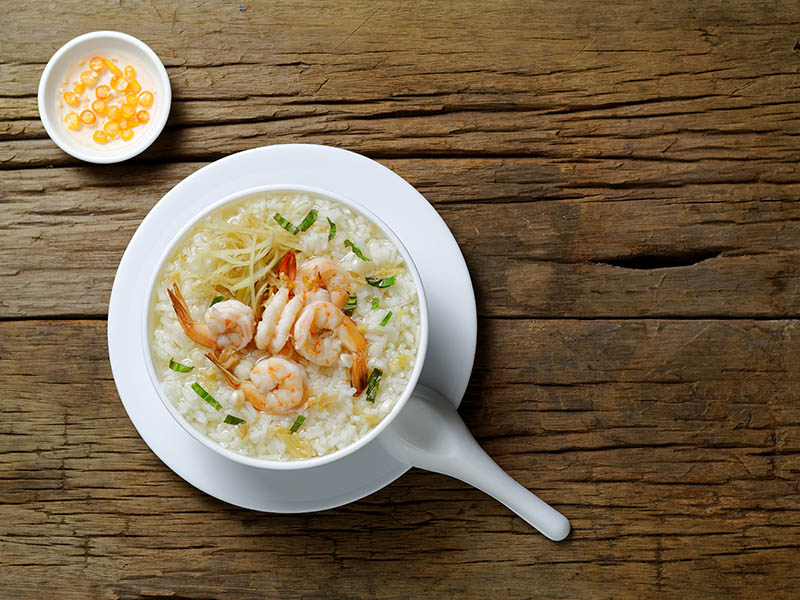 Khao Tom is a type of cultural soup present in many Southeast Asian countries. Traditionally, the Thais prepare this soup with rice – steamed or raw, with a wide range of spices. They cook the rice in water until it disintegrates and thickens the broth.
Like Khao Phat, Khao Tom itself is just the base, and you can find many variations of it. The most common ones come with ground pork and include chopped coriander, chili, and fried garlic as toppings. The shrimp version – called Khao Tom Goong – is nevertheless famous.
36. Tropical Fruits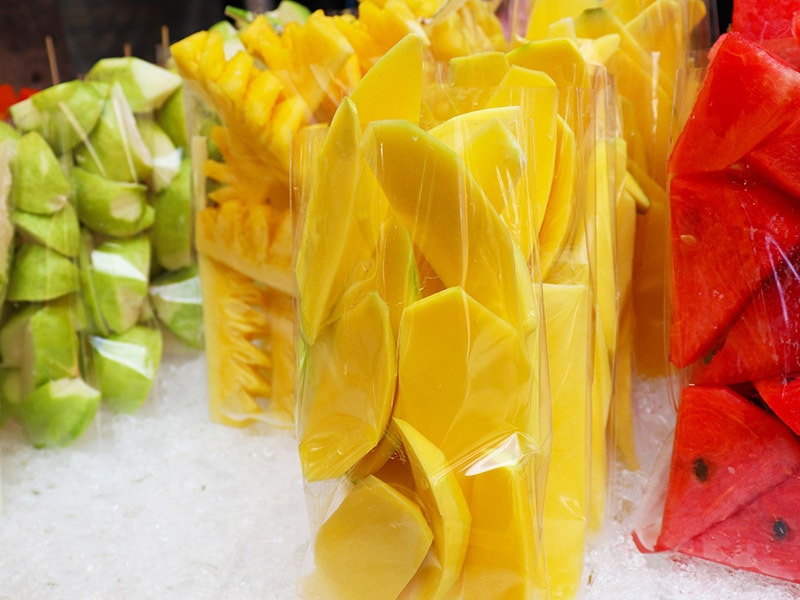 At the end of the list is something simple yet highly crucial to the local taste – tropical fruits. You can find countless carts selling beautiful bags of numerous fruits across Thailand. Mango is available in almost any vendor, and the Thais enjoy it either ripe or unripe.
Guava is nevertheless common, the locals will cut these fruits and put them into a plastic bag, and you'll eat it with chili salt. Watermelon is also available if you want some familiar taste.
However, don't leave Thailand before trying durian! It's an exotic fruit popular and mainly planted in Southeast Asia. Though it has a spiky rind and an overwhelming smell, its sweet and creamy flesh is not something easy to forget.
There's No Need To Come To A Luxury Restaurant!
Unlike most of your culinary trips requiring some luxurious restaurants to find the winning taste, you'll just have to wanderlust across Thai streets and immerse in the deliciousness. Moreover, the virtuous advantage of Thai street food is affordability.
Therefore, you can travel and feel free to enjoy all the flavorful delights without worrying about the budget.
Are you excited about the thought of eating on the go while walking through the lively night market? Let me know in the comment section! Don't forget to share this article so that this beloved gastronomy will be even more widespread!