Did you know that Thai soup recipes have a huge impact on Asian cuisine? Everyone loves the excessive spiciness that is available in the seasoning. Gradually, many Asian cooking techniques adopt the Thai way of cooking soup.
Keep your appetite up because I'm about to take you on a journey to discover wonderful recipes that Thai cuisine has to offer. So the next time you need an exotic but flavorful Asian broth, you know where to look for it.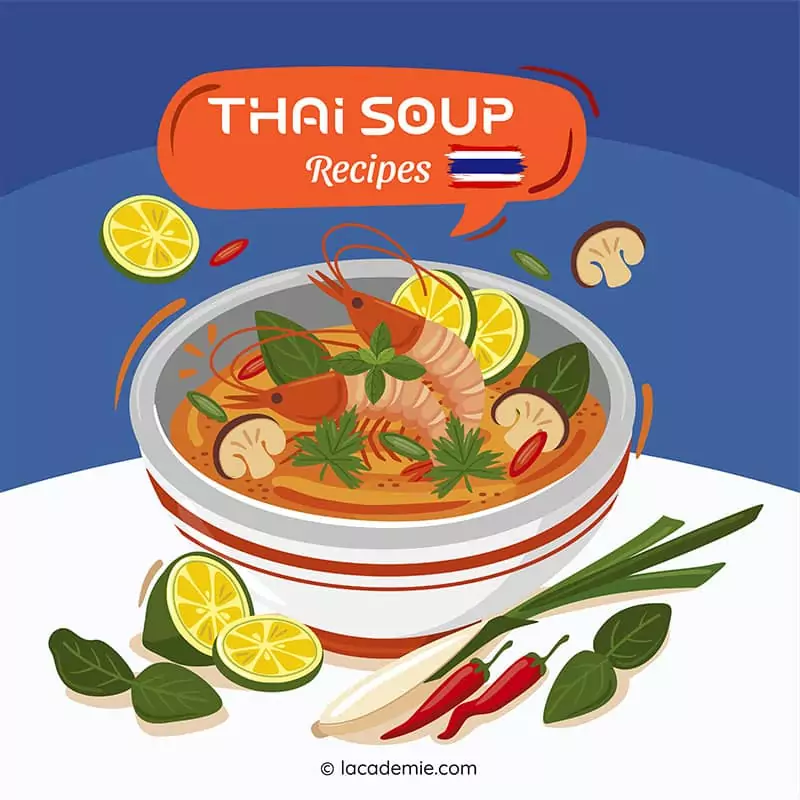 Check Out Some Of The Most Iconic Soup From Thai Cuisine
Thai soups strike the perfect balance between sweet and sour flavor. You can never go wrong with serving warm Thai recipes on cold nights for a hearty and comforting experience. Let's get started with my best picks for Thai soup recipes.
Total time: 20 minutes.
Tom Yum will have to be at the top list of my favorite Thai dishes. The broth is a harmonious combination of sweet, sour, and spicy flavors. In Thailand, locals usually whip out Tom Yum on special occasions as a form of celebration.
For a perfect Tom Yum broth, you will need to manipulate the sour and spicy flavors so they are the centerpiece flavor. However, I will save you some time on the condiments by using store-bought Tom Yum paste. You can find this seasoning in many Asian markets.
To get that sweet broth flavor, locals tend to use chicken stock and tomatoes for the base flavors. In addition, people will also make slight adjustments to the soup flavor by adding fish sauce, lime juice, and coconut milk.
Don't forget that the prawn is an essential part of Tom Yum as well. My advice is to use large prawns so you get more meat and essence for the soup. If you want your Tom Yum to have a more intense flavor, I suggest utilizing the prawn heads for the broth.
Total time: 30 minutes.
Regular Chicken noodle soup may taste a little bit bland sometimes. However, the Thai variety of this dish will blow your mind away. With each sip of the broth, your mouth will be bombarded with spicy curry flavor.
Thanks to the curry condiments, the chicken delight from Thailand has a beautiful golden color and a slightly thick consistency. Commonly, locals prefer using coconut milk to tone down the spiciness level of the curry paste.
Ideally, you want to use rice noodles for this dish. However, you can use any variety of Thai noodles that are available at Asian stores.
The broth mainly depends on chicken stock to set the tone for the dish. To get a traditional Thai flavor, I want you to use coconut oil to sauteé the onion for extra coconut aroma. Before serving the chicken noodle soup, make sure you add the shredded chicken breast.
In addition, you need to taste the broth and balance it with lime juice if needed. The outcome will surely please everyone.
Explore the easiest way to recreate Thai chicken noodle soup right at home.
Total time: 1 hour.
Tom Kha Gai will mesmerize anyone with its rich and creamy flavor right on the first sip of broth. The soup is often characterized by a milky and slightly yellowy color. Interestingly, the term Tom Kha in the late 19th century referred to a simmered dish instead of the modern-day soup.
Typically, a standard Tom Kha Gai recipe consists of lemongrass, coconut milk, and chicken stock. If you don't have access to Asian chilies for the heat, then Jalapeno (Mexican chili) is a fine substitution.
Besides the shredded chicken breast for protein, locals love adding some mushrooms for a meaty texture to the Tom Kha Gai. Remember, you will need some fish sauce to adjust the flavor and achieve that unique Asian taste.
Total time: 45 minutes.
Pumpkin soup is a familiar dish for many cuisines around the world. But have you ever tasted the Thai variant before? The dish possesses that signature creamy texture you get from pumpkin with extra Asian spices.
Normally, you would expect a smooth taste for any pumpkin dish. But in Thai cuisine, the spiciness of curry from the red Thai paste is the central piece of the dish. Since you will be using curry, I have to remind you not to go overboard with it because the heat can get intense.
In many cases, Thai locals will use coconut milk to enhance the creamy and rich flavor of the dish. To accompany the pumpkin, I like using potatoes with a little bit of fish sauce to adjust the saltiness. Your hot bowl of Thai pumpkin soup should have an appealing orange color.
Total time: 30 minutes.
Since I'm on a roll with Thai curry, let's keep going with another unique Thai way of cooking curry. Commonly, you guys often think about curry with a yellow or orange broth color, right? Then, prepare to boggle your mind with this Green Curry recipe.
Yes, you heard me right, Green Curry. To materialize this recipe, you need chicken stock and coconut milk for the base flavor. Next, you will need Green Curry paste from Asian markets. The condiment gets its color mainly from the green chili and lemongrass.
Don't forget the protein of the dish; I prefer using chicken breast to get more lean meat. Like other curry recipes, people often have rice noodles along with Thai Green Curry. If you want a balanced broth flavor, then a squeeze of lime juice should work wonders.
Whipping out this Thai Green Curry recipe is the quickest way to impress anyone at the dinner table.
Total time: 35 minutes.
Gaeng Om Gai is a representative of Isan cuisine, a region in Northeastern Thailand. The area also shares the border with Laos and Cambodia, making for diverse cuisine. If you're unfamiliar with Thai cooking, then Gaeng Om Gai will take the exotic to a whole new level.
Unlike traditional Thai recipes, the Isan don't feature coconut milk and palm sugar, and coconut milk in their dishes. That's why Gaeng Om Gai has a much lighter taste. However, many people often say that Gaeng Om Gai is much closer to the century-old curry recipe.
Typically, the broth of Gaeng Om Gai consists of 3 factors: the rough aromatic paste, stock, and Pla Ra (fermented fish with rice grain condiment).
Locals create the paste by grinding ingredients like salt with lemongrass, lemon leaves, and chili. The base of Gaeng Om Gai is chicken stock, followed by various Thai spices. Thai people often like adding Galangal (Southeast Asian condiment) for a sharper taste to the soup.
Gaeng Om Gai focuses on the taste more than the decoration of the dish. That's why the broth of Gaeng Om Gai tends to lack the striking color of standard Thai soups.
Total time: 50 minutes.
I think Gaeng Som is a new way that I want to enjoy fish. The dish is a popular delicacy in Laos, Thailand, and Malaysia. Gaeng Soms stands out from other soup dishes because of the signature sour flavor.
The iconic taste of Gaeng Som mainly comes from the use of tamarind extract. The condiment is a great companion with chicken stock to form the base flavor. Additionally, people will include green papaya with a little fish sauce, palm sugar, and lime juice to diversify the flavor.
When it comes to the protein source of the dish, any type of white meat fish will work wonderfully. Furthermore, I like adding some prawns to the mixture to enhance the seafood flavor of the Gaeng Som.
If you want to whip up your curry paste, I got just the thing for you. The paste mixture should include turmeric powder, shallot, shrimp paste, and ginger. Your Gaeng Som will have the curry flavor infused into every ingredient and turn the broth to a slightly dark brown color.
Total time: 18 minutes.
Don't you just love the feeling of coming home on cold days to have a hot bowl of hot dumpling soup? If so, I have the recipe to take your dumpling soup to another notch. I promise the Thai version of dumpling soup is as hearty as other meals.
To create the base flavor of the dish, you need to start sauteeing star anise, cumin, and curry powder with olive oil. Then, you can use vegetable broth to get a lighter soup at the end. For the broccoli and carrot, it's best to cook them for around 6 minutes.
If you don't have much time on your hands, I suggest purchasing Thai dumplings from Asian supermarkets to save your valuable time. The dumplings will need around 3 minutes to be fully cooked in a rolling boil broth.
Tweak your dumpling recipe with this Thai version full of deliciousness.
Total time: 40 minutes.
This carrot soup is exactly what you're looking for in a creamy Thai meat-free recipe. Aside from the refreshing carrot flavor, you get a little hint of ginger and coconut milk. The dish is super light and easy for anyone to digest.
Because of the addition of coconut milk, the soup gets a velvety and smooth consistency. In addition, locals often use red lentils (edible legumes) for that mild nutty and earthy flavor. Since I already said that this carrot soup would be vegan-friendly, I prioritize using vegetable stock.
For achieving that mesmerizing consistency, my best choice is using the blender. All you have to do is dump all the necessary ingredients into the blender and puree until you reach a desirable thickness.
Total time: 2 hours.
Originating from the southern area of Thailand, Gaeng Khua Prik Si Krong Moo is a type of curry that utilizes baby pork ribs as the main ingredient. As an early warning, this curry variety is extremely spicy because of the copious amount of chilies and black pepper.
To make the Gaeng Khua curry, I strongly suggest customizing your curry paste. My blend is based on Thai red curry paste with extra turmeric, dried red chili, and black peppercorn. The condiment mixture will have a similar flavor to the Thai Southern curry paste.
Before cooking, you should loosen up the paste with some water. Then, add the baby pork ribs to mix with the curry seasonings. For adjusting the saltiness, my go-to choice is the fish sauce to maintain the Asian flavor of the dish.
In addition, I like having some lemon leaves for a refreshing curry pot. The Gaeng Khua should have a thick broth consistency with a light-dark brown color.
Total time: 25 minutes.
Khao Tom is a favorite cooking method of Asian cuisine. In Thailand, people usually refer to Khao Tom as a boiled Thai rice dish with a variety of meat. The dish is super simple to make if you already got the hang of cooking rice.
The recipe of this famous Thai breakfast requires a different approach for the rice. You will need to add more water than a conventional rice dish because you're looking to soften the rice grains as much as possible. To get a better flavor, I recommend cooking the rice with chicken stock.
However, you can also use left-over rice for Khao Tom. Instead of cooking for some time, you just have to dump the rice over a pan with chicken stock. Stir the mixture well until the rice grains become soft.
To make the dish easier for digestion, I prefer using minced chicken for protein with some mushroom seasoning for an extra earthy flavor. Normally, Khao Tom is a relatively light meal and has a beautiful white color from the rice grains.
Never waste your left-over rice again because now you know how to make Khao Tom.
Total time: 30 minutes.
Contrary to the bold flavors of many Thai dishes, Thai vegetable soup has a super light broth. The dish is hearty and rich with coconut milk flavor. Better yet, the ingredients that go into the dish are inexpensive and easy to find.
First, mix the chicken stock with coconut milk to form the base of the dish. To build up that thick consistency, my advice is to use pumpkin puree for additional earth and sweet flavor. Your vegetable mix should have tomatoes, carrots, and mushrooms.
Tofu is also a nice addition to the dish as it will soak up delicious broth essence. Thai vegetable soup is best served hot while the yellowy broth is still bubbling. A little bit of lime juice will perfectly bring the dish to a balanced flavor.
Thai Soup Is Always A Suitable Choice For Any Meal Of Yours
Thai soups are so cozy, comforting, and fragrant at the same time. I hope that you find this post useful to give you some ideas for the next time you want an Asian soup. If you're a newcomer to Thai cuisine, I suggest going easy on the spices.
So what are you waiting for? Jump into your kitchen and test out your cooking skill with these amazing Thai dishes. Share this amazing post with people that you care most about. Let me know your thoughts in the comment section; it's always exciting to hear from you guys.
Nutrition Facts
2 servings per container
---
Amount Per ServingCalories548
% Daily Value *
Total Fat 32g

50

%
Cholesterol 269mg

90

%
Sodium 2969mg

124

%
Potassium 1022mg

30

%
Total Carbohydrate 30.8g

10

%

Dietary Fiber 5.4g

20

%
Sugars 8.2g

Protein 35.8g

70

%
---
Calcium

192

%
Iron

7

%
Vitamin D

168

%
* The % Daily Value tells you how much a nutrient in a serving of food contributes to a daily diet. 2,000 calories a day is used for general nutrition advice.