Turkish street foods will definitely amaze you by how versatile and palatable they are. To prepare for your next Turkey trip, you should take a look at my food recommendations in this humble article now!
Turkish gastronomy, in general, is inherited from former Ottoman cuisine; hence, you may find comparable Turkey gastronomic food traits in other Ottoman-related nations.
In Turkey, the most frequently used ingredients are meats, corn, and some signature seafood from the Black Sea. This particular feature is also shown in their street foods that I will suggest to you in the below categories. Don't miss out!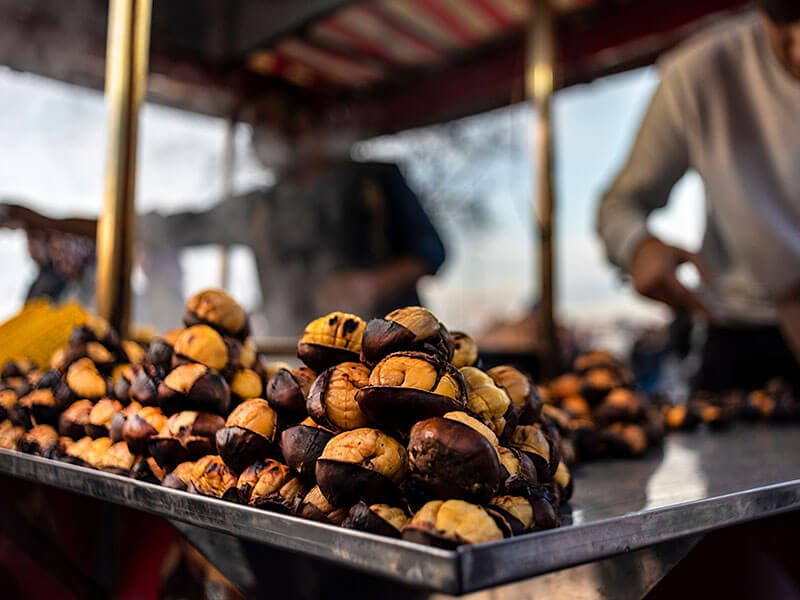 This category is my special gift for meat lovers, and you will surely drool at these flavorsome treats. Let's scroll down immediately!
1. Döner Kebab or Doner Kebab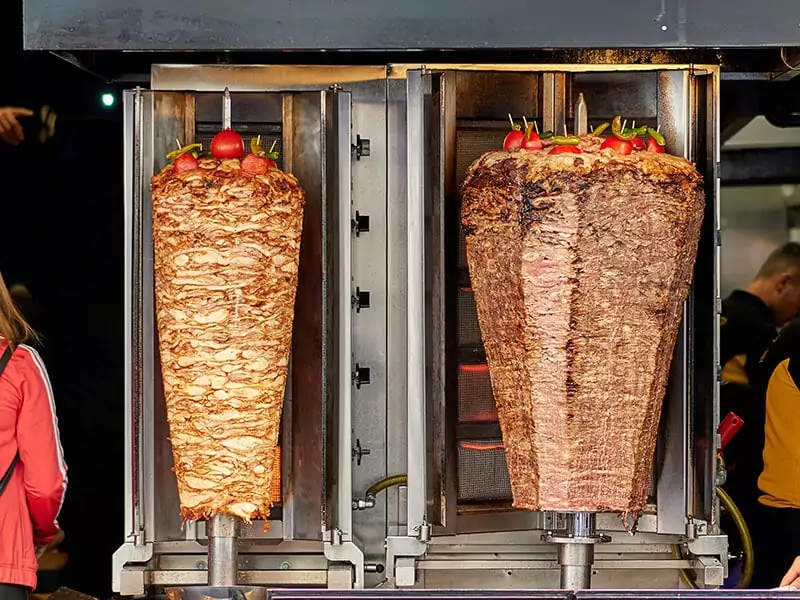 The beginning of the list of Turkish meaty street foods must definitely call the name of Doner Kebab. All classes always love this famous sandwich, and they can eat it every day. It is not an exaggeration to tell you there are thousands of Döner Kebab stalls in Istanbul.
Doner Kebab was a specialty of the former Ottoman gastronomy, or more specifically, it originated in Bursa (Turkey now) from the 17th to mid-19th century.
Thanks to the idea of slowly roasting meat skewers vertically, the meats (beef/lamb/chicken) are cooked perfectly while still preserving the juicy interior. The food quality is lifted by combining the protein with fresh veggies (shredded cabbages, tomato, lettuce, etc.).
Doner kebab is so delicious that its popularity has gone further than the borders of Turkey and has become a favorite treat in several countries such as Germany or Arab. Breakfast, lunch, dinner, or mid-day snack, you can have this yummy food anytime you want in a day.
2. Köfte Ekmek
(Meatballs Sandwich)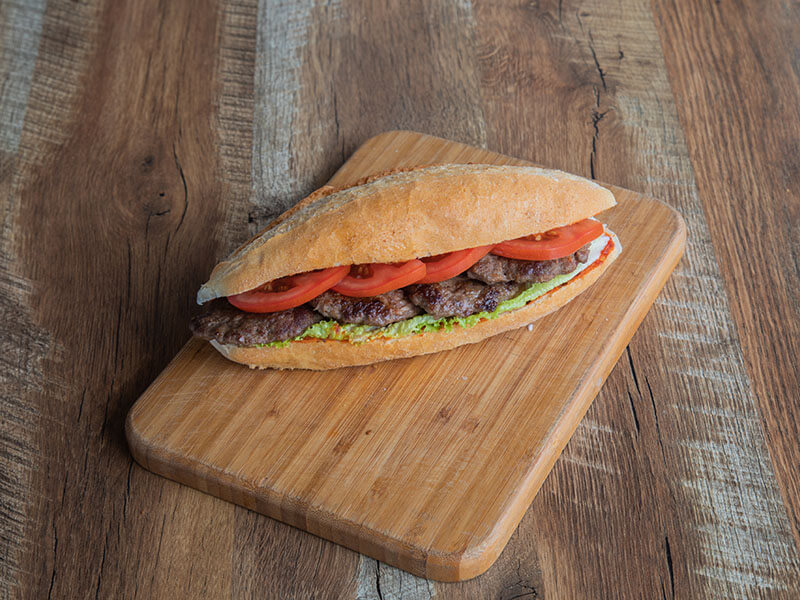 Kofta is a term that generally describes meatballs in various cuisines, and Köfte Ekmek is one of the most famous varieties, which comes from the western region of Turkey.
The food was mainly spread during the Ottoman Empire and now is a prevalent street food around this country. If you have a chance to watch a sports match in any of Turkey's stadiums, you will see many people are selling Köfte Ekmek around the place.
Since Köfte Ekmek only means marinated meatballs with plenty of spices (cumin, allspice, and black pepper), Turkish people regularly match it with some other things.
Some of them are refreshing vegetables (tomatoes, green peppers), herbs (parsley), and condiments to harmonize the food's taste. After all, the whole thing is stuffed into bread, and a tasty Turkish Meatball Sandwich is made like that.
3. Kokoreç
(Grilled Lamb/Sheep's Intestines)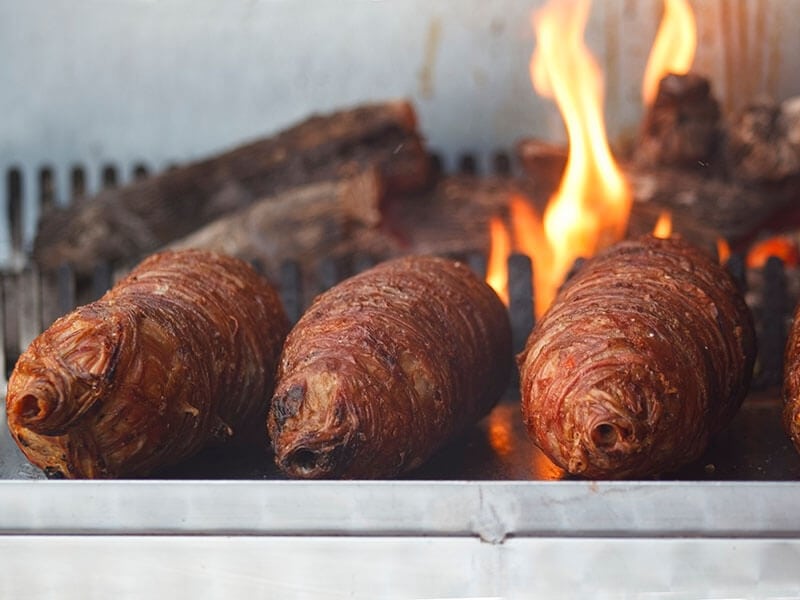 It might look similar to the previous Doner Kebab's grilled meats; yet, this Kokoreç is actually made from lamb or sheep's intestines. Although there are several variations of Kokoreç in the other European cuisines (Greek or Balkan), the Turkish version is proudly distinguished.
Large and small intestines with thymus glands (sweetbreads) are all the offal parts of lamb/sheep required in the traditional Turkish recipe. Everything will be made into skewers and roasted horizontally on a directly open fire.
When you buy it, the sellers will serve you the chopped intestines on a half or crispy bread rather than on a plate, which is reasonable since it will help balance the taste. Turkish people also add tomatoes, green chilies, and some condiments to enhance the flavors of their treat.
An exciting fact about Kokoreç is the China Food Association once requested to import this treat to their country; unfortunately, the Turkish Exporters Assembly denied it. Now, do you know how prevalent this delicacy is?
4. Çiğ Köfte
(Raw Meatballs)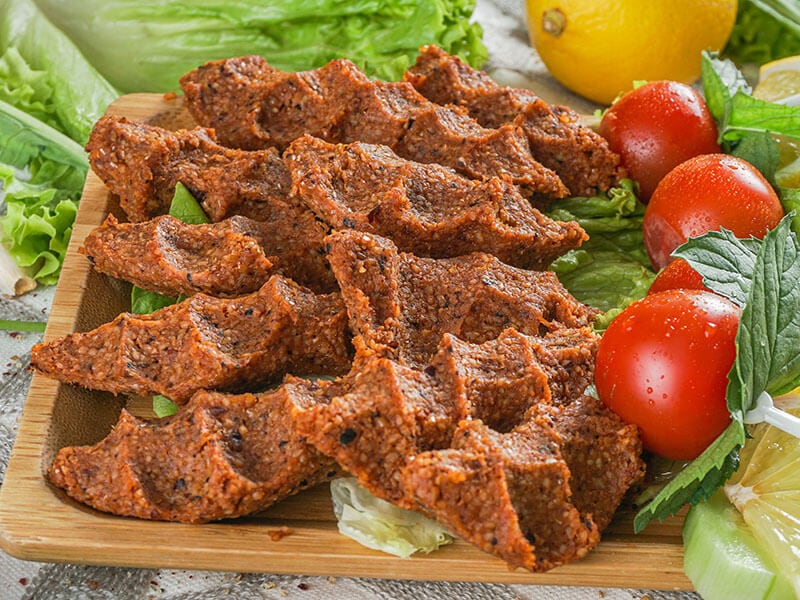 The term "Çiğ Köfte" means "raw meatballs" in English, so there is nothing much to say about how Turkish people serve this treat. The meat part is regular fatless lamb or beef mixed with hot spices (Urfa Biber, Pul Biber/Aleppo Pepper), bulgur, onions, etc.
In Turkey, people might see these Raw Meatballs as a famous Istanbul street delicacy or the most renowned street food of the whole country. It is best to consume the food freshly made to prevent any growing bacteria.
This dish is now preferred to be seen as a vegan food since people in Turkey adore the veggies-prepared Çiğ Köfte better. The vegan Çiğ Köfte will call for only bulgur, spices, potatoes, and chopped scallions. It will still taste as good as the original meaty version.
5. Dürüm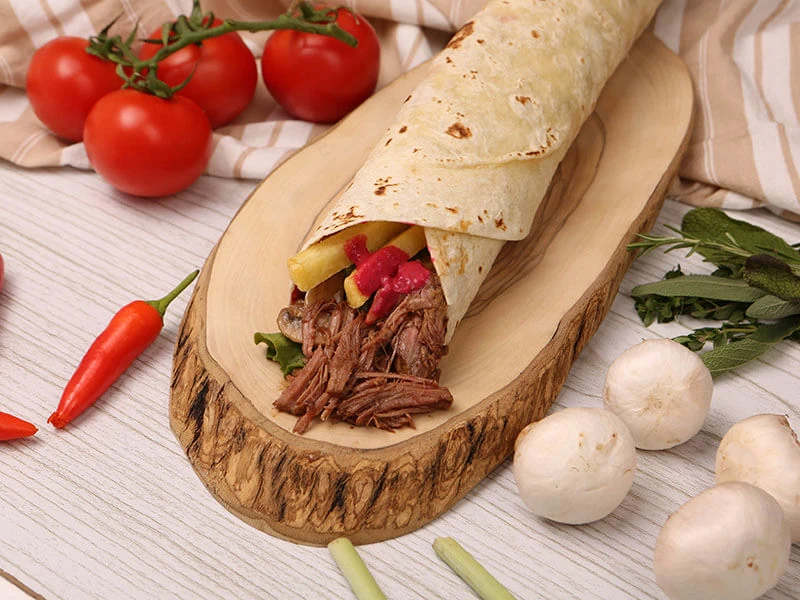 The name "Dürüm" is derived from "Dürmek", a term that means "to roll/fold up" in the Turkish language. This favorable Turkish Wrap has its origin in Istanbul, and you might see it somehow familiar to the previous Doner Kebab.
Dürüm is one of the most versatile delicacies since Turks can make it out of almost any meat or other meaty dishes. The wrap is prepared by wrapping meat inside a layer of Yufka or Lavash Flatbread, which helps reduce the greasy feeling when eating.
The most well-known variations of this traditional Turkish dish are Adana Dürüm (with Ground Lamb Kebabs) and Urfa Dürüm (with Ground Beef Mixed Lamb Kebabs).
The lovely fragrance from the charcoal combined with various familiar veggies (diced/sliced tomatoes, lettuce) and aromatic herbs like parsley makes the treat even more tempting.
6. Tantuni
(Lamb Wrap)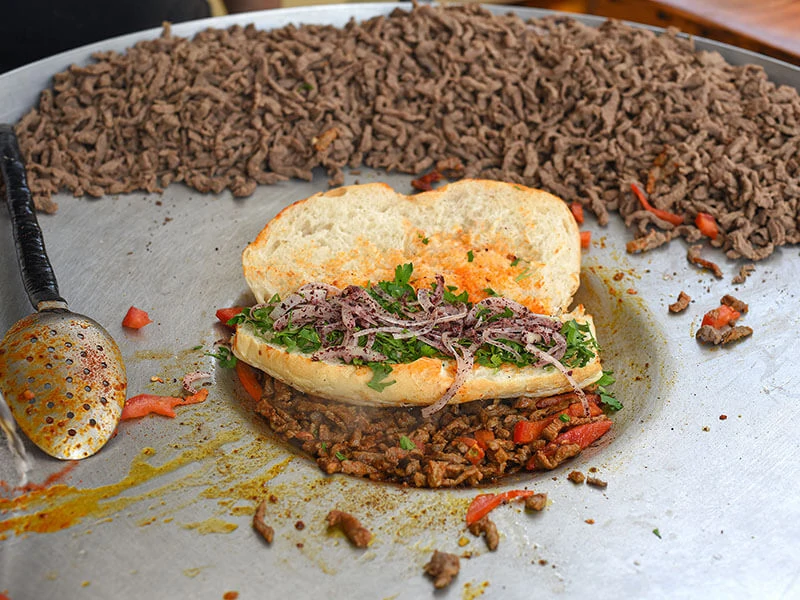 Instead of using various meat fillings like Dürüm, Tantuni calls for a specific type of stir-fried lamb cooked in a traditional Turkish sac. Turkish people solidly state their authority on this delicacy with this cooking utensil.
Tantuni was first created in Mersin's town, which lies in the Mediterranean region of Turkey. In the 1980s, Tantuni found its way to spread around this beautiful country. It was initially a treat for poor people before becoming a beloved food for all ages, races, and grades.
The idea to make a portion of Tantuni is quite simple. The cooks will simply wrap the meat and various refreshing companions such as tomatoes and onions into a layer of Lavash bread.
To be honest, the Mersin Tantuni is relatively spicy, yet, you can find the less hot ones in Istanbul. Furthermore, Tantuni might be pretty greasy if you are not a fan of oily food. Then, having some drops of lime juice will make the Tantuni more favorable.
7. Lahmacun
(Turkish Pizza/Crispy Flatbread With Meat)
Pizza is a famous Italian dish, which has many variations globally. Then, how is this Turkish Pizza different from the mentioned Italian food? The truth is Lahmacun is not a variation of Pizza; it actually originated in the Levant, in the former Ottoman Empire.
Basically, a portion of Turkish Lahmacun also consists of tomato paste, onions, herbs, minced meats, and condiments, just as the Italian Pizza. On the other hand, Turkish chefs use thin pita dough instead of pizza dough for their country's Lahmacun.
Lahmacun also represents a good virtue of Turks: sharing food; therefore, you can see people in this country love eating and sharing this Lahmacun with their loved ones. Before serving, the chefs regularly put some lettuce and a splash of lime juice on top of your food.
If you coincidentally come across a Lahmacun food stall on the street of Istanbul, do not think twice and give this delicacy a go immediately!
8. Tavuklu Pilav or Chicken Pilaf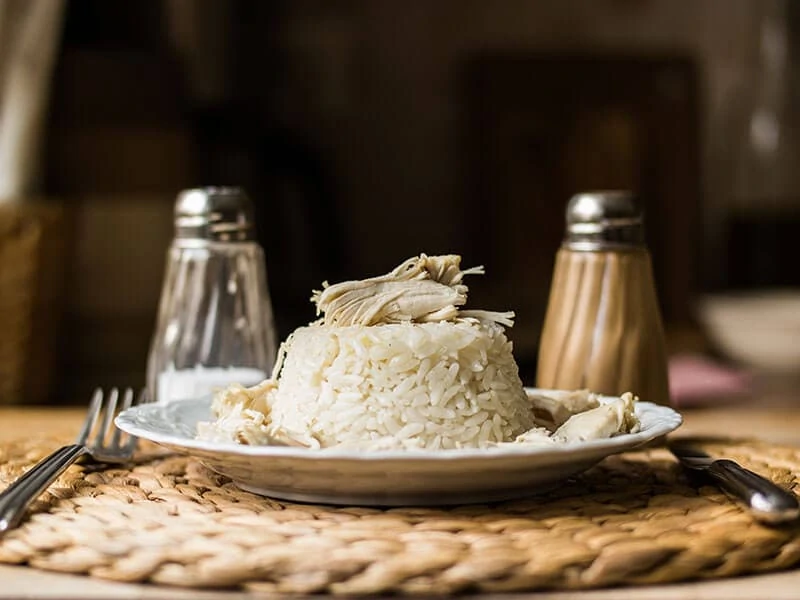 It is hard to go wrong when it comes to rice and boiled chicken; this well-known combination complements each other in various ways. Tavuklu Pilav is also considered one of Turkey's most beloved grab-and-go dishes, due to its ease of preparation.
The rice used in this Turkish Tavuklu Pilav is flavored with butter, so it is pretty different from the steamed rice in some famous Asian recipes or else. Don't worry if you think the food can be too buttery; you can have pickles as a side dish for it.
Another famous variation of Tavuklu Pilav is Tavuklu Nohutlu Pilav. This one requires additional boiled chickpeas to serve with chicken. They might look the same; yet, they are not the same. One thing is for sure, both of them are delicious.
9. İçli Köfte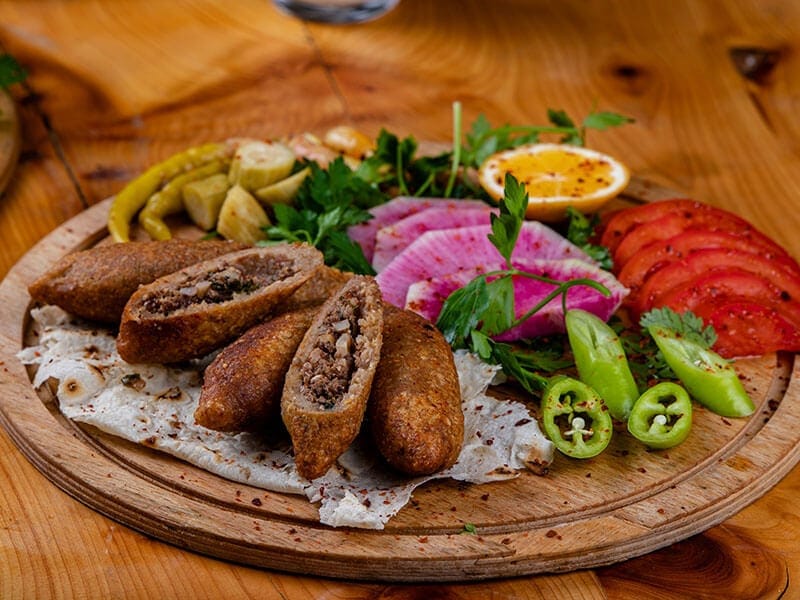 İçli Köfte (or Stuffed Meatballs in English) is a popular street snack in Istanbul and the southern Turkish, notably in Kilis. Don't confuse this with the prior Çiğ Köfte; they're not the same thing.
A cook, for example, requires some expertise to bake/fry a qualified İçli Köfte rather than leaving it raw. Each bite of this food will offer you all the rich tastes from nuts, meats, and spices. How flavorsome!
Although the dish is traditional Turkish, it was inspired by Middle Eastern cuisine. As a result, İçli Köfte may also be found among the top Asian-inspired appetizer suggestions. The rich flavor combination of nuts, spices, and meats will simply blow your mind.
Not only being served as a snack or appetizer, but İçli Köfte can also be a main dish in a meal. Turks love İçli Köfte so much that they have it in any meal of the day. Therefore, there is no reason to deny having this delicacy.
---
Seafood treats are also remarkable in Turkey, so, as a foodie, you should never neglect these delicacies. My suggestions for seafood to try on Turkey's streets are right below!
10. Midye Tava
(Fried Mussels)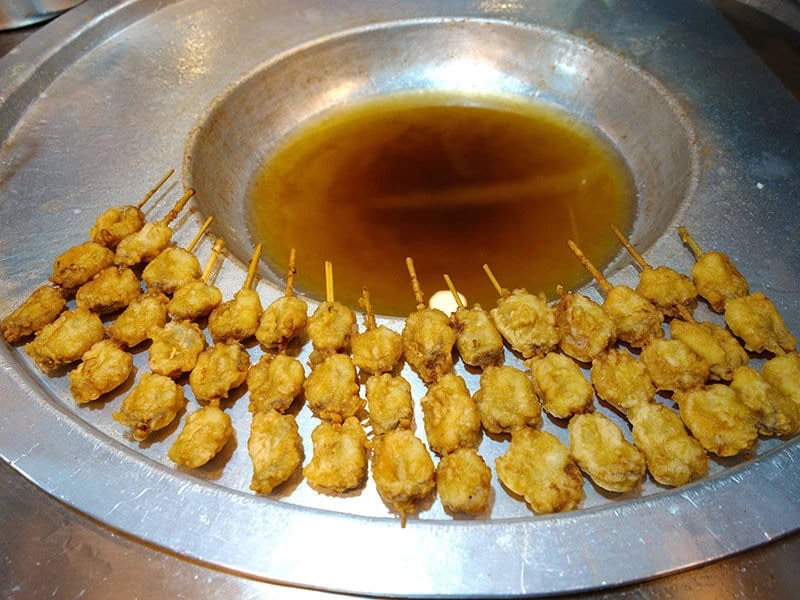 Midye is a term that refers to a kind of plump orange mussels, and Midye Tava is a Turkish street dish that calls for battered and deep-fried mussels. This food is a staple in Istanbul and its surrounding regions; you can easily find it at street vendors.
The seafood will be fried until cooked in a large traditional pan with sizzling oil and then served with special "Tarator" sauce. The sauce calls for the essential ingredients (lemon juice, garlic, yogurt, etc.) to please anyone's appetite and upgrade the Fried Mussels.
Typically, people serve Midye Tave as skewers on the street so that you can hold and have it when it is still warm. Yet, there is another way to enjoy this food: sandwiching it between Turkish bread/sandwiches. The latter way helps you to have a fuller meal.
11. Midye Dolma
(Stuffed Mussels)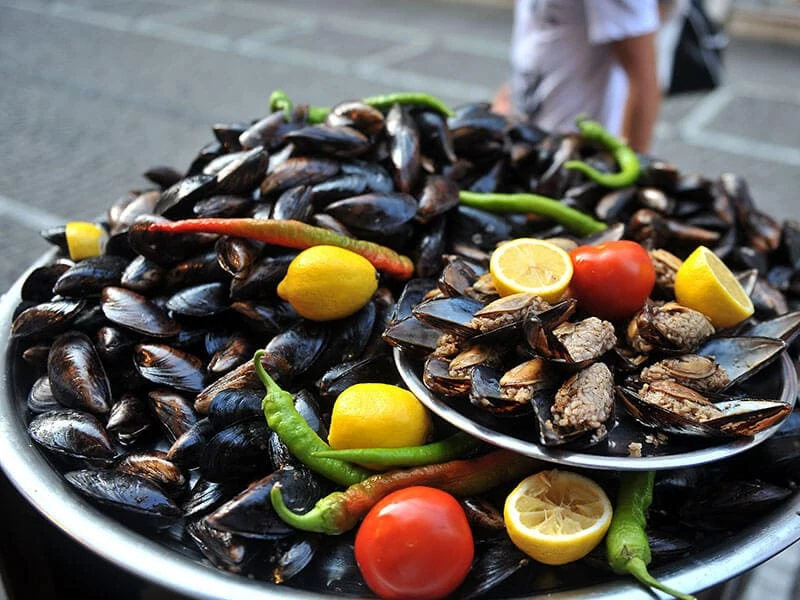 This Midye Dolma is the next option for mussel dishes in Turkey. Now, the seafood won't be merely fried, but the chefs will stuff the plump mussels with various things (rice, spices, and herbs). Midye Dolma is tasty in every mouthful, thanks to the iconic stuffing combination.
This food didn't originate from Turkey; historicals believe the Armenian-Ottoman people first prepared it. Because of that, there is also an Armenian recipe for this delicacy. All in all, the Turkish version is unique in its own way.
Once you start craving the treat, don't forget to add a few drops of lemon juice on top of your food. It will help to reduce the greasy feeling and awaken your taste buds. The vendors will keep serving more of it until you say stop, so you should tell them when you are full.
Turks people love having Midye Dolma with alcohol so that you might find this food in the bars. Interesting!
12. Balık Ekmek
(Grilled Fish Sandwich)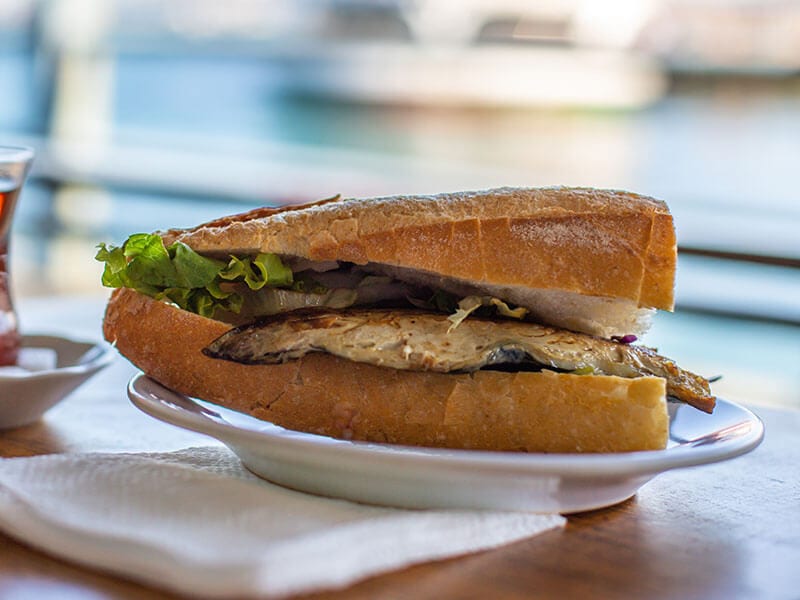 Have you ever experienced having a sandwich on a boat? If not, this might be a fascinating experience for you. Instead of finding a Balık Ekmek in a traditional restaurant, the most recommended way to have a perfect Grilled Fish Sandwich is on a boat on Eminönü shore.
The cooks will prepare the fresh fish (usually Norwegian mackerel) directly on their boats before stuffing them into a 6-inch sandwich with plenty of fresh lettuce and onions. The flavors from these refreshing ingredients combined with the fish part can tempt you quickly.
To talk more about Balık Ekmek's origin, this food is an authentic Turkish recipe and has been around since the mid-19th century. The initial place that created Balık Ekmek is on the seashore of Bosphorus. Since then, Balık Ekmek has been an irreplaceable dish in Turkey.
You don't need to hesitate to have the second one since each portion is highly affordable. One tip for you is to have the treat in the afternoon; it is the best time to enjoy a piece of Balık Ekmek and see the sun sinking to the sea.
13. Kalamar Tava
(Fried Squid Ring)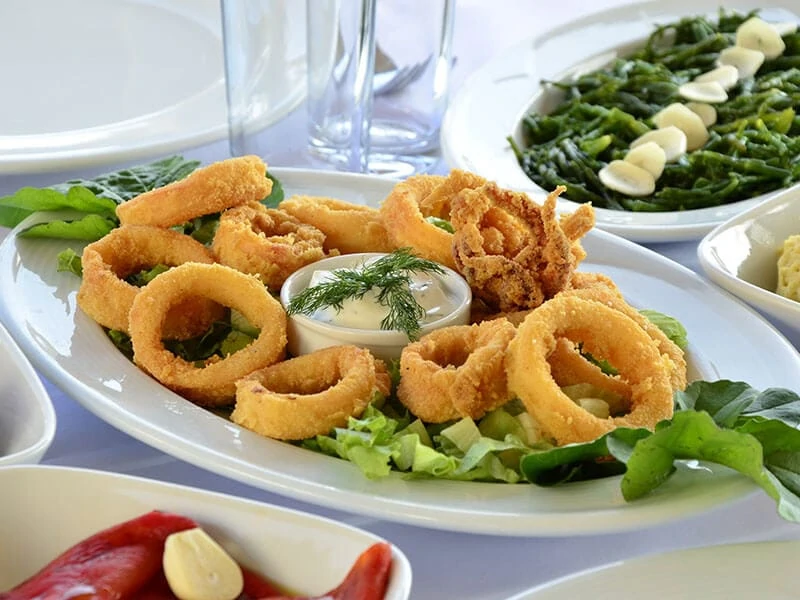 The next seafood treat on this list is Kalamar Tava, a traditional Turkish fried treat. To reduce the unpleasant odor from the seafood, the cooks will soak the ring-shaped calamari/squid slices into milk and batter them before frying them in sizzling oil.
The highlight point that helps the Turkish Kalamar Tava distinguish from the other regular fried treat is the flavored batter (with baking soda, pepper flakes, and herbs).
Turkish people often use this Fried Squid for their traditional Meze, including various side dishes such as Kavun (sliced ripe melon), Beyaz Peynir (white cheese), etc. Together with a few lemon wedges, your plate of Kalamar Tave is ready to dig in.
14. Balık Çorbası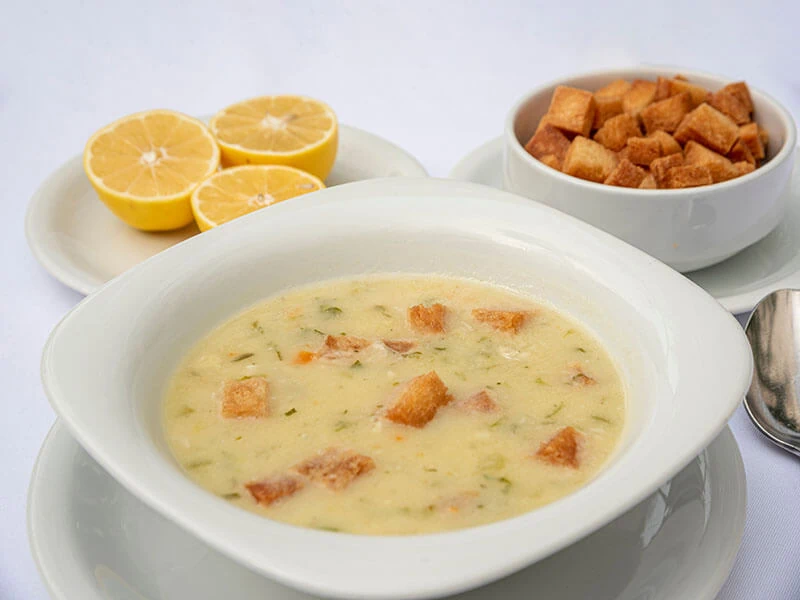 Balık Çorbası was mentioned in the first Ottoman cookbook in 1859. This favorable fish Soup originated from the old region of the Ottoman Empire, which is now known as Istanbul, and the areas of the Black Sea.
The original versions of Balık Çorbası require double fish compared to several other regional variations, making them hearty enough for any large meal. On the other hand, you can use different types of fish to make the soup.
Lastly, pairing it with some crispy bread slices will make your soupy delicacy complete and more filling.
---
Not only add a beautiful richness to their country's gastronomy, but these Turkish desserts also create huge influences on other European countries' desserts. Do you wonder how these foods can do so? Let's explore more now!
15. Helva or Halva
(Paste-Like Sweets)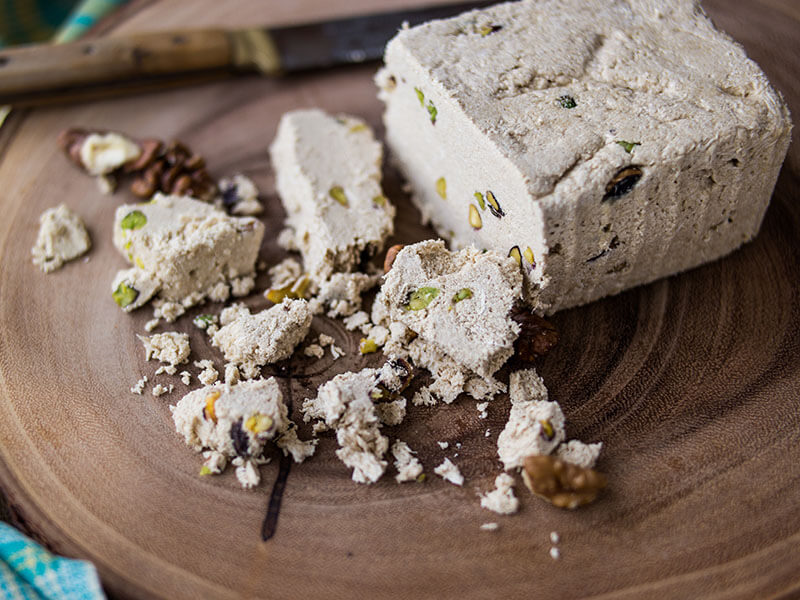 Helva doesn't refer to any specific dish but instead refers to a group of sweets with a paste-like consistency. The confectionery treat was a prevalent Persian dessert, which now belonged to the modern Iranian cuisine.
Although the first Helva was created in the 7th century, its name came to English in the 1840s (meaning "sweet"). Time after time, Helva/Halva has its varieties developed in many countries; some of the most prominent variations are the Turkish ones.
Because a standard piece of Helva in Turkish requires only sugar, nuts, dried fruits, and cocoa powder, it has a lot of energy, vitamins, and nutrition. Therefore, people can sometimes use it as an energy bar (with more organic ingredients).
16. Pismaniye
(Fairy Floss / Cotton Candy)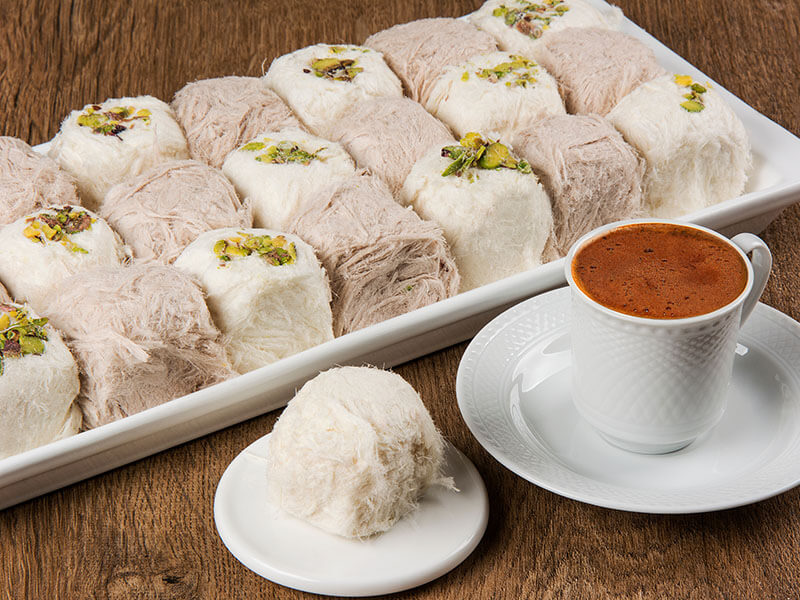 Pismaniye is a widely-loved Turkish sweet treat created by an Armenian chef in Istanbul. While there are various other theories about the food's origin, my suggested one is the most supported.
Besides the controversial origin of Pismaniye, the story behind its existence is also varied. Yet, no matter how they formed this treat, it is flavorsome and loved by many Turk's generations, especially kids.
The main components for Pismaniye are flour, butter, nuts (pistachios/walnuts), and sugar, so the treat tastes no boring at all.
Nowadays, thanks to the development of the dying technique, the sugary treat has various colorful colors, making tourists want to bring it home as souvenirs.
17. Baklava
(Flaky Baked Phyllo Dough)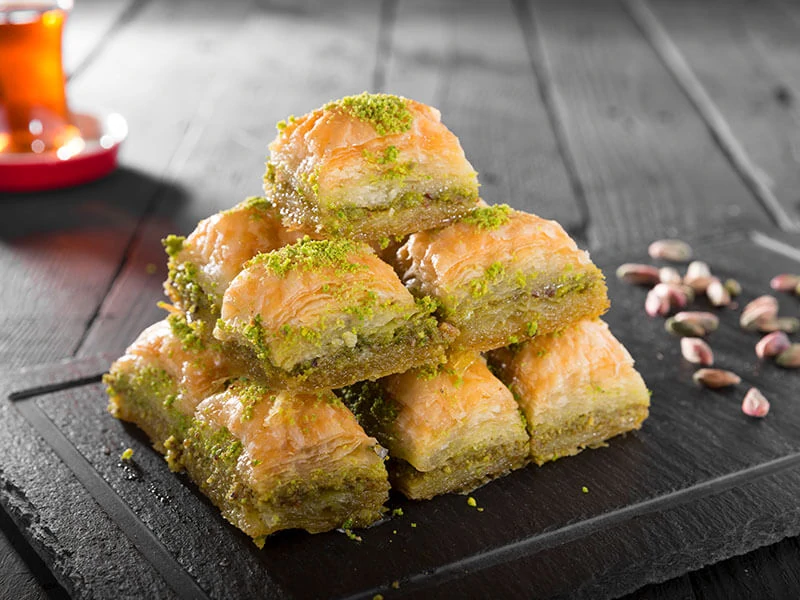 When discussing the origins of Baklava, it might be a little confusing since there is evidence that this dessert originated in ancient Turkey, while some claim it has Persian roots. Overall, Baklava is a must-try street snack during your trip to Turkey.
Baklava is made primarily by the use of the baking method. Although the dessert takes little time to prepare (less than 2 hours), it may be kept for several days. However, they suggest taking it within the first 24 hours to maintain the quality.
The gorgeous greenish hue in the Baklava comes from the toothsome ground pistachios; this topping is also a favorite for many people because it is perfectly crunchy. Not into pistachios? Feel free to ask for the other nuts like hazelnuts or walnuts.
As long as the food tastes buttery and nutty in every bite, then the changes in the nuts used are accepted. Baklava is served with ice cream or kaymak (a Turkish clotted cream-like product) in some other locality variation. The typical type will usually be called Şöbiyet.
18. Halka Tatlısı
(Sweet Churros)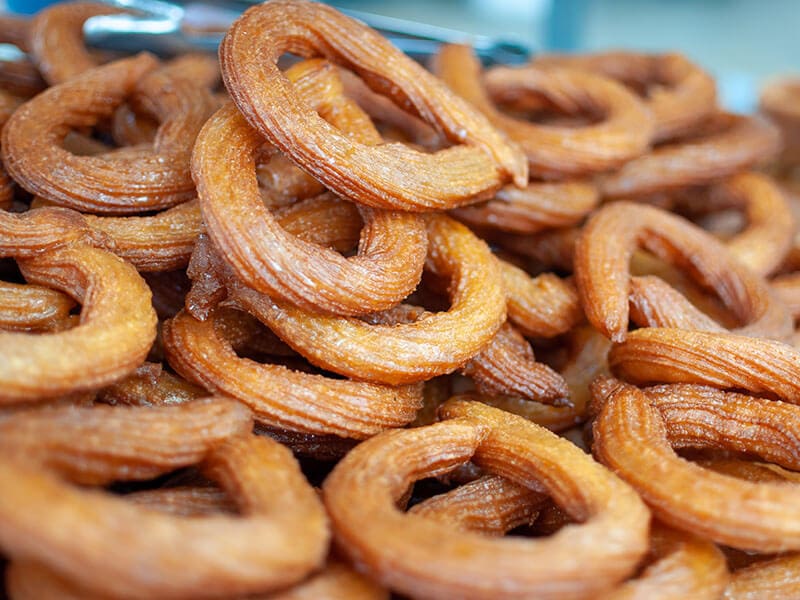 Wandering around the streets of Istanbul, you can quickly detect many vendors selling this Halka Tatlısı. With the appearance that is like the famous Churros, this Turkish Halka Tatlısı is loved a lot in this country and plays an essential role in various Turks' hearts.
The idea of creating this delicacy is quite simple; the cook will only deep-fry the Churros-like batter in hot oil before dipping it into a sugar syrup. Wait until the food is cooled down completely, then you can have a mouthful of this palatable yet straightforward dessert.
In the first bite, you can initially feel the crunchiness of the Turkish recipe's crust right on your teeth before the strong sweet taste rushes onto your tongue.
19. Lokma or Luqma
(Fried Sweet Dough)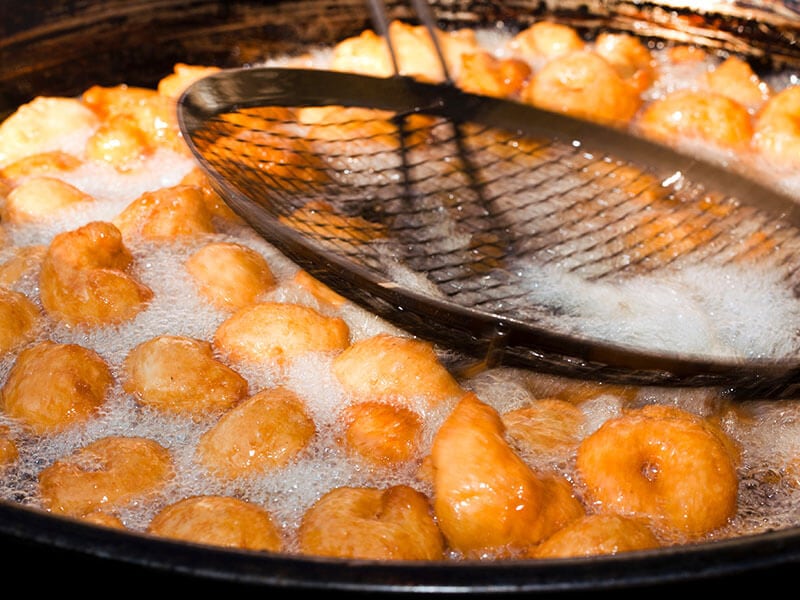 Even though its true origin is in Arab-influenced cuisines, Lokma is one of Turkish cuisine's most favorite sweet treats. Passers-by will definitely be drawn in by the fragrance radiating from these intriguing fried balls.
Lokma (in Turkish) is derived initially from the Arabic word "luqma", meaning bite, morsel, or mouthful. Due to an ancient record, luscious Lokma was used as a small gift for the winner in the famous Olympic games.
Don't misunderstand this Lokma with the previous Halka Tatlısı! Yes, both of them are coated with sugary syrup, but Lokma's taste is milder and less sweet since it calls for lemon syrup instead of the regular one. You won't regret trying it once.
20. Kakaolu Kek or Brovni
(Coffee Brownies)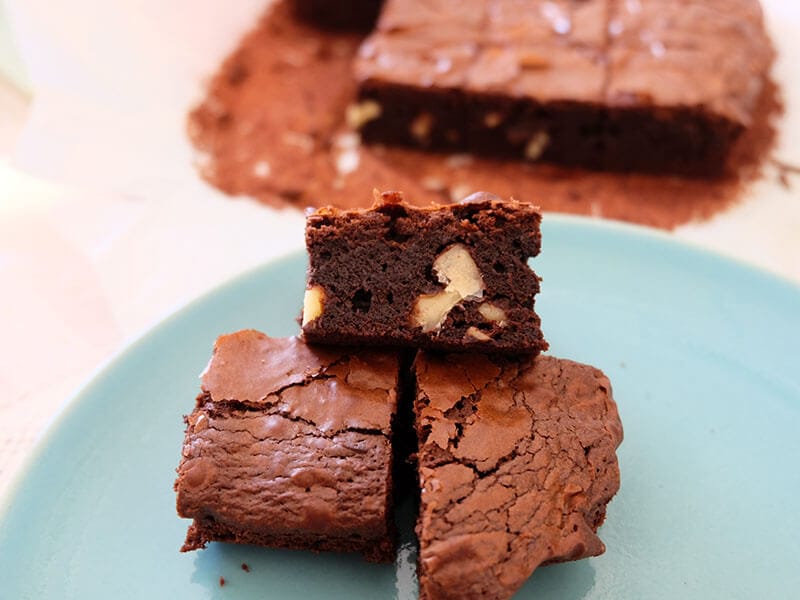 Coffee is loved in Turkish; as a result, you can also find various sweets from this gorgeous country that call for coffee. After all, I have decided to recommend you Kakalu Kek or Brovni as the most prominent coffee-scented sweet treat you should try in Turkey.
These Coffee Brownies are simply a derivation of the original recipe of Chocolate Brownies, and it will never go wrong when matching coffee flavors and nuts (such as cardamom).
The treat will typically serve in bite-size cubes. Once you put a piece in your mouth, it can melt immediately, and the solid coffee taste can wake you up.
21. Macun or Macun Şekeri
(Toffee Paste/Lollipop)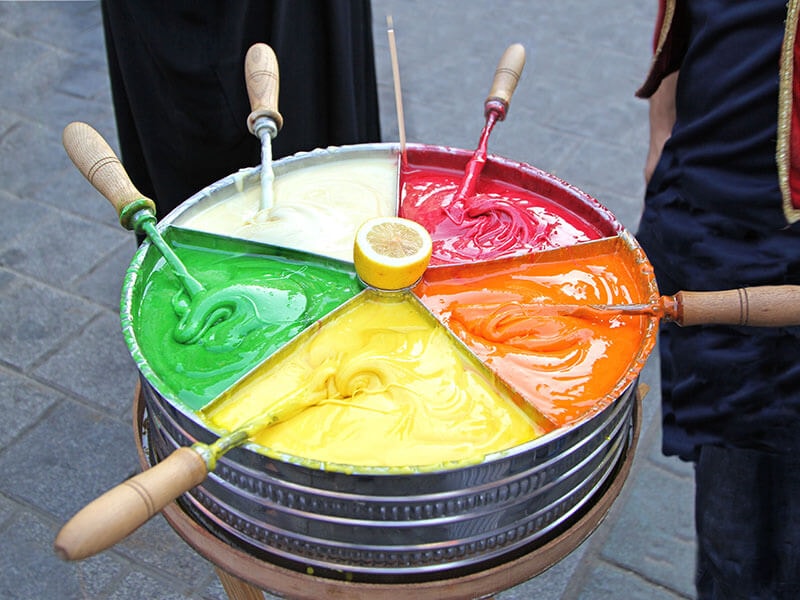 If you have a chance to visit a Turkish fair, you will quickly see children gathering around a small vendor of Macun. There is no surprising reason why this sweet treat is attractive to children; how can a lovely kid deny something that is both colorful and mellowy like that?
Macun is much more than a sweet paste; it is also a medicinal treat since it contains a variety of herbal ingredients in addition to jelly-like, melted sugar.
Although it was made by coincidence by ancient Turkish people while preparing another confection, this Macun is thought to help calm human souls.
The rustic treat is traditionally served in wooden or copper trays, and the street vendors which sell Macun usually play loud music to attract the customers.
22. Dondurma or Maraş Dövme Dondurması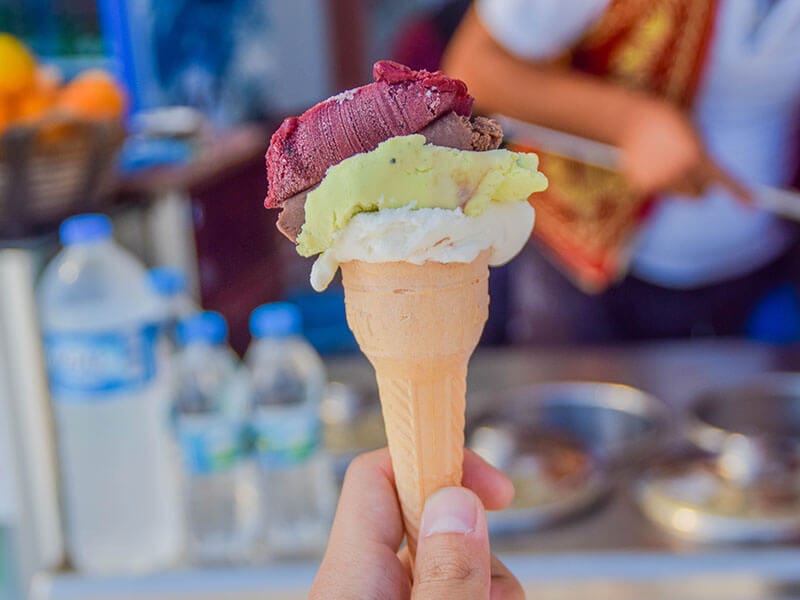 Kahraman Maras are regularly seen as the ice-cream capital of Turkey, and this Maraş Dövme Dondurması also has its origins in the region's bylanes. The name, Maraş Dövme Dondurması, also means "ice-cream in the city of Maraş".
You must have seen a video of ice-cream sellers in Turkey showing skillful and fascinating "magic" performances, right? So why not try it once yourself?
Furthermore, Turkish Ice Cream is also attractive because of its delicious taste, color, and signature chewy texture (that you might need a fork and knife to eat). Turks people like pairing their cold treat with mastic and resin.
Thanks to the use of Sahlep powder (wild orchid roots), this creamy goat milk ice cream has a deliciously soft and chewy texture that you won't find anywhere else. A cup of Turkish coffee or tea will be a great companion when having this favorable sweet treat.
---
Wait, don't move out yet! Besides the previous Turkish street dishes, I still have some other recommendations for you. If you haven't chosen your favorite one, it is time to find it in the upcoming section.
23. Şalgam Suyu or Şalgam
(Turnip Juice)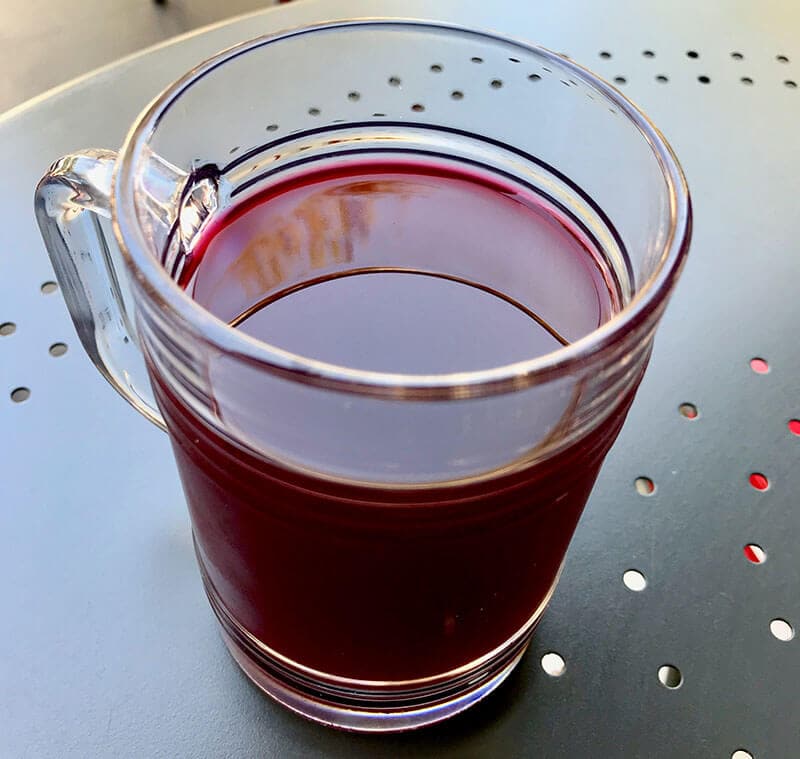 Şalgam Suyu (which means Turnip Juice in English) is renowned and loved by many Turks. They even have this appealing Turkish drink as a daily treat (after eating kebabs), especially during cold wintertime.
Şalgam is also a great partner for the famous alcoholic drink, Rakı. They match each other relatively well.
The term, şalgam, has its root in the Persian language, and it refers to the word "turnip" in English (Turnip is also its main component). Since they only use turnip for Şalgam Suyu, this relaxing, sour drink is healthy.
The fermented lactic taste and scent might be pretty upsetting to you at first, but if you can gain the encouragement and try it once by thinking about the benefits it can offer to your health. Who knows, maybe you will love it after the first time trying.
Take a look at how Şalgam Suyu is created and know more about it today!
24. Boza
(Fermented Turkish Drink)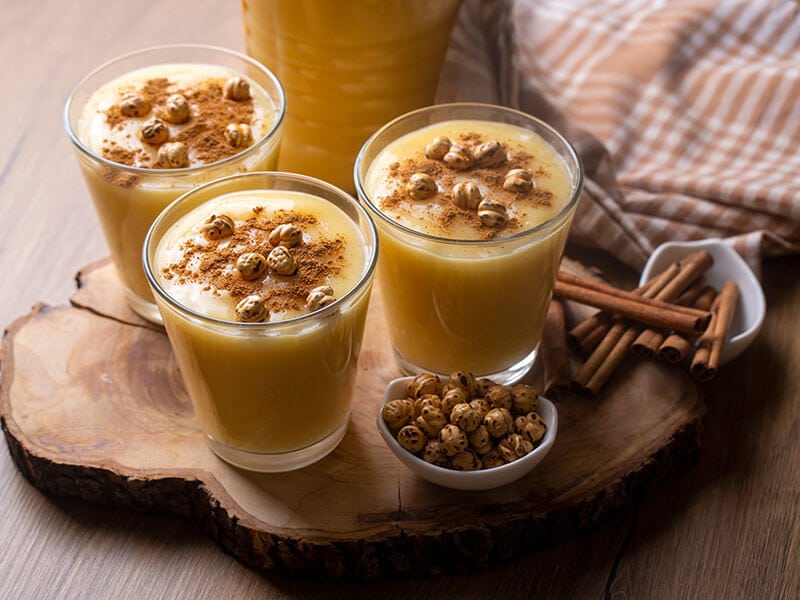 Boza is a traditional alcohol drink (which contains only around 1%) in many countries in various regions around Turkey. By fermenting corn, millet, and wheat, ancient people in this area made a pleasing soft drink that is highly popular nowadays.
There is no official information about the drink's origin; yet, they have some theory around its name and think it might be derived from the Persian language or Turkish. The drink initially had two primary flavors, sweet and sour, but the sour ones are more famous.
The treat was once forbidden in the 17th century due to the alcoholic drinks prohibition; yet, Boza came back and became a prevalent drink in Turkish people's hearts once again.
25. Pide
(Thick Flatbread/Boat-Shaped Turkish Pizza)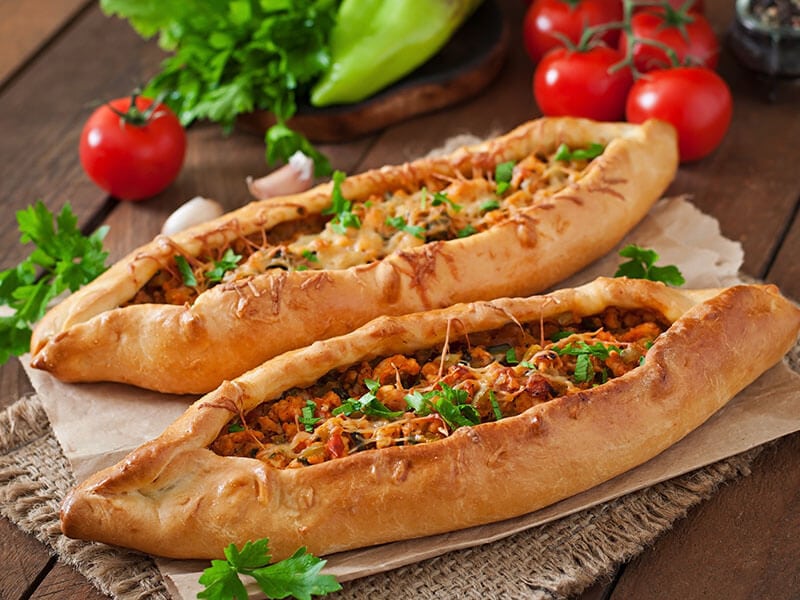 Yes, I know things are getting confusing here since I have previously recommended a dish called Turkish Pizza (Lahmacun). But these two dishes are not the same, and there are several significant differences between them.
First is the origin; Pide is an authentic Turkish recipe that has its origin in the small town of Bafra or Samsun from the 1850s. There are several other theories about this Pide's origin; therefore, you can choose to believe any one of them since there is no official info now.
Second is the base. Instead of using thin and crispy pita flatbread like Lahmacun, Pide calls for thicker, oval-shaped flatbread with ground beef, cheese, eggs, and vegetables.
Based on the different regions, Turks might develop their variants of this Pide. Some even require Roasted Beef, Kavurma (fried meat with salt and suet), Sujuk (cured beef sausages), Pastirma (air-cured meat), or spinach. All of them are worth craving for!
26. Börek
(Baked Filled Pastries)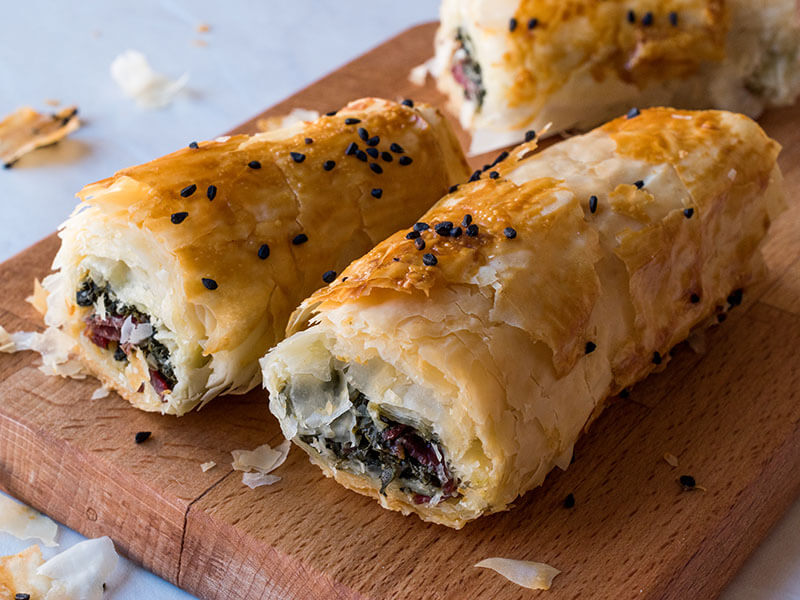 Now, move on to a widely-known Eastern Europe dish! The first Börek was brought to Turkey by the Ottomans, and Turks have been developing for years to make it infused deeply with their traditional features. 
Besides Turkey, this delectable dish is famous in Bosnia, Bulgaria, Moldova, and other Balkan countries. 
Börek has its name variated from a Persian word "burak", which means "Persian stew," and refers to dishes that have flaky dough, yufka. A standard Börek particularly consists of flaky yufka or filo dough and is filled with cheese, minced meats, spinach, and potatoes.
One thing you should notice once trying to have a piece of Börek is to wake up early since the food is typically served for breakfast at the local bakeries. It is pretty lengthy if you want to find a street vendor that sells Börek.
Although several stores still serve the food until noon, it is best to have these favorable Baked Filled Pastries in the early morning.
27. Kestane Kebab
(Roasted Chestnuts)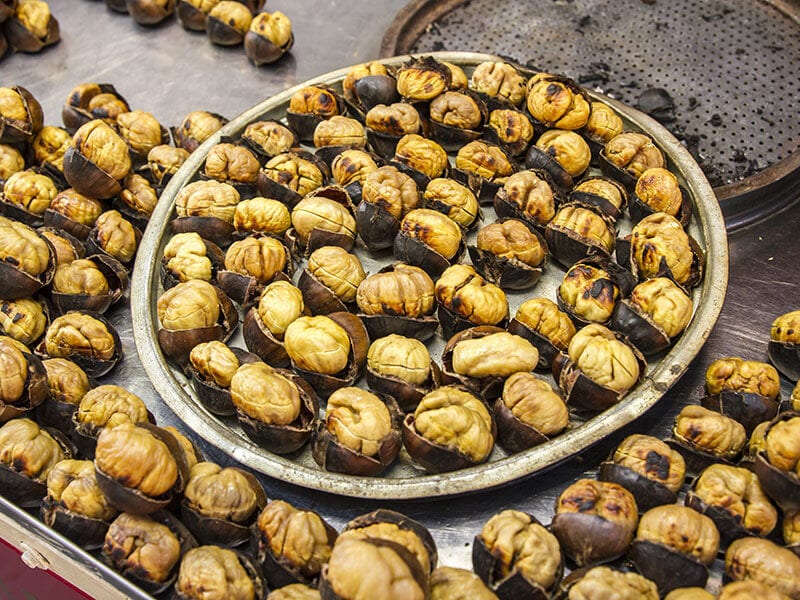 When walking along Sultanahmet street of Istanbul, crowded with foreign tourists, you will see many small stands selling roasted chestnuts. In the cold of winter, the smell of chestnuts wafting through the air will make it hard to resist buying a bag to take home.
What other dessert can be as simple as this? It might be rustic, yet its allurement also lies in the Turkish chestnuts' rich, nutty taste.
If you want something sweeter, you can try a Bursar's specialty, Kestane Șekeri (Candied Chestnuts). The Roasted Chestnuts are regularly sold by weight so that you can ask for a bit more easily.
28. Mısır
(Corn on The Cob)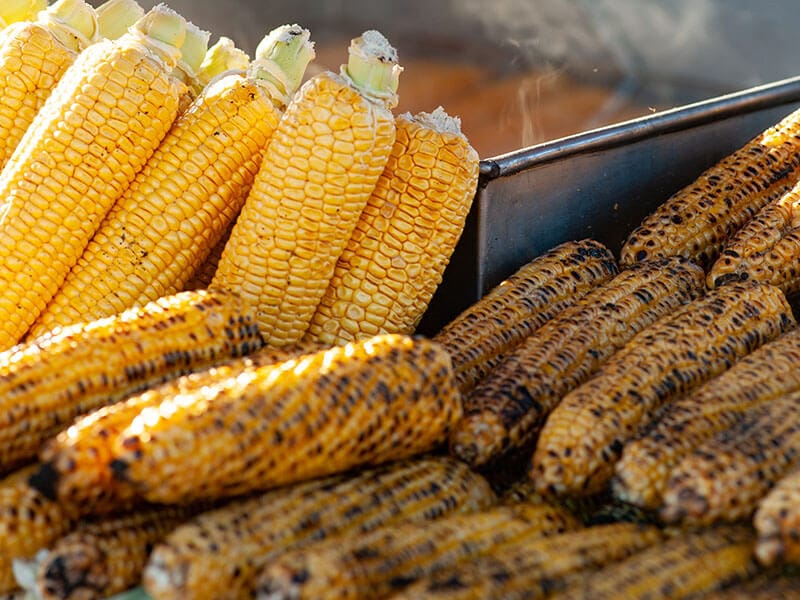 Move to another simple processed treat you can find on Turkey streets, Mısır. There are two main variants of Mısır in Turkey, Koçan Mısır (Boiled Corns) and Közde Mısır (Grilled Corns). Although they are rustic and simple, Turkish civilizations immensely love these treats.
Unlike the previous Kestane Kebab (Roasted Chestnuts), Turkish people prefer having these corn for summer rather than the wintertime (since the vegetable is in season).
When serving, the sellers will sprinkle some salt onto your food so that the saltiness can help elevate the mild, natural sweetness from the corn kernels.
29. Simit
(Bagel Bread)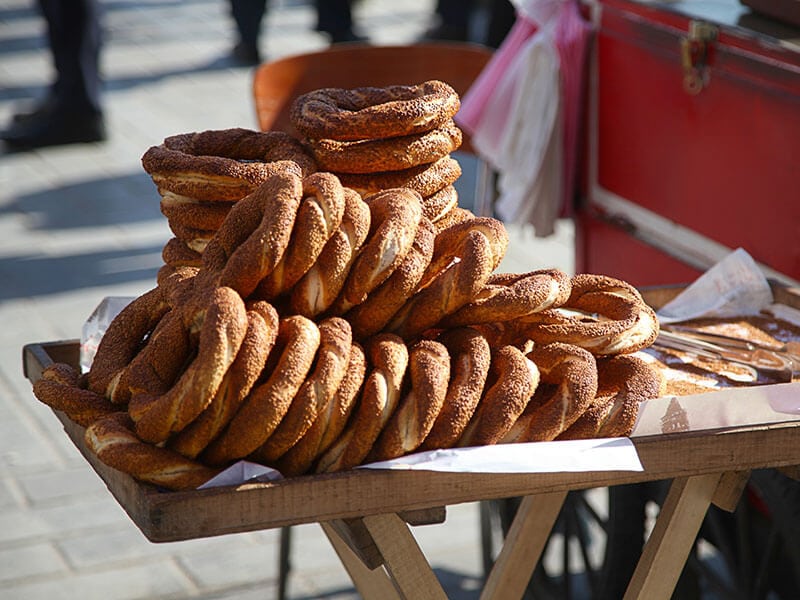 Simit first appeared in Istanbul in 1525. Over time, this bread has evolved into a snack that you can conveniently bring along with you to consume on the move. As a result, it has become a popular alternative for a quick breakfast in Turkey.
Small Simit stalls may be seen on the streets of this lovely country, particularly in Istanbul. Believe me when I say that the crispy crust and golden color, along with a touch of aromatic sesame sprinkled on top of the bread, will make it look highly appealing.
Pairing a slice of Simit with a cup of strong tea or a glass of Turkish's traditional Ayran (salted yogurt drink) is the best way to savor it without feeling greasy. Simit is also recommended if you want something vegan on your culinary tour.
A fascinating tip for you if you want to find a fresh Simit in Turkey is you should differentiate the terms "Taze simit!" or "Taze gevrek!", "Sıcak, sıcak!" and "El yakıyor!" from the vendors.
While "Taze simit!" or "Taze gevrek!" is the Simit that is baked within that day, "Sıcak, sıcak!" (meaning "hot, hot") and "El yakıyor!" (meaning "extremely hot") refers to the freshly baked ones.
30. Kumpir
(Stuffed Baked Potatoes)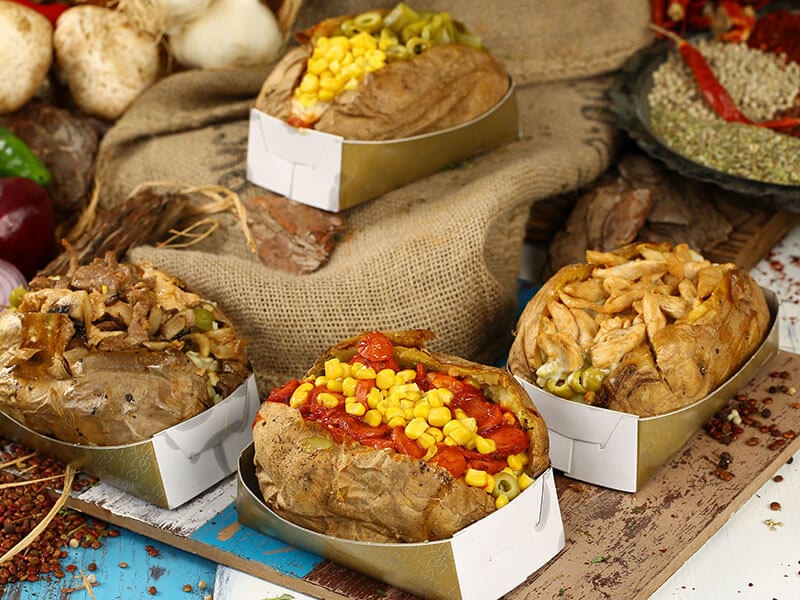 This Kumpir is a famous Turkish street food (originally a Croatian specialty)  simply made from potatoes but offers an irresistibly delicious taste. A standard Kumpir will have a smooth interior mixed with tasty fillings to increase the flavor profile.
Not simply frying or grilling, this dish offers a delightful culinary experience by combining potatoes with unexpected ingredients like butter, mozzarella, minced meat, sausages, veggies, etc.
The most attractive point of Kumpir is that you can freely choose toppings to sandwich in the baked potato. So you will have a chance to create your own version of Kumpir, which might be why the younger generations of Turkish people mainly love the baked potatoes.
31. Islak Hamburger
(Istanbul Wet Burger)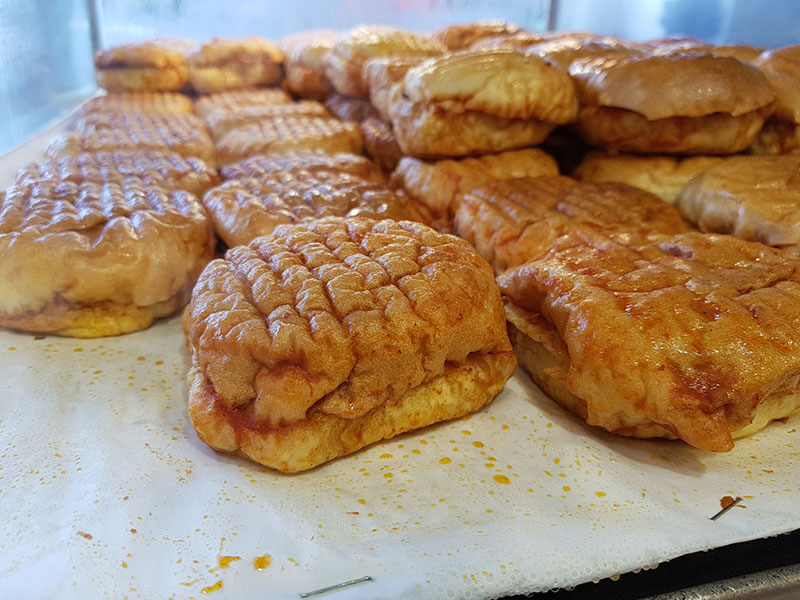 Islak Hamburger or Istanbul Wet Burger is truly a dish that you can mostly find in Turkey, but not everywhere. These particular Wet Burgers can only be found in some restaurants around Taksim Square.
These burgers look wet and sloppy; yet, they are not defective products. They mean to be like that as the chef will continuously steam it before serving. Furthermore, the food is usually stuffed with plenty of garlic, buttery tomato sauce, and meat to create a fulfilling dish.
These slider-sized burgers are iconic dishes for late-night meals in Istanbul since people love having them after drinking and partying.
Have A Good Meal (Afiyet Olsun)!
After all the suggestions in this article, my last word for you is "Have a good meal!" or Afiyert Olsun in Turkish. Since the street foods in Turkey are numerous and vary from many different categories, you can have many options to choose from.
Have you chosen your most wanted treat yet? If not, my advice is to start with something light and favorable such as sweet treats or snacks. You won't be too full after having it and be able to eat the other things.
If you have tried these foods once, please leave a comment to tell me your feelings about them. I would be highly appreciative of your effective contribution.