Fingers crossed, Persian desserts have a special place in the hearts of so many foodies around the world. This tea-longing culture offers a variety of scrumptious sweet delights that are perfect for casual indulgence and special festivities.
You'll soon notice that these much-appreciated desserts mostly feature rosewater, saffron, almonds, and cardamoms as the star of the show. Simple yet delicate and absolutely tasty, it's a doddle for any home cook to whip up these dishes at home.
If you're a die-hard sweet tooth, you're in for a real treat. In this post, we're taking an exotic culinary trip through the best desserts from the culinary world of Iran. Let's also figure out how to make and serve them to please a crowd in no time.
Whenever you're ready, scroll down to find your next favorite sweet treat for tonight's dinner!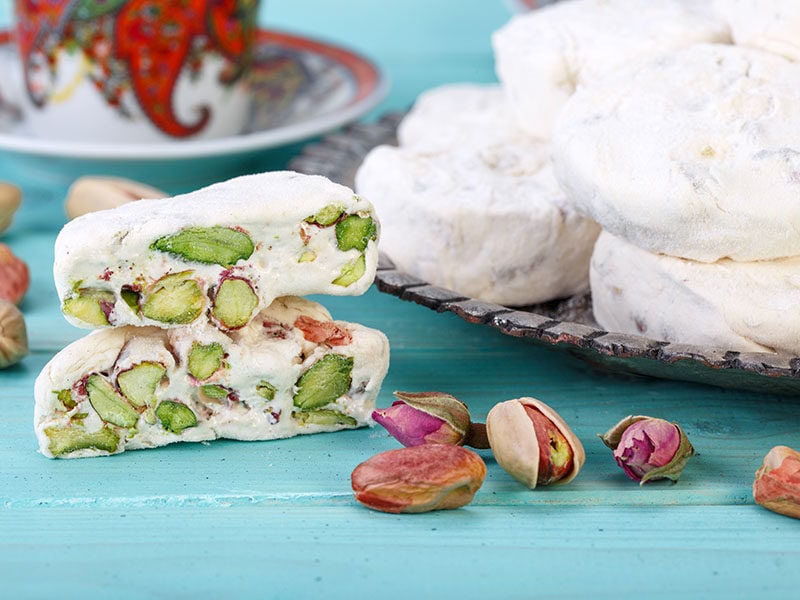 Top 23 Most Famous Persian Desserts You Should Try At Least Once
Discovering a new cuisine can be fun and challenging. That's why I've got you covered with this rundown of the best Persian desserts worth trying once you've set foot in this country.
Persian Desserts Starring Rosewater
Faloodeh Shirazi (Persian Rosewater Granita)
Masghati (Persian Rosewater Confectionery)
Noon Khamei (Persian Rosewater Cream Puff)
Persian Love Cake
Shir Berenj (Persian Rice Pudding)
Persian Desserts With Saffron
Bastani Akbar Mashti (Persian Saffron Ice Cream)
Kachi (Persian Halva Pudding)
Khoresht Mast (Persian Yogurt Stew)
Sholeh Zard (Persian Saffron Rice Pudding)
Sohan (Persian Saffron Brittle)
Persian Desserts Featuring Almonds
Ghorabieh Tabriz (Persian Almond Cookies)
Qottab (Persian Almond Nugget)
Persian Desserts Starring Dates
Koloocheh (Persian Date-And-Walnut Cookies)
Ranginak (Persian Date Cake)
Persian Cookies & Candies
Gaz (Persian Nougat)
Nan-e Nokhodchi (Persian Chickpea Cookie)
Pashmak (Persian Cotton Candy)
Shirini Keshmeshi (Persian Raisin Cookie)
Toot (Persian Mulberry Marzipan Candy)
Other Persian Desserts
Cake Yazdi (Persian Cupcake)
Khagineh (Persian Sugar Omelette)
Persian Baklava
Zooblia And Bamieh (Persian Deep-Fried Pastry)
What're The Best Persian Desserts To Make?
Whether you're looking for staple Persian sweet treats to try on your traveling or planning to incorporate this oriental cuisine in your homemade menu, here's my guide on the tastiest desserts that'll keep you coming back for more.
Heavenly Persian Desserts Starring Rosewater To Try
It's safe to say that all Iranian households have at least one bottle of rosewater in their kitchen. If you're in love with this aromatic ingredient, have a go at these incredible desserts!
Unlike the Sicily-style granita that most people are familiar with, Faloodeh is a frozen dessert prepared with vermicelli rice noodles drenched in a syrup of rosewater and lime. It's one of Iranian's oldest frozen desserts and is still widely sold in most ice cream parlors.
Frozen noddle may not sound tempting, but it will blow your taste buds away from the first bite. It's chewy, sweet, sour, and incredibly refreshing. No wonder this rosewater granita is so popular in the steamy days of summer.
If you're trying Faloodeh from an Iranian street vendor, you can always ask for some extra toppings like saffron, pistachios, or groundnuts to suit your taste.
Some foodies describe Masghati as a sweet marriage between jello and gummy bear. In essence, it's a traditional confection mostly from a starch mixture. Other ingredients like rosewater, nuts, saffron are what give this sweet its unique taste.
If there's any sweet treat that plays a major part in Iranian cultural hospitality, it'd definitely be Masghati. These soft, transparent, and colorful confections accompanied by a cup of tea are the best starter to a casual gathering in the nation.
A well-kept secret to success with this rosewater sweet lies in the quality of the wheat starch you're making it with. On a side note, it's best that you cut it into small diamond or square pieces before presenting it on the table.
For a pleasant dinner wrap-up, here's how to whip up a batch of Masghati at home!
Noon Khamei is a delightful Iranian puff pastry. The crispy, golden shells are loaded with fluffy whipped cream. In essence, it's a heavenly dessert with vanilla and rosewater flavors.
Though this sweet looks like it just came out of your favorite patisserie, it's actually a doddle to whip up at the comfort of your kitchen.
Most people lightly dust it with some powder sugar to enhance the stunning visual. Accompanied by a pipping cup of Persian tea, and these cream puffs are the perfect way to round out your next dinner party.
With such a decadent treat, you'd better be careful not to overindulge in it if you don't want your teeth rotten. Given the high-calorie content, you should only enjoy these cream puffs every once in a while.
Legend has its that this delicate dessert was once baked by a love-struck girl with the magical power to win the love of a Persian prince. And though there's no real love potion in this cake, it's still a mouth-watering and swoon-worthy dish for a romantic dinner.
A batter mixture of the almond meal gives the cake a buttery and moist texture upon baking. It also gets a wonderful fragrance from elements like rosewater, cardamom, and lemon. And for the finishing touch, a satisfying layer of syrup is poured onto it as it's fresh out of the oven.
With or without its mythical charm, this delightful cake type is one way to get your crush head over heels for you. Or else, you can decorate it with your favorite toppings like nuts or rose petals and treat yourself to some exotic sweet bites every once in a while.
Interested in casting a spell on your special someone? Here's a short tutorial to nail this Persian love cake!
Another much-appreciated dish served in Iftar, the evening meal of Ramadan, Shir Berenj is a handed-down Persian milky rice pudding. It's mostly cooked with rice, milk to create a creamy texture and is scented with pure rosewater.
No trip to Iran is fully completed without this authentic dessert. Top it off with some fruits, nuts, melted chocolate, or drizzle it with maple syrup, and you can have endless ways to enjoy Shir Berenj to the fullest.
Depending on your taste, you can cut the amount of milk or sugar. In Iranian culture, rice pudding is something most people grow up eating. Besides serving as a delicious cold dessert, this delicacy also makes an exotic snack whenever you crave a sweet treat.
Delicate Persian Desserts With Saffron To Treat Yourself To
Saffron is at the heart of many Persian sweet delicacies, and that's for good reasons. These swoon-worthy recipes starring saffron as the main attraction are sure to be a big hit for your family.
What sets this Persian ice cream treat apart from the crowd is the unmistakable taste of saffron. This luxurious spice plays an integral role in Iranian cuisine, and for good reasons. Not only does it give the dish a beautiful color, but it also infuses a divine smell that's simply irresistible.
Nothing screams refreshing summer treat like a scoop of ice cream or two. A combination of earthy saffron, floral rosewater, and pistachio slices will leave you licking the plate. You can savor it plainly, or serve it between two wafers to make a sandwich of goodness like locals.
While this dessert has a complex flavor, it's actually an easy no-churn recipe that you can prepare at home. The secret to success lies in high-quality, pure saffron and rosewater, which are easily available at your local ethnic grocery store.
It's safe to say that every Middle Eastern cuisine has its own version of halva. For example, halva as a dessert from Egypt differs a lot from this Persian-style halva. The rice or wheat flour is bathed in pure saffron and rosewater, giving it a golden color and an exquisite fragrance.
Besides tasting absolutely on point, halva pudding is also praised for its nourishing goodness. In fact, this classic recipe is often prepared for newly-born women and sick children to quickly recover their energy.
Fingers crossed, Kachi is an oriental dessert that you can whip up at home like a breeze. And if you want to add an extra dimension of flavor, don't be shy to toss in some almonds, walnuts, or pistachios as the pudding gets thick.
The term "Khoresht" merely translates to stew in Iranian, but this dish is actually a dessert or appetizer. The original recipe calls for rosewater, saffron, sugar, yogurt, and an uncanny ingredient: crushed lamb neck meat.
While this combination of sweet and savory flavors may seem unusual, you bet your bottom dollar that the yogurt will turn out delicious. If the gorgeous, yellow color isn't enough to mesmerize you, its exotic, creamy taste definitely will.
To give the yogurt some crunchy texture, you can give it a finishing touch with some almonds or pistachios. If you're a vegetarian, simply give it a go without meat, and it'll still taste amazing. Regardless of which, make sure that you always serve this dish cold.
Hear it from the expert on how to achieve success with this Khoresht Mast dish!
An age-old Persian recipe to switch up your rice pudding game, Sholeh Zard is a quintessential dessert that you've never tried anywhere else. It's often served in religious ceremonies as a treat for friends, family or as a charitable offer to the needy.
In this recipe, basmati rice is cooked in water and infused with saffron, rosewater, and cardamom. It's then garnished with slivered almonds or pistachios, which lend themselves to the crunchy texture that contrasts the creamy, silky pudding.
With its stunning visual, alluring aroma, and delish flavor, this dessert is bound to give your palate a royal taste. If you have a soft spot for rice pudding, Sholeh Zard is the kind of dish that will keep you craving for more.
For anyone who plans to set foot in the holy city of Qom, Sohan is the most wonderful souvenir that you can get. Thanks to a distinctive combination of nuts, flour, and spices, this saffron brittle has a rich, sweet taste and a heavenly aroma that's simply irresistible.
The rose petals and pistachios are spread atop a batch of snappy toffee candy to balance out the strong sweetness. Each bite-sized piece is so buttery and crunchy; you just can't get enough of it. Pair the brittles with a glass of bitter tea, and this treat will be gone faster than you know it.
At room temperature, Sohan keeps well for around one week. So you can make a huge batch of it and put it in the jar to have some quick pick-me-up snack thorough the following week with ease.
Appetizing Persian Desserts Featuring Almonds You Shouldn't Miss
With its bittersweet flavor and crunchy texture, almond belongs to a variety of Persian delicacies. The following collection of desserts featuring almonds will let you know how to make the best out of this fruit.
Ghorabieh is a shortbread type of cookie that originated from Tabriz, the Iranian town famous for its sweets and baked goods. This traditional recipe calls for ground almonds, flour, sugar, and egg whites, all of which might already be lurking in your pantry.
Soft, chewy, and delicious without being cloyingly sweet, this sweet treat has a special spot in Iranian cuisine. It's a ritual to serve these delish winter desserts alongside a warm cup of tea or coffee after an evening meal.
While Ghorabieh is satisfying enough on its own, you can add your own twist with some sprinkles of pistachios or almond slices on top. If you happen to visit Iran during festive occasions, this unique dessert is something you won't want to miss.
Let's have a look at how these soft, chewy almond cookies can be whipped up in your kitchen!
Dating a long way back to the Achaemenid period, Qottab is easily one of the oldest sweet treats in Iranian cuisine. Originally from Yazd, this pastry is now popular across the country, especially during their new year feast.
Sweet crescent pastries are usually loaded with walnuts and almonds, then lightly infused with cinnamon and cardamom. Finally, these nuggets are deep-fried one by one, giving them a flaky, crunchy shell while remaining soft and chewy on the inside.
Fingers crossed, store-bought pastries have nothing on these Persian bites of deliciousness. They're often dusted with powdered sugar before presenting on the table.
Though Qottab is a specialty during festivities, it's also the perfect delight to have on hand whenever you need to impress your guests or simply treat yourself to a sweet indulgence.
Delicious Persian Desserts Starring Dates For Your Indulgence
Sweet, rich, and nutrient-filled dates are one of the most popular ingredients in Iranian cuisine. Let's flick through some delicate and tasty desserts with dates as the star of the show.
This Persian baked treat is a major staple in many special occasions and festive holidays. Golden, crunchy on the outside, yet mesmerizingly soft on the inside, this cookie melts in your mouth the second you bite into it.
Though different regions of the nation have their own version of it, Koloocheh is typically prepared with wheat flour, sugar, rosewater and stuffed with a generous amount of dates and walnuts. To give it a festive look, the cookie is also stamped with unique designs on top of it.
For those foodies who have a soft spot for cookies, this Persian sweet can be super addictive. With its nutty, light, yet not too sweet flavor, Koloocheh is the perfect dessert to relish with your loved ones on an evening night.
Ranginak is a classic Persian delight starring dates as the main attraction. By the look, this dessert resembles an ice cream sandwich, but it tastes far better than that. Ranginak is a specialty in Iranian culture and is mostly prepared during the holy month of Ramadan.
Soft dates are stuffed with toasted walnuts, then bathed in a mixture of flour, cinnamon, butter, cardamom, and topped off with some pistachios for decoration. This combination of ingredients gives the cake a rich and complex taste that's out of this world.
Next time you're looking for a simple no-bake sweet treat, whip up a big batch of Ranginak. You can savor it while it's warm and save the rest in the fridge for the next round of indulgence.
Swoon-Worthy Persian Cookies And Candies To Make At Home
Nothing screams comfort food like treating yourself to a batch of sweet, mesmerizing cookies and confectionaries. As a die-hard sweet tooth, you won't want to miss these amazing treats for the world.
It's safe to say that die-hard sweet lovers are no stranger to nougat, the candy bar of happiness filled with sugar, egg whites, and roasted nuts. This Persian Gaz version is perfumed with rosewater and studded with pistachios.
Depending on the blend of ingredients, this nougat can yield a subtle, nutty taste or a dominantly sweet flavor. Serve it with a freshly brewed cup of tea, and you have a palatable delicacy that'll be much appreciated by anyone.
This oriental recipe is quite a simple yet time-consuming process, so it's best that you prepare it at least 1 day ahead of your party. Also, feel free to go out of the way and toss in some extra elements like saffron and cardamom if it's your favorite taste.
One of the most beloved sweet treats baked around Nowruz, Nan-e Nokhodchi is the name of an age-old chickpea cookie recipe. A famous dessert seen everywhere in the Middle East, these classic cookies are a blend of rosewater, pistachios, cardamom, and chickpea flour.
When making these new year treats, locals often use a cloverleaf cutter. But you can go out of the way with any miniature cookie cutter that you have on hand. It's all about the light, buttery soft, and melt-in-your-mouth flavor that makes it a big hit for your family.
Best of all, these chickpea cookies are made egg, dairy, and gluten-free. With this healthy recipe, everybody, including vegans, can have a share of it for a sweet indulgence.
Let's be real. Cotton candy has a special place in everyone's heart. The Persian version of this universal snack, Pashmak, consists of thin and delicate strands of flavored sugar syrup.
From vanilla, pistachios to saffron and rosewater, you can find all kinds of flavors sold by street vendors across Iran. Unlike many desserts, Pashmak requires a lot more labor and skills in the making, which is why it's not a common homemade recipe.
The end result is a chewy, sweet, and mesmerizing sweet that will melt in your mouth. This palatable snack is great for relishing on its own to instantly quench your sugary thirst. However, the best way to enjoy Pashmak is by pairing it with pudding, and other desserts.
If you want to give it a try, here're some guidelines on how to make Pashmak from scratch!
Nothing screams national childhood favorite like some good old Persian raisin cookies. This dessert has the kind of soft, pillowy, and slightly chewy texture while remaining crispy on the outside that will blow your taste buds away.
In fact, it's one of the easiest cookie recipes that you can whip up at home. With the right touch of rosewater and some juicy, delicious raisins speckled on top, these cookies almost taste like heaven in every bite.
From start to finish, you'll need a short list of ingredients and less than an hour to create these perfectly golden sweets. Given that no chill time is required, you can just wait for them to cool off before enjoying it with a cup of milk or tea.
You can also prepare these in large batches and store them in airtight cookie jars for later enjoyment. As long as you store them correctly, these raisin cookies will taste amazing even after a week has passed.
If you're looking for a no-bake confection treat that can win everyone's heart, have a go at this toot recipe. The word "toot" merely means mulberry in Persian, and it's used to indicate jewel-like marzipan, which pays homage to the fruit.
This fuss-free candy calls for some simple ingredients like rosewater, ground almonds, sugar, cardamom, and pistachios. The mixture is shaped to resemble a mulberry. With no baking required, it's only a breeze to whip up this addictive sweet at home.
In addition to its cute, pretty look, toot also yields a sweet and dainty taste. Thusly, it's commonly offered in special ceremonies like weddings and the new year feast.
These marzipan candies dry out rather quickly if not stored properly. But given how delicious these little bites are, there's a big chance you won't have to deal with any leftovers.
Other Tasty Persian Desserts That Are Out Of This World
It goes without saying, Persians have a soft spot for sweet delights. Thusly, there's such thing as dessert shortages in their cuisine, which almost feels like heaven if you're in for some sugary indulgence.
As its name suggests, Cake Yazdi is a big sweet specialty named after the ancient city of Yazd. These Persian cupcakes are perfumed with cardamom and rosewater, creating a heavenly scent that tends to draw you to them.
Unlike the Western concept of a cupcake, this recipe doesn't involve any frosting. Instead, it's sprinkled with pistachios and sesame seeds on top. The cupcake is mildly sweet, delectable, and light to make a pick-me-up snack at any time of the day.
From start to finish, this traditional recipe takes around 45 minutes and a few easy-to-find pantry ingredients. Thus, if you can prepare it in advance and serve it as a sweet, easy breakfast or grab it as a sweet go-to meal.
It's such a doddle to bake this Cake Yazdi at home with this tutorial!
Often referred to as the Persian version of pancakes, Khagineh is a delicious sugar omelet. This sweet dessert makes a great fix for breakfast or tea time indulgence that's super easy to make.
The authentic recipe calls for a handful of distinctive Persian ingredients like saffron, sugar, ground cardamom, butter, and the star of the show: eggs. This mixture of batter is fried to develop an eye-catching golden-brown shell.
You're likely to feel your taste buds exploding with its fluffy, light, and heavenly flavor. Some people stuff it with all kinds of nuts and pistachios, while others pour a lovely layer of syrup over it. Either way, this thick, mouth-watering crepe will leave you licking the plate.
Baklava is a true staple in Middle Eastern cuisine that has been around for more than thousands of years. The Iranian version of this dessert consists of flaky layers of pastry filled with toasted nuts and drenched in juicy rosewater syrup.
Unlike most other versions of Baklava, such as the one served as desserts in Morocco, Egypt, or Turkey, this Persian version is rich, luscious, and aromatic without being overly sweet. However it's served, nothing hits the spot like this exquisite dessert.
Like other pastries, Baklava has a tendency to taste better the next day. So the best way to prepare this dish is by making it ahead of time. Then, you can save it in the fridge overnight and reheat it before serving. Fingers crossed, this treat is something you won't miss for the world.
As the sacred month of Ramadan arrives, it's not uncommon to find Zooblia and Bamieh being prepared and served across Iran. In shape, Zooblia looks like a small funnel fritter, while Bamieh tends to resemble churros in its star-tipped piping bag form.
It's safe to say that this deep-fried duo always goes hand in hand. After frying, they both get a bath in dripping saffron and rosewater syrup. Traditionally, these fritters are enjoyed as an evening meal in Ramadan to provide an essential blast of sugar after a long day of blasting.
You won't find a better way to enjoy these addictive treats than with a cup of piping hot chai tea. No doubt, the crunchy and sweet flavor with a lovely floral hint is meant to create an unforgettable pleasure in your mouth.
When It Comes To Persian Desserts, Never Say Never!
It goes without saying that Persians have their sweet treats at heart. There're certainly no shortages when it comes to heavenly desserts in their culture. From fluffy cookies to decadent pastries, these mouth-watering treats are guaranteed to take good care of your sweet tooth.
Generally speaking, you may notice that Persian desserts mainly focus on rosewater, saffron, dates, and nuts. These ingredients are featured in a variety of their delicacies, given how much flavor and visual appeal they bring to the dish.
Whether it be a casual get-together or a special festivity, don't be shy to go out of your way and whip up some of these delightful sweets. And if you ever plan to set foot in the country, you won't want to leave without giving all these amazing desserts at least one try.
I hope you've found something in my list of the best Persian desserts to satisfy your sweet tooth. If you have another favorite, please have a share with me in a comment down here!
Nutrition Facts
4 servings per container
---
Amount Per ServingCalories297
% Daily Value *
Total Fat 14.6g

23

%
Cholesterol 27mg

9

%
Sodium 119mg

5

%
Potassium 92mg

3

%
Total Carbohydrate 42.3g

15

%

Dietary Fiber 1.2g

5

%
Sugars 25.6g

Protein 2.1g

5

%
---
* The % Daily Value tells you how much a nutrient in a serving of food contributes to a daily diet. 2,000 calories a day is used for general nutrition advice.