If you want to learn about the large world of the best Asian desserts, this is very helpful to have on hand. From beautiful sweet delights to quick and easy recipes, it includes fascinating choices that can fit all occasions and give you the best time possible.
Is dessert your favorite part of the meal? If yes, this post is right for you. I have many offers to satisfy your taste buds, whether you are craving cookies, cake, refreshing desserts, or anything in between.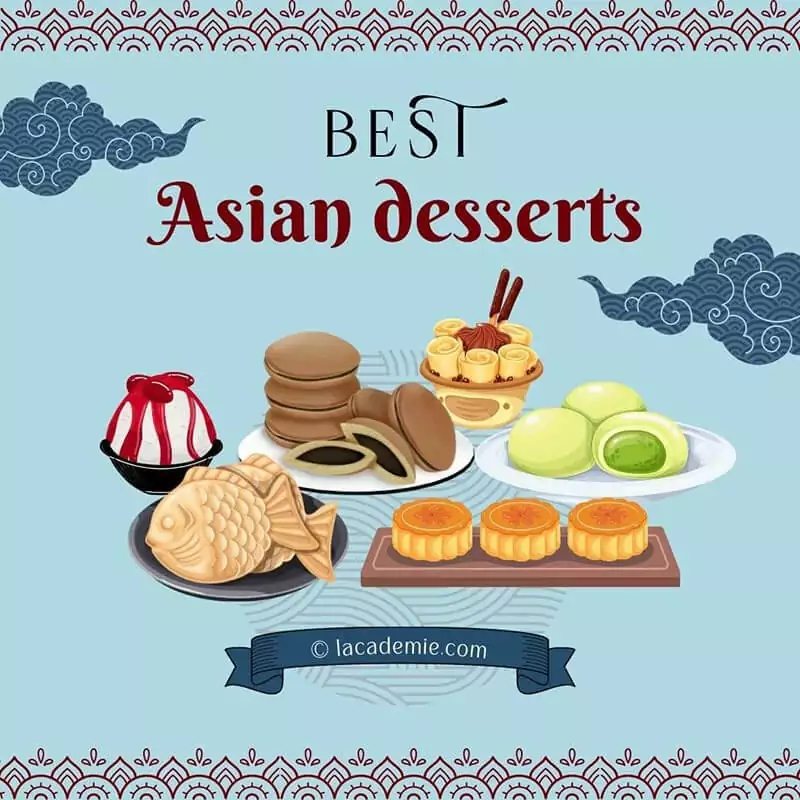 Read 44 best Asian desserts collection and find the perfect dessert idea to try on your next trip or make for your next party below:
East Asian Desserts
Almond Cookies – China
Ma Lai Gao/ Ma Lai Go (Steamed Sponge Cake) – China
Mooncakes – China
Taiwanese Pineapple Cake – China
Tangyuan (Dessert Soup With Glutinous Rice Balls) – China
Egg Tarts – China
Black Sesame Soup – China
Mango Puddings – China
Matcha Cookies – Japan
Black Sesame Cookies – Japan
Hato Sabure (Butter Cookies) – Japan
Dorayaki (Red Bean Pancakes) – Japan
Kasutera (Castella Cake) – Japan
Taiyaki (Fish-Shaped Cake) – Japan
Mochi (Rice Cake) – Japan
Purin (Caramel Custard Pudding) – Japan
Mitarashi Dango (Skewered Rice Flour Dumplings) – Japan
Dasik (Tea Cookies) – Korea
Yakgwa (Honey Cookies) – Korea
Injeolmi (Sweet Rice Cake) – Korea
Bukkumi (Pan-Fried Rice Cake Dumplings with Sweet Red Beans) – Korea
Patbingsu (Shaved Ice With Sweet Red Beans) – Korea
Southeast Asian Desserts
Sankhya Lapov (Pumpkin Puddings) – Cambodia
Ai-Sa-Krim Phat (Rolled Ice Cream) – Thailand
Halo-Halo (Filipino Shaved Ice) – The Philippines
Chè (Sweet Soup Dessert) – Vietnam
Cendol (Iced Dessert With Worm-Shaped Jelly Noodles) – Indonesia
Khao Niaow Ma Muang (Mango Sticky Rice) – Thailand
Taho (Filipino Sweet Tofu) – The Philippines
Khanom Bueang (Thai Crepes) – Thailand
Pisang Goreng (Banana Fritters) – Indonesia/ Malaysia
Ube Halaya (Purple Yam Jam) – The Philippines
South Asian Desserts
Kulfi (Ice Cream) – India
Kheer (Rice Pudding) – India
Jalebi (Crispy Snack With A Spiral Shape) – India
Rasgulla (Syrupy Dumpling Dessert) – India
Ladoo (Ball-Shaped Sweets) – India
Gulab Jamun (Fried Dough Balls With Milk Solids) – India
Middle Eastern Desserts
Dondurma (Turkish Ice Cream) – Turkey
Tulumba (Turkish Deep-Fried Dough Pastries) – Turkey
Ma'amoul (Filled Butter Cookies) – Middle East
Kanafeh (Sweet Cheese Pastry) – Middle East
Gaz (Iranian Chewy Confection With Nuts And Whipped Egg Whites) – Iran
Lokum (Turkish Delight) – Turkey
An Overview of Asian Desserts
From the vibrant streets of Bangkok to the bustling markets of Seoul, the diverse world of Asian desserts has captured the hearts of dessert lovers everywhere.
If you want a break from mainstream Western sweet treats, try the balance of sweet, salty, and savory elements from the East.
Regions
While Asia is a huge continent, desserts from East Asia and Southeast Asia tend to be more popular. That's why my post will cover many options from these places (especially countries like China, Japan, or Thailand), but that doesn't mean sweet treats from other areas are inferior.
Flavor And Texture
Asian desserts derive distinct aromas and flavor profiles from exquisite ingredients such as mung beans, pandan extract, and coconut milk. Their refreshing tastes also benefit from the liberal use of fresh and fried fruits, like jackfruit, mango, lychee, or mangoes.
In addition, spices and herbs are the calling cards of almost all Asian sweet treats, giving them a lot of fragrance and diversity in flavor. Meanwhile, glutinous rice, tapioca starch, and jellies made from agar-agar add interesting textures, such as a pleasantly chewy feel.
Moreover, the fusion of traditional Asian desserts with modern Western elements has given rise to a new breed of sweets, such as matcha-infused cheesecakes, five-spice crème brûlée or éclair, and red bean cronuts.
Dietary Preferences
Many Asian desserts are naturally vegan or vegetarian, as they often rely on plant-based ingredients. Similarly, gluten-free options can be easy to come by, as rice flour and glutinous rice flour are the dominant sources of starch (especially for East Asian/ Southeast Asian fare).
Even if certain treats contain gluten or animal-derived products, the flexibility in Asian cooking means that you can make suitable adjustments without compromising the flavors.
East Asian Desserts
Whether you're into decadent treats with savory stuffings or light, airy desserts that won't make your stomach feel heavy, the diverse world of East Asian cooking always has something for everyone.
Spanning thousands of years, Chinese cuisine boasts plenty of superb sweet treats. The following are a few excellent examples.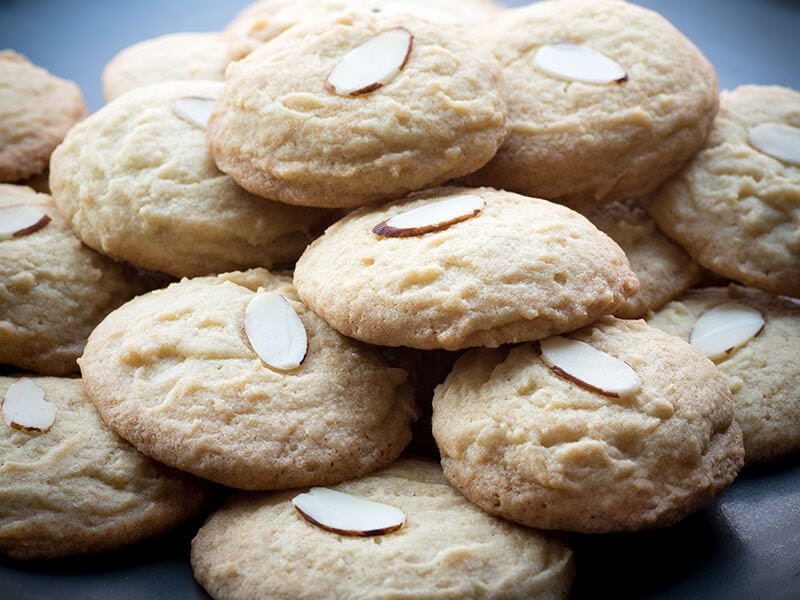 Fortune cookies are the most popular dessert you may order in a Chinese restaurant in Western countries. But do you know that these sugary cookie wafers aren't authentic Chinese food and were created by Chinese immigrants in the 20th century? You can go for almond cookies, instead.
They are a signature dish in Chinese cuisine and have roughly the same meaning as fortune cookies: locals believe that these coin-shaped delights bring good luck. That's why Chinese almond cookies are a common sight in Lunar New Year celebrations.
Combined with the finest almond flour, slivered almonds, and almond extract, these cookies feature a particular almond taste and crunch. Their strong taste can outperform any paper-wrapped delight.
Chinese almond cookies, together with walnut cookies and sesame cookies, are common sweets at Chinese eateries, both in the country and overseas. To keep these cookies delicious for a long time, you should keep them in an airtight jar.
2. Ma Lai Gao or Ma Lai Go – China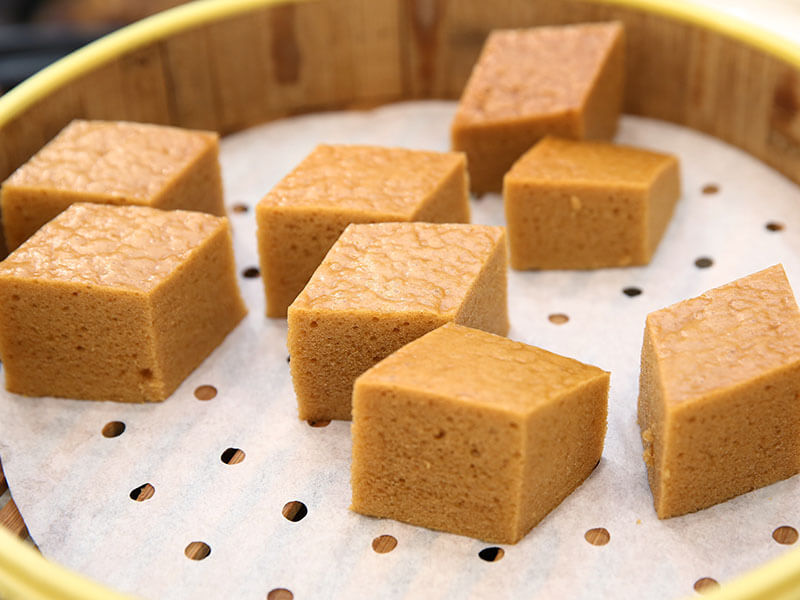 While this steamed delight is a well-known dessert in Hong Kong and Guangdong, its name mysteriously means something like "Malay sponge cake." There are a few theories for this inconsistency.
One says that Ma Lai Gao was created in China and brought to Malaysia by immigrants in the mid-20th century. A contradictory story speculates that the dessert originated from a British sweet treat in Malaysia before becoming popular in China.
Regardless of the hazy history, one thing is certain: with a soft, moist texture and a light taste, Ma Lai Gao is excellent at pairing with tea. It is a sought-after item for snacks and dim sum (Cantonese-style small dishes for brunch).
Since there is also brown sugar as an ingredient, Ma Lai Gao boasts a light honey or pale almond color. In addition, the inclusion of eggs, flour, and baking powder gives it a fluffy texture that no one can resist.
3. Mooncakes – China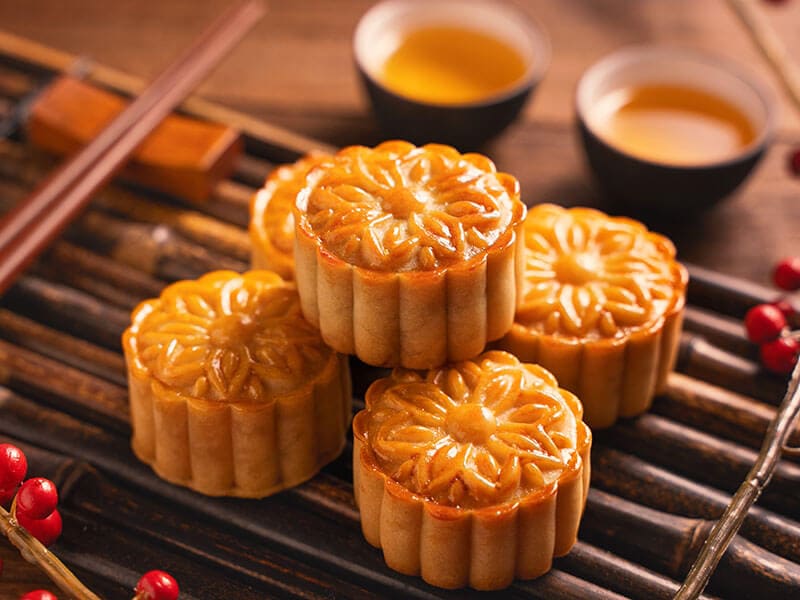 Mooncakes are a famous Chinese dessert traditionally served at the mid-autumn festival (August 15th in the Chinese lunar calendar). Outside China, they are also very popular in Vietnam, Japan, and countries with large Chinese communities.
Their crust is typically made from flour, golden syrup, and lard/ vegetable oil, while the filling varies from place to place. Traditional options are sweetened red bean paste, lotus seeds, seeds, and salted egg yolks.
Classic mooncakes aren't really healthy, so modern variants often downplay the fatty ingredients or replace them with fruits, nuts, or taro. But the intricate designs pressed onto the cake's surface by specialized molds, such as floral patterns or moon and stars, are still a vital feature.
You can find mooncakes of many flavors and styles in various cake shops and restaurants, which are often packaged in luxury boxes with exquisite decorations. They are often seen as valuable presents to be exchanged between business partners.
But the original purpose of mooncakes was, and still is, for family reunions, where members of different generations can gather together and enjoy the savory taste of the tender, fragrant cake under the moonlit skies.
4. Taiwanese Pineapple Cake – China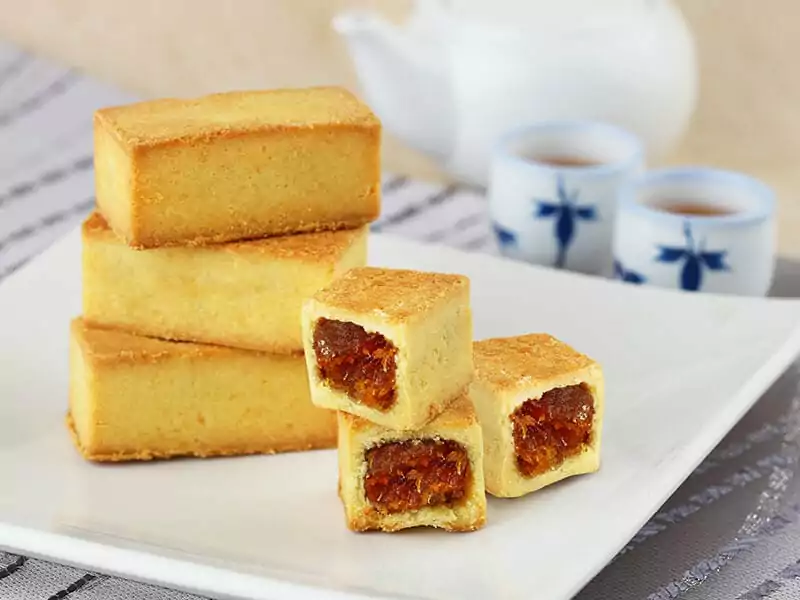 Along with Taiwanese macarons, this aromatic pastry is a must-try dish in case you visit the island. It is known for its crumbly, buttery shortcrust exterior that encases a sweet and tangy pineapple jam filling. Its history is just as lively as its flavor.
While the people in Taiwan had known about pineapples since the 16th century, it wasn't until the 20th-century Japanese colonial era that the tropical fruit turned into a vital crop and became available in abundance.
Eventually, local bakers incorporated pineapples into their baked goods and created this sweet and savory treat, whose sales have been important to the Taiwanese economy. The annual Pineapple Cake Cultural Festival in Taipei, the island's capital, is a fun time to visit Taiwan.
Besides being a toothsome dessert, the Taiwanese pineapple cake is also a symbol of prosperity and good fortune due to the phonetic similarity between the Chinese characters for pineapple and the words for "prosperity" or "thriving" in the Hokkien dialect.
5. Tangyuan – China
(Dessert Soup With Glutinous Rice Balls)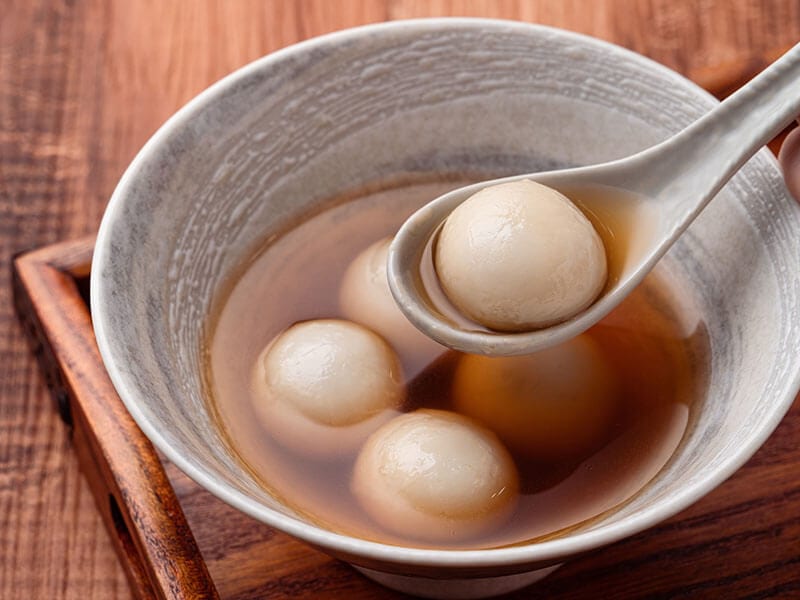 This cherished Chinese dessert consists of glutinous rice balls with both sweet and savory fillings. Sesame paste, red bean paste, veggies, and minced meat are a few usual choices to fill these chewy balls. The dessert also requires a sweet soup or a savory broth.
Tangyuan has its roots in the Tang dynasty (618 – 907 AD), though many suspect it to be more ancient. Chinese people often enjoy it during festive events like the Lantern Festival and Chinese New Year.
There is a very good reason for that custom: the name "Tangyuan" phonetically resembles the Chinese word for "reunion," making it a favorite choice for family meals. In addition, the round shape of the balls is seen as a symbol of togetherness.
6. Egg Tarts – China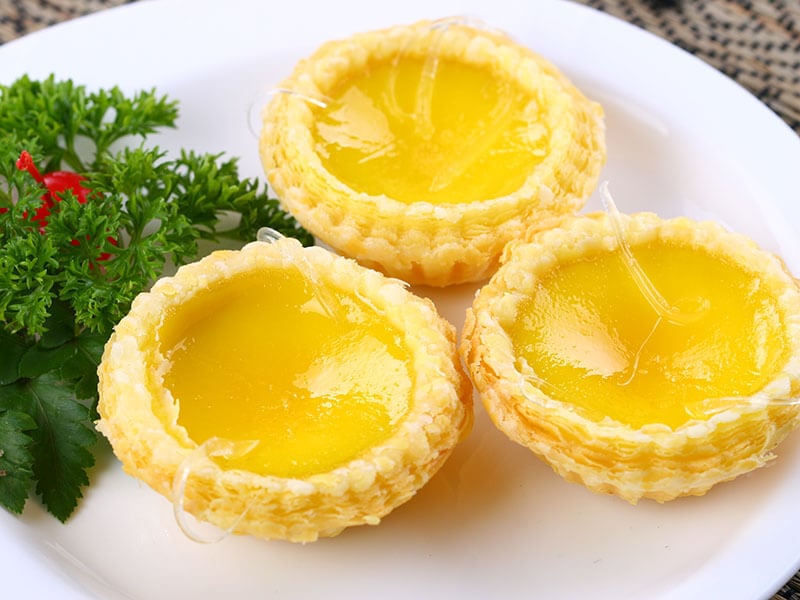 If you mistake Hong Kong-style and Macau-style egg tarts for the English custard tart and a similar Portuguese treat Pastel de Nata, you're not alone. In fact, European pastries have a strong influence on this delectable Chinese dessert, which debuted in the early 20th century.
Have a taste of an egg tart's buttery crust and creamy custard filling, and you will see why it is a highly important dim sum item, perfect for pairing with a cup of tea or coffee for a quick breakfast.
Besides the classic version, there are now various egg-free choices to customize the custard part, such as green tea, chocolate, or bird's nest.
7. Black Sesame Soup – China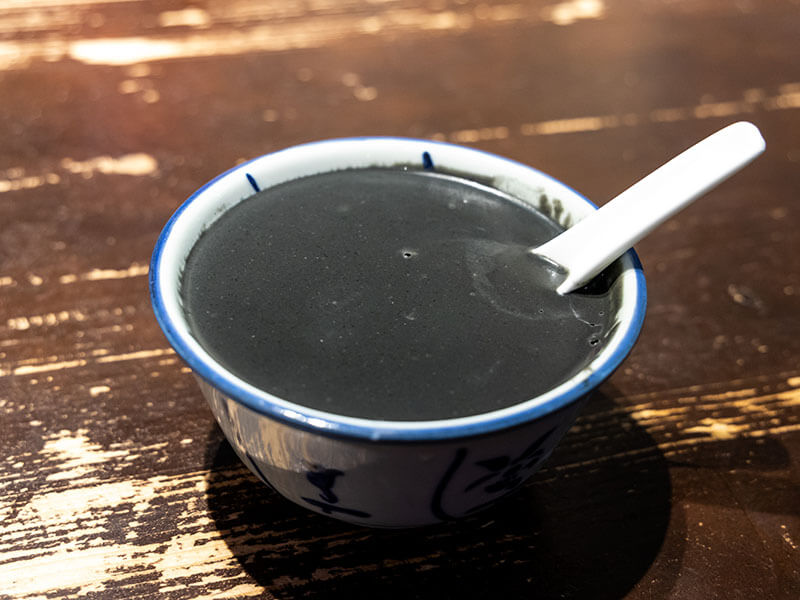 Anyone interested in Chinese desserts must know about tong sui, a term that covers custard delights and sweet soups for desserts at the end of the meal. One of the easiest tong sui treats you can find in China is black sesame soup.
This treat owes its ebony color and distinctive nuttiness to toasted black sesame seeds, which are both flavorful and highly nutritious. To increase the nutrition profile even further, locals frequently add extra grains and legumes, like soybeans, barley, corn, etc.
Rich in vitamins, minerals, and antioxidants, black sesame soup is particularly suitable for cold months. It is also very flexible and can accompany any Chinese dish.
8. Mango Puddings – China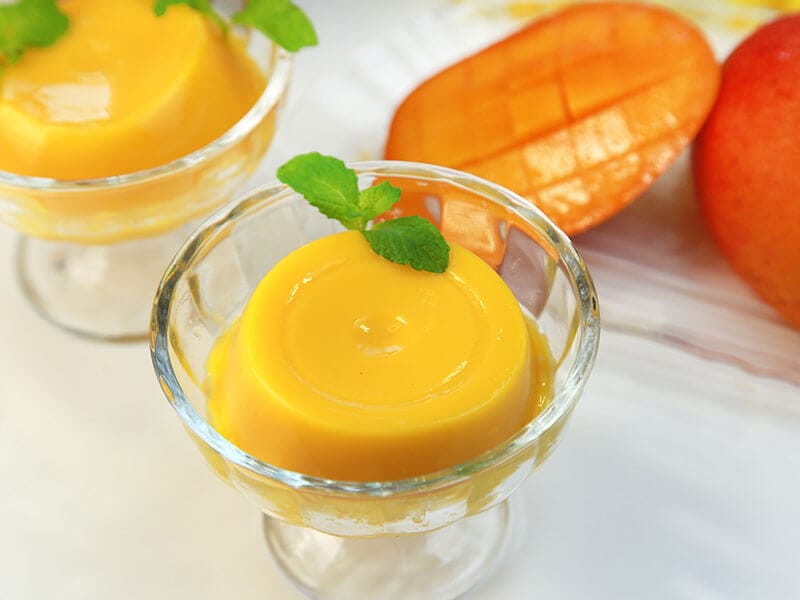 While I list this recipe as in China (it does come from Hong Kong and was inspired by the British pudding), this type of pudding is highly popular in many Southeast Asian countries. Like Ma Lai Gao, it is a much-hyped dim sum delight.
These sweet and creamy puddings bring out the refreshing flavors of ripe mangoes, the richness of evaporated milk on top, and the bouncy texture of gelatin or agar-agar. The ingredients are combined and then chilled until the pudding becomes a golden, velvety mass.
If you make the pudding at home, feel free to pour the mixture into molds before it sets to create a beautifully shaped pudding. Adding coconut milk, whipped cream, or fresh fruits as garnishes is also a terrific idea.
---
While Japanese cuisine boasts a strong presence in America, not everyone knows about its irresistible desserts. Read on and find out about them!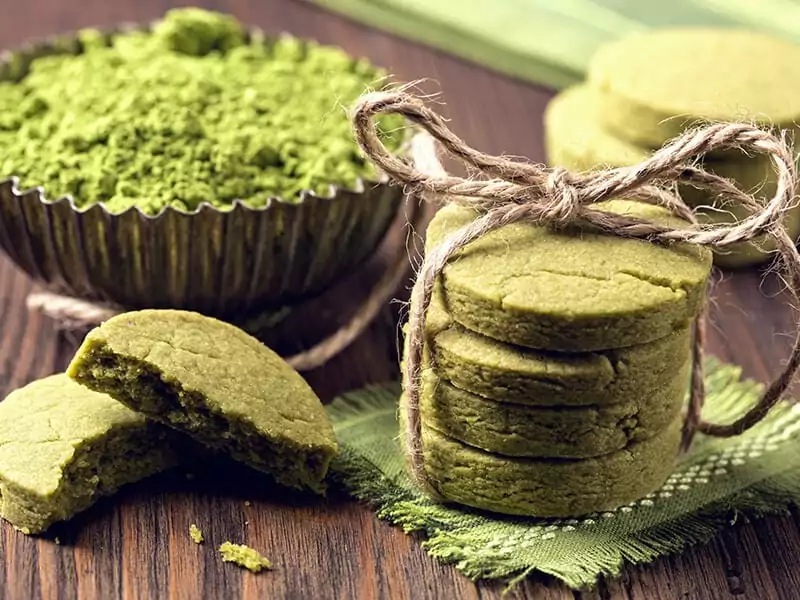 These Japanese cookies are made with matcha green tea powder, featuring a wonderful green tint. Moreover, they come with a crispy exterior and chewy interior.
Making matcha green tea cookies only takes about 15 minutes in your oven. I enjoy infusing matcha green tea powder into traditional cookie recipes. The trick is to use high-quality matcha powder for the best result.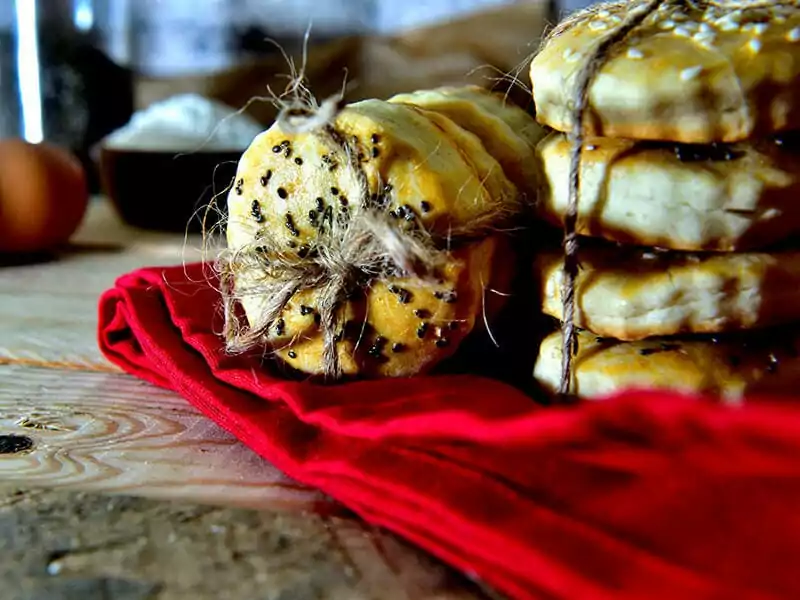 Crispy black sesame cookies mix the delicacy of buttery cookies with the toasted, earthy flavor of ground sesame seeds, making them ideal for morning or afternoon teas.
They pair well with tea and are suitable for Christmas or gifting because of their unique mixture of sweet and salty goodness.
11. Hato Sabure – Japan
Inspired by conventional Western buttery sweets, these dove-shaped butter cookies have delighted many Japanese generations since the late 19th century. Its place of birth is Kamakura City.
But why the shape of a dove? Legend has it that the creator of Hato Sabure named his new type of baked goods after a local shrine, whose name used a word character looking like a dove, so he came up with that shape.
As for Sabure, it was derived from a French word for "butter cookies." True to their name, these melt-in-your-mouth cookies boast terrific crispness and the richness of butter. You can drop them in melted chocolates or sprinkle melted chocolates on them.
12. Dorayaki – Japan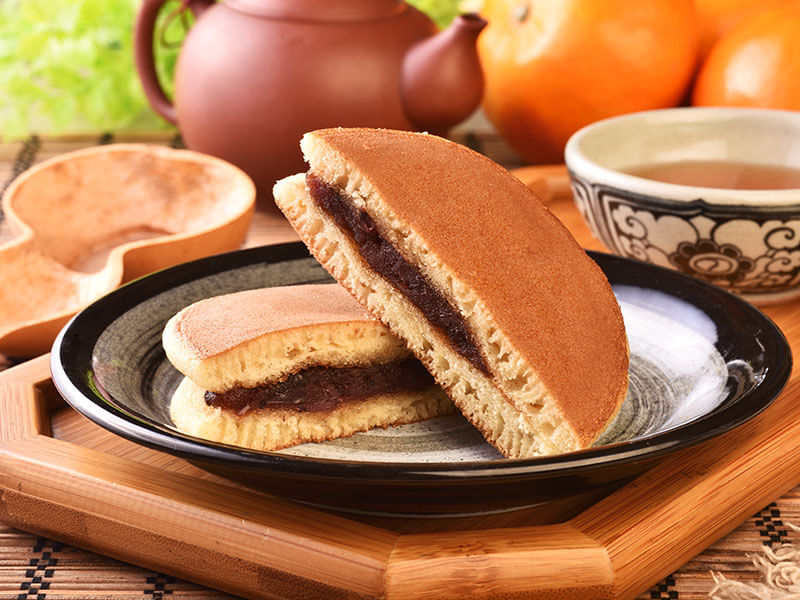 Many Japanese manga and anime fans know about the famous robotic cat Doraemon, who has an insatiable appetite for Dorayaki. But they probably know that Dorayaki is highly sugary and often paired with strong tea to temper the flavor.
Enjoy it the right way, and you will find this combo of two golden-brown pancake-like layers and a sweet red bean filling in between quite addictive. Even better, Dorayaki can be filled with red beans, chestnuts, cream, or custard to increase its appeal.
The origin of Dorayaki dates back to the Edo period (1603-1868). Its round, gong-like shape inspired the name since "dora" means "gong" in Japanese. An alternative theory claims that a Japanese farmer fried the pancakes in an actual gong, creating the name.
Both Japanese adults and children love Doraemon and his Dorayaki, and I think you will join them, too!
13. Kasutera – Japan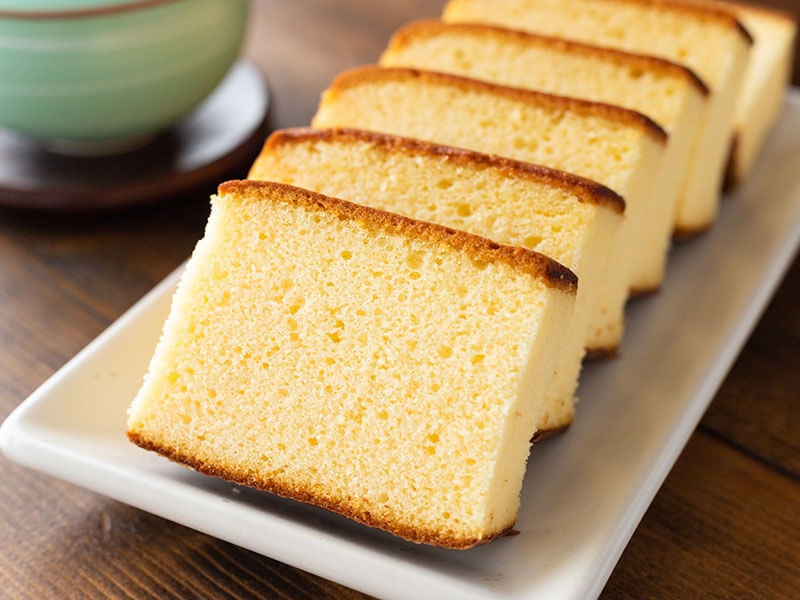 Not every Western dish means the same thing in Japan as it does in its home country. Take the example of Mille-Feuille (or Napoleon), a famous French layered puff pastry dessert. In Japanese cuisine, however, it is a hearty hot pot with cabbage and beef/ pork!
But Kasutera, or Japanese Castella cake, isn't the case. It came to Nagasaki via Portuguese merchants in the 16th century. Its name is taken from the Portuguese Pó de Castela, which means "bread from Castile." The sponge cake is made with bread flour, sugar, honey, and eggs.
A fluffy Castella cake appeals to every foodie by its gorgeous look: the dark brown crusts covering the airy and creamy yellow center. It is soft, aromatic, and boasts just the right amount of sweetness.
Kasutera is a delicious taste of Nagasaki that you shouldn't miss. Besides the classic version, it can contain a filling made with youkan (sweet bean jelly) or be mixed with powdered green tea for a more diverse experience.
14. Taiyaki – Japan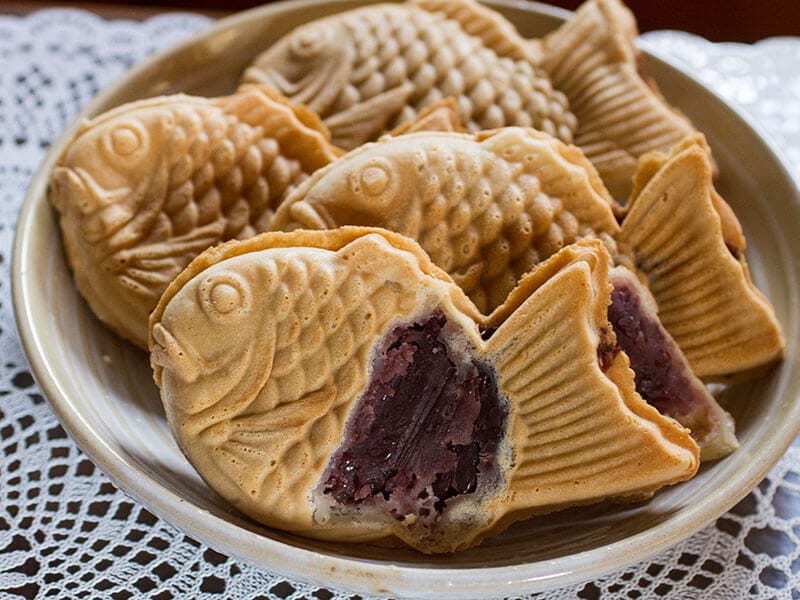 Westerners frequently ask why Taiyaki, a typical Japanese street food pastry filled with red bean paste, has a fish shape. It wasn't that way at first. The cake was initially inspired by Imagawayaki, a circular pastry.
But in the 1900s, Japanese marketing-savvy shops began creating Imagawayaki with a cute fish shape. The distinctive design was more successful, and the enormously popular Taiyaki was born. Today, you can find Taiyaki everywhere in Japan: street fairs, school fairs, and festivals.
Do you know that Taiyaki was modeled after tai (red sea bream), which was once an expensive delicacy? The fish symbolizes good luck and fortune, which Taiyaki also stands for now. In addition to red bean paste, the cake can come with sausage, chocolate, or custard filings.
15. Mochi – Japan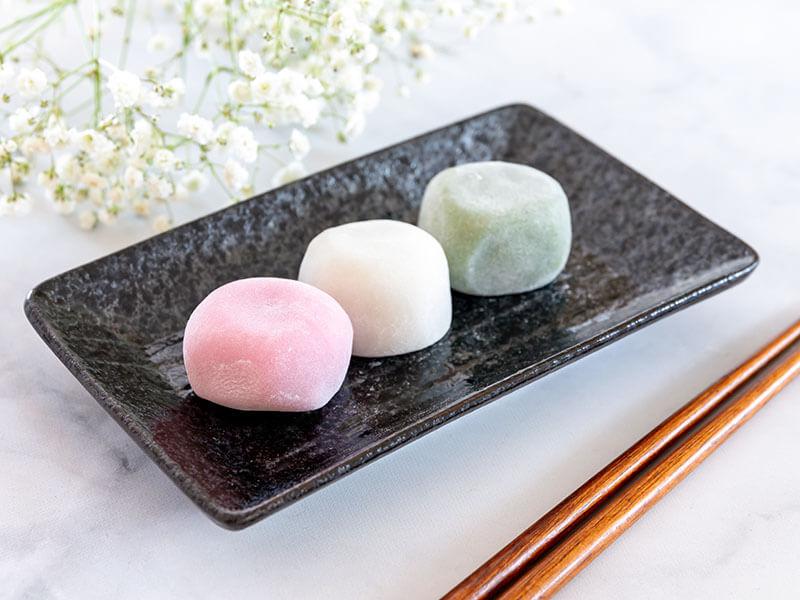 Mochi is a traditional Japanese sweet treat that is flawlessly chewy with a dash of sweetness. You can serve it as a treat for a casual afternoon tea or important celebrations. It dates back to the Heian period (794-1185) and has been a faithful companion for Japanese people for centuries.
The main ingredient in Mochi is a smooth dough made from pounded mochigome (japonica glutinous rice). The process of pounding the rice by hand to make mochi is called mochitsuki. This is an important Japanese custom as well as a fun New Year's tradition.
Locals then manipulate the dough into small, round cakes, which they fill with sweet or savory fillings, such as ice cream, sweet red bean paste, or fruits. Ice cream Mochi, matcha Mochi, or yuzu Mochi (made with yuzu, a famous Japanese fruit in the citrus family) are a few sought-after varieties.
Mochi can come in various shapes and be eaten year-round. In winter, people love to enjoy it with Zenzai, a dessert soup with red beans. And Japanese New Year celebrations can't be without Mochi as this is the chief offering.
16. Purin – Japan
(Caramel Custard Pudding)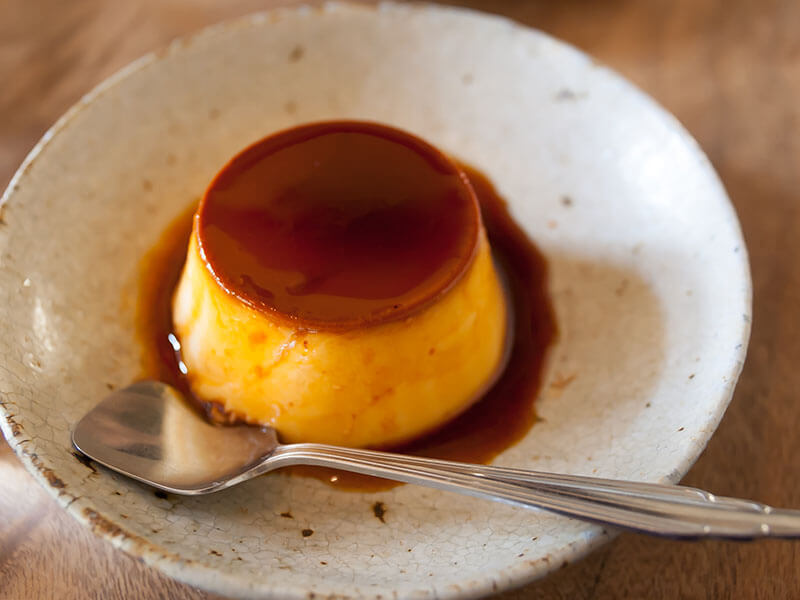 Dorayaki is a famous and popular Japanese sweet. These small delicacies have a lovely mild flavor pallet with just enough sweetness, making it difficult to consume just one. Dorayaki is a traditional Japanese dessert comprised of 2 American-styles pancakes with sweet filling in the center.
Dorayaki can be filled with red beans or chestnuts, cream, or custard. Both Japanese adults and children fall in love with Dorayaki, and I think you will also quickly fall in love with this dessert.
Warm and somewhat bitter Japanese green tea pairs nicely with these soft and fluffy pancakes. Enjoy Dorayaki as a fascinating dessert for afternoon tea is such a great idea!
17. Mitarashi Dango – Japan
(Skewered Rice Flour Dumplings)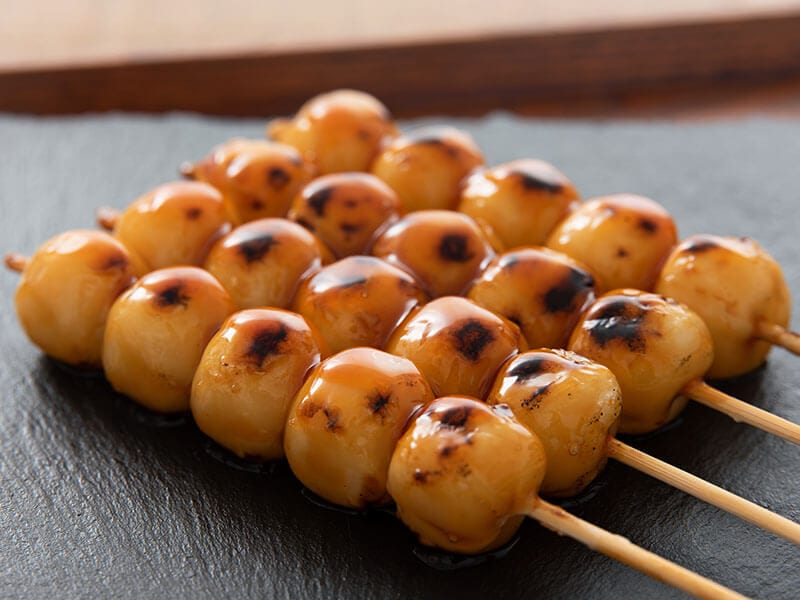 Kamo Mitarashi Tea House has been a popular tourist destination in Kyoto since its opening in 1922, thanks in no small part to its signature finger-licking treat Mitarashi Dango.
It typically features five round rice cakes skewered on a bamboo stick and covered with a sweet and sticky soy sauce glaze. Legend has it that this presentation is symbolic of the human body. The top cake signifies the head, while the other four stand for the arms and legs.
Regarding the name, Dango refers to rice cakes, while "mitarashi" comes from the purifying water basins at the entrances of Shinto shrines, as Dango was initially created as an offering to the gods.
The original colors of Mitarashi Dango are white, green, and red. Regional variants can include other ingredients, such as black sesame seeds, red bean paste, or green tea.
---
The deliciousness of Chinese Japanese desserts is well-known, but don't forget the delightful treats from Korea (both the north and the south).
18. Dasik (Tea Cookies) – Korea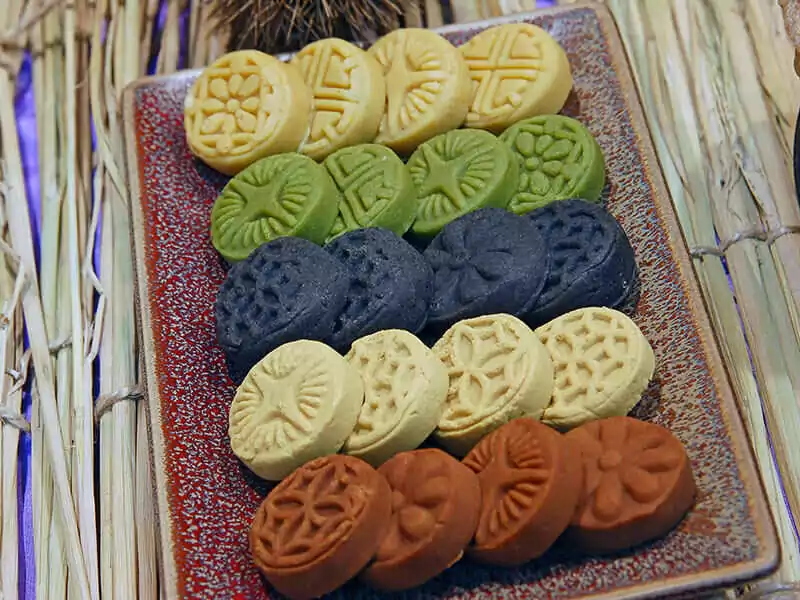 Dasik is one of the most cookie desserts in Korean cuisine. Its main ingredients are black sesame, rice flour, chestnut flour, beans, and pine pollen. The form and color of the cookie typically carry distinct cultural connotations, like marital bliss, good luck, or long life.
This appealing bite-sized treat was brought to Korea along with the drinking tea culture around the time of China's Song dynasty (960 – 1279 AD). Though formerly served solely for the rich upper classes, it is now a favorite treat for everybody.
Dasik comes in a wide range of colors: black, white, yellow, pink, green, etc. Patterned molds are required to create the various shapes on the cookies.
19. Yakgwa – Korea
(Honey Cookies)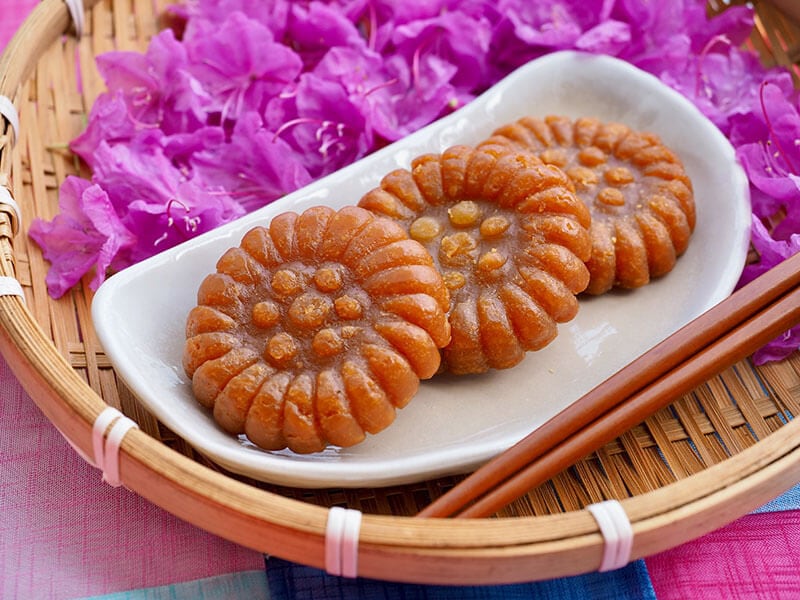 From a mixture of wheat flour and sesame oil, Yakgwa is made into round or flower shapes, deep-fried, and finally covered in delicious, honey-infused syrup for 6 to 8 hours.
This sweet and chewy dessert dates back to the 7th century or earlier. It was traditionally provided during weddings and festive occasions. Wheat flour and honey weren't cheap in the past, making Yakgwa a special treat. Today, Yakwa is both a nice tea treat and a perfect gift idea.
The diverse patterns on it are filled with deep meanings. For example, if somebody gives you a bat-imprinted Yakgwa, they wish good luck to you, while a pomegranate pattern means, well, fertility.
20. Injeolmi – Korea
(Sweet Rice Cake)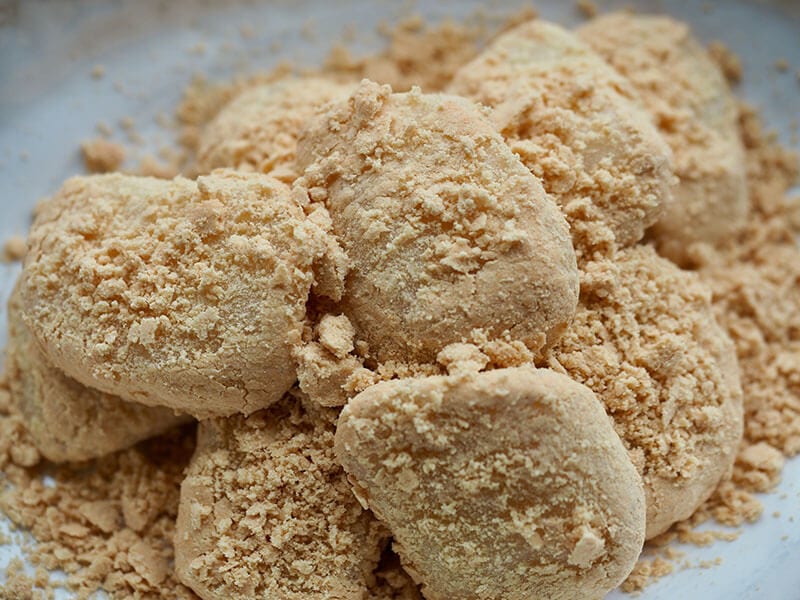 Injeolmi is a traditional glutinous rice-based Korean cake with a soft, chewy texture and slightly sweet flavor. Locals prepare it by steaming sweet glutinous rice before pounding it into a chewy blob known as Tteok.
After that, the tteok is chopped into tiny pieces. You can sprinkle roasted soybean powder, cooked azuki (red beans), or ground black sesame seeds on top. Additionally, you can enjoy this rice cake on its own or dip it in sugar or honey.
Because of the chewy and sticky texture, Korean sweet rice cake was traditionally given to newlywed couples as a wedding gift in the hopes that the couples will "stick together" and get along well forever.
Also considered a worth-trying dish in North Korean cuisine, Injeolmi has a certain appeal that makes it impossible to resist.
21. Bukkumi – Korea
(Pan-Fried Rice Cake Dumplings with Sweet Red Beans)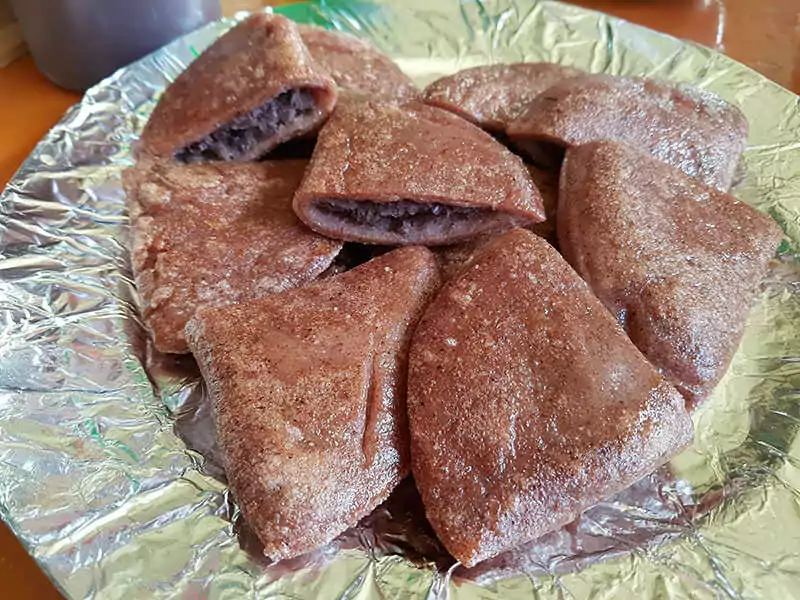 This dish mixed the crunchiness of pan-fried rice cake dumplings with the tantalizing sweetness of red bean fillings to create a dessert to die for. But red beans aren't the only option to unlock its power.
Other choices include sweet mung beans, jujube, or chestnuts. The nicest part about these cakes with a half-moon-like shape is how quickly they can be made. You can prepare them in just about 30 minutes with a package of glutinous rice flour and a can of sweet red beans!
22. Patbingsu – Korea
(Shaved Ice With Sweet Red Beans)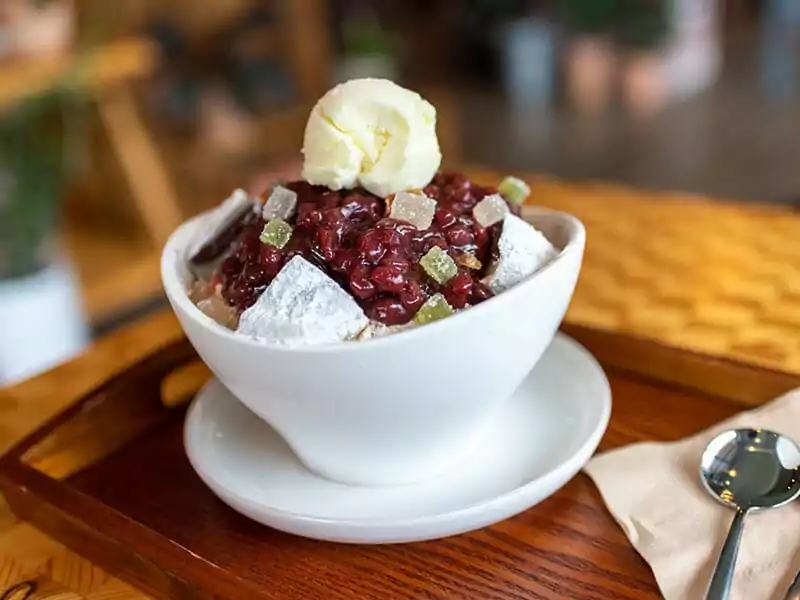 Patbingsu (or Patbingsoo) literally means "red bean shaved ice." Whether you use sweet red beans or canned red beans, Patbingsu is still perfect for a summer dessert. In any case, it will undoubtedly bring some refreshing flavors on scorching summer days.
The classic version has been around since the late 14th century. However, you can try modern versions with fruits (such as tangerines or mangoes), green tea powder, nuts, roasted grain powder (Misugaru), condensed milk, or cookies.
Southeast Asian Desserts
Enjoying colorful sweet treats from Southeast Asia is the dream of many foodies. Let's discover the reason now.
23. Sankhya Lapov – Cambodia
(Pumpkin Puddings)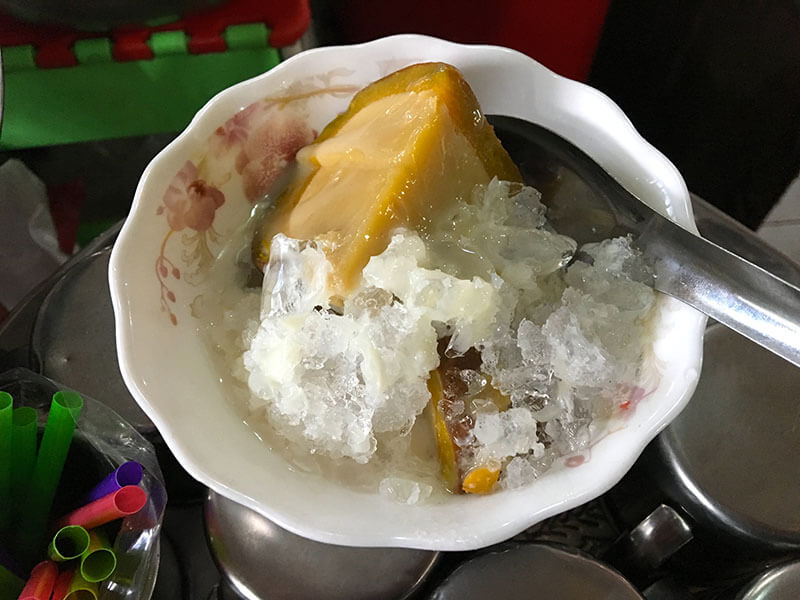 Another worth-trying custard from Asia is Sankhya Lapov, a luscious dish from Cambodian cuisine. The main ingredients are mashed pumpkins, coconut milk, sugar, and tapioca pearls or glutinous rice.
The squash has to be steamed until fork-tender so that its nutty and earthy undertones can meld with the sweetness and richness of the other ingredients, creating a treat you're not going to forget.
24. Ai-Sa-Krim Phat – Thailand
(Rolled Ice Cream)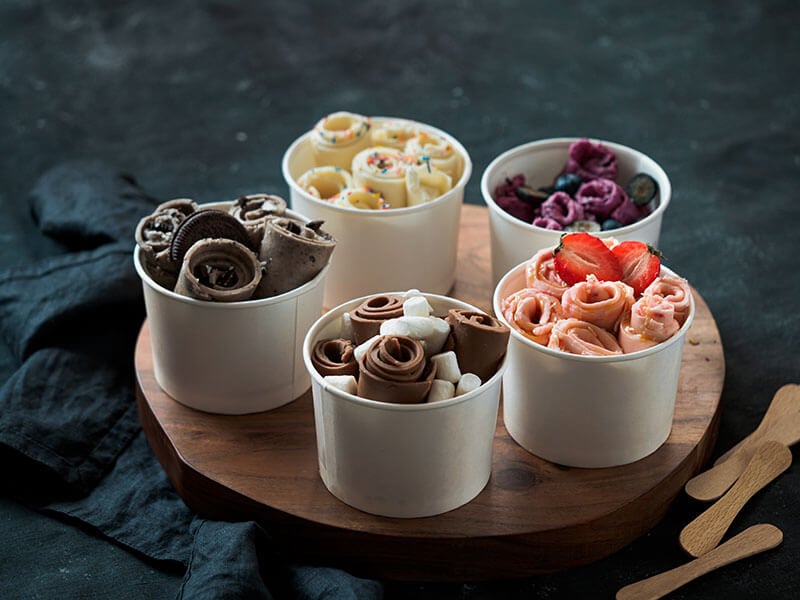 Nothing says summer more than rolled ice cream in Thailand! This dessert goes by the name Ai-Tim Phat or Ai-Sa-Krim Phat, and its translation lets you easily imagine what it is like: a cup of little ice cream rolls with coconut, toasted marshmallows, gummy bears, and so on.
Rolled ice cream was created in Thailand in 2009, and it quickly gained a global reputation, with multiple copycat versions around the world. Stir-fried ice cream is another translation of Ai-Sa-Krim Phat.
You can make these refreshing rolled ice cream in your own kitchen with just two ingredients: heavy cream and condensed milk, plus chopped mint leaves or chocolate slices for toppings.
25. Halo-Halo – The Philippines
(Filipino Shaved Ice)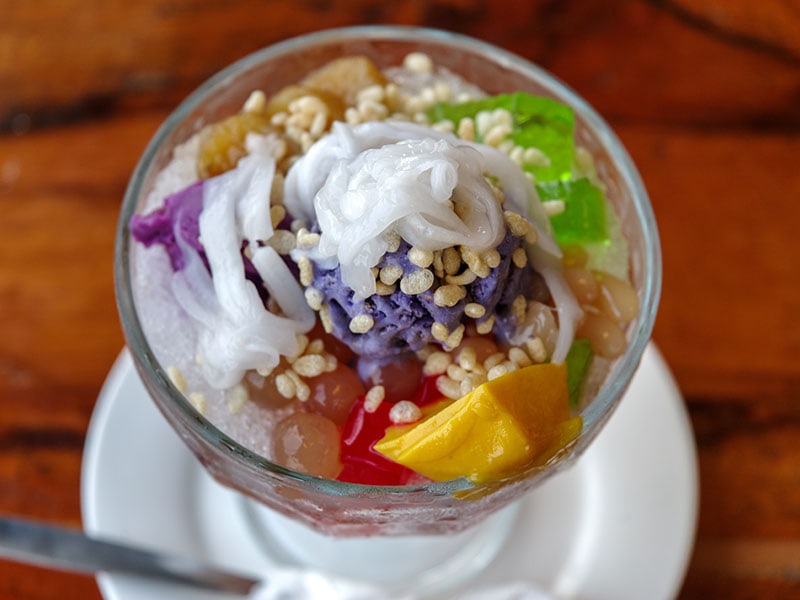 You can't visit the Philippines without trying Halo-Halo (or Haluhalo), a colorful delicacy from Filipino cuisine. The name "halo-halo" translates to "mix-mix" in English, which aptly describes the combination of various ingredients used in this dessert.
This icy treat became popular in the 1920s – 1930s. Back then, Japanese settlers introduced their Kakigori (Japanese shaved ice dessert) to the Filipinos, who changed it to suit their palates. Mitsumame (a Japanese dessert with agar jelly) could be another inspiration for Halo-Halo.
A typical Halo-Halo serving consists of sweetened fruits and beans, such as sweet red/ white beans, coconut gel, macapuno (coconut sport), and jackfruit, all layered in a tall glass. The next step is to add shaved ice and toppings, like leche flan, ube halaya (mashed purple yam), or ice cream.
Halo-Halo is very flexible in terms of add-ins and toppings. Different locales in the Philippines have different recipes, and in case you prepare the dessert at home, just add your favorite thing to it.
26. Chè – Vietnam
(Sweet Soup Dessert)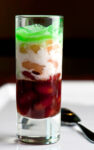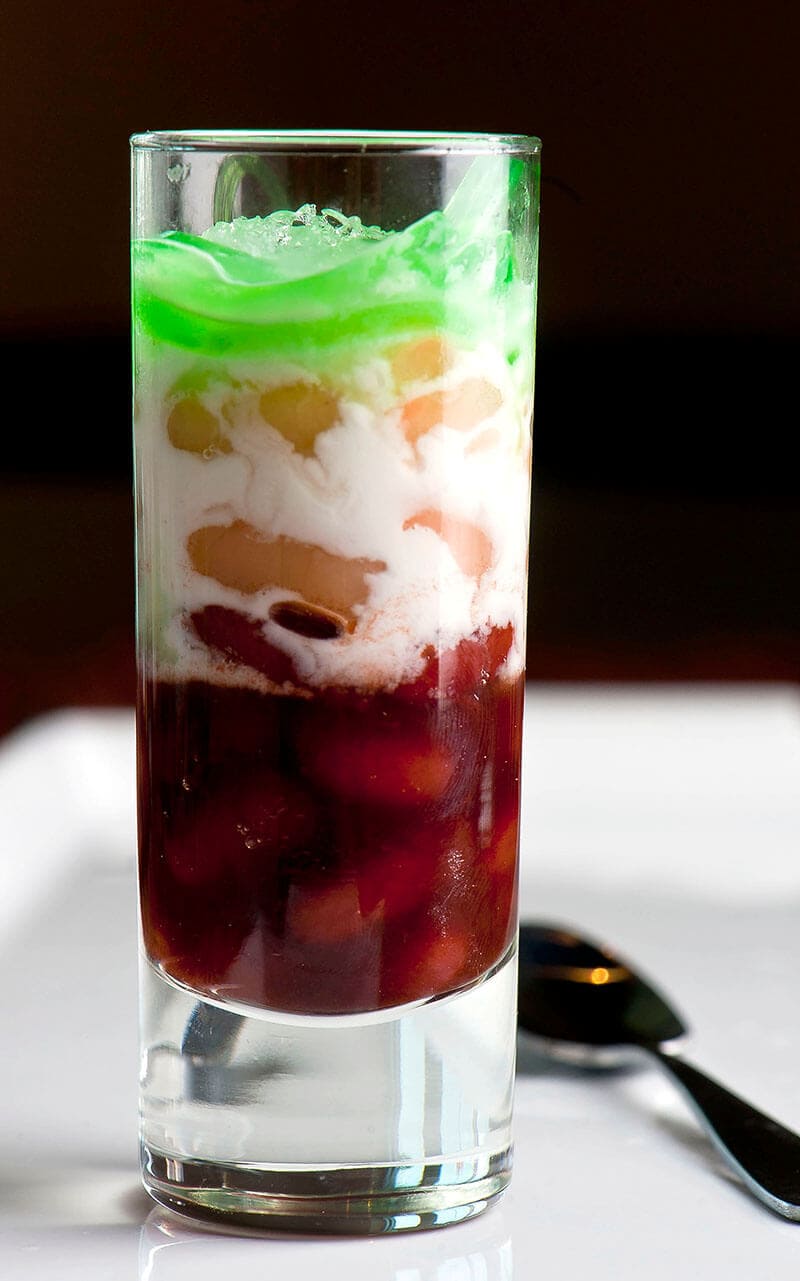 If you are in the mood for a refreshing dessert, Chè (a group of Vietnamese sweet soup desserts) is a perfect option. A cross between a soup and a beverage, this sweet treat can be enjoyed both hot and cold. It is highly diverse and versatile in terms of ingredients.
The most popular variety is probably Chè ba màu (three color bean dessert), a tasty combo of soft mung beans, sweet red beans, bouncy jelly pieces, and condensed coconut milk.
Do you want to add more fruits to your menu? Chè Thái (fruit cocktail with coconut milk) is here to help you. This sweet treat from Vietnam bathes crunchy pieces of jackfruits, longan, pears, and grass jelly in a sea of rich coconut milk, creating a cooling dessert to die for.
Meanwhile, anyone who loves gelatin desserts won't be able to resist Chè khúc bạch (panna cotta lychee dessert), a delightful symphony of flavored gelatin pieces (made with rich condensed milk) and lychee juice.
27. Cendol – Indonesia
(Iced Dessert With Worm-Shaped Jelly Noodles)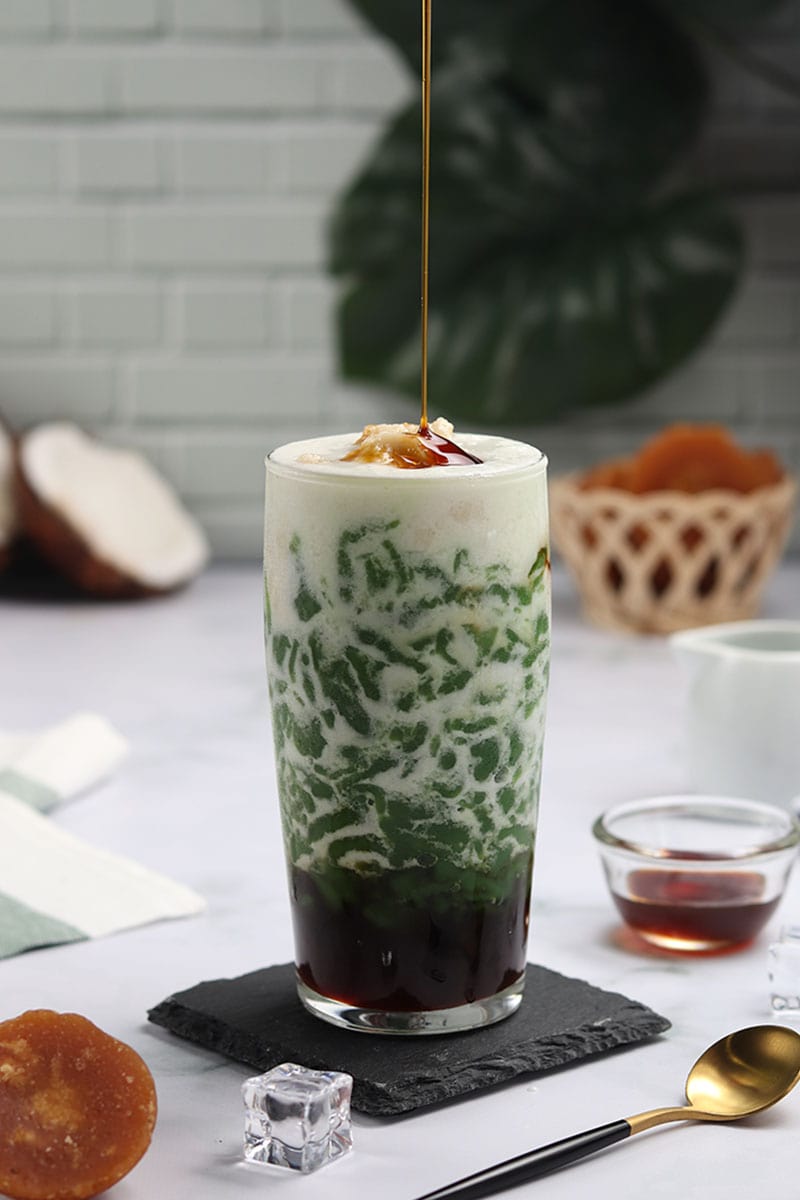 Who doesn't love refreshing, cool, and sweet Cendol? Although this popular Asian dessert may have originated from Java (Indonesia), it has many variations throughout Southeast Asia, from Vietnam and Thailand to Malaysia and Singapore.
And it comes in different names, too. In the culinary world of Singapore and Malaysia, it's called Chendol. In Vietnam, locals call it "Chè bánh lọt," while Thai people refer to it as "lod chong" or "lot chong."
Chendol is a pleasant summertime favorite iced dessert prepared with emerald-green rice flour-based jelly noodles. Then it is served with fatty coconut milk, palm sugar syrup, and shaved ice. Additional toppings consist of sweet beans and diced fruits, especially crunchy jackfruits.
28. Khao Niaow Ma Muang – Thailand
(Mango Sticky Rice)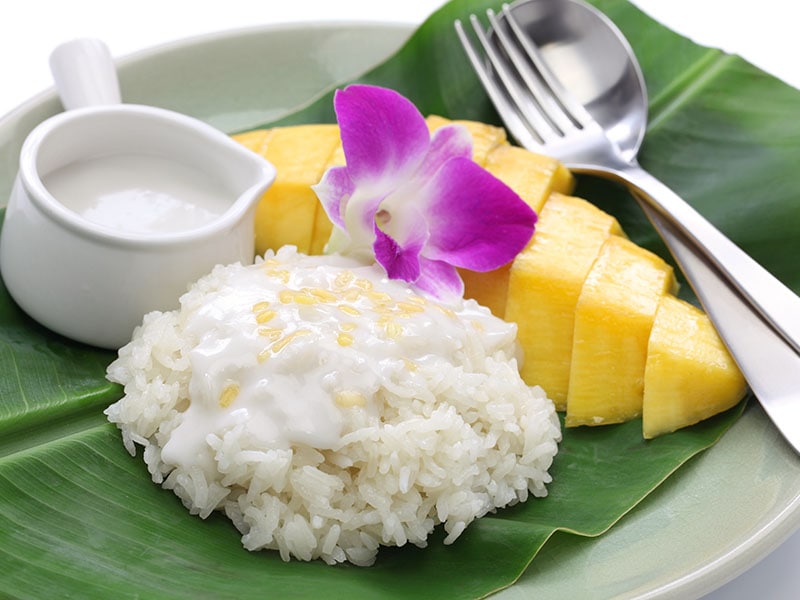 In Thailand, the mango season is during April and May, and Khao Niaow Ma Muang is an exquisite and delectable Thai dessert locals love to prepare with the fruit. It is widely available in this Southeast Asian country, whether in street stalls or trendy restaurants.
There are only a few ingredients needed for this typical Asian dessert. You just need Thai sweet rice, ripe mangoes, and coconut milk. Sweet rice (or glutinous rice) is easy to find in Asian markets or well-stocked supermarkets.
29. Taho – The Philippines
(Filipino Sweet Tofu)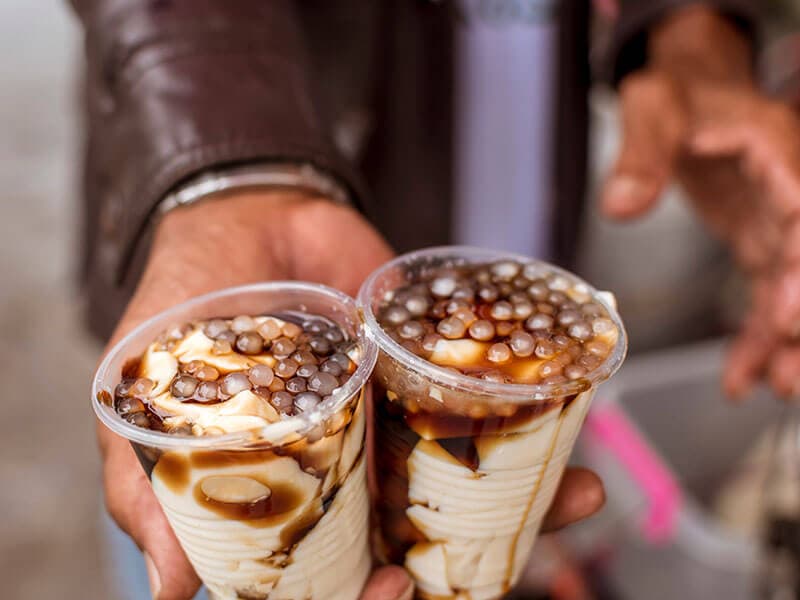 Taho is a wonderful treat from Filipino streets to experience. It is a combination of silken tofu, tapioca/ sago pearls, and brown sugar syrup on top. This dessert is preferably served warm at room temperature. However, you can also add ice cubes if you need a refreshing treat.
Not only is this dessert famous in the Philippines, but it is also a must-try sweet treat in Malaysia, Vietnam, Thailand, and many other Asian countries. Low in fat yet rich in proteins, Taho is a wonderful treat for vegetarian or health-conscious eaters.
30. Khanom Bueang – Thailand
(Thai Crepes)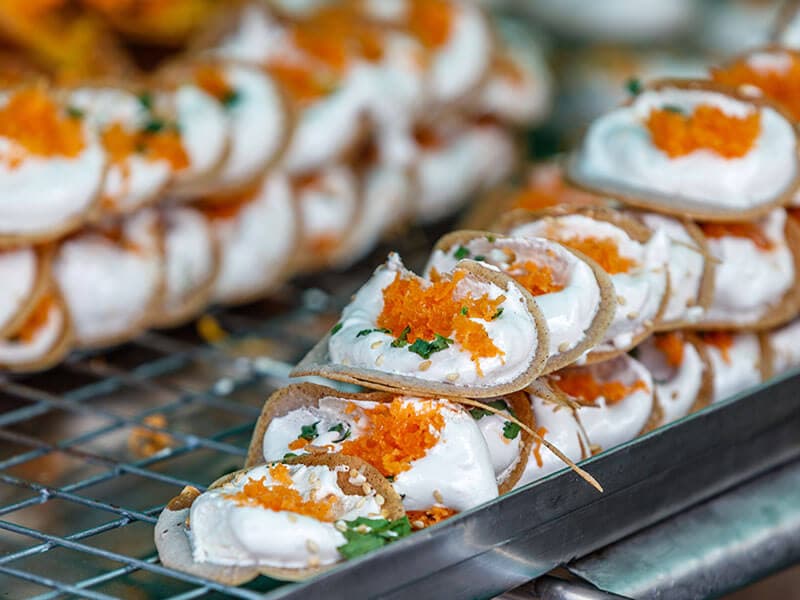 You can easily see this fascinating treat sold at street food stands in Bangkok and nearby cities. Call it by English names like "Thai crepes" or "Thai crispy pancakes, " and the vendor will prepare delicious Khanom Bueang (or Khanom Buang) in front of you.
This culinary delight resembles Mexican tacos, consisting of rice flour pancakes topped with meringue, Foi Thong (fried eggs or candied egg yolks), shredded coconut, and other sweet/ savory toppings.
Khanom Buang apparently dates back to the times of the Ayutthaya, which was founded in the 14th century and has been enormously popular since that era.
31. Pisang Goreng – Indonesia or Malaysia
(Banana Fritters)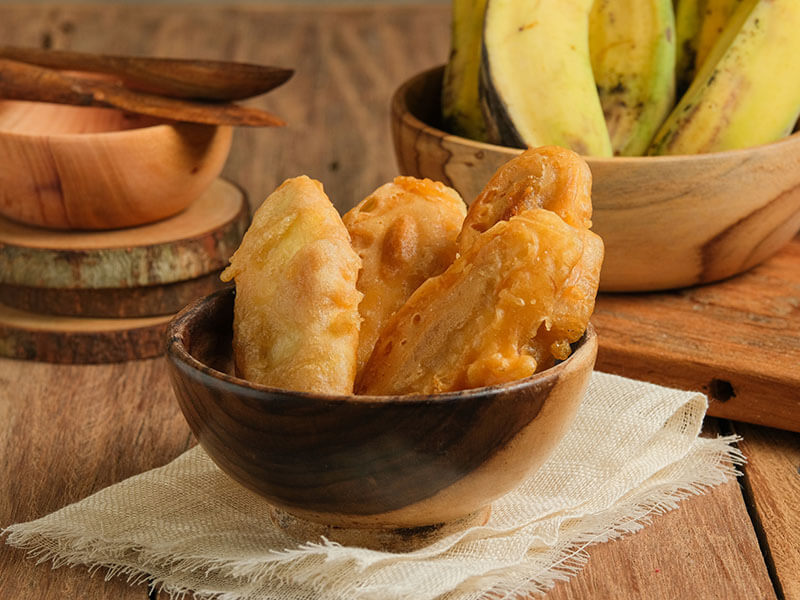 To be fair, banana fritters are a well-liked treat all over Southeast Asia and South Asia, but the Indonesian or Malaysian version is probably the most well-known variety. This deep-fried banana snack boasts a crispy golden exterior and a tender interior with a fruity filling that no one can resist.
Whether your taste buds crave a quick afternoon pick-me-up or a light dessert, you can count on this crunchy, honeyed delight to please them.
Although traditionally made with bananas, some variations use plantains for a unique twist in taste. To enhance its sweetness, Pisang Goreng is often served with a dusting of powdered sugar or a drizzle of ice cream. However, I personally think it is already delicious.
32. Ube Halaya – The Philippines
(Purple Yam Jam)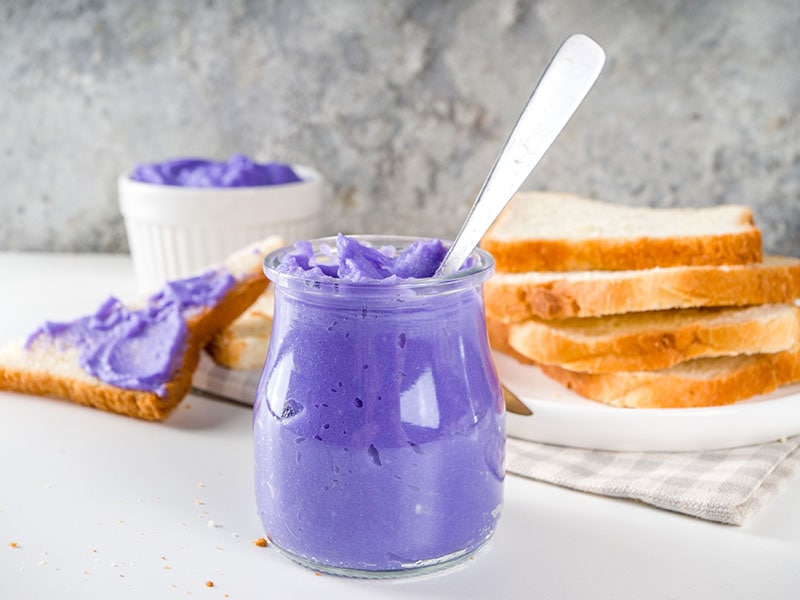 This wonderful Filipino dessert can captivate both the eyes and taste buds with its vibrant purple color and unique taste. Derived from ube (a native purple yam), this creamy treat is synonymous with festive occasions and celebrations in the country.
It has a few alternative names, like Halayang Ube. Making it involves boiling and mashing the purple yam, combining it with condensed milk, coconut milk, sugar, and butter, and then cooking the mixture until it achieves a thick, jam-like texture.
Ube Halaya's adaptability lends itself to being presented in various forms. Many people love to spread it on toast or incorporate it as a filling for bread and pastries. It is also an ingredient for other Filipino desserts, such as Halo-Halo.
South Asian Desserts
It would take a much longer article than this one to list all the wonderful desserts from South India, but you can get a pretty good picture with the options below.
33. Kulfi – India
(Ice Cream)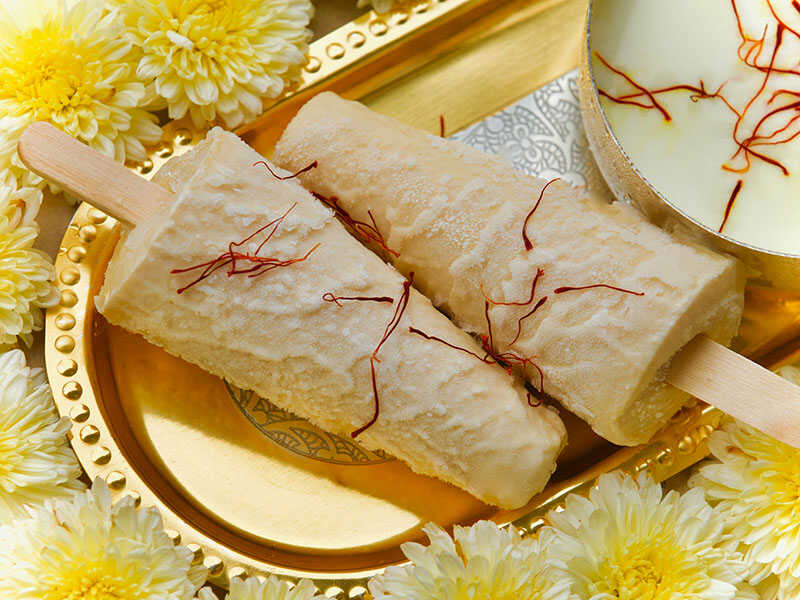 What can be better for summer than ice cream? The answer is Kulfi, a form of healthier ice cream hailing from North India (Delhi, to be exact). It boasts a nice melange of cardamom, saffron, and pistachios for a satisfying flavor that is hard to resist.
Kulfi is teeming with richness; many people say it is even creamier than conventional ice cream. This dessert is created by gently boiling the milk until the liquid is reduced by at least half. It involves no whipping and has a very dense texture resembling frozen custards.
You can customize the flavors further with rose petals, fresh fruits, or dried fruits. Mangoes, avocados, guavas, or strawberries are prime choices to try.
34. Kheer – India
(Rice Pudding)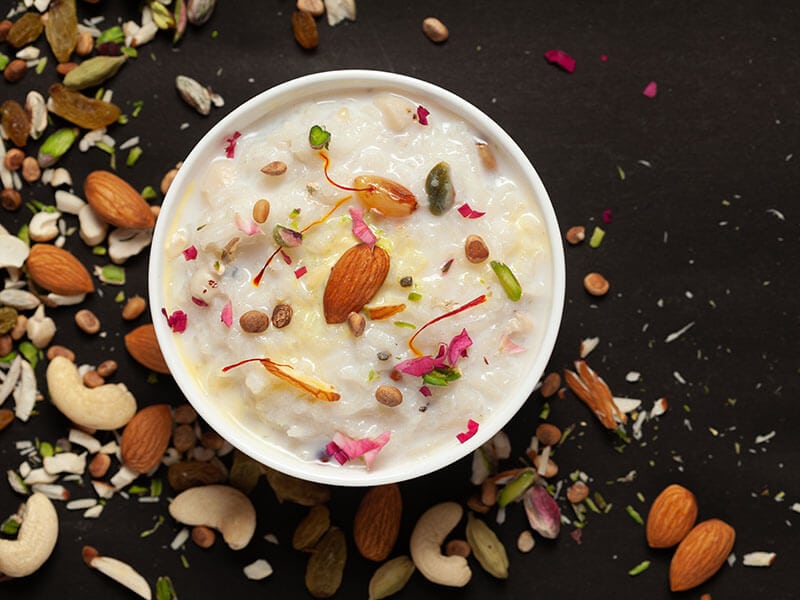 Since ancient times, Kheer, or Payasam, has been enjoyed in various forms throughout the Indian subcontinent. It is a simple combo of grains (usually rice), milk, and sugar, which are gently simmered until the rice becomes tender and the milk thickens to form a delectable pudding.
All that's left is to add aromatic spices (cardamom, cinnamon, or, even better, saffron) and garnish with nuts and dried fruits. A luscious dessert with both crunchiness and tenderness is now ripe for enjoying.
35. Jalebi – India
(Crispy Snack With A Spiral Shape)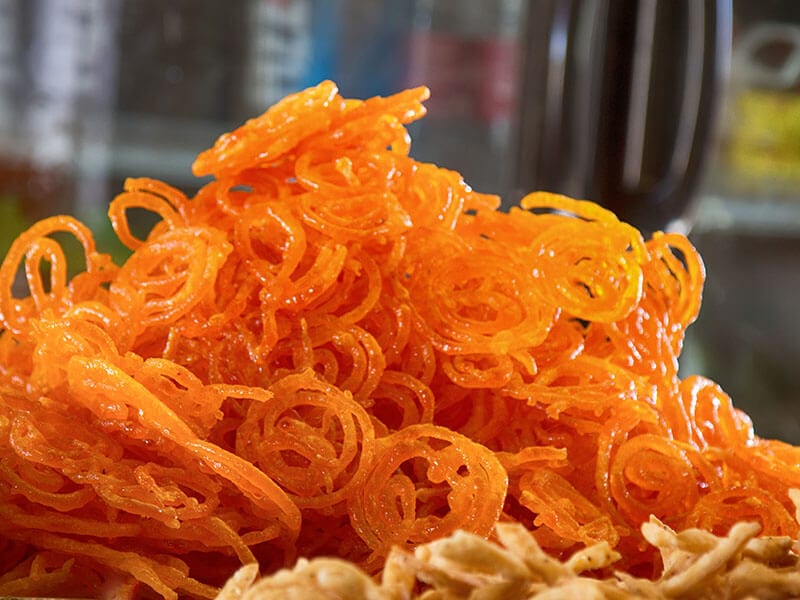 Initially an Arabic delight, Jalebi (or Jilebi) is now a popular dessert throughout South Asia. However, its Arabic origin is still evident in its alternative names, such as Zalabia, Mushabak, or Z'labia.
The unique spiral or pretzel-like shape is a hallmark of this crunchy, deep-fried treat. I'm sure its eye-catching appearance will entice you to try it at first sight. Besides, Jalebi is also soaked in a rich, golden sugar syrup to create a sweet temptation.
Locals usually enjoy Jalebi with Rabri (a dessert made from condensed milk) or milk curds for the best experience.
36. Rasgulla – India
(Syrupy Dumpling Dessert)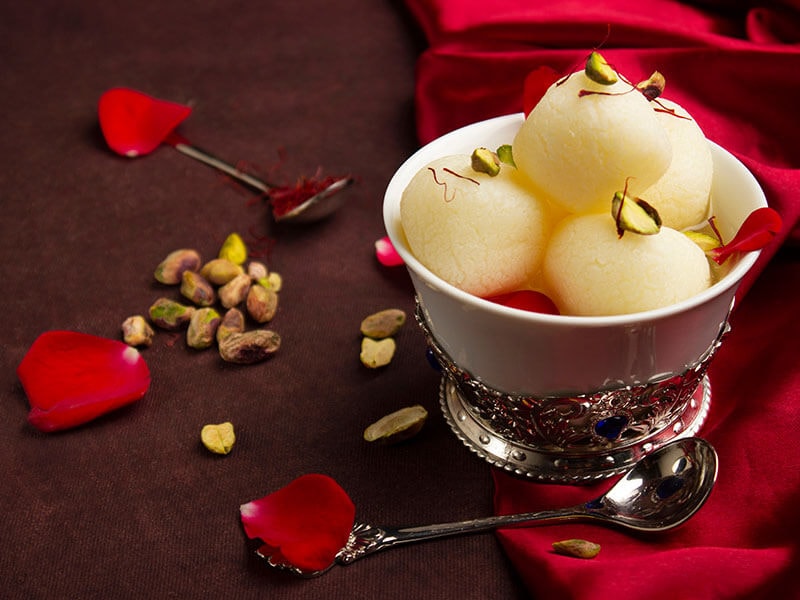 Originating from the eastern side of the Indian subcontinent this spongy dessert is currently a culinary wonder for the whole South Asia. Also known as Rosogolla or Roshogolla in Bengali, Rasgulla literally means "syrup-filled roll."
The meaning reflects the nature of Rasgulla: small balls of chhena (a variety of Indian cottage cheese) carefully kneaded with an amount of semolina before being cooked in a light sugar syrup until fluffy.
While Rasgulla's origin is a source of controversy in India as many states, such as West Bengal and Odisha, compete with each other for the claim on its birthplace, no one can argue about how delicious the dessert is.
37. Ladoo – India
(Ball-Shaped Sweets)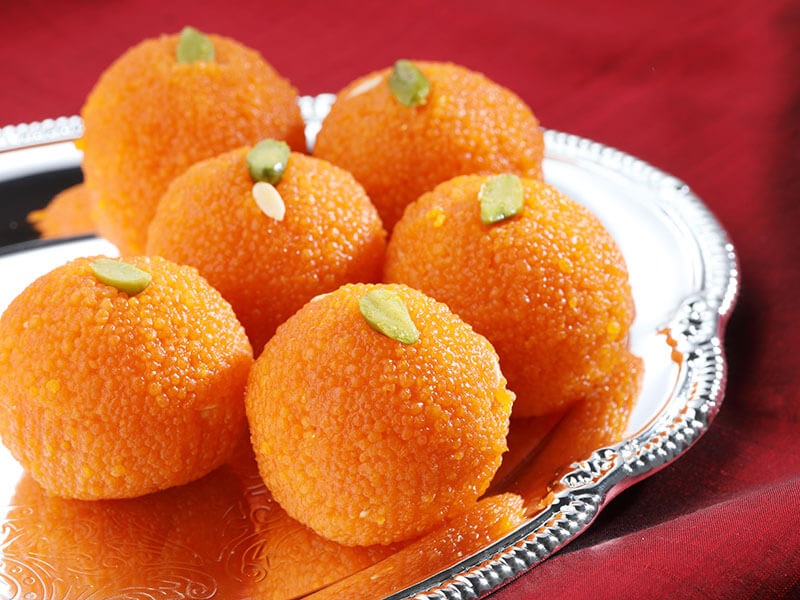 Going by various names such as Laddu, Laddoo, and Laddo, this spherical sweet treat has been a much-adored dessert in South India since time immemorial. Its main ingredients are flour, sugar, ghee, and spices, plus nuts and dried fruits for garnish.
Ladoo is exceptionally flexible in terms of cooking techniques, ingredients, and flavors, with numerous varieties to please everyone. A few examples are Besan Ladoo (with gram flour), Motichoor Ladoo (soaked in sugar syrup), or Coconut Ladoo (with freshly grated coconut).
While Hindu celebrations and religious festivals are great occasions to try Ladoo, this treat is also a treasured dessert or casual snack in Muslim-majority countries like Pakistan.
38. Gulab Jamun – India
(Fried Dough Balls With Milk Solids)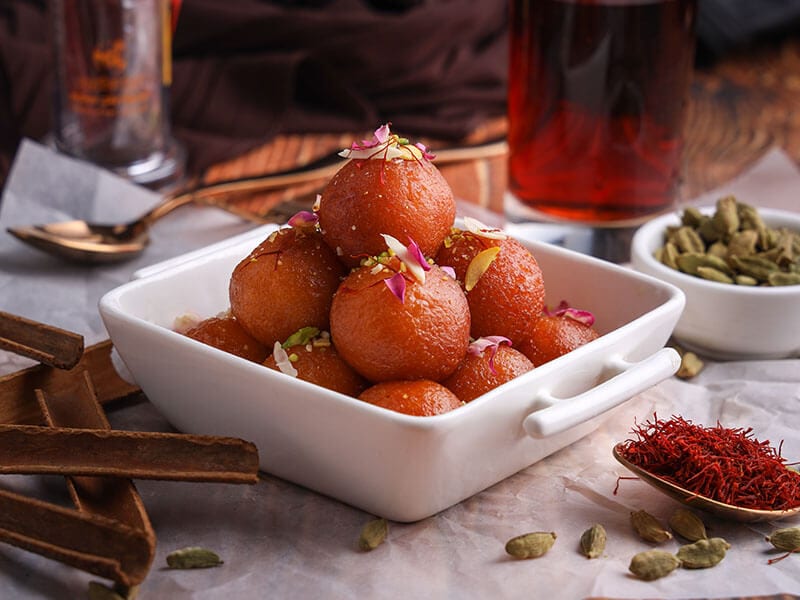 Gulab Jamun was traditionally made from khoya, which is the Hindu word for evaporated milk solids. Apart from India, this is also one of the most common sweet treats in Pakistan, Nepal, Bangladesh, and the Maldives.
The treat is made from milk solids that are then kneaded into a dough, formed into small balls, and deep-fried in ghee. Next, the balls are steeped in a sweet mixture with fascinating flavors of green cardamom, rose water, and saffron.
The aroma of rose water and the attractive brownish-red color of the dessert itself gives Gulab Jamun its name, which means "rose water berry" or "rose berry."
Middle Eastern Desserts
Resisting the allure of Middle Eastern dishes for the sweet course is futile. Check out these dishes, and you will see why.
39. Dondurma – Turkey
(Turkish Ice Cream)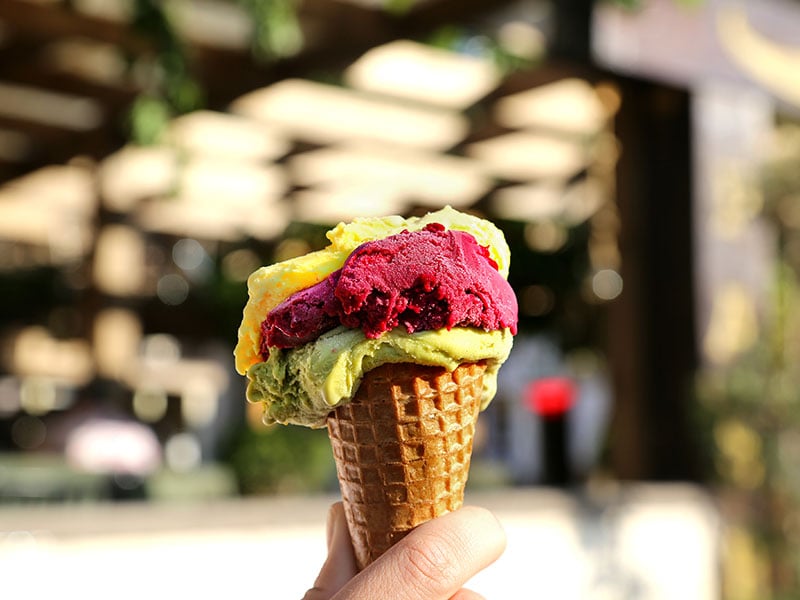 Dondurma is the Turkish word for "freezing," but it also happens to refer to any type of ice cream in Turkey. Unlike its Western-style counterparts, traditional Turkish ice cream is famous for its stretchy and chewy consistency and strong resistance to melting.
That character comes from the inclusion of salep (flour made from the starchy roots of wild orchids) and mastic resin. Spice shops and specialist Dondurma shops in Turkey have these two things in abundance.
Dondurma has an alternative name, "Maraş ice cream," since many people believe it comes from Kahramanmaraş, a city near the Syrian-Turkish border. Although a terrible earthquake in 2023 leveled the city, its legacy lives on in this enduringly famous dessert.
40. Tulumba – Turkey
(Turkish Deep-Fried Dough Pastries)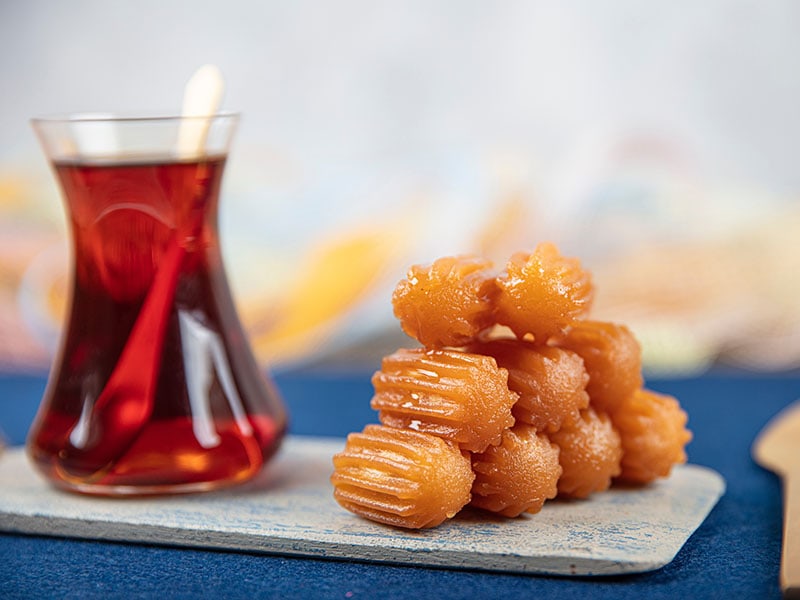 Do you know that Tulumba is one of the most sought-after Turkish dessert and street food delicacies? It is created from fried dough that is immersed in lemony syrup. Its crunchy exterior and tender interior provides a pleasant contrast that has charmed countless foodies.
This dessert of Persian origin is often likened to churros and is best served warm. Since it is both tasty and inexpensive, locals usually prepare it for holiday parties, weddings, or large family gatherings.
Its high sugar content is particularly useful for meals during Ramadan (the holy month of fasting) when people need a quick energy boost. Besides Turkey, Tulumba is also well-loved in regions that constitute the former Ottoman Empire, like the Balkans or the Middle East.
41. Ma'amoul – Middle East
(Filled Butter Cookies)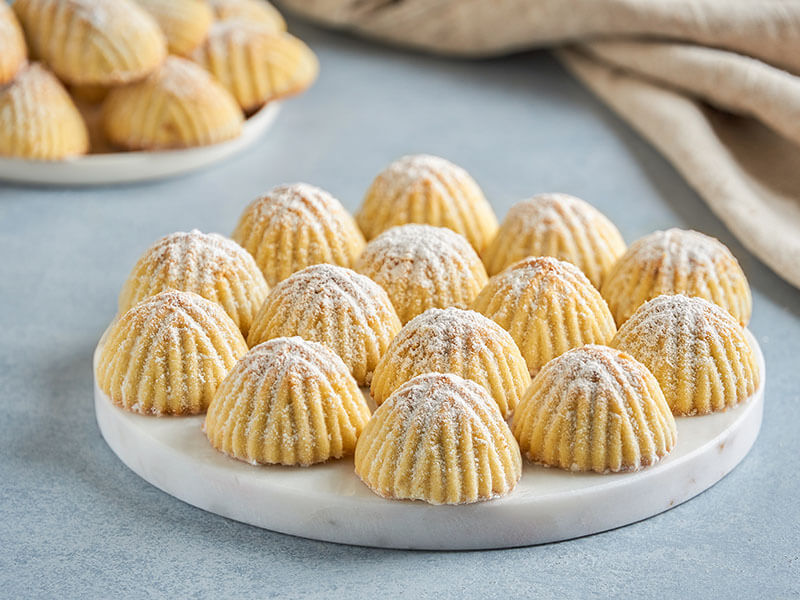 Whether the name is Mamoul, Mamool, Maamou, or Ma'amoul, it all means the same thing: a type of crumbly, buttery cookie made with semolina or all-purpose flour and can go with various fillings. Dates are the most favorite option, followed by pistachios, walnuts, and almonds.
This amazing Arabic pastry can trace its origin back to the Levant, a region on the eastern side of the Mediterranean. Ma'amoul is as culturally diverse as the area that gave birth to it. The dessert is the go-to treat for special celebrations of different religions, such as Eid al-Fitr and Easter.
42. Kanafeh – Middle East
(Sweet Cheese Pastry)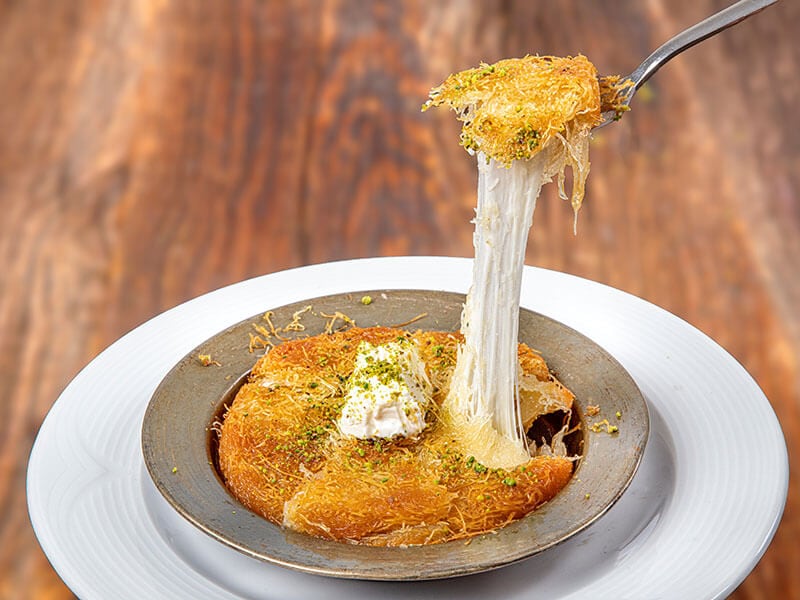 From the enchanting stories in One Thousand and One Nights to the modern world, Kanafeh has always been a delish dessert in the Arabic world. However, nobody knows for sure about its origin.
While its first recorded mention appeared in the 13th century, the exact time and location of its debut are a mystery worthy of Scheherazade's tales. Legend has it that the pastry was created to help caliphs sate their cravings during Ramadan, a role Kanafeh plays for the masses today.
Also known as Kunefe, Knafeh, and many other names, Kanafeh can refer to the entire dessert dish or just the spun pastry that acts as the dish's main ingredient. The first step of making the dish is dividing the noodle strands in half.
One part is heated in unsalted butter and covered with soft cheese (or ricotta/ clotted cream in modern variations) before being covered with the other half. Finally, a thick scented syrup will be poured over Kanafeh, with pistachios on top.
43. Gaz – Iran
(Iranian Chewy Confection With Nuts And Whipped Egg Whites)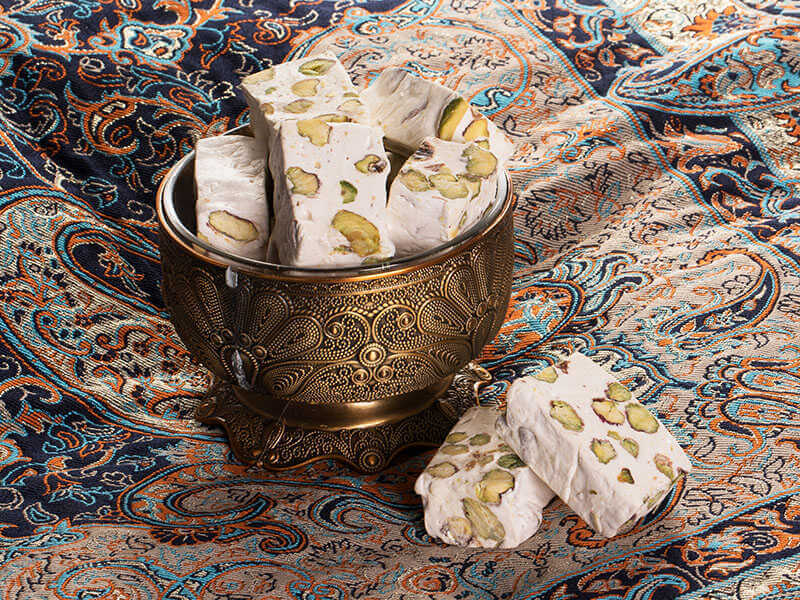 Any list of exotic Asian sweets can't be complete without nougat, a group of crunchy candy bars made with sugar/ honey, whipped egg whites, and roasted nuts. And the white variety, called Iranian Nougat or Gaz, is probably the best of this delightful dessert family.
Gaz hailed from the ancient city of Isfahan in Iran around the 15th century. In addition to the standard nougat ingredients, it also includes angebin, a type of sap extracted from a wild tamarisk tree native to Iran.
The sweet and milky sap imparts a unique flavor to Gaz that can't be found elsewhere. Although modern interpretations of Gaz can contain other exquisite condiments (such as saffron or chocolate), the sap is still an unskippable ingredient.
To preserve the confection, locals often pack Gaz slices in a wooden or plastic box, with flour dusting so that the pieces won't stick to each other.
44. Lokum – Turkey
(Turkish Delight)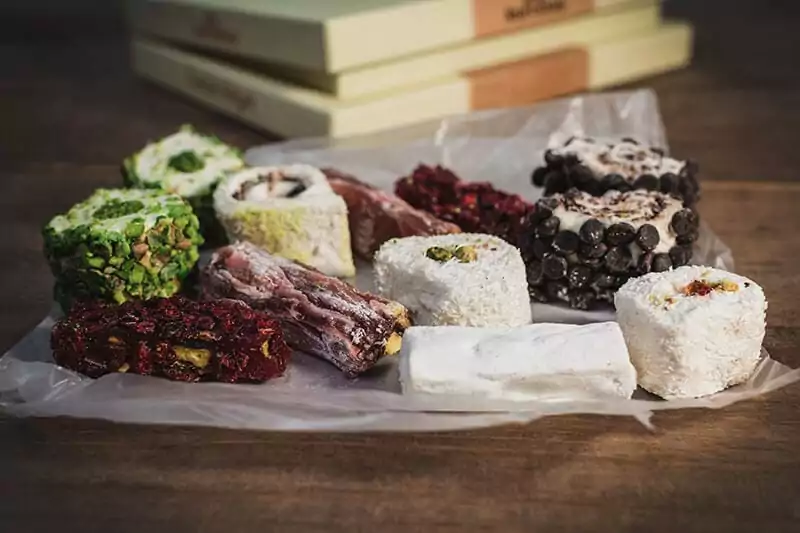 The Turkish name Lokum originated from an Arabic word meaning "throat comfort," demonstrating how soothing and healthy the treat is. Since this treat relies on such flavorings as lemons, rosewater, or bergamot orange, its fragrance is highly evident.
Lokum boasts a thick, gel-like texture coming from a mixture of water, cornstarch, and sugar. Why is the English name so divergent from the original one? The confection first appeared in Constantinople, which is now called Istanbul and is Turkey's capital city, hence the translation.
Often sold in small cubes, Lokum is available in many colors. People often garnish it with icing sugar, powdered cream of tartar, or crushed nuts, which improve both its beauty and flavor.
FAQs
If you want to find out interesting facts about famous Asian desserts, read this section right away!
Satisfy Your Taste Buds With These Asian Desserts!
Although my suggestions are only a tiny taste of what the world's largest continent has to offer, I hope they will enliven your meal nicely. Write down the name of the desserts that attract you and remember to try them on your next trip to Asia or an Asian restaurant/ sweet shop.
Making these desserts for your family and guests is also a great idea. It may take time and a lot of practice, but you will have a lot of fun in return.
Which Asian dessert do you love the most? Do you know other dishes that should be present in this post? Feel free to let me know in the comments below! And don't forget to share this post with your mates if you find it helpful!