These Asian desserts keep your stress level low while maintaining a high level of delectability. Here I have fascinating desserts for all occasions ranging from quick and easy sweet delights to impressive and refreshing recipes.
Is dessert your favorite part of the meal? If Yes, this post is right for you. I have many offers to satisfy your taste buds, whether you are craving cookies, cake, refreshing desserts, or anything in between.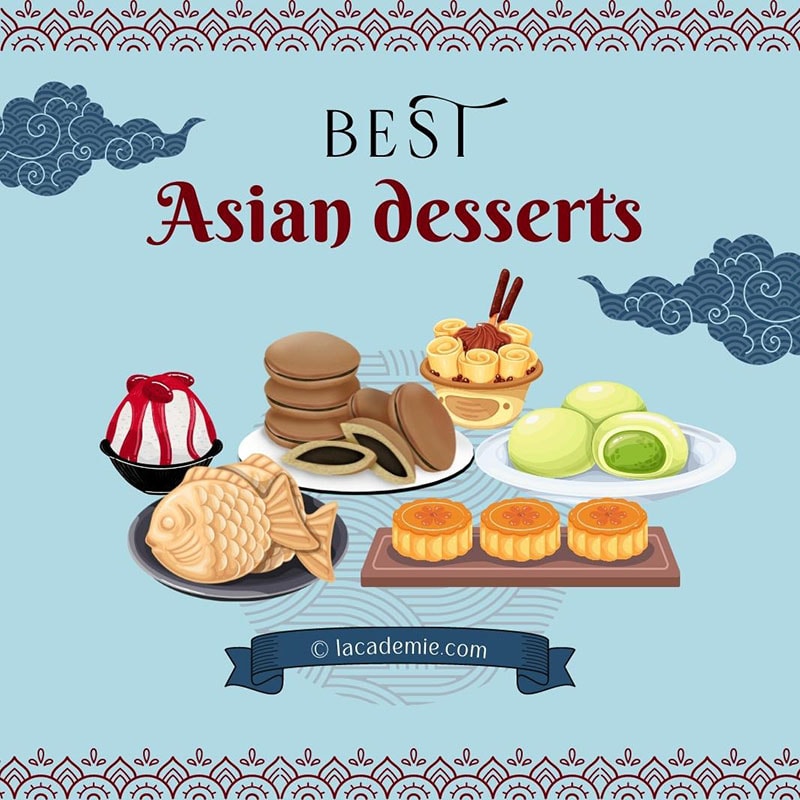 List Of 30+ Delicious Asian Desserts That Will Get You Drooling!
This collection is for you if you are in need of something that can satisfy your sweet cravings. Go on and find the perfect idea to try your next meal, or note down the Asian desserts that you should try on your next trip.
Cookies
Tea Cookies, Korea (Dasik)
Almond Cookies, China
Matcha Green Tea Cookies, Japan
Black Sesame Cookies, Japan
Butter Cookies, Japan (Hato Sabure)
Honey Cookies, Korea (Yakgwa)
Cakes
Castella Cake, Japan (Kasutera)
Taiyaki, Japan
Sweet Rice Cake, Korea (Injeolmi)
Pan-fried Rice Cake Dumplings with Sweet Red Beans, Korea (Bukkumi)
Steamed Sponge Cake, China (Ma Lai Gao)
Green Tea Mochi, Japan
Mooncake, China
Dorayaki, Japan
Custards And Puddings
Mango Puddings, China
Caramel Custard Pudding, Japan (Purin)
Refreshing Asian Desserts
Kulfi Recipe with Condensed Milk, India
Patbingsu (Korea)
Rolled Ice Cream, Thailand
Filipino Shaved Ice (Halo-halo)
Vietnamese Three Color Bean Dessert (Chè Ba Màu)
Dondurma, Turkey
Cendol, Southeast Asia
Other Asian Desserts
Mango Sticky Rice, Thailand (Khao Niaow Ma Muang)
Dragon Fruit
Filipino Sweet Tofu (Taho)
Tulumba, Turkey
Gulab Jamun, India
Thai Crepes (Khanom Buang)
Mitarashi Dango, Japan
Wagashi, Japan
Let's begin this Asian dessert collection with cookies! Why don't you serve your family with these Asian-inspired cookies? Moreover, these quick recipes are also ideal for last-minute guests.
Dasik, also known as Korea tea cookie, is one of the most popular desserts in Korean cuisine. It is a bite-sized sweet food that melts in your mouth. Usually served with tea, Dasik's main ingredients are black sesame, rice flour, chestnut flour, beans, and pine pollen.
This ornamental Korean treat was brought to Korea along with the drinking tea culture that was formerly served solely for the rich upper classes. Dasik comes in a wide range of colors, and it is created in specific Dasikpan molds.
Dasik's form and color need significant requirements in their preparation since they typically carry distinct cultural connotations. Korean tea cookies are often made up of various colors such as black, white, yellow, pink, and green.
The next item on the list of Asian desserts is almond cookies, which is a signature dish in Chinese-American cuisine. These classic Chinese cookies have a similar shape to coins, which means they will bring you luck. That's why Chinese almond cookies are often served in Lunar New Year.
Combined with the finest almond flour, slivered almond, and almond extract, these cookies feature a particular almond taste and crunch to them. Its strong taste will also outperform any paper-wrapped delight.
Chinese almond cookies, together with walnut cookies and sesame cookies, are common sweets at Chinese eateries, but they can also be made right in the convenience of your home with an oven.
To keep these cookies delicious for a long time, you'll need to store them properly in a cookie ar. However, in case the cookies harden due to improper storage, there are several ways to soften hard cookies again. But I think it's still best that you keep the cookies in an airtight jar.
These Japanese cookies are made with matcha green tea powder, so they feature a wonderful green tint. Moreover, these cookies are favored because of their crispy exterior and chewy interior.
Making matcha green tea cookies only takes about 15 minutes in your oven. I enjoy infusing matcha green tea powder into traditional cookie recipes, and the best trick for this recipe is using high-quality matcha powder. Cheaper matcha powder cannot give vibrant green colors in baked items.
Another cookie recipe from Japan is the fascinating black sesame cookies that can satisfy your sweet cravings. These crispy cookies mix the delicacy of buttery cookies with the toasted, earthy flavor of black sesame seeds, making them ideal for morning or afternoon teas.
Have you ever tried Japanese black sesame cookies? I think you should try once to enjoy the nutty, buttery, crunchy, and addictive flavor. These cookies really pair well with tea, and they are also ideal for Christmas or gifting because of their unique mixture of sweet and salty ingredients.
These dove-shaped butter cookies, also known as Hato Sabure in Japanese, are inspired by conventional Western buttery sweets. The iconic Japanese dove-shaped butter cookies are perfect for all occasions.
You can easily make these cookies at home, and you can make other shapes if you do not have any dove cookie cutter. You just need only 5 ingredients to make the crunchy, delicious cookies that melt in your mouth.
These butter cookies are tasty, and preparing them is fun and quick with just 30 minutes. They are buttery but light with crispy edges. You can drop them in melted chocolates or sprinkle melted chocolates on them.
Yakgwa is made from 2 main ingredients: wheat flour and sesame oil. These cookies usually come in round or flower shapes. After frying, yakgwa is covered in delicious, honey-infused syrup.
Although these Korean honey cookies are not as widespread in daily stores these days, they may be found at Korean tea shops. Yakgwa is often served as a dessert with a sweet taste and chewy texture.
One special secret to making Korean honey cookies is that the dough is deep-fried, steeped in honey for 6-8 hours. Yakgwa was traditionally provided during ceremonies, weddings, and Korean Thanksgiving. Nowadays, Yakwa can be served with tea, and it is also a perfect gifting idea.
Insanely Delicious Asian Desserts With Cakes
Here are some popular Asian cakes that you should try once. I think your family will quickly fall in love with the moist and fluffy texture of these cakes.
In Japanese, castella cake is also known as Kasutera. This has been a famous honey sponge cake in Japan since the 16th century. Castella cake is made with only 4 ingredients: bread flour, sugar, honey, and eggs. Let me tell you something about this cake's name.
Kasutera, or Japanese Castella cake is first introduced to Nagasaki by Portuguese merchants. Its name is taken from Portuguese Pó de Castela, which means "bread from Castile".
Castella cake appeals to every foodie by its gorgeous look: the dark brown top layer, fluffy and creamy yellow center, and bottom crusts. One such exquisite cake is soft, and smooth with just the right sweet flavor and an aromatic honey scent.
Taiyaki is popular street food in Japan with fish shapes and red beans inside. It is widely sold at Japanese street fairs, school fairs, and festivals. Westerners may frequently ask why Taiyaki, a Japanese delicacy, has a fish shape.
It was inspired by Imagawayaki, a similar pastry with a circular shape, not a fish shape. However, Japanese marketing-savvy shops began creating Imagawayaki with the fish shape. The distinctive design was more successful, and the enormously popular Taiyaki as we know was born.
Injeolmi is a traditional glutinous rice-based Korean cake with a soft, chewy texture and slightly sweet flavor. Korean rice cake is made by steaming sweet glutinous rice before pounding into a delightful blob with a chewy texture known as Tteok.
After that, the tteok is chopped into tiny pieces. You can sprinkle roasted soybean powder, cooked Azuki red beans, or ground black sesame seeds on top. Additionally, you can enjoy this rice cake on its own or dip it in sugar or honey.
Because of the chewy and sticky texture, Korean sweet rice cake was traditionally given to newlywed couples as a Wedding gift in the hopes that the couples will "stick together" and get along well forever.
Also considered a worth-trying dish in North Korean cuisine, injeolmi indeed has a certain appeal that makes it impossible to resist. Whether you're a fan of sweet foods or not, I think injeolmi should be on the top of your list for "foods to try at least once in your life".
The name of this Asian dessert makes it easy for you to imagine what this dish is like. Known as Bukkumi, this dish comprises sweet rice cake dumplings packed with sweet red bean fillings. Then these dumplings are pan-fried in oil to provide a crispy exterior and soft, chewy center.
Apart from sweet red beans, Bukkumi also has other popular fillings, such as sweet mung beans or chestnuts. The nicest part about these pan-fried rice cake dumplings is how quickly they can be made. You can prepare them in just about 10 minutes with a package of glutinous rice flour and a can of delicious sweet red beans!
With a soft, moist texture and the right amount of sugar, Ma Lai Gao is best served with tea. Moreover, Chinese steamed sponge cake features a slightly sweet and light taste that can quickly satisfy your cravings.
Since there is also brown sugar as an ingredient, Ma Lai Gao will carry the light honey or pale almond color. Whenever you need some sweet treats for afternoon teas, feel free to try this Chinese steam sponge cake because it just needs a few ingredients.
Everyone who has tried green tea mochi may be familiar with its chewy and sticky exterior. Mochi is also a type of Japanese rice cake prepared using sticky rice flour, and it can come with many fillings such as ice cream, strawberries, and sweet bean paste.
Green Tea Mochi is a traditional Japanese sweet treat that is flawlessly chewy with a dash of sweetness. You can serve green tea mochi with hojicha or green tea for an enjoyable afternoon tea.
Making homemade green tea mochi is, without a doubt, a rather difficult task, but it will give you so much delight and satisfaction.
Mooncake is an essential Chinese dessert that is traditionally served at the mid-autumn festival (August 15th in the Chinese lunar calendar). Nowadays, the appearance and purpose of this celebratory treat have developed significantly.
You can find mooncakes of many flavors and styles are produced in various cake shops and restaurants. And they are packaged in luxury boxes with exquisite decorations. Since mooncakes are sometimes overpriced and have been too commercial, sending homemade mooncake as a gift is such a great way to express your loves,
Although making mooncake requires time and effort, you will have a fantastic cooking time, and your sincerity, hard work, and effort will be truly appreciated.
Dorayaki is a famous and popular Japanese sweet. These small delicacies have a lovely mild flavor pallet with just enough sweetness, making it difficult to consume just one. Dorayaki is a traditional Japanese dessert comprised of 2 American-styles pancakes with sweet filling in the center.
Dorayaki can be filled with red beans or chestnuts, cream, or custard. Both Japanese adults and children fall in love with Dorayaki, and I think you will also quickly fall in love with this dessert.
Warm and somewhat bitter Japanese green tea pairs nicely with these soft and fluffy pancakes. Enjoy Dorayaki as a fascinating dessert for afternoon tea is such a great idea!
Asian-Inspired Custards And Puddings For Effortless Entertaining
Along with pudding, custard should not be missed in any list of desserts. Creamy and tasty, these Asian-inspired custards and puddings will be the perfect choice for any time of the year.
This recipe makes me want to dance! The puddings are tasty, refreshing, and smooth with a burst of mango flavor. This Asian dessert is ideal for making at home because of its simplicity. You can now prepare this famous restaurant's dessert right in the comfort of your home with just a few ingredients.
These puddings definitely bring out the amazing tastes of the mango. Moreover, they are also rich and subtle. The evaporated milk on top gives the pudding a terrific smoothness and taste. This smooth and creamy sweet delicacy will be a hit with your family and friends!
Another worth-trying custard from Asia is Sankhya Lapov, a luscious dish from Cambodian cuisine. The smooth, creamy, and decadent custard is prepared and cooked inside a pumpkin, creating a unique dessert that no one can resist.
You need some sweet and creamy treat, right? In Japanese, caramel custard pudding is known as Purin. "Purin" is derived from the word "pudding", and it is a flan-like cold custard delicacy. This comforting dessert is enjoyed and served cold in Japan.
Purin is not anything like the mushy pudding that is popular in the United States. It features a stiffer texture, akin to Mexican flan with caramel on top. Purin has a smooth and silky texture with a rich, creamy, and sweet taste.
Although you can buy Purin at the grocery stores, there is nothing better than making Purin yourself at home. It only requires simple ingredients, and preparing Purin is also effortless. Let's try making Japanese delicacies to serve your all family!
Refreshing Asian Desserts To Beat The Summertime Heat
Refreshing desserts are so near and dear to my heart. Who doesn't love these refreshing Asian desserts? Creamy, tasty, sweet, and fruity, these recipes are really worth trying. Save these desserts for your next trip right now!
This easy and quick Kulfi recipe with condensed milk is a refreshing summer delight with a thick and deep texture. Thanks to the combination of cardamom, saffron, and pistachios added, this variation of the iconic Indian ice cream provides a satisfying flavor that is hard to resist.
Kulfi is an Indian frozen dessert with a rich and sweet taste. This dessert is created by gently boiling the milk until the liquid is reduced by at least half. Remember to stir occasionally. You can also add dried fruits and rose petals if you don't have cardamom, saffron, and pistachios.
Patbingsu is a Korean delicacy made of shaved ice that is perfect for a summer dessert. You can serve Patbingsu with sweet red beans or canned red beans if you are pressed for time. In any case, it will undoubtedly bring some refreshing flavors on scorching summer days.
You can easily see Bingsu serve with red beans (pat) in Korean restaurants. However, you can try other versions of it, such as add your favorite fruits, green tea powder, nuts, roasted grain powder (Misugaru), ice cream, or cookies.
People often make Patbingsu at home with an electric ice shaver. But if you don't have one, you can use a food processor or blender instead. There are some differences between a food processor and blend. But they all guarantee a bowl of refreshing Patbingsu for you.
Nothing says summer more than rolled ice cream in Thailand! This dessert is quite a new trend in Asia, and its name lets you easily imagine how it is like. A cup of little ice cream rolls with coconut, toasted marshmallow, gummy bears, and so on.
Although rolled ice cream is Thailand's street food, it has recently garnered such popularity that it can now be found as street food in other countries. Another name that people often call rolled ice cream is stir-fried ice cream.
And it is a global sensation in the world of ice cream pleasure. You can make these refreshing rolled ice cream in your own kitchen with just two ingredients: heavy cream and condensed milk, and top with chopped mint leaves or chocolate slices.
Halo-halo, a delicacy from Filipino cuisine, is a perfect idea if you need to beat the heat of this summer. The combination of shaved ice, several sweet beans layers, fresh fruits, milk, and other toppings make this dessert hard to resist.
The toppings for Halo-halo are also diverse, and there can be Leche flan, ube ice cream, or ube halaya. Halo-halo demonstrates how entirely diverse and unexpected components may be combined to generate something delicious and delightful!
When you combine all of the components, you get a taste explosion. What a delicious and refreshing treat that's difficult to get enough of! You will get different flavors in each bite. It's a thrilling, delightful experience!
If you are in the mood for a sweet and refreshing dessert, the Vietnamese Three Color Bean Dessert should be your perfect match. Like Halo-halo, this dessert is the combination of many layers of flavors: shaved ice, soft mung beans, sweet red beans, bouncy jelly pieces, and condensed coconut milk.
Although making this sweet treat from Vietnam is rather simple, a few steps may take you some time and patience, such as preparing the bean and pandan jelly layers. Your effort is worth it because you will get the dessert in three beautiful colors: yellow, red, and green.
This interesting dessert encapsulates the delightful tastes of summer. This wonderfully layered, vibrantly colored dish is also known as Rainbow Dessert. The mixture of distinct textures, the refreshing and crunching ice with rich coconut milk make it hard to forget.
Dondurma or Turkish ice cream does not taste like any ice cream you have tried before. Have you ever tried Dondurma? If Yes, you know what I mean. It has the perfect balance of consistency and flavor since it is made up of salep powder.
Thanks to salep powder, Turkish ice cream features an elastic, stretchy texture and a distinctly creamy flavor. Turkish ice cream also has a different name, people in Turkey call it Dondurma, and people in Syria call it Booza.
There is also a specific difference between the two versions, most notably the amount of whipped cream. You can easily see Dondurma on the streets or specialist Dondurma shops.
23. Cendol, Southeast Asia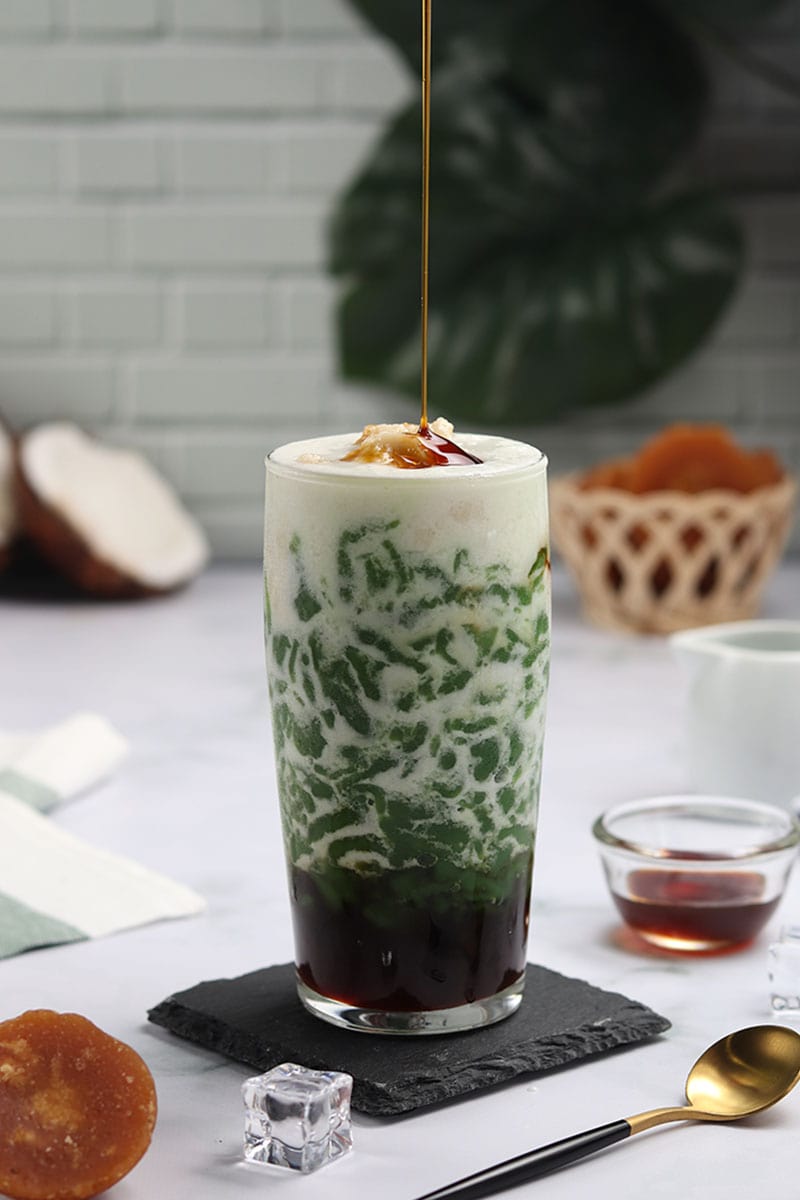 Refreshing, cool, and sweet, who does love Cendol? This Asian dessert has many variations throughout Southeast Asia. There are different versions of Myanmar, Vietnam, Thailand, Cambodia, Indonesia, Malaysia, and Singapore.
And it also has different names, in the culinary world of Singapore and Malaysia, it's called Chendol. In Vietnam, it is called "che banh lot" and it is known as "lod chong" or "lot chong" in Thailand.
Chendol is a pleasant summertime favorite iced dessert prepared with pandan starch jellies and a bean mix. Then it is served with creamy coconut milk, palm sugar syrup, and shaved ice.
The video below will help you easily imagine how to make Cendol at home. Let's watch it right away!
Other Asian Desserts For Every Occasion
The list is ongoing, and let me introduce other popular desserts in Asia that many travelers love. Why don't you save one recipe so that you can have a quick dessert idea to entertain your guest this weekend?
In Thailand, the mango season is during April and May, so Mango Sticky Rice becomes a popular summer dessert. Nothing is better than this warm and delicious Thai vegetarian treat on carefree summer days when students don't need to go to school.
This mango sticky rice is quite an exquisite and delectable dessert in Thailand. Besides a street food, you can also see it on the menu of Thai restaurants. However, you can also effortlessly prepare this dish at home.
There are only a few ingredients needed for this Asian dessert. You just need Thai sweet rice, ripe mangoes, and coconut milk. Thai sweet rice is also known as glutinous rice, and you can find it at Asian markets or well-stocked supermarkets.
This scrumptious dish is famous in many Asian countries. A beloved food in Lao cuisine, sticky rice with mango is so popular here that it is now considered a staple street food in this country.
25. Dragon Fruit
Dragon fruit is a popular choice for many people, and this tropical fruit has gained tremendous popularity in the last few years. It is considered the coolest-looking fruit on the market, with a pink spiky exterior that protects the luscious and refreshing white or dark pink meat.
Dragon fruits taste like a cross between a kiwi and a pear. Though many appreciate these fruits whose names begin with "D" largely for their distinct appearance and flavor, data indicate that it may also have health advantages.
So, what health advantages do dragon fruits offer? The high vitamin C and fiber content make this dessert with dragon fruit a guilt-free treat. Moreover, dragon fruit is also a rich source of magnesium, which is important for bone health.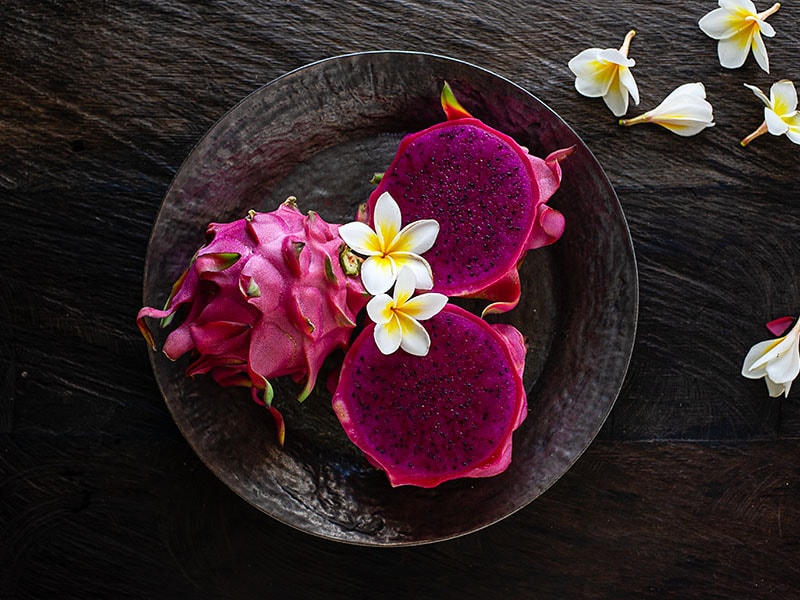 Taho is a traditional treat coming from Filipino streets, which is a combination of silken tofu, tapioca pearls or sago, and brown sugar syrup on top. This dessert is using served warm at room temperature. However, you can also add ice cubes if you need some refreshing treats.
Not only is this dessert famous in the Philippines, but it is also a must-try dish in Malaysia, Vietnam, Thailand, and many other Asian countries. With low-fat content and a tiny quantity of protein, Taho í served in the Philippines all year-round.
Do you know that Tulumba is one of the most traditional Turkish delicacies? Turkish Tulumba dessert is created from the fried dough that is then immersed in the delicious lemony syrup. This dessert is fancied because of its crunchy outside surface and tender inside.
Tulumba is served warm, and it is sold as street food in Turkey. You can also see Tulumba in many Turkish restaurants. Since this dessert is both tasty and inexpensive, it is commonly served at holiday parties, weddings, or large family gatherings.
There are different versions of Tulumba, from Greece to Iran. The secret to making this fantastic sweet treat is paying careful attention to the oil's temperature. Follow the recipe thoroughly, and you can get the best result!
Gulab Jamun was traditionally made from khoya, which is the Hindu word for evaporated milk solids. Apart from India, this is also one of the most common sweet treats in Pakistan, Nepal, Bangladesh, and the Maldives.
The treat is made from milk solids that are then kneaded into a dough. After that, separate the dough to form several balls and deep fry the balls in ghee. Next, the balls are steeped in a sweet mixture with fascinating flavors of green cardamom, rose water, and saffron.
Khanom Buang is one of Thailand's most popular street snacks, and it is also known with other common names: Thai Crepes or Thai Crispy Pan Cakes. These crepes resemble Mexican tacos, and the great taste makes them an ideal dessert.
You can easily see these fascinating treats along the streets of Bangkok and other nearby cities. And you can also make your own to try anytime you want, following the step-by-step recipe!
Chewy, sweet, and full of umami flavor, this Japanese treat is also worth considering. Mitarashi consists of rice dumplings on bamboo sticks, and they are served with sweet soy sauce.
The chewy textures and pleasant taste of Mitarashi Dango appeal to me. With a hint of char, they become mushy, flavorful, and pleasant in each bite without being excessively sweet. They're a delightful, tasty dessert to pair nicely with a cup of hot green tea.
Another Japanese sweet I want to introduce to you is Wagashi, and this dessert is perfect for enjoying with green tea. Wagashi are typically decorated with gorgeous and elaborate motifs, making them works of art as well as delightful delicacies.
Wagashi shapes and tastes might differ depending on geography, season, or just the artisan's personal perspective. These sweets come in a broad range of forms and consistencies. They are often created with plant-based components, including grains and azuki beans.
Let's Satisfy Your Taste Buds With These Asian Desserts!
Desserts may always have a special place in your heart, and I hope these Asian desserts will dazzle your meal. These desserts are very popular in Asia. You should write down the list of the desserts that attract you and remember to try them on your next trip to Asia.
Making these desserts to serve your family and guests is also a great idea. Making these desserts may take time and effort, but it is fun, and you will certainly have a great time creating the new thing.
Which Asian dessert do you love the most? Do you know other Asian desserts? Do you want to share anything? Please don't hesitate to tell me via the comment! And don't forget to share this post with your mates if you find it helpful! Thanks for reading, and stay safe!
Nutrition Facts
4 servings per container
---
Amount Per ServingCalories305
% Daily Value *
Total Fat 0.1g

1

%
Sodium 56mg

3

%
Potassium 158mg

5

%
Total Carbohydrate 69.6g

24

%

Dietary Fiber 3.1g

13

%
Sugars 23.4g

Protein 6g

12

%
---
* The % Daily Value tells you how much a nutrient in a serving of food contributes to a daily diet. 2,000 calories a day is used for general nutrition advice.