How about using Malaysian desserts to replace the too-familiar Western-style sweets? The result can easily blow your mind. As a multi-ethnic country in Southeast Asia, Malaysia has a rich and diverse range of foods.
The same applies to its sweet dishes, thanks to multiple unique techniques learned from other countries. They are excellent for your everyday meals, gatherings, and other special occasions. What are you waiting for? Discover it right now.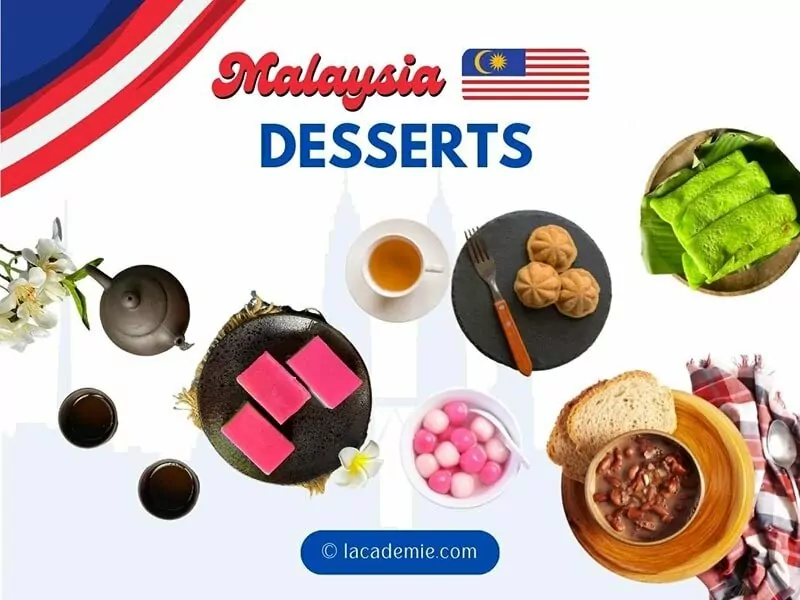 There are many different types of Malaysian desserts. To have an overview, I will divide it into three main types: steamed and boiled desserts, sweet soups, and fried and baked sweets
Overview
Compared to other big-name cuisines in Asia, like Chinese, Japanese, Korean, etc., the exotic Malaysian cuisine is slightly overlooked. Still, its sweet dishes are worth a try for their unique taste. So, let's start by exploring their general information!
1. Kuih Seri Muka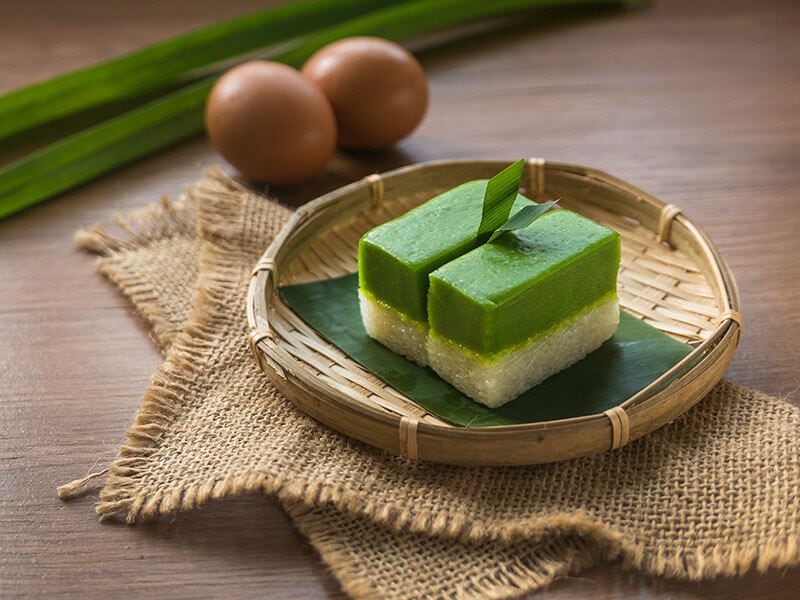 Kuih Seri Muka (Glutinous Rice With Pandan Custard) is a Malaysian heritage food with double layers. The bottom layer consists of glutinous rice steamed with coconut milk, while the top custard layer is a blend of pandan leaf juice and coconut milk.
With strong ties to the Peranakan Chinese community, this delicious treat is traditionally enjoyed on special occasions.
2. Pulut Inti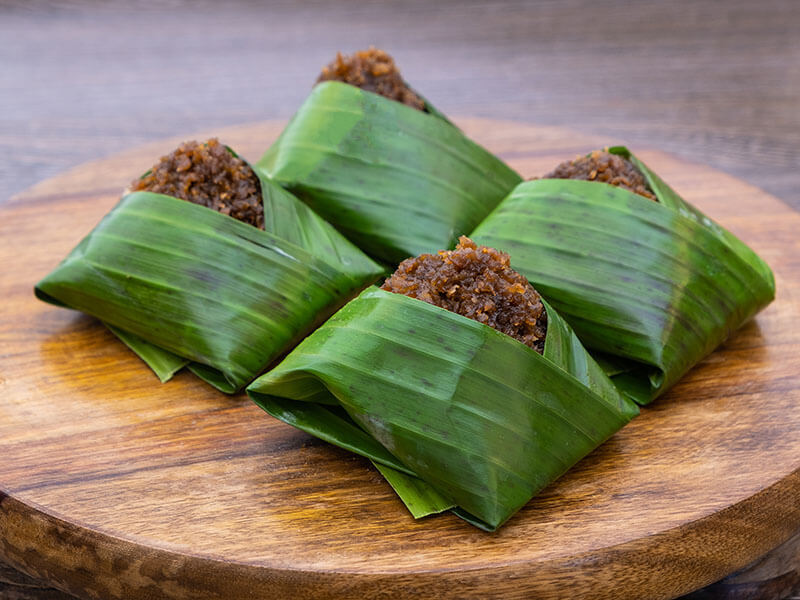 Pulut Inti (Glutinous Rice With Sweet Coconut Topping) is a Nyonya Malaysian pastry that reminds me of cute, bite-sized dumplings. These super simple and decadent treats only use glutinous rice and sweet, toasted coconut.
Wrapped in banana leaves, they're intensely sweet and visually appealing. Next time you're craving a small yet satisfying dessert, try Pulut Inti!
3. Pulut Tai Tai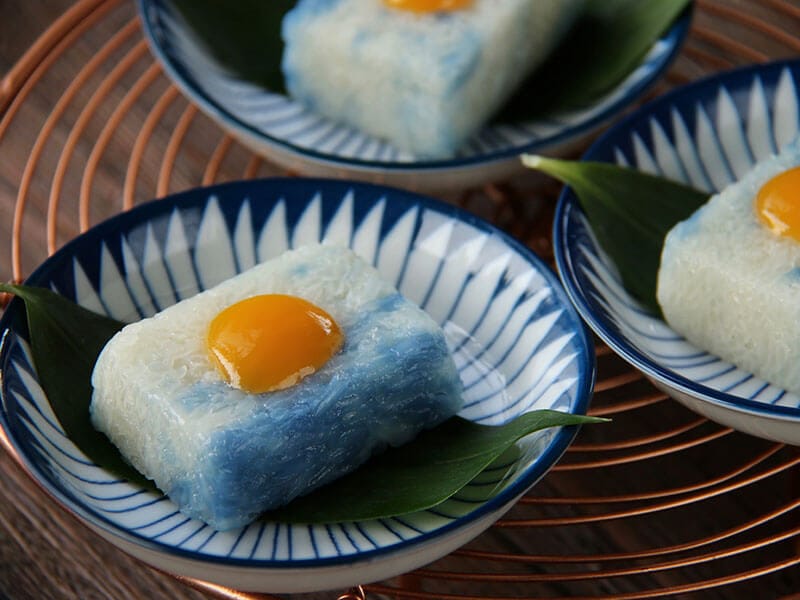 Pulut Tai Tai (Blue Pressed Glutinous Rice Cake) is easily recognizable, thanks to its signature blue color from butterfly pea flowers. The preparation involves steaming it with glutinous rice in coconut milk, pressing it in a wooden frame, and slicing it into the desired shapes.
Traditionally served only to the wives of wealthy men, this delicacy is tastiest when paired with kaya, a delicious coconut jam.
Get how to make Pulut Tai Tai with very detailed steps, keep watching:
4. Kuih Lapis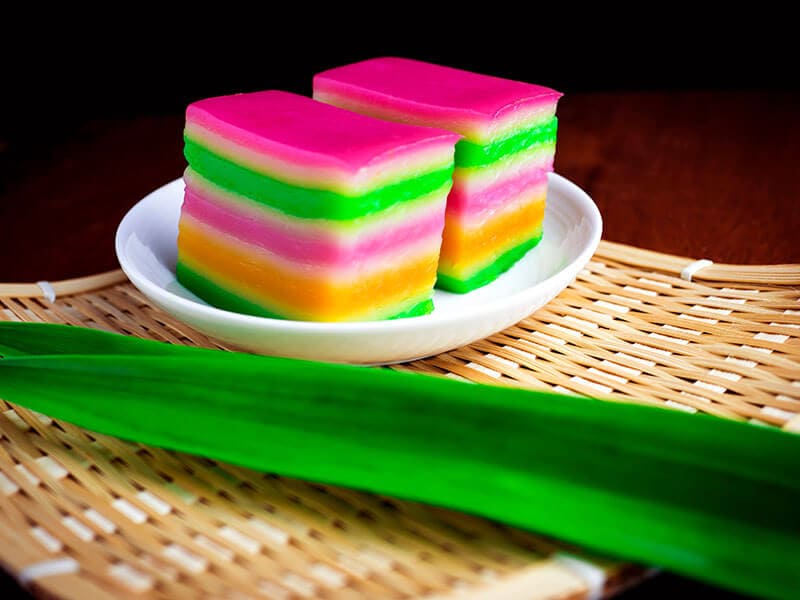 Kuih Lapis (Steamed Layer Cake) is a traditional Nyonya cake that will surely catch your eye with its separate colorful layers. It's among the prettiest desserts in Malaysia!
Besides the main ingredients, like coconut milk, rice flour, tapioca flour, and sugar, the vibrant colors come from food coloring. When you take a bite, the soft texture melts in your mouth, while its bouncy and sticky nature adds a delightful touch.
5. Ang Ku Kueh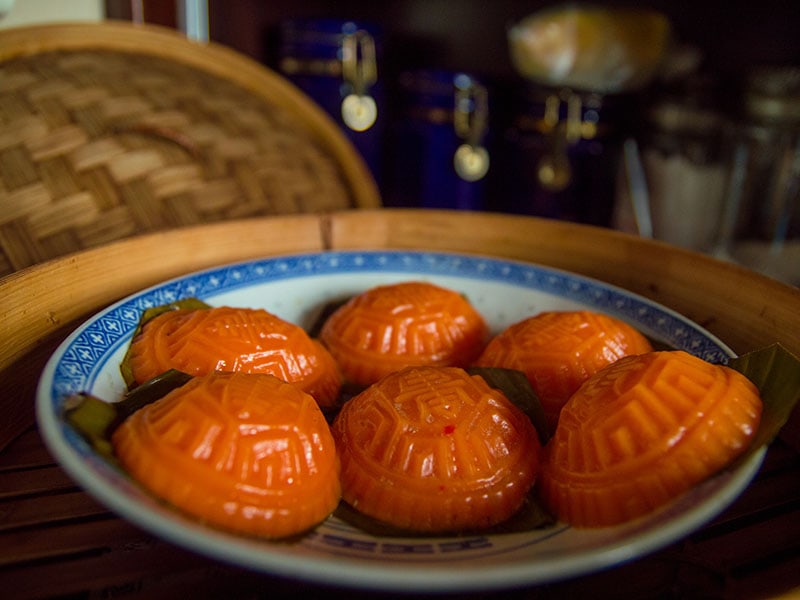 Ang Ku Kueh (Tortoise Cake) is a vibrant red sweet in round or oval shapes, resembling a tortoise shell. Due to its appearance, this cake is said to symbolize good fortune. With sticky rice flour and sweet potatoes for the dough, its filling is full of mung bean paste or sweetened ground peanuts.
Steamed and served on a banana leaf, Ang Ku Kueh has seen modern variations with new colors and fillings like durian and coconut jam. There's even a mini chilled version with a delicious custard filling!
6. Ondeh Ondeh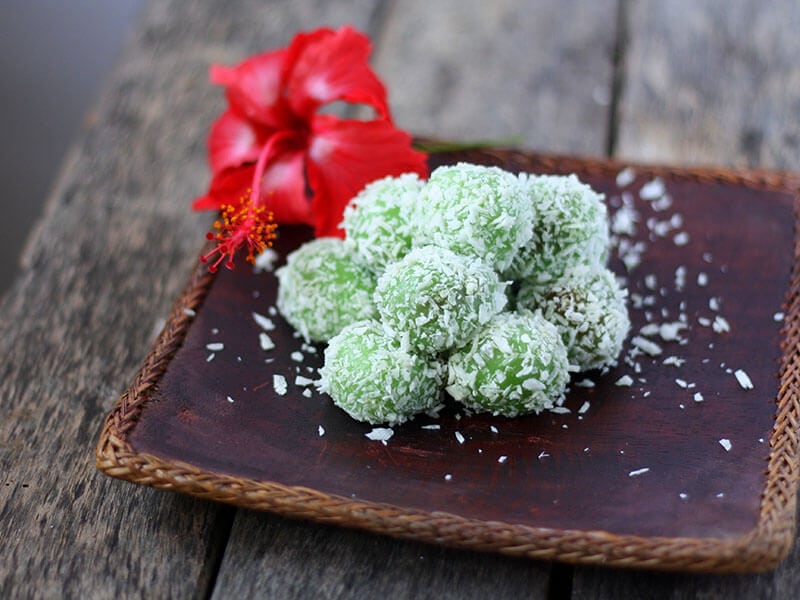 Ondeh Ondeh (Glutinous Rice Balls) is a sweet, vibrant green pastry resembling ping-pong balls with a grated coconut coating. The soft dough from glutinous rice or sweet potato holds a surprise inside, a gooey palm sugar.
Ondeh Ondeh is best enjoyed while still warm, as the warm syrup and soft dough make for an irresistible combination.
7. Dodol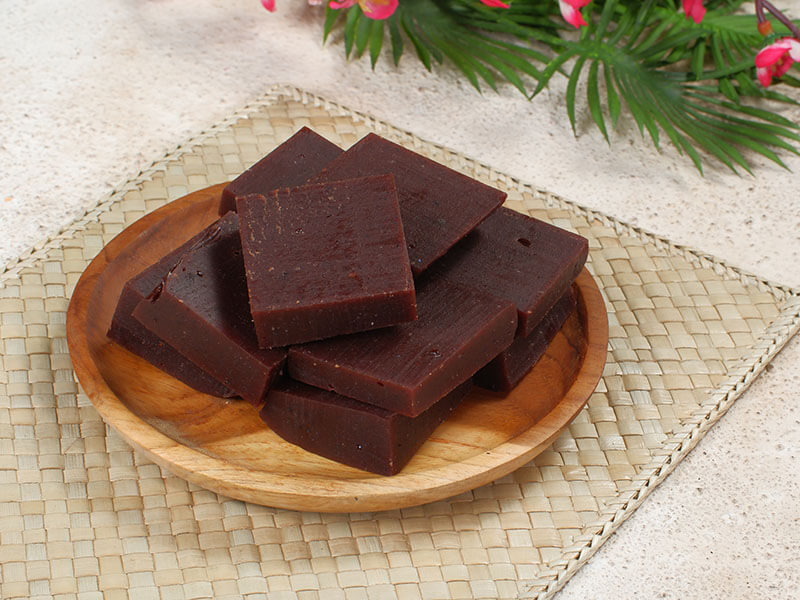 Dodol (Glutinous Rice Sweet) is a toffee-like candy famous in Melaka as an edible souvenir for many visitors. Made mostly from palm sugar, it includes coconut milk, jaggery, and rice flour. This thick, sticky, and sweet candy is dark brown.
You'll find it at festivals like Hari Raya Aidilfitri since it's one of the old indigenous sweets. If you're a fan of durian, don't miss out on the popular variation using this fruit, available only between June and August.
Sweet soup is a typical sweet treat in Asia. There are many different types of sweet soup. Let's find out which sweet soups are popular in Malaysia.
8. Pulut Hitam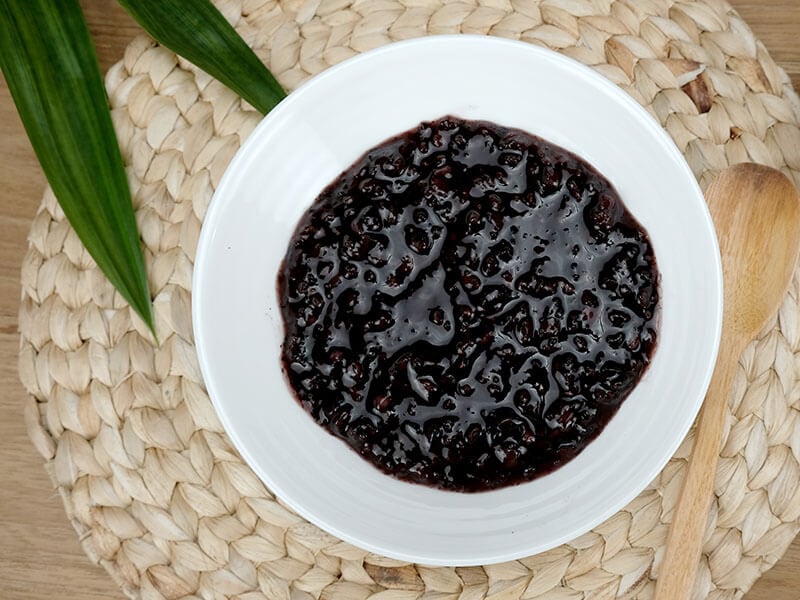 Pulut Hitam (Black Glutinous Rice Pudding) is a delicious Nyonya-style dessert made from unpolished black glutinous rice, hence a unique deep purplish-black hue. It's cooked to a thick, porridge-like consistency. Coconut milk, palm sugar, and rock sugar blend to create a mouthwatering experience.
Served either warm or chilled, Pulut Hitam is tastier with a drizzle of coconut milk or ice cream. Some versions even incorporate sweet red beans for a delightful twist on this classic dish!
9. Bubur Cha Cha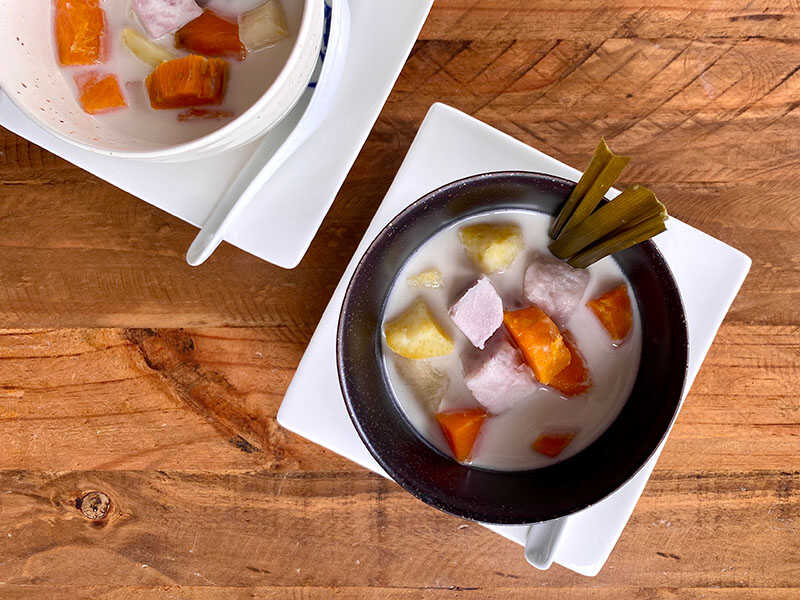 Bubur Cha Cha (Coconut Milk Dessert) is a vibrant and creamy sweet soup featuring sweet potatoes, yams, and taro soaking in rich coconut milk. This famous Peranakan or Nyonya dish also contains countless toppings (sago pearls, tapioca jellies, etc.), thus a colorful appearance!
Enjoy Bubur Cha Cha, hot or cold, as a breakfast or dessert! It's also available in Indonesia, Singapore, Phuket, or any country where Peranakan culture thrives.
10. Leng Chee Kang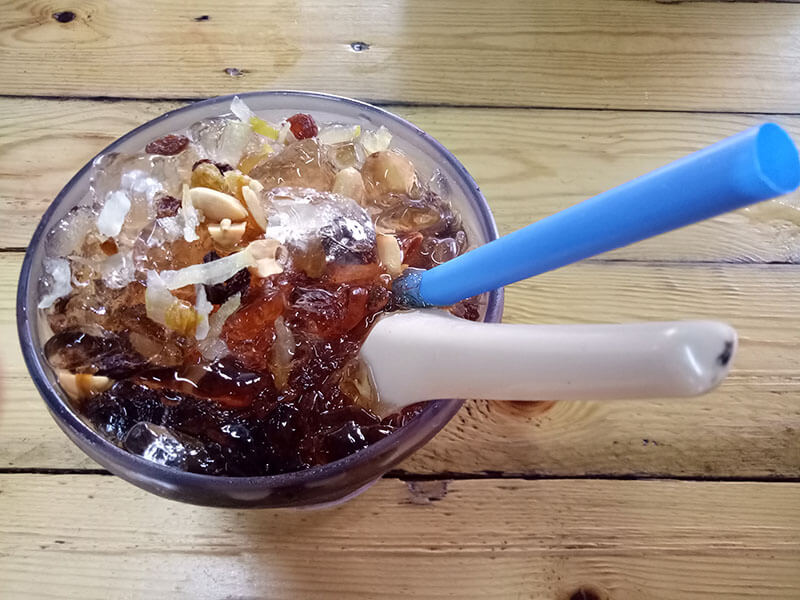 Leng Chee Kang (Sweet Lotus Seed Soup) is an easy dessert among the Chinese community in Malaysia. This refreshing treat features a syrupy soup with rock sugar, filled with lotus seeds, ginkgo nuts, and longan.
In the mix, you'll also find other tasty ingredients like sweet potato and grass jelly. Known for its cooling properties, Leng Chee Kang, or Chin Pu Liang, is perfect for revitalizing your senses. Whether you prefer it warm or cold, it's a delightful choice to beat the heat.
11. Cendol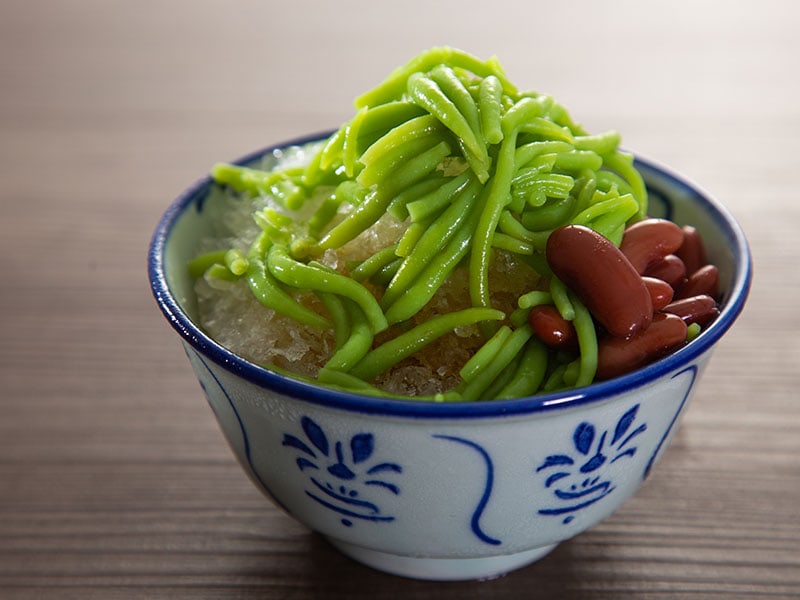 Cendol (Pandan Jelly Dessert) is a refreshingly light and flavorful sweet treat you can find almost everywhere in Malaysia and throughout Southeast Asia. Best enjoyed cold with large or shaved ice; it's a crowd-pleaser on hot days.
Classic Cendol features green rice flour jelly, red beans, coconut milk, pandan leaves, and palm sugar syrup. And there is a modern version with durian for adventurous spirits! A famous spot to try this delightful treat is on Penang Road.
12. Bubur Kacang Hijau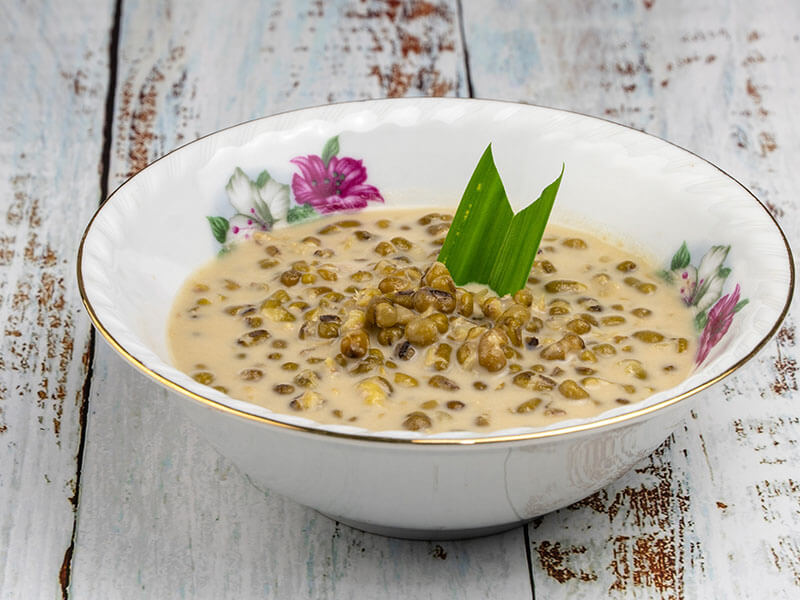 Bubur Kacang Hijau (Sweet Mung Bean Porridge), Burjo, is a traditional and nutritious dish as simple as it is delicious. Mung beans are boiled in coconut milk and sweetened with palm or cane sugar, creating a delightful base.
Toppings like sago pearls, ginkgo nuts, and sweet potatoes add extra layers of flavor and texture. Burjo tastes best whether served warm or chilled, alone or paired with bread, as a dessert, snack, breakfast, or even late-night supper.
13. Ais Kacang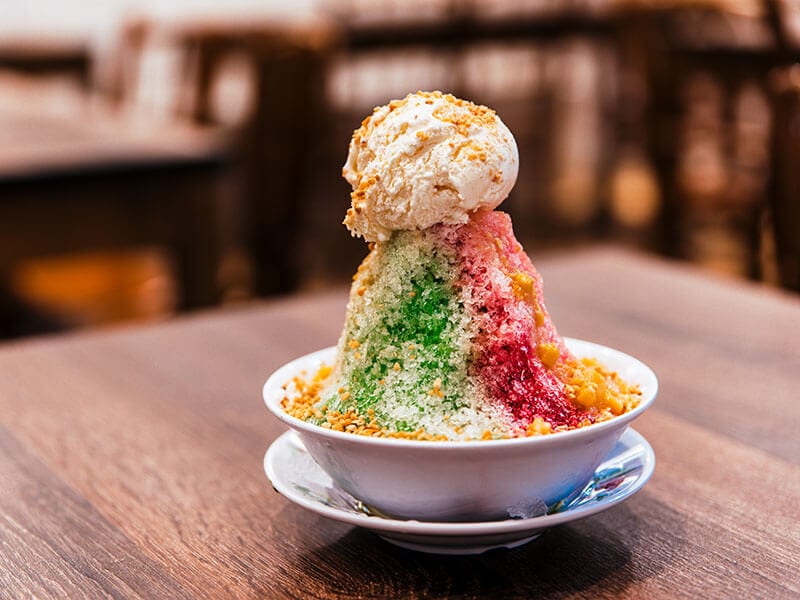 As a Malaysian national dish, Ais Kacang (Shaved Ice & Beans Dessert) is a sweet and refreshing dessert for hot days. Also known as Air Batu Campur or simply ABC or Ice Kacang, you can also find this popular dessert in Brunei and Singapore. Traditionally, it consists of shaved ice drenched in colorful sweet syrup.
To elevate the flavor, the locals also add toppings: crunchy peanuts, red beans, canned corn, grass jelly, ice cream, and fresh fruits. A drizzle of condensed, evaporated, or coconut milk completes the treat.
14. Sago Gula Melaka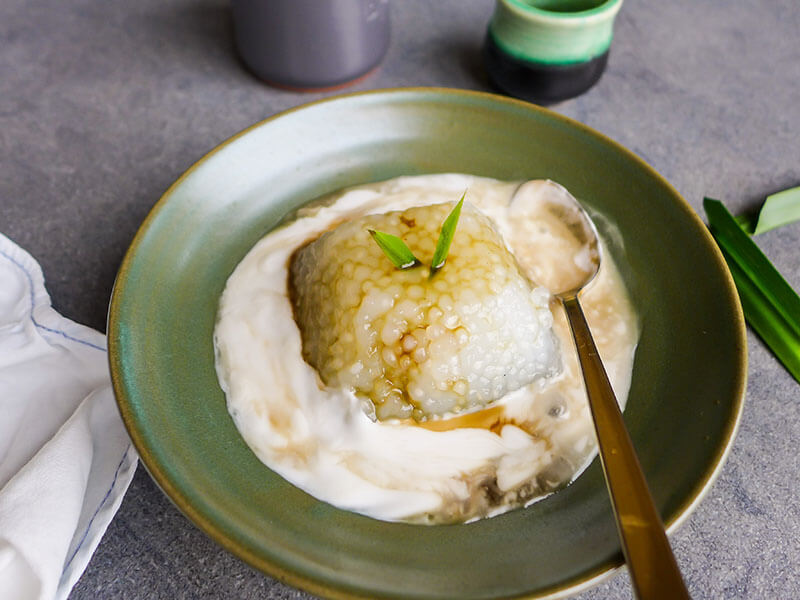 Sago Gula Melaka (Sago Pudding) is a simple yet delicious dessert with only three ingredients, each offering a unique taste and texture. The chewy sago pearls provide a lovely contrast to the smooth, syrupy palm sugar, while the fragrant, creamy coconut milk adds an irresistible richness.
Sago Gula Melaka is perfect for satisfying your sweet tooth. Don't be fooled by its simplicity; this dessert is packed with flavor!
15. Tau Fu Fa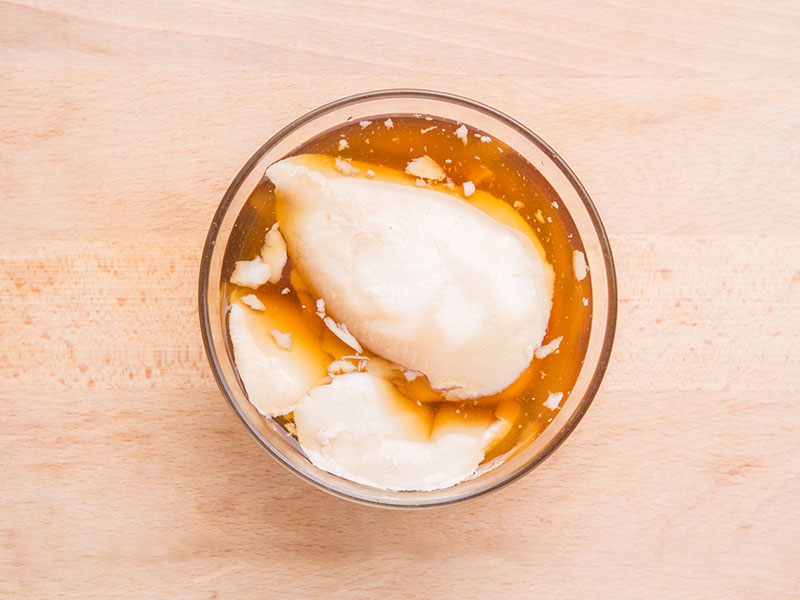 Tau Fu Fa or Tau Hua (Tofu Pudding) is a Chinese dessert about tofu's smooth, soft, and silky texture. Traditionally a well-loved street dish in Malaysia, this dessert can be enjoyed warm or chilled, making it versatile for any weather.
To add some sweetness, the locals usually use these condiments such as gula melaka (palm syrup), brown sugar, or clear syrup.
16. Pisang Goreng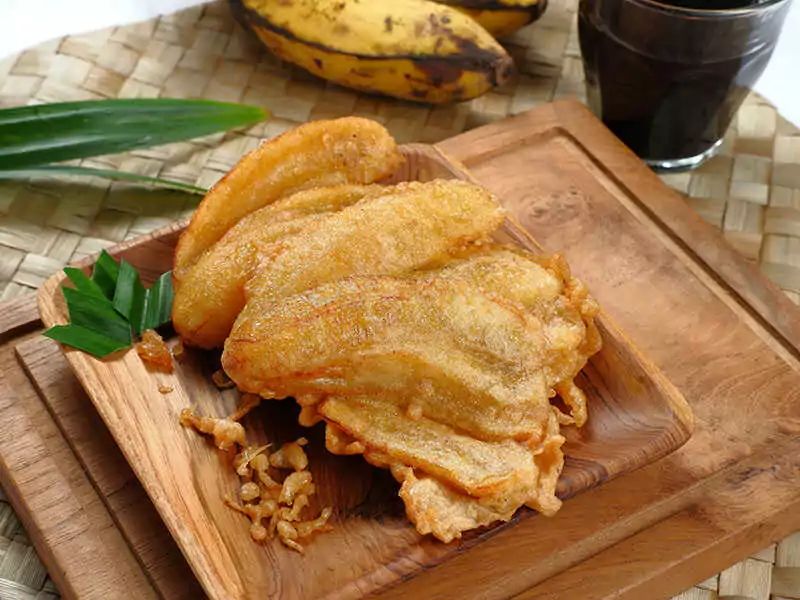 Pisang Goreng (Banana Fritters) is made by coating bananas in batter and deep-frying them to perfection. This popular tea-time treat usually appears in the afternoon alongside condensed milk, brown sugar, cinnamon, ice cream, or a hot beverage.
You'll find Pisang Goreng available everywhere at affordable prices. Some other versions even feature cempedak or sweet potatoes! With a sweet, savory taste, crunchy exterior, and fluffy interior, Pisang Goreng is a must-try snack!
17. Kek Lapis Sarawak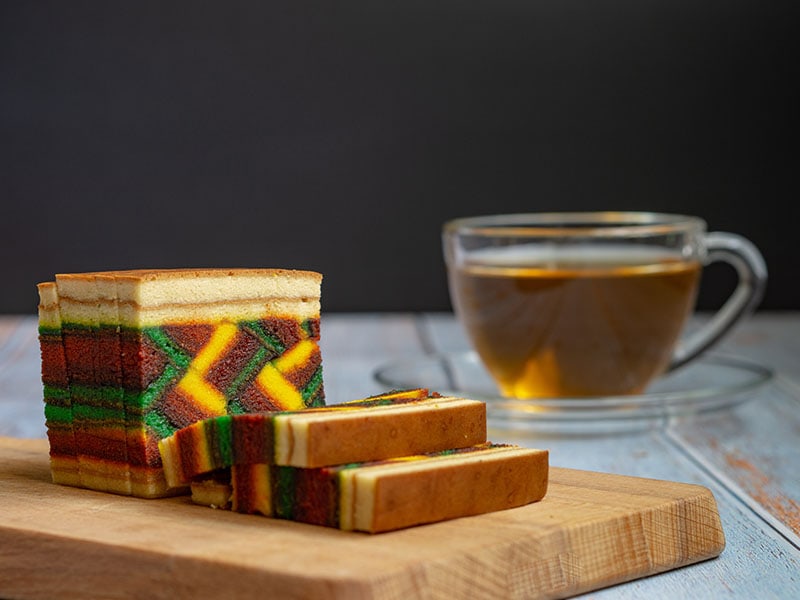 Sarawak (Sarawak Layer Cake) is famous in the Sarawak state and throughout Malaysia, thanks to its multiple colors, patterns, and flavors. Often given as edible souvenirs, these cakes must go through a painstaking process of baking each layer separately before assembling.
Classic flavors include pandan and gula melaka, while modern twists feature chocolate and Red Velvet. With a moist texture and subtle sweetness, Sarawak is a staple at festivals and special occasions. In fact, it has held Geographical Indication status since 2010!
18. Kuih Bahulu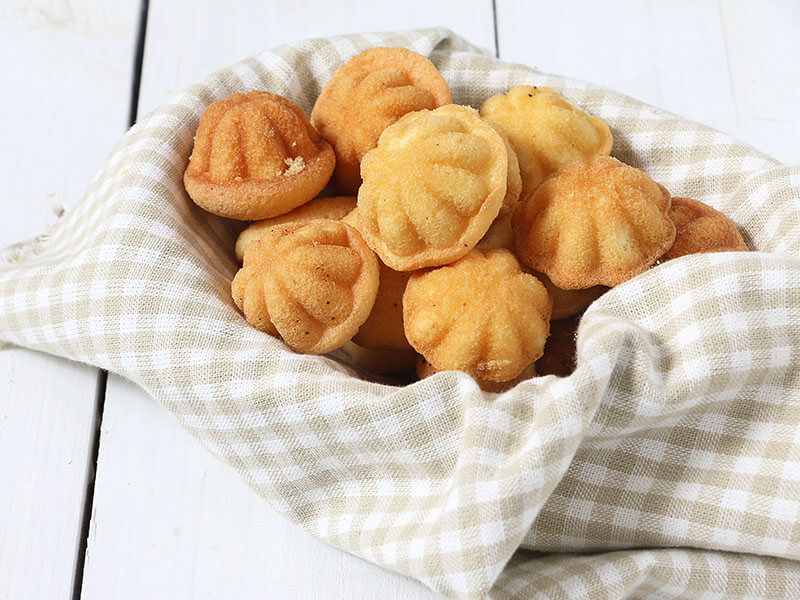 Kuih Bahulu (Egg Sponge Cakes) brings fun and festivity to celebrations like Hari Raya Aidilfitri and Lunar New Year. These spongy, eggy treats only have three main ingredients: eggs, all-purpose flour, and sugar, thus similar to French madeleines, but without butter.
They come in various shapes and sizes, with small flower, button, and goldfish shapes being the most popular. Modern flavors include fruit, pandan, and chocolate, adding to their appeal. So, there's no doubt why Kuih Bahulu is a national Malaysian Heritage product!
19. Kuih Ketayap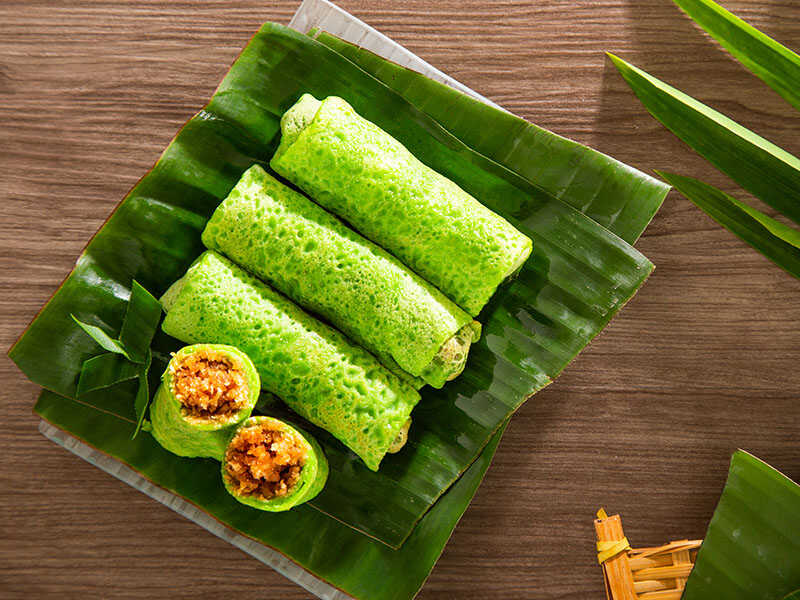 Kuih Ketayap (Crepes With Coconut Filling) is a favorite local equivalent of spring rolls, often available as a tea-time pastry. With a vibrant green hue from pandan leaves, these pandan crepes impress all foreign visitors with their tube shape.
Their coconut-y, vanilla-like essence results from the sweet toasted shredded coconut and gula melaka in the filling. Kuih Ketayap is a must-try for those who love exploring unique and tasty desserts!
20. Kuih Bingka Ubi Kayu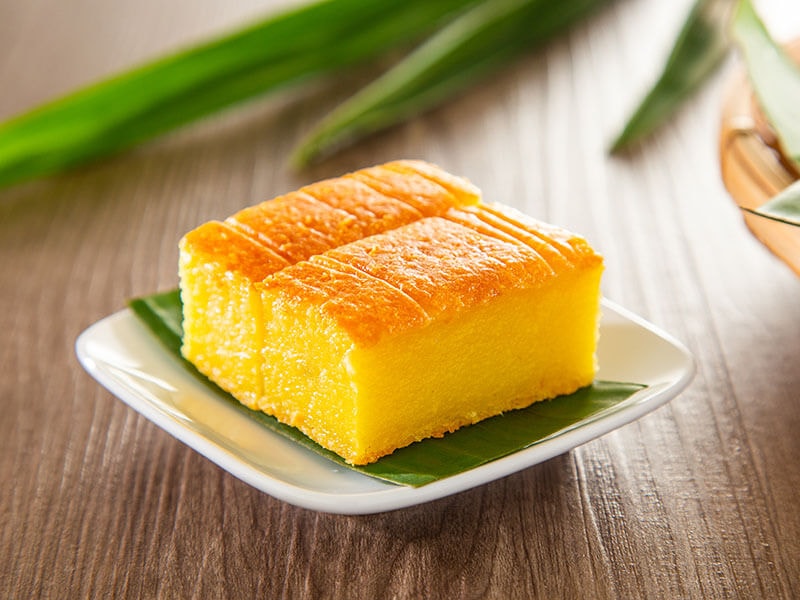 Kuih Bingka Ubi Kayu (Baked Cassava or Tapioca Cake) is a lovely Nyonya or Peranakan tea-time snack. It's not only soft but also slightly chewy and fluffy.
Made with simple yet flavorful ingredients like tapioca, eggs, coconut milk, and pandan leaves, this aromatic dessert is a true delight. Although it shares similarities with the pound cake in taste, Kuih Bingka Ubi Kayu is spongier and a tad sweeter.
A very simple recipe to make a baked cassava cake for you to follow:
21. Kue kembang goyang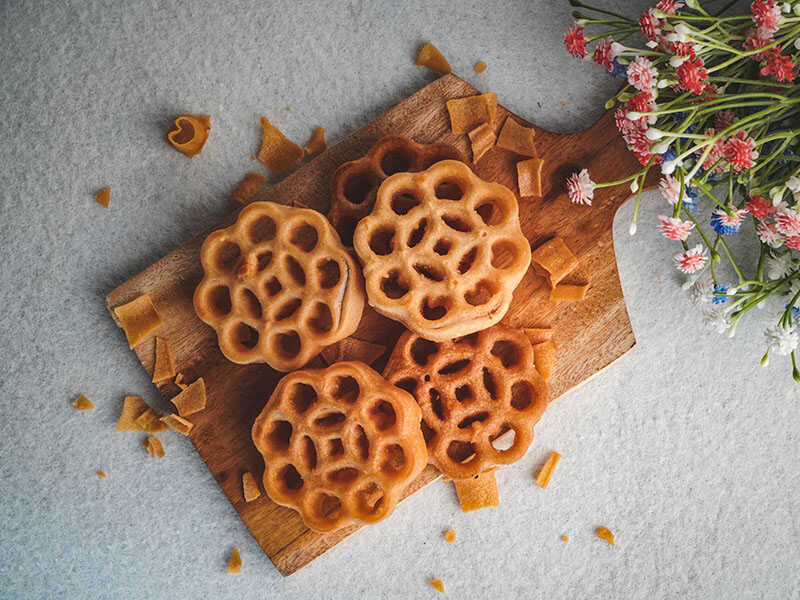 Kue kembang goyang or kuih loyang (Rosettes or Honeycomb Cookies) is a thin and crispy rosette cookie with other names, like honeycomb or beehive cookies, due to its appearance. It resembles Norwegian rosetta bakkels and is traditional for the Lunar New Year.
The recipe calls for eggs, coconut milk, rice flour, and sugar, all mixed together and then deep-fried in hot oil. Kue kembang goyang, which translates to "brass cake," gets its name from the brass mold used to create its rose-like shape.
22. Apam Balik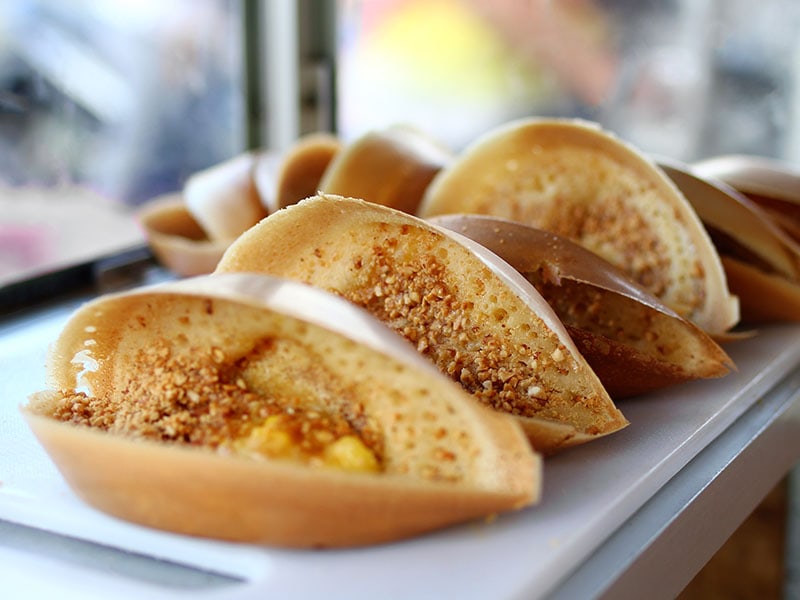 Apam Balik (Peanut Pancakes) is a sweet pancake made from flour, eggs, coconut milk, sugar, and baking soda. Cooked on round griddles, it goes with a butter sauce and uses peanuts, sugar, and sweet corn as fillings.
You can customize Apam Balik with various toppings like cheese, jam, condensed milk, bananas, crushed peanuts, and chocolate. Once cooked, the locals will fold it in half and cut it into smaller portions.
There are two types of Apam Balik: a thin, crispier version with less filling, perfect for tea time, and a thicker, moist, fluffy variety to satisfy your cravings.
23. Gulab Jamun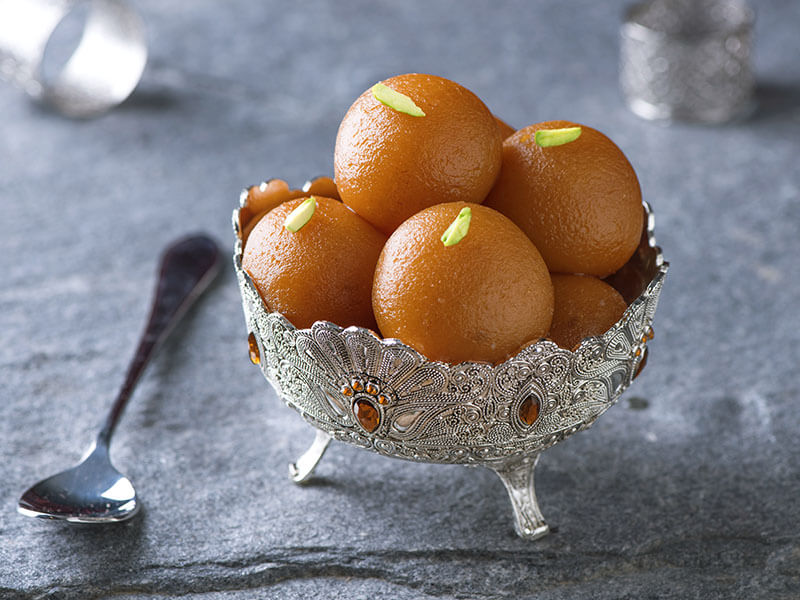 Gulab Jamun (Fried Donuts In Sugar Syrup) is a beloved Indian-Malaysian dessert made from milk solids, deep-fried, and soaked in a sugary syrup. Suitable toppings for this treat are almonds or cashews.
Gulab Jamun holds a special place in many major celebrations, including marriages and birthdays. It also appears in various religious festivals like the Muslim celebrations of Hari Raya Aidilfitri and Eid al-Adha, as well as the Hindu festivals of Diwali and Ganesh Chaturthi.
24. Kuih Keria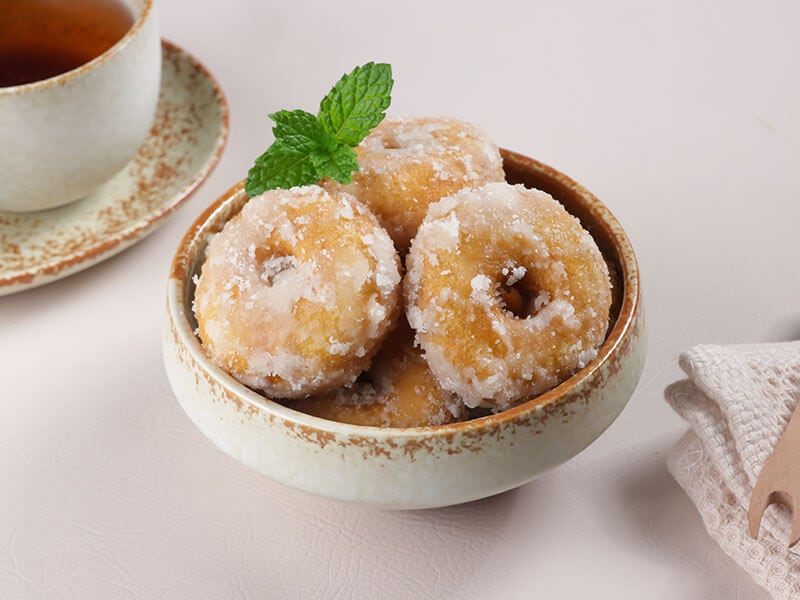 Kuih Keria (Sweet Potato Donuts) is a light, airy donut made with mashed sweet potatoes and deep-fried until golden. It gets ít signature sweetness from a sugar syrup glaze of white or palm sugar.
The delicious combination of the soft, fluffy interior and the sweet, slightly crunchy coating creates a delightful experience for your taste buds.
25. Roti Tissue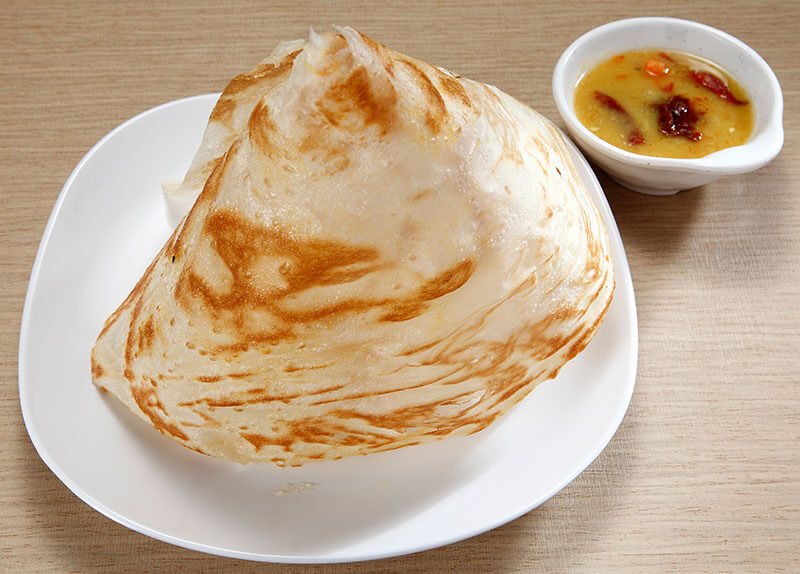 Roti Tissue, Roti Tisu or tisu prata (Malaysian Flatbread), originally from India, is a thinner version of the traditional breakfast Roti Canai. Made with the same dough, the locals stretch it to five or six feet long and pan-fry it briefly.
Then, this paper-thin treat is shaped into a towering cone, often with a coating made of sugar, kaya (coconut jam), fruit jam, condensed milk, or ice cream. To make it extra indulgent, there can be a drizzle of condensed milk or chocolate on top.
How About Trying These Malaysian Sweets?
If you are tired of custards or puddings, let's renew your family meal with Malaysian desserts. A little Asian flavor will make your meal more enjoyable. Or, if you are planning to travel to Malaysia, these snacks are suitable souvenirs for your relatives.
If you know other Malaysian snacks, let me know in the comments below. And feel free to share this article with your other friends, so they can accompany you on the journey of trying these dishes.