Many people are curious about the popular Malaysian fruits, and I publish this post to provide essential and valuable information about the excellent fruits of this nation. It is time to diversify your dessert menu with these fantastic fruits.
Malaysia is a tropical country in Southeast Asia. This region has many delicious tropical fruits. Also, this post will help you prepare a list of ideal fruits for your trip to Malaysia. To gain all things, please focus on reading this post.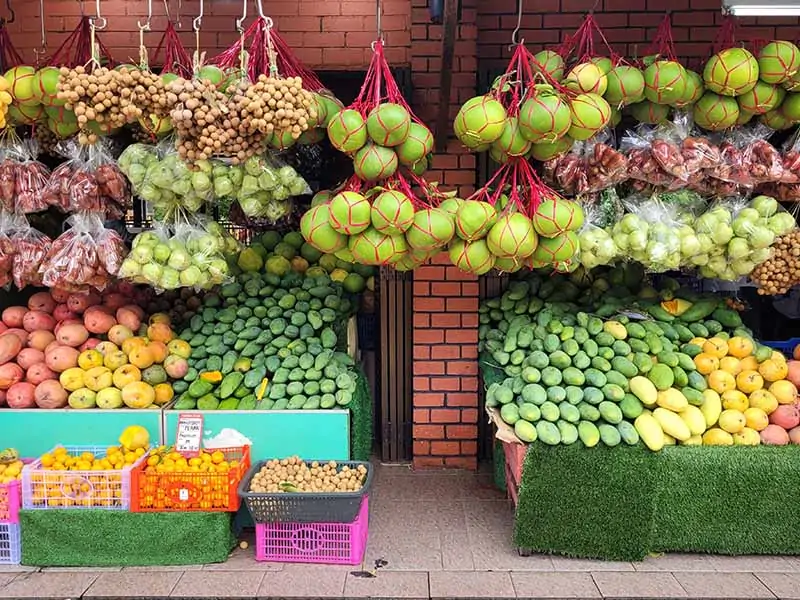 Remove The Skin With Malaysian Fruits Containing Inedible Skin
This part includes excellent Malaysian fruits that have inedible skin. Therefore, you have to remove the skin from it when eating. Let's discover them right now.
1. Durian – Udang Merah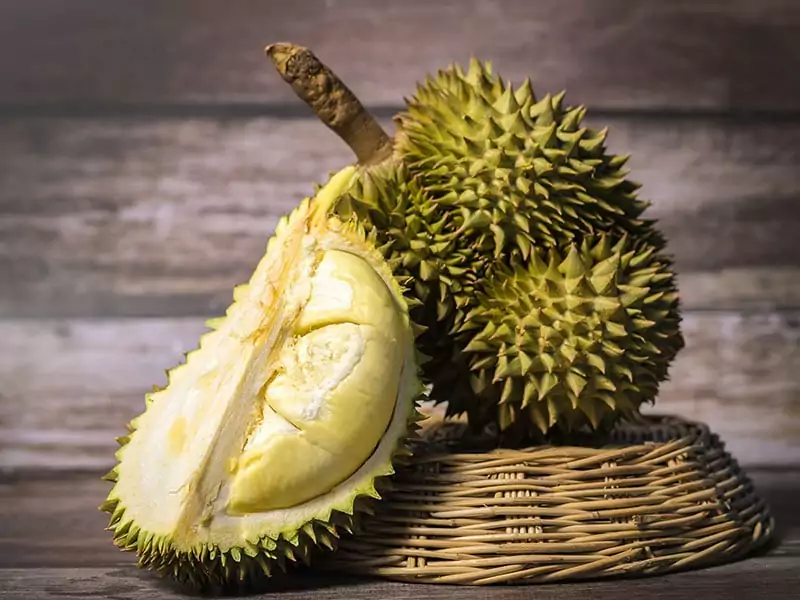 You can find many types of fruit in Malaysia, and durian is one of them. There is no surprise that this fruit is famous in this country because Malaysia is the homeland of durian. Furthermore, it is also native to Indonesia, Thailand, and the Philippines.
People often call it the "King of Fruits" in Southeast Asia. Malaysia contains about 100 different types of durian. This fruit is restricted in many public areas because of its distinctive and intense odor.
It is a giant fruit as a durian can weigh about 2 to 7 pounds. You often see durian in round or oblong forms. It has green or brown skin with many sharp thorns on the surface. The impressive feature of it is the eye-catching pale-yellow or red flesh.
There are about 6 to 10 segments inside each durian. And each segment consists of an ample seed. People often roast the seeds to eat as nuts. The Malaysian Ministry of Agriculture and Agro-Based Industry used a code beginning with "D" to register this fruit.
In Malaysia, the Musang King (D197) is the most common variety. It got its name in the 80s. The sweetness is the prominent flavor of this fruit. Moreover, a hint of savory and creamy taste will tickle your taste buds.
It is easy to think of the mixed flavor of caramel, whipped cream, and diced garlic while eating this excellent fruit. Eating raw durian is common in Malaysia and many other Southeast Asian countries. People also make cake or smoothies with it.
Nutrients: High in calories, carbs, fat, vitamin A, C, calcium, magnesium, and potassium.
Season: You can find it in May, between June and July, and from early July to early August.
How to eat: If you want to eat the flesh of durian, you should start separating the hard skin with a knife. Eat the creamy flesh around the seed.
Learn the common ways to use durian in cooking right now.
2. Rambutan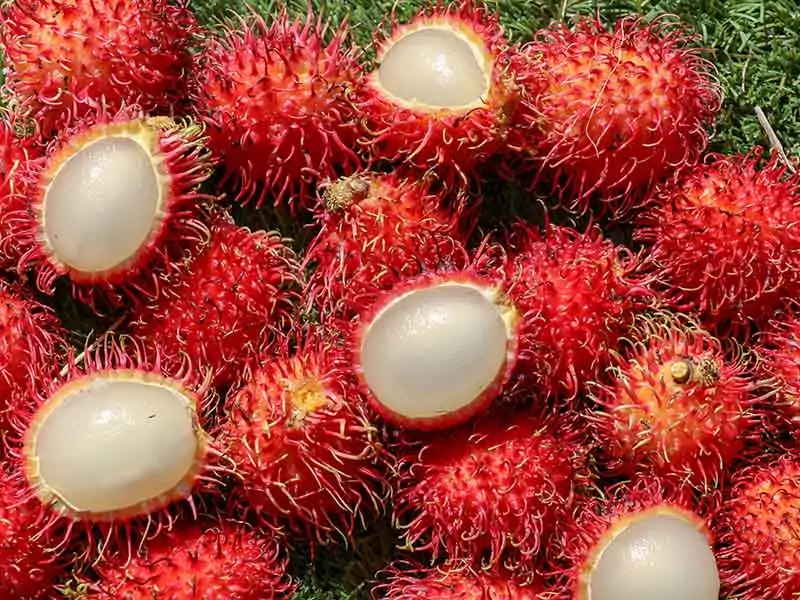 Rambutan is one of the staple fruits in Southeast Asian countries. It belongs to the Sapindaceae family with lychee, longan, mamoncillo, and pulasan. The "Rambut" word in Malay is the root of its name.
This word means "hair". This refers to its characteristic appearance with numerous pliable spines on the skin's surface. The Malaysian-Indonesian region is the first place that cultivated this fruit.
It is planted widely in Vietnam, Thailand, Africa, Central America, and other parts of Asia. When the seeds were imported to the US from Java in 1906, their cultivation started taking place commonly in this country.
Rambutan is a drupe with a single seed in the middle. You will recognize it easily thanks to the round or oval shapes and the leathery skin. The rind is yellow, orange, or reddish. You will fall in love with the juiciness and incredible taste of its whitish or light pink flesh.
The flavor of rambutan is a mixture of sweetness and a bit of sourness. Its taste is similar to the flavor of grapes. Significantly, the appealing aroma of this fruit will captivate you right away. Malaysians will eat it fresh or add it to drinks and dessert recipes.
Nutrients: Rich in calories, carbs, calcium, potassium, and sodium.
Season: It is widespread from June to August and November to January.
How to eat: You can use your hands or knife to peel the skin of the rambutan. Cut a straight line on the flesh and remove the seed before eating its meat. Or, you can eat the flesh from the seed directly.
3. Mangosteen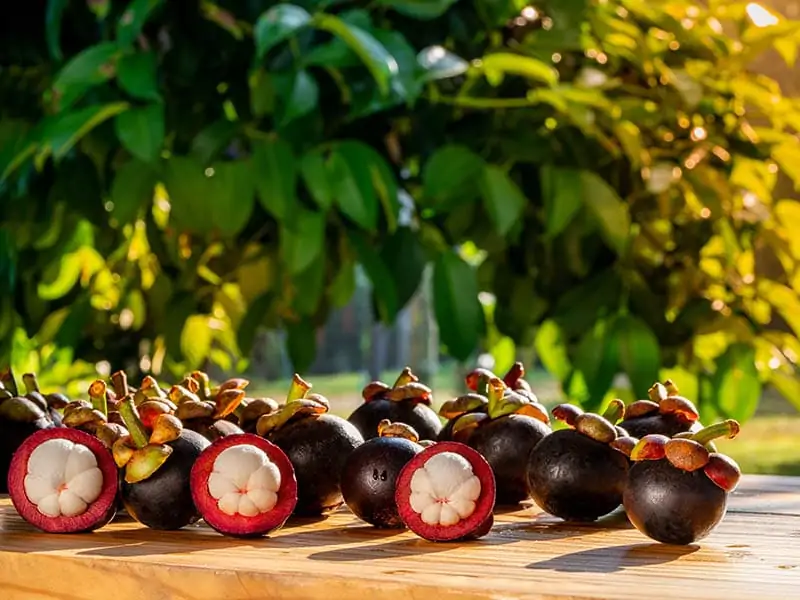 Mangosteen is one of the famous fresh Malaysian desserts after each meal. It is also called "purple mangosteen" because of the characteristic purple skin of this fruit. It has its origin in the tropical areas around the Indian Ocean.
If you want to see many mangosteens, you should visit Southeast Asia, Southwest India, Puerto Rico, and Colombia. In Malaysia, this fruit has appeared since ancient times. The records of this fruit are found in Yingya Shenglan in the 15 century and Species Plantarum.
People in Southeast Asian countries see mangosteen as the "Queen of Fruits" as its season is similar to durian. Primarily, it is also famous in Thailand and appears in many delicious Thai recipes. Thailand, Malaysia, and Indonesia are the top producers of mangosteen.
Typically, mangosteen is eye-catching in the red or deep purple color. You will see 4 to 8 white segments beneath the thick skin. Its flesh is similar to the appearance of peeled garlic. You will fall in love with its tangy and sweet taste when tasting its flesh.
You should remove the seeds inside the succulent segments while eating. You can imagine the almonds when you look at mangosteen seeds due to the similarities in shape and size.
Besides consuming it as a fresh dessert, Malaysians often prepare mangosteen in canned and frozen versions. You should try its taste in salads or jams. In particular, this fruit is a healthy option for controlling blood pressure and lowering cholesterol.
Nutrients: Calories, carbs, vitamin C, calcium, potassium, and magnesium.
Season: It is often ripe from June to August, and you can find it between December to January in Malaysia.
How to eat: Break the rind of mangosteen by your hand or a knife and consume its succulent flesh. Remember to remove the seeds.
Give mangosteen a try to explore its authentic taste.
4. Langsat – Dokong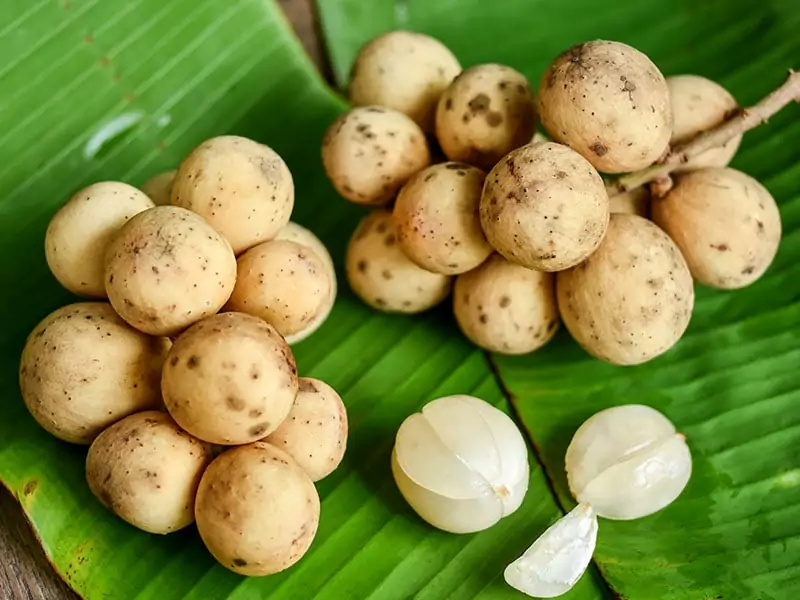 Until now, I still cannot forget the unique and fantastic taste of langsat. In some other regions, it is known as langzones, longkang, or duku. In Malaysia, people usually call it "Dokong". This famous fruit is native to many countries in Southeast Asia.
This fruit is an essential commercial fruit in Malaysia, Vietnam, and India. It is a small fruit with elliptical, round or oval shapes. You will see the layer of thin and yellow hair outside when you glance at its appearance.
After discarding the skin, you will come across its juicy flesh with about 3 to 4 segments. The shape and color of them resemble peeled garlic. It has a sweet taste and a light tartness that reminds me of the flavor of grape and grapefruit.
Do not forget to get rid of its seeds while enjoying it because they are bitter. You can choose to consume it raw or make syrup from this fruit. Moreover, it is a perfect choice for medical products. This fruit is a good choice for treating diarrhea.
Nutrients: A source of carbs, proteins, vitamins, fiber, and minerals.
Season: The season lasts from June to July and from December to January.
How to eat: Use your fingers to peel the skin. Eat the flesh around the seed.
5. Snake Fruit – Salak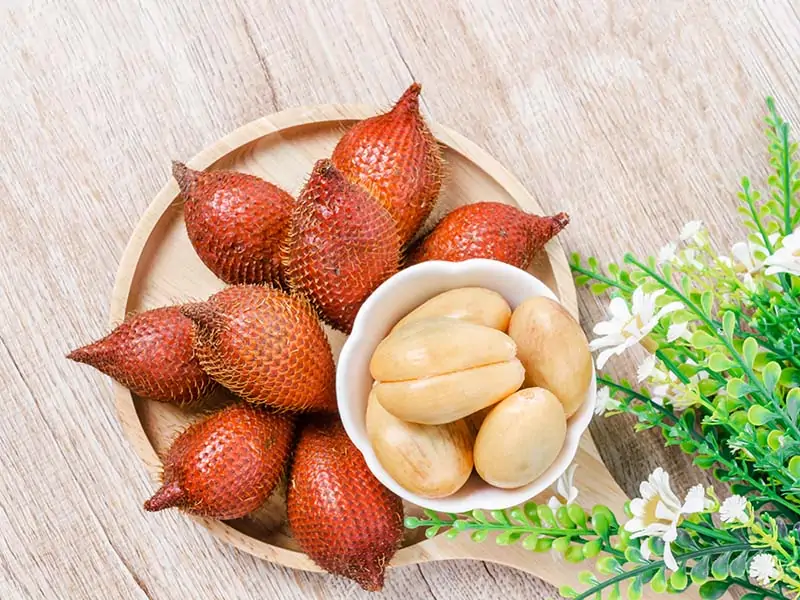 This fruit's appearance will surprise you because it is similar to snakeskin. You can call it "Salak", and this fruit originates in Indonesia, namely the Java and Sumatra regions. However, it was also well-known in Malaysia when it appeared on a Malaysian stamp on February 27, 1999.
I am scared when looking at the reddish-brown scaly skin of snake fruit. However, the white and attractive flesh will captivate you after peeling the lumpy skin. It has about 2 to 3 lobes with inedible seeds inside, and the flesh looks like peeled garlic.
Besides the prominent sweetness and tartness, the intense astringent taste is another unique feature of this fruit. You can think of the taste of pineapple and banana white eating this juicy and translucent fruit.
Its texture is diverse since it can be dry, moist, crunchy, or crumbly. It is hard to resist the juiciness and fantastic taste of snake fruit.
Nutrients: Proteins, iron, calcium, vitamin C, carbs, and potassium.
Season: It is common on the East Coast from July to September. You can find it in Pahang and Johore between December to January or May to July.
How to eat: Let's peel the skin. Consume the flesh and remove the seeds.
6. Papaya – Betik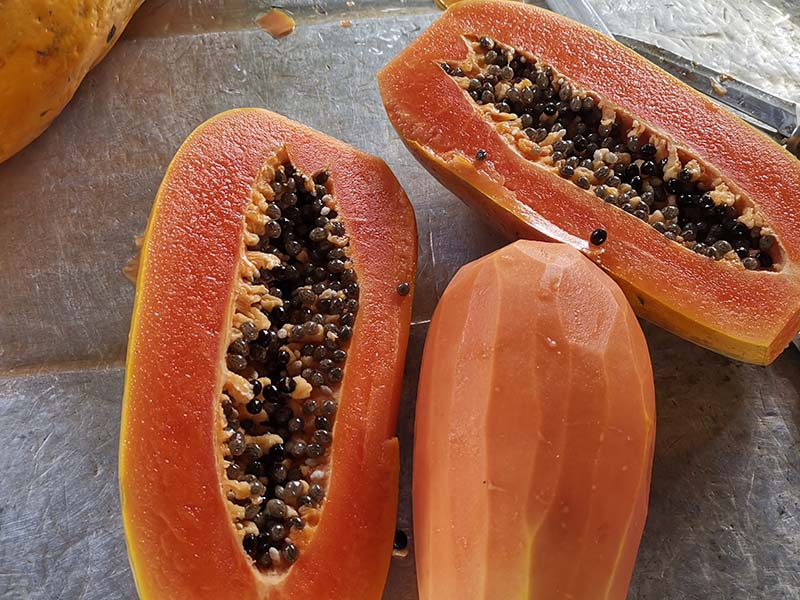 When speaking of yummy Malaysian fruits, I must talk about papaya. It is a global fruit when appearing at many supermarkets around the world. This fruit comes from southern Mexico and Central America.
It is not complicated to consume papaya in Southeast Asian countries. Papaya has 3 main sexes, including female, male, and hermaphrodite. India is the leading producer of papaya globally, and the US is the primary consumer of this fruit.
People often use unripe papaya in Malaysia and other Southeast Asian nations in cooking. They create salads, stews, or curries from this fruit. Usually, the immature version is mild and crunchy. It is covered by green and thin skin.
If you want to make desserts, you should use ripe papaya. The texture of it will be soft, smooth, and creamy. Papaya can have red, yellow, or orange flesh, depending on the variety. You will be addicted to the charming sweetness of ripe papaya.
Besides, you can think of the flavor of cantaloupe melons and mango when tasting this common fruit. Because of the ideal buttery texture, people love to make smoothies, ice cream, and other sweet desserts from papaya.
If you want to enjoy the authentic flavor of papaya, you can consume it fresh. It is straightforward to buy this fruit at vendors on the streets in Malaysia.
Nutrients: High in calories, carbs, vitamin C, K, calcium, magnesium, and potassium.
Season: It is available all year round in Malaysia.
How to eat: The perfect way to use papaya is to slice it into 2 parts and scoop the sweet flesh with a spoon. However, please remove the seeds before eating.
7. Sapodilla – Ciku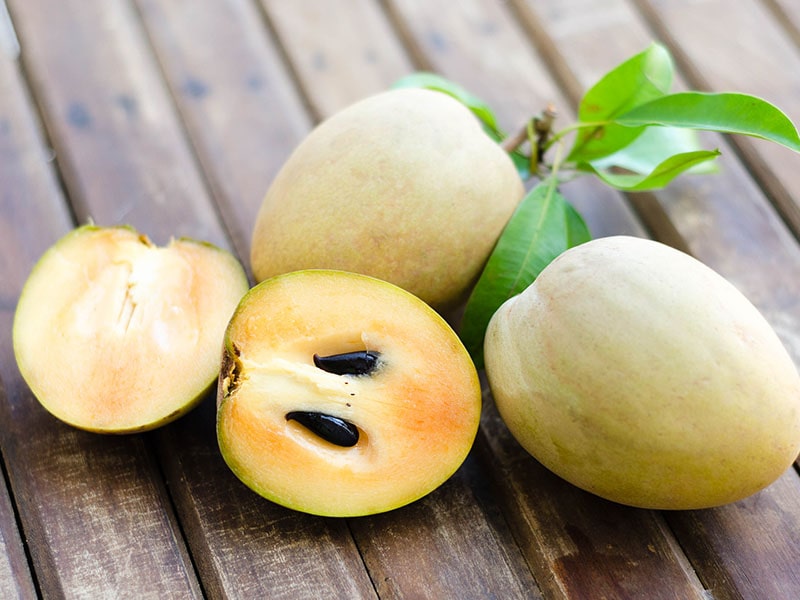 If you are searching for fresh Malaysian food, you have to taste the outstanding ciku. Initially, this fruit comes from Mexico, the Caribbean, and Central America. It appeared for the first time in the Philippines during Spanish colonization.
Gradually, this fruit spreads to Vietnam, Thailand, Malaysia, and Indonesia. Its name is taken from the "zapote" word, which means "soap apple" in Spanish. It is a widespread berry in Malaysia. The saggy skin will leave a profound impression on your mind.
I cannot resist the sweet and malty taste of its yellow or earthy brown flesh. You cannot consume the glossy and stiff seeds of sapodilla. I do not like the taste of the unripe version because it contains astringent that can dry out my mouth.
The grainy texture of this fruit is a perfect option to prepare fruit smoothies. Furthermore, you can end your parties with raw sapodilla.
Nutrients: It provides calories, carbs, vitamin C, calcium, and potassium.
Season: It is usually ripe in March and November in Malaysia.
How to eat: Cut it into 2 sections, remove the inedible seeds, and eat the flesh with a spoon.
Expand your knowledge with all information about sapodilla.
8. Pulasan – Rambutan Kafri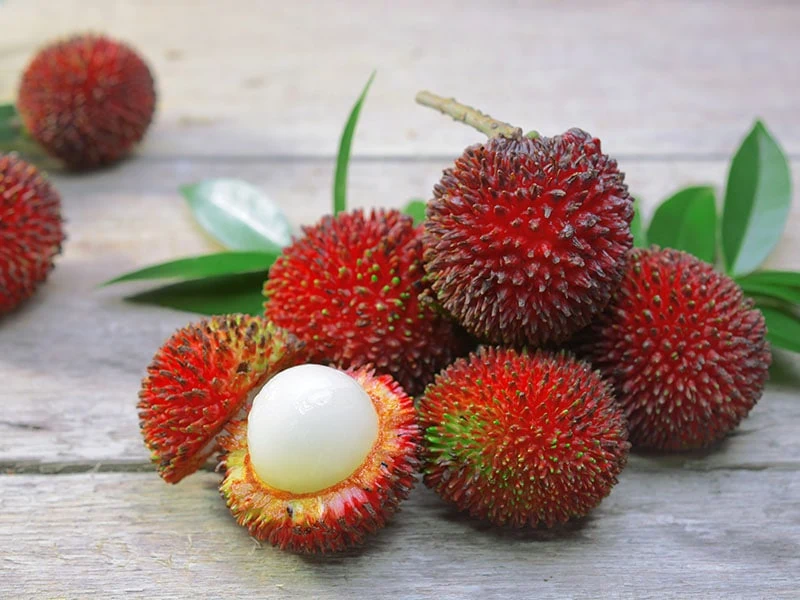 If Pulasan is a well-known fruit in Southeast Asia, it is rare to find this fruit outside this region. The superb fruit is native to the Malaysian Peninsula. This fruit is planted abundantly in Thailand, Indonesia, and Puerto Rico.
This fruit has many similarities with rambutan in appearance and flavor. However, in terms of taste, the sweetness of pulasan is stronger than rambutan. Its name is derived from "pulas" in Malay, which means "twisting".
It is covered by leathery and deep red skin with countless spines like rambutan. But, it is smaller than a rambutan in size. When breaking the rind, you can eat the sweet and soft flesh. Typically, the flesh is white or yellowish-white.
And the single seed in the middle is an indispensable part of this fruit. The distinctive skin of this fruit is used as a natural dye. The sweet flesh is compatible with eating raw as a fresh dessert.
Nutrients: High in protein, carbs, fiber, vitamin C, and potassium.
Season: The peak season lasts from July to November, and another season is between March and July.
How to eat: You can follow the ways to eat rambutan to consume this fruit.
9. Jentik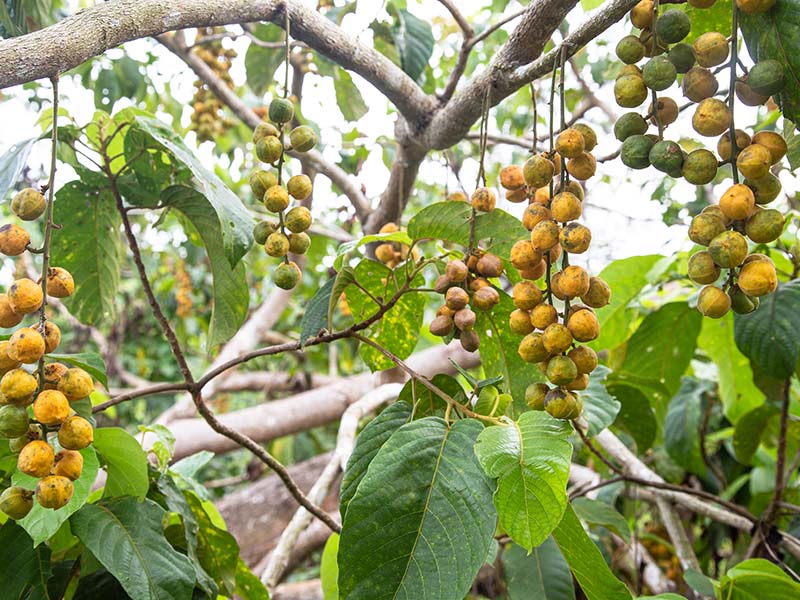 Do not forget to try jentik when traveling to Malaysia. This fruit is a part of the Phyllanthaceae family. Peninsular Malaysia and Sumatra islands are the motherland of this unique fruit. It is sold widely in the market in Malaysia and Indonesia.
Its name means "just flick" in Malay. This refers to the easy way to remove the rind of this fruit from its flesh before eating.
Almost all unripe jentiks will have a green color, and dark red-brown will show up when ripe. Usually, Malaysians will pick this fruit from the wild. This plant can thrive well on clay, loam, sand, or granite soils.
If you are a big fan of sour-sweet fruit, jentik is an ideal option for you. When the peel is broken, you can only feel the tartness from it. It is fine to consume raw jentik or make jams or syrups from this fantastic fruit.
Nutrients: Rich in potassium, phosphorus, calcium, and vitamin C.
Season: This fruit is available from July to September in Malaysia.
How to eat: Peel the skin with your hand and eat its flesh around the seed.
Listen to the reviews when trying special jentik.
10. Jackfruit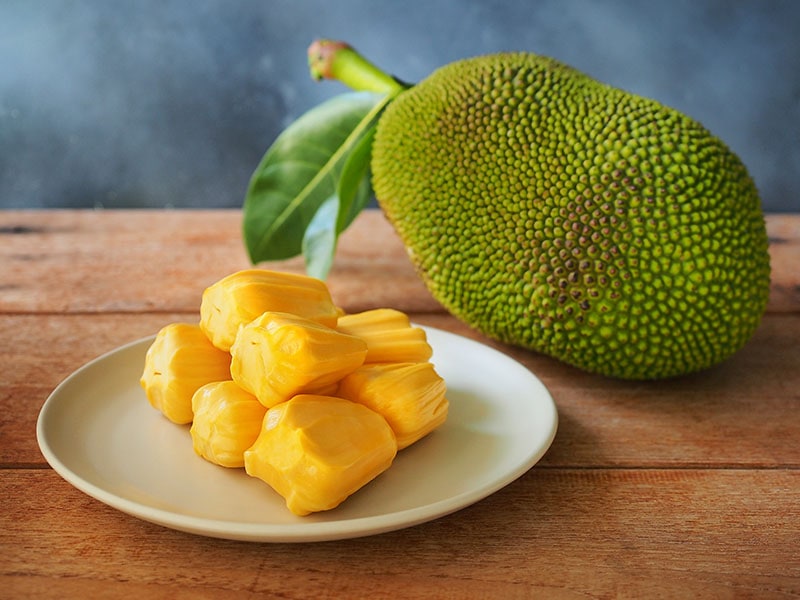 If you love aromatic fruit, jackfruit is an incredible fruit you must try. Most tourists always choose to taste the distinctive taste of jackfruit when visiting Malaysia. It is a member of the Moraceae family.
Jackfruit is derived from the Western Ghats, the Philippines, Indonesia, Malaysia, and Sri Lanka. The climate conditions of the tropical lowlands are suitable for the growth of this fruit. It got the English name "jackfruit" in 1563 in a book by physician Garcia de Orta.
Austronesians were the first person who brought this fantastic fruit to the Malay Peninsula. Jackfruit is a considerable option because a mature fruit can weigh from 22 to 25 pounds. Young jackfruit is often green in color and turns yellowish-brown when ripe.
The fruit is covered by thick skin with numerous small pimples on the surface that create the hexagonal tubercles. Many bright yellow segments attach to a whitish and fibrous core. They have the same shape like eggs. And each segment contains 1 edible seed.
To consume the seeds, you should boil or roast them to eat as a snack. The appealing sweetness of jackfruit will conquer you right away. You can think of the taste of pineapple or banana while eating jackfruit.
It is fantastic to eat jackfruit after each meal to refresh your taste buds. In addition, you can find it in many Malaysian recipes, from sweet to savory. Malaysians usually add it to desserts or sauteed dishes. Dried jackfruit is a typical snack in Malaysia.
Nutrients: High in calories, carbs, vitamin C, calcium, magnesium, and potassium.
Season: This fruit is common all year round in Malaysia.
How to eat: The fastest way to consume jackfruit is to slice it into 2 halves and separate the segments to eat.
Diversify Your Choices With Malaysian Fruits Having Edible Skin
Besides the fruits with inedible rind, you can consume the whole fruit with the Malaysian fruits that contain edible skin. Please add them to your menu immediately.
11. Java Apples – Jambu Air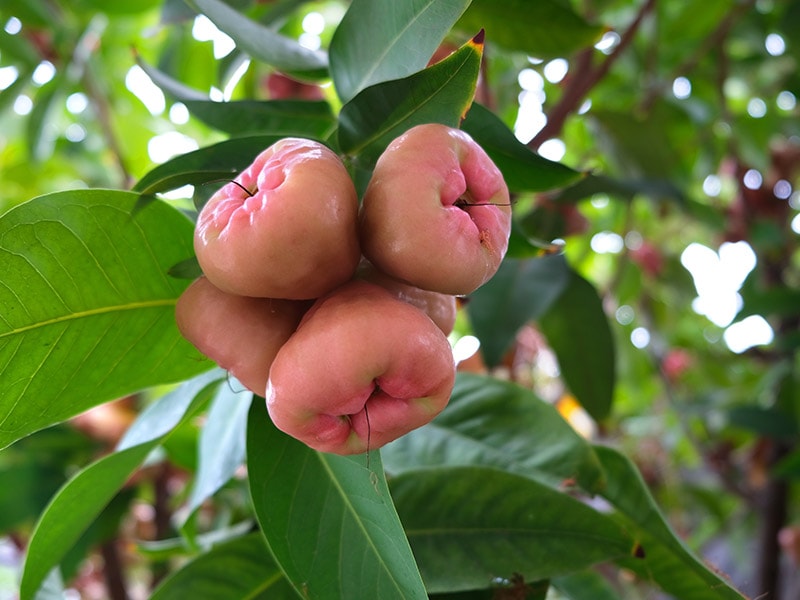 Java Apple or rose apple, Wax Apple is a local fruit of Malaysia because this country, Sunda Islands, and the Andaman Islands are the homeland of this fruit. Nowadays, its cultivation happens commonly in the Tropics.
The shape of Java apples is characteristic since it is similar to the "bell". It looks glossy with a waxy layer on the surface of the skin. Its color ranges from light green, white, red, purple, black, or crimson, depending on the various types.
Except for the inedible seeds in the center, you can consume this fruit's thin skin and crunchy flesh. The spongy flesh will not let you down. Although it has the name "Java apple", the flavor is not similar to Apple. It resembles a pear, more with sweetness and acidity.
You can buy Java apples easily at the local markets in Malaysia. Southeast Asian people often call black Java apples the "Black Pearl" or "Black Diamond". The fruit is compatible for eating raw or making salads, sauteed recipes, and other desserts.
Nutrients: Calories, carbs, calcium, vitamin C, potassium, and phosphorus.
Season: The season runs from March to May and August to November.
How to eat: People often peel the fruit and cut it into small pieces to consume.
12. Starfruit – Belimbing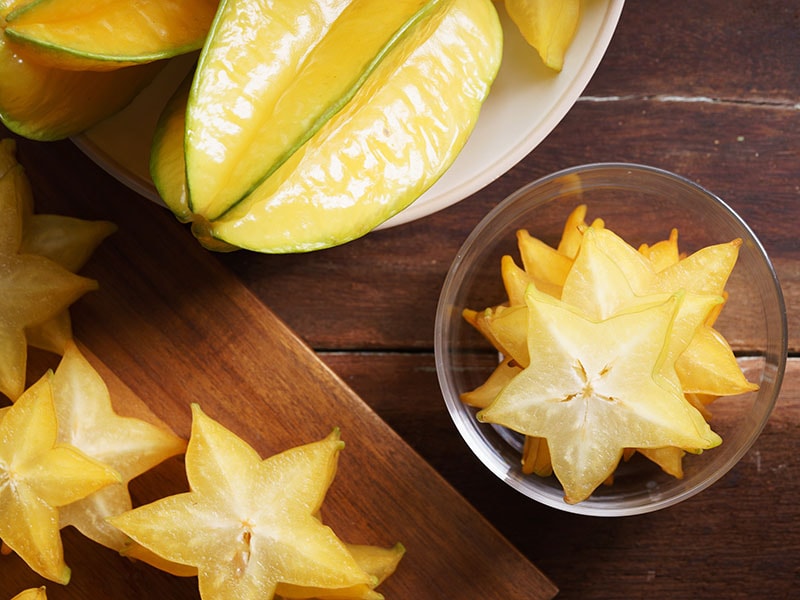 If you love delicious salads or Malaysian side dishes, you will be familiar with the taste of starfruit. In addition, Carambola and Five Fingers are common other names for this fruit. Starfruit originates in Southeast Asia, and it is planted widely in South Asia, Brazil, and the Caribbean.
It has a unique shape with 5 to 6 ridges along the sides. Therefore, you will get the star slices when dicing this fruit horizontally. You can consume the thin, waxy, and orange-yellow skin of starfruit.
You will immerse yourself in the crunchiness and juiciness of yellow flesh. Starfruit includes 10 to 12 edible seeds inside. There are 2 different starfruit types, including a sizeable sweet version and a small sour one. The sweet type will be sweeter than the small sour type.
This fruit's combination of sweetness and tartness is perfect for adding to many dishes. Malaysians use it to make salads, stews, or soups. You can find its taste in vegetable foods. You should try the excellent taste of starfruit jams.
Nutrients: It provides calories, carbs, choline, vitamin C, and potassium to your body.
Season: It is available from April to June and from October to December in Malaysia.
How to eat: You can eat the whole fruit after washing it with water.
Let's discover the inside of amazing starfruit right now.
13. Pomelo – Limau Tambun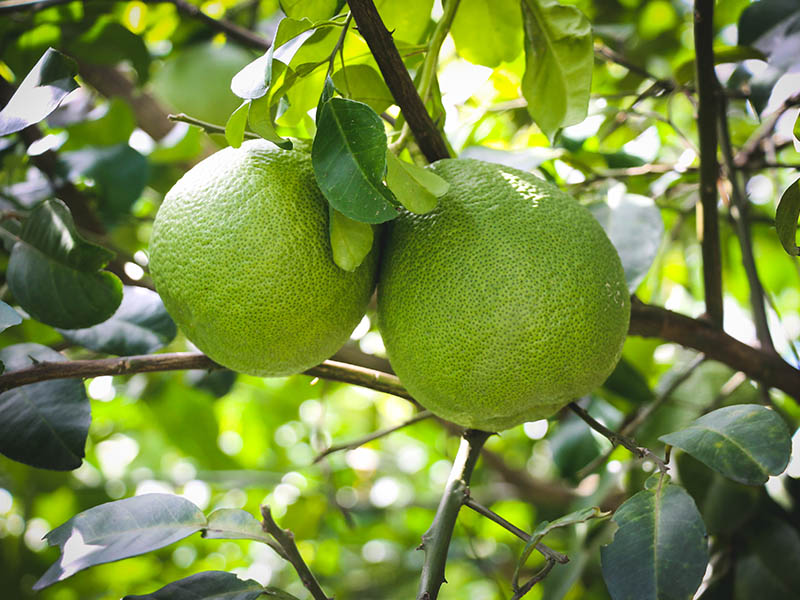 There are many famous types of citrus fruit in Malaysia, and pomelo is the favorite choice in this country. Pomelo is a giant citrus fruit of the Rutaceae family. It is a previous version of common grapefruit.
This fruit is cultivated widely in Southeast Asia. Pomelo is associated with the culture and tradition of many countries in this region because people often use it for special festive occasions. Its name comes from "pompelmoes", which means "biggest fruit".
Moreover, it was known as "Shaddock" in English-speaking countries after Captain Shaddock brought it to Barbados. Compared to grapefruit, its peel is denser and green in the shade. You can consume 11 to 18 juicy segments inside the fruit.
Remember to remove the bitter and inedible enveloping membranes on the outside of segments before eating. The flavor of pomelo is lighter than grapefruit. Occasionally, you can find a hint of bitterness from the flesh.
You will love to eat the raw flesh or add it to many drinks, salads, and dessert recipes. Furthermore, the citrus flavor of the rind is good to make jams or candies.
Nutrients: It consists of calories, carbs, vitamin C, potassium, and phosphorus.
Season: The peak season begins in August and ends in October. A sub-season of it lasts from January to March.
How to eat: The standard method to consume pomelo is to remove the skin and separate the segments to eat. You should discard the thin film surrounding the flesh before eating.
14. Guava – Jambu Batu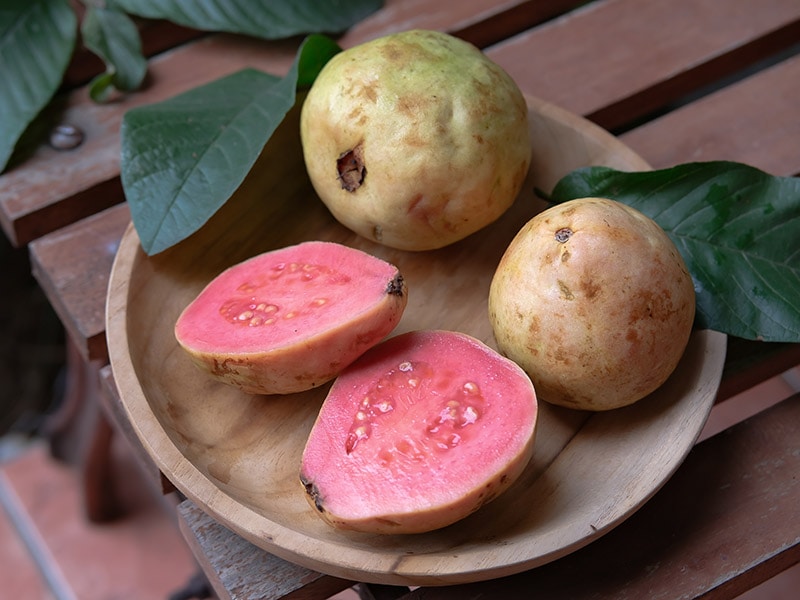 Guava is a fantastic fruit loved by most people in Southeast Asian countries. This tropical fruit originates in Central America, the Caribbean, Mexico, and Northern South America. Today, it is grown widely in Southeast Asia and other tropical regions.
India is the primary guava producer when it accounts for about 45% of the total. You can enjoy many different types of guava in many parts globally. But, the apple guava is the most popular variety in Malaysia and other regions.
Depending on the type, guava will have a round or oval shape. When mature, unripe guava's green and edible skin will change to yellow or maroon. You should consider consuming its skin or not because it can be bitter or sweet.
Its flesh has 2 primary colors, including white and dark pink. According to my experiences, the deep pink flesh type will be sweeter than the white guava. However, the tartness and sweet taste are indispensable flavors of guava.
It contains countless hard seeds inside, but you can consume them. Guava plays an essential role in the cuisine. Malaysians consume it raw or make jams. In addition, it is a common ingredient in candies, snacks, fruit bars, juices, and other desserts.
Nutrients: The primary source of fiber, vitamin C, potassium, and calcium.
Season: This fruit is ripe between January and March and from October to December in Malaysia.
How to eat: You will peel the thin skin of this fruit. Dice the fruit into small pieces to consume quickly.
15. Otaheite Gooseberry – Cermai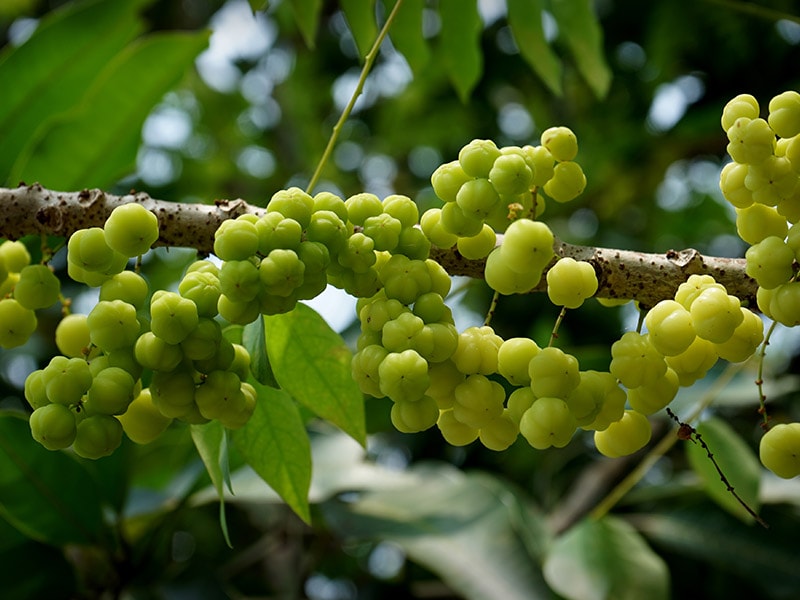 I guarantee that you will be surprised by the unique flavor of cermai. Malay gooseberry or Star gooseberry are other famous names for this fruit. Although it is called "gooseberry", there are many differences between this fruit and gooseberry.
The only similar feature is the acidity since cermai is also tart and sour. You can see numerous fruits on the trunk or branches of the tree. They make the tree eye-catching with their light yellow or white colors.
The crispiness and juiciness of these fruits will make you flutter immediately. Each fruit has an edible stone in the middle. This fruit appears widely in Asia, the Caribbean, and South America. It is said that this fruit has its origin in Madagascar.
If you want to eat fresh cermai, you should dip this fruit with salt to reduce the acidity. Malaysians usually mix this fruit with sugar to make candies or make syrup and other desserts from this fantastic fruit.
Nutrients: A high source of calcium, iron, phosphorus, fiber, and vitamin C.
Season: This fruit is available all year round in Malaysia.
How to eat: Wash the fruit with water. You can consume the whole fruit or remove its seed while eating.
16. Rose Myrtle – Kemunting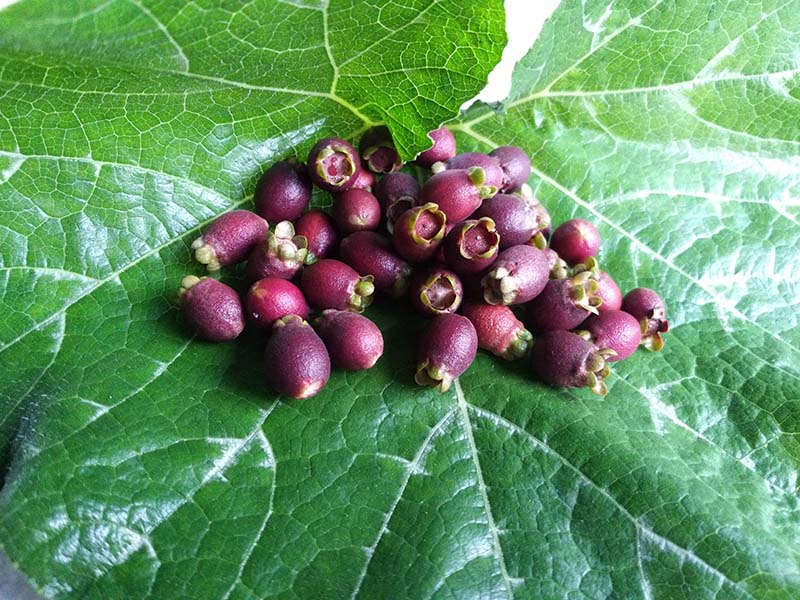 Rose myrtle or kemunting is another excellent suggestion I want to introduce to you. This fruit is in the Myrtaceae family. It is found commonly in Southeastern Asia, China, India, Taiwan, Malaysia, and the Philippines.
Coasts, wetlands, natural forests, riparian zones, and wet forests are the best environments for the development of rose myrtle. This fruit has a small size and round shape. It looks dominant in the purple skin.
This fruit tastes sweet and has an appealing fragrance. In a wild environment, this fruit is the favorite food of many birds. The taste and aroma are suitable for making jellies, jams, or wine in cuisine.
Nutrients: It contains antioxidants, flavonoids, malic acid, vitamin C, and potassium.
Season: Its season runs from June to July in Malaysia.
How to eat: You can consume the whole fruit after washing it.
Have A Great Tour!
How many fruits have you tried on this list? Nowadays, Malaysia is an ideal destination for many tourists worldwide. Therefore, you should tour this country to discover the exciting things about culture, tradition, cuisine, and these excellent fruits.
Do you have any problems after reading this post? If yes, please feel free to leave your questions in the comment section. I will try my best to answer all of them as soon as possible. Thanks for your time.