From fresh ingredients to heavenly tastes, Thai desserts will no doubt steal your heart the moment you eat them. Whether you're having a tropical-themed meal or just simply wanting to discover new dishes, give them a try, and you won't be disappointed.
Thai desserts are good examples of how creative Thai people can be when it comes to food. The cooking methods and ingredients are simple, yet somehow each dish is still unique and full of surprises. Take a look at this list to see what I'm talking about.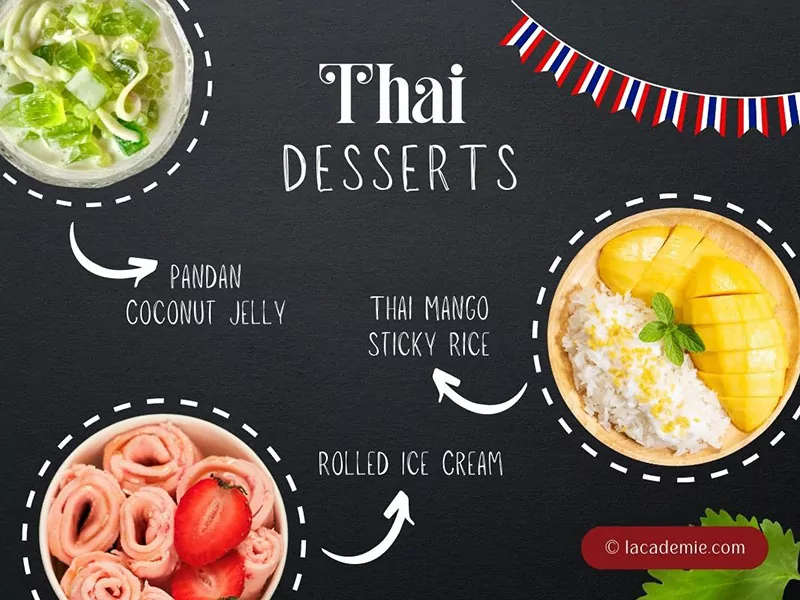 Top 20 Popular Thai Desserts You Will Fall In Love With
Thai desserts come in various types and forms. They have been divided into the following categories so you can easily choose what you like: pudding & jelly, ice cream, sweet soup, cake, and others.
Thai Pudding & Jelly
Sabudana Kheer (Thai Mango Coconut Pudding)
Wun Gati Bai Tuey (Pandan Coconut Jelly)
Woon Mamuang (Mango Coconut Jelly)
Kanom Tuy (Coconut Milk Pudding)
Thai Ice Cream
Mango Sorbet
Coconut Ice Cream
Homemade Rolled Ice Cream
Thai Basil Ice Cream
Thai Sweet Soup
Tub Tim Krob (Red Rubies Dessert)
Tapioca Melon Sweet Soup
Kluai Buat Chi (Thai Banana In Coconut Milk)
Thai Cake
Thai Tea Cake
Kanom Baa Bin (Thai Coconut Cake)
Khek Ma-Muang (Thai Mango Cake)
Other Thai Desserts
Kluai Khaek (Deep-fried Bananas)
Luk Chup (Mung Bean Sweet)
Thai Grilled Pineapple
Thai Mango Sticky Rice
Khao Tom Mud (Sticky Rice Wrapped In Banana Leaf)
Nam-Kang-Sai (Thai Shaved Ice Dessert)
4 Thai Puddings & Jellies You Can Easily Make At Home
Thai cuisine is known for being natural, and these puddings and jellies are no exception. Made from mostly fresh ingredients with little to no effort, these desserts are amazing choices for all your busy days.
This sweet dessert is a mixture of fresh mango, coconut milk, and sago pearls. It's rich in flavor and full of creaminess with the occasional chewy pearls to make your eating experience all the more joyful.
The only part that requires effort in making this pudding is cooking the sago pearls, but it's all worth it in the end. Just take some time, and you can have the most wonderful tropical treat for all your summer get-togethers.
I'm sure that you'll be delighted to learn that sago pearls are also a common ingredient to make many Asian desserts, from authentic Filipino sweet treats to enticing Chinese desserts. So be sure to stock up on sago pearls if you're planning on discovering more Asian desserts.
Pandan is a fragrant tropical plant used in a lot of Asian foods. Aside from the soft and pleasant flavor of pandan, it has a floral and grassy scent with notes of vanilla. Its subtle sweetness pairs incredibly well with coconut milk, giving you a naturally refreshing dessert no one can resist.
In addition to its unique taste, this jelly is also very eye-catching, with the pandan's vibrant green and white milk layered on top of each other. You can even use different molds or cookie cutters to make it look more lovely and presentable.
Bring the summer air to your corner with this delightful jelly. The mango's vibrant sweetness is balanced out by the soft coconut milk, so you don't have to worry about an overwhelmingly sweet dessert. This one is all about the light and natural flavors.
This jelly is made from agar agar, which makes it a lot firmer and chewier in texture than gelatin jelly. This is a prevalent characteristic of many desserts in Asian cuisine. It also means it's 100% vegan since agar agar is made from seaweed, so anyone can enjoy this delicious dessert.
Find out how you can make this delicious jelly for upcoming summer parties by this video:
Served in small round cups, this dessert is a familiar name in Thai street cuisine dictionary. You can easily make it using some very familiar ingredients. The result, however, is a heavenly blend of sweet and slightly salty coconuts you just can't stop eating.
What makes this pudding so well-loved is its unique texture. It consists of two layers – a sweet custard-like base of coconut milk and a creamy, salty coconut top. This creates a contrasting blend of smooth and crunchy that is unlike anything else you have tasted before.
Although milk pudding is also a dessert that can be found in China, Thai's version is quite different. After all, there are many distinctions between Thai and Chinese cuisine, so it'll be unreasonable to expect milk puddings in these two countries to be completely alike.
Top 4 Cooling Thai Ice Cream For All Your Hot Summer Days
When summer comes knocking, don't hesitate to give these decadent ice cream types a try. They are refreshing and full of tropical flavors; what more could you want?
Sorbet is the next best way to enjoy all the amazing fruits in Thailand besides eating them raw. With no additional milk or cream, the vibrantly sweet taste of the mango will be wholly retained and enhanced thanks to the icy nature of this dessert.
If you're having a summer party or get-together, this sorbet is a quick dessert you can whip up that anyone can eat. It's intensely sweet with a zesty touch of lime and melts right into your tongue. Who wouldn't like such a delicious way to cool down?
This recipe offers a balanced mixture of coconut and cream. The coconut is slightly crunchy with a subtle sweetness, while the cream helps smooth everything out. You can add some mung beans, nuts, fruits, or drizzle caramel sauce over the top to add a flavor kick to the whole dessert.
Unlike regular ice cream, this one also has the qualities of sorbet, so it's not as sugary sweet but infused with more natural flavors. It's also a lot more healthy to eat, especially since it's homemade.
Do you find coconut ice cream an enticing treat? If so, perhaps you'll love another variation of it. Among the desserts originating from Malaysian cuisine, pandan coconut ice cream will probably appeal to your taste buds the most, as pandan is truly the perfect match to coconut flavors.
It may not look like traditional ice cream, but this roll version tastes just as good, if not better. Strange as it may look, this ice cream isn't at all difficult to make. Just spread the ingredients onto a chilled tray, then run a spatula between the layers.
Feel free to play with these little ice cream spirals as much as you like. There are many flavors and toppings for you to choose, from traditional to more creative ones; almost anything you have at home can be added to this irresistible cold treat.
Make delicious rolled ice cream at home using only two simple ingredients with this video:
Thai basil has a stronger and darker flavor than regular basil, with a slight hint of spiciness. It may seem like a strange ingredient, but you will be surprised by how well it tastes as an ice cream flavor.
This unique dessert is perfect for the summer when the heat is rising, and you just need something really refreshing for the palate. You can also include coconut and mango in the recipe to get that authentic tropical touch.
Top 3 Traditional Thai Sweet Soups You Need To Try
Sweet soups are very popular in Thai cuisine. They are creamy, unbelievably sweet, and can also be eaten as a light dish between meals. So if you have been looking for new ways to make and eat sweet treats, give these a go.
This vibrant dessert is the perfect food to wrap up all your summer Thai meals. It's a refreshing mixture of water chestnut and coconut cream. Eat it with some crushed ice, tropical fruits, and your day will be brightened instantly.
The star of the dish is obviously the crunchy and sweet red rubies, which are water chestnuts covered in tapioca flour. They swim around in a pleasant and light coconut milk base, which leaves plenty of room for any other topping of your choice.
Step-by-step guide for how you can make this beautiful dessert:
Tapioca balls are small pearls made from starch, similar to those used to make boba, but they are translucent white and much smaller in size than boba. It's often found in a lot of sweet soups in Thailand because it adds a nice chewy texture to the overall dish.
This sweet soup uses melon and coconut milk as the main ingredients. The floral sweetness of the melon is complemented marvelously by the light taste of coconut milk, creating a dessert you will want to eat all summer long.
This sweet soup is one of the simplest Thai desserts out there. The classic Thai vegetarian delight consists mainly of banana and coconut milk, so it's quite sweet in taste and creamy in texture. Spend around fifteen minutes in the kitchen, and you can have a nice pot to feed the whole family.
This soup tastes best when it is still warm and you taste the velvety smooth texture. However, you can also eat it as a breakfast or a light snack. Don't throw away the leftovers, just reheat it and use it for the next day's meal.
A quick lesson on the easiest way to make this Thai sweet soup. Check out this video:
Bring Some Tropical Flavors To Your Party With These 3 Thai Cakes
There's nothing like a good and tender cake infused with tropical ingredients to brighten up the mood. These Thai cakes are crowd-pleasing and not at all complicated, making them the perfect choices for your next get-together.
Turn your favorite Thai beverage into a tender cake that you can share with your loved ones. This cake has the same sweet kick and earthy undertones as the original Thai tea. However, because it is a fluffy cake, it's so much more filling and satisfying to enjoy.
There are also many different variations of Thai tea pastries. A simple cake layered with creamy frostings is the most common, but you can also make cheesecake or even cupcakes. Whichever type is your favorite, just go for it.
Much like most desserts on this list, this cake uses coconut as the main ingredient. From the inner layers to the outer toppings, it is thoroughly covered in coconuts in the best ways possible.
Despite the heavy use of coconuts, this cake is still not overwhelming to eat at all. They will give you a cake with fluffy frosting and chewy insides, making each bite super exciting and addicting.
This bright and gorgeous cake is what sweet dreams are made of. There's nothing more tempting than layers of tender sponge cake and juicy mangoes hiding inside a fluffy whipped cream exterior.
With mango as the main ingredient, this cake carries an intensely sweet flavor and rich aroma. It also contains coconuts, which lightens the overall taste and gives you a full tropical dessert experience as you eat it.
6 Other Thai Desserts That You Can Make Quickly And Easily
Most of these desserts are eaten as street foods because of how simple yet addicting they are. Don't let the strange names limit you; they are actually some of the easiest desserts you will ever make.
Walk the streets of Thailand, and you will find these deep-fried bananas everywhere. Just as the name suggests, they are bananas dipped in flour or shredded coconut then deep-fried. This gives them a crunchy exterior, but the insides are still sweet and creamy.
There are two main ways to eat these bananas. You can eat them as snacks with some honey drizzled over or serve with a scoop of ice cream for a proper plate of dessert. Either way, it's an enjoyable treat for all occasions.
Bring this street food right into your kitchen with a few simple steps by this video:
Kids will absolutely fall in love with these colorful candies before they even eat them. Looking like miniature versions of various fruits and vegetables, Luk Chups never fail to attract attention with their impressive appearance.
As for the taste, these candies are incredibly sweet with a very fine texture and a lovely fragrance. Their complicated exterior is actually not that hard to create, so don't scare yourself out of making these fun little treats and give them a try.
This dessert is the perfect choice for all your outdoor parties and summer gatherings. Grilling the apples will help intensify the flavors and give it a more smoky taste. You can then drench them in various sweet sauces or whip cream to tie everything together.
This recipe is one you can whip up with no trouble at all. It doesn't require any complicated ingredients, just the simple things you already have. Even if you don't have a grill, a regular pan will do the trick just fine.
Don't think that rice can only be used as a main dish, side dish, or appetizer in Thailand. Thai mango sticky rice will prove to you that even something as simple as rice can be turned in to a national dessert.
Indeed, this classic dessert can be found on the streets of Thailand and in Thai restaurants all over the world. It's luscious, creamy, and unbelievably sweet. The tropical mixture of sweetened coconut sauce and ripe mango is one that you won't be able to turn away from.
Besides Thailand, this irresistible dish has also spread to other Southeast Asian countries like Vietnam, Laos, Cambodia, and Bangladesh. The Cambodians enjoy it as a street food, especially during the mango season.
While it is already jam-packed with flavors, you can always add toppings to make this dish more tasteful. Simple things like black sesame or coconut flakes will usually do the trick, but you can also get traditional with some mung beans.
Learn all the steps to quickly make this traditional Thai dessert by this video:
This little banana-wrapped package of food is a lot more delicious than it looks. It holds sticky rice cooked with ripened bananas and coconut milk. The milk infuses the entire package with a light sweetness, while the banana adds a much-needed fruity taste.
In addition to being a dessert, Khao Tom also makes a great takeaway snack because it can fit right into your palm. It's a healthy way to keep yourself full and energized between meals if you're having a busy day.
You will find this simple treat everywhere on the streets of Bangkok and other parts of Thailand, sold by vendors with colorful carts full of various toppings. It's undoubtedly one of the easiest street food recipes to recreate.
Despite the name, the real highlights of this dish are the toppings. After flavoring the ice with some sweet syrup, you can add anything you like. The possibilities are endless, examples being fruits, grass jelly, beans, bread, nuts, and some condensed milk to top it all off.
End Your Meals The Right Way!
Thai desserts are a great way to wrap up all your meals, whether they are Asian-themed or not. They are fresh, creative, and absolutely irresistible. With coconut milk as the key ingredient, they are able to carry such a light yet flavorful taste that anyone can enjoy.
Don't be afraid to get experimental and explore all the hidden potentials Thai desserts offer. Not only will you have some delicious desserts by the end of the day, but you will also learn some amazing new cooking tricks. Don't forget to let me know how everything turned out.
Nutrition Facts
12 servings per container
---
Amount Per ServingCalories269
% Daily Value *
Total Fat 10.9g

16

%
Sodium 59mg

3

%
Potassium 868mg

25

%
Total Carbohydrate 44.8g

15

%

Dietary Fiber 2.6g

8

%
Sugars 22.5g

Protein 2.9g

4

%
---
* The % Daily Value tells you how much a nutrient in a serving of food contributes to a daily diet. 2,000 calories a day is used for general nutrition advice.