I have sorted out the best Turkish recipes so that you can treat your family to a mouth-watering meal. Turkey has one of the richest and most diverse culinary cultures globally. From the famous doner kebab to the flavorful mucver, how can you say no to these foods?
As lying in the middle of the European and Asian region, Turkish cuisine is a lovely combination of the flawless features in each region. Want to know how this combination turns out? Make sure you follow me till the end of this post.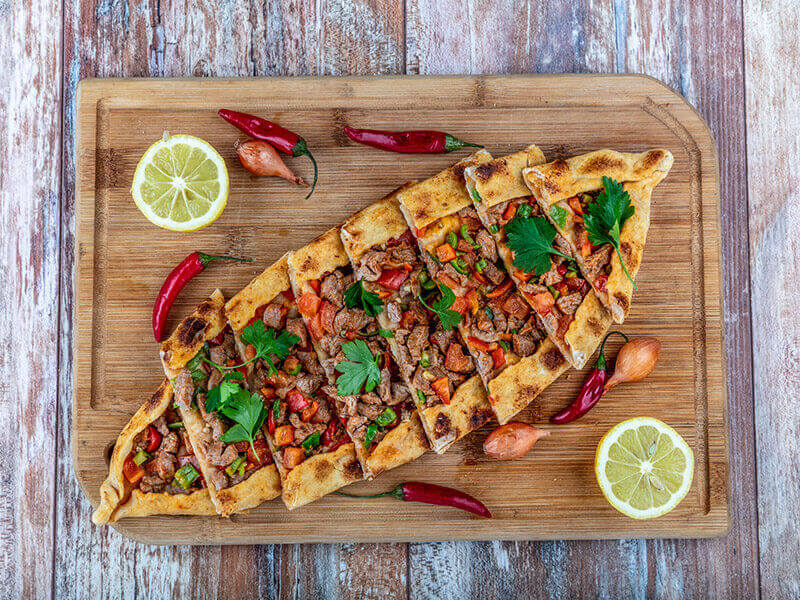 40 Turkish Recipes For A Marvelous Savory Experience, Why Not?
Nice, I guarantee that these Turkish recipes will amaze you with their savory taste and their beautiful appearance. Drum roll, please!
These Turkish zucchini fritters are the best solution for those who love eating vegetables but still want to enjoy the crispiness of fried foods. The zucchinis are shredded to mix with the flour for a perfect texture. Sprinkle some salt and peppers to add more flavors to the dish.
Do you want to try a signature dish from Turkey? This kuzu tandir will surprise you with its melty tenderness of the roasted lamb. You will also find a mesmerizing aromatic scent from thyme or rosemary.
Wow! This traditional Ramadan dessert has a breath-taking appearance. The creamy white paste is highlighted by the lovely red shade of strawberries. You can use other fruits depending on the local season. And you will taste a solid nutty flavor from various types of nuts.
Are you seeking a sophisticated Turkish sweet course? Don't underestimate the tiny size of this beautiful lokum; it is sweet, squishy with a lovely smell from pistachios.
Yogurt is a common ingredient in Turkish cuisine, and cacik is a creamy dish created from this lovely ingredient. You should use olive oil for a healthier dish. The cucumbers add a crunchy texture while enjoying every spoonful of cacik.
Wa! You have to make this rich and refreshing cacik because it is so delicious.
Wow! Make this yummy Turkish midday meal to re-energize for a productive working day. The scrambled eggs are well-seasoned and match the tomatoes and peppers' flavor. Garnish the dish with some dried oregano, and the menemen is ready to serve.
Dolma is a luscious dish that uses grape leaves or cabbage as a wrapper. Not only a popular dish in Turkey, dolma is also well-known in the food culture of Azerbaijan, Israel, Sweden, and many countries in the Balkan and the Middle East.
The filling is the masterpiece of rice, meat, and plenty of veggies. The wrapper is so soft that the juicy water will pour out and satisfy your taste when you bite it.
Yum! These borek rolls are full of spinach in the filling that harmonizes with the crispy cover. The rich flavor from cheese makes borek taste more delightful. Remember to finish the dish with some roasted sesame seeds for an outstanding smell.
Let's begin your morning with a delectable Turkish dish. The yummy egg's taste is enhanced when paired with creamy yogurt and spicy pepper. You will have a flavorful party right in your mouth.
This Cilbir could be the best breakfast recipe you have ever tried.
If you are bored with the typical snack at the nearby grocery store, give this pestil tarifi a try. You can turn almost every kind of fruit into this aesthetic dish with a lightly sweet and tart flavor. This sweet dish will be a hit for your kid for sure.
It's time to spice up your salad with a special Turkish salad dip – Ezme. With the typical ingredients like tomatoes, onions, olive oil, the sauce taste is leveled up with a hot touch from red peppers.
Who likes a sweet treat with tons of soft and buttery layers? This Turkish baklava is one of the tastiest Turkish desserts with a light sweet flavor from pistachios. You can decorate the dish with some chopped pistachios for garnishing.
Let me treat you with an exquisite Turkish dish for your dinner! The meat has a beautiful smoky smell with a melt-in-the-mouth texture. You will find a hint of peppery flavor from paprika and black pepper.
Speaking of Turkey, a super creamy hummus to pair with pide bread must be listed. The taste is amazingly buttery, with a nutty taste from chickpeas. You can boost the dish flavor with some smoked paprika or black peppers.
Don't let this incredibly delicious Turkish hummus wait any longer; let's try it!
If you are a huge ice cream fan, don't miss this Turkish delight ice cream. The cream is surprisingly sweet with a smooth, creamy texture. It has an eye-catching pink or purple color that is perfect for any party.
Do you know that Turkey is also famous for a juicy meatball dish? Kofte is a flawless combination of beef (or lamb) with a strong flavor from garlic and onions. You can add parsley or thyme to embrace the dish with a fantastic scent.
This kapuska has a gentle sweetness from chopped cabbage and well-seasoned beef. You can bring a touch of creaminess from butter and sneak a hint of spiciness from paprika and peppers.
This is another exploding dinner that will please your family taste. Little did you know that eggplants have a delightful flavor when cooked perfectly. The ground beef inside makes the dish more juicy and flavorful.
People in Turkey have a massive passion for coffee. The coffee is not too strong, but it will satisfy your taste with a sophisticated, bold flavor. The coffee usually has a beautiful foam on top that highlights the entire drink taste.
Doner kebab is an excellent street food that you can easily run into on every corner of Turkey. The meat is super juicy and tender with a tangy taste that mostly comes from the pepper. Plus, you can eat the kebab with some pitta bread or eat plain with onions.
Why not try this delightful doner kebab right at your home now?
Here comes another dish that uses yogurt as the main ingredient. The flatbread has a soft pillowy texture with a mild sweetness from sugar. The Greek yogurt brings a gentle, rich flavor that makes the whole cake irresistible.
What is better than a bowl of cozy soup on a rainy day? Mercimek is such a charming soup recipe that is straightforward to make and provides a good source of nutrition. You can eat the soup with some flatbreads to fully enjoy the food.
Kazandibi is a rustic Turkish dessert that has a spongy texture and a creamy filling. The perfectly burned caramel cover adds a brownish color with a gentle, sweet taste to the dessert. I believe that the food flavor is so unique and delicate, from the taste to the texture.
Sumac is an essential Middle Eastern condiment used in many cuisines. The spice has a signature tangy taste with a fruitiness ending. The mixture of sumac and onions are very exciting and succulent, which is a good side dish for meat dishes.
The dish is a flawless combination of butter and shredded cheese; then, you fry it until it gets a nice golden color. You can enjoy the pastry with any syrup that goes pretty well with a warm cup of tea.
Hurry up! This hot and melty Kufene can not wait for you any longer!
If you are a pastry lover, I believe that you may fall in love with this Turkish simit. The bread has a super nutty taste of sesame seeds versus a delightful ring shape. You can enjoy it plain or in a company with yogurt sauce is both amazing.
The taste of muhammara dip is very tangy and savory. It combines peppers, chilies, some bread crumbs, and especially some pomegranate syrup to balance the overall savor. You can use the dish versus some flatbread for breakfast or any meal of the day.
Let's take a note of this delightsome Turkish vegetarian dish. Nohutlu pilav is a type of rice dish cooked simply with a bit of seasoning and herbs. A small tip for a more charming taste, you can cook the rice with vegetable broth to give it a natural sweetness.
Pide is a traditional Turkish flatbread that is used as an appetizer with dip sauce or some stew dishes. The dish looks like a pizza without toppings that is accused of having a plain taste. However, its flavor is surprisingly amazing, with a hint of sweetness.
Does this Turkish flatbread taste better than a pizza? Let's make it and give it a try!
If you are looking for a good kebab sauce, this one is made for you! Making the sauce doesn't cost much time. Besides kebab sauce, you can use the dish as a BBQ dipping sauce or a topping for pizza.
Borani is a delightful appetizer that you can find in many Mediterranean regions and some Asia countries. There are many variants of Borani, but the one with spinach is really famous. With a touch of yogurt, all the creamy and delightful tastes will pop in your mouth.
Let's make a special yogurt dip for the delicious Turkish kebab or flatbread. The dipping sauce is effortless to make; you can just prepare it in just a few minutes. Moreover, you can add some extra cheese to make it creamier.
Bulgur or bulgur wheat is a type of cereal that is very good for your heart health. The wheat has a nutty taste, so that you can use it as a substitution for almond or walnut for the salad. In addition, the dish is a bit spicy so that you should adjust the amount of it to suit your taste.
Check out this super easy kisir; So delicious and tasty!
You can add this beautiful salad to your dinner menu; I believe that everyone will love it! The salad highlight is white beans with a great deal of fiber and protein for your body. You can add lemon juice to give the dish a gentle sourness and be more flavorful.
Turkish people have a special way of making their own noodles by using their special yogurt sauce. You can use ground lamb or beef to pair with the yogurt noodles to enhance the dish's rich taste.
This Turkish flatbread is like a pizza relative stuffed with savory fillings. You can make the dish with just a single skillet to give the dish a gentle burn and crispier. At the first bite, you can tell how delicious and flavorful the Gozleme is with some sweet vegetables.
Let's make this unique and yummy Gozleme recipe!
If you are looking for a cookie recipe, why don't you try this? I'd love how tender and crumby these cookies are. The recipe doesn't have any egg, but it still retains a creamy and buttery taste at the end of a bite.
You can not forget Turkish kebabs when cooking this country's cuisine. It is easy to run into a local kebab street vendor roasting a stick of a giant kebab. The lamb meat is so juicy and tender that it will take you to heaven with the first bite.
Check out this Turkish flatbread pizza that you can make to switch the taste. The dish is full of flavors and options for you to choose. You can use minced lamb or beef and vegetables to create a delicious vegetarian dish.
Manti is an extremely popular dumpling dish in Turkic cuisine. It has many regional variations across Central Asia, South Caucus, the Balkans, and Afghanistan. For example, while Turkish manti uses ground beef, the ones found in Kazakh cuisine often include minced lamb.
The beautiful Turkish dumplings are unique with three sauce toppings: garlic yogurt sauce, brown butter sauce, and caramelized tomato sauce. Each sauce combines to create a succulent dish that no one can deny.
Don't miss out on this luscious Turkish manti recipe.
Let's Open A Brand New Experience!
Trying new recipes is always the most exciting experience for me. Because each change in the ingredients or cooking methods will result in an unexpected outcome that you might love. And you will have an opportunity to try food from another culture, cool, right?
Grab that apron and make some Turkish recipes now! I bet your family will be amazed with the meal you made for them. Remember to like and subscribe to our site to discover more mouth-watering recipes.
Nutrition Facts
4 servings per container
---
Amount Per ServingCalories112
% Daily Value *
Total Fat 4.6g

8

%
Cholesterol 59mg

20

%
Sodium 480mg

20

%
Potassium 388mg

12

%
Total Carbohydrate 12.8g

5

%

Dietary Fiber 2g

8

%
Sugars 3.5g

Protein 6.2g

13

%
---
Calcium

115

%
Iron

2

%
Vitamin D

4

%
* The % Daily Value tells you how much a nutrient in a serving of food contributes to a daily diet. 2,000 calories a day is used for general nutrition advice.