Don't miss Turkish desserts among all the diversity and culinary richness you find. In Turkey, sweets and desserts are typically taken between meals, afternoon, and coffee or tea. Yes, of course, it's Turkish coffee!
Due to a common Ottoman and Byzantine past, most Turkish sweets can be found in other regional nations such as the Balkans, Greece, Lebanon, Armenia, Syria, and Israel.
Your Turkish food is a mix of historical heritage and cultural exchanges. The Ottoman Empire expanded from the Arabian Peninsula to the far western Mediterranean, and Turkish cuisine resulted from those events.
In addition to being tasty, desserts in Turkey are also a great way to bring out the best of both worlds. Let's dive in!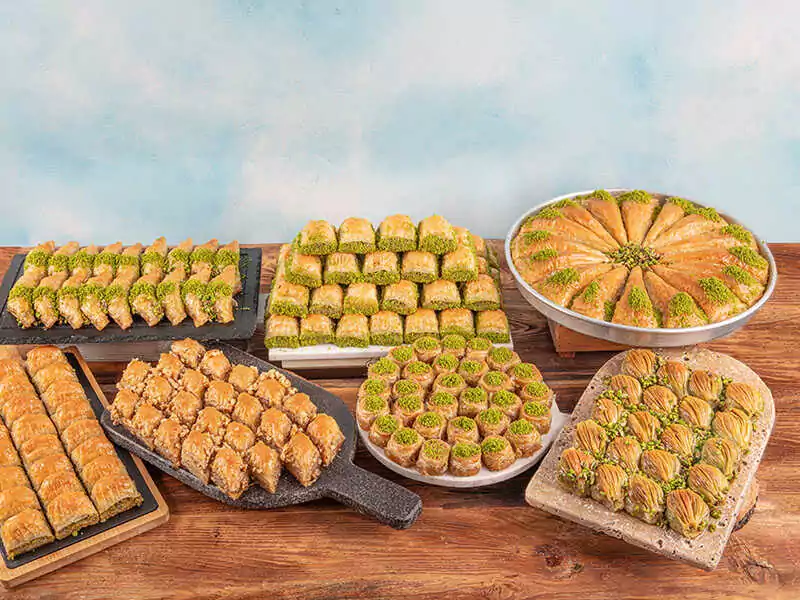 44 Top-Seeking Turkish Sweets
Which Turkish sweet dish do you like the most? Which one is your delicacy? No trip to Turkey is complete without tasting the desserts, which can be smelled from miles away when walking through the streets of any Turkish city.
Explore the semolina, phyllo dough, and fruit treats in more detail. As usual, I'll describe how each dessert is made and spotlight the essential ingredients. It's a decent idea to explore a few during your visit.
Baked Turkish Sweets
Fırın Sütlaç
Acıbadem kurabiyesi
Sweet Böreck
Şambaba – Şambali
Keşkül
Zerde
Kabak Tatlısı
Sütlü Nuriye
Bülbül Yuvası
Şöbiyet
Halva
Halka Tatlısı (Brothel Dessert)
Burma
Lokma
Künefe (Kanafeh)
Tulumba Tatlısı (Tulumba)
Baklava
Trileçe
Un Kurabiyesi
Kazandibi
Bisküvili Pudingli Pasta Tarifi
Profiteroles
Şekerpare
Revani
Unbaked Turkish Sweets
Pişmaniye
Pestil
Kaymaklı Kayısı
Cevizli Sucuk (Küme)
Kestane Şekeri
Ayva Tatlısı
Aşure
Güllaç
Tavuk Göğsü
Fıstıklı Sarma
Muhallebi
Lokum
Kaymaklı Ekmek Kadayıfı
Macun
Ice Cream & Drinks
Maraş Dondurma
Salep Dondurma
Gelincik Şerbet
Boza
Rakı
Şalgam Suyu
24 Baked Turkish Sweets
Are there any other critical Turkish sweet treats that I forget to mention? As you can see, the almond is a popular candidate in Turkish cuisine.
Maybe cheese isn't something you'd often put in your dessert, but after experiencing the fluffy, rich baking items down there, you'll reconsider.
After all, there's a concrete reason why Turkish sweet is beloved in Turkey, the Middle East, and the Balkans, especially the amazing culinary world of Bulgaria. Hurry up; the Turkish dishes are chasing worldwide!
Famous all over the world, and fırın ütlaç is the Turkish version of rice pudding, a dessert classified as puddings even though it doesn't look much like one. It is one of the most famous sweets in Turkey and simple to prepare.
Turkish rice pudding is made with heavy cream, short-grain rice, and rice flour, regularly topped with grinned cinnamon and hazelnuts.
In a salamander broiler, the whole mix is finally browned, adding sugar that is light and easy to taste, not too sweet. This fırın sütlaç mixture is prepared on the stove then transferred into oven-safe bowls to bake.
When the top is slightly burned, you'll know it's done, so it looks pretty close to the creme brulee. The caramel-y flavor of this pudding is genuinely heaven, and you can sprinkle on top the ground cinnamon!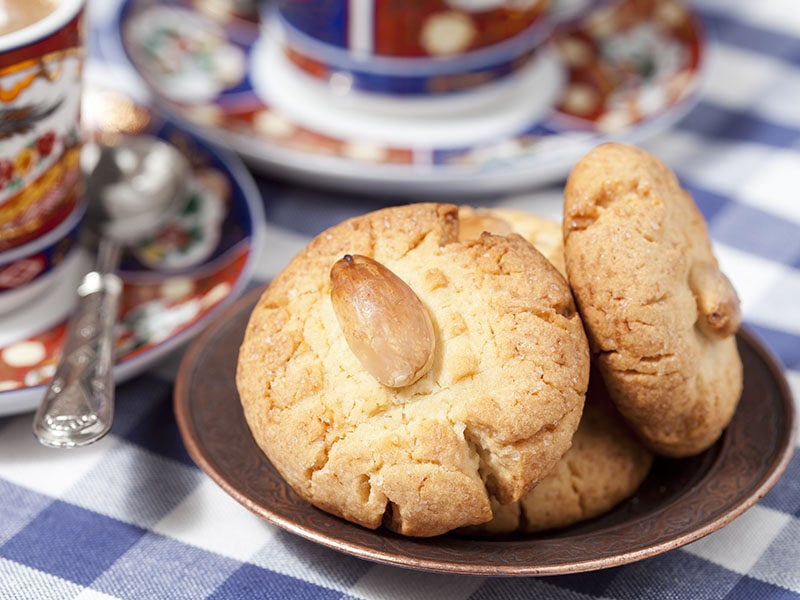 As you can see right there, biscuit-like cookies aren't trendy in Turkey, but this is an exception. Acıbadem kurabiyesi is an oh-so-yummy sweet biscuit made of egg whites, almonds, sugar, and lemon juice!
Soon you will be amazed by the texture! The texture goes from crispy to flawlessly soft between the edge and the middle part.
The best part is that making them simple as a cinch! In addition to the use of essential ingredients, it takes less than an hour to prepare.
In every Turkish bakery, you can find these cookies. The structure is chewy and usually served next to some ice cream or a cup of coffee.
Every Turk can share with you their traditional Acibadem Almond Cookie recipe!
You certainly tried böreck when you visited Turkey or any of the Balkan countries such as Macedonia. A tasty pie filled with various vegetables or meat cheese.
But wait, it gets even better! A sweet böreck full of sweet fruit or chocolate, apricots, pistachios, and other fruits is available in Turkey, for that matter.
There is a fantastic böreck recipe packed with white tangy Turkish cheese, and if you can't get your hands on the variety used here, feel free to use feta cheese.
Perfectly delectable and healthy, everybody will enjoy şambaba – şambalia dessert as one of Turkey's most famous street desserts.
This semolina cake is topped with peanuts, milk/yogurt, and molasses; kaymak is between two pieces of cake.
Thanks to the lemon zest and orange blossom water, this cake also has a fruity flavor. It's one of those Turkish treats that you should try on a hot summer day.
The sweetness and fluffy texture and cake will delight children, while the addition of healthful figs will please adults.
Turkish keşkül is traditionally served cold, in tiny authentic bowls, and eaten by a spoon. Its name and origins highlight an intriguing time in the late-nineteenth-century Ottoman Empire, which attempted to reformat the time.
Despite being creamy, this is one of the lightest Turkish cakes, and it will leave you desiring more. Almonds, milk, sugar, rice flour, and cornstarch make up this easy-to-prepare yet tasty dessert.
As a finishing touch, coconut shavings or pistachio nuts are sprinkled over the top. Do you still not believe me? If you can, try to stop after one serving!
Rice, fruit, and water are the main ingredients in zerde. Initially, this food whose name starts with "Z" was most popular in regions with paddy fields, but today it's enjoyed throughout the country.
Mixing the pudding with saffron gives it a bright yellow color. What an attention-catching yellow, isn't it?
During the sacred month of Muharram, zerde is served at weddings, birth celebrations, and other festive ceremonies.
Why limit yourself to only pumpkin pie when there are many more ways to include pumpkin in a dessert? As an indeed, Kabak tatlısı is one of the most innovative sweets you can make using pumpkin.
The pumpkin is sprinkled with sugar, baked, and topped with chopped kaymak and walnuts. It has the ideal sweet balance—a luscious sweetness from the sugar-coated pumpkin, as well as a salty tang from the tahini.
The addition of walnuts and whipped cream on top elevates the texture of this dessert.
The most significant difference between this dish and baklava is the syrup and the amount of milk and water added. Sütlü nuriye has a whitish tint and tastes lighter than baklava.
The genesis of this dish is tied to the 1980 coup when the economy was in a terrible crisis, and people had to come up with inventive methods to save money, and making this poor man's version of baklava was a fantastic way to save money.
Bulbül yuvasi is best described as a circular form of baklava. This dish, like baklava, is made of phyllo dough and contains nuts. The rolls are formed into rings, the pistachios inserted in the rings' hollows after the dough has been cooked.
Before serving, the delicacy is drizzled with sweet syrup, which gives it its distinct sweetness.
Şöbiyet is a milk and semolina dessert made from phyllo dough. Preparation takes time, but it's well worth the effort, as you can see right here.
The mixture is simmered until it thickens into a pudding, then ten layers of phyllo dough with a butter dressing are layered on top of each other.
Squares of kaymak are sliced into triangles, cooked again, and sprinkled with sweet syrup and magnificent pistachios for the last touch.
Halva is among the oldest desserts on this list, dating back to before the Ottoman Empire. Halva originated in the Middle East and was first mentioned in history in the 7th century.
Halva is now available everywhere from China to Central Europe and from Russia to North Africa, marking one of the world's beloved desserts. Halvaitar is a variation found in Tajik cuisine.
The two most frequent in different parts of the world are a flour-based form with a gelatine-like texture and a nutty one that crumbles much easier.
Halka tatlisi is best described as churros wrapped in sweet sherbet. Traditionally, it's eaten by hand, so if you're interested in trying it, be ready to get sticky fingers.
Because they use the same dough and cooking technique, Turkish churros and tulumba appear very similar.
This recipe makes crunchy, golden churros that are tossed in cold, sweet syrup. "Halka tatlisi " means "brothel dessert," perhaps because it was once served in brothels, but today it's one of the great street treats in Turkey.
With this easy recipe, a famous street snack in Turkey, you can bring its fragrance to your home in 30 minutes. There are many other churros varieties. For those who are also curious about must-try foods in Serbia, Tulumba should not be missed.
To level up the taste, you can add a flavor to the Turkish version by filling it with sweetness. It's an excellent way to dip them in melted chocolate!
Burma is yet another dessert made of numerous layers of sweet, thin phyllo dough wrapped around a rolling pin.
The dessert is prepared with butter and dipped in sherbet before baking. As a result, the end product is sweet with a hole in the middle. Lastly, the sweet is loaded with almonds or pistachios that give it a crispy texture.
'Bite' in English translates the Turkish word lokma, one of Turkey's most famous street foods. Turkish coffee is often served with lokma, which is another favorite pairing. Simple syrup sweetens the dough, which is fried in a round form until golden brown.
Lokma is a deep-fried chestnut-sized piece of dough sweetened with sugar, sweet lemon syrup or sherbet, cinnamon, and honey. This sweet has a long history, and it is always offered by individuals who are celebrating a particular occasion or mourning the loss of a loved one.
They are best served hot, and you can add chocolate sauce to these bite-sized delights to enhance the aromas. Some Turks bring large cauldrons to an event and create batches of lokma there!
In this Turkish sweet treat, cheesy meets sweet. So unbelievably delicious that you'll even find this dish in Egyptian cuisine, künefe is the perfect dessert to finish your meal because it's better eaten hot and rarely found in pastries.
It is typically created from angel hair and a Turkish cheese called dil peynir, a local version of mozzarella, or you can use basic shredded mozzarella. Try to drink a cup of Turkish tea.
This dish is made out of a thin noodle-like pastry deep-fried and soaked in a sweet, sugar-based syrup before being piled with Feta cheese or cream and whole fat milk.
Kunefe has a crisp surface and a mushy, cheesy center. To intensify the tastes, rosewater, lemon juice, and pear sauce are added to the mixture.
Tulumba tatlısı is a crispy fried pastry famous in Turkey as street food. You probably recognize these Turkish pastries as the Turkish version of churros, but they're even better because they're covered with sweet lemon syrup!
Turkish tulumba is one of the sweetest sweets in Asia, and it definitely should deserve more recognition throughout the world. While still hot, the unleavened deep-frying dough balls are fried and soaked in sherbet, a sweet syrup.
You'll ask for a star nozzle and a piping bag to make this recipe. Probably, the shape will not be ideal the first time, but practice makes perfect.
When served with chocolate sauce, tulumba is always crispy outside and soft and sweet inside. Go ahead, my dear!
Although tracing back its origins to the Byzantine Empire, the current shape and recipe were created during the Ottoman Empire.
Baklava is the most popular sweet, and I saved the finest for last. From Sarajevo to Baku, everyone claims to have the best baklava globally, but no one can beat the Turkish.
Baklava comes in various shapes and sizes worldwide. When found among Persian sweet treat recipes, baklava is almost unnoticeable due to its entirely different shape. In essence, baklava consists of chopped nuts spread among multiple layers of phyllo topped with butter and honey.
When I put it like that, you might think that baklava is simple. In reality, this authentic Turkish dish is rather tricky to create, and many would say that producing baklava is a true art.
It is traditionally produced in Turkey by filling pistachios, nuts, or, less frequently, almonds or hazelnuts between layers of yufka leaves. Gaziantep in southeastern Turkey is famous for its baklava with pistachios and claims to be the birthplace of this delicacy.
The Trileçe, a Balkan dessert that has practically invaded Istanbul, has become a great craze. Everyone, from the big Bosphorus palaces to little local restaurants, serves trileçe.
Trileçe's popularity in Istanbul can't be traced back to its origins, but it's most likely due to Albanian immigrants who reintroduced the dish to Turkish cuisine.
Three kinds of milk are used to make the trileçe, which has a layer of caramel on top. Sheep's milk, cow's milk, and buffalo's milk are all available.
This dessert is a shortbread or flour cookie from Turkey that I would love to share with you all. As a result, you can make un kurabiyesi in any way you like. For un kurabiyesi to be truly delicious, it must melt in your tongue. Because of this, they are irresistible.
You may use jam, Nutella, and apple fillings; you can dip them in chocolate, and you can even make them with nuts and dried fruit as well as chocolate.
With its delicate texture that disperses in the mouth, you'll want to eat all day. As a bonus, as soon as you take it out of the oven, its aroma will entice you and everyone else.
Every Turkish bakery sells these melting moments cookies. You can't eat these without sipping Turkish Tea Çay, as some of them are too dense and hard to chew.
Kazandibi is a Turkish dish that dates back to Ottoman time and translates to "burnt bottom pudding" because of the burnt bottom of the pan while preparing.
It consists of milk, butter, all-purpose flour, starch, sugar, and flavorings such as ground cinnamon or mastic gum and is served as a sweet or snack.
Turkish kazandibi is generally served as thin ribbons later rolled, although it can also be presented as thick squares.
In contrast to the sweet and creamy interior, the caramelized top of kazandibi has an earthy taste. Go along with a cup of hot Turkish tea or coffee for a truly memorable experience.
"Pudingli pasta" is neither pudding nor pasta, but rather a light cake formed by putting Turkish cream cookies and pudding-like filling on top of one another.
Pre-icebox, think of it as an icebox dessert. It was a refreshing contrast from the decadent, sugary treats I was used to in Turkey.
In addition to coffee and tea, you may make a more complicated Turkish mosaic cake by mixing in other ingredients such as hazelnut, petit beurre, and bits of dark cacao. As an example, you could make a Rocky Road Mosaic Cake.
Serve with chocolate sauce or vanilla ice cream, or slice thinly for ice cream sandwiches. Also, you can add other components, such as fruit and whipped cream. Alternatively, cut it into cubes and dip it in chocolate fondue.
Sutlu nuriye, a lighter version of baklava, is a good alternative if baklava is too heavy for you. This dessert is creamier since it uses milk-based syrup.
The pistachios in this recipe have been replaced with hazelnuts, which are much cheaper. Of course, phyllo pastry sheets are still required as the primary ingredient.
It's hard to get anything more remarkable than a bite of homemade profiteroles! If you're looking for a small-bite dessert option, these crispy hollow pastry balls filled with custard or cream and drizzled with chocolate are a great choice.
The term şekerpare translates to "a piece of sweetness," and after you try it, you'll understand why. This delicious and sticky cookie is created with flour, semolina, and powdered sugar and cooked till golden brown before covering with sweet syrup.
These small cakes are adorable, baked with almond-based dough and next steeped in boiling sugar syrup. When cold, şekerpare becomes stiff and crumbly but melts in your mouth to expose the rich syrup.
When I say top, I mean that it is entirely covered. If you're crazy for a sweet treat to enjoy with your Turkish coffee, go no further than the popular Şekerpare.
Anyone who has tried out Lebanese cuisine and its various desserts is certainly no stranger to semolina cake, which is a staple treat there. However, did you know that it's also a well-known dish in Turkey as well?
Although there are many recipes to make Revani, all of them yield a tender sponge cake steeped in luscious lemon-infused sugar syrup. It loads in about 35 minutes, with a gorgeous star pattern.
Also called Basbousa in Egypt, the Turkish revani dessert is created with a semolina cake soaked in sugar syrup. Rosewater is sometimes added to the syrup in revani recipes to give it an extra touch of fragrance. Sprinkle some chopped pistachios on top to finish!
You're feeling motivated, right? Just alter this recipe in many ways. Revani is also available in orange and rose flavors.
14 Unbaked Turkish Sweets
So far, you've seen that Turks love sugary pastries, especially stuff with syrupy. If you're a fan of them but not available to bake, here are other recipes you should try.
It's unnecessary to turn on the oven—no need to heat the house in the summer. You don't have a chance to crank up the air conditioner but still have something tasty. It's simple peasy to have fun!
Pişmaniye, the closest thing to cotton candy in Turkey, is produced by combining roasted flour with butter then twisted into fine strands. Flour, butter, and sugar are the three basic materials in this dessert.
While the flour is roasting in butter, the sugar is melted and pulled till strands appear. Pistachio nuts are commonly sprinkled on top of pişmaniye. If that's not sweet enough for you, try it with chocolate milk.
As much as this dish resembles cotton candy, it has a different texture and taste. Light, fluffy floss can be eaten plain or with vanilla or chocolate flavors.
This dessert has one of the strangest names on this list of Turkish sweets. Pestil is a Latin word that means "fruit leather." Here, the most challenging part is determining the fruit combinations.
Adding fruit leather to family meals is a terrific way to get more fruits. No sugar is added to this delectable treat. Super easy to prepare!
The dessert is prepared by mechanically crushing several kinds of fruits and spreading them into edible material that can be kept for several months.
The rest of the cooking stages will require you to purée the fresh fruits and dehydrate them before using them in the recipe. Cut thin strips of fruit leather, roll them up, and you're done!
Kaymaklı kayısı is one of the most distinctive Turkish sweet dishes. Apricots are quite popular in Turkey. The Malatya region is one of the world's largest suppliers of apricots, so it's no wonder that this top sweet is prepared with apricots.
Kaymaklı kayısı is made by boiling dried apricots in a sugar syrup until they become mushy, then stuffing them with ground pistachios and buffalo milk-kaymak.
The final product is a treat that gives a great combination of flavors- creamy and textures, nutty, and fruity all at once.
Turkish delicacy cevizli sucuk, also known as küme, consists of dried fruits and walnuts tied along with string later covered with thick unsweetened grape. It is then dry in the sun before being sold on street food stalls throughout the country.
Sucuk is most commonly associated with Turkey's fermented sausage with numerous herbs; yet, cevizli sucuk is a separate creation. Although Sucuk is a dish that comes from Georgia, but the Turks are experts at preparing this delightful delicacy.
As a gummi-like snack, the sweet sucuk is made by dipping walnut strings into a grape-molasses mixture, drying them out, and then cutting them into pieces.
You'll find this tasty delight inboxes pretty much everywhere in Bursa if you walk the streets. Chestnuts from Uludağ are boiled, dipped in boiling syrup, and then cooled. This dessert is a Bursa specialty!
Each box contains a variety of tasty treats that are highly addicting and sometimes even dipped in chocolate! Popular regional treat made by cooking chestnuts in hot syrup then dipping them in chocolate occasionally.
Kestane şekeri is a tiny, sweet Turkish treat that is one of the most irresistible you'll ever come across.
The primary ingredient in this unique treat is quince, a sour fruit related to roses. I was shocked when I first heard about this Q-something fruit or vegetable and was unsure whether to try ayva tatlısı or not, but I was pleasantly delighted in the end.
Ayva tatlısı is prepared by boiling quinces with sweet syrup and cloves, then filling them with walnuts and kaymak. Quince dessert is called "ayva tatls." It's a tasty buffalo milk cream called "kaymak." The right candidate for wintertime!
Alternatively, you can make the same dish with a pumpkin, which is also delicious. Spell with me "kabak tatls" named the pumpkin version. Also, it is topped with pistachios or walnuts based on the recipe.
Aşure is a pudding made from wheat, chickpeas, haricot beans, dried fruits (apricot, fig, or raisins), and nuts. It is one of the few desserts in Turkey without animal products.
So, the recipe is not set in stone. Rosewater is used to flavor the classic pudding. You can also include lemon and orange zest for a zesty kick.
When Noah escaped the enormous flood, he cooked a pudding using what was left of the ingredients, and that pudding is aşure, according to Islamic beliefs. Muharram- the first month in the Islamic calendar is a popular time for the Turks to enjoy this dish in massive quantities.
Güllaç is traditionally eaten during the month of Ramadan. In 1539, it was served for the first time at the circumcision of Suleiman, the Magnificent's son, marking its official debut.
Baklava, according to various Turkish historians, is the predecessor of phyllo dough. This dessert derives from "güllü-aş" or "rose meal," which has a distinct texture. Other fruits are also available in some varieties.
Güllaç is made by dipping thin sheets of phyllo dough in sweet milk, then superimposing them on a plate once softened. You sprinkle hazelnuts, walnuts, ground almonds, pistachios, or coconut powder per every two or three sheets of phyllo dough.
It is then coated with the milk used for dipping, vanilla extract, or fragrant rosewater. Depending on the season, everything is typically decorated with a line of candied cherry and chopped pistachios or pomegranate seeds.
You may feel having chicken breasts for dessert sounds strange, but I must say that this Tavuk gösü is impressive. It tastes nothing like chicken, I am sure!
Milky sweet pudding with protein-rich chicken is made with fine shreds of chicken breast meat. As soon as you add a dash of cinnamon, you'll feel instantly warmer. Desserts made with skim milk are a way to cut down fat.
The texture is smooth and creamy, thick enough to chew. When topped with vanilla, it transforms into one of the tastiest sweets you'll ever try.
Many restaurants serve this thick pudding with maraş ice cream. Instead, you might opt for kazandibi, which has a caramelized top.
If you've ever visited Turkey or certain Slavic nations, you've had sarma, but did you also know there is a sweet variant of the famous cabbage roll? Don't worry; this dessert does not include sauerkraut (German sour cabbage)
The wrap is made of one layer of dough, and the stuffing is made of fıstık ezmesi (pistachio butter). That is where the distinct shade comes from.
As you might expect, this is a natural color that contains no food coloring or chemicals. To give this green cake sweetness, the treats are dipped in sherbet for the finishing touch.
Muhalebi is another Middle Eastern delicacy that has found a home in Turkey and is perhaps one of the oldest types of custard. Around the third century, the Sasanian Empire was regarded as the founder of this dessert.
A milk-based dessert made with mastic and rice flour. It is a thick cream flavored with orange blossom, rose, cinnamon, or saffron. It can be topped with regional ingredients such as pistachios, almonds, date syrup, shredded coconut, walnuts, or raisins.
This delicacy is comparable in many ways to the French blancmange. This simple dessert is relished in slightly different forms in the Middle East, Arabian Peninsula, and North Africa. Of course, you can always order a scoop of maraş ice cream.
Popular in the west as Turkish delight, this confection of gel, sugar, and starch swiftly took over the world once it was sold in 18th-century Europe.
Pistachios or versatile nuts are chopped and bound together by a gel of fruit juice, cornflour, and xanthan gum. Lokum is chopped into tiny cubes before serving and traditionally served with Turkish coffee.
Turkish delights like baklava are well-known sweets throughout the Mediterranean basin, yet they originated in Istanbul. It was a popular treat among high-society ladies during their afternoon teas. It was also used to prove affection between couples.
'Bread pudding' is the best word to describe this Turkish treat to me. It is made with dry bread soaked in sugar syrup. Sweet and syrupy, it is topped with Turkish clotted cream, crushed walnuts, and kaymak.
It's a regional specialty of Afyonkarahisar and one of the oldest desserts in Turkish history. Serve with sweet kaymak and top with other fruits or raisins for an authentic Turkish meal.
If you prefer less sweet sweets, the sugar syrup can be scented with lemon juice, which gives these bread puddings a sense of fresh tartness.
Like the 'magicians' of maraş ice cream, many street vendors throughout Turkey put on a show while creating this wonderful Turkish delicacy. In the Ottoman Empire, macun was developed.
As a traditional Turkish herbal paste made of grape molasses and 41 different spices and plants, macun became one of the most popular local sweets and is now a global phenomenon.
There are many various tastes and varieties of macun, but the most popular are the fruity ones. macun is best described as a colorful Turkish toffee paste.
Several restaurants still offer macun on a round platter with sections for different flavors, but the 'stick' version you obtain on the streets is also rising.
6 Ice Cream & Drinks
Food is highly crucial in Turkish culture. The same holds for a variety of Turkey's traditional drinks. Some will keep you warm in the winter, while others will quench your thirst as you swim in the Aegean Sea in the summer.
Turkish ice cream is known for two characteristics: hard texture and resistance to melting, induced by a root flour made from the early purple orchid, the thickening agents' salep, and mastic, a resin that conveys chewiness.
Discover some Turkish sweets, ice creams, and beverages you should try!
As old as the far more popular gelato and just as wonderful, Turkish ice cream is believed to originate in the city of maraş. This ice cream came from the 16th century and was produced from sugar, goat milk, orchid powder, salep, and Arab gum.
Maraş ice cream has a somewhat denser texture than gelato; peach, pistachio, vanilla, and red currant are the most popular flavors. Street vendors or dondurma shops sell maraş ice cream, same as those that play tricks on you before placing it in your cone.
Arab gum, also known as mastic resin, and salep are added to the essential milk and sugar mixture to convey maraş ice cream' features.
Vendors in high-traffic areas such as Istiklal Avenue and Sultanahmet sell more than simply the stretchy ice cream called salep dondurma.
Each transaction becomes a slapstick routine with the customer as the vendors constantly trick and taunt the cone. It can be taken out of your hand, turned upside down, thrown in the air, or even made to be licked in front of an audience.
Turkish ice cream is thickened with salep, sweetened, and scented with aromatic mastic. It gives ice cream an elastic character to fall the cone upside down without melting and dripping.
Three hundred years old is the estimated age of salep dondurma. It originated in southeastern Turkey, where milk, mastic resin, and salep were abundant.
One of the standard drinks in Western Asia, şerbet, comes from Turkey, must be included in this list. In the Ottoman Empire, sultans and their guests would drink this sweet, carbonated soft drink with every meal.
They're traditionally produced from a syrup steeped in honey with spices such as cinnamon and cloves, as well as flower petals and dried fruits. Nowadays, Şerbet is enjoyed every day, and the taste variety is more significant than ever with tamarind, rose, cardamom, pomegranate, poppy, raspberry, etc.
Turks serve sherbets in crystal bowls on lace-covered trays for Ramadan and weddings, as well as for other special occasions. During a visit to the gilded Topkapi Palace in Istanbul, I picked up a gelincik şerbet with a softly fragrant poppy aroma.
Turkish boza is a fermented drink close to a smoothie and made primarily from yeast and cracked wheat. It has a sweet and zesty flavor that everyone adores!
Whenever I think of Turkish winters, the word "boza" generally comes to mind. Ancient Anatolia produced this drink made from corn, rice, wheat, and barley.
This warm drink is typically served with roasted chickpeas and is well-known for its remarkable health benefits, including high potassium content and blood pressure reduction.
Rakı is one of Turkey's most popular drinks. There is no title on top of the "I" in this case. A colorless, alcoholic drink that is served with water and ice usually.
The water and ice are mixed in to create a smoother, milky look-alike beverage in most cases. Rakı is made from grapes and processed anise.
You'll find many folks having glasses after work with friends at sunset, listening to music, eating mezes, and chatting the night away. Cheers, and give it a try when visiting Turkey!
Pickled turnip juice, often called turnips when ordering, is a member of the mustard family. This amusingly sour beverage is trendy in Turkey's Cukurova (South Central) area.
Regions like Adana, Mersin, and Hatay are among the origins. To make a simple pickle, these beets are combined with salt and water.
The color red comes from the use of black carrots. A popular drink to complement heavy meat dishes, such as burgers and roast beef.
Twist Istanbul, Twist Turkish & The Desserts!
Turkish sweet dishes delight those with a lovely appetite for everything from puddings and ice cream to complex pastries and meat desserts. Simple choices can become addictive!
Seasonal fruits in Turkey signify the end of a good meal, whether served in a restaurant or at home and even better is the odd pairing of white cheese and honeydew melon, whose tastes merge to clean the palette.
With 44 most delicate treats are listed above, whether you're planning a trip to Turkey soon or just want to try making something at home. I hope this modest Turkey selection of sweets has piqued your interest in trying them all.
Fantastic if you are sending my post to your team and family members. It's time for gaming; why don't you all ask each other about the Turkish delights! Share your culinary experiences in Istanbul in the comments now, my mate!
Nutrition Facts
20 servings per container
---
Amount Per ServingCalories124
% Daily Value *
Total Fat 5.2g

8

%
Sodium 8mg

1

%
Potassium 18mg

1

%
Total Carbohydrate 18.2g

7

%

Dietary Fiber 1.1g

5

%
Sugars 16.3g

Protein 3.1g

7

%
---
* The % Daily Value tells you how much a nutrient in a serving of food contributes to a daily diet. 2,000 calories a day is used for general nutrition advice.