Canada is famous for multiple things, such as hockey, maple trees, people's politeness, etc. But do you know any easy Canadian desserts? Whether you're shaking or nodding your head, this article will broaden your knowledge about this field.
Similar to fascinating sweet courses in America, Canadian desserts come in both baked and unbaked styles. And they are all easy to make. So, don't hesitate to learn some. You may surprise your relatives with a party full of Canadian sweets!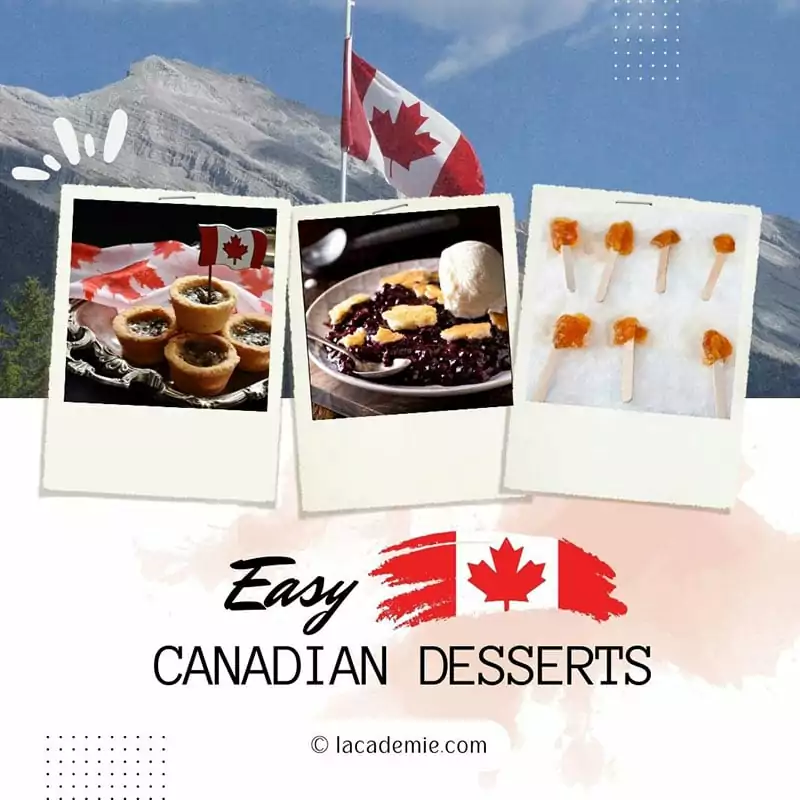 My Hand-Picked 14 Canadian Desserts
Simple Baked Canadian Desserts
Bakeapple Pies
Butter Tarts
Flapper Pies
Pouding Chomeur
Saskatoon Berry Pies
Sugar Pies
Sweet Bannock
Unbaked Canadian Sweets
Beaver Tails
Blueberry Grunt
Figgy Duff
Maple Taffy
Nanaimo Bars
Tiger Tail Ice Creams
Timbits
When it comes to the delicious food that originated from Canadian cuisine, you shouldn't fail to mention its decadent desserts. In the section below, you'll find addition information about these treats, like how they are formed, why they've got their names, etc.
Let's dig in now!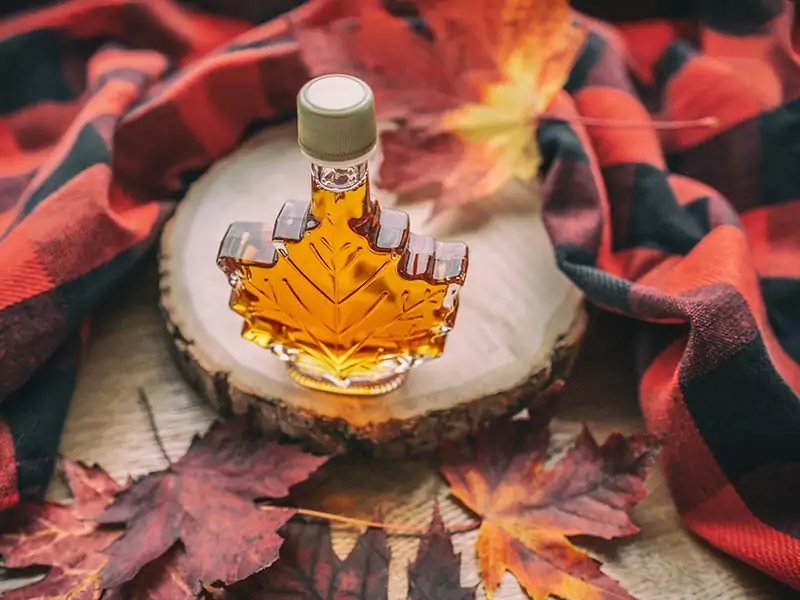 7 Baked Canadian Desserts Make Your Mouth Watering
When talking about desserts, you guys may immediately think of all the baked ones. Various famous sweets are cakes and pie, such as cupcakes, apple pie, cookies, and many more. And Canadian desserts are no exception.
Let's take a look at some of the most tempting baked desserts in Canada!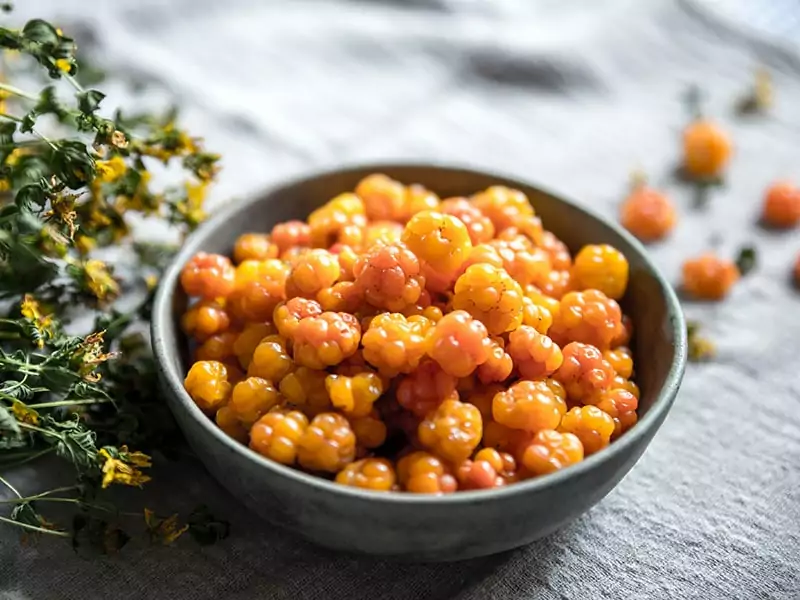 If you love the idea of desserts with pie crust, this recipe might be what you need.
And prepare yourself because there are no apples in these pies. The term "bakeapple" refers to cloudberries – a bright orange fruit with a sweet flavor and many seeds. While the crust is no different from other pies, bakeapple pies' filling contains only cloudberries and sugar.
This way, they have a fresh and not-too-sweet taste, though it might be a bit annoying with all the seeds in the pie. There is also an unbaked version of this pie with cloudberry jam as filling and whipped cream for the topping.
You may not believe it, but these tarts can make the Canadians borderline impolite. Why does it happen? That comes back to how this treat is made.
Commonly, butter tarts' mixture is made from eggs, brown sugar, butter, and white vinegar. Then, they are poured into flaky tart shells and baked to solid or runny. Sounds normal, right? The problem is, some traditional recipes state there are raisins in these tarts and some not.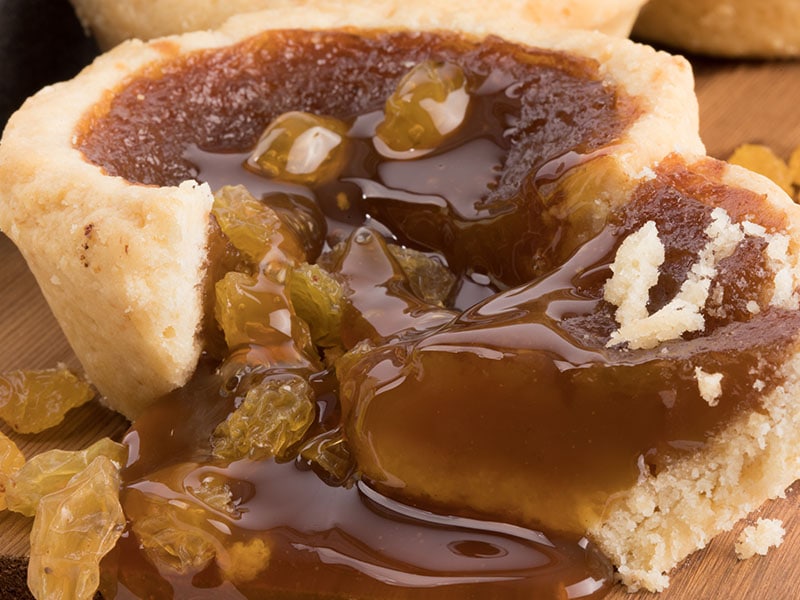 Canadian people have been fighting about this for years. And up until now, there's still no visible end to this war. However, that doesn't affect butter tarts' popularity. They have always been in every Canadian home since the 1700s.
Nowadays, butter tarts can be served in gluten-free forms, such as cupcakes, ice creams, or even beers.
Flapper pies are an actual dessert of Canadian prairie culture. All the ingredients in these pies are always available in any farmers' houses, regardless of the seasons. The graham cracker crust contains graham crackers, sugar, butter, and sometimes cinnamon.
Whereas, you can use milk, sugar, cornstarch, egg yolks, vanilla, and salt for the creamy custard. Then, a fluffy meringue on top is a perfect finish for this incredible dessert. You can sprinkle some breadcrumbs and place them in the fridge to elevate the texture and flavor.
However, as flapper pies are a treat coming from the prairie region, don't go around asking people on the East coast about this treat. They may not know a thing!
Once considered "puddings for the poor/the unemployed", nowadays, pouding chomeur is desired by people worldwide. But why did it use to be food for the lower classes? Let's go back to history for a bit!
During the 1930s, which is known for the Great Depression, female factory workers took their stale bread, soaked them in brown sugar sauce, and baked it. The result is a sweet dish somewhat familiar to the pudding.
Today, the ingredients in the pouding chomeur have changed to elevate its flavor: Batter takes the place of stale bread, and maple syrup is mixed with brown sugar into caramel sauce.
So if you are a huge fan of sweets with rich caramel, you should try this recipe. Once baked, the caramel sauce will soak into the batter core, making it a treat from heaven.
This video will show you a step-by-step instruction on how to make a pouding chomeur:
Despite being in the berry relation, saskatoon berries are more similar to apples than berries. Their taste is also nuttier than the majority of berries. In older times, the native Canadians made them into a paste and reserved them for winters.
As time passes, more and more people use Saskatoon berries for desserts, and Saskatoon berries pies are one of them. With just some flour, pie pastry, butter, eggs, and these berries, you can make this sweet-and-sour treat from scratch.
You can use this dessert with ice cream or whipped cream for more textures and flavors. Some confectioneries and pastry shops also serve Saskatoon berries pie as their signature dish with some twists, like adding other berries into the filling.
Prepare for a sugar rush named sugar pies, also known as tarte au sucre. They are a larger version of butter tarts. Their filling consists of sugar, maple syrup, cream, butter, and a pinch of salt. Combine them with whipped cream, and you have a treat as sweet as its name!
Maybe that's the reason why Canadians often have these pies as a dessert for long, cold winter nights. These pies are not favored only in Canada but also worldwide, like France, Belgium, America, etc.
Rooted from Scottish, bannock has become one part of Canadian cuisine. In the old days, native Canadians used camas as the base for bannock. But now, they have changed into flour for an improved flavor.
The ingredients in bannock are all simple but can last for a long time: flour, water, salt, and lard. That's why before bannock is a dish for long travel. The basic bannock is covered with sugar and cinnamon. It can also transform into a bread pudding with various berries on top as a special treat.
7 Unbaked Yet Worth-Savoring Canadian Desserts
Though baked desserts are indeed all over the world, baking is not the only way to create sweets. We've got steaming, frying, freezing, and many more. That applies to Canadian desserts as well.
Once you see one, you'll immediately understand why this treat's got its name. It is whole-wheat dough stretched into a beaver tail's shape and deep-fried. You can enjoy beaver tails in both sweet and savory styles.
As a dessert, they are covered with various toppings, from the classic combination of cinnamon, brown sugar, and Nutella to modern ones, such as lemon, maple butter, M&Ms, crushed Orea cookies, and many more.
Beaver tails are also eaten as a savory dish with ham, cream cheese, or even lobster. Whatever way, they are an irreplaceable dessert for winter activities like skiing or skating.
Don't worry, this sweet is not angry at you. It is named "grunt" after the grunting sound of blueberries underneath the dumpling layer when slowly cooking. Like many other desserts, there is no detailed history about the blueberry grunt.
But it is believed that the men building the Prince of Wales Fort on Hudson Bay have created this dish. You can now find blueberry grunts in various cafe stores or bakery shops in Canada. They often serve this treat with a scoop of ice cream or warm stewed blueberries on top.
Figgy duff has another name, raisin duff, as "figgy" is an old Cornish word for "raisin". According to the original recipes, raisins with flour, molasses, brown sugar, butter, breadcrumbs, and various spices are mixed and steamed until their texture is somewhat similar to bread.
The most common way to enjoy it is eating with whipped cream or fruit custard. You can fry it in the pan in place of toast. Figgy duff is an indispensable dessert in every Canadian home at Christmas.
Referring to Canada means referring to maple. This plant is everywhere in Canada, in the street, on the country flag, and now, even in their desserts. Let me introduce you to one of those: Maple taffy.
This treat is effortless to make. First, you need to boil the maple sap into maple syrup and boil some more to reduce. The higher temperature you cook it at, the thicker the result.
Then, just pour some of this maple liquid onto the snow. When it thickens enough, use a stick to pull it out. There you have a maple taffy stick. Sweet and sticky, it's every kid's favorite dessert in winter.
Named after a British Columbia town – Nanaimo, this treat has been recognized as a signature Canadian dessert recipe that calls for coconut. And I'm pretty sure you will be shocked with its deliciousness.
This small square pie consists of three layers: Shredded coconuts, graham crackers as a base, a rich yellow custard layer, and bittersweet chocolate ganache as the topmost.
What's unique about Nanaimo bars is they are entirely unbaked, just like cheesecakes. You can enjoy this sweet anytime you want. Today, besides the original version, there are multiple variants for you to try, both in flavors (mint, peanut butter, mocha,…) and in forms (cupcakes, ice creams, martinis,…)
There is even a Nanaimo Bar Trail in its homeland. It includes 39 stops serving all forms of Nanaimo bars. However, before rushing to this, remember that a tiny Nanaimo bar contains 290 calories. So, you'd better control yourself!
Want to know how to make this desired treat? Watch this now!
Trust me, you can't find this ice cream anywhere but Canada! There hasn't been any explanation yet. Maybe this treat only tastes good in Canada? But first thing first, let's find out why it has this name?
The answer lies right in its appearance. Tiger tail ice creams are basically orange ice creams with multiple swirls of black licorice, making them identical to the tiger stripes. Once a hit in the mid 20th century, nowadays, many creameries like Baskin-Robbins in Canada still stock them up as a nostalgic treat for adults.
With an appearance similar to doughnut holes, Timbits are a well-known dessert throughout Canada. Canadians eat them all the time: breakfast, mid-day snack, or junk food when watching hockey, with local Canadian beverages. Timbits even appear in office meetings.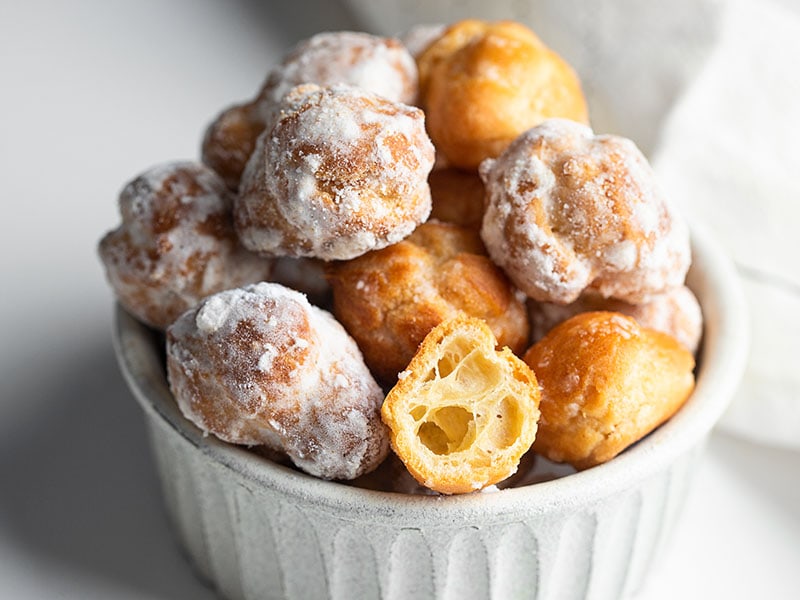 Timbits are extremely easy desserts to make. Canadians make them at home all the time. Just take some leftover doughnut dough, roll it into small balls, and fry them in vegetable oil. You can either consume them just as they are or make some additional glazes, fillings.
There are tons of timbit varieties, from custard-filled, sugar-coated, or honey dip kinds, to sour-cream glazed, apple frittered, royal iced ones. You can go to any Tim Hortons store and order a pack of 10, 20, or even 50 flavors to try.
Further Knowledge
I know every single one of these desserts above sounds and looks delicious. But be careful, they are pretty high in calories. If you don't want your weight to become your worst enemy, try to stay in control while enjoying them.
And this article has just only introduced a part of Canadian desserts. If you know other easy treats from this maple country, write them down in the comment section! And don't forget to share this knowledge with your family and friends.
Nutrition Facts
12 servings per container
---
Amount Per ServingCalories230
% Daily Value *
Total Fat 15.9g

24

%
Cholesterol 35mg

12

%
Sodium 71mg

3

%
Potassium 44mg

2

%
Total Carbohydrate 10.3g

4

%

Dietary Fiber 1.6g

4

%
Sugars 10.5g

Protein 3.6g

6

%
---
Calcium

15

%
Iron

2

%
Vitamin D

1

%
* The % Daily Value tells you how much a nutrient in a serving of food contributes to a daily diet. 2,000 calories a day is used for general nutrition advice.