French cuisine has always been famous for its innovative flavors and elegant appearance, and these classical desserts are no exception. No matter how many years have passed, they are still an irreplaceable part of high-class restaurants' menus.
However, that doesn't mean you can't make these sweet treats yourself. Some of them may require more advanced cooking skills. But all in all, if you follow the recipes, the flavor will turn out decent.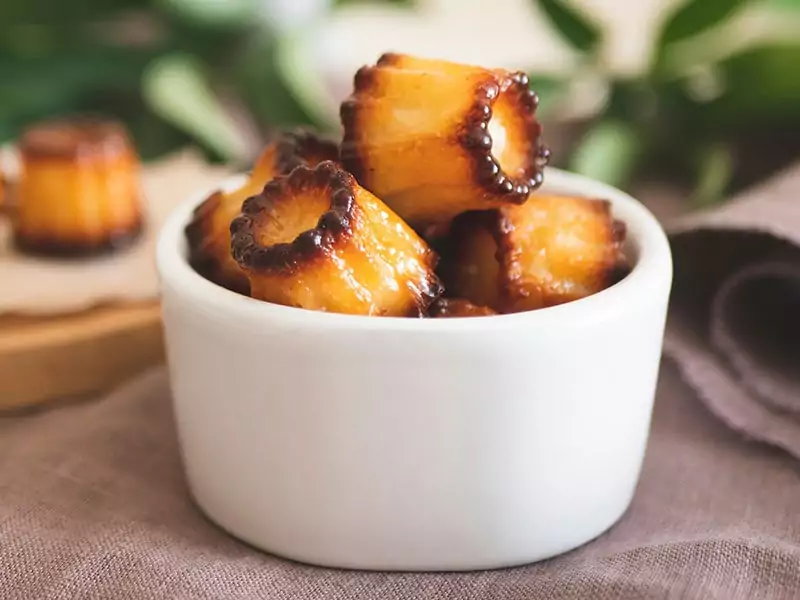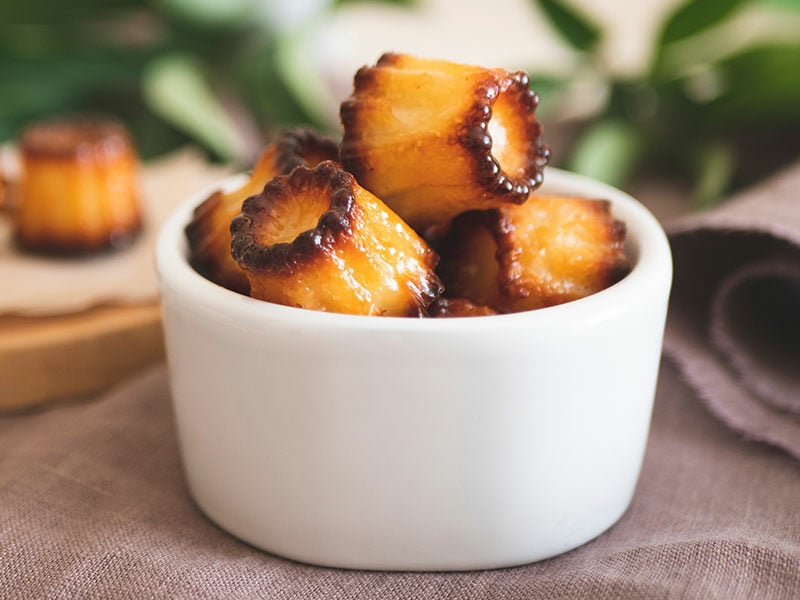 Are You Ready For These Classical French Desserts?
Don't think these classical French desserts are reserved for fancy parties only. You can also serve them in small friend gatherings or birthday parties, or even just for yourself.
Dishes Requiring Basic Baking Skills – With Fruits
Poire Belle Helene (Poached Pear With Chocolate)
Cherry Clafoutis
Galette
Lemon Tart
Charlotte Cake
Fraisier
Apple Tarte Tatin
Lemon Meringue Pie
Coeur a la Creme (Heart With Cream)
Dishes Requiring Basic Baking Skills – Without Fruits
Mille Feuille
Creme Brulee
Parisian Flan
Eclairs
Cream Puffs
Mousse
Palmiers
Financiers (French Almond Cake)
Madeleines
Meringue Cookies
Crepes
Baba Au Rhum (Rum Baba)
Dishes Requiring Advanced Baking Skills
Cannelés de Bordeaux (Caneles)
Macaron
Souffle
Truffles
Croquembouche
Opera Cake
There is still more knowledge about each dessert for you to find out in the below parts!
Even A Beginner Can Perfect Those French Classical Desserts
Classical French desserts may sound challenging and troublesome. But in reality, they can be easier than you thought. For example, crepes are one of them, and people make this treat all the time, right?
So, let's take a deep breath and start with those simple desserts!
First, Let's Get To Know These Famous Fruit Desserts!
Desserts with fruits have always been popular since forever, and even classic French ones are no exception. Do you want to deepen your knowledge of iconic French foods? Take a look at these recipes.
You can hardly find any dessert more classic than this. Born in Paris in the 19th century, this dish has captured people's hearts with its elegant look and refined sweetness. Its appearance alone is enough to elevate your dinner party to another level.
And nothing is better than a warm poached pear dressed in hot chocolate sauce, especially when served with vanilla ice cream. The differences in texture and temperature will make your guests keep on eating it.
Your poached pear with chocolate will taste like ones in a French restaurant. You can see this video to know more:
There's no surprise with a bunch of cherries in this dessert as it comes from Limousin, a region well-known for its black cherries. People also make this yummy Mediterranean dessert with different fruits like plums, apples, or pears. But in those cases, people will call it flaugnarde instead.
Some recipes prefer leaving the cherries unpitted as they will produce a more robust flavor. And the pits also prevent the juice from leaking out, coloring the whole cake. But if you want to go with that option, make sure you tell your guest beforehand.
If you want some desserts with a more rustic look, galette must be the answer to what you're looking for. Looking like a tart made by some clumsy bakers, this traditional French dish is beautiful in its own way with all the fruits visible to naked eyes.
You can choose whatever yummy French fruits for this dessert, for example, berries and pears in the spring or apples and pears in the autumn. No matter what you choose, galette will never disappoint you with its flavor.
If you're tired from all the sweets, this tangy lemon tart will undoubtedly wake up your palate. The secret to a satisfying but not oversweet lemon custard is the amount of butter you put in.
Too much butter can completely mute the lemon's sourness. If you want your tart creamier, you can opt for one or two tablespoons of heavy cream. The making process can be pretty tiring, but your effort will pay off.
I usually add toasted almonds and vanilla to my crust as their taste can complement the lemon's flavor.
Here is a full guidance for you to make an authentic lemon tart.
When summer comes, it calls for a chill, fresh dessert. Then, why don't you try your cooking skills with this Charlotte cake? This classic French cake consists of a mold lined with ladyfingers. That's why it needs to be chilled to retain the beautiful form when un-molded.
And after lining all the ladyfingers, bakers will fill the mold with different options: fruits, mousse, custard, or fruit preserve. Some unique Charlotte cakes, like apple versions, are baked after gathering all ingredients and served warm.
In French, "fraisier" means "strawberries," so now you know what this dish is all about, right? Fraisier was first created to contribute to strawberries since, at those times, France only had tiny wild strawberries available.
After that, as more berries are introduced to France, various versions of this cake are born. However, they earn different names, such as framboise for raspberry variants. Besides strawberries, fraisier also contains genoise sponge cake and mousseline cream.
Apple Tarte Tatin is one of the must-tries when autumn comes. There is something exciting in caramelized apple slices. Somehow, while transforming a new flavor, they still manage to keep all the apple taste.
After the apples, now all you have to take care of is the tart dough, which you can just buy ready-made in the store. Tarte Tatin is the tastiest when freshly baked, and you can serve it with some ice cream for some temperature change.
This apple tarte tatin is a beautiful way to use your ripe apples in autumn. You can see this video to know more:
This lemon meringue pie is pretty similar to the previous lemon tart, except for the meringue as a topping. The lemon filling is also a bit different. Made of lemon juice, lemon zest, it's thickened more so that this dessert with pie crust can hold its shape better when baking.
As for the meringue, you don't need to cook it. Just whip it until it peaks and bake it briefly. That way, the meringue still remains soft and airy, a contrasting texture to the crispy crust and smooth lemon filling.
Literally meaning "heart with cream," this dessert is one of your best choices for Valentine's. Admit it, who doesn't feel butterflies in their stomach when seeing a beautiful heart-shaped cake with bright red sauce.
Not to mention, this dish tastes even better than it looks. You can imagine a cheesecake with fresh fruit sauce. However, with this Coeur a la Creme, you can change the cake ingredients to your liking: cream, cream cheese, sour cream, or yogurt.
If You Don't Prefer Fruits In Your Desserts, These Ones Will Satisfy You!
Of course, not every dessert contains fruits in them. And I also have met several people who prefer their sweet treats without fruits. If you are one of those, you can consider these ideas below.
Despite its name (mille-feuille means a thousand sheets), this sweet treat includes only three layers of puff pastry and two layers of pastry cream in between.
Traditional mille-feuille has its top layer covered with powdered sugar only, but modern versions have garnished it with white icing and chocolate strips.
And the pastry cream also changed over time. Nowadays, you can find various types of mille-feuille that have fruits, commonly strawberries and raspberries, in the filling.
You don't want to buy mille feuille anymore if you follow this recipe:
There's so much to say about this food that begins with "C", from the creamy, velvety custard base to the sweet, slightly burned caramelized sugar. Or the way chefs torch the sugar surface right in front of the diners always excites me.
While it may look complicated, creme brulee is actually an easy-to-make dessert. You only need four essential ingredients to complete it: eggs, heavy cream, vanilla, and sugar. Creme Brulee torch is obviously the best choice, but you can swap it with your oven broiler. Nothing will change, I promise.
Also known as French custard pie, this dessert does look like a pie more than a flan. Maybe the reason lies in its vanilla custard filling. While some recipes make it thick and creamy like in a custard pie, others favor it being smooth and jelly-like, the same as other puddings.
Opposed to the velvety filling, you have a flaky tart shell on the outside and a burnt top for more flavors and textures. The best thing about the Parisian flan is it tastes delicious no matter if it's served hot or cold. So, you can make it way ahead and just enjoy it whenever you want.
Have you ever met someone who dislikes eclair? I guess not. How can someone not like this dough filled with cream, not to mention its glazed chocolate?
And even if they don't favor the traditional style, there are thousands of modern flavors for them to try. Simple variations can count for coffee, chocolate, or custard flavor. Or you can come to more unique ones with fruits and wine.
What's better than having a professional chef teach you how to make these eclairs? You can see this video to know more:
Classical cream puffs are made of French choux pastry and a sweet cream filling. While choux pastry sounds pretty fancy, it just requires these five simple ingredients: flour, eggs, butter, water, and salt.
And accompany this humble pastry is a moist, tasty filling. Traditionally, cream puffs are filled with whipped cream or pastry cream. But you are free to make your choice, from custard, cream cheese to pudding or ice cream.
Mousse has always been a favorite French dessert for its exciting texture. Depending on the chef, a mousse can be light and airy or creamy and thick. But most of the time, mousse is served cold to make it denser.
Aside from being a stand-alone dessert, mousse also appears in various sweet treats, such as a filling or topping on cakes. Among all variations, chocolate and fruit mousse are the most well-liked ones.
While French people often call this dessert elephant ears, I prefer its English name – little hearts – more. They are also a familiar face in many English tea parties thanks to their crispy texture and buttery flavor, extremely suitable to go with a cup of tea.
That texture comes from one of the palmiers' ingredients: puff pastry. This dessert can be made with 3 ingredients or less. Yet, it still boasts a crunchy and flaky texture, different from other kinds of bread like croissants. Classic palmiers contain nothing but that and a bit of sugar.
You can see this video to know more:
This humble almond cake once stirred all of France for its gold-like appearance. Its popularity also comes from its long storage life: Financiers can survive for a long time without any preservation method.
While traditional recipes require a rectangular mold, you'll see financiers in a muffin shape more nowadays. This is also a versatile dessert as you can add various ingredients to the batter, from nuts to seasonal fruits.
I have seen many people mistake this M-something food for cookies. However, this dessert actually belongs to the cake category. So, you can see them as cakes in cookie form. And instead of regular sponge cake batter, madeleines use genoise cake instead.
While they are warm, light, and buttery when freshly baked, cool madeleines lose all their strengths, especially their moisture. So you'd better bake them right before serving. They taste best with a cup of tea or coffee.
Meringue cookies are known for their various names: meringue drops, meringue kisses, and many more. But one name that has caught my eye is "forgotten cookies."
The reason behind this name is that these yummy French-originated cookies are baked at low heat for a very long time, to the point some may forget about them already.
However, some prefer the name "meringue kisses" more as these cookies remind them of their first kiss for its melt-in-your-mouth texture and light sweetness.
The secret to perfect meringue cookies lies right in here.
Can you believe one of your everyday treats is a classic French dessert? Well, now that happens with your crepes.
For those who still have no clues yet, crepes are like French thin pancakes. And same as pancakes, you can eat crepes in both sweet and savory styles. This tasty treat is considered a classic street food in France.
For the former one, you can serve crepes with just every sweet filling, from fresh fruits to whipped cream or even ice cream.
Those who haven't made crepes before might find the treat's thin texture challenging. However, with a user-friendly crepe maker, even a novice home chef can make top-quality crepes. So, don't let the dish's apparent difficulty hinder you from enjoying this tasty treat.
Despite its strange name, rum baba is a famous dessert not only in France but also in Poland and Italy. And no matter where, rum baba is still a small yeast cake soaked in hard liquor, commonly rum, and filled with raisin, whipped cream, or pastry cream.
Yes, you heard me loud and clear. These 5-centimeter tall cakes are made with liquor, and you can't leave it out. So, don't serve them to minors or alcoholic-allergic people. Also, if you can't handle wine flavor well, feel free to soak the cake with rum and vanilla at the same time.
6 Classic French Desserts Require Advanced Cooking Skills
If you have mastered all the advanced baking skills, why don't you try making these sweet treats? They can take more time and effort, but the results will surely bring a satisfactory smile to your face.
There are so many names to call this dessert: Cannelés, canelé, canales, etc. And to be honest, I don't know which is the correct one. So let's just go with canales in the meantime. While its name varies, its shape remains unchanged over time: A small cylinder with 5-centimeter height.
Thus, you'll need to buy a specialized mold to make this dessert. Sounds troublesome, but its flavor is really worth your effort.
Serve it with red wine or other delectable French drinks, and you'll get a fabulous dessert. A soft custard surrounded by a dark, crunchy caramelized crust, who could resist this sweet goodness!
Don't feel confident making these caneles? You've got this chef to help you!
Macarons are so famous that you can just walk into any bakery and buy a bag of them. However, that doesn't mean all macarons are equally delicious. I have met some macarons that are rock-hard, while some are crumbling before I even eat them.
So, yes, macarons aren't simple and require a particular delicacy to make. However, for the two crispy, crunchy cookies and a chewy, flavorful filling, it's totally worth the challenge. Also, don't limit yourself to the flavor. Feel free to create as many combinations as you want.
In terms of difficulty, this dessert doesn't lose to macarons. You can say these two are the two pillars for the refined group in French cuisine. Souffle got its name from the word "souffle," which means "blow" or "puff" in French. It refers to the rising action of souffle when baking.
And how to make your souffle rise beautifully is the challenge for every cook. But if you discard it and just focus on the flavor, souffle can be pretty easy to make. Just a few ingredients like eggs, flour, sugar, and vanilla extract are enough for a classical souffle.
Along with the macarons and souffles, truffles are one of the exemplary desserts of elegant French cuisine. Many people have once stopped on their tracks just to admire the beauty of handmade chocolate truffles.
While French truffles don't look as gorgeous as those commercial ones, but they require no less delicacy. After making the chocolate ganache, you must quickly roll it in your hand to make these spheres but not melt them before coating them in cocoa powder.
Your Valentine's will be much sweeter with these French truffles!
You'll be shocked at its sight just like I did the first time I saw it at my friend's wedding. A giant tower full of choux pastry puffs held together with threads of caramel. People would eat by using their forks to crack a choux out. And swirl some caramel on top of their choux.
While you don't need to make a giant choux tower in your kitchen, believe me, you can't pull off this dessert in a short time. You'll need to fill all the choux puffs, let them rest, and carefully pile them on top of each other.
It's better if you ask for some help from your mates to make this.
I think this dish is one of the fanciest desserts in French cuisine. Containing six layers of sponge cake soaked in espresso syrup, coffee buttercream, chocolate ganache, and a chocolate glaze, this dish promises a lot of work. And I mean, a lot!
Not to mention, if you are a perfectionist, don't forget to pipe the word "opera" on each slice's surface and garnish them with gold leaves or anything you can come up with. Thus, I recommend separating the work into two days so you won't mess up because of the rush.
Now, Let's Enjoy These Desserts Like A Parisian!
As you've read all of this information, classical French desserts are not as hard as you've thought, right? Also, don't hesitate to create your own versions with these sweet treats.
If you want to hold a sweet party full of French desserts, you can share this article with your family and friends so they can give you a hand. And feel free to write down all your thoughts about this theme in the comment section below.
Bon appétit!
Nutrition Facts
18 servings per container
---
Amount Per ServingCalories226
% Daily Value *
Total Fat 13.1g

20

%
Cholesterol 73mg

25

%
Sodium 179mg

8

%
Potassium 51mg

2

%
Total Carbohydrate 24.7g

8

%

Dietary Fiber 0.5g

0

%
Sugars 18g

Protein 3.4g

6

%
---
Calcium

53

%
Iron

1

%
Vitamin D

14

%
* The % Daily Value tells you how much a nutrient in a serving of food contributes to a daily diet. 2,000 calories a day is used for general nutrition advice.