French cookies cover everything from crumbly, chewy treats to wonderfully sweet bakeries. While they are not as popular as croissants, French cookies have a particular place in the hearts of cookie enthusiasts like you and me!
Besides the ultra-comforting Beef Burgundy and Chicken Cordon Bleu, these elegant, timeless, and magnificent French cookies can also elevate your snack break to a whole new level.
Whether you are in the mood for some delicious nibbles or want to infuse your afternoon with French tastes, there is always something exquisite for you, ranging from soft Macarons to savory Palmiers.
The fabulous thing is that you don't need to take a plane to France to sample these authentic cookies. You can transform yourself into a Parisienne right in your kitchen with the following easy recipes!
Without further ado, let's delve into these delectable cookie kinds and add a French flair to your baking!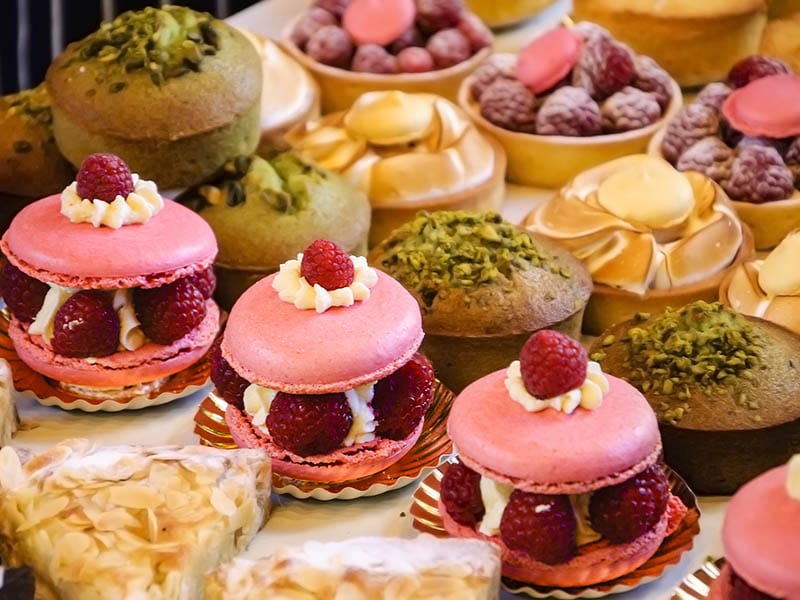 No matter how picky you are as a pastry enthusiast, you will have no difficulty falling in love with the following French cookies. These recipes can help you enjoy authentic French flavors right at home!
TOTAL TIME: 1 hour. (Preparation completes in: 40 minutes + Cooking finishes in: 20 minutes)
Macarons are properly one of the most iconic cookie recipes in French cuisine! Their crispy shells and soft filling have the potential to drive you insane.
Originally appearing in 1533 in Italy, Macarons got its name from the Italian term "Maccherone", which translates as fine dough. They were initially commissioned for the wedding of the Duke of Orléans, who subsequently became France's King Henry II.
According to food historians, Pierre Desfontaines invented the Macaron. He was the first to fill these cookies with a creamy ganache and adhere them together, transforming the essential almond cookie into a multi-purpose delight it is today.
Nowadays, this simple French Macaron yields the most delicate and delectable pastries that will glide into your mouth and vanish in seconds. Not only an exquisite gift for friends and family, but they are also the showstopper on any visitor's cookie plate.
Macarons are more than just cookies. They are a beautiful representation of French life, a symbol of balance and perfected pastry-making abilities.
You do not need to be a French cuisine master to make these delightful cookies. The crisp, chewy Macarons demand some attention to detail, but they are not difficult to make. And they are just divine for personal nibbling or gifting!
Discover your fail-proof Macaron recipe right here!
TOTAL TIME: 1 hour and 46 minutes (Preparation completes in: 30 minutes + Cooking finishes in: 16 minutes + Resting time takes: 1 hour)
As a diehard fan of both chocolate and Macarons, I cannot help skipping this incredible recipe. These decadent Chocolate Macarons are filled with dark chocolate ganache and are surprisingly easy to create!
Chocolate Macarons are one of those sweets that many people choose to purchase rather than prepare due to their perceived difficulty. However, make no attempt to be scared by this traditional variation.
These brown delicacies have a lightly crisp outer layer and a chewy, chocolaty filling. They are bite-sized, delectable delights that are ideal for wintertime. Put this recipe on your to-do list and prepare these little treats for your family and friends!
TOTAL TIME: 45 minutes (Preparation completes in: 30 minutes + Cooking finishes in: 15 minutes)
Here comes another brilliant version of Macarons. These delectable treats are brimming with pistachio buttercream, powdered sugar, heavy cream, and almond as the main ingredients.
Out of various Macaron variations, this recipe will properly be the favorite version of many people. It is simple enough to generate right in your kitchen, allowing your tastebuds to visit France without jet lag!
These soft and crunchy tiny cookies will surprise everyone as they won't believe your culinary abilities have reached an unbelievable level. The nuttiness of these Pistachio Macarons complements the creamy filling nicely!
If you need another reason to bookmark this recipe, it is that you can put these lovely cookies in an airtight container and refrigerate them for a few weeks! By this way, you can always serve your guests with mouthfuls of distinct pistachio taste anytime!
TOTAL TIME: 4 hours and 32 minutes (Preparation completes in: 20 minutes + Cooking finishes in: 12 minutes + Resting time takes: 4 hours)
When speaking of Madeleines, there is always an argument about whether they are cakes or cookies. In my opinion, Madeleines are a hybrid of these two delicious categories. In other words, they are delicate butter cakes that are often referred to as French cookies.
Regardless of how you classify these delicacies, these traditional Lorraine treats are unforgettable once you have sampled them! They are distinct for the crispy shell-shaped exterior and the subtle hazelnut taste!
After taking a bite, you will fall in love with its soft and sensitive cake-like filling! This opulent French idea also requires a dusting of sugar, making it more decadent and appealing! Dipping these treats in tea or coffee is how French people enjoy Madeleines!
Madeleines are believed to be named after Madeleine Paulmier, an 18th-century pastry chef who invented the treats for Stanislaw Leszczyński, Duke of Lorraine.
After his daughter, Marie Leszczyńska, brought Madelines to the Versailles Palace, the dish started to gain national renown.
Always serve these buttery Madeleines within an hour after baking for the most pleasing experience. It is not good to prepare them ahead of time as they lose moisture rapidly.
These melt-in-your-mouth Madeleines have the most amazing flavor!
TOTAL TIME: 30 minutes (Preparation completes in: 20 minutes + Cooking finishes in: 10 minutes)
These Gingerbread Madeleines are a delectable holiday variation on a classic French delicacy. Cinnamon, allspice, ginger, cloves, and nutmeg come together to provide a depth of autumn taste and colors to these exceptional Madeleines.
Crisp on the outside and delicate on the inside, their tastes and textures are ideal and appealing enough to win the hearts of those who bite! You can enjoy them for breakfast, afternoon, or simply dessert!
If you want to infuse a hint of sweetness into the cookies, pour a dab of vanilla bean glaze on top! You can also replace an equivalent amount of vanilla extract.
As they tend to get a little sticky with time, a good practice is to preserve them with parchment or waxed paper to prevent them from adhering together.
Gingerbread Madeleines are perfect when paired with a cup of tea or coffee. Without these delectable treats, your Holidays would be incomplete!
TOTAL TIME: 30 minutes (Preparation completes in: 20 minutes + Cooking finishes in: 10 minutes)
Many people believe that French cookies are so complicated to make at home as they require hundreds of steps. Yet, this is not entirely true! If you want to experience the simplest French cookie recipe, Palmiers are your go-to choice!
These French cookies call for only two primary ingredients: sugar and puff pastry. They have a rich, buttery flavor and thin, crunchy texture. They may seem basic, but their crispy taste and rich golden brown tint are not to be overlooked.
You will fall in love with the contrast of sugar crunch and pastry crunch, as well as how the flaky, buttery layers virtually melt on the mouth.
Traditionally, people construct Palmiers by folding the pastry's left and right edges to the center, then folding the dough in half lengthwise and sandwiching the initial folds within.
This gives the palmiers their unique "palm" or elephant-ear form when sliced into individual biscuits. It also gives rise to Palmiers' various, including Elephant Ears and Palm Leaves.
After the first bite, your visitors will be begging for more of these simple but delectable delights. You can easily enhance the tastes by spreading honey on top or serving the cookies with fresh fruit and ice cream.
TOTAL TIME: 1 hour and 30 minutes (Preparation completes in: 1 hour and 15 minutes + Cooking finishes in: 15 minutes)
If you are not in the mood for sweets but still want an indulgent snack, these Savory Palmiers are a hit. You can easily render this delectable savory variation by incorporating Brie cheese and cranberry jam inside the classic Palmiers.
If Brie cheese lends a creamy texture to these Savory Palmiers, cranberry jam imparts a tangy, red berry taste that you are sure to love. You may play around with various ingredients to build your dream snacks from France, such as caramelized onions and chopped walnuts.
These cheese nibbles are crowd-pleasing hors d'oeuvres at any celebration, either hot or cold. They are simple to prepare and extremely convenient, guaranteeing to be a big hit in your family.
TOTAL TIME: 1 hour and 19 minutes (Preparation completes in: 5 minutes + Cooking finishes in: 14 minutes + Chilling time takes: 1 hour)
Americans have Chocolate Chip Cookies, Australians have ANZAC crackers, and the French have … Sablé Bretons! Originated in Brittany's northwest area, they are deliciously crumbly and flaky, with a buttery texture that melts instantly in your mouth.
You will need egg yolks, confectioner's sugar, salted butter, flour, and baking powder to make these French-inspired butter cookies. You want the butter to be the star of this recipe, as the higher the quality of butter, the better the cookies.
Brushing an egg yolk on top will provide a lovely golden tint to these French delicacies, making them irresistible. The combination of egg yolks and butter generates a distinguished sandy texture for the cookies.
Interestingly, Sablé Breton was created for the first time in 1670 when Prince Condé's servant baked him some shortbreads for a feast. He called them Sablé in honor of the feast's hostess, the Marquise De Sablé.
There are many options when it comes to flavoring these butter cookies, such as with lemon or orange zest, almonds, or irresistible French cheese. Coating these cookies with sugar is an excellent technique to give a sweet textural layer for a crunchy bite!
Sablé Bretons are an excellent choice for a school event, bake sale, or "French-themed week". They can also be a simple sweet treat to accompany a cup of tea or coffee. Or alternatively, you can stuff them into a tin and send them to a friend or neighbor!
Sablé Bretons, Brittany's original cookies, are deliciously crumbly and flaky.
TOTAL TIME: 40 minutes.
November is an excellent time to begin thinking about Christmas presents, and gastronomic gifts are no exception. This is when Alsatian households prepare these adorable sweets called Bredele.
Bredele are little cookies usually baked in the French region of Alsace during the joyful Christmas season. They are available in many forms and tastes, including lemon, honey, and almond.
Although the earliest Bredele recipes extend all the way back to the 14th century, they gained popularity in the 18th and early 19th centuries, when cookie cutters were introduced into French kitchens.
Nowadays, people love to produce these traditional bite-size treats at home and keep them fresh in tin boxes until Christmas Eve, when they are served with tea, coffee, or Alsatian wines.
If you visit Alsace during other holidays, you may find Bredele at bakeries that offer seasonal cookies. Additionally, almost all Alsatian Christmas markets will sell Bredele for decorations or gift exchanges.
TOTAL TIME: 22 minutes (Preparation completes in: 10 minutes + Cooking finishes in: 12 minutes)
Langues De Chat, literally translated as Cat's Tongue, are crunchy French cookies that are usually long and slender, simulating the form of a cat's tongue. This delicious cookie is known in Indonesia as "Lidah Kucing", a straight translation of the original name.
These delicate cookies have a soft center and a crunchy exterior. They are reminiscent of tea cookies by being graceful, courteous, and delicate. They are tasty without being overpowering or forceful.
On their own, these piped cookies are delectable. Dip them in Mint Chocolate Ganache and sprinkle them with raw sugar is an excellent way to enjoy the cookies. Or, you can serve them with vanilla essence or a variety of other toppings.
Although the cookies are finest the day they are baked, any leftovers should be stored in an airtight container and consumed within two days.
Langues De Chat are crunchy cookies with long and slender shapes like a cat's tongue.
TOTAL TIME: 40 minutes (Preparation completes in: 15 minutes + Cooking finishes in: 25 minutes)
Palets De Dames are sure to be a crowd-pleaser! These crisp and buttery delicacies of Northern France and Belgium are available in almost every Pâtisserie, topped with apricot jam and lemony sugar frosting.
The cookies' name translates as "Ladies Pucks." The story behind the name features an 18th-century baker who was inspired to create these treats after seeing ladies playing a game with pucks at the Royal Palace in Paris.
He created cookies in the shape of pucks with frosting as shiny as the ladies' gowns. They all adored the cookies, which earned them the moniker Palets De Dame. Nowadays, these dainty cookies are a favorite snack served with afternoon tea.
TOTAL TIME: 25 minutes (Preparation completes in: 10 minutes + Cooking finishes in: 15 minutes)
Often known as Rose Biscuits, Biscuit Rose De Reims is a famous French confection, originally invented in the 1690s by a lady living in the heart of Reims. The term "Rose" relates to its color, not its taste.
These pink sugar-topped biscuits have a distinctive crispy texture, making them a great match for a cup of tea, Champagne, or local red wine.
The dish is quite simple to prepare and is an excellent way to wow your loved one or company. These pink biscuits are unique in that they remain firm and crispy after being dipped in a glass of Champagne.
TOTAL TIME: 25 minutes (Preparation completes in: 15 minutes + Cooking finishes in: 10 minutes)
French Toast Sugar Cookies are the best gift for cinnamon lovers. The recipe is straightforward to prepare, and the result is delicious cookies with a soft, pillowy texture characterized by their beautiful cinnamon and maple flavors.
They will be pretty soft when coming out of the oven. That is why the two-minute rest on the baking sheets before transferring to wire racks is critical. These cookies have a crisp outside border and a very soft inside. When cooled, they will be chewy throughout.
The final product will be a lovely cookie that is simple in appearance but carries a punch of French toast taste.
In only 25 minutes, you can have unbelievably excellent cookies that are simple in appearance but carry a punch of French toast taste for a magnificent French breakfast idea that no one can resist.
Serve them warm alongside a glass of milk or a cup of coffee. These delectable pastries will disappear from the dessert table in a flash!
TOTAL TIME: 45 minutes (Preparation completes in: 15 minutes + Cooking finishes in: 30 minutes)
Consuming cookies with your morning coffee has an air of decadence, childishness, and joy. Canistrelli is a famous Corsican dish ideal for such a custom. You can buy these cookies in specialty areas of Southern France's supermarket shops.
Canistrelli is crispy and flaky, with the key ingredient being olive oil. Its nutty flavor comes from dried fruit and chocolate. This basic delicacy works well with a cup of coffee or a glass of sweet wine.
TOTAL TIME: 1 hour and 30 minutes (Preparation completes in: 30 minutes + Cooking finishes in: 1 hour)
hile chocolate chip cookies originated in the United States, they have become a well-known treat around the world, including in France. Like its original version, this French twist is oh-so-soft and chewy! A true dream for chocolate chip fans out there!
Don't feel guilty when you can't stop yourself from anticipating the first bite into these warm, chewy, and crumble cookies during preparation. It feels like your taste buds are being assaulted in the most delightful manner!
Do you know what is more decadent than these French chocolate chip cookies? The answer is these warm cookies paired with a tall glass of milk to make an excellent breakfast. You can also transform them into a chocolate ice cream sandwich for dessert.
The glass of milk helps wash down the chocolate that adheres to the upper part of your mouth, guaranteeing your total consumption of these chocolate cookies.
TOTAL TIME: 60 minutes.
If you are searching for a festive delicacy to get you in the holiday spirit this season, look no further than these Boudoirs, or Ladyfingers. These cookies are similar to the popular Sablés Bretons but are shaped and frosted with care and expertise.
Boudoirs are dry, crunchy, elongated cookies with an oh-so-appealing appearance. They look so beautiful that you will be tempted not to eat them. Yet, once you do, you will be unable to stop!
Although these delicate and sweet-tasting biscuits are delicious on their own or with ice creams and sorbets, they shine when soaked in syrup and used as a component of more sophisticated French desserts such as Tiramisu, English Trifles, or the Charlottes.
Follow this instruction to provide these appealing Boudoirs to your family and friends.
TOTAL TIME: 20 minutes (Preparation completes in: 10 minute + Cooking finishes in: 10 minutes)
This is a recipe that you will use repeatedly. No one will complain if you bake these cookies every Christmas or even on a regular day! On the contrary, everyone will be vying for more of these luscious goodies.
Merveilles are the most exquisitely decorated French Christmas cookies you have ever seen! Traditionally, people purchase a number of them to put on the Christmas tree because they are so beautiful. They are more like ornaments than food.
Once your cookies are completely dried, you may store them in a tin container lined with tissue paper or wrapped in cellophane. They make beautiful Christmas presents!
TOTAL TIME: 30 minutes (Preparation completes in: 20 minutes + Cooking finishes in: 10 minutes)
Think of your finest chocolate pastry! I bet your chosen dish is still a long way from these incredibly fudgy Chocolate Meringues! These delectable Meringue kisses, created with cocoa powder and melted chocolate, include a delightful surprise in every bite.
The nicest part about this recipe is how easy it is to prepare these Meringues. These Chocolate Meringues are delicate and crisp on the exterior and incredibly fudgy on the inside. They melt in your mouth!
It is essential to use high-quality chocolate in these luscious, gooey cookies since the taste of the chocolate is what makes them so decadent. Plus, the fluffy and light texture is also what sets Chocolate Meringues apart!
With only a few ingredients, you may enjoy these Chocolate Meringues at your next family gathering, wedding shower, baby shower, or another occasion.
TOTAL TIME: 15 minutes (Preparation completes in: 10 minutes + Cooking finishes in: 5 minutes)
Also known as Lace Cookies, Florentines are not your typical cookies. They have a buttery, wafer-thin texture and a unique toffee flavor. Each mouthful delivers crispy pleasures and a delicious blend of sweet brown butter and caramel to your taste buds.
These French treats are distinctive for being both a cookie and a candy. You have nuts (usually hazelnuts and almonds) combined with candied cherries, honey, melted sugar, and then baked in the oven.
Sandwich two of these cookies together with a decadent Chocolate Ganache or Nutella before the enjoyment. These treats are a hit with everyone for an elegant afternoon tea or a great holiday gift. They are great when paired with a cup of coffee.
TOTAL TIME: 25 minutes (Preparation completes in: 15 minutes + Cooking finishes in: 10 minutes)
Let's add this delicious lemon dessert recipe to your pastry repertoire. You will go crazy with its buttery flavor and the delightful lemon filling. Generating them at home is straightforward, with just a few basic ingredients.
Like other luscious French cookies, Lemon Tea Cookies feature the appealing contrast of soft, chewy content with a crisp, sugary border. They are opulent, gently sweet, and delicate, with their bottoms being golden brown and crispy.
Lemon cookies are a delightful little treat. They are ideal for special occasions such as Mother's Day brunches, wedding showers, and baby showers. However, these cookies are brilliant for everyone who loves lemon. Both children and adults adore them!
You may also wrap them in gift boxes and give them as a homemade gift during the Christmas season!
TOTAL TIME: 28 minutes (Preparation completes in: 20 minutes + Cooking finishes in: 8 minutes)
Is there anything better than a waffle and a cookie combined? With simple baking techniques, you can effortlessly create and enjoy these chewy, rich, and buttery Galettes in no time.
These French Waffle Cookies are a crowd favorite, combining French and Belgian cuisine elements to create an ultra-indulgent dessert.
The wonderful thing about this recipe is its adaptability. While these waffle cookies are excellent on their own, they are also delicious when topped with fruit, syrup, or even Nutella for a nutty dessert.
French cookies are renowned around the world for their luscious, silky flavors and aesthetically pleasing appearances.
The category features everything for everyone! Chocolate Meringues and Macarons for chocolate connoisseurs. Gingerbread Madeleines for a perfect autumn dining table!
Let's pick up your baking hobby with your most adored recipe provided in this article. Show other readers and me your journey in generating such cookies by commenting below! And, check out my other posts on French cuisine for a deeper exploration!
Nutrition Facts
20 servings per container
---
Amount Per ServingCalories100
% Daily Value *
Total Fat 5.2g

8

%
Cholesterol 31mg

11

%
Sodium 40mg

2

%
Potassium 47mg

2

%
Total Carbohydrate 12.5g

4

%

Dietary Fiber 0.2g

0

%
Sugars 7.6g

Protein 1.3g

2

%
---
* The % Daily Value tells you how much a nutrient in a serving of food contributes to a daily diet. 2,000 calories a day is used for general nutrition advice.