Suppose you think French cheeses are limited to Brie, Roquefort, Camembert, and something alike Cheddar or Gouda at the local supermarket while on vacation. In that case, you are missing out on this magnificent category!
Paris is named "Ville Des Fromages" (Cheese City) for a reason. Nobody knows for sure how many cheese varieties exist in France. According to the most recent estimates, there are around 1,600 distinct kinds.
While there are far too many French cheese variations to browse, there is always a kind that suits you! In this article, France's Fromage (cheese) is divided into six broad categories: fresh, soft, semi-soft, hard, blue, and goat's milk.
Read until the end as I have prepared some bonuses for you! Without further ado, let's dive deep into the massive world of French cheeses!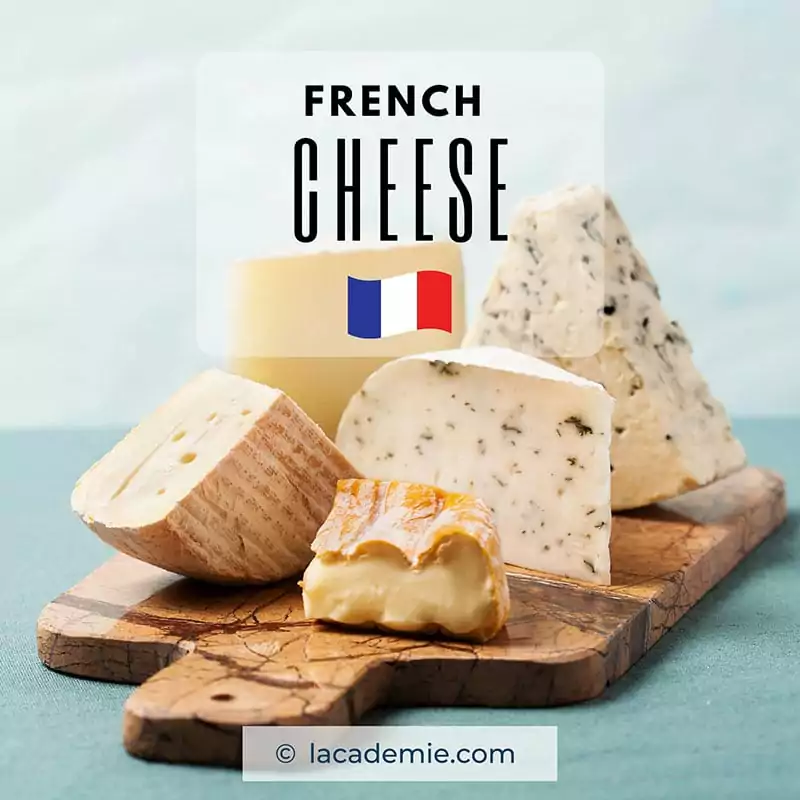 8 Versatile Fresh French Cheeses
Fresh cheese is no-rind cheese in its simplest form with high versatility, allowing it to pair well with savory meals, spices, and fruit. Almost every region of France has its own fresh cheese type. Let's discover eight main French fresh cheeses below.
Here is a quick summary table regarding fresh French cheeses for you to grasp the overall information before indulging in details later on.
| Fresh Cheeses | Region | Flavor | Texture | Composition |
| --- | --- | --- | --- | --- |
| Boursin | Croisy-sur-Eure | Buttery, herbaceous | Creamy, spreadable | Pasteurized cow's milk |
| Le Roulé | Rians | Sweet, spicy, tangy | Smooth, creamy, spreadable | Pasteurized cow's milk |
| Petit Suisse | Normandy, Auvilliers | Sour, sweet, mild, tangy | Thick, smooth, creamy | Cream-enriched cow's milk |
| Fromage Blanc | Northern France | Citrusy | Creamy, spreadable | Pasteurized cow's milk |
| Fromage Frais | Northern France | Acidic, milky, tangy | Creamy, smooth, spreadable | Whole or skimmed milk |
| Faisselle | France's center region | Milky, fresh, fuzzy | Very soft | Raw milk |
| Cabécou d'Autan | Midi-Pyrénées region | Nutty, delicate | Tender, creamy | Unpasteurized goat's milk |
| Brocciu | Corsica | Sweet, milky | Creamy, crumbly | Pasteurized sheep's or goat's milk |
1. Boursin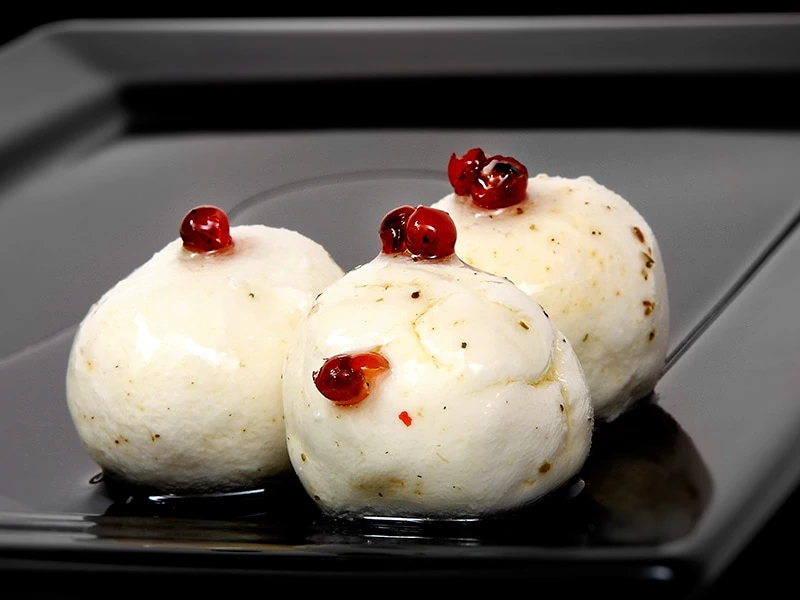 Boursin is one of the most popular fresh cheeses consumed in France. This cheese from Gourney En Bray in Normandy has its distinct creamy flavor.
This French cheese is often seasoned with fragrant herbs and spices, resulting in a wide array of varieties. Garlic and fine herbs, shallot and chive, fig and walnut are a few examples of this broad group.
People love to spread it over toast or pair it with wine (such as Rosé De Provence) for extra cheese freshness compliment.
Boursin is also an effortless French cheese you can generate at home.
2. Le Roulé
Although not entirely on the same level as Boursin, Le Roulé is also a fresh, creamy goat's cheese flavored with garlic, herbs, and peppers, or even cranberries.
It was crafted for the first time in the 1980s by Fromagerie Triballat in France's center region.
Le Roulé is an excellent option for breakfast. People also enjoy it as an appetizer or pair it with a dry Champagne.
3. Petit Suisse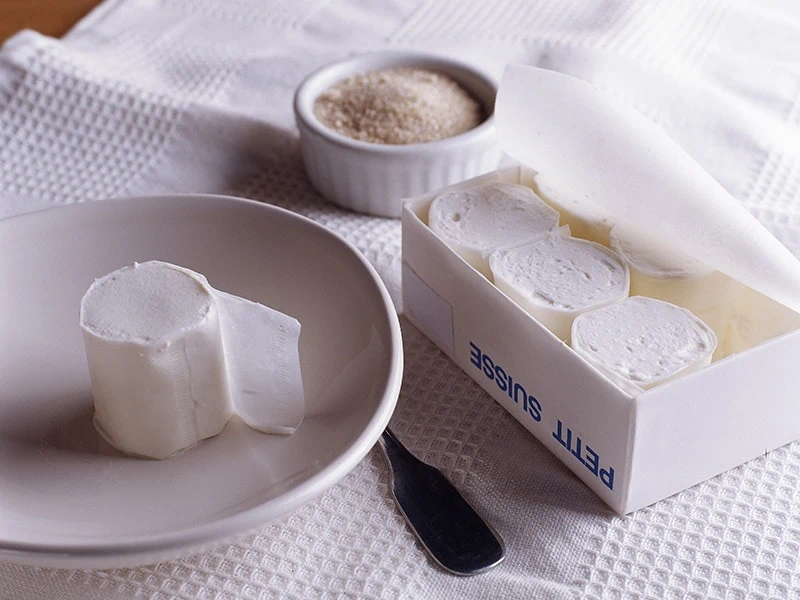 Despite its moniker, Petit Suisse (meaning Tiny Swissman) is not a Swiss cheese. Made in Normandy in 1850, this soft, fresh cow's milk cheese is smooth and creamy in texture while having a moderate taste with sweet, sour, and acidic undertones.
Petit Suisse is ideal when served with honey, fruit preserves, sugar, and nuts. However, others like to season it with pepper and fresh herbs. A Swiss worker at the Auvilliers dairy also proposed adding cream to the curd to enhance its taste, and he was right!
4. Fromage Blanc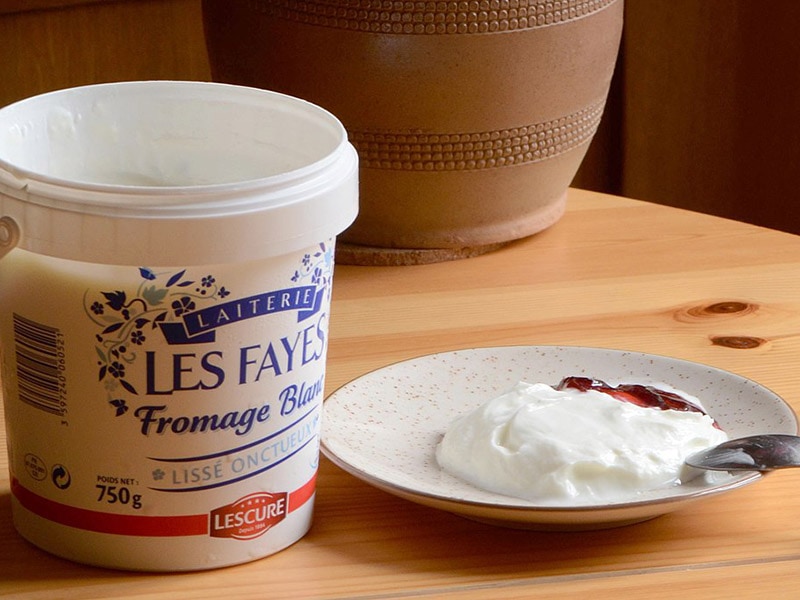 It is easy to mistake Fromage Blanc with the above Fromage Frais. The former includes no living cultures because the fermentation process is halted, while the latter has living cultures.
For that reason, Fromage Blanc has a delicate and spreadable texture, which highly resembles the Philadelphia cream cheese. Also referred to as Maquée, its hometown is France's northern region with a name translated as "white cheese" in the local language.
This French cheese will fill your mouth with fresh scents and light, lemony tastes. It is popular to serve Fromage Blanc with caviar, fruit, or jams as a dessert. Or, you can flavor it with herbs and use it as a pastry filling. Spreading it over toast is brilliant, too!
It also complements sparkling white wines and fortified wines excellently!
5. Fromage Frais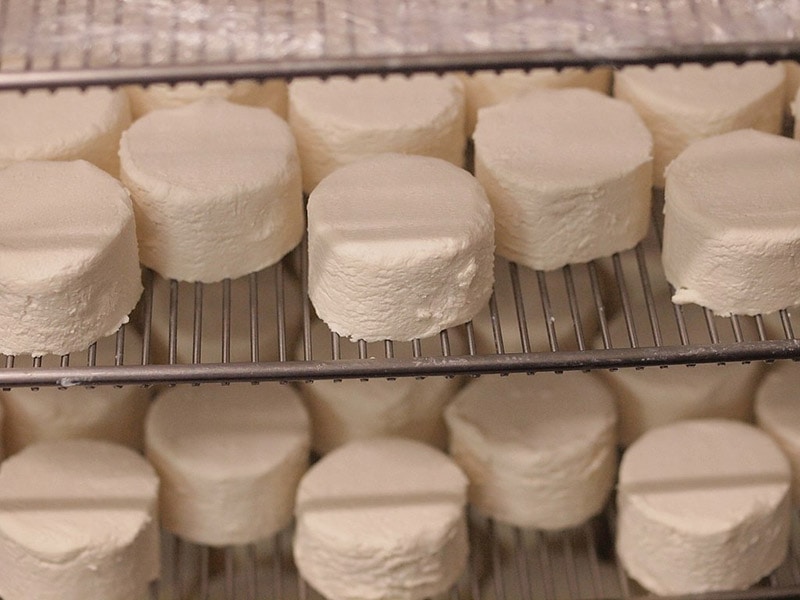 Fromage Frais is a fresh French cheese prepared whose texture is silky and creamy, similar to yogurt. It tastes like many cream cheese variations but is significantly lower in fat.
All is accomplished by using whole or skimmed cow's, goat's, or sheep's milk supplemented with cream.
Typically, Fromage Frais is ideal for sweets and after-school snacks, such as whipped cream Fromage Frais with fruit.
6. Faisselle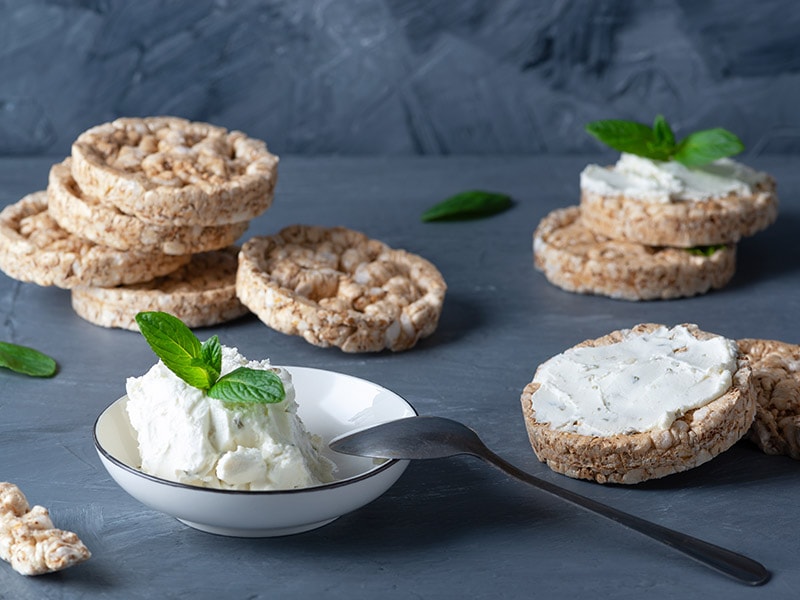 Faisselle is a fresh French white cheese variety. Typically, it is produced from cow, sheep, or goat milk. Due to the cheese's soft, delicate texture, it is often offered in a plastic mold called a faisselle, thus giving the cheese's name.
Faisselle may be served savory with salt, pepper, and shallots or enjoyed sweet with almonds and honey. Additionally, the cheese is also great for tarts and cakes.
7. Cabécou d'Autan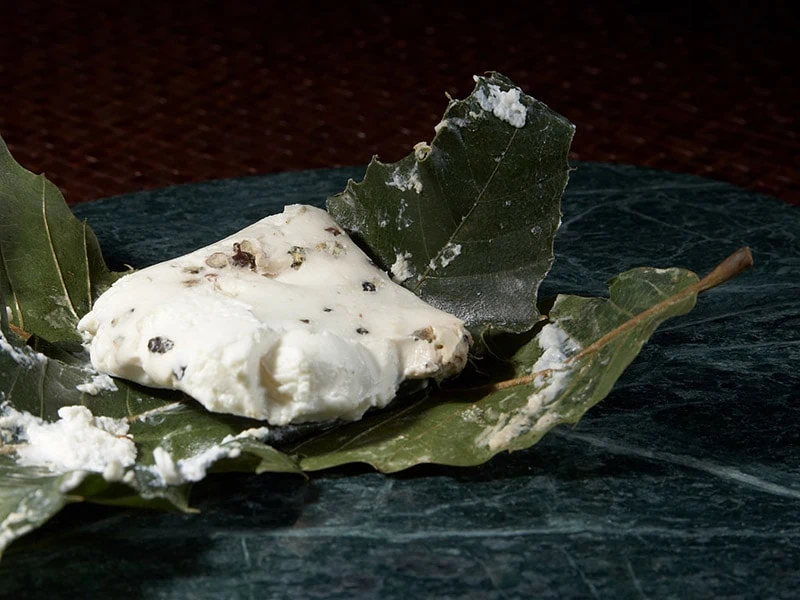 Cabécou d'Autan is a tiny spherical goat's cheese from Périgord, France's Southwest region, that explodes with flavors in your mouth. Its name derives from the Occitan words "Cabra" (goat) and "Fromatjon" (little cheese), which are then combined to form "Cabécou".
The cheese is soaked in plum brandy, aromatized with black pepper, and wrapped in chestnut leaves (like Banon).
This little goat cheese type has a delicate, bloomy rind and is made from goats reared in the Quercy and Rouergue districts. After around two weeks of aging, blue mold begins to grow on its thin rind. Besides, it also has a creamy and smooth texture.
8. Brocciu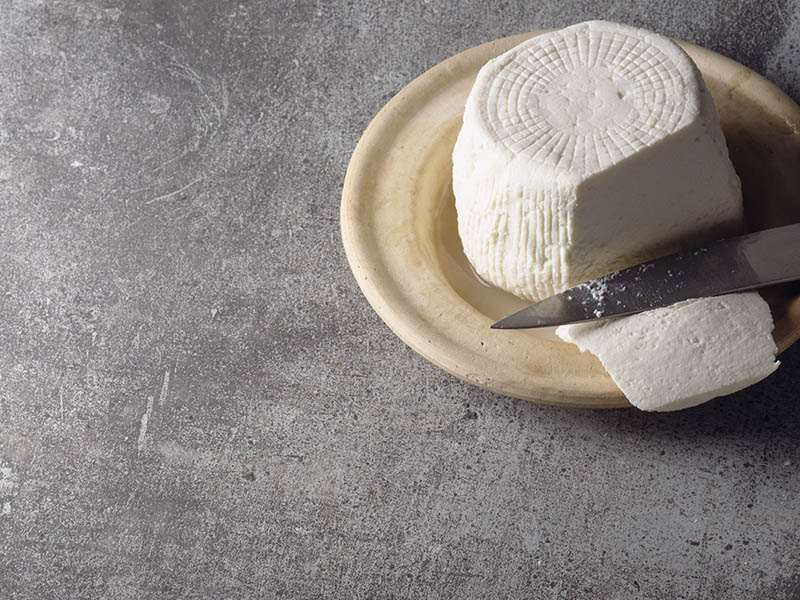 If you are acquainted with Italian Ricotta, Brocciu is its Corsican counterpart. Basically, it is a lactose-free cottage cheese prepared from unpasteurized goat milk and whey.
The term Brocciu derives from the French word "brousse", referring to a Provencal fresh cheese. It has a smooth, creamy, and crumbly texture, a mild and milky flavor, with a fat content of between 40% and 50%.
If consumed young and fresh, drain it using cheesecloth or a sieve to eliminate extra moisture. Brocciu is ideal for making omelets, baked goods such as pastries, and soups.
26 Creamy Soft French Cheeses
Soft cheese kinds are unpressed varieties with a white rind and a yellow-cream interior. This group is perhaps the most prominent category on the list, with Camembert and Brie being the most well-known kinds.
Before diving into this huge category, let's have a look at this quick summary table.
| Cow's Milk Or Sheep's Milk Soft Cheeses | Region | Flavor | Texture | Composition |
| --- | --- | --- | --- | --- |
| Camembert | Normandy, Camembert | Buttery, milky, sweet | Chalky, soft, runny | Unpasteurized cow's milk |
| Brie | Seine-et-Marne | Fruity, nutty, tangy | Buttery, soft-ripened | Unpasteurized cow's milk |
| Munster | Vosges, Haut-Rhin | Tangy, savory | Sticky, smooth | Unpasteurized cow's milk |
| Pont l'Évêque | Basse-Normandie | Full-flavored | Creamy | Pasteurized or unpasteurized cow's milk |
| Époisses | Côte-d'Or, Époisses | Salty, spicy | Chewy, firm | Whole cow's milk |
| Livarot | Normandy, Livarot | Citrusy, nutty, spicy | Creamy, springy | Pasteurized or unpasteurized cow's milk |
| Maroilles | Picardy and Nord-Pas-de-Calais | Lemony, nutty, mushroomy, sweet | Creamy, smooth | Pasteurized or unpasteurized cow's milk |
| Cure Nantais | Anjou | Smokey, spicy | Supple, sticky | Cow's milk |
| Soumaintrain | Burgundy | Salty, mild, sweet | Smooth, creamy | Unpasteurized cow's milk |
| Saint Marcellin | Isère, Rhone-Alpes | Mushroomy, fruity, nutty | Fluffy, creamy | Pasteurized or unpasteurized cow's milk |
| Saint André | Coutances, Normandy | Tangy, buttery, salty, sour | Dense, creamy | Pasteurized or unpasteurized cow's milk |
| Saint Félicien | Rhône-Alpes | Creamy, sour, fruity, nutty | Creamy, soft-ripened | Pasteurized or unpasteurized cow's milk |
| Coulommiers | Coulommiers, Seine-et-Marne | Buttery, nutty | Creamy | Unpasteurized cow's milk |
| Neufchâtel | Haute-Normandie, Neufchâtel-en-Bray | Mushroomy, salty, nutty, sharp | Close, grainy, firm, spreadable | Pasteurized cow's milk |
| Langres | Champagne-Ardenne | Mild, salty | Firm, crumbly | Pasteurized cow's milk |
| Cancoillotte | Franche-Comté | Buttery, acidic | Thick, creamy | Cow's milk |
| Saint Agur (Blue Cheese) | Auvergne | Sharp, salty, spicy | Smooth, spreadable | Pasteurized cow's milk |
| Bresse Bleu (Blue Cheese) | Bresse, Burgundy | Buttery | Creamy | Pasteurized cow's milk |
| Rochebaron (Blue Cheese) | Auvergne | Creamy, mushroomy | Creamy | Pasteurized or unpasteurized cow's or sheep's milk |
| Goat's Milk Soft Cheeses | Region | Flavor | Texture | Composition |
| --- | --- | --- | --- | --- |
| Mont d'Or | Lyon | Salty | Firm | Unpasteurized goat's milk |
| Selles-Sur-Cher | Sologne | Salty | Firm | Unpasteurized goat's milk |
| Rovethym | Provence | Spicy | Soft | Goat's milk |
| Valencay | Berry, Loire Valley | Citrusy | creamy, runny, soft-ripened | Unpasteurized goat's milk |
| Banon | Banon | fruity, robust, woody | Smooth, creamy, sticky | Unpasteurized goat's milk |
| Pelardon | Languedoc | Acidic, fruity | Creamy | Unpasteurized goat's milk |
| Picodon | Ardèche and Drome | Full-flavored, sweet, sour | Crumbly, firm, smooth | Unpasteurized goat's milk |
Cow's Milk Or Sheep's Milk Soft Cheeses
Prepare yourself as this part includes quite a large number of soft cheeses made from cow's milk or sheep's milk. This category forms an indispensable connection with French cuisine!
9. Camembert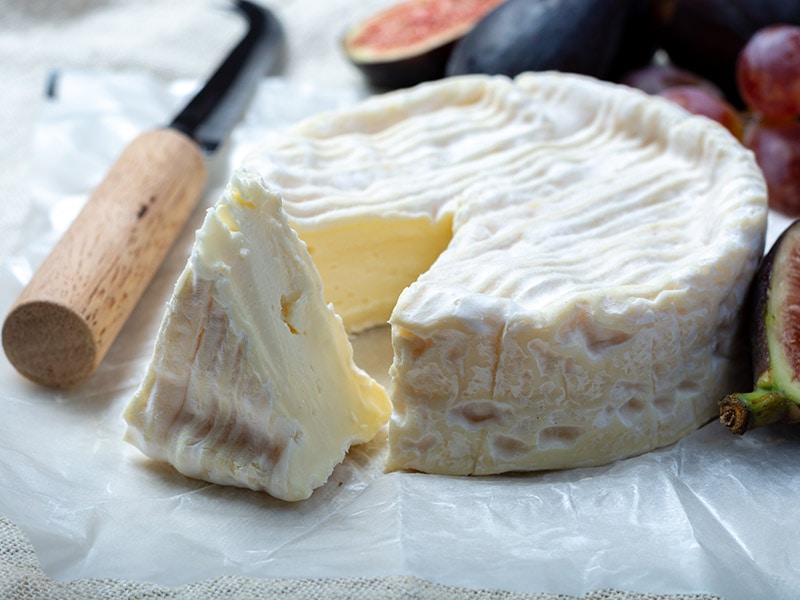 Invented in Normandy in 1791 in Camembert hamlet, Camembert (or Camembert De Normandie) is one of France's most renowned cheeses. During World War II, it gained widespread popularity when it was included in military rations.
Camembert is often packaged in a circular wooden box and has a pale yellow inside with a whitish rind. It emits a pungent odor that is somewhat rotten, salty, grassy, earthy, and fruity. Once you open the box, the flavor intensifies.
A young Camembert cheese will be hard and dry, while a ripe Camembert should be somewhat soft on the interior but not runny. An overripe Camembert will have its exterior becoming yellow and smell strongly. Typically, people also consume its crust.
So, a good practice is to consume the French cheese immediately. Serve it melted with crust bread, a pinch of rosemary, and walnuts. Alternatively, you can pair it with a strong Anjoy Gamay or Chinon wine.
Although many of today's cheeses are marketed as Camembert, they are a far cry from this authentic French type. After visiting France and tasting the genuine Camembert, you will never look at those pasteurized, manufactured cheeses the same way again!
Let's travel to the village of Bermonville in Normandy and learn more about Camembert!
10. Brie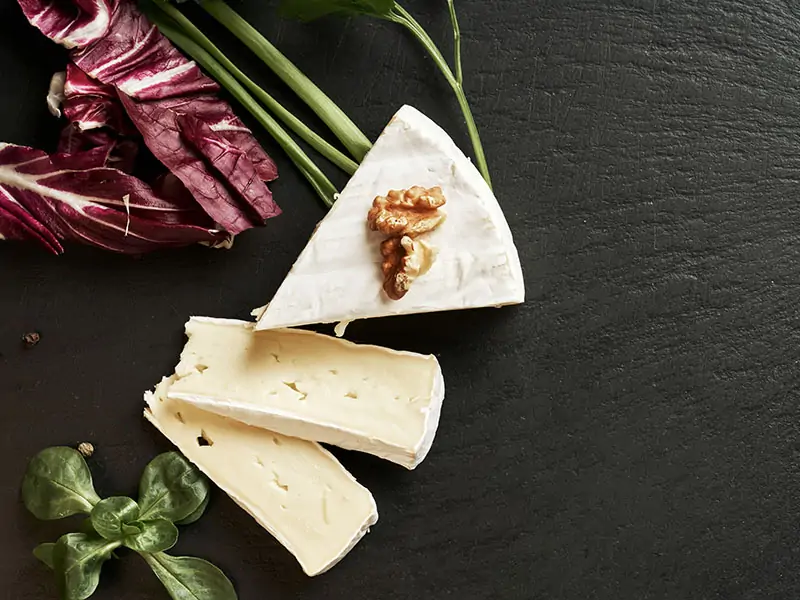 As with Camembert, Brie is the progenitor of all soft cheeses. This soft, flat-formed cheese is perhaps the best introduction to French cheeses for those with no prior experience.
Those who dislike intense cheese flavors will love Brie for its mild aroma, mellow texture, and delicate white crust. Due to the distinctions in the aging, draining, and molding processes, there are two Brie varieties: Brie De Meaux and Brie De Melun.
The former is somewhat bigger and milder in taste than the latter, which are the primary signs to distinguish between the two. Although there are other Brie kinds, only the two varieties above receive the official certification from the French government.
Allow Brie cheese to come to room temperature before serving to truly enjoy its array of tastes – moldy, mushroomy, nutty, and fruity. Nowadays, Brie is available in various flavors (from herbed to blue) and is often paired with fruit to complement its flavors.
11. Munster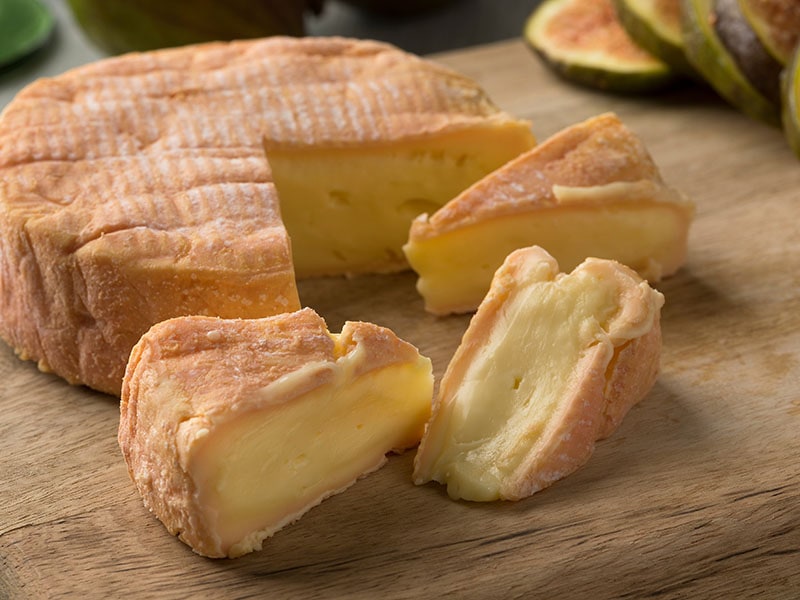 Although the moniker sounds German, Munster is actually a French cheese that is soft, rind-washed, and made from raw cow's milk. It is renowned for its intense aroma and soft, smooth center, which has a consistency similar to melting chocolate.
When peeling away the brick-red or orange skin, you will expose Munster's golden and scarcely sweet inside.
Initially, there were two variations of Munster: one made in Alsace called Munster and the other made in Lorraine named Gerome. In 1978, the two variations were merged to form the Munster everybody knows today.
Legends said that monks of the "Monasterium Confluentes" invented Munster in the 7th century to preserve milk while also feeding people. The earliest documented reference to Munster preparation is the Marquard Treaty (1339).
Did I inform you that this French cheese is powerful? Even if you choose an unripe one, its taste can still smack you in the face. A good piece of advice is to try it in a Quiche if you are new to Munster. Alternatively, you can enjoy it with an Alsatian wine.
12. Pont l'Évêque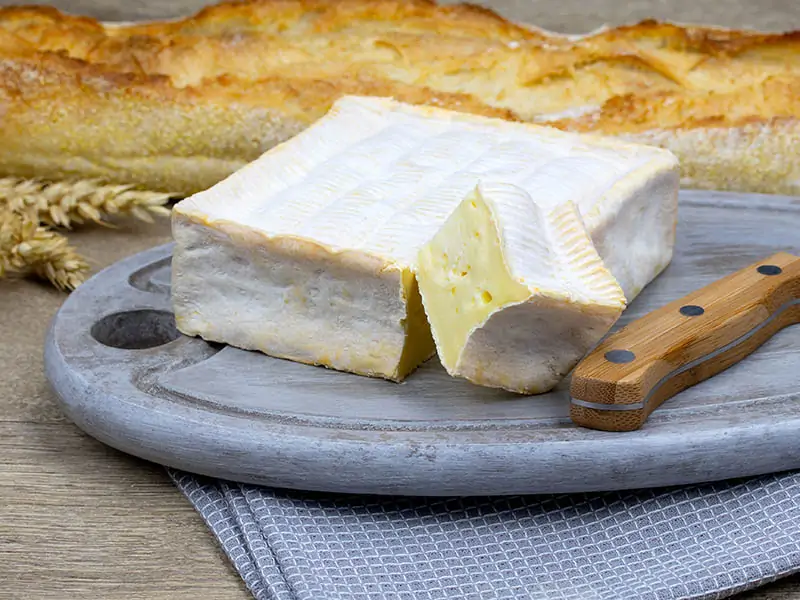 According to a 12th-century chronicler ("Roman De La Rose" by Guillaume De Lorris), "Good food always included Angelots cheese for dessert", which is the traditional name for Pont l'Évêque cheese.
Like Camembert and other Normandy-originated cheeses, this soft, rind-washed cheese comes in smaller, square-shaped chunks.
For those who don't know, this creamy soft cheese kind from the coastal area of Deauville is one of Normandy's oldest cheeses still in production today. Its first appearance was in the 12th century.
The cheese has a strong flavor and may get rather nasty if left open for an extended period of time. To conclude a fantastic meal with Pont l'Évêque, cut open this adorable orange square and watch the creamy paste seep out in a spectacular fashion.
Consume the whole thing, including the rind. Its delicate and sweet-sour taste is truly a magnificent work of art! You can pair it with Champagne, Pinot Noir, or Gamay. Another suggestion is to sandwich the cheese with pears to make an excellent lunch!
13. Époisses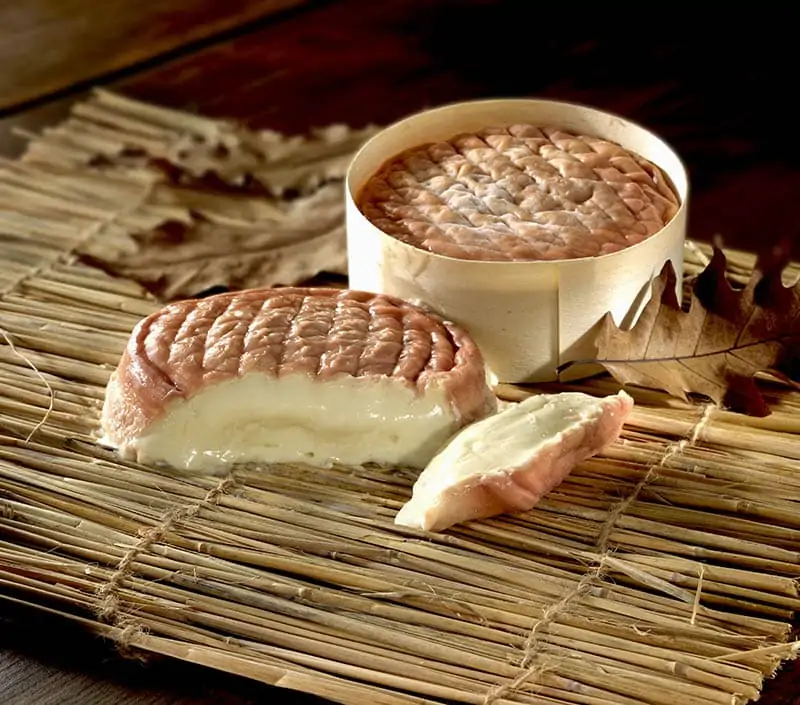 Did you know Époisses is Napoleon's favorite cheese, which he often paired with his preferred Burgundy wine, Chambertin? It has a powerful scent, an exceedingly delicate texture, and a beautiful blend of salty, sweet, and spicy tastes.
According to the BBC, the cheese is so pungent that it has been banned from public transportation in France. Its natural, brick-red glossy rind forms when washed with water containing Marc De Bourgogne throughout the aging process.
This most renowned cheese in Burgundy was made in the 16th century by a Cistercian monastic community founded in the hamlet of Époisses. Like other rind-washed cheeses, the hue varies from yellow to orange on the outside, while the inside is white.
14. Livarot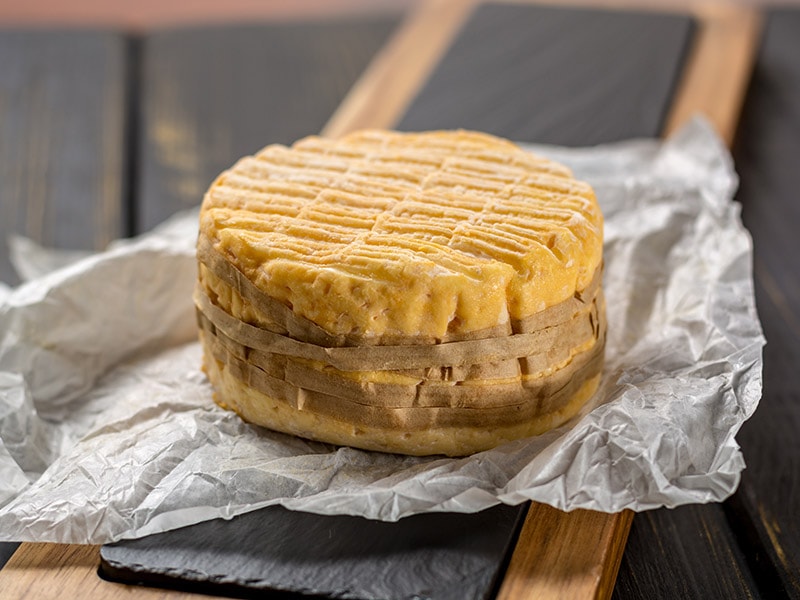 Smooth and creamy, Livarot is another brilliant cheese from Normandy. Indeed, it is arguably the greatest among Normandy-originated variations with its wide spectrum of tastes, ranging from nutty to spicy and lemony!
A round of Livarot is normally 450 grams in weight, coming in cylindrical shape and orange rind wrapped in three to five rings of dried reedmace. Since these rings resemble the stripes on a colonel's uniform, Livarot is also nicknamed "colonel".
It is ideal to sample Livarot from May to September after it has undergone six to eight weeks of the refining process.
If you don't pay close attention, Livarot will dissolve in your mouth before you even realize it. Accompanying it with a regional brandy named Calvados is a nice piece of advice.
15. Maroilles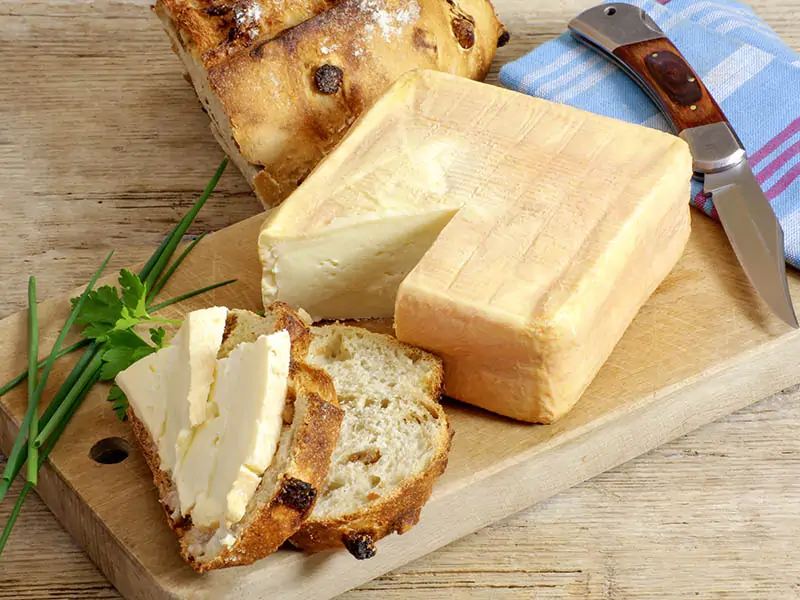 Initially appearing in the 7th century, Maroilles was developed by a monk of the Landrecies abbey. It was called "Craquegnon" in the Middle Ages and was used to pay the tithe.
You can recognize Maroilles from its soft orange-washed rind and rectangular shape. It has a robust aroma that resembles a smoked bacon flavor.
According to legends, this silky, sticky cheese and its bacon-like taste make it ideal for cooking. For example, Tarte Au Maroilles is a simple hot pie from Northern France prepared mostly with this cheese.
As Maroilles originates from an area that produces no wine, it is safe to match it with a Belgian beer such as Affligem.
16. Cure Nantais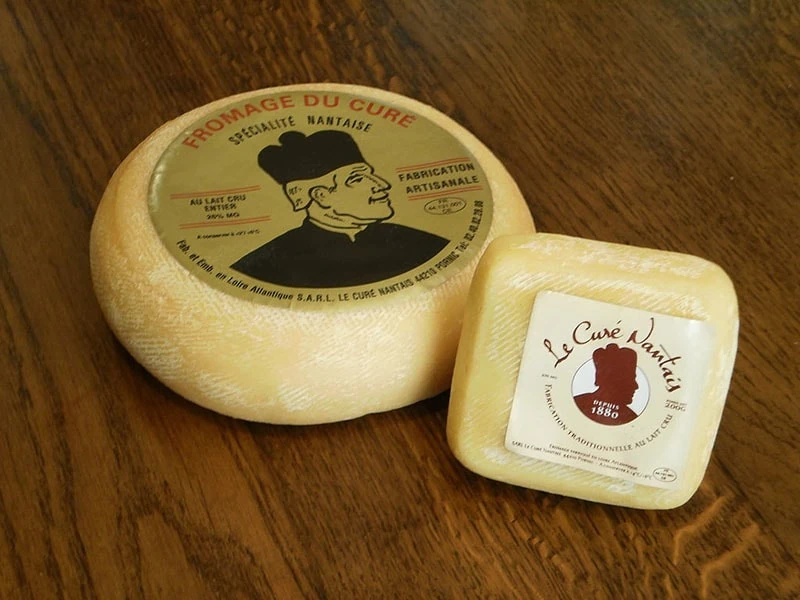 In 1880, a priest named Pierre Hivert developed a cheese called "Regal Des Gourmets" in a little town near Nantes. The cheese then became a monument to the holy man known as Cure Nantais.
Another Cure Nantais' moniker is "priest cheese". It is a cow's milk cheese featuring a moist, washed rind. It is available in various shapes, three of which are: a large circular model, a rounded-corner square model, and an undersize model aged with Muscadet.
17. Soumaintrain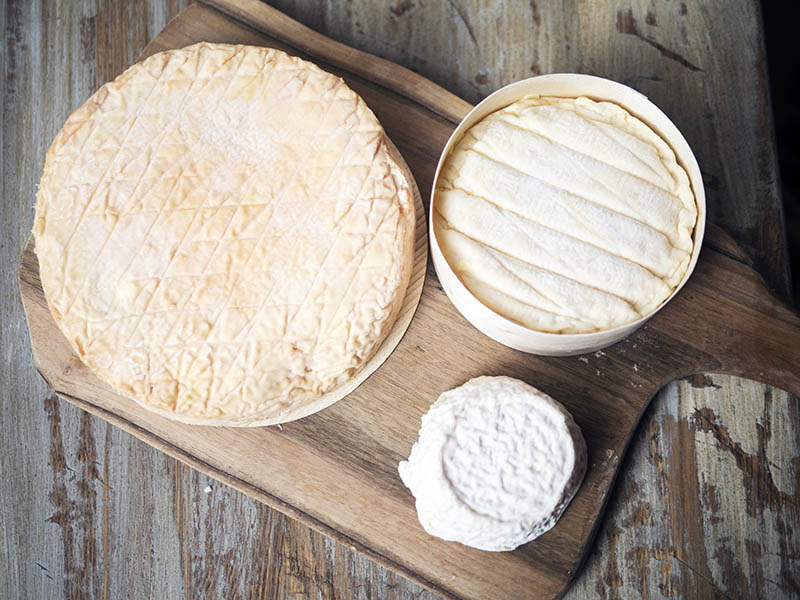 Soumaintrain is bursting with flavors! This rind-washed cow's milk cheese is Époisses' cousin with strong scents and moderate tastes. Its rind is smooth and delicate. Thus, the French often present the cheese in a wooden box to preserve the thin rind.
Soumaintrain's rind is washed for several weeks in a brine solution and Marc De Bourgogne to introduce beneficial bacteria to it and enhance the cheese's characteristic aroma.
A young Soumaintrain is hard in the middle and features acidic and lactic notes. Yet, a five to six-week-old Soumaintrain will be oozing and creamy, having a deeper, nutty, almost meaty flavor, which resembles hickory-smoked bacon.
18. Saint Marcellin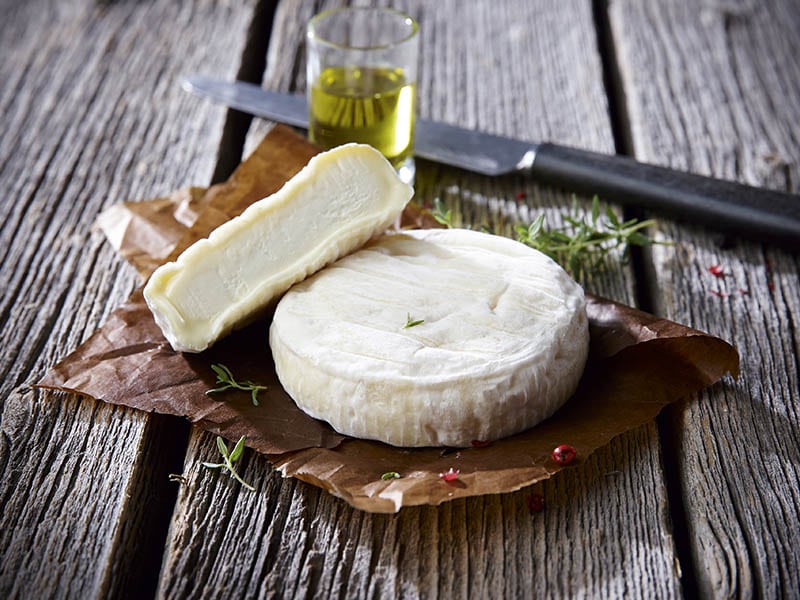 Made in the Rhône-Alps area of France, Saint Marcellin is one of those few cheeses that tastes good at various aging stages. As this cheese matures, its taste improves. It is still hard and sliceable after two or three weeks, with citrus, salt, and grass notes.
However, after five or six weeks, Saint Marcellin exhibits more barnyard, nutty characteristics and turns wonderfully oozy in texture. Therefore, the French have to sell it in small pottery crocks to prevent the runny interior from bursting through the thin rind.
19. Saint André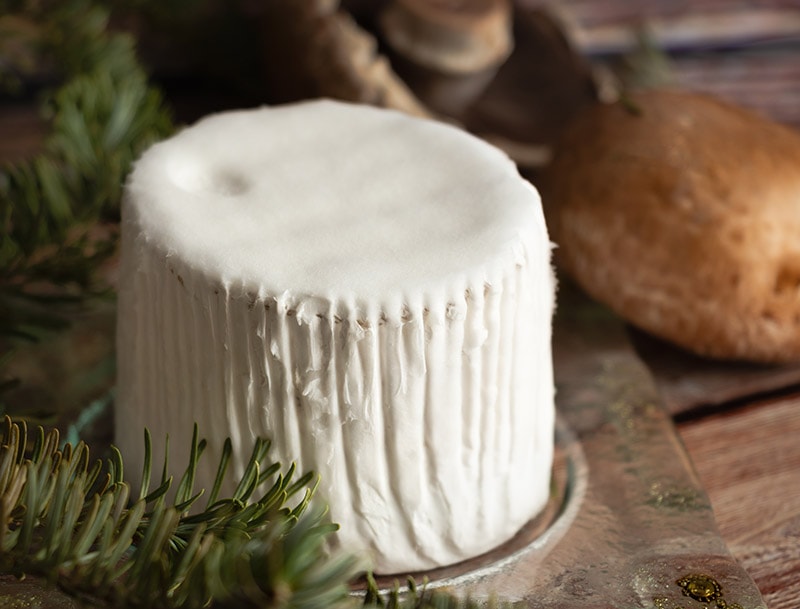 Often referred to as the "Heavenly cheese", Saint André is a triple-crème cow's milk cheese produced in France. It originates in the Normandy area of Coutances.
Underneath its bloomy edible skin lies a deep, creamy-textured body with gentle and rich scents that best define themselves as sour, acidic, buttery, and salty.
Due to the use of heavy cream, it has a high-fat level (often 75 percent). Pairing Saint André with crusty bread, pear slices, or a glass of light, fruity Rosé is how true Parisians enjoy the cheese.
20. Saint Félicien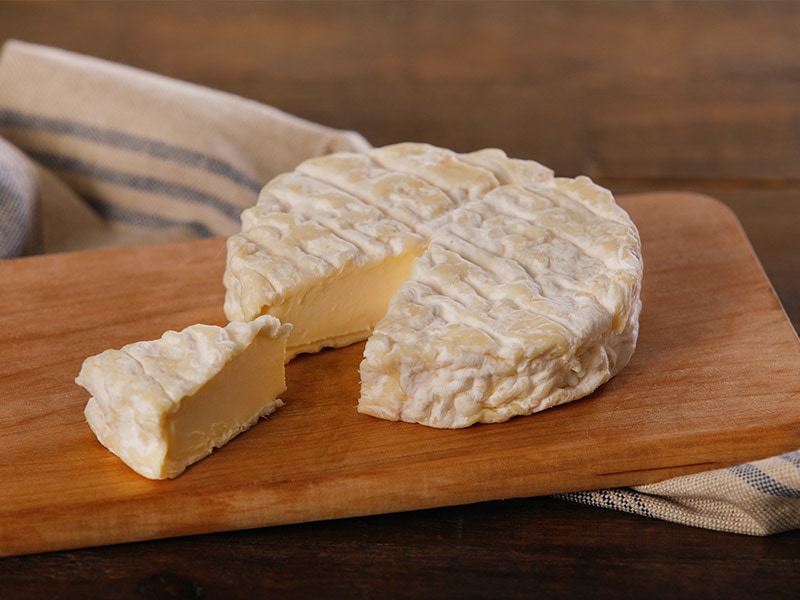 Saint Félicien is a soft French cheese from the Rhône-Alpes area. The cheese is created from cow's milk, giving it a creamy texture with fruity, tangy, nutty, and buttery tastes.
It produces a bloomy exterior with very distinct mushroomy scents that contrast significantly with the cheese's characteristics during the maturing process.
Due to the cheese's fragility, Saint Félicien is sometimes packed in little clay pots. It goes well with crusty baguettes, olives, and a glass of red wine.
21. Coulommiers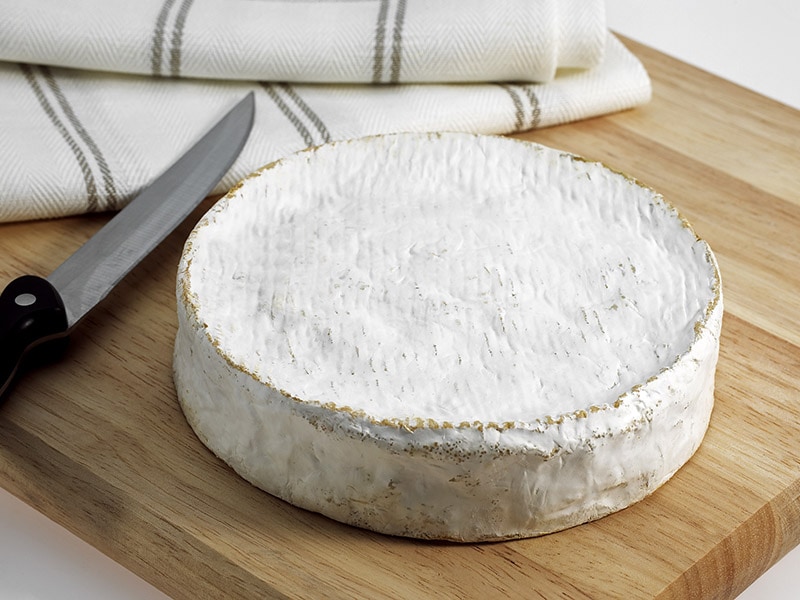 Coulommiers is another soft cow's milk cheese named after the municipality of the same name in France's Seine Et Marne region. It has a 40-percent fat content, a creamy texture, and a buttery, nutty taste.
Additionally, the cheese has a bloomy and delicious rind. After a heavy dinner, it is great to complement it with pears, berries, or apples. While Coulommiers is comparable to Brie, it is smaller, thicker, and less popular.
22. Neufchâtel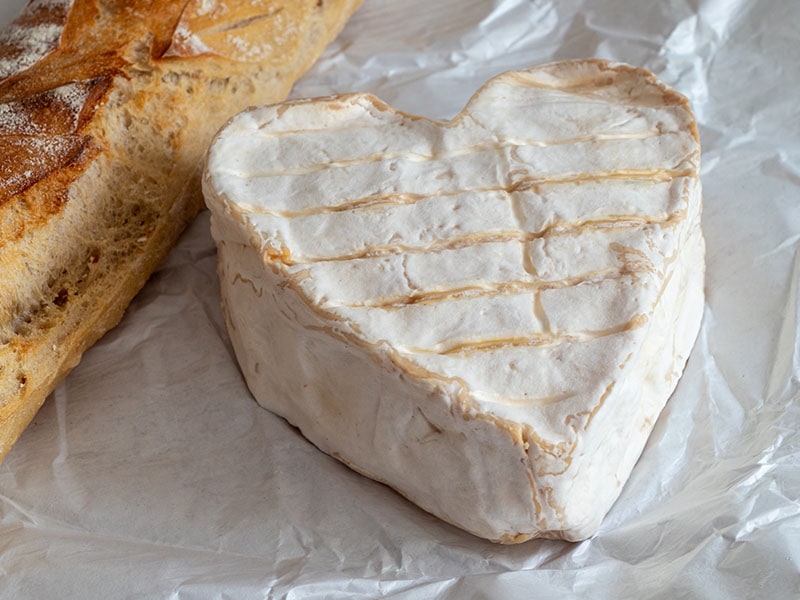 If you are arranging a romantic picnic for two, include this Neufchâtel in your picnic basket since it shapes like a heart. Neufchâtel is a soft cheese with a white rind manufactured from cow's milk in France's humid Bray area.
It is the earliest type of the Norman cheeses, having been created as far as the 6th century and as recently as 1050 – 1543.
Besides the heart-shaped variation, Neufchâtel also comes in a round and brick shape. It has a similar taste profile to Camembert but is saltier and more robust, with mushroomy and nutty notes.
Thanks to its gritty texture, Neufchâtel is the ideal low-fat replacement for cream cheese. Enjoy this cheese the right way by pairing it with sparkling wines or spreading it over crusty toast!
Neufchâtel is a heart-shaped soft cheese ideal for a romantic picnic for two.
23. Langres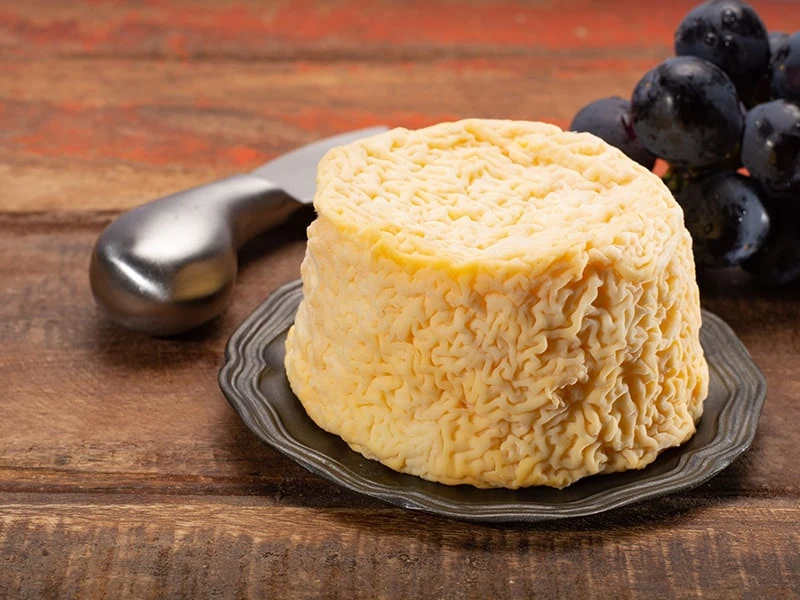 Langres is a pungent cheese that validates France's cheese genius status. Compared to its local rival Époisses, it has a milder taste with a smooth, creamy, and crumbly center pâte.
The best time to indulge in Langres is between May and August, after a five-week maturing period.
This oozy cheese is ideal for poking and scooping with a crusty baguette, paired with a red wine from the Rhone region.
24. Cancoillotte (Cancoyotte)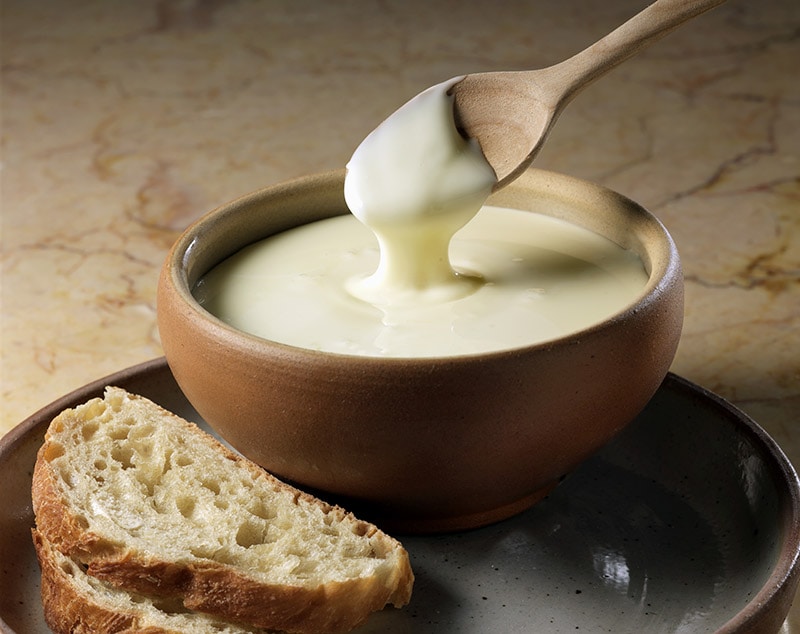 Originating in Eastern France and Luxembourg, Cancoilotte (or Cancoyotte) is a cheese intended for cooking. Its moniker derives from Kachkéis, which translates as "cook cheese" in the local dialect.
One huge incentive for including this cheese in your recipe is its low-fat content. This cow's milk cheese is thick, creamy in texture and acidic, buttery in flavor, with a pronounced fermented aroma.
Cancoilotte is best served melted. However, you can enjoy it cold with vegetables or meat. A classic dish to start with this cheese is the Endive, Lardons, and Cancoilotte Gratin.
25. Saint Agur (Blue Cheese)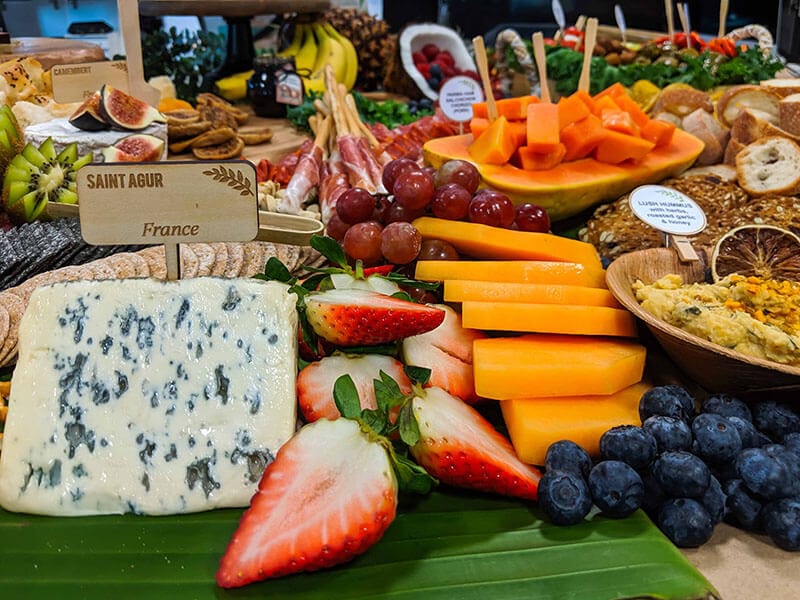 This creamy blue cheese is from the Beauzac hamlet in the Auvergne region of central France, an area famed for its century-old cheesemaking heritage. It is prepared from the milk of cows grazing on the rich grass of volcanic meadows.
Technically, Saint Agur is a creamier, softer, and less robust version of Bleu d'Auvergne. This rindless blue cheese often requires a 60-day aging process in cellars. The result is an incredibly creamy and smooth cheese, which explains why it melts and spreads so beautifully.
Another interesting thing lies in the cheese's octagonal form, which is evocative of Auvergne basalt stones, and so serves as a monument to its provenance. I advise you to pair Saint Agur with figs, pears, and walnuts, or use it in dips and sauces.
26. Bresse Bleu (Blue Cheese)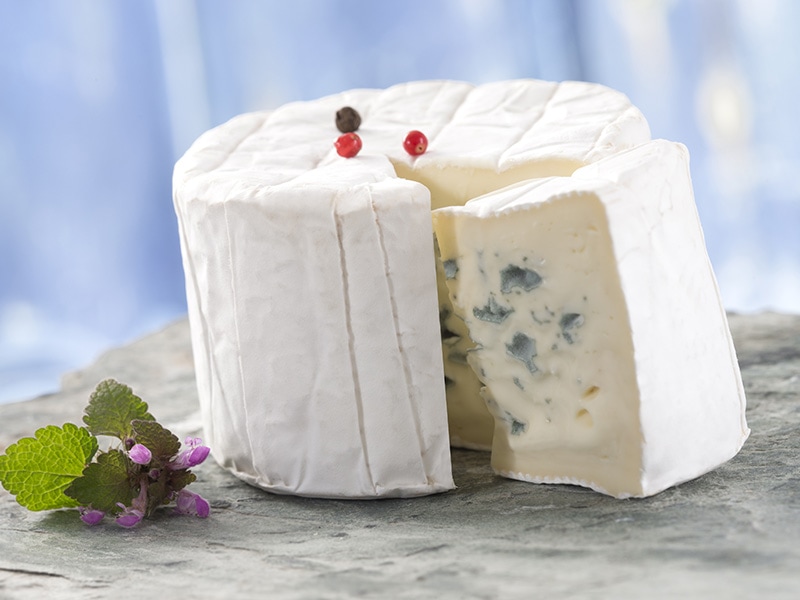 Bresse Bleu is the endless effort of French industrial dairy to replicate the popularity of Danish blue. Manufactured from pasteurized cow's milk, this cheese is fresh and mushroomy in fragrance, buttery and rich in taste, and features bloomy white skin.
Bresse Bleu must be matured for two to four weeks before consumption. Compared to most blue cheeses, this variation is less pungent and salty, making it a great accompaniment to walnut toast and white grapes.
27. Rochebaron (Blue Cheese)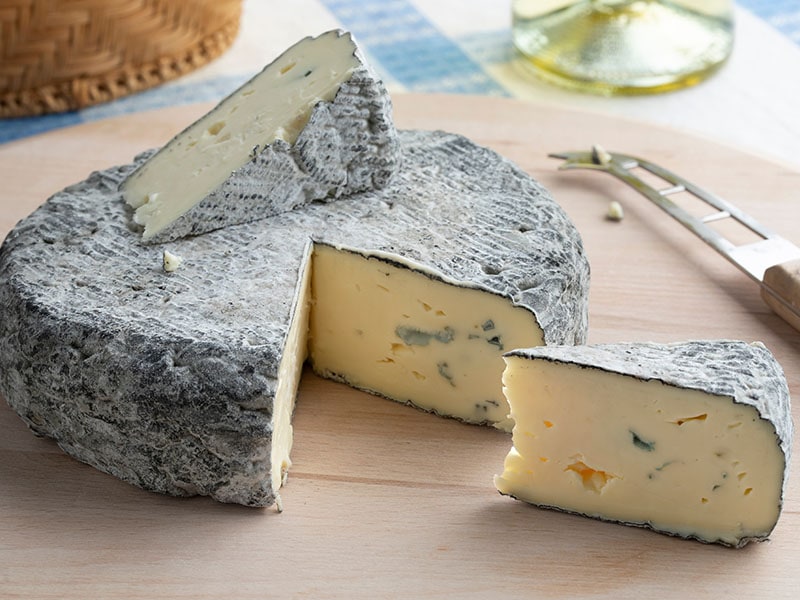 Rochebaron is a blue cheese manufactured in France from pasteurized cow or sheep milk. It has a smooth and creamy texture, a powerful scent, and mild, mushroomy tastes.
After being injected with Penicillium Glaucum to induce blue veins throughout the body, Rochebaron is allowed to develop for at least 30 days. During this time it is sprinkled with ash on a daily basis.
When the cheese is ready to serve, a good piece of advice is to match it with fresh fruits, crusty baguettes, or an earthy Pinot Noir.
Goat's Milk Soft Cheeses
Besides cow's milk soft cheeses, their goat's milk counterparts also account for a large part. Let's discover what they are!
28. Mont d'Or (French Vacherin)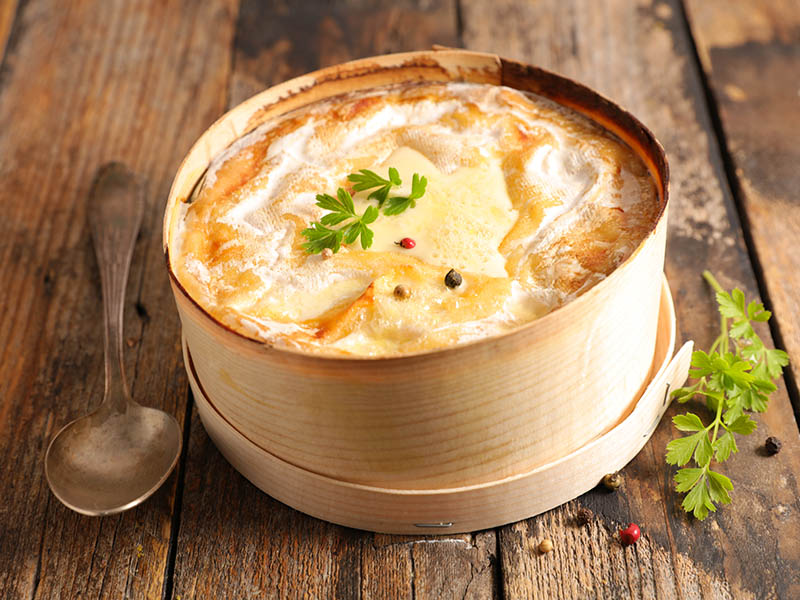 With an undulating beige crust, Mont d'Or is shockingly soft on the interior, almost to the point of running. Therefore, during its maturation, people must use a spherical wooden frame to retain its shape, thus giving the cheese a distinct woody flavor.
While it has a powerful flavor, Mont d'Or appeals to many people. This soft, rind-washed cheese type also has other monikers, such as "French Vacherin" or "Vacherin Mon d'Or". These names all relate to the peak location of its natural region (at least 800 meters).
Unlike Swiss Vacherin, which uses scalded milk, this French counterpart is made entirely of raw milk. Mont d'Or is a seasonal cheese and is not produced during the summer months due to the difference in milk quality.
However, thanks to the advance in storing technology, it is now accessible practically year-round at certain stores.
Plus, local dairies have been exploring methods to manufacture and sell a cheese comparable to Mondor year-round. The most successful replica is Etel De Cleron, produced in the Comté area but in a lower-altitude dairy.
Mont d'Or is a must-try cheese for every traveler to France.
29. Selles-Sur-Cher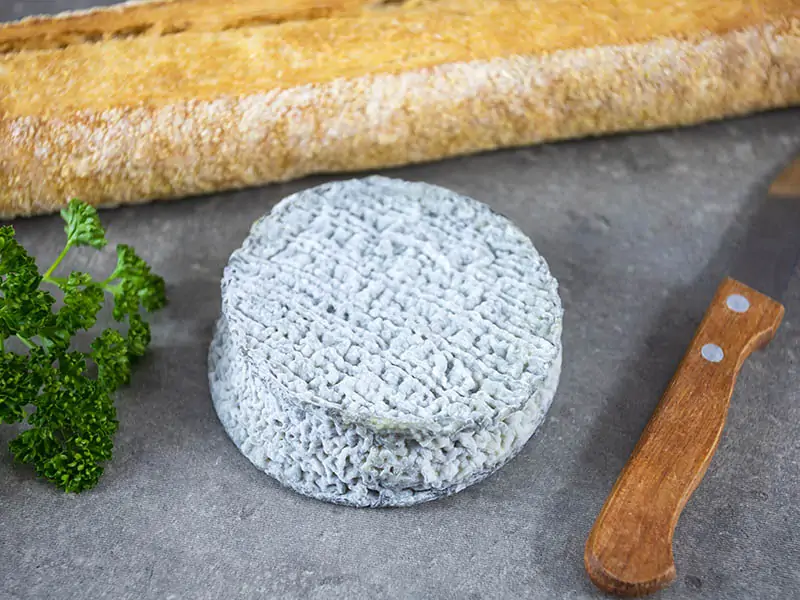 Selles-Sur-Cher is a soft goat's milk cheese sprinkled with wood ash to generate a distinctive rind with strong mineral flavors. It is a little treasure of the Loir Et Cher region, its original village located in Western Sologne, France.
The term "Selles" alludes to the cheese's form: a disk. The texture resembles wet clay, while the flavor is salty, nutty, and grassy. The riper it gets, the more prominent its nutty aroma is.
When consumed with the cheese, its bloomy rind imparts a more pungent and harsher taste owing to the ash and mold.
30. Rovethym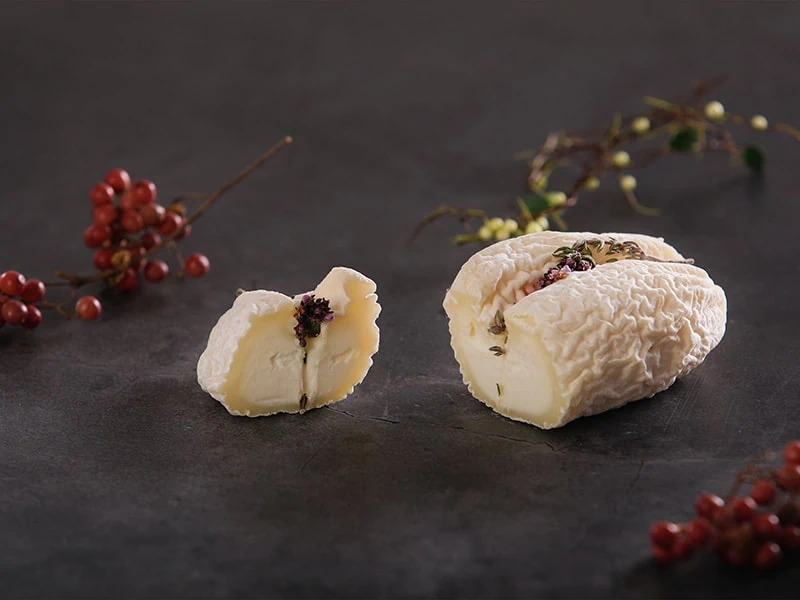 Rovethym was invented by Pierre Pradier, who began his own farm in Haute Provence in the early 2000s with a small herd of Rove goats, a local breed famed for its unusual lyre-shaped horns and for producing extremely rich, concentrated milk.
He created Rovethym by combining the phrases "Rove" and "thym" (translates as thyme), aromatic herbs growing wild in the hills of Provence.
It is hand-shaped into a characteristic quenelle form and garnished with a sprig of thyme, making it quite simple to spot at the fromagerie.
Rovethym is a raw, unpasteurized cheese that is best consumed within a few weeks after purchase. It has a sticky viscosity with lemon, thyme, and other fragrant herbs characteristics.
31. Valencay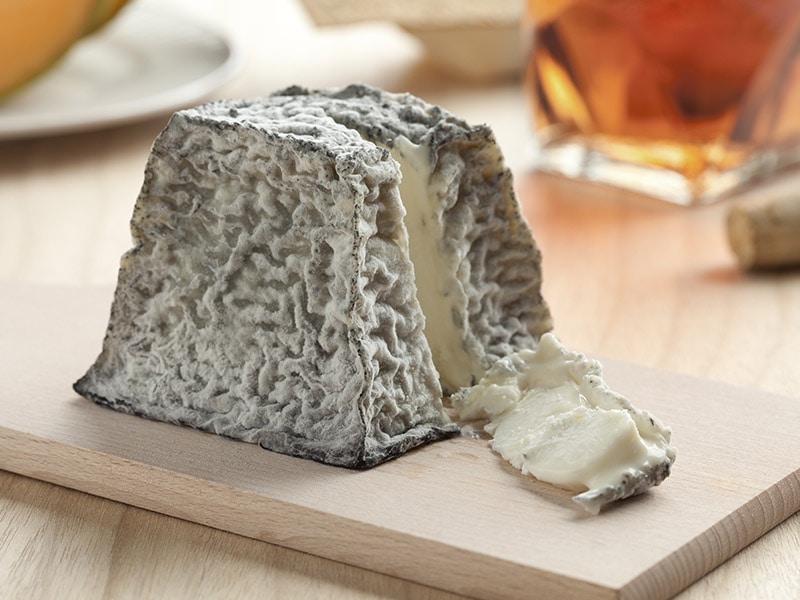 Valencay is clearly identifiable from a distance, thanks to its unusual pyramid form. Named after the town of Valencay in the Loire region, this goat cheese is typically matured for around three weeks.
According to legend, it is shaped like a pyramid with the tip taken off because Napoleon Bonaparte visited the town after his defeat in Egypt and was so enraged by the sight of a pyramid that he hacked off the top with a sword.
This truncated pyramidal cheese gains its authentic blue-gray hue from the natural molds that create its rind. A young Valencay is distinctive for its fresh, citrus flavor, whereas a mature Valencay imparts a nuttier aroma typical of goat cheeses.
32. Banon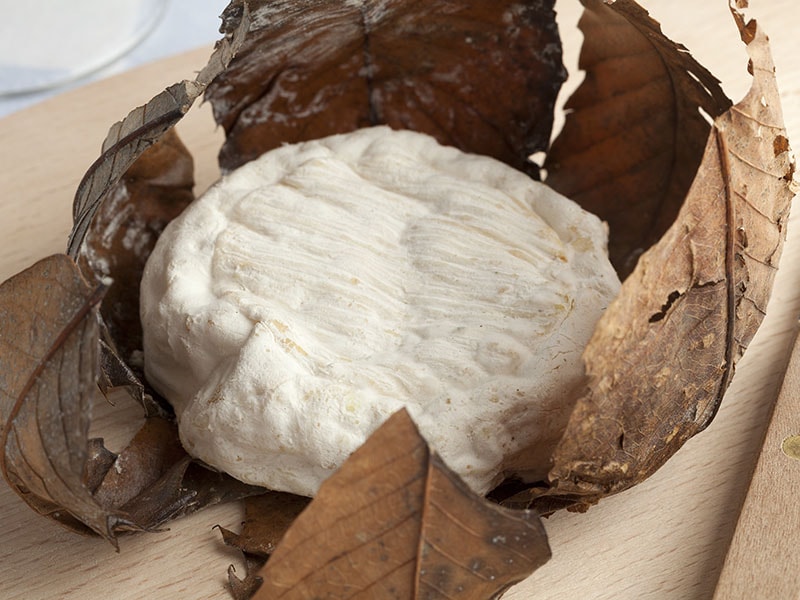 Tangy and moderately pungent, Banon is a typical, old-fashioned cheese made of raw goat's milk from Southern France, near the Albion Plateau.
Although there are many methods for generating Banon (hard, mild, creamy, nutty, etc.), one key element remains: after preparing the cheese, the French wrap it in chestnut leaves and knotted with strands of raffia.
The maturing process darkens the leaf wrappers and makes the paste liquefy and ooze, generating a richer fruity and nutty taste for Banon.
It is almost impossible to purchase Banon in the United States owing to restrictions prohibiting the importation of raw milk cheese less than 60 days old. It is one of those cheeses that you can only sample in France.
Therefore, search for little, flat rounds of Banon covered in leaf wrappers that have been soaked in wine and knotted with raffia twine on your next vacation to France.
Banon is one of those cheeses you can only sample in France.
33. Pelardon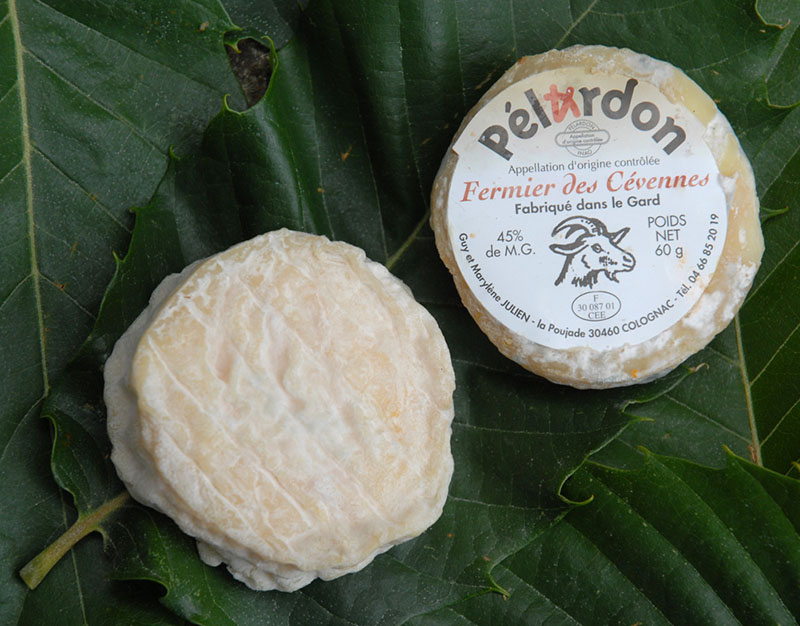 Pelardon (or Pelardon Des Cevennes) is a small spherical goat's cheese from the Languedoc area of Southern France. It has a delicate, bloomy skin that is thin, wrinkled, and covered with white and light blue molds. Its taste is quite spicy and nutty.
When young, Pelardon is softer and more mousse-like than other goat's milk cheeses, with a flavor reminiscent of sour cream and walnut oil. A distinct goaty scent emerges alongside its strong nut sweetness when the rind is mature.
34. Picodon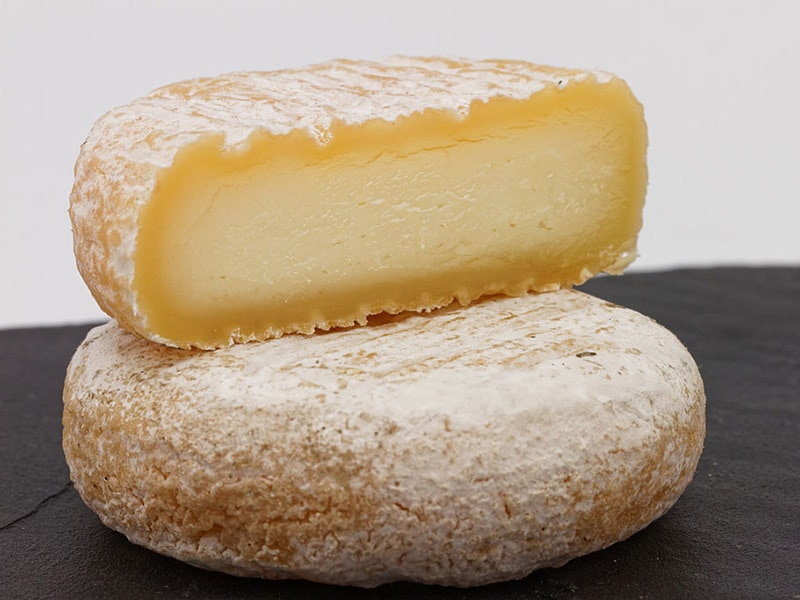 Fourteen days is the minimum aging requirement for Picodon – a tiny, round goat's milk cheese manufactured in France's Ardéche and Drôme regions. It has a thin rind and an exterior covered in yellow or white mold mottled with blue.
Picodon's taste is fresh and clean, with a mix of salty and acidic overtones. Yet, it becomes concentrated and harsh as the cheese ages and loses half of its bulk due to drying out.
13 Must-Try Semi-Soft French Cheeses
In most cases, semi-soft cheeses are pressed but not heated during the pressing procedure. As a result, they retain a greater amount of water. The following options are brilliant semi-soft cheeses you must try while in France!
Nothing is more helpful than recap tables. This is why I prepare it right before providing you with detailed information.
| Cow's Milk Semi-Soft Cheeses | Region | Flavor | Texture | Composition |
| --- | --- | --- | --- | --- |
| Chaumes | Saint Antoine | Nutty, full-flavored | Smooth, creamy, supple | Pasteurized cow's milk |
| Reblochon | Haute-Savoie | Fruity, nutty, mild | Smooth, compact, supple | Unpasteurized cow's milk |
| Saint Nectaire | Auvergne | Mushroomy, grassy, nutty | Supple, creamy, smooth | Pasteurized or unpasteurized cow's milk |
| Tomme De Savoie | Savoie | Milky, citrusy, grassy, mushroomy | Semi-firm, supple | Unpasteurized cow's milk |
| Saint Paulin | Brittany | Nutty, buttery | Firm, creamy | Pasteurized cow's milk |
| Morbier | Morbier | Full-flavored | Creamy | Cow's milk |
| Port Salut | Brittany | Mellow, acidic | Smooth, creamy | Pasteurized cow's milk |
| Carré Mirabelle | France's north east | Robust | Smooth | Cow's milk |
| Bleu d'Auvergne (Blue cheese) | Auvergne | Buttery, grassy, herbaceous, tangy | Smooth, creamy | Pasteurized or unpasteurized cow's milk |
| Bleu Des Causses (Blue cheese) | Languedoc, Midi Pyrénées | Salty, spicy | Creamy | Unpasteurized cow's milk |
| Goat's Milk Or Sheep's Milk Semi-Soft Cheeses | Region | Flavor | Texture | Composition |
| --- | --- | --- | --- | --- |
| Saint Maure | Loire | Buttery, acidic | Smooth, soft-ripened | Pasteurized or unpasteurized goat's milk |
| Bleu De Chèvre (Blue cheese) | Auvergne, Rhône-Alpes, Midi-Pyrénées | Robust, salty | Creamy | Pasteurized or raw goat's milk |
| Roquefort (Blue cheese) | Roquefort-sur-Soulzon | Sharp, salty, tangy | Crumbly, creamy | Unpasteurized sheep's milk |
Cow's Milk Semi-Soft Cheeses
Cow's milk cheeses probably account for the most part of any cheese type. Semi-soft cheeses are no exception. Let's dive into those cow's milk semi-soft cheeses!
35. Chaumes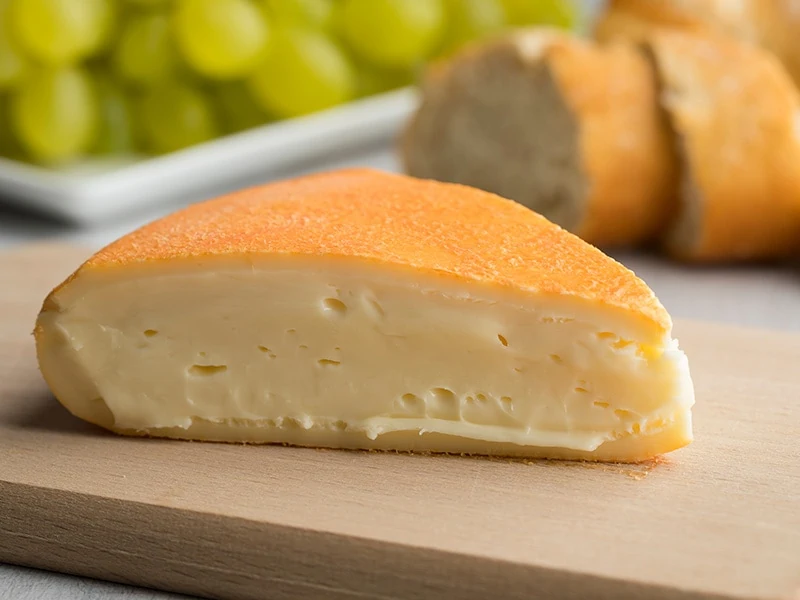 Chaumes extends my list of French semi-soft cow's milk cheeses. It has a washed rind and a delicate yellow tint. The cheese possesses a powerful scent, a supple, creamy, and springy texture, plus a nuanced, nutty taste.
It takes about four weeks for Chaumes to fully mature. After that, you can grill the cheese or enjoy it on its own with a slice of crusty bread. This cheese is also available in a spreadable form called Chaumes La Crème.
Let's further expand your French cheese knowledge with this Chaumes clip.
36. Reblochon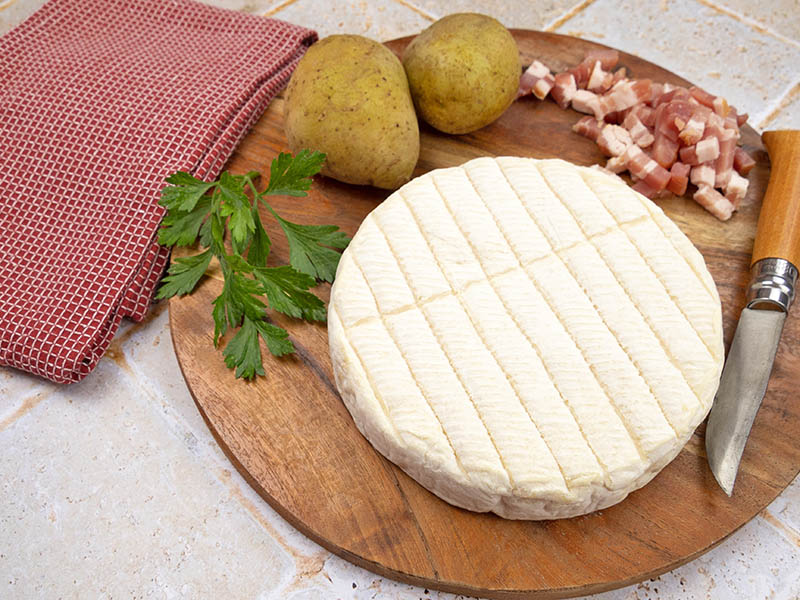 If you have tried Tartiflette, a French delicacy, you will notice a particularly luscious cheese utilized in the dish. It is a semi-soft and pressed cheese variation called Reblochon.
The term derives from the French phrase "Reblocher", which translates as "to pinch the cow's udder again". It indicates that Reblochon is created from the thick, rich milk obtained after the second milking.
Born in the 13th century in Haute Thones Savoie's region, Reblochon is orange-yellow in hue, featuring silky skin and an ivory interior. Its skin is edible, and its flavor is somewhat fruity and nutty.
According to legend, it exists because a farmer turned milk into cheese in order to conceal a portion of his milk output and reduce the amount of "milk taxes" he must pay to the pasture owners.
37. Saint Nectaire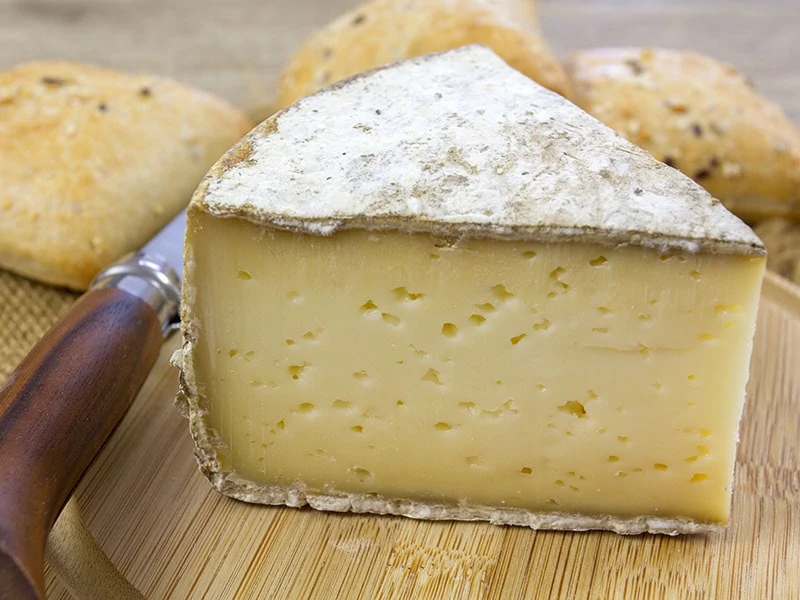 While some believe Saint Nectair is the best of French cheeses, this type from the Auvergne mountains is a semi-soft cheese that varies significantly in quality and flavor. The finest one is creamy and soft on the inside, with nutty and mushroom-like scents.
There are two main Saint Nectaire varieties: farm and dairy. While the farm type is often superior and more costly, the dairy variety, which is typically available in stores, is commonly offered at an insufficiently mature stage.
When young, Saint Nectaire is rather dry and crumbly. Yet, when properly aged, it should be supple and elastic, with a tiny propensity to flow when kept at room temperature. The rind of a Saint Nectaire is not consumed.
Saint Nectaire has an inedible rind and a smooth, creamy texture that melts on the tongue. It is easily identifiable by the green label on its thick rind, which varies in color from white to yellow to red, depending on the development state.
There is no better accompaniment to crusty bread and a glass of red Bordeaux than Saint Nectaire. So, make sure you try this cheese in the right way!
38. Tomme De Savoie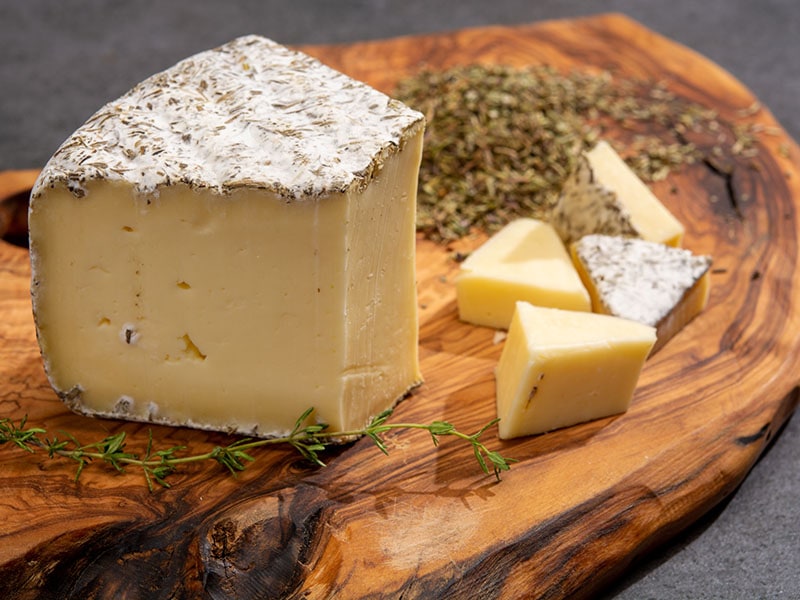 In general, Tomme De Savoie is a mild cheese with huge, spherical shapes that will appeal to individuals who dislike strong-flavored cheeses. It belongs to the semi-soft category and comprises a gray rind speckled with yellow and red dots.
This magnificent cheese's name translates as "Savoie cheese". Semi-soft in texture, with a dusty, rough rind, Tomme De Savoie is completely rustic in appearance and flavor, evocative of the caverns in which it is matured.
It was created as a way for local peasants to preserve their summer milk surpluses for the winter. It is made from the leftover skimmed milk after the cream is drained to create butter, which accounts for its relatively low-fat level (between 25 and 40 percent).
This cheese is the oldest variation produced in the Savoie area, where the alpine environment imparts the cheese's distinctive characteristics. It is a component of various traditional rural cuisines, including quiche, potatoes, veal, or lamb dishes.
A good suggestion to enjoy this cheese type is to accompany it with walnuts, melt it over a baked potato, or mix it into an arugula salad. An Alsatian Riesling or a Belgian Double is a brilliant drink to pair with Tomme De Savoie.
39. Saint Paulin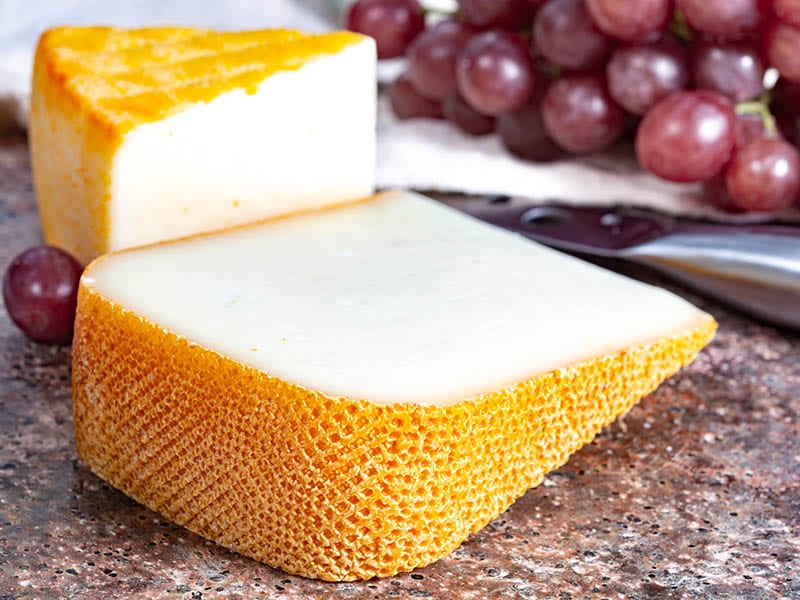 Originally made by Trappist monks in the Bretagne region of France, Saint Paulin is a semi-soft cow's milk cheese featuring a white-colored body with a creamy and firm structure, plus milky smells lying behind its washed rind.
Like Havarti (a famous Danish cheese) and Fontina (a well-known Italian cheese), Saint Paulin makes a brilliant dessert cheese. Plus, you can enjoy Saint Paulin alongside fruit and light wine to elevate your gastronomic experience.
It has a taste that is best characterized as nutty and buttery. Although the rind is edible, most people avoid it due to its dry and gritty texture. Saint Paulin is best when paired with a glass of Riesling or Beaujolais.
40. Morbier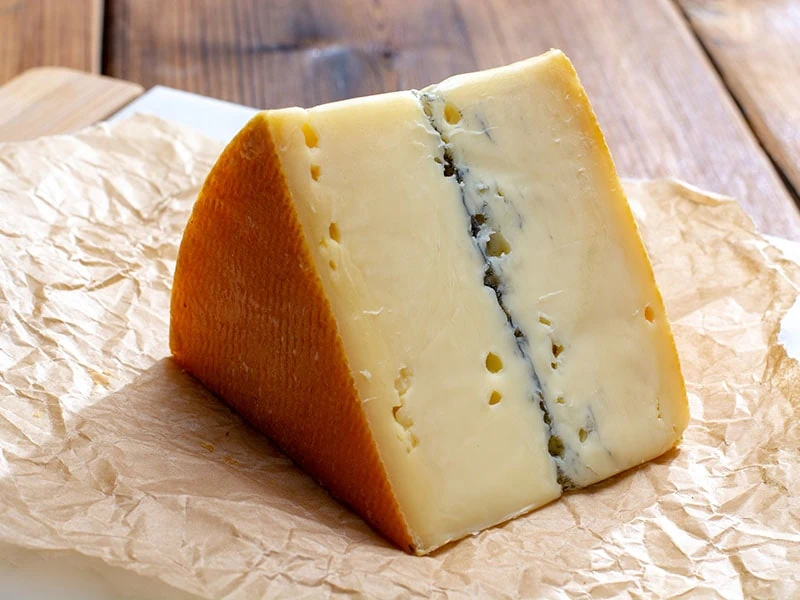 Morbier is a semi-soft cheese created from unpasteurized cow's milk in the French regions of Doubs, Jura, Ain, and Saône Et Loire.
The cheese dates back over two centuries and can be immediately identified by its thin black ash layer running through the cheese's core.
It takes around three months for the rind to fully mature, during which time it turns yellow and wet. The cheese is rich and creamy, with notes of fresh hay, almonds, fruits; and has a mildly bitter aftertaste. Morbier's body is brimming with countless little holes.
How about generating this creamy and mildly bitter Morbier at home?
41. Port Salut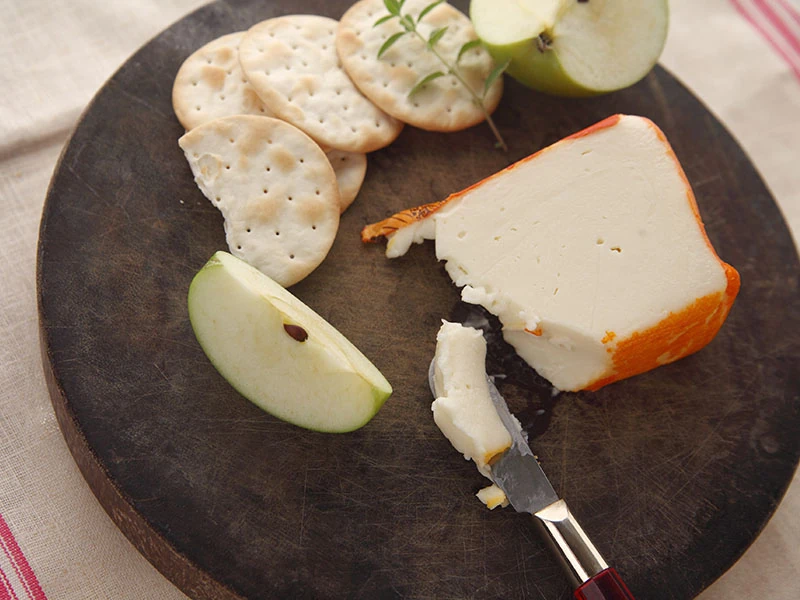 Invented in the 19th century at Port Du Salut Abbey, Port Salut cheese is distinguished by its light yellow hue, creamy and smooth texture.
Despite having a modest taste, Port Salut possesses a strong aroma. This aroma intensifies as the cheese ages, but has no effect on its flavor.
While Port Salut was originally cleaned on a regular basis, it is now wrapped immediately in plastic before the aging process. Serve it with fruits, broccoli, or steamed asparagus for the finest flavor!
42. Carré Mirabelle
According to the Benedictine monks of the Abbaye de Vergaville, this semi-soft cheese originated in the Lorraine area of France in the 10th century.
It has a distinctively strong and smooth taste after being washed 5 times during its aging process with cherry plum brandy.
The cheese comes in square form and is matured in a digestif called L'eau De Vie De Mirabelle. This practice imparts an instantly identifiable and pleasant flavor to everyone who has sampled it at least once.
43. Bleu d'Auvergne (Blue Cheese)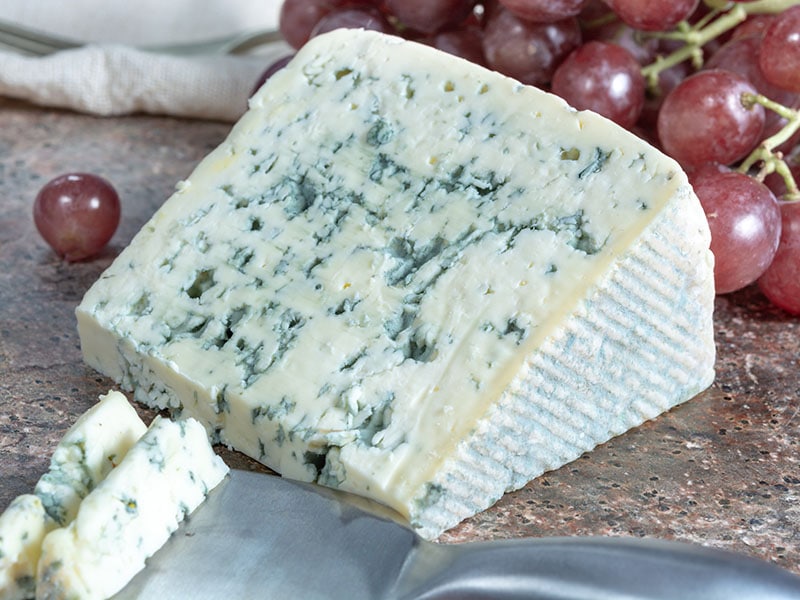 This blue cheese variety is on a par with Roquefort in terms of popularity. If his Roquefort relative is made of sheep milk, Bleu d'Auvergne is indeed a blue-veined cow milk cheese, giving it a wetter and stickier texture.
The Bleu d'Auvergne originated in the 19th century as a result of a regional farmer, Antoine Roussel. Besides the main peppery and salty flavor, this blue cheese possesses a varied aroma, ranging from mild to sharp.
Therefore, even at supermarkets, you need to ask for a sample before purchasing. It pairs well with local Saucisson (dry sausage) or cooked pears. The cheese is also popular in salad dressings, particularly blue cheese salads.
44. Bleu Des Causses (Blue Cheese)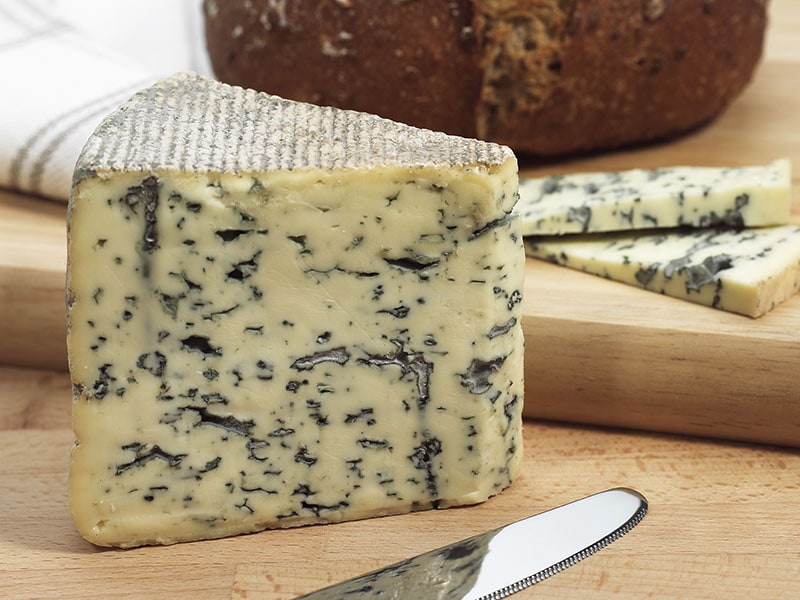 If you are searching for a less robust version of Roquefort, look no further than Bleu Des Causses. It is an unpasteurized cow's milk blue cheese with a 45-percent fat content.
The cheese is put in a cave that is exposed to chilly and damp air drafts, resulting in a unique maturing process that lasts at least 70 days.
Penicillium mold occurs within the cheese due to the cave's air currents and the fact that the cheese is punctured with needles. Its taste is robust, strong, salty, and peppery (because of the mold), with a crumbly, creamy texture.
Goat's Milk Or Sheep's Milk Semi-Soft Cheeses
Below is a famous semi-soft cheese produced from goat's milk. Let's find out what it is!
45. Saint Maure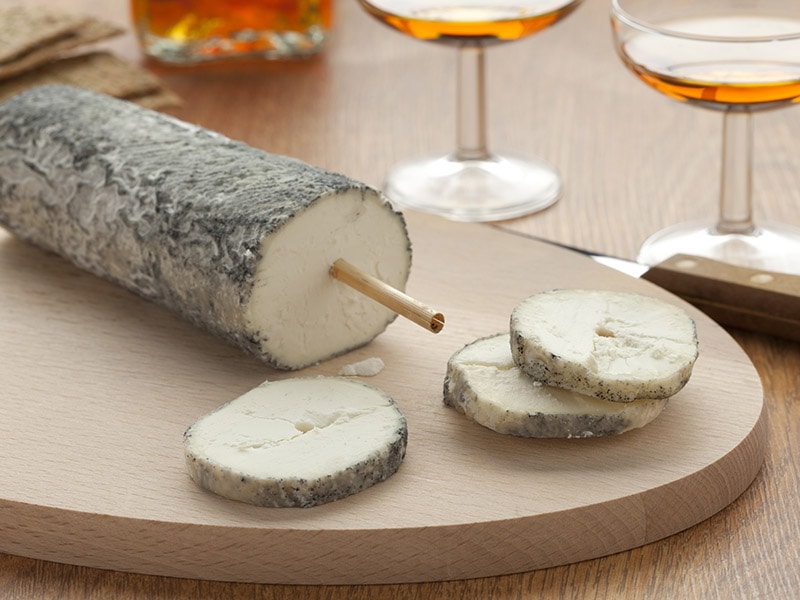 Saint Maure is named after a town in the Loire Valley and is unique with its cylindrical form. The cheese is firm on the inside and absolutely white on the outside. The fresh cheese is ashed and matured to create a creamy, full-flavored log.
However, when it is young, Saint Maure is so fragile that it must be kept together by thin straws until it grows and gradually hardens.
According to legend, Saint Maure is a very ancient cheese, dating all the way back to the Battle of Tours (Bataille De Poitiers) in the 8th century.
Ottoman ladies who remained behind after the conflict taught the indigenous people how to produce cheese by bacterial fermentation and plant breakdown in black dung.
It is delicious on toast with a green salad. You can easily find this goat's milk cheese across Central France, particularly in Touraine and the Loire Valley.
46. Bleu De Chèvre (Blue Cheese)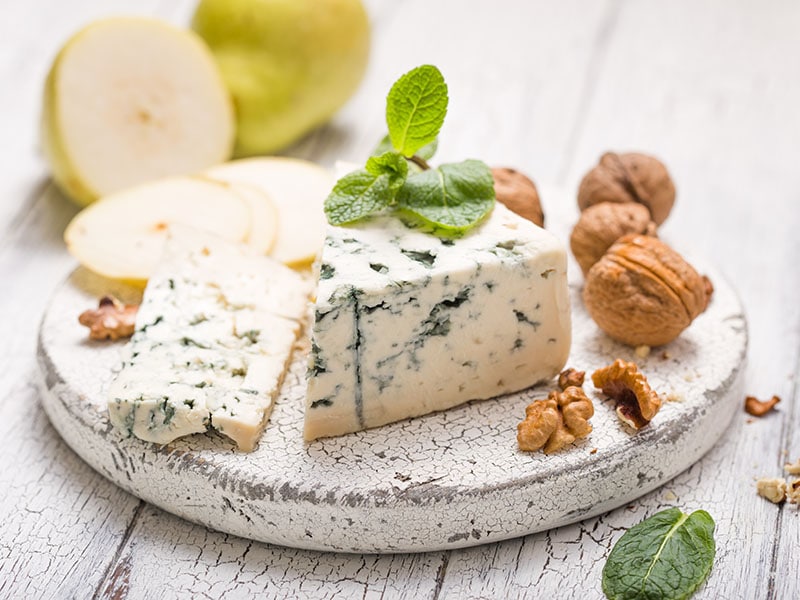 Bleu De Chèvre is a classic Auvergne cheese with delicate scents and robust, salty tastes. This blue cheese also features a faint goaty tang on the end due to the pasteurized goat's milk used during manufacturing.
Its rind is coated with ash, and the texture underneath it is delicate and pliable, with pockets of blue mold throughout the paste. Bleu De Chèvre is best served with a glass of Sauvignon Blanc.
47. Roquefort (Blue Cheese)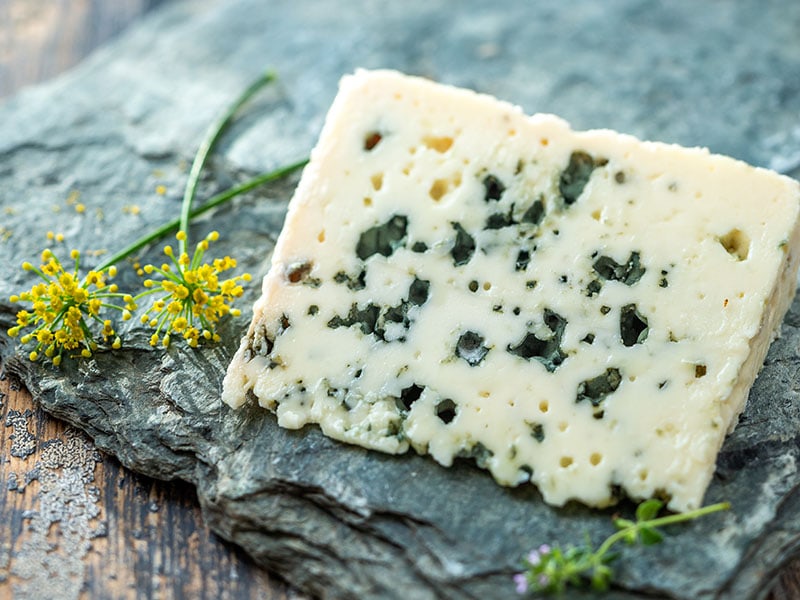 Along with Stilton (English) and Gorgonzola (Italian), Roquefort (French) is regarded as one of the world's three greatest blue cheeses. Roquefort has a strong, clear flavor and should melt on your tongue, leaving a pleasant aftertaste of mold and salt.
According to folklore, a rusty shepherd in love with his lovely damsel abandoned his rye bread and sheep cheese sandwich in a cave where he was sleeping. When he returned to eat his lunch later, he noticed mold on it, so Roquefort was born!
The cheese has a wet rind on the outside and a crumbly texture on the inside. It is a complex blend of creamy, sharp, and salty tastes and possesses a white paste marbled with blue mold. It only takes a few little bites to experience its full effect.
Serving in tiny amounts on any kind of French bread slices or combining it with fruit (pears, figs, raisins, etc.) is an excellent way to enjoy Roquefort. Since it is an intense cheese, it is often consumed towards the conclusion of a meal.
Prepare yourself a cup of coffee and learn about Roquefort with this introduction.
4 Special Semi-Hard French Cheeses
Semi-hard cheeses possess firmer textures, which makes cutting them more challenging. Most of them have distinctive tangy and savory tastes and lack moisture. Let's discover some of the classic cheeses in this category.
Summary Table:
| Semi-Hard Cheeses | Region | Flavor | Texture | Composition |
| --- | --- | --- | --- | --- |
| Ossau-Iraty | Bearn and Iraty | Fruity, herbaceous, buttery | Grainy, creamy, firm | Unpasteurized sheep's milk |
| Comté | Jura Massif | Fruity, nutty, salty, sweet, smokey | Firm, grainy, dense, firm | Unpasteurized cow's milk |
| Boucheron | Loire Valley | Mild, tangy | Chalky, dense, clay-like | Pasteurized goat's milk |
| Fourme d'Ambert | Auvergne, Rhône-Alpes | Savory, sharp, tangy | Creamy, supple, dense | Pasteurized or unpasteurized cow's milk |
48. Ossau-Iraty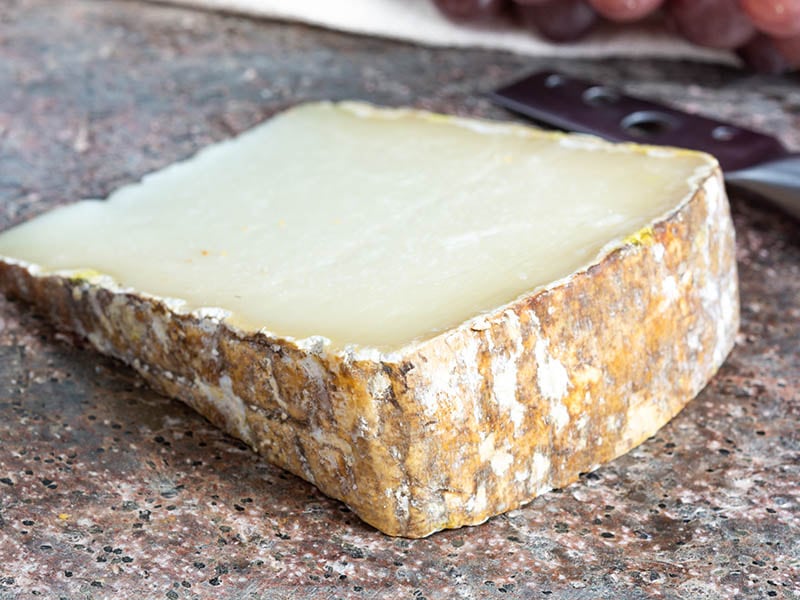 Ossau-Iraty is a raw, pressed, semi-hard goat's milk cheese created in the Pyrenees mountain area. The name derives from the two valleys in which the cheese is made. Underneath its moldy, iron-gray skin lies an ivory-colored body with a grainy, creamy texture that melts smoothly.
This raw sheep cheese oozes with powerful and complex flavors, resembling almonds and toasted wheat while remaining sweet and grassy.
Along with Roquefort (which I will cover later in the article), Ossau-Iraty is one of the only two sheep's milk cheeses with AOC certification.
Grating it over soup or pasta is a brilliant way to enjoy its delightfully melting flavor. Alternatively, you can pair it with a glass of Sauvignon Blanc or Madiran.
Ossau-Iraty is one of the two sheep's milk cheeses that gains the AOC certification.
49. Comté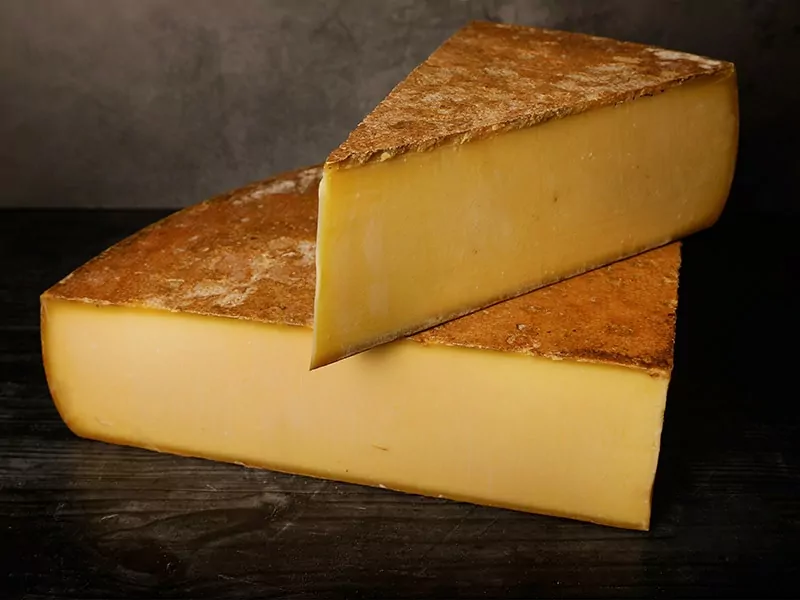 Traditionally prepared in the Jura highlands of Eastern France when farmers delivered milk to local cooperatives, Comté has the most robust taste of any French cheese on my list.
The cheese has a smooth surface and a cool, ocher-colored rind. When sliced, its solid interior will melt on your tongue and leave a delicious aftertaste.
Comté is a versatile cheese that works well with appetizers, salads, and French sandwich dishes like Croque Monsieur. Typically, people serve it in little cubes as a starter or melt it over potatoes, leeks, and toasted bread. A nice red Burgundy would be an excellent wine match.
The delectable French cheese is available at all supermarkets around the nation, making it one of the most popular items that the French seek. Not only in France, but Comté is famous for its quality globally.
Typically, Comté is sold without holes and comprises two main varieties: "fruité" (fruit) or "salé" (salty). While fruité Comté is often more elastic, salé Comté is more brittle. The most expensive Comté is "Comté Vieux", which requires up to a year for full maturity.
Journey to the Jura mountains of France to witness how Comté cheese is made.
50. Boucheron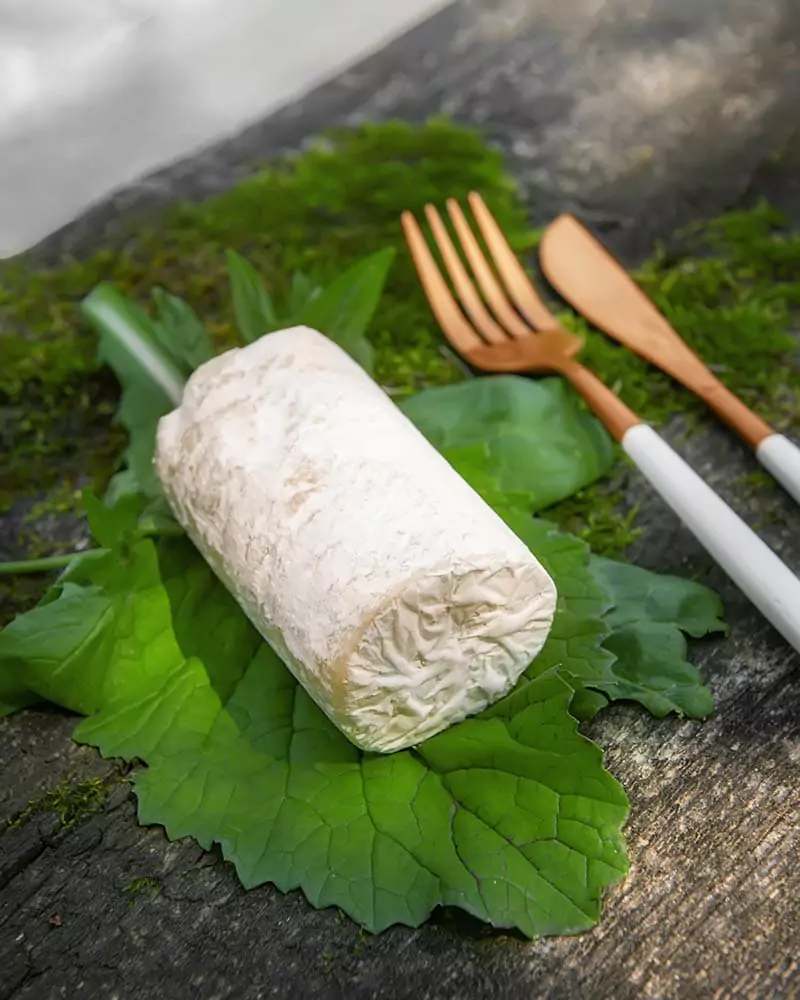 It is worth noting that Boucheron was the first French goat's milk cheese sold to the United States. Originated from France's Loire Valley, the cheese has an ivory-colored rind and interior, but its flavors vary.
When young, Boucheron's center is dense and crumbly, infusing sharp, tangy, and mushroomy notes to your taste buds.
As the paste ages, it begins to break down, resulting in a soft and gooey layer that contrasts Boucheron's firm center and lemony aroma.
The cheese is usually created in short logs that are cut and sold in little rounds. It must mature for at least seven days to become edible.
Boucheron is best served with crusty baguettes, fruit, or honey to offset its strong, goaty flavor. Additionally, the cheese may be used in salads and quiches. Pair it with a strong red Bordeaux wine bottle or a glass of fresh white Loire Valley wine.
51. Fourme d'Ambert (Blue Cheese)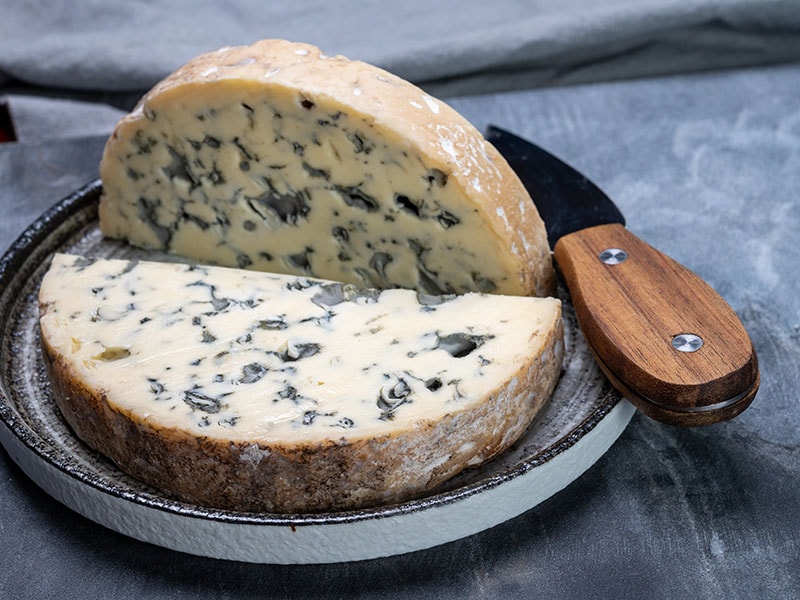 The brilliant combination of pasteurized or unpasteurized cow's milk makes an excellent blue cheese that is more solid and supple than other types on this list. Fourme d'Ambert imparts a light and nutty flavor that appeals to a wide array of people.
You can spot Fourme d'Ambert not only by its blue hue but also by its extraordinarily tall, spherical, and unpressed texture. It also has a dry gray rotten rind on the outside and a creamy white interior with blue veins distributed throughout the body.
Fourme d'Ambert is aged in caves in the French provinces of Puy De Dôme, Cantal, and Loire for up to 28 days. Then, people infuse the cheese with sweet white wine throughout the maturing process.
As a result, the taste is delicate and gentle, allowing it to become an excellent pairing with apples, pears, or even a plain piece of bread.
9 Unique Hard French Cheeses
Also called "pressed cheeses", hard cheese kinds are round-shaped and have larger sizes. Typically, they are made from cow's milk in the highlands. The cheese's ultimate flavor depends significantly on the variety of green herbs and flowers the cows consume.
Like other previous sections, let's equip yourself with overall knowledge before heading towards the details.
| Hard Cheeses | Region | Flavor | Texture | Composition |
| --- | --- | --- | --- | --- |
| Beaufort | Savoie, French Alps | Robust | Smooth, creamy | Unpasteurized cow's milk |
| Cantal | Cantal, Auvergne | Buttery, nutty, milky, tangy | Brittle, crumbly, firm | Pasteurized or unpasteurized cow's milk |
| Mimolette | Lille | Buttery, caramel, salty | Firm | Cow's milk |
| Raclette De Savoie | Savoie region | Rich, nutty | Mild, nutty | Unpasteurized cow's milk |
| Hércule | Charlevoix | Nutty, fruity, sweet | Creamy, smooth | Raw cow's milk |
| Etorki | Mauléon-Licharre, Pyrénées | Sweet, burnt caramel | Supple, smooth | Pasteurized sheep's milk |
| French Gruyère | Alpines Comté and Savoie region | Sweet | Compact | Unpasteurized cow's milk |
| Bouton De Culotte | Mâconnais and Haut-Beaujolais, Burgundy | Peppery, goaty, and salty | Dry, hard | Raw goat's milk |
| Chavignol | Loire, Chavignol | Full-flavored, nutty | Smooth, crumbly | Unpasteurized goat's milk |
52. Beaufort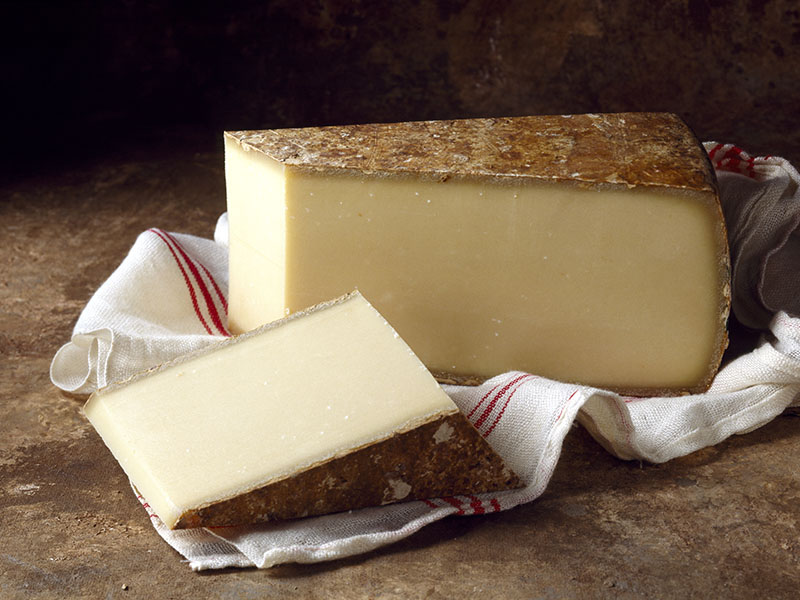 With concentrated overtones of hazelnut, warm butter, caramel, and sweet grasses, Beaufort is an excellent cheese in terms of taste. It imparts such a flowery and fruity aroma that you can virtually feel the flavor of green fields on your tongue.
Beaufort is a monstrous, unpasteurized wheel of cheese (weighing between 20 and 70 kilograms) made from raw milk of the Tarentaise cow breed in the Savoie area of the French Alps.
This distinctive convex-sided cheese type requires a substantially longer period of time for the aging process (around 4-5 months) than its milder Alpine rivals.
After being salt-rubbed daily for the first two months, the cheese wheels are coated with morgue – a combination of brine, whey, and old cheese scrapings.
There are three types of Beaufort: Le Beaufort (produced from November to May), Le Beaufort d'Été (produced in the summer), and Beaufort Chalet d'Alpage being the most regulated and limited.
The finest way to consume Beaufort is by melting it, like in a Savoyarde Fondue, with a splash of white wine such as a mature white Burgundy.
53. Cantal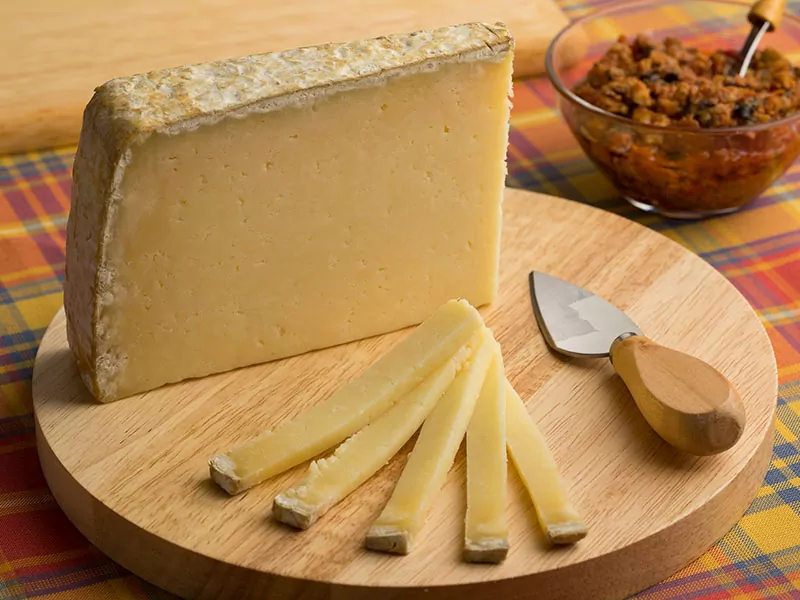 Cantal, a raw pressed cow's milk cheese produced in France's Auvergne region, is one of the earliest cheeses in history.
Dating all the way back to 2,000 years ago, Cantal was already being utilized for food storage and as a trade commodity due to its amazing size, weighing up to 100 pounds!
It takes around one month for a young Cantal (sweet, milky) to mature and approximately two to six months for a middle-aged Cantal (buttery, creamy). An elderly Cantal (peppery, spicy) takes no less than six months for the aging process.
Cantal is a fairly good kind with more robust and flavorful than most of its counterparts on this compilation. The cheese becomes more delicious when combined with almonds, grapes, and apples. The French also use it in salads, soups, fondues, and gratins.
54. Mimolette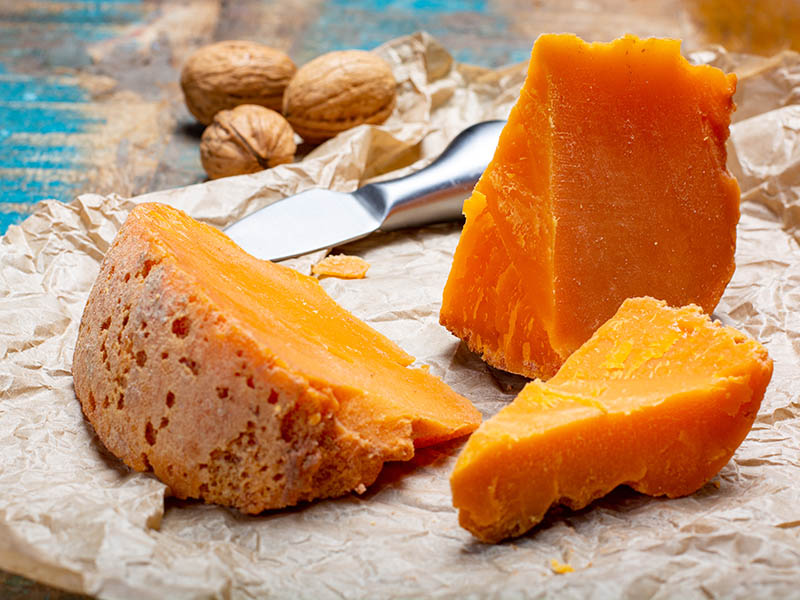 Rarely will you find hard cheese varieties made outside of the Alps. Yet, Mimolette is one of these few exceptions. Originated in the Lille region of Northern France, this variation was inspired by the Edam cheese from the Netherlands.
Also known as French Adam, this spherical cheese possesses an orange hue, a fruity scent, and a chewy texture. Its crimson-colored rind comes from the Bordeaux barrels in which Mimolette were transported.
Its taste is nutty, salty, and buttery with a fudgy finish. Mimolette's rind is famous for being extremely hard and difficult to break.
To mature this cheese, place it in a dark, damp basement and turn it weekly for a minimum of six months. You can purchase it at different stages of maturation, and the flavor becomes increasingly harsh as it matures.
Cutting Mimolette, the hard cheese, is also an essential skill to practice.
55. Raclette De Savoie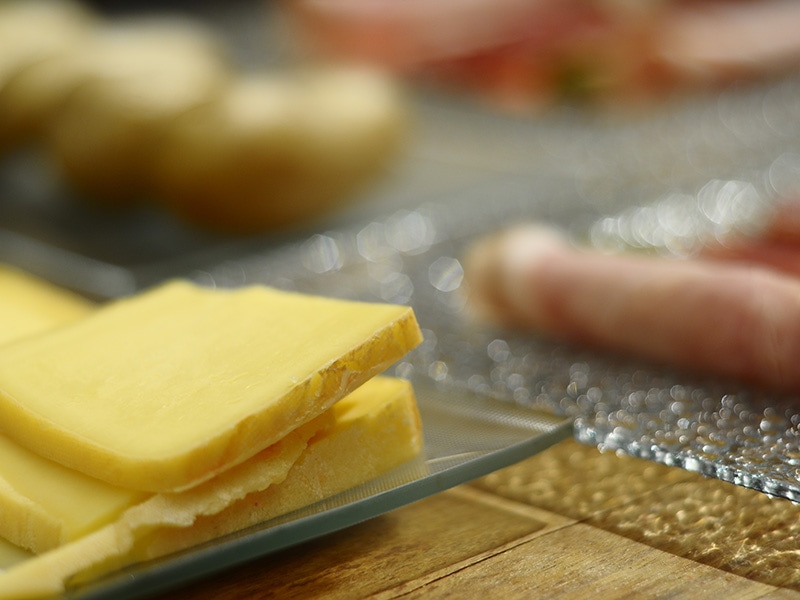 Found in the mountainous Savoie region in France, Raclette De Savoie is a popular mass-produced industrial cheese that is more suited for cooking than eating alone. People love to slice and melt these small cheese pieces to coat roasted potatoes.
It gets its moniker from the French word "Racler", meaning to scrape, which explains how the locals cut this cheese.
With a dark beige, sticky rind, and a pale yellow paste, this French cheese has a decent taste but becomes wonderful when roasted over an open flame or under a hot grill. Such a scene allows its whole scent to be released.
Raclette is adored after a hard day on the ski slopes or as a simple dinner gathering with friends and family. Serve it warm and melted over potatoes and Charcuterie with a salad and pickles on the side, or pair it with strong red wine.
56. Hércule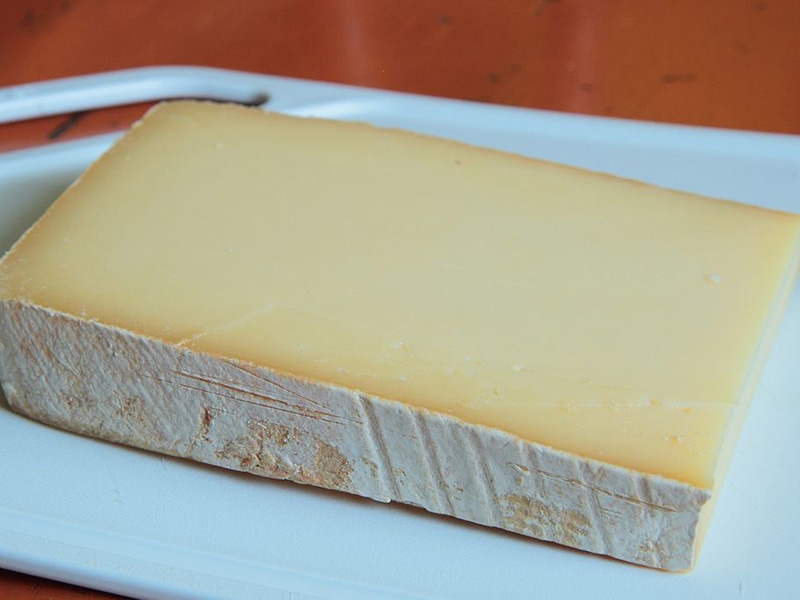 If you wonder what would happen if you mix the nutty taste of ewe's milk with the tart acidity of goat's milk, this hard cheese named Hercule is your answer. The result is a buttery, creamy fromage with an appealing note of sweetness.
Once you try it, you will never forget its flawlessly balanced flavor and caramel richness. To achieve such a taste profile, Hércule must undergo an aging process that lasts between nine and twelve months.
This limited cheese category made of ewe's milk is the invention of Dominique Bouchait, who is a "Meilleur Ouvrier de France" (MOF) in cheese. This title is an official honor that designates someone as the "best craftsperson" in France.
His fromagerie in the Pyrénées, Les Fromagers Du Mont Royal, is where he gave life to Hércule, as well as other ewe's milk cheeses.
57. Etorki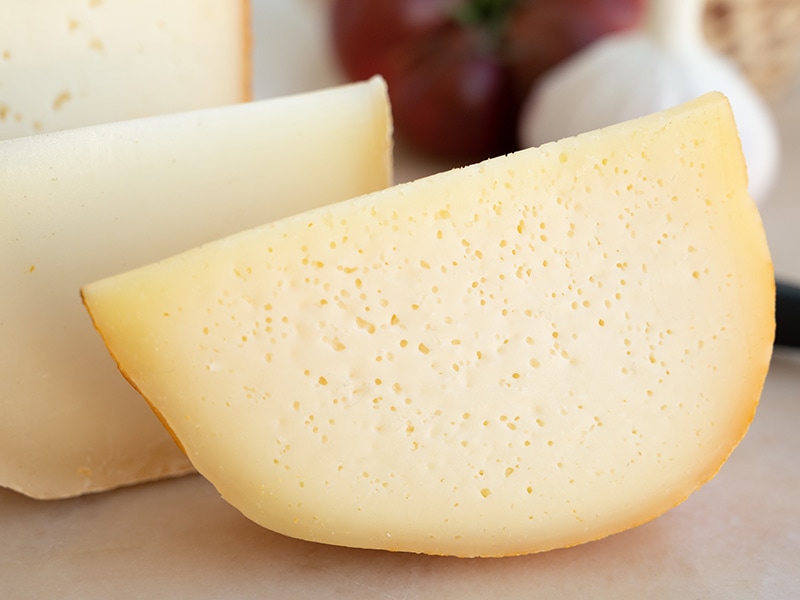 Originated in the commune of Mauléon-Licharre in the Pyrénées, Etorki is a French hard cheese that utilizes pasteurized sheep's milk as its main ingredient.
People adore Etorki for its silky texture, earthy fragrance, and mellow, sweet taste evocative of burned caramel.
Before maturing for three to six months, Etorki is pulp squeezed and uncooked. It is brilliant to pair the cheese with fruit and toast, together with Txacoli, a slightly effervescent white wine from Basque.
58. French Gruyère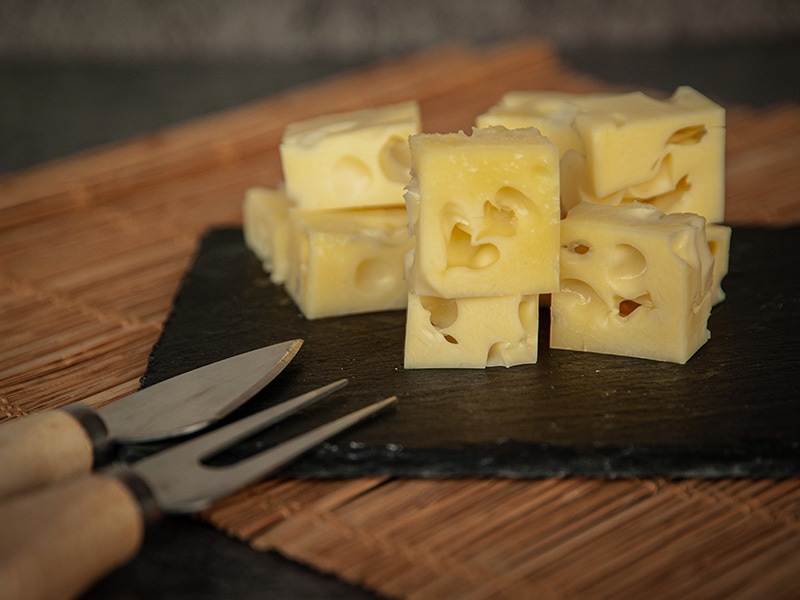 When it comes to Gruyère's origin, there are two splitting camps. One camp may assert it is Swiss cheese, while the other claims the fromage is from France.
In fact, there are two Gruyère varieties: a French version from the Alpines Comté and Savoie regions and a Swiss version from La Gruyère in southern Switzerland. Please note that I am only mentioning French Gruyère here.
This cheese type has a creamy and somewhat nutty flavor, making it perfect for culinary dishes such as French onion soup. Made of unpasteurized cow's milk, Gruyère's color ranges from ivory to yellow, depending on the season and the grasses fed to the cows.
Compared to its Swiss counterpart, French Gruyère is somewhat sweeter and has a very small salty undertone. You will feel this difference clearly when spreading the two kinds of cheese on a loaf of French bread.
59. Bouton De Culotte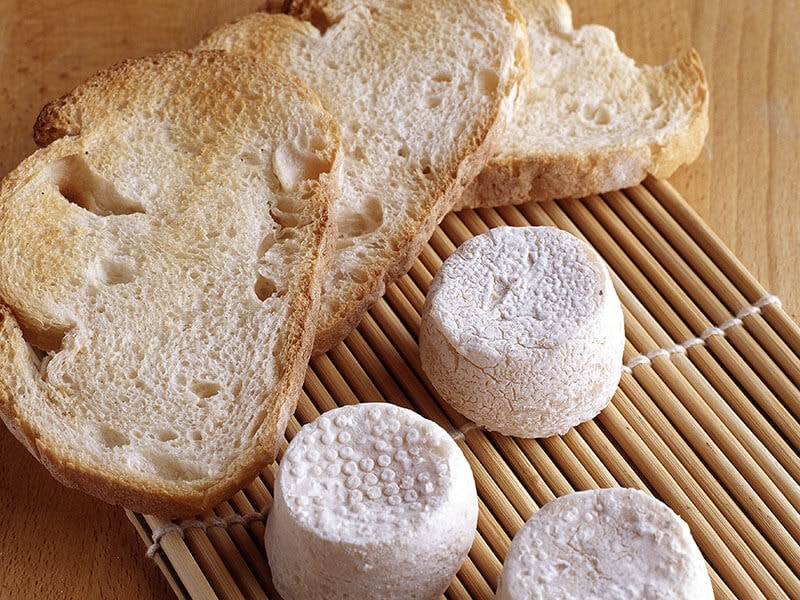 Bouton De Culotte is probably the tiniest cheese in France, with a circumference of barely more than 1.5 inches. Its moniker translates as "pants button" to reflect its round form and small size.
You can consume this goat cheese fresh or aged, with the latter option being drier. Originated from Maconnais and Haut Beaujolais of the Burgundy regions, Bouton De Culotte possesses a delicate and bloomy rind as a result of the region's goat herds.
You can easily notice the cheese has a firm and dry texture underneath its natural golden veneer. The aroma is somewhat mushroomy, while its flavors are peppery, goaty, and salty.
60. Chavignol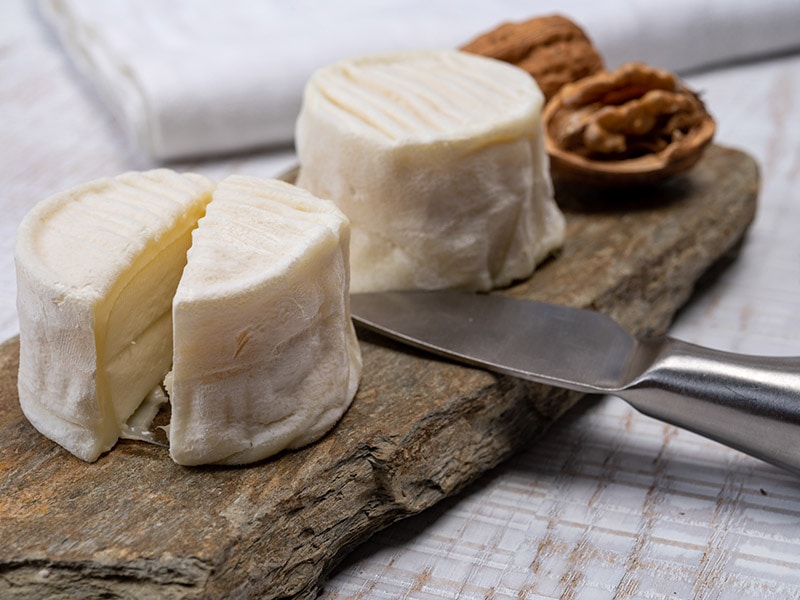 Another well-known goat's milk cheese from the Loire Valley is Chavignol (or Crottin De Chavignol). It is white or ivory in color and has a rich, wet feel on the outside with a thin, moldy rind. Chavignol has a robust taste that is somewhat nutty and goaty.
Chavignol's rind changes dramatically in color during the three-month maturing process, and its texture becomes harder, drier, and crumblier.
Due to the limited quantity offered, this cheese is rather pricey per gram. You will find its name slightly altered along its aging time: Chavignol Jeune (young), Chavignol Bleuté (maturity), and Chavignol Affiné (full maturity).
To enjoy Chavignol, grill it and serve it over salad or accompany with bread and bacon.
Wow Family And Friends With Your Expertise In French Cheeses
The list of French cheeses may go on forever, with over 1,600 distinct varieties. Moreover, the French eat 26.8 kilograms of cheese per person each year, making them one of the world's largest cheese-consuming nations.
Therefore, after gaining a considerable amount of French cheese expertise from this article, you can surprise your relatives and friends with how knowledgeable you are!
Drop a comment below to share your most preferred cheese in the Fromage nation. I would love to hear more peculiar suggestions from you. For now, thank you for reading!