If you love feta, you will love these types of goat cheese. They are just as delectable, even if served on their own, or crumbled over your pizza or greens. Not only do they taste great, but they also provide you with healthy fats, vitamins, and minerals.
Today, I'll be your guide and open the doors to the world of goat cheese for you. There are at least a hundred kinds available today, and each food comes with a different name starting from a to z. So don't just fool around with feta! Scroll down now for a delectable surprise!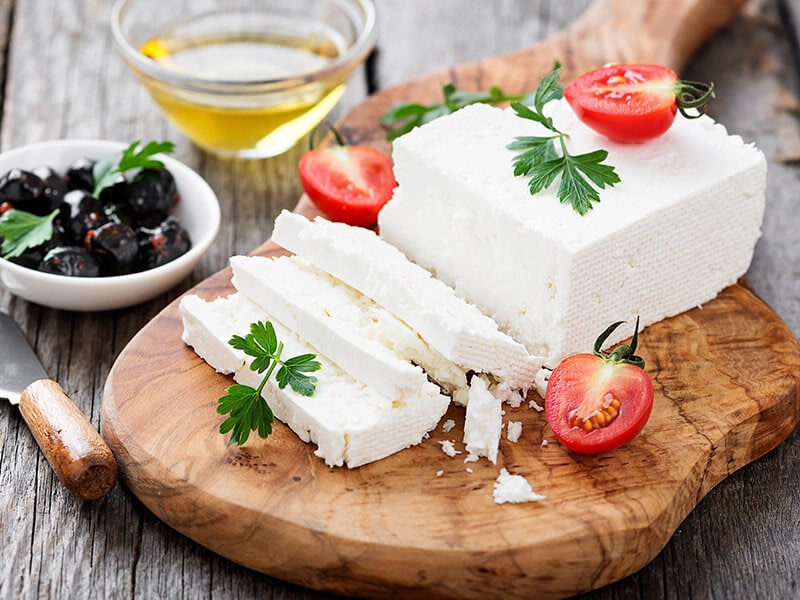 Let's Sit Down With These Game-Changing Goat Cheeses
Whatever brands you go for, blue cheese always wins rave reviews and makes you satisfied. Nonetheless, it's everywhere, and I must admit that I'm getting sick of its overwhelming smell that sometimes turns your recipes into a complete disaster.
That's the backstory of how I turn to the goat cheeses below. They can offer your meal a kick that's more welcoming. Moreover, they are more friendly with children or those with sensitive palates, which is ideal for parties with different guest types.
Without further ado, let's start with feta, one of my favorite choices for risotto!
1. Feta (Greece)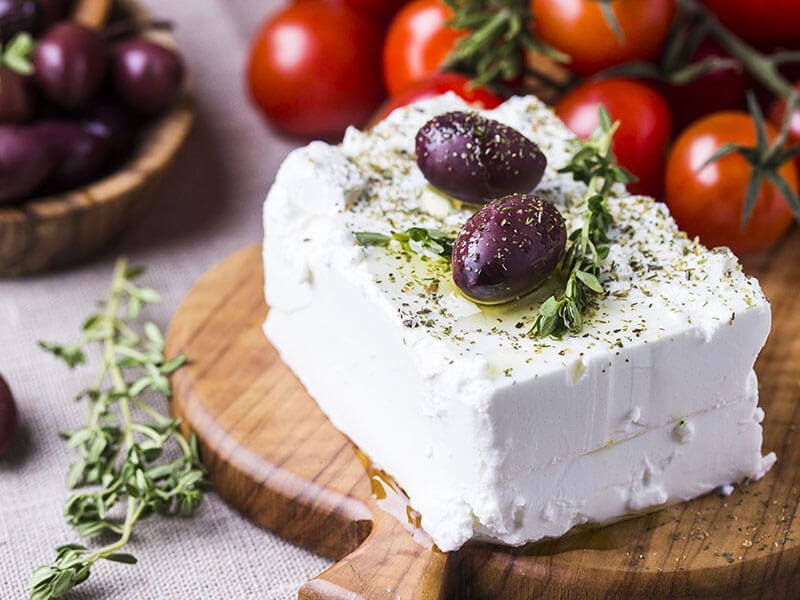 You love to put feta on everything, and so does everyone else, granted. The cheese is made of goat's milk, but some variants also include sheep's milk for an extra tang. Like others, you have probably wondered how feta tastes, and to put it simply, it's beyond amazing!
The cheese's texture and firmness vary greatly depending on where it is made. Overall, it's crumbly and creamy, which makes it a perfect sprinkler for your healthy salad. Truthfully, feta is not a good melter but bakes well, so it is one of the best cheeses for lasagna.
To enhance its flavor, serve the cheese with vegetables like tomatoes, carrots, asparagus, or bell peppers. Fresh fruits like grapes are also welcome, which can balance out the flavor and leave your palate refreshed.
Other Names
White cheese
Varieties
Based on the country



American feta
Bulgarian feta
French feta
Greek feta
Israeli feta

Based on the texture



Soft feta
Medium-hard feta
Hard feta

Substitutes

Cottage cheese
Queso fresco
Halloumi
Roquefort
Cotija

Rind
No
Pasteurization
Depends on variety
Fat Content
21% (16% in dry matter)
Aroma
Strong and nutty
Texture
Depends on variety
Flavor
Salty and tangy
Here's proof that Greek feta is the best of the best!
2. Ricotta (Italy)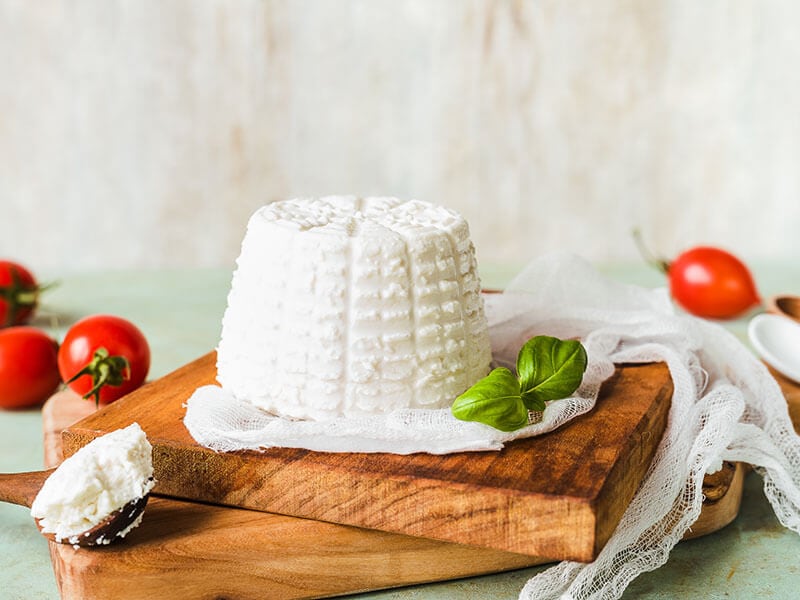 The second-most popular goat cheese you probably know and have been enjoying is ricotta, one of the greatest Italian cheeses of all time. It's highly nutritious and flexible in the kitchen, not to mention having a fabulous taste.
With different varieties come different tastes, but overall, ricotta is relatively mild and creamy. It will transcend your taste buds to heaven at the very first bite. No surprise to see people all over the world love to incorporate this cheese in their meals!
Thanks to its creamy, spreadable nature, ricotta can be a great alternative for cream cheese on your morning toast. Or, try it with pesto and toss in some juicy tomatoes for a quick salad. Ricotta can also jazz up your desserts, from cakes to energy bars to kickstart the day.
Other Names
Whey cheese
Varieties

Fresh ricotta (Ricotta di Bufala Campana, Ricotta Romana, etc.)
Aged ricotta (Ricotta salata, Ricotta infornata, etc.)

Substitutes

Cottage cheese
Mascarpone
Sour cream
Buttermilk

Rind
No
Pasteurization
Depends on variety
Fat Content
10%
Aroma
Fresh
Texture
Creamy and grainy
Flavor
Sweet and milky
Check out how ricotta, one of the most versatile cheeses, comes to life!
3. Goat Gouda (Netherlands)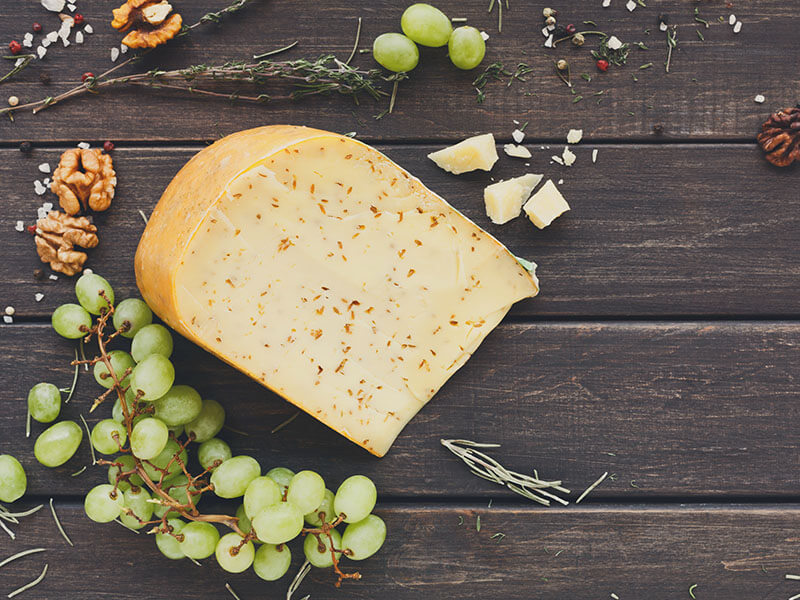 If you think cow's milk gouda is superior, change your mind: goat gouda is superior, and it is one of the best choices for the sweet tooth. The cheese is produced in California and needs at least five months to mature.
Not many people know how gouda tastes or what to serve with it, but the cheese is far more versatile than you think. It enchants you with an aromatic scent, followed by sweet and nutty nuances that can complement several dishes.
Most common serving recommendations include bread and fresh fruits. You can also bring it in your favorite baked recipes, from vegetable lasagna to chicken pot pie. The flavor team-up will leave you mesmerized for sure.
Other Names

Noord-Hollandse Gouda
Gouda Holland
Boerenkaas

Varieties

Young or new gouda
Young matured gouda
Matured gouda
Extra matured gouda
Old or fully matured gouda
Very old or very aged gouda

Substitutes

Muenster
Edam
Monterey Jack
Cheddar
Havarti
Gruyere

Rind
Yes
Pasteurization
Often
Fat Content
13%
Aroma
Aromatic and sweet
Texture
Smooth and grainy
Flavor
Caramel and nutty
Discover how to make a wheel of gouda from goat's milk with no fuss!
4. Buche de Chevre (France)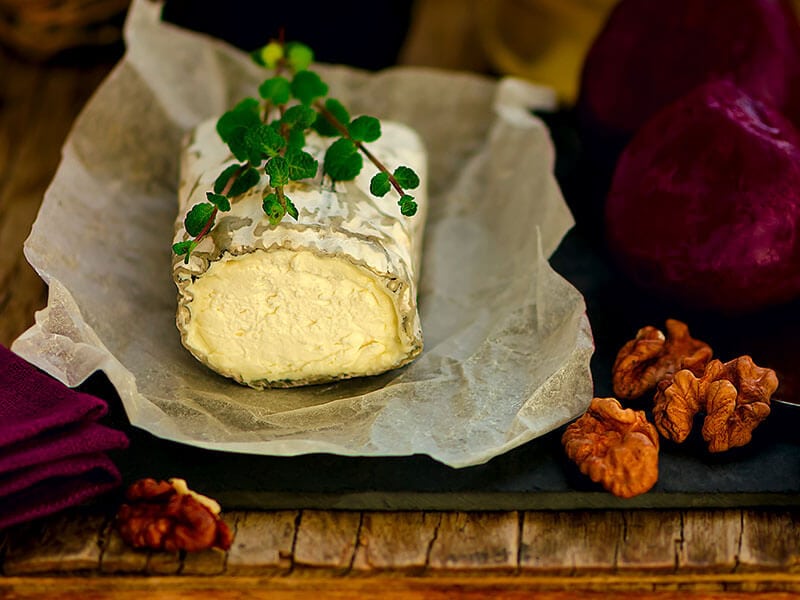 Another goat cheese that will blow you away, this time it's buche de chevre, a French cheese of Poitou-Charentes region. Surrounded by a crusty, bloomy rind is a white paste with a thick and creamy texture, which will melt gently on your tongue.
Speaking of its flavor profile, buche de chevre is not pale in comparison to any member of its family. It grips on your palate with a bold and complex motion, then comes sweet undertones that remind you of gooey caramel.
With such flavors, the cheese lends itself impeccably to many kinds of foods; to begin with, a drizzle of honey is just enough to keep you entertained. You can also make use of it to knock up some dressing for your blinis. The combination is just out of this world!
Other Names

Chevre
Buche de chèvre
Soft goat cheese

Varieties

Fresh chevre (fresh goat cheese).
Valençay (pyramide)
Bûcheron

Substitutes

Feta
Boursin
Fromage Blanc
Cream cheese
Mascarpone
Ricotta

Rind
No
Pasteurization
Depends on variety
Fat Content
30%
Aroma
Pungent
Texture
Soft and firm
Flavor
Earthy, tangy, and slightly acidic
5. Selles-sur-Cher (France)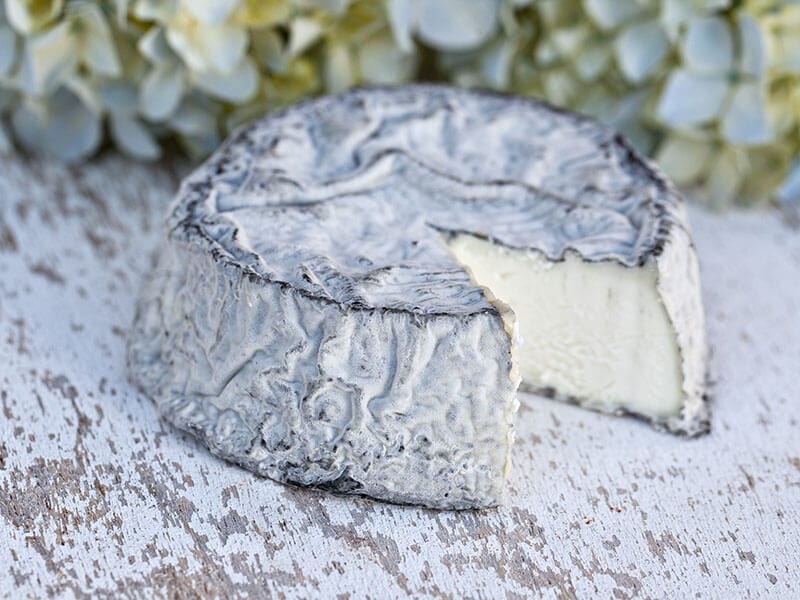 Selles-sur-cher does not have much curb appeal, undeniably. This exquisite blue cheese type is dusted with ash for a bloomy rind with robust flavors. It was invented in the 19th century and named after where it was born, the commune of Selles-sur-Cher in the Loir-et-Cher.
Flavor-wise, the disc-shaped cheese is quite salty. If you decide to keep the rind on, it brings an even more intense taste, which can be mellowed out with a glass of white wine like Merlot or Chenin Blanc.
If selles-sur-cher is not at hand, you can swap it with amalthea with no problems. However, it lacks the soothing lemony tang that many people love, which goes well with salads, pasta, or even desserts. You will be stunned by its deliciousness!
| | |
| --- | --- |
| Other Names | None |
| Varieties | None |
| Substitutes | Amalthea |
| Rind | Yes |
| Pasteurization | No |
| Fat Content | 45% |
| Aroma | Musty |
| Texture | Moist |
| Flavor | Salty with hints of lemon |
6. Murcia Al Vino (Spain) Vino (Spain)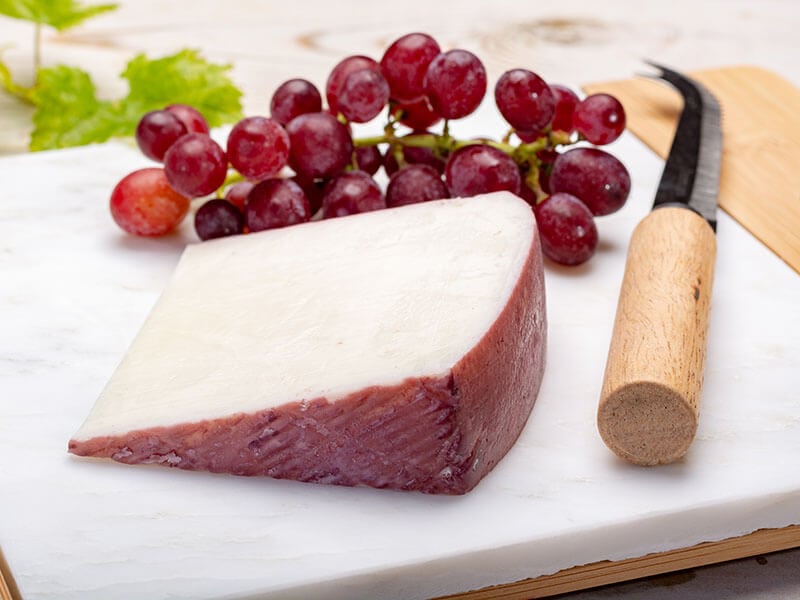 How can I forget murcia al vino on this list? The cheese is a labor of love, with the process of making it lasting from 30-45 days and involves several steps. With the immersion in red wine as the final step, the cheese is sometimes referred to as "Drunken Goat."
Wine and cheese are a match made in heaven, and this Murcian cheese will let you live your best life. When cut open, the cheese reveals its ivory-colored interior, which seduces with its pleasant creaminess and a subtle touch of acidity from the double-fermented wine.
Murcia al vino takes kindly to many flavors, but the best combo is a glass of Tempranillo. You can also have it as a part of a meal with your favorite fruits like apple and pear, or nuts, such as pecans, walnuts, and almonds.
Other Names

Drunken Goat
Queso de murcia
Murcian wine cheese

Varieties
None
Substitutes

Formaggio ubriaco
Tomme au marc

Rind
Yes
Pasteurization
Yes
Fat Content
Not specified
Aroma
Mild
Texture
Creamy, elastic, and open
Flavor
Fruity, acidic, and creamy
Let's get tipsy with murcia al vino, also known as " Drunken Cheese."
7. Fromage Frais (Belgium/France)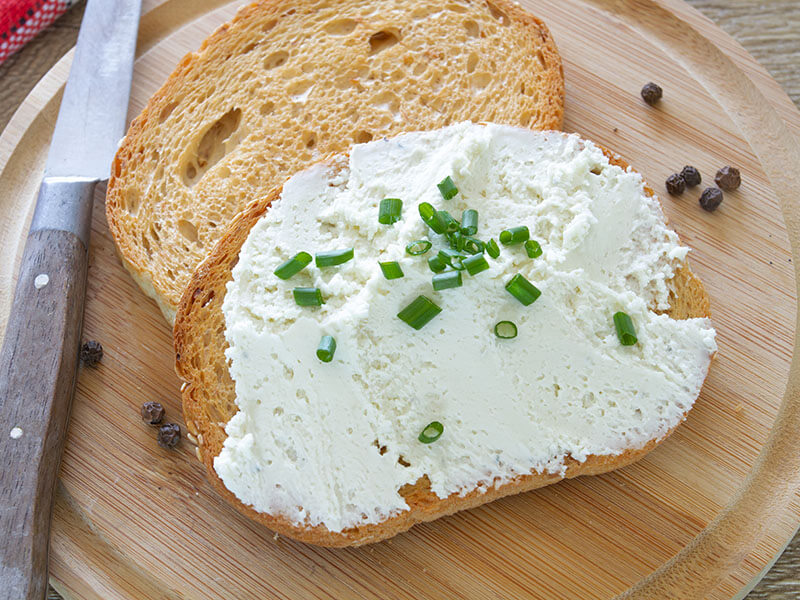 The French never ceases to amaze us. This time, they offer another goat cheese staple that you have probably tried before, which is the amazing fromage frais. The smooth, spreadable cheese will remind you of cream cheese, but their tastes are poles apart.
No hate for cream cheese, but fromage frais wins this battle. Fromage frais is rather bland in taste, which makes it an ideal blank canvas to prop up other foods. In addition, it's extremely low in fat, so you know what to go with to keep that waistline slim.
Since fromage frais contains live cultures, unlike fromage blanc, the cheese also offers a hint of acidity, yet not too overpowering. It is a great accompaniment for sumptuous caviar. If you think that's too much for your budget, some fresh fruits and a drizzling of honey is enough.
Other Names

Sometimes referred to as fromage blanc, but they are different (a case of misnomer)
Maquée

Varieties
Comes in different flavors depending on the brand
Substitutes

Frûche
Cottage cheese
Cream cheese
Greek yogurt
Plain yogurt

Rind
No
Pasteurization
Yes
Fat Content
0-8%
Aroma
Mild and fresh
Texture
Smooth, creamy, and spreadable
Flavor
Acidic, milky, smooth, and tangy
8. Caprino (Italy)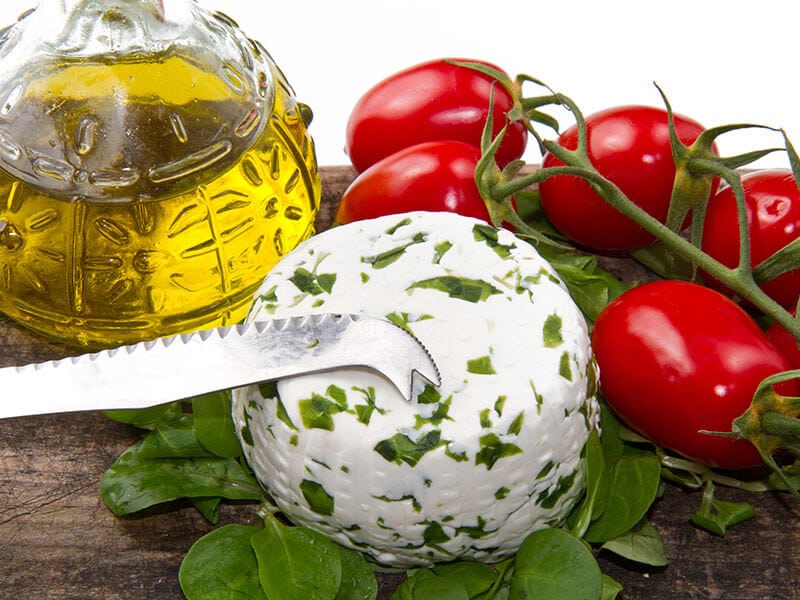 When speaking of Italian cheeses, there's more than just mozzarella. Caprino is a downright example; found in two varieties, fresh (fresco) and aged (stagionato), the Italian delicacy is a perfect addition to any meal, be it Sunday meals with your loved ones or large gatherings.
Everyone will drool when they see caprino on the table. Fresh version is milder in taste while its counterpart has a salty, tangy flavor. Depending on the region, there are even more to opt for: caprino molise, caprino marche, and more, which all taste divine.
You can enjoy caprino as it is, but its flavor is more complete when served alongside fruits. It also makes a great appetizer, which can stimulate your taste buds with refreshing acidity. If fine wine is your favorite pairing, Sangiovese is the way to go.
Other Names
No
Varieties
Based on the aging time



Caprino fresco (fresh caprino)
Caprino stagionato (aged caprino)

Based on the region



Caprino basilicata
Caprino molise
Caprino marche
Caprino trento
Caprino apulia
Caprino al Lattice di Fico
Caprino della Valbrevenna and more

Substitutes
Not specified
Rind
Yes
Pasteurization
Yes
Fat Content
Not specified
Aroma
Delicate
Texture
Soft and creamy
Flavor
Creamy, milky, and slightly acidic
9. Humboldt Fog (America)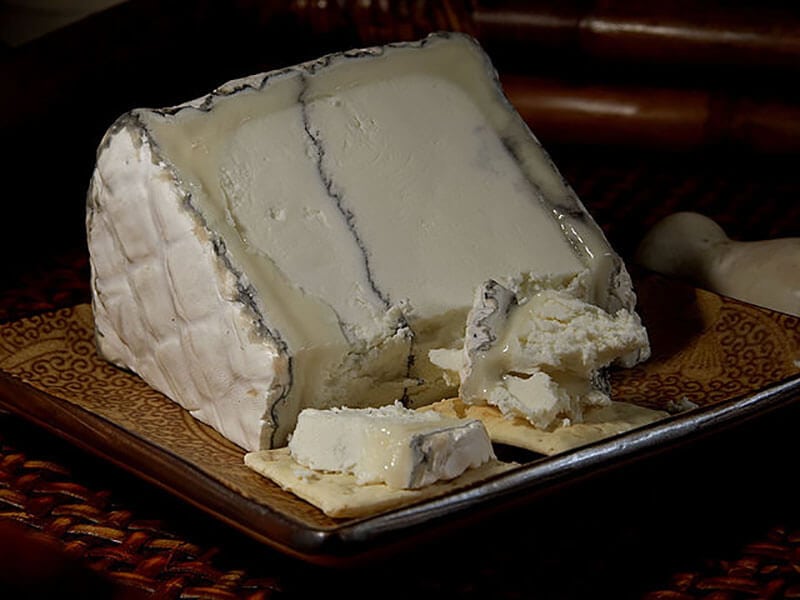 Humboldt Fog may not be on everyone's radar, but it will soon be. A delicacy from California, sometimes regarded as one of the most flavorful American cheese types, it can instantly kick any dish up a notch.
Unlike other bloomy rind cheeses, the rind of this one does not add to the flavor. In truth, it is kind of tasteless, which contrasts greatly with the light and creamy paste. It gives off an aroma of aged cow milk's cheese but is somewhat sweeter.
With exceptional features, the cheese has won first place in the American Cheese Society in 1998, 2002, and 2005. Serving recommendations are varied, with common ones being fruits and honey. You will love it with prosciutto, too – mark my words.
| | |
| --- | --- |
| Other Names | None |
| Varieties | None |
| Substitutes | Cypress Grove's Purple Haze |
| Rind | Yes |
| Pasteurization | Yes |
| Fat Content | 11% |
| Aroma | Slightly sweet |
| Texture | Soft, creamy, and flaky |
| Flavor | Buttery and creamy |
10. Garrotxa (Spain)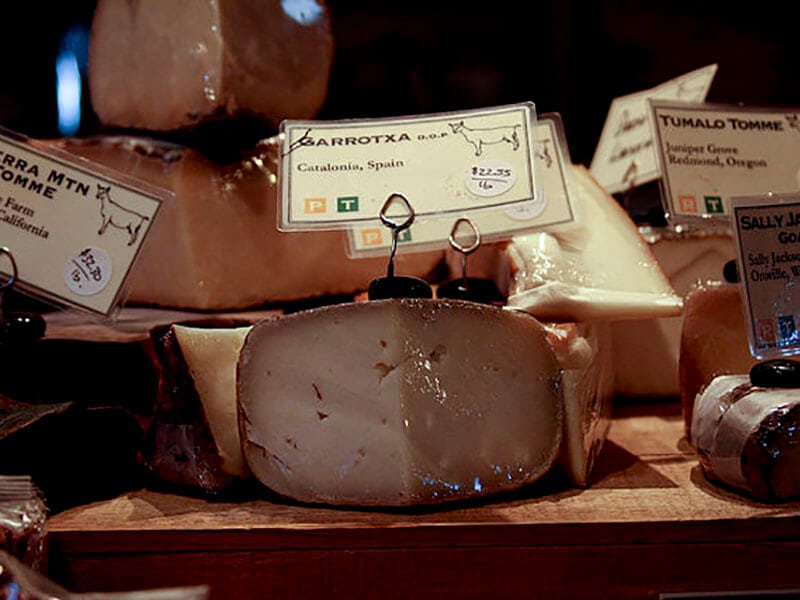 Garrotxa almost did not make it in the 1980s for countless reasons: maybe it's the exodus of the villagers, maybe it's a change of preferences. Whatever the main culprit is, good news is that the cheese is here to stay, at least for now, thanks to a few cheesemakers and farmers.
You can say that their effort was worth it since garrotxa has become more popular over time. The cheese gets its beautiful flavors from pasteurized goat's milk, which is enhanced greatly by mold when left in caves for 1-2 months.
Enjoyed in an extensive range of uses, garrotxa is a must-add to your cheese collection. For a quick and delightful meal, serve it sliced with olives. You can round out its flavor with many wine options, but fruity, structured ones work best.
Other Names
None
Varieties
None
Substitutes

Ossau Iraty
Goat gouda
Manchego
Aged mahón

Rind
Yes
Pasteurization
Yes
Fat Content
13%
Aroma
Strong
Texture
Creamy, flaky, and crumbly
Flavor
Nutty, herbal, and milky
11. Bleu de Chèvre (France)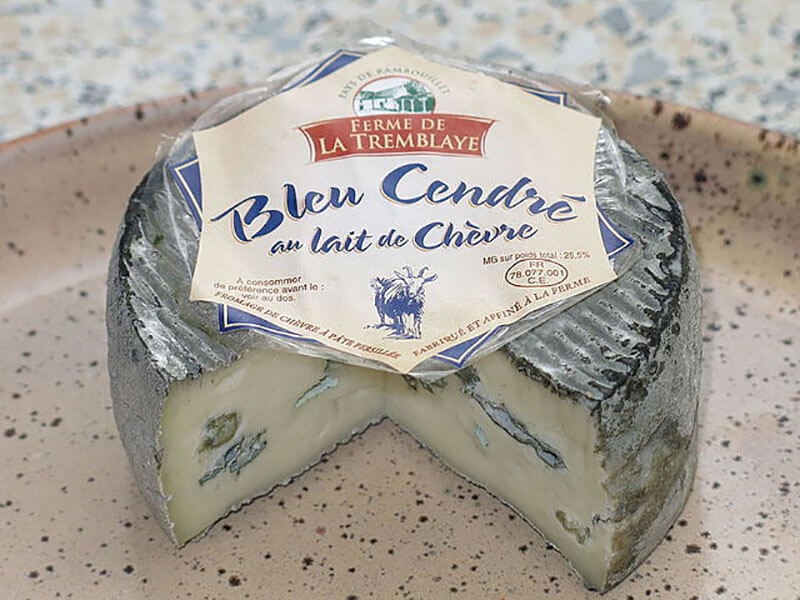 What happens when blue cheese teams up with goat cheese? You have this culinary work of art, which is bleu de chèvre from Auvergne, France. The cheese can be an excellent start for those who wish to embark on the blue cheese journey without feeling too much.
The cheese has a rather intense flavor profile balanced out by a heavenly creaminess. It has blue mold distributed throughout the paste, which provides an extra kick that makes even the most boring dishes turn to an exciting flavor ride.
Its persistent tangy finish is best rounded out by some fresh figs or sweet honey. It works like a charm with vegetables, be it fresh or roasted. Lastly, don't miss out on some fine wine such as Sauvignon Blanc or Muscat de Beaume de Venise for a more fulfilling experience.
| | |
| --- | --- |
| Other Names | Blue goat cheese |
| Varieties | None |
| Substitutes | Not specified |
| Rind | Yes |
| Pasteurization | Yes |
| Fat Content | Not specified |
| Aroma | Subtle and creamy |
| Texture | Smooth and creamy |
| Flavor | Strong, creamy, and salty |
12. Halloumi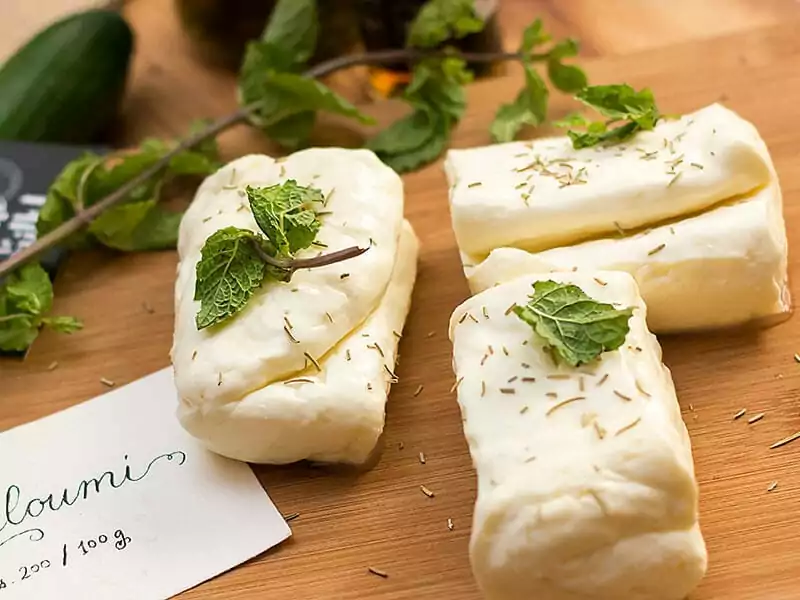 Halloumi is the comfort food of many. This yummy food that begins with "H" has become more and more popular, with its emergence seen in small coffee shops to Michelin-star restaurants. It deserves this hype, and you will agree on that once you try it.
Besides goat's, cow and sheep's milk are used to achieve a more complex flavor. It receives a salty punch from the brine preserve and is finished off with a chewy texture, amping up the fun of your culinary experience.
While you will come across halloumi with beautiful grilled marks, the cheese can be baked or even pan-fried for extra crispness. The deliciousness will ensue with warm flatbreads, spiced vegetables, and other proteins.
Other Names
Haloumi, hallomi
Varieties

Fresh Halloumi
Mature Halloumi

Substitutes

Feta
Kefalotyri
Paneer
Provolone
Queso Blanco
Queso Panela

Rind
No
Pasteurization
Depends on variety
Fat Content
25% (47% in dry matter)
Aroma
Strong
Texture
Chewy, creamy, firm, and springy
Flavor
Salty, savory, and tangy
13. Tomme d'Aydius
Tomme d'Aydius is a member of the Tomme cheese family, which is also known as Tommes. Such products are made from skimmed milk, offering consumers a healthier choice for their diets.
Indeed, they don't have to risk losing any flavor. When the knife yields through its rind, there goes a smooth, velvety exterior dressed in an appetizing rosy hue. The cheese's richness is just impeccable, leaving an indelible impression on you with a slightly salty aftertaste.
| | |
| --- | --- |
| Other Names | None |
| Varieties | None |
| Substitutes | Not specific |
| Rind | Yes |
| Pasteurization | Yes |
| Fat Content | Not specific, but generally low |
| Aroma | Delicate |
| Texture | Smooth and creamy |
| Flavor | Sweet, rich, and salty |
14. Saint-Maure de Touraine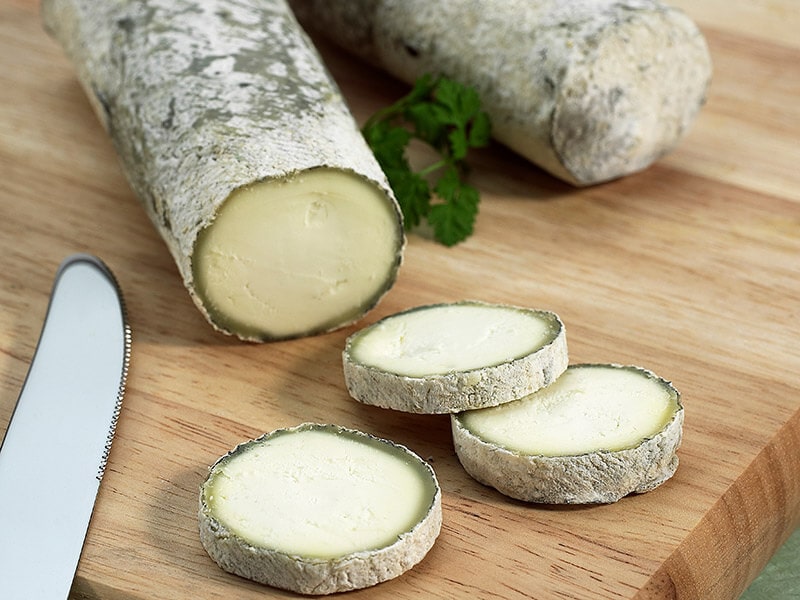 Named after its origin place, this cheese will open you to the world of indulgent sensations. It is made from full-fat goat's milk, shaped into a log, and rolled in wood ash. When cut open, a straw used for keeping the cheese from falling apart can be seen straightforwardly.
To make up for the lack of curb appeal, it invites you to the world of indulgent sensations. On the very first bite, your taste buds will fall for its nutty, slightly salty tones. After that, a lemony finish jumps in, which becomes more pronounced over the aging process.
Saint-Maure de Touraine can go solo or join the fun with other foods. You can choose to jazz up its creamy flavor with something sweet, such as fig jam. A glass of cold, dry white wine is another excellent accompaniment for this French cheese.
| | |
| --- | --- |
| Other Names | Sainte Maure |
| Varieties | None |
| Substitutes | Le Chevrot |
| Rind | Yes |
| Pasteurization | Traditionally no |
| Fat Content | 45% |
| Aroma | Goaty |
| Texture | Smooth and soft-ripened |
| Flavor | Nutty, salty, buttery, and slightly lemony |
15. Crottin de Chavignol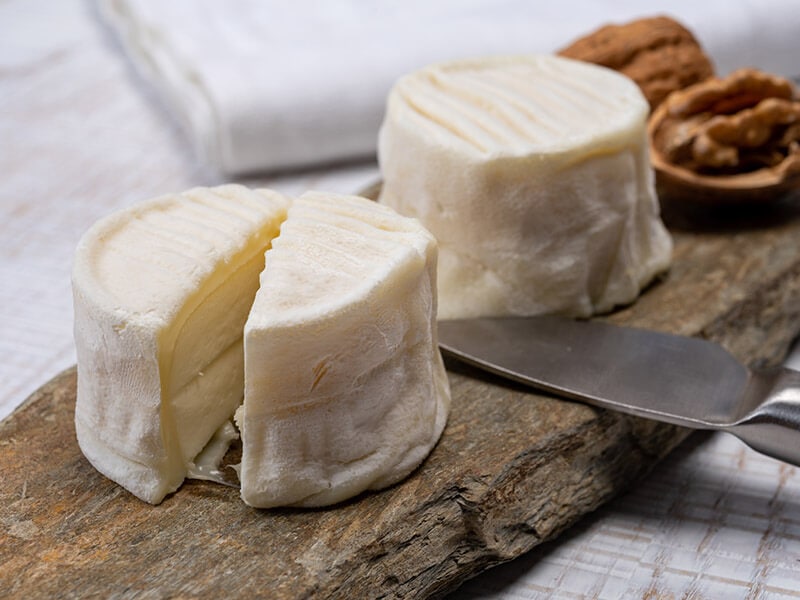 Loire Valley, France, is reputed for its rich and diverse culinary culture. It is the home of tarte tatin, fine wines, and flavorsome cheeses. When talking about the latter, most people cannot help but bring up Crottin de Chavignol, one of the best products made from goat's milk.
Some attribute its name to a small lamp called crot, which looks like the mold involved in the production of this cheese. On the other hand, some explain that the rind becomes hardened and even changes its color, resembling crotte (horse dung).
Although the origin of its name is not too attractive, the taste will make up for that. It has this nutty, goaty flavor with a strong aroma. Another surprising fact about Crottin de Chavignol is that you can eat it whenever you like; of course, young versions will be easier on the palate.
| | |
| --- | --- |
| Other Names | None |
| Varieties | None |
| Substitutes | Le Chevrot |
| Rind | Yes |
| Pasteurization | No |
| Fat Content | 32% |
| Aroma | Strong |
| Texture | Depends on aging time |
| Flavor | Nutty and goaty |
Which Goat Cheeses Are Your Favorite?
Have these types of goat cheese made your stomach growl? I'm certain they have. They are perfect for any dish and occasion, so don't hesitate to choose them. The outcomes will leave everyone pleased to the extremes.
Now, it's your turn to tell me about your favorite goat cheeses and why you like them. If you wish to contribute more, don't be afraid to leave some comments below. There is no such thing as too much goat cheese, right?