People who ask, "Can you freeze feta cheese?" and "How to freeze feta cheese?" might be cheese lovers, just like me. Since you and I have the same interest, I will help you with your questions.
Freezing dairy products seems challenging, and freezing feta cheese is also a common concern for feta cheese lovers. So what is the flavor of feta cheese? Indeed, it has a distinctive flavor that can not be replicated, tangy, buttery, peppery, and a beautiful salty flavor.
But it cannot last for a long time if you don't know how to store it properly. Freezing is an excellent way to keep your cheese; let me show you how!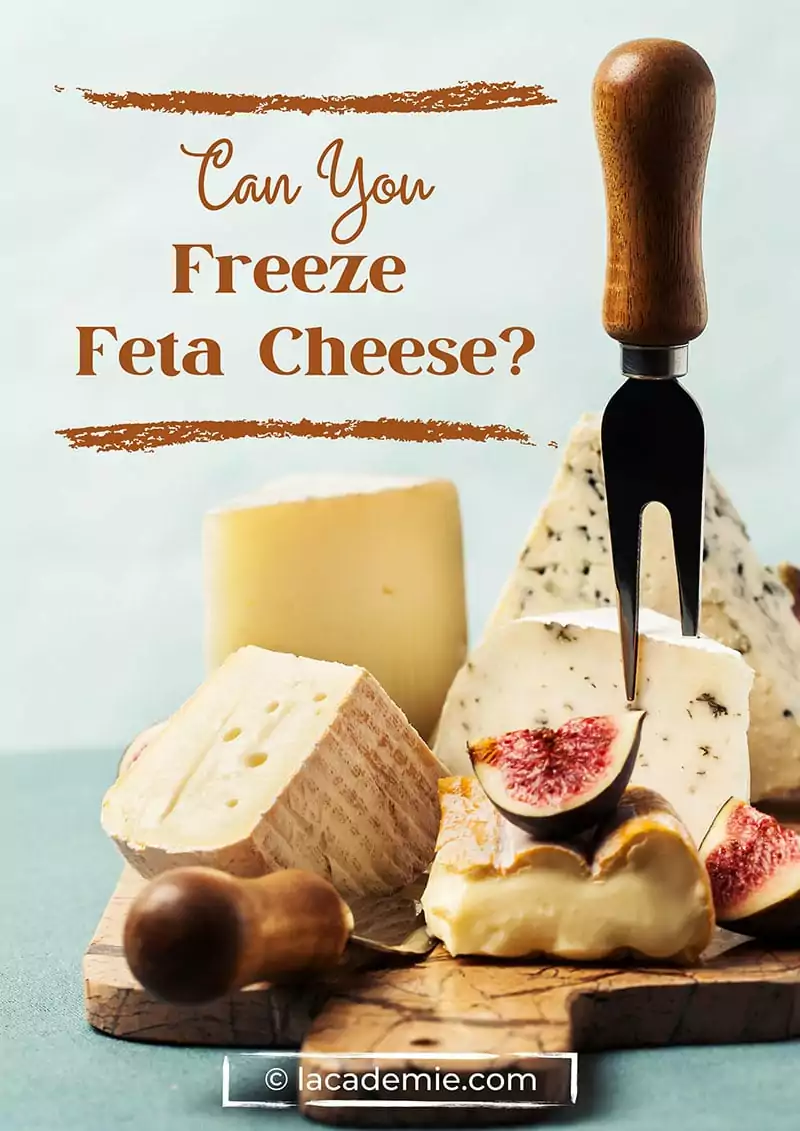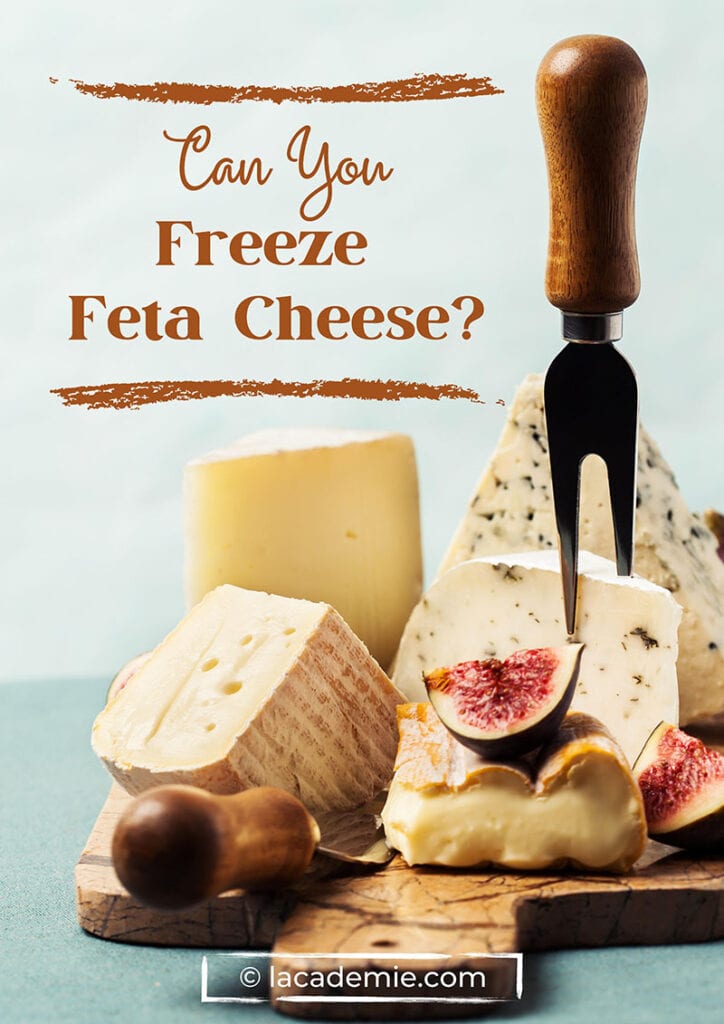 Is Freezing Feta Cheese Possible?
Fortunately, it's a yes. Although it's not an ideal type of cheese to freeze, the quality disparity after freezing is not significant, and the shelf life is also longer. So if you wonder if it's a good idea to freeze cream cheese, goat cheese, or other cheese types, it's a safe bet to say "yes".
With proper storage and longer use, you can create a lot of Greek-style appetizers whenever you want. However, feta cheese will change in quality after a time in the freezer, as I told you previously. It changed, not significantly, but it did, regarding flavors and the texture.
The original taste of feta is peppery, tangy, creamy, and salty; these might be lost a bit after freezing. As for the texture, feta is sorted as soft cheese. Therefore it naturally has a creamy, silky texture.
After freezing, the water content inside your feta will remain only 56% of usual and might lead to crumbly hard texture and make them unable to hold the cube or block form. If you want to use crumbled feta, then this texture change will not matter.
How To Freeze Feta Cheese?
If you want to store opened feta, it's pretty easy to freeze your leftover feta cheese. But it's somewhat different from blocks and crumbles, so I decided to show you in two separate smaller parts. Let's scroll down and check it out!
How To Freeze Feta Blocks?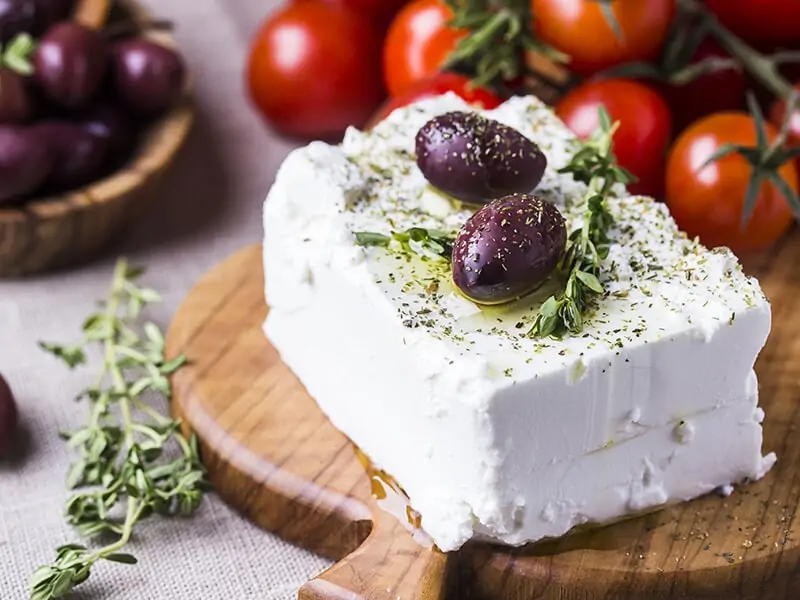 To begin the freezing process, you need to prepare several things:
Paper towels or clean absorbent fabric towels
Cling wrap or plastic wrap
Ziploc bags, freezer bags
Airtight containers
Some sticky notes, labels
And here are some steps you should follow to keep your feta:
Step 1: Drain your feta. Usually, your feta blocks go with its brine ( a salty liquid), and now your need to take out the cheese. After that, using the paper towels or fabric towels, you have prepared to pat partly dry your feta.
Don't remove all of the liquid from the cheese; it can lead to completely rock-hard feta.
Step 2: Divide into small portions. It's more convenient to take only a portion out when you want to use feta. Therefore, you should divide your feta into serving portions. You can separate a big block into smaller ones or small cubes; it's up to your preferences.
Step 3: Wrap your feta in the first layer of plastic wrap or cling wrap. Don't forget to wrap your feta portions tightly and air-blocked to avoid freezer burn.
Step 4: Put them inside the Ziploc bags. If you put them into the Ziploc or freezer bags, you might want to squeeze out the air as much as possible.
Step 5: Label the bags. Write the date you start to store them to track the expiry date later.
Step 6: Put all the bags into an airtight container. You can put the bags into the highest rank airtight container; it can be extra protection for your feta under extreme heat in the freezer.
How to Freeze Crumbled Feta?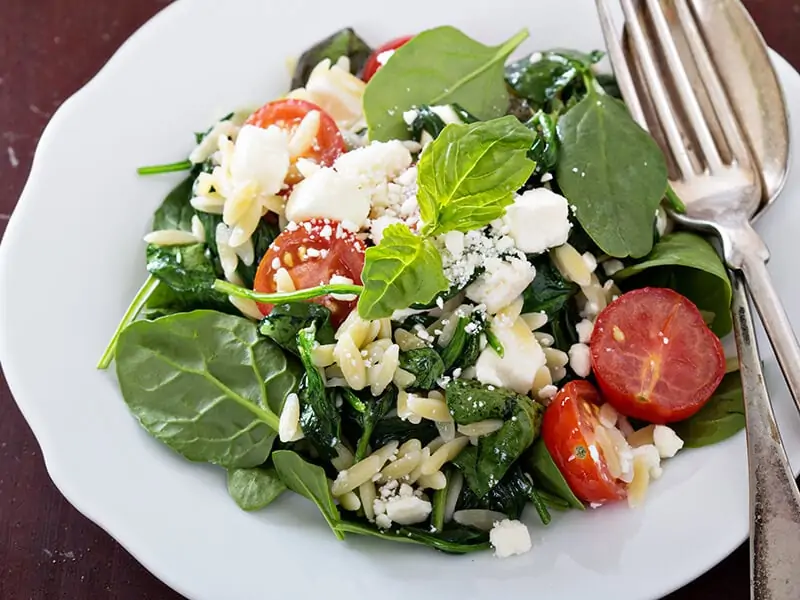 Now I will move to crumbled feta; you can see there are many crumbled feta at stores since it's more convenient, for example, to put into your fresh vegetable salads, fruit salads, or stuffings. Here is how to freeze these yummy crumbles for later.
And you also have to prepare some utensils, the same with the feta cubes.
Cling wrap or plastic wrap
Ziploc bags, freezer bags, or keep its package
Airtight containers
Sticky notes and labels
Step 1: Also divide your feta into serving portions; this step is optional because your leftover crumbles may not be enough to separate them anymore.
Step 2: Wrap them into two layers; first is the cling wrap and put them in the freezer or Ziploc bags. If you have heavy-duty freezer bags, you can replace them with normal ones. Since they are thicker, they can protect your feta better.
Note: If you decide to use the feta's package itself, you should still wrap it with some more layers of cling wrap or plastic wrap. Although the package is good enough to be in the freezer, more protection can ensure your feta will not have freezer burn.
And remember to squeeze as much air from the freezing bags out as possible.
Step 3: Put your wrapped cheese into airtight containers. This is my recommendation; putting your feta inside a container will protect it from the freezing cold and avoid other heavy things that will crush it.
Step 4: Stick the notes on and write the date. As you know, to check the expiry date.
The extreme temperature inside the freezer can burn your feta, so you need to follow these steps strictly, or your feta will have freezer burn and become mushy.
If you accomplish these steps correctly, your feta (crumbles and blocks) will still taste good after at least 1 month or up to 3 months in the freezer.
Note: Using your cheese within 1 month is the best. Although it is usable after 3 or even 6 months later (if you store it nicely and have bought high-quality cheese), the longer it stays in the freezer, the less delicious it will be.
Valuable Tips To Use When Freezing Feta Cheese
Although following these freezing steps above is good enough, some valuable; put tips below can help you do your work more efficiently.
A Vacuum Sealer Is A Great Help
A vacuum sealer will be a great assistant since you need to take the air out of your bags. It is obviously more efficient than using bare hands.
Pre-Freeze Your Feta First
If you are afraid that your feta cubes will not be frozen evenly and stick to the other when you take them out of the freezer later, you can flash freeze them first before putting them back again.
Use a baking sheet or a cookie sheet; put it on wax paper or anything that can substitute wax paper to avoid your cheese sticking to the sheet.
Spread your cheese cubes evenly on the sheet, ensuring they don't stick to the other.
Then put your sheet into the freezer until your cheese is frozen solid (that might take a couple of hours – you should watch them if you don't want them to have freezer burns.)
Take them out and do the freezing instructions for cheese cubes.
How to Defrost Frozen Feta Cheese?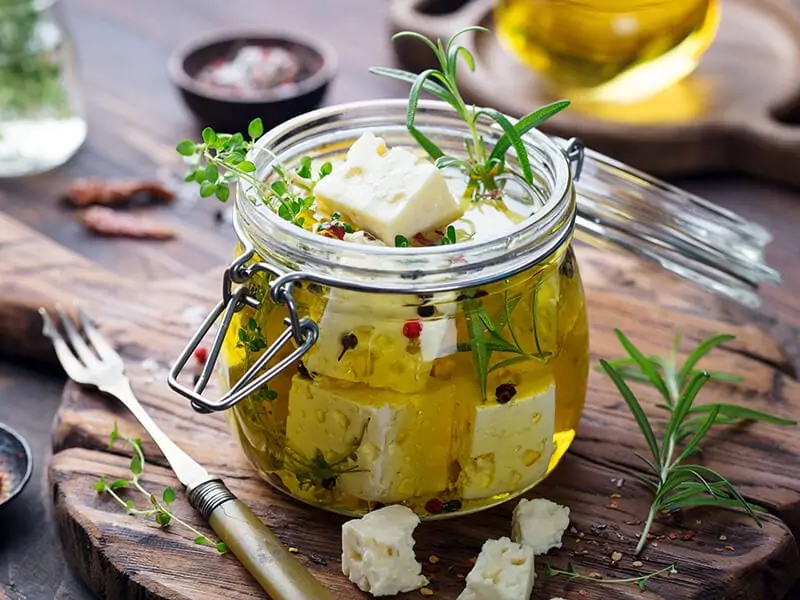 The best way to thaw your feta cheese is to put it into the cool compartment of your fridge for at least 3 hours or overnight before using it for cooking. It also depends on the size of your portions, but it will always be around that amount of time.
If you want a faster option, take the bags of cheese out of the fridge and dip them into a bowl of cold water. It might speed your thawing time up; 1 or 2 hours remain only.
There is an even quicker option which is throwing it into your cooking pot right away. The heat will melt your cheese, and you don't need to care about the texture.
Tricks To Improve Thawed Feta Cheese's Flavor You Might Want To Know
If you want to defrost and add more flavors into your at the same time, you can consider these ways:
Using brine: Frozen feta might lose some of its signature flavors and saltiness. If you like less salty feta, it's great. If you love the saltiness, you can submerge your feta in brine for 1 to 2 hours to bring it back.
If you have tossed its brine away, the mixture of 2 teaspoons of salt and 2 cups of water will help.
This is how to make feta brine in a few easy-peasy steps:
Using virgin or flavored oil: Olive oil, virgin oil, or flavored oil is suitable for adding the pungent or some attractive smell from herbs. Peppercorn and parsley-flavored olive oils are some of the best candidates for this.
Using clearwater or milk: It is evident that soaking your cheese in water helps reduce the saltiness, but I prefer using milk since milk can help enhance the lost creamy taste of feta.
How Long Is The Average Shelf Life Of Feta Cheese?
The shelf life of feta cheese is different based on its forms, conditions or the place you store them. Below is the advisable storing time in each place you should know.
At Room Temperature
Your feta cheese lasts the shortest at room temperature. Your unopened feta blocks might last 2 days at a temperature above 40 degrees F while the crumbles last only 6 hours. The brine inside the package helps feta blocks stay longer.
The duration for the opened or leftover feta is even shorter. If it is submerged in brine, it might last for 1 day. Conversely, your drained feta should be refrigerated within 2 hours.
In The Cool Compartment Of The Fridge
This Greek specialty cheese is made of sheep and goat milk, which can last a minimum of 2 months and up to 12 months in its firm block shape, in brine if it's high-quality and unopened.
Crumbled feta is usually sold without its brine, last the shortest due to the expiry date on their cover, which is generally up to 1 week after the date. The shelf life of the opened feta (but hasn't drained yet) and the drained feta is also different.
The opened and undrained can last for 3 to 4 weeks, while the drained only last for 5 to 7 days.
In The Freezer
As I mentioned above, no matter whether your opened or leftover feta is crumbled or in a block shape, they should be drained and might last 3 to 6 months in the freezer if you store them right.
On the other hand, the unopened products might last 3 months (crumbled feta) or 6 months (feta blocks) in the freezer.
| Types Of Feta | At room temperature | Cool Compartment Of The Fridge | Freezer |
| --- | --- | --- | --- |
| Feta Blocks (Unopened) | 2 days | 2 to 12 months | 6 months |
| Crumbled Feta (Unopened) | 6 hours | Expiry on covers + 1 week | 3 months |
| Undrained Feta (Opened) | 1 day | 3 to 4 weeks | Not recommended |
| Drained Feta (Opened) | 2 hours | 5 to 7 days | 3 to 6 months |
Note: "Un-authentic feta" mixed with cow's milk will have lower quality and a much shorter storage time, quickly sour and smelly.
Signs That Feta Cheese Has Gone Bad
Can feta cheese be spoiled and what are its spoiled signs? In reality, feta does get spoiled after freezing or storing, just like the other dairy products. Thus, detecting some of the signs below to toss your spoiled feta at the time can help to avoid health risks.
Unpleasant Smell
Although the original smell of feta cheese is already defined as "unpleasant." But you need to distinguish this! The natural feta smell is acidic, that's true. But it is faint and can only smell when you are very close to it.
If it has a sour smell, which is super strong and super greasy, that you can feel from far away, then you should toss your cheese away already.
Mold
This is the more noticeable sign. It is because your cheese is usually white, and the mold will make your cheese discolor. When you see mold, you should discard it.
You might have heard somewhere that you can still use moldy cheese as long as you cut out the moldy parts.
However, this trick only applies to hard cheeses like Asiago or Parmesan and semi-hard cheeses like gouda or cheddar, definitely not for soft varieties like feta and its substitutions with similar soft texture. So don't forget this important note.
Dryness And Hardness
The last one is the texture. Obviously, after freezing, the cheese will become a bit dry and hard. But when it is much tougher than expected, you shouldn't consume it anymore.
Taste Changes
Feta cheese is known for its saltiness, not sour or strong peppery. If you can taste these flavors in your feta, then you should discard them.
Suggested Usage Of Thawed Feta Cheese
It's a fact that your feta has lost its freshness and some of the flavors after the freezing process. Therefore, I suggest you use thawed feta with cooked dishes.
Pasta: It is a great way to use your defrosted feta since it will melt and blend with the pasta sauce, and you will no longer need to care about the dry texture.
Trending feta pasta? Here is the super simple guidance you can follow at home!
Sauces: Not only pasta sauce but other sauces that require salt components and pair well with creamy taste can also go with thawed feta. You should try them at least once, and they will not disappoint you.
Other cooked dishes: any food that you can think of when you have feta on hand, casseroles, mashed potatoes, stews, soups, and so on, they will all work.
An eggcellent 5-minute spinach and feta breakfast for you here:
I don't recommend using defrosted feta for fresh dishes like salads. The quality changes of feta might become more noticeable and affect the taste experiences.
Fun Facts: 3 Ways To Save Feta Brine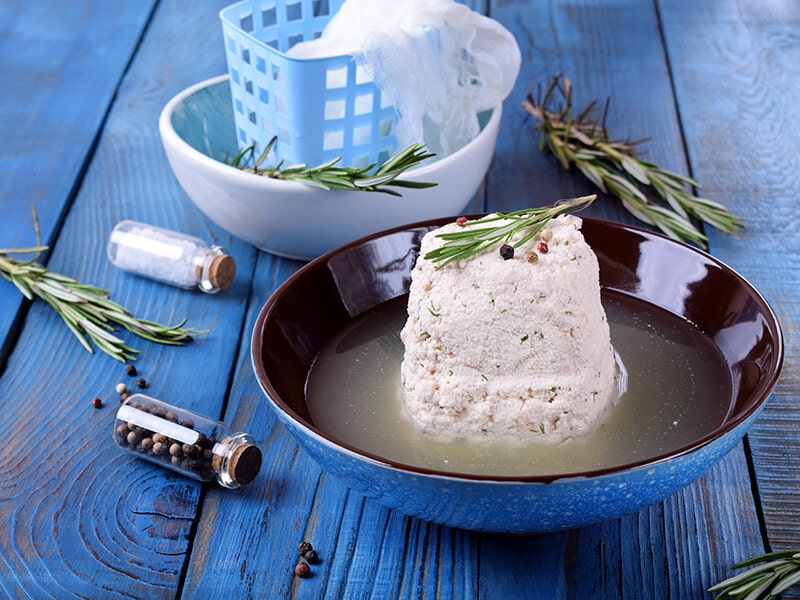 What to do with your brine when it is drained out of the feta? You will not toss out your cloudy, salty, feta-flavored brine anymore. There are three exciting ways to reuse it in some dishes.
Marinade meats: This salty brine can oddly add a nice saltiness and a hint of buttery to your meat. You can submerge your meats in this liquid for 4 to 5 hours to marinate.
Cook with rice or pasta: Plain and starchy food like rice and pasta can somehow go nice with this liquid. You can pour some of it into your rice pot or the water to boil pasta; it will bring some tangy and salty kick.
Make the pan sauce: Using feta brine instead of chicken broth in your sauce is not a bad idea. Sauté some garlic and shallot, add wine, and then this liquid, you can have the perfect sauce for your meat.
Three incredible ways to reuse feta brine you should not miss. Watch this video to know:
FAQs
I have provided you with almost all the information you might need about freezing feta cheese. If you still have some other questions, these frequently asked questions below might be the same as yours.
No More Worry About Freezing Your Feta
The answer to your question "can you freeze feta cheese" is a big "yes," and I have also given you some valuable information that might help you improve your experiences with frozen feta.
All in all, the fresher it is, the better. You can buy an appropriate amount and consume your feta cheese within a few days later.
Have you ever tried to freeze feta before? Do you have any other tips to share with me? I am happy and motivated to receive your contributive comments or suggestions. Feel free to contact me and discuss this sometimes!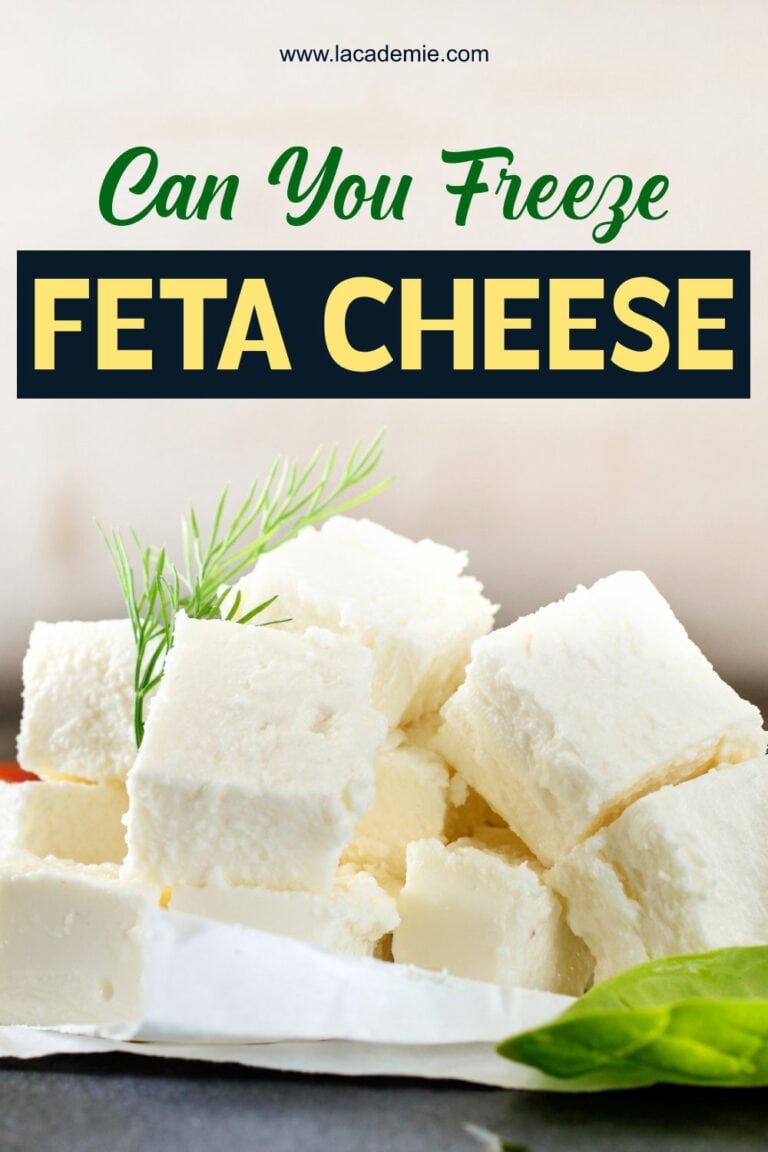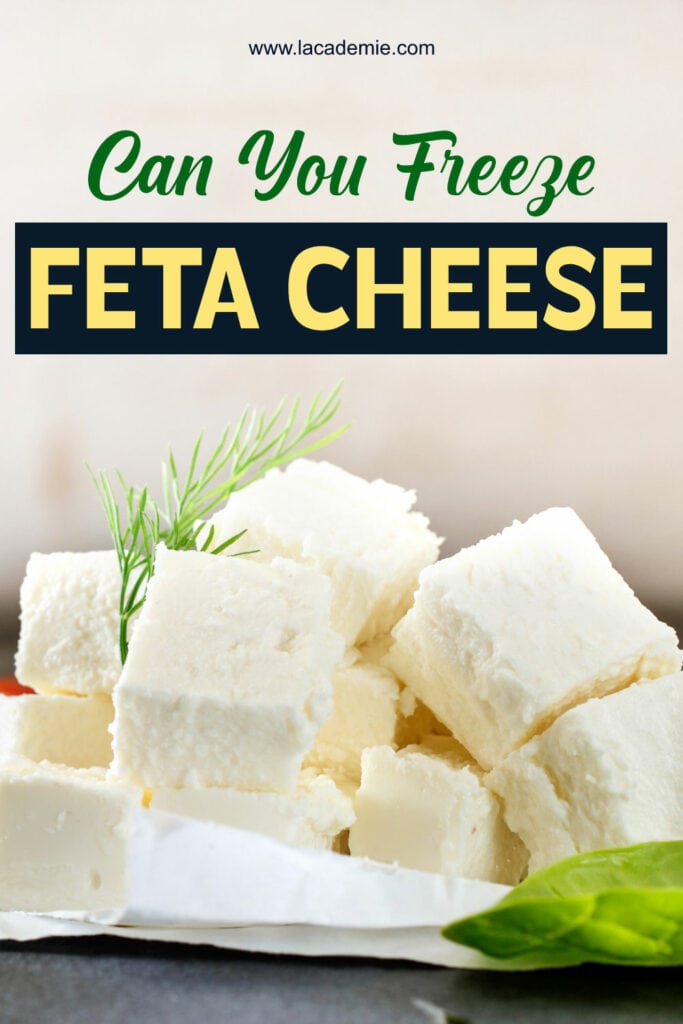 References
1. Science Direct. 2021. Water status and dynamics of high-moisture Mozzarella cheese as affected by frozen and refrigerated storage. [online] Available at: <https://www.sciencedirect.com/science/article/abs/pii/S0963996920304403>.
2. Usdairy.com. 2021. How Long Can Cheese Sit Out?. [online] Available at: <https://www.usdairy.com/news-articles/how-long-can-cheese-sit-out>.
3. Healthline. 2021. Can You Eat Moldy Cheese?. [online] Available at: <https://www.healthline.com/nutrition/moldy-cheese#dangers>.