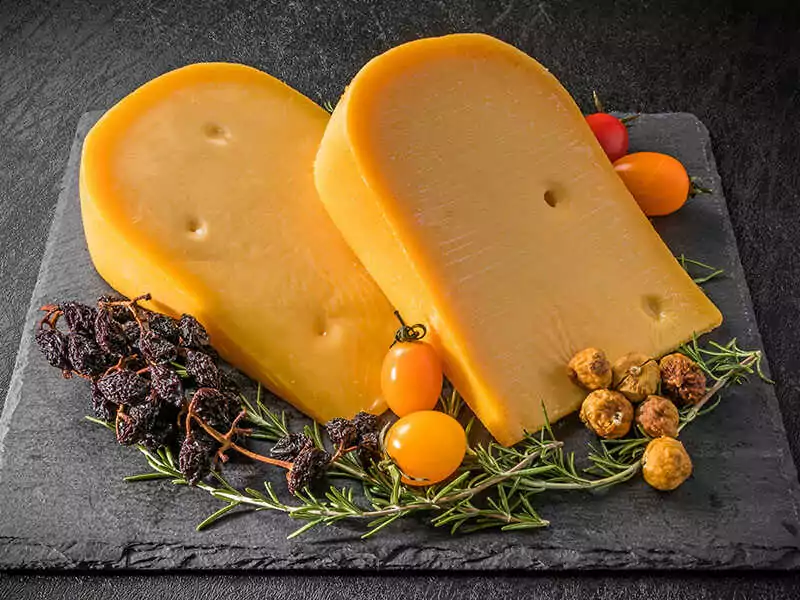 What is Gouda cheese? What does Gouda cheese taste like? Can you answer those questions exactly? Nowadays, the "Gouda" cheese is just a term of cheeses made in the same style, not the original cheese. Therefore, there are different flavors of Gouda cheese.
Therefore, if you want to know about the tastes of Gouda cheese, do not miss this article. I will give you detailed information about Gouda cheese. Understanding clearly about types and flavors of Gouda cheese helps you know what types you need.
Let's scroll down to explore such fascinating information about Gouda cheese.
General Taste Of Gouda Cheese
Gouda cheese is considered one of the most popular cheeses all over the world because of its beautiful flavor. There is one fact you need to know, the flavor of Gouda cheese becomes more intense during the aging process.
Young and young matured Gouda cheese tastes mild and subtly sweet and comes along with a tender texture. If you are looking for some sandwich ideas for your picnic, don't overlook these two cheeses. And they are perfect with crackers as well.
In contrast, Gouda cheeses that are aged tend to become harder, denser, and more crumble. They also taste buttery and nutty, reminiscent of butterscotch or toffee.
What Is Gouda Cheese?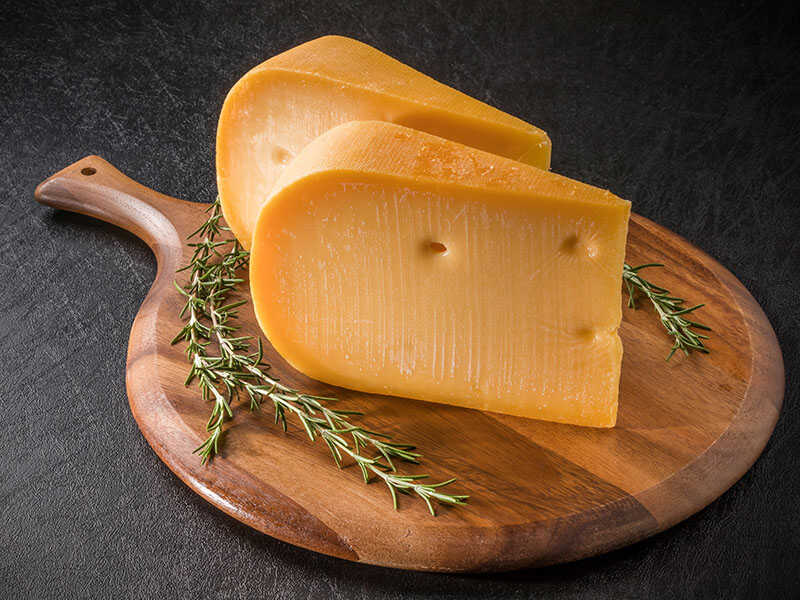 The traditional Gouda cheese is made in the Netherlands, which explains why Gouda cheese is also prevalent in Dutch cuisine. Gouda cheese first appeared in the year 1184, and it is considered one of the oldest cheeses still in existence today.
Surprisingly, Gouda cheese does not originate in Gouda – a city of Noord-Holland, but it is traded there. These days, the old-fashioned cheese (Boerenkaas) is still made by 300 Dutch farmers using unpasteurized milk. Most other Gouda cheese is produced industrially.
According to the aging process to make Gouda cheese, the Dutch classify their Gouda into six categories based on the length of the aging time. (1)
| | |
| --- | --- |
| Gouda Cheese Categories | Aged |
| Young Gouda | 4 weeks |
| Young matured Gouda | 8 – 10 weeks |
| Matured Gouda | 16 – 18 weeks |
| Extra matured Gouda | 7 – 8 months |
| Fully matured Gouda | 10 – 12 months |
| Very aged Gouda | up to 3 – 5 years |
Gouda cheese has a dense texture with few small holes and yellow or orange color. It is recognizable by its wheel-shaped. Young and aged Gouda differ from each other in texture and flavor.
Discover the wondrous method to prepare homemade Gouda cheese. You should see the video below:
How Does Gouda Cheese Taste?
There are some slight differences among the six types of Gouda cheese. Young Gouda cheeses have a softer texture than the older ones. The color of young Gouda is also lighter than aged Gouda.
When it comes to the taste, the Gouda cheese's flavor strengthens during the aging process.
Young Gouda cheese tastes nutty, creamy, and sweet. People said that they have a butter-like and caramel-like flavor.
Apart from the younger cheeses, the aged ones have a burst, butterscotch or toffee-like flavor. Due to this flavor, these Gouda cheeses often serve as a replacement for Fontina cheese, especially in pasta. Also, they have a harder texture than young Gouda cheeses.
Apart from the original flavor above, there are a lot of different kinds of Gouda cheese with diverse flavors that you should not miss. Check the table below!
| Kinds of Gouda Cheese | Appearance | General Texture And Consistency | Notable Flavors |
| --- | --- | --- | --- |
| Smoked Gouda | Thickly rounded edge wheels with the golden brown color outside, and the inside is straw-colored. | Firm and semi-soft texture | Mild, buttery, and slightly caramel-like taste |
| Truffle Gouda | It is flat wheel-shaped with an ivory color added with chopped truffles. | Supple and springy texture | Creamy, nutty combined with the slight garlicky flavor of truffles. |
| Bacon Gouda | It has a wheel-like shape and ivory color added with chopped smoky bacon. | Semi-firm texture | Creamy, subtle sweet combined with the featured sweet and savory taste of smoky bacon. |
| Gouda With Cumin | It is wheel-shaped and yellow colored with cumin seeds. | Smooth and springy texture | Mild, sweet, buttery, nutty come along with a warm spicy flavor of cumin seeds. |
| Fenugreek Gouda | It has a pale yellow color and fenugreek-studded | Smooth and semi-hard texture | slightly nutty, maple syrup-like flavor. |
Smoked Gouda
Smoked Gouda is native to Dutch, where most cheeses are traded. It is recognizable by its thick wheel shape and golden brown color.
Smoked Gouda has a semi-soft texture and mild, buttery, caramel-like flavor. This cheese is an indispensable ingredient for various recipes with Panera bread. One of the most well-loved combinations is with diced ham, eggs, and fresh chives.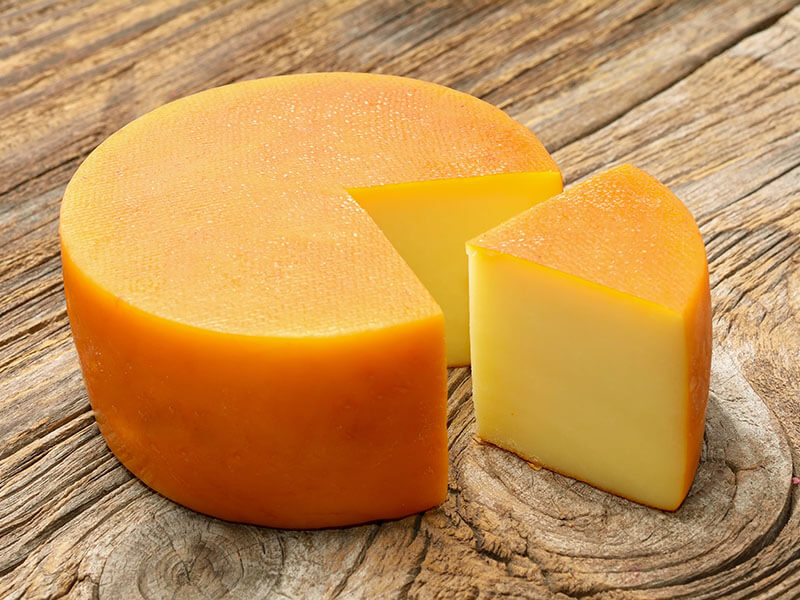 Truffle Gouda
Truffle Gouda has a semi-firm texture added with chopped black Italian truffle. Thanks to the unique flavors that truffles can bring about, which can be described as creamy, nutty, and garlicky, people usually eat truffle Gouda with beer, liquor, and wine.
You can elevate your truffle Gouda by pairing it with a few slices of truffles as well. And with the various truffle cultivars for you to choose from, I'm certain you'll find a truffle type that boasts flavors and aromas to your liking.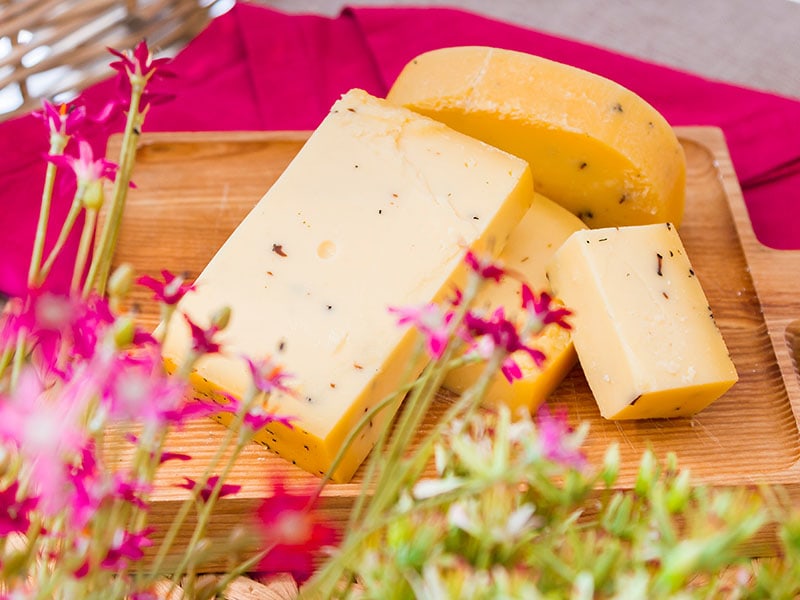 Bacon Gouda
Bacon Gouda shares the same flavor and texture as truffle Gouda, but it is added with the featured smoky and sweet-savory taste of smoked bacon. Just like truffle Gouda, bacon Gouda also pairs well with various kinds of beer, liquor, and wine.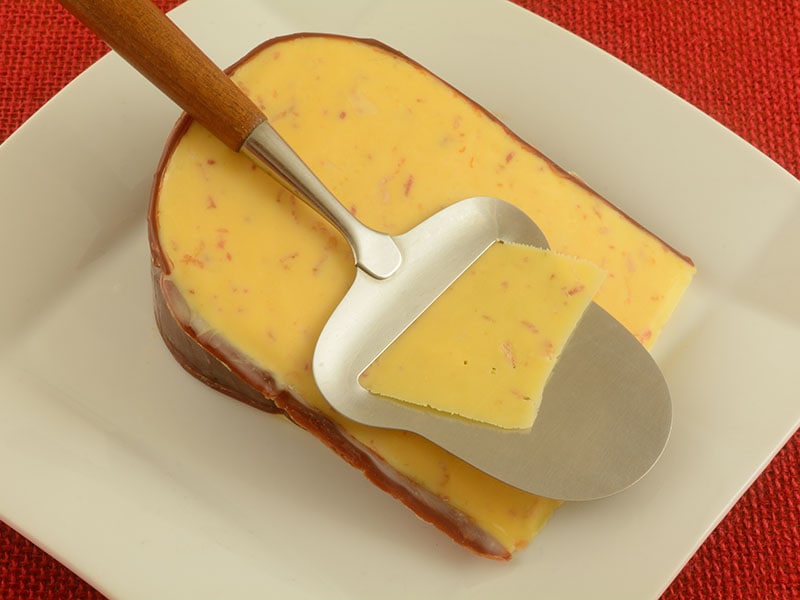 Gouda With Cumin
Gouda with cumin has a darker yellow color compared to truffle and bacon Gouda. Gouda with cumin is considered a flavor explosion by the diverse taste, including mild, sweet, buttery, nutty taste that comes along with a warm spicy flavor of cumin seeds.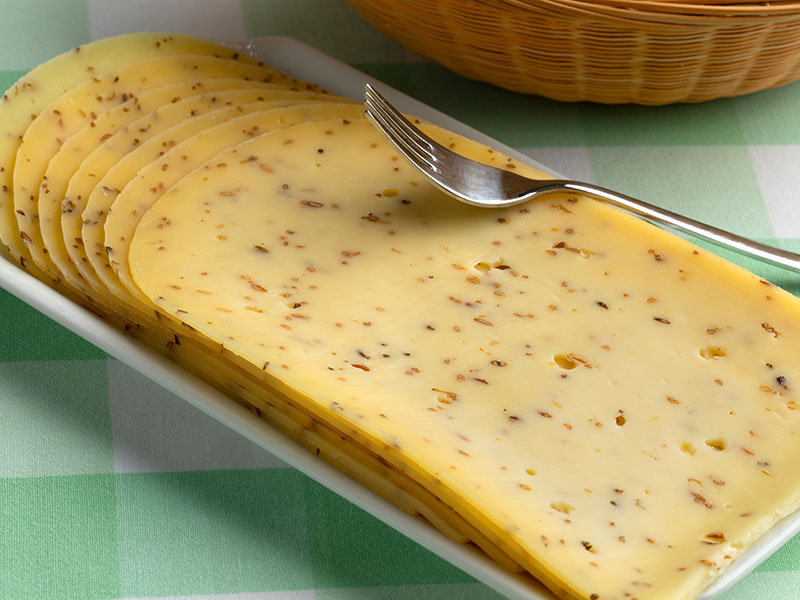 Fenugreek Gouda
Fenugreek Gouda has a smooth and semi-hard texture. It tastes slightly nutty, reminiscent of caramel flavor. Eating Fenugreek Gouda is also beneficial for your digestive system.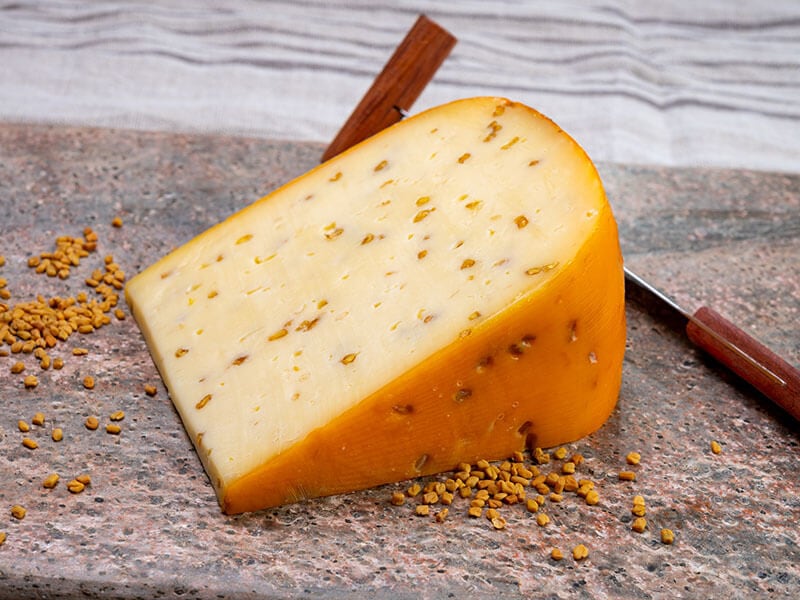 Still curious about Gouda's cheese taste? Here's your answer!
How To Store Gouda Cheese Effectively?
The Gouda cheese is always put on a coating to keep it clean. You can store Gouda cheese by putting it in the crisper drawer of your refrigerator. You have to wrap it in parchment paper and loosely in plastic. This storage helps Gouda cheese keep for 2 to 3 weeks.
You can also freeze sliced Gouda cheese to extend its shelf life. The best way to freeze it effectively is by wrapping it in heavy-duty aluminum foil, plastic, or heavy-duty freezer bags.
However, freezing Gouda cheese may alter its texture. It is better to use for cooking sauce, soup, or casserole. Frozen Gouda can keep for up to 8 months if you freeze it properly.
Identifying Signs Of Spoiled Gouda Cheese
After the best-by date, the Gouda cheese will be spoiled gradually. However, your cheese will go bad quickly if you do not store it effectively. If you notice some of the symptoms below, you should discard your Gouda.
Your Gouda Cheese Gives Out A Bad Odor
Spoiled Gouda cheese has an unpleasant and strong smell. If you can sniff the foul odor of your cheese, it is an identifying sign of rotten Gouda cheese.
There Is A Discoloration Of Your Gouda
Gouda cheese that is going to be bad will change its color. The color will turn to a darker color eventually.
Moldy Gouda Cheese
Rotten Gouda cheese will grow mold gradually. If your Gouda grows mold outside, you can cut the moldy part off and enjoy the rest of it. If molds appear inside the cheese, you have to toss it right away because eating mold is harmful to your health.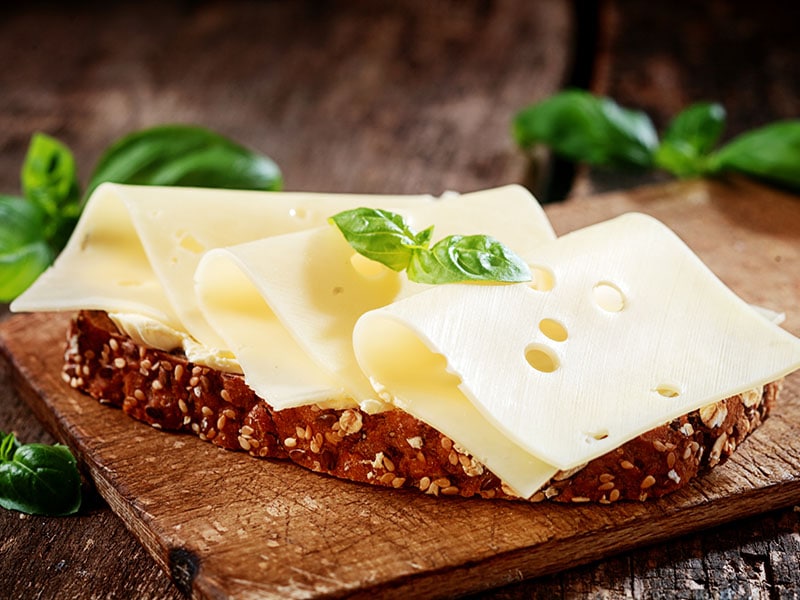 Have you ever wondered about Gouda cheese recipes? People usually use Gouda cheese to make sauces or dips. It is also combined with vegetables or fresh and dried fruits to enhance the flavor.
People also love to eat Gouda cheese with sandwiches and crackers as a quick breakfast or a snack. Also, Gouda cheese pairs well with wine and cider.
Below are some other popular Gouda cheese recipes that are waiting for you to try!
This dish is a combination of bold, creamy, nutty, and smoky taste. It is definitely a flavor explosion. Also, the ingredients are simple and easy to find. It won't take your time to make.
The detailed guide to making perfect smoked Gouda mac and cheese! Watch this video:
It is a perfect side dish to serve with beef steak or bacon. Eating spicy garlic butter shrimp with Gouda cheese grits is also suggested. The texture is thick and creamy. Don't miss it!
Italian white lasagna is a popular homemade food of many European mothers because of its rich and hearty taste. It could be an ideal dinner for your family.
Get sick of the original spaghetti with tomato sauce? It's time to try this Gouda spaghetti. You won't be disappointed because of the amazing flavor of this dish. The creamy taste of Gouda cheese combined with the smoky taste of bacon is totally a flavor explosion!
Try this amazing recipe to make a Gouda spaghetti effectively. The video below should be able to help you:
Ham and Gouda quesadillas are also one of the best choices when you don't know what to serve with Gouda. The combination of many ingredients makes this dish special and mouth-watering.
What To Pair With Gouda Cheese?
Besides eating Gouda cheese with fruits, bread, or crackers, Gouda cheese is also an indispensable drinking bait. Below are some recommended alcoholic drinks that pair well with Gouda cheese.
The taste of Gouda cheese amplifies with age. Thus, each type of Gouda matches with different types of drinks. Look at this table for more specific information.
| Types of Gouda cheese | Types of wine | Types of beer | Types of whiskey |
| --- | --- | --- | --- |
| Young and matured Gouda | Champagne, Cava, Sauvignon, Blanc, Pinot Noir, Riesling, Merlot. | Brown Ales, Amber Ales | Single Malt Scotch Whiskey |
| Aged Gouda | Chardonnay, Riesling, Tawny Port | Doppelbock, Belgium Dubbel, Stout | Aged Bourbon, Rye Whiskey, Highland Scotch |
| Smoked Gouda | Zinfandel, Shiraz | Bock Beer | Peated Scotch, Peated Whiskey |
Is There Any Cheese That Can Substitute Gouda Cheese?
If there is no Gouda cheese available at your home, it's time to explore some excellent alternatives for Gouda cheese. You can replace Gouda cheese with some other cheeses. Read on to find out what they are!
1. Munster Cheese
Munster cheese is a semi-soft cheese with orange color outside, and the inside is creamy gold color. Munster cheese's mild taste really reminds people of Gouda cheese. Thus, people often use it to spread on bread or crackers or in other dishes like macaroni.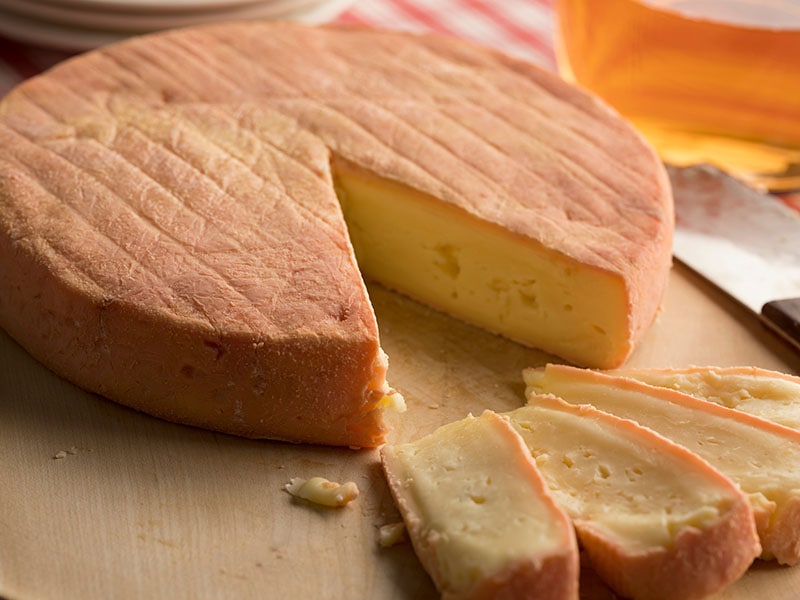 2. Monterey Jack Cheese
Monterey Jack cheese originated in California, USA, but it appears in various Mexican and Spanish dishes. Compared to Gouda, Monterey Jack has a milder and more buttery taste. It is also considered one of the most aromatic cheeses.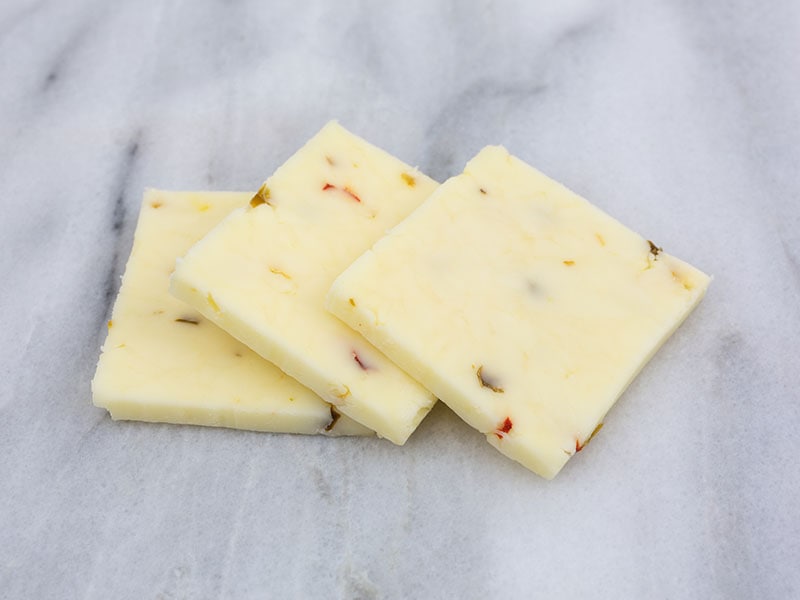 3. Cheddar Cheese
Cheddar cheese is very popular, and most supermarkets have one or two famous Cheddar cheese brands on their shelves. It tastes slightly sharper and saltier than Gouda. However, because of the similar dense texture, Cheddar cheese can be a perfect substitute.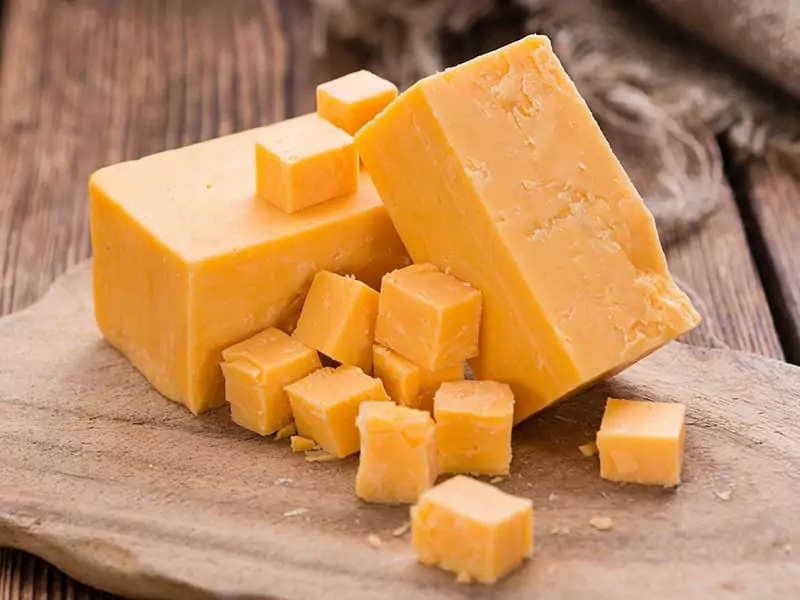 4. Gruyere Cheese
Everyone knows Gruyere cheese is native to Sweden. But do you know other information about Gruyere cheese like its flavor, how to use and store it,… Well, I'll provide you with some answers.
Gruyere cheese shares the same mild and nutty taste as Gouda. People usually melt it and use it in preparing the traditional fondue recipe. Sliced Gruyere cheese also pairs well with breads or crackers.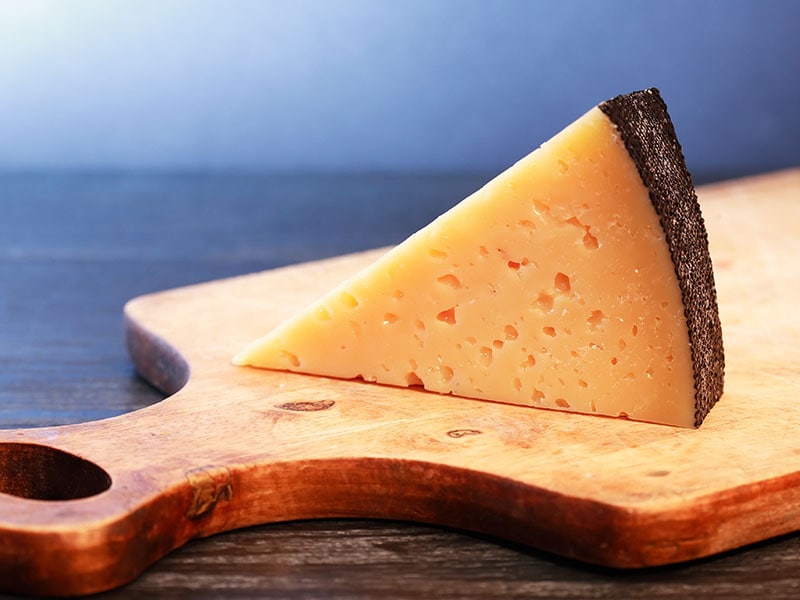 5. Havarti Cheese
Havarti cheese is widely used in Denmark. It has a firm, creamy texture and mild taste. Havarti appears in various Danish foods, including salads and sandwiches. Also, it can be used as an alternative for Gouda to serve with wine and fruits.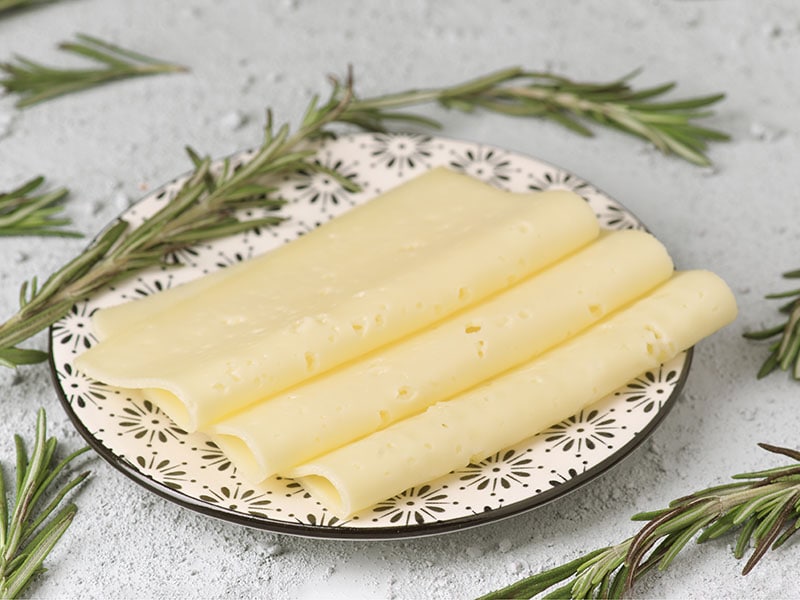 6. Edam Cheese
Edam cheese is also made in the Netherlands. Young Edam cheese tastes mild, creamy, and it tends to taste more intense during the aging process.
Edam cheese has a round shape with an identified red coating. Just like Gouda cheese, Edam cheese pairs well with fruit and different types of wines.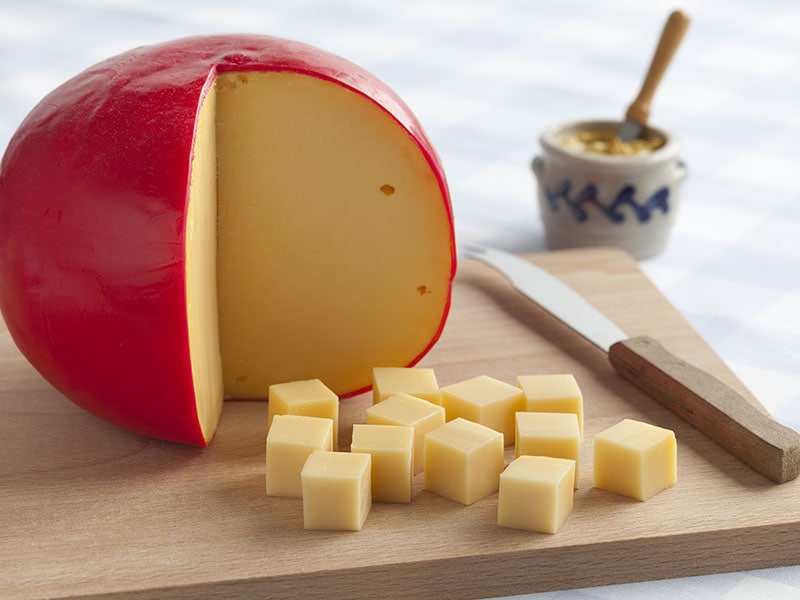 FAQs
Below are some questions you may ask about Gouda cheese and other cheeses mentioned in this article. Keep on reading to find out your answer!
Further Information About Gouda Cheese
If you cut off your precious Gouda cheese and found so many crystals in it, do not worry because they are just the protein crystals formed during the aging process.
Do not forget to like and share this post with those who need to explore more about Gouda cheese. If you have any opinion about Gouda cheese, leave a comment below. I will come back with other fascinating information. Thank you for your time!
References
En.wikipedia.org. 2021. Gouda cheese – Wikipedia. [online] Available at: <https://en.wikipedia.org/wiki/Gouda_cheese>.
Nutritiondata.self.com. 2021. Cheese, gouda Nutrition Facts & Calories. [online] Available at: <https://nutritiondata.self.com/facts/dairy-and-egg-products/21/2>.