To make a perfect hummus, knowing what it tastes like is the most important thing. Besides, you also need to know what ingredients are needed to make the dish, what it looks like, and how to make it best.
Getting to know a deeper knowledge of the dish benefits you to make it easier with expectation. Now, it's time for you to take a look at all the essential facts of hummus before making it, and my article will help you with your journey.
Let's go!
What Is Hummus?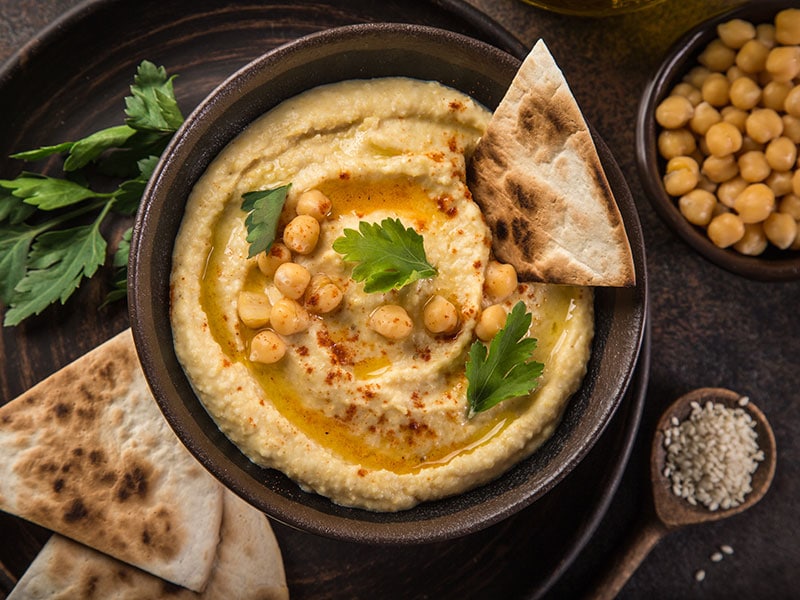 For those who have no idea about hummus, hummus is originally from the Middle East and is a highly famous dish in Saudi Arabian. It is a soft mixture of chickpeas, and its flavor is added with sesame seeds, olive oil, lemon juice, salt, and garlic.
For those reasons, you might have seen it as an accompaniment dip for various Middle Eastern food courses, and sometimes it even appears in Mediterranean restaurants.
Hummus is usually used as a dip for veggies, fruits, pita chips, as a spread for sandwiches and wraps, as a sauce for kinds of pasta and many types of salads, and as a side dish for shish kabobs and grilled meat on skewers.
Some people might wonder whether they can add hummus to a vegan diet. Typically, hummus is completely vegan-friendly, but some products on the market might be different.
Hummus gets some surprising health perks, too. As hummus is made totally from chickpeas, its mixture has high-protein content and also contains various nutrients and minerals, such as magnesium, iron, fiber, vitamin B, and phosphorus.
Besides, hummus is a super simple, delicious, and healthy addition to your diet. It has various significant health benefits, consisting of enhancing blood sugar control, supporting fight inflammation, lowering the risk of heart disease, and bettering the digestive system.(1)
What Does Hummus Taste Like?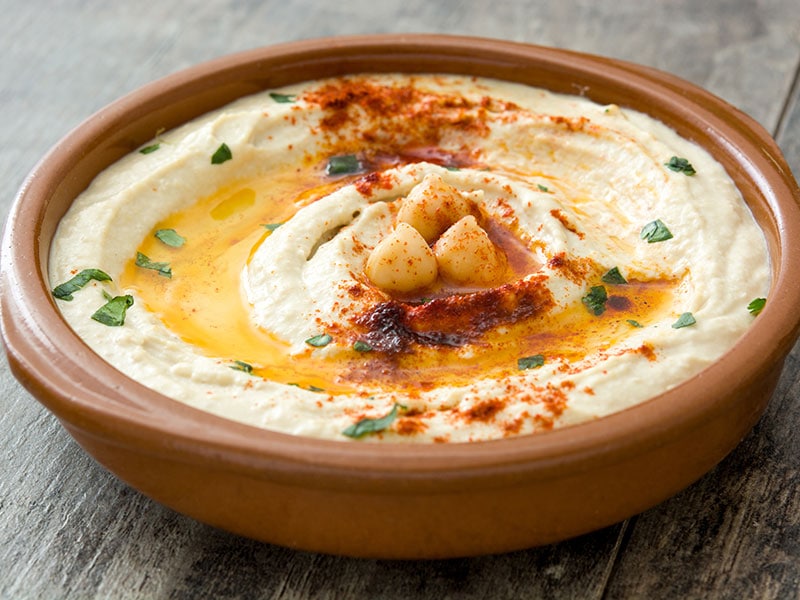 At the first look, you will know that hummus is like a creamy paste with an umami flavor. I mean that hummus tastes like meaty, savory deliciousness that enhances its flavors.
Moreover, with some other ingredients like garlic, lemon juice, salt, etc., hummus also tastes rich and garlicky.
As hummus's texture is quite similar, you can use it as a replacement for cream cheese or other creamy paste. But since its taste is different as hummus uses other ingredients, you should be careful when using it.
Hummus will bring you a sense of spreading across the tongue, lasting longer than other basic tastes, and stimulating a mouth-watering sensation. This is the main reason why hummus is often gone with other savories to make them more delightful and appealing.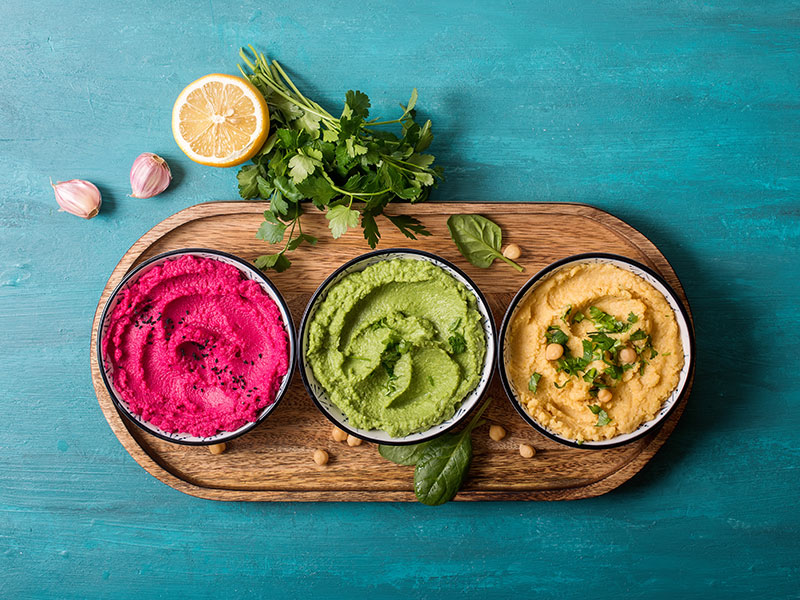 Moreover, the taste of hummus also depends on what you add to the chickpea texture. I mean that you can add some more favorite ingredients like chocolate, black beans, beetroot, avocados, and carrots.
With the addition, the color has definitely changed; however, the taste doesn't change so much because you also have chickpeas as the main ingredient.
Ingredients To Make Hummus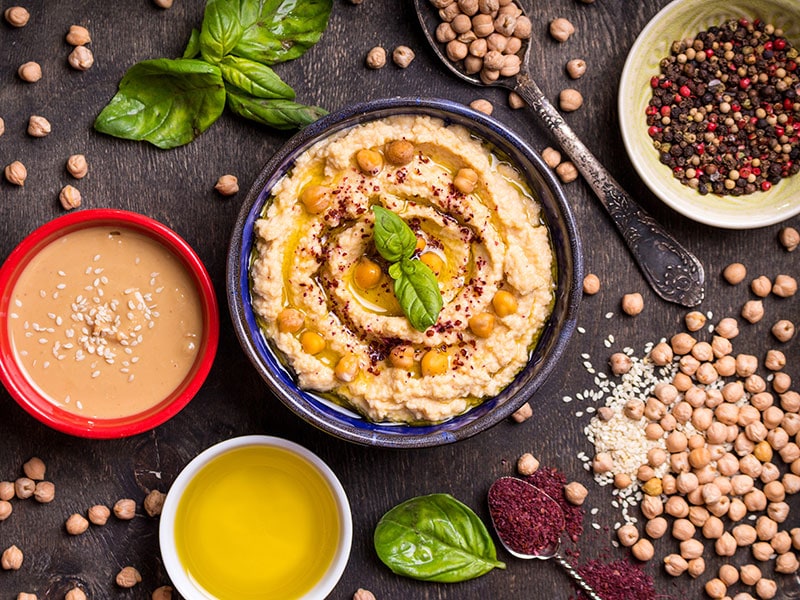 For making each dish, nothing is more important than choosing and preparing ingredients. With good and fresh ingredients will help you get the best result.
So, how about making hummus? You also need some simple ingredients like:
Chickpeas (3 cups). They are certainly a star ingredient in hummus as they significantly contribute to the creamy texture. You can use both canned or dry chickpeas; that's ok, but remember to soak them overnight to save cooking time.
Garlic (1 or 2 cloves). Slice cloves of garlic finely, but don't hurry to add them all to the blend. It will be better for you to add minced garlic to a little bit of lemon juice to reduce their pungency.
Tahini (⅓ cup). Tahini is a nutty, rich, and a little bit bitter paste that is made from toasted sesame seeds.
Be careful with this ingredient; you just need a pinch of salt to your liking but don't put salt straight to the chickpea puree. You can add salt when cooking chickpeas.
Fresh lemon juice. Lemon is here for adding tangy.
Extra virgin olive oil. Drizzling a generous amount of extra quality extra virgin olive oil serves hummus in an authentic way.
You can make your dish more tangy and attractive by decorating it with a few pinches of sumac, cooked chickpeas, or fresh parsley.
Baking soda. Use baking soda to make your chickpeas soft faster and also loosen their skins.
How To Make Hummus?
You know about taste and how to prepare essential ingredients. Now it's time for you to know how to make hummus. Don't worry as it's much easier than you think. Follow these followed steps:
Soak your dried chickpeas with water and a teaspoon of baking soda, leave them in the water for the next 8 hours.
Bring them to a saucepan and boil them and skim off foam; after they are cooked for about 30 minutes, add them with one more teaspoon of salt to flavor chickpeas, and continue to cook them for 10 or 15 minutes for softening with no resistance.
Let cooked chickpeas drain and pick out the loose skins to improve the texture of hummus.
Add these cooked chickpeas to a food processor and blend them until you get a nice smooth and thick paste.
Note: In the stage, you can add avocados, cooked sliced beetroot, cooked carrots, or chocolate if you want to create your favorite colors.
Adding tahini, chopped garlic, and red pepper is a fascinating way to enhance your hummus's flavor, especially when you'll serve it as one of gyros' side dishes. Lemon juice or salt is a classical yet nice choice as well.
Taste them for testing and more salt or lemon juice or some other flavors as you want, and add ice cubes for fluffy hummus.
Cook extra virgin olive oil with chopped garlic and lemon zest to top over the hummus. You can add some more parsley to make the hummus tangier.
Enjoy!
The video will describe to you how to make hummus step-by-step:
How To Store Your Hummus?
After learning how to make hummus, you must wonder whether this wonderful dip can spoil overtime. The answer is yes, but its exact shelf life will depend largely on how you store it. So here, I will help you with some tips to store your hummus to extend its shelf life.
Place your hummus in the refrigerator below 40 degrees F after use.
Store the hummus in a tightly closed container to keep moisture or prevent contaminants from invading.
For long-term preservation, freeze your hummus, and if you want to use it, defrost it overnight in the refrigerator.
What To Eat With Hummus?
Hummus is a popular side dish for numerous other delicacies from veggies, crunchy snacks, fruits, pasta sauce, or avocado.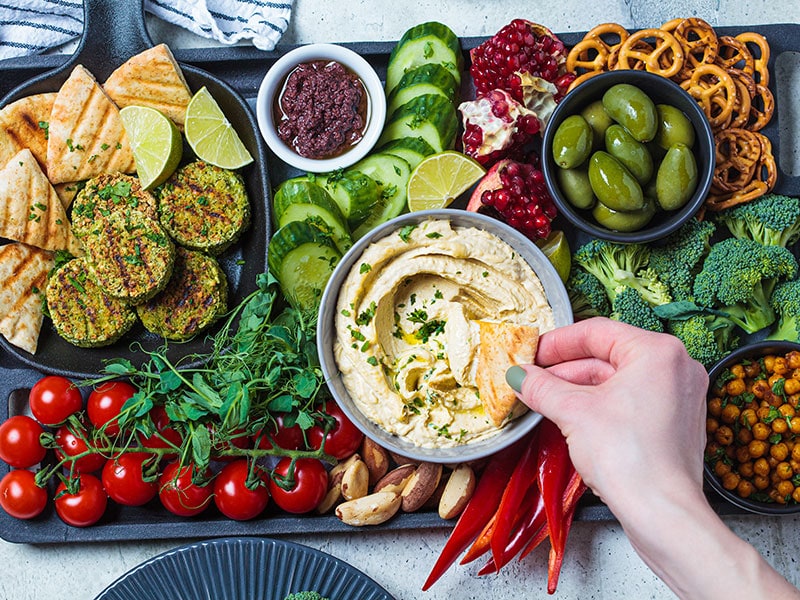 Vegetables
Try eating cucumber, carrots, broccoli, cauliflower, or some other crunchy veggies with hummus, and I think you will get addicted to this combination.
Crunchy Snacks
Enjoying hummus with tortilla chips, crackers, and pretzels will satisfy your taste because the creaminess of hummus is blended with the crunchiness of snacks and melts in your mouth.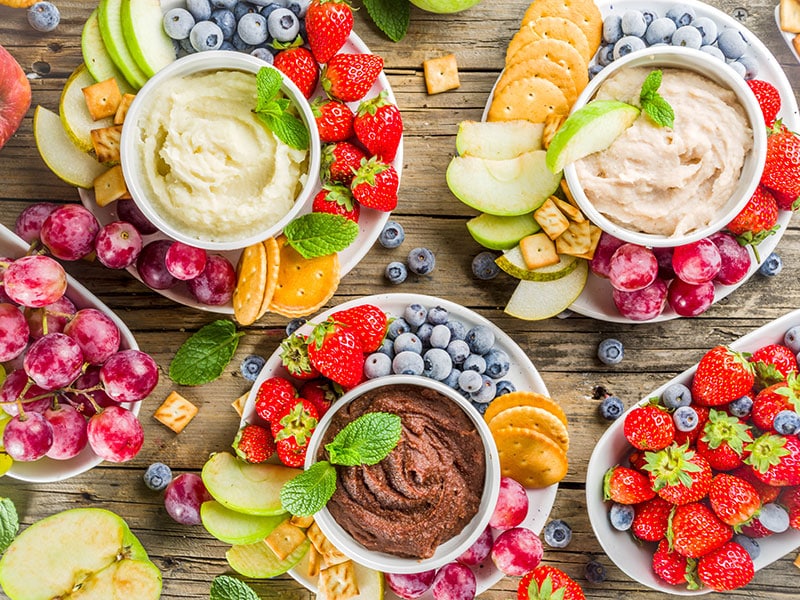 Fruits
If you love the combination of savory and sweet, dip your cut-up apples and pears in hummus for refreshing, juicy, and better taste. Moreover, your strawberries will be tastier if they are dipped in chocolate hummus.
Pasta Sauce
You can also use hummus as your pasta sauce because it is such a creamy and thick spread. This mixture is hearty, healthy, nutritious, and full-flavored.
Avocados
Nothing is better than eating avocados with hummus. Avocados are incredibly nutty, creamy, and flavorful, but you can make your avocado snacks better by topping them with a dollop of hummus.
FAQs
Is there anything that makes you confused about hummus? Keep reading to get more useful information about your homemade and store-bought hummus.
Additional Advice To Make The Best Hummus
Continue reading to get some tips to make your hummus best:
Cook the chickpeas even if they are canned or dried to make your hummus, and overlooking these chickpeas just helps you get creamier hummus.
Peel the chickpeas to get creamier hummus, but discarding the skins doesn't change the taste.
Use enough quality tahini and choose suitable tahini types as some of them are bitter than the others.
Let the food processor run for 4-5 minutes to help continue to smooth the hummus.
If you think my article about hummus is useful for you, don't hesitate to share it with your relatives, and share your thoughts by leaving comments in the comment section.
Reference
Healthline. 2021. Is Hummus Healthy? Top 8 Benefits of Hummus. [online] Available at: <https://www.healthline.com/nutrition/is-hummus-healthy#TOC_TITLE_HDR_10>