"Does hummus go bad?", "When should I consider that my hummus has really gone bad?". Those are the frequently asked questions about hummus. However, not everyone knows the correct answers.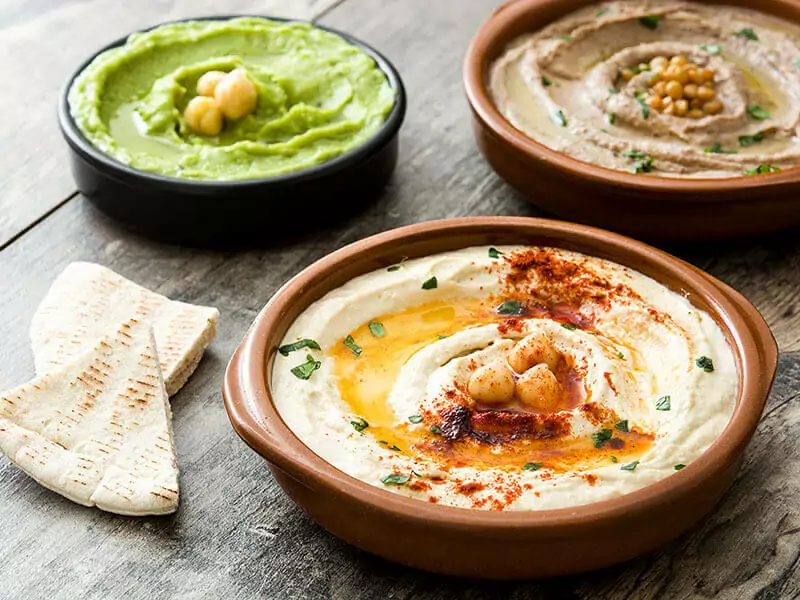 The "bad" state of hummus depends on many facets. If you have problems assessing your hummus's quality, or don't know how to store it properly, this post is right here for you.
I will give you detailed answers to this question, as well as other matters that come along with it.
Does Hummus Go Bad?
Hummus is one of the numerous nutritious foods for vegetarians in the Middle East. Hummus's flavors are incredible if you serve it the right way. There are many variables of hummus in the world, and they all taste excellent.
Since there are many versions of hummus, you might be asking "will all hummus suit a vegan diet?" In general, most of them are, but there are still exceptions.
This video will show you 8 magnificent versions of hummus.
And not only does hummus stand out as a regular dipping, but it also serves wonderfully as an ingredient to replace cream cheese. However, don't think your hummus will stay good forever. The amount of time it stays good is variable:
At Room Temperature:
Homemade hummus: 4 hours
Store-bought hummus, opened: 4 hours
Shelf-stable hummus, unopened: past expiration date plus 1-3 months
In the Fridge:
Homemade and shelf-stable hummus: 3-5 days
Refrigerated hummus, opened: up to a week
Refrigerated hummus, unopened: past expiration date plus 4-7 days
In the Freezer:
Homemade hummus: 2-3 months
Store-bought hummus, opened: 2-3 months
Store-bought hummus, unopened: 6-8 months
Let's find out more about what causes this variation in hummus's lifetime and many other interesting facts about it. I will also guide you on the best way to preserve it later.
How Long Does Hummus Last?
Can my hummus go bad if I leave them out overnight? How long will hummus spoil after being opened? These are several matters that you may encounter when it comes to hummus.
The lifetime of hummus depends on various factors, such as temperature, the type of hummus and storage methods. Let's keep rolling to see how long different hummus can last.
At Room Temperature
There's a huge gap of storage time between opened and unopened hummus at room temperature.
Opened
Hummus is in paste form. Therefore, it contains a significant amount of liquid.
Bacteria grow better in moist environments (1). That's why hummus tends to spoil pretty quickly after being opened at room temperature.
For a homemade one, it's ideal not to leave your opened hummus out for more than 4 hours. There is no preservative added to it so its shelf life is considerably short.
There are two types of hummus commercially sold on the market: shelf-table and refrigerated ones. Shelf-table is store-bought hummus at room temperature, while refrigerated hummus is kept in the refrigerated section.
For either type of store-bought hummus, it may also last up to 4 hours after being opened. It shouldn't be longer than that because there's a chance you may be experiencing food poisoning.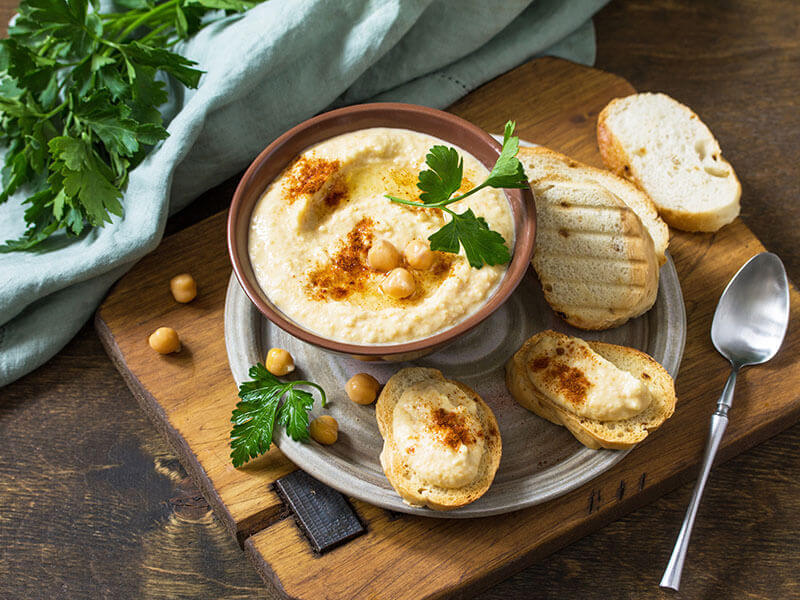 Unopened
When it comes to sold packaged hummus at room temperature – also known as shelf-stable hummus, there is usually an expiration/ best before date printed on the product.
It's best to consume your hummus within that period. However, hummus can typically last up to several months past that recommended date.
Hummus may spoil faster if your area is too hot and humid.
However, if your store-bought hummus is sold in the refrigerated section, you have to put it in the refrigerator to preserve it.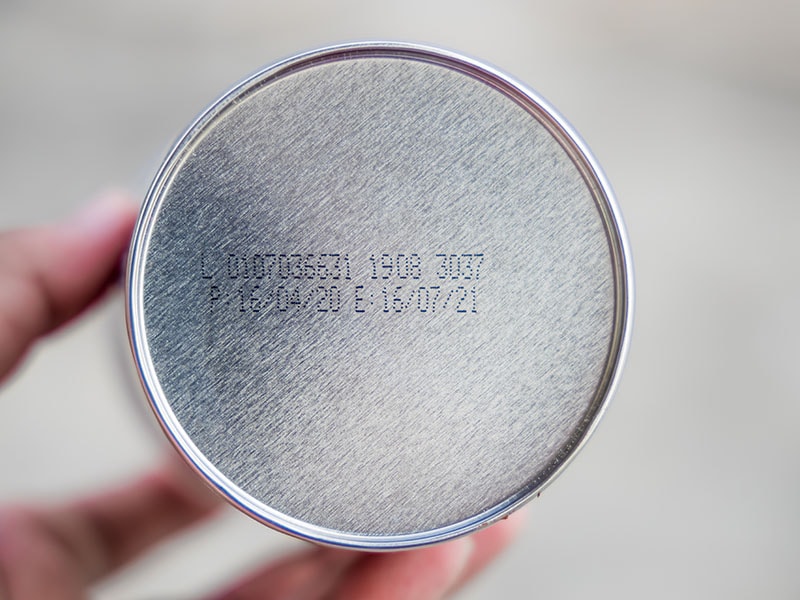 In The Fridge
Everything tends to last longer in the fridge, isn't it? Hummus is not an exception. Let's discover the shelf life of each type of hummus if stored in the fridge.
Opened
If you end up making/buying tons of hummus and can not finish it in a single meal, don't panic.
Homemade hummus and shelf-stable hummus can stay well in the fridge somewhere between 3-5 days. Therefore, it's ok to make a lot of hummus in advance, as long as you eat it all within 5 days.
For refrigerated packaged hummus, it can last up to a week after you open and store it in the fridge.
Unopened
Depending on your hummus brand, the best used by/ expiration date can be very different. However, if you leave refrigerated store-bought hummus in the fridge and forget to eat it before that date, your hummus might haven't gone bad yet.
It is considered ok to eat refrigerated packaged hummus that has passed the expiration date up to 4-7 days.
However, if your hummus is the shelf-stable type, you shouldn't store it in the refrigerator if you haven't used it.
In The Freezer
Low temperature helps to reduce the growth of bacteria in your hummus. When it comes to the freezer, the time is expanded much longer.
Opened
For either homemade or store-bought hummus, I would say your hummus is still good for another 2-3 months after being used and put in the freezer.
Unopened
If you buy hummus and freeze it without using it, your product can last up to half a year. Sometimes hummus even lasts longer in this condition.
The maximum time you should leave hummus in your freezer before it goes bad is 8 months.
So here is the summary table of the lifespans of homemade and store-bought hummus. I hope it is helpful to you.
| Hummus | Room Temperature | Fridge | Freezer |
| --- | --- | --- | --- |
| Homemade | 4 hours | 3-5 days | 2-3 months |
| Shelf-stable type, opened | 4 hours | 3-5 days | 2-3 months |
| Shelf-stable type, unopened | Date + 1-3 months | Not recommended | Not recommended |
| Refrigerated type, opened | 4 hours | A week | 2-3 months |
| Refrigerated type, unopened | 4 hours | Date + 4-7 days | 6-8 months |
How To Store Hummus Properly?
I assume that you now fully understand how long your hummus can stay before it goes bad. The length is quite impressive, isn't it?
However, only appropriate methods to store hummus can lead to those long periods. Therefore, let me guide you on how to store hummus properly step by step.
At Room Temperature
To store any kind of hummus at room temperature, you may want to learn one or two things from the ancient Egyptian people. Hummus has been a favored dish in Egypt and people here often retain its quality by putting this dipping sauce somewhere cool and dry.
Aside from this, you should keep hummus away from direct sunlight and heat. With this method, your hummus can last for several hours at room temperature.
For opened store-bought and homemade hummus, you should cover your dip with a piece of plastic wrap before storing.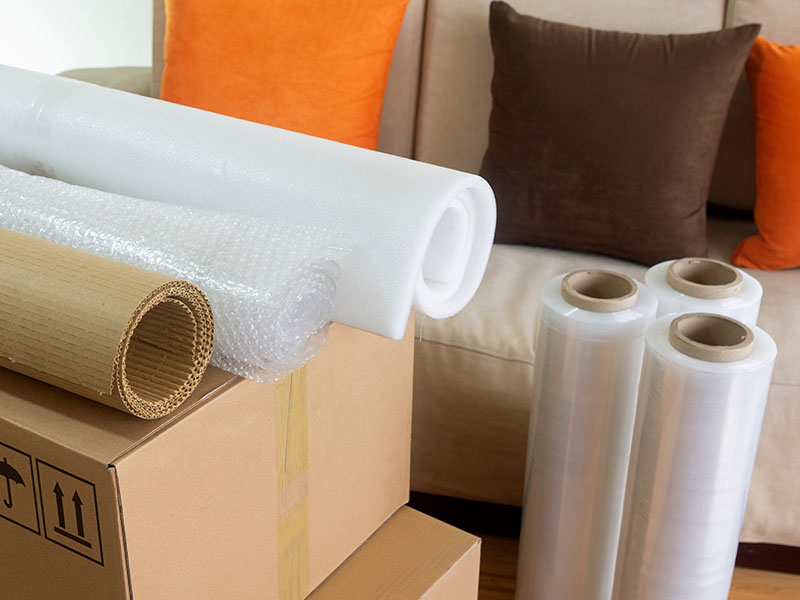 In The Fridge
For store-bought hummus, all you need to do is put it in the fridge after your purchase.
However, for homemade and store-bought hummus, you need to be more careful. Before eating these two, keep in mind that you should use a clean spoon to scoop your dip.
Human saliva brings more bacteria to your hummus and even causes food contamination. Therefore, never use a dirty spoon to take your hummus.
The steps to store your hummus in the fridge are:
Step 1: Transfer your leftover hummus into a clean airtight container
Step 2: Make sure your container is sealed. You can place a piece of plastic wrap between your container and its lid to make it seal better.
Step 3: Put it in your fridge
Step 4: Use a clean spoon to take your hummus out every time
Step 5: Use it within 5 days or a week.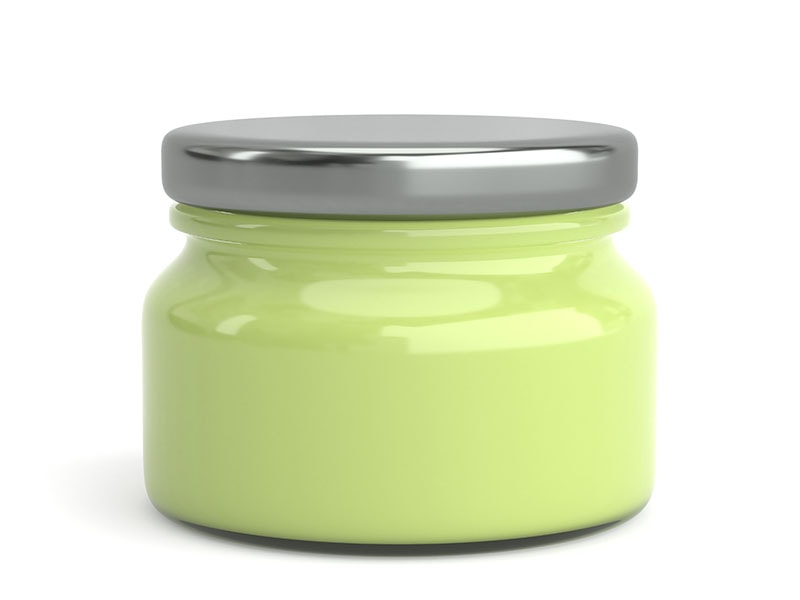 Please keep in mind that you should set the temperature of your fridge below 4 degree Celsius.
In The Freezer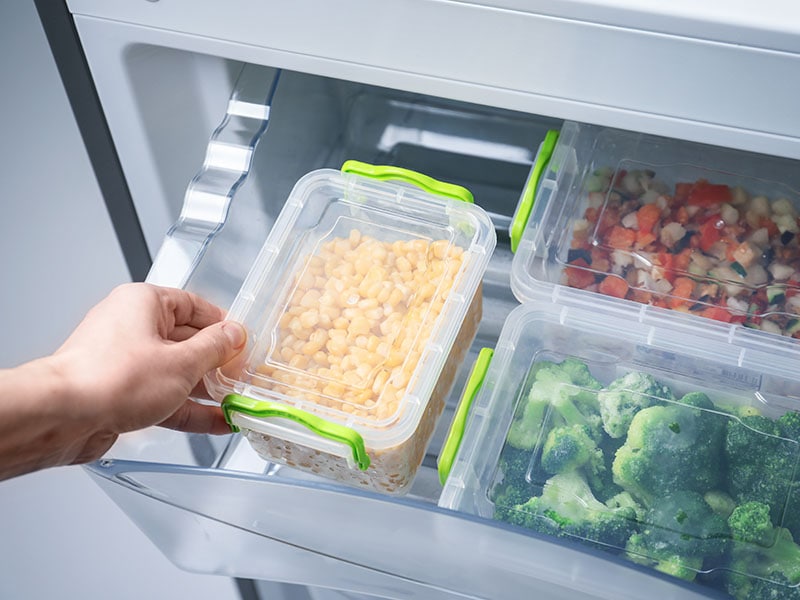 The techniques to freeze hummus are basically the same for different types of hummus.
For homemade and opened store-bought hummus, instead of transferring your hummus into an airtight container like above, use a freezer container instead.
Again, make sure your container is sealed. Then put the hummus in the freezer. You can skip these steps if your store-bought hummus is unopened.
Another thing you have to keep in mind is to stir your dip after thawing it. The consistency of hummus changes when defrosted. Therefore, stirring your hummus a few times helps bring it back to its normal texture.
Once your hummus has been thawed, you should finish it within 5-7 days.
This video will instruct you how to make freezable hummus at home.
5 Signs That Show Your Hummus Has Gone Bad
Even though your hummus can last for a pretty long time if you follow my instructions, sometimes it may spoil before you know it. Your hummus is considered bad if it has the following symptoms:
Funny Smell: This is the ultimate sign to identify your dip's quality. Bad hummus often discharges a sour odor. Sometimes it can be stinky.
Weird Taste: You can try tasting it to see if it's any different from the regular hummus's flavor, which can be a sign of your dip being rotten. However, I still recommend that you smell the hummus first
Changing Colors: Spoiled hummus often has darker colors. You should notice if there are two or more different colors in your hummus because that's the indication of a bad one. Sometimes tiny bubbles appear on the surface, too.
Molds: Try to look for any molds that are in the hummus, if it doesn't have the above symptoms. Molds are black/white fungi that grow in spoiled food.
Completely Separated Texture: If your hummus is completely separated into different layers, with a lot of oil on the surface and a thick paste at the bottom, it's time for you to toss it.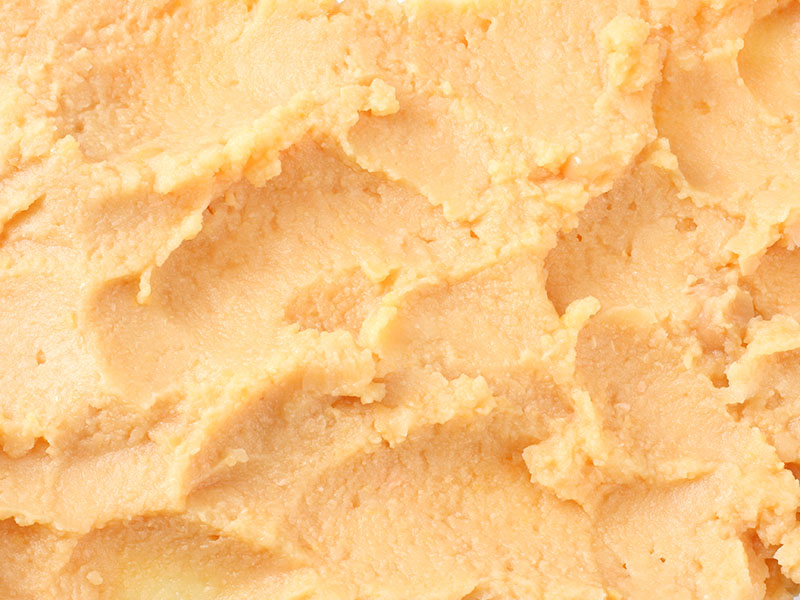 You should occasionally check to see if your hummus is experiencing these problems.
4 Tips To Extend Hummus Shelf Life
Below are the ultimate tips to preserve your hummus even better. Let's see if you can try any of them.
1. Food Hygiene
As mentioned previously, scoop your dip out with a clean spoon! Dirty utensils won't help to prolong hummus's lifetime.
Moreover, never take out too much hummus that you cannot finish at once. You should serve an adequate amount of hummus each time so you don't have to put the leftover back to the uneaten.
Last but not least, if you intend to serve your hummus as a side dish for some roasted vegetables or other foods, don't dip them directly into the hummus. Take a small portion of the dip into a different bowl and serve to avoid cross contamination.
2. Aluminum Foil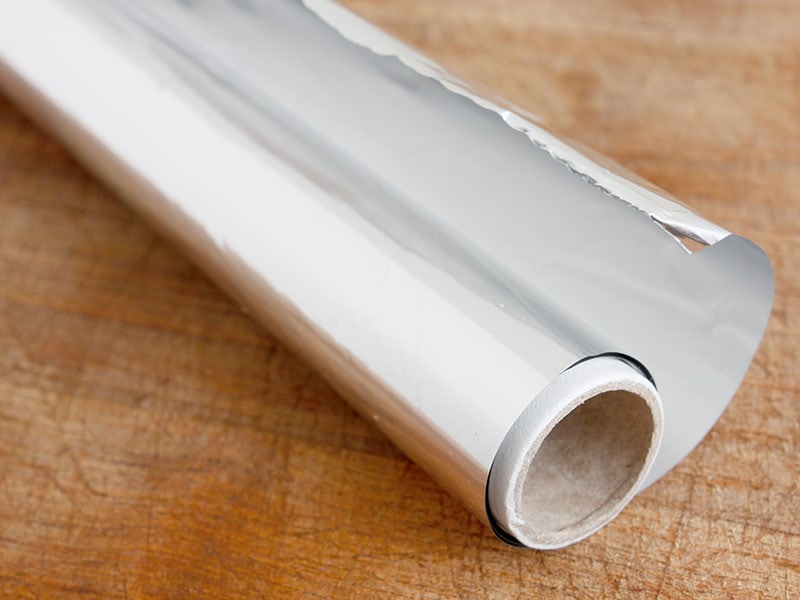 Instead of covering your hummus with regular plastic wrap, replace the wrap with aluminum foil. Keep in mind to press the aluminum foil as close to the surface of the hummus as you could to prevent excess air.
This trick will help to preserve your hummus a little longer.
3. Olive Oil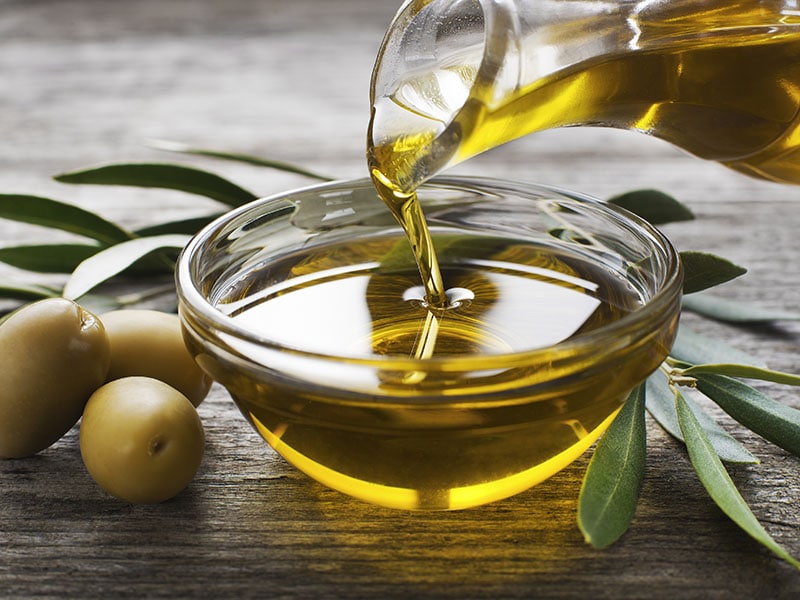 When storing your hummus, add a few drops of olive oil onto your hummus surface. The oil will create a kind of barrier, and therefore it can slow down the growth of bacteria. Olive oil will also help your hummus to retain a smoother surface after being stored.
4. Lemon Juice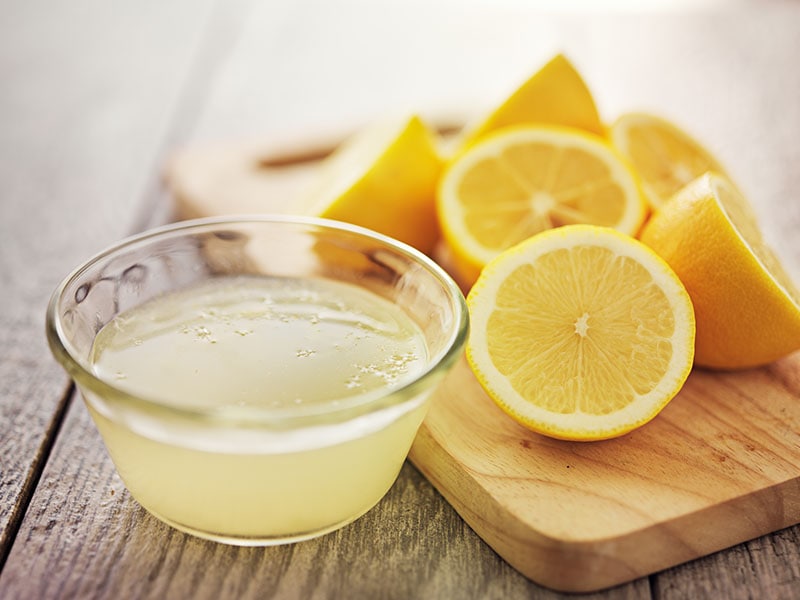 A few drops of lemon juice would go a long way! You can try squeezing out the juice from a lemon and mix it with your hummus. With this tip, your refrigerated hummus can typically last several more weeks.
Lemon juice can extend hummus's shelf life because it reduces the pH level in the dip. However, adding lemon juice will make your hummus taste a bit acidic.
Is It Safe To Eat Expired Hummus?
In this case, the answer is no. Bad hummus is somewhat still edible, but let me tell you why it is unsafe to eat it.
If your hummus has gone bad, it's loaded with bacteria and microorganisms. Consuming bad hummus means consuming these high-risk organisms.
What will happen after the bacteria and microorganisms are inside your body? Well, several things will occur and they can make you sick. Eating spoiled hummus can seriously lead to food poisoning and other illnesses.
You can get Salmonella from eating bad hummus (2). Some of the common symptoms are nausea, stomachache and diarrhea. The more you eat bad hummus, the worse the symptoms will be.
You may also experience a more severe infection called Listeriosis (3). These germs are often found in contaminated food. They can cause fever, muscle pain, abdominal pain and weaken your immune system.
Therefore, it's not a good idea to eat your hummus once it has gone bad.
FAQs
These are the questions that I often receive about hummus and other related matters. Please keep scrolling down for more information.
A Bonus Tip For You
Remember, don't use too much olive oil when preserving hummus. This can cause your dip to separate or become really greasy.
I hope you've gained some useful information after reading my post. If you have any new ideas about preserving hummus, please comment down below. I really appreciate all of your opinions.
Reference
Hill, A., 2018. Bulgur Wheat: Nutrition, Benefits and How to Cook It. [online] Healthline. Available at: <https://www.healthline.com/nutrition/bulgur-wheat>
Anon, 2019. Salmonella: Symptoms, diagnosis, treatment & prevention. Cleveland Clinic. Available at: https://my.clevelandclinic.org/health/diseases/15697-salmonella.
Salazar, J.K. et al., 2020. Listeria monocytogenes growth kinetics in refrigerated ready-to-eat dips and dip components. PLOS ONE, 15(6).