You may usually wonder whether ginger goes bad or not when you want to use some old ginger left in your pantry or fridge a few days or weeks ago. You see some mold on the ginger, and you are not sure if you can consume it.
Sometimes, you buy fresh ginger from a store and plan to use this ginger in your sweets for a big party on the weekend. However, on the day you check it out, the ginger becomes moldy and rotten.
Don't be confused! In this article, I will explain clearly to you about problems of preserving ginger as well as share with you useful tricks of eating and storing ginger.
Does Ginger Go Bad?
Yes, it does. Like any other vegetables, fresh ginger will go bad over time. As a raw plant root, fresh ginger does not have its expiration date given by manufacturers, so you can just base on its purchase date, forms of ginger, and appearance signs to know whether ginger goes bad or not.
If the ginger is stored properly, its shelf life will be prolonged; otherwise, it will go bad quickly. Therefore, keep reading the article to know how long different forms of ginger last, signs of poor-quality ginger as well as the effective methods to preserve the ginger.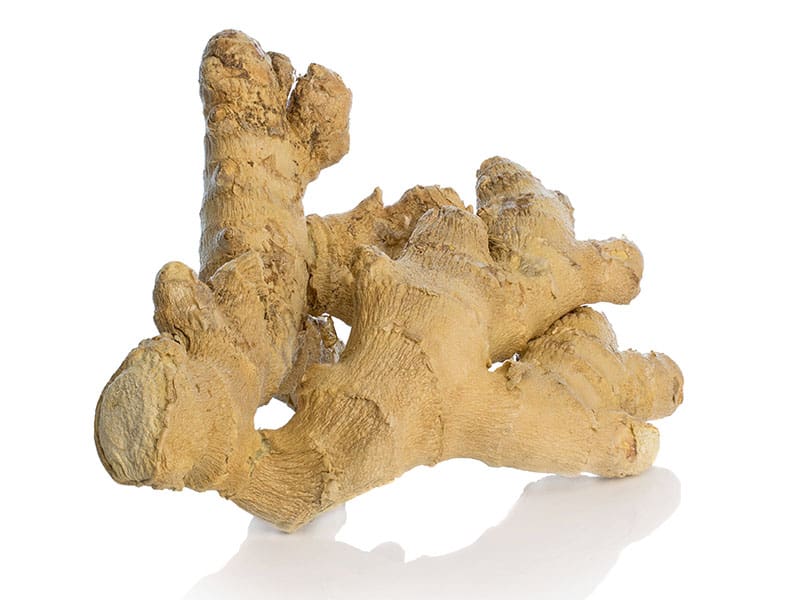 Ginger Expiration Date Comparison Chart
Here is the table of the ginger expiration date for you to know how long types of ginger roughly last.
| Forms Of Ginger | Shelf life | Store in Pantry | Store in Fridge | Store in Freezer |
| --- | --- | --- | --- | --- |
| Fresh Ginger Roots | Lasts for | 1 Week | 1 Month | 3 Months |
| Peeled Chopped Ginger | | --- | 1 Week | --- |
| Ginger Paste | | --- | 1 Month | 3 Months |
| Prepared Jar Of Chopped Ginger | Lasts after the expiration date | 2-3 Months (Unopened Only) | 2-3 Months | --- |
| Pickled Ginger (Gari) | | --- | 2-3 Months | --- |
| Ground Ginger (Powder) | | 2-3 Years | --- | --- |
| Crystallized Ginger | | 2-3 Years | --- | --- |
"—" means that the mentioned place is not suitable for storing this form of ginger.
I would like to emphasize that all numbers in the table are just estimated, and the authentic quality of various types of ginger can change indefinitely, which depends much on the initial quality of ginger as well as how well you store it.
For example, when you go to a store to buy fresh ginger, you need to know that the ginger with smooth skin can last longer than the wrinkled one that is old ginger. However, if you have not known this tip and bring home the old ginger, you will end up throwing it after some days.
Take one more example of powdered ginger products, and of course, they come with an expiry date from manufacturers. However, after a period of time you consume it, you realize that its flavor is not as strong as if you just buy it from the store although the product has not expired at all.
So, what is the reason here?. Maybe you do not seal the powdered ginger package well after use, which releases its flavor quickly over time. However, if you are careful in storing the product to prevent mold development and flavor release, it will be safe for you to use it up to 3 years after its expiration date.
How To Know If Ginger Goes Bad?
Here are some simple tricks for you to realize unusual signs of ginger and discard it.
Mold: If you see mold appear in ginger powder, you should discard it. This is because ginger powder with mold can not give you the strong flavor of ginger anymore and more seriously may make you ill when you consume it (1).
In terms of fresh ginger, the appearance of spots of mold on its skin or flesh is surely a sign of spoiled ginger, so you should also throw it. In fact, the moldy ginger has gradually lost its original nutrients and soonly goes rotten in the future.
However, if there is just a little mold at the edges of ginger, you can consider cutting off the moldy parts and consuming the rest.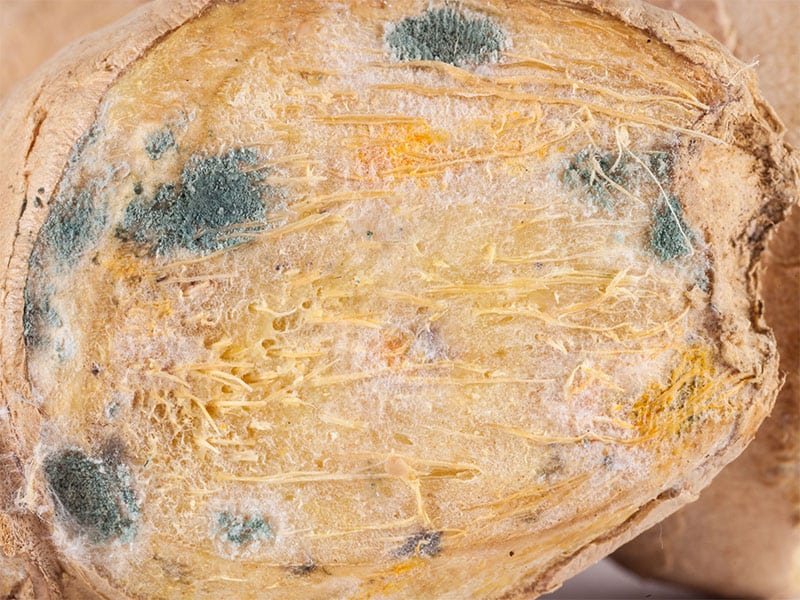 Taste/Smell: To check the quality of the ginger powder, you can taste it. Of course, a little bit of low-quality ginger powder can not make you suffer.
If the powder has a weird taste that is different from the original ginger flavor, it is time for you to purchase a new powdered ginger package.
Talking about fresh ginger, when realizing the ginger's flesh comes with an unpleasant smell, not the strong flavor of ginger. This points out that the ginger goes bad, so you need to discard it.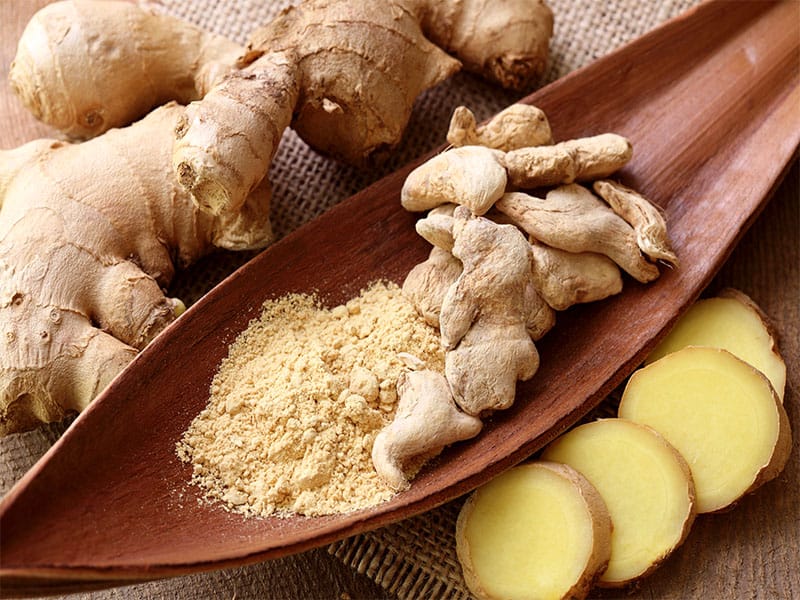 Color: The fresh ginger will turn to dark yellow or grey color when it is spoiled, so you should not consume the ginger coming with this sign
Texture: The high-quality raw ginger will have a firm texture that you can find when touching it.
However, when it starts going bad, the texture will get softer and even mushy. When it comes to powdered ginger, some wet spots and lumps appearing in the powder point out that the ginger powder quality is affected.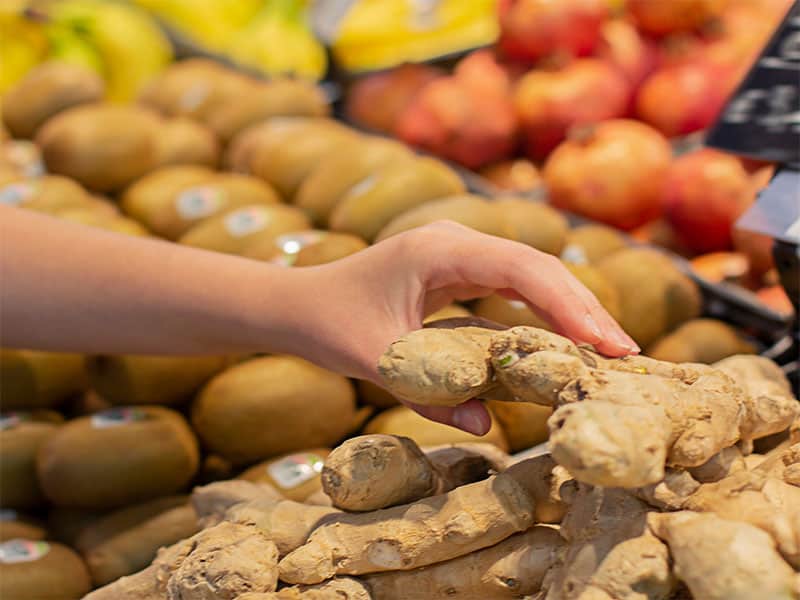 Store Various Forms Of Ginger Properly
There are various places suitable for storing types of ginger.
1. The Pantry/ Kitchen Cabinet
Like any other spices, you can keep powdered ginger in your pantry or kitchen cabinet. You should avoid putting the product near heat sources or sunlight that can damage its inside content.
After using the ginger powder, you need to seal its package well in order that the ginger flavor can be maintained longer. To preserve it more effectively, you can transfer the ginger powder into a glass jar with an airtight lid.
Moreover, you can put the whole package of ginger powder in a resealable freezer bag before keeping it in the pantry or kitchen cabinet.
In terms of fresh ginger, storing it in a pantry is not a good idea because the room temperature can not preserve the ginger well.
However, if you plan to use your ginger within the next few days, you can place it in the pantry for convenience purposes. As usual, you should not leave the fresh ginger in moisture and hot places, or it will sprout and even rot sooner.
Last but not least, you do not need to wash up the ginger after bringing it home from the store. This is because wet ginger at room temperature can promote mold and bad bacteria infection.
Instead, just let it dry, preserve it in the pantry, and just release its dirt with water when you need to use it.
2. The Fridge
It is so common for fresh ginger to be stored in the fridge because the dry and cool environment is great for maintaining the freshness of ginger as well as other raw vegetables for a long time.
To store ginger in the refrigerator, you can use plastic wrap to cover the whole piece of ginger, or you can also put the ginger in a resealable plastic bag and release all inside air before placing it in the vegetable drawer of the fridge.
This storing method also applies greatly to other forms of fresh ginger such as chopped or sliced ginger.
3. The Freezer
Freezing ginger is the most effective way to extend its shelf-life in comparison with the two methods above. To do that, you put ginger in a freezer bag and then push all the air outside. After that, you place the bag in the freezer.
Moreover, you can cover the ginger with plastic wrap and use a freezer container that suits your taste (better if it's airtight and plastic) to contain the ginger before putting it in the freezer. This helps maximize the preservation's effectiveness.
To thaw it, you leave the frozen ginger at room temperature for about 30 minutes.
However, the defrosted ginger tends to be mushy and watery, so you can use some paper towels to capture the water content before adding the ginger to your dishes. Despite the soggy texture, thawed ginger still keeps its original flavor and freshness.
If you want to prepare a ginger paste for future recipes, you can use this method to store it. Firstly, you lay a piece of large enough tin foil on the counter and then spread the ginger paste on it.
Next, you roll it up to form a log and use plastic wrap to cover the log well before putting it in the freezer.
Next time, when you want to use ginger paste, just take out the log and break off the amount you need for recipes. Ginger paste preserved in the freezer can last up to 3 months.
You can watch this video to get more tips on storing raw ginger.
4. Homemade Ginger Products.
Although the ginger products made at home take you some effort to prepare, it is completely worthy!
Ginger Wine
If you have so much fresh ginger, you can use it to make ginger wine, which helps preserve ginger for months. However, to make this you need to know how to cut your ginger into small pieces. After finishing, put them in a glass jar or bottle.
After that, fill the jar or bottle with sherry and stir the ginger up to remove air bubbles. Next, put the airtight lid on the jar or bottle and place it in your pantry. After 3 months, you can use ginger for stir-fried and curry dishes.
Sherry is recommended in cooking, so you do not need to be afraid that the alcohol will affect your dishes' flavor.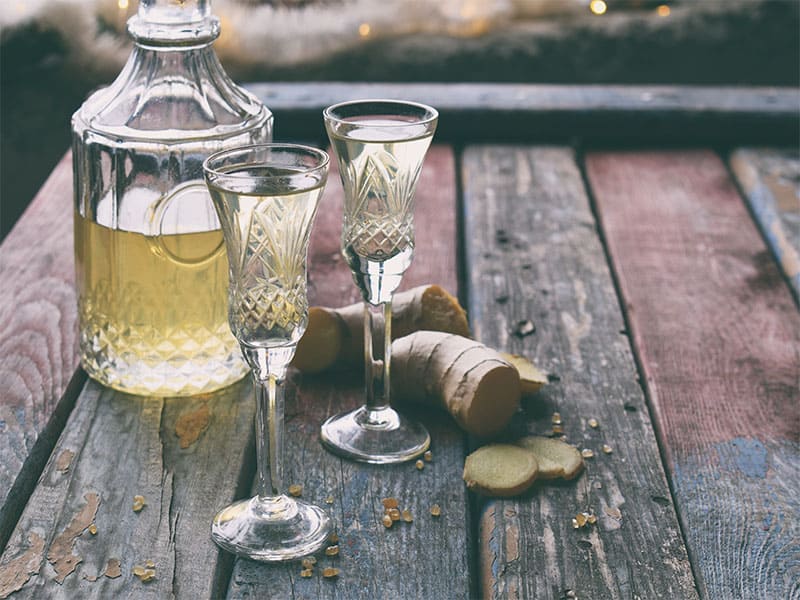 Raw Pickled Ginger
If you do not like ginger wine, you can substitute vinegar for wine to make raw pickled ginger that has preparation steps just similar to making ginger wine.
It can last up to two months when stored in the fridge. Slices of sour ginger can be added to salad dressings to make your dish more flavorful.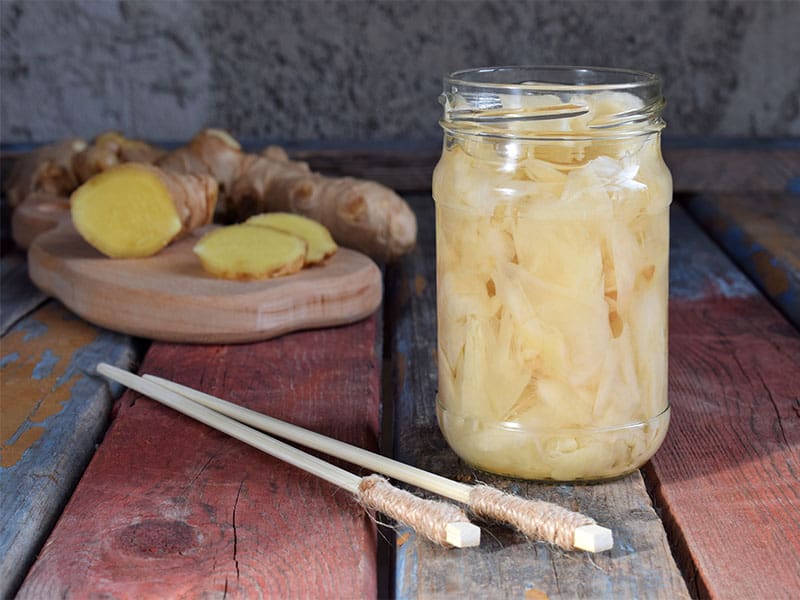 Ginger Salt
Ginger salt is simply ginger paste mixed with salt. The salt treatment helps preserve the ginger better. To make ginger salt, you use a blender to ground ginger into a paste, then add enough table salt to it, and stir it well.
After that, you just need to put the ginger salt in an airtight jar or container and store it in the fridge. Ginger salt can be used in different dishes with the need for ginger.
However, you should adjust the amount of salt in your recipes when they call for some ginger salt, or you end with salty dishes.
What To Do With Some Extra Ginger?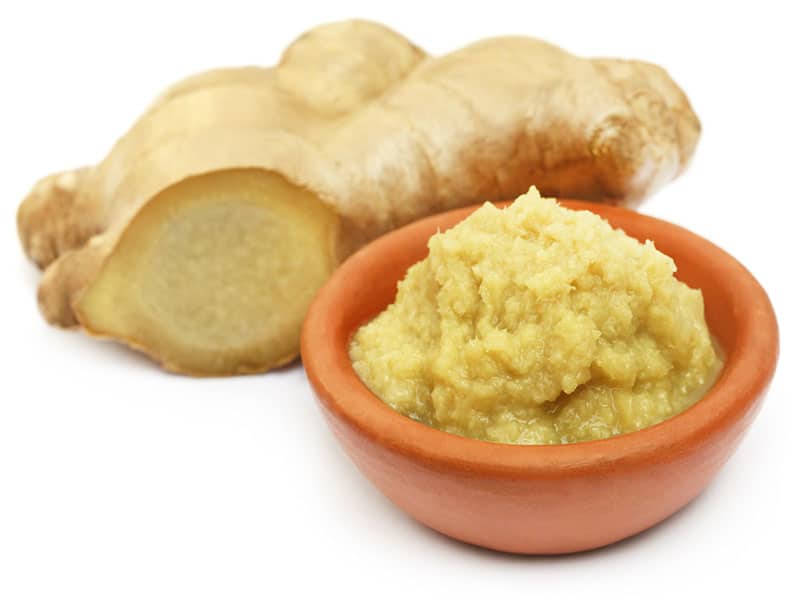 Besides preserving ginger properly, you can also use some extra ginger for making syrup or tea with extremely simple recipes.
Ginger Syrup
If you are a big fan of cocktails or smoothies, you should not skip this recipe. Ginger syrup not only makes your drinks sweeter but also brings a strong ginger flavor to your mouth. All you need are:
1 cup of water
1 cup of sugar
1 tablespoon of grated ginger
Once all ingredients are ready, you boil the water with sugar and ginger, and put it in steep for 30 minutes. After that, you sieve to take syrup. You can pour the syrup into a jar and store it in the fridge for up to one month.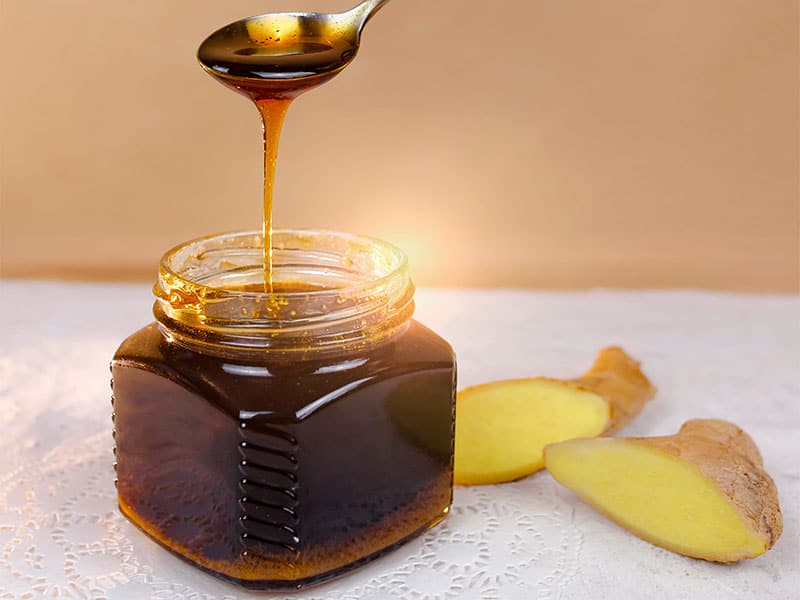 Ginger Tea
During winter days, nothing can warm you up more than a cup of exquisite ginger tea. But if you're too tired to go out and buy one, you can make this tea yourself. First, you need to prepare some ingredients:
1 slice of fresh ginger (about ½ inch long)
1 slice of lemon, 1 cup of boiling water
2 teaspoons honey
Next, you soak lemon, ginger along with honey in boiling water for five minutes. After that, you leave out the lemon and just enjoy the tea.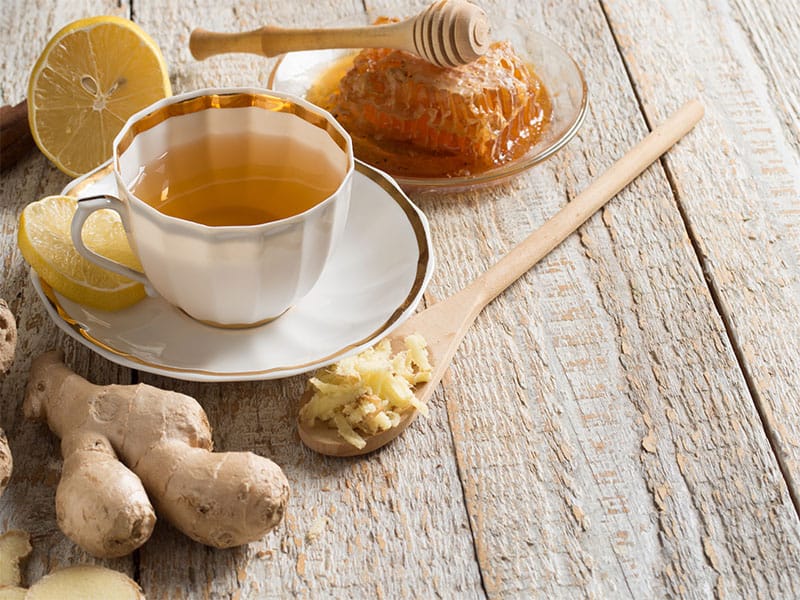 Additional Tips And Advice
I provide you with some more tips and advice you should take to consume and store ginger better.
Preventing moisture in ground ginger: Ground ginger or powdered ginger has to be kept in a dry condition for long-term use. If you are not careful to seal its package well after use, the powder easily absorbs humidity in the air.
This leads to the appearance of mold that damages the quality of ground ginger.
Do not peel ginger in advance: When you want to store a whole piece of ginger in a pantry, fridge, or freezer, you do not need to peel it. This is because the ginger with skin can last longer than the peeled one.
Keep fresh ginger dry: Whenever you break off a part of ginger from its larger one, you need to use a napkin or paper towel to absorb all water content remaining on the larger part. This action helps prevent mold development in ginger.
Being cautious about consuming ginger during pregnancy: Pregnant or breastfeeding women should consult doctors or healthcare experts before consuming or using any ginger products to avoid the side effects ginger may have on them.(2)
Preserving Ginger Is Not A Challenging Business!
It is so easy for you to store ginger effectively if you keep in mind the preserving methods and tips I share with you. Remember to keep powdered ginger in a dark and dry pantry while leaving fresh ginger in the fridge or freezer for excellent preservation.
How about you? Have you ever tried these methods to prolong ginger's shelf life? Please feel free to share your experiences with me and everyone in the comment section. If you find my post useful, share it with everyone!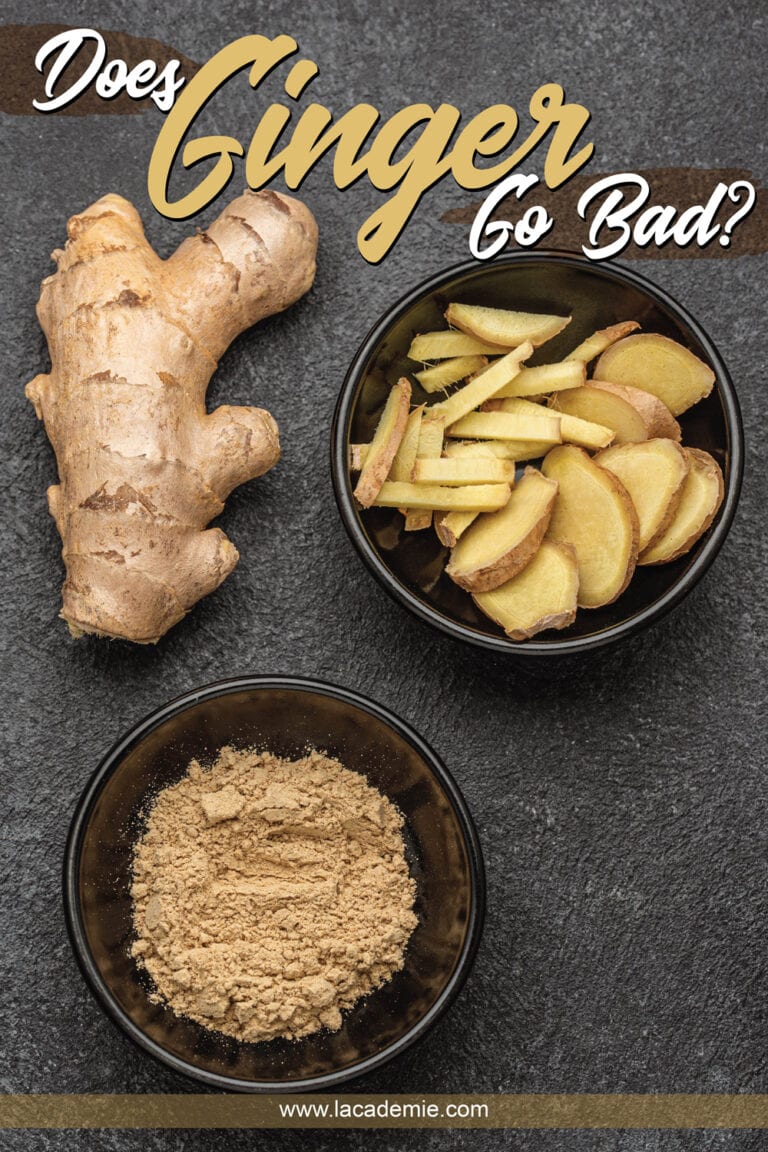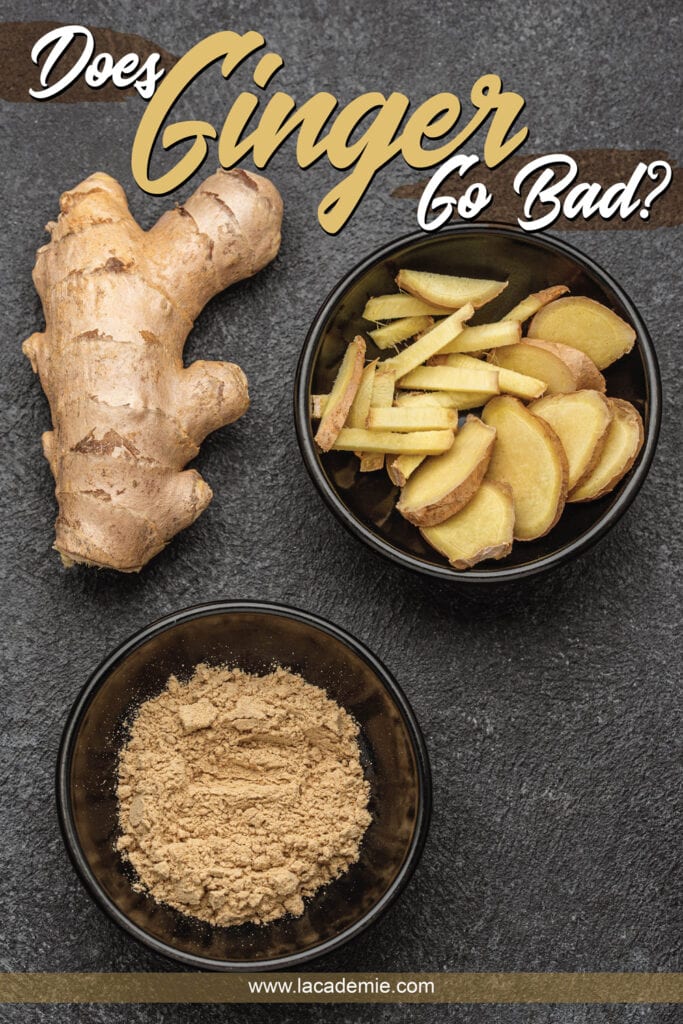 References
Food Safety and Inspection Service. Molds on Food: Are They Dangerous? | Food Safety and Inspection Service.
Ginger . Ginger – Health Encyclopedia – University of Rochester Medical Center. (n.d.).