Not everyone knows how to store bell peppers properly, though you all must have eaten them at least once in your lives. Is the way to store bell peppers similar to the method to store banana peppers? How to optimize bell peppers' shelf life? All of your questions will get answered in this post.
Whether it is quinoa stuffed pepper or pepperoni pizza, bell peppers always stand out as a very special ingredient thanks to their distinct flavors and colors. Moreover, it can also work in a pinch to replace Serrano pepper if you struggle to find this ingredient in your local markets.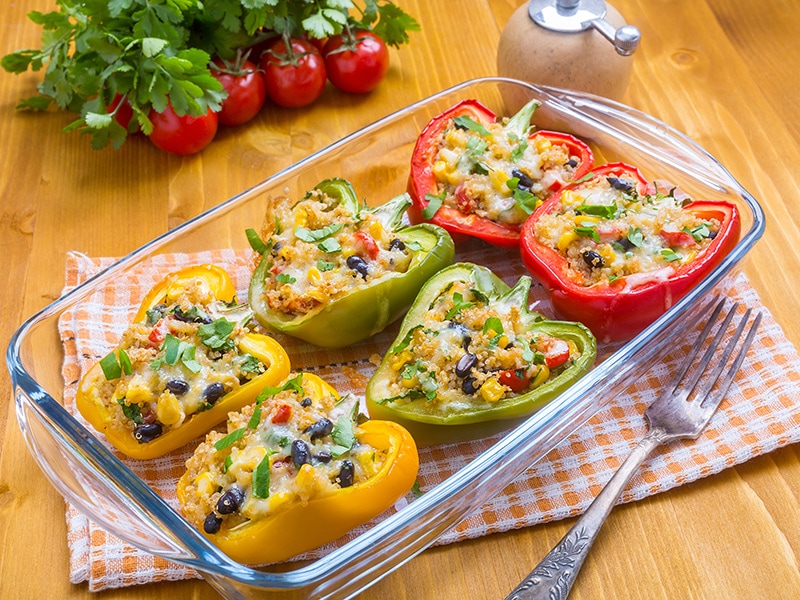 However, there are situations where you end up buying/cooking too many bell peppers or someone suddenly gives you a bunch of them. In the past, you might not know what to do and perhaps wasted your own peppers by leaving them to rot.
But from now on, since you are now reading my post, I hope that you won't have to do those regretful things again. You will be able to understand very clearly about how to store bell peppers and keep them as fresh as possible after reading this post.
A Quick Guide To Store Bell Peppers (In General)
Before digging into every detail, I would like to summarize the steps you need to do in order to preserve bell peppers.
Step 1: Prepare your bell peppers
Remove excess dirt
Wash thoroughly and chop/cut them with your favorite veggie chopper tool. Remember to use rust-resistant ones.
Do not wash them if you want to store the whole peppers
Step 2: Prepare other kitchen items
Step 3: Storing bell peppers
Use the proper kitchen item in step 2 to cover them
Place covered bell peppers in the fridge/freezer
Step 4: Occasionally check to see if any of the peppers go bad
Depending on the amount of time that you want to store your bell peppers, as well as the state of your bell peppers, different kitchen items can be applied to get the best results. You can find the detailed instructions down below.
What Is Bell Pepper?
When listing foods starting with B, bell pepper is the first thing that comes to my mind. It is a popular vegetable whose shape is similar to a bell. It can also be called sweet pepper or capsicum.
What's interesting is that bell pepper turns out to be a fruit indeed – botanically classified as a berry – but it is commonly used as a culinary vegetable.
Types Of Bell Peppers
There are various colors and shapes when it comes to bell peppers. Red, yellow, orange and green bell-shaped ones are the most commonly known, but sometimes you may come across other varieties as well.
Have you ever seen a purple bell pepper before, or a long thin bell-shaped green pepper that is called cubanelle pepper? Below are some types of bell peppers and I guess they all taste great.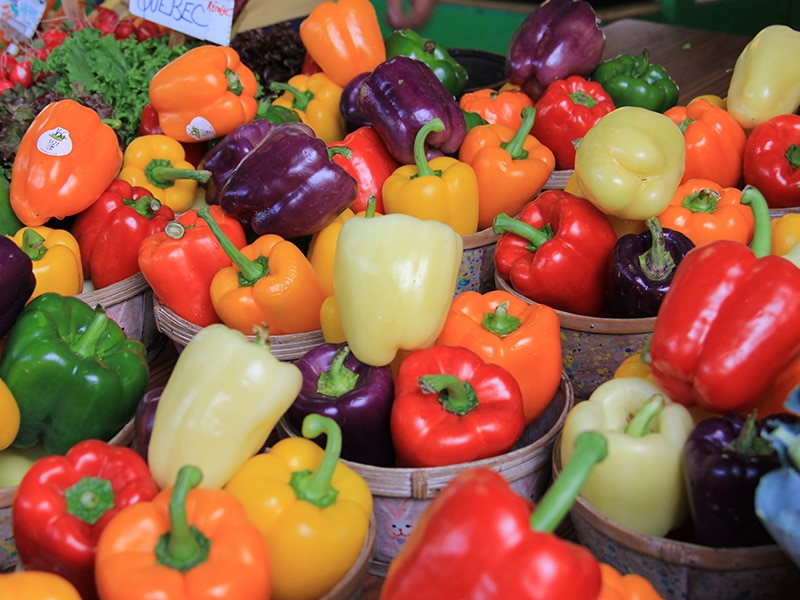 Characteristics Of A Bell Pepper
Like many other fruits, bell peppers are fleshy with lots of seeds inside.
A single bell pepper is loaded with up to 7 kinds of vitamins and minerals: vitamin C, vitamin B6, vitamin K1, potassium, folate, vitamin E, vitamin A. It is also a rich source of antioxidants (1).
Therefore, bell peppers play an important role in your diet and they are beneficial to your health.
Why Should You Store Bell Peppers?
Not only are bell peppers eye-catching and delicious but they are also very good for your health. As mentioned above, bell peppers are nutritious fruits. Nevertheless, not everyone knows how to maintain those nutrients in excellent conditions after storing them.
All of the nutrients are beneficial to your health so finding proper storing methods to keep bell peppers as fresh as possible is essential. A raw bell pepper is made of up to 92% water. Therefore, an ideal environment to store them is a place with humid and cool conditions.
5 Tips To Choose The Best Bell Peppers
The quality of the bell peppers you choose will also affect the storing process. Here are some of the tips for you when buying bell peppers:
Look for peppers with smooth, shiny skins
Avoid choosing ones with holes, dark spots, rotten parts…
Feel the peppers. If it is firm by the touch, go for it
If you want to store longer, choose green peppers
If you want sweeter tastes, pick up red ones
So basically these are very simple yet effective methods to choose the right bell peppers. Together with proper methods to preserve them, your bell peppers can stay fresh for a really long time.
Which States Of Bell Peppers Can Be Stored?
Whether your bell peppers are raw, cooked or just being chopped, you can store them all. But of course with different methods that are suitable for different states of bell peppers.
There are various options that can be chosen to store bell peppers, and one amazing fact is that even if you don't have a refrigerator, there are still other choices for you to store them.
Each method has its own pros and cons. However, the easier way you choose to store them, the shorter they will last.
I will explain each storing method carefully later on so you can consider and decide which one is the most appropriate way to store bell peppers, according to your own conditions.
Preparation
Your preparation is up to how long you want your storage to be. Do you notice that when buying bell peppers in the supermarket, they are classified as normal vegetables unlike other fruits that are kept in the refrigerated section?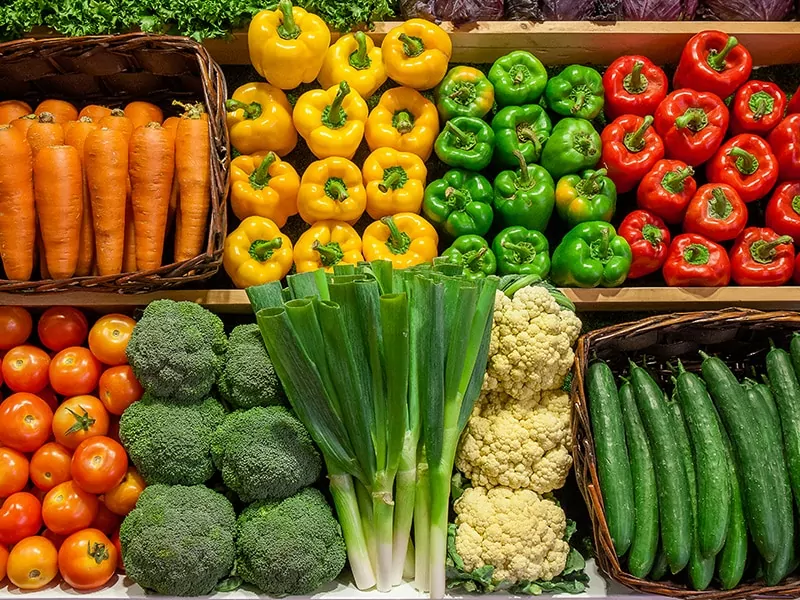 That's an indication that you can store them by just putting them directly on your kitchen counter.
But the question is: How long can bell peppers last if you store them just like that?
Well, you may as well guess that they won't last very long unless you find other ways to store them more professionally.
Something you may consider buying when it comes to storing bell peppers for a much longer time, as well as any other fruits, is a refrigerator. Some bags, tissue paper, food containers… might be useful as well.
But regardless of what method you choose, if you want to keep whole bell peppers fresh, please keep in mind that you should not wash them beforehand.
All fruits contain a certain amount of water. Fruits or food rot because there are microorganisms living inside and they use the water to fuel the chemical reactions to dissolve food (2). These reactions give the microorganisms energy and make them grow stronger.
If there is water outside your bell peppers, it will allow other organisms to "cling on" the exterior surface and "attack" your peppers, and even speed up the rotting if there are any holes or cracks on the skins.
If you ended up washing your bell peppers before reading my post but want to keep them whole for later use, please pat them dry with a towel or tissue paper immediately.
How To Store Bell Peppers Properly
There are two main states of bell peppers that can be stored: unprocessed and processed. Processed means you cut/slice/chop them or add spices to them and vice versa. I have divided the instructions into two different parts so that you can understand them clearly.
Storing Whole Peppers
Storing whole bell peppers can be easily done. But they won't last for very long while stored in this shape.
Method 1: Storing Whole Bell Peppers Without A Refrigerator (Up To 1 Day)
If you plan to use your bell peppers within the next day, it's ok just to leave them at room temperature. You can place them on your countertop or pantry.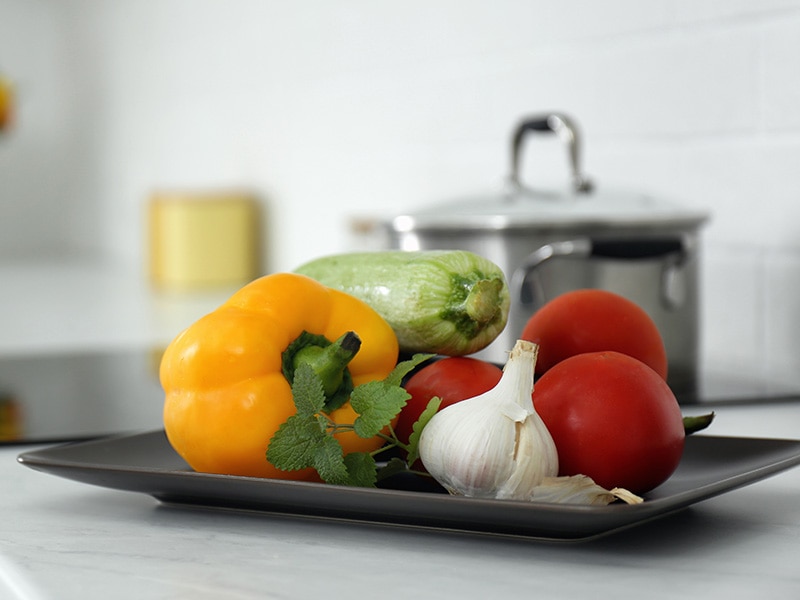 Remember, let them stay away from water, as well as direct sunlight and heat. As mentioned previously, water makes your fruits rot faster. So do sunlight and heat.
When your bell peppers are exposed directly to the sun, it can cause discoloration and make them lose all the nutritious vitamins and proteins gradually. Their flavors may also get worse.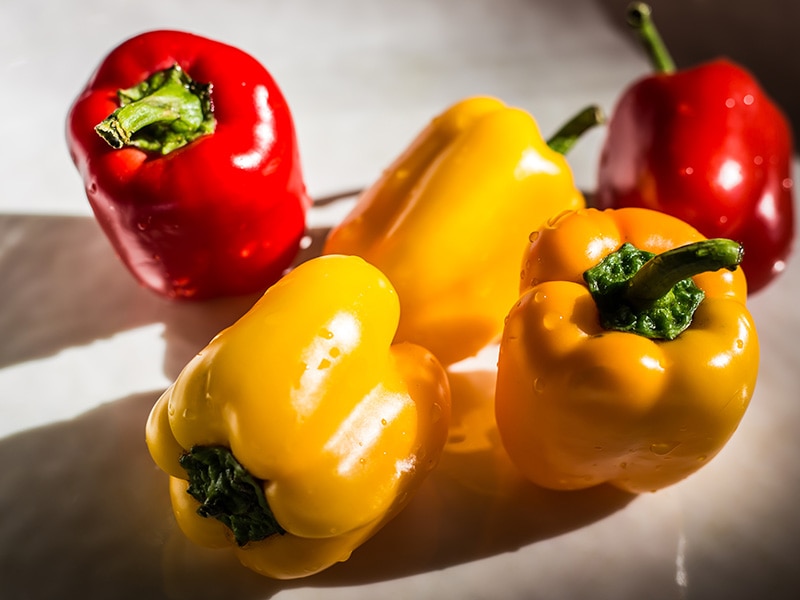 Therefore, an ideal place to store bell peppers is somewhere cool and dry in your house.
Method 2: Storing Whole Bell Peppers In The Crisper Drawer (Up To 2 Weeks)
The crisper drawer in your refrigerator is made especially for storing fruits and vegetables. My following tips will let you know how to use these bins to store your whole bell peppers and keep them fresh longer.
Step 1: Dry clean your bell peppers in order to remove any excess dirt
Step 2: Put them in a vegetable mesh bag, which is also called a produce bag. In case you don't have one, just use a regular plastic bag instead. Remember to leave your bag open so the bell peppers can stay fresh for longer.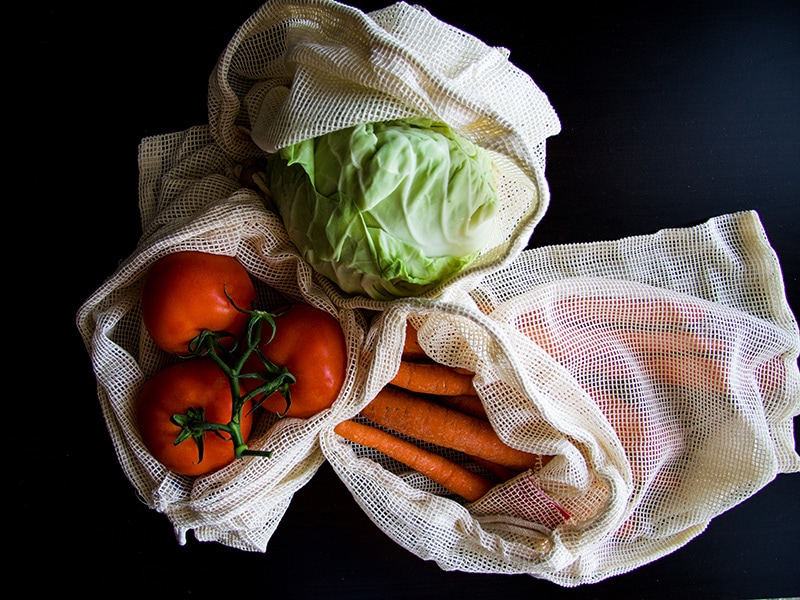 Step 3: Sort scraps in the crisper drawer and toss out any vegetables that have been there for too long (3-4 weeks). If you have multiple crisper drawers, it's ideal to store fruits and vegetables separately.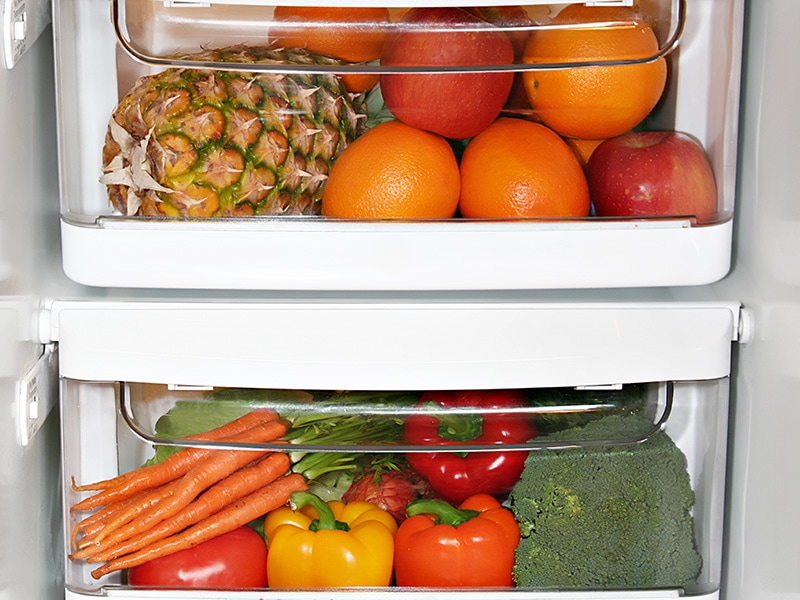 Step 4: Pop bell peppers into the drawer. Try to spread them as evenly as you can.
Step 5: Check to see if any of your bell peppers have gone bad occasionally. They can last up to 2 weeks with this method. Whenever you notice that one of them turns bad, please throw it away so the others in the same drawer cannot be affected.
One thing that I really love about this method is that the mesh bags are reusable. You can get one of them at any supermarket or local market. They are money-saving and eco-friendly at the same time.
Method 3: Drying Whole Peppers (Up To A Year)
With this method you will have to wash your peppers beforehand.
If you don't have access to a dehydrator machine, simply dry your peppers by hanging them on a string outdoors. The weather has to be sunny and not too humid. It will usually take up to a month for your peppers to be completely dried.
If you have a food dehydrator, things will become much easier. You don't have to worry about the rainy or cloudy weather anymore. All you need to do is put your peppers in the machine and dehydrate them at 125-135oF for approximately 12 hours.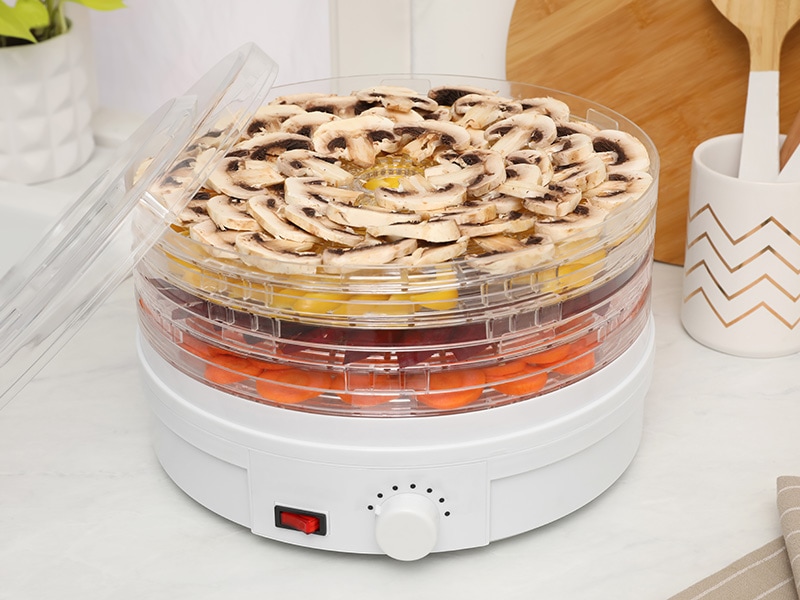 After drying the peppers, you can keep them in an airtight container.
Storing Processed Bell Peppers
This state of bell peppers requires more of your effort to store. However, they can last much longer. People are always saying "Hard work pays off", aren't they?
Method 1: Storing Freshly Cut/Chopped Peppers With Tissue Paper (Up To 3-4 Days)
After being cut/chopped, bell peppers tend to lose moisture faster and due to this, there is often excess water coming out from beneath as a result. To prevent these excess water from rotting your peppers, tissue paper can be used as a trick.
What you will need:
Paper tissue
Airtight container/plastic bag
What you are going to do:
Step 1: Cut/chop the peppers
Step 2: Wrap them with layers of paper tissue.
Step 3: Put them in a sealed container. If you don't have any container, simply replace it with a plastic bag.
Step 4: Tie/knot the bag closed. Squeeze out excess air as much as possible to keep them fresh longer.
Step 5: Place it in your fridge.
But before you start to store, some of you may also want to know the proper way to cut and chop a bell pepper.
This video will guide you from A-Z about chopping and storing chopped bell peppers:
Method 2: Freezing Sliced/Chopped Bell Peppers (Up To 3-4 Months)
Before freezing any kind of bell peppers, you must either slice or chop them first. Moreover, before placing them in your freezer, they have to be well-prepared as if you are about to cook or serve them. That means there is no stem or seed left in your bell peppers.
Let me tell you the reason why you have to do this. By freezing bell peppers, their texture becomes harder and if you want to eat them raw, you have to thaw them first.
It is such a waste of time waiting for them to be completely defrosted and then having to get rid of the unwanted parts once again. It will probably cause a mess when you do this because after thawing, all fruits and vegetables become really flabby.
Why not try to save your time by chopping/slicing them first? So you can freeze your bell peppers and make them last much longer? All you have to do to freeze the peppers are:
Step 1: Wash the bell peppers thoroughly and slice/chop them. Remove all the stems and seeds.
Step 2: Spread your peppers evenly on a tray, with a sheet of parchment paper laid underneath (like when you bake cookies).
Or you can use other things which can work in place of parchment paper, like wax paper. Then put the tray in the freezer for 1-2 hours. This step will prevent them from sticking together later on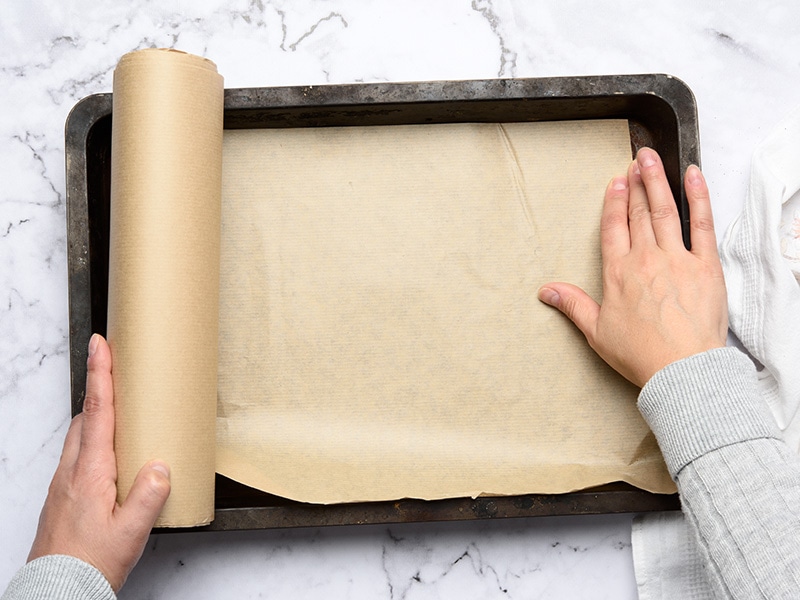 Step 3: Remove them from the tray and put them in a freezer bag or an airtight container.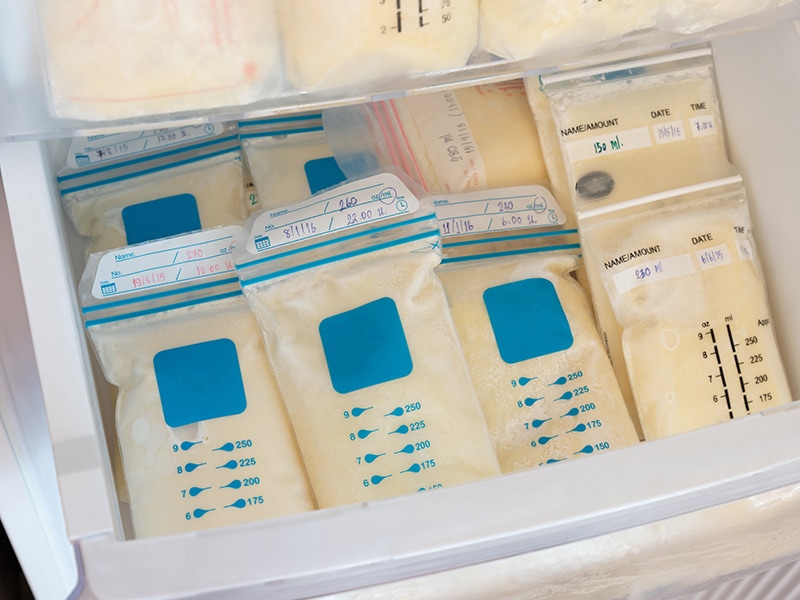 Step 4: Write the date you begin to freeze the bell peppers in case you forget and leave them there forever.
Step 5: If you are going to cook or stir-fry bell peppers later, just toss them in your pot while they are still frozen. Thaw them if you want to eat bell peppers raw.
Step by step instruction for freezing bell peppers.
Method 3: Storing Cooked Bell Peppers (Up To 3-5 Days)
The best way to store cooked bell peppers is to place them in your fridge, but remember to put them at the very back of the fridge.
It tends to get colder here than anywhere else inside the fridge. Whenever buying refrigerated products in a supermarket, I always choose the ones that are the farthest from the front to get the best quality of them.
Cooked bell peppers typically last for 3-5 days when placed in a fridge. If they are partially eaten and perhaps there is someone's saliva mixed with them, they will last shorter.
As with any other food, adding saliva to your food means adding more microorganisms and bacteria to them. That's what causes them to rot faster.
Method 4: Canning Bell Peppers (1-2 months after opened)
When it comes to canning, you will be required to have some other tools and utensils. It may sound complicated at first, but the result is stunning. If you leave a jar of canned bell peppers unopened at room temperature, it can last up to several years!
What you will need:
Bell peppers
A jar with its lid
A pot
A pressure canner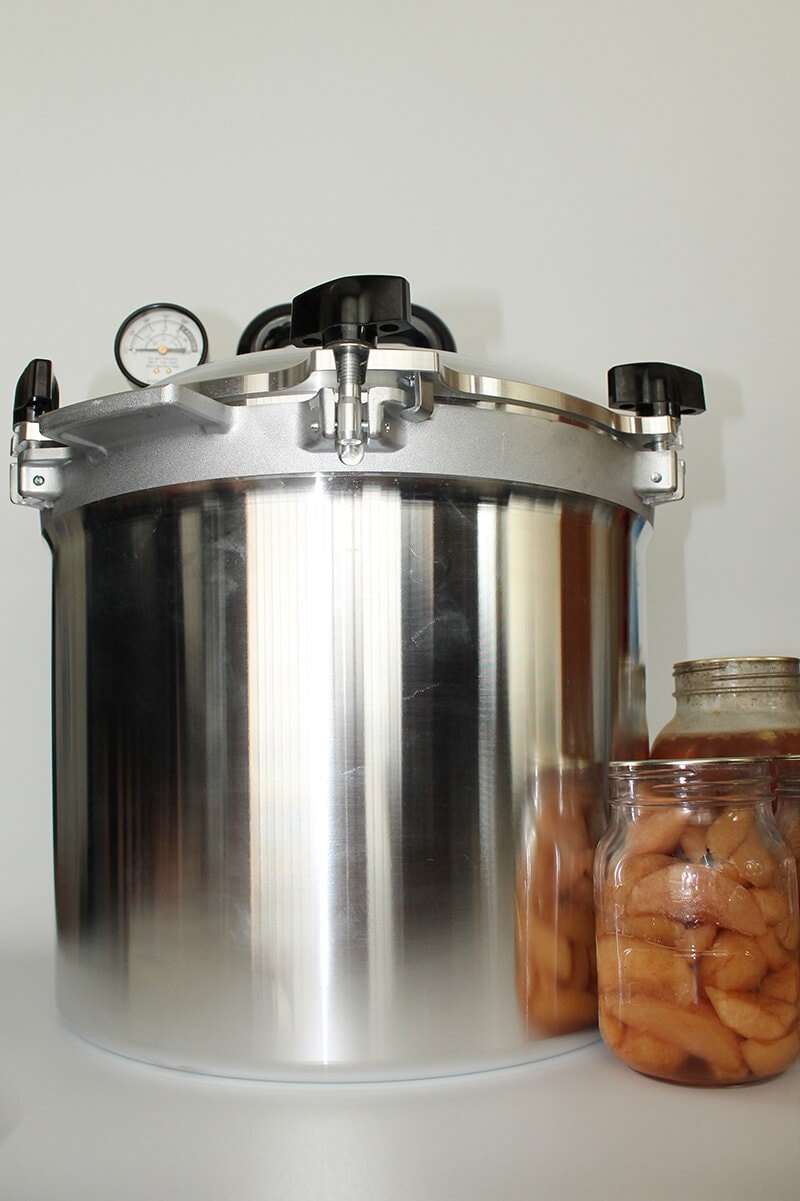 Here is how to can bell peppers. I will try to keep it as simple as possible.
Step 1: Wash the bell peppers thoroughly and cut them into quarters. Remove all the stems and seeds
Step 2: Blanch your peppers by putting them into a pot of boiling water for a few minutes.
Step 3: Sterilize your jar. Put it into a pot of boiling water for a few minutes.
Step 4: Put the hot peppers in the jar that you've just sterilized.
At this step you can add 1 tablespoon of vinegar and a pinch of salt (optional)
Step 5: Pour boiling water into the jar. Make sure to leave 1 inch of headspace.
Step 5: Close the lid. Put the jar into the pressure canner
Step 6: Process the canning for 35 minutes with proper pressure, according to the number of peppers you are going to can (about 10-11 lbs)
Step 7: Patiently wait for the pressure to return to zero before taking your jar out. Then store it at room temperature.
Please watch this video carefully to fully understand how to can bell peppers:
How Long Do Bell Peppers Last?
Here is the summary table of maximum storage time for bell peppers, according to each method mentioned above.
| Storage Methods | Stored In/At | Last For |
| --- | --- | --- |
| Whole bell peppers | Room temperature | 1 day |
| Whole bell peppers | Crisper drawer | 2 weeks |
| Drying whole bell peppers | Room temperature | 1 year |
| Cut/chopped peppers | Fridge with tissue paper | 3-4 days |
| Sliced/chopped peppers | Freezer | 3-4 months |
| Cooked bell peppers | Fridge | 3-5 days |
| Canning bell peppers | Room temperature | 1-2 months, opened 3-5 years, unopened |
Please save this table so you can use it later.
How To Tell If Bell Peppers Go Bad
Just like any other fruits, being stored for a long period may degrade your bell peppers' quality, especially if you don't follow my instructions strictly. Some of the common symptoms when your peppers are bad are:
Wrinkled
Moldy
Slim
Partially rotten
Smelly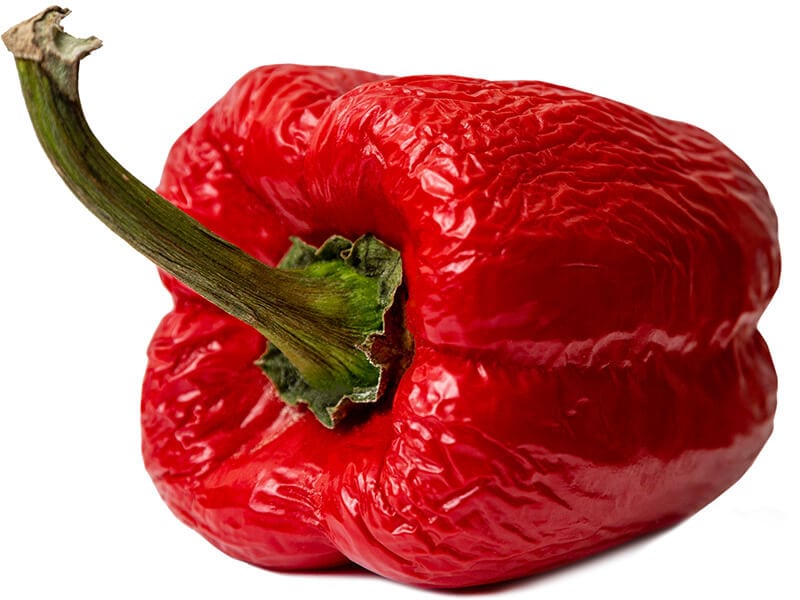 The finest symptoms are slim and wrinkled. These happen to any fruits after being refrigerated for several days. It's perfectly fine to use them within the amount of time I recommend to store them. However, if the peppers sunken too much, or become flappy when you touch them, it's time to throw them away.
It's ok if your peppers are moldy or rotten a little. Just get rid of those bad parts and use your peppers as soon as you can. When the molds or rotten parts become noticeable, your peppers have gone bad.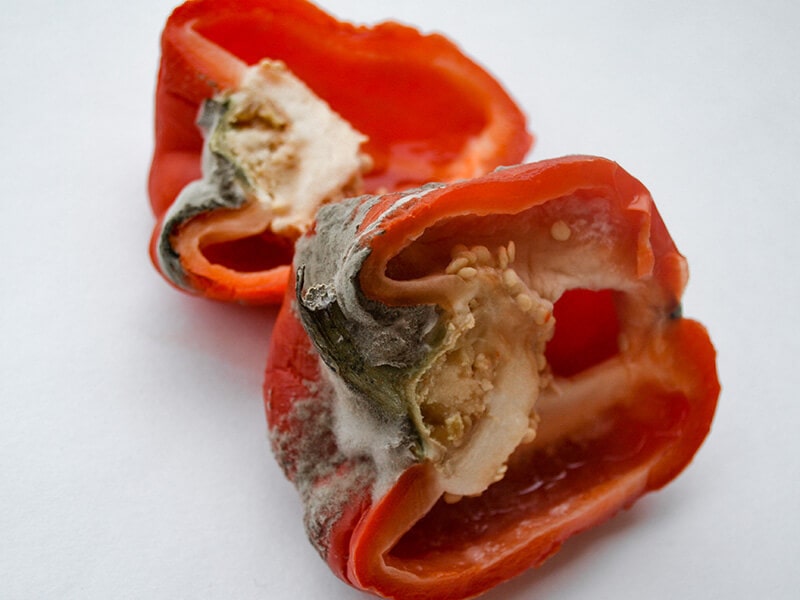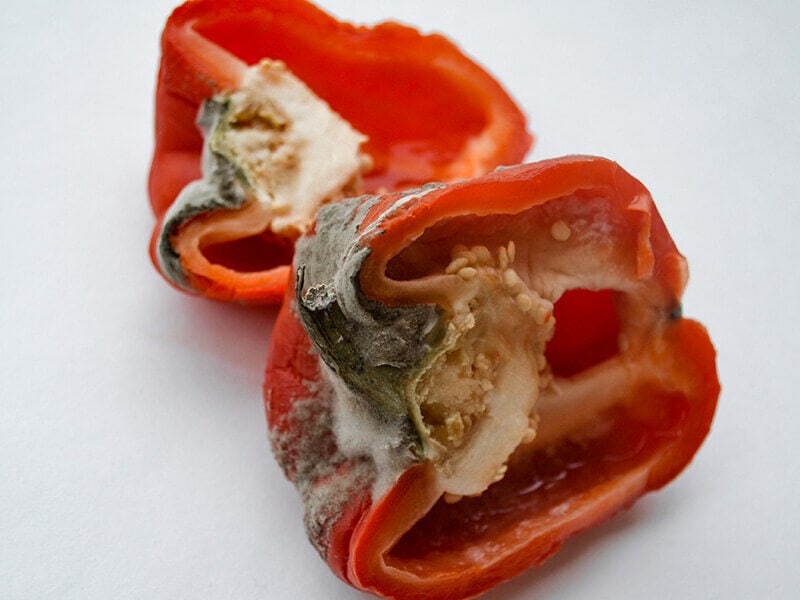 I'm kind of sensitive to smells so when I discover strange smells coming from my bell peppers, I would send them to the trash bin immediately. A bell pepper can still be good even if its skin is not smooth, but never a smelly one can be.
FAQs
Below are some frequently asked questions. If you don't have any further inquiry after reading my post, these answers can still work as useful tips and tricks for storing bell peppers.
Which Methods Do You Use To Store Bell Peppers?
Have you ever tried any of the above methods? Which method do you consider storing peppers best? Would you mind commenting below and sharing your experience with me?
If you have other interesting methods, I would like to know more. I'm always willing to try new things. If my experience turns out to be successful, I will add it into my post as an extra way to store bell peppers.
Should you find my instructions easy to understand and helpful, please don't hesitate to share them with the people around you. Perhaps someone will thank you later if they succeed in storing their peppers, or even complain that why didn't you tell them sooner about my post.
Nutrition Facts
1 servings per container
---
Amount Per ServingCalories76
% Daily Value *
Total Fat 0.6g

0

%
Sodium 6mg

1

%
Potassium 448mg

13

%
Total Carbohydrate 18g

6

%

Dietary Fiber 3.2g

12

%
Sugars 12g

Protein 2.4g

4

%
---
* The % Daily Value tells you how much a nutrient in a serving of food contributes to a daily diet. 2,000 calories a day is used for general nutrition advice.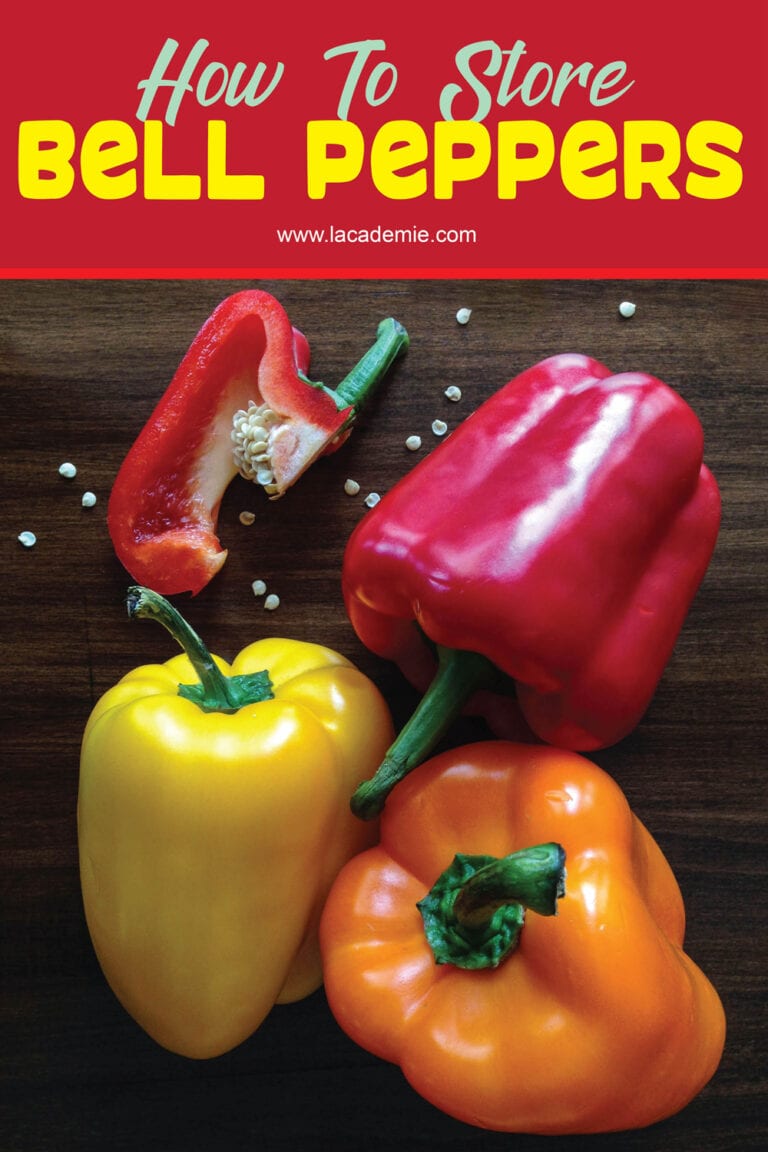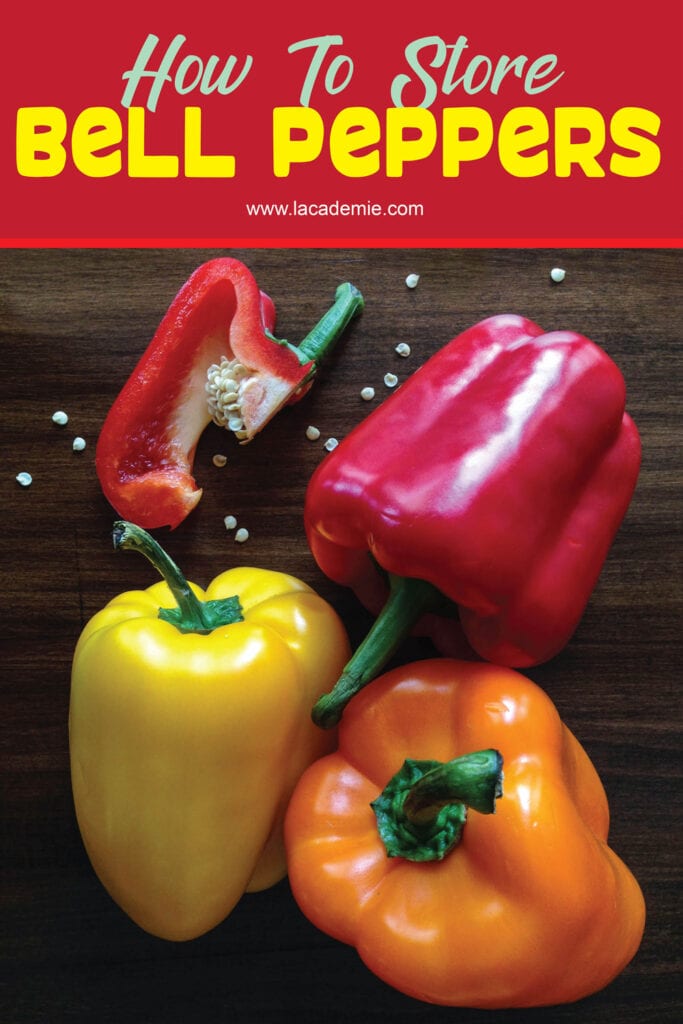 References
(1) D. Brennan, "Health Benefits of Bell Peppers," 20 August 2020.
(2) "Icona," July 2017. [Online]. Available: https://www.goicona.com/what-is-oxidation/