If you are looking for serrano pepper substitutes because you want to add diverse spices to your recipe or simply you are an explorer, I am right here to help you.
Spicy is the taste that is not friendly for everyone, but if you get along with it, you might get a chance of addiction. Many pepper eating competitions are created to celebrate the best pepper eater.
I will show you how every substitution can replace serrano pepper in the recipe, what you should focus on, and recommend some of the best dishes for using the substitutions.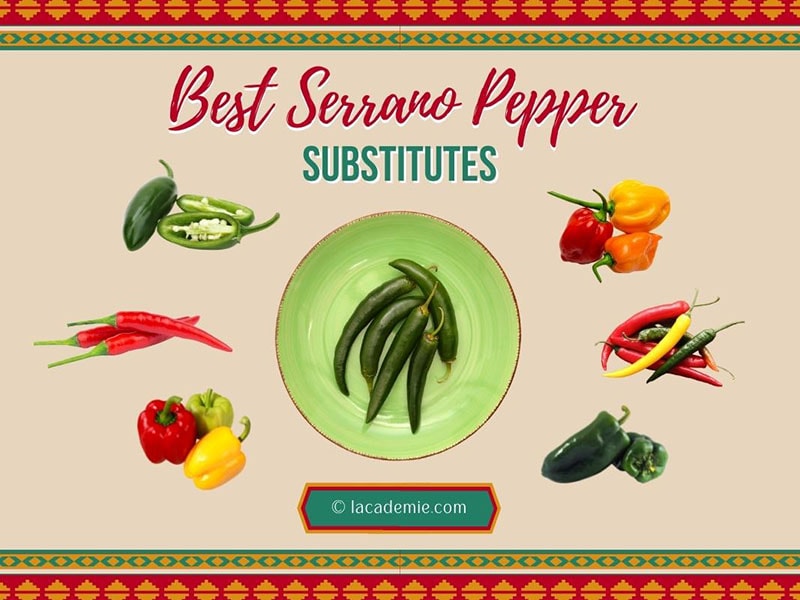 Here Are My Best Serrano Pepper Substitutes
There are many chili pepper types and spices that you can use as alternative ingredients for serrano pepper. They are really spicy but also tasty.
Jalapeño Peppers
Bell Peppers (Green or Red)
Habanero
Cayenne Pepper
Banana Pepper
Thai Chilies
Tabasco Pepper
Poblano Pepper
Ghost Pepper
Anaheim Pepper
So, you want to know how to substitute them? Let's scroll down.
Let's Learn About Serrano Pepper
To know what substitutes are the best for your dish, you should understand serrano pepper and how they are different from other ingredients.
What Are Serrano Chilies?
Serrano chilies or Serrano peppers are as known as the most common spices used in Mexcian cuisine. Their shape is a bit like the well-known Jalapeno pepper but they are smaller, about 1 to 4 inches long on average and half-inch wide (1) .
Compared with the identified "sibling" Jalapeno peppers, Serrano peppers are approximately 5 times hotter than the former or it could even be 10 times.
The measure for their spicy flavor is just about 15,000 SHU (Scoville Heat Units) (2) but according to the world's hottest pepper, the dragon's breath pepper is claimed to be the world's hottest chilies at 2,483,584 SHU.
Recipes That Use Serrano Chiles
Because of its hot and spicy flavor right after taking a bite, Serrano chilies are used to make spicy food as an important support of any Mexican dishes such as:
Spicy chicken fried rice
Buffalo chicken meatball
Salsa as an amazing sauce to enjoy with burritos
Smash burger with caramelized Serrano chilies on top
So most of the time they are used to make sauces, fried foods, and toppings for extra flavors. In the list below, I will choose the substitute that best fits the mentioned dishes.
The Serrano Chiles are the best choice for those who want to challenge themself with
10 Best Serrano Pepper Substitutes
Beware your eyes, you are about to see really hot peppers, which you can not resist trying. Now, let's jump right into it
1. Jalapeño Pepper
In Mexico, you can easily find out that Jalapeno peppers are used in almost every Mexican starter food to begin your meals. Their mature shape is regularly from 2-3.5 inches in height and their heat is about from 2,500 to 8,000 SHU.
Because the chilies are not too spicy and also juicy so that it will be a nice choice for most everyone. Some dishes you may find at plenty of Mexican restaurants or even at some American ones.
Although the spiciness level can not be compared with the serrano pepper, the scent is strong enough to replace some dishes that need excellent spicy toppings. If you are a newbie with peppers, Jalapeno should be your first step.
Jalapeno poppers: is one of the most simple appetizers. Stuff some cheddar cheese as a filling and fry with some crisper mix flour. After that, enjoying those crispy poppers with some ranch sauce or blue cheese sauce, both will be nice.
Pickled jalapeno peppers: add them as a topping of nachos, quesadilla, or hotdogs will make your food become more interesting to eat.
Let's learn how to make some tasty pickled jalapeno peppers right now!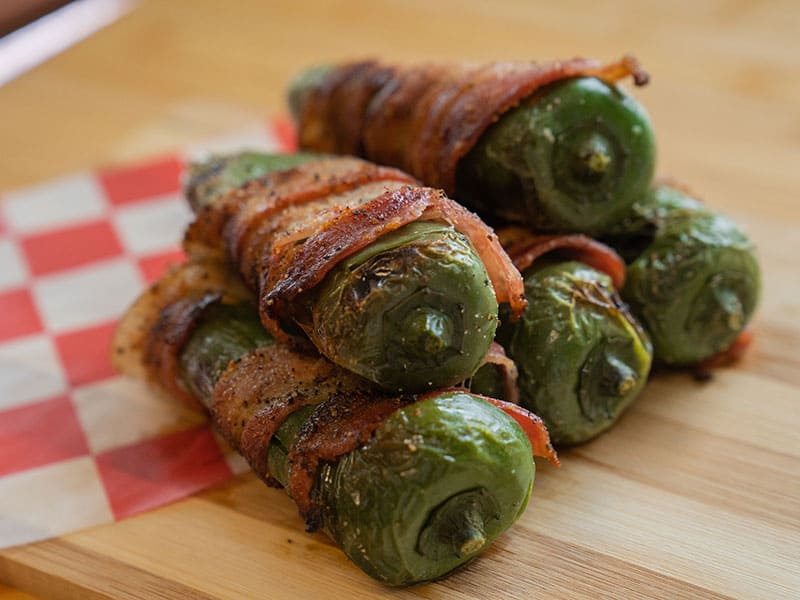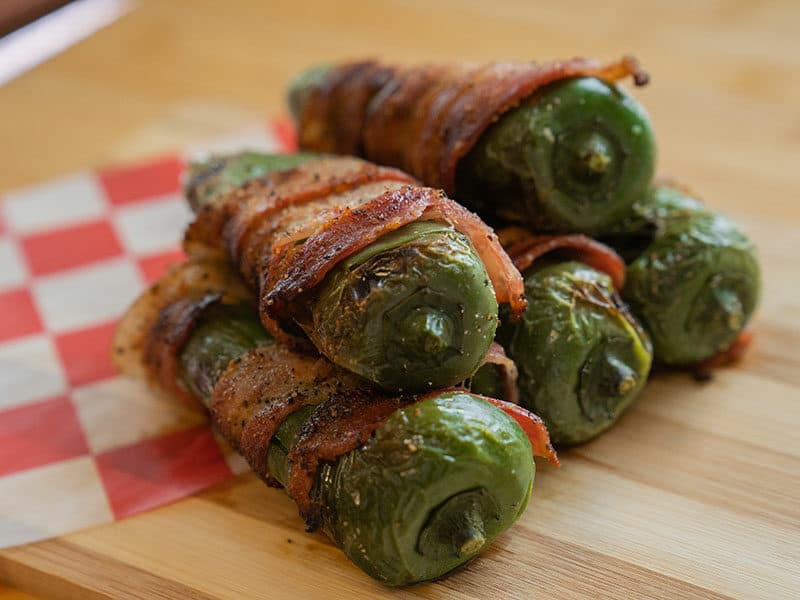 2. Bell Pepper (Green Or Red)
Bell peppers are not very strange to anyone, they widen in every continent from Americas to Asia. Particularly, they are a critical component in many side foods pairing with enchiladas. They are also called sweet peppers or capsicums. Bell peppers can be eaten either raw or cooked.
Whenever you search up for a rich vitamin C vegetable, bell pepper is the best choice for you. Moreover, a single bell pepper includes plenty of vitamins such as vitamin B6, K1, A, E, and potassium which is a virtual mineral that may improve your health.
As a nutritional vegetable, bell peppers are also the best selection for vegans. With a few tricks to keep bell peppers fresh, you can stock up on this delicious vegetable to prepare for your tasty vegan meal.
Bell peppers are usually grilled at BBQ parties. This way, their taste is deliciously sweet and smells so good when grilled. It is a great combination when bell peppers and beef are together. They are juicy and yet tasty.
Stuffed bell peppers are full of nutritions for your upcoming parties.
It is popular that you can easily find in most of every country dishes from America across Asia like:
Mexican dishes: quesadilla, burrito, and tacos.
Italian dishes: pasta, lasagna, and pizza (a great ingredient to combine with tomatoes and cheeses)
Vietnamese dishes: stuffed pork pepper, mixed peppers and cuttle in sate sauce.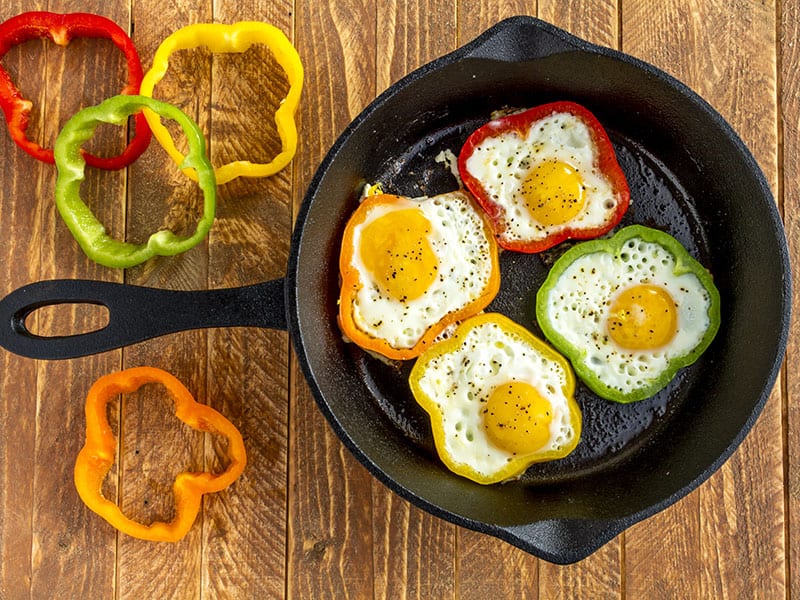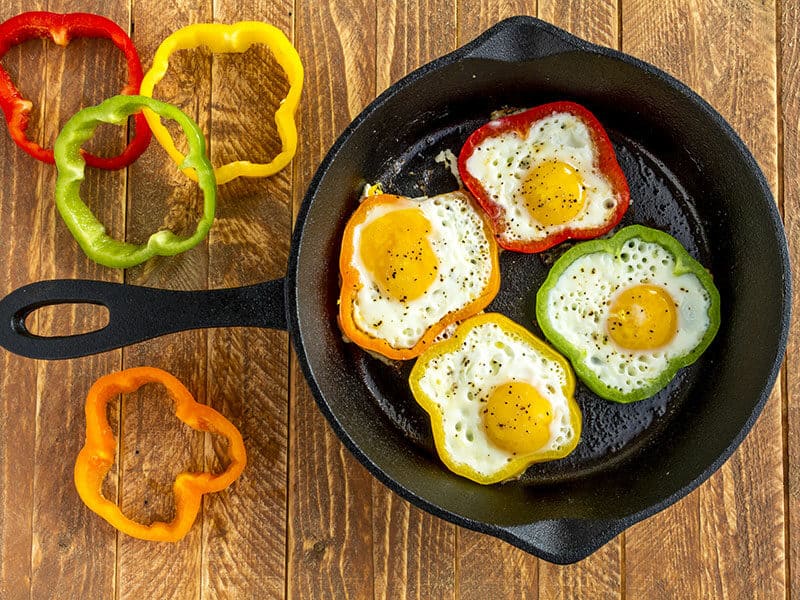 3. Habanero Pepper
Another hot Mexican pepper is on your way! However, this one is an easy-going pepper for someone who can not eat hot and spicy food. A single Habanero pepper includes from 1,000 to 1,500 SHU and therefore Habanero pepper will give you a nice experience to enjoy!
They usually come in the color of red, orange with a small, short shape. A Habanero pepper has a common length from 1 to 3 inches and technically looks like a mini Bell pepper.
When you take a bite of the chili, you will taste it pretty sweet, fruity, tropical, and smoky. These components combined will give you a great impression the first time.
In point of fact, Habanero pepper also has Cholesterol free, low-sodium, and a wealth of Vitamin C. The Capsaicin in Habanero-which is a factor to create the pungency of chili. This amazing element also contributes to reducing blood pressure for your body too.
Habanero peppers are widely used to make pickles and sauces like Habanero hot sauce, chili paste, salsa, or even pepper jam, etc…sounds interesting right!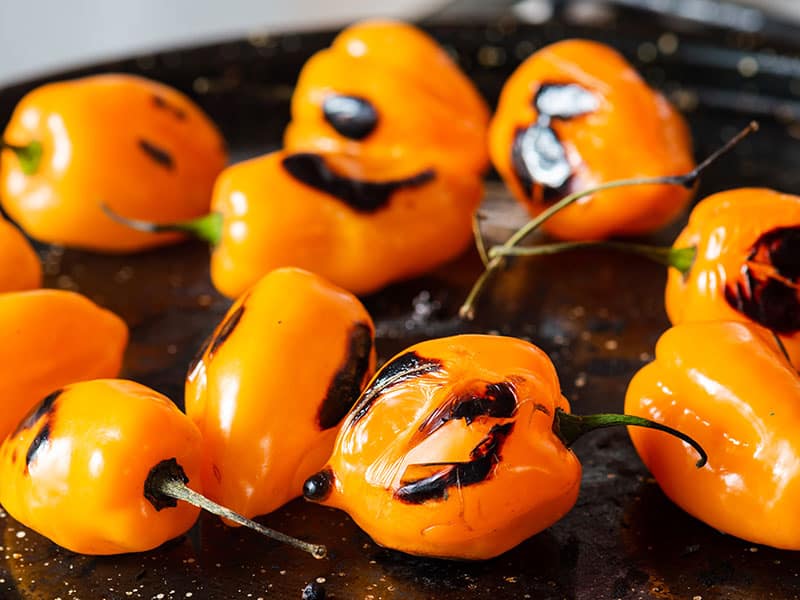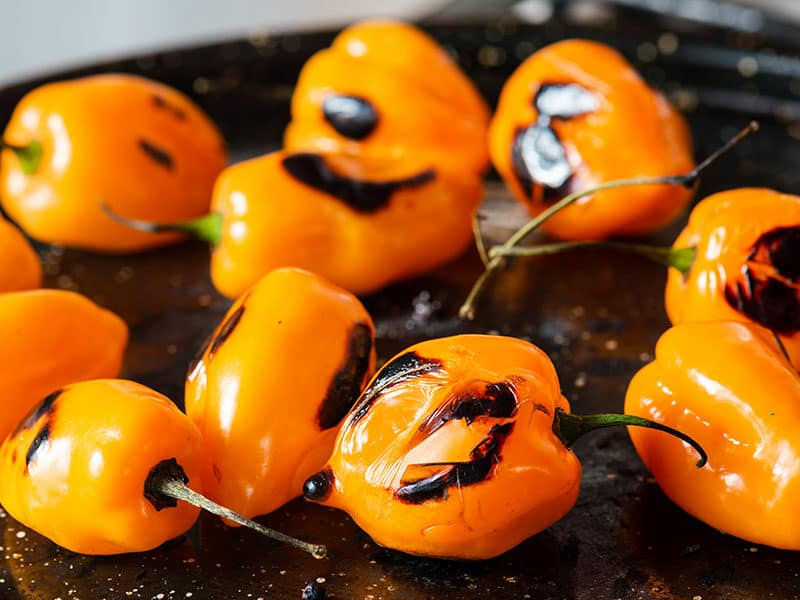 4. Cayenne Pepper
This is one of the spiciest chilies in the world, it is a type of Capsicum as Habanero pepper, Bell pepper, Jalapeno pepper, and many others. Its SHU contained in a single one is rated at 30,000 to 50,000 and that is the reason why it tastes severely hot.
Cayenne pepper has a longer shape compared with Jalapeno pepper or Habanero pepper. A general mature Cayenne pepper is about 4 to 10 inches, skinny, and mostly red-colored.
Many people's conception is that Cayenne peppers are just hot and fiery, in fact, some of them are sweet as well. The sweet Cayenne pepper's initial taste will be sweet like a delicious red apple, then a mild spicy in your tongue, so it is perfect for salad or tempura.
You can use it to replace Serrano pepper or use Serrano pepper to substitute Cayenne. Either way is totally fine, and remember to taste as you go to avoid too-spicy results.
Being a member of Capsicum, Cayenne pepper includes plenty of nutritional value itself.
This food contains a very low level of Cholesterol and Sodium so whether you look for a rich source of Dietary Fiber, lots of Vitamin A, C, E, etc…then Cayenne is your right selection.
Because of its burning flavor, Cayenne pepper is usually preferred to make Tabasco or chili powder. As a matter of fact, you can not skip some traditional dishes like burritos, taco, or enchiladas.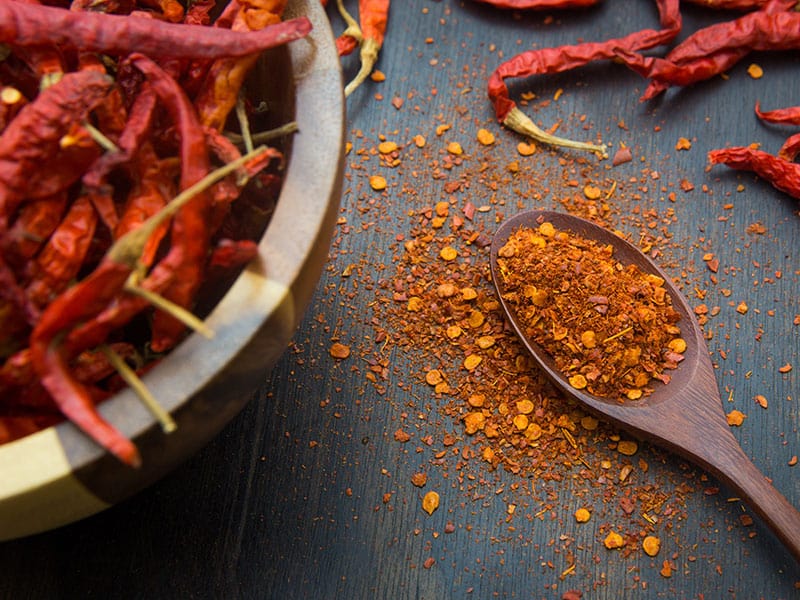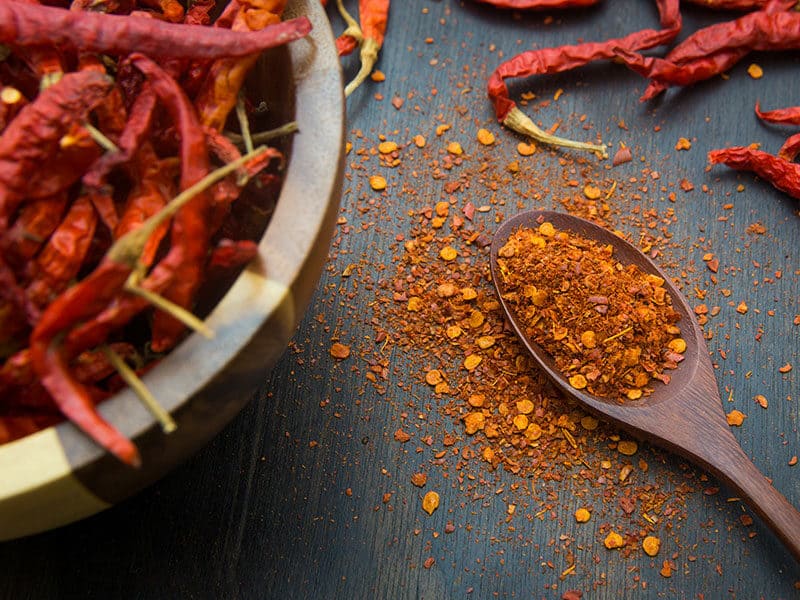 5. Banana Pepper
Another pepper belonging to Capsicum is Banana pepper. You may have heard its name as Yellow Wax Pepper or Banana Pepper as well. And don't be confused about banana peppers and pepperoncini, they are 2 different things.
Banana pepper is the mildest rated flavor from 0-500 SHU, but if you want to eat spicier, try a younger one.
Its shape is like a banana which usually has yellow color and a medium-long shape from 2-3 inches in length. The chili appearance can change to green, orange or red depending on its age.
In fact, the chili does not taste very spicy but delightfully sweet, mild, and tangy instead. Therefore, some people prefer enjoying a raw and fresh chili to a cooked one.
Canned banana peppers are sweet and delicious that you must try:
The peppers are also rich sources of Vitamin C whether you are looking for some. Furthermore, a raw banana pepper can supply 90% water and contain 100% Daily Value to your body. There are several ways to store banana peppers in order to retain their nutritional values.
You can enjoy the fresh chili as well as cook it. At some restaurants, chefs like to make salsa or relishes. Moreover, you can probably pickle the chili and add on any dish you like and make stuffed banana peppers as a snack to enjoy on a movie night. Amazing right!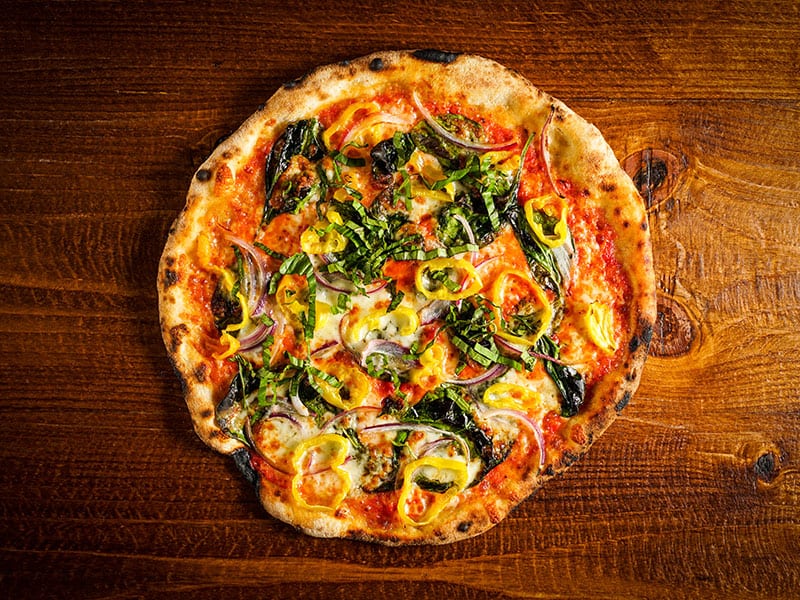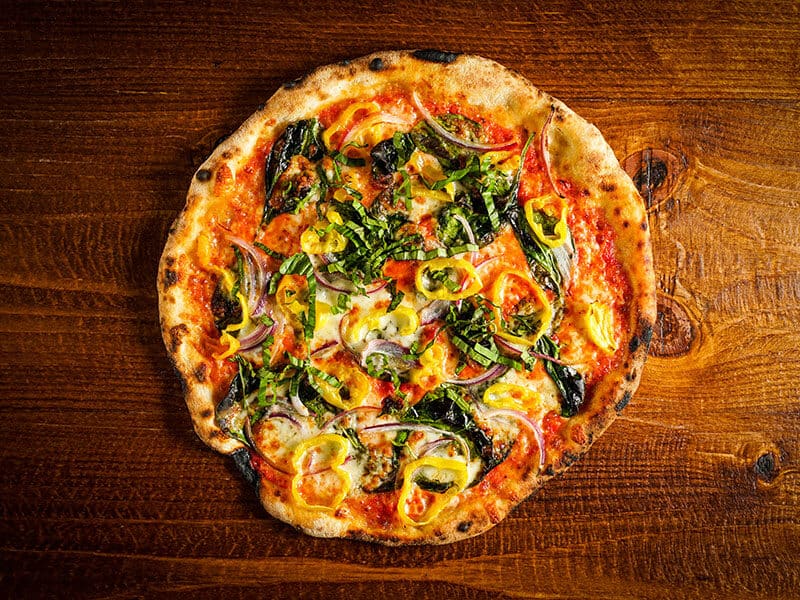 6. Thai Chili
In some regions of Asia, Thai Chili is also known as Bird's eye chili. This vegetable is an irreplaceable ingredient of any Asian cuisine because of its pungent and spicy taste. The chili heat is rated between 50,000 and 100,000 SHU which is times hotter than the Cayenne.
The Thai chili has a small, thin and pointy shape. Its length is often from 3-5 cm. A mature chili is scarlet and an unripe chili is a green which can be eaten and spicy too.
The taste is super spicy but very fruity and peppery as well. In my perspective, this chili is not appropriate for someone who can not eat spicy food.
Great sources of Vitamin C and B6 that Thai Chili is, but in fact, you should apply an average amount of them to avoid stomach diseases.
This is an awesome sweet thai chili sauce to dip with seafood. Let's try it!
As a popular and catchy ingredient, Thai Chili is widely used in plenty of Asian Countries like Thailand, Vietnam, Malaysia or Indonesia, etc…
In Thai cuisine: Thai chili is a good component with lime and lemongrass to make a perfect sauce for Pad Thai, Thai curry, Tom Yum,…
In Vietnamese cuisine: This chili is commonly used in almost every dish of the native people like Stewed and Stir-fried dishes, a great ingredient to make sate hot sauce too.
In Malaysian cuisine: An added factor for Nasi Lemak rice dish or to make incredibly Sambal Chili paste and many other catchy foods.
In Indonesian cuisine: Thai chili is also popularly used for Nasi Goreng fried rice, fried noodles, or plenty of braised dishes.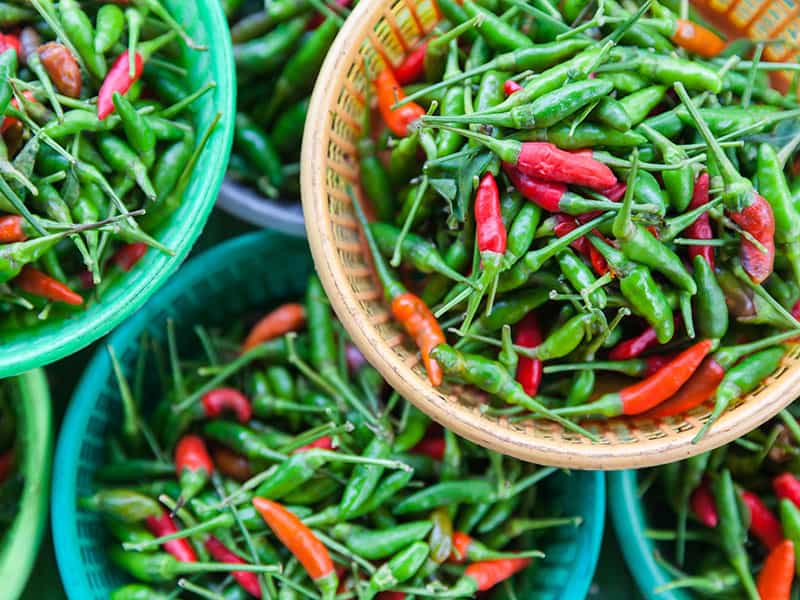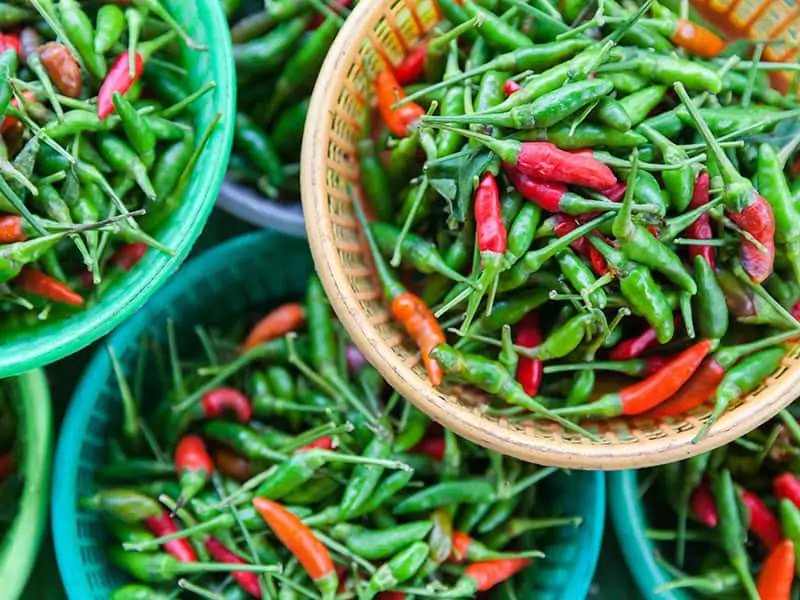 7. Tabasco Pepper
Another chili that originated from Mexico, Tabasco pepper is one of the most popular chilies in the world. Its production used to make the Tabasco hot sauce which you can easily buy on the market. The Scoville Units rates its hot from 30,000 to 50,000 which is medium spicy.
Tabasco peppers have small shapes, 2 inches long, and vibrance colors like red, orange, or yellow depending on their ages.
Because of its SHU, the flavor is pretty fiery, fruity, and mild at the end of a single bite. In addition, you may surprisingly taste that the flavor is slightly similar to Cayenne pepper.
Like many Capsicum Annuum, Tabasco pepper is also a great source of Vitamin C and Fiber. As a matter of fact, you should not supply a certain amount to avoid stomach issues.
This chili is usually used to make sauces and widely manufactured as Tabasco hot sauce, which you can use in place of Sriracha. Moreover, you can also make salsa or chili powder with this chilli too!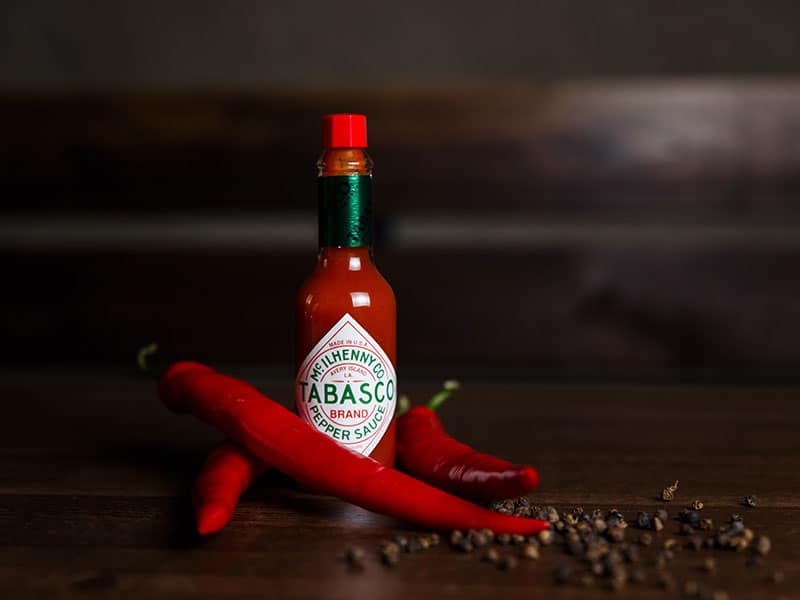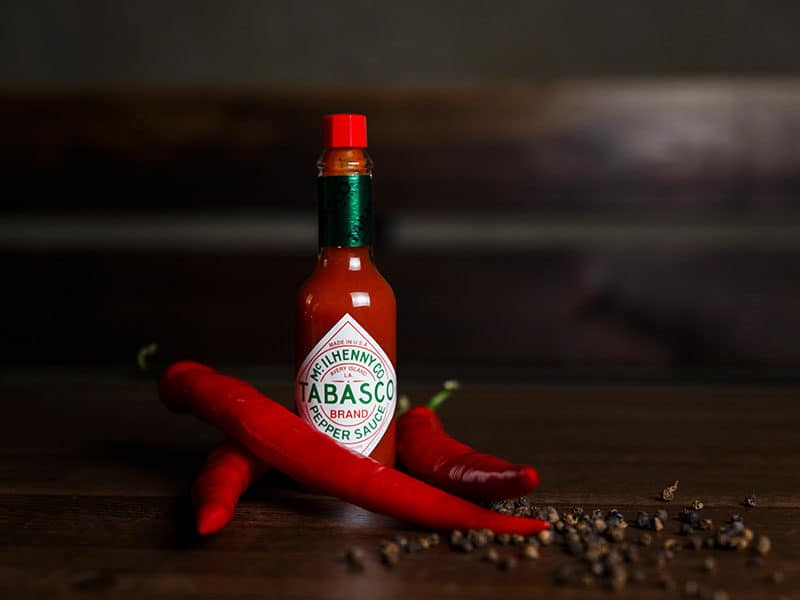 8. Poblano Pepper
Here comes another Mexican National chili, Poblano pepper that has a low-spicy taste rated between 1,000 and 2,000 SHU. Whether you have a chance to visit Mexico, it is easy to find Poblano pepper in every corner of the country.
Its appearance is probably 4 inches long, dark green, and heart-shaped. Some people may think that it looks like Jalapeno pepper or a skinny Bell pepper as their first impression!
Because of their low-spicy, mild and smoky taste, it will be an ideal selection for people who want to try spicy food but not too spicy!
The poblano pepper is a potential source to provide Vitamin C, A, or fiber and a variety of nutrients to your healthy life.
Like many other peppers, this one is also used to make pickles, Mexican tortilla soup, or to make Mexican fried rice. These are just a couple of examples, technically you can add Poblano pepper onto any meal that you like, all good and diverse taste you will receive!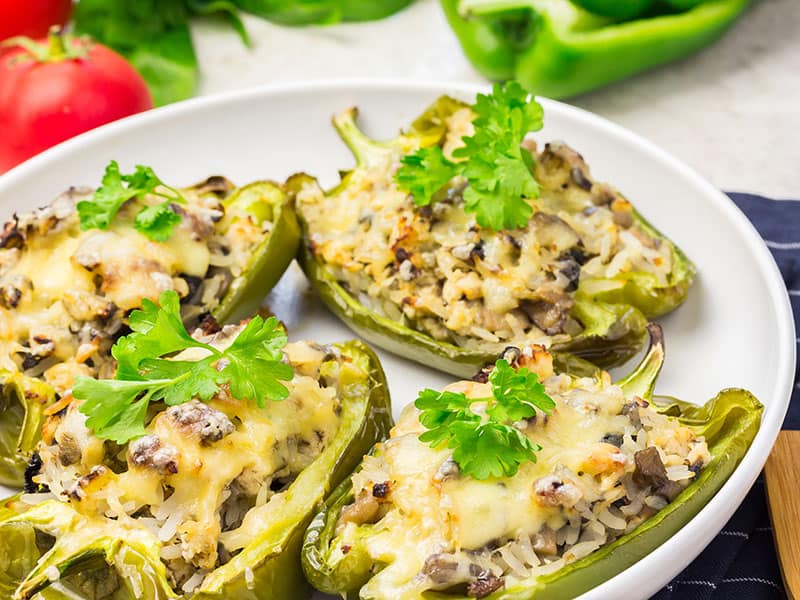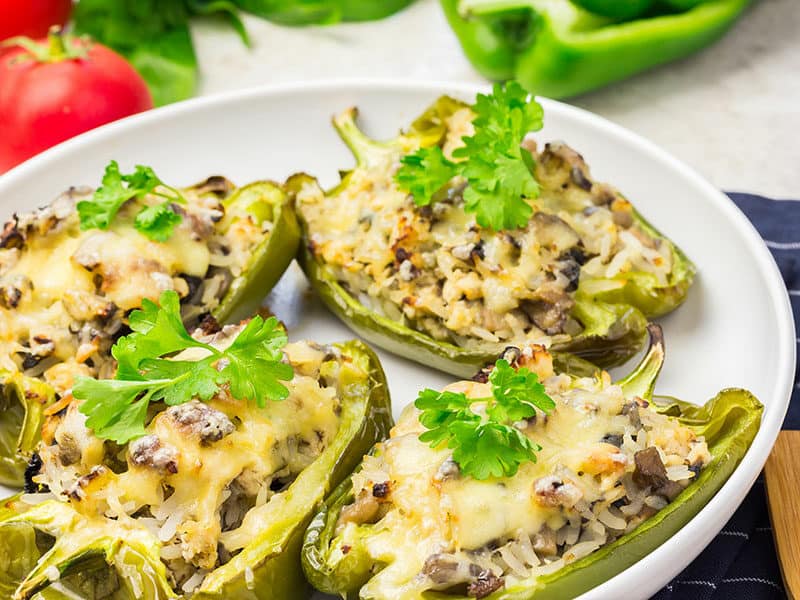 9. Ghost Pepper
The ghost pepper is considered one of the hottest peppers on the planet. Their SHU could reach 1 million in certain types of peppers. They are also known as bhut jolokia.
The ghost pepper plant can produce various products of different sizes. Ghost peppers can be used in different stages of their lives. These peppers can be eaten ripe or unripe.
They also come in different colors such as red, yellow, orange base on their ripeness. In addition, their sizes vary from 2.4 to 3.3 cm long and the taste is also a bit different for each color.
Ghost peppers might be too hot for someone who is new to eating peppers, but it is sure to be a pleasure for those who love spices. They are commonly used in different types of dishes like sauce or hummus.
Some chili's eaters can eat this pepper raw, however, I suggest for anyone who is new to pepper eating, this pepper is best as a side dish for a creamy sauce like hummus. This may reduce the spicy level of the ghost pepper.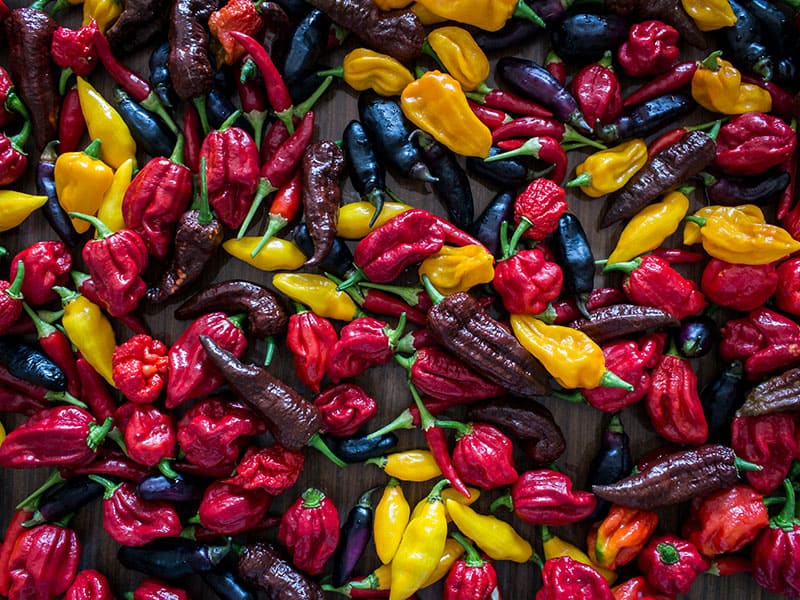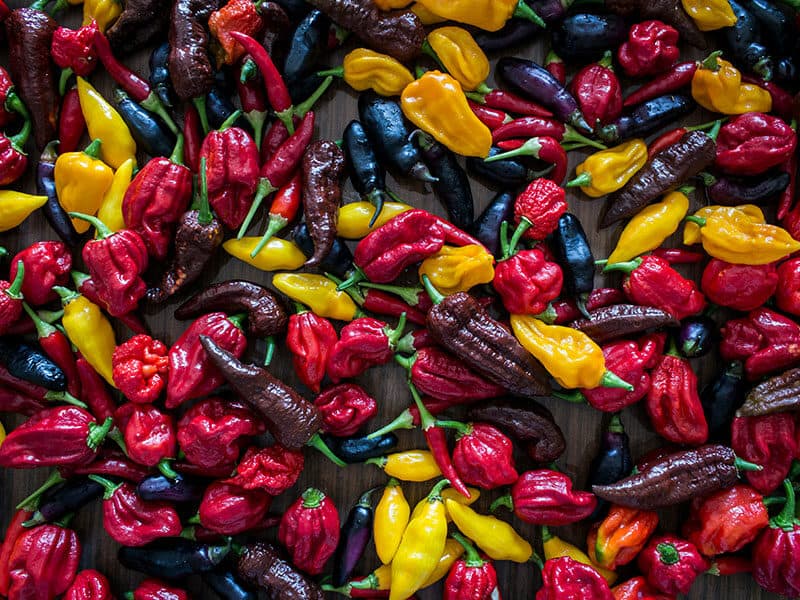 10. Anaheim Pepper
Ah, Anaheim pepper, the pepper that is named after the city that it is famous for, Anaheim city of California. This pepper ranges from 500 to 2500 SHU, which means they are not that spicy and you can feel comfortable enjoying it.
Anaheim pepper is mild and the heat is really friendly to you. You can just feel a bit of a kick and that is all.
Anaheim peppers usually come in with dark green color or red when they are ripe. They are widely consumed while green because this is when their taste is strongest and the smell is amazing for most recipes.
These peppers have various uses, from roasting at BBQ parties or being canned. Due to its thick flesh and big size, they are stuffed in cheese to create a popular signature dish called Rellenos.
Find out how to roast perfect Anaheim peppers with Feta cheese in this video:
Although they have great flavor when grilling, Anaheim peppers are still commonly used fresh. Some special salads or salsa use this pepper as dressing to create extra flavor.
With the mild taste and versatile usages, Anaheim peppers can be a perfect replacement for serrano pepper in roasted dishes or BBQ. I suggest you try this pepper because it is really friendly even for beginners eating spicy foods.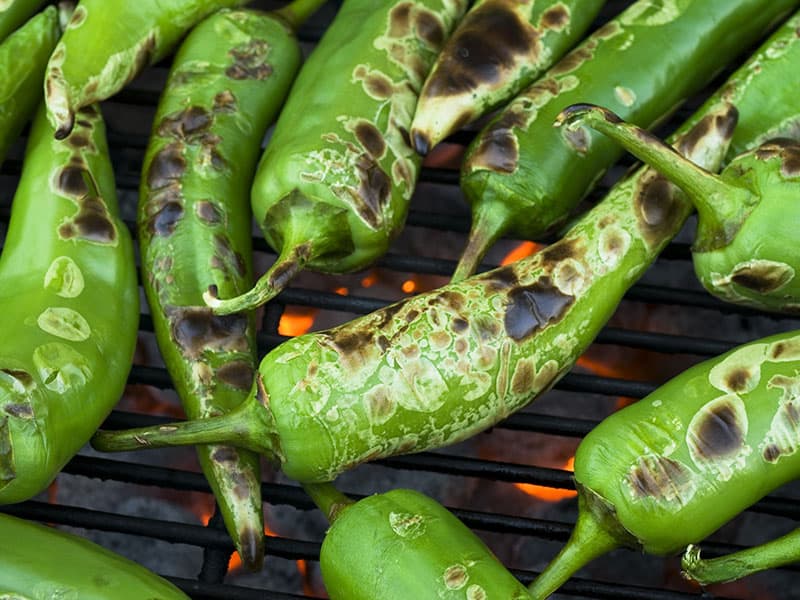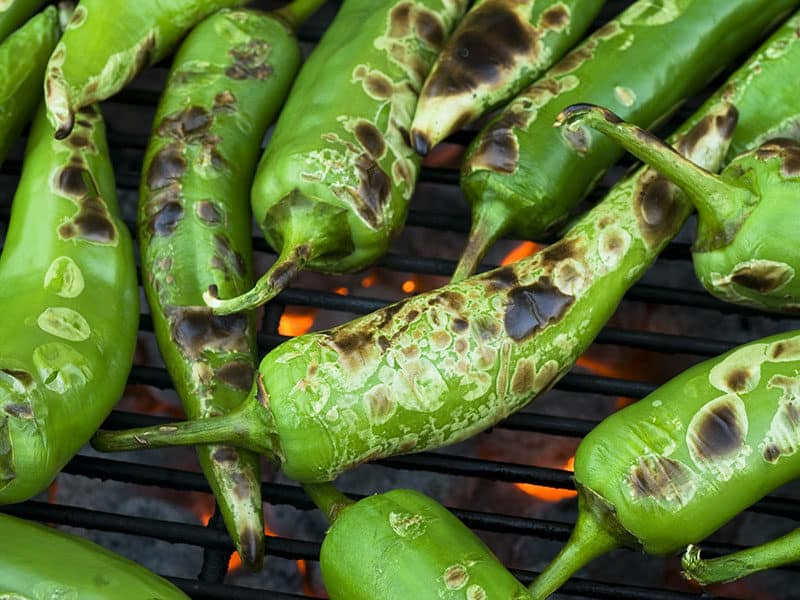 Know Your Limitation Before Choosing The Substitutions
Each type of pepper has different uses and the SHU level also varies from friendly to super spicy taste. Therefore, it is important to know what level is suitable for you.
Consuming large amounts of hot peppers might harm your stomach and it can lead to some digestion problems. I hope that the mentioned serrano pepper substitutes above are helpful for you.
Finding out some new ingredients to replace the old one is really fun right? I hope that you can create an outstanding recipe. Feel free to share your new recipe with me, I would love to see it.
Nutrition Facts
1 servings per container
---
Amount Per ServingCalories4.1
% Daily Value *
Total Fat 0.1g

0

%
Sodium 0.4mg

0

%
Potassium 35mg

1

%
Total Carbohydrate 0.9g

0

%

Dietary Fiber 0.4g

0

%
Sugars 0.6g

Protein 0.1g

0

%
---
Vitamin A

3

%
Vitamin C

28

%
Calcium

0.1

%
Iron

0.2

%
* The % Daily Value tells you how much a nutrient in a serving of food contributes to a daily diet. 2,000 calories a day is used for general nutrition advice.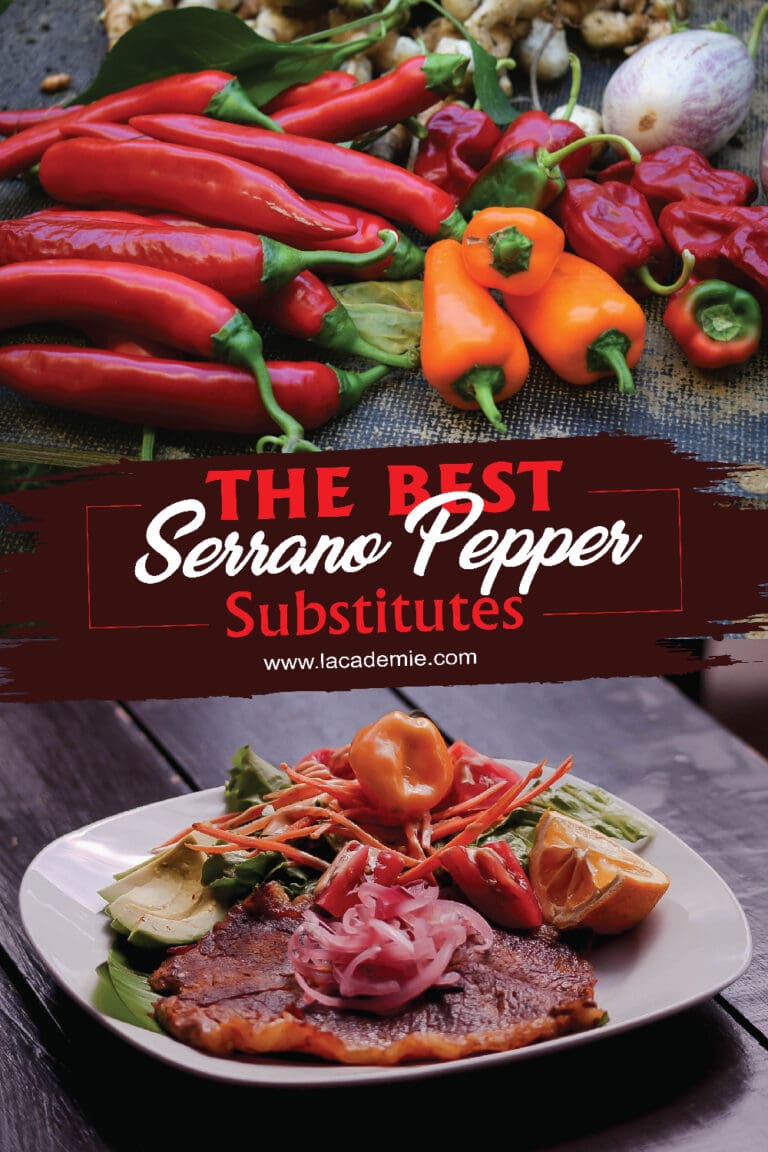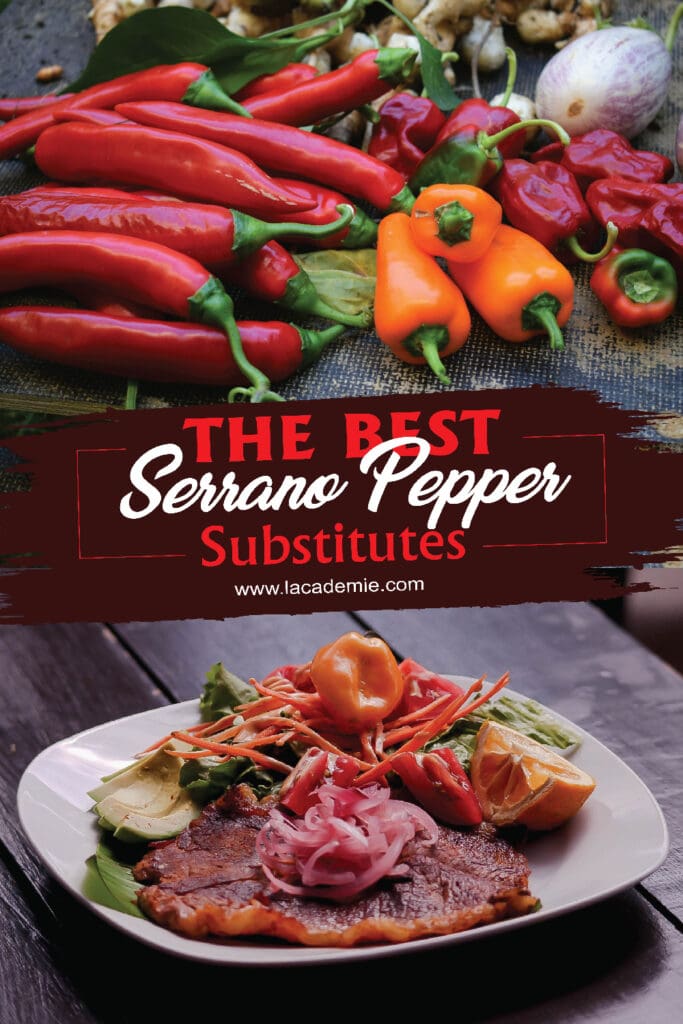 Reference:
1. Nesfp.org. 2021. Serrano Peppers | New Entry Sustainable Farming Project. [online] Available at: <https://nesfp.org/world-peas-food-hub/world-peas-csa/produce-recipes/serrano-peppers>.
2. Worldcrops.org. 2021. Serrano Pepper | WorldCrops. [online] Available at: <https://worldcrops.org/crops/serrano-pepper>.