Are you struggling with meringue powder substitutes? Don't stress yourself. There are another 10 ingredients that you can use to make your desserts. Scroll down to get your favorite replacements!
Meringue powder is an ingredient that is often used to make cakes, cookies, icing, and frosting. It is made of dried egg whites and transformed into fine powder. Because of its convenience, it is popularly used to make sweet desserts.
What should you do when there is no more meringue powder in your house? Instead of buying, you can substitute it with other ingredients. Read this post carefully, and I will show you what they are.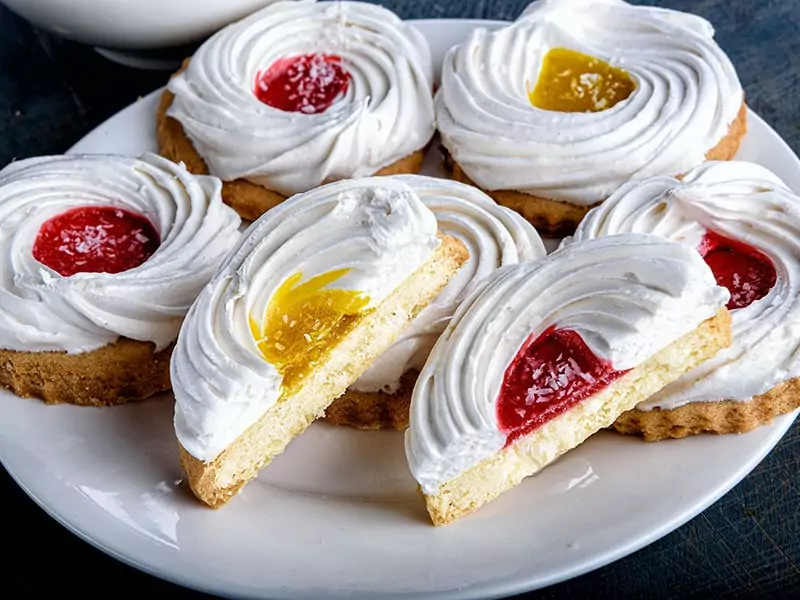 What Can Be The Substitutes For Meringue Powder
Don't worry if there is not any meringue powder available when you need it for a dessert. These 10 substitutes will help you to replace it while keeping the same flavor for your favorite dessert.
Egg Whites
Egg White Powder
Agar Powder
Aquafaba
Xanthan Gum
Chia Seeds
Flax Seeds
Gelatin
Mashed Bananas
Aquafaba Tofu
What Is Meringue Powder?
Meringue powder is a product that is used to replace fresh egg whites in making sweet desserts, especially royal icings and cookies. They are used to create stiff peaks.
Another purpose of meringue powder is to prevent food poisoning in children and pregnant women that is sometimes caused by raw eggs. Meringue powder uses pasteurized eggs, so it can significantly reduce the risk of getting poisoned.
For people who are allergic to raw eggs, meringue powder is effectively used as a substitute when baking and cooking.
The ingredients of meringue powder include dried egg whites, sugar, cornstarch, citric acid, and some kinds of stabilizers to hold the peaks. The most popular meringue powder is the Wilton Meringue Powder Egg White Substitute.
10 Wonderful Substitutes Of Meringue Powder You Must Know
In the content below, I will introduce you to 10 ingredients that you can use to substitute meringue powder.
Some of them do not only make your dessert tastier but are also very beneficial to your health. Read until the end, and pick your favorite meringue powder substitutes.
| | |
| --- | --- |
| Substitute | Proportion |
| Egg whites | 1 tsp of meringue powder = ½ egg whites |
| Egg white powder | 1 tsp of meringue powder = 1 tsp of egg white powder |
| Agar powder | 1 tsp of meringue powder = ½ tsp of agar powder |
| Aquafaba | 1 tsp of meringue powder = 1½ tsp of aquafaba |
| Xanthan gum | 1 tsp of meringue powder = ⅛ tsp of xanthan gum |
| Chia seeds | 1 tsp of meringue powder = ½ tsp of chia seeds |
| Flax seeds | 1 tsp of meringue powder = ½ tsp of flax seeds |
| Gelatin | 1 tsp of meringue powder = 1½ tsp of gelatin |
| Mashed bananas | 1 tsp of meringue powder = ⅛ cup of mashed bananas |
| Tofu aquafaba | 1 tsp of meringue powder = 4 – 5 tsp of tofu aquafaba |
1. Egg Whites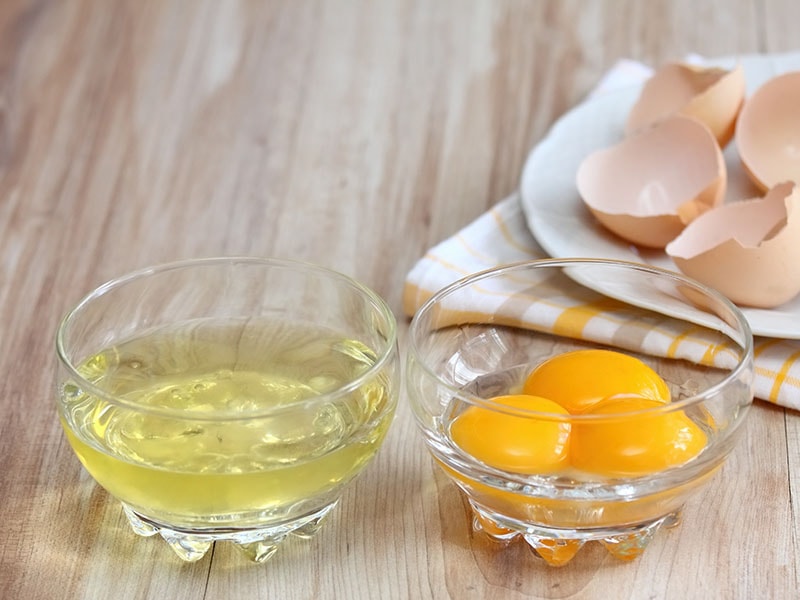 The first and best alternative for meringue powder is fresh egg whites. The reason is pretty simple. Meringue powder was created to replace raw egg whites.
As you may know, egg whites are highly nutritious. They contain very low calories but are a rich source of protein (1). Therefore, you can not only enjoy the original taste but also benefit from the nutrients that egg whites provide.
Although using egg whites may take more time, it is even a better option than meringue powder because eggs are natural and have a tasty flavor. Just make sure that you buy eggs from a reliable source.
What you need to do is to whip the egg whites with a teaspoon of cream of tartar and some drops of lemon juice until the mixture gets foamy. 1 teaspoon of meringue powder equals half an egg white.
Another way that you can use is to mix egg whites, powdered sugar, cornstarch, a little bit of vinegar, and dried vanilla beans.
This well-made visual instruction will help you learn more about the procedure.
2. Egg White Powder
Just like meringue powder, egg white powder was produced to replace egg whites. Therefore, it can be perfectly used to substitute meringue powder.
Egg white powder is made by dehydrating egg whites. The whites are ground and turned to fine powder. They function as a stabilizer of the icing.
You may wonder how it is different from meringue powder. While both of them are made of dried egg whites, meringue powder contains sugar, stabilizers, and some other substances, while egg white powder does not.
It will take more time since you have to rehydrate the powder. In addition, you should also add sugar and stabilizers to the mixture. You can replace meringue powder with an equal amount of egg white powder.
3. Agar Powder
Use agar powder to substitute meringue powder if you are allergic to eggs or you are a vegetarian. Made from a plant source called algae, agar powder is a gelatinous powder often found in Indonesian sweet treats. It is often used to thicken and gel liquid dishes as well.
A teaspoon of agar powder and a teaspoon of water can substitute 2 teaspoons of meringue powder.
Mix the same amounts of agar powder and water, depending on how much you want to use. Boil the mixture in approximately 5 minutes. When the mixture gets foamy, whip it and create your beautiful stiff peaks in the same way as meringue powder.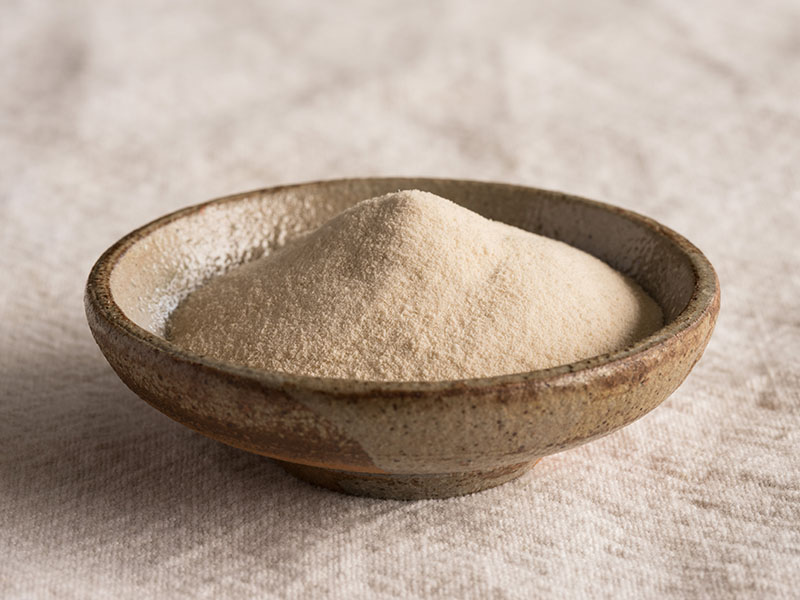 4. Aquafaba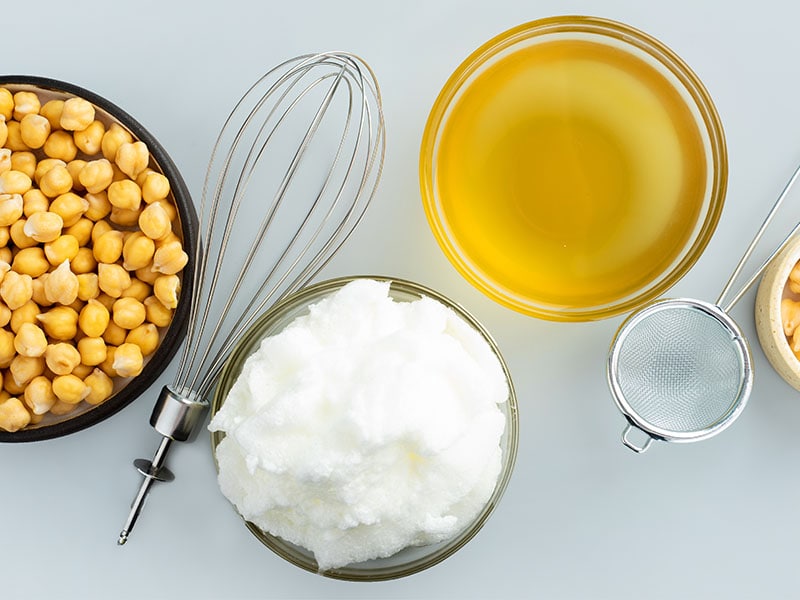 Aquafaba is the liquid that moisturizes canned chickpeas or the remaining water when you cook them. In other words, it is a vegan ingredient.
You may not expect it to be on the list because it is not related to eggs. However, it is known as one of the best replacements for egg whites in particular and eggs in general. With a few additions, you'll be able to make aquafaba look just like whipped egg white.
When you taste it, I bet that you will love it as much as you love eggs. Save the liquid when you drain chickpeas, and you will find it helpful for your desserts when you are short of eggs and meringue powder.
A teaspoon of meringue powder can be substituted by 1 and a half teaspoons of aquafaba. Add cream of tartar and sweeteners (sugar, vanilla, etc) into aquafaba and whip until the mixture is foamy.
This is made for you if you are not sure how to use aquafaba to substitute meringue powder.
5. Xanthan Gum
Quite similar to agar powder, xanthan gum is often used in baking and cooking to thicken the mixture and prevent it from crumbling and separating. It is a widely-used food additive that contains fermented corn sugar.
In addition, xanthan gum is a popular thickener. It's one of the most common methods to thicken chili, baked beans, gravy, soup, stew, etc. Because xanthan gum has no discernible taste, there's no need to worry that it will alter the overall flavor of your dish.
To use xanthan powder to substitute meringue powder, use ⅛ teaspoon of xanthan gum to replace 1 teaspoon of meringue powder. Add an equal amount of water into xanthan gum and whip it for some minutes until it thickens.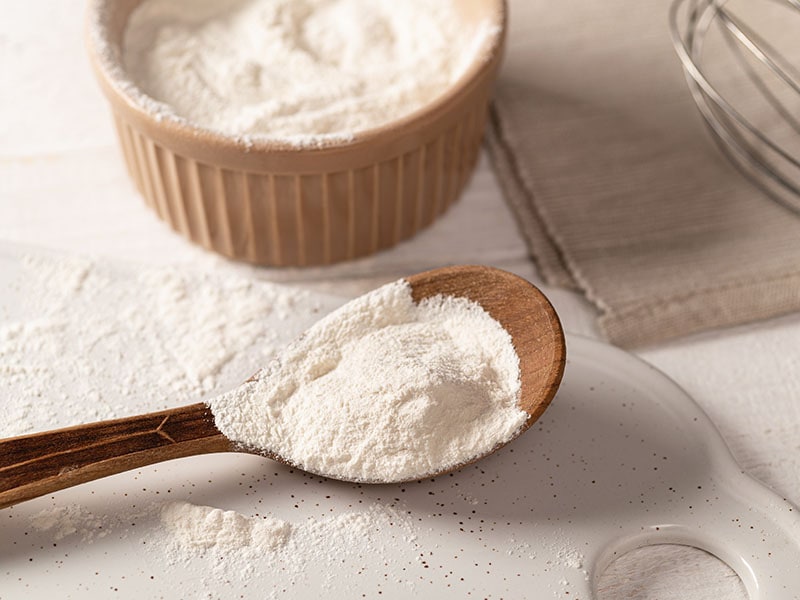 6. Chia Seeds
Another healthy substitute for meringue powder is chia seeds. I am sure that you know how nutritious chia seeds are. They are rich in fiber, protein, and omega-3 fatty acids, which can help to control your blood pressure. (2)
One of the main concerns one might have regarding this healthy substitute is whether it's possible for chia seeds to spoil, and if so, how to keep them fresh longer. As it turns out, storing them is no rocket science, simply keeping them in an airtight mason jar is enough.
However, you may wonder why chia seeds can be used to replace meringue powder. The answer is that when they are soaked in water, chia seeds have a gel texture, which is similar to egg whites.
Soak ½ teaspoon of chia seeds in water in a few minutes and use it to replace 1 teaspoon of meringue powder.
You should note that chia seeds may change the color of the mixture. If you want to maintain a white look for your icing, consider buying white chia seeds.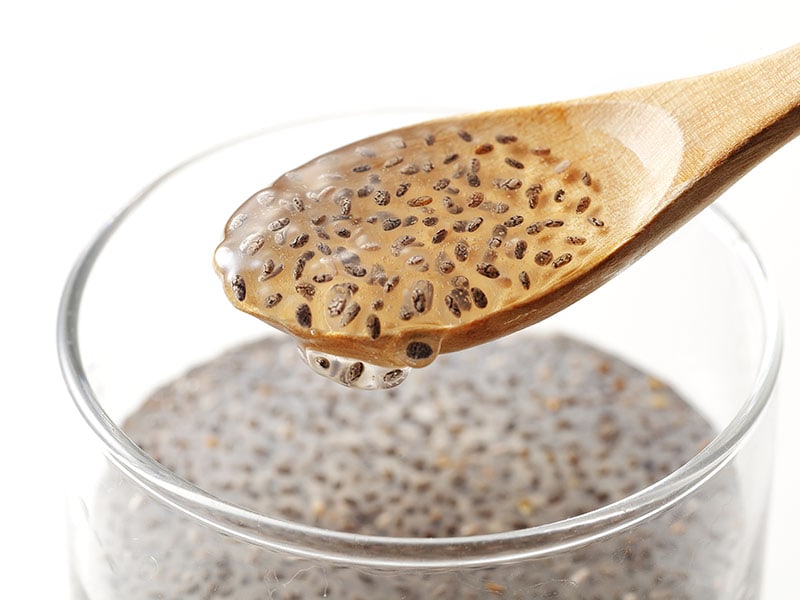 7. Flax Seeds
Another kind of seeds to replace meringue powder is flax seeds. They also have many great benefits for your health. Flax seeds contain fiber, lignans, and omega-3 fatty acids, which help to reduce the risk for stroke, heart diseases, and cancers. (3)
Flax seeds are popularly used as binders in making cookies, muffins, and pancakes. To use them to substitute 1 teaspoon of meringue powder, soak ½ teaspoon of flaxseed in water, wait for 10 to 15 minutes, and whip it until you see the foamy texture.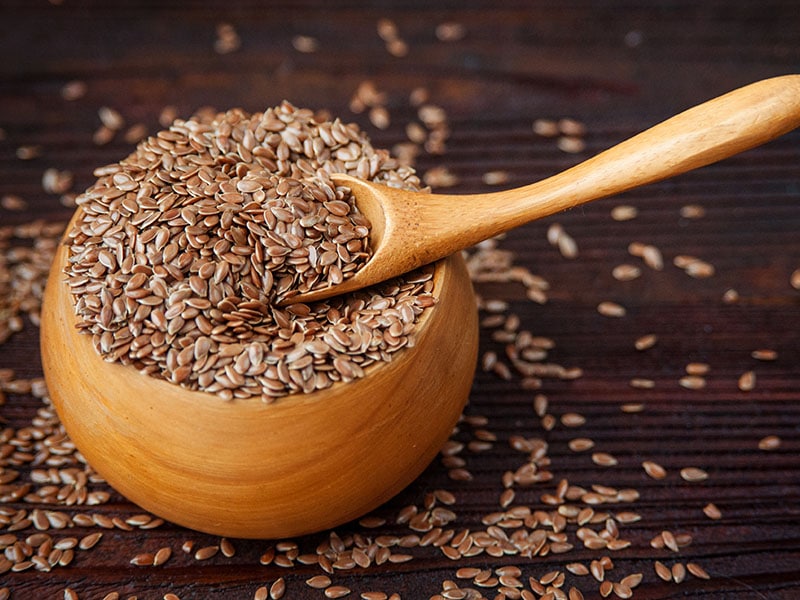 8. Gelatin
Another familiar ingredient that can be used to substitute meringue powder is gelatin, which is made from the collagen of the bones and some other parts of animals such as pigs, cattle, and cows.
Gelatin is widely used as a tickner in a lot of elegant and lavish desserts, including champagne jello shots, meyer lemon panna cotta, etc. It's also seen in puddings, candies, cakes, and yogurt. Because of the similarity in function, gelatin can be used to substitute meringue powder.
However, you should know that gelatin is made from animals, so it is not an option for those that are vegetarian.
To make icing from gelatin, you should mix 1 and a half teaspoons of gelatin with water and wait for some minutes. Then, whip it to replace a teaspoon of meringue powder.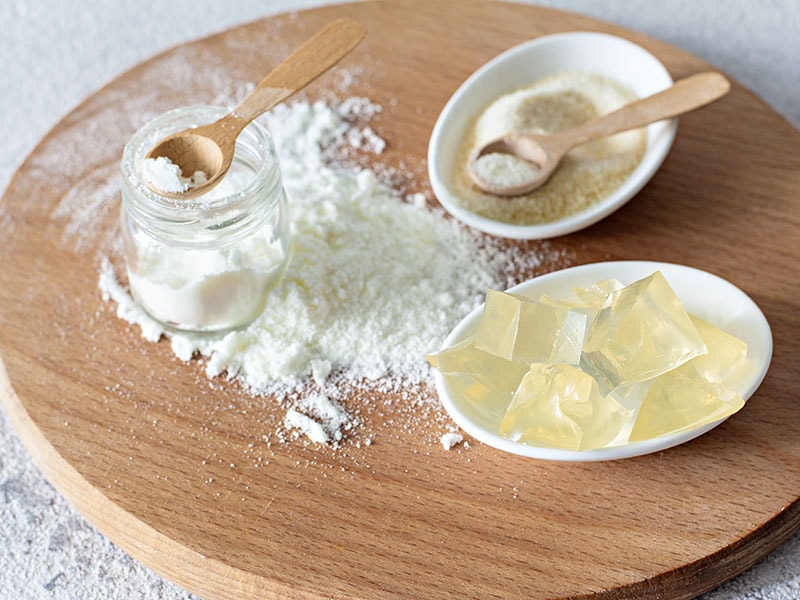 9. Mashed Bananas
You may not expect mashed bananas to be on the list, but the fact is that they can also be used to substitute meringue powder in certain cases. How amazing it is to use your favorite fruit to bake your favorite desserts.
Although they can not be used to make icing and frosting, they are often used for baking other sweet dishes such as bread and cookies. The reason is that they can moisturize the mixture.
To replace 1 cup meringue powder in making bread and cookies, use ⅛ cup of mashed bananas. Make sure you use ripe bananas.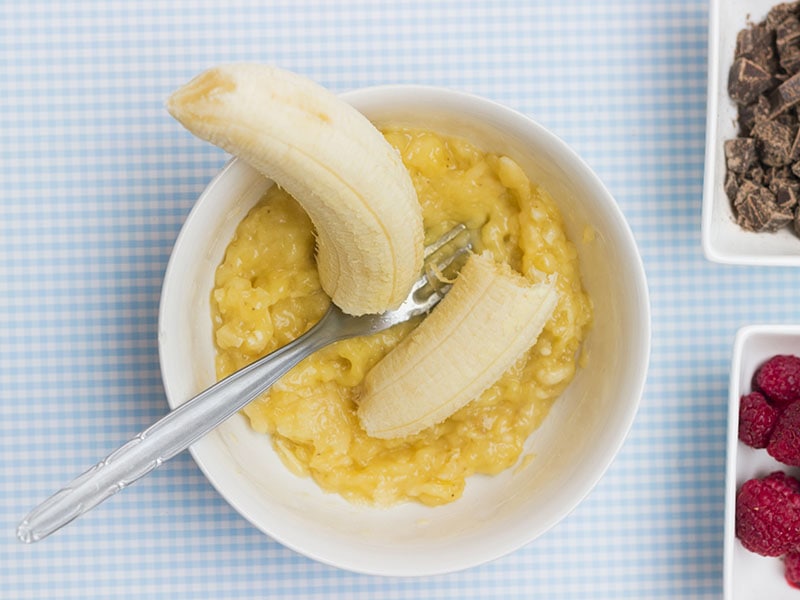 10. Tofu Aquafaba
If you are a vegetarian, tofu aquafaba is another option for you when you lack meringue powder for your icing. As you know, not just chickpeas, tofu is also soaked in liquid. And that liquid has the same texture as egg whites.
Nutritional-wise, tofu is rich in protein and essential amino acids. Plus, if you're asking whether tofu is gluten-free or not, it's totally safe for gluten-sensitive people to enjoy tofu.
If you want to use this healthy meringue powder substitute, you can use 4 – 5 teaspoons of tofu aquafaba in place of 1 teaspoon of meringue powder.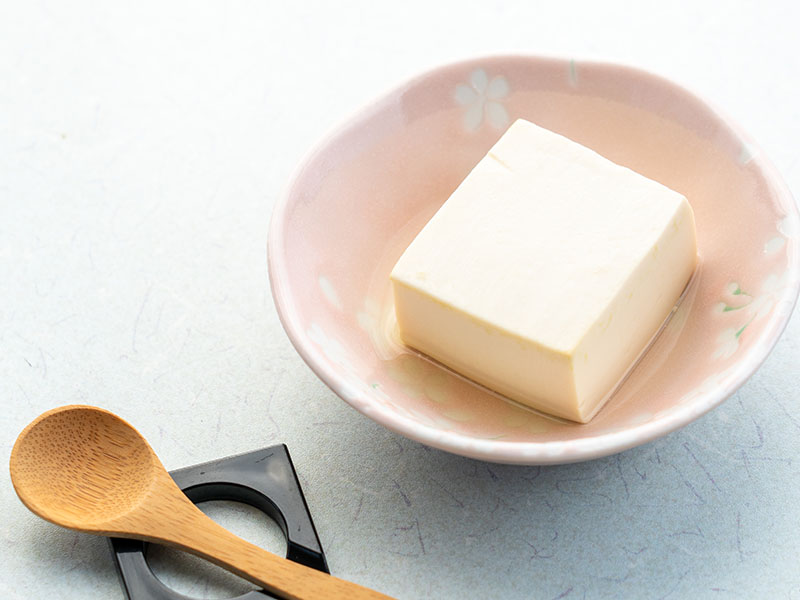 Meringue Powder – A Product To Speed Up The Baking Process
First, let's find out how meringue powder is used so that you can have a better imagination of how and where to add the substitutes into the process.
Since the purpose of meringue powder is to make the baking processes become faster and easier to do. The way to use meringue powder is very simple.
For every dessert, meringue powder is mixed with powdered sugar and water to create stable and consistent stiff peaks.
At this point, you may wonder whether the substitutes for meringue powder are more difficult to use. I can promise you that you just need to be a little bit more patient. The procedure is just as simple as that when you use meringue powder.
How To Make Homemade Meringue Powder?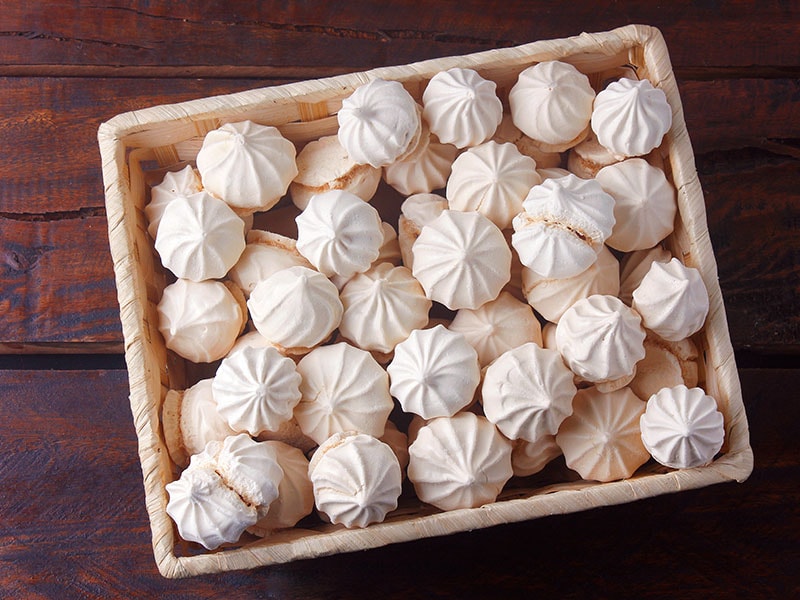 DIY ingredients are always amazing, aren't they? Let's see how you can make your own meringue powder right at your house. It is very easy to make.
What you Need
4 egg whites
¼ teaspoon of cream of tartar
2-4 tablespoons of maple syrup
Instruction
Mix egg whites and cream of tartar until the mixture is dull and add maple syrup.
Put it on a baking sheet and bake for 2 hours until it is completely dried.
Crack it into medium pieces, and put it in the food processor.
Now you have your homemade meringue powder. You can use them for several weeks. Make sure that you keep them at room temperature.
For an excellent illustration of how to make meringue powder.
FAQs
Although I have explained to you all of the ingredients that can substitute meringue powder, you may have some specific questions. Here I provide you with the most popular questions. I hope that you will find the answers that you need.
Which Meringue Powder Substitutes Are Your Favorite?
Now you already have in mind 10 ingredients that can substitute meringue powder in case you do not have it in your kitchen. I am sure that you have picked one or several of them to try.
When you use these substitutes instead of meringue powder, your icing may taste quite different. You will be surprised by the fact that some of these substitutes will make your dessert even more delicious.
What are your favorite meringue substitutes? Are they different from what I recommended? If you already use these ingredients, how did they taste? I am waiting for your ideas. Leave them in the comment section.
Nutrition Facts
4 servings per container
---
Amount Per ServingCalories69
% Daily Value *
Total Fat 0.1g

0

%
Sodium 35mg

2

%
Potassium 125mg

4

%
Total Carbohydrate 13.6g

5

%
Protein 3.6g

6

%
---
* The % Daily Value tells you how much a nutrient in a serving of food contributes to a daily diet. 2,000 calories a day is used for general nutrition advice.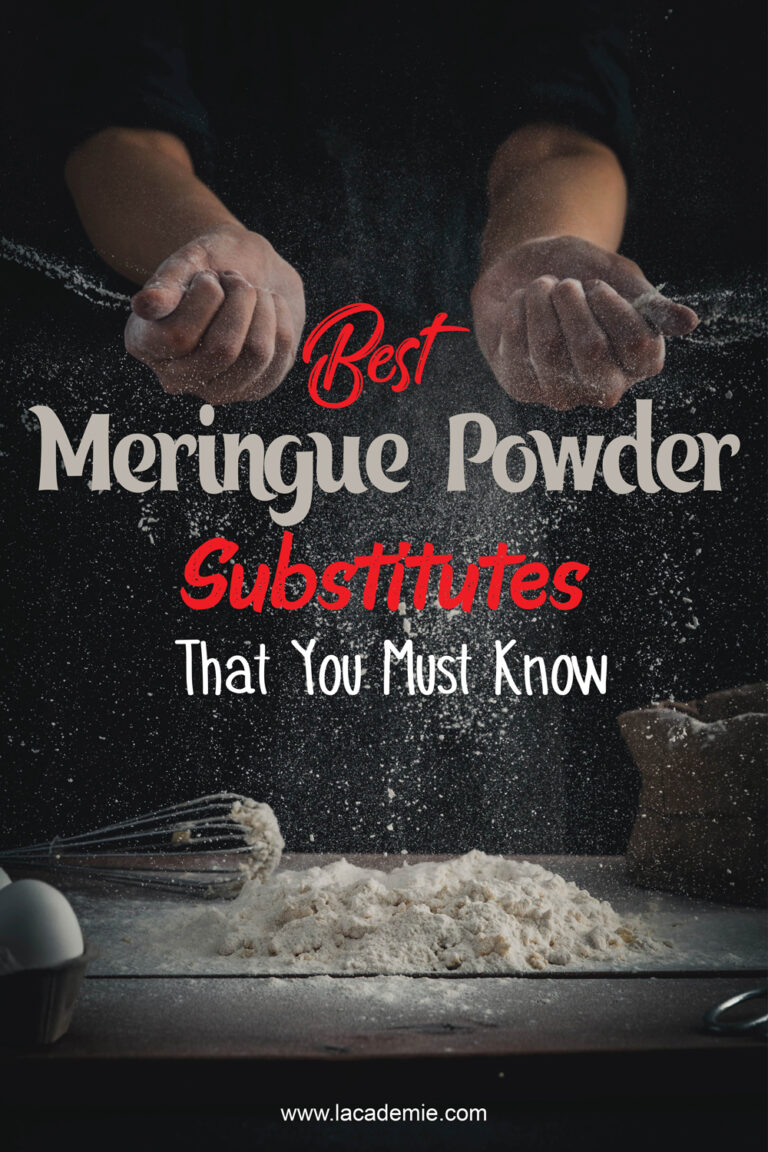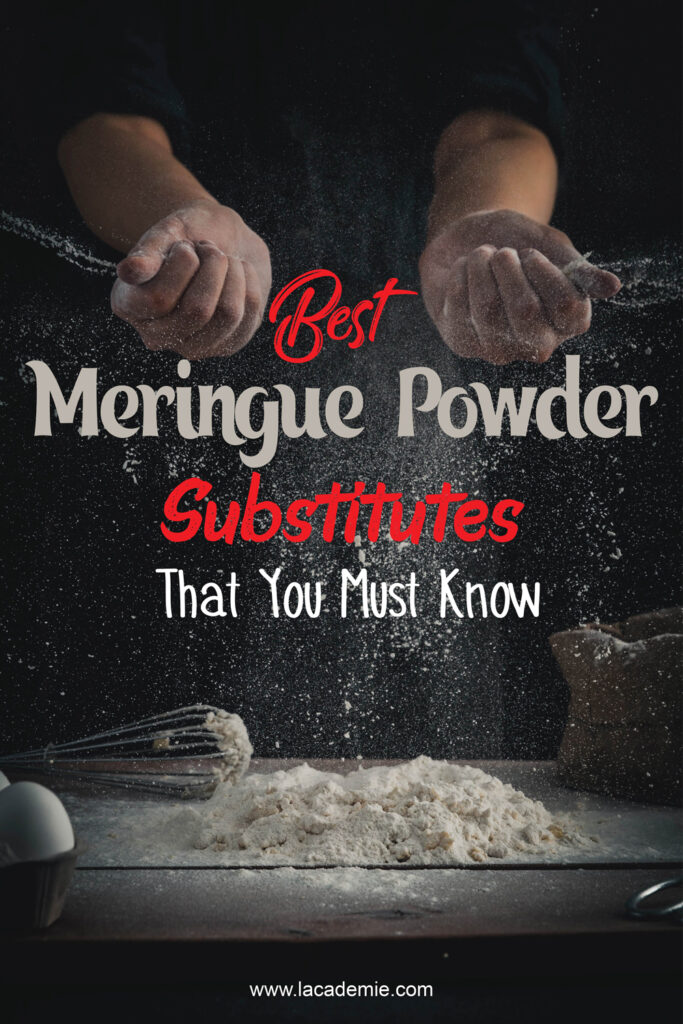 References
Healthline. 2021. Egg Whites Nutrition: High in Protein, Low in Everything Else.
Healthline. 2021. Chia Seeds 101.
Healthline. 2021. Top 10 Health Benefits of Flax Seeds.