Playing with these cayenne pepper substitutes has been really fun. To be honest, spicy food is my religion, and I love how the piquancy stings my nose and races down my throat. And did you know that spicy food can make you feel high? (1) ;Mind blowing!
Cayenne pepper is my go-to choice when I want to kick things up a notch. Sadly, it's not available year-round, and that's when I turn to its substitutes. If you stop by this post for the same reason, you won't be disappointed. Are you up for the heat?
19 Ultimate Choices When Cayenne Pepper Goes Missing
It's not the end without cayenne pepper. The list I have rounded up below will show you what can replace this specific spice type and be used in your recipe, from chunky sauces, flavorsome marinades to dishes that need a zing to round the flavors. Scroll down now!
Dry Substitutes For Cayenne Pepper
Paprika
Red chili flakes
Chili powder
Gochugaru (Korean chili powder)
Jalapeno powder
Chipotle powder
Seasoning mixture
Guajillo pepper
Fresh Substitutes For Cayenne Pepper
Tabasco pepper
Chile de árbol
Serrano pepper
Jalapeno pepper
Thai pepper
Aji Amarillo (yellow pepper)
Black pepper
Ginger
Sauce Substitutes For Cayenne Pepper
Frank's RedHot sauce
Tabasco sauce
Mustard
It's getting hot in here, my friend! I can't wait to get started!
Cayenne Pepper, Your New Favorite Flavor Enhancer
Originating from Cayenne, French Guiana, these small, thin red peppers have become an integral part of many cuisines, such as Mexican, Southwestern American, or Cajun.
I especially love starter delicacies in Cajun style with cayenne pepper. Such the greatest way to stimulate my hunger in any party! Plus, this pepper is of the nightshade family and have a close relation to jalapeno and bell pepper
Overall, cayenne pepper is not too spicy. It has a Scoville rating of 30,000 – 50,000 heat units, so it won't make your eyes water if you are a real spicy eater. Some variants are even milder than you can imagine.
With a hot and earthy taste, cayenne pepper will set your taste buds on fire. Therefore, it is used moderately so as not to overpower other ingredients. It imparts a strong kick to many sauces, marinades, and soups, even coffee and hot chocolate!
Substitutes For Cayenne Pepper In A Pinch
If cayenne pepper does not get much love from your family, or perhaps you have run out of it, these ingredients will gladly stand-in for it. Check out the overview below to see what choices you have, plus the corresponding substitute ratio.
Dry Alternatives For Cayenne Pepper You Cannot Miss
Experience the following substitutes in whatever recipe calls for cayenne pepper. Since most of them are a fine powder, the texture won't change at all. The heat and flavor, on the other hand, are fully retained in every spoonful.
Paprika is a universal seasoning derived from red peppers and comes in three different versions: sweet, hot, and smoked. The first variant acts more like a food coloring and is not as spicy as the other two, which serves heat and smokiness, respectively.
But what if there is no paprika sold in your area, what should you do? Don't be daunting, because there are several options for swapping with paprika without changing too much taste of your foods.
Another question regarding paprikas is which kind of them is the best stand-in for cayenne peppers? The answer is pretty obvious: it's hot paprika, which has a pungent flair that instantly reminds you of cayenne peppers. You can easily grab it at any supermarket or grocery store.
Strictly speaking, sweet and smoked paprika can also substitute cayenne peppers when you are in a bind, although I must say that the result may not live up to your expectations or even change the final taste.
Use an equal amount of hot and smoked paprika in place of cayenne peppers. For sweet paprika, you will need to double up.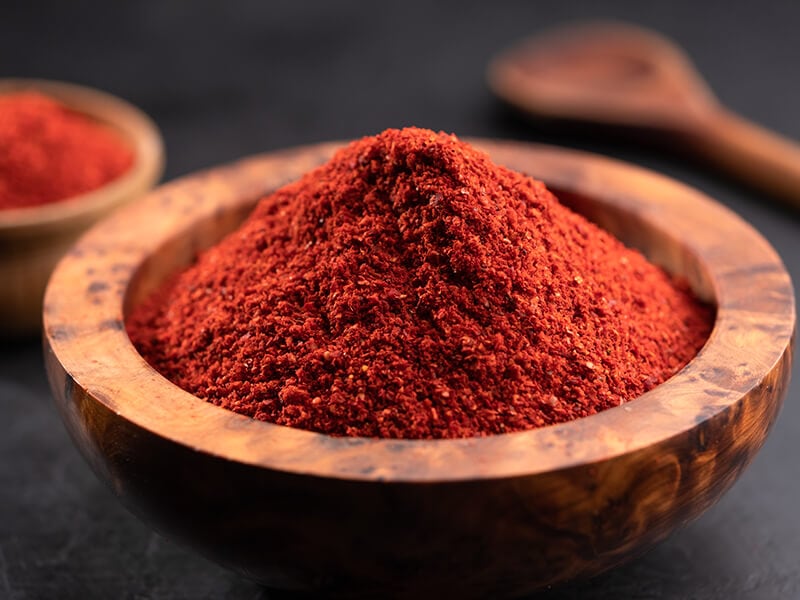 It's unbelievable that you can make paprika with only one ingredient, watch this video:
Red chili flakes have countless variations, all bringing an unforgettable kick to your palate. Yet, the one that stands out from the crowd is no other than the cayenne pepper variant, which people love to sprinkle on their pizza.
If you don't have it in your kitchen, it's a huge loss. You'll love to add a pinch to your soup, pasta, or stir-fried dishes. Red chili flakes have a coarse texture, so you can grind them before using them if you wish.
For the best result, opt for red chili flakes made with cayenne pepper. With one tablespoon of cayenne pepper, you will need one to one and a half tablespoons of red chili flakes. This depends on the brand you purchase.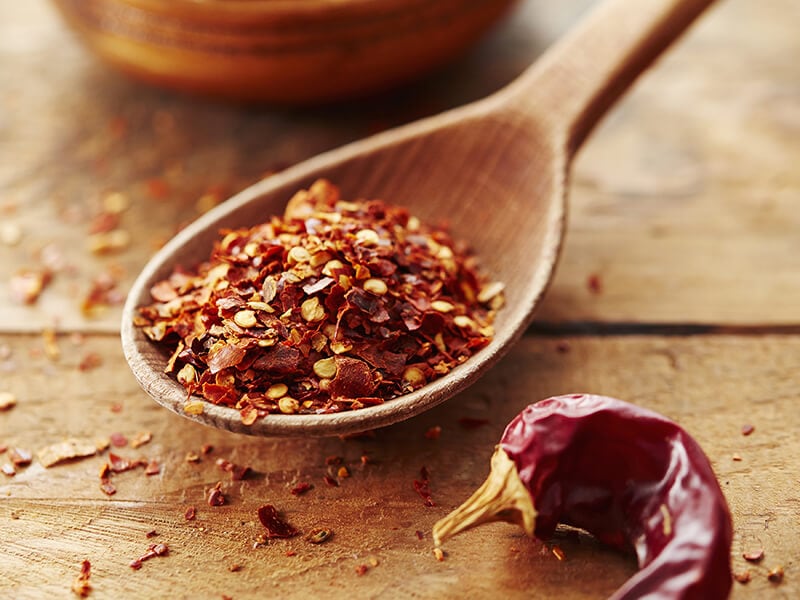 A pantry staple in many households, chili powder, has never failed to awake the flavors of your dishes. It's an aromatic concoction of dried cayenne peppers (one part) and an array of other spices such as cumin, oregano, and paprika (seven parts).
But in case you run out of chili powder at the last minute, you can try other ingredients to substitute chili powder. They can be the mixtures of various spices and herbs or commercial powders.
Additionally, though chili powder is made with cayenne peppers, its taste is mildly pungent and therefore won't produce the same result – but it's acceptable, especially if cayenne peppers are not readily at hand. Swap chili powder for cayenne pepper by an equal amount.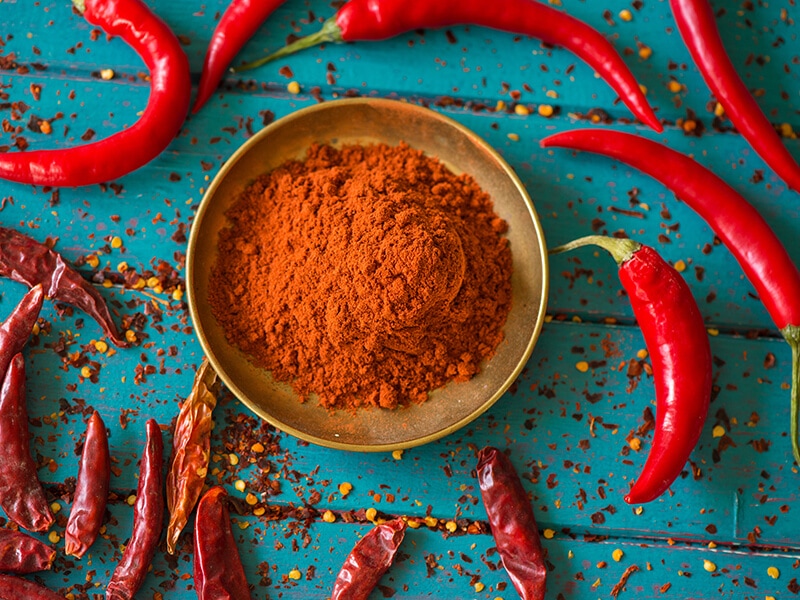 Nothing can beat this quick and simple chili powder recipe. Watch this video:
I can't seem to get enough of kimchi. Apart from its mouth-puckering tartness, kimchi also has my heart for an exquisite pungency, thanks to the inclusion of gochugaru, a vibrant chili powder ranging from mild to hot.
Depending on how it's made, Gochugaru can have subtle sweet and smoky nuances sometimes. The differences are not too striking, so you can be assured that most kinds of Gochugaru will do a wonderful job replacing cayenne peppers.
The swap ratio is 1:1, but reduce the amount by half if the smokiness is too strong. Be careful not to mistakenly grab Gochujang instead of Gochugaru – there are many dissimilarities between Gochujan and Gochugaru, so you can't always use these 2 interchangeably.
However, as it is a Korean spice, you might find it quite challenging to find it in a regular supermarket. In the worst case that you can't buy it, you can try other spicy alternatives in exchange for gochugaru. But remember to taste your dish while adding these replacements into it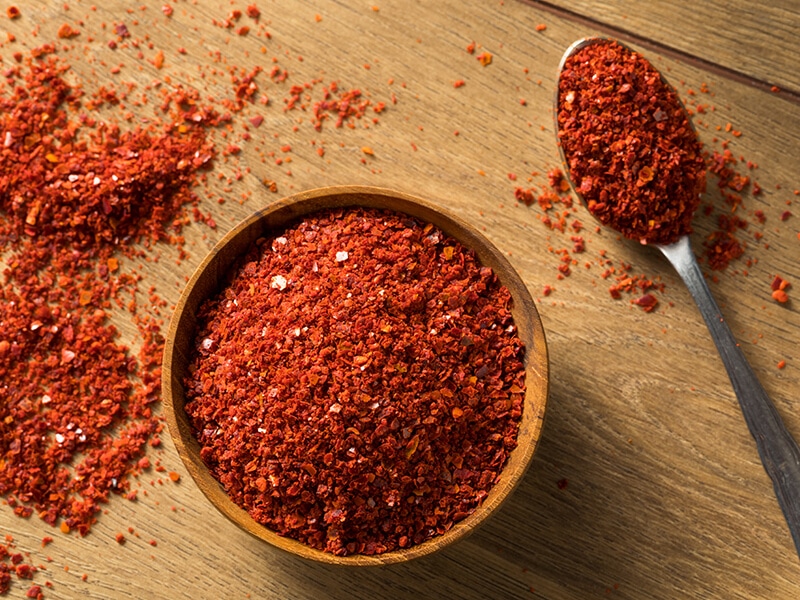 Also known as green chili powder, jalapeno powder is frequently associated with Cajun, Latin American, and Tex-Mex dishes. Unlike its starter ingredient, jalapeno powder ranges at only 2,500 – 5,000 heat units on the Scoville scale.
Although it offers little heat and is sometimes described as sweet, the green powder is still a perfect replacement for cayenne peppers because the taste is very similar. After all, jalapeno and cayenne peppers are like brothers from different mothers.
Use jalapeno powder as a 2:1 substitute for cayenne peppers.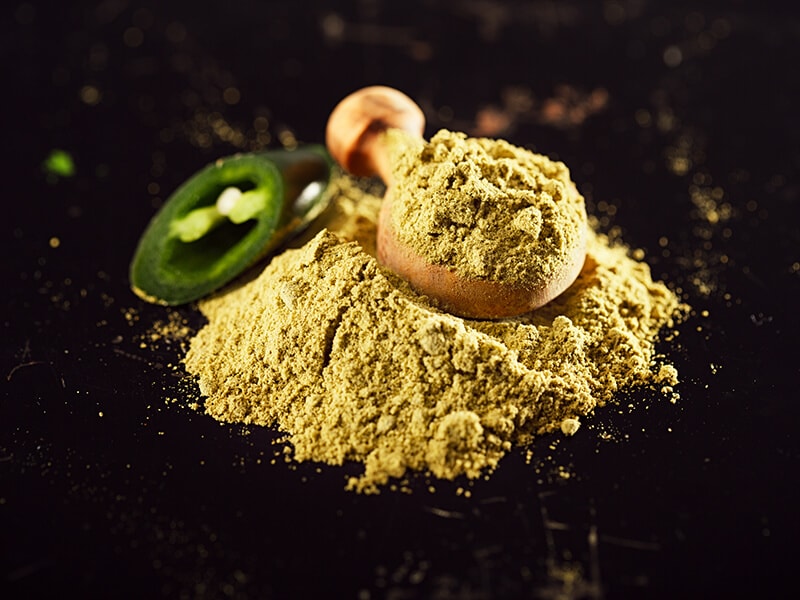 Made from dried and smoked jalapeno peppers, the chipotle powder gives you the best of both worlds: sharp flavor with deep undertones. It surpasses jalapeno powder on the Scoville scale, sitting at 8,000 heat units. Some variants can go beyond 10,000.
But as human creation is unlimited, you can also find many chipotle powder replacements out there and make your treats more unique. They might not taste exactly the same, but somehow it works in a pinch excellently.
Chipotle powder and Mexican cuisine are inseparable. It enhances the taste of quesadilla sauce, adds a smoky character to chili, and brings old-school tacos to life. It also makes an excellent substitute for cayenne peppers in some recipes.
With one tablespoon of cayenne pepper, replace with an equal amount of chipotle powder.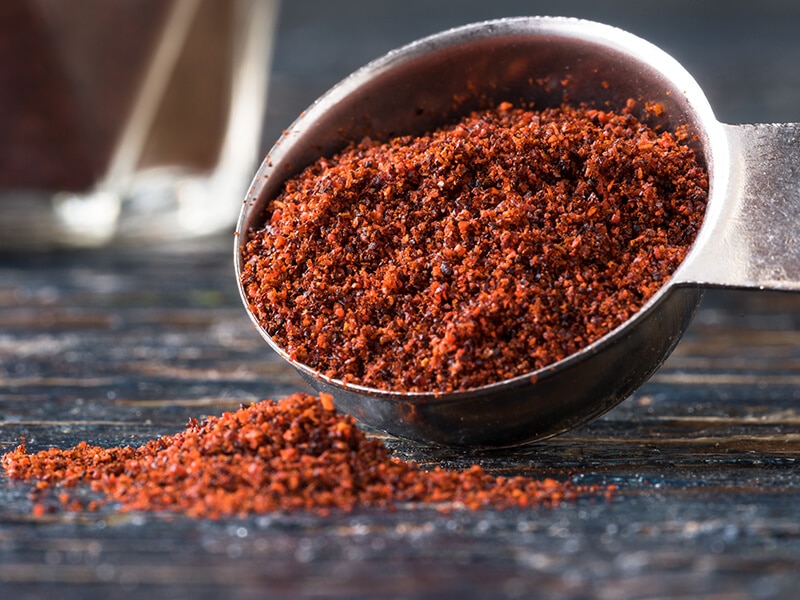 A seasoning mixture is an all-purpose melange made with a heft of aromatic spices. There's no fixed recipe, so it all comes down to imagination and whatever you have in the kitchen. With such versatility, the pungency will vary greatly.
Hence, some seasoning blends can come quite close to cayenne pepper, but some won't. My advice is to do a little taste test and start with a tiny amount before working up to your taste.
8. Guajillo Pepper
A part of "the Holy Trinity of peppers" and a key ingredient in various Mexican staples, guajillo chilies guarantee to be the next big thing in your kitchen. Despite their humble look, they are packed with a slight kick that can build up your appetite instantly.
When cayenne peppers are nowhere to be found, turn to guajillo peppers for help. They are somewhat milder, but the difference should not be too striking, particularly when you use them in soups or chili.
The replacement ratio is 1:1 but can be adjusted based on your preferences.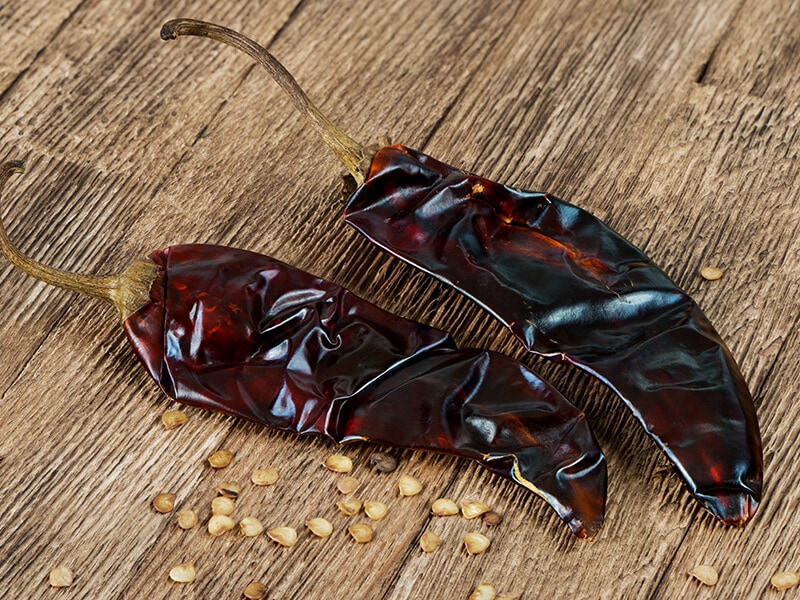 Fresh Substitutes For Cayenne Pepper That Kick Things Up
This section will introduce you to a world of chili peppers with various types that can alternate cayenne pepper in a bind. Some will pale in comparison, but some can make you cry even at the first sniff! Are you ready to take the heat?
9. Tabasco Pepper
Tabasco pepper has an impressive heat range on the Scoville scale (30,000 – 50,000) and is the only kind of pepper that has juicy flesh. When mature, it turns bright red and is harvested to make a sauce of the same name.
Its culinary application does not just stop at the popular hot sauce. Tabasco pepper is also a favored element in many Mexican dishes and salsas. If you run out of cayenne pepper while making enchiladas or tacos, you know what to do.
With similar heat and flavor, tabasco pepper is a superior substitute for cayenne pepper in a 1:1 ratio.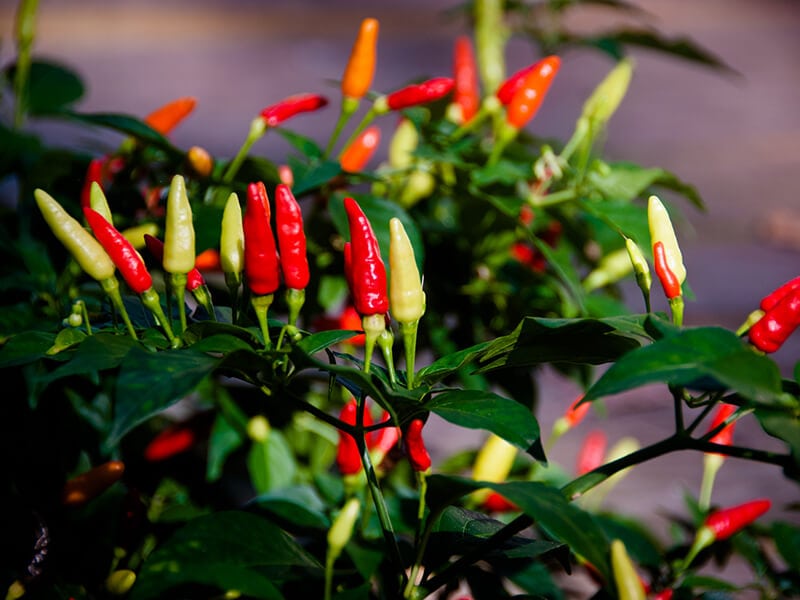 10. Chile De Árbol
Translated to "tree chili," chile de árbol also goes by the name bird's beak chilies or rat tail chilies given its shape. The Mexican chili is small, but guarantee it will blow your top with a score of 15,000 – 30,000 on the Scoville scale.
With a milder and somewhat acidic heat, chile de árbol is perfect for newbies to spicy food. It will bring some extra nutty, grassy notes that you may not need, but overall, it does the trick.
To replace cayenne pepper with chile de árbol, make a 1:1 swap.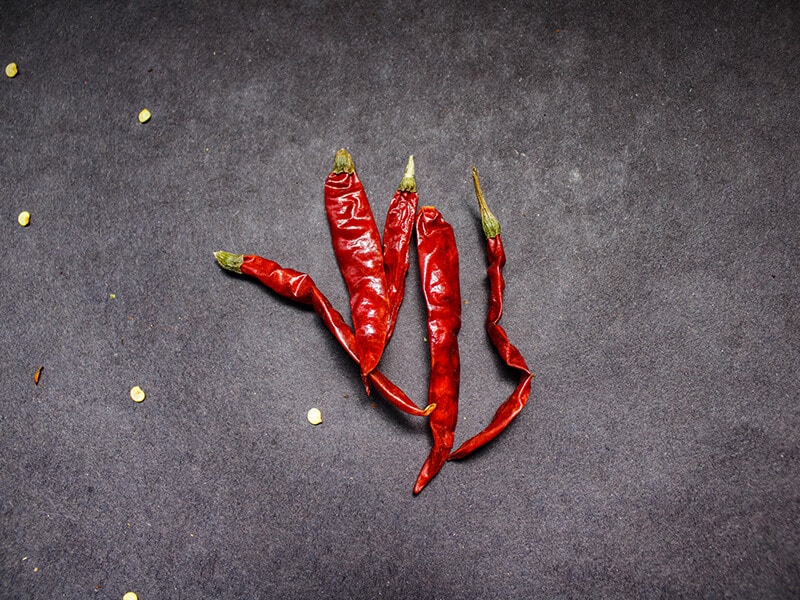 11. Serrano Pepper
Let your guests know if your dishes include serrano pepper, or they will be greeted with an unexpected kick. The green chili highlights the flavors of your dishes with moderate heat that gets stronger over time.
There are other hotter substitutions of serrano pepper that you can try out if their heat level is relatively low for your taste bud.
But be cautious when you cook with serrano pepper. The longer you cook, the more it will change your food's overall taste. With one part of cayenne pepper, replace with one or two parts of serrano pepper.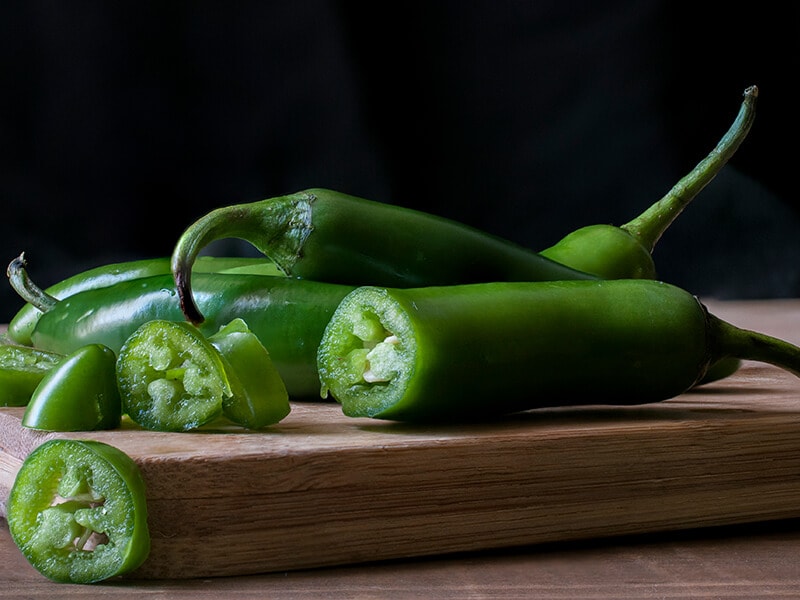 12. Jalapeno Pepper
Jalapeno pepper is five times less spicy than its cousin, serrano pepper, so its heat index is out of keeping with cayenne pepper. Despite the mild piquancy, the flavor is similar and comes with an extra smokiness, which may not be welcome in every dish.
That said, the jalapeno pepper is still considered acceptable as a substitute for cayenne pepper. To retain these peppers' flavor for the best result possible, make sure you know the correct way to keep jalapenos fresh. If your jalapenos are still in top condition, use them in a 1:1 or 2:1 ratio.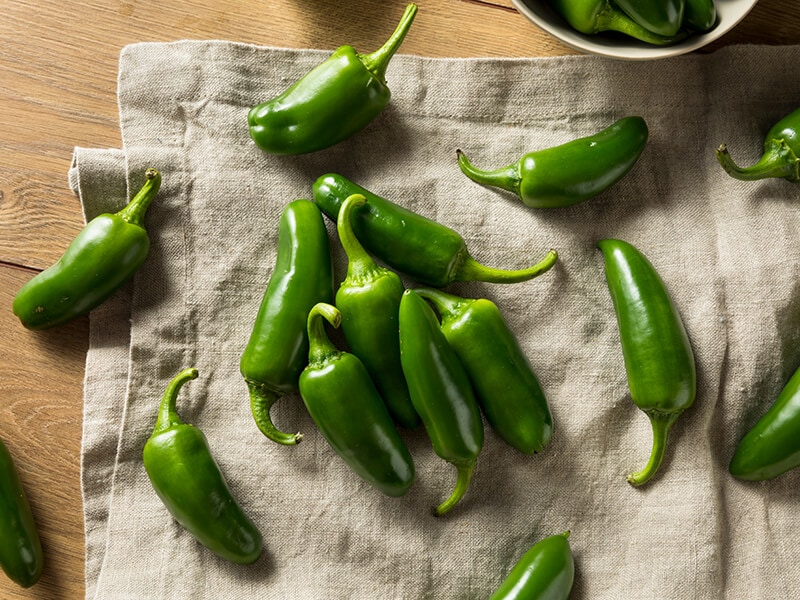 13. Thai Pepper
If you are looking for a cayenne pepper replacement loaded with extra heat, Thai pepper is available in many small and large grocery stores. They are about the same size or smaller than chile de árbol, but it won't go easy on your tongue as its Mexican equivalent.
Thai pepper has thousands of varieties, all imparting a nice crunch and flavor to your food. When using Thai pepper as a substitute, reduce the amount by half to dampen the taste.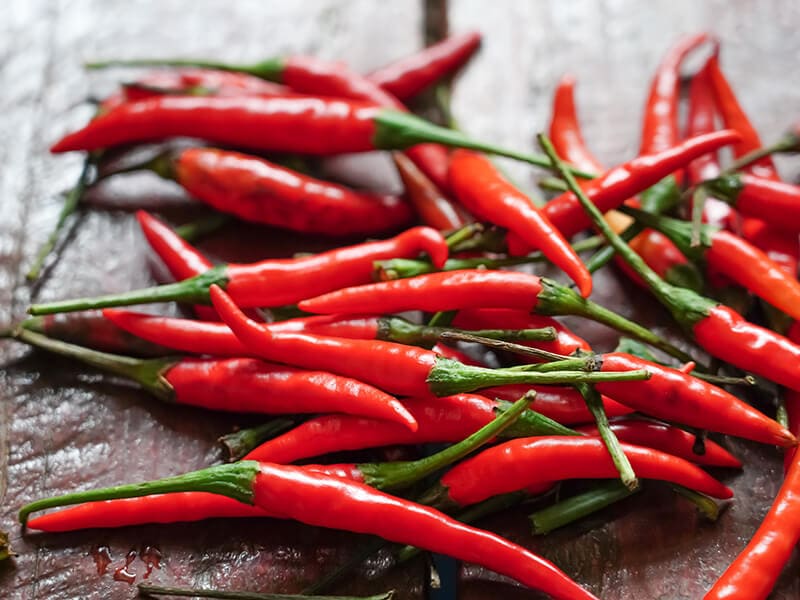 14. Aji Amarillo (Yellow Pepper)
There's a misconception about chilies: if they are green or yellow, they are probably not spicy. If you think the same, it's time to get that idea out of your head with aji amarillo, a pepper with a vibrant yellow-orange shade.
Aji amarillo has innumerable culinary uses. It is often used to make Aji paste but can be added whole into chili or soup, crushed, or pulverized. Use this pepper as a 1:1 substitute for cayenne pepper.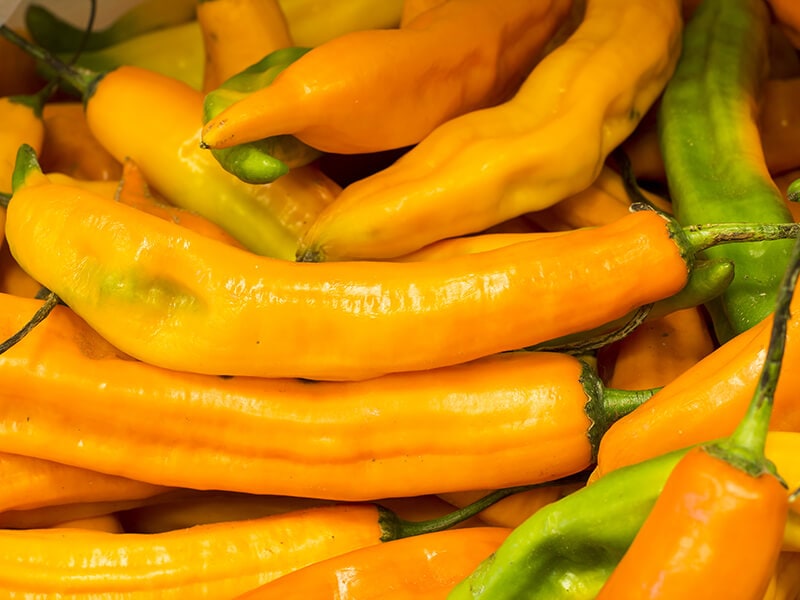 15. Black Pepper
Black pepper won't tingle your taste buds much compared to other peppers, but it's still a suitable choice since it's always within reach on your spice racks. Freshly grounded pepper should take precedence over whole peppercorns because it is more flavorful.
Evidently, black pepper does not have intense heat, but it is still sharp in taste. And this is the aspect to differentiate black pepper and white pepper because white variety has milder flavor.
So when using black pepper, I suggest starting with one tablespoon and adding an extra half or more should the taste yield undesired results.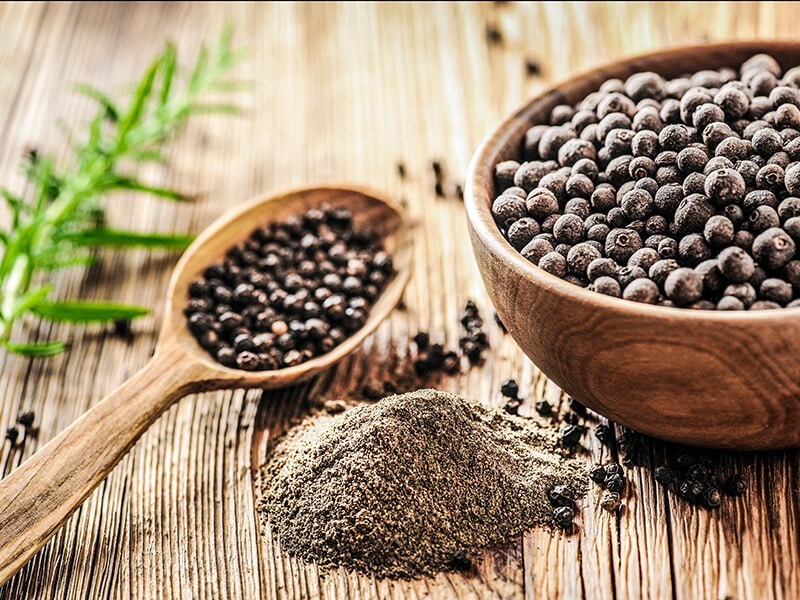 16. Ginger
Surprisingly, ginger can stand in for cayenne peppers when you are in a pinch. The plant is commonly used to flavor food and panacea for chronic digestion and period pains (2) . It also prevents you from feeling nauseous.
Ginger is not too biting unless you eat it raw. However, it touts a quite pungent aroma, and when thrown into your food, it lends a prolonged warmth – just how cayenne pepper does. One or two slices of ginger should do the job for one tablespoon of cayenne pepper.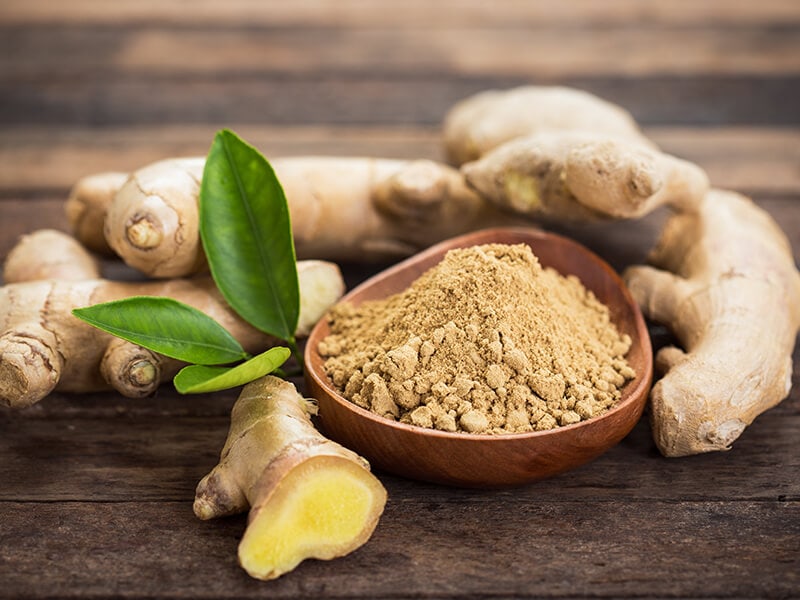 Other Substitutes For Cayenne Pepper To Weigh Up
When you cannot find any spice or fresh peppers to substitute, try the three condiments below. They won't come close to cayenne pepper, but they have got potential so long as you know how to adjust the right amount.
Who doesn't like Frank's RedHot sauce? The condiment has gained massive popularity worldwide thanks to its vibrant flavor. In short, you'll love to put it on everything, from pizza, steak, chicken, to salad. The options are countless.
There are two variants of Frank's RedHot Sauce, the Original and the XTRA Hot. When using the first variant as a substitute, you will only need half a tablespoon to make up for one tablespoon of cayenne pepper. With the XTRA Hot variant, the swap ratio will be 1:1.
This Frank's RedHot Sauce is everything you need. Watch this video:
If you have never heard of Tabasco hot sauce, you must be living under a rock. It is made with only three ingredients: tabasco peppers, vinegar, and salt. The combination is then aged for three years in wine barrels to produce one of the world's most favorite sauces.
Likewise, add tabasco sauce instead of cayenne pepper to your food using the ½:1 ratio.
When you don't have the ingredients mentioned above, this yellow condiment may be your last resort. Mustard is a sauce that teams up with ketchup for hot dogs and is famous for a slight bite that makes you think of horseradish.
Your best bet is Dijon mustard, which can be substituted for cayenne pepper as a 2:1 ratio. Some kinds of mustard are sweet, which is definitely a no-no.
You did not know that you need this fantastic mustard recipe. Watch this video:
FAQs
There's always room for questions in case you are still confused with something. Don't miss out on the next section – it has all the answers you need!
Do A Taste Test, Or You'll Regret It
There are quite many cayenne pepper substitutes, so I'm pretty sure that you will find one that works for your recipe. Before incorporating these blazing ingredients into your food, I strongly recommend you taste them first. They can be more invasive than you think.
This post has been a wild ride, and I hope that you enjoy every minute of it. As usual, the comment section below is where you vent your feelings. Results of your recipes, more questions, tips, or whatever you want to say are gladly welcome. Have a nice day!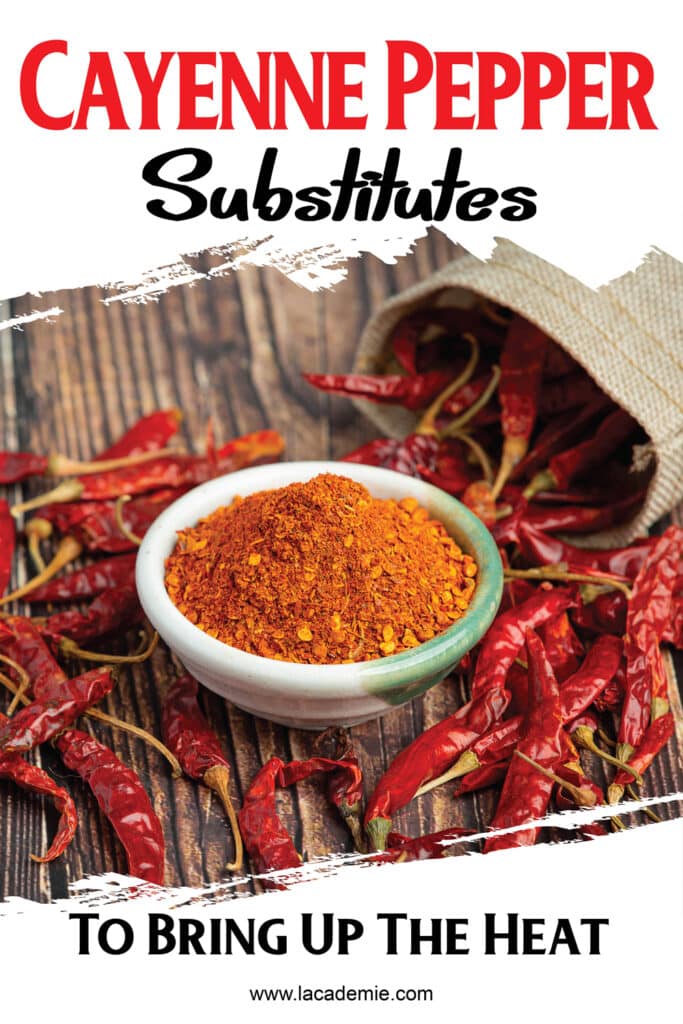 References
Why Spicy Food Makes You Feel High. (2021). Retrieved from https://lifehacker.com/why-spicy-food-makes-you-feel-high-1791090210
11 Scientifically Proven Health Benefits of Ginger. (2021). Retrieved from https://www.healthline.com/nutrition/11-proven-benefits-of-ginger#6.-Can-help-treat-chronic-indigestion