The confusion between White pepper and Black pepper is much more common than you think. Some recipes may require a specific type out of the two, and you might find yourself wondering why. Perhaps you also wonder if they are interchangeable.
White pepper and black pepper have just as many similarities as they do differences. Knowing what they are can help you significantly when it comes to cooking and using them. This article is here to give you all the essential information so you can utilize them in the best way possible.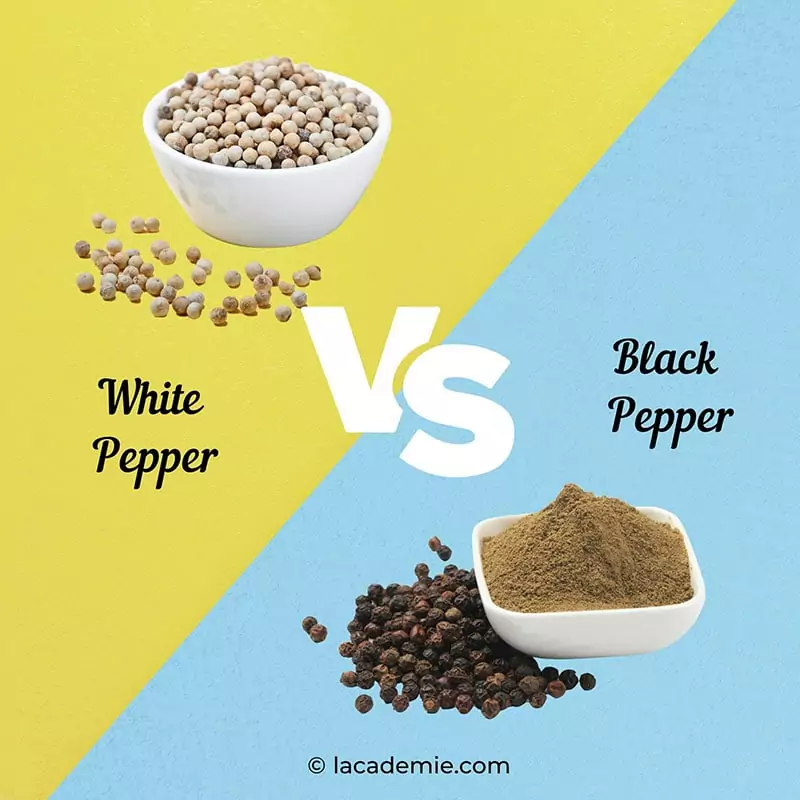 What Are The Basic Differences Between Black And White Pepper?
Both white and black peppers originate from the same pepper plant. They turn out differently because they are harvested and processed in two particular ways. This also results in them having very distinct flavor complexities and, therefore, used for different culinary purposes.
What Is White Pepper?
White pepper is a spice made from the pepper plant Piper nigrum, which is cultivated in agriculture-based countries like Indonesia, India, and Vietnam. The process of making it includes soaking ripe berries for a week, allowing them to soften, then drying the naked seeds.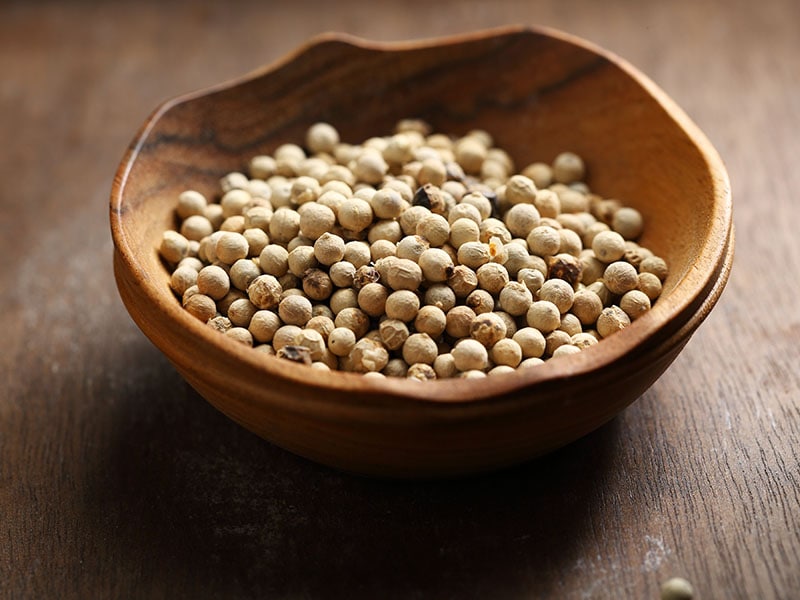 There are many dishes from China, Vietnam, Thailand, and Portugal including white pepper in their ingredient list. It is often used in appetizers such as salads, mashed potatoes, seasoned soups, or pork dishes to add a smoky and spicy flavor to the recipe.
The Health Benefits Of White Pepper
While you may not be able to benefit from the small number of vitamins and minerals that white pepper contains, it does help to improve your digestive health. It has been found to be able to speed up digestion and increase gut motility.
For those looking to cut back on salt, you can also use white pepper as a solution because it is also a great spice and has very few calories. This spice also enhances the immune system, releases toxins from the body, and helps prevent cancer overall (1).
The Proper Ways To Use And Store White Pepper
White pepper may sound a bit strange to Westerners, but in some Asian countries, particularly South East Asia, it is a very common and sometimes necessary ingredient for cooking.
What Is White Pepper Used For?
White pepper is considered a key ingredient in a lot of Asian and Swedish dishes. It is often used as a spice for soups, stir-fries, pork, and various other traditional dishes. It adds a slight heat to the dish without being too spicy or overwhelming.
For aesthetic purposes, it is also used in light-colored dishes in classic French cooking, such as béchamel sauce, mashed potatoes, clam chowder, or vegetable soups. In Swedish, it is most commonly found in Swedish meatballs as a seasoning for its cream sauce.
White Pepper In Popular Recipes
White pepper can bring a rustic and earthy taste that adds just enough flavor into the food without really overpowering it. Check out some popular dishes that use this spice.
This infamous comfort food cannot be completed without some white pepper. The extra subtle heat that it brings makes this dish so well-balanced.
One of the most well-loved and famous dishes in Thailand, this savory recipe is completed with a little bit of white pepper to really bring out that charred aromatic flavor.
White pepper is used both for its look and taste in this recipe. Its almost colorless appearance helps make the dish look more appetizing while accompanying these juicy and tender meatballs.
How To Store White Pepper?
In general, ground white pepper lasts about 1-2 years when it is kept in a container in a cool, dry, and dark place. It will, however, slowly lose its flavor after about three months. Peppercorns can last much longer, from 3-4 years, if stored correctly in the same way.
What Is Black Pepper?
Black pepper is an essential spice made from the pepper plant, cultivated mainly in India and other tropical regions. It is widely used around the world both because of its distinct flavor as well as multiple health benefits.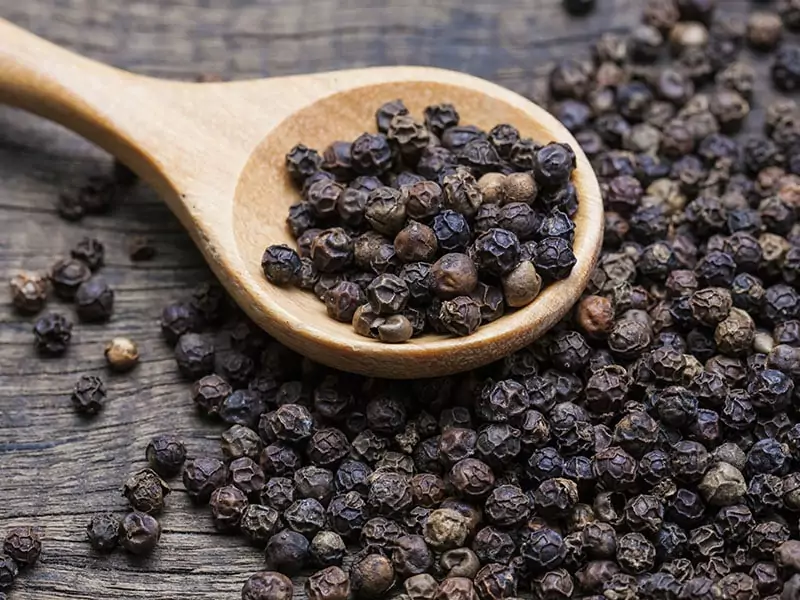 In comparison to other spicy seasonings, black pepper's flavor is arguably more complex and aromatic. Its spiciness comes mainly from the chemical compound piperine, which gives it a subtle earthy kick when added to dishes.
The Health Benefits Of Black Pepper
Black pepper has many amazing health benefits. Most notably, it has a high level of antioxidants that helps prevent inflammation, heart diseases, and certain types of cancer. This is due to the plant compound piperine, which has been proven to have antioxidant properties (2).
In addition to that, black pepper also helps to improve digestion, boosts metabolism, and treats multiple respiratory diseases and symptoms like asthma, nasal congestions, etc. This wonderful spice has been known to be a great weight loss aid as well, according to many nutritionists.
What Is Black Pepper Good For?
Black pepper is quite common in almost every nation in the world. Aside from being a stand-in for cayenne pepper and other hot spices, ground black pepper is added to a dish to enhance the overall taste of all the seasonings and bring all the other ingredients together.
In cooking, black pepper can be sprinkled into almost any dish, from soups, stews, to omelets. It is a must-have when it comes to seasoning meat before cooking as well.
In some countries, for example, African people even make classical sweet treats with black pepper. They put it in biscuits, bread, cookies, and pastries to boost their flavors.
Famous Foods That Use Black Pepper
Black pepper can be very diverse when it comes to cooking. It can be used in a variety of dishes to add an extra layer of flavor. Whether it's savory, sweet, or spicy, pepper can always help make it better.
Here to add a slight twist of flavor on top of this classic dish. If the brown sugar is there to deliver some sweetness to the plate, the pepper helps provide a pleasant heat.
Adding pepper to this recipe takes away the simplicity of the plain shortbread and brings an interesting earthy flavor to the buttery pastry.
Black pepper is a very frequently used ingredient in this popular beverage. It helps to add some extra warmth to this already toasty drink.
How To Store Black Pepper?
Ground black pepper can last up to three or four years if kept sealed in a cool and dry place. However, it will start to lose flavor after about four months. The best way to store it is to keep it refrigerated in an air-tight container after opening and try to use it as soon as possible.
White Pepper Vs. Black Pepper, Which Is Better?
Both white pepper and black pepper have their very own distinguishable features in origins, flavors, and usages. Keep reading to find out what they are and how you can use them effectively.
| Characteristics | White Pepper | Black Pepper |
| --- | --- | --- |
| Processing | Fully ripe berries that are soaked in water, skinned, and left with seeds that are then dried. | Unripe or almost ripe berries that are sun-dried. |
| Flavor & Spiciness | Milder taste but spicier. | Stronger aroma & taste but less spicy. |
| Shelf Life | One to two years as peppercorns, but lose aroma after several months if ground. | Three to four years as peppercorns and when ground can last up to a year. |
| Health Benefits | Improves digestive health, boosts appetite, helps prevent cancer and other diseases. | Aids in weight loss, boosts metabolism, treats respiratory, heart, and other diseases. |
| Culinary Usage | Primarily used in Asia for its faint earthy aroma. | Used worldwide as a staple spice in many dishes. |
| Price | More expensive due to more complex production. | Less expensive |
How Are Black And White Peppers Made?
White and black pepper are both made from the fruit of the same plant, Piper nigrum. The real difference is in the way they are processed as well as harvested. This is the main explanation for the difference in the way they look and taste.
Black peppercorns are made from unripe berries or ones that are almost ripe. They are picked and then dried, which results in the exterior being blackened and shriveled.
White peppercorns, however, are made from fully ripe berries. They are then put through a process called retting, which is where they are soaked in water for a week to let the flesh soften and decompose. After which, the skin will be removed, and the naked seeds are made into white pepper.
Are White Pepper The Same Price As Black Pepper?
White pepper tends to be more expensive than black pepper because the production process takes longer and requires more steps. Black pepper is also more widely available while you might have to go to certain stores to find white pepper.
The Flavor Difference Between White And Black Pepper
Generally speaking, white pepper is milder in flavor compared to black pepper. It is often described as having a grassy, more earthy flavor. Since it is made without the exterior, the spiciness of white pepper is a lot clearer and sharper than that of black pepper.
However, black pepper is considered to be stronger in flavor. Due to the extra outer layer, it also has an added complexity in flavor and aroma. More specifically, black pepper carries a more floral and pungent taste with greater culinary flexibility.
Culinary Uses Of White And Black Pepper
Black pepper is popular worldwide, especially in the West, as a staple in meal seasonings or making sauces. Moreover, it is also frequently used as a meat-preserving seasoning. The complex flavors can help to mask most of the meat's distinct pungent scent.
White pepper is more common in certain Asian cuisine, especially Chinese. It is used mainly in soups, stir-fries, sauces, and more to add an aromatic spiciness. In other places, like France, it is also used in place of black pepper to hide the specks and keep the dish's appearance.
Which One Lasts Longer, White Or Black Pepper?
Black pepper has a longer shelf life than white pepper. Black peppercorns can last up to four years in the right storage space while white peppercorns usually last for two years at most. Ground black pepper is good for a year while ground white pepper will lose its flavor after a few months.
Learn more about all the differences between black and white pepper. Watch this video to know more:
FAQs
With all the information provided, I am sure you might have some questions. Check below to see if yours are included.
What Type Of Pepper Should You Use?
By the end of the day, it all depends on your personal preference. If you are making Asian dishes and want an authentic touch, white pepper is a great option. Meanwhile, black pepper is many's go to choice for adding an extra layer of flavor to spice up your plate.
The other factor to consider is the appearance of your dish. Black pepper can be used in colorful and exciting dishes as it can blend in easily. As for lighter-color meals such as potatoes or other cream-based recipes, you can use white pepper if you don't want to see black specks on your dish.
Now that you know all the essential information about black and white pepper, hopefully, you can use them a lot more freely in your cooking sessions. Which one do you prefer? How do you often use it? Let me know all about it in the comment section. Don't forget to share this post with your friends.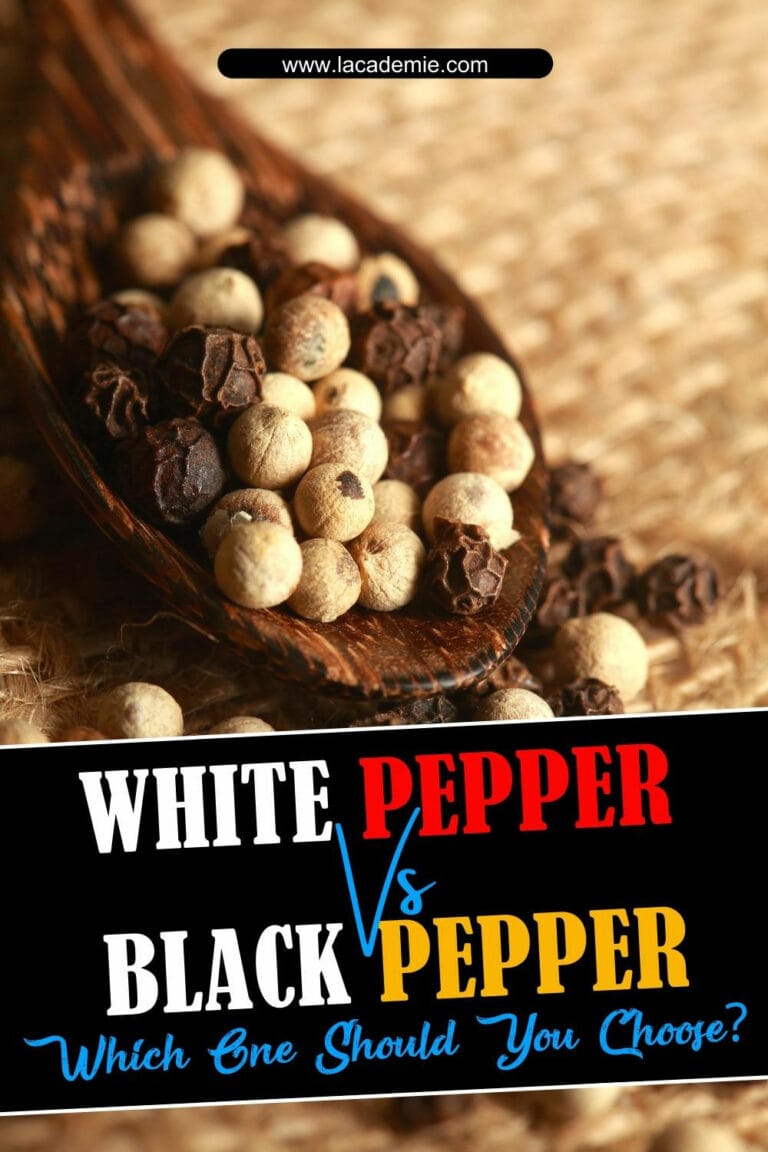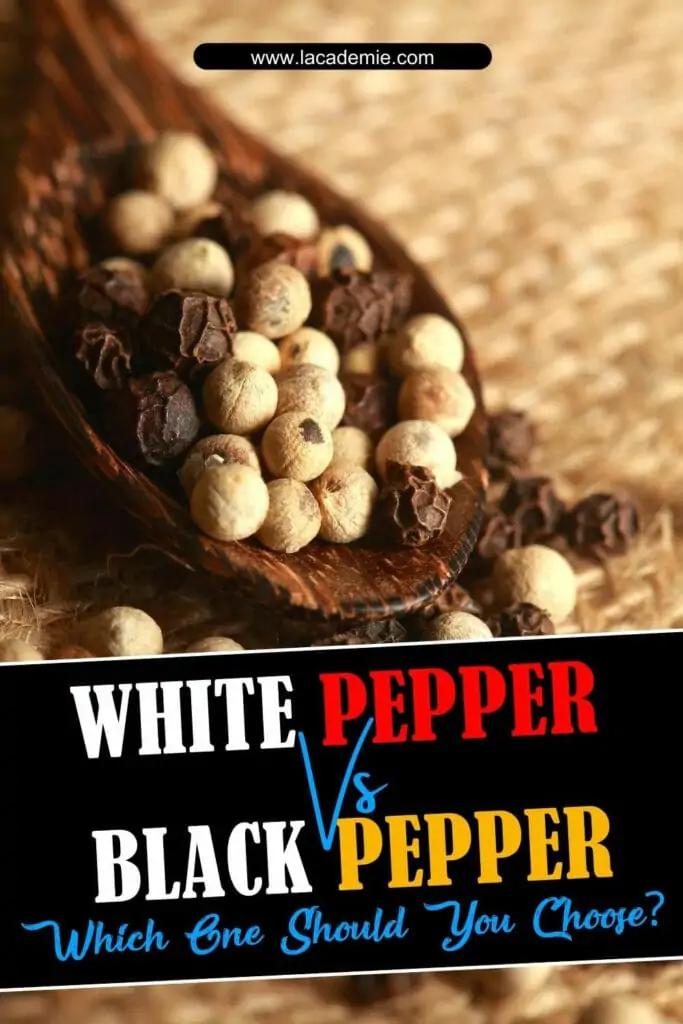 References
Lybrate. 2021. White Pepper Benefits And Its Side Effects | Lybrate.
Healthline. 2019. 11 Science-Backed Health Benefits of Black Pepper.