Air fryer vs. convection oven – You're wondering whether you should buy an air fryer when you already have a convection oven at home? In short, the air fryer has a similar working principle to the convection oven. So what makes this one distinct from the other?
In this blog, I am going to tell you all the information about these two kitchen gadgets and how they are different. And at the end of the article, you will have the answer of which is good for you. Don't miss out!
What Can I Talk About An Air Fryer?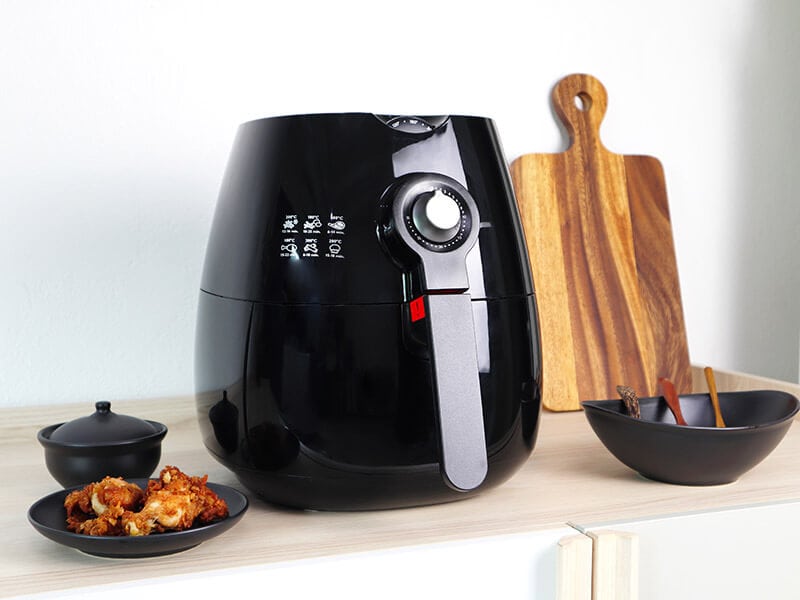 An air fryer is a small cylindrical cooking gadget that uses little to no oil to cook food rapidly. Its heating component is usually from the top of the device, directly above a fan system.
It warms up rapidly and begins to cook immediately. Food is supposed to be put in the holed basket, normally within the removable drawer, to allow better air circulation.
Despite the written name, an air fryer is totally different from the familiar deep-fryer. It utilizes convection air acting as the hot oil to fry foods. So, the final results are oil-free meals.
Since the cooking time happens quickly, depending on each food type, its temperature can reach up to 400oF to finish the cooking process. (1)
Use Air Fryers In Proper Ways?
It is essential to follow all the safety recommendations given in the instructions of your air fryer. Here are some suggestions on how to operate your air fryer safely. These tips follow each cooking step with an air fryer.
Preheat before cooking: Let the air fryer warm up in a few minutes for effective cooking results. Make sure your air fryer is put in ventilated areas, not near the wall.
Place food in the cooking chamber: After the food is prepared, arrange items tidy into the basket. Don't overcrowd the basket if you don't want food unevenly fried.
Set up the air fryer: Choose the correct cooking time and temperature for the food you want to cook. For example, from my experience, it takes 9 minutes to fry 8-ounce chicken breasts at 360oF.
Cook the food: During the cooking process, you may recheck once or twice to turn or flip the food to crisp up evenly.
Maintain afterward: After every use, give your air fryer a well-done hygiene. Remember to unplug it when not using it.
Let this review show you which reasons to buy an air fryer.
The Advantages Of An Air Fryer
The air fryer comes out to solve many cooking problems that make it win the hearts of its users. In this part, there are several notable advantages of using air fryers.
Health benefit: It is said that air fryers can decrease 70 to 80% of the fatty content of the food and promote weight loss. Therefore, you can enjoy oil-free keto daily meals made by your air fryer without worrying about over-calorie intake.
Convenience: The compact device is lightweight and is easy to use, maintain, and even bring outside for a picnic.
Time-efficiency: An air fryer concentrates high temperatures over a small cooking chamber to speed up the cooking process.
Free of unpleasant odors: Since it does not use oil and has a closed design, it won't fill your home with the oily smell of usual fried food.
Safety: The air fryers are safer than deep fryers. Because deep-frying meals necessitates the heating of a big container filled with hot oil, you are at the risk of getting burnt.
Various functions: Only having an air fryer, you could be a professional chef as it has more than one cooking purpose. It allows you to fry, grill, toast, dehydrate, and rotisserie.
The Disadvantages Of An Air Fryer
Despite the good-effect sides, the air fryer also has its own set of negative effects. Keep reading to make you understand it more:
Risk of burning food: Due to high-temperature cooking for a short period, your food can easily get burnt.
Food taste changes: Air fryers do not actually fry as deep fryers do. As usual, frying with oils improves food taste; but you have to sacrifice that tasty factor to have a healthy meal when air frying.
Sound effect: The air fryer is a "noisy guy". It is normal because the fan works at extra-high speed, as loud as a vacuum cleaner.
Non-stick material: The holed basket is a non-stick surface. This may bother you to clean after cooking cheese or battered food.
Small capacity: It would be a challenge to cook in an air fryer for extended families. For those families, you need a larger machine, but a bigger air fryer is no longer energy-efficient.
Classifications Of Common Air Fryers
There are various kinds of air fryers on the market to fulfill customers' requirements. But here are the three easiest to find: the basket air fryer, air fryer oven, and paddle-type air fryer. Three versions use a similar frying function but differ in some features.
The Basket Air Fryer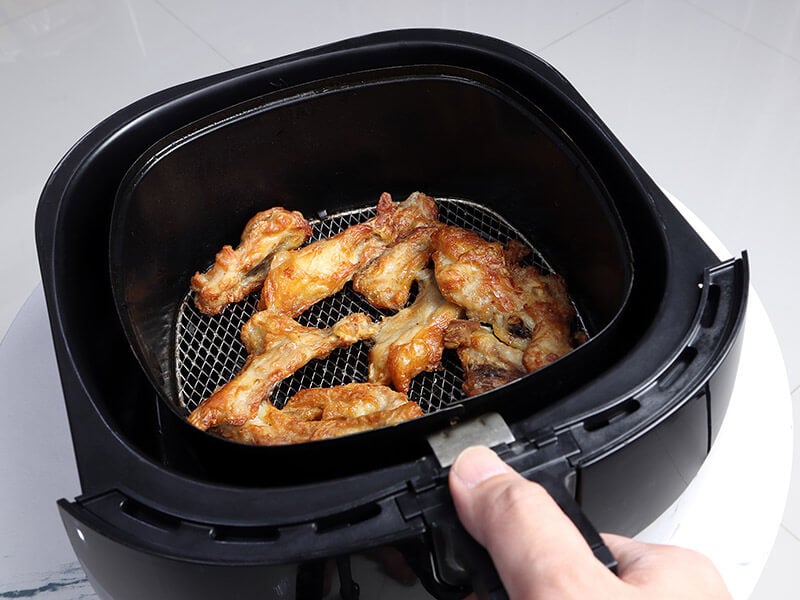 This basket air fryer is the most popular type of air fryer, including detachable baskets, which contain food. Basket air fryers are simple to operate and clean. This design, however, restricts you from cooking anything in a fluid state like sauce or soup.
The Air Fryer Oven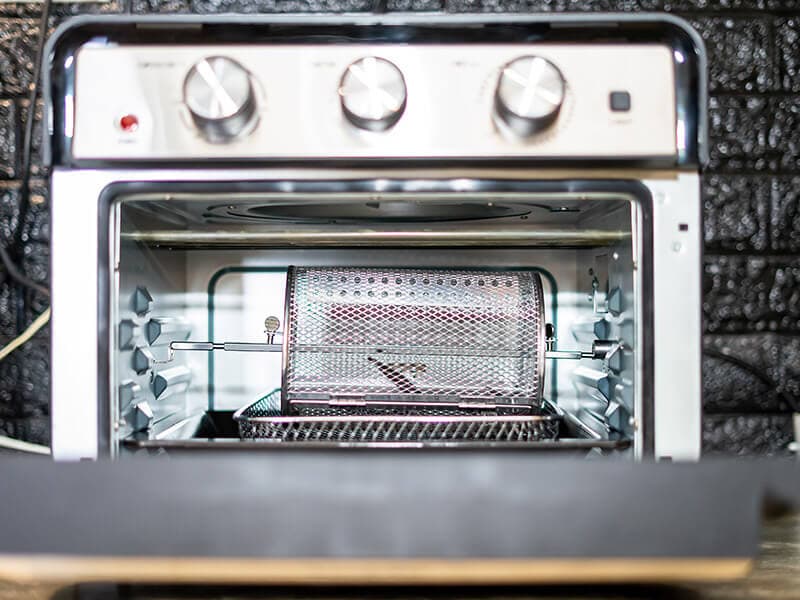 The oven air fryer is comparable to a toaster oven with trays and racks inside the food case. Another feature that distinguishes air fryer ovens from the others is their capability to bake pastries and cakes.
The Paddle-Type Air Fryer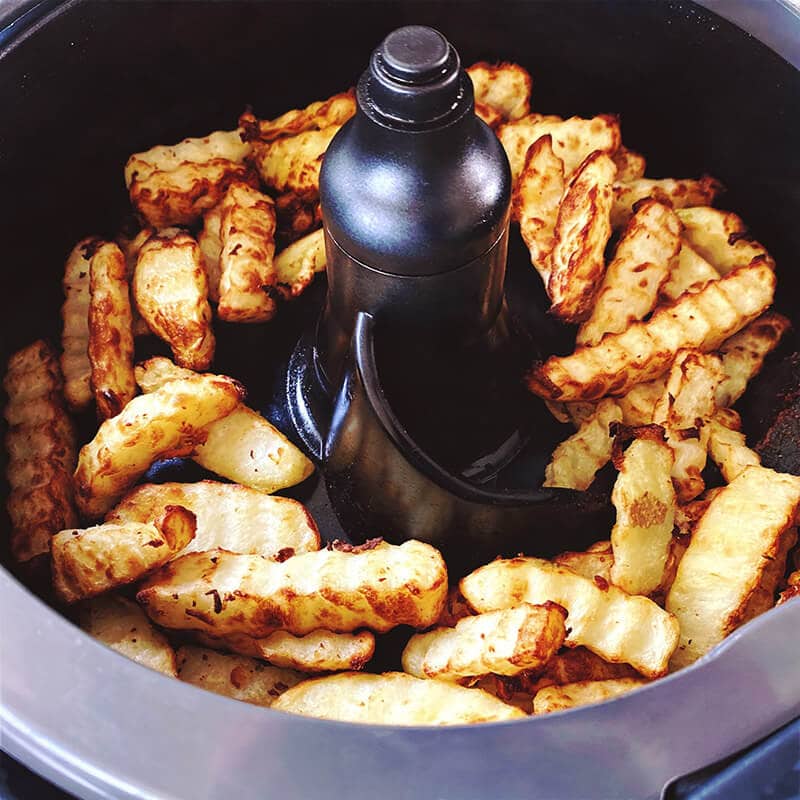 Paddle air fryers are often more pricey than basket air fryers and oven air fryers. This variant includes an internal stirring feature, so you don't have to stir your food as you do with the basket-type air fryers.
All Things About A Convection Oven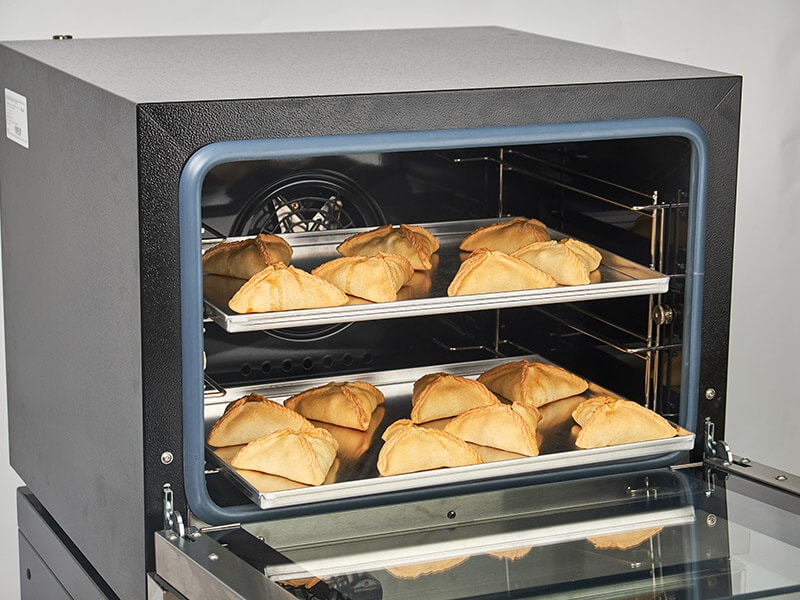 A convection oven, or a fan oven, is a popular oven type that uses a fan system to circulate air around foods to cook them, resulting in extremely equal heat distribution. Because of the enhanced air circulation, the convection oven bakes food quicker than a traditional non-fan oven.
A usual convection oven looks like a rectangular box with a door opened from the front. Additionally, the oven has 2 trays inside the food chamber: a hidden bake tray and a slotted metal tray. (2)
What To Notice When Using A Convection Oven?
There are some notes that you need to remember when using the convection oven for cooking your food. Take these notes for your reference.
Decrease the temperature: Since the heat can reach up to 400oF, you need to reduce the temperature by 25oF to avoid overcooking the food surface.
Assure the ventilation: The fan oven works smoothly when the wind is ventilated. Do not overcrowd the food trays so that the air can easily circulate the food chamber.
Choose a light color hidden bake tray: A dark color tray will cause food to be brown from the bottom after cooking.
Keep your attention: Food cooks very fast in the convection oven. You need to recheck it once or twice during the cooking process.
Check this illustration to know more about tips for using a convection oven.
The Upsides Of Convection Ovens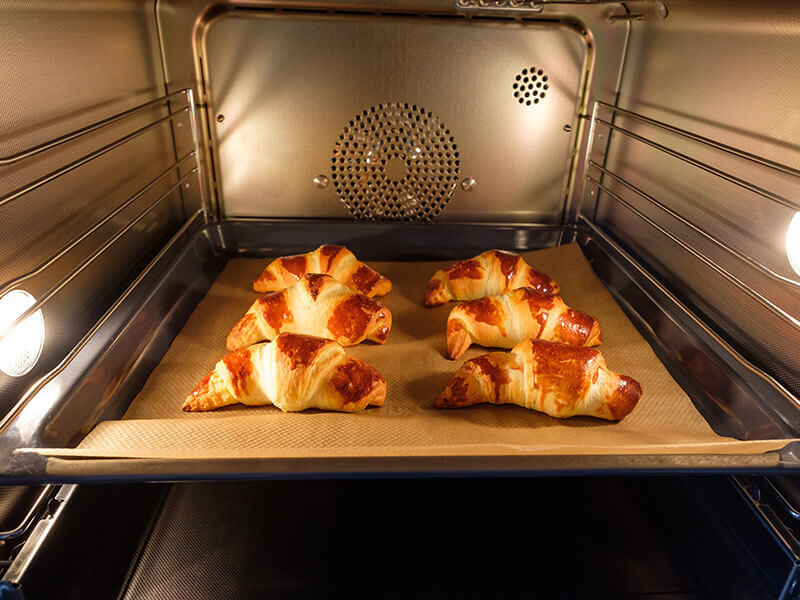 Convection ovens can't be more popular in recent days. What makes it important like that? Here are the pros when using the convection oven.
Good at baking: A convection oven not only is excellent at crisping and browning but also maintains enough moisture in food. For example, the dry and warm air inside the oven excels at making caramel for baking.
Require short time: The fast air movement will shorten the cooking time.
Even cooking: Because of hot air circulation in the food case, foods are cooked evenly in a convection oven.
Large capacity: It offers a big food case with racks and trays, so you don't have to worry about not having enough space to cook a whole chicken.
Energy-efficient: Convection cooking often results in a shorter time and lower temperature, consuming less power than traditional ovens.
The Downsides Of Convection Ovens
Besides many reasons to love the convection oven, there are still many cons when using it. What is the factor that makes you feel uncomfortable about the convection oven?
Require careful maintenance: You have to take care of both the heating element and the fan. If one of them has a problem, you must fix it before using the oven.
More dishes, more problems: Despite the big capacity, overcrowding the food trays can cause food cooked not evenly.
Annoying sound: The rapid fan working would make you feel noisy and distracted.
High cost: High-quality convection ovens are two or three times more expensive than other conventional ovens
Need vents: You must invest in a ventilation system if you want to install a convection oven.
Recipe adjustment: You need to lower the temperature by 25oF to avoid overcooking the food exterior and shorten the time by 25%.
How Many Types Of Convection Ovens
There are two main types of convection ovens: the American convection and the European convection oven. Keep reading to advance your knowledge.
American Convection Oven
The American convection oven, also known as the traditional convection oven, is designed the same way as the normal oven. The difference is that convection features the fan system in the rear of the food chamber to blow the heat from bake and broil components.
European Convection Oven
The European or true convection oven adds the third heat source behind the fan system to blow hot air into your meals. The oven temperature is more consistent with baking and cooking than other ovens.
To have a detailed comparison between two kinds of convection ovens, don't skip this illustration.
Air Fryer Vs. Convection Oven – How Different Are They?
In this heading, I'll go through the similarities and dissimilarities between the air fryers and convection ovens. After that, you may decide what is best for you.
Factors
Air Fryers
Convection Ovens
Heating System Placement
From the top
Both top and bottom
Fan System

Below the heating element
Big fan

From the back of the device
Small fan

Capacity & Size
Small
Large
Appearance
Cylindrical shape
Rectangular shape
Cooking Abilities
Versatile
More flexible
Time & Temperature
Follow the recipe
Require adjustment
Accessories

A basket,
A rack
A tray
A spit
A skewer

A hidden bake tray
A slotted metal tray

Maintenance & Cleaning
Difficult
Easy
Health factor
Encourage oil-free and low-calorie intake
Still require oil to cook
Cost
Expensive
Inexpensive
What Makes Air Fryers And Convection Ovens Similar?
Both air fryers and convection ovens have a heating element and a fan system to do the same working principle. When the heating component releases radiant heat, the fan will blow rapid air to circulate the heat around the food chamber to cook it.
The Differences Between Air Fryers And Convection Ovens
Although air fryers and convection ovens have the same operating principle, there are several major differences the two cooking devices share.
Heating System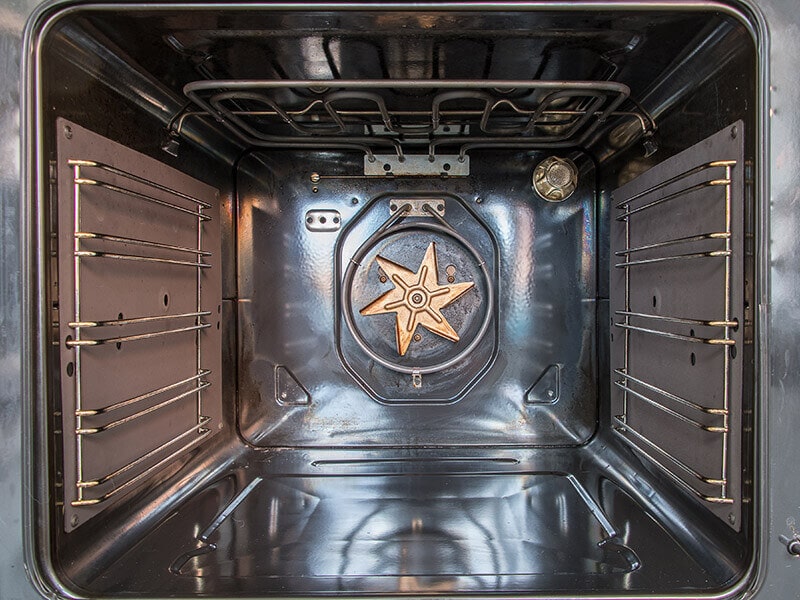 The first thing to talk about is the heating element position. The usual air fryer comes with a heating coil placed from the top of the device.
Convection ovens have heating coils both from the top and bottom. This factor makes your food cooking in the convection oven more evenly.
Fan System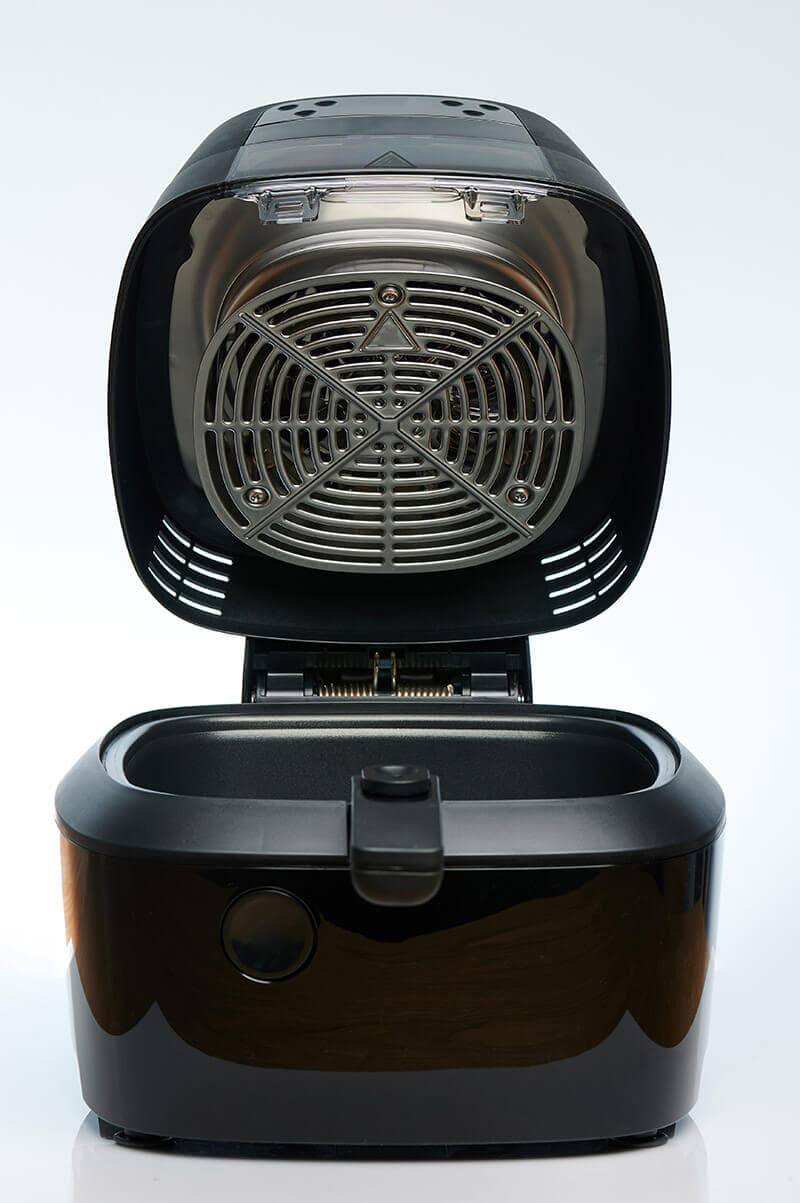 The placement of the fan system is not similar between the two machines. In the air fryers, the fan is on the top, directly below the heating element. Meanwhile, the fan stays in the rear, either on the side or in the central oven.
The air fryer's big fan will circulate hot air around the food when you turn the machine on. Nonetheless, in the convection oven, you must wait for the hot air to hit the fan, so cooking food in convection ovens would take time.
Moreover, the air fryer's fan whirls faster than the convection oven. With the compact and small size, the fan will more quickly circulate hot air around the food space.
On the other side, the convection oven's fan is smaller than its food chamber. That means cooking in the air fryer is faster and crunchier than in the convection oven.
Capacity & Size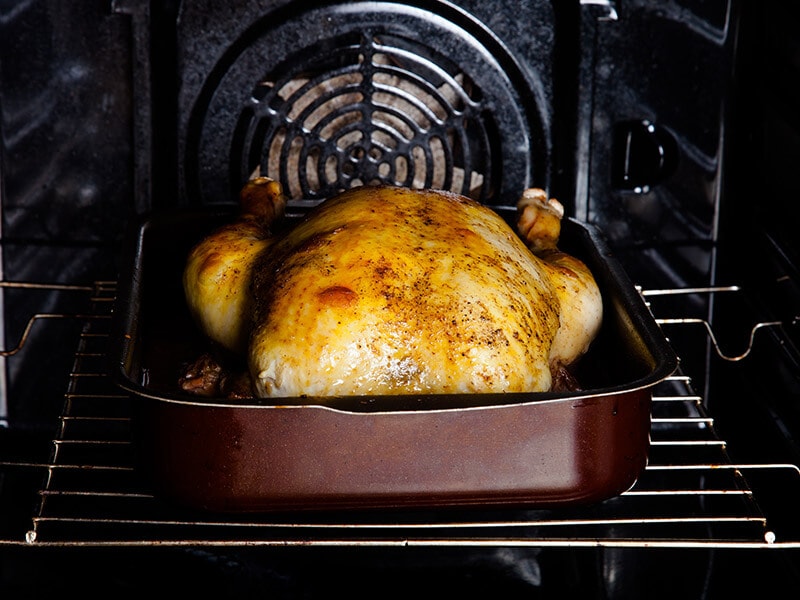 The most obvious difference is that air fryers are smaller than convection ovens, so they have a smaller food capacity than the opponent. By that, cooking in air fryers does not require a long time to crisp up food.
On the other hand, convection ovens have bigger sizes and come with large food capacity. Of course, it takes time to make food crunchy when cooking in convection ovens.
Due to its lightweight and compact size that fits on a countertop, the air fryer is easy to move and saves space on the counter.
Nevertheless, convection ovens have different sizes from standard home size to countertop size but still require space.
Cooking Abilities
Air fryers have versatile basic cooking functions but are best at frying. Newly updated versions have roasting, rotisserie, baking, grilling, and toasting for their additional functions.
Here are some food types that are best cooked in air fryers: fish sticks, chicken tenders, and pizza rolls. Also, you can roast or grill hot dogs, chicken wings, potatoes, crab cakes, mozzarella sticks,… with your air fryer.
Convection ovens can do all the air fryers' functions, even air fry. The convection ovens create steam quickly to raise pie dough and pastries, so most desserts can be great made in convection ovens.
Some foods you shouldn't put into convection ovens are custards, cakes, bread, and souffles. It's because of uneven results and unpleasant crusts.
Time & Temperature
You can not use the same temperature and time for cooking on both devices. In air fryers, you just follow the recipe, prepare food and turn it on.
However, in convection ovens, you must convert the recipe, lower the temperature by 25oF to avoid overcooking the food exterior and shorten the time by 25%.
Appearance
The convection oven looks like a rectangular box. It has a front door with a glass screen to allow you to look inside it. The air fryer has a barrel-like shape with a detachable basket, and there is no glass panel outside.
Accessories
When buying an air fryer, you will have many attached accessories which can help you during each technical cooking procedure, such as racks, trays, baskets, spits, and skewers. And a convection oven only comes with a hidden bake tray and a slotted metal tray.
Maintenance & Cleaning
It would be more tiring to clean an air fryer. It has many parts to wash after every use, like the basket, the drawer, and accessories, especially harder to clean when cooking battered, liquid-based food.
In contrast, the convection oven has fewer parts to clean, making the cleanup easier.
Don't miss this demonstration if you want to know how to clean your convection oven properly.
Health Factor
The purpose of creating an air fryer is to encourage people to eat clean by not using oil when cooking. Air fryer foods are oil-free, have fewer calories, and still obtain nutrients. While in convection ovens, it still needs oil for some food cooking processes.
Cost
According to my experience, air fryers are more expensive than convection ovens for their ability to cook food healthier and faster.
Convection ovens are less pricey than the opponent. They allow cooking big patches of food and can do all cooking functions.
Should I Choose An Air Fryer Over A Convection Oven?
I would recommend air fryers for you to buy due to the following factors. Keep reading to know which one matches your thought.
People who live in pairs and who live alone: An air fryer will be suitable for these cases because cooking in it is power-efficient.
Busy commuters and impatient individuals: If you are one of these people, yes, the air fryer will help shorten the cooking time but still have tasty meals.
Healthier eating routines: Cooking in air fryers supplies oil-free and low-calorie intake.
Who Should Buy A Convection Oven?
A convection oven is your choice if your demand matches one of the following reasons. Don't skip this section.
Big families: A convection provides a large food capacity, so it is possible to cook many meals at the same time and is money-efficient for extended families.
Bakers: The convection oven is good at making cakes and bread. If you enjoy making desserts, this device is for you.
Best Air Fryers And Convection Ovens To Buy
There are many common air fryers and convection ovens on the marketplace. I know you may hesitate about which is the best to buy. Here I give you some examples from my experience.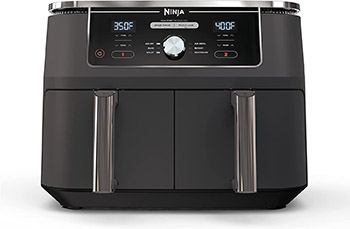 The Ninja Foodi Air Fryer allows you to cook two items in two different ways at once. With its 10-quart capacity and six cooking modes, this air fryer is perfect for a 4-member family. It also has DuaZone Technology with IQ Boost.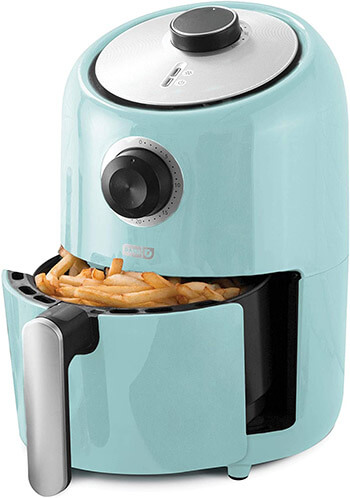 The Dash Compact Air Fryer is a great air fryer for beginners and those who just want to cook for themself. It can rapidly prepare one dish of food using its 1.7 liters capacity. Also, there are 5 color versions for you to choose from.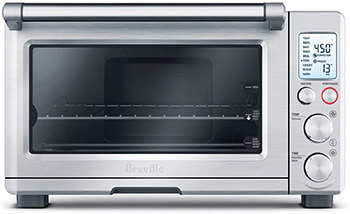 Element IQ comes to your kitchen with the Breville BOV800XL Smart Convection Oven. To maintain an even temperature across the oven, this technology transmits and adapts heat throughout 5 heating components.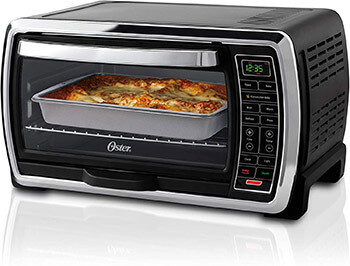 Although the Oster Toaster Oven Digital Convection Oven is inexpensive, it has seven cooking settings, like pizza and toast. With the control panel, you can adapt the time and temperature to brown, bake, or roast meals to your requirements.
FAQs
As usual, this section serves you further related questions about the air fryers and convection oven. Don't miss this out!
What Do You Think About Air Fryers And Convection Oven?
Both the air fryer and convection oven are great. It is hard for me to choose one over the other. In the future, I'll get these two cooking gadgets to update my kitchen. How about you, what is your decision?
Is there something I haven't yet known about them? Just let me know in the comment section. Like and share with your friends. Thank you.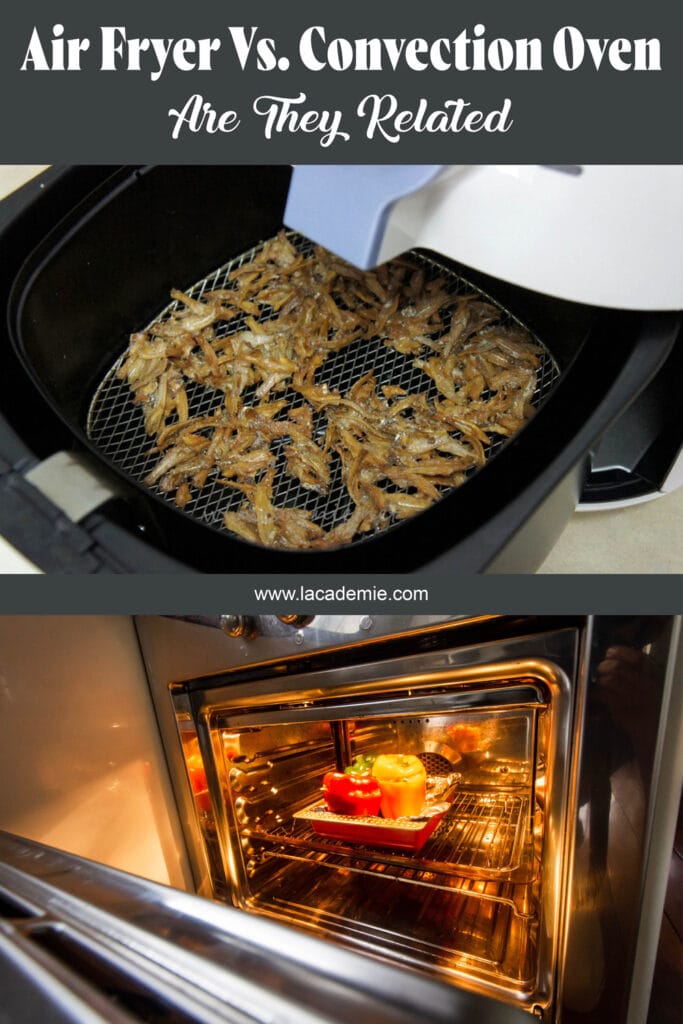 References
En.wikipedia.org. 2022. Air fryer.
En.wikipedia.org. 2022. Convection oven.