Toaster oven vs. convection oven, how are they different from each other? Distinguishing the features and functions of the two ovens is not an easy task. However, all the in-depth information about them can be found in this post.
The oven is an essential household appliance that exists in every kitchen. But there are many different types of ovens with diverse functions and requirements. Do you know which one you should purchase for your lovely kitchen?
In this article, I will talk about toaster ovens and convection ovens. They share some similar as well as different features. Keep rolling down this post to grasp all the interesting facts about them. Let's delve into it.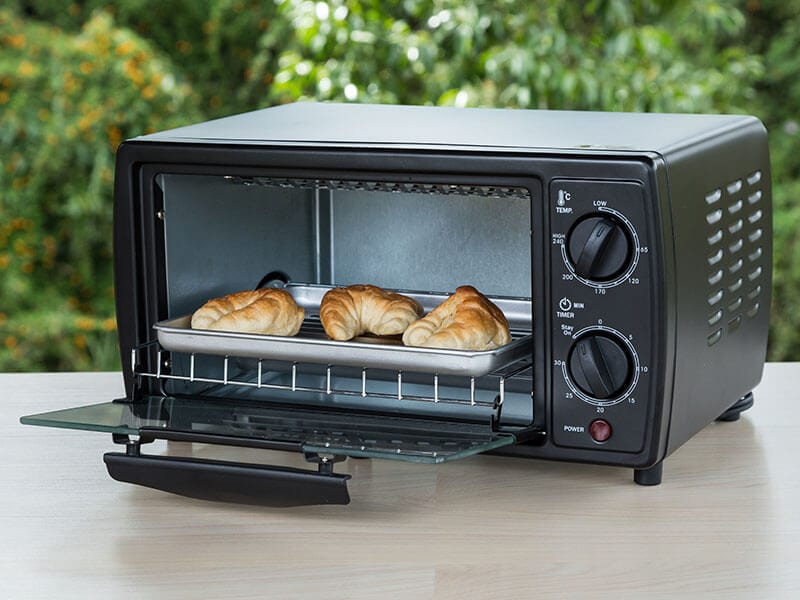 An Overview Of Toaster Ovens
The toaster oven is one of the greatest inventions in terms of kitchen appliances that help people prepare many dishes daily. Continue reading to understand why this gadget is so useful.
What Is A Toaster Oven?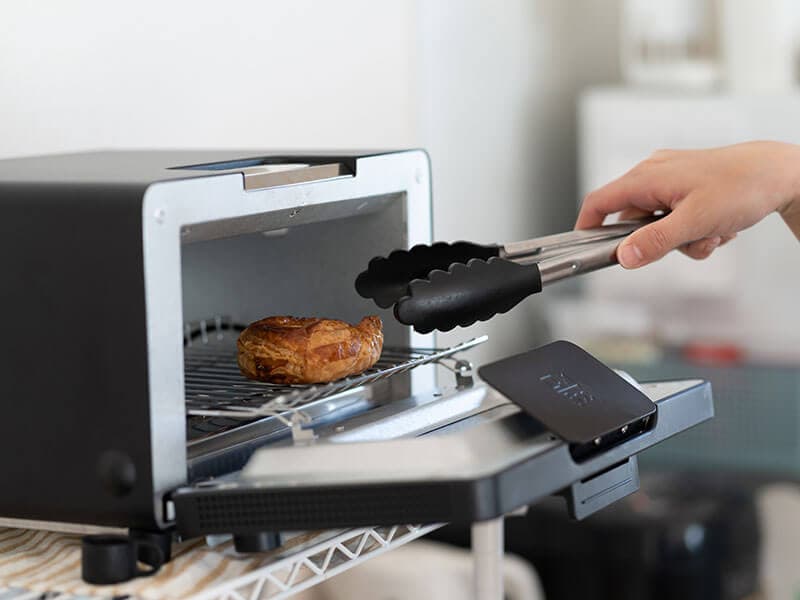 First of all, a toaster oven is not the same as a toaster. In fact, it is a small oven that can be placed on the countertop of your kitchen.
This type of oven usually comes with a front door, a baking tray, and a wire rack. While there are numerous ways to utilize your toaster oven, its main functions are to toast bread, cook food in small quantities, and reheat leftovers.
The top and bottom of a toaster oven are equipped with mental coils as heating elements. Once it is turned on, electricity will turn into heat energy, which goes through the coils and radiates heat to cook the food.
You can say that a toaster oven and a microwave have something in common. But in other aspects, they are quite different and not interchangeable.
Let's learn what a toaster oven is and what functions it has to offer.
Pros And Cons Of Toaster Oven
First thing first, let's find out the strengths and weaknesses of a toaster oven. There are plenty of factors to consider when evaluating a toaster oven.
What Are The Strengths Of Toaster Oven?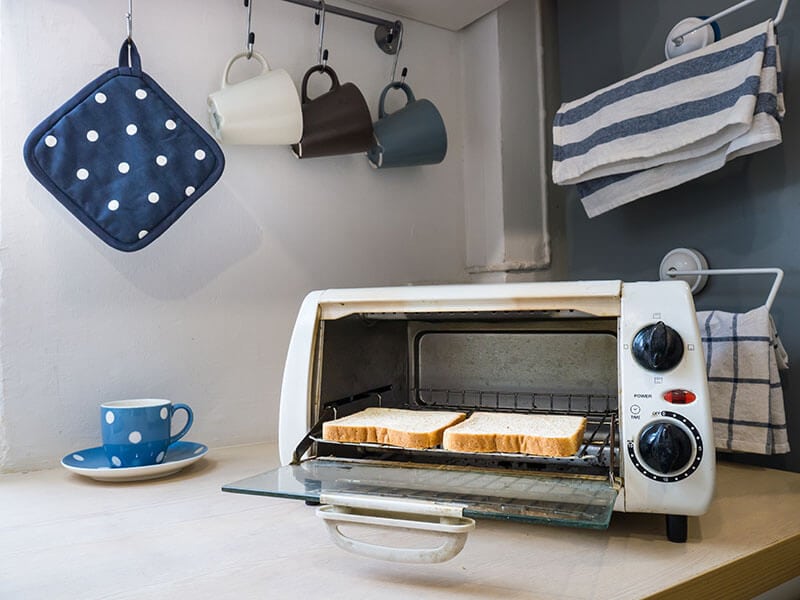 Toaster ovens are smaller than regular ovens, so they are ideal for kitchens with little counter space because they do not take up too much space. If your kitchen space is limited, consider purchasing a toaster oven.
When it comes to prices, toaster ovens are normally cheaper than other ovens. They also consume less energy which is about half the amount of energy of regular ovens. Therefore, they are an economically better option.
Since toaster ovens cook food at a lower temperature, they are suitable for small cooking tasks like toasting bread or heating leftovers.
How About Its Weaknesses?
The way toaster ovens function is also a weak point because the heat only comes from the top and the bottom of the oven. As a result, the meal is cooked unevenly, and its interior may remain undercooked.
For the capacity of toaster ovens, they can only contain a few slices of bread, a small pizza, or a tiny pan. So if you plan to cook some large dishes, toaster ovens are not well suited.
Things You Should Know About Convection Oven
Compared to a regular oven and toaster oven, the convection oven is a significant upgrade. Keep scrolling down to figure out what features make a convection oven so special.
What Is A Convection Oven?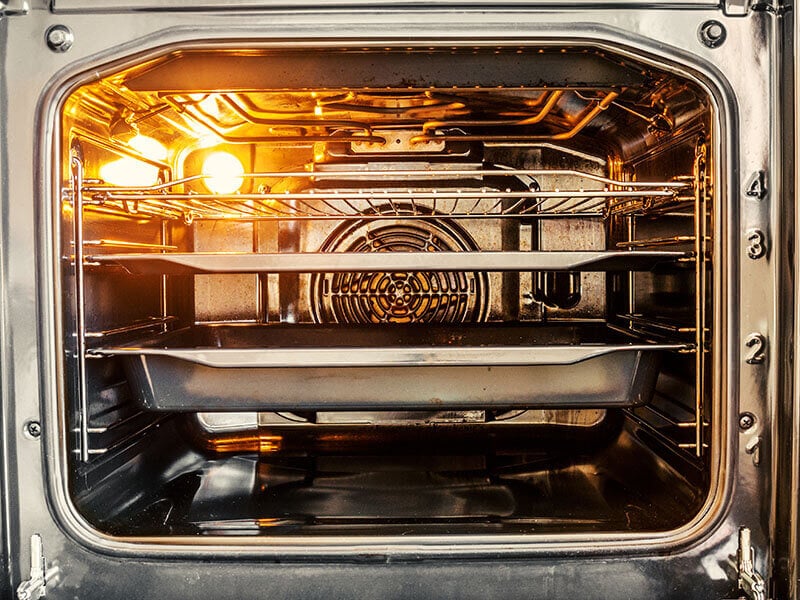 While there are some deep comparisons about convection baking and roasting, two main features of convection ovens, you can simply know this kitchen appliance cooks with hot air.
It has fans delivering hot air from the metal bars to all sides of the food, so it is cooked evenly. This function allows the convection oven to operate more efficiently than regular ovens.
Convection ovens come in a variety of designs. American convection and European convection are the two main varieties of convection ovens. While the former contains two heating elements in addition to a fan, the former has up to three heating elements. (1)
Let's dig into how the awesome convection oven operates.
Pros And Cons Of Convection Oven
Just like toaster ovens, convection ovens have their features and characteristics that you need to understand before deciding to purchase.
Advantages Of Convection Oven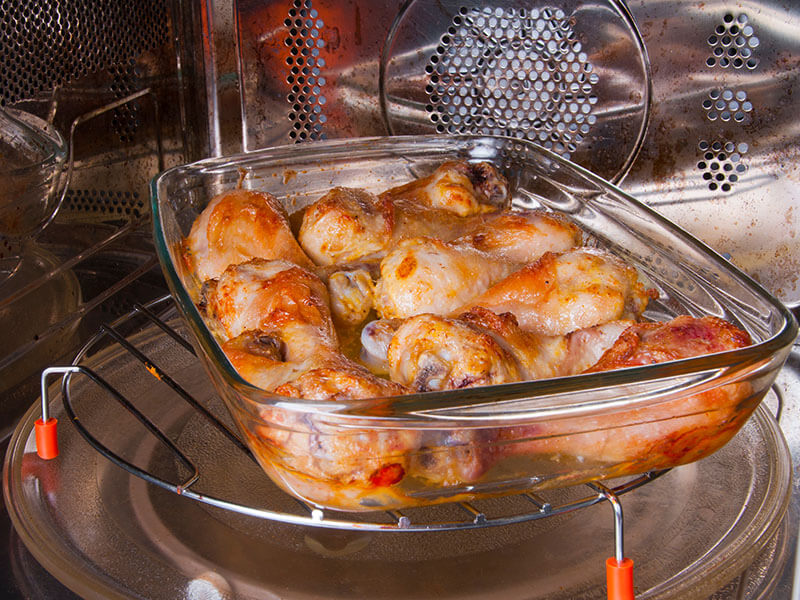 The first and the biggest advantage of convection ovens is that they cook food more evenly in comparison to other ovens, thanks to the fans that distribute hot air all over the oven.
For types of food that require a complete level of doneness like pork, chicken, or potatoes, you might want them to be cooked evenly inside out. This is when convection ovens come in handy as they are invented to do so.
Convection ovens' sizes and temperatures also allow you to cook a wide range of dishes, from small to large, without worrying about not having enough space or heat.
Drawbacks Of Convection Oven
Regarding the price of convection ovens, it is clear that they are more expensive than toaster ovens or other ovens.
To be able to cook a large amount of food, convection ovens must be big enough to contain very big portions of food. However, this is also a drawback as they will take up a lot of space in your kitchen.
How To Distinguish Toaster Oven And Convection Oven
You may be able to slightly differentiate between a toaster oven and a convection oven after going through all the information above. For example, the convection oven has a fan, whereas the toaster oven does not.
However, there is still so much more to learn about. With the section below, you can easily find out every detailed similarity and difference between a toaster oven and a convection oven.
Similarities Between Toaster Oven And Convection Oven
At this point, I believe that you can compare the toaster oven and the convection oven and point out a few things that they have in common. Here are four traits that the two appliances share.
Kitchen Appliances
Toaster ovens and convection ovens are both kitchen gadgets that transform electricity to heat energy to cook food. The heat from both types of ovens is usually generated from the bottom coil or bars and then eventually goes up in the oven.
Cooking Temperature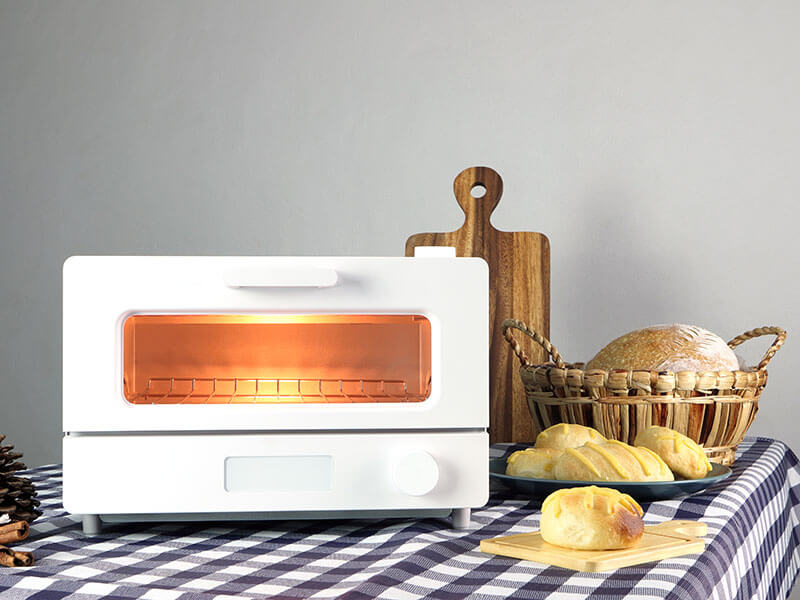 The cooking temperature for both toaster ovens and convection ovens is lower than the regular ovens. The temperature range of toaster ovens is from 100 ºF to 450 ºF. By contrast, convection oven temperatures can be adjusted anywhere from 300 ºF to 550 ºF.
Usage
Besides toasting bread, a toaster oven is also capable of broiling small chicken or even other types of meat broiling tasks. These tasks are considered only suitable for convection ovens, but you will be surprised by what toaster ovens are capable of.
Maintenance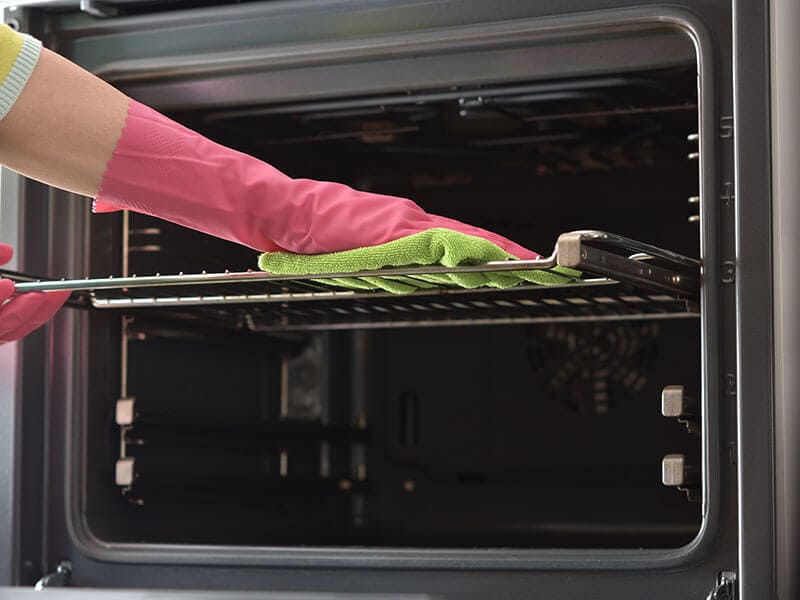 Both ovens require routine maintenance to prevent bacterial accumulation. What you can do is clean them every time you finish cooking. (2)
Make sure that there are no crumbs left over inside when you clean because these crumbs can cause great damage to your oven later on.
What Sets A Convection Oven Apart From A Toaster Oven
So how can we differentiate between toaster ovens and convection ovens?. The table and section below will guide you through this question with detailed factors and comparisons between them.
| Criteria | Toaster Oven | Convection Oven |
| --- | --- | --- |
| Price | Cheaper than a convection oven | More expensive compared to regular ovens |
| Size And Capacity | Small in size Capacity: 12 liters - 16 liters | Large in size Capacity: 40 liters |
| Accessories | Limited accessories | Many accessories |
| Cooking Time | Slower | Faster |
| Even Heating | Not even heating | Even heating |
| Types Of Food | Toasts and small quantity of food | Large dishes |
| Energy Use And Efficiency | Less energy | More energy |
| Durability | Around 5 years | Usually between 10 and 13 years |
Price
In comparison with toaster ovens, convection ovens are more expensive. A regular toaster oven costs around $80 to $150, while $1,100 – $3,300 is what it takes to own a convection oven. Obviously, a toaster oven is many times cheaper than a convection oven.
Another amount of money that you have to pay for convection ovens is the installation fee, which can cost as much as a few toaster ovens. The installation process for this type of oven is quite complicated and requires special wiring.
This is when toaster ovens are more convenient. They are plug-and-use devices, plug them in, and they will work just fine. That will save you from any extra fees.
Size And Capacity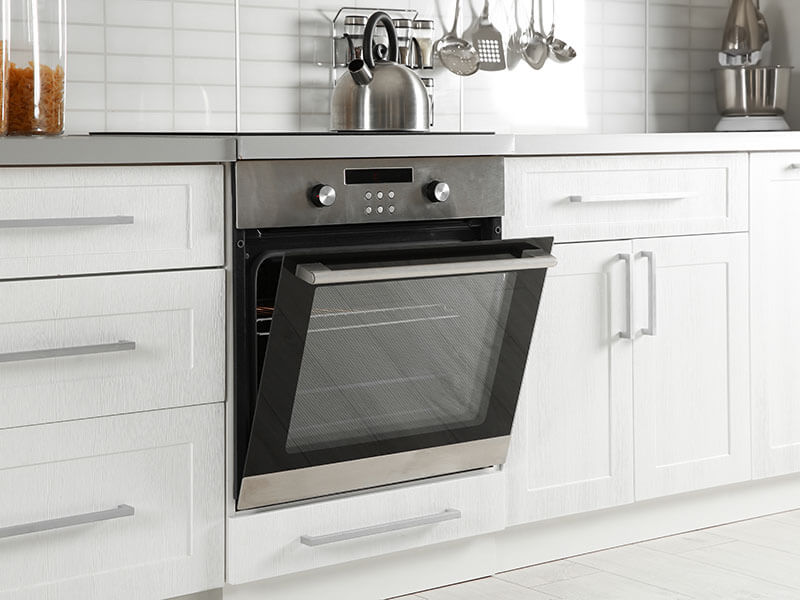 Toaster ovens are smaller than convection ovens. This is because the former is usually used for minor tasks like toasting or heating food, while people use the latter for baking and cooking activities with a lot of space needed.
The capacity of toaster ovens ranges from 12 liters to 16 liters which is suitable for cooking small food. Bigger food requires bigger space, so the capacity of a regular convection oven is usually 40 liters.
Accessories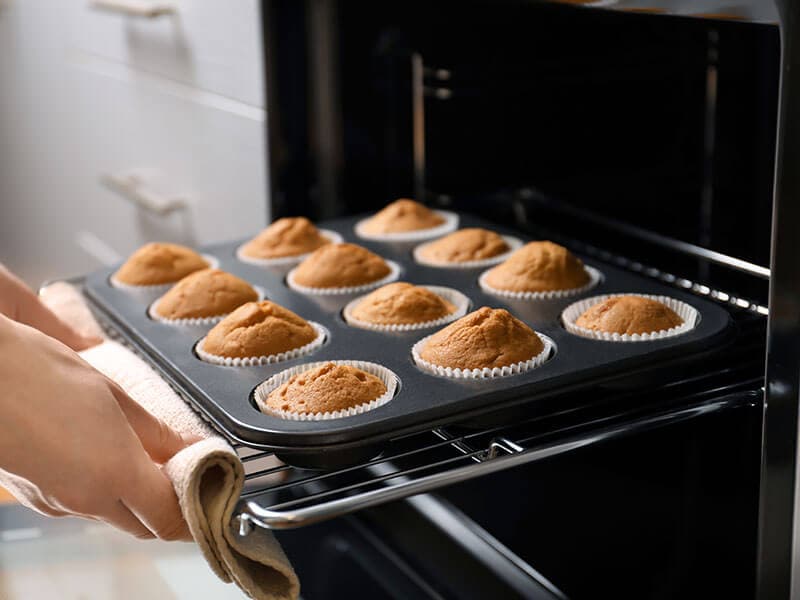 The number of accessories that come with convection ovens is enormous. Stainless spatula, stainless steel basket, or baking tray, you name it. Meanwhile, the accessories for the toaster oven are more limited, though you can also buy some extra add-ons if needed.
Many convection ovens nowadays come with computer-based features that help with all the baking, broiling, or toasting tasks automatically. These additional functions are more popular for convection ovens, making them more expensive than toaster ovens.
Cooking Time
In comparison to toaster ovens, convection ovens cook food more quickly. A convection oven is 30% faster than a toaster oven. However, the time may vary according to the type of food and the model of the oven.
If you are using a toaster oven for standard oven recipes, I suggest you follow the exact amount of cooking time written in the recipe.
Convection ovens, on the other hand, are a different story. Their internal temperature is higher and hot air flow is everywhere, resulting in less time needed for cooking.
Decrease the temperature by 25 degrees or the cooking time by 25% if you are following a regular oven recipe.
Even Heating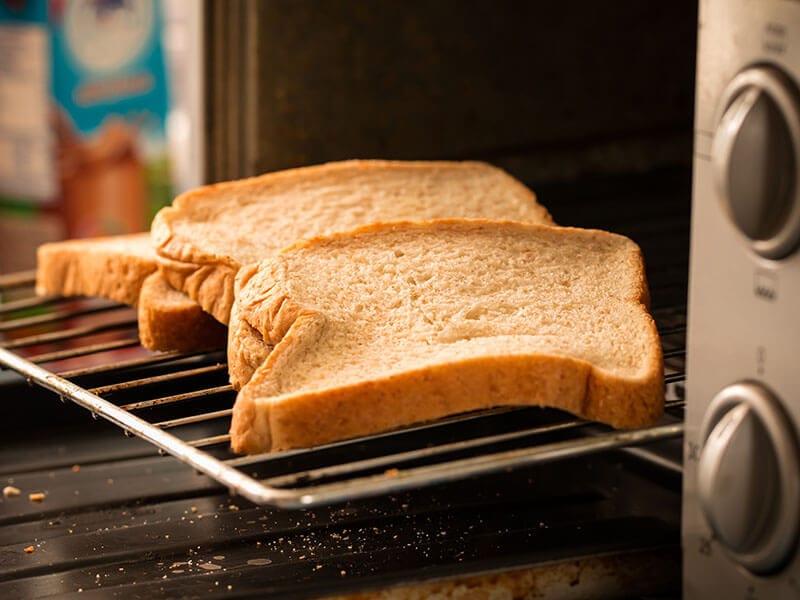 A convection oven's fans circulate hot air around to help food cook more evenly. This works well for foods like chicken breasts, pork, and potatoes as they are completely cooked from inside to outside.
Some toaster ovens only have one heating element, which is a metal coil at the bottom, leading to uneven cooking. The food may be crispy on the outside, while the center stays undercooked. But if you toast bread or bagels, this doesn't do much harm.
Types Of Food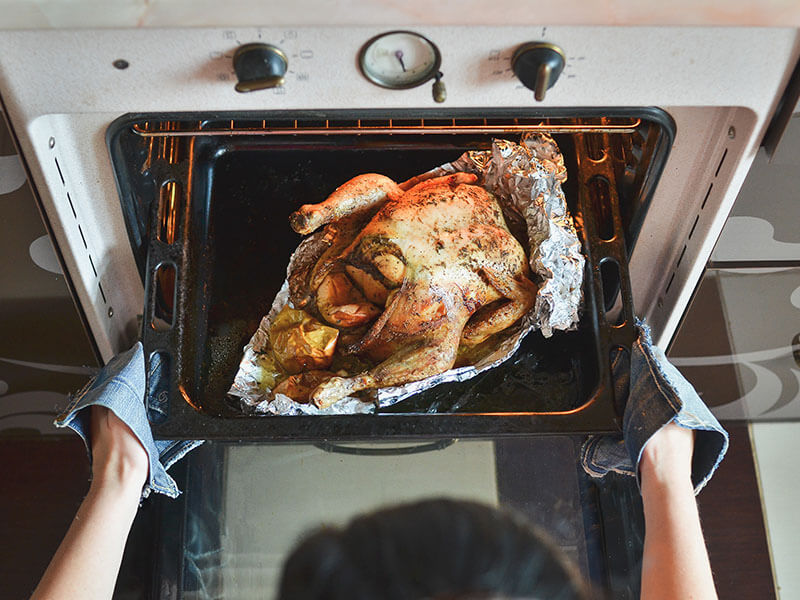 Types of food that are excellent for convection ovens would be anything that you can cook in a regular oven. They are large and versatile, also appropriate for cooking large meals with large items like turkeys, big cakes, large batches of cookies, and casseroles.
Go for toaster ovens if you are making tiny, quick breakfasts or reheating leftover, frozen food. For example, warming up meatloaf perfectly with it is a terrific idea. Also, small baked goods like bread, bagels, or toasts are types of food that toaster ovens can cook just fine.
Energy Use And Efficiency
Even though toaster ovens consume less energy than convection ovens, it cannot be said that they are more efficient.
Fan-assisted convection ovens can reduce cooking time by as much as 30%, so in the long run, convection ovens can be very economical. The energy cost for toaster ovens is also moderate if you compare them with regular ovens.
But when it comes to reheating and cooking food in small quantities, using a toaster oven may turn out to be more economical.
Durability
With proper care and maintenance, both of these ovens can last very long. However, the toaster oven only lasts around 5 years because the hot metal coils within are exposed. Meanwhile, some well-known convection oven brands can function for 10 to 13 years.
Choosing The Right Oven For Your Kitchen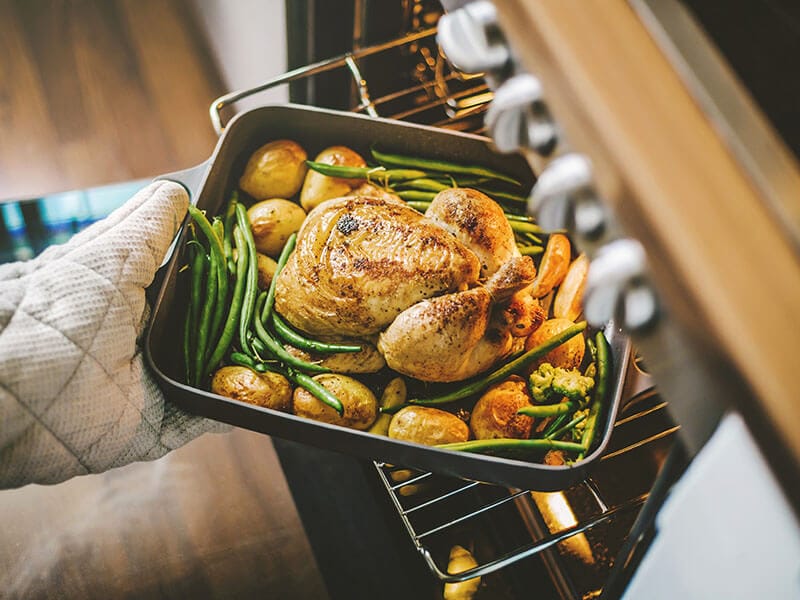 An oven is essential for cooking and is a must-have kitchen appliance. At this stage, after reading through the detailed comparison, you may have some thoughts on which oven to choose. Here are some of my suggestions for you.
Why Should I Own A Toaster Oven?
If you live in a small apartment with a tiny kitchen, you might want to save your space for other appliances or other more necessary items. A countertop toaster oven might do the trick; it takes up little space and does not generate too much heat.
A toaster oven is a fantastic option for people who don't frequently prepare large dinners or significant quantities of food, such as large pizza or huge pork ribs. Additionally, toaster ovens typically cost significantly less than toaster ovens alone.
Do not miss out on this video if you are looking for a toaster oven for your kitchen.
When To Opt For A Convection Oven
If your kitchen is spacious, do not hesitate to own a convection oven. A larger space allows heat generated from convection ovens to circulate, avoiding heating up your kitchen.
Convection ovens are best-suited for preparing a large amount of food to serve many people. The variety of food that can be made with convection ovens is enormous; you do not have to worry about what to cook for the next family gathering with it.
Another advantage of convection ovens is that cleaning these ovens is much easier due to the large space between the rack inside them. Moreover, the constantly circulating hot airflow also prevents the food from sticking to the ovens.
Take a look at this video if you want some tips on how and when to use a convection oven.
Toaster Oven, Convection Oven, Air Fryer – What Are The Differences?
At this stage, you may have enough comparisons between the toaster oven and convection oven, right? But there is another kitchen gadget that may become a potential challenger for these ovens – the air fryer. Let's discover the differences between them.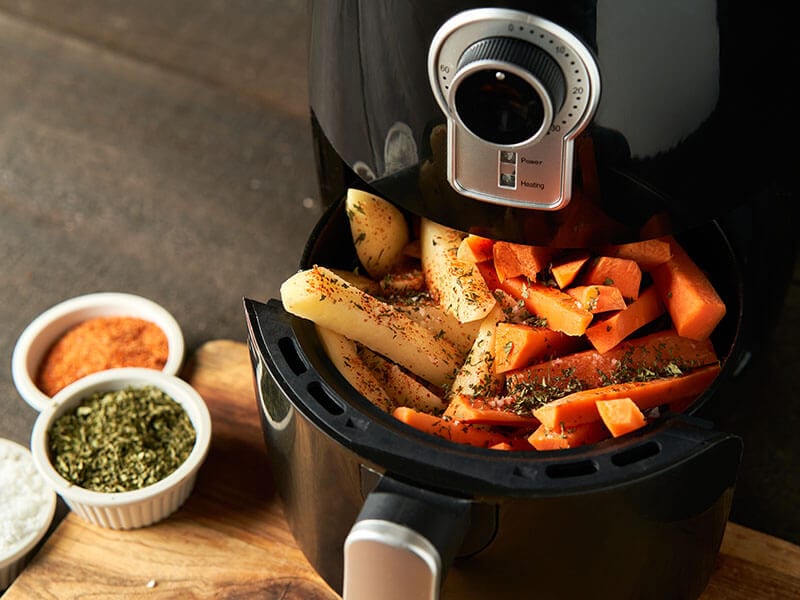 Toaster Oven Vs. Air Fryer
Just like toaster ovens, air fryers are also small in size. They are countertop appliances that function like convection ovens but with fewer cooking features. Therefore air fryers can cook faster than toaster ovens. The two appliances are also different in other aspects.
Regular air fryers can use up to 1600W of power, which is somewhat more than a toaster oven (around 1400W). The amount of time it takes to cook food differs too; an air fryer cooks food more quickly than a toaster oven.
The heat regulation of the air fryer is more even thanks to a small fan inside the design. Most air fryers come with digital control displays, while most toaster ovens use rotary dials. One of the disadvantages of air fryers is that they cannot be used to bake toast or bagels.
Convection Oven And Air Fryer
The main difference between these gadgets is size. Air fryers can only contain small portions of food, while convection ovens are used for large meals with big items. If you want to prepare large portions with air fryers, you have to cook them in batches.
Both convection ovens and air fryers share the same operating system, with fans to circulate the hot air evenly. However, because of their smaller shapes and cooking surfaces, air fryers' heat moves through them more quickly.
While an air fryer has a fan at the top and a food tray below, a convection oven fan is attached to the back of the oven.
Crazily Delicious Recipes For Toaster Oven
Toaster ovens are quite similar to regular ovens. They are perfect for cooking food that shares the same characteristics as traditional oven-cooked food.
Total time: 20 minutes
Cinnamon toast is a simple yet surprisingly delicious dish. The bread is sliced, buttered, toasted, and topped with cinnamon and sugar. This dish is just perfect for a toaster oven because the bread is cooked unevenly, giving it crispiness and softness at the same time.
To make the perfect cinnamon toast, you must let your bread soak in the butter so that it can absorb all the buttery richness. After that, sprinkle some sugar and savory cinnamon on top. Serve and enjoy!
Total time: 50 minutes
A calzone is an oven-baked pizza that originated from the Naples region of Italy. However, with a little touch of Greek culture, this dish will satisfy your pizza craving but with extra flavor and nutrition.
In this particular recipe, you have to use 3 different types of cheese: Feta, Mozzarella, and Ricotta. The mixture of cheese creates the cheesiness and creaminess of the dish. The baby spinach will add extra fiber to this yummy oven-baked dish.
Total time: 45 minutes
In the next entry, I would like to present to you a classic European delicacy that is very easy to make and clean. Sausage, peppers, and onions are the trio that appears in western food for a very long time.
For Italian seasoned oven-roasted sausage peppers and onions, the most important aspect must be the sausage. This is the main star of the dish and it must be Italian sausage. You should choose hot or mild sausage for the extra kick in flavor.
Follow this video for a step-by-step recipe for the iconic Italian sausage with peppers and onions.
Astonishing Mouth-Watering Dishes For Convection Oven
It is time to challenge your convection oven with these mouth-watering recipes. I am here to provide you with some awesome recipes and advice for your convection oven.
Total time: 3 hours 50 minutes
Having turkeys for Thanksgiving day has been a tradition for a long time. They are packed with flavors. The inside meat is tender and juicy, while the outside skin is golden and crispy. You won't have to worry about the quality of your turkey when using a convection oven.
If you want to make good Thanksgiving turkeys, there are 2 things you have to notice: seasoning and toasting. A well-seasoned turkey will result in intense flavors and aromas. The toasting process is also important, but a convection oven will take good care of that.
Total time: 40 minutes
These peanut butter blossom cookies are the ultimate sweet treats. They are loaded with peanut butter and chocolate flavor. Baking them with a convection oven will keep cookies from drying out and help retain the buttery flavor.
All it takes to make these appealing blossom cookies is just normal baking ingredients and some Hershey's kisses. Use some fine sea salt as well to reduce the sweetness and bring out all the flavor as well as help the cookies rise.
Total time: 35 minutes
This canned salmon dish proves that you can make astonishing dishes out of canned food with a convection oven. Salmon patties don't take much time to prepare. They are moist and flavorful on the inside, crispy and brown on the outside.
To prepare your salmon patties, you will need canned salmon and Panko breadcrumbs. You can choose any type of salmon that you like. The breadcrumbs are used to add a little extra fluffiness to the patties.
If you want to make an easy and quick dish out of canned salmon with a convection oven, don't hesitate to click on this video.
FAQs
These frequently asked questions will give you some in-depth understanding of toaster ovens and convection ovens, so make sure to take a look at them.
Both Toaster Oven And Convection Oven Are Amazing
I believe you now already have the answer to the dilemma over the toaster oven and the convection oven. Both of them have their advantages and drawbacks, but the most important thing is that you can choose the oven that suits you best.
So, what is your oven pick? Please share in the comment section down below. If you find this article useful in terms of widening your kitchen knowledge, do not hesitate to share it with your friends and family.
References
Allen, M., (2021). What is a convection oven? Why hot air makes a difference.
Opwdd.ny.gov. 2022.