What is more useful, practical, and cost-effective: toaster oven VS microwave? Today, we are going to find out.
When I was in the search for appliances for my kitchen, some friends recommend getting a microwave, and others were vouching for the toaster oven. Normally, I was confused. So, I decided to dive into every little detail that distinguishes the two kitchen appliances, hopefully, to get the one that will of more use to me.
At a glance, a toaster oven is perfect for quick, nutritional, and delicious family breakfast, while a microwave is excellent for warming the food leftovers.
Most people don't need both devices, they will unnecessarily take too much space in the kitchen, and you will end up using one more than the other.
Keep reading to learn more about microwaves and toaster ovens and learn which one is a better pick for you.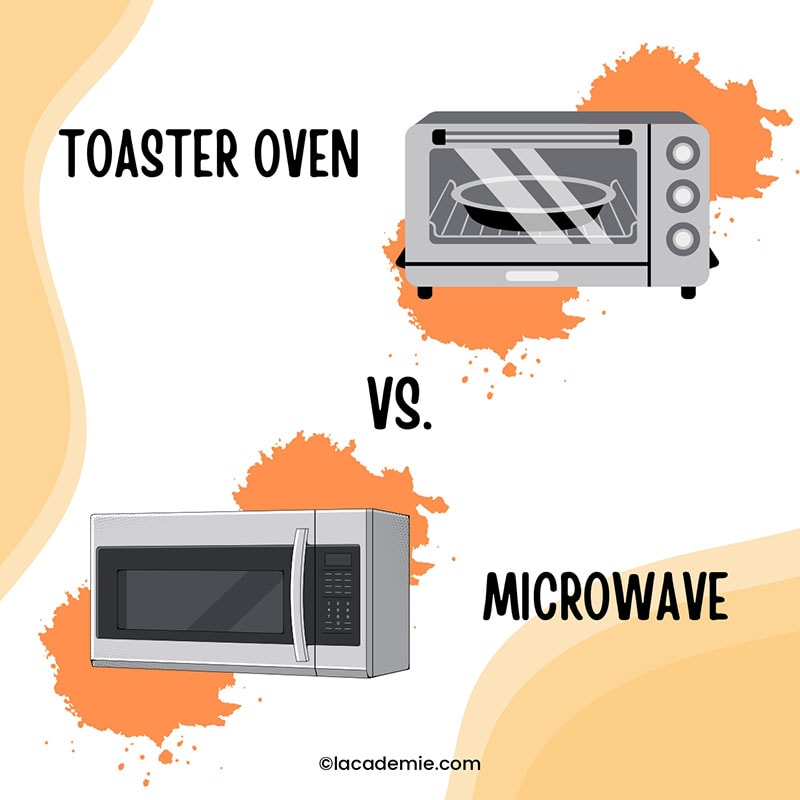 How Is Toaster Oven Different From Conventional Oven?
The conventional oven is a full-size oven that requires installation from a professional to hook up the power source – gas or propane. Most toaster ovens have a countertop design.
Toaster ovens are more compact but don't have as good insulation as conventional or full-size ovens. Therefore, toaster ovens are slower, suitable for smaller amounts of food.
Lastly, a toaster oven is more energy-efficient than a conventional oven but less versatile.
Another appliance that is often compared with toaster ovens is toasters. However, I'll get into details regarding what differentiate toaster ovens from toasters on another day. For now, you can simply understand that these two kitchen appliances are vastly different.
Let's now continue with the science behind the operation of the toaster oven and microwave.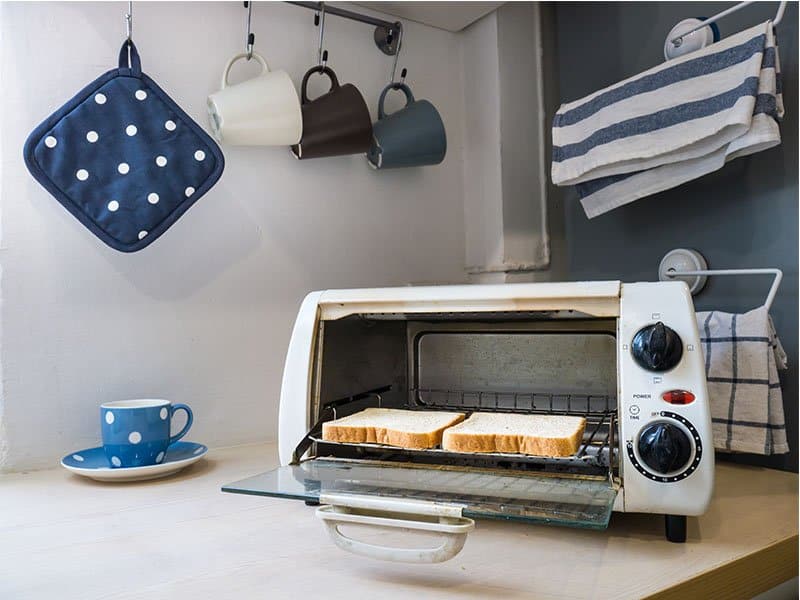 Toaster Oven Vs. Microwave: Basic Differences
It's okay if you can't tell toaster ovens and microwaves apart. Many people also can't see how microwaves differ from air fryers or other kitchen appliances. So, I'll help you with your problem!
Toaster ovens and microwaves are very different, despite their similar appearance. Both devices are created for specific cooking processes, and most people don't have enough space in their kitchen to get both. Or their budget doesn't allow them.
Most people used one or the other in their life at least once. For example, microwaves are common in the hotel buffets where guests can make their breakfast toast sooner.
Sometimes, you'll come across another variation of microwaves—convection microwave ovens. Although what defines convection microwave ovens is a bit different from traditional microwaves, they still share a few similar applications.
Here is the list of differences between the two, explained in detail, to help you understand the science behind it.
Watch this video to know more:
Heating Process
The toaster oven has heating elements inside. Heaters can be place either on top or bottom, or both placements for even cooking. As the elements warm up, they transfer the heat to the air in which the food is cooked. Therefore, the food you cook in the oven cooks from the outside.
Because the heating element placement inside toaster ovens is somewhat similar to air fryers, these two are often compared with each other. However, there are clear contrasts between toaster ovens and air fryers, and it's not always the case that you can use them interchangeably.
You probably know it, but you can easily recognize the food from the oven by its brown and crispy outer surface.
Microwave oven, on the other hand, uses electromagnetic radiation. Those are microwaves in the 300 MHz to 300 GHz frequency range.
As the waves travel inside the oven, they energize the water molecules in the food. Then, water molecules heat up and cook the food. The process is much quicker than in a standard toaster oven.
Watch this video to know more:
Cooking
Both microwaves and toaster ovens feature different cooking processes. Because the heating coils in the toaster oven are heated directly, you can use them to brown, crisp, toast food, or caramelize it. The toaster oven is also suitable for baking and warming.
Most people use an oven to prepare toast, to crisp or bake potatoes, or to stew food. My favorite application is making delicious crispy bacon. The techniques to cook hot dogs in toaster ovens are also so simple that even a novice chef can make it when their eyes closed.
Of course, you can cook hot dogs inside the microwaves as well. However, the length of time to microwave hot dogs is quite different from the timespan required to cook hot dogs inside the toaster ovens. Moreover, the end result might not necessarily share the same taste and texture.
All you have to do is place thin slices of bacon on the sheet and put them directly in the oven at medium-high temperature for 10 to 15 minutes.
Basically, the toaster oven is perfect for food with low water content. Because it heats the food from the outside, the toaster oven maintains the crispness of the baked food. It also prevents the food from drying too much.
Therefore, the toaster oven is excellent for warming the food leftovers, especially in the case of baked goods.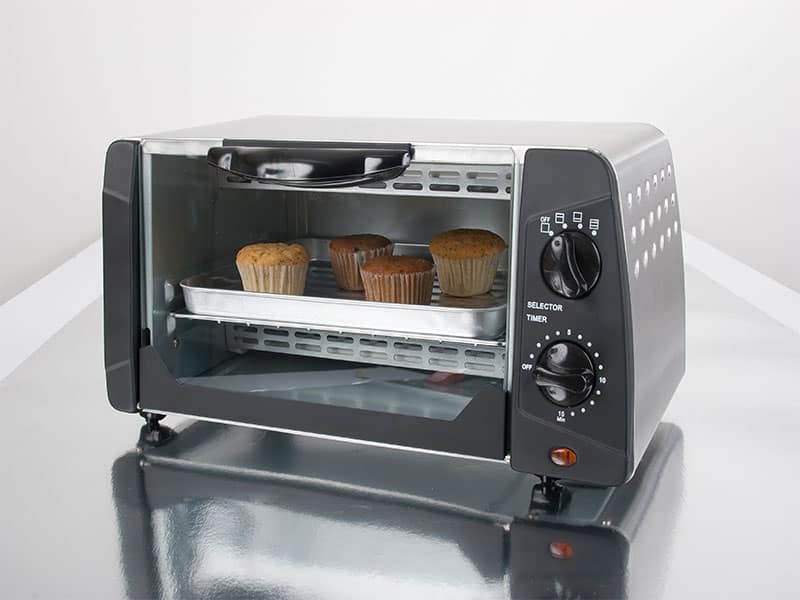 Microwave is suitable for food with high liquid compounds, such as water or fat. Also, the amount of food doesn't affect the cooking time.
Because of the inside-out cooking microwave cooking process, the microwave is excellent for preparing frozen food or cheesy items. The liquids inside will be cooked to perfection. I tried making pre-cooked frozen burgers from the microwave, and those were delicious.
On the plus side, it only took me a couple of minutes to prepare and serve them. Therefore, a microwave can be a great match with frozen foods when you are in a rush, or you have a surprise visit from your friends!
You can also make delicious popcorn kernels in the microwave in just a few minutes. It makes a quick and easy snack, and everyone loves popcorns. There are also many desserts you can make in a microwave, ranging from simple mug cakes to sweet fudges and crispy chips.
There is one thing a microwave is bad for: baked foods. That is because microwaves will heat even the smallest amount of water or fat in the food and make it evaporate. Also, if you're wondering whether you can microwave your plates, remember to examine their material carefully.
Unlike toaster ovens, when using microwaves, you should also avoid aluminum foil. When it comes to aluminum foil's compatibility with toaster ovens and microwaves, I'd say that you need to be extra careful, especially considering how aluminum foil is highly flammable.
Watch this video to know more:
Food Preparing Time
Toaster ovens and microwaves are handy for simple dishes, but there are some differences between them in cooking time. When you are hungry and you wait for the food to get cooked, you know slowly the time passes in those moments.
The microwave cooks food generally faster, because of the science behind it. Microwaves travel fast and heat all water molecules in the food at the same time. The higher the wattage of your microwave, the quicker it will cook the food.
On the other hand, a toaster oven cooks food slowly. First of all, the heating coils take time to get the desired temperature. Next, the heat takes time to transfer to the food and cook it that way. But, the toaster also offers temperature settings.
You can cook food either on high heat, for quicker results and risks of burns. The alternative is slow-cooking, which results in juicy and delicious food.
A quick-working microwave doesn't offer heat adjustments. It often offers adjustments in wattage, but the heat remains the same.
To sum up, while the oven allows it more customization, the microwave will cook your food significantly quicker.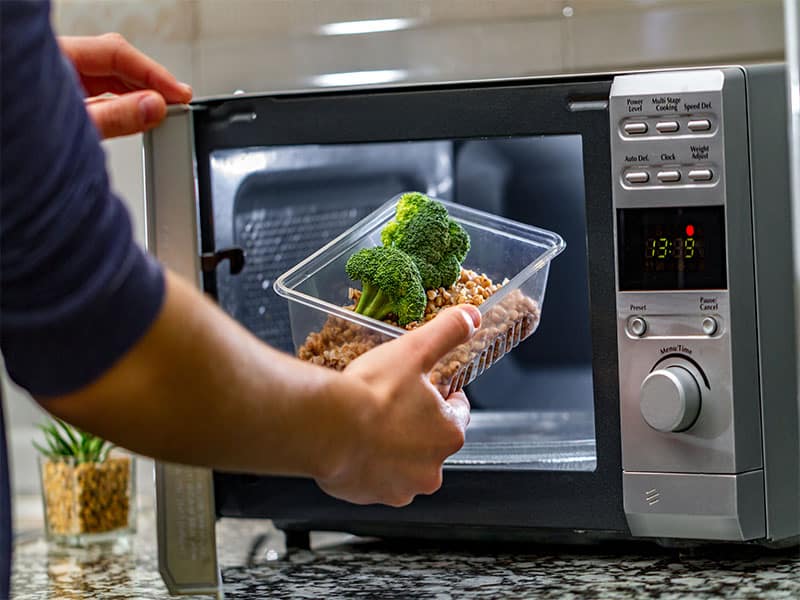 Installation
Most toaster ovens and microwaves are designed as countertop models. Therefore, all you have to do is place the toaster oven or microwave where you have enough space and plug it in.
On the other hand, some models can be installed within the cabinet.
If you want to install a toaster oven within the kitchen cabinet, you will probably have to hire a professional. It is because toaster ovens need specialized hardware to protect cabinets from excessive heat.
Microwaves are more difficult to install inside the cabinet but can be mounted above the stovetop. It can be an excellent way to save time, but you have to make sure that the size of the microwave fits the cabinet width. Also, make sure that height is appropriate, so the heat from the stovetop doesn't damage the microwave. Additionally, you need to ensure enough space for the stove exhaust fan.
It is best to consult the professional that will offer you the best solution for your kitchen and chosen microwave or the stove oven model.
Watch this video to know more:
Size
Usually, toaster oven size is expressed through the number of bread slices an oven can toast in one cycle. The average size of toaster ovens goes somewhere from 16 inches for width and 8 inches for depth. Larger models are 20 inches for width and 10 inches for depth.
The size of the microwave depends on the wattage and cubic feet, which determines the size of the inner space. In general, microwaves are larger than toaster ovens. If your kitchen space is limited, you choose a microwave in a standard size.
Most microwaves have wattage of 700 to 1.200 watts, with 1.4 cubic feet to 2 cubic feet.
Compared to toaster ovens, microwaves are 24 inches wide and have a depth of 19 inches.
If you have a compact kitchen, you might want to consider choosing a toaster oven, especially if you want to keep it on the countertop.
Maintenance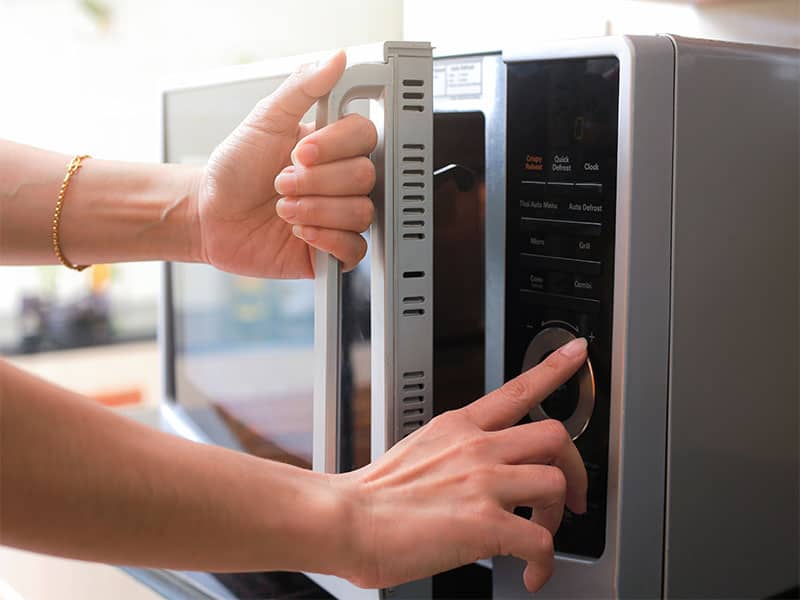 Generally, the required steps to clean toaster ovens are much simpler than microwaves, although toaster ovens have more parts to clean, such as wire rack, heating coils, glass door, crumb catcher, etc.
To clean the toaster oven you have to scrub and be careful when cleaning heating elements. Most microwaves have removable glass trays for holding food. The tray is easy to clean either by washing by hand or in the dishwasher.
However, if you don't follow the instructions for using microwaves, it can get really dirty inside. Still, soap and water clean almost everything without scrubbing. Dip a sponge in water and soap formula, wipe the inside of the microwave, wash the tray separately and dry the microwave with a paper towel.
Watch this video to know more:
Expenses
When it comes to expenses, you have to analyze the initial costs for purchasing the household appliance and operational costs.
Let's take a closer look at the average price tags and energy-efficiency of toaster ovens and microwaves.
Small toaster ovens that can hold around four bread slices are very budget-friendly. The basic model can cost less than $50. The size and additional features determine the price tag for toaster ovens.
But materials and additional features will increase the price. For example, if you still wonder between toaster ovens and convection ovens and decide to buy the former with an extra convection function, you'll need to spend more money. Also, don't forget the installment fee.
Basic microwaves with wattage from 700 watts and a small footprint are slightly more expensive than basic toaster ovens. Similarly, the size and the wattage of the oven, the brand name and the materials used, determine the price for the microwave.
The most powerful microwaves with large inner space cost more than large toaster ovens. The expenses for installment are similar to expenses for installing toaster ovens.
Microwave and toaster ovens are more energy-efficient than conventional, full-size ovens.
But, because they need more energy to heat the coils and maintain the heat, a toaster oven consumes more energy than a microwave.
The differences are small, but in the long run, microwaves are more cost-effective. For comparison, the microwave uses $0.12 per hour working, while the toaster oven costs from $0.15 to $0.22 to work at the same time.
Even though the expenses are similar, the toaster oven has a longer cooking time, so the expenses are higher in the long run.
Safety Precautions
Toaster ovens aren't that different from full-size ovens in terms of potential burns and flammable materials.
Also, you can easily get burns from just touching the hot oven doors while the coils are heating.
On the other hand, the microwave is safe as long as the doors are intact. If you notice any damage to the doors, the microwave becomes unsafe to use. It is because radiation can escape through cracks. If that happens, stop using the microwave and seek replacement doors as soon as possible.
Never try to fix the microwave with Styrofoam or any DIY methods. The Styrofoam can melt, and the chemical can end up in a microwave chamber and contaminate your food.
One thing is the same for both toaster ovens and microwaves – you should never let cables get in touch with water and replace damaged cables as soon as the damage happens.
Watch this video to know more:
Comparison Table
Here is a simple presentation of all factors important for comparing.
| Features | Toaster Oven | Microwave |
| --- | --- | --- |
| Cooking Process | Outside | Inside out |
| Cooking Time | Slow | Fast |
| Size (range, average) | 16 x 8 inches, 20 x 10 inches | 24 x 19 inches |
| Energy efficiency level | Moderate | High |
| Good for | Keeping leftovers warm and baked foods | Preparing food with water and fat, frozen food, popcorns |
| Installment | Countertop models, within kitchen cabinets | Countertop models, above stovetops |
Why Choose Toaster Oven?
If you have a smaller kitchen and limited space for kitchen appliances, you have better chances to find the toaster oven that fits. Moreover, if you enjoy baked food, such as pizza, bagels, cookies, bread, and similar goods, you will enjoy using a toaster oven.
Additionally, if you don't mind waiting for your food for a couple of more minutes, a toaster oven might be just perfect for you.
Why Choose Microwave?
Microwave is excellent for fast cooking of ingredients with a high percentage of water and fat. Therefore, use the microwave if you love vegetables as part of your meals. It can also heat the leftovers very soon, so it is a great option for impatient people.
Also, it can make popcorns and is perfect for pre-cooked frozen food. Put the frozen meatballs in the microwave and your meal will be ready in almost no time.
Watch this video to know more:
What Works Better With Your Lifestyle?
Toaster ovens and microwaves are kitchen essentials in many family kitchens. Choosing one of the two available options is difficult, but I recommend analyzing which one seems more useful for your lifestyle. If you cannot imagine starting a day without toast and butter, maybe a toaster oven is a better choice. On the other hand, if you rely on frozen food, a microwave will simplify meal prep for you.
When determining your budget, don't forget to add the installation costs if you don't want to buy a countertop model.
I find the microwave more useful, but it doesn't have to be true for everyone.
How did you like my article? Which one will you choose toaster oven or microwave?
If you enjoyed the article, please like, and share it with your friends and family to help them solve the dilemma.