Microwaving is by far the quickest way to enjoy a steamy, well-cooked hot dog, but knowing how long to microwave hot dogs is trickier than you think. But don't despair, I am here to help!
At the end of this article, not only will you know how long the hot dogs should stay in the microwave, but you can also find out how to cook hot dogs properly. So don't waste another second, let's dive right in!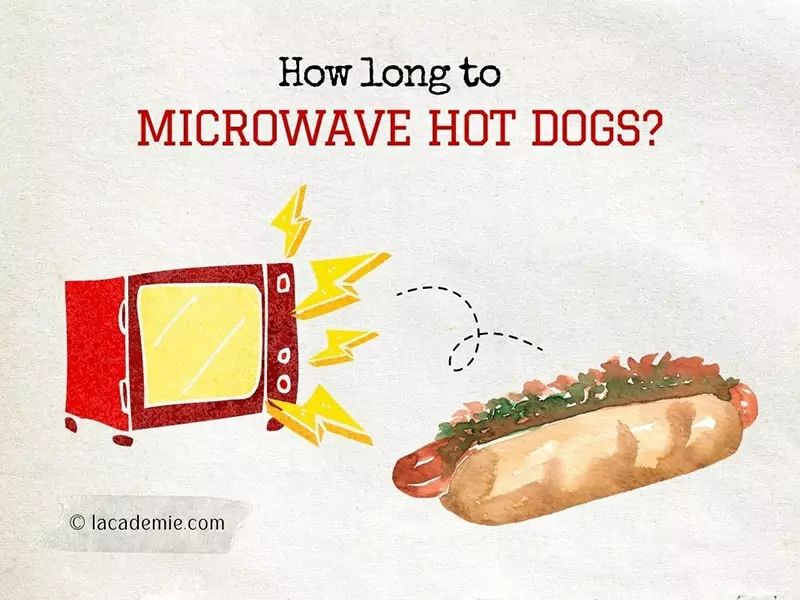 How Long Should You Microwave Your Hot Dogs For?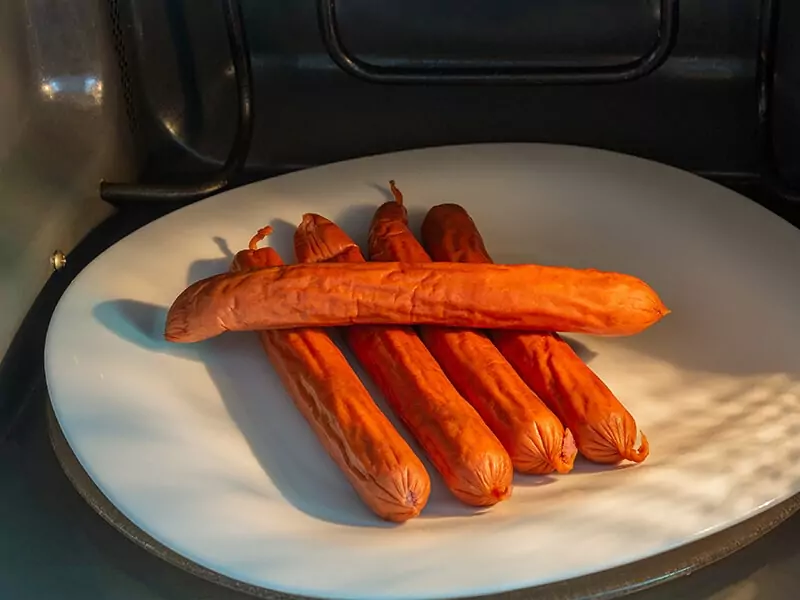 It's pretty tricky to be specific about the cooking time since hot dogs have different varieties with several sizes. The wattage of each microwave can influence the cooking time as well.
If your microwave has an average wattage of 800-1000 watts, check out the chart below for some recommendations:
| | |
| --- | --- |
| Number of hot dogs | Estimated cooking time |
| 1 hot dog | 40 seconds |
| 2 hot dogs | 1 minute – 1 minute 15 seconds |
| 3-4 hotdogs | 1 minute 30 seconds – 2 minutes 30 seconds |
| 5-6 hotdogs | 3 minutes – 3 minutes 30 seconds |
| 7-8 hotdogs | 4 minutes – 5 minutes |
Remember to increase the cooking time if your microwave has lower wattage to avoid undercooking the hot dogs. Similarly, decrease the required cooking time if your microwave is more powerful.
This also somewhat decides whether you should choose to freeze hot dogs. As a rule of thumb, frozen food takes considerably longer and higher heat to cook. This means that microwaves with low wattage might not be sufficient to cook frozen hot dogs.
Additionally, you can use a meat thermometer to check the internal temperature of your hot dogs before consuming them. This is the most accurate way to make sure that your hot dogs are safe to eat. The ideal internal temperature for hot dogs is 160°F~165°F (1).
A Step-By-Step Tutorial On Microwaving Hot Dogs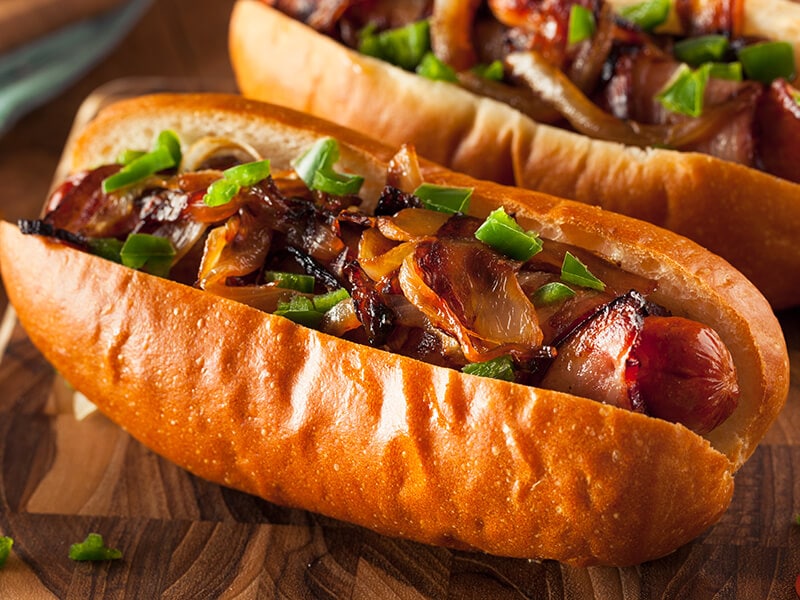 Anyone who has prepared toothsome microwave desserts probably knows that microwaving food is no easy task. You can't just throw the food in the microwave and hope for the best. They might come out undercooked or, worse, explode in your face! So follow the steps below!
Step 1: Prepare Your Hot Dogs
Use a fork and pierce the hot dogs a couple of times. This will prevent the steam inside the hot dogs from building up, leading to bursting.
However, some hot dog brands claim that piercing will drain the liquids from their hot dogs, making them dry and less flavorful. So if you are using hot dogs from those brands, feel free to skip this step.
Step 2: Place The Hot Dogs On The Plate
Prepare a plate with a microwave-safe mark if you don't know whether you can microwave any regular plate. Then, place a paper towel on top to absorb the moisture and grease from the hot dogs. Use a high-quality paper towel so the paper towel fibers don't fall onto your hot dog.
Remember not to stack them. Just place them 1 or 2 inches away from each other so they can be cooked evenly.
Step 3: Cover Them Up
Place another piece of paper towel on the hot dogs before placing them in the microwave. You can also dampen their paper towers to provide moisture for hot dogs.
Alternatively, roll them up in the first paper towel if you only want to microwave a few hot dogs. Make sure that it doesn't unroll while spinning by tucking the ends. Damp the paper towel first to make sure that it is juicy and plump.
Note: If you don't have paper towels, you can cover the dish with microwave-safe plastic wrap.
Step 4: Microwave Them
If the wattage of your microwave is roughly 800-1,000 watts, the estimated cooking time for 1 hot dog on high heat is 40 seconds. Check out the chart I listed above for more information.
You should never microwave hot dogs for more than 30 seconds at a time since they might explode in the microwave. Also, remember to flip them occasionally so they can cook evenly.
Step 5: Check On Them
After every 30 seconds, pause the microwave to check the temperature of your hot dogs. If they are still cold, let them sit until the timer runs out. If they are already hot, decrease the cooking time or take them out.
Step 6: Take Them Out And Enjoy!
Use oven mitts to take out the plate of hot dogs. Be careful when you take out the paper towel since the steam can be trapped underneath.
To ensure that they are safe, take a guaranteed premium-quality wireless meat thermometer and check their internal temperature. If it is above 160°F, you're good to go!
Now that you've successfully prepared hot dogs in the microwaves, don't forget to serve these tasty foods with potato salad. The rich, creamy flavors from potato salad are a fantastic addition to hot dogs' savory notes, which are laced with sweet and fatty undertones.
Note: In case you wonder whether hot dogs spoil, you still have to be careful even when they are well-cooked. Hot dogs can contain bacteria that thrive at room temperature. Letting them sit outside for more than 2 hours and they will go bad! (2)
Let's sum up this tutorial with a lively demonstration on microwaving hot dogs! Watch the video:
3 Fantastic Guides To Spice Up Your Hot Dogs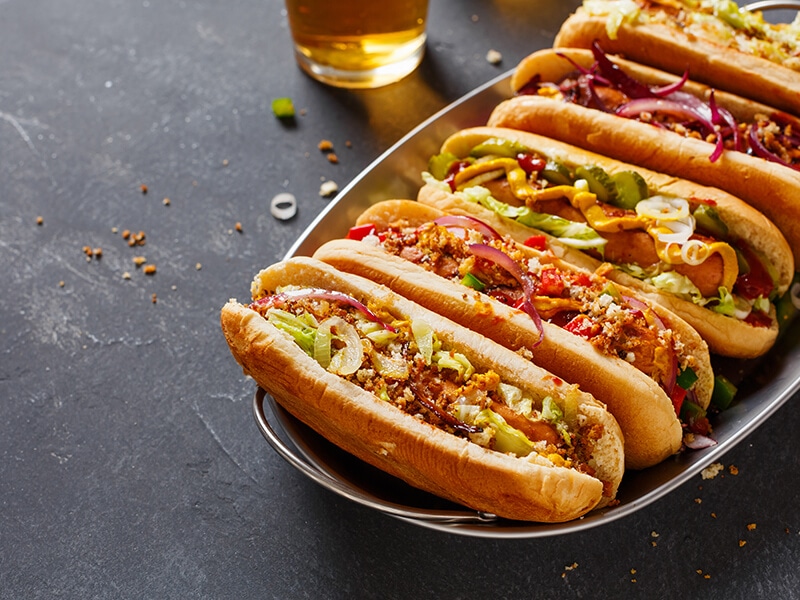 Just because it's a quick snack doesn't mean you should settle for a plain hot dog. When you can't utilize your top-tier technique to prepare hot dogs in toaster ovens, it's okay to settle for the microwave. Take a look at the tips below to elevate your hot dog game with a microwave.
But wait, will hot dogs cooked in the microwave taste different from those prepared in toaster ovens. With the aspects that make microwaves and toaster ovens distinguishable, I'd say that the answer is "yes". However, don't worry that microwaved hot dogs will taste bland!
1. Pre-Slice Your Hot Dogs
Instead of poking your hot dogs with a fork, why don't you try to slice them? It only takes a few seconds more.
The most common way to do so is to make diagonal slices on your hot dogs. But you can go crazy and spiral cut them or make criss-cross cuts on them. Either way, it will make your hot dogs look much more appealing and delicious.
2. Microwave Them With Liquid Smoke
Everyone loves the smoky flavor of hot dogs. But how long does it take to smoke hot dogs? It is hard to specify since this heavily depends on the cooking equipment. Sometimes, it might take hours to fully smoke a hot dog.
However, there is a way to get smoky hot dogs within minutes! Just add 1 tablespoon of liquid smoke to 1 cup of water and stir them well. Then, pour the mixture into a microwave-safe bowl and submerge the dogs in it.
Finally, place the bowl in the microwave and give it a spin. Remember to use high heat and follow the estimated cooking time chart for more details.
Learn how to cross-cut your hot dogs and how to use liquid smoke in the microwave with this!
3. Add Fun Condiments And Toppings To Your Hot Dogs
Microwaved hot dogs are simple to make, but they are not as flavorful as grilled, fried, or smoked ones. However, you can easily add more flavor to them by using the right condiments.
Besides the classic condiments like ketchup and mustard, you can use hot sauce, relish, mayonnaise or sauerkraut. Toppings like bacon bits, caramelized onions, chili, and cheese are also excellent additions to your plain hot dogs.
It's also a good idea to pair hot dogs with another dish. So if you're having a headache as to what side dish is the best for baked beans, you've got the perfect candidate – hot dogs. These are also fantastic ideas for busy Friday dinners as they're quick, easy, yet incredibly delicious.
Note: Pre-slicing your hot dogs can help the condiments seep down into the nooks of the hot dogs and stay in place.
Bonus Tips: What Else Can You Do With Your Microwave?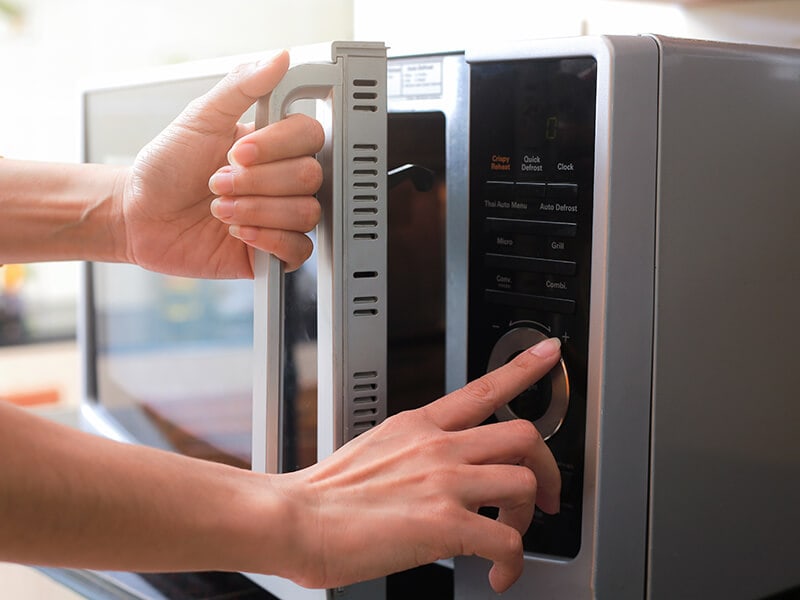 There are tons of things that you can do with a hot dog using a microwave. So give this section a read and discover what they are, they might surprise you!
1. Boil Hot Dogs
Who said you need fire to boil hot dogs? The tutorial below will show you how to do so with a microwave!
Step 1: Split Your Hot Dogs
Grab a knife and gently run it lengthwise from one end of the hot dog to the other. Doing this will prevent them from bursting.
Step 2: Put Them In A Bowl
Get yourself a microwave-safe bowl, large enough to hold all of the hot dogs you'll be cooking. Fill it halfway with water and place the hot dogs in.
Step 3: Start The Microwave
The time required to boil hot dogs varies because not all microwaves have the exact wattages. Therefore, it is essential to check the hot dogs regularly during the cooking process.
To be more specific, you should cook them on high for at least 75 seconds. If the hot dogs are still cold afterward, microwave them for another 30 seconds.
Step 4: Take Them Out
Put on your oven mitts and remove the bowl from the microwave. Drain the hot dogs on a paper towel before eating them or placing them on a bun.
2. Thaw Frozen Hot Dogs
There are many effective ways to thaw frozen hot dogs, but the quickest way is by using the microwave. Check out the steps below to see how:
Step 1: Put The Hot Dogs On A Plate
In a microwave-safe plate, place a single layer of hot dogs on it. If they are in their original package, take them out.
Step 2: Cover Them With Paper Towel
Place a paper towel over the hot dogs so they can absorb the hot dog fluid. Just like before, if you are working with only 1-2 hot dogs, wrap them individually in paper towels instead.
Step 3: Microwave Them
Choose the defrost setting and microwave the sausages for 30 seconds. If they are still cold, give them another spin for 30 seconds until they are fully thawed.
Step 4: Take Them Out
Once the hot dogs are flexible and no longer cold, get them out of the microwave and cook them right away.
Note: If you accidentally thaw too much, you might wonder whether you can refreeze the hot dogs. Refreezing hot dogs is not as simple as you think. You can't just put any hot dogs back in the freezer when you can't finish them.
There are a few ways to make refreezing possible. But once you have thawed hot dogs in the microwave, you should never refreeze them.
3. Steam Hot Dog Buns
Don't you know you can steam buns in the microwave? Not only is it possible, but it is also one of the easiest ways to steam perfect hot dog buns.
Step 1: Create Steam
Pour a bit of water in a microwave-safe bowl and microwave them for 1 minute to make steam. Don't remove the water bowl just yet.
Step 2: Prepare The Buns
Cover a microwave-safe plate with 1-2 paper towels and place the buns on top. Then dampen another piece of paper towel and put it over the buns.
You can also wrap the buns individually in a damp paper towel if you only need to steam 1-2 buns.
Step 3: Microwave The Buns
Place the plate in the microwave next to the bowl of water from earlier. Use the low power setting and microwave them for 10 seconds.
Then, take out the damp paper towel on top and flip the buns. Place a new towel over the buns and nuke them for 10 more seconds.
Step 4: Take Them Out
Finally, take out the plate of buns from the microwave. Oh, don't forget to remove the water bowl as well. Use oven mitts to avoid scalding yourself.
Optionally, you can place the hot dogs in the buns and microwave them for another 30 seconds to give them a fresh steam taste.
FAQs
Still have some concerns? Scroll through the frequently asked questions below to see if you can find the answers you need.
Microwaving Hot Dogs Is That Easy!
And just like that, it is done! You have learned everything about microwaving hot dogs. Additionally, you also found out a few exciting hacks about microwaves that you probably don't know.
If you find this article useful, don't forget to leave a like and share. Also, do you have any other tips for microwaving hot dogs that I haven't covered in this post? I'd love to hear them all in the comment section below.
Nutrition Facts
2 servings per container
---
Amount Per ServingCalories210
% Daily Value *
Total Fat 17g

27

%
Cholesterol 0mg

0

%
Sodium 0mg

0

%
Potassium 0mg

0

%
Total Carbohydrate 0g

0

%

Dietary Fiber 0g

0

%
Sugars 0g

Protein 9.4g

18

%
---
* The % Daily Value tells you how much a nutrient in a serving of food contributes to a daily diet. 2,000 calories a day is used for general nutrition advice.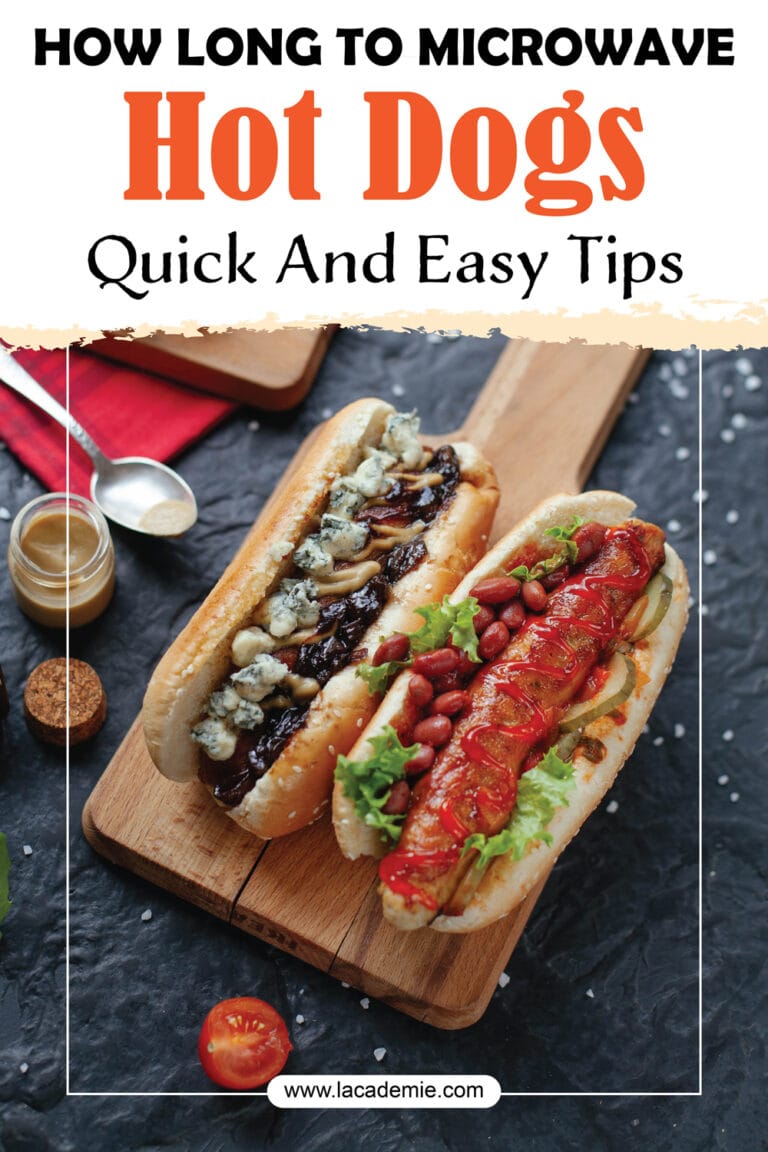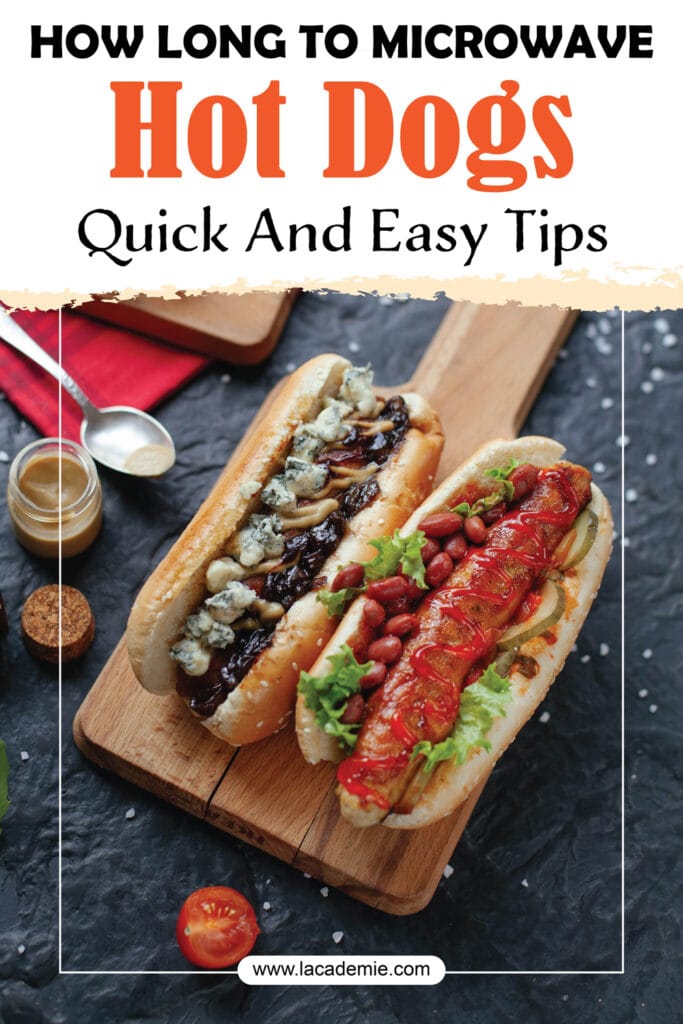 Reference
Foodsafety.gov, 2019. Safe Minimum Cooking Temperatures Chart.
USDA, 2013. Hot Dogs & Food Safety.