I love to try different types of hot dogs to experience their mouth-watering flavor. Each type reflects the culinary tradition of the place where it originated from. Every time I try hot dogs, my experience is unique.
If you are also a fan of this delicious kind of sandwich, I am glad that you are here. In this article, I will go over 45 varieties of hot dogs from all over the world. I have done a lot of research and rely on my own experience to provide you with the most extensive hot dogs list.
45 Types Of Hot Dogs You Must Taste Once
I highly recommend that you get something to eat while reading this article, or else you will crave. Now let's discover 45 types of hot dogs!
26 Types Of American Hot Dog That Will Fit Your Appetite
America is the heaven of hot dogs. There are 25 types of American hot dogs and plenty of variations. All of them have unique tastes and appearances. Some will make you stunned. Check them out!
Michigan hot dog is a delicious beef hot dog made by steaming the bun and adding ground beef and Michigan sauce (or meat sauce). They make the famous sauce using tomatoes, brown sugar, vinegar, and spices.
Some people also add yellow mustard and onions. Onions are often placed above or under the beef. Another notable feature of this hot dog is that it does not contain cheese. You can find this delicacy in Plattsburgh, New York, or Quebec. It is not popular in Michigan at all.
Although this variety is called "Italian hot dog," it actually originated in the United States. You can find the authentic version in Jimmy Buff's restaurant in New Jersey.
To make an Italian hot dog, people deep fry the hot dog then put it in a pizza bread or Italian roll. Then they make it more flavorful by adding potatoes, bell peppers, and onions.
In other restaurants in New Jersey, people sometimes use sausage, chicken, or hamburgers instead of hot dogs.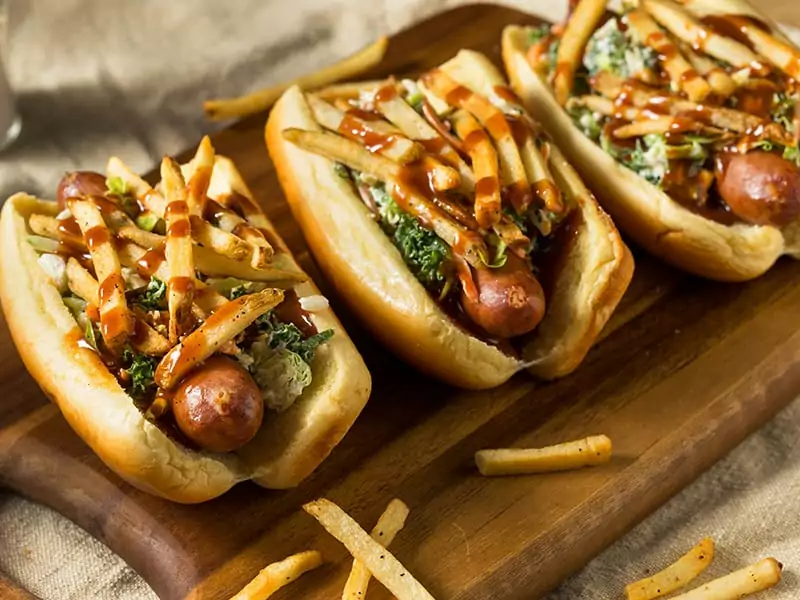 Polish Boy is a variety of hot dogs in Cleveland, Ohio. Traditionally, people make it by grilling or deep-frying kielbasa sausage. They then place it in a bun and top it with coleslaw, French fries, and barbecue sauce.
This type of sausage is available in a lot of restaurants in Cleveland. But the best place to enjoy it is Freddie's Southern Style Rib House, which has a very delicious barbecue sauce.
The story of how Polish Boy was invented is an interesting one. In the 1940s, Virgil Whitmore, a restaurant owner, made this hot dog with smoked beef sausage and everything he had in his restaurant. Nowadays, there are a lot of variations. Some cooks love to add pulled pork.
You can find Polish Boys in every street food cart. If you come to the Indian games, you can order it with Stadium Mustard, a variety of brown mustard which tastes similar to Dijon spicy mustard.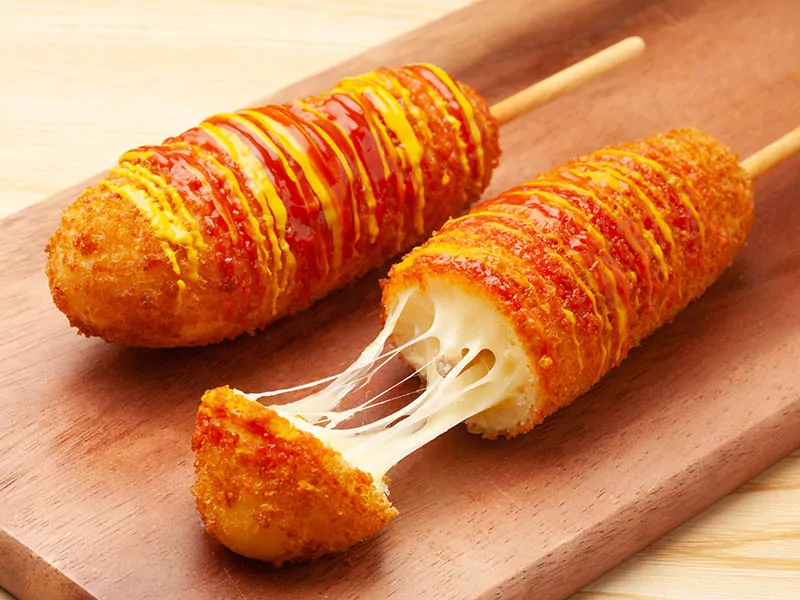 If you love the distinctive sweet taste of corn, you should never miss corn dog, a type of hot dog made by deep-frying sausage that is covered with cornmeal batter.
It originally came from America, but many variations exist in other countries, such as Canada, Australia, South Korea, and New Zealand. In Australia, people sometimes use wheat-based batters in place of cornmeal batters.
You buy corn dogs at sport arenas, food courts, county fairs, roadside eateries, and carnivals. The most popular topping is cheese, particularly cheddar cheese or Swiss cheese.
Make this corn dog recipe to make your kids happy!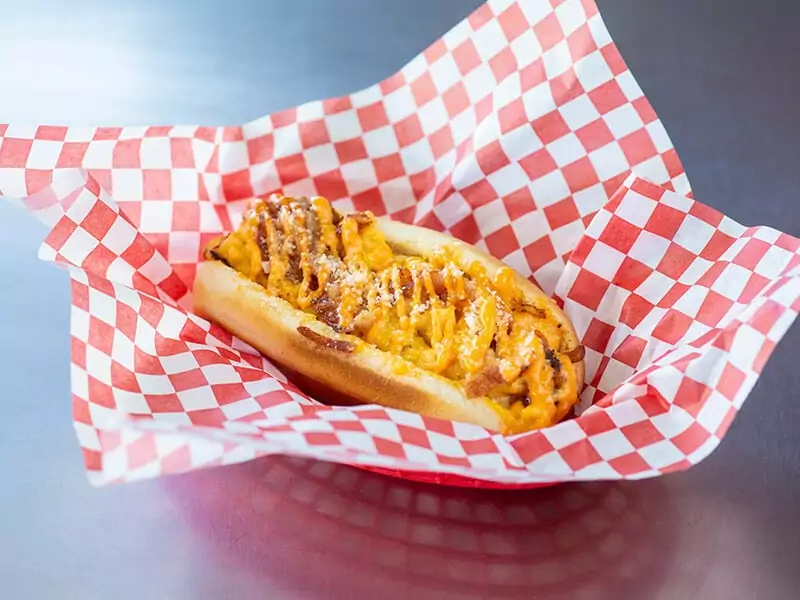 Mac and Cheese is a classic dish already. But have you ever tried Mac and Cheese hot dogs? I am sure that it tastes amazing. It has a bun, a sausage, cheese, milk, and bread crumbs. You can add some chili powder to heat it up a little bit.
In case you have some Mac & Cheese in the fridge, it is a great idea to make a delicious dish from leftover hot dogs. I am sure that it is just as delicious as the original ones.
Most hot dogs are not crispy at all. However, if you love to have some crispiness, try Crispy dog. It is a specialty of Texas. Its origin is still a mystery. But according to local people, it was the Malt House who created it.
This hot dog is crispy, thanks to the corn tortillas casings. People wrap the hot dog and other toppings such as cheese, bacon, mayonnaise, and mustard, into the corn tortillas, then fry it in oil until it becomes crispy.
Serve it alongside salsa and a dipping sauce made from bacon and jalapeño peppers to enjoy its best taste.
Crispy dogs are very simple to make. All you need is this amazing recipe.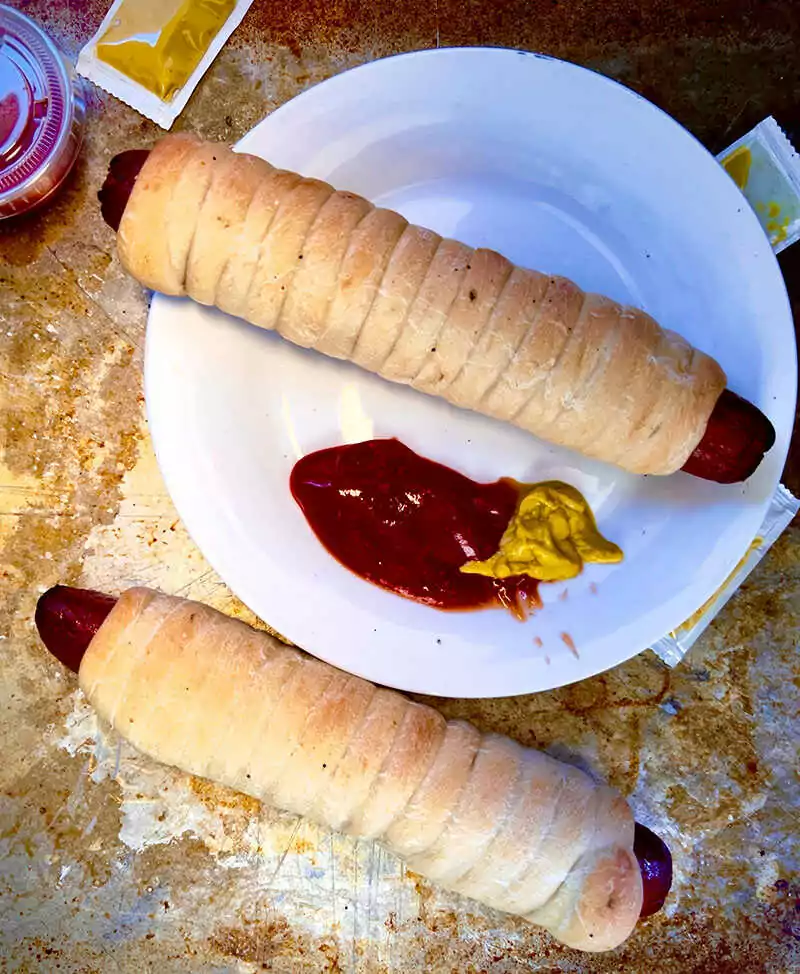 Bagel dogs are different from a common hot dog. There is no topping at all. Instead, the sausage is wrapped in bagel-style bread. It is native to America.
You can find it in grocery stores and food concession stands. You will see it in prepared or frozen form. After buying it, you can learn the proper method to thaw hot dogs.
It is prevalent in Chicago, New York, and Cincinnati areas. People make it by first steaming and covering the sausage with bagel dough. Then, they sprinkle some sesame seeds or poppy seeds over it and finally grill it to perfection.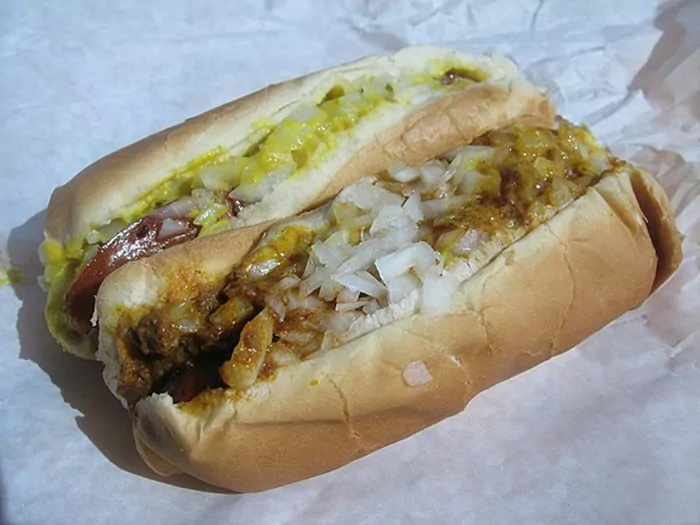 If you come to Washington D.C., you will fall for a delicious hot dog called "Half-Smoke". It is bigger than a common hot dog. The filling consists of smoked ground beef and pork, onions, chili sauce, and herbs. It is very spicy.
Compared to common hot dogs, Half-Smoke is thicker. The meat is also more coarse. You can find a lot of hot dog carts in Washington D.C. that sell Half-smoke. It is also popular in Weenie Beenie, located in Virginia.
Are you curious about why people call it "Half-Smoke"? The answer to this question is unclear. Some people say that it is because they cut the sausage into 2 halves before grilling.
Some believe that it got that name because people make it using pork and beef according to a 1:1 ratio. Many people even say that this is because the sausage is not smoked completely.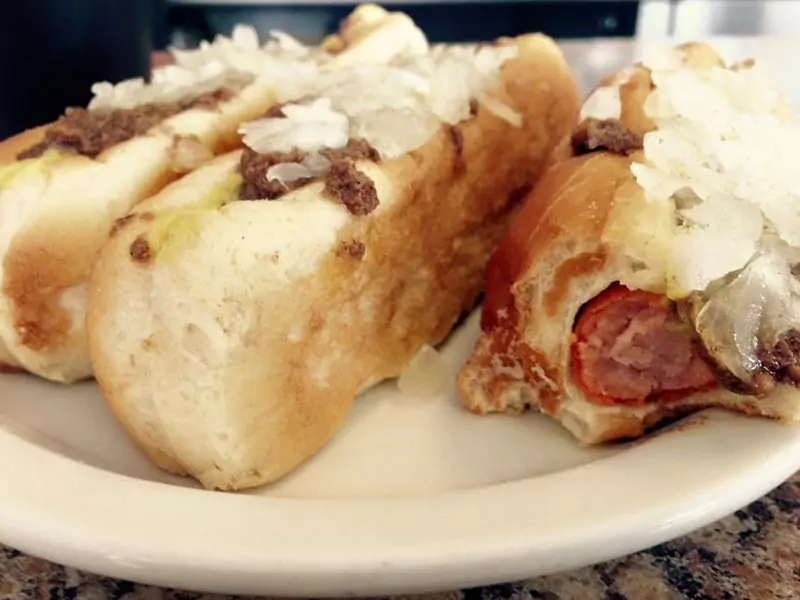 Another name of Hot Weiner is "New York system Wiener". It is a delicacy of Rhode Island. It is available at the New York System restaurants. The hot dog in Hot Weiner is thinner and smaller than other varieties. It consists of veal, pork, and beef.
People top the hot dog with yellow mustard, onions, celery, and a meat sauce made of several kinds of spices.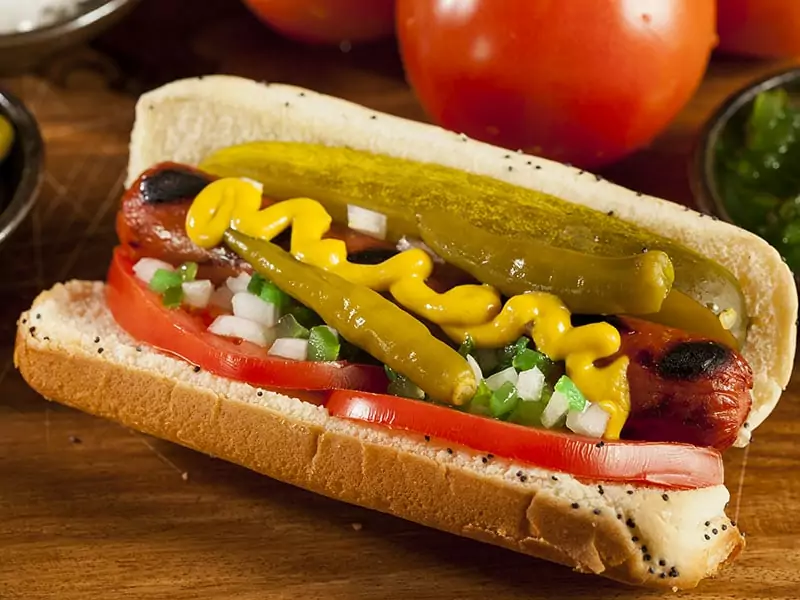 Who doesn't love a hot dog with plenty of toppings? Chicago-style hot dogs are such a variety. It consists of sausage, a dill pickle spear, and yellow mustard.
The type of buns used is poppy seed bun, which gives a delicious nutty taste. People prepare the hot dog by steaming, grilling, or water-simmering the hot dog. Some sellers may add ketchup, while others prefer omitting it.
There are also many variations of Chicago-style hot dogs. Some cooks include lettuce or slices of cucumber while leaving out poppyseeds. There is a famous variation in which a cheese sauce called "cheese-dog" is present. It is often served with jalapeño peppers.
Want to try Chicago-style hot dogs? Here is the best recipe.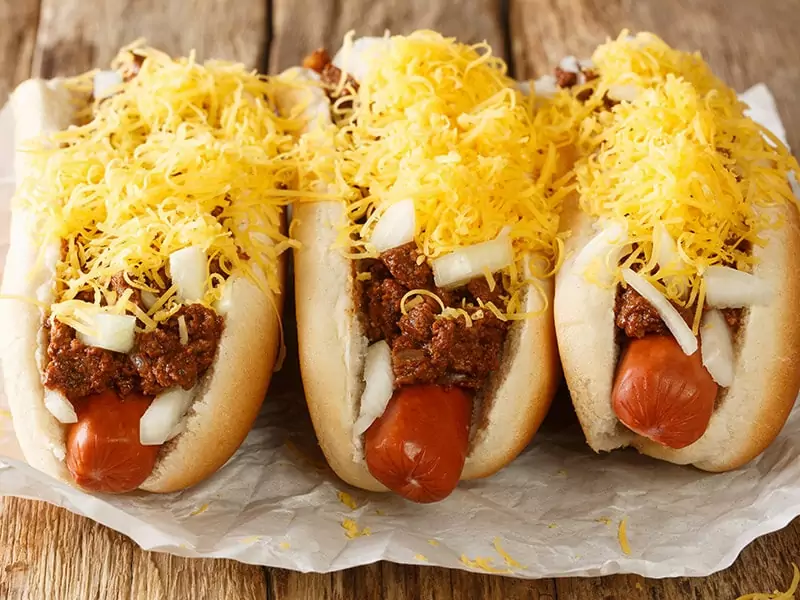 The full name of this variety is Cincinnati Cheese Coney Dog. People make it by steaming the hot dog bun using a specific method, then top it with pork or beef sausage, a heaping mound of grated Cheddar cheese, and mustard or hot sauce.
Cincinnati Coney is mostly sold at Cincinnati chili parlors.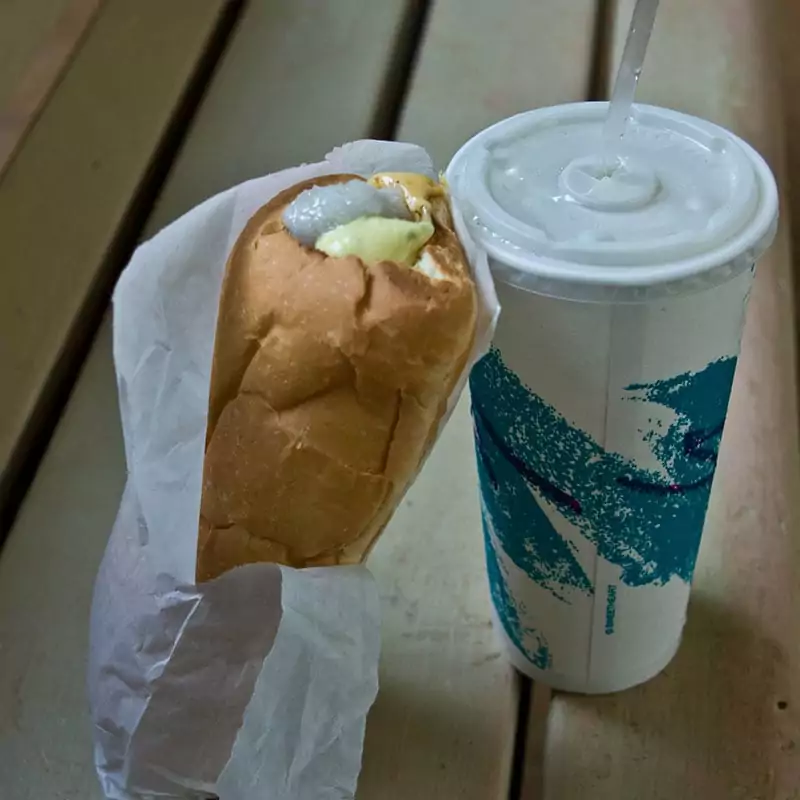 Puka Dog is the signature hot dog of Hawaii, where it originated from. In the Hawaiian language, this name means "hole". It got this name because people added the sausage to a hole on the sweet bun.
People top the sausage with sweet mustard, tropical fruit relish, and sauce.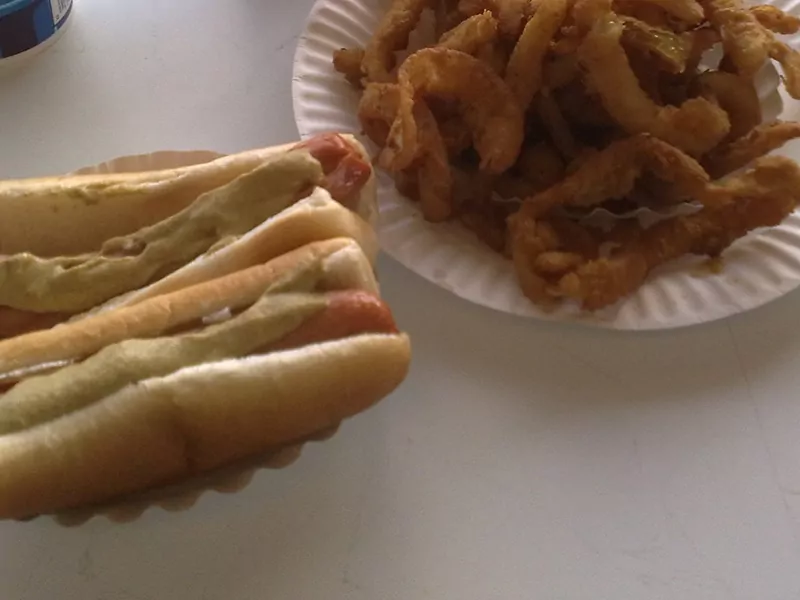 Ripper was created in a restaurant in Clifton, New Jersey, called Rutt's Hut. People deep-fry in oil, resulting in a greasy yet crunchy texture. It can also burst, crack, and rip. That's why people call it "Ripper". People often top it with onion rings, corn chips, and bacon.
Dixie Dog is native to Hungtington, West Virginia. It came from Stewart's root beer stand in 1932. People call it "Slaw Dogs" or just "Hot Dogs" in West Virginia.
The blubbery hot dog sausage is stuffed in the split hot dog roll. Then people add creamy coleslaw and chili sauce to it.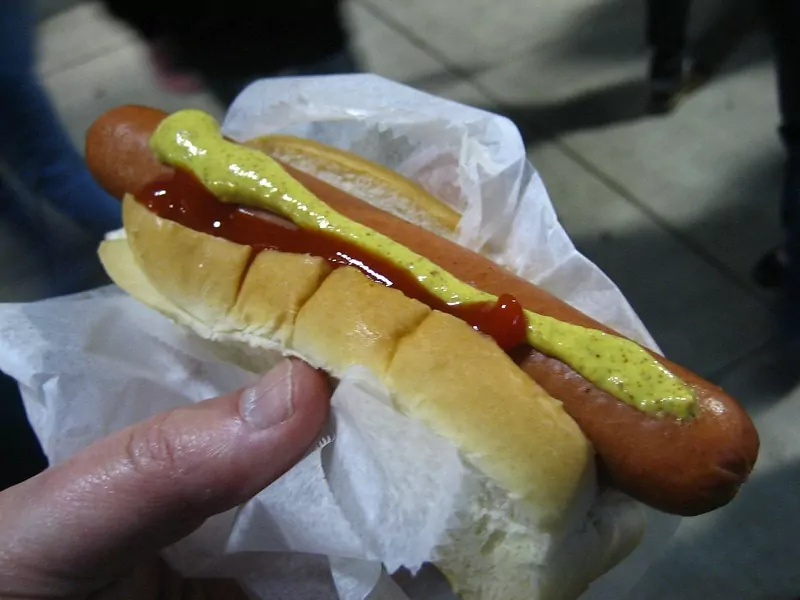 Fenway Franks are a very special type of hot dog. It has a stronger flavor than other varieties because the hot dog is heavily seasoned with mustard, garlic, and onions. It is also very juicy, thanks to an excellent preservation method.
To make Fenway franks, you first have to boil and grill the hot dogs. It is important to know the ideal boiling time of hot dogs. Then, put them on split bread rolls and add toppings to make them more flavorful.
This hot dog is a delicacy of Boston. People often enjoy it while watching baseball matches.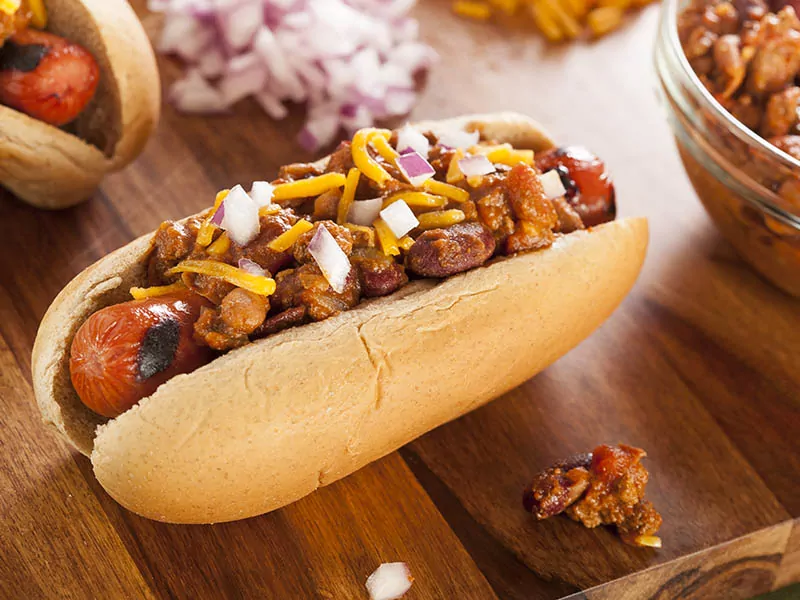 Chili hot dogs feature hot dog buns filled with types of meat, most often chili con carne, and other ingredients, such as mustard, onions, and cheese. It is native to America, and there are a lot of regional variations, namely Hot wiener, Cheese coney, Carolina style.
The origin of Chili dogs is still a mystery. Many people believe that it came from Texas, while some posit that it was invented at the Art's Famous Chili Dog Strand located in southern Los Angeles. Nowadays, it is available at sports stadiums, local eateries, and street stands.
You should never miss such an excellent chili dog recipe.
If you like to enjoy French fries with hot dogs, there is no better choice than Junkyard hot dogs. It features split and steamed buns filled with sausage, grilled onions, French mustard, and American cheese.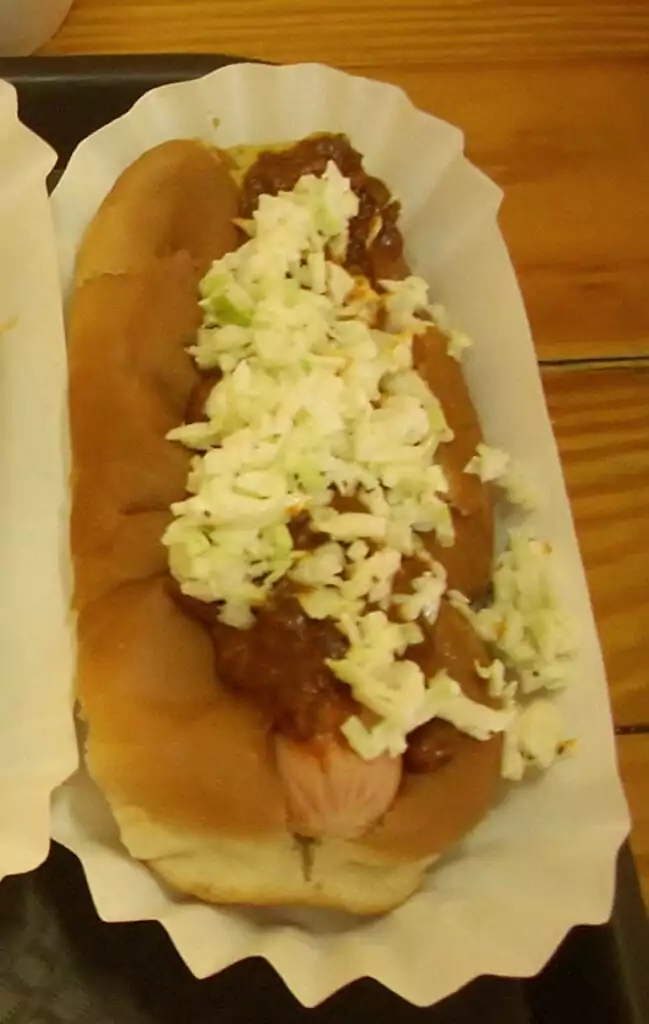 The Carolina-style hot dog has a unique flavor. It features sausage stuffed in a split bread roll. The toppings, which include onions, slaw, chili, and maybe mustard, make it special. People sometimes use mustard in place of slaw.
This type of hot dog is full of flavors. In every bite, you will get the savory taste of hot dogs, the sweet flavor and crunchy texture of slaw, and some spiciness provided by chili and mustard.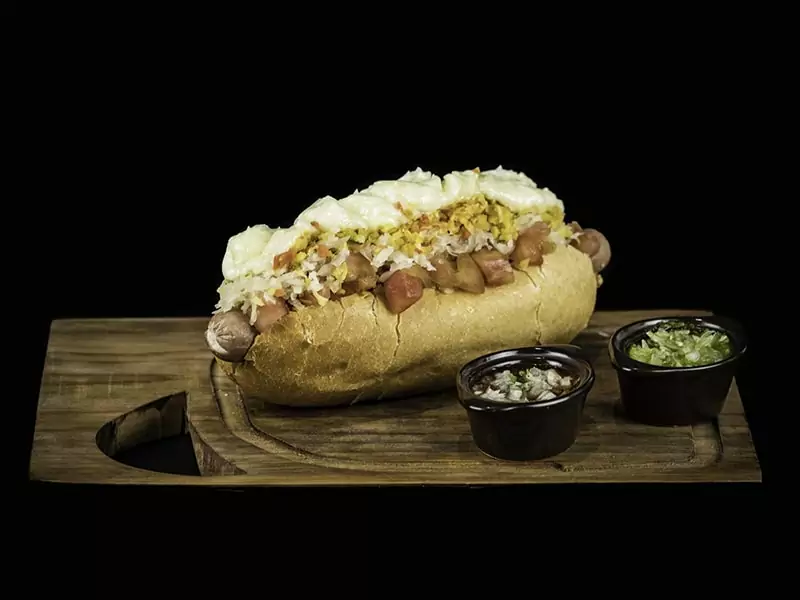 If you are a fan of Dodger baseball, I am sure that you have heard about or tried Dodger dogs. People love to have one while enjoying the baseball game. People make it by grilling a long pork wiener then wrapping it in a steamed white bun.
The toppings are up to you. Some popular ones are crispy onions and mustard. The authentic version is available at Dodger Stadium in Los Angeles. Farmer John created it in the 1960s. In modern times, there are 2 versions of Dodger dogs, namely the steamed and grilled versions.
Making Dodger dogs can never be easier with this recipe.
Unlike other types of hot dog, which consist of hot dog buns, Idaho hot dog (or Idaho super tuber) is cooked by stuffing the hot dog into a potato, grilling it, and adding toppings including sour cream, bacon bits, and chives.
You should note that not all types of potatoes are qualified to be the ingredient of this delicious hot dog. People only use the local Idaho potatoes.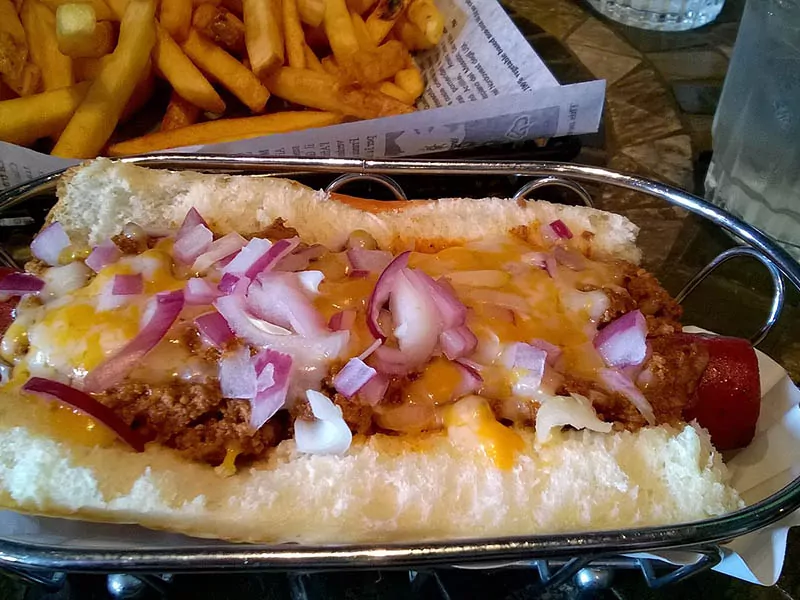 Coney Island dog features a steam bun filled with beef sausage, diced white onions, and a tasty meat sauce. It is very popular in American restaurants. People often serve it for dinner.
What is more interesting about the Coney dog is its origin. Although the same suggests that it came from Coney Island, it came from Michigan in 1917.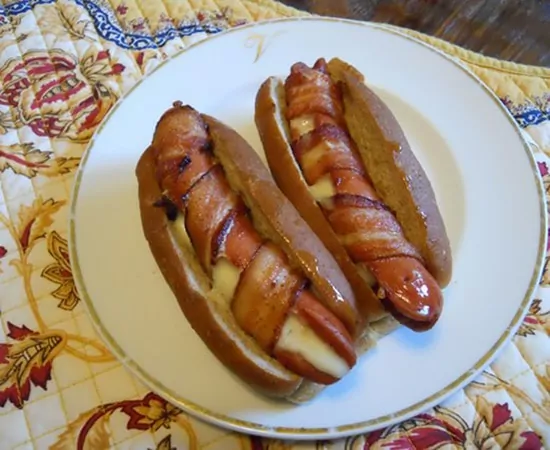 Although this hot dog has the word "Texas", it comes from Pennsylvania. It has been popular since the 1950s. To make Texas Tommy, people first split the sausage then put cheese on it. Then they wrap it with bacon and stuff it in a toasted bun.
Texas Tommy is particularly popular among women. The recipe for it is present in a lot of ladies' magazines. It is popular in Pennsylvania, New Jersey, and also Philadelphia.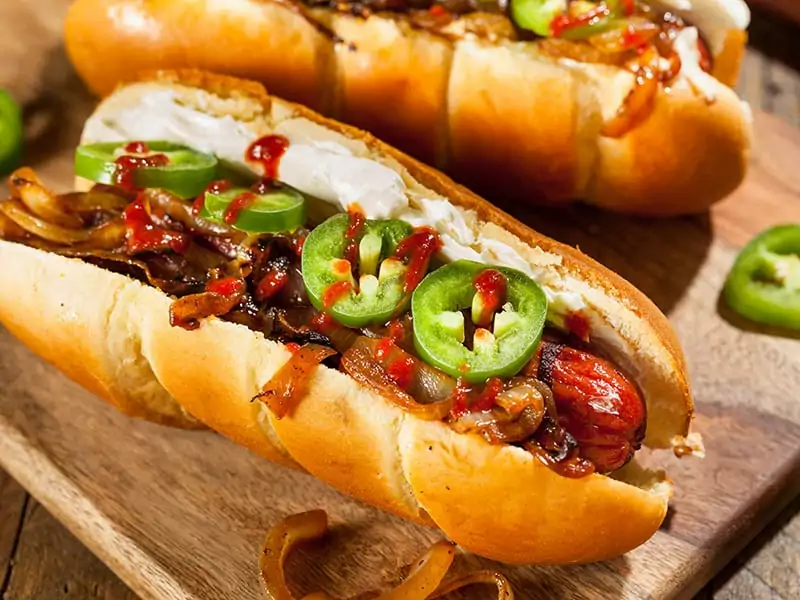 In 1988, a bagel man named Hadley Longe started to sell hot dogs consisting of bagels, sausage, and cream cheese. He sold them at Pioneer Square. Later on, this hot dog became very popular. People call it "Seattle dog" or "Seattle-style hot dog".
What makes Seattle Dogs so delicious is the cream cheese. People add it to the hot dog using pistol-grip sauce dispensers, a method invented by the owner of Dante's Inferno Dog.
The casing of the modern version of Seattle dogs is toasted buns. The toppings are also more diverse, which can include barbecue sauce, cabbage, pico de gallo, and pickles.
The sausage is cut halfway in the middle to save cooking time and make sure the noodle is cooked thoroughly. You can find Seattle Dogs in food carts, especially on late-night and game days.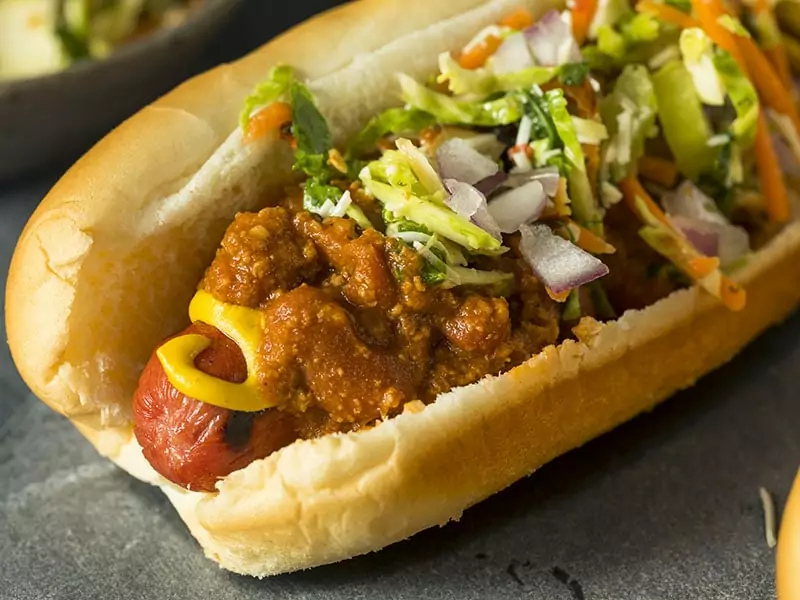 In West Virginia, people make hot dogs by grilling or steaming the sausage then topping it with slaw, onions, and chili sauce.
If you want to buy the authentic version of Slaw dog, be ready to enjoy it without common hot dog toppings like sauerkraut, pickles, and ketchup. Local people don't like to add them into Slaw dogs.
Slaw dogs originated between the 1920s and 1930s. People first sold them at the Stopette Drive-In in Charleston. Nowadays, people serve it in styrofoam containers or a sturdy paper boat.
By looking at the name, can you guess where this type of hot dog comes from? It must be native to a place where reindeer live, right? And that's Alaska. The hot dog consists of pork, beer sausage, caribou, not reindeer meat.
People split and grill the hot dog, put it in a steamed bun, then add toppings, namely cream cheese, Coca-Cola-deglazed onions, and mustard. Some versions also have relishes and ketchup. You can also find it in Portland and Denver.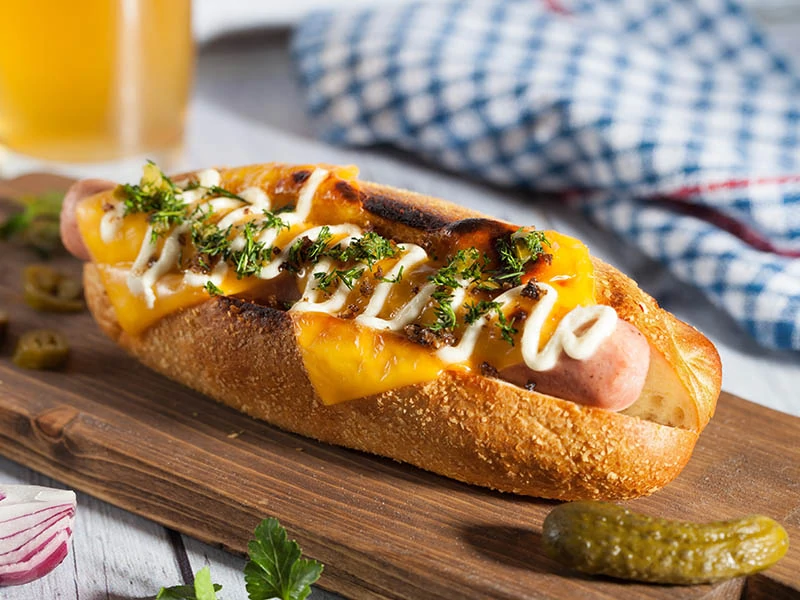 Cheese dogs is a generic name that refers to the type of hot dog with cheese or processed cheese as the main filling. Similar to other types of hot dogs presented above, this one also has a lot of variations.
A famous variation is Seattle dogs, which contains cream cheese. Texas Tommy does not just have cheese but also bacon. Reuben dogs contain Swiss cheese, corned beef, Russian dressing, and sauerkraut.
19 Delicious Types Of Hot Dog From Other Countries
If you want to diversify your culinary experience, why not try hot dogs from other countries? I bet that they are not less tasty than American hot dogs.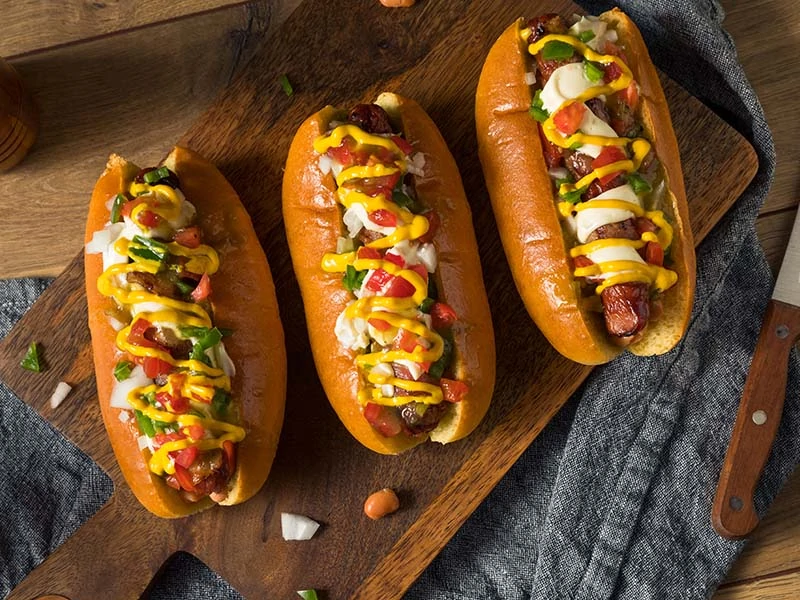 As the name suggests, this type of hot dog comes from Sorona, a Mexican state. You can find it in southern Arizona in America, such as Tucson and Phoenix. People grill a bacon-wrapped hot dog and put it in a bolillo-style hot dog bun.
The toppings often consist of onions, tomatoes, mayonnaise, and mustard. Sorana hot dogs are a very popular street food. The vendors who sell them are called "dogueros".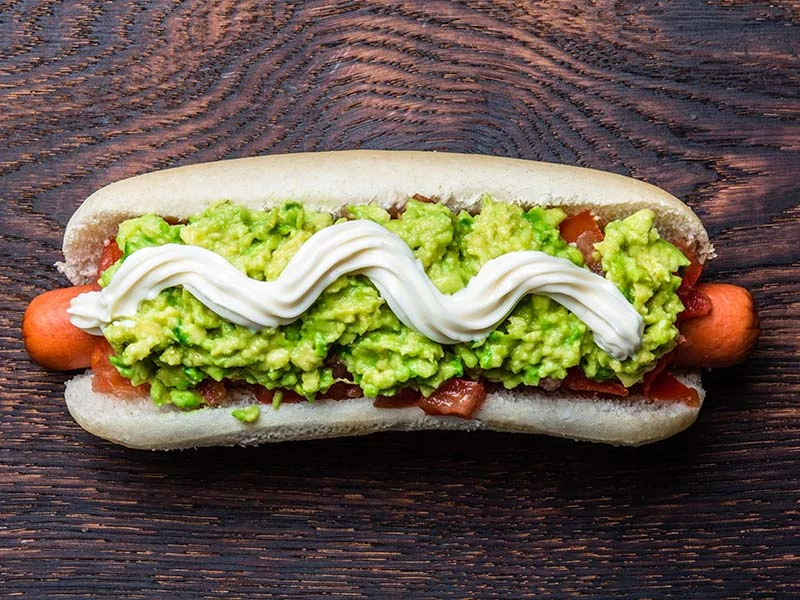 What is special about this Chilean variety is its large size. It is 2 times bigger than the standard American hot dog. People usually top it with avocados, salsa Americana, ají pepper, and green sauce.
If you can't complete Completo in one sitting, you can look for whether you can store hot dogs in the freezer to enjoy it later.
There are a lot of variations of Completo in Chile, such as Dinámico, Completo Italiano, and Completo A lo Pobre. The authentic version was created in the 1920s by Eduardo Bahamondes. He first sold it in his restaurant called "Quick Lunch Bahamondes".
People also call Completo "Original" or "Italiano". You can buy it at the fast-food stores or laid-back eateries across Chile.
After trying Completo, you will be in love with Chilean cuisine.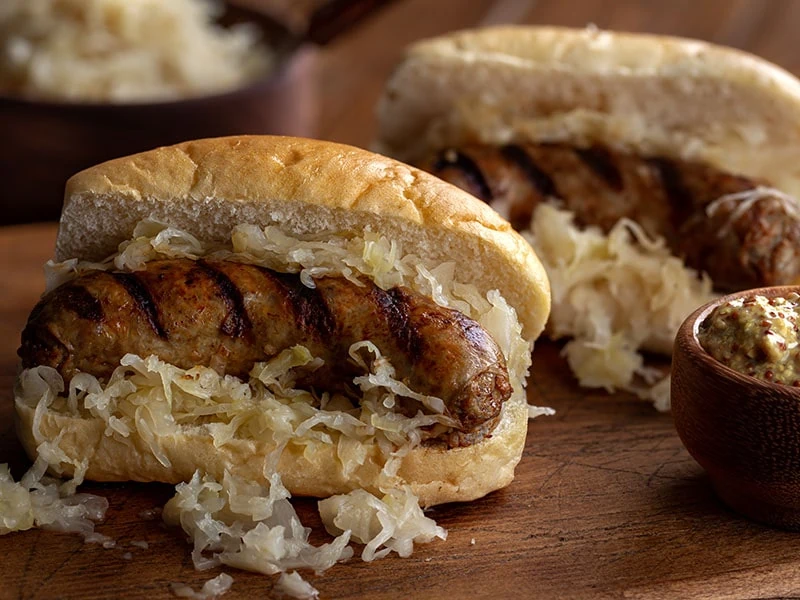 You are probably very familiar with Bratwurst if you are a real fan of German cuisine. It is a type of sausage containing meat, which can be beef, pork, or veal. The difference between common hot dog sausage and Bratwurst is that Bratwurst is fresher.
Regarding the toppings, they can be anything, depending on the cooks. Some popular ones are onion, ketchup, mustard, bell peppers, and sauerkraut. It is best to enjoy this German hot dog with a cup of beer.
Traditionally, Bratwurst is served on its own as a snack. Some people love to top it on a white bread roll and enjoy it with mustard.
It can also be a pub dish. People eat it along with potato salad, rye bread, pretzels, or sauerkraut.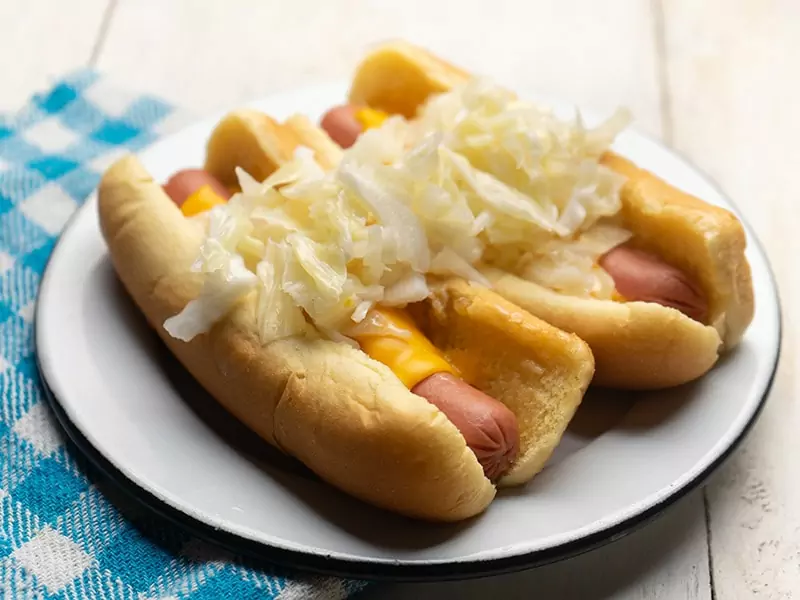 Montreal hot dogs are also called "steamies". It is a very common fast food in Quebec, especially in Montreal. It consists of sausage, plain chopped cabbage, mustard, and relish. Most of them do not have ketchup, so you have to order it separately if you want.
There are 2 versions of Montreal hot dogs. Some people steam it and call it "steamé" or "stimé". Others prefer grilling or toasting it. People call such hot dogs "toasté" or "toastie". However, the steamed version is cheaper and more common than the toasted version.
If Montreal hot dogs are full of toppings, people call them "all-dressed hot dogs". They are the tastiest version.
Although the Canadian government has banned street food for 66 years, Montreal hot dogs are still very popular all around the country. They are always available on street carts.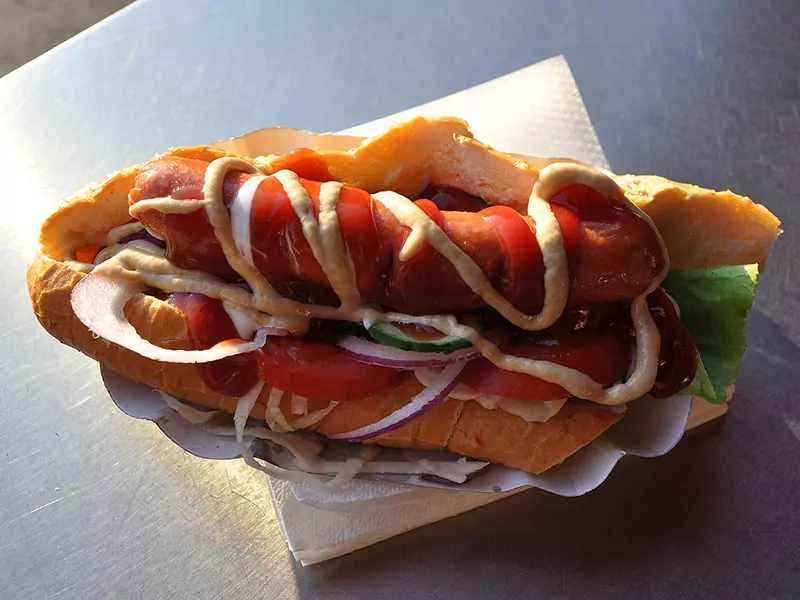 Hungarian hot dogs consist of a type of Hungarian sausage called "kolbász". It consists of smoked sausage and is flavored with paprika.
People cut it into 2 halves, then add onions, chili, and mustard on top of it. It is a delicacy of Northwestern Ohio and a famous cafe named Tony Packo's Cafe.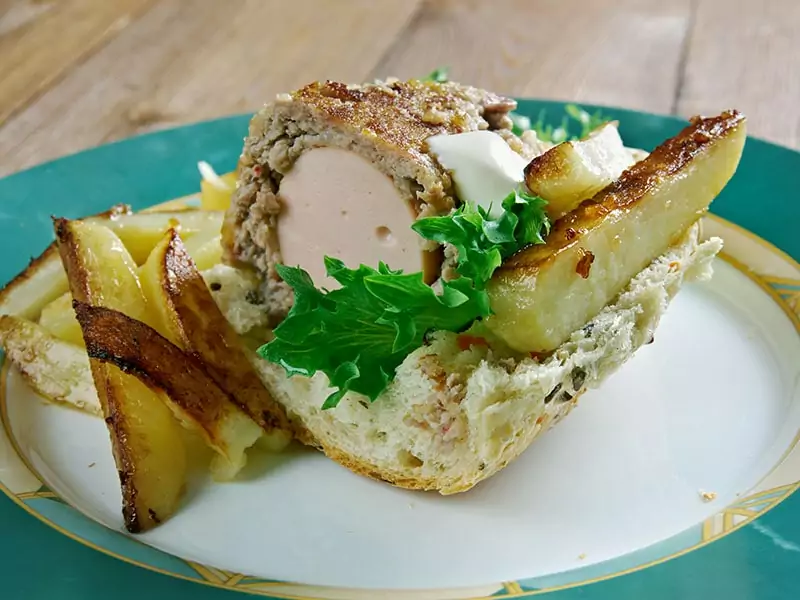 Hamdog was invented in 2004 by Mark Anthony Murray, an Australian citizen. It features a split beef patty wrapped in a bread bun and topped with onion, tomatoes, lettuce, and pickles.
In 2005, Chandler Goff created another variety of Hamdog by covering the hot dog with bacon, cheese, onion, and hamburger. Then he deep-fried everything and put a fried egg on the top.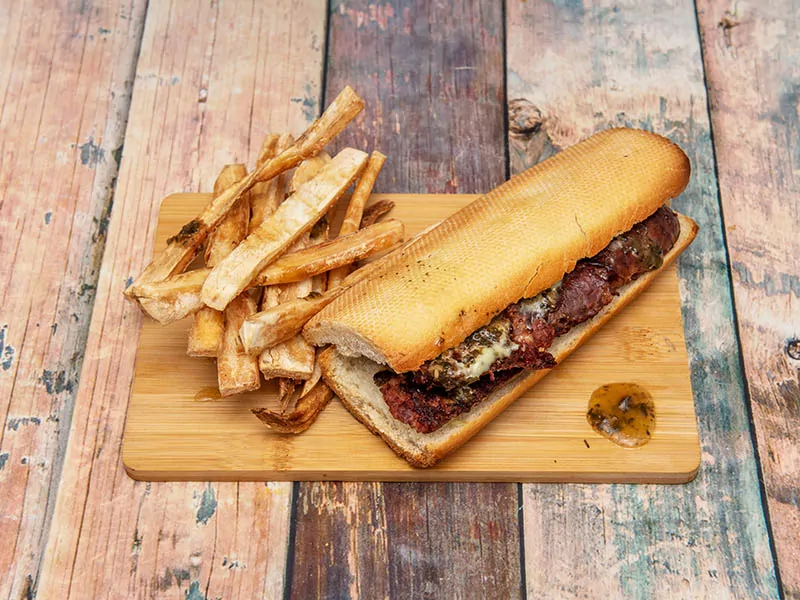 Choripán looks more like a sandwich than a hot dog. It is one of the signature foods of Argentina. Its name consists of 2 elements. The word "chorizo" means "sausage," and the word "pan" means "bread".
This hot dog consists of crusty bread rolls and sausage. The toppings vary a lot. They can be chopped tomatoes, onions, and red capsicum. People serve Choripán with a delicious sauce called "Chimichurri".
Choripán is the culinary masterpiece of Argentina.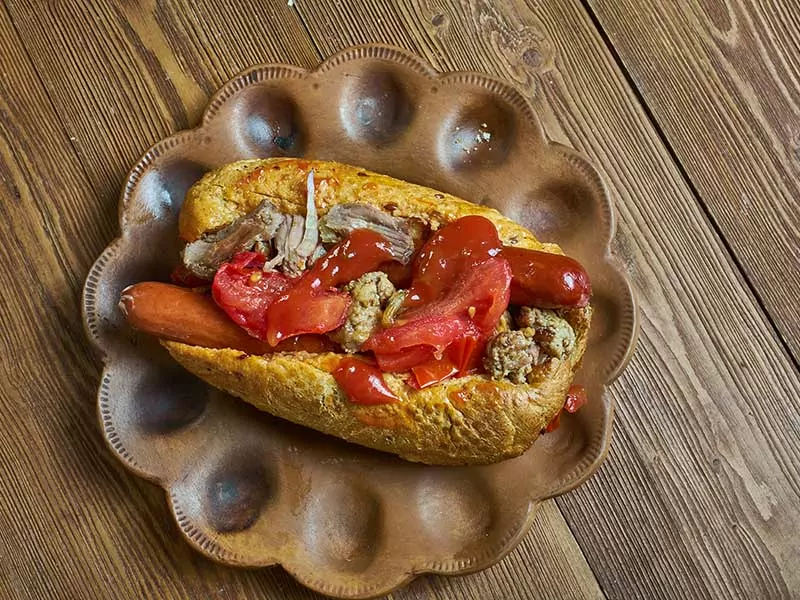 This variety originated from Sweden. And there are 2 versions. The Halv version consists of 1 sausage, and the Hel version contains 2 sausages. Interestingly, people cover it with mashed potatoes.
The toppings of this stunning hot dog usually include mustard, roasted onions, ketchup, and pickles. People often serve this hot dog with Pucko, a type of chocolate milk. Some people may choose to grill the sausage, while others prefer boiling it.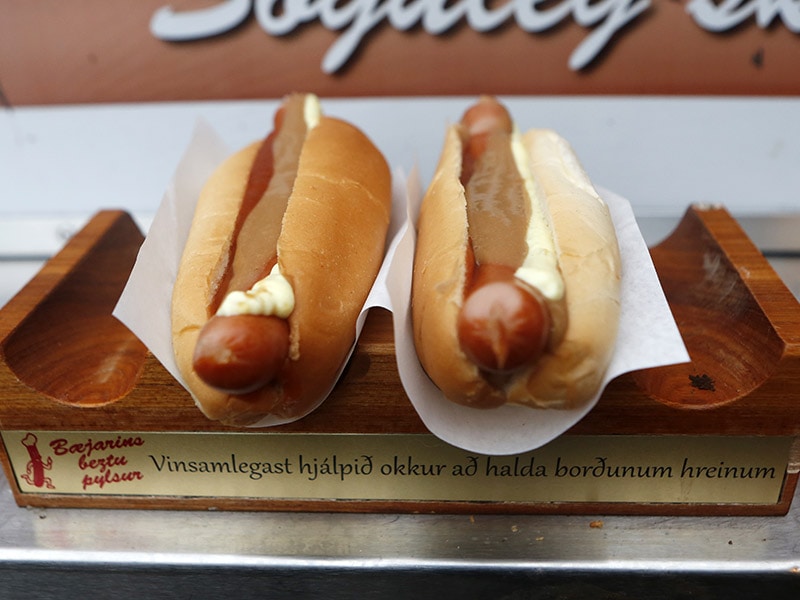 Another name for Icelandic hot dogs is "Pylsur". This delectable Icelandic delicacy first appeared at a hot dog stall called Bæjarins Beztu Pylsur. This stall has been famous for this hot dog for 60 years.
It consists of a local Icelandic sausage made from free-range lamb. The sausage is stuffed in a steamed bun and topped with ketchup, sweet brown mustard, and fried and raw onions.
If you want to try Icelandic hot dogs, I highly suggest that you order the full-topping version since it is super tasty.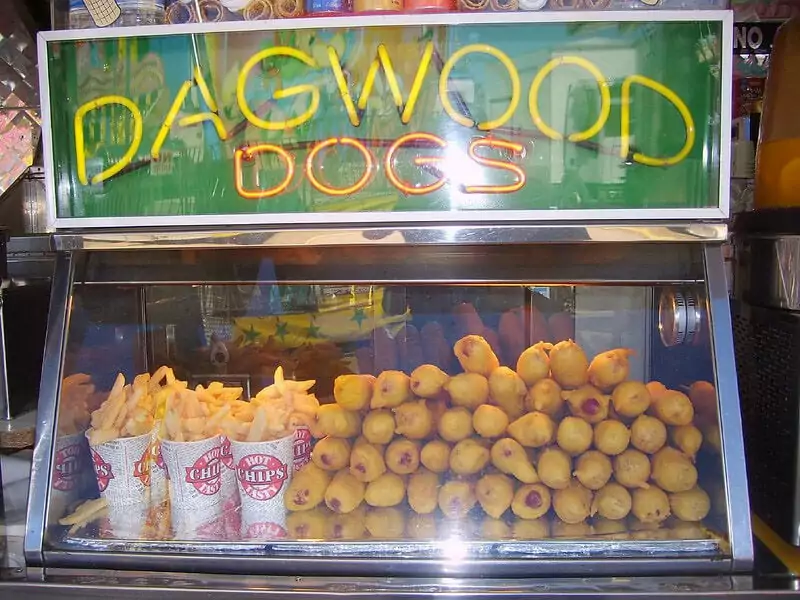 Dagwood dog is a unique Australian treat that does not consist of a hot dog bun. Instead, people hold it with a stick. People coat the hot dog with batter, deep-fry it, then cover it again with tomato sauce.
In some regions, you will hear people call it "Dippy Dog" or "Pluto Pup".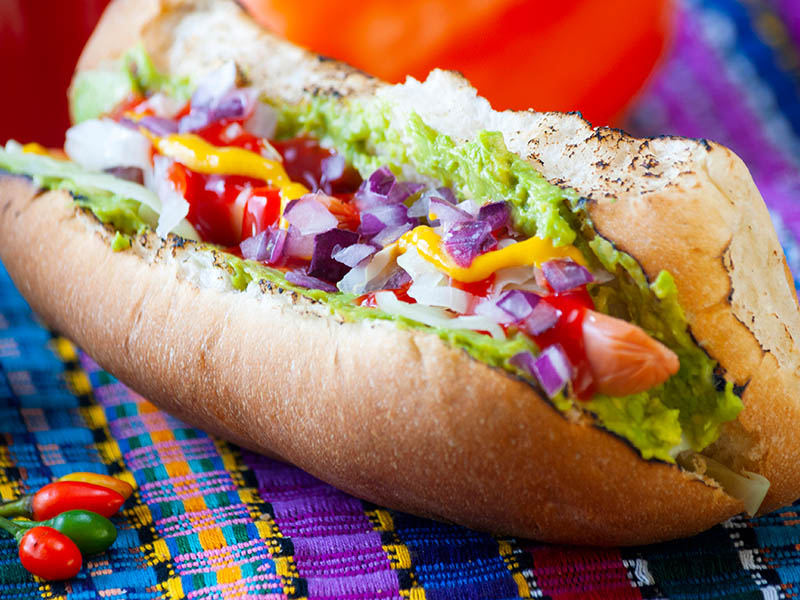 Shucos is a flavorful hot dog coming from Guatemala's charming cuisine. It is also pervasive in other Latin American countries. The English translation for its name is "dirty". But this is not because it is cooked carelessly but because it has too many toppings.
Similar to other hot dogs, Shucos consists of split bread filled with hot dogs and plenty of toppings, such as mayonnaise, mustard, hot sauce, and guacamole.
Mixtas is a cheap yet very fresh and delicious hot dog from Guatemala. It stands out among the rest because of the tortilla casing. The way people cook the hot dog and the toppings vary from region to region and from family to family.
The topping often includes common fresh vegetables such as onions, guacamole, green chiles, and diced tomatoes.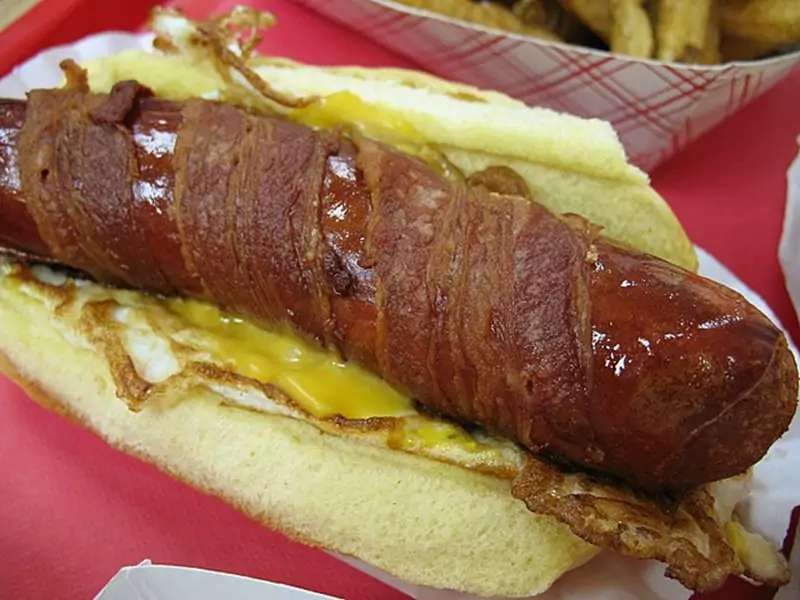 Danger dog is another type of hot dog coming from Mexico. People prepare it by wrapping a hot dog in bacon then placing it on a hot dog bun or bolillo. They serve it with many types of toppings. People call it "Danger Dog" because it is usually very cheap.
Nowadays, you can buy Danger dog restaurants, street vendors, and sporting venues in Los Angeles, New York, San Diego, and San Francisco.
Failure is impossible if you make this Danger Dog recipe.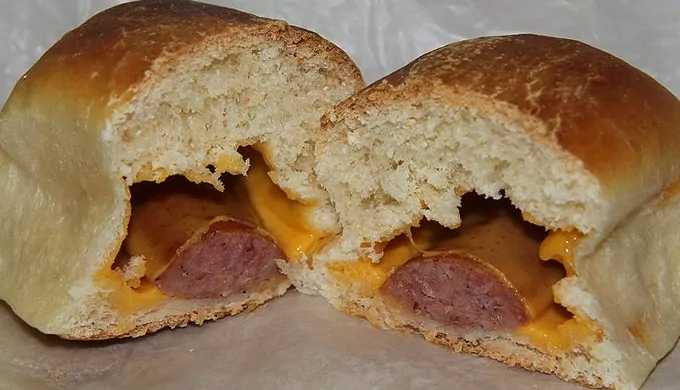 This type of hot dog is a type of finger food. It is native to Czech people who live in Texas, America. People wrap the sausage in kolache dough. Modern versions of Klobasnek have other ingredients such as cheese, ham, eggs, and peppers.
In the South of Moravian Silesia, people serve this hot dog on Easter. They also add prepared meat and klobása.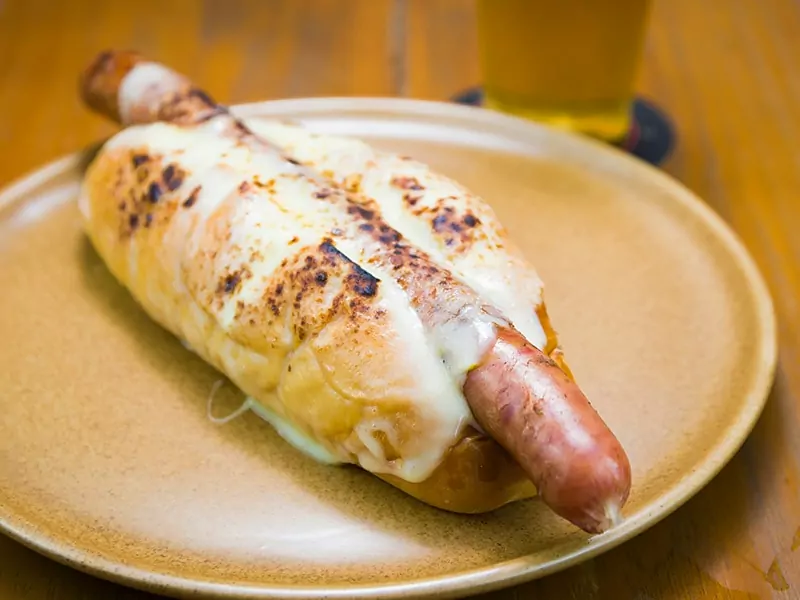 You can recognize Pancho quickly based on a very distinctive feature: the extra-long sausage. It is often longer than the hot dog bun called pan de Viena. This hot dog is a specialty of Uruguay. It is famous for the number of toppings.
When mentioning Pancho, toppings are everything to talk about. There is no established set of toppings. But they vary a lot according to region.
Most often, the toppings are onions, cheese, corn, and a mixture of ketchup and mayonnaise called "salsa golf". It is best to enjoy it alongside French fries.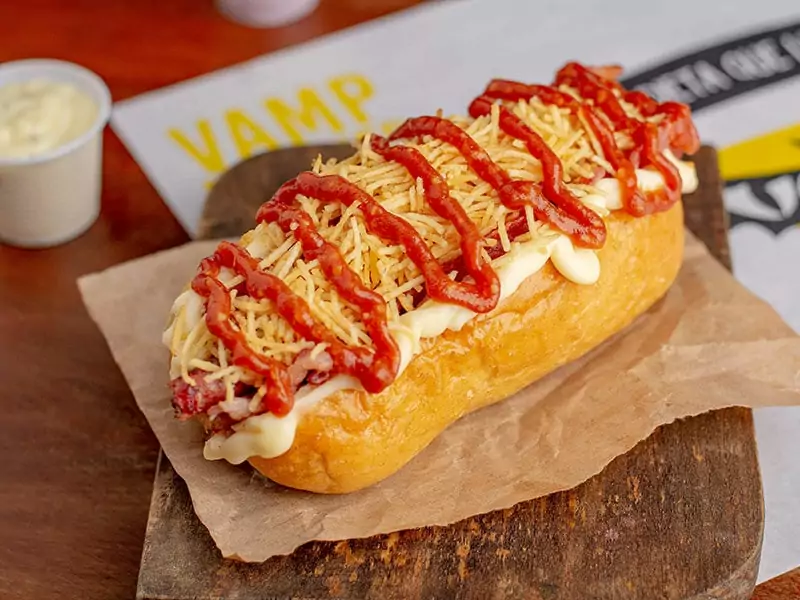 Brazilian cuisine is well-known for its fulfilling and delicious food. Their hot dog also has those characteristics.
Except for the bread roll and sausage, everything in this well-known Brazilian street treat can vary from region to region. Some popular toppings are tomato sauce, green peppers, onions, and ground beef.
Although this hot dog originated in Brazil, it has become a widely-consumed street food in Portugal. Cachorro Quente is often served with side dishes such as peas, pice de Gallo, grated carrots, potatoes, and corn.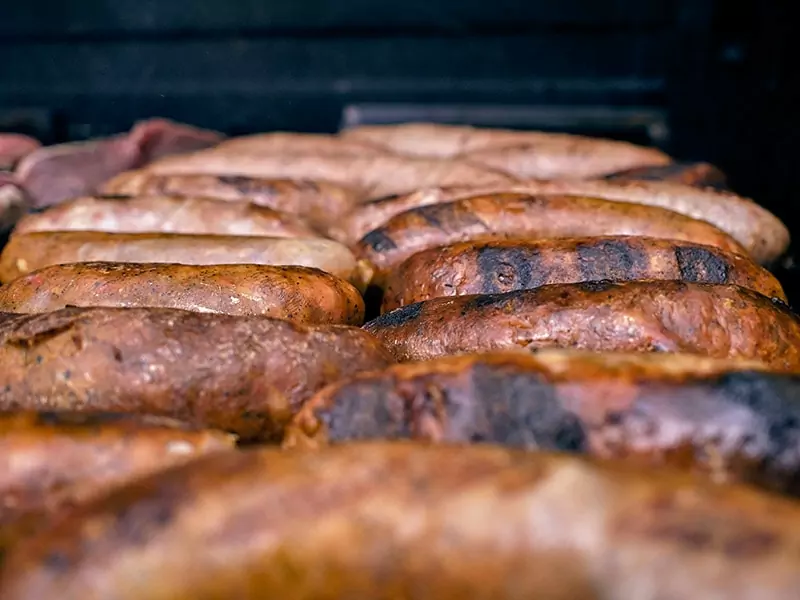 Have you ever seen any hot dog that has sweet toppings? The answer is Perro Caliente. The steamed or boiled sausage is accompanied by raspberries, pineapple, and other common savory ingredients, such as mustard, mayonnaise, crushed potato chips.
In some regions, people also add a quail's egg or lettuce. Another interesting thing about Perro Caliente is that it is quite large. After preparation, people cover the hot dog with paper. They also place it on a styrofoam boat.
If you happen to have some leftover Perro Caliente, you can store it. But you should look for whether your hot dog can be spoiled. Make sure it does not have any of these signs before you eat it.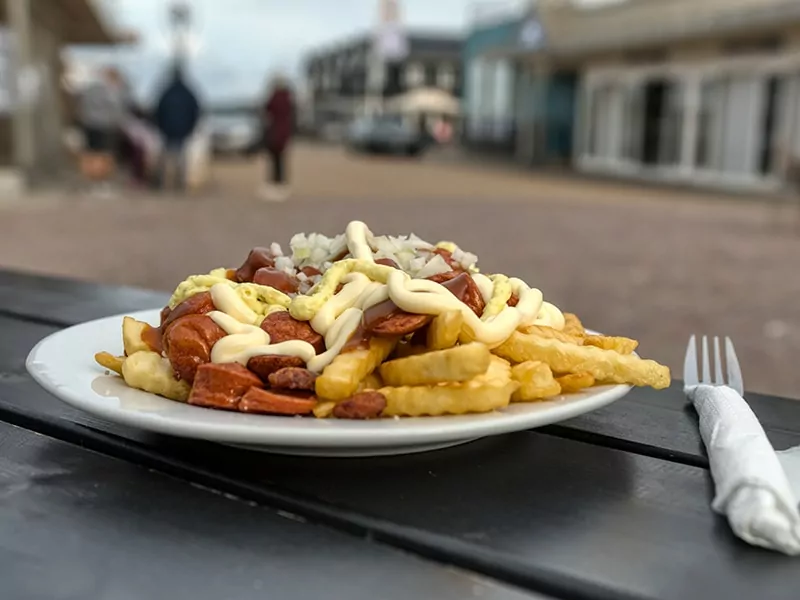 Pølse is a traditional Danish hot dog created in 1921. Danish people enjoy it as a fast-food alongside a cup of beer. It consists of a special sausage called rød pølser, which has a distinctive red color. This sausage only consists of pork.
Apart from the red sausage, Pølser also contains a hot dog bun. People flavor it with spices such as nutmeg and cardamom.
45. Párek V Rohlíku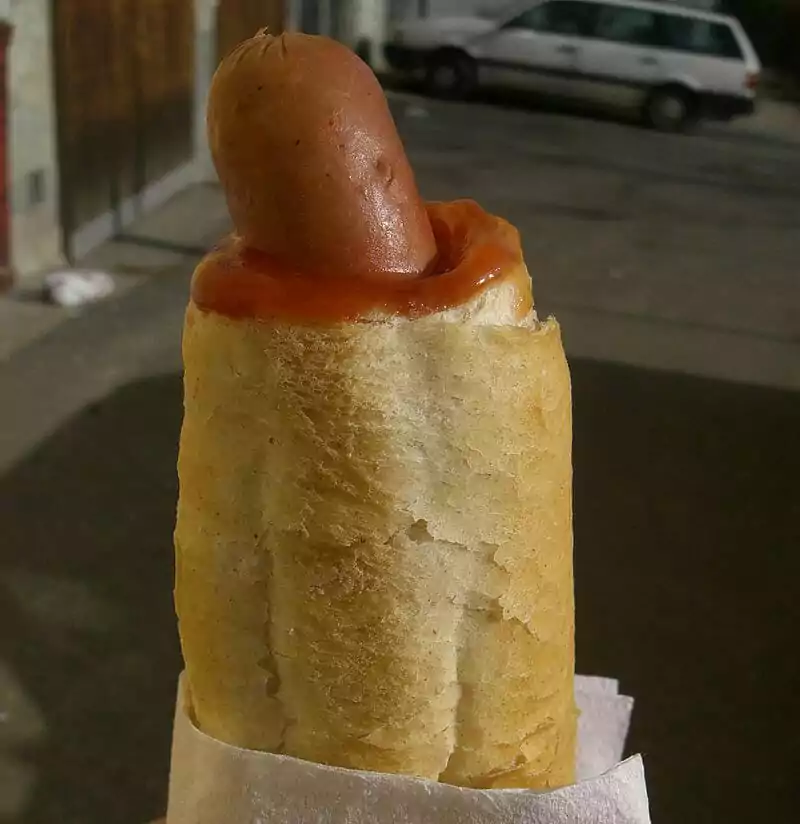 Párek V Rohlíku looks different from the common hot dogs because the long sausage is tightly covered with bread rolls. Yet this Czech delicacy is a type of hot dog.
This is one of the simplest hot dogs. People flavor the sausage with mustard or ketchup. But it is very popular among Czech people. It is available at gas stations and mobile food carts. If you want to make a quick yet delicious hot dog, I highly recommend Párek V Rohlíku.
Hot Dog Is An All-Time Favorite Fast Food
I believe that none of us can ignore the mouth-watering flavor of hot dogs. It is so flavorful, fulfilling, and delicious. But not all hot dogs are the same. You will get different flavors every time you try. Is there anything better than that?
Try as many types as you can! I bet that at least one of them will give you an unforgettable culinary experience. Don't forget to like and share this article so that more people know about these tasty hot dogs.