Different recipes have a unique answer for the question "How long to smoke hot dogs?" So it is hard to find a detailed tutorial for the exact equipment you have.
This article, however, will give you 3 guides to smoke hot dogs on 3 different equipment. So based on these instructions, you can adjust the temperature and the wait time accordingly.
By the end of this post, you will be able to cook some delicious, juicy, smoky hot dogs that leave your guests in awe. So if you are planning a BBQ party soon, follow the tutorial below and be the star of the show!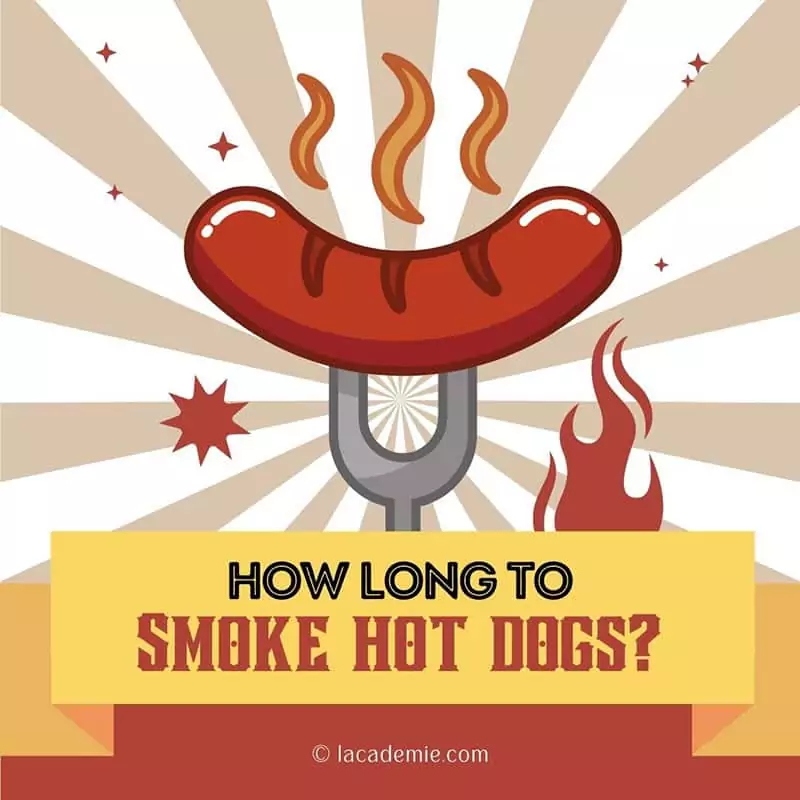 How Long Does It Take To Smoke Hot Dogs?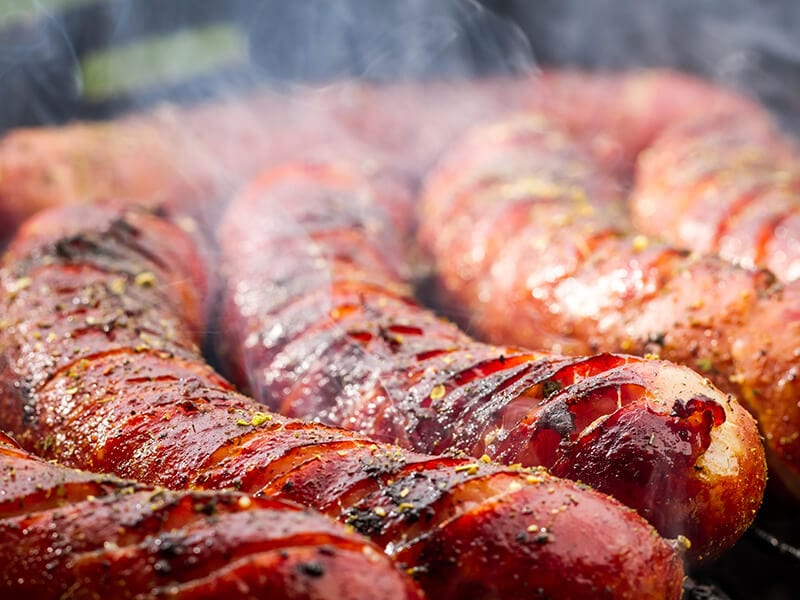 Just like how the time needed to boil hot dogs depends on the method, the required time to thoroughly smoke a hot dog varies. To be specific, it depends on the temperature and the type of grill/ smoker you use.
In general, smoking sausages demands lots of patience. The cook time can range from 45 minutes to 2 hours, but usually, 1 hour is enough to smoke them to perfection. Check out the chart below for more details:
| Method | Temperature | Estimated Time |
| --- | --- | --- |
| Smoker | 200F | 2 hours |
| Gas grill | 250F | 45-60 minutes |
| Charcoal grill | 275F | 1 hour |
Remember that the more hot dogs you put in the smoker, the longer it will take for them to reach the desired temperature. Some hot dogs also take longer to cook based on their ingredients.
Which Hot Dog Is The Best For Smoking?
While the techniques to boil hot dogs usually isn't picky with hot dog types, this is not the case for smoking methods. For smoked hot dogs, high-quality beef hot dogs are the best options for you. Here are some examples of what you should get (alphabetical order):
Applegate Natural Uncured Beef
Ball Park Franks
Grimm's Sizzlin Smokies
Hebrew National Beef Franks
Kirkland Signature Beef Hot Dogs
Oscar Mayer Classic Beef Franks
Remember that high-quality hot dogs will make high-quality meals. Try to find sausages that contain little to no fillers, MSG, or artificial flavors so your hot dogs can be tasty and healthy at the same time.
On the other hand, despite my apparent preference for beef hot dogs, I can't deny the fact that smoked pork, turkey, chicken, or vegan sausages are delicious as well. So if you can, try them all out to see which types of hot dogs suit you the most.
Still confused about which one you should choose? This can help you out!
How To Prepare Hot Dogs Before Smoking
Before you start cooking your hot dogs, there are several things you must do. They are pretty essential, so do not skip them.
1. Make Sure That They Are Not Frozen
If you are working with frozen hot dogs, you must be sure that they are fully thawed before smoking. There are 3 foolproof ways to defrost hot dogs that you can use, but I highly recommend the "refrigerator method".
All you have to do is let them sit in the refrigerator and allow them to thaw slowly. This will take about 24 hours.
If you don't have 24 hours to thaw your hot dogs, you can give them a spin in the microwave. How long should you microwave hot dogs for? It's hard to be specific since the size of your hot dogs can influence the cooking time.
Needless to say, this method is much faster than the refrigerator one. So if you are in a hurry, this will be the most suitable one.
2. Season Them With Some Dry Rub
Now that your hot dogs are at room temperature, pour some dry rub seasoning on the hot dogs and spread it out evenly. Be as thorough as you can. Try to cover every corner of the hot dogs with the seasoning.
3 Ultimate Guide To Smoke Hot Dogs Like A Pro
Once your hot dogs are fully thawed and well seasoned, it is time to smoke some hot dogs! However, smoking is not as simple as what's needed to make hot dogs in toaster ovens. This section shall show you how to cook hot dogs using a smoker, a gas grill, or a charcoal grill.
Each method has a different ideal temperature and cooking time, so be sure to read the instructions carefully before cooking the hot dogs.
1. Using A Smoker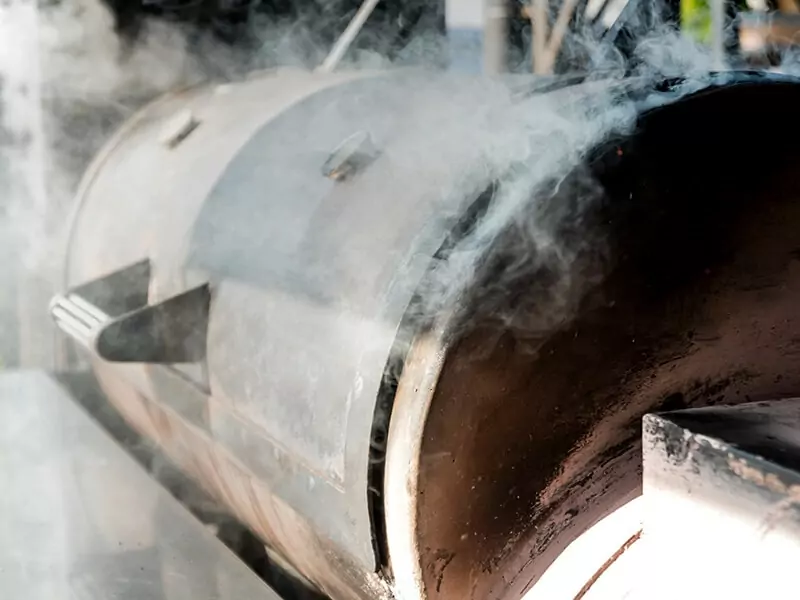 An electric or charcoal smoker is an obvious choice for beginner or master backyard smokers. This method will take 2 hours to cook your hot dogs thoroughly.
Step 1: Prepare Your Wood Chips
Soak your wood chips in a container with water for 30 minutes before smoking. You can use any type you want, depending on the flavor you want your sausages to have.
If you like an earthy flavor, use hickory. For a subtle nutty flavor, choose pecan or walnut. You can also pick apple or cherry wood if you prefer a light sweet taste (1).
Step 2: Prepare Your Smoker
If you are using an electric smoker, heat it to 200°F using the controls on the smoker.
If you have a charcoal smoker, place coals in a chimney and let them sit for 15 minutes. Then put more charcoal at the bottom of the machine. Check the temperature using a thermometer to see if it reaches 200°F.
Step 3: Add The Wood Chips
Dry your wood chips and place them in the chip tray. Or you can scatter them on the charcoal if your smoker doesn't have a chip tray.
Step 4: Place The Hot Dogs In
Place a layer of hot dogs on a rack. Remember to keep them separate so they can be evenly smoked. Place the rack into the smoker and close the door. Avoid opening the door during this time to trap the heat in the smoker.
Meanwhile, open the damper to release some of the smoke. This will also allow ventilation so the charcoal can stay lit.
Step 5: Let Them Smoke
And here comes the sweet torture, let it smoke for 2 hours. Afterward, open the door and check them. If they turn golden brown and crispy, they are done and ready to be served.
If you want to be more accurate, use a meat thermometer and check their internal temperature. The safe internal temperature for meat is around 165°F (2).
If you have an electric smoker, here's a lively demonstration of how to smoke hot dogs on it!
2. Using A Gas Grill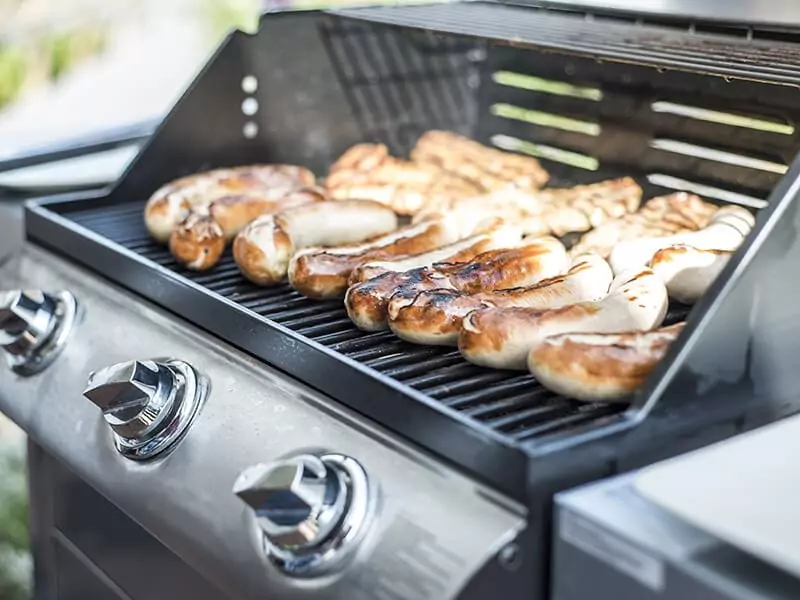 If you don't have a smoker, use your gas grill instead. This method is equally effective and less time-consuming (only 45-60 minutes).
Step 1: Prepare Your Grill
Turn on the burner on one side of the grill and close the lid. In the end, you want your grill to reach the temperature of 250°F.
Step 2: Prepare Your Wood Chips
Place some dampened wood chips in a disposable baking tray and place them over the burner. Or you can wrap the chips in foil and poke holes on top.
Step 3: Place The Hot Dogs In
Lay your hot dogs on the other side of your grill and close the lid. Remember to keep them separate (about 1" apart) so the smoke can evenly spread on all sides.
While you cook the hot dogs, make sure that the damper is partially open to release some of the smoke.
Step 4: Let Them Smoke
This method will take 45-60 minutes for hot dogs to be cooked through. Check the internal temperature using a meat thermometer to see if the inside reaches 165°F. Afterward, put them on some hot dog buns and serve them hot.
3. Using A Charcoal Grill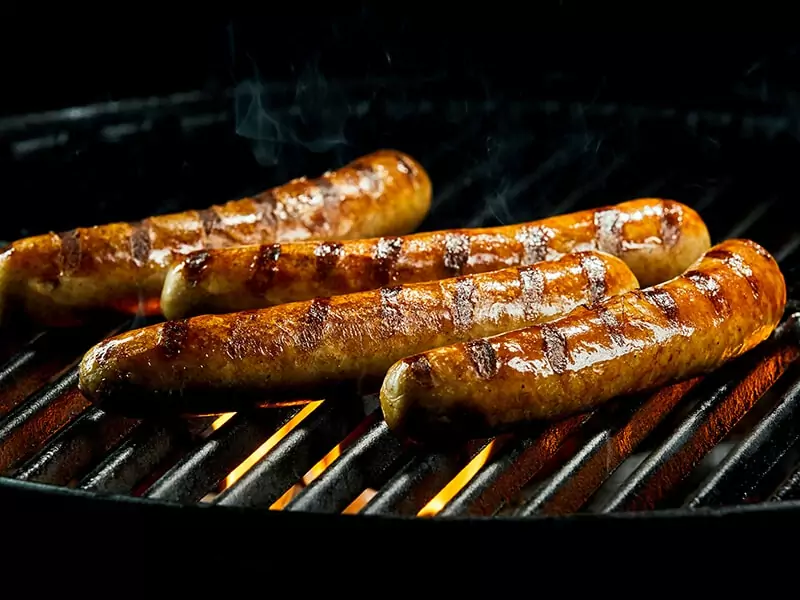 Your charcoal grill can also smoke your hot dogs to perfection. They just need to sit in the grill for 1 hour, and they are good to go! These will be so good that you'll save some just to make new, delectable dishes with the leftover hot dogs. So prepare, these are very addicting.
Step 1: Add A Tray Of Water
Fill a disposable baking tray with half a liter of warm water. Place it on a side at the bottom of the grill to make room for the coals.
Step 2: Prepare The Grill
Heat your coals in a chimney for 15 minutes and place them next to the water tray. Then preheat the grill to 275°F.
Step 3: Add Your Wood Chips
Meanwhile, soak your wood chips for 30 minutes and drain them. Then, sprinkle them on the hot coals.
Like before, choose the wood chips types according to the flavor you want your hot dogs to have.
Step 4: Place The Hot Dogs In
Place the hot dogs on the grill, leaving a 1" space between them. I recommend putting them over the tray of water to avoid direct heat. Then close the lid and partially open the damper vents to provide ventilation.
Some said you should poke holes in the hot dogs to avoid splitting. However, I hardly ever experience bursting when smoking hot dogs. If you want to do it, sure, but I find this step excessive.
Step 5: Let Them Smoke
Allow them to sit undisturbed in the grill. After 1 hour or so, check their internal temperature using a thermometer (~165°F). You can also tell when they are done by looking at the color and the heat.
Note: If you want to enjoy your sausages with hot dog buns, wrap the buns in aluminum foil and place them on the upper rack of the grill. Let it sit for a few minutes, and done! This is how you can get chewy steamed buns.
How To Preserve Smoked Hot Dogs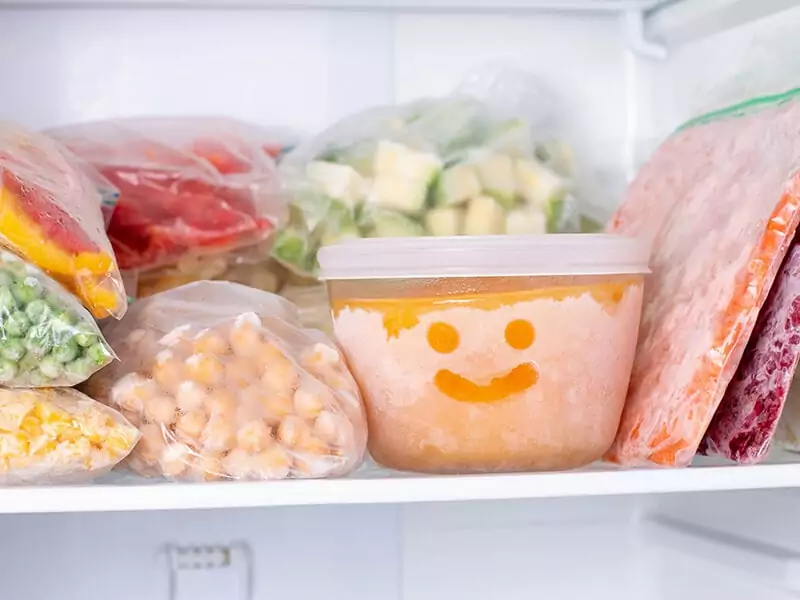 If you wonder whether hot dogs go bad, the answer might surprise you. Most people might think hot dogs can last for a very long time, or even forever. But that is simply not true!
Once you let hot dogs sit at room temperature for over 2 hours, they will begin to spoil. So if you have leftovers from your cookout, remember to put them in an airtight container or freezer bag and place them in the fridge.
But if you want to keep them longer, is it possible to freeze the hot dogs? Well, freezing hot dogs is not as easy as you think, especially cooked ones.
There are several things you must prepare before placing them in the freezer. However, if you do it right, smoked hot dogs will last up to 3 months in the freezer.
Another concern you might have is probably whether it is possible to refreeze hot dogs. To be completely honest, this matter is much more complicated, thus requiring a complex answer. So it's better that you avoid putting yourself in such situations where you need to refreeze hot dogs.
What Condiments Work Best On Hot Dogs?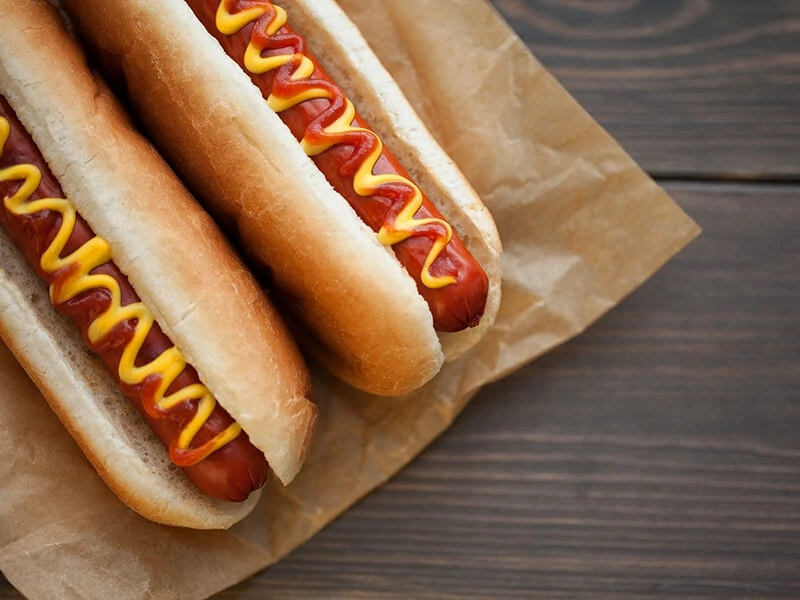 Nothing beats the taste of smoked hot dogs. But you can make them even more mouth-watering by adding the right condiments. Here are a few common examples:
Ketchup and yellow mustard (a classic)
Relish
Sauerkraut
Cheese sauce
Hot sauce
Mayo (why not!)
3 Awesome Tips To Elevate Your Hot Dogs
And that's not all! Just as hot dogs come in various kinds, there are just as many ways that you can do to make your hot dogs more exciting and enjoyable. Don't worry, these tips are suitable for all recipes. Keep reading to see how:
1. Spiral Slice Your Hot Dogs
Before you season the hot dogs, try spiral slicing the hot dogs to make them extra crispy and flavorful.
Place a hot dog on a chopping board and position your knife at a 45° angle toward one end of the hot dog. Then, as the hot dog rolls forward, run your knife in a spiral pattern from one end to the other. Be gentle to avoid cutting the hot dog all the way.
Note: You can push a thin skewer through the hot dogs to add support.
2. Wrap Them With Bacon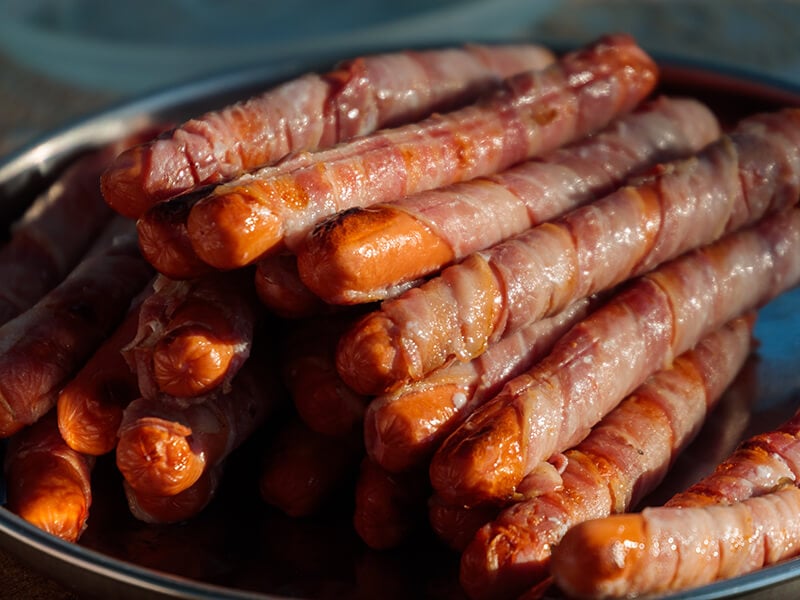 Bacon AND hot dogs, what's not to like? Just grab 1 bacon, stretch it out a bit and place it on a plate or chopping board. Place a hot dog at 1 end of the bacon and slowly roll it up. You can leave the tips of the hot dogs sticking out to make them look nicer.
Then smoke them the same way. The fat from the bacon will add so much flavor to your hot dogs, making them taste even more incredible.
Need more instructions on spiral sliced and bacon-wrapped hot dogs? Check this out!
3. Be Creative With Your Toppings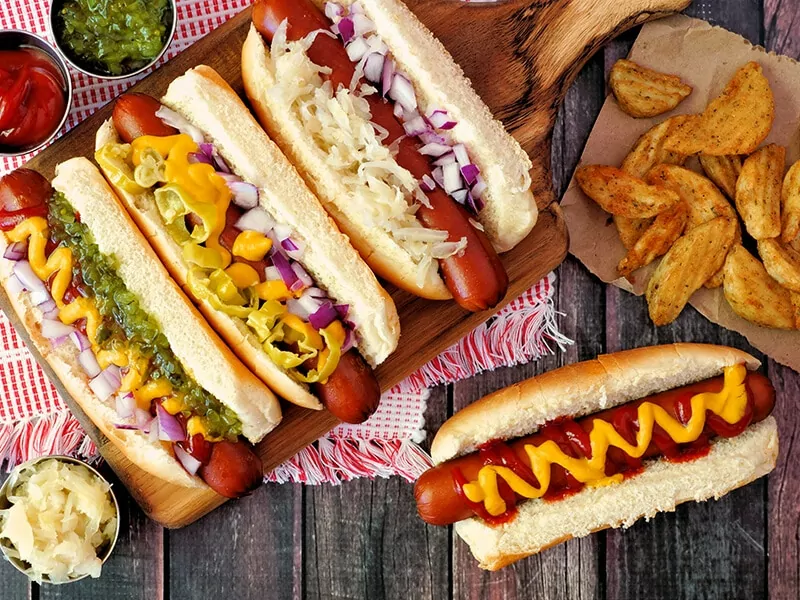 If you want to impress your guests further, be adventurous and try out these 10 combinations for some fun and oddly satisfying hot dogs:
Avocado and bacon bits
Sauerkraut and brown mustard
Chili and coleslaw
Gravy and fries
Baked beans and chips
Pickles, tomatoes, and onion
Sautéed mushrooms and caramelized onions
BBQ sauce and onion rings
Chili, cheese, and potato chips
Mac & cheese and bacon
FAQs
Take a look at these frequently asked questions below to learn more information about smoking hot dogs. If you have further concerns, feel free to leave your thoughts in the comment section.
Now, Enjoy Your Perfectly Smoked Hot Dogs!
Unlike boiling, frying, or broiling, smoking hot dogs demands lots of patience and attention. But is it worth it? Absolutely! The flavor and texture of smoked hot dogs are out of this world. It is truly a must at any summer BBQ party.
I hope that all the tips and tricks I shared can give you some helpful knowledge on how to use a smoker or smoke hot dogs properly. What are your thoughts about this article? Let me know in the comment section down below.
Remember to give this post a like and share it with your friends, family, or guests at the next BBQ gathering! Take care and have a great day!
Nutrition Facts
10 servings per container
---
Amount Per ServingCalories222
% Daily Value *
Total Fat 17.2g

27

%
Sodium 469mg

20

%
Potassium 42mg

2

%
Total Carbohydrate 2.6g

1

%

Dietary Fiber 0.6g

0

%
Sugars 1.3g
---
* The % Daily Value tells you how much a nutrient in a serving of food contributes to a daily diet. 2,000 calories a day is used for general nutrition advice.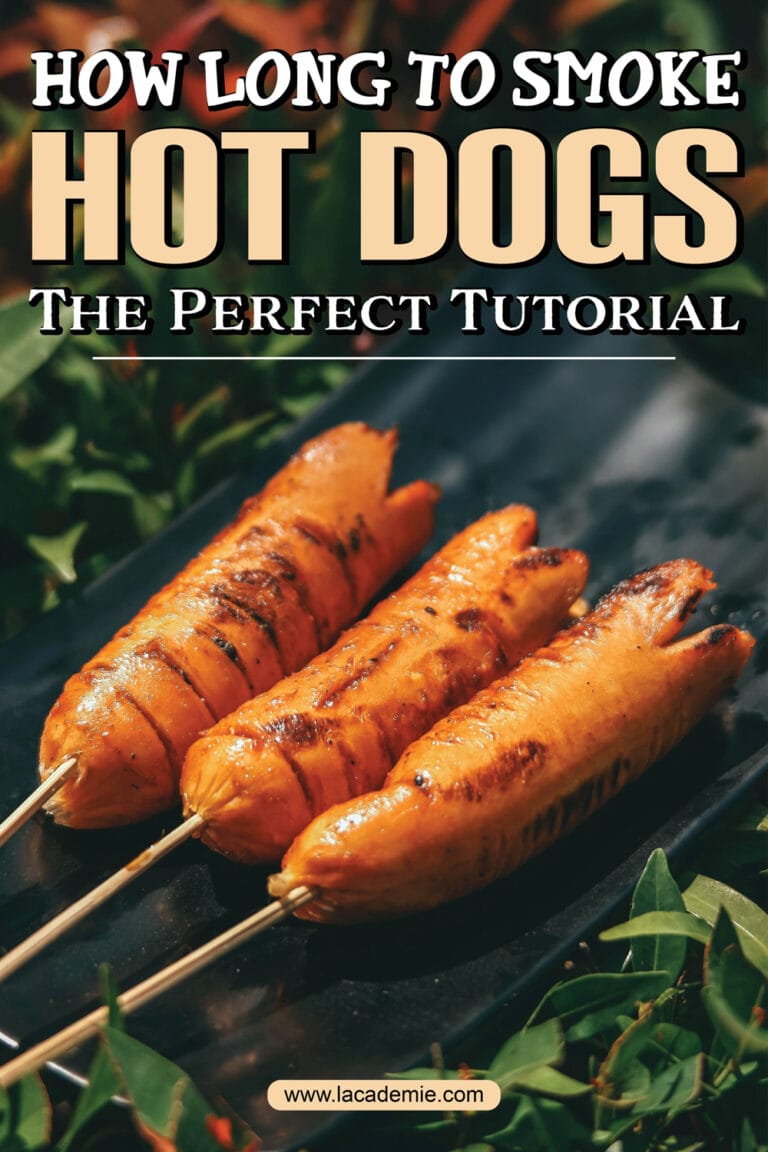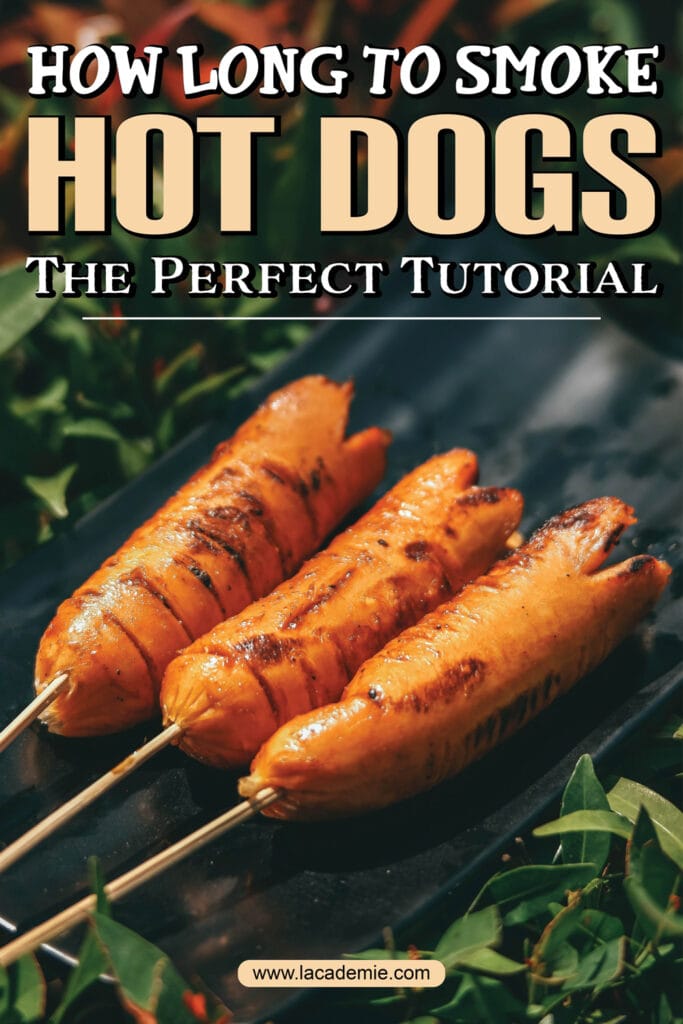 Reference
Burd, C., 2015. All About Wood!!! Burd BBQ.
Foodsafety.gov, 2019. Safe Minimum Cooking Temperatures Chart.