So, can you refreeze hot dogs? Besides that question, there are more important ones that need to be asked, like "Should you refreeze hot dogs?" or "How can you refreeze hot dogs?". Oh, you're about to find out.
After reading this article, you will have all the information you need about refreezing hot dogs. So don't waste another second, roll up your sleeves and let's get to work!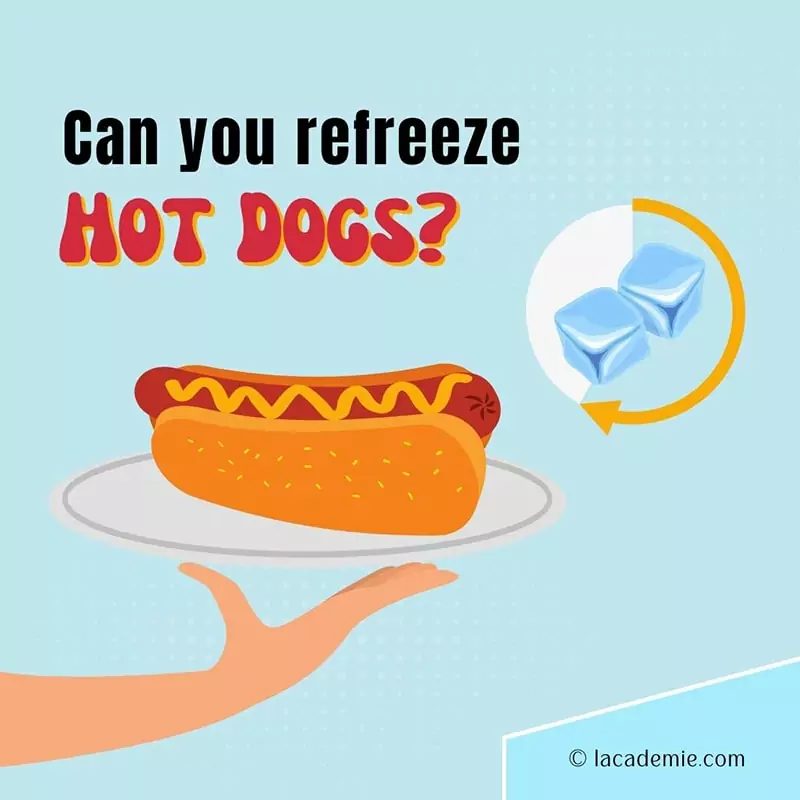 Is It Safe To Refreeze Hot Dogs?
To answer your answer, yes, it is possible to refreeze hot dogs, as long as you follow the safety guidelines. Lots of people believe that refrozen food is hazardous. But that is just a debunked myth.
According to the Freezing and Food Safety of the USDA, it is okay to refreeze processed food items like sausages as long as they are not kept at room temperature for more than 2 hours (or 1 hour if the temperature is above 90°F) (1).
However, keep in mind that frozen hot dogs, especially refrozen hot dogs, won't last forever in the freezer. For your own safety, you should consume them all within the first 2 months (2).
Safety Guides On Refreezing Hot Dogs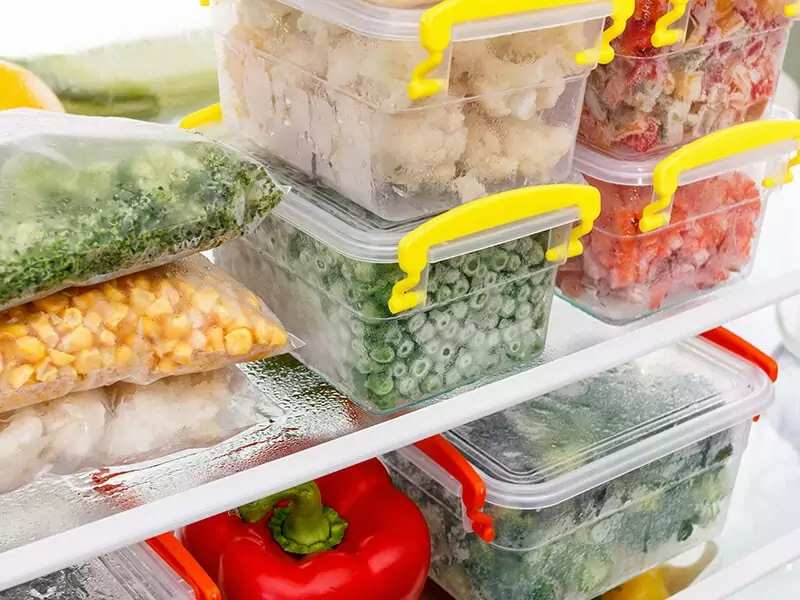 It seems that storing meat is not a no-brainer issue. During my years, I've been asked questions like "Should I freeze ham?", "Can hot dogs be refrozen?", "Is it wise to freeze steaks?", so on and so forth. While you can refreeze hot dogs, it's more complicated than you think.
Before learning the best method to refreeze hot dogs, you should know a thing or two about food safety. Not all hot dogs can be refrozen, so if your hot dogs fall into the categories below, you should try to cook and eat them all. Do NOT put them in the freezer!
1. Do Not Refreeze Hot Dogs More Than Once
You can only refreeze hot dogs once. Excessive thawing and freezing will make the hot dogs contaminated with molds and germs, making you feel sick. Plus, the flavor, smell, and overall quality of the hot dogs will drop significantly.
2. Only Refreeze Hot Dogs Thawed In The Fridge
Additionally, you should only refreeze food that has been thawed in the refrigerator. Food thawed in the water, in the microwave, or kept at room temperature for too long is unfit for consumption. Storing hot dogs in the refrigerator for more than 2 days is also unsuitable.
3. Do Not Refreeze Spoiled Hot Dogs
The USDA clearly stated that it is only suitable to refreeze processed food when it doesn't show deterioration signs. So if your hot dogs become mushy or have an odd smell, discard them immediately.
The Best Way To Refreeze Hot Dogs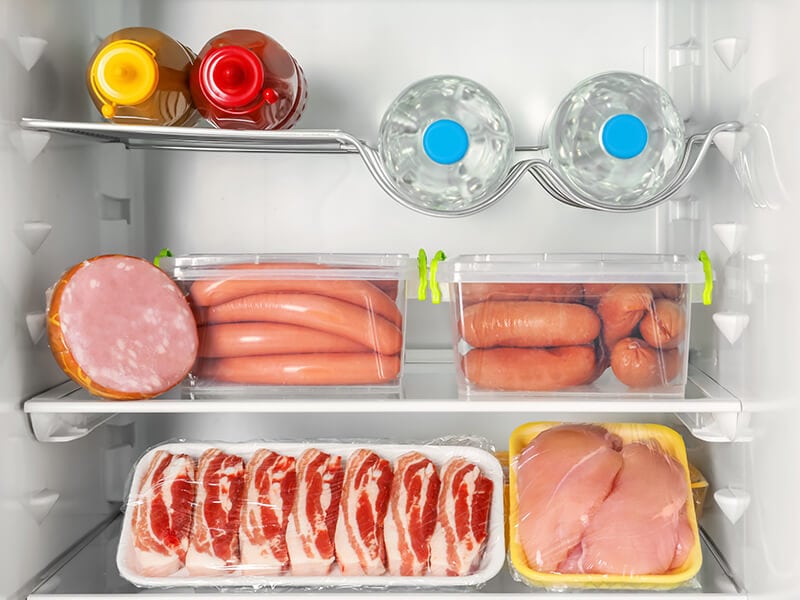 If you are looking for ways to refreeze hot dogs, you must already know whether it is possible to freeze hot dogs. But are you sure that you know the correct method to refreeze hot dogs? Let's find out!
What You Need To Get
Hot dogs (obviously)
Wax Paper
Sealable Freezer Bag/ Container
Sharpie
What You Need To Do
Got everything you need? Excellent! Now take a look at the step-by-step tutorial below and freeze those hot dogs. The likelihood of hot dogs getting spoiled is directly influenced by how well you store the hot dogs, so be sure to follow the steps below as closely as possible.
Step 1: Divide The Sausages Into Portions
Now that you know that you can't refreeze hot dogs a second time, you'll have to be more cautious. So this time, you should divide the hot dogs into portions, depending on how you plan to cook them afterward.
Freezing them in portions will make thawing easier and less time-consuming, saving you a lot of trouble during the cooking process.
Step 2: Put It In A Freezer Bag/ Container
If you are using a freezer bag, cut a piece of wax paper and line your bag with it. If you don't have wax papers, consider opting for some great wax paper alternatives. Put 3 or 4 hot dogs into the bag and seal it. Make sure to push all the air out while you seal it to avoid freezer burn.
If you use a container specifically designed to be freezer-safe, put 3 to 4 sausages in and separate them with wax paper. You may also wrap each of them in wax paper and place them in a container. Then close the lid tightly.
Step 3: Write The Date Down
Grab a sharpie and write down the date on the container or freezer bag. If you are refreezing the hot dogs in the same bag/ container you used to freeze them the first time, remember to wipe the old date beforehand.
Step 4: Freeze!
Place the hot dogs in the freezer, and that's all there is to it! Remember that refrozen hot dogs won't last as long as freshly frozen ones, so be sure to eat them all as soon as possible.
Not sure what dishes you can cook with leftover hot dogs? Worry not, there are plenty of dishes that you can try your hand at, from hearty casserole to exquisite Italian spaghetti.
For better instruction on storing hot dogs in the freezer, check this out!
The Most Suitable Method To Thaw Hot Dogs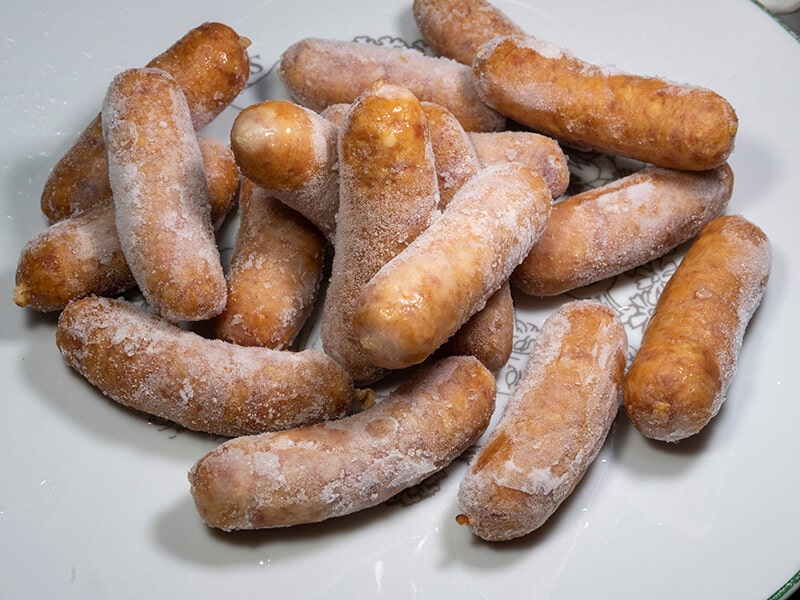 You may wonder, "What's the best way to thaw hot dogs?". If you plan on refreezing your hot dogs, the most recommended way is to use the refrigerator. Follow the tutorial below and try it out:
What You Need To Get
Frozen hot dogs
A shallow dish
Saran wrap
What You Need To Do
Now that you have all the required materials, read the steps below carefully before thawing them.
Step 1: Line Them Up
If you are dealing with opened hot dogs, remove all the wax papers (if any) and line them up on a shallow dish. The dish will catch runoffs from the frozen hot dogs and prevent them from contaminating your fridge.
If you want to thaw a whole package of hot dogs, just put the pack directly on the dish—no need to open it.
Step 2: Cover Them
Wrap the dish with some saran wraps, or use any other methods you prefer to cover the dish. If your hot dogs are still in a package, feel free to skip this step.
Step 3: Put Them In The Fridge
Leave the dish undisturbed on the bottom shelf and wait for it to thaw. It takes about 24 hours to thaw them completely. Fully thawed hot dogs are cool and flexible; you can check by touching them with your fingers before cooking them.
Note: Refrozen hot dogs can last 1-2 days in the fridge. But if you can cook them immediately after they have been thawed, that's even better.
Bonus Tips: How To Cook Frozen Hot Dogs
Yes, it's true that you can safely refreeze hot dogs. But cooking and eating them all once they have been thawed is still the best option.
You can cook the hot dogs however you want after defrosting them. But if you don't want to waste time waiting, here are some cooking tutorials for fully frozen sausages:
1. Using The Stove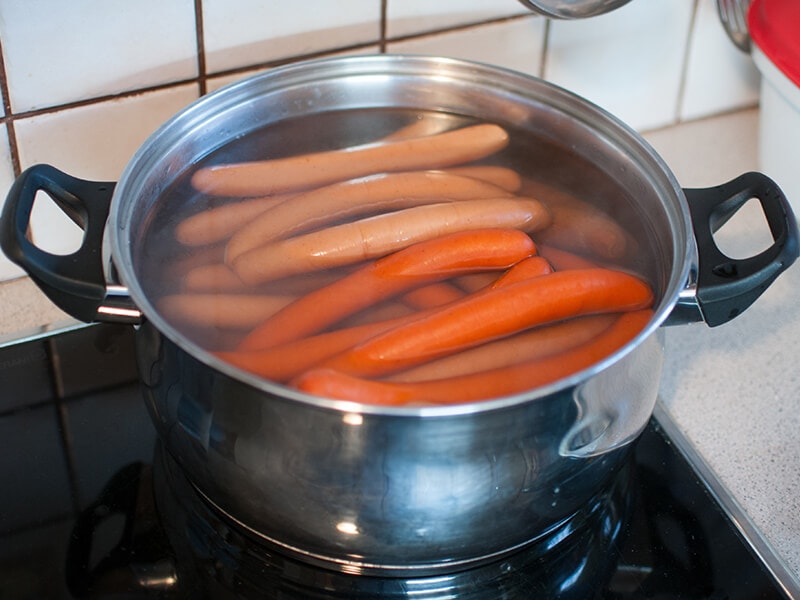 Boiling is perhaps the easiest to cook hot dogs. Just pour some water into a pot and turn on the stove. Put the hot dogs in as the water begins to boil and wait.
Does it take long to boil a sausage? Each recipe has a different wait time, depending on the heat of the stove or the thickness of the sausages.
In this case, they will need 8 minutes on a stove (high heat), and they are ready to be eaten. During this time, you can steam hot dog buns. The technique required to steam hot dog buns is quite easy, and it allows you to hot, fluffy buns to complete your perfect hot dogs.
2. Using The Oven/ Toaster Oven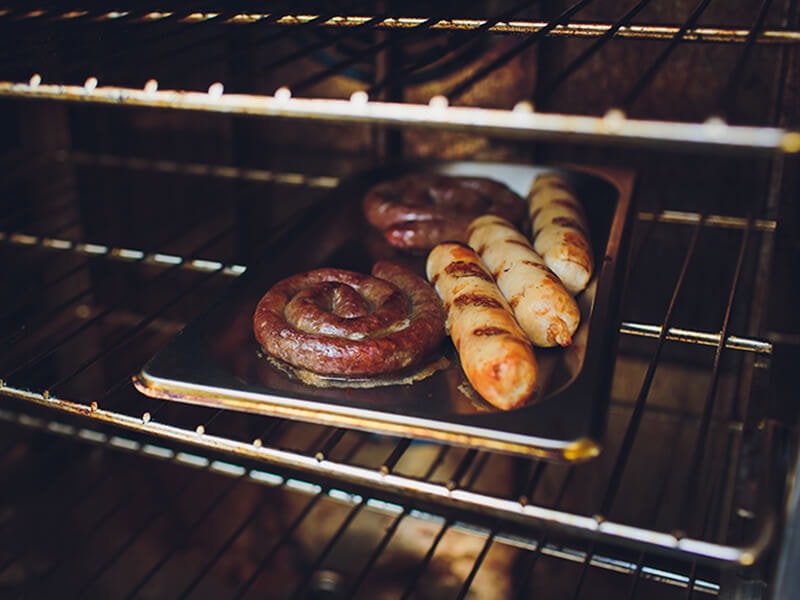 If you prefer having crunchy hot dogs, here is how you can cook hot dogs using a toaster oven or conventional oven.
First, preheat the oven to 400°F. On a baking tray, lay down a piece of foil and brush it with oil. Put the frozen hot dogs on top and bake them for 10 minutes. After that, take them out of the oven and brush another layer of oil on them.
Place them back in the oven for 15-20 minutes, flipping 1-2 times while cooking. In the last 5 minutes, increase the temperature to 430°F to get a nice color. Don't leave them in the oven for too long because they can become dry and rubbery.
While it's true you can make hot dogs in microwaves, and the time it takes to cook microwaved hot dogs is usually not that long, it's not ideal for frozen hot dogs. In other words, you'll need to defrost the hot dogs first before microwaving them, making the waiting time much longer.
3. Using An Air Fryer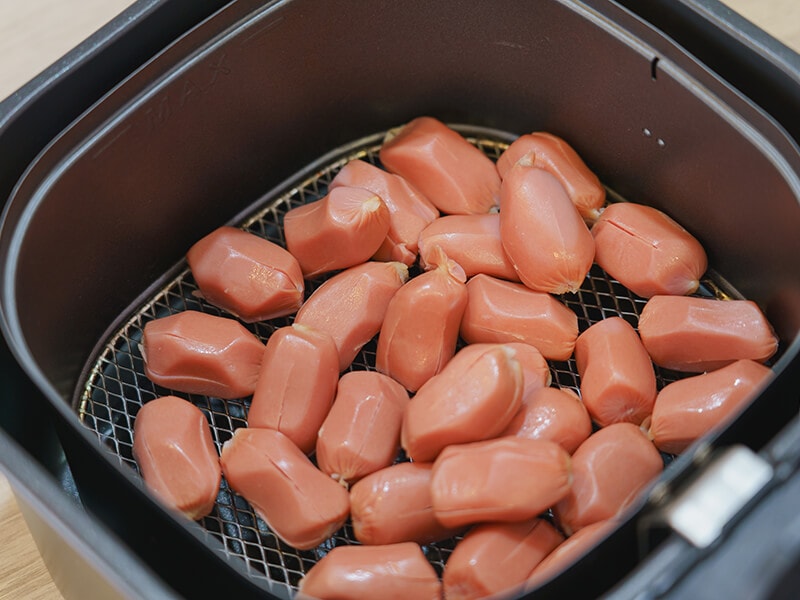 Lay the hot dogs separately in the air fryer and lightly brush them with oil. Cook them at 400°F for 5 minutes. Then flip them with tongs and cook them again for another 3 minutes until fully cooked and crispy.
If you want, you can also add splits in your hot dogs before putting them in the air fryer to avoid bursting.
Let's see how you can cook fully frozen hot dogs using the air fryer!
4. Using A Pan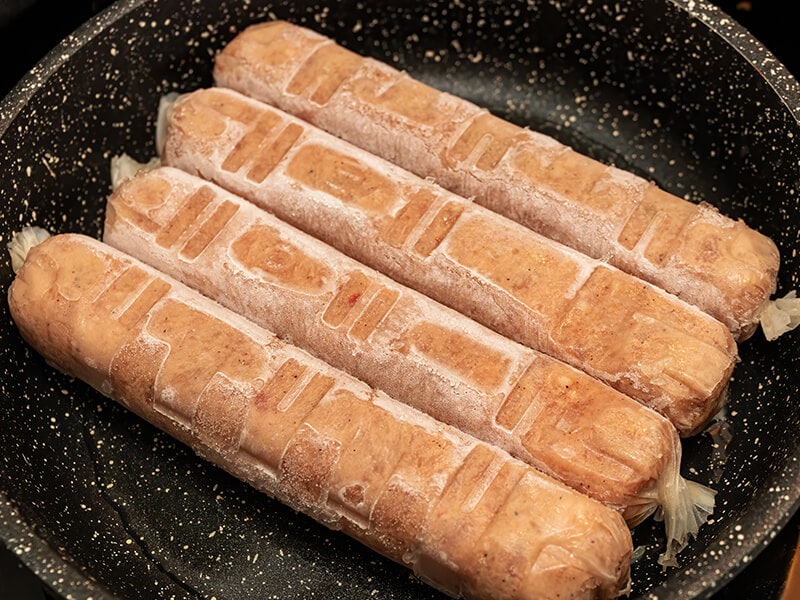 Note:You should never put a frozen hot dog directly in the pan; you must pre-boil them first. Just boil them in a pot of water on low heat for about 15 minutes, and move on to frying.
Apply a thin coat of oil on a skillet or nonstick pan, then turn the heat on high. Meanwhile, drain the sausage and blot them dry.
Turn the heat down and put in the hot dogs. Cook them for 2-3 minutes on each side. Once they are crispy and turn golden brown, remove them from the heat and serve.
5. Using A Grill Pan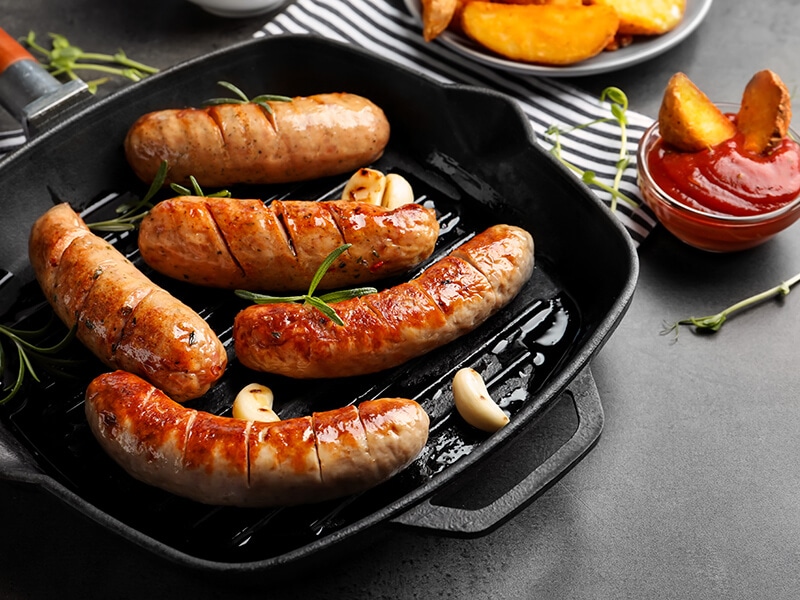 Pre-cook them by boiling them for 15 minutes, then dry them well.
Brush a grill pan with some oil, heat it on high. Place the hot dogs in the heated pan and reduce the heat to medium. Grill each side for 2-3 minutes or until golden brown. Remember to have all the sides touch the surface of the pan.
Reminder: The required cooking time for the hot dogs may vary, depending on the thickness of your hot dogs, the number of hot dogs you are cooking, or the size/ temperature of your oven.
So if you want to be sure about the doneness of the hot dogs, use a meat thermometer to check their internal temperature (it should be 160°F~165°F). Or you can cut one up and check the inside. If it is not pink, your hot dogs are done!
What Are The Spoilage Signs In Hot Dogs?
As I mentioned earlier, it is dangerous to refreeze spoiled hot dogs. But how to tell if your hot dogs are bad? Here are a few signs of spoilage in hot dogs that you should know:
Slimy Texture: Use your fingers to check the surface of the sausages. If they have slimy, almost gooey flesh, that is your sign to throw them out.
Dull Color: Hot dogs usually have a pink, slightly reddish color. If they turn brown or gray, something is definitely up!
Sour Smell: Your nose can also be a reliable instrument to tell when hot dogs go bad. Discard your hot dogs immediately if they begin to have a sour smell.
Freezer Burns: If you spot dull white patches on the hot dogs, that's freezer burns. This means that you didn't seal the freezer bag and container properly before storing, and now their freezer life has been reduced. Freezer-burnt hot dogs must be discarded.
Past Their Shelf-Life: If your hot dogs have been sitting in the fridge or freezer for far too long, they are not safe to consume. Even though it's true that keeping them in the fridge or freezer can extend their shelf life past the printed date, the quality won't be the same.
The Shelf-Life Of Hot Dogs
No matter what kinds of hot dogs you love, their remaining lifespan heavily influences their ability to refreeze. If they have already passed their shelf life, it is not safe to eat or even refreeze them. So check the chart below to see how much longer your hot dogs can stay fresh.
| States | Refrigerator (40°F) | Freezer (0°F) |
| --- | --- | --- |
| Unopened hot dogs | 2 weeks | Indefinitely (Best within the first 2 months) |
| Opened hot dogs | 1 week | Indefinitely (Best within the first 2 months) |
| Cooked hot dogs | 4 days | 4 months |
FAQs
Still confused? Feel free to check out the FAQs below to find more information about refreezing hot dogs. You can also write a comment at the end of this article if you have any further issues.
Refreezing Hot Dogs: It's Not A Problem Anymore
When it comes to refreezing hot dogs, there are many things you need to keep in mind. You might think that you can extend the shelf life of your hot dogs by refreezing them over and over again. But now you know how dangerous and unhealthy that can be.
With all the information I have mentioned in this article, I hope that you are aware of the safety guidelines of freezing food as well as how to freeze hot dogs properly.
If you find these tips and tricks useful, please like and share this post. I would also love to hear your thoughts under the comment section. Thank you for reading!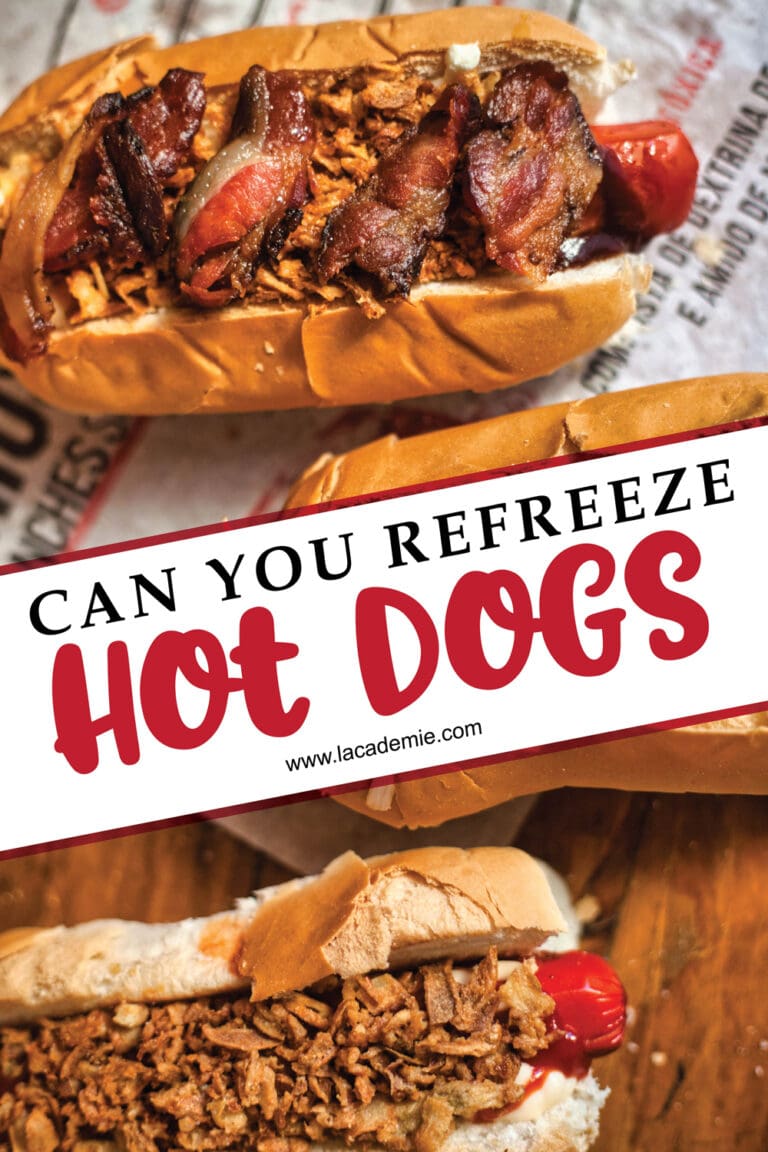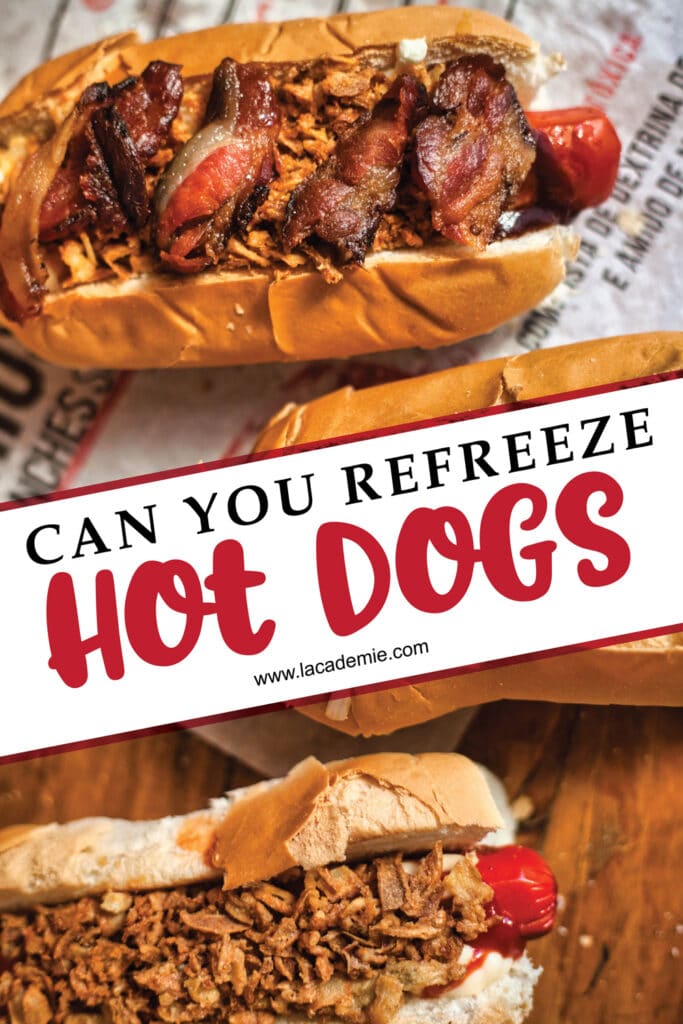 Reference
USDA, 2013. Freezing and Food Safety.
USDA, 2013. Hot Dogs & Food Safety.