Is it possible to freeze ham properly from all the meat types? Well, yes, it is. With a bit of care and proper time, you can serve well prepared, delectable ham all year around. That's the reason why you do need to find out the best approaches. Hurry up, my mate!
What Is Ham?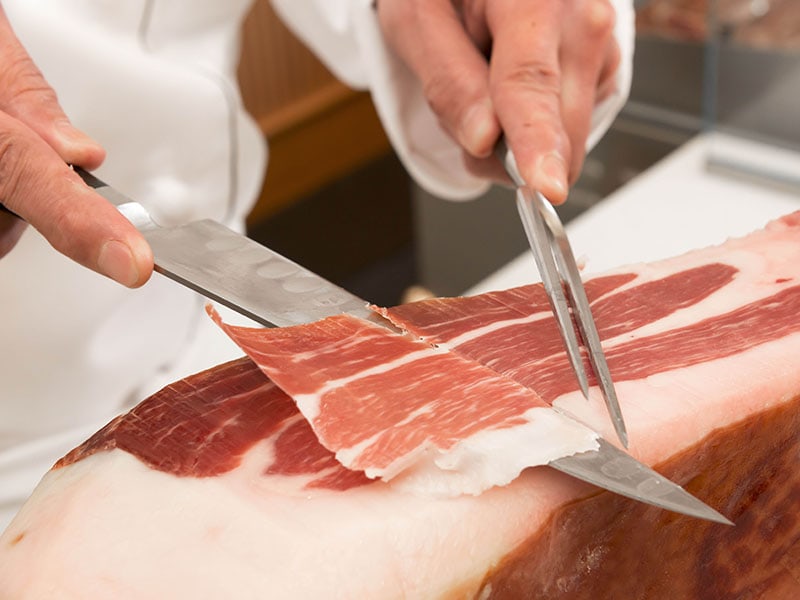 If you do not know whether you can freeze lunch meat, like ham, the article will give a comprehensive view of it. But first, let's find out a bit about ham and its uses. Ham is pork from the pig's hind leg, preserved and seasoned by salting, wet-cutting, or smoking.
The processed ham has a unique flavor and glistening pinkish color. What's more, based on different ham styles, they also bring out the ham's moist, tender sweet, salty, and sometimes smoky taste.
Sliced ham shows up in many recipes, such as filling for sandwich ideas or simmering with mustard, maple syrup, or high-quality manuka honey from leading brands. Suffice to say, it's the ideal juicy centerpiece for your celebration dinner tables.
As ham and Canadian bacon look somewhat similar at first glance, sometimes you'd see people confusing between the two. One way to distinguish Canadian bacon from ham is to inspect their exterior: Canadian bacon is often covered in cornmeal, whereas ham isn't.
An incredible ingredient stands for a range of family dishes over the world!
How Ham Is Made?
Use different methods to turn raw meat into a delightful ham, becoming a great addition to any meal. Below are three main ways to make ham, perhaps you haven't known!
#1 Dry-Cured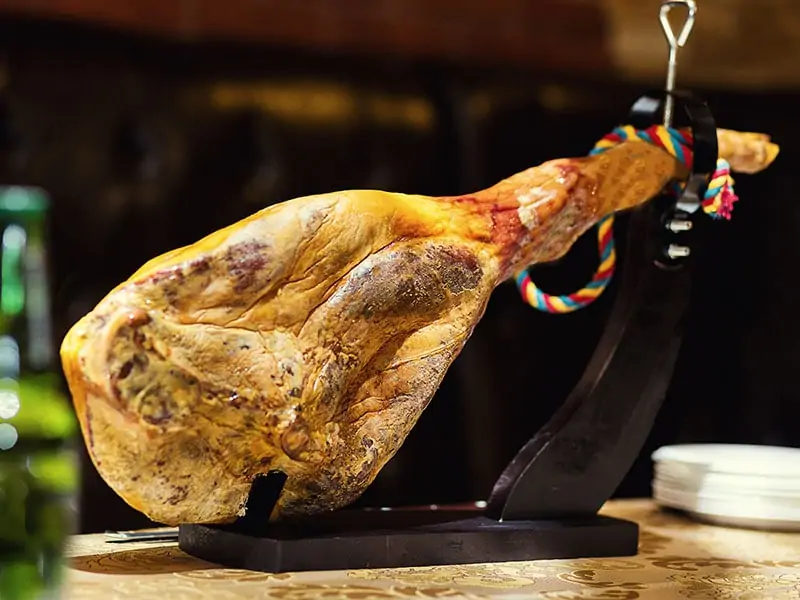 Dry curing is a prevalent technique used in producing ham, sausages, or other products. Salt curing and air drying will be combined to create the desired outcome.
Hind legs are covered in salt, allowing uncooked meat to dry, gradually inhibiting the growth of harmful bacteria. During that period, the moisture is wicked away.
Then, the meat is hung to dry until getting the desired ham. The curing time depends on the texture and flavor. Besides, dry-cured meats sometimes are smoked, bringing a more intense taste and deepening ham's color.
#2 Wet-Cured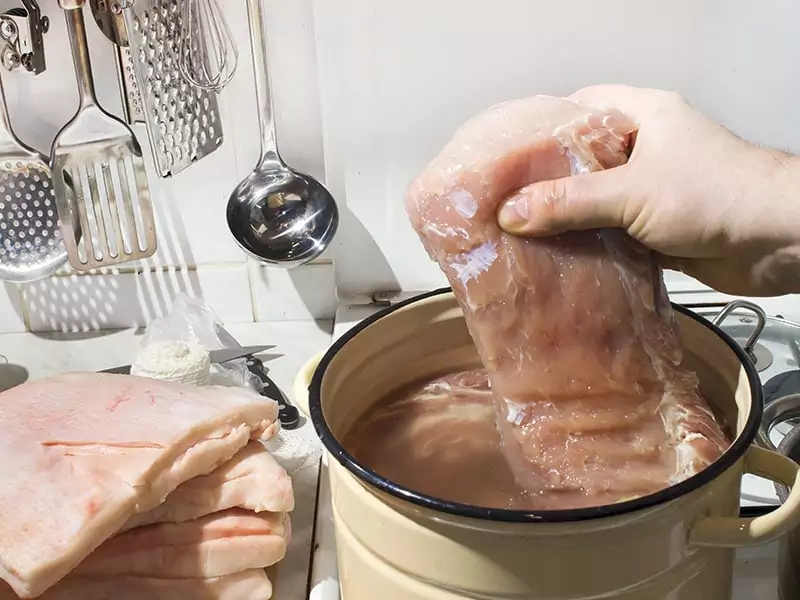 This method is popular in producing ham. By soaking raw meat with a unique mixture, essential salt, and water called brine. Other ingredients such as sugar, molasses, and balsamic vinegar can utilize brine solution, balancing the salt flavor.
The meat uses wet-cured techniques, usually less intense than dry-cured ham.
#3 Smoking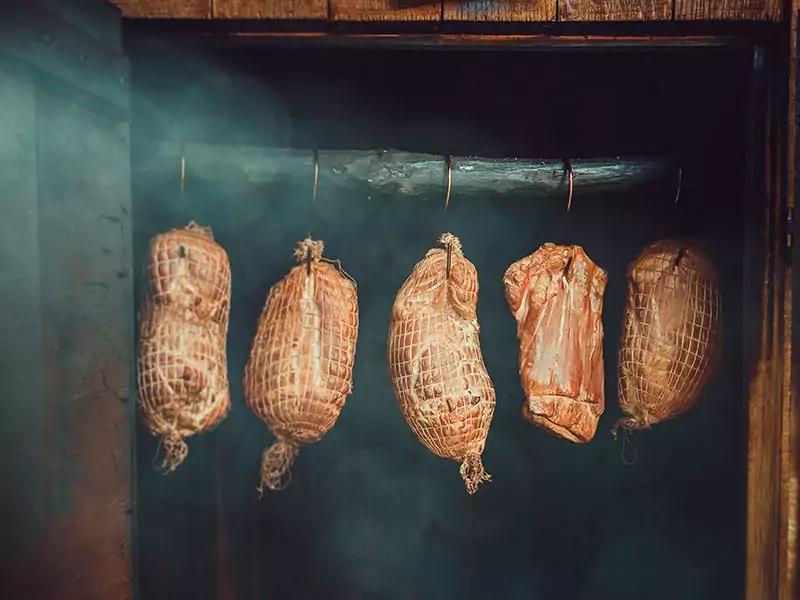 After the ham has been cured, the smoking process begins. However, not all ham is smoked; it is a great way to add smoky flavor and taste to make delicious dishes.
Next, the cured ham is up to undergo a smoking transformation, revealing the smoked flavor. Its unique taste does not penetrate the cured meat but contributes a distinctive aroma.
Types of Ham
There are numerous types of ham, which vary depending on the techniques used for progress. The main goal is to preserve raw meat, add a deeper color, and intensify the taste of ham.
Keep going to tackle the eight main types of ham for freezing. Furthermore, you can utilize the leftover hams for new dishes.
#1 Country Ham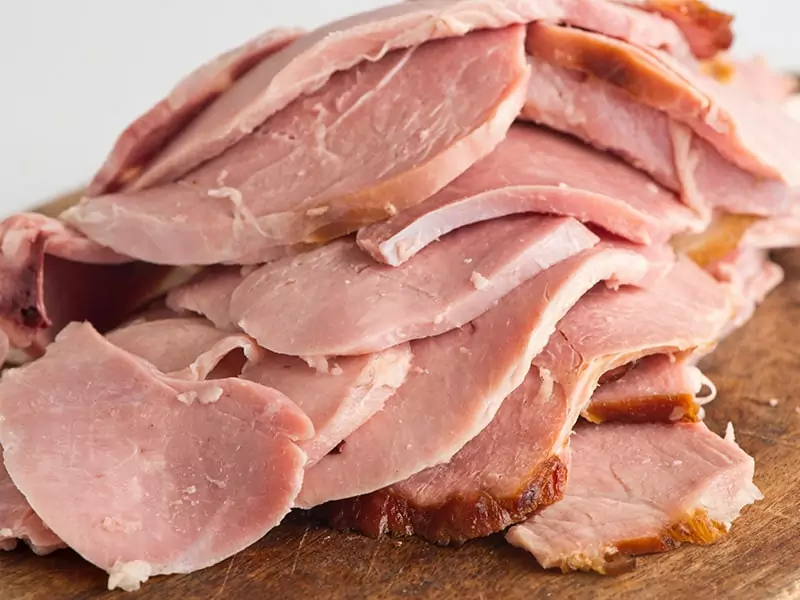 Preserve raw meat with a mixture of salt, spices, and sugar, smoked (but not permanently), and then aged in dry environments. Besides rich and robust flavor, the meat is immensely salty, adding to its allure.
The dry-cured ham has a firm texture and a reddish color. The excellent ingredient complements many dishes well, such as beans and soups.
#2 Smithfield Ham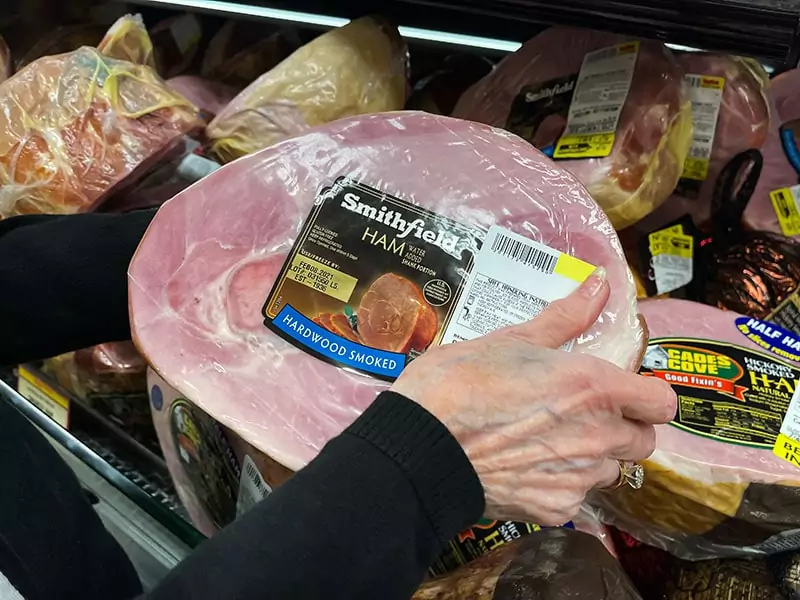 It is a specific type of country ham made by Smithfield Foods. The ham is cured and processed (covered in pepper, cold smoked, and aged six months).
There is no better choice for memorable holidays than a delicious and mouthwatering ham from Smithfield.
#3 City Ham
City ham is the most commonly sold type of ham available in the United States. They are made by immersing the raw meat in saltwater or injecting it with brine for several months until the salt has thoroughly penetrated the meat.
City ham is moist, juicy, mild, and has a pink color. Moreover, several brands also smoke the ham for additional depth.
The wet-cured ham has fully cooked; serve them directly or reheat them before serving.
#4 Prosciutto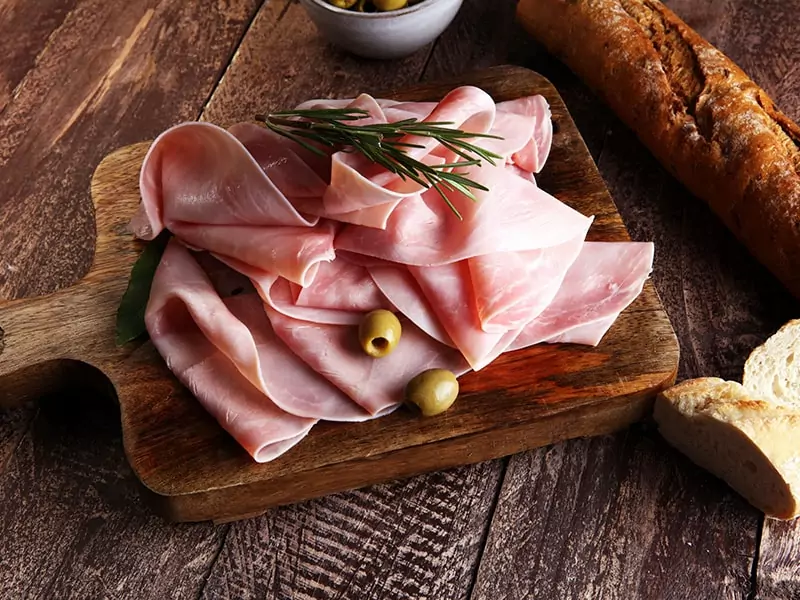 Prosciutto is an Italian ham that is prevalent in the United States as well. High-quality pork leg is undergone dry-cured processing, adding a distinctive flavor. There are two types of ham: uncooked Prosciutto Crudo, and cooked ham is called Prosciutto Cotto.
Prosciutto is a delectable, subtly sweet, and salty product. The brownish-red color can be seasoned with herbs and spices like garlic, pepper, rosemary to provide a unique and fragrant aroma.
To experience the authentic taste, you can eat thin slices and let their sweet and salty flavor melt in your mouth. You can also prepare delicious prosciutto rolls for appetizers rich with authentic Italian flavors.
#5 Black Forest Ham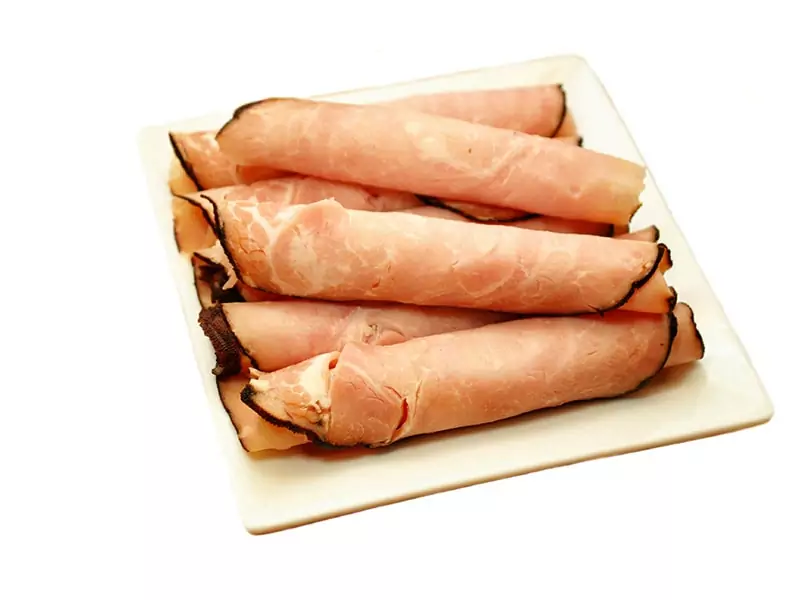 The hind legs from the pig go through the dry-cured process and take up a few months to perfect, originating from a region of Germany. The ham is distinctive black outside, generated by cold-smoking the meat.
The boneless ham is a decent option for not only sandwiches but also various dishes as well. I immensely love the way the ham flavor in soup without adding salt to the plate.
#6 Culatello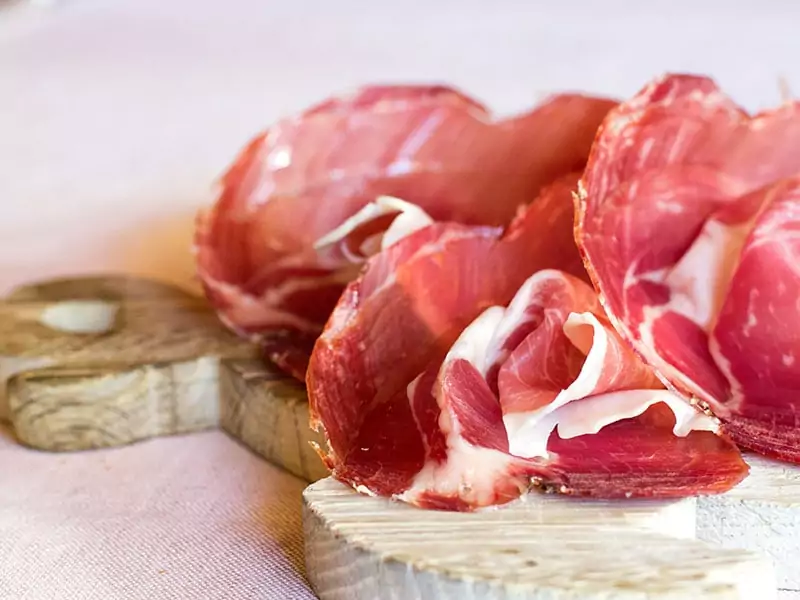 Culatello ham is similar to prosciutto, and it has a soft and supple texture, a bit dryer than prosciutto. The cured boneless ham has hit the American market recently.
#7 Serrano Ham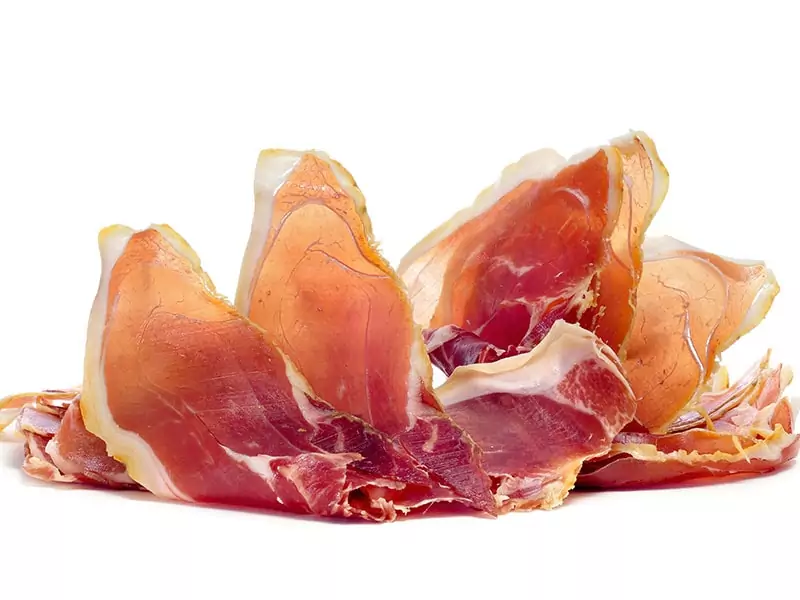 Serrano ham originates from Spain, known as Jamón Serrano. It is similar to Prosciutto, and both are dry-cured ham. Thus, they are well-preserved. The difference is that serrano ham embraces less moisture and fat, resulting in a more potent and more pure taste.
#8 Bayonne Ham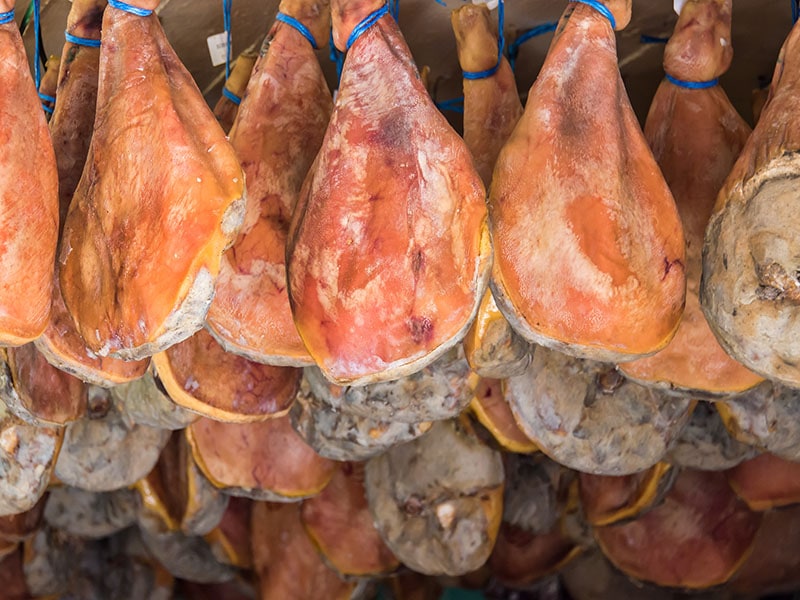 What makes Bayonne ham unique?
The ham is cured in locally produced spring salt and fresh ham. Drying ham requires fresh wind, air to leave the meat dry naturally, and time (usually from 9-12 months) until the meat achieves a balanced, salty taste, dedicated fragrance, and distinctive red/pinkish color.
The excellent ingredient is a beautiful addition to any gourmet meal. Enjoy the versatility of Bayonne ham from Europe.
Step By Step Freezing Your Ham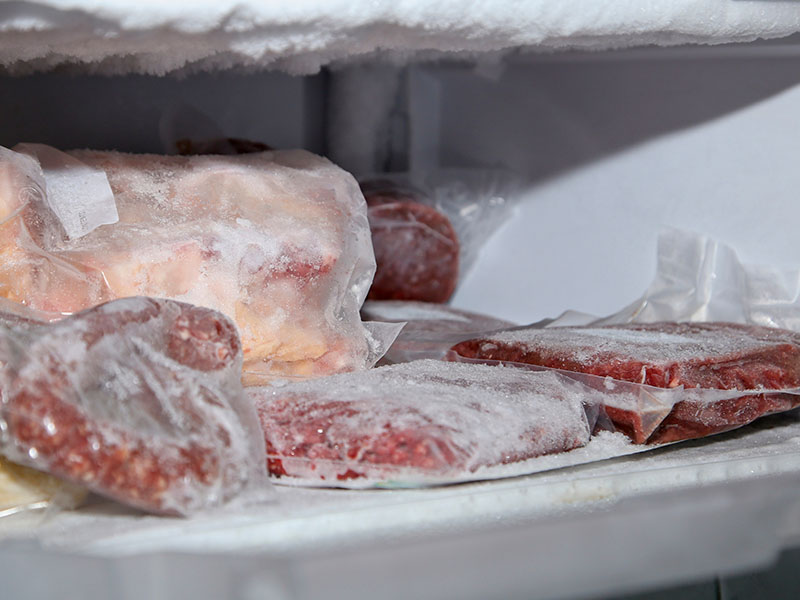 Ham comes from various types, so it's hard for you to know the right way, freeze it or not freeze it.
Scroll down here and figure out the best way to freeze ham; just follow the below instructions, and things will be easier.
#Step 1: Slice
Use a sharp knife and cut the ham into thick slices, more portable to thaw when you need to cook. You can divide ham into small portions. Then you can take it out effortlessly without getting the whole ham.
Nevertheless, if you want to preserve the whole ham, skip this step and go to the following parts.
#Step 2: Layer
Layer ham slices in freezer containers. Add parchment paper between each piece to keep the ham from sticking together. Alternatively, you can use aluminum foil as a replacement for parchment paper in case it's run out.
Wrap it in aluminum foil with the whole ham after removing all excess moisture from its surface, then place it in the containers for freezing.
Besides using an airtight container, a vacuum-sealed bag is another option utilized for preserving ham.
#Step 3: Seal
Before sealing tightly, squeeze out all air in the bag or vacuum air inside the container. This base is to make sure that no air can keep in touch with ham.
#Step 4: Label
Label the bag accordingly by using a permanent marker. It is immensely vital to keep track of the date of using ham, avoiding keeping it too long in the freezer.
#Step 5: Freeze
Genuinely, put the ham into the freezer, placing it flat where it is freezing. Next time, it is easier to take out and thaw.
Notes For Freezing Ham
Here are some special tips which I have learned through the freezing ham process. Don't miss it! It is beneficial for you.
#1 Divide Into Portions
You won't take too much time to get a suitable amount of ham before cooking. Moreover, it will prevent the ham from contacting air because it can get moisture from the atmosphere and accumulate many ice crystals that damage the ham.
#2 Keep Ham Airtight
In the freeze, the air is the rival of ham. Ham's surface can dry out and lose its texture if exposed to air. Ensure that the ham is retained in an airtight container or sealed tightly in bags.
#3 Use Parchment Paper
The first days of freezing meat, I made this mistake. I place the ham into the freezer directly without layering any paper between sliced meats, making it hard to take them out in the following cooking time.
I simply use a sheet of parchment to prevent this issue from happening.
#4 Slice Thickly
The thickness of ham may harm its texture and have fewer risks of drying out. Separate ham and individually slice ham before keeping it in the freezer.
How Long Should You Freeze Ham?
Technically, freezing ham can preserve it safely indefinitely. However, it is not good to let it stay in the freezer after years. How long does the frozen ham sit in the freeze to maintain its high quality? Keep going to find out! My buddy!
Storage Methods
Refrigerator (40 °F or below)
Freezer (0 °F or below)
Fresh, uncooked, uncured
3 - 5 days
Six months
Fresh, cooked, uncured
3 - 4 days
3 - 4 months
Cured, uncooked, cook-before-eating
05 - 07 days/ "use by" date
03 - 04 months
Fully-cooked, unopened, vacuum-sealed at the plant,
2 weeks or "use by" date
1 - 2 months
Whole, Cooked, store-wrapped
1 week
1 - 2 months
Store-wrapped, slices, half, Cooked, or spiral cut
3 - 5 days
1 - 2 months
Country ham, cooked
1 week
1 month
Canned, unopened, labeled "Keep Refrigerated,"
6 - 9 months
Do not freeze
Canned, shelf-stable, opened
Note: An unopened canned ham stays at room temperature for two years.
3 - 4 days
1 - 2 months
Parma or Serrano ham, Prosciutto, dry Italian or Spanish type, cut
2 - 3 months
1 month
With the above table (from https://www.foodsafety.gov), you can determine the proper time to use freeze ham.
Factors Of Freeze Ham Go Bad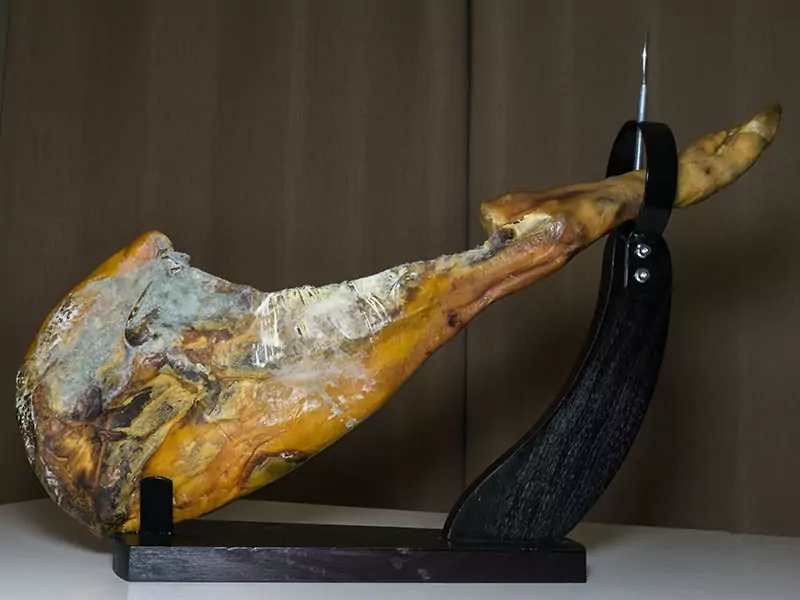 You can freeze ham quickly, but it is not convenient if they sit too long in the freezer. After all, frozen ham can still go bad if stored for too long. That's why you need to keep in mind the telltale signs of spoiled ham to avoid accidentally consuming unsafe food.
#1 The Ice Crystals
Someday, you would pay attention to the accumulation of ice crystals. It is time to take care of the ham more carefully before going bad. Ice crystals wick away moisture from the ham inside, exposing it so hard and dry.
#2 Discoloration
Ham usually has a pink color; even once thoroughly cooked, it still obtains the same color or little pale or beige. After two weeks, you notice slight discoloration, despite keeping it pretty airtight. But the ham still can be utilized well with less appetizing.
After that period, the ham begins turning different colors, black, gray, green, or even brown. It is a true sign that the ham isn't going well.
#3 Taste Losing
After several months, some of the ham's flavors are likely to deteriorate, and you should thaw it right away before it's too late.
#4 Unpleasant Smell
The smell is the next thing to check. As mentioned, based on the type, the ham can have various fragrances (salty or smoky) when a rank smell is coming from the ham, an obvious sign that the ham is spoiled.
How Do You Defrost Ham?
Typically, everyone leaves the frozen ham in trays for defrosting and lets it thaw by itself. However, it brings some bacteria, and the food will be unsafe to eat. There are four ways to defrost ham safely: in the refrigerator, microwave, cold water, or without thawing.
#1 In Refrigerator
This technique is safest for all kinds of foods. As it requires several hours to thaw, it's best that you plan this in advance so you can have perfectly defrosted ham before you cook.
Don't be disheartened by how long it takes to thaw frozen ham in the fridge. I'm certain you'll be delighted to learn that this method can maintain the original flavor, texture, and quality of your meat. In other words, your dishes made with leftover ham will taste as good as they can get.
#2 In Cold Water
The method is much faster than refrigerator defrosting but requires more attention. Using a plastic bag or container to thaw food covers the frozen ham and releases any air inside before sealing.
Make sure that the bag has no leaking point, as it leads harmful bacteria to attack food. Afterward, soak it in a bowl of cold water, and leave it for about 30 minutes. Change the water regularly to ensure that it is cold enough.
Don't use hot water since it can break down the original texture of food. And to speed things up, divide or cut items into small pieces.
#3 In Microwave
The next option is to use the microwave. Remember that you plan to cook ham immediately after defrosting since some areas of food can start to cook.
If you hold the food longer outside, the bacteria can grow powerfully at the optimal temperature.
#4 Cook Without Thawing
Suppose you hurry and don't have time to defrost, keep in mind that it is safe to cook the ham in the frozen state. However, cooking can be 50% longer than the standard time for fully defrosted or fresh meat.
Best Freeze Ham Recipes Ever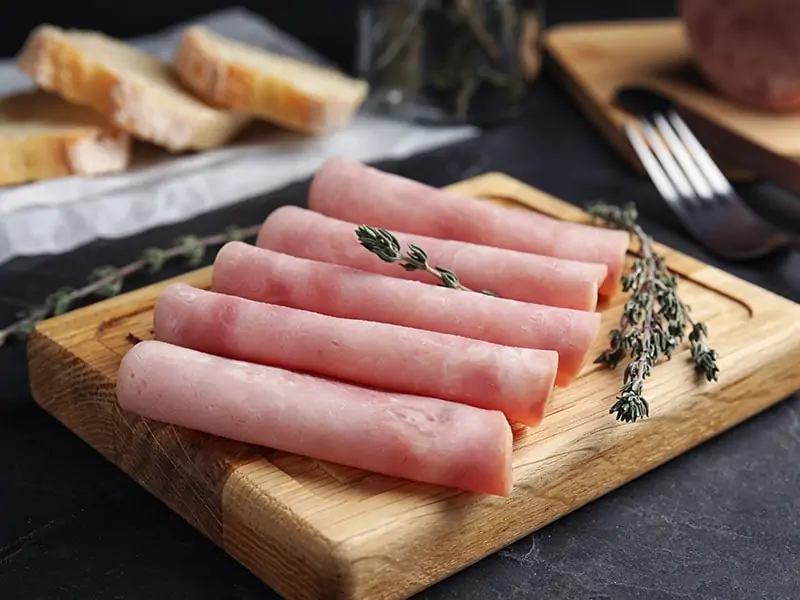 Freezing ham is a great way to maintain the signature taste of the ham. There are some terrific recipes to use multiple ham kinds for a gourmet meal for the next part.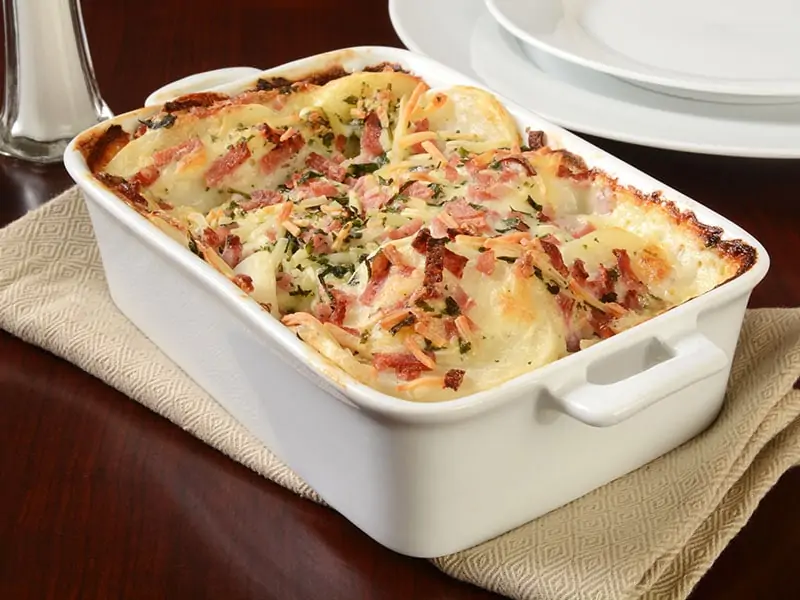 A scalloped potato with ham is an ideal combination between meat and potatoes, making a tasty twist to the great list. Just use regular potatoes; cheddar cheeses (gruyere is ok) would be excellent for the dish.
Serve the creamy, starchy, and rich dish with a fresh and green dish like steamed broccoli or roasted vegetables. Squeeze a bit of lemon or slightly add a little balsamic vinegar. Is it scrumptious? Have a try on your next dinner!
The dish combines fettuccine and parmesan with an incredibly creamy sauce to make the meal savory. The remarkable thing that makes peas pasta carbonara even more delectable is the smoked flavor from ham.
This simple dish is ready in 25 minutes. Grab corkscrew or spiral pasta, fresh asparagus, cooked ham, olive oil, basil, parmesan cheese. It is a delightful combination of flavors and textures. Sound tempting, right?
If you don't want to serve whole ham for celebration or a little leftover ham, asparagus ham dinner is perfection.
Ham sandwich, packed with delicious fillings: creamy provolone (replace and enjoy the taste of Muenster cheese, goat cheese, etc.), salty ham, dressing in mustard and mayo (or sour cream ), and a little fresh vegetable.
All of these are a charming touch for a quick meal. Why don't you convert your creamy ham?
Tasty and refreshing lentils and barley soup with diced cooked ham, chopped onion, sliced celery, diced carrots, crumbled basil, oregano, rosemary, ground pepper, and diced tomatoes.
The savory soup fills your kitchen with a fantastic aroma and fulfills your craving. Let's enjoy it!
It's a lot more to share, but I know you have many considerations to solve. If you'd love to have more main courses with freeze ham, kindly leave a comment to let me know.
FAQs
Freezing ham is not as complicated as it sounds—just a few steps before placing it in the freezer. You can keep them fresh. Nevertheless, if you're looking for the perfect ham, keep scrolling to the answers to frequently asked questions about freezing ham.
Stash Your Freezing Ham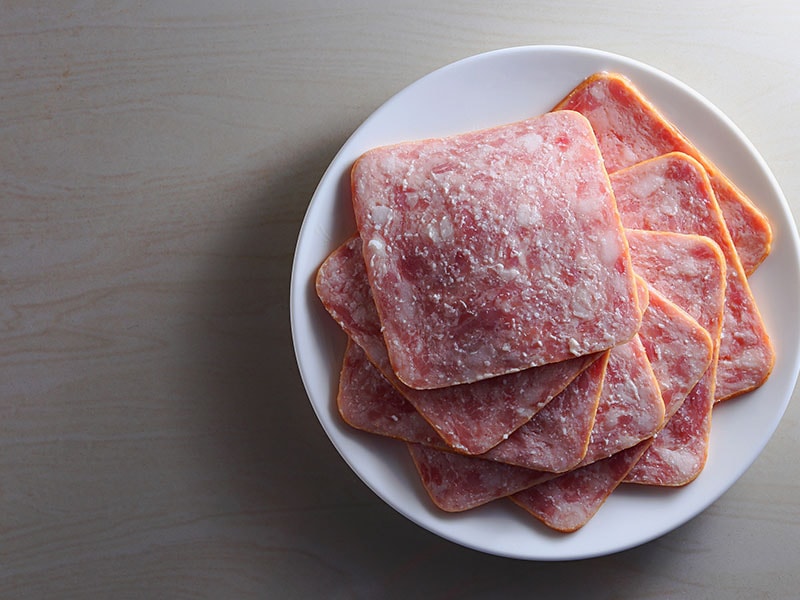 Is freezing ham getting easier? I think you have already found the answer yourself. From sliced to cooked, uncooked till bone or boneless, all types of ham can freeze to avoid wasting, and it tastes the same after thawing.
There you go; you can freeze and serve a tasty ham dish with proper care and careful planning. Later, your family can enjoy it weeks later. Right away, you can prepare some ham sandwiches for the naughty kids every lunch.
Thank you for spending time with me. I hope my post is helpful with kitchen tips and applications. Don't hesitate to share with your family and friends.
Let me know your favorite ways of freezing ham, as well as the tasty ham recipes right below in the comments.