Any ham lover has once questioned "how long is ham good for in the fridge" in their life. That's no surprise, ham and all of its types are such an addictive food that one can't help but stock up on them. After all, it's always a good time to enjoy some ham.
And if you are going out for a picnic this weekend, ham is a perfect choice to create numerous simple but full-of-energy picnic breakfasts.
I'm sure that you don't want your ham to go to waste. What's the point of stocking up on your favorite dish only to have it go bad? This is probably the reason why you want to learn if ham can stay fresh in the fridge for a long time.
Without further ado, let's learn how long ham last in the fridge and discover some tips on how to extend its shelf-life.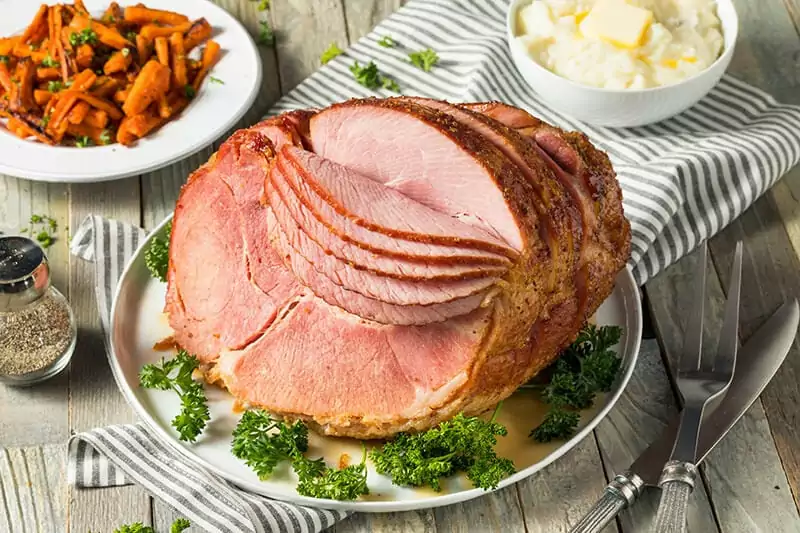 Average Shelf-Life Of Ham In The Fridge
If stored correctly in the fridge, ham can last from 5 to 7 days or until its expiration date. Ham should be kept in its original packaging so that it can last longer. This means you should only open the ham when you're about to eat it.
Types Of Ham
Before determining the shelf-life of your ham, you need to determine what kind of ham it is first, as different types of ham have vastly different shelf-life.
Fresh Hams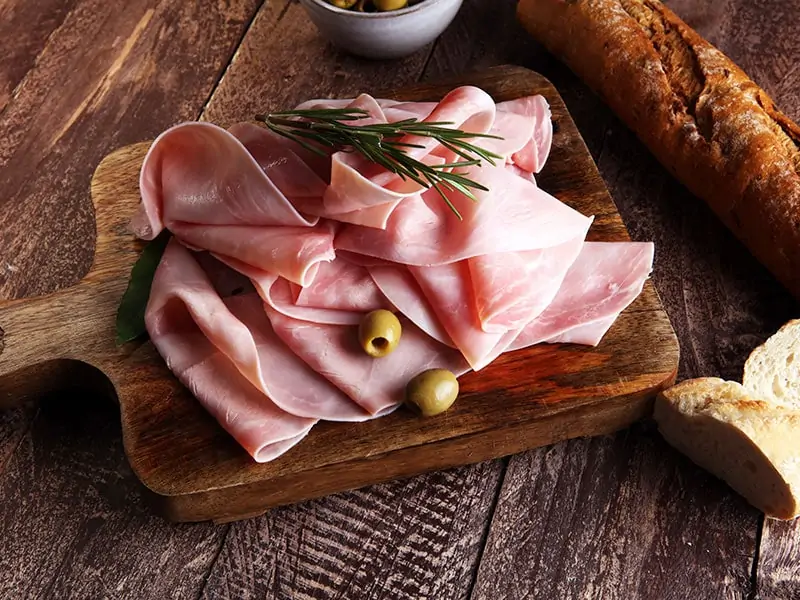 This type of ham comes from the hind leg. As is indicated by the name, fresh ham is neither cured nor smoked. It tends to be pale pink. Once cooked, fresh hams taste quite similar to pork roast.
What's more, there are many ideas to transform leftover ham into delicacies as well if you cannot finish them at one time.
Dry-Cured Hams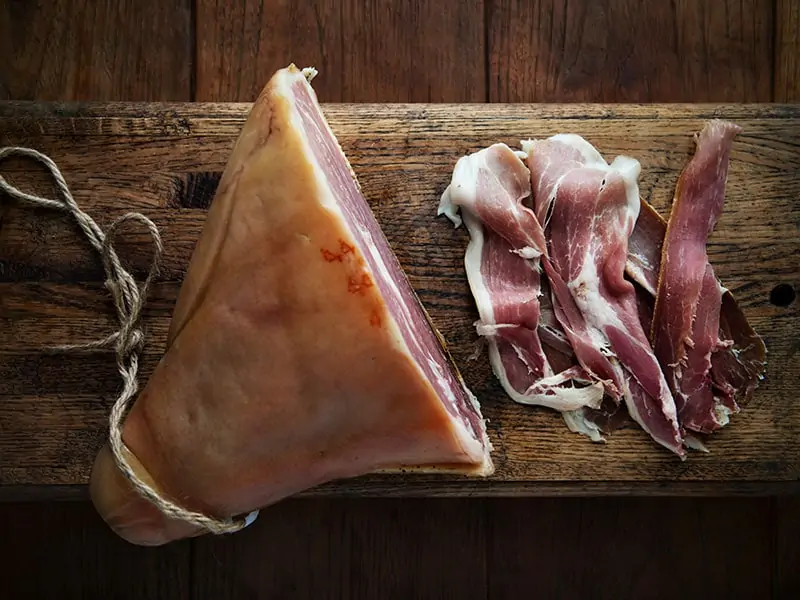 Dry-cured hams, also known as country hams, come from a hog's hind leg. As you can probably guess, dry-cured hams are cured without any injections of water. Instead, a combination of salt, sugar, phosphates, and spices (black pepper, pickling spice, etc.) is used to preserve the meat.
Typically, this type of hams can be hung to dry for months (or even more than a year). This process allows the meat to dehydrate even further. Because the curing combination draws out its moisture, dry-cured hams have intense and robust flavors.
Wet-Cured Hams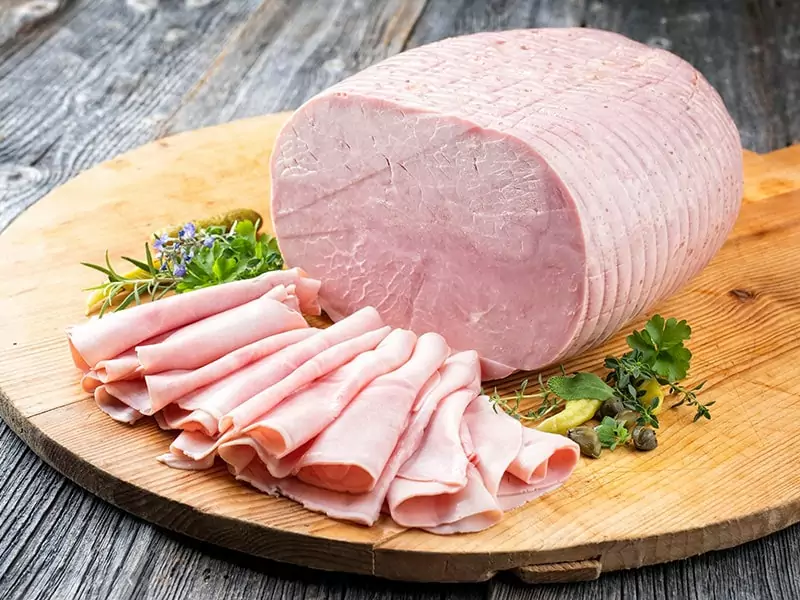 As opposed to dry-cured hams, wet-cured hams are cured in a brining solution, which consists of liquid smoke, salt, sugar, honey, spices, nitrites, as well as other flavorings.
When submerged in brining solution, hams need to be cooked. The result is the city ham that most people are familiar with. As it only takes a few days to make wet-cured hams, they are mass-produced and easiest to get.
Compared to dry-cured hams, city hams' flavor might not be as robust. On the contrary, they can be mildly sweet in flavor. Most city hams are moist.
It's not uncommon for some people to confuse ham and Canadian bacon. In reality, you can easily pinpoint the differences between Canadian bacon and ham, despite their seemingly similar appearances.
Smoked Hams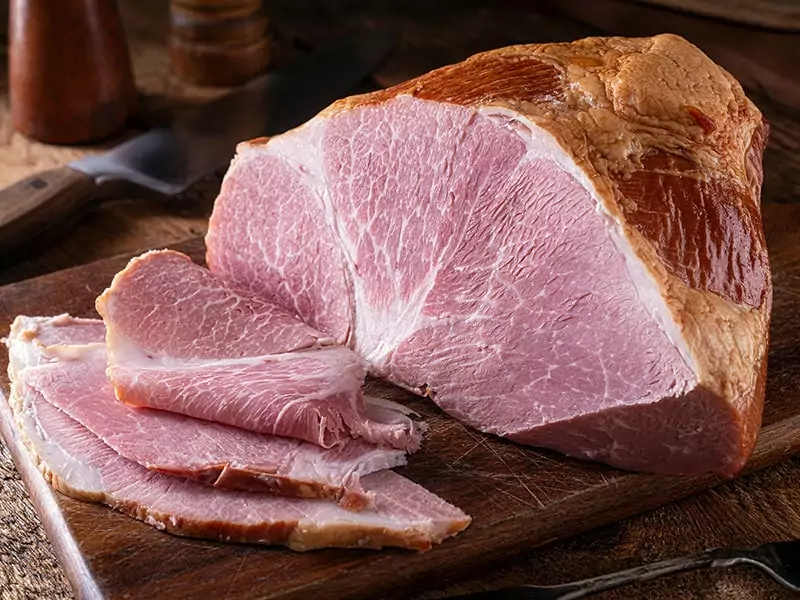 Before being smoked, all hams undergo the curing process – be it wet or dry. Smoked hams are more intense in colors and flavors compared to unsmoked ones. To smoke hams, you'll need hardwoods such as hickory or red oak.
Smoking somewhat cures the ham further as it dries any excess moisture from the meat and sterilizes its surface. As a result, smoked hams can last slightly longer than fresh or cured hams.
How Long Can Ham Last In A Fridge?
The shelf-life of ham does not rely on its type alone, but also on whether it's cooked or not. You might also take into account whether you're storing the meat inside a fridge or a freezer. In any case, the table below should be able to help you.
| Type of Ham | Fridge (40°F or below) | Freezer (Below 0°F) |
| --- | --- | --- |
| Fresh, uncured, uncooked | From 3 to 5 days | From 5 to 6 months |
| Fresh, uncured, cooked | Less than 4 days | From 3 to 4 months |
| Cured, cook-before-you-eat, uncooked | From 5 to 7 days (or "best before" date) | From 3 to 4 months |
| Vacuum-sealed, cooked-at-plant, unopened | 2 weeks (or "best before" date) | From 1 to 2 months |
| Cooked, store-wrapped, whole | 1 week | From 1 to 2 months |
| Cooked, store-wrapped, cut | From 3 to 5 days | From 1 to 2 months |
| Country ham (dry-cured ham), cooked | 1 week | 1 month |
| Canned with a "Keep Refrigerated" label, unopened | From 6 to 9 months | Not suitable for freezing |
| Shelf-stable canned, opened | From 3 to 4 days | From 1 to 2 months |
| Dry Italian or Spanish style, Parma, Serrano, or Prosciutto ham | 1 month | From 2 to 3 months |
Whatever type of your ham is, you should always check the label that comes with it. If you store ham properly, you can trust the "best before" date on the ham's label.
Tips On How To Tell If Your Ham Goes Bad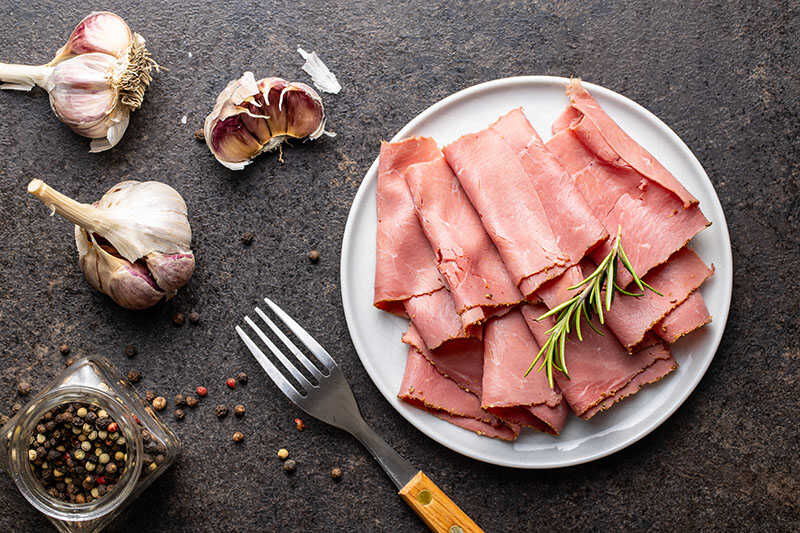 One misconception about dry-cured ham is that the layer of mold on its exterior indicates it is going bad. In reality, this layer of mold is not harmful in the least. It's actually a sign that the ham ages properly. You can scrub this layer off with ease and enjoy the ham as usual.
Fortunately, spoiled ham is very easy to spot, even to the untrained eye as there are several tips to know how your ham has gone bad by looking out for the signs below.
1. Unpleasant Smell
Believe it or not, your nose is very good at detecting food spoilage. If your nose tells you that something smells off about the ham, there's a high chance that it's spoiled.
Unlike some fruits and vegetables, which might not give off unpleasant odor when spoiled, bad meat always gives off a sulfur-like smell. This odor is very noticeable and can be quite off-putting.
So, before you eat the ham, you can always take a good sniff at it. Fresh ham should smell salty or smoky. If you find yourself wincing at the smell, it's best to throw the ham away.
2. Change In Color
Even when ham is fully cooked, it can still look pink. This is a perfectly normal color. When ham is injected with sodium nitrate, it can develop a pleasant rosy color. So it sometimes can be hard to tell the difference between fully cooked ham and uncooked one.
Even in uncured and uncooked ham, you'll still notice that it's pink in color, only slightly a bit paler than cured ones. If this pink color starts to change, become green or grey, then you shouldn't eat the meat.
3. Signs Of Mold
Except for dry-cured hams, it's never a good sign to see molds on your meat. It can create mycotoxins, which is a poisonous compound responsible for food poisoning.
Mold can also promote the growth of harmful bacteria, meaning that it can increase the likelihood of you falling ill if you consume it.
Many people are allergic to the mold growing on meat. If they happen to sniff in this mold, they can have severe respiratory issues. This is why you shouldn't sniff ham covered in mold. If you notice that your ham has developed mold, just toss it in the trash.
To make sure that the mold spores can't go airborne, you can wrap the ham in an extra layer or two before dumping it. This will prevent other people from accidentally inhaling the airborne mold spore and becoming ill.
4. The Texture
Fresh harms are firm and moist. This means that if the ham feels slimy or sticky, it's been contaminated. Eating slimy hams is a guaranteed way to get you sick, so please dispose of them immediately.
5. The Taste
In some rare cases, the ham might not exhibit obvious signs that it's gone bad. It might still look a pleasant pink color; it might still smell fresh; and maybe there's no sign of mold. However, if the ham tastes off, don't risk eating any more of it.
However, if you notice that your ham exhibits any signs mentioned above, do not do a taste test. If you suspect that the ham has expired, it's always better to replace it with a new one. Eating spoiled ham can give you severe food poisoning, so please be careful!
A Comprehensive Guide On How To Store Ham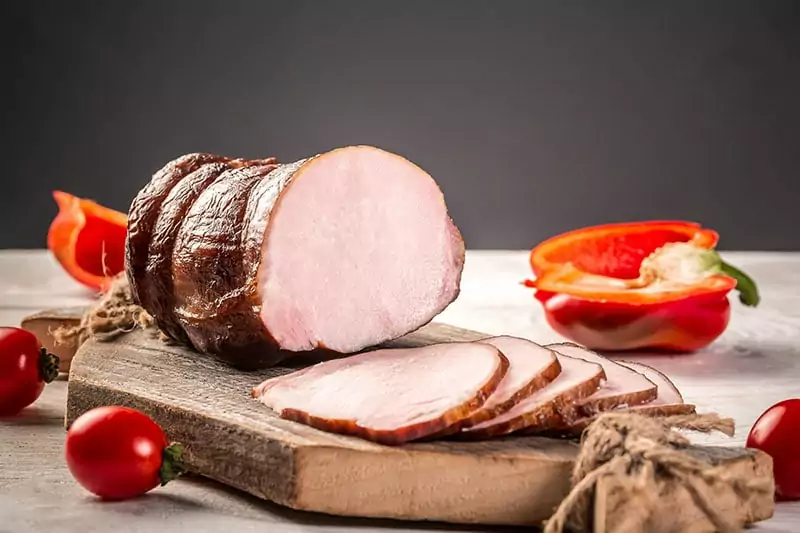 To preserve the hams' freshness and taste, it's important to know the proper way to store ham. Explore all the tips and tricks on how to store hams here.
How To Store Ham In The Fridge
Use a large tea towel or a new pillowcase big enough to completely cover the ham.
Make a vinegar solution (2.5 tablespoons of white vinegar mixed with 4 cups of water).
Submerge the tea towel in the vinegar solution until it's completely soaked.
Wring the towel until it stops dripping and place the ham completely inside the wet towel.
Don't wrap the towel too tightly around the ham as you need to allow enough room for circulation.
Put the towel-covered ham inside the coldest section of your fridge (the temperature of your fridge should be below 40°F).
Repeat the process every 3 days to make sure the wrapping does not dry out.
When serving the ham, cut the amount of meat you need. Put the ham back in the wet towel and return it to the fridge immediately to avoid accelerated bacterial growth.
Do not leave your meat at room temperature for more than 2 consecutive hours.
Are you still a bit confused about this method? How about you check out the following video.
What about sliced ham? This video will surely help you.
How To Store Hams Inside A Freezer
Some people are concerned about whether their hams can be freezed without compromising texture or taste. Of course, there are some tips to do it as:
Immediately store the ham in the freezer while it's still in its peak.
Don't get the ham out of its original packaging. However, if there's a hole in the package, you need to rewrap the ham with a moisture-proof wrap or aluminum foil. You can double wrap the ham to ensure moisture can't escape from the meat.
If they are opened, you can store them in an airtight and functional freezer container. If your ham is big, cut them in half or smaller pieces for easier storage.
The quicker the ham gets frozen, the better. You can speed up this process by placing the meat on the freezer floor as this is the coldest part.
If possible, store the ham in a freezer unit rather than the refrigerator freezer. A fridge freezer might have fluctuating temperature, whereas the temperature inside a freezer is usually more stable.
FAQs
Let's go over some common questions about ham to make sure that you're clear about everything! There might be some information that you're not aware of!
Additional Tips To Help You Keep Hams Fresh
You should only slice ham before you serve it. If you cut the ham beforehand, exposure to air will make the ham dry rather quickly. This will make the ham dry and parched.
One method to quickly chill leftover hams is to place them in separate shallow dishes prior to refrigerating. This will noticeably cut down the time when the hams are in the "danger zone", which is from 40°F to 140°F.
Leftover cooked hams can be stored in foil, airtight containers, or plastic wrap. You don't need to wait for them to completely cool down to put them in the fridge. The sooner you put leftover hams in the fridge, the longer they can stay fresh.
To make sure that the temperature inside the fridge is ideal for storing ham, you can use a thermometer to gauge its internal temperature. The best storing condition for hams inside a fridge is below 40°F.
That's everything you need to know about hams' shelf-life and how to store them. Now you can always have fresh and yummy ham inside your refrigerator. If you have any recipes for hams, be sure to share them in the comment section; I'd love to hear them.
Nutrition Facts
1 servings per container
---
Amount Per ServingCalories54
% Daily Value *
Total Fat 2.4g

4

%
Cholesterol 16mg

6

%
Sodium 395mg

17

%
Potassium 117mg

4

%
Total Carbohydrate 1.4g

1

%

Dietary Fiber 0.4g

0

%
Sugars 0.2g
---
* The % Daily Value tells you how much a nutrient in a serving of food contributes to a daily diet. 2,000 calories a day is used for general nutrition advice.