Have you ever compared Canadian bacon vs. ham? Have you ever been confused when asked to distinguish these two kinds? I used to research hours to find out the answer, but it did not work. Until I had chances to cook and eat them, I got it.
In this article, I would like to mention all aspects when comparing Canadian bacon and ham specifically. It is all about the exact definition, origin, taste, nutrition, and many other criteria. I believe these interesting pieces of knowledge will be helpful for you.
Let's browse this article carefully until the end, and I am sure you will be amazed as I was before.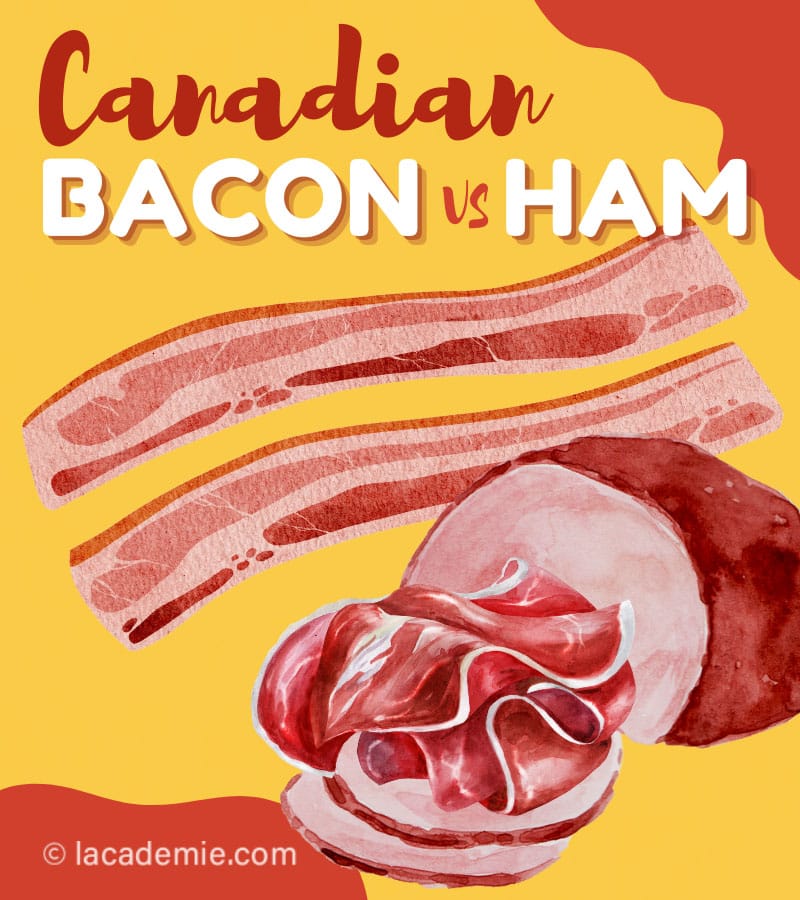 What Is Canadian Bacon?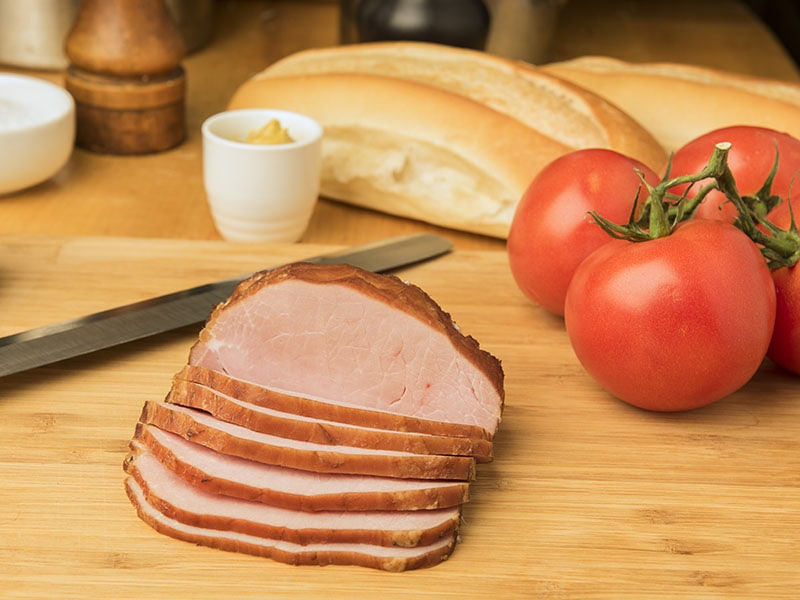 It's not an exaggeration to say that bacon is a signature food of Canadian cuisine. There are many names for this kind of bacon, such as "Canadian bacon", "Canadian-style bacon", or "back bacon".
The name "back bacon" comes from the reason that it is cut from the center of the pork loin. It can consist of a portion of pork belly too. Canadian bacon is usually cured and fully cooked. Some can go through the smoking process, while others don't. (1)
Canadian bacon is quite similar to English ones. And since English and American bacon have quite a big gap, the same goes with Canadian types.
They are much leaner and less fat. They also come in the form of round slices with eye-catching colors. You can easily find this bacon in supermarkets or breakfast food items in any restaurant.
What Is Ham?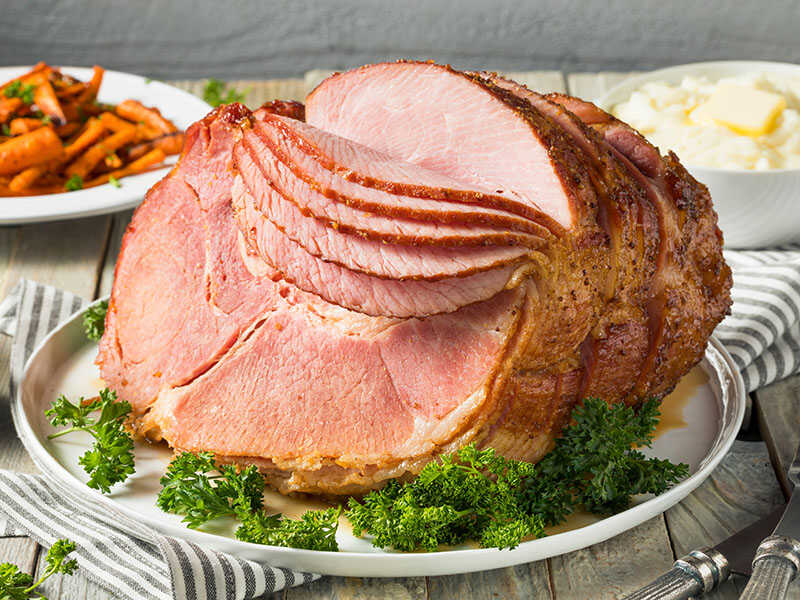 The term "ham" is famous for a product cut from the leg of a pig. The methods to make ham can vary in many ways: wet or dry-cured, with or without smoking(2) , creating plenty of ham types with distinctive flavors and colors.
People also think about it as processed meat. Processed meat is a kind of meat that has been transformed through different manufacturing procedures and added preservatives. It helps to enhance meat flavors and keep it longer. (3)
People often serve ham in thick or thin slices depending on the dishes and customers' desire. There are various popular dishes to eat with ham, such as sandwiches, eggs, and other delicious ingredients.
Have you wondered how chefs make ham from a whole pig?
Canadian Bacon Vs. Ham: The Best Comparison
Bacon and ham from Canada are comparable pieces of meat because of their similar look and appearance. That is the reason why people often mislabel these two kinds of meats.
However, they have some distinct features that few people know. Let's check it out to help you distinguish them easier and more exactly.
The table below will help you to summarize the key elements when comparing Canadian bacon vs. ham:
Criteria
Canadian bacon
Ham
Cut
The center of pork loin

Back legs, shank, or butt of a pig.
Thighs and rear end of back legs.

Shape

Thick or thin slices.
Round shape.
Cornmeal rolled shape.

Cubes, thick slabs of meat, regular slices, very thin slices, and even as a whole.
Spiral-sliced

When to eat
Breakfast or brunch
Every meal, especially lunch or dinner.
How to eat
Cook or warm before using.
Eat straight away.
Taste

Lean, soft, and sweet.
Less salty
Fattier.
Only one type.

Tender and sweet.
Saltier.
Less fatty.
More types with more flavors.

Preservation Method

Cured, smoked, and brined.
The brine has salt and maple syrup.

Cured, smoked with or without brine.
The brine has honey or sugar.

Nutritional Value

More protein and more fat
Less cholesterol and calories

More salt, carbs, and less fat.
More vitamin C and calcium
Cut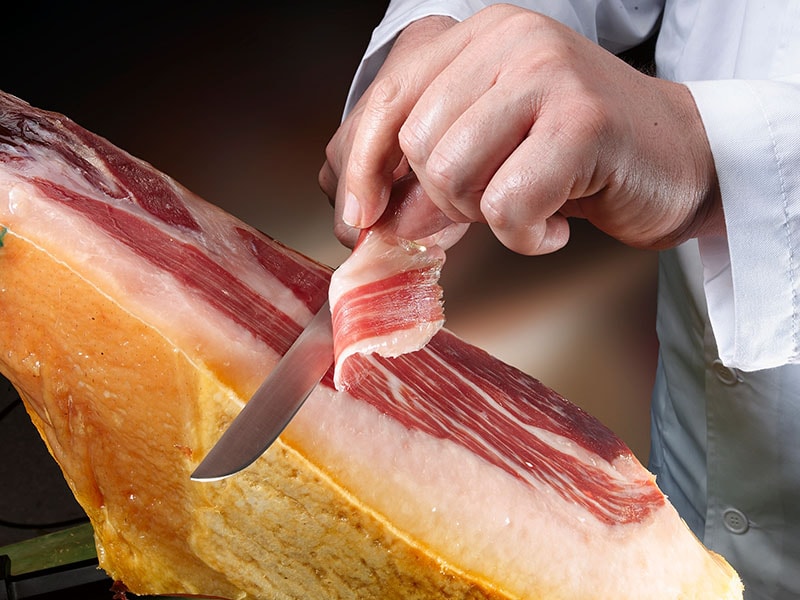 Both Canadian bacon and ham are both pig cut. However, Canadian bacon comes from the back of a pig, the loin meat.
Meanwhile, people often cut the back legs, butt, or shank to produce ham. Thighs and rear end of back legs are also favored choices when it comes to ham.
Shape
When comparing these meats, the next criterion you must consider is the shape when they are served.
You can cut Canadian bacon into both thick and thin slices, depending on dietary requirements. It often has a round shape. In addition, it is also seen in the cornmeal rolled version, which is usually called "cornmeal bacon".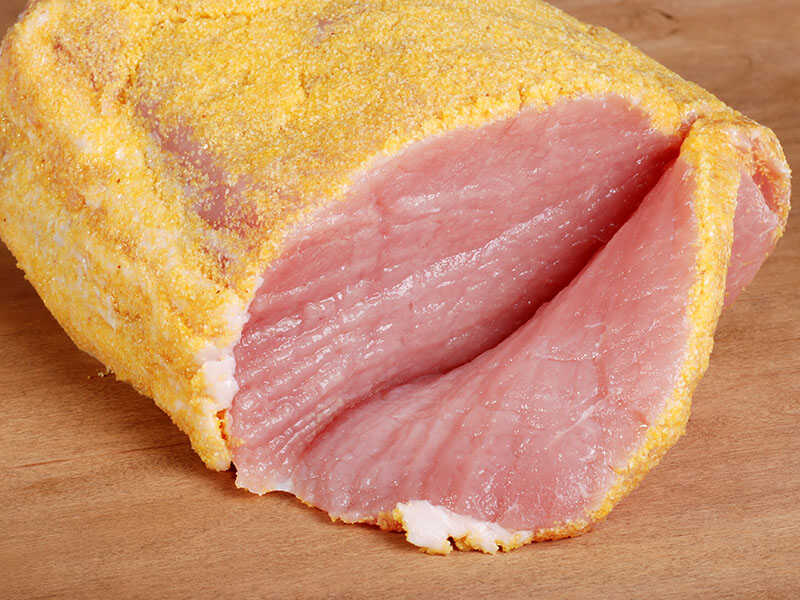 On the other hand, people usually serve ham in various shapes with different thicknesses. It is available as cubes, thick slabs of meat, regular slices, extremely thin slices, and even whole. Boneless ham is normally a spiral-sliced ham.
When To Eat
The eating time of these kinds of meat is also a little different. Canadian bacon is favored at breakfast or brunch as many other traditional kinds of bacon. In contrast, people usually eat ham at lunch or dinner time.
Of course, they can switch their places in certain circumstances, but what I want to mention is in general.
How To Eat
Did you think that every food can just be eaten similarly? It is not correct in the eating manners and gourmets' thoughts. I will point out the difference between them.
Although Canadian bacon may be eaten straight from the package, it tastes softer and more savory when cooked. If not, it can be hard, tasteless, and dry instead. You can saute, grill, or even bake this bacon.
Egg McMuffins and Benedict eggs are the most common combination with Canadian bacon in America. You can also combine it with potato hash for a flavorful and easy instant pot breakfast. Serving it in salads, pizza, or frittata are creative homemade alternatives.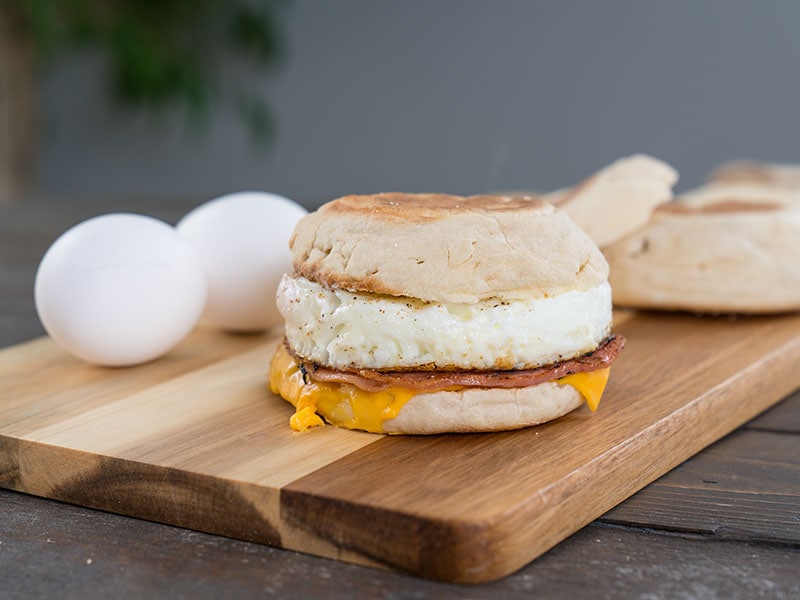 Since it has been cured, smoked, or baked, normally ham does not need any additional cooking. You can eat it immediately from the can or package. Ham will impress you by its taste when adding to scrambles, sandwiches, casseroles, or antipasto platters.
Additionally, there are multiple recipes to make use of leftover ham. Savory bread pudding, ham and cheese pizza, or ham hash are some excellent examples.
Taste
Taste is one of the key elements to determine whether that food is good or bad. Tasting can be another way to distinguish Canadian bacon from ham.
The Canadian bacon is extremely lean and soft, with little visible marbling. Canadian cooks always try their best to keep their sweetness and juiciness. Also, Canadian bacon tastes less salty than the traditional kind.
While there is only one kind of Canadian bacon, there are various kinds of ham around the world. I must mention some typical kinds that represent each culture, such as American-style ham, Parma prosciutto in Italian, Jamón Ibérico, or Jamón Serrano in Spain.
Each ham type has its own cultural flavor. But in general, ham somewhat tastes slightly sweet and soft with a smoky texture. Fresh ham has a flavor similar to pork tenderloin but is saltier and chewier.
Process Method
The process method may vary in different cultures. There is no strict rule that people must cure or smoke bacon and ham. It usually relies on your need and desire.
But what I note here is the most common way to make these kinds of meat that can be used at every corner of the globe.
Possessing similar key aspects of Irish bacon, American bacon, peameal bacon, and many other bacon varieties, Canadian bacon always undergoes brining. This brine only has salt and some maple syrup if possible.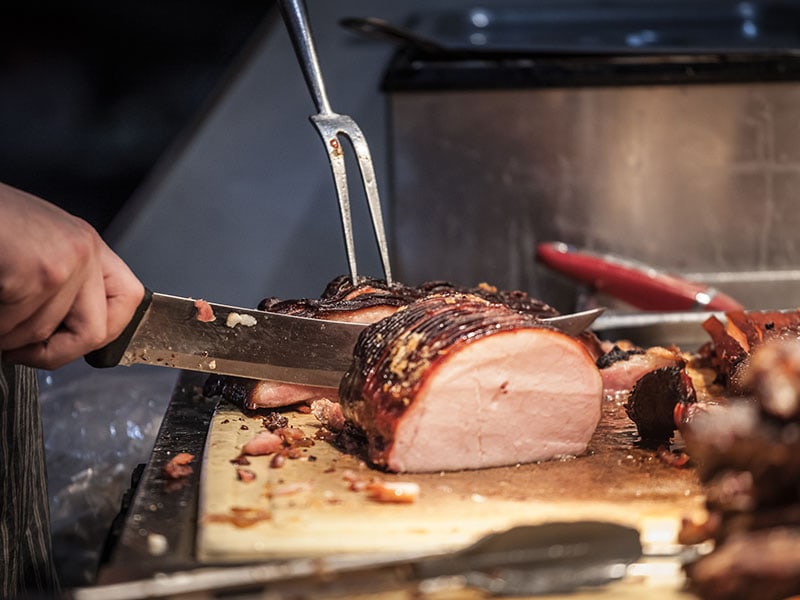 On the other hand, ham is traditionally cured or smoked. If there is a brining process, there may or may not be some honey or maple syrup in ham brines. However, they always include vinegar, caramel, herbs, and spices.
Here is the secret to a wonderful ham brine.
Nutritional Value
This is also the aspect that most people are concerned about when deciding to eat Canadian bacon or ham. When you eat a dish, you must know clearly about its nutritional information to make sure that it is the right one for your body's needs.
Back to your concern today, which is about ham and Canadian bacon. Ham normally has more salt, carbs, and slightly less fat. It also includes more Vitamin C and calcium.
Then, Canadian bacon significantly has more protein and a bit more fat than ham. The rate of cholesterol and calories is considerably lower.
5 Types Of Dishes With Canadian Bacon Or Ham As An Ingredient
I know that when you think about Canadian bacon or ham, you have already made your own decision about what dish you are going to cook. But I want to suggest some delicious dishes made from those kinds just in case you have no idea.
Yep, this kind of pizza is famous for Canadian bacon or ham toppings. Have you ever heard about pineapple on pizza? It is a pity if you miss it. Try this recipe to know how the ingredients are compatible.
Making Hawaiian Pizza at home is easy with less time than you thought.
The sharp cheddar and tangy BBQ sauce, as well as Canadian bacon, enhance the flavor of these sandwiches to the marvelous taste. You can easily do it at home with the recipe here. Just do it and enjoy your yummy BLT.
If you want to make an egg benedict, Canadian bacon or ham is the best ingredient. This classic breakfast maintains the natural flavor of Canadian bacon and is also attractive with its colorful appearance.
This is the most effective way to make egg benedict.
When you are in a hurry, this dish will satisfy you. You can cook the fluffy omelets quickly with nutritious Canadian bacon inside. Nothing is perfect for a healthy and energetic breakfast than this. Of course, you can make it with ham instead.
This pasta cannot be mistakable with any other dish. Look at its creamy texture! There are three main ingredients which are shells, broccoli, and ham. Ham is the best choice in this recipe. Can you ignore it?
How quick and convenient this pasta with broccoli and ham is.
How To Make Canadian Bacon At Home?
You've known that Canadian bacon is a very nutritious and savory dish for your daily meals. And now, you can make it at home straight away. You will be surprised because of how easy these steps are.
Ingredients
Here is the list of necessary ingredients that you must prepare before starting to make your Canadian bacon:
Boneless pork loin: 2 kilograms (4.5 pounds).
Salt: ½ cup
Maple syrup: ½ cup
Fresh water: 1.5 liters
How To Do
These steps can help you to make Canadian bacon at home easily:
Step 1: Make The Brine
Add salt, maple syrup, and water to a large enough pot. Mix all together. Then, simply boil and heat your brine until the mixture dissolves and is well mixed. Pour it into a jar after that.
NOTE: You can use a teaspoon of celery powder to replace the curing salt.
Step 2: Conducting Brining Process
You should wash the pork loin carefully and drain it first.
Then, place your pork loin in the big container and pour the brine over it. You should submerge the meat deeply below the brine water. If the first batch of brine is not enough, you can prepare an extra one.
Two kilograms of meat is the best weight for this recipe. If you have more than two kilograms of loin to brine, the brine may not soak thoroughly as you want.
Step 3: Wait For The Brine Soak Into The Meat
Stabilize the condition of meat and brine solution for 3 to 5 days in the refrigerator. The duration depends on the size of the meat. You should check the meat regularly to make sure it is completely brined.
Step 4: Take Pork Loin Out Of The Brine And Wash It
Take the meat out of the brine and let it air dry for a few hours. If you do not want your bacon to taste too salty, you can rinse it under the running water first. Or dry it with a paper towel instead.
Step 5: Smoke Your Meat
Add wood chunks and pieces into the smoker to create smoke and increase temperature. It is commonly smoked at 225°F.
For around 3 hours, smoke your meat gradually. It is done when the interior temperature hits 150°F. No matter smoking or grilling, keep the low heat source to receive the best quality of your Canadian bacon.
Step 6: Cool Your Meat
When you have finished the smoking process, your Canadian bacon is perfectly done. You need to cool down its temperature for 30 minutes before storing or frying to serve.
To maximize your bacon shelf life, make sure that you know the proper way to store them. Unless you plan to eat it within 2 hours, refrigerate cooked bacon to maximize its lifespan. For raw bacon, it's best that you keep it in the fridge or freezer.
Let's figure out how to make Canadian bacon at home.
Can I Use Canadian Bacon And Ham Interchangeably?
You may want to substitute Canadian bacon for ham and vice versa. Lucky for you, it's totally possible since not many people can recognize their differences. However, you should still be careful.
If you want to use Canadian bacon instead of ham, make sure you cut down the cooking time. Or else, it'll dry out, especially with stir-fried dishes.
For the reverse ways, you'd better opt for the center cut ham since it will taste almost identical to Canadian bacon. The best options for ham are antipasto platters and sandwiches.
What Are Other Types Of Bacon?
When mentioning bacon, you must be conscious of several varieties of bacon worldwide. Here I also include some famous types:
Pancetta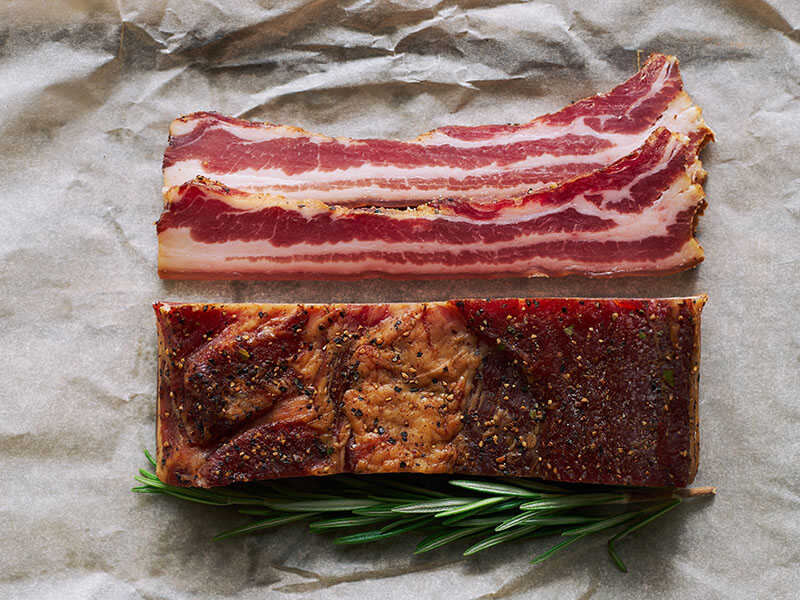 It is a type of Italian bacon made from pig belly. You can eat raw pancetta as well as the cured or smoked one. It has a high-fat content. People often season pancetta with salt before serving it with pasta.
Slab Bacon
Slab bacon is known as streaky bacon because streaks come out when cut. People usually cut pork meat into huge slabs to make slab bacon. One convenient thing about this bacon is that you can slice it however you like, thick or thin. It is ideal for stews or soups.
There are various ways to cut slab bacon, and here are the best ones.
Turkey Bacon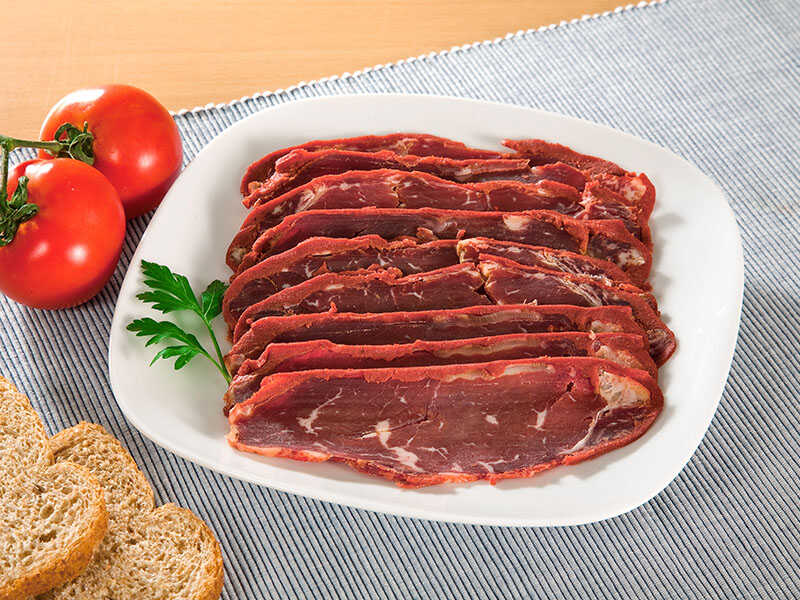 Instead of pork, this kind of bacon uses turkey. It also experiences the smoking process. Its color is usually pink but not too bright or pale. Turkey bacon is a great alternative for individuals who do not want to consume pig.
Duck Bacon
Like turkey bacon, duck bacon is also an alternative for pork products. It is cut from duck breast. This bacon is delicious and has a unique flavor with less fat. People serve it in thick slices. Many people comment that duck bacon has a similar look as its cousin pork.
FAQs
In case you want to know more details about Canadian bacon and ham, I suggest some information here. Hope it is helpful.
I Note Here With Some Useful Points
I have provided you with all information about Canadian bacon vs. ham. Hope it stays in your mind. Finally, I just want to put here some quick and useful information that can help you remember better.
Canadian bacon is made from the pig's back, whereas ham is made from the pig's back legs.
Canadian bacon is lower in salt than ham, but fattier.
While Americans call it Canadian bacon, original Canadians simply think about it as back bacon.
Canadian bacon is brined with salt and maple syrup. Meanwhile, sugar and honey are the main ingredients in ham brine.
Canadian bacon must always be cooked before eating, yet ham can be eaten directly from the pack or can.
How do you feel when you finish reading this article? Congratulations, now you have a piece of very useful and awesome knowledge in your pocket. Share it with anyone who needs it right away!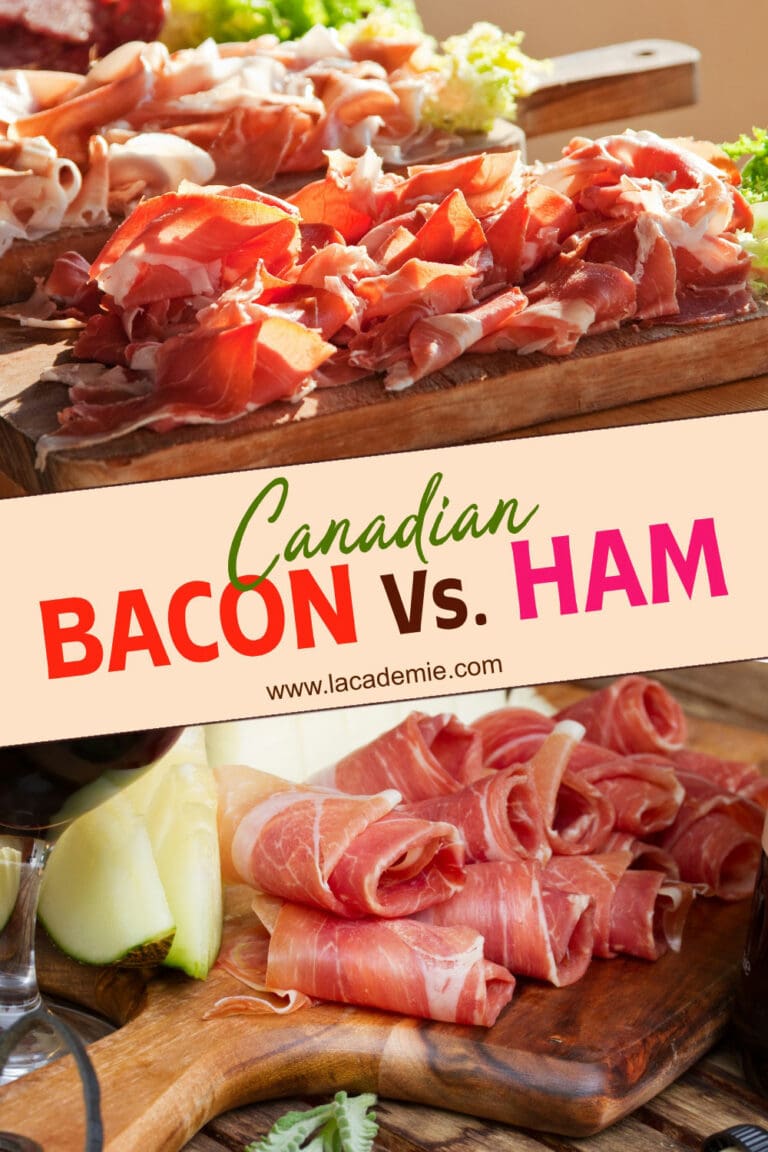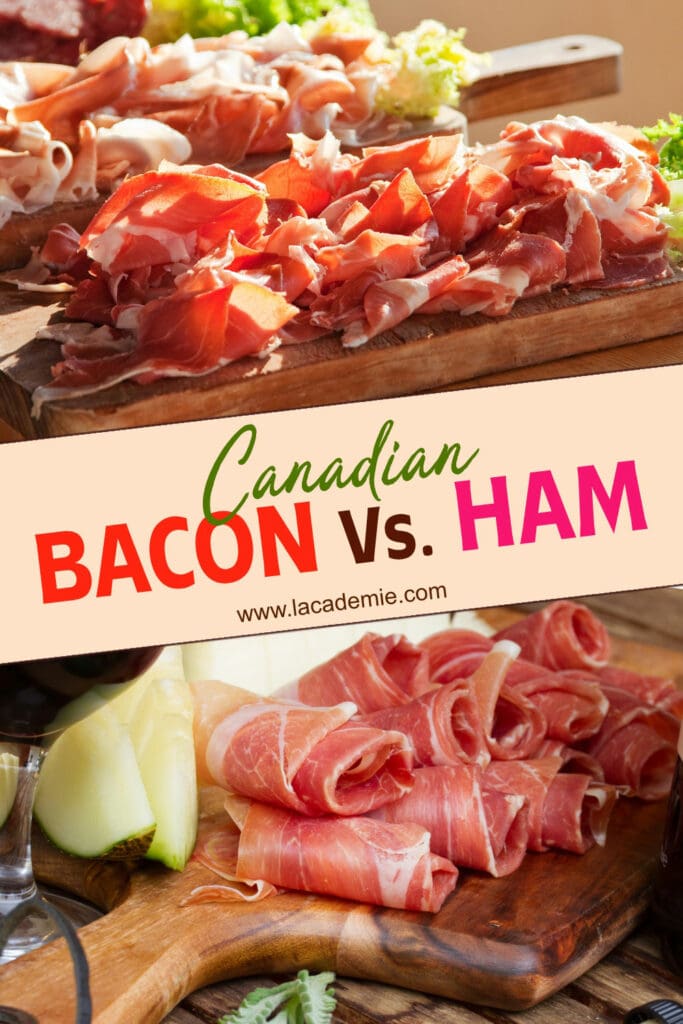 References
En.wikipedia.org. 2022. Back bacon – Wikipedia.
En.wikipedia.org. 2022. Ham – Wikipedia.
En.wikipedia.org. 2022. Processed meat – Wikipedia.