There are many different types of bacon that I'm sure you can not name correctly. Bacon is a very popular product made from salt-cured pork with many cuts. It often contains the belly or the less fatty sections of the pork's back.
The applications of bacon are so varied that you can use it as a primary ingredient in a dish or utilize it as a side dish. But no matter what your purpose is, it will please your taste bud and stomach.
Let's dig further into many types of bacon so you can better understand and apply them.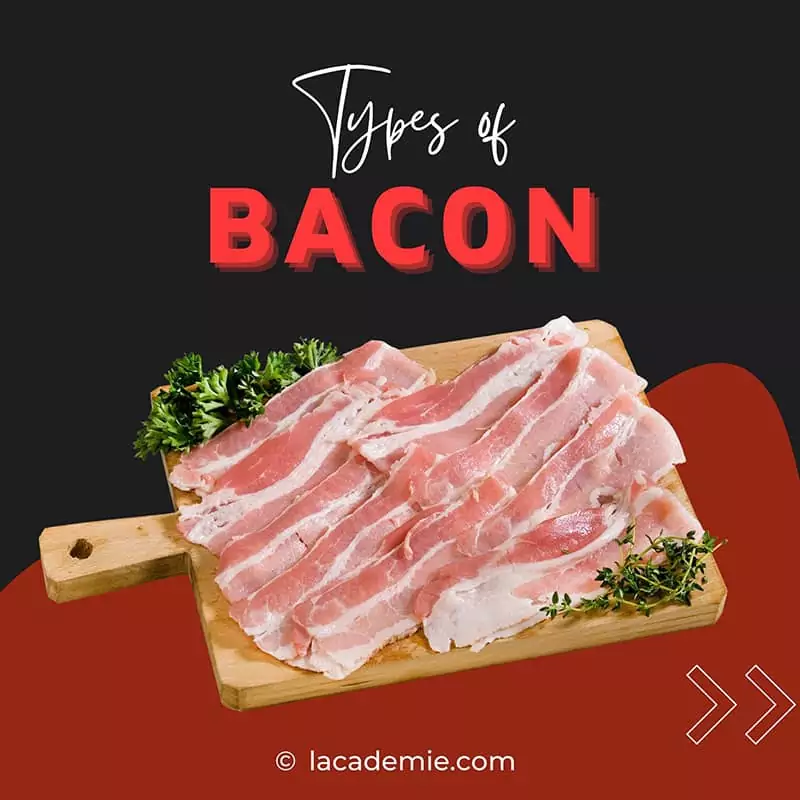 9 Traditional Bacon For You To Try
Here are some traditional types of bacon you have or haven't heard of before. They differ slightly in appearance, taste, and usage. Let's take a quick look to see what kind of bacon you need for your next meal.
Types Of Bacon
Made From
Characteristics
Best Used For
Jowl Bacon
Pig's cheek

Tender
Silky and smooth when cooked
Sweet and smoky

Lardon
Pork belly or back
Has a crispy exterior and a soft, meaty interior when cooked

Salads
Soups
Coq au vin
Beef bourguignon

Peameal Bacon/Cornmeal Bacon
Boneless pork loin and cornmeal

Has crispy edges and a juicy interior when cooked
Mildly sweet and salty

Cottage Bacon
The shoulder of a pig

Oval and circular in shape
Sweet, salty, and smoky
Less fatty

Sandwiches
Salads
Omelet
Grilling

Streaky Bacon
Pork belly

Ruler-shaped
Crispy when cooked
Rich and smoky

Collar Bacon
Pig's collar

Meaty
Low in fat
Tender and juicy when cooked

Roasting
Sandwiches
Pasta dishes

Gypsy Bacon
Usually made from slab bacon
Spicy and pungent
Slab Bacon
Pork belly

Uncut
Rectangular in shape
Has a crispy exterior and a tender and meaty interior
Salty and heavy smoky

Pasta soups
Stews
Bacon jam

Uncured Bacon
Various cuts of pork

Doesn't contain sodium nitrites
Contain natural nitrites
Healthy

Like other kinds of bacon
1. Jowl Bacon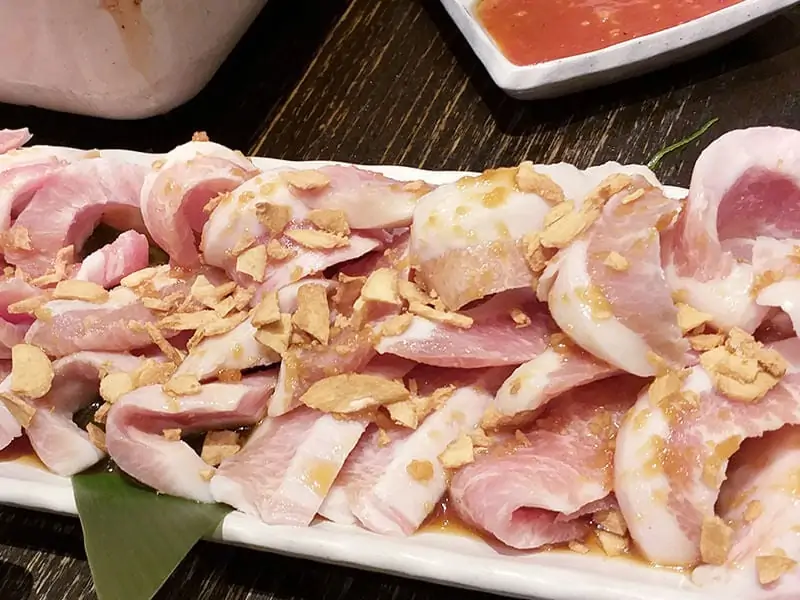 Jowl bacon is a cured or smoked cut of pork from a pig's cheek. In the Southern United States, it is known as hog jowl. It has tender meat lined up between white strips of fat, but these layers are uneven.
You can fry this type of bacon and serve it as a main course. Or you can pair jowl bacon with any of your favorite greens like collard greens or turnip greens. Moreover, chopped jowl bacon is an ideal option for your sandwiches.
When cooked, jowl bacon is nice and has a silky-smooth texture on the tongue and a rich, almost sweet, smoky flavor.
Known as the fattiest bacon of all types of bacon, jowl bacon is a winter cured product, so you can store it for a lengthy period of time without refrigeration.
2. Lardon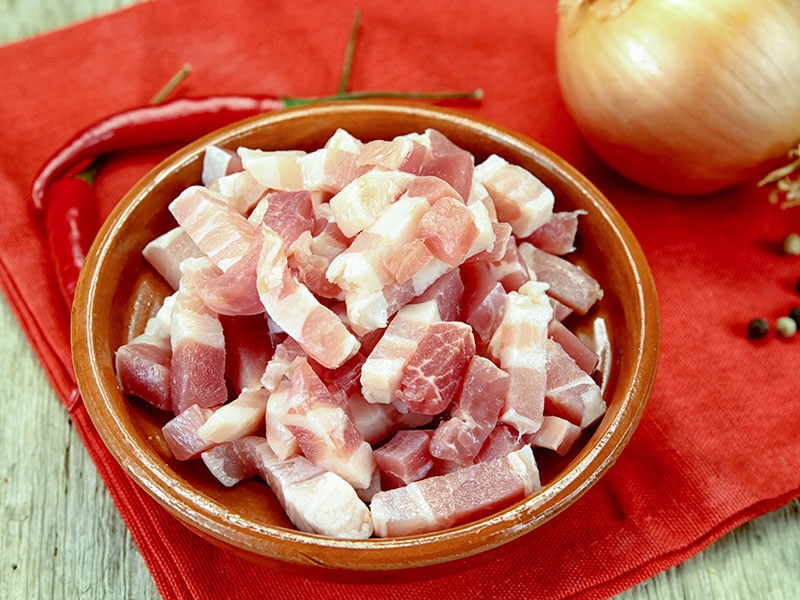 Lardons, also called Lardoons, are small strips or cubes of fatty bacon from pork belly or back. This type of bacon originates from France. It has a salty flavor from being cured with salt but is not always smoked like other bacon.
Lardons are simply slab bacon cut into matchsticks. That's why if you can't buy lardons, you can slice slab bacon into ¼-inch chunks to get your desired bacon.
When cooked, lardons will provide you with crispy edges with a soft meaty texture on the inside. You can utilize lardons as a base for stewed black beans or use them to add a depth of flavor to your savory foods, soups, and salads.
Furthermore, lardons are an excellent ingredient for making coq au vin (a French dish of chicken braised with wine) and beef bourguignon (a French beef stew braised in wine).
3. Peameal Bacon/Cornmeal Bacon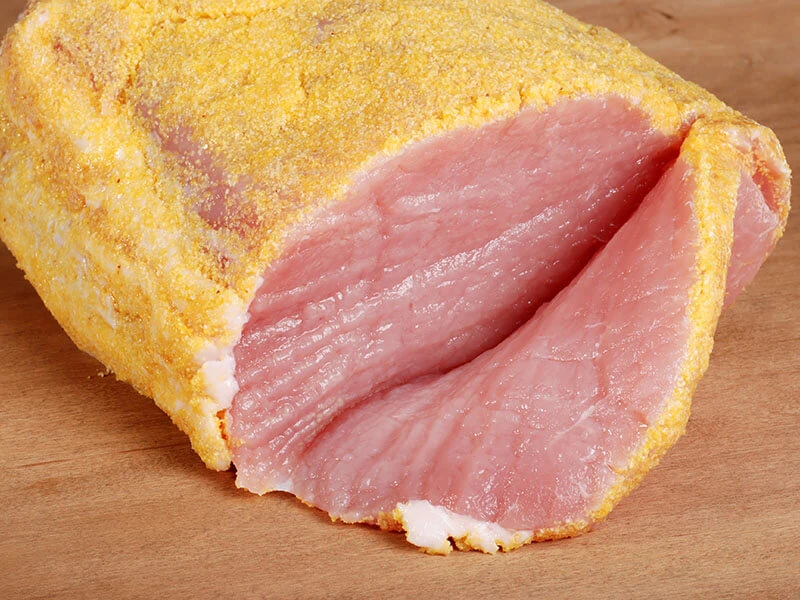 Originating from Southern Ontario, a province in east-central Canada, peameal bacon, also known as cornmeal bacon, consists of boneless pork loin. It is cured in salt and then coated with cornmeal.
The name "peameal bacon" comes from the process of rolling pork loin in ground yellow peas. Later, people used ground yellow cornmeal to replace yellow peas. Thanks to this coating, peameal bacon has crispy edges after cooking.
Moreover, the low-fat content gives this type of bacon a juicy texture. Peameal bacon has a characteristic mildly sweet and salty flavor. You can fry, bake or grill this type of bacon and serve it at any time of the day.
Don't confuse peameal bacon with Canadian bacon because they are two separate concepts. One of the most notable differences is that Canadian bacon is fully cooked and ready to eat as soon as you buy it; peameal bacon is not.
4. Cottage Bacon (Buckboard Bacon)
Cottage bacon or buckboard bacon is a type of bacon taken from the shoulder of a pig (these cuts are also called pork butt). Therefore, cottage bacon doesn't appear with the characteristic streaks of fat like what you can see in regular bacon.
Often coming in an oval or circular shape, the flavor of bacon is likened to a cross between bacon and ham. It's sweet, slightly salty, and smoky.
Cottage bacon has a meaty and less fatty texture. You can fry this type of bacon and then serve it with your sandwiches, salads, or omelet. Utilizing it to warp your grilled foods also creates a tremendous hit.
5. Streaky Bacon
Streaky bacon is a type of bacon taken from the pork belly. People sometimes misunderstand the differences between pork belly and bacon. The most significant distinguishing aspect is that pork belly doesn't undergo the curing process as bacon does.
Side bacon or American bacon is also the other name for streaky bacon. It's so popular that if you mention you want to buy bacon, the seller will immediately assume that you wish for streaky bacon.
Coming with the streaks of fat running along with it, streak bacon has a long shape like a ruler. With high-fat content, it's delicious and achieves a perfectly crispy texture when cooked.
This type of bacon adds a wonderfully rich and smoky taste to your dishes. You can use it to make the stuffing for your sandwiches, wrap it around almost any meat, and pile it onto pancakes. These matches will satisfy your taste buds.
Here is something you should know before cooking streaky bacon.
6. Collar Bacon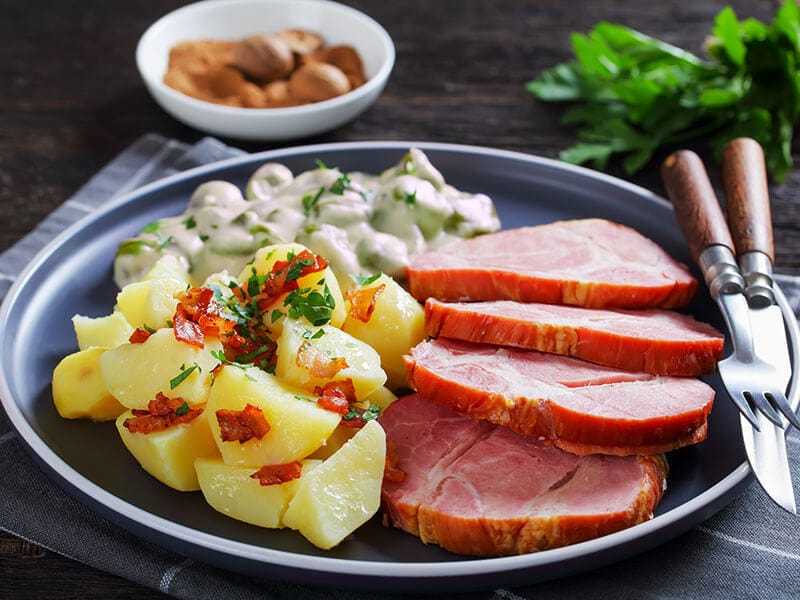 As the name suggests, collar bacon comes from the pig's collar, the central muscle of the shoulder. It is the part near the shoulder bone with a meaty texture and is fairly low in fat. The beautiful marbling running through collar bacon is behind its moist and flavorful qualities.
Collar bacon has a darker color than other types of bacon. Furthermore, you will get a wonderfully tender and juicy cut when roasting or cooking this type of bacon. Collar bacon is an excellent choice for making sandwiches or pasta dishes.
Although collar bacon is useful and delicious, it's difficult for you to find this type of bacon on the market. However, you can buy it online or make it from the whole collar at home.
7. Gypsy Bacon
Known as a very traditional type of bacon, gypsy bacon is very popular in German and Hungarian cuisine. The name "gypsy bacon" comes from the fact that the preparation and cooking of this bacon that have been considered a Gypsy tradition for a long time.
With the rind still on, gypsy bacon is a cured bacon that you can eat straight out of the package because it has been pre-cooked with garlic and paprika before. The combination of these ingredients gives your bacon a spicy and savory flavor.
You can enjoy this excellent type of bacon with an ice-cold beer or use it as a great addition to make your stews and sandwiches taste better.
8. Slab Bacon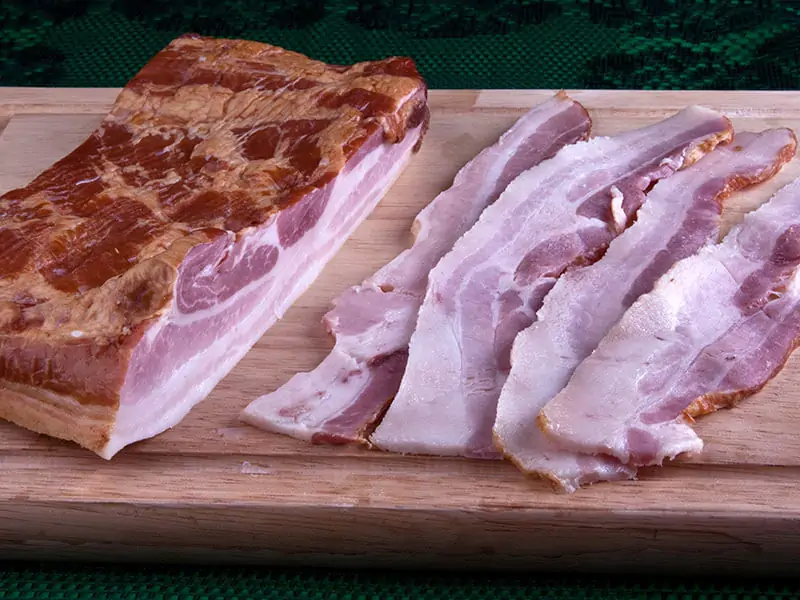 Slab bacon is a type of bacon derived from the whole smoked pork belly. An interesting thing about this bacon is that it is an uncut product, hence the name "slab". Depending on your preference, you can buy them and slice them into thin cuts or thick cuts.
You will see slab bacon in a large rectangular shape with or without a rind. It can be smoked, salted, or aged during the curing process. You will get a crispy exterior and a tender and meaty interior with this type of bacon when cooked.
You can use this type of bacon to make pasta soups, stews, or even a bacon jam spread on burgers and toast. Slab bacon will lend a salty and heavy smoky flavor to your delights.
Do you know how to cut slab bacon correctly? Check here for the answer.
9. Uncured Bacon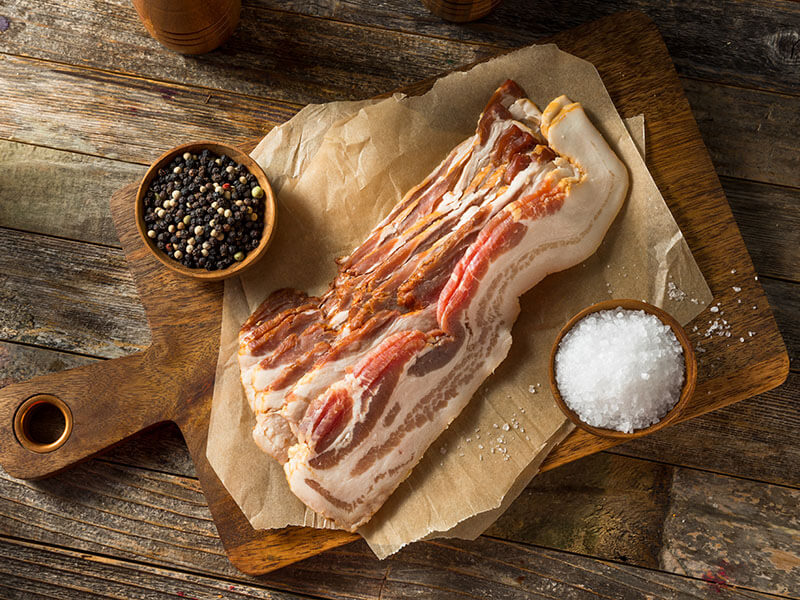 Many people think that uncured bacon is a type of bacon that doesn't undergo the curing process. However, you are mistaken. The difference between cured bacon and uncured bacon is that uncured bacon doesn't contain sodium nitrites like other types of bacon.
Nitrite is an additive added to bacon to give your bacon a signature pink color, improve the flavor of bacon, and delay bacteria growth. Instead of using sodium nitrites, this bacon will be cured with a form of celery and other flavorings.
Celery provides your bacon with natural nitrites. Moreover, the vitamin C content will prevent the conversion of nitrites to nitrosamines, a deadly carcinogen. If you are looking for a healthier version of bacon, uncured bacon is a good choice.
6 Typical Types Of Bacon From Around The World
The list below specifies the sorts of bacon associated with several countries. However, they are becoming increasingly popular throughout the world and not confined to their homeland anymore. Let's take a closer look.
Types Of Bacon
Made From
Characteristics
Best Used For
Pancetta (Italy)
Pork belly

Light pink
Dense and silky

Sandwiches (arrotolata)
Grilling (stesa)

Canadian Bacon
Pork loin

Soft and juicy when cooked
Thick and round in shape

Sauteeing
Baking
Soups
Salads

Irish Bacon
Pig's back

Sandwiches
Omelets
Frittatas

British Bacon
Pork loin and pork belly
Pairing with sausages, eggs, and black pudding
Szalonna (Hungarian Bacon)
The fatty cut of pork
Crispy
Spreading over the bread
Lap Yuk (Chinese Bacon)
Pork belly
Slightly sweet, salty, pungent
10. Pancetta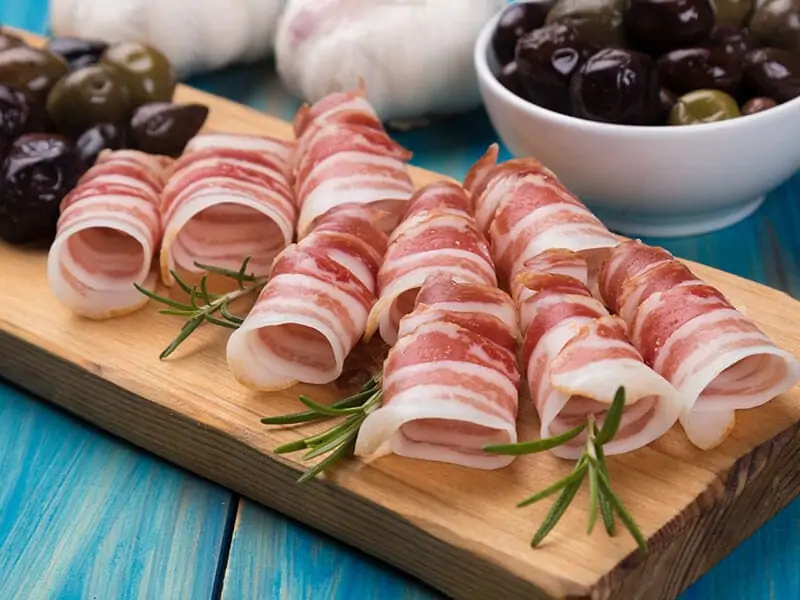 Pancetta is an Italian variety of bacon coming from the pork belly. Like other types of bacon, pancetta also undergoes the curing process. People will season it with some seasonings like garlic and black peppers in this process.
Moreover, a type of pink salt is added to help pancetta get a characteristic light pink color. This type of bacon is entirely safe for you to eat raw. Pancetta has a dense and silky texture without any smokiness.
Unlike other types of bacon, pancetta comes in two primary forms: arrotolata (rolled) and stesa (flat). If you prefer sliced meat for sandwiches, go for arrotolata. On the other hand, stesa is the best choice to serve in the diced form.
The distinctive properties of the two are also why you will see pancetta in the form of stesa more in the United States. The arrotolata variety is more prevalent in Italy.
11. Canadian Bacon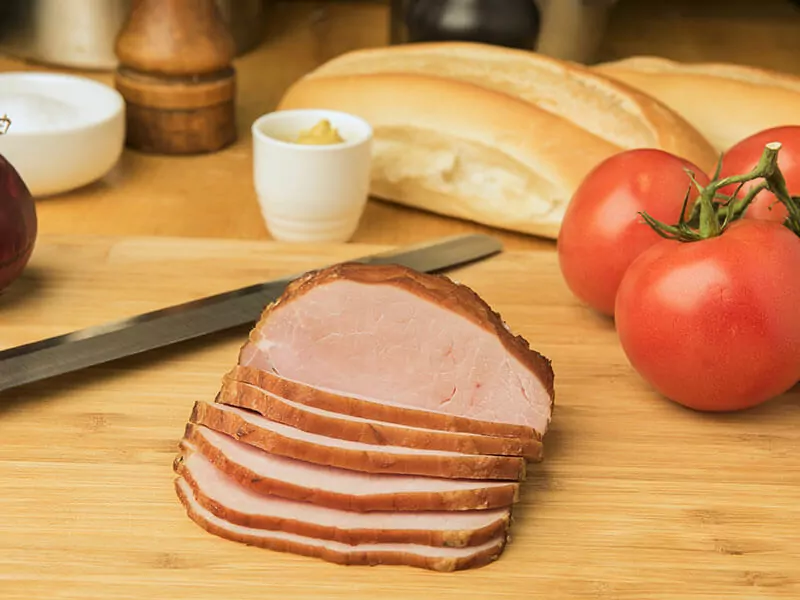 Canadian bacon is a type of back bacon originating from Canada. "Canadian bacon" is the American people's name to call back bacon. Many people still mistakenly think that Canadian bacon is ham.
Although similar in flavor, Canadian bacon and ham have distinctive differences. While this type of bacon is a product of the pork loin, ham comes from the pig's hind leg.
Famous for its lean cut, Canadian bacon takes the form of thick, round slices that are salted, cured, possibly smoked, and fully cooked. You can eat this type of bacon straight from the package.
Canadian bacon is soft and juicy and doesn't get the crispy texture like other types of bacon. With a savory and rich flavor, Canadian bacon is often sold in cylindrical chunks.
You can sauté, bake it or even use it to prepare soups, salads, and other dishes. Canadian bacon is also an ideal pairing for cheeses, crackers, and wines in a hearty party.
This guide will help you prepare perfect slices of Canadian bacon right now.
12. Irish Bacon
Many people believe that Canadian bacon and Irish bacon are the same concepts because both are the product of the back of the pig. So, what is special about Irish bacon compared to Canadian bacon?
Although coming from the back of the pig, Irish bacon is richer in fat content thanks to a fatty layer surrounding it. This layer also helps your bacon have a distinctive flavor and texture, which is soft with a slightly salty taste.
It frequently appears round with thick slices. Irish bacon is an ideal addition to sandwiches. Moreover, you can use it to make omelets or frittatas (an egg-based Italian dish).
13. British Bacon/English Bacon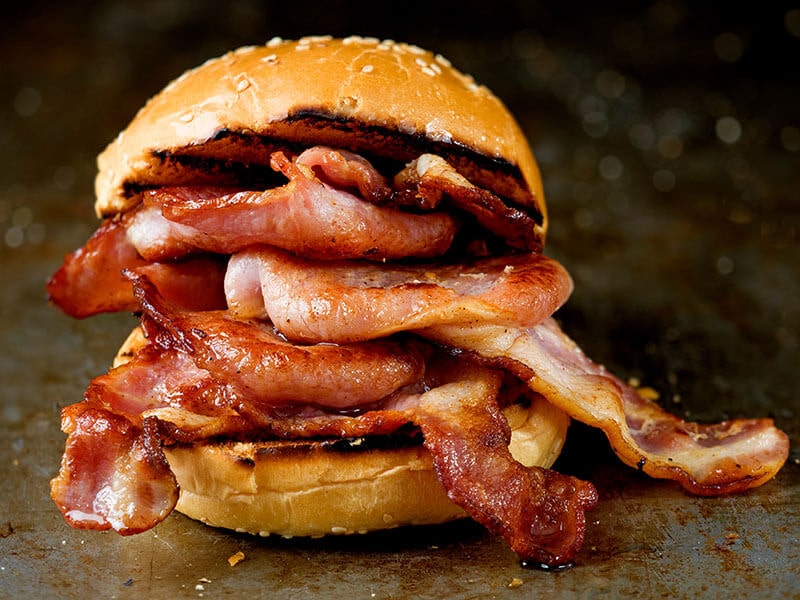 You can call British bacon the perfect combination of Canadian bacon and American bacon. It is a product of both pork loin and pork belly. Therefore, British bacon is a balance of lean and fat.
However, English bacon is different from American bacon and Canadian bacon: leaner than the former but fattier than the latter. If you don't like something fatty or lean, British bacon is a perfect choice. It also gives you a juicy feeling when taking a bite.
British bacon is often cut into thick slices when served, also called rashers. Therefore, many people also call British bacon by that name. You can pair this type of bacon with sausages, eggs, and black pudding to keep your taste buds happy in the mornings.
Let's discover the story behind English Bacon.
14. Szalonna (Hungarian Bacon)
Hungarian bacon is a salted or smoked fatty cut of pork with layers of meat originating from Hungary. Like Canadian bacon, you can eat Hungarian bacon without further cooking.
When cooked, Hungarian bacon gets a crispy texture. Moreover, Hungarian bacon's fat sizzled during the cooking process will be used to spread over the bread. Assembling some slices of cucumber or red pepper will create a peasant's dish.
15. Lap Yuk (Chinese Bacon)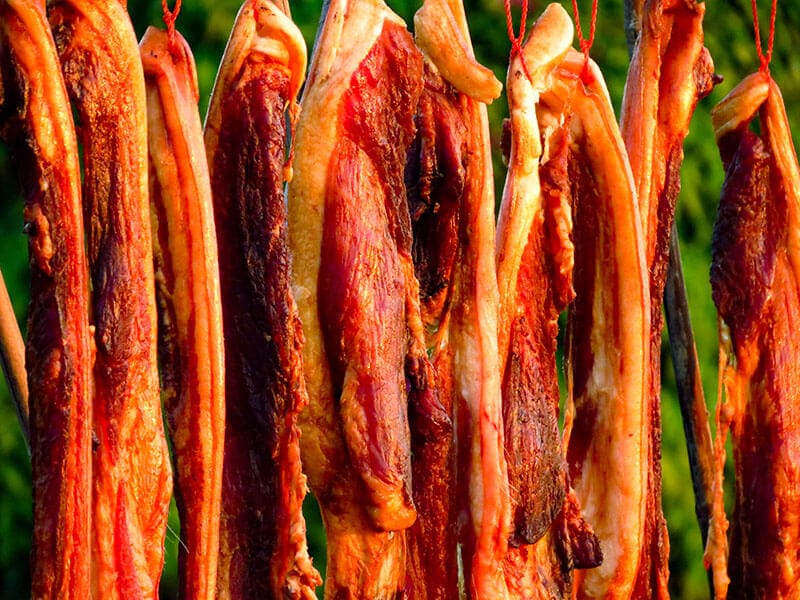 Like other traditional types of bacon, Chinese bacon, also called Lap Yup, comes from the belly of the pig. However, instead of being cured in salt, Chinese bacon will be air-cured in a mixture of brown sugar, soy sauce, and cinnamon or star anise.
This combination gives this bacon a deep and complex flavor with a slightly sweet, salty, and spicy hint. Moreover, Chinese bacon brings you piggy goodness with the chewy rind still on.
Chinese bacon is always available in Asian markets. The applications of this type of bacon are very diverse. You can use it as the main ingredient in pasta, salads, and many stir-fried dishes to enhance your appetite.
6 Other Types Of Bacon You Should Know About
These types of bacon below will help you learn more options if you are getting rid of the taste of traditional kinds of bacon. They are flavored or made of other animals to make a new twist for this versatile ingredient. Let's take a look right now.
Types Of Bacon
Characteristics
Chocolate-Covered Bacon

Flavored with chocolate
Consists of bacon and chocolate
Sweet, salty, and smoky

Pumpkin Spice Candied Bacon

Consists of cinnamon, ginger, nutmeg, etc.
Nutty, sweet, and spicy
Chewy, and crispy

Turkey Bacon

Made with turkey meat
Less fatty

Duck Bacon

Made of duck breast
Less fatty
Thin

Coconut Bacon

Vegan food
Made from unsweetened coconut flakes

Elk Bacon

Made from cured elk bellies or tenderloins
Common ingredients: vegetable powder, brown sugar, and cane sugar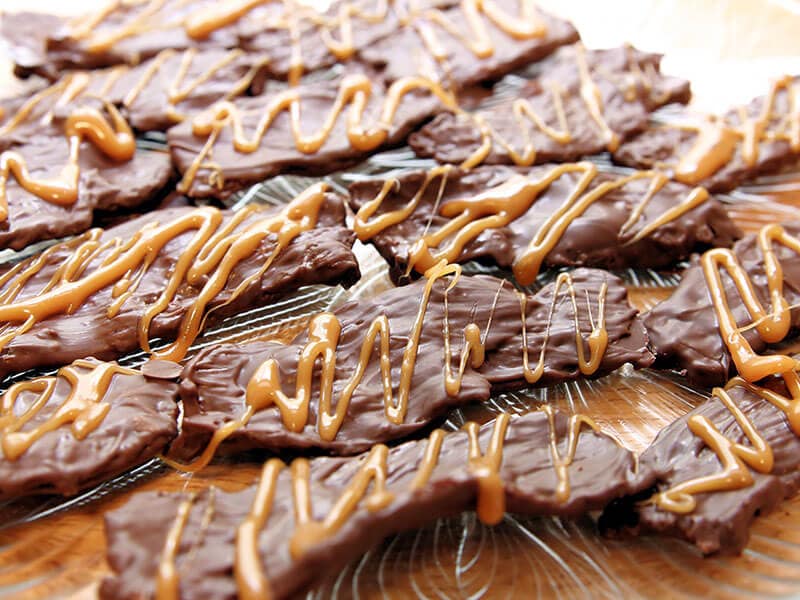 Chocolate-Covered Bacon is a type of bacon flavored with chocolate. You need to prepare bacon (often streaky bacon), chocolate (milk chocolate or dark chocolate), and other toppings to make this flavored bacon.
The inclusion of chocolate gives your bacon a sweet taste, making your bacon a perfect blend of sweetness, saltiness, and smokiness. You can also top your bacon with sea salt, walnuts, or almond bits to enhance the flavor of your bacon.
This delicious cooked bacon can stay good in the refrigerator for several days. Don't miss chocolate-covered bacon if you are a bacon fanatic.
Follow these instructions to make Chocolate-Covered Bacon at home.
Another flavored type of bacon that I would like to share with you is pumpkin spice bacon. Like any other pumpkin-flavored products you have tried, this pumpkin-flavored bacon is also very easy to prepare.
Some common ingredients you need to make this type of bacon are cinnamon, ginger, and nutmeg. These warm spices give your bacon a nutty, sweet, and spicy flavor. This bacon is flavorful with a chewy and crispy interior, making it more irresistible.
18. Turkey Bacon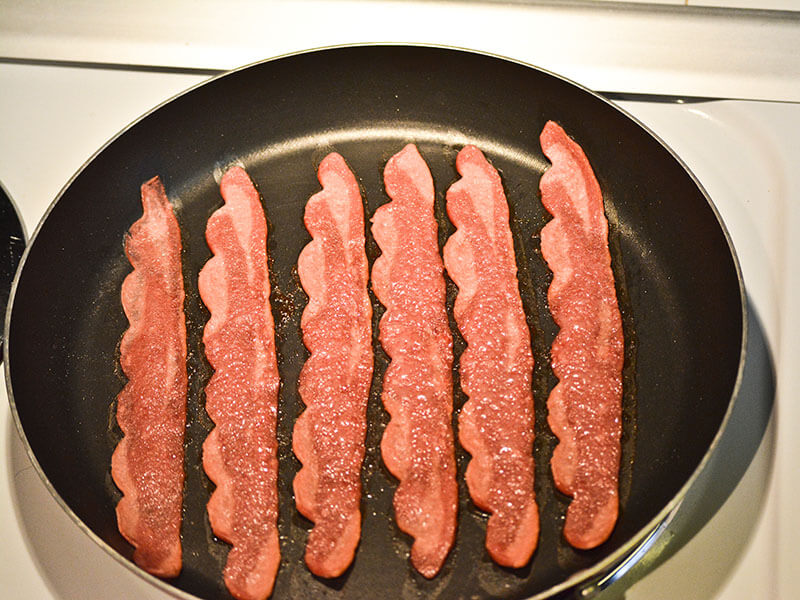 Turkey bacon is a product of the turkey's thigh or ground light and dark turkey meat. It's also smoked, and people also shape them into strips to make them resemble the look of bacon. When cooked, turkey bacon turns golden and crispy.
You can replace turkey bacon in many traditional bacon recipes like sandwiches, burgers, and salads. However, remember that turkey bacon is less fatty than real bacon. Therefore, turkey bacon is more likely to stick to the pan after cooking.
19. Duck Bacon
If you don't like pork bacon, you can give duck bacon a chance to remove your bacon craving. Instead of being made from the part of pork, your duck bacon needs thin strips of duck breast.
Duck bacon is smoked like other types of bacon, but it's uncured. It means that duck bacon doesn't contain nitrites and other preservatives harmful to your health. However, the fat content in duck bacon is only half that of pork bacon.
Therefore, it's hard for you to get the crispy texture of duck bacon when cooking. Because duck bacon is very thin, it is easy to become leathery and tough when overcooked.
Duck bacon is wonderfully flavorful, making it an excellent choice to enhance your appetite. You can serve it with scrambled eggs or simply layer it with a fluffy biscuit. If you ask for something addictive, it's precisely here.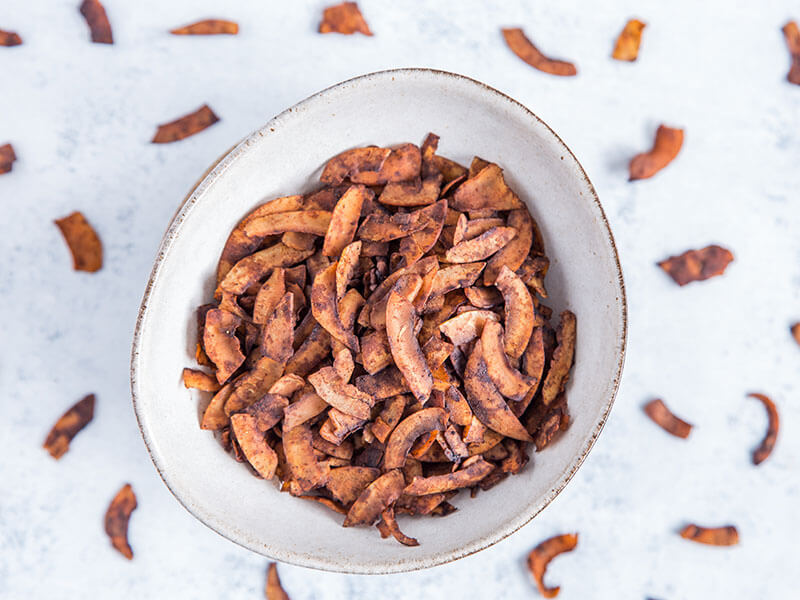 If you are looking for a vegan type of bacon, coconut bacon is made for you. To make this vegan version of bacon, you just need to prepare unsweetened coconut flakes. This is the crucial ingredient in this recipe.
Moreover, salt and spices are necessary to get the best flavor and consistency of real bacon. There are many variations of coconut bacon. You can add soy sauce and maple syrup to this type of bacon.
After baking, your coconut bacon will turn golden and have a crispy texture, similar to real bacon. Coconut bacon goes perfectly with salads, dips, and potato skins. You can store coconut bacon for seven days at room temperature and up to 1 month if freezing it.
One of the easiest ways to make coconut bacon is here.
21. Elk Bacon
Elk bacon is a variety made from cured elk bellies. The fat included in the elk bellies make it an excellent option to replace pork to make bacon.
Like other types of bacon, elk bellies are also brined and smoked in the same way. Compared to pork or beef bacon, elk bacon is leaner and bigger in size. It is very rich in protein and has low-fat content.
You often use typical ingredients like vegetable powder, brown sugar, and cane sugar to make elk bacon. First of all, you should mix all the ingredients and apply them to both the back and the front of the bellies.
After that, you need to distribute maple syrup over the bellies. When everything is ready, you just need to store it and let your bacon experience the smoking process. Your resulting bacon's texture and flavor will be similar to the original ones.
You Should Always Have Bacon In The Kitchen
Have you tried all types of bacon? Although they are so difficult to distinguish just by looking at their appearance, they have distinct characteristics and flavors that will leave you remembering their sensations.
I hope this article has filled in any holes in your knowledge regarding bacon. If you have any sharing relating to these bacon varieties, please comment. Remember to share this post to help more people benefit from this information. Thank you!