How long is cooked bacon good in the fridge is a common question. It's annoying if you always worry when your food goes bad, right? I know that because I used to be in the same situation.
Browsing this article will solve your concerns by giving the exact information you need as well as other additional explanations. You also have a chance to research various signs telling you that your bacon has gone bad. Thanks to this, I believe it will reduce your burden.
Don't hesitate anymore? Let's quickly review the extremely useful information that is exactly for you!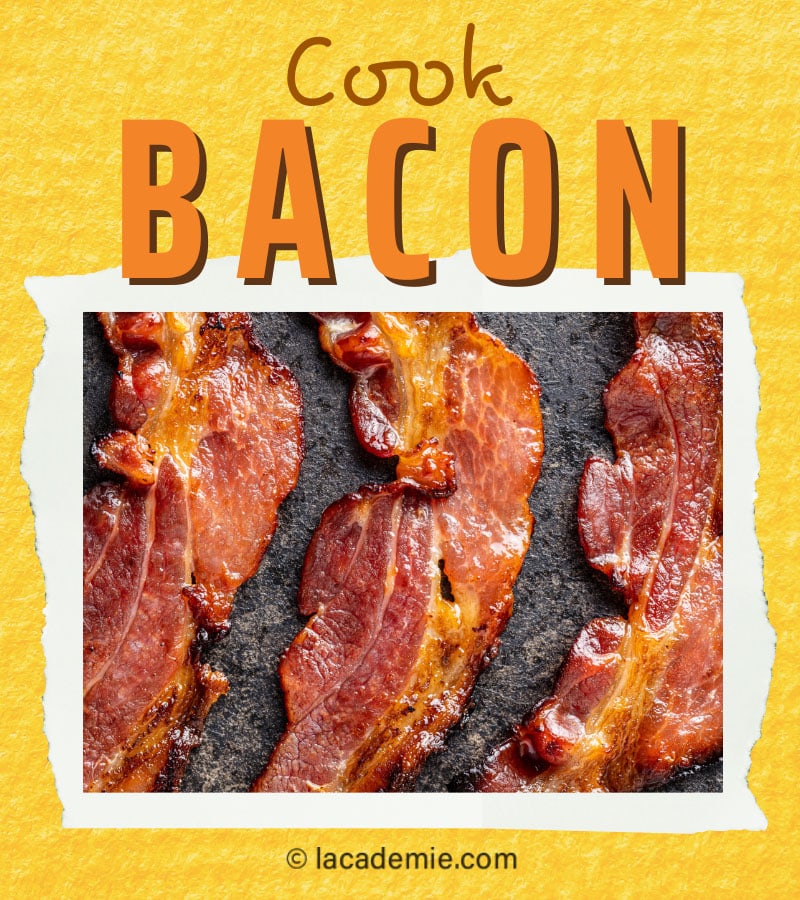 What Is Bacon?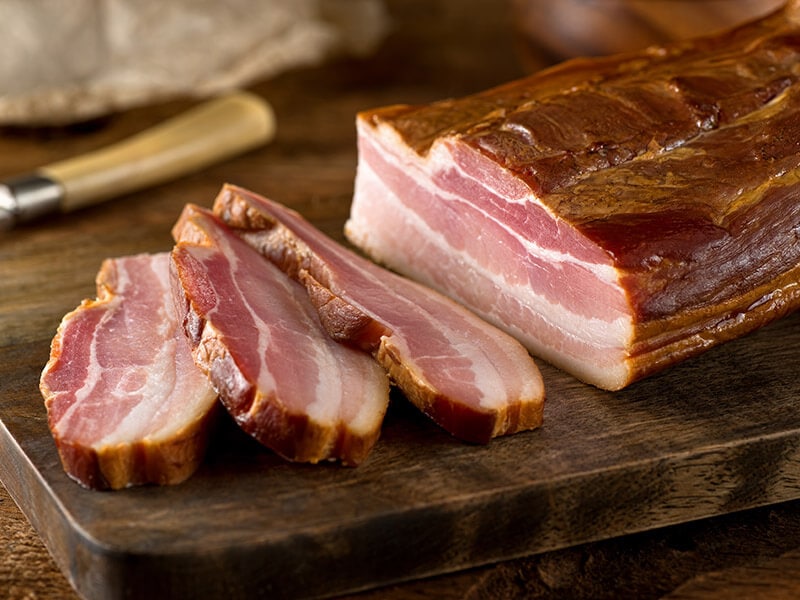 First, I will share again with you who do not know precisely what bacon means. Bacon is made from pork belly. However, bacon and pork belly have many differences, one of which is that the former is salt-cured and smoked before reaching your hands (1).
Americans often eat bacon for breakfast or buffet parties. When you have no idea what to eat, consider cooking with bacon.
In many other countries, bacon is also made from many other pig parts. There are a lot of types of bacon. For instance, Irish bacon's main features drastically differ from American bacon (the most popular), British Bacon, and so on.
Why Do You Need To Keep Bacon In Fridge Or Freezer?
In case you plan to store your cooked bacon for more than 2 hours, make sure to refrigerate it. At room temperature, bacteria can easily appear and increase in your bacon. Over 40F and below 140F have been considered to be the "danger zone" for bacteria to grow and spread.
Bacon was cured with salt before reaching your hands; that's why it is quite salty. Besides, the meat needs to add nitrites to prolong the shelf life. Although the procedure is quite similar, bacon is totally different from the usual salt pork.
When you cook bacon, its moisture will evaporate, and the bacteria is hard to survive in a low-water environment. Thanks to this, your bacon will last longer than meats' shelf life.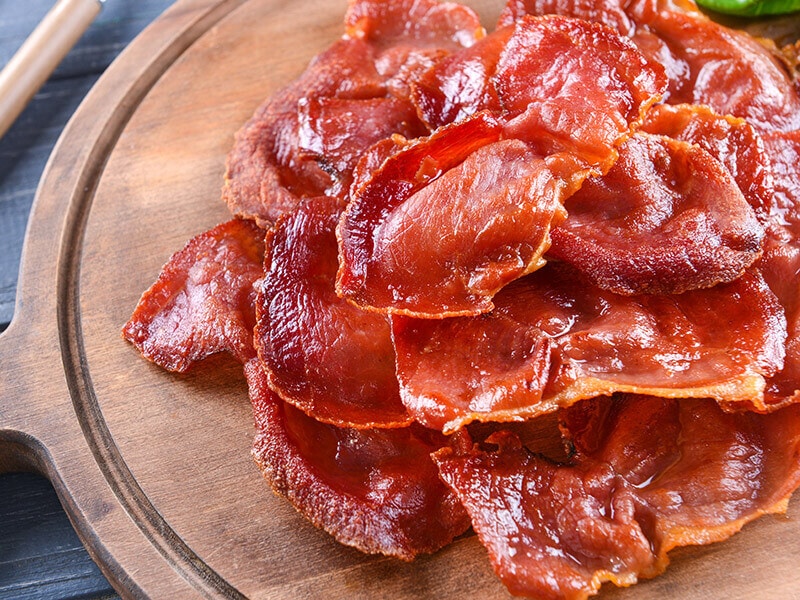 Nevertheless, don't be fooled that the quality is still maintained at room temperature. The preservatives do not play the role of stabilizing the outside temperature. They just help to extend the products' expiry. Almost all companies focus on quantity rather than customer satisfaction.
Therefore, they choose wet-curing methods to save time, and curing may not be completely standardized. The fat in bacon is another factor that makes it spoiled and rancid soon when you put it at room temperature for a long time.
That's why you shouldn't rely on preservatives only; try to protect yourself first by storing bacon in the fridge to slow the rancid process.
How Long Is Cooked Bacon Good In The Fridge?
It's healthier and safer for people to cook bacon at home. You usually store it in the fridge when you cook bacon at home, right? Here I am going to share with you the detailed shelf life of several types of bacon.
| Type Of Cooked Bacon | In The Fridge | At Room Temperature | In The Freezer |
| --- | --- | --- | --- |
| Normal bacon | 4-5 days | 2 hours | 1 month |
| Thawed bacon | 3-4 days | Not recommended | Not recommended |
| Turkey bacon | 4-5 days | 2 hours | 8 weeks |
| Peameal bacon | 3 days | 2 hours | N/A |
In The Fridge
I'm sure that there is nothing easier than storing your cooked bacon in the fridge. When compared to raw or precooked bacon, the storing time of cooked bacon is quite short, only from 4 to 5 days. That means you have to arrange the time and use your bacon smartly.
Meanwhile, defrosted bacon will decrease storage time to 3 or 4 days. Defrosting frozen bacon in the fridge is the slowest but safe method. Transfer the bacon from the freeze to the fridge a few hours before you use it. Remember to keep it properly and check it carefully to detect the bad or spoiled ones.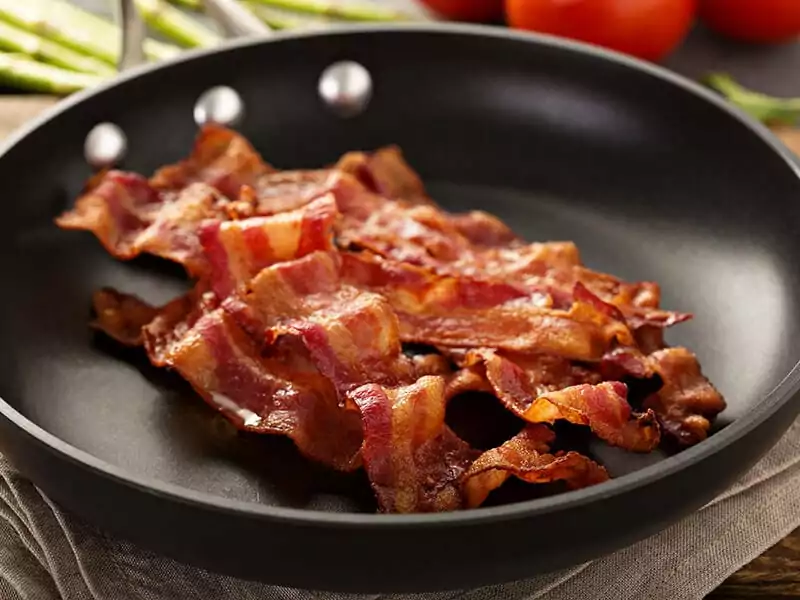 If you have cooked turkey bacon and you want to preserve it for later uses, refrigerating it is a smart choice. As regular bacon, you can keep it in the fridge for 4-5 days. However, it is a different experience for storing cooked peameal bacon. You have to place it in the refrigerator at 1-4C and have to consume it within 3 days.
At Room Temperature
It is not advisable to let your cooked bacon at room temperature. But I know that sometimes you are too busy to care about it at a certain time. I can only tell you that the secure time for letting cooked bacon outside is two hours. After that time, bacteria will grow and rapidly spoil your bacon.
By all means, you may be able to leave the bacon out for a little time due to the extra preservatives. Nevertheless, it is not recommended. If you have nothing to do with your bacon, just put it in your fridge for preservation and come back when you have time.
In The Freezer
This method can help to keep your bacon for a longer time. It does not require much additional equipment. So that's why it is popular when people want to store it for the long term.
Generally, cooked bacon can be kept in the freezer for up to a month. Of course, you can also keep it longer, but the appearance and taste will not be ensured. I still recommend you use it at the best time of quality.
Unlike normal-cooked bacon, 8 weeks are recommended storage time when you place cooked turkey bacon in the freezer.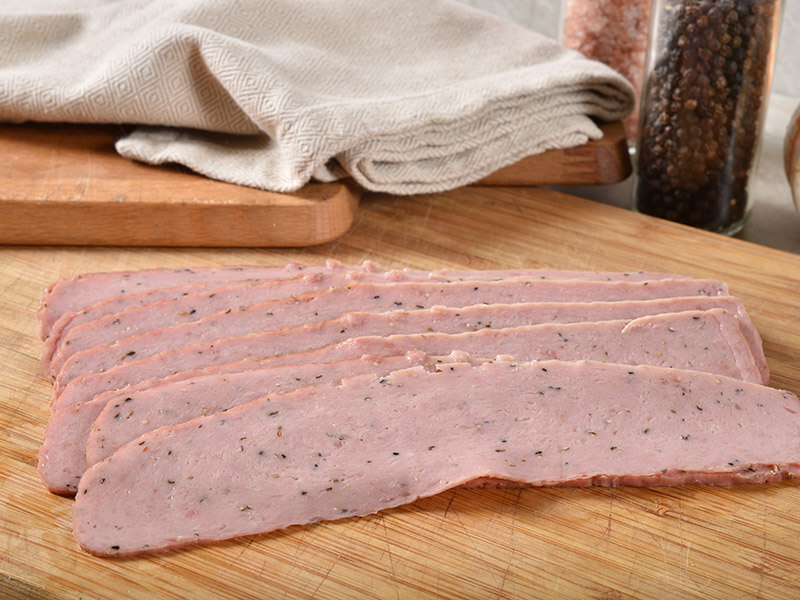 Don't forget to wrap your bacon carefully or put it in a sealed bag before freezing. It helps to avoid the effect of freezer burn and keep bacon longer.
Of course, the way to thaw frozen bacon is essential too. Should you defrost bacon incorrectly, you can end up with spoiled bacon that will pose several health hazards. So beware!
Lifespan Of Raw And Precooked Bacon
When using food, it is necessary to know how long you can keep it good, right? So does bacon. This kind of food is distinctive and easily infected by bacteria that cause fungi and mold.
Honestly, the storage duration depends on the type of bacon, storing condition, storing method, and other considerations such as whether it is opened or unopened. So now, you are ready to dig into these informative details. Sit well and read carefully.
I use this table below for a clearer demonstration and comparison that may be useful for you. Go through it and find out your kind of bacon.
| Types Of Bacon | In The Fridge | In Freezer | In Pantry |
| --- | --- | --- | --- |
| Unopened raw bacon | 5 to 7 days after Use-by | 8 months | N/A |
| Opened raw bacon | 5 to 7 days | 6 months | N/A |
| Unopened precooked bacon (refrigerated selling condition) | 5 to 7 days after Use-by | N/A | N/A |
| Opened precooked bacon (refrigerated selling condition) | 4 to 5 days | N/A | N/A |
| Unopened precooked bacon (unrefrigerated selling condition) | N/A | N/A | 1 to 2 weeks after Best-by |
| Opened precooked bacon (unrefrigerated selling condition) | 4 to 5 days | N/A | N/A |
Raw Bacon
Before looking at the time, you should distinguish between these three terms:
Use-by: This date refers to the last day the product should be used in the highest quality. It's not a precautionary date.
Sell-by: This date refers to how long to display the products for sale. It is for businesses and sellers. It's not a precautionary date.
Best-by: This date refers to the time when a product is of the best quality and flavor. It is the best time to use that product (2).
Raw bacon is commonly vacuum-sealed packaging at the store. When you buy it to cook at home, notice this information.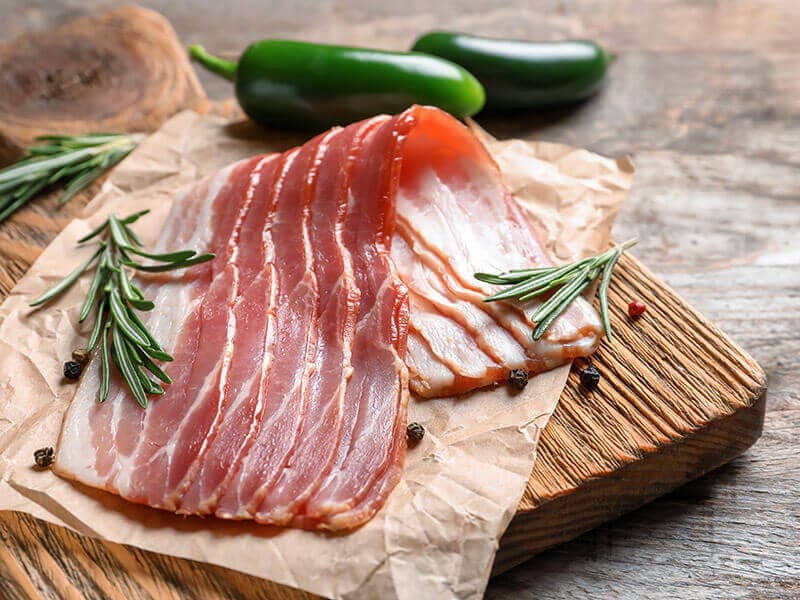 In The Fridge
If you don't open it and keep it in your fridge, you will have to use it a maximum of 5 to 7 days beyond the use-by date.
When you open it, you allow the air to come into the packaging. The air and oxygen will make bacteria in raw bacon grow rapidly. Then, you want to refrigerate it. So, you only have 5 to 7 days from the day you open to eat your yummy bacon.
In The Freezer
Unopened bacon can last up to 8 months when you freeze it. But when you open your bacon but don't cook it, you just have approximately 6 months to keep it in the freezer.
There are several ways to make bacon at home, but do you know which way is the best?
Pre-Cooked Bacon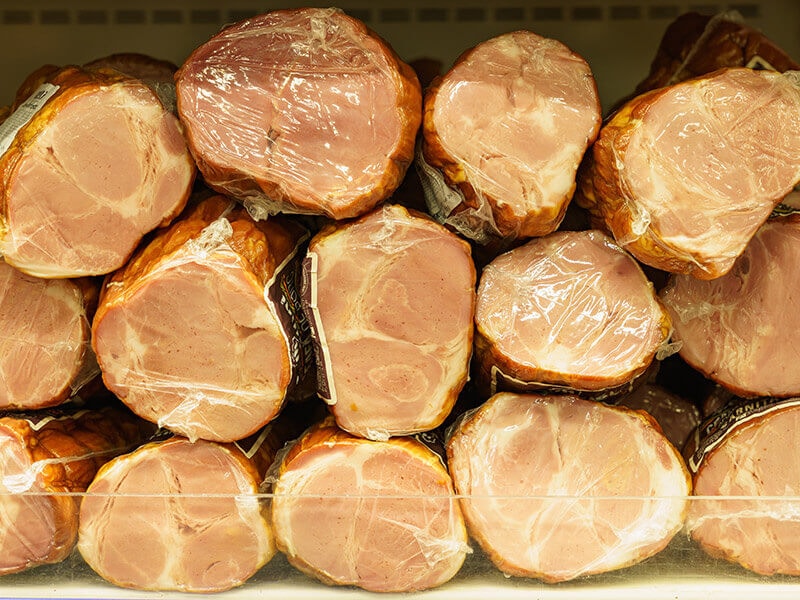 Sometimes, you would like to buy precooked bacon to save cooking time. Precooked bacon is usually sold at supermarkets or retail stores. It is safe to eat it right away after removing its package. Otherwise, you can reheat it first. In this situation, you have to think about 2 questions:
Did sellers store it in refrigerating condition?
Did you open it?
The range of duration stretched from at least 4 days to no more than 2 weeks. The maximum time is thanks to the good condition in which sellers store bacon. And you don't open the can or sealed bag.
For specific brands, the shelf life can be varied. You refrigerate Hormel bacon and consume it within 3 weeks to ensure its peak quality. Moreover, Costco bacon allows you to eat it within 4 months from the purchase date.
Knowing how to cook bacon at home is another exciting piece of knowledge.
Signs To Know Bacon Has Gone Bad
So how do you know exactly when your bacon has gone bad? I suggest these four signs here that you may apply for your bacon.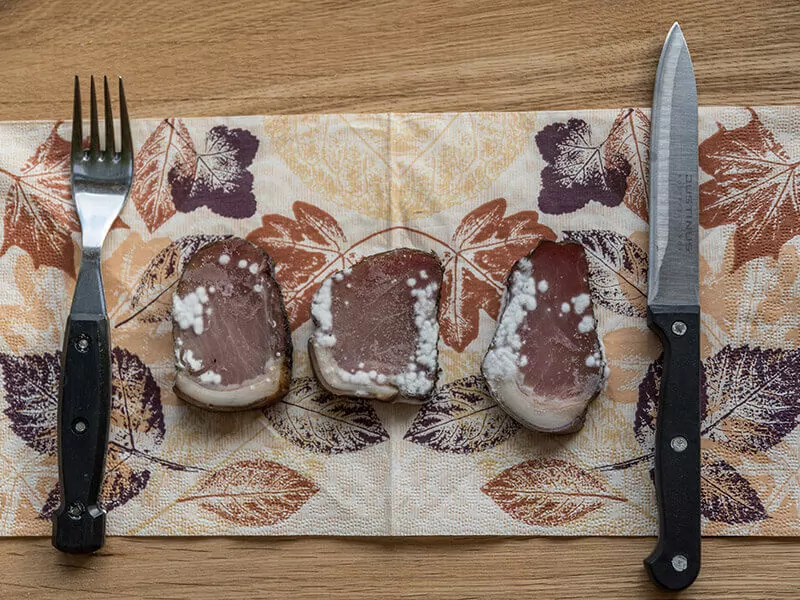 Look
Bacon that has gone rotten will turn into a different color. Instead of the pink or red color of fresh meat and the white or yellow color of fat, it may take on a greenish hue or a dull gray. This discoloration may come very soon when the bacon goes bad.
Oxidizing reactions with airflow make this changing process more obvious. You can even see some mold in your bacon.
Smell
Due to the mixture of all spices and ingredients in bacon, it's difficult to detect if it's rotting by its smell. Sometimes, the odor of decay is ignored and hidden even when bacon is changing.
Commonly, a natural meat smell is a sign of good and fresh meat. However, when you sniff a sour, rotten, fishy, or only negatively strange smell, which means that you have to discard it as soon as possible. Bacteria growth makes it smell rancid and disgusting.
Touch
The texture is one of the key elements to decide whether bacon is spoiled. Touching the flesh of bacon with your fingers will help you to recognize.
Normally, the bacon texture is soft, fresh, and moist but not slimy. The slimy feeling and sticky stuff are signs to know that it is going to spoil. Lactic acid bacteria cause it.
What Will Happen When Eating Bad Bacon?
You know there are a lot of bacteria that may harm human health in such spoiled meat, including bacon. Bad bacon will come when you store it in the wrong way or has expired over the usable time. Bacteria developing on spoiled bacon causes it to taste sour. Thus, what will happen when eating bad bacon?
When you eat spoiled bacon, you will first feel your mouth is uncomfortable and has a bad smell. This will make you feel nauseous and even vomit right away.
Next, you will experience symptoms of headache, dizziness, and weakness in the limbs. It is a sign of food poisoning because harmful bacteria affect and destroy your digestive system.
Many food poisoning patients are self-resolving and do not require further treatment. However, do not neglect it because there are still other cases that have serious symptoms and problems such as stomach pain, blood vomiting, fever, deep coma.
Therefore, it'd better contact the nearest hospital or medical center to get suitable treatment and make sure that your health is going to recover well.
Methods For Storing Your Yummy Bacon
Bacon is a popular American dish because of its yummy taste and eye-catching appearance. That's why many people ask for tips to store bacon and keep its colorful sight and flavorful bite. So, now I'm going to take you on tour around all of the methods you can use to store bacon.
In The Fridge
Cooked bacon can be stored in the fridge to keep it for a longer time. This method is considerably easy and effective to conduct. That's why you need to pocket and apply it to your food at home.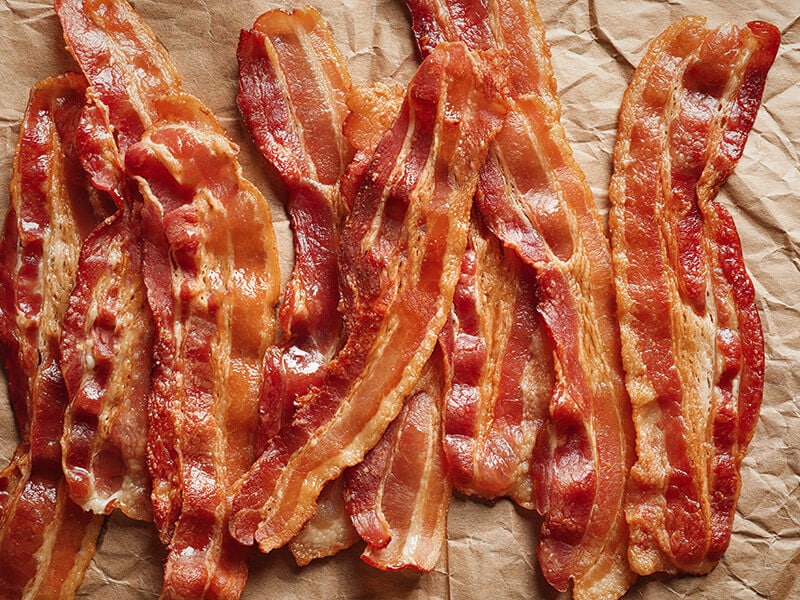 Follow these steps to store your bacon properly:
Step 1: Prepare A Good Container
Don't forget to cool down the bacon before placing it into the container. You can use a plastic or glass box with a lid to keep your bacon. Make sure that the lid covers the container tightly.
Or you can use a sealed bag or zip lock bag for storing individual portions. It can help to minimize the airflow going into the bag when you take the bacon out.
Step 2: Put Bacon In The Container And Cover It
Place the bacon in the airtight container or wrap it in aluminum foil or plastic wrap. It helps to store bacon for a longer time and keep the bacon fresh and crunchy.
Step 3: Label The Bacon Container
Use sticky notes to label the storage box. Note the storage start time and the estimated expiration time. This helps you remember the date of reserve so that it does not spoil before use.
Step 4: Put It In The Fridge
Put the container of bacon in the fridge at an easily seen place because the due date of bacon is short, so try to use it soon.
Step 5: Check It Regularly
Regular checks help you to find out whether your bacon has gone bad or not. Seeing the storing date also reminds you to use it as soon as possible.
Freezing Bacon
Cooked bacon may be stored in the freezer for up to 1 month. Freezing is the best method for storing bacon in the long term.
Step 1: Quick-Freeze Bacon
You need to spread bacon in a baking tray to quick-freeze it. This step will prevent it from sticking together. If you have a large batch, use a baking sheet to separate the layers. It will take you 2-3 hours.
Step 2: Put It In Bag And Defrost It
Cooked bacon can be stored in long-lasting freezer bags and then neatly placed in the freezer.
The ideal temperature of the freezer is 0° F (-18° C) (3). Keep in mind eliminating excess air from the bags: less air, less freezer burn.
You can group 2-3 portions and wrap them with plastic wrap to fight against freezer burn. Label and store it in the freezer.
NOTE: Once you take the bacon out and use it, defrost it first. The fridge is a good environment to thaw bacon.
Not many people know the proper way to store bacon by freezing, which is convenient and helpful.
Reheat Your Bacon Properly
It's not a new way, but I mention it because I know that some people still want to enjoy the original taste of bacon without any additional dishes. You can use a microwave, skillet, or oven to reheat it.
Using A Microwave
With a microwave, you just need 30 to 60 seconds to reheat your cooked bacon. Just spread a single layer of bacon on a cooking dish. Then cover the dish with a paper towel. Put it in your microwave, and you will have yummy hot bacon. You can use a paper towel to reduce excess fat.
Using An Oven
Preheat the oven first at 350F before preparing the tray of bacon. Line bacon strips (single layer) on the tray and cover it with foil. Then put it in the oven. This process takes 15 minutes to be done. Time's over and let's enjoy it.
Using A Skillet
Frying bacon in a pan is another way to reheat it. It takes about 2 minutes to cook on medium-high heat. Remember to flip the bacon strips to make sure both sides are heated. Then, take them out from the skillet and dab them with a paper towel to reduce fat. Enjoy it right away.
What Can I Do With Leftover Bacon?
Bacon has been a very famous dish already. So sometimes, it attracts you to buy too much to use it all. It's a pity to throw it away. So you can make it into delicious dishes that I suggest you try today. Don't just eat in a boring traditional way, let's try some creative things together.
BLT sandwiches are the most popular breakfast that gives you enough energy for a long working day. Just with 2 slices of sandwiches joined with bacon, lettuce, and tomatoes, you are ready to have a wonderful dish.
Making BLT with leftover bacon helps you to save ingredients and time from thinking about the dishes list for the early morning.
This homemade Pizza is surprisingly nutritious. It included rich blue cheese and cooked bacon with a flavorful taste. Cooking in this way makes your bacon become a wonderful blend of pizza toppings. I know you cannot ignore this fancy dish.
This simple and delicious shrimp and grits dish will dazzle your family at your dinner. Shrimps and bacon will be the best mixture combined with a cheesy taste. There is nothing better on Earth. It not only serves you a savory meal but also provides a lot of nutrients.
It is interesting and relaxing to enjoy this tomato soup with bacon. I'm sure that you cannot stop mouth-watering when you look at the hot soup with crispy bacon and creamy mascarpone. It's like paradise if you have a chance to eat it on a rainy day.
Adding bacon, cheese to the buttery crust is an interesting idea to use leftover bacon. You can chill and share those cakes with friends while enjoying a cup of coffee. Simply mix and bake; you already have a delicious breakfast in no more than 1 hour. Just keep this recipe in mind.
It's not exaggerating that this is the most delicious cake I have ever eaten. Try and you will love it.
FAQs
These are some further answers that might be something you need. Read them carefully to gain more information about this so yummy dish.
Useful Notes In Storing Cooked Bacon
Well, as you know, bacon is a very tasty dish with high nutrients. So it is loved in many parts of the world with many variations.
But storage time is always a concern to everyone who is into this dish. Don't make it complicated; just remember to label all containers and sealed bags storing bacon. It's essential when you have too much and may miss something important.
One minor reminder is that freezing cooked bacon can help to keep it longer the use-by days, even months later. So, if you have time, cook it first before freezing it.
Is this article useful to you? Have you found your answer yet? Learning things and life tricks is always interesting. Don't be afraid to leave them here via the chatting section if you have any other questions. Let's like and share this knowledge with your friends and family immediately!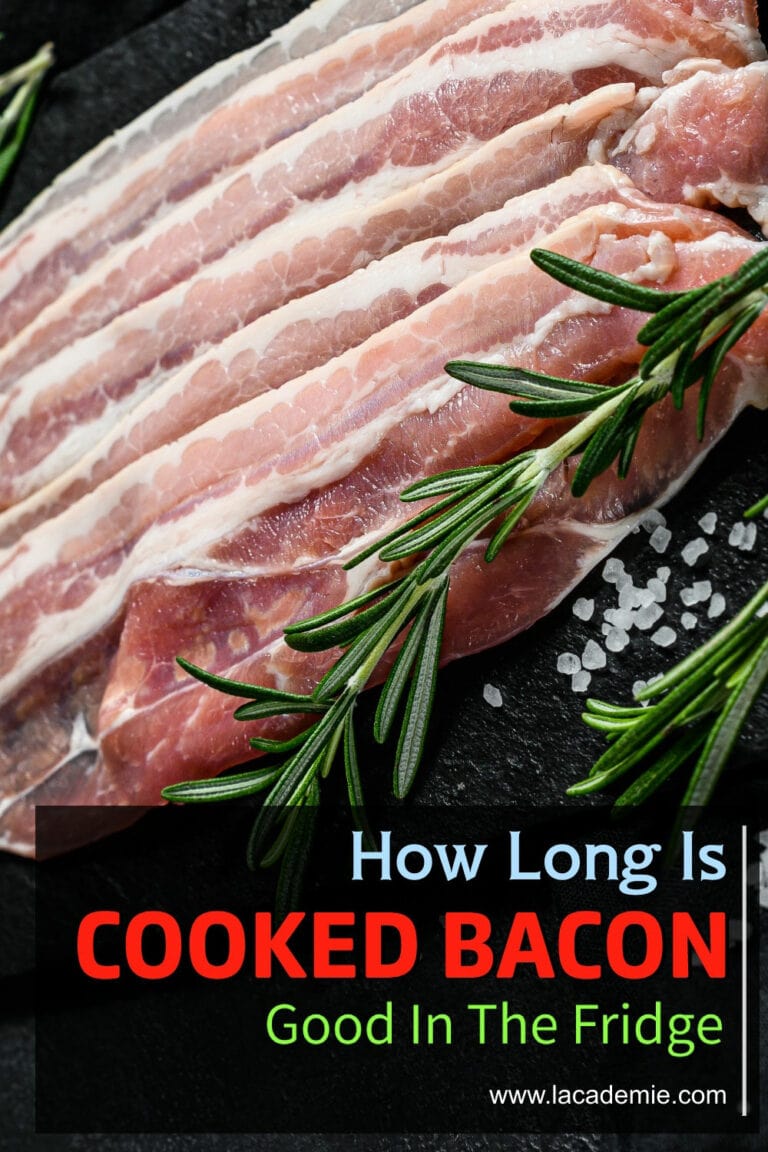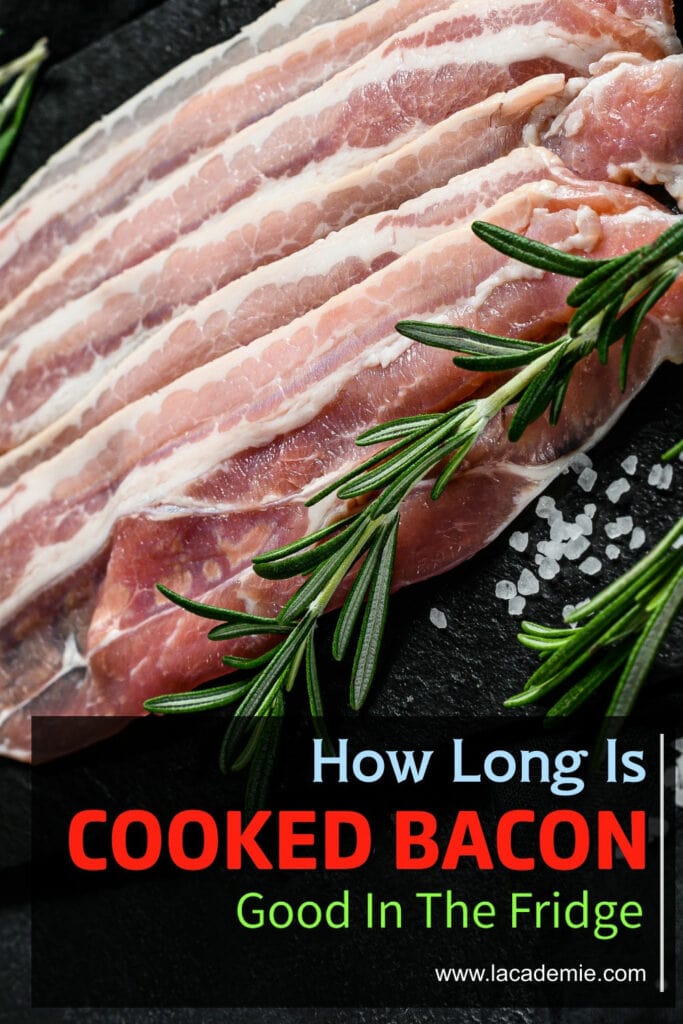 References
En.wikipedia.org. 2022. Bacon – Wikipedia.
USDA.gov. 2021. Food Product Dating.
U.S. Food and Drug Administration. 2021. Are You Storing Food Safely?.